If you want something unique and just a bit non-traditional, then a cabin from Arched Cabins is sure to be on your shortlist. With a unique shape, customizable floor plans, and classic rustic cabin style, it's a lovely home that would be the dream home of many.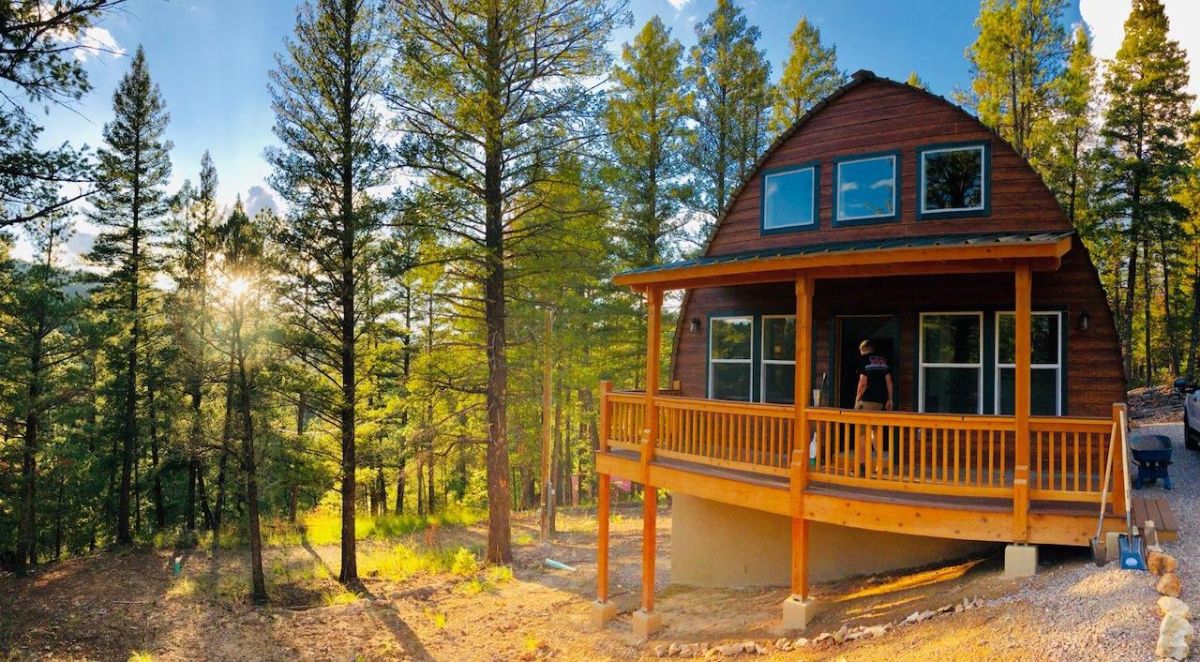 Log Cabin Size
24' wide
18'8" tall from floor to bottom of ridge
4 bedrooms
3 bathrooms
Log Cabin Pricing
576 Square feet = $13,680
768 square feet = $18,240
960 square feet = $22,800
Log Cabin Features
Flexible floor plans with options of up to 4 bedrooms and 3 bedrooms.
Large open kitchen and great room with a wall of windows in the front of the home. The kitchen includes all traditional full-sized appliances as well as a breakfast nook or bar along the outer counter of the space.
Large open loft space above that can easily be a secondary sleeping space, home office, kid's play area, or reading nook.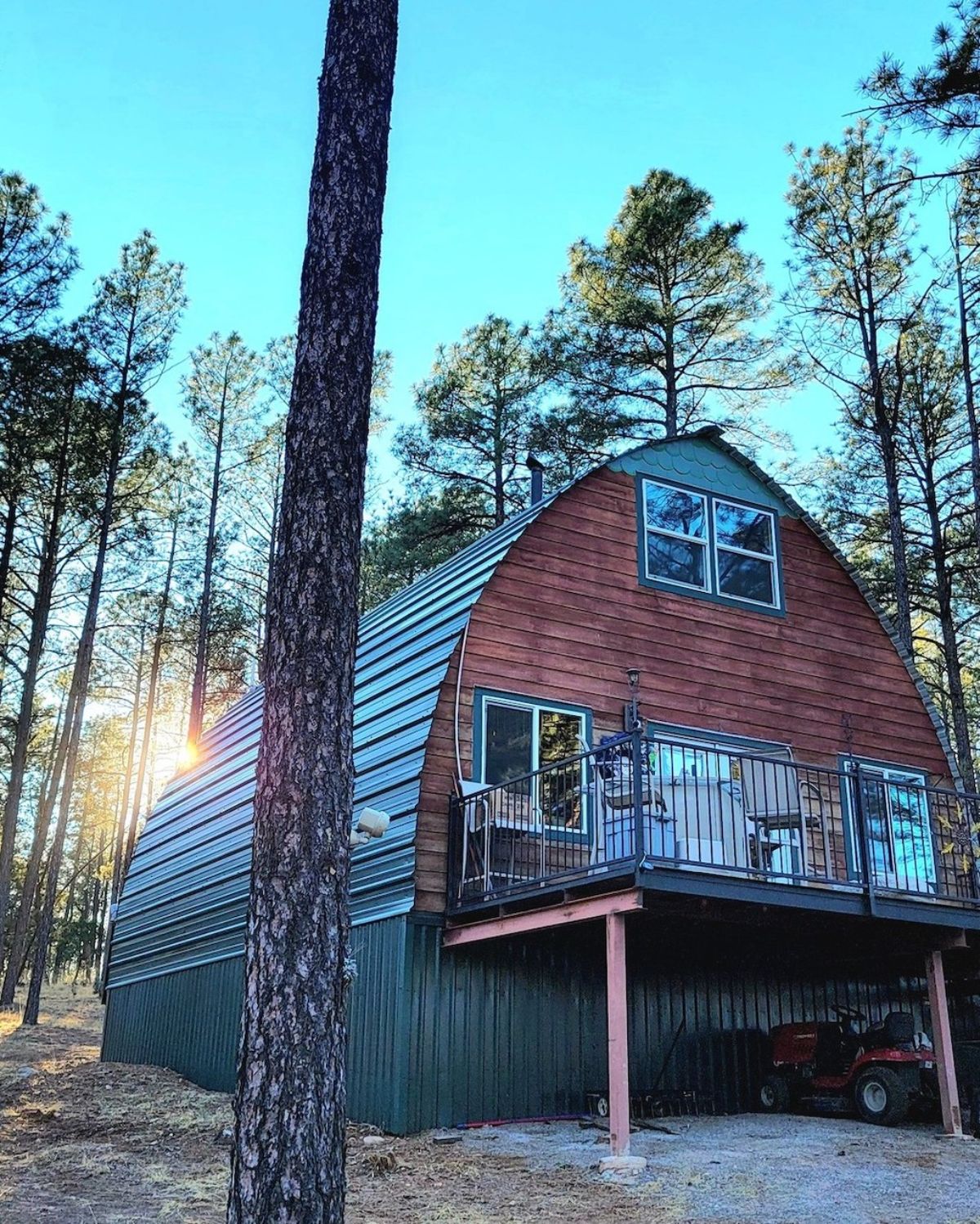 This particular model is built on a concrete foundation on the edge of a hill. While this home is simple to open underneath, you could easily convert that into a lower level or even walkout basement if you prefer. Another option for this home includes adding a door on the upper loft area and balcony.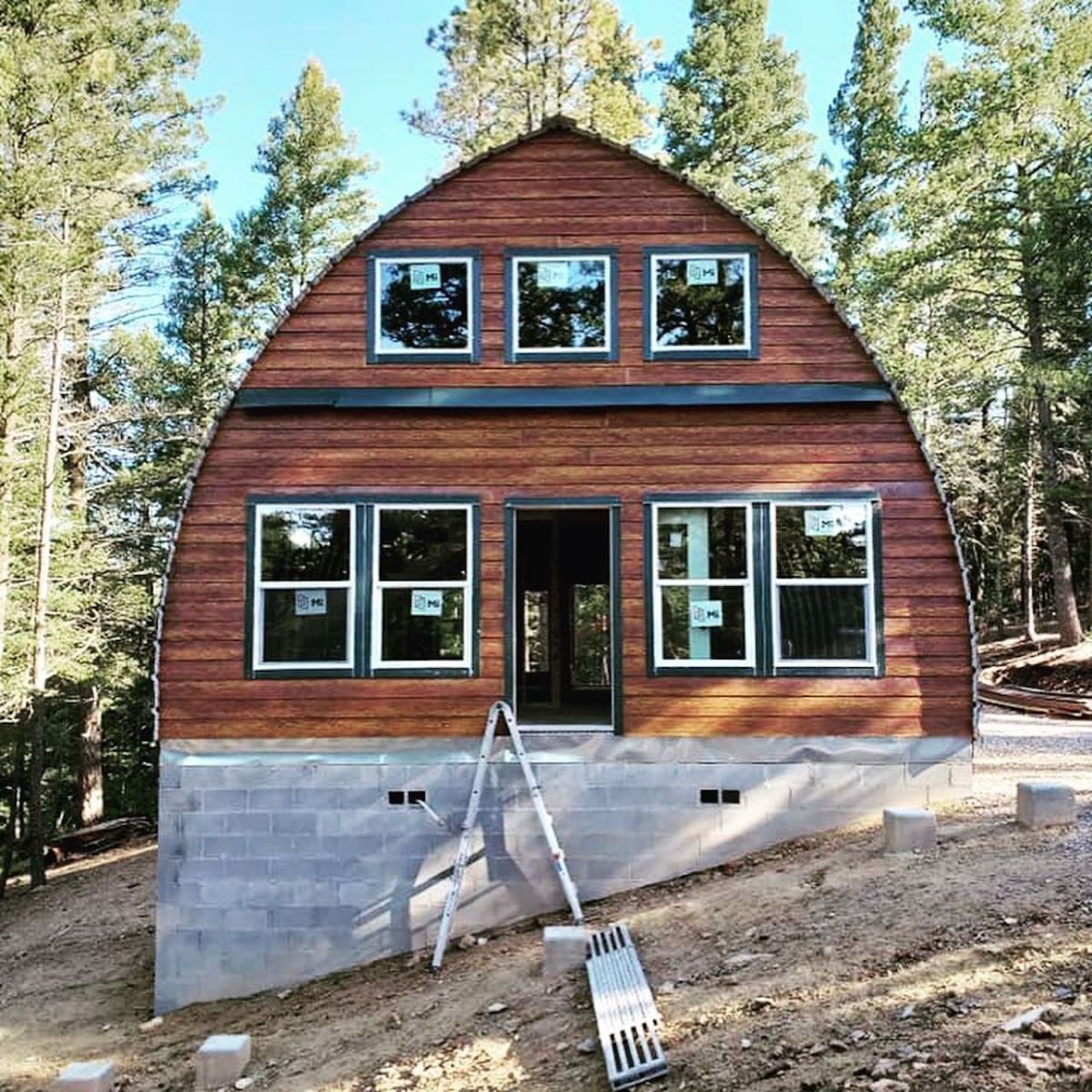 Below you can see a look at the finished look during the winter months. A simple porch with an awning over the front door is perfect for keeping you covered when snow hits. I love the sloped roofline because it allows for the snow to come off so easily.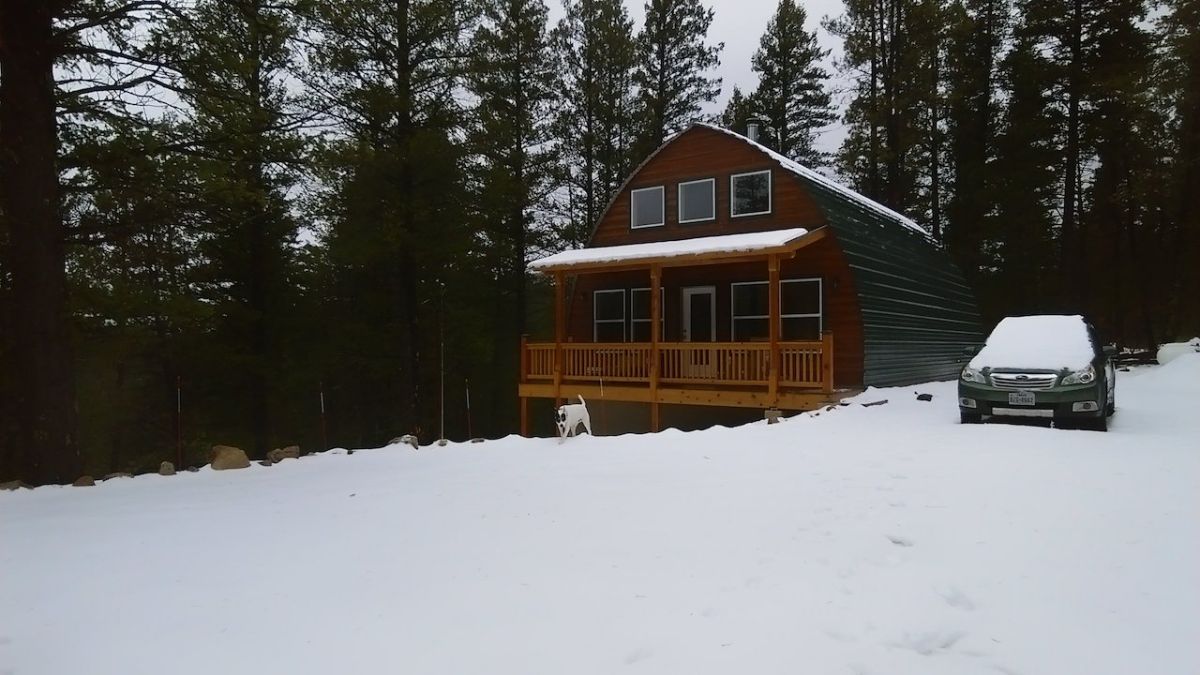 Inside the cabin, you walk immediately into the living area or great room. This model has all of the nice rustic woodwork on the stairs, beams in the home, and accent pieces. I also love the wood stove right through the middle of the living area. Such a nice addition!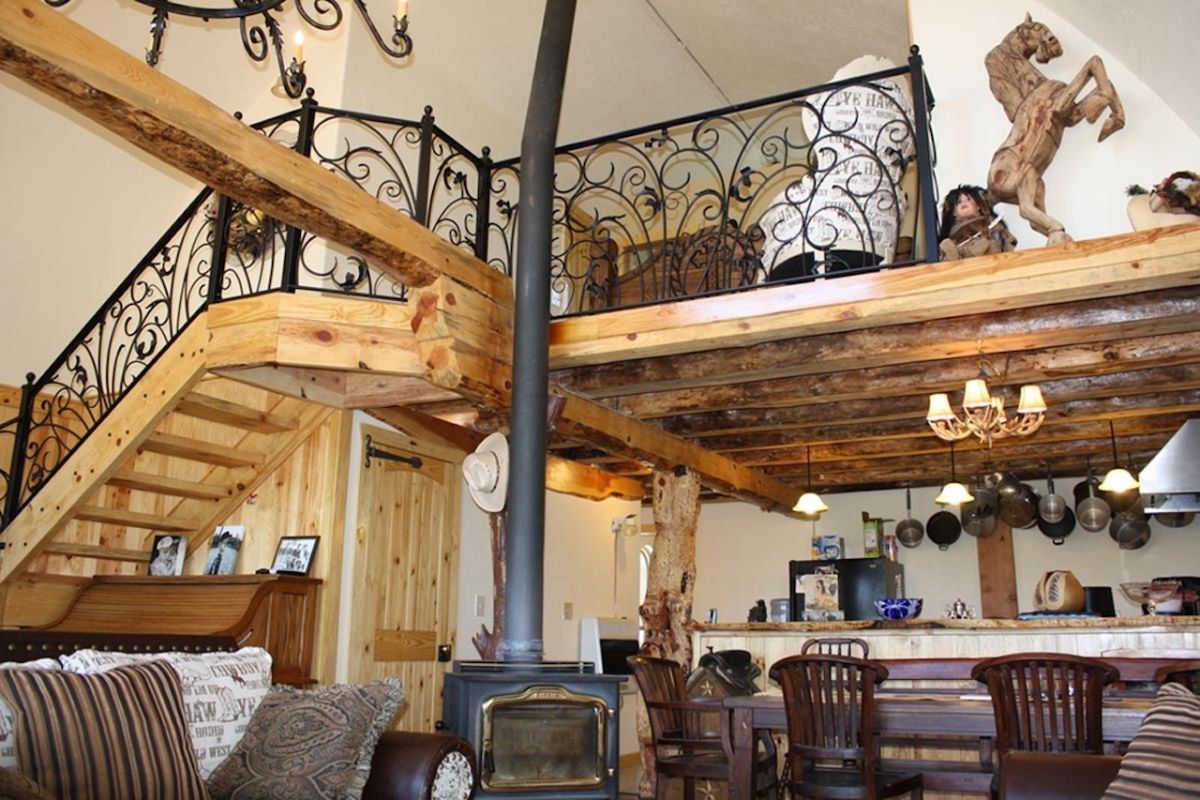 For this home, they have situated the kitchen on the back of this open space with a bathroom on the main floor and a bedroom above in the loft. While not pictured, this home can be large enough for up to 4 bedrooms, so it could be ideal for a small family or a perfect cabin retreat for weekend getaways.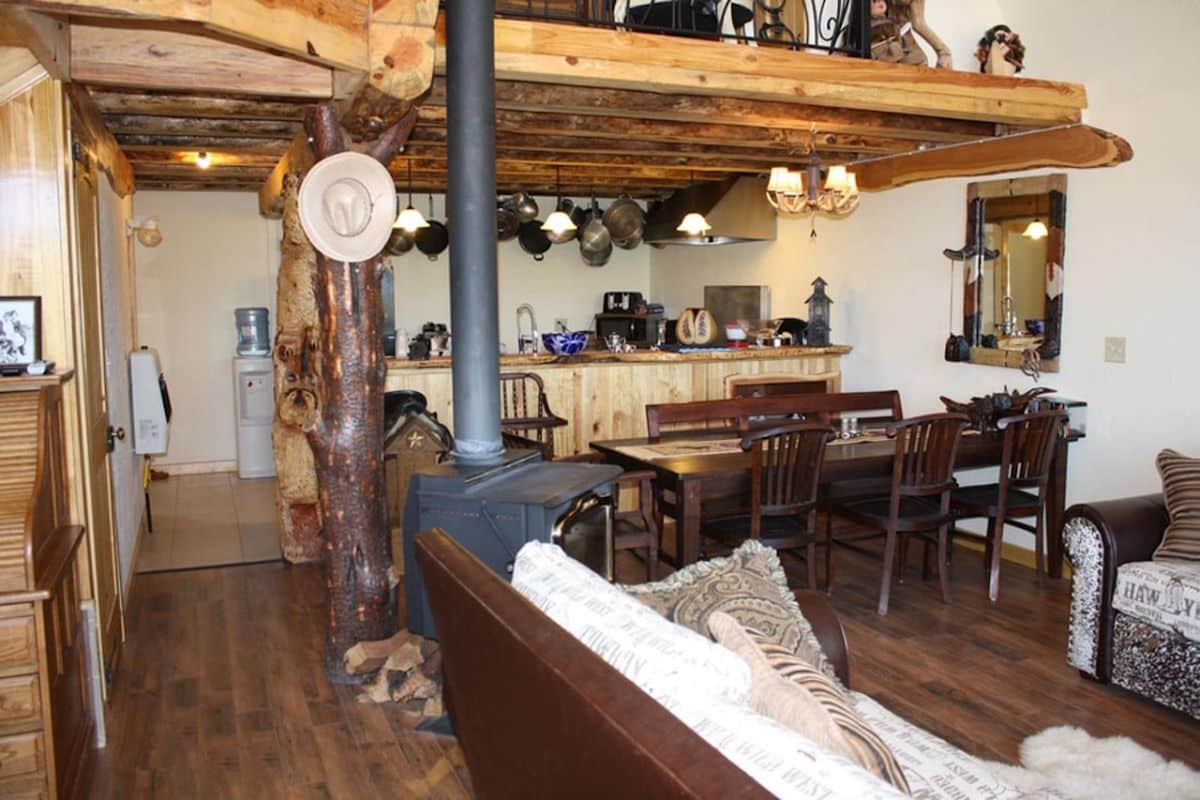 You can customize your kitchen to suit your needs, but I adore this particular kitchen. It has that classic professional kitchen style with stainless steel large 6-burner gas stove and a vent hood. It's a real chef's kitchen but could be built with a family in mind and more traditional affordable appliance options.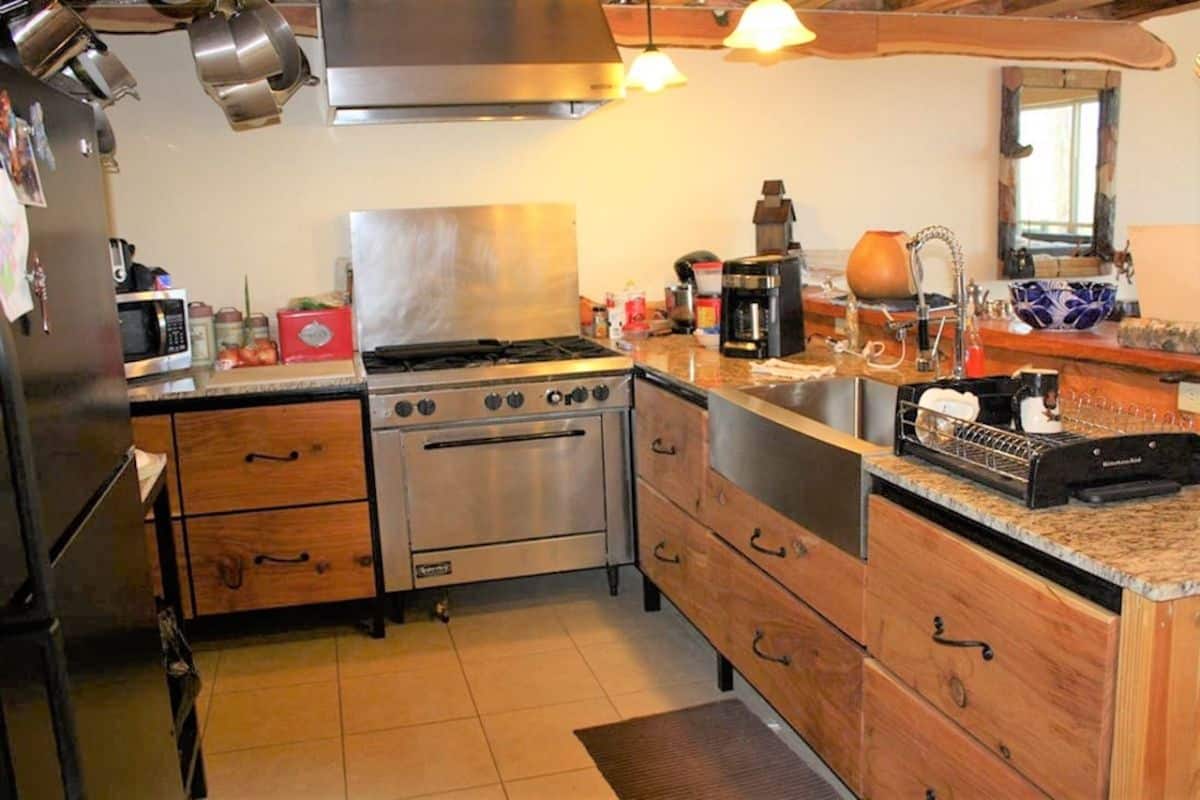 This beautiful open living room space is arranged with a few chairs and sofas. A television mounted on one wall makes it easy to watch a movie as a family, but I can imagine this being perfect for relaxing to hang out with friends and family.
The bar against the kitchen counter is the only dining space shown, but you could add a small 4-person table in the far right corner where a chair currently sits.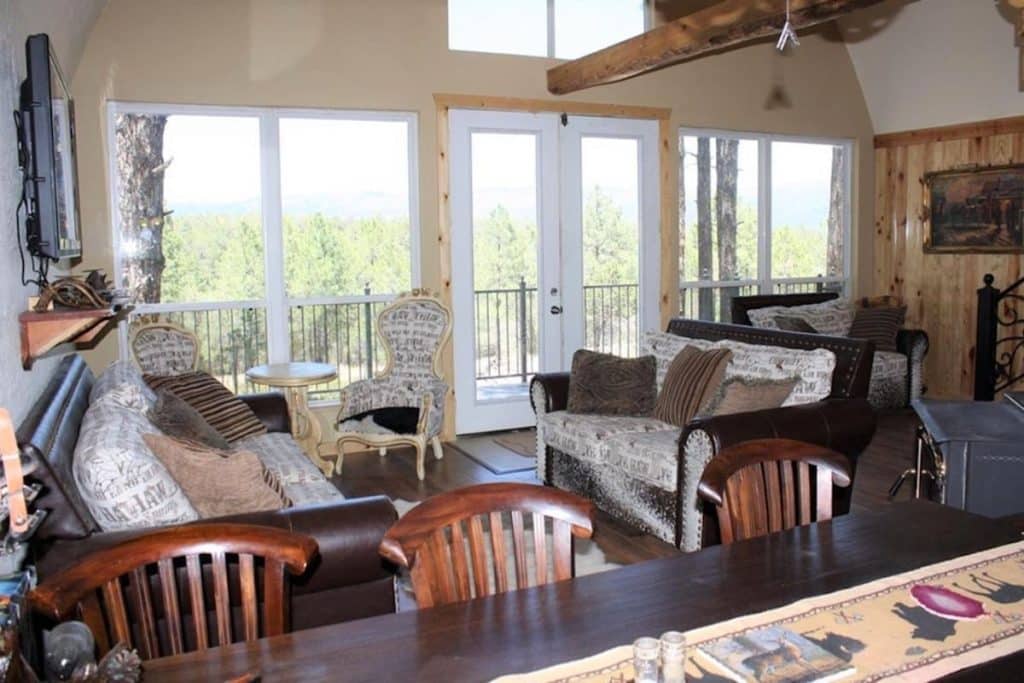 Of course, the loft in this home is a personal favorite. Not just because I am a huge fan of open lofts, but because of the detailed iron work on the railings. It's just so lovely!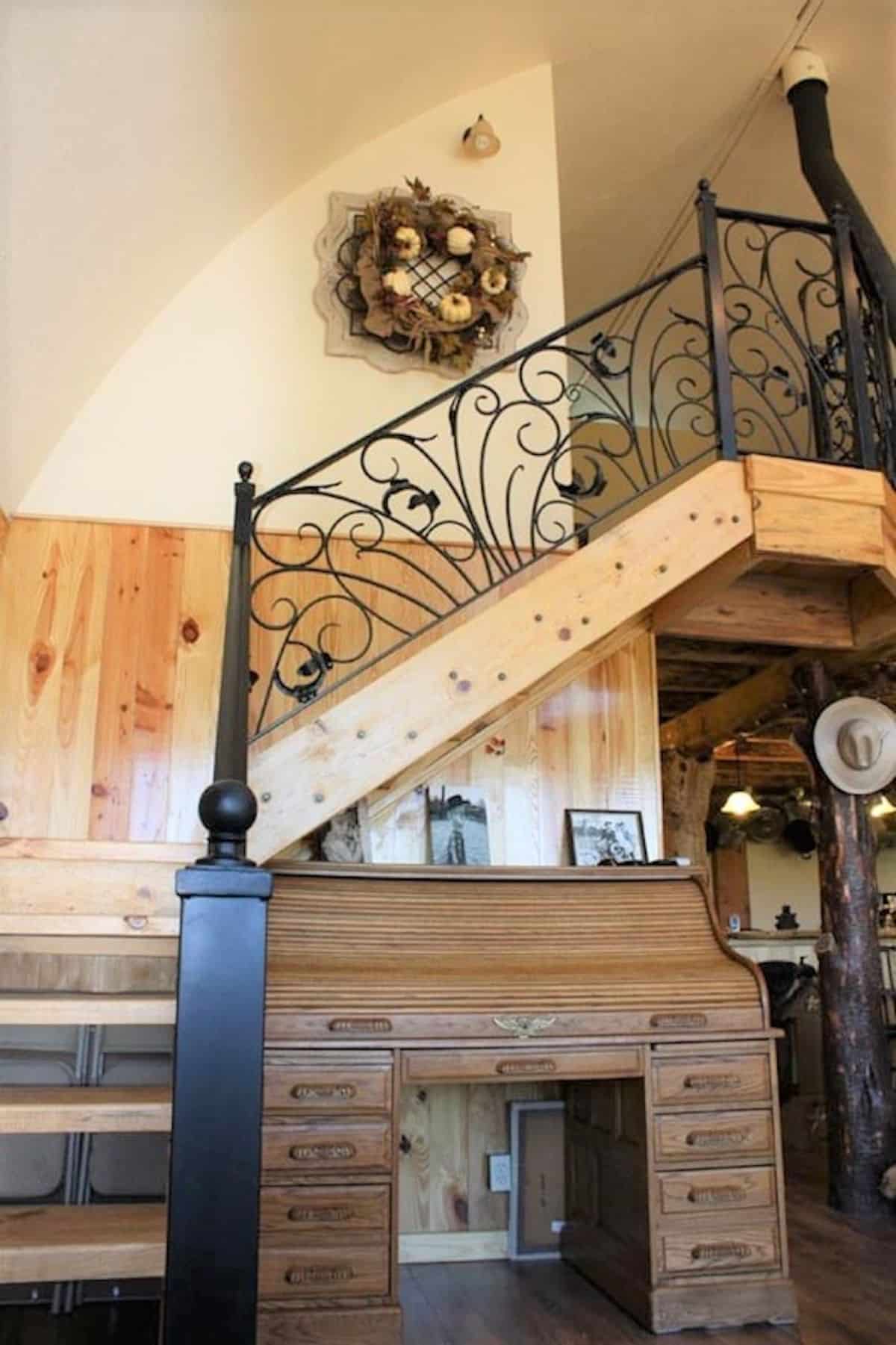 At the top of that staircase, you have an open bedroom. This space includes a full closet, a built-in chest of drawers with storage shelves, and a private bathroom on the back side of the space. It's gorgeous, comfortable, and definitely a perfect combination of rustic and upscale.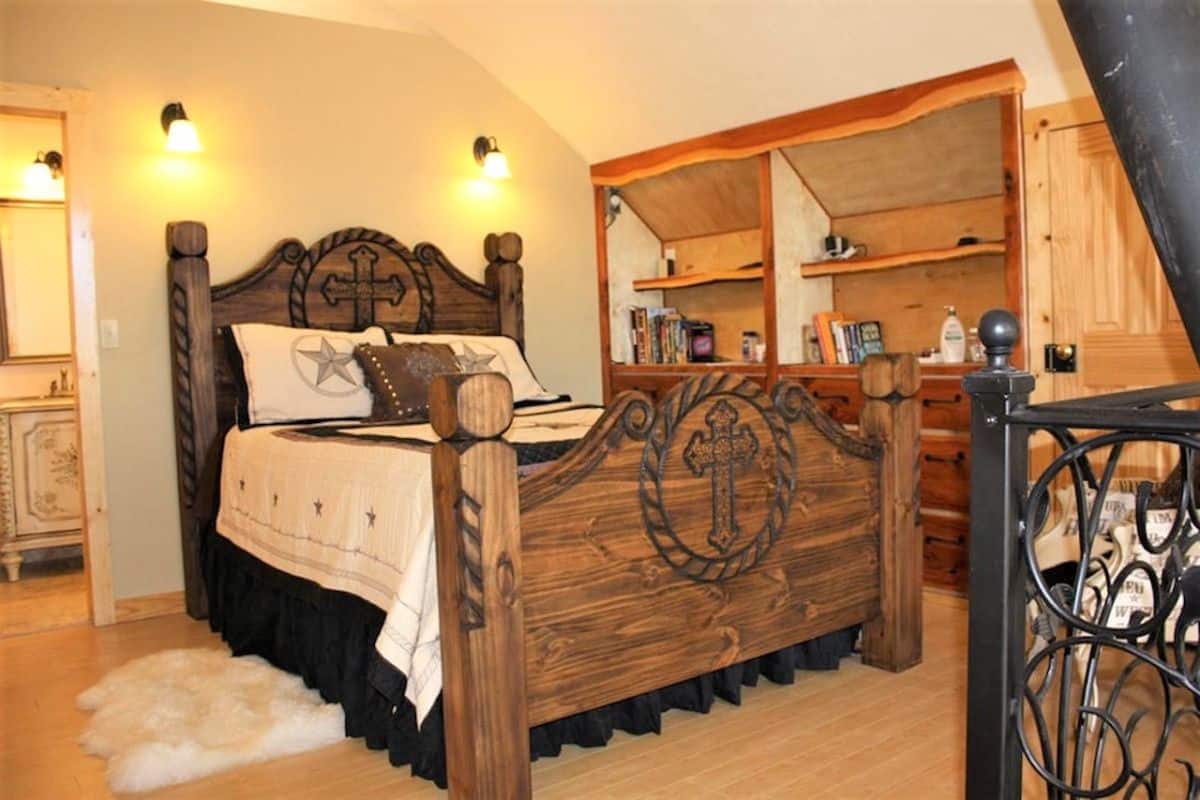 One last space to share is the view across the loft to the front of the home. Seeing that chandelier hanging above the area really adds to the fusion of rustic and modern styles.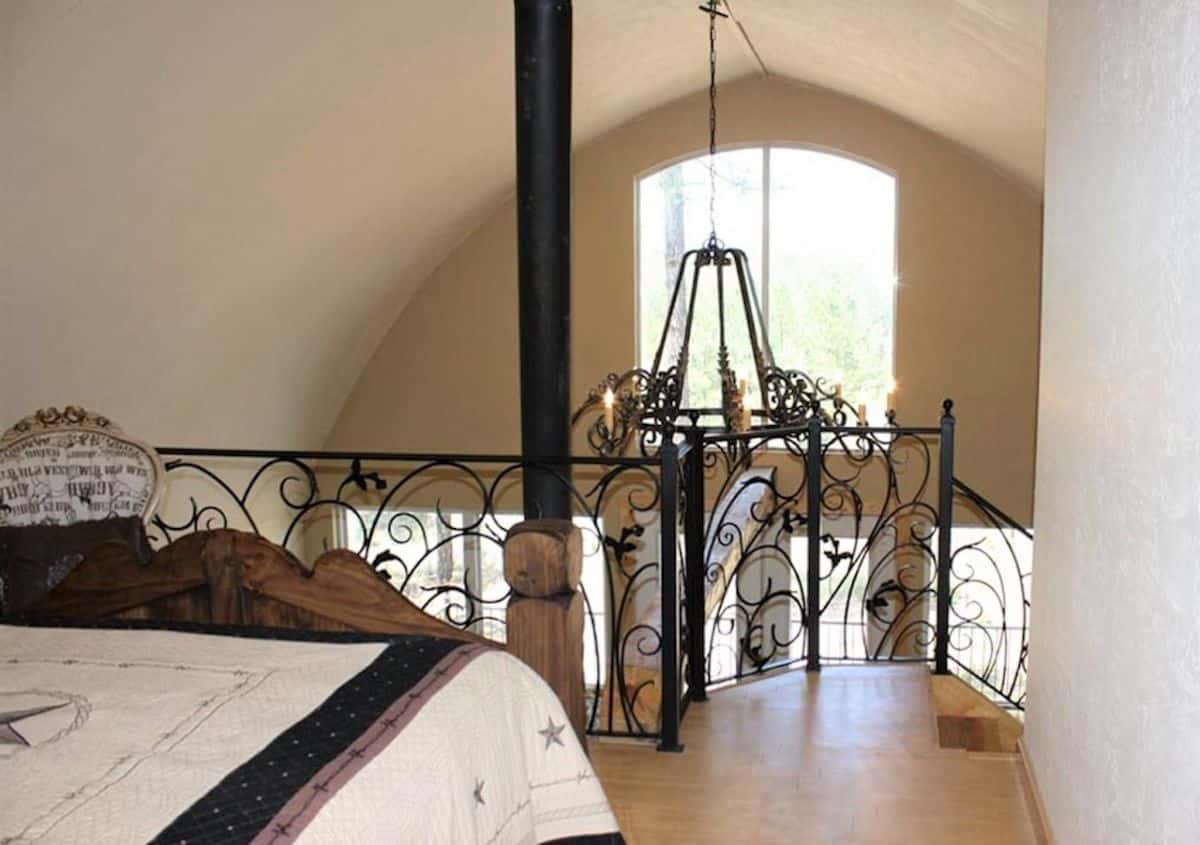 For more information on how you can build your own custom cabin, check out the Arched Cabins website. You can also find them regularly updating their Facebook, Instagram, and YouTube accounts with their latest builds. Make sure that you let them know Log Cabin Connection sent you their way.
More Log Cabin Kits and Tours