If you have been hovering on the edge of whether you want a log cabin or a tiny home, then the Zook cabins Rancher cabin is the perfect solution. It is the ideal combination of their classic cabin style but in a compact form that is more traditionally a park model tiny home.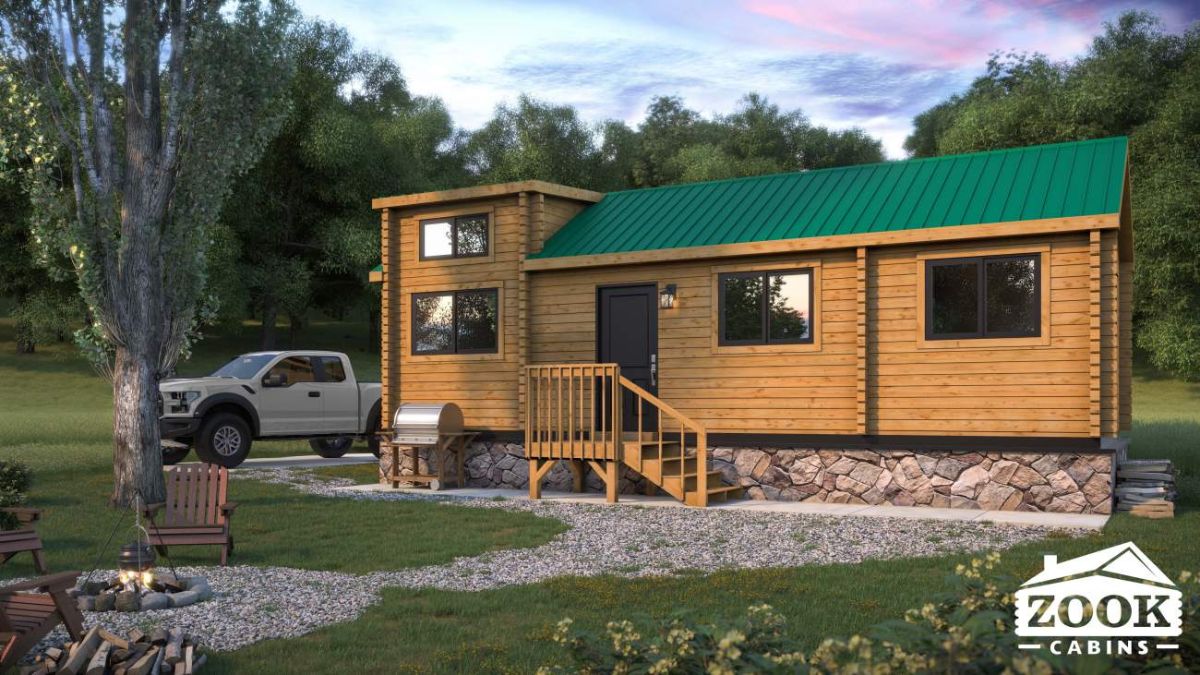 Tiny Cabin Size
Tiny Cabin Features
RVIA certified making it ideal to park in an RV park, mobile home park, or to transport to any property you prefer.
Two large bedrooms with one including a sizable 8' sleeping loft making it easy to sleep 6 in this home, plus a living room that is large enough for a futon to sleep an additional 1 to 2 people.
Includes a wall mounted ductless mini-split 18,000 BTU heating and air conditioning unit.
Live edge wood features in bedrooms.
Full kitchen adjacent to the living room includes a 10 cubic foot refrigerator, 30" electric range with oven, 30" mounted microwave and a small breakfast bar with stools.
The bathroom includes a 20 gallon electric hot water heater, 4' wide shower stall, traditional flush toilet, and vanity with medicince cabinet and storage.
40 year metal roof warranty.
I love that this makes living in a log cabin a bit more affordable but also easier to move to any location.
As you can see, the main room of the home is a living room, kitchen, and dining room all in one. You sacrifice space when building smaller, but that doesn't mean you don't have all of the comforts you expect in a home.
For instance, this home is 13' wide which allows you to have room to move about and include the full-sized appliances in the kitchen.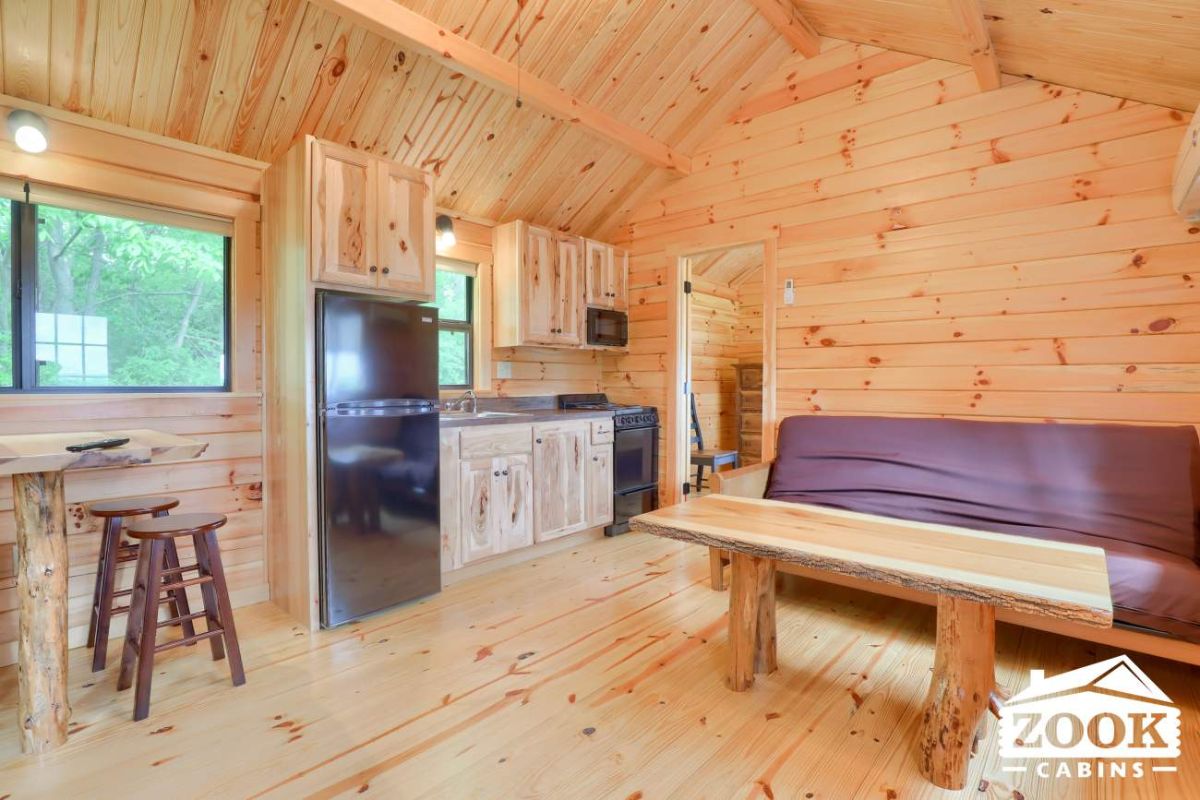 Behind the living room, on one end of the home, is what I would consider the master bedroom. This space has room for a queen or king-sized bed with a chest of drawers or dressers. I also appreciate the large windows on both sides of the space bringing in light to help keep the home feeling large and open.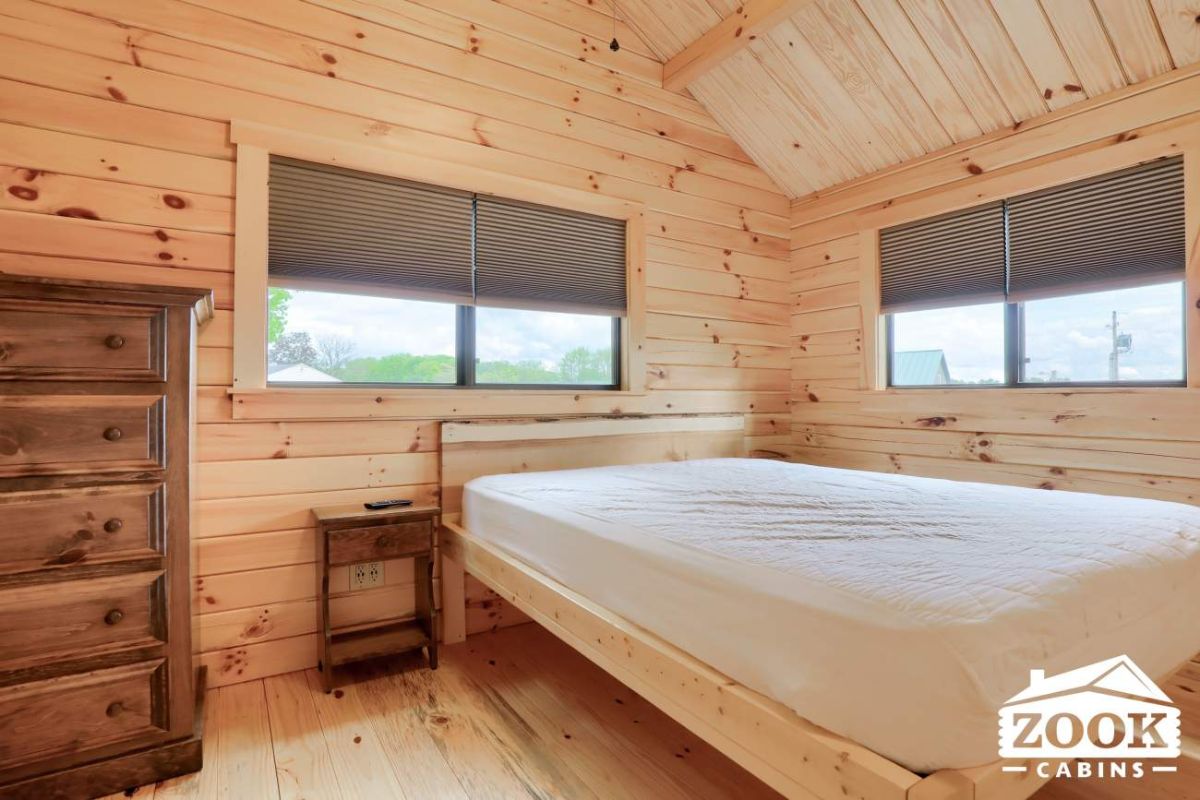 From this angle on the sofa, you can see the cute little built-in table between the kitchen and bathroom. There is also a peak into the second bedroom with a loft above for a third sleep space or just extra storage.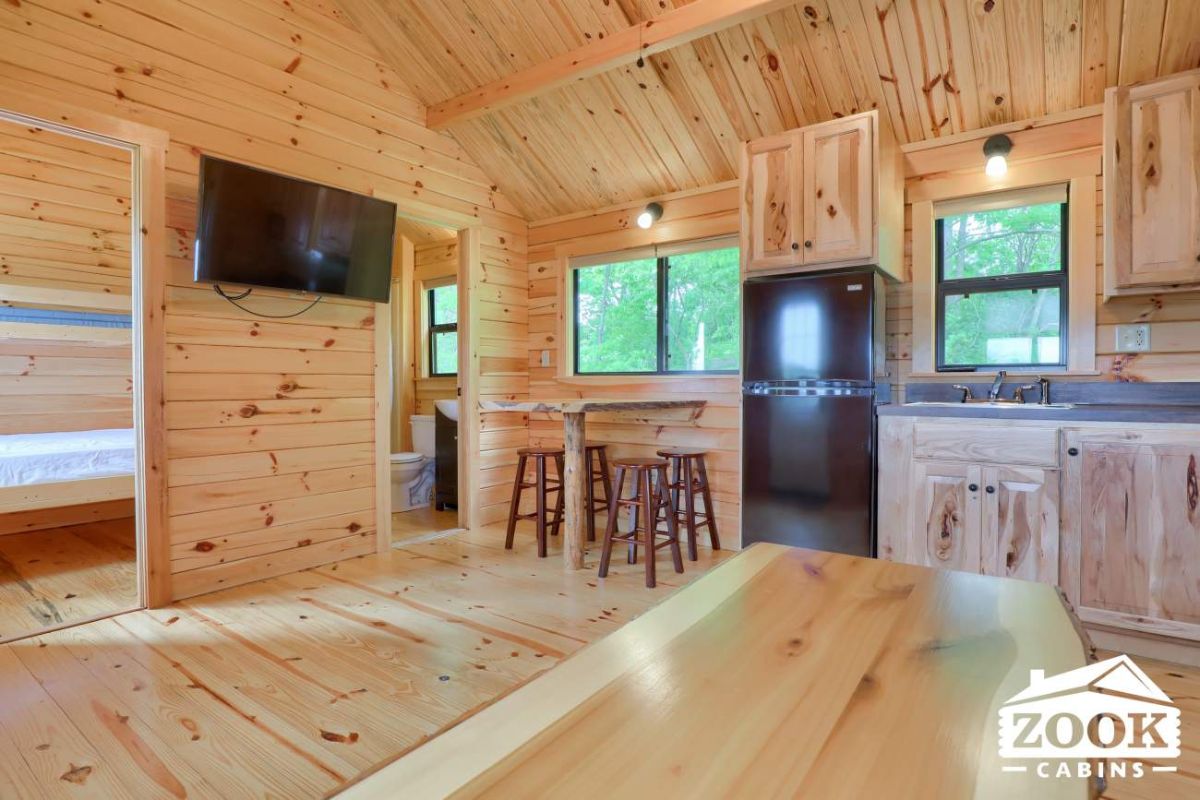 The living room has plenty of space for additional chairs or even shelving. Between the doors leading to the bathroom and second bedroom, a television is mounted. I can imagine an entertainment center is set up below this for more storage.
You may also notice the door next to the bedroom. This small closet inside the door is great for clothing storage, cleaning supplies, or just winter coats. One of my favorite things about this particular home is definitely all of the room for more storage.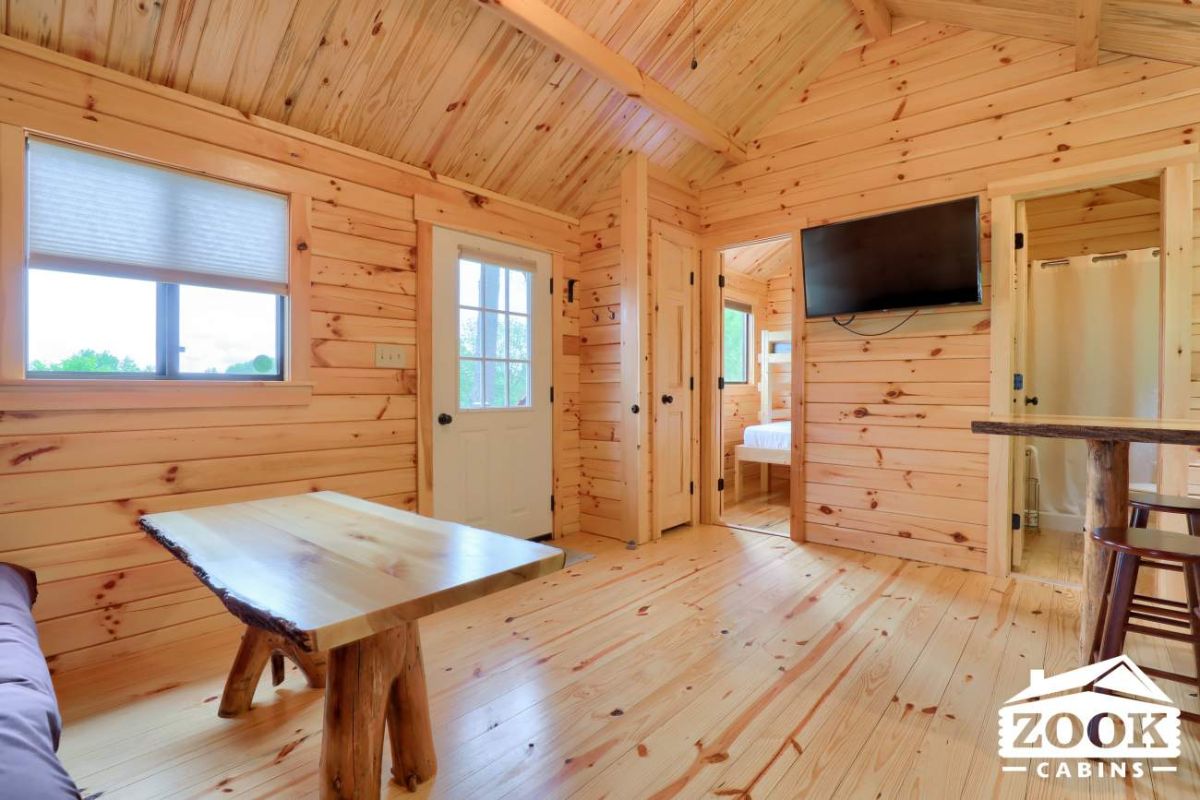 If you are interested in buying your own tiny log cabin, check out the Zook Cabins website. You can also find them on Facebook, Instagram, and YouTube. Make sure that you let them know that Log Cabin Connection sent you their way.
More Log Cabin Kits and Tours