I love the simple design of the outside of the Deerfield log cabin. A sprawling ranch-style home with a great room and smaller loft space, this home is one built with classic style and comfort in mind.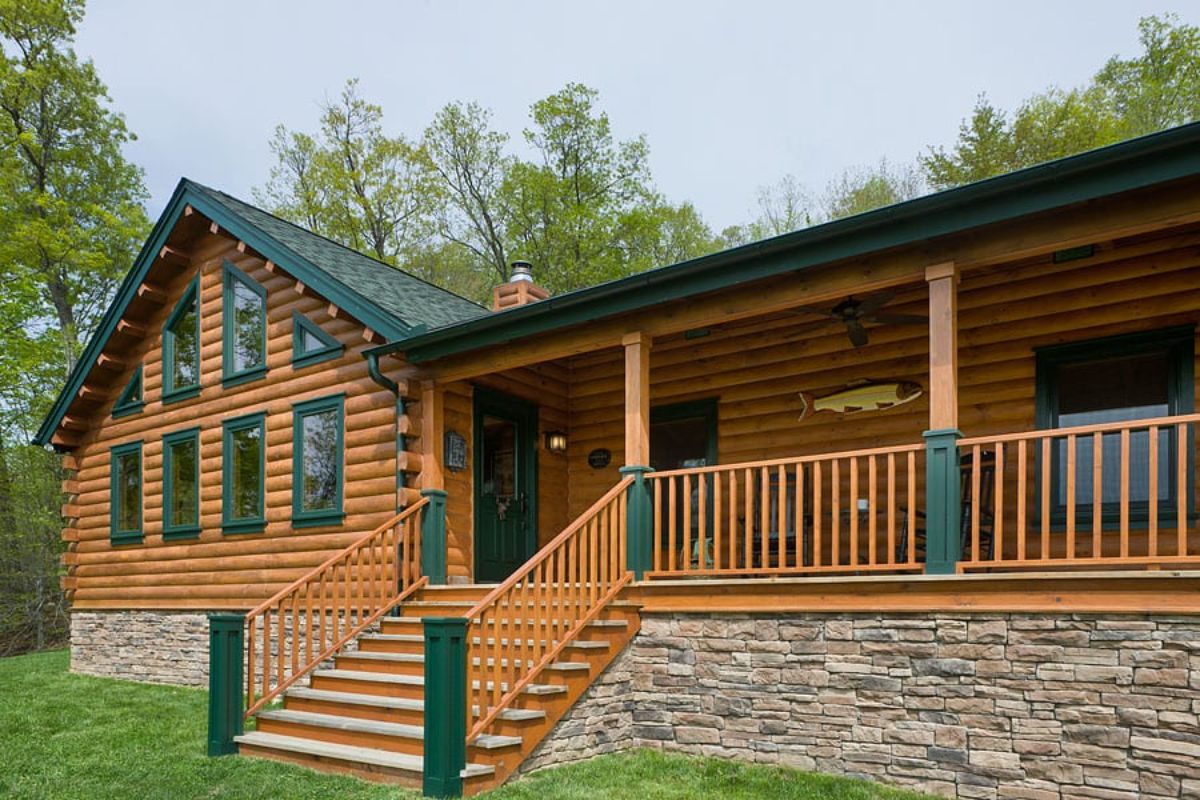 Log Cabin Size
1,376 square feet
32'x48'
3 bedrooms and 2 bathrooms
Log Cabin Price
$163,250 base price with options for upgrades.
On the front of this home is a nice wide porch with plenty of room for seating. Plus, you get a nice look at the great room windows here. They aren't as large as some homes, but they provide tons of natural light into the living room.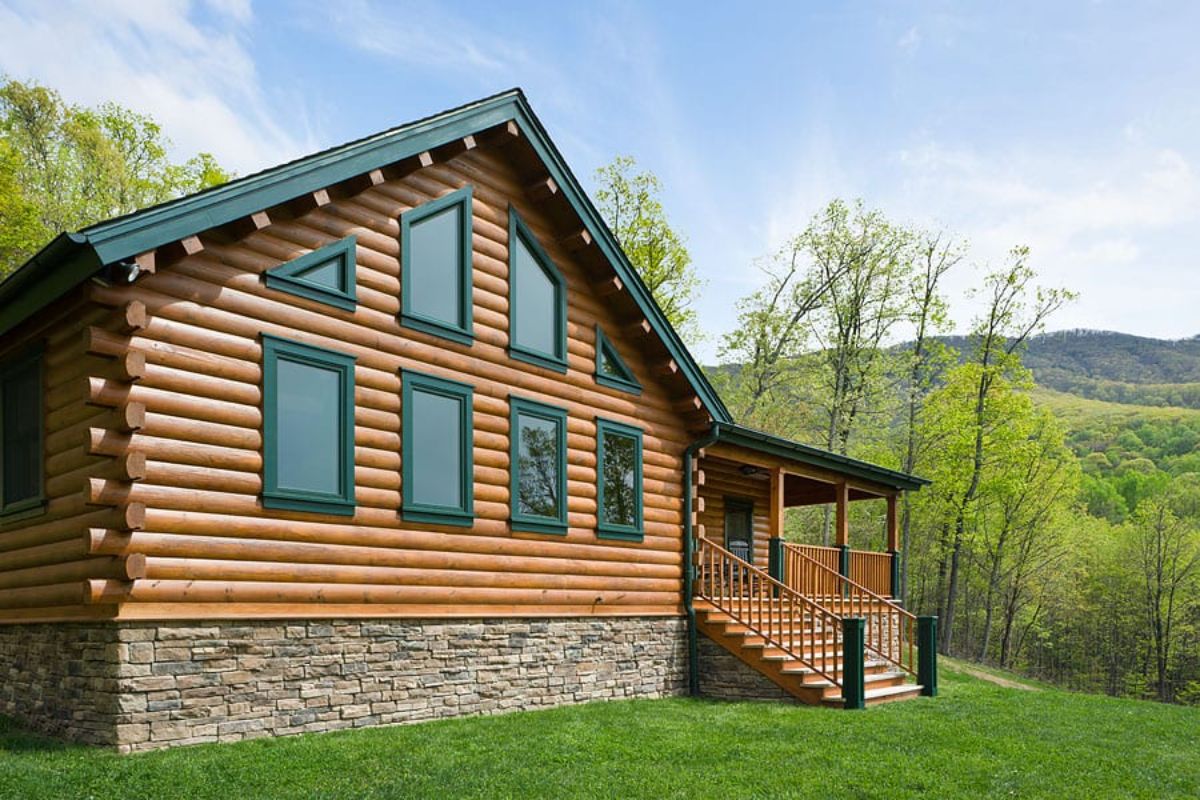 One of the more unique parts of this home is the fact that the driveaway pulls up to a below-ground garage. I love this layout and practicality. While it doesn't have a walk-out traditional basement, it does have a garage downstairs with other lower-level amenities such as the theater room we will see a bit later.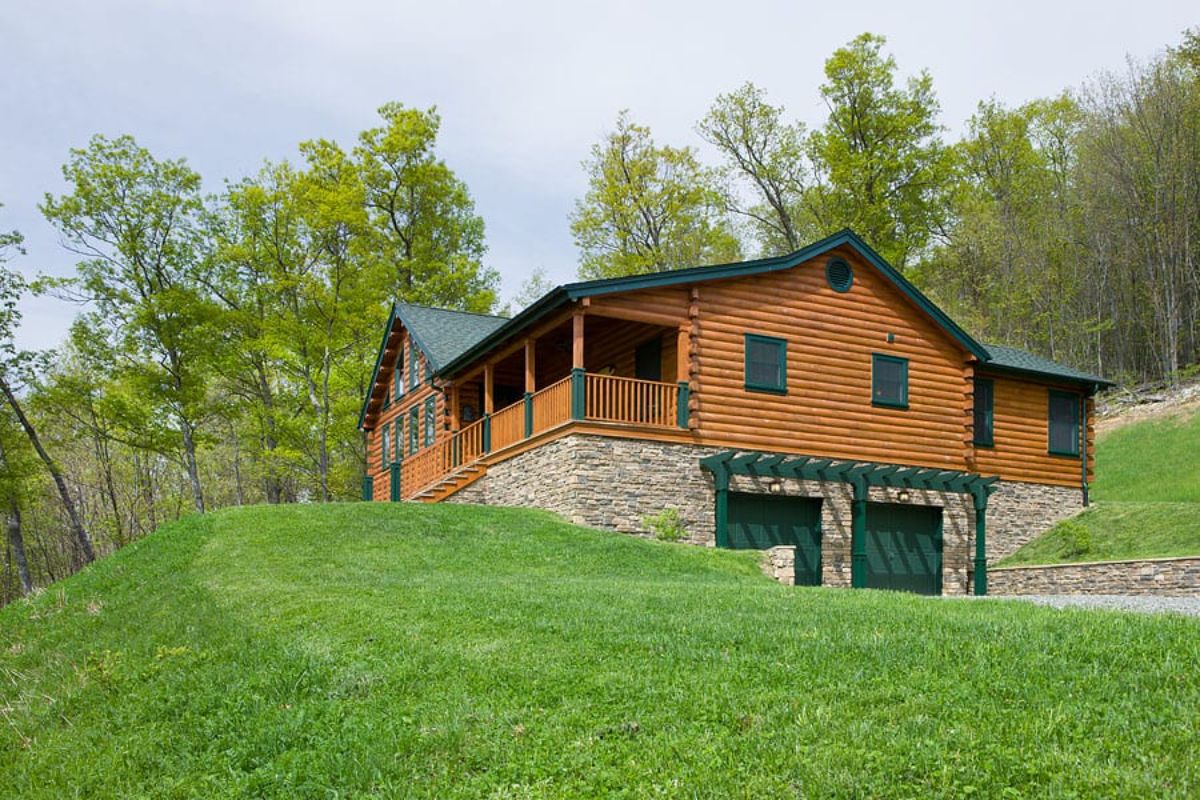 Off the back of the home is an extra-large deck. This space is not covered but could have an awning added if you desired. I love the open space with room for a full picnic table on the side.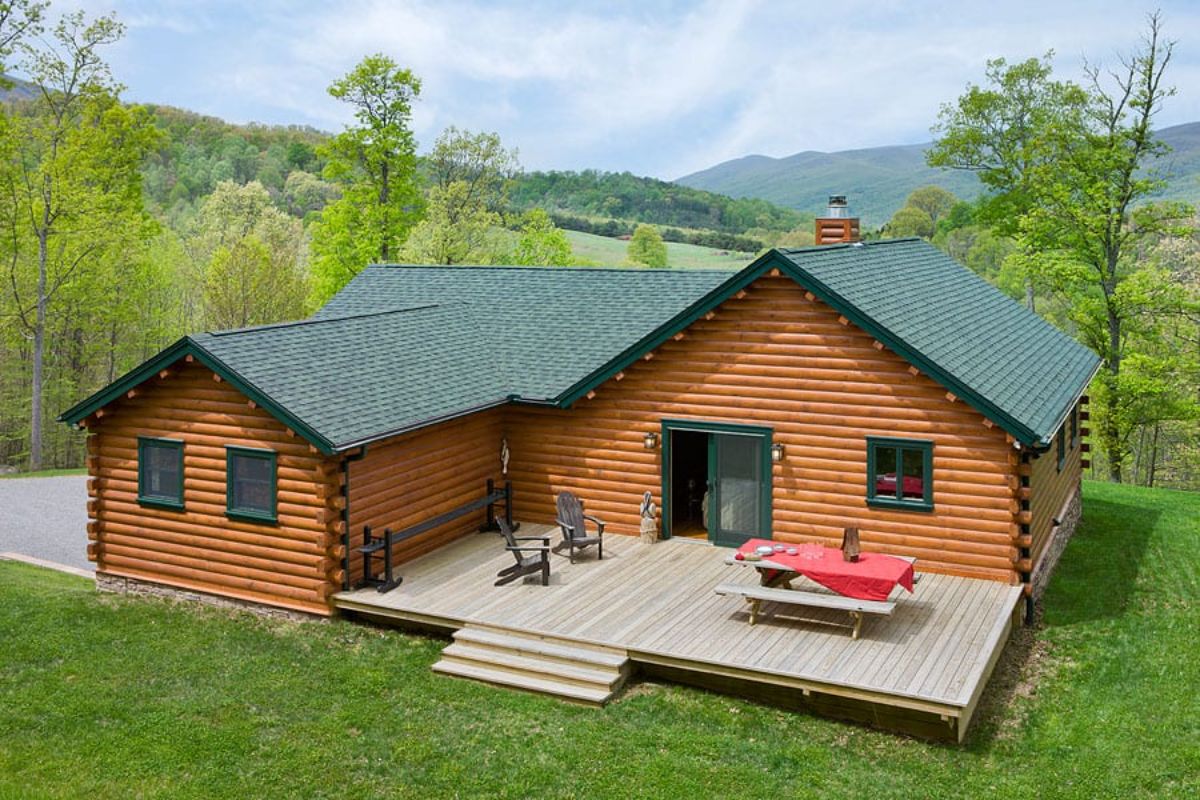 Inside the log cabin is an eclectic mixture of decor. While it has a unique rustic element, there is also a good amount of country chic alongside vintage furniture.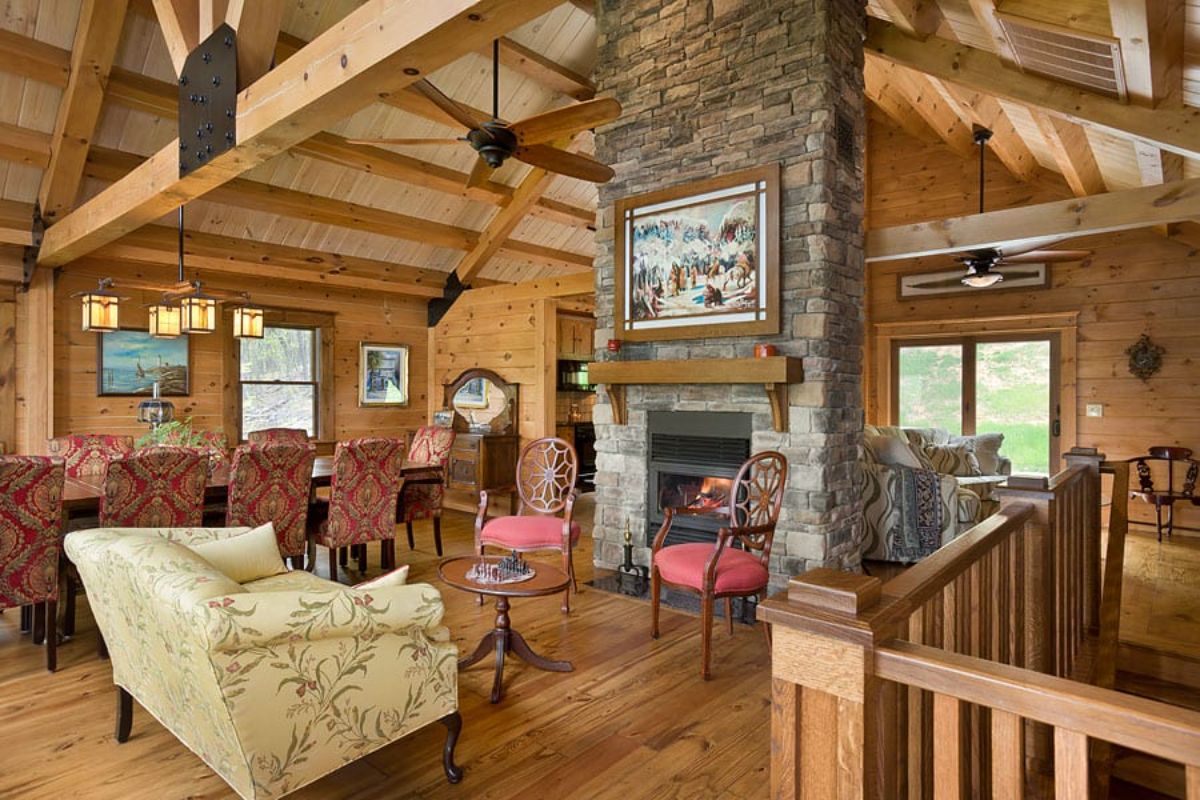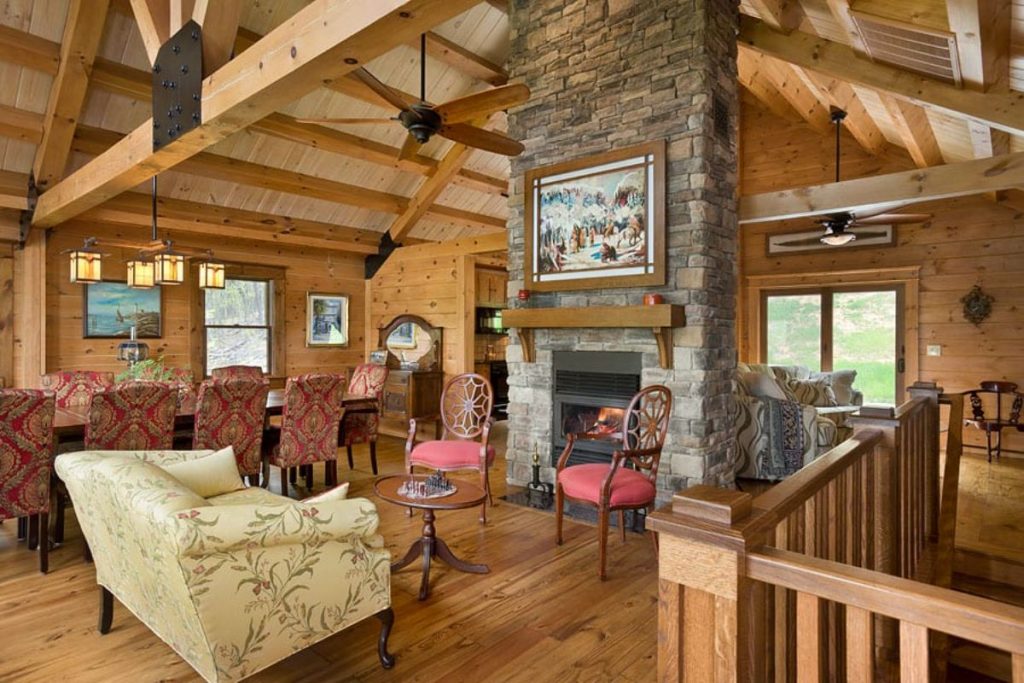 Not only is there a formal living area, but there is this nook behind the fireplace where you have more seating, tons of storage built-in cabinets, and the entrance to the deck out back.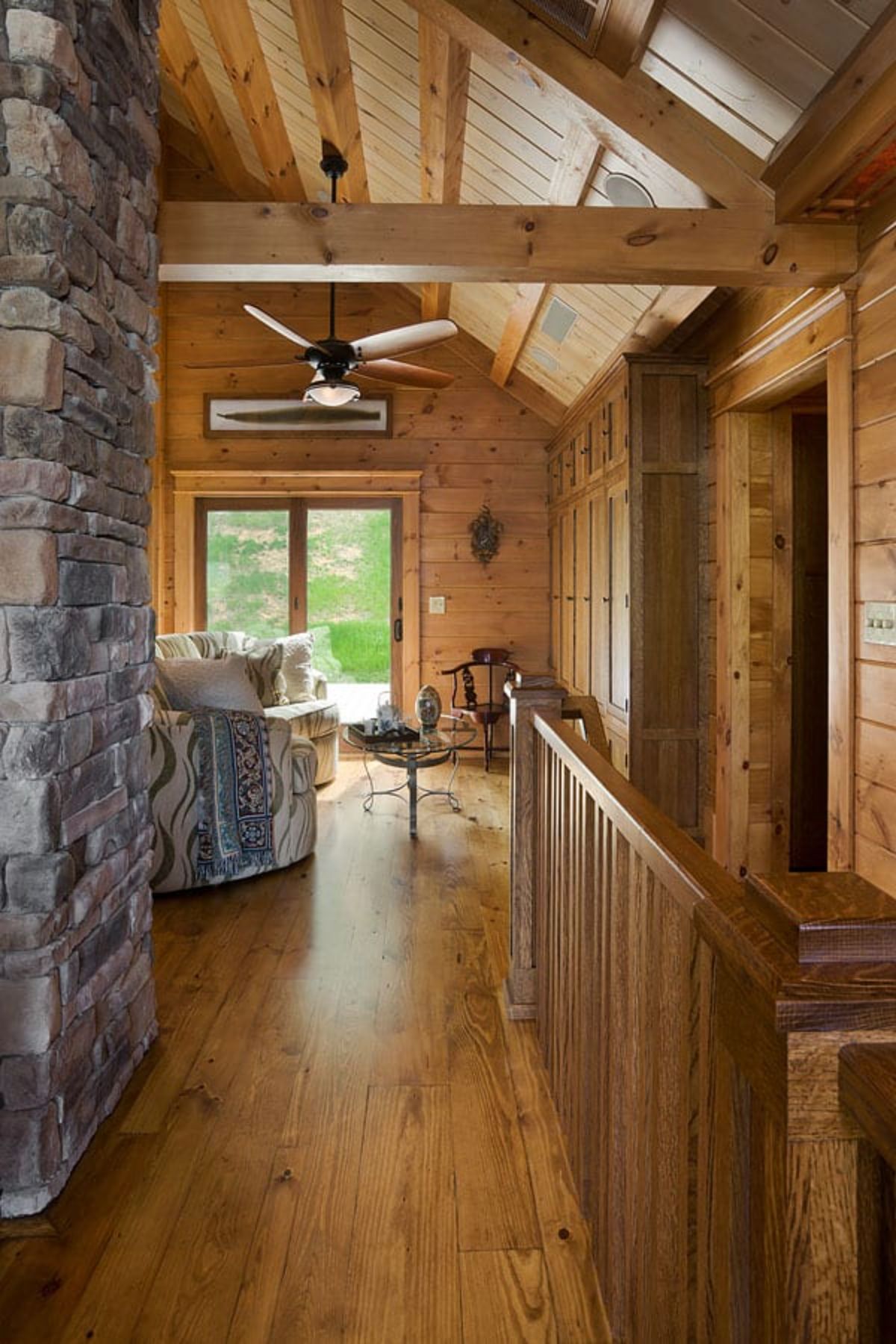 To the right of the main living area is the dining nook with a gorgeous formal table, and my favorite addition against the front wall of the great room - the baby grand piano.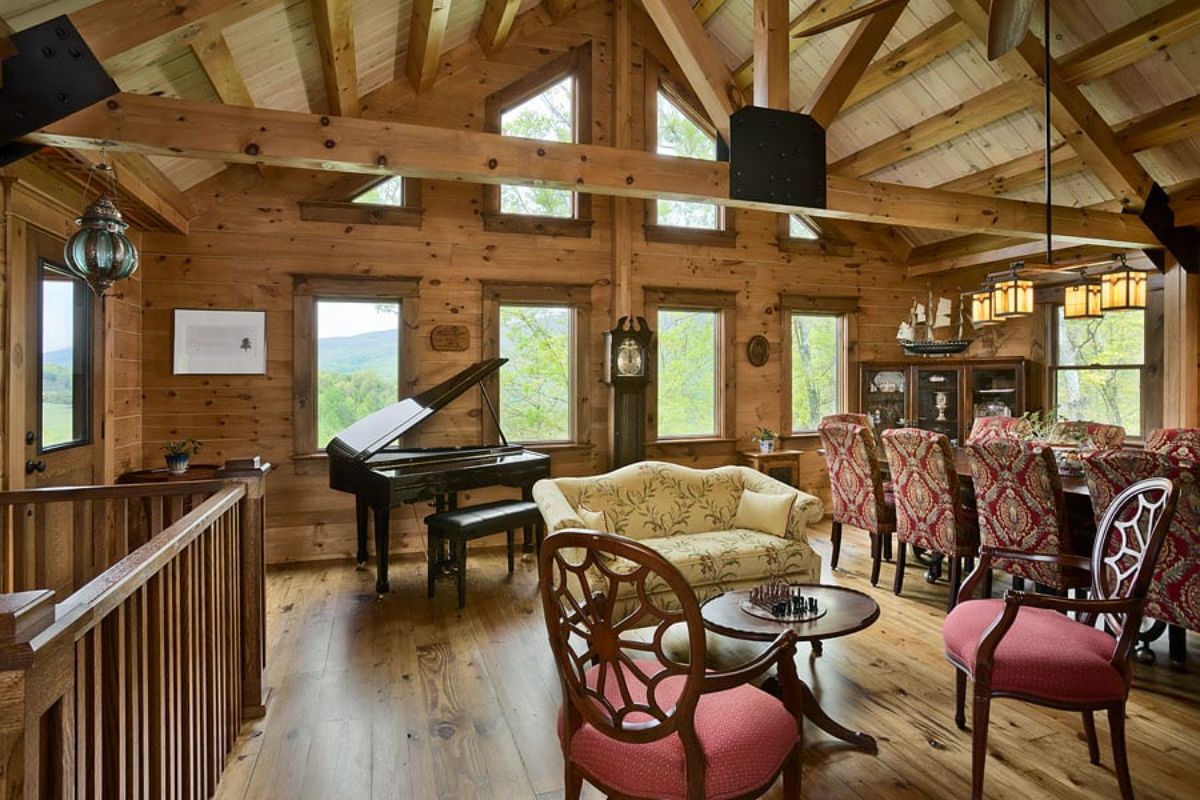 A formal dining room is a great addition to any home, and here it sits with custom upholstered chairs that really create a beautiful atmosphere. Throughout the Deerfield cabinet, you can see the obvious care put into the preferences of the owner's style choices.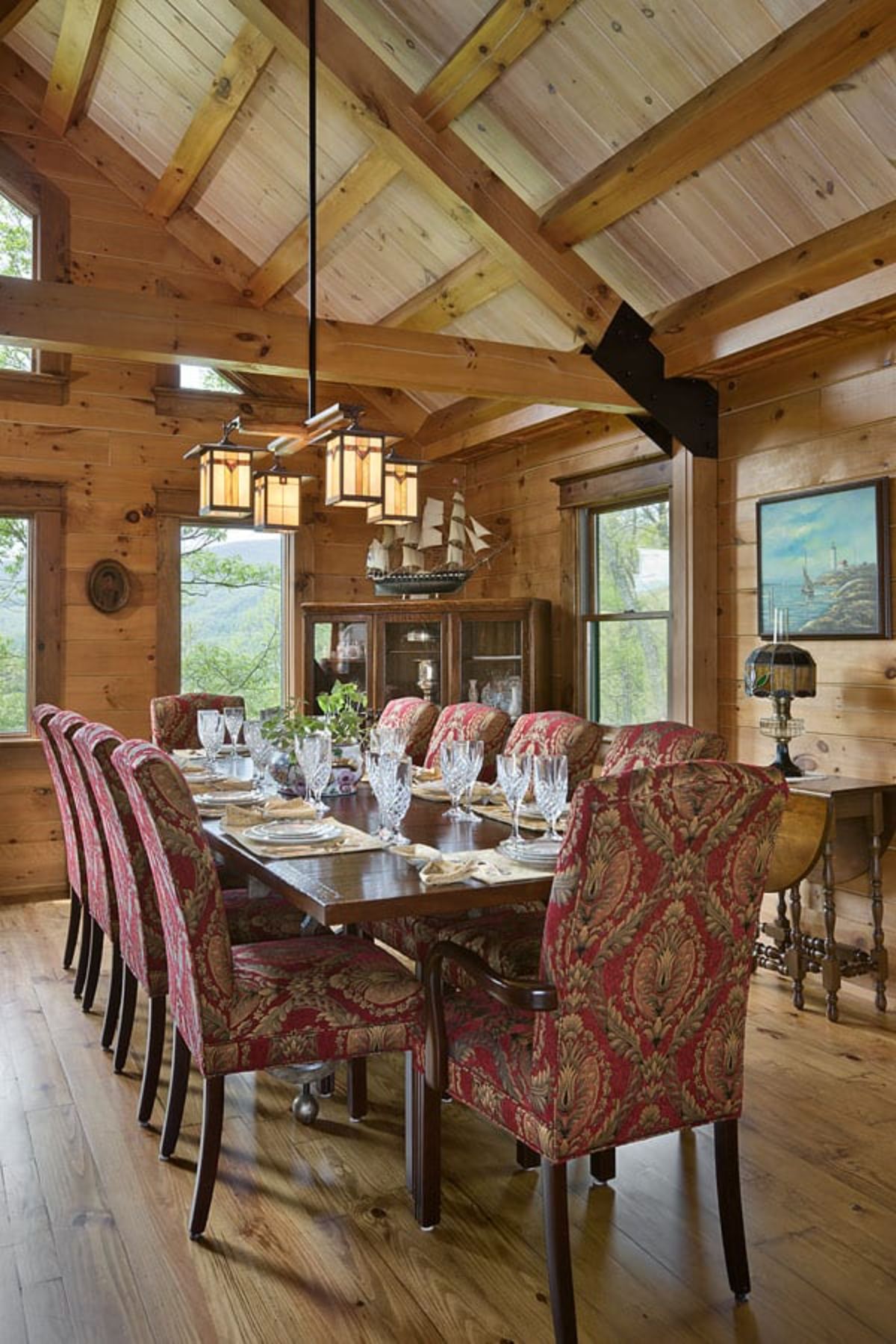 The kitchen is a bit different from the rest of the home with a modern space including custom appliances like the refrigerator with matching doors to the cabinetry. The tiled space also includes an island that doubles as a breakfast nook or dining bar.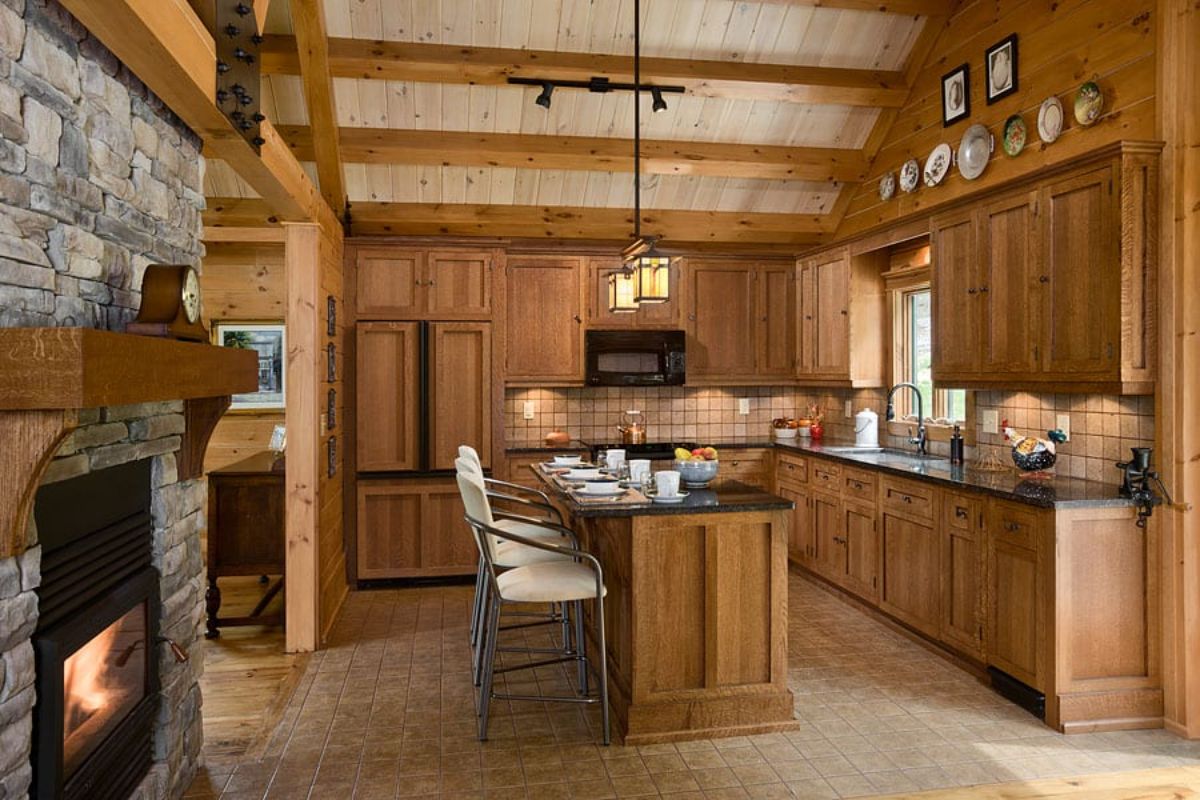 The home has multiple bedrooms with this one just off the front of the home. They are sizable with room for a queen or king-sized bed and storage.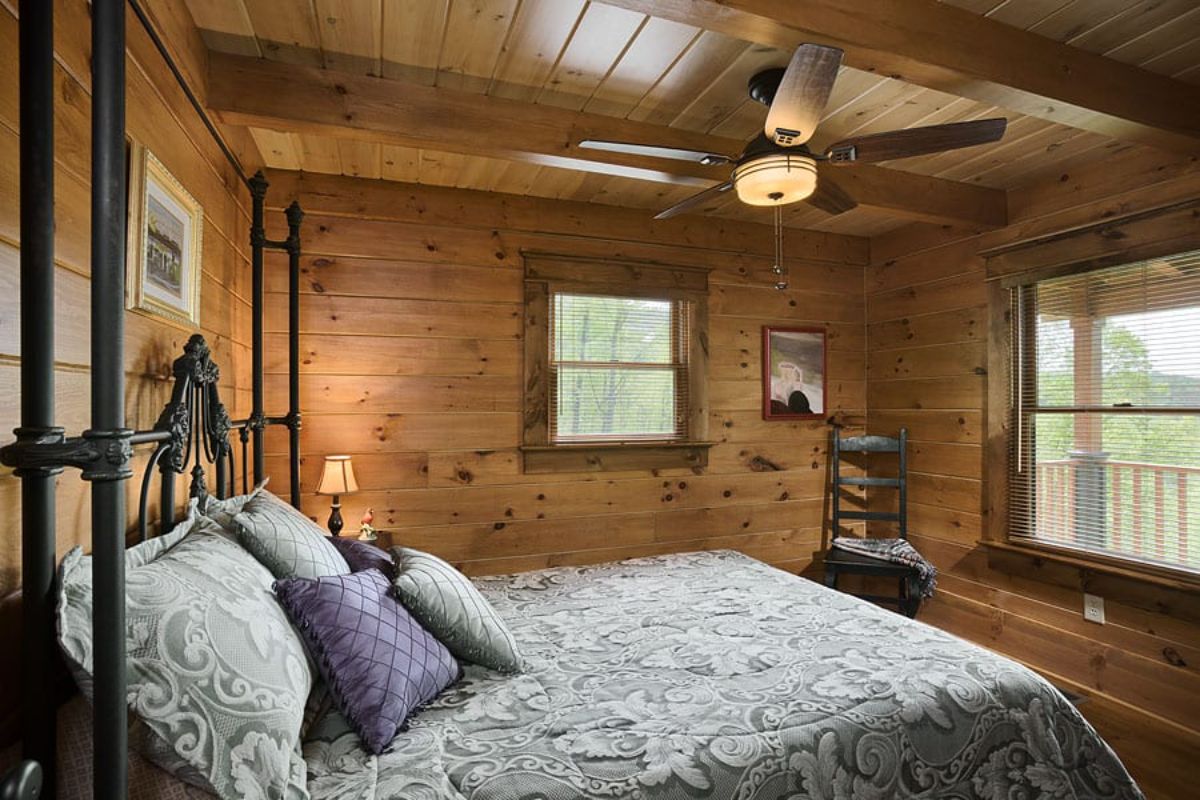 The master bedroom is a beautiful space that includes its own private fireplace and a covered entertainment center above the fireplace. I love the detail in this home, especially in these private spaces.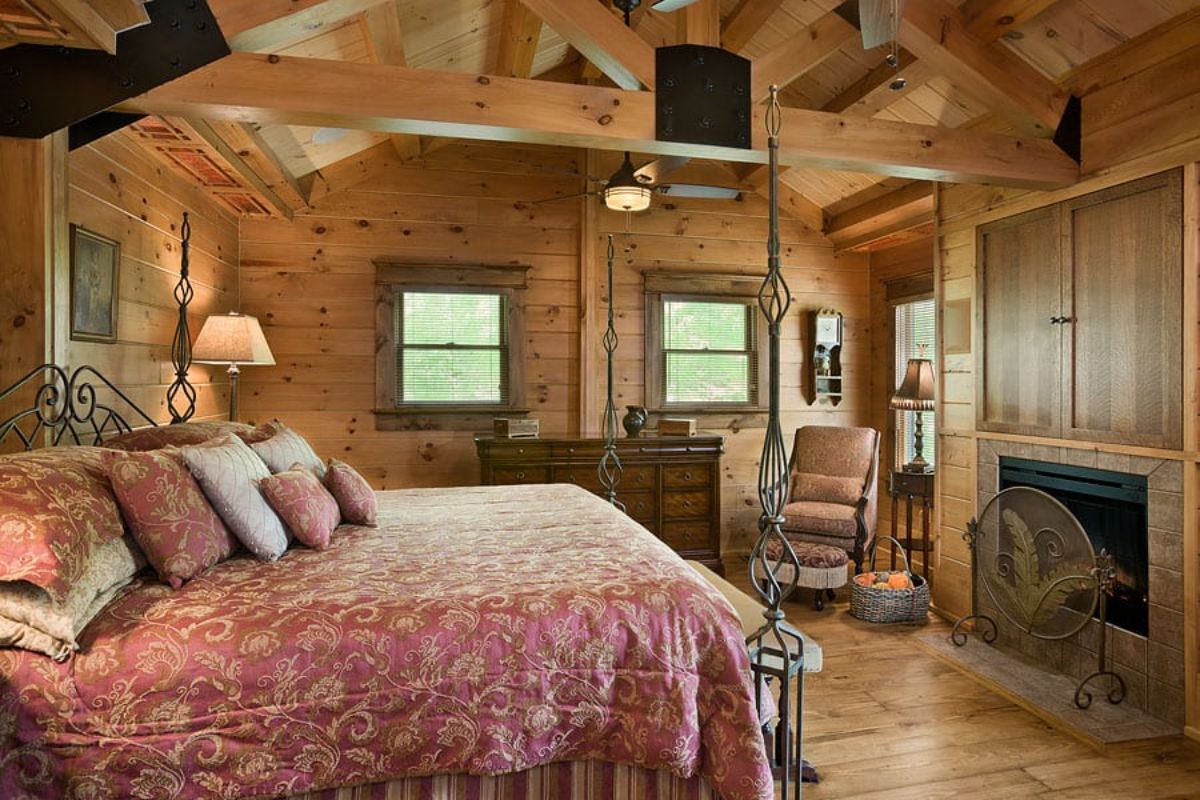 And the master bathroom includes a great dual vanity situation along with a nice jacuzzi soaking bathtub for a cozy experience.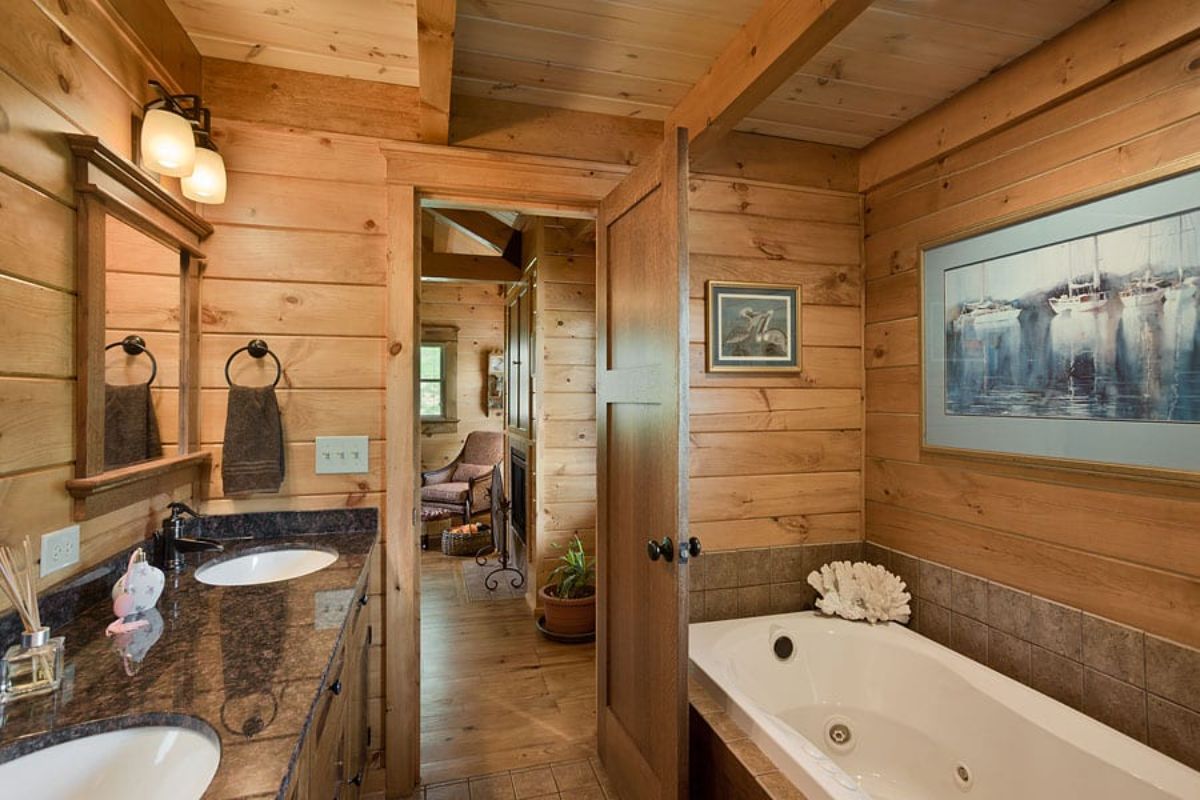 Additionally, this owner has used some of the different spaces for their own interests. In one small area, they have created a little home office with a built-in deck on one side and some open shelves behind it for storage of their models and books.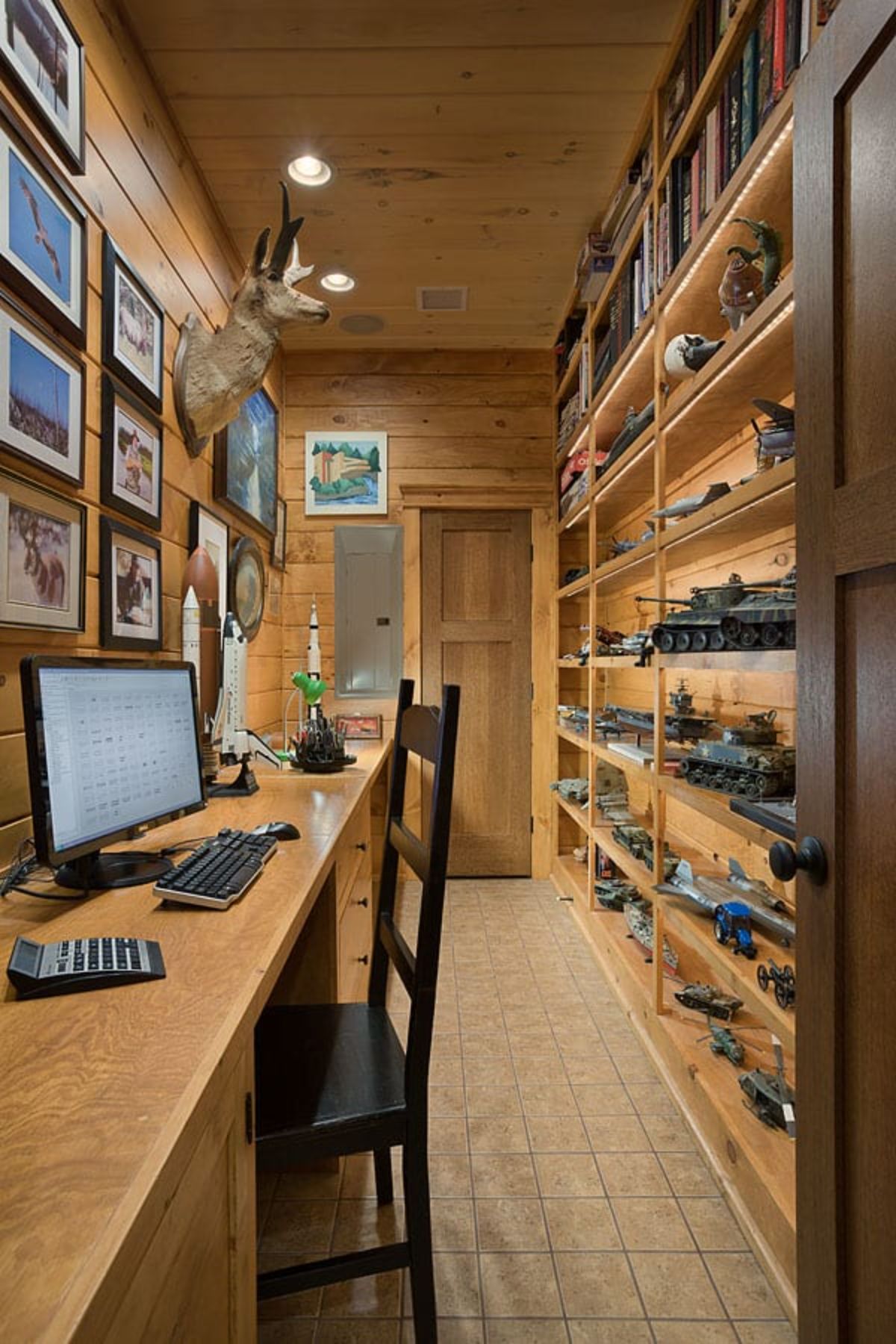 My favorite part of this home, however, is definitely the downstairs theater room. A true luxury that is ideal for movie lovers, this room is comfortable with multiple reclining chairs ready to relax with a new release.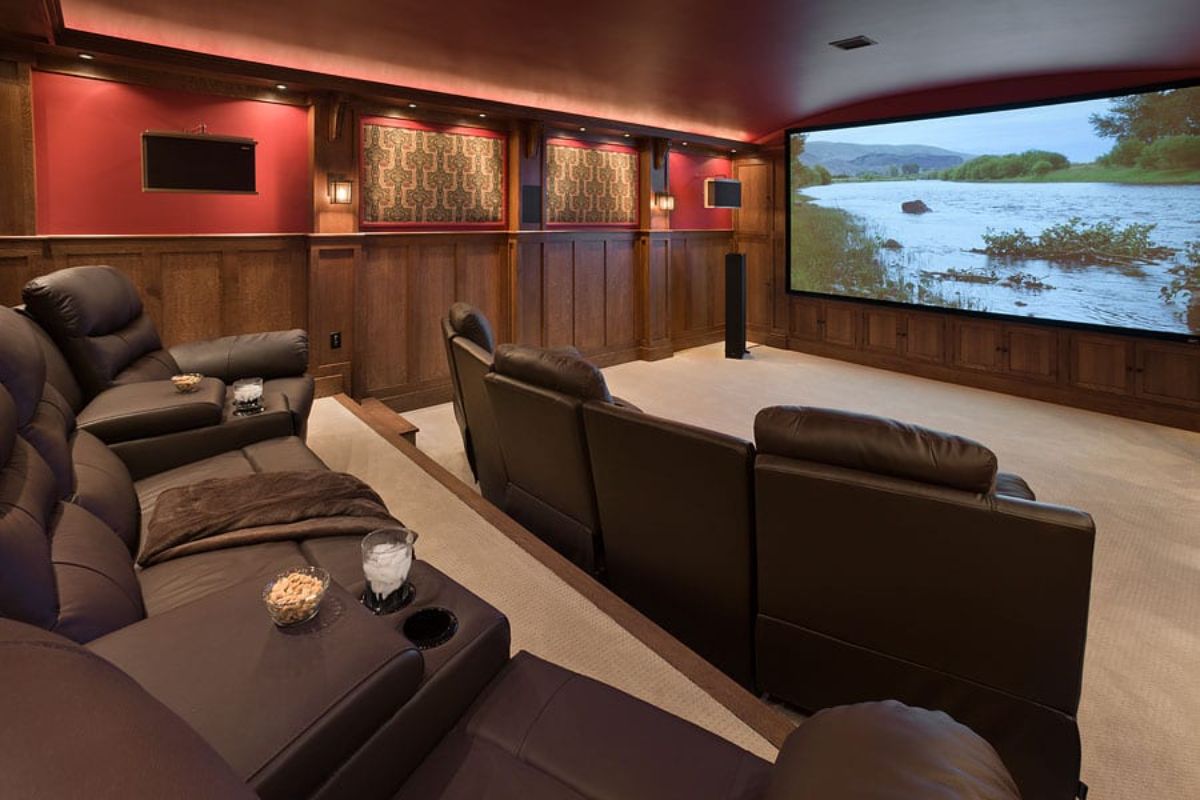 For more great log home builds, check out the Coventry Log Homes website. You can also find them on Facebook and Instagram. Make sure you let them know that Log Cabin Connections sent you their way.
More Log Cabin Kits and Tours