I love these cabin rentals and this one with a fun name, "Therz a Bear" is a great choice just outside Bryson City, North Carolina. A simple cabin in the woods that easily sleeps 5, this home is one you can use for inspiration or book for your next vacation.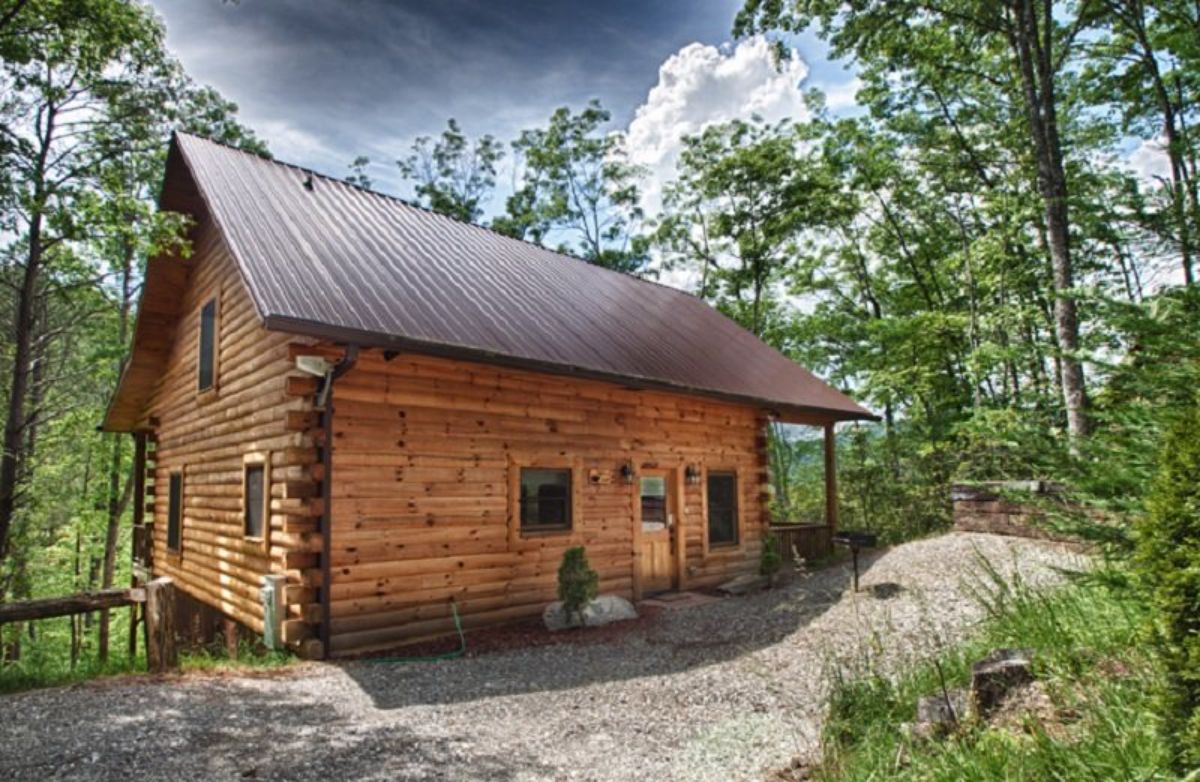 Log Cabin Size
1,270 square feet
2 bedrooms (with a total of 2 queen beds and 1 twin bed)
2 full bathrooms
Easily sleeps 5
Not only is this home a perfect retreat with room for the family, but you have absolutely breathtaking views of the North Carolina mountains! Bryson City is a wonderful little tourist community with shops, restaurants, and hiking trails just waiting for you to explore.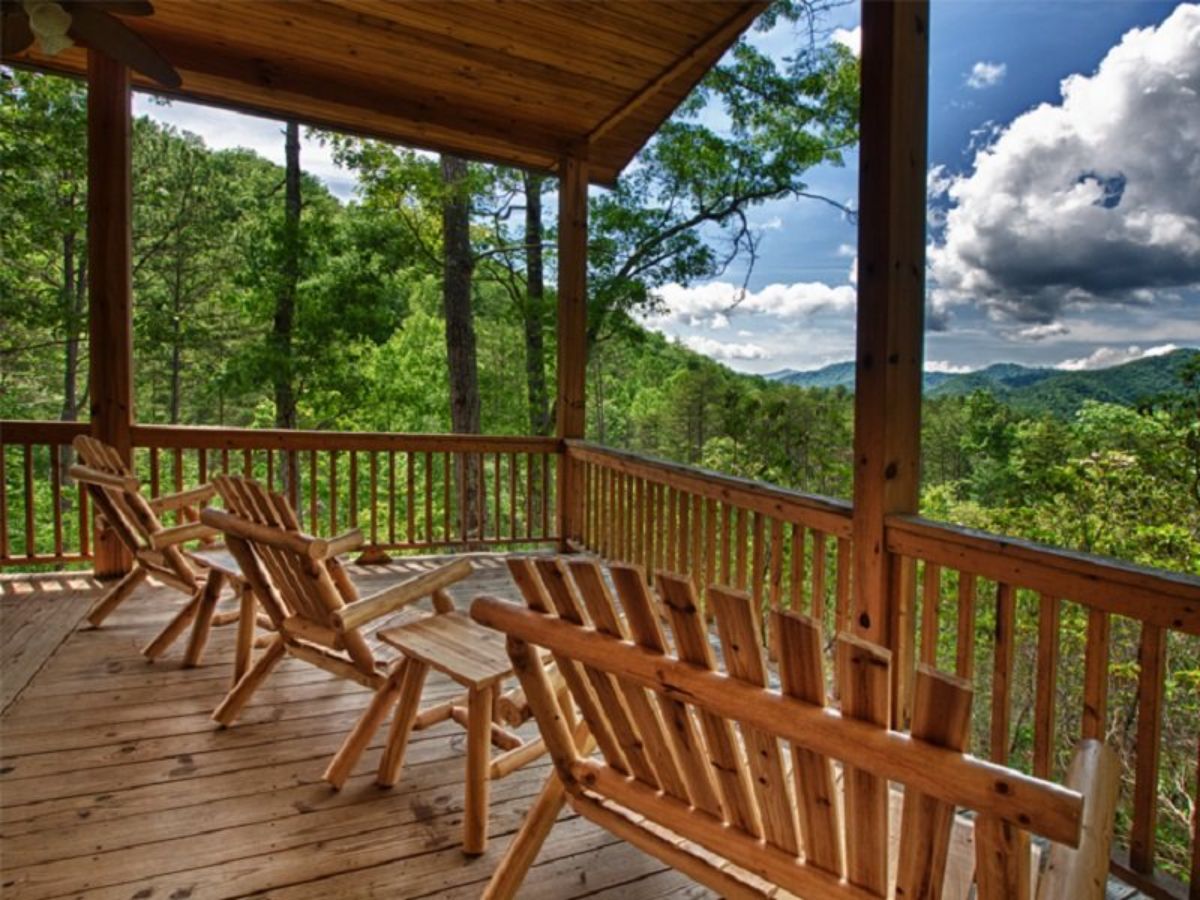 Of course, one of the appealing additions to this rental cabin is not just that covered porch overlooking the mountains, but the hot tub included there. When I say oasis from the world, I mean it!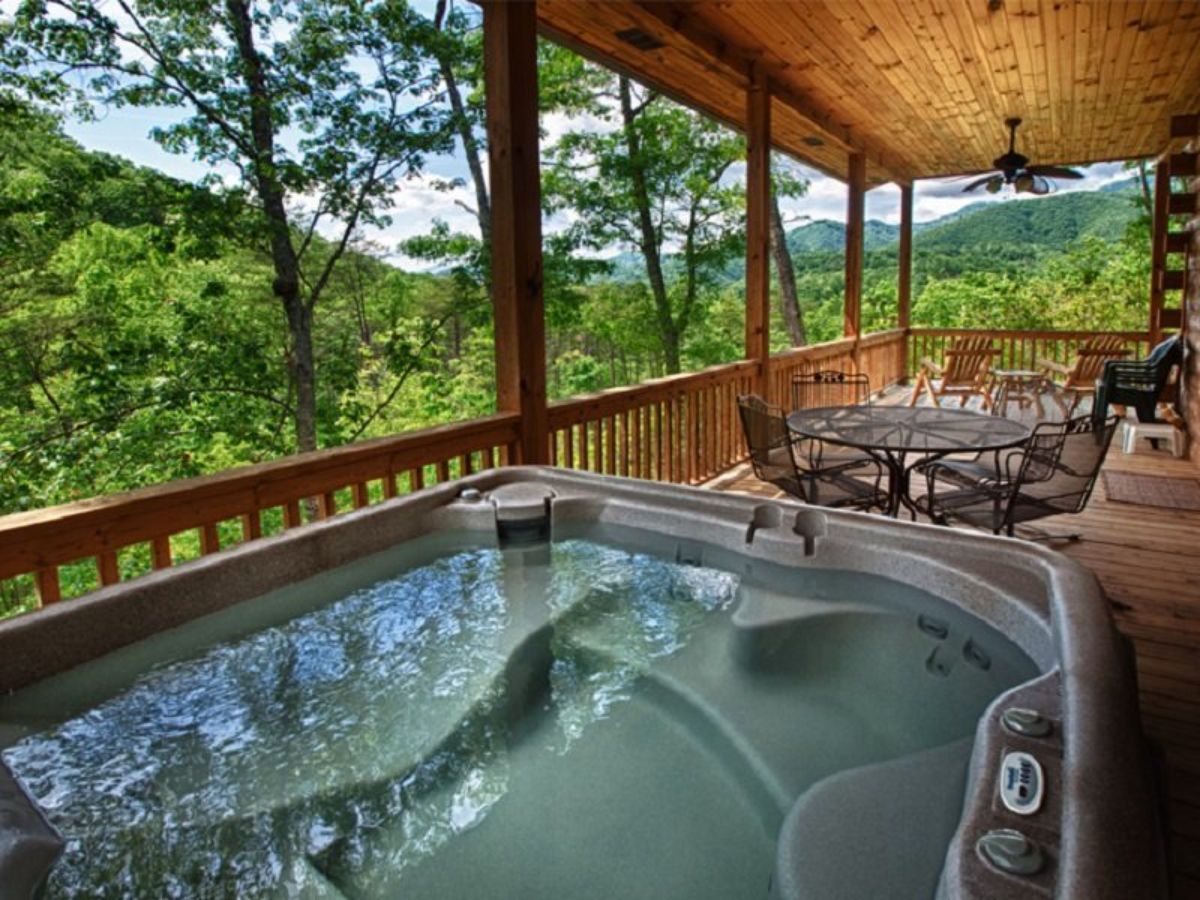 And down around the corner of the house is a walkway down to the space below the cabin with built-in benches and a fire pit. The perfect place for making homemade S'Mores!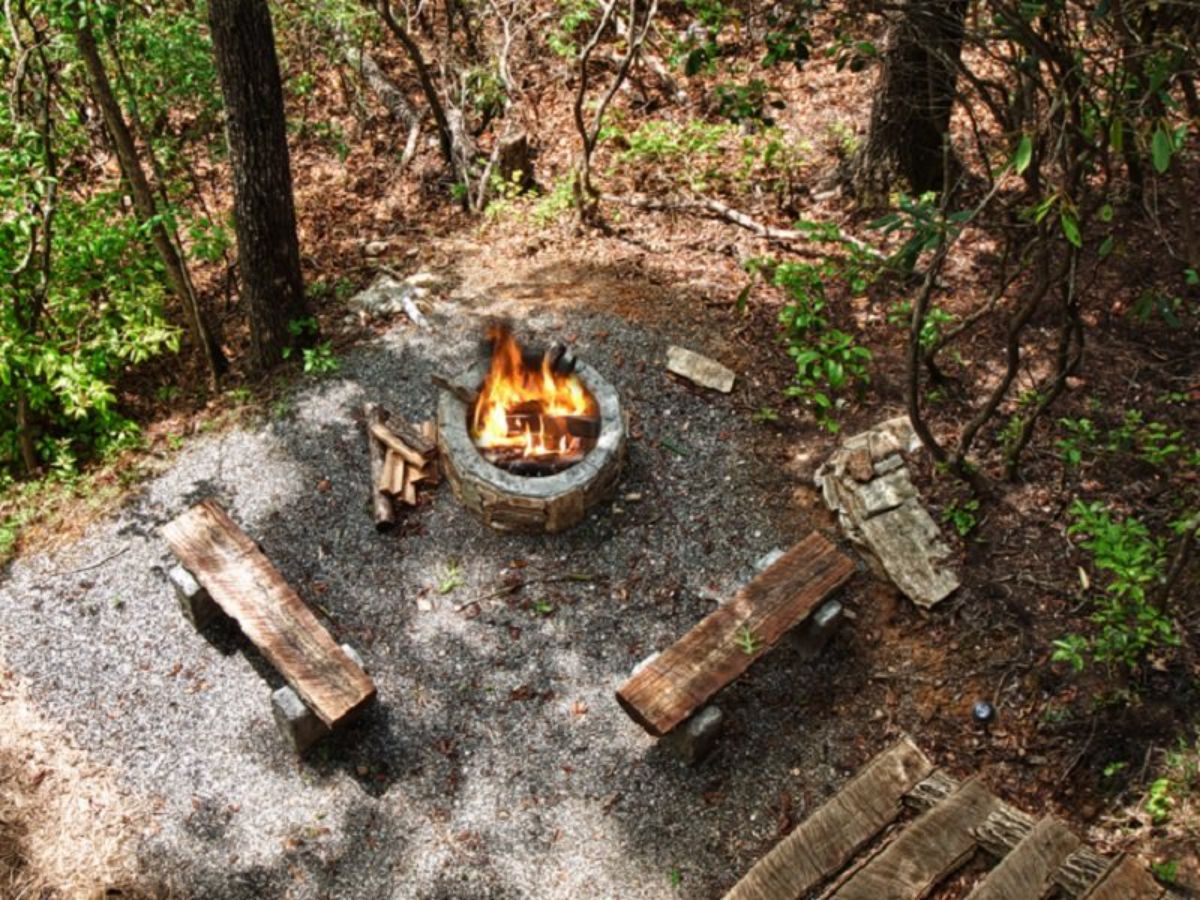 When you step inside the Therz a Bear cabin, you are greeted by a main floor living room, dining room, and kitchen that flow together beautifully. Behind the kitchen is the main floor bedroom and bathroom with stairs off the back of the space leading to the loft bedroom and bathroom. Plus, in the corner, you have a fireplace for extra warmth.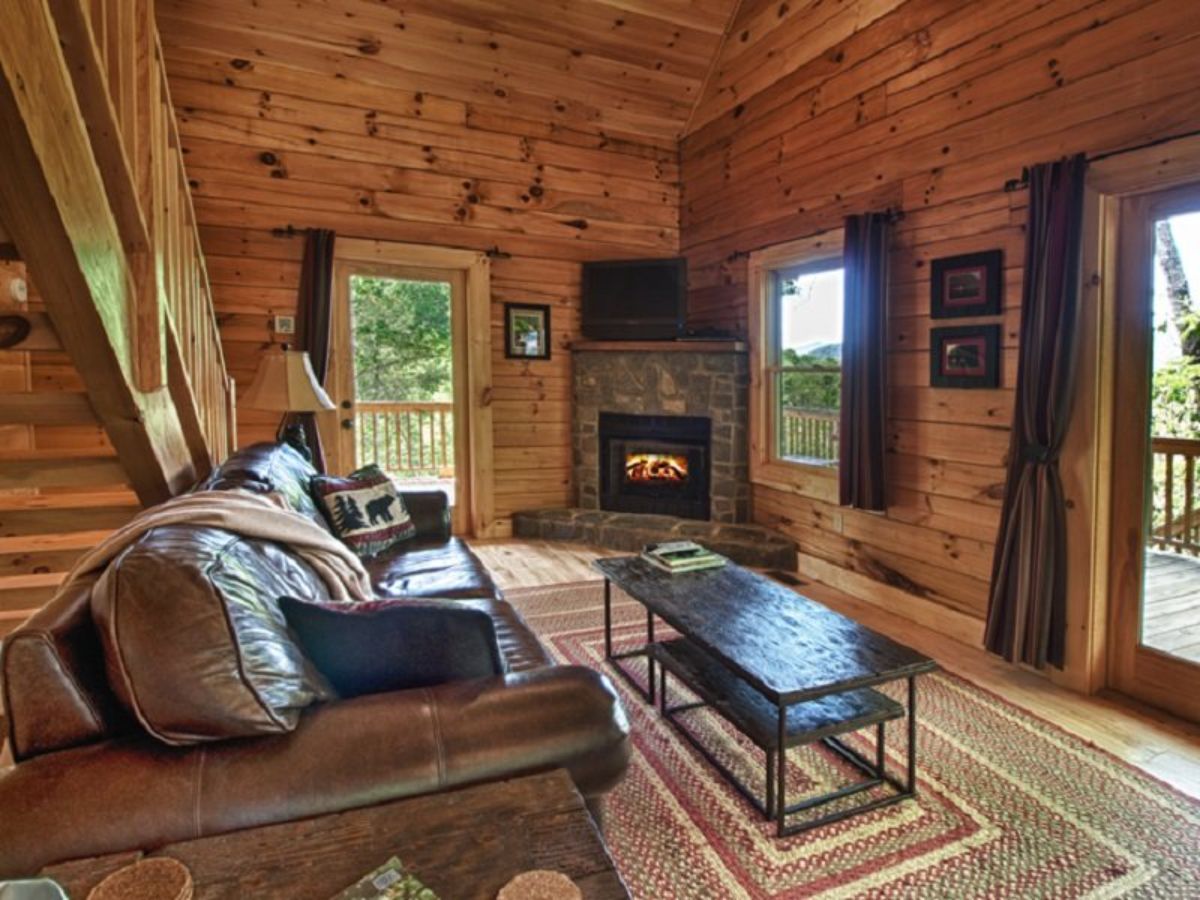 On the backside of the living space is a corner kitchen with a traditional layout including full-sized appliances in stainless steel. A granite countertop and stone exterior make up the island bar and give you a little extra space for seating.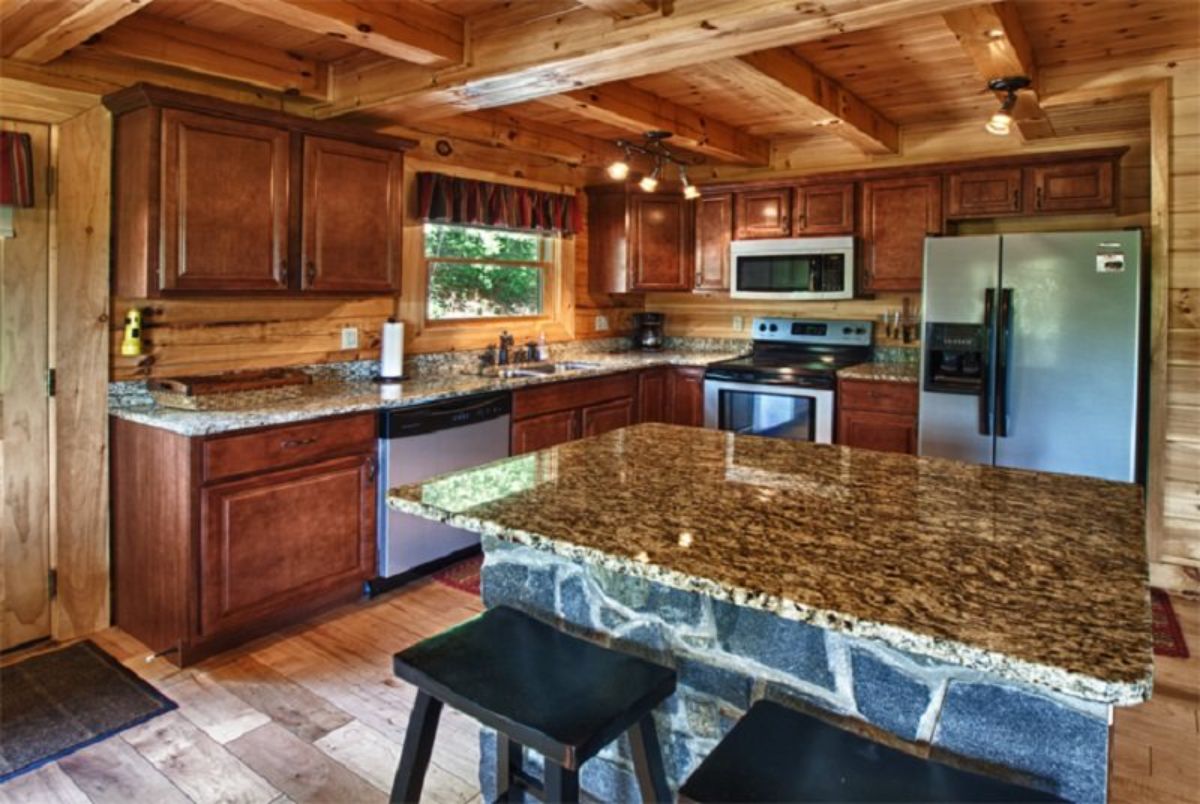 A full dining table that easily seats 6 is between the living room and the kitchen with French doors and large windows bring in sunlight from the deck on the back and side of the home.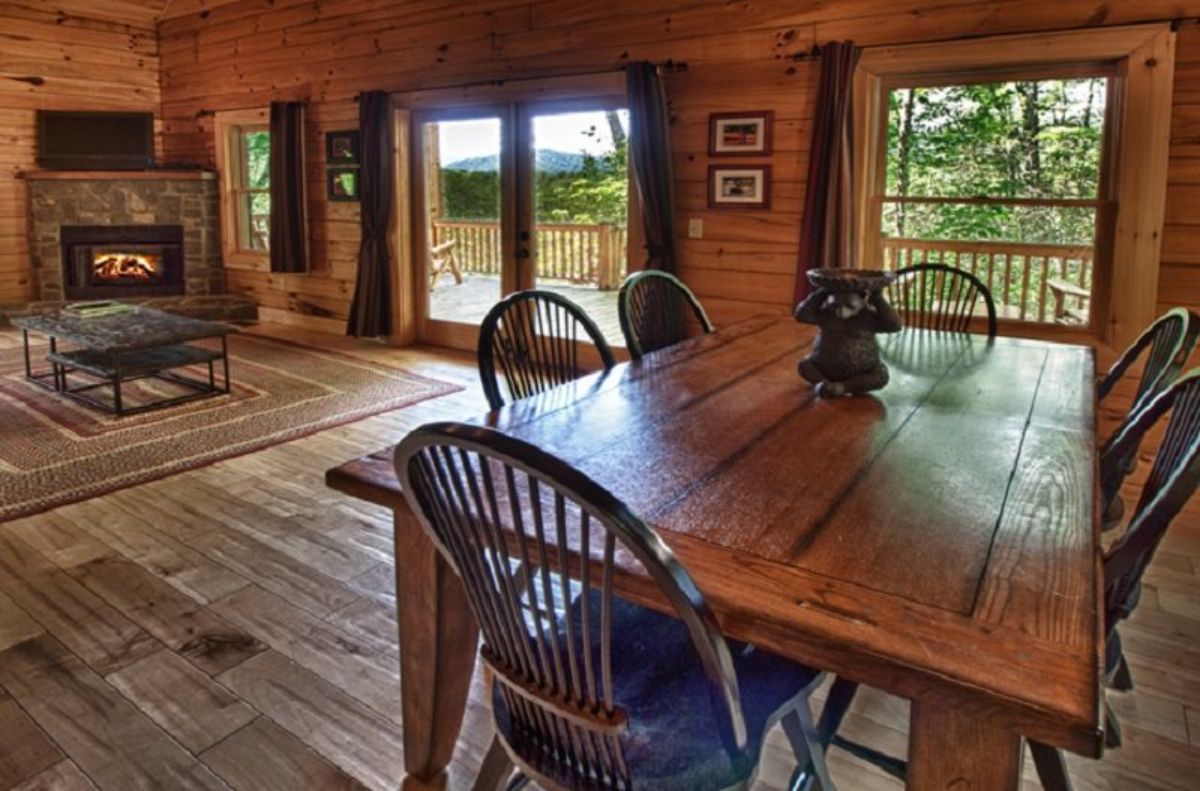 A main floor "master" bedroom has plenty of room for the rustic-styled king-sized bed, dresser, and nightstands.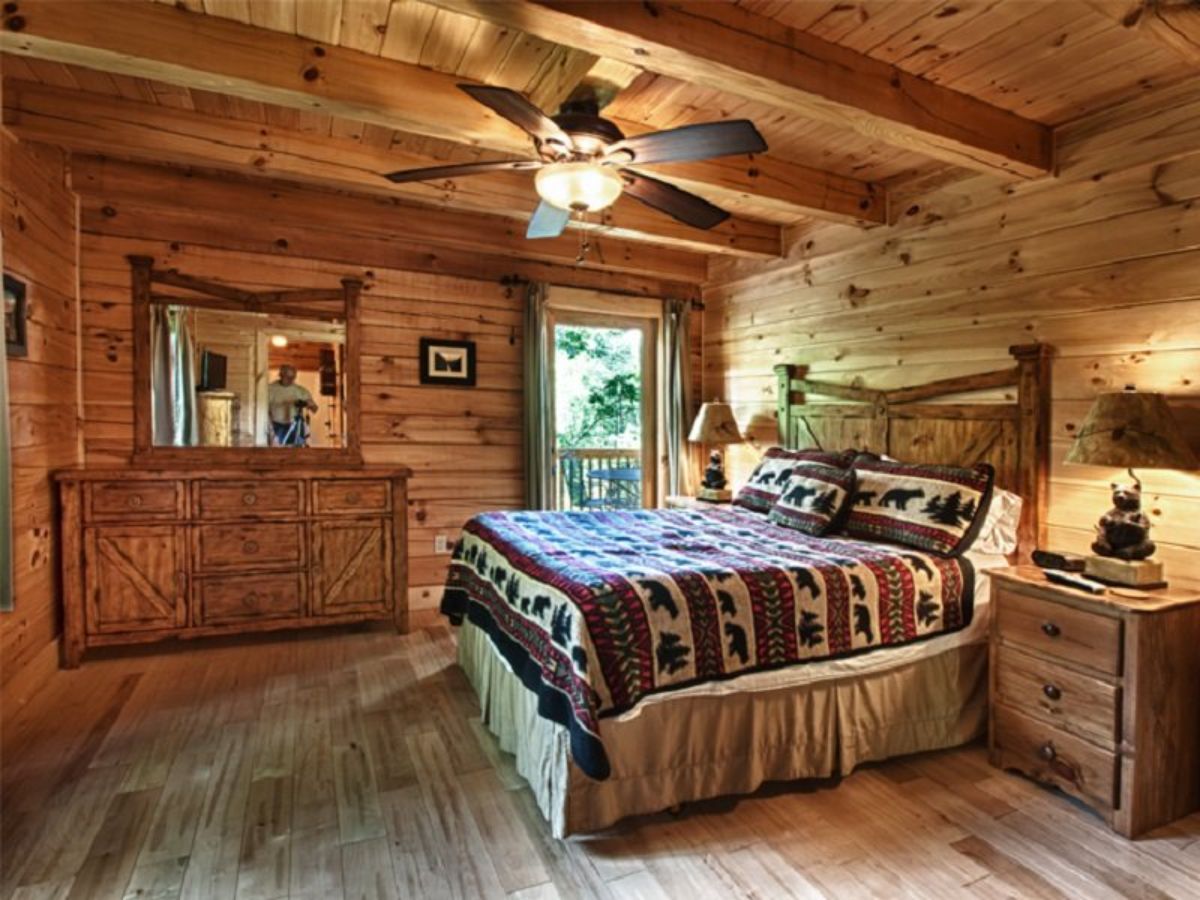 There is even a chest of drawers next to the window with room for a small television on it to give you a private place to lounge for a movie if wanted.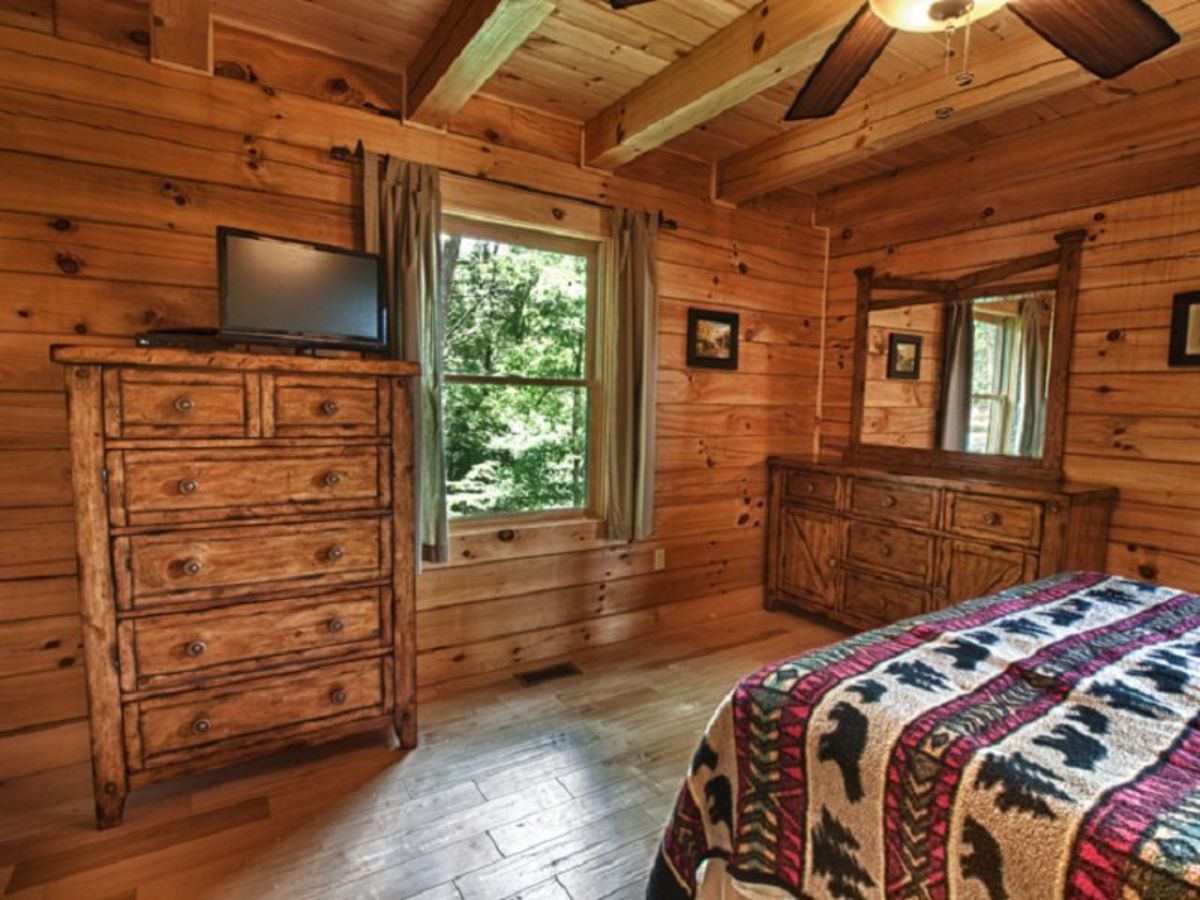 The master/main floor bathroom includes a combination bathtub and shower with a traditional toilet and sink. It isn't an overly large bathroom, but it does have room for storage shelves and updated fixtures.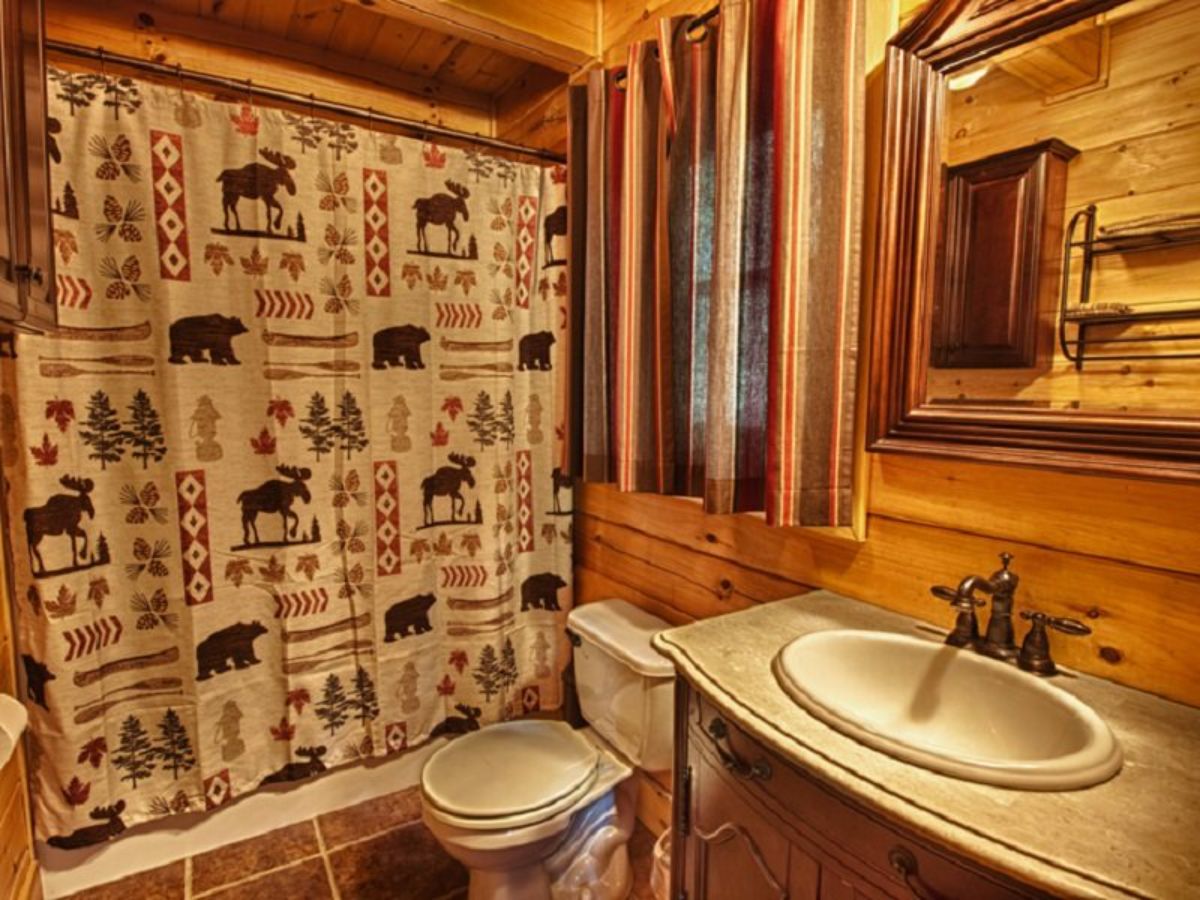 Lofts in cabins are often used for extra sleep space, and this one is no different. While it doesn't have traditional four walls, it does have its own closet and bathroom. There is more than enough room here for not just the queen bed that is shown below, but also a twin you'll see n the next image.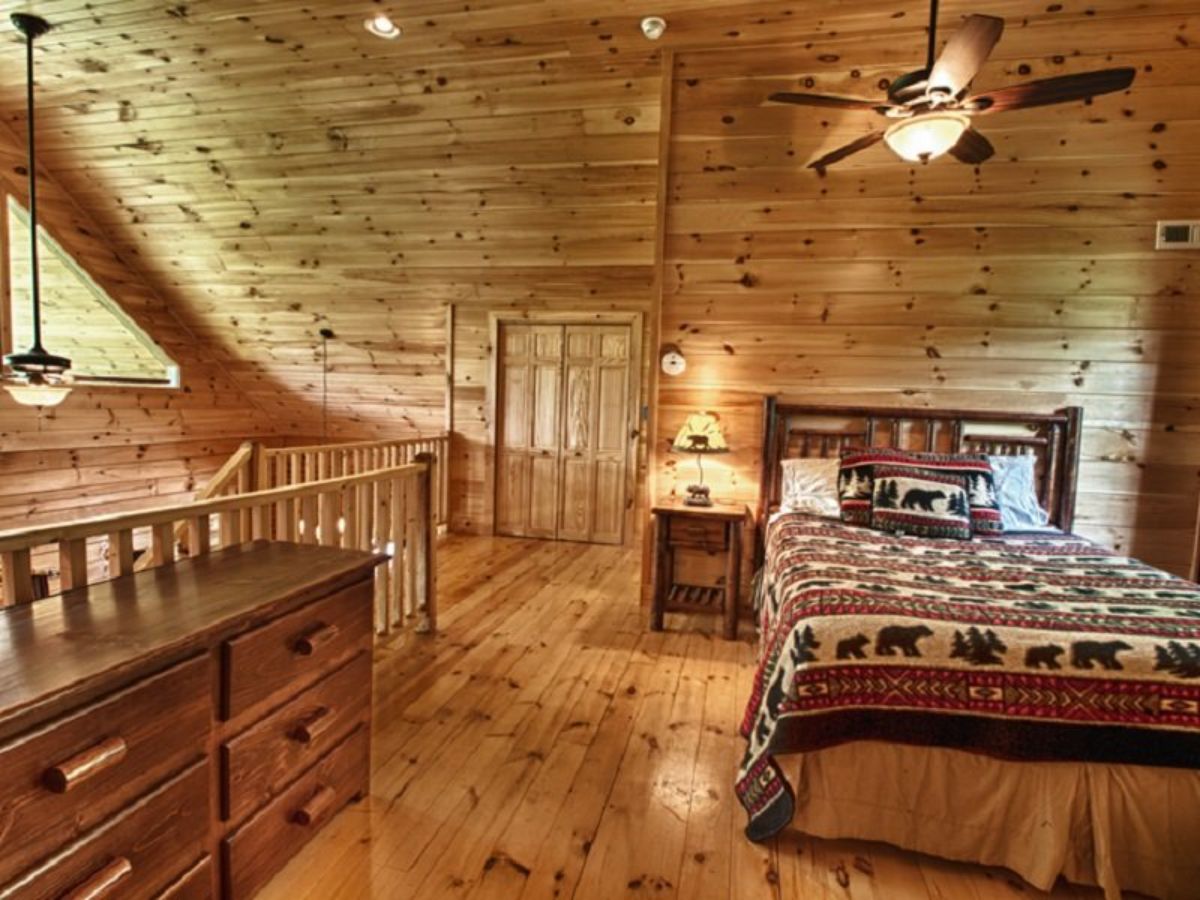 Against the far wall is a twin bed with a window on the back and nightstands by each bed. The ceiling fan makes sure you have plenty of airflows even on hot summer days.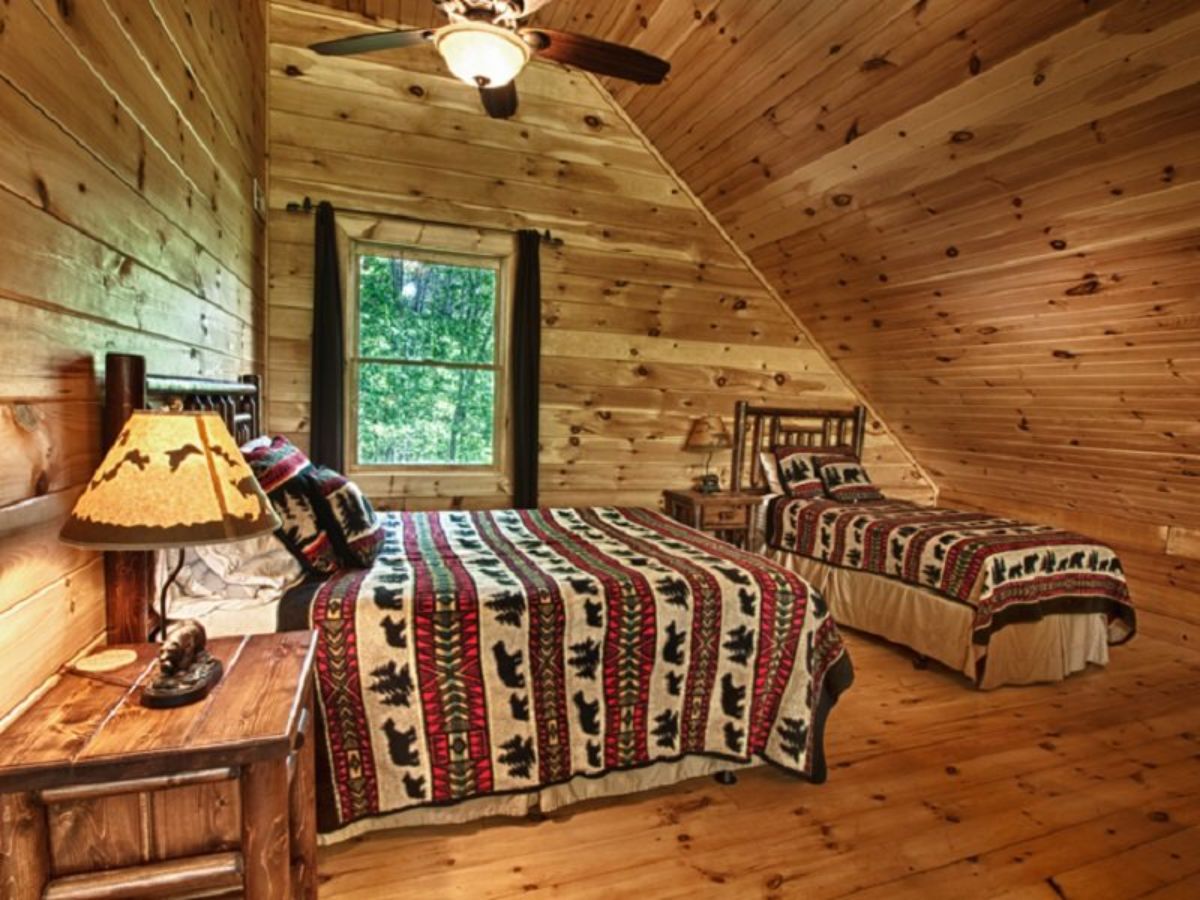 And while the loft may be a non-traditional bedroom, you still have a classic bathroom upstairs with a toilet, sink, shower, and tons of storage for linens and toiletries.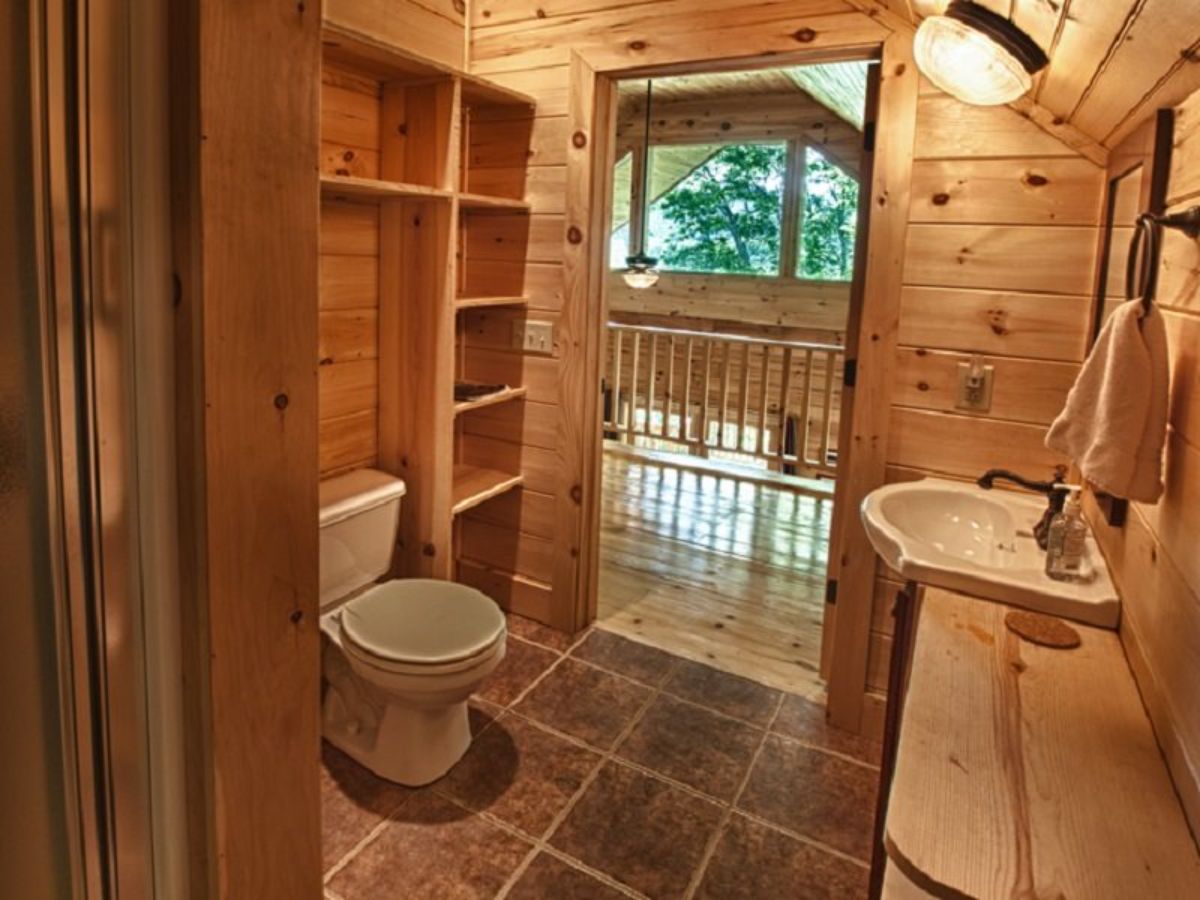 You can rent this cabin and others on the Bryson City Cabin Rentals website or learn more about the builds at the Smoky Mountain Cabin Builders website. You can also follow them on Facebook for regular cabin rental updates. Make sure you let them know that Log Cabin Connection sent you their way.
More Log Cabin Kits and Tours