The A-frame is my favorite cabin style. To me, it screams rustic and is almost always one of those styles of homes that is surprisingly large despite the outside appearance. This a-frame rental in Kalkaska, Michigan is a personal favorite for not just the beauty, but functionality. Check it out to rent or as inspiration for your own build.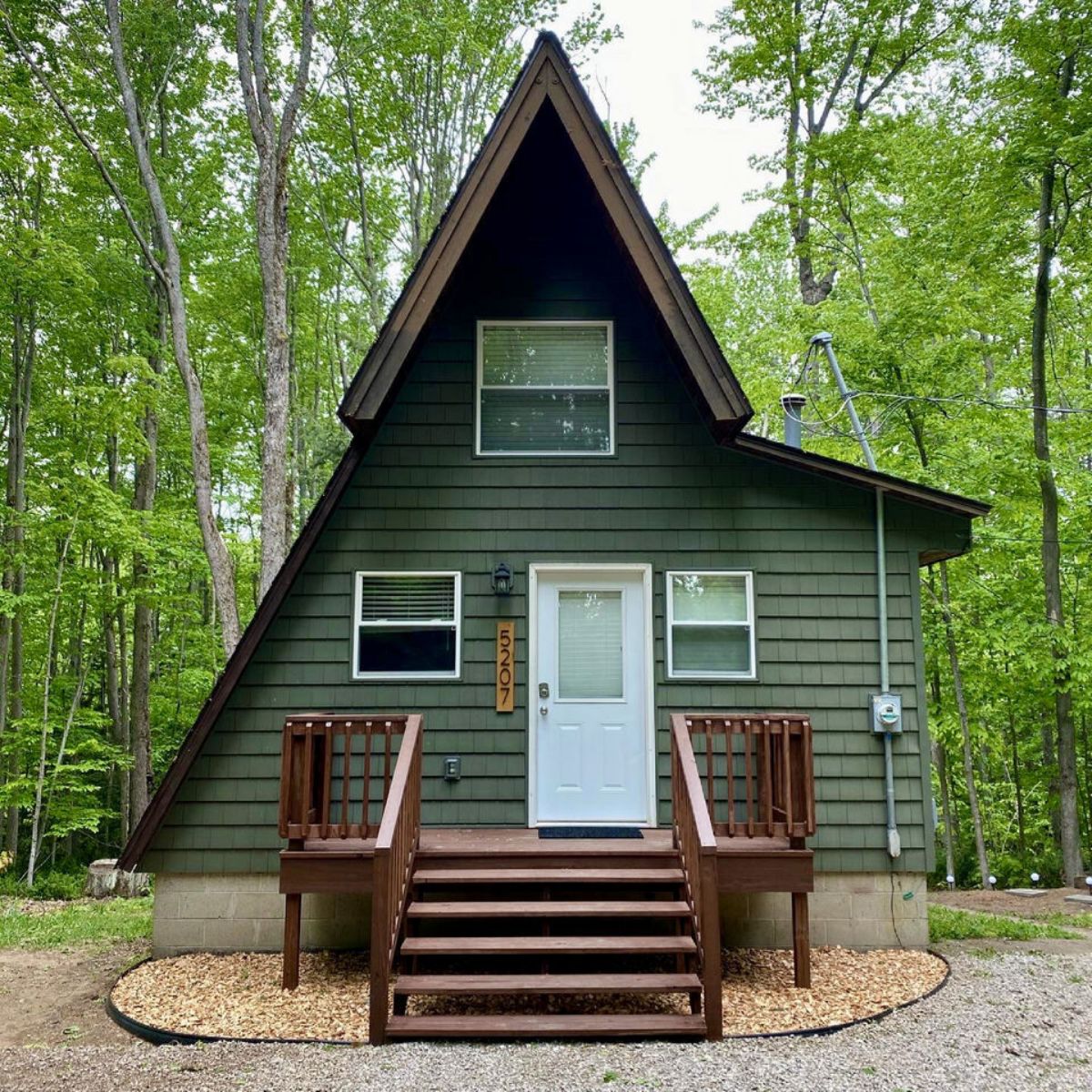 A-Frame Cabin Size
2 bedrooms
1 bathroom
Sleeps 4
A-Frame Cabin Features
4 kayaks are included with the stay but must transport the 10-minute walk to the beach to use.
The main floor includes a living room with a television, a walk-out deck overlooking the property, and a kitchen, dining room, bedroom, and bathroom.
Furnace heat, ceiling fans, and oscillating fans included (no air conditioning).
Internet with wi-fi, smart television, and streaming options included.
A full kitchen that includes a coffee maker, microwave, oven refrigerator, stove, toaster, mixer, and standard kitchenware and utensils.
The deck off the main floor overlooking the back of the property includes a large picnic table, lounge chair, and a propane grill.
Firepit with chairs in the backyard.
5-10 minute walk to Manistee Lake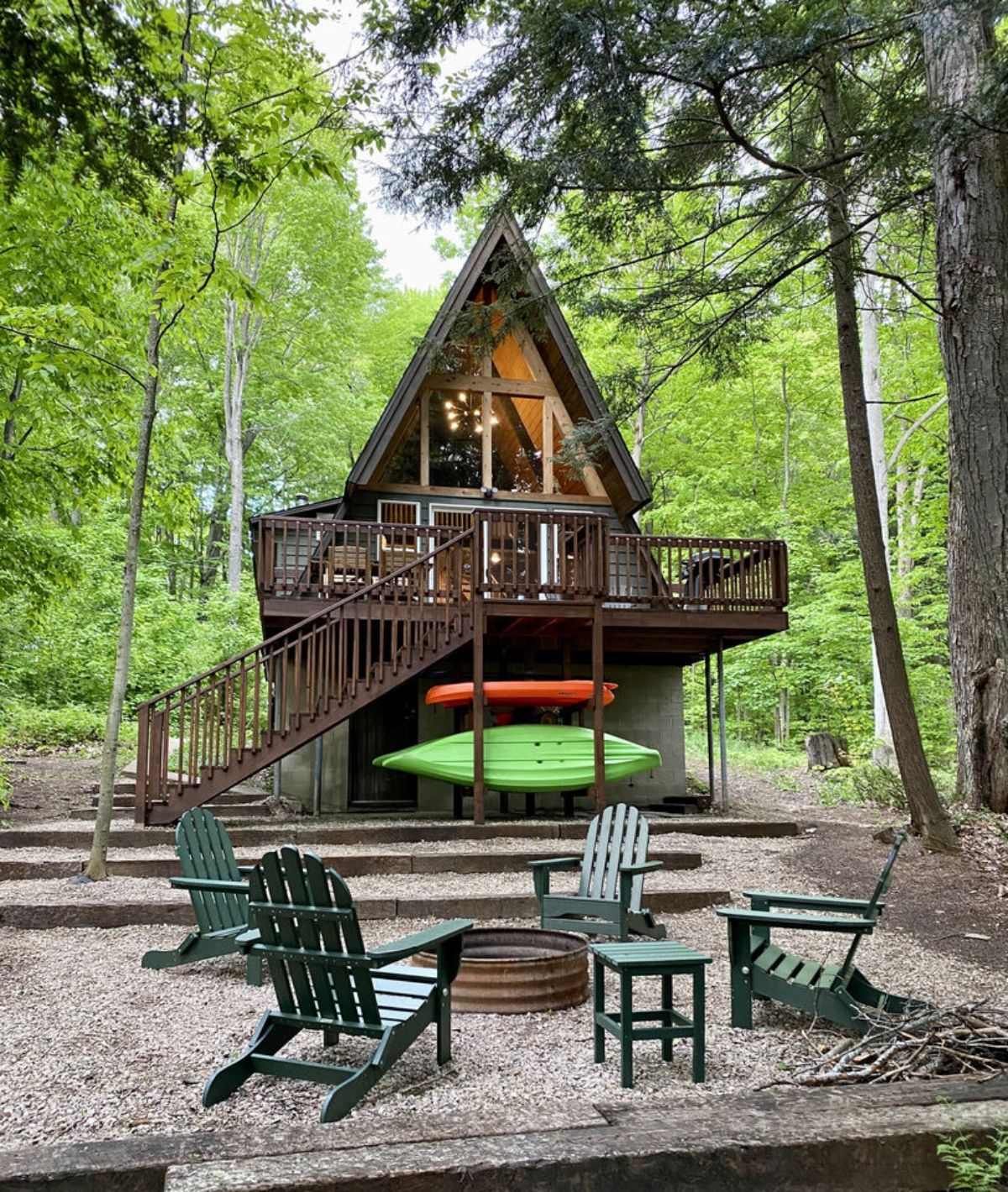 The cabin is situated so that you pull up to a small porch on the front, but the main floor overlooks the outside with a deck and stairs leading down to the ground. There is storage beneath the home, as it is built on a slope, but no basement floor on the home.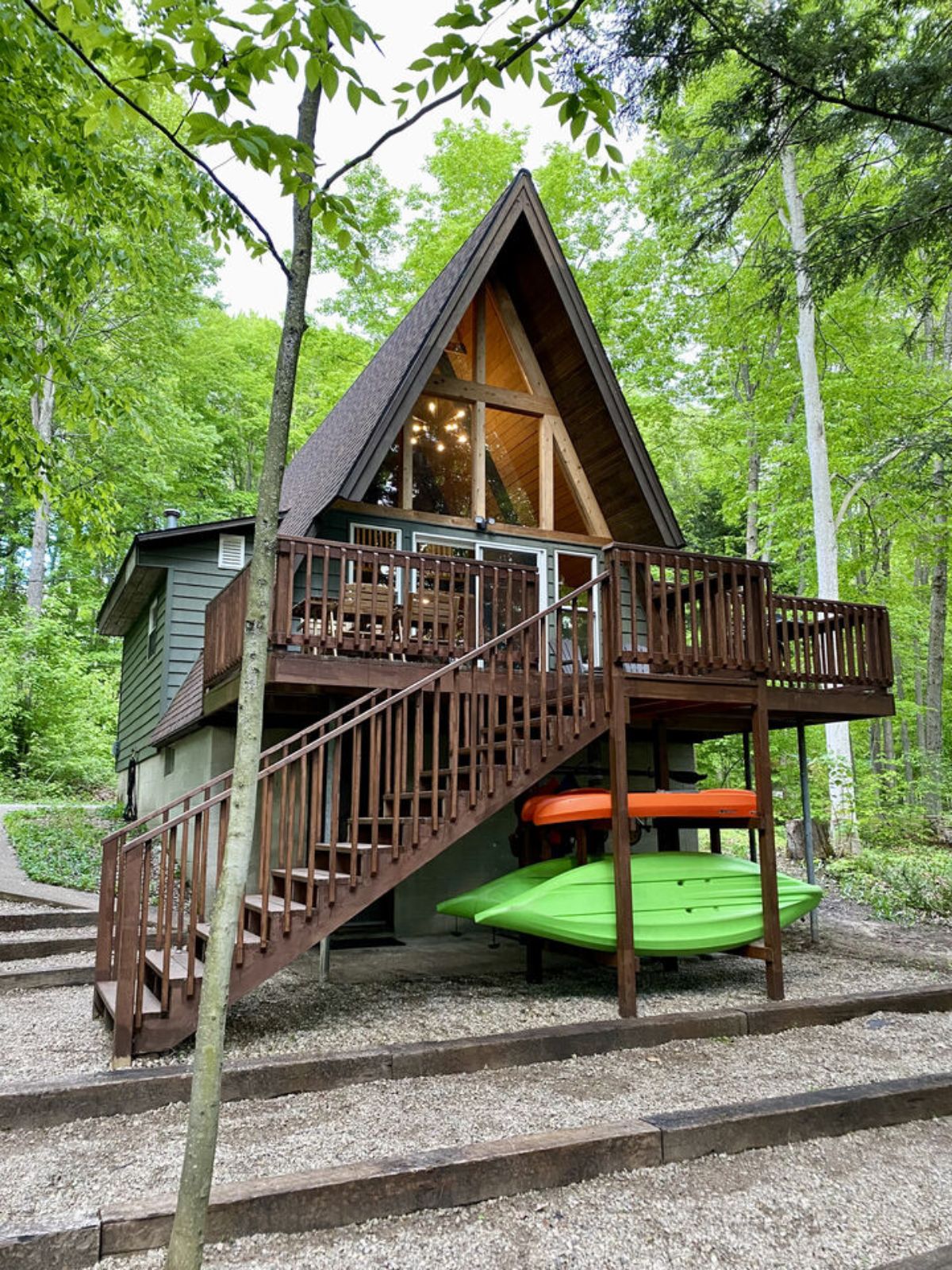 I love how the space beneath the deck and stairs has been used for storage. The kayaks are here along with some life vests and other outside items such as chairs.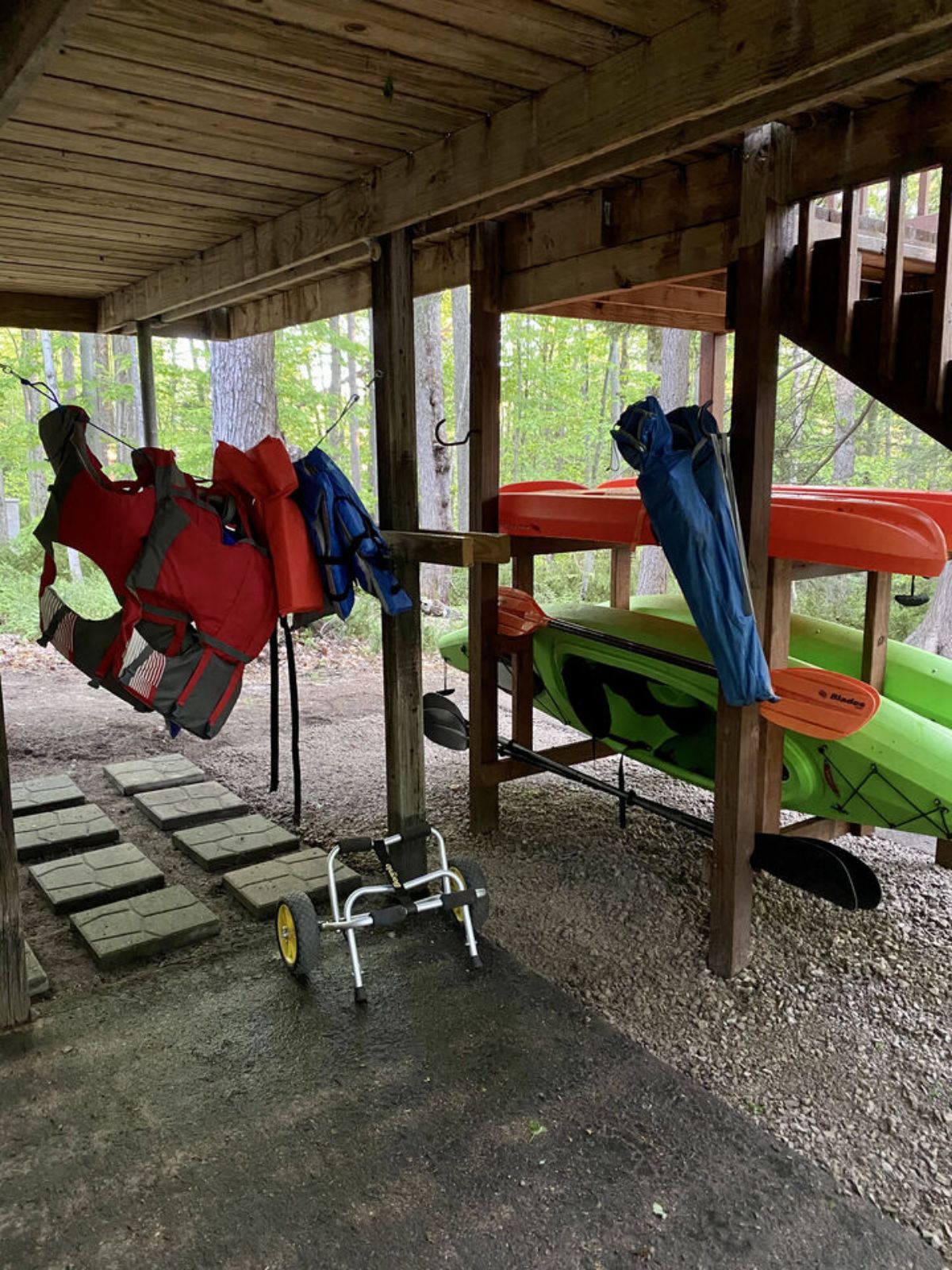 A fire pit out back includes some cozy adirondack-style chairs. This is ideal for that summertime evening of roasting marshmallows for s'mores but is even better to lounge and stargaze on a chilly fall evening around the fire.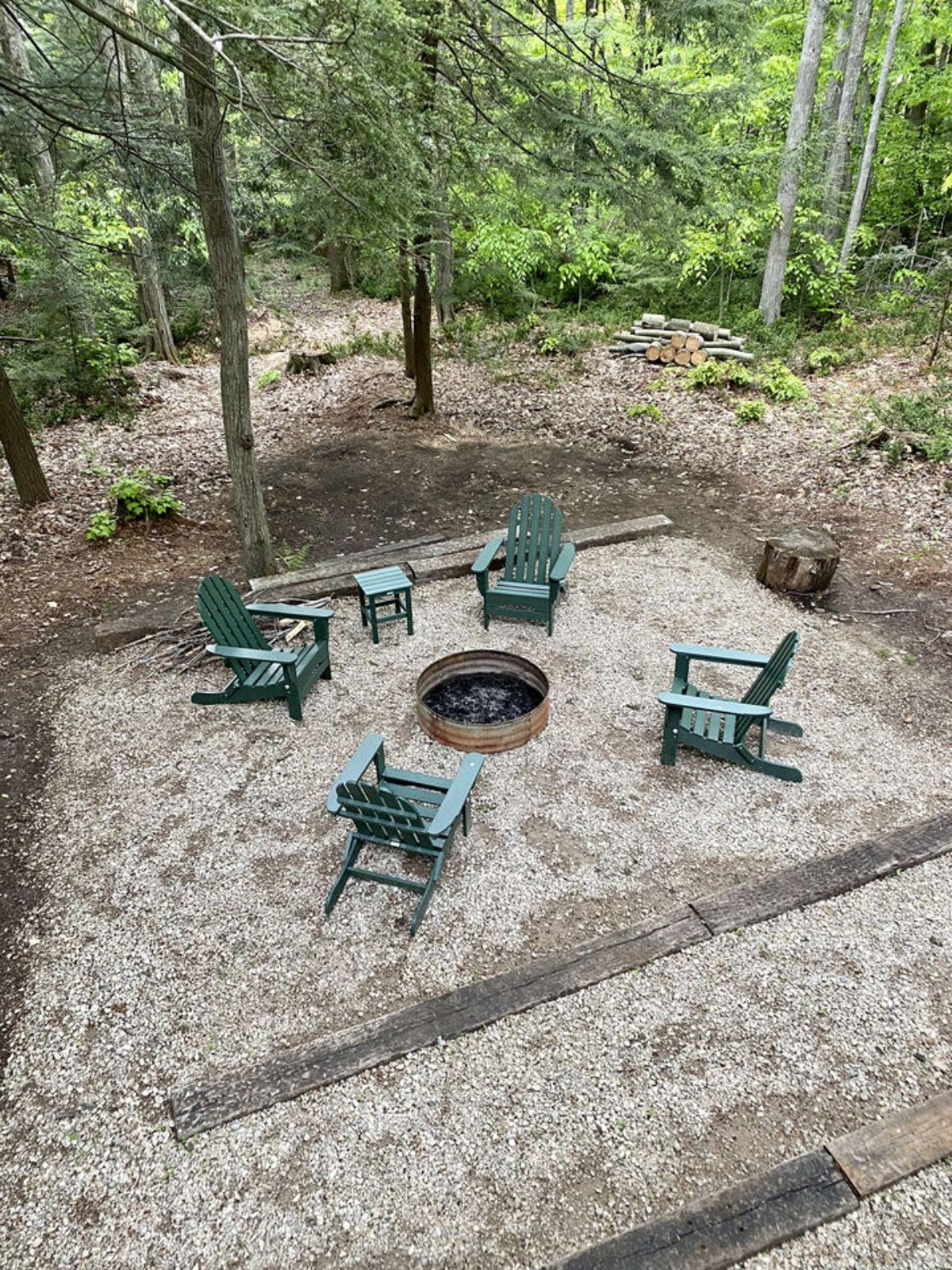 Just look at that interior! I love the sneak peek inside with the chandelier and lights shining brightly through the windows. It looks so welcoming.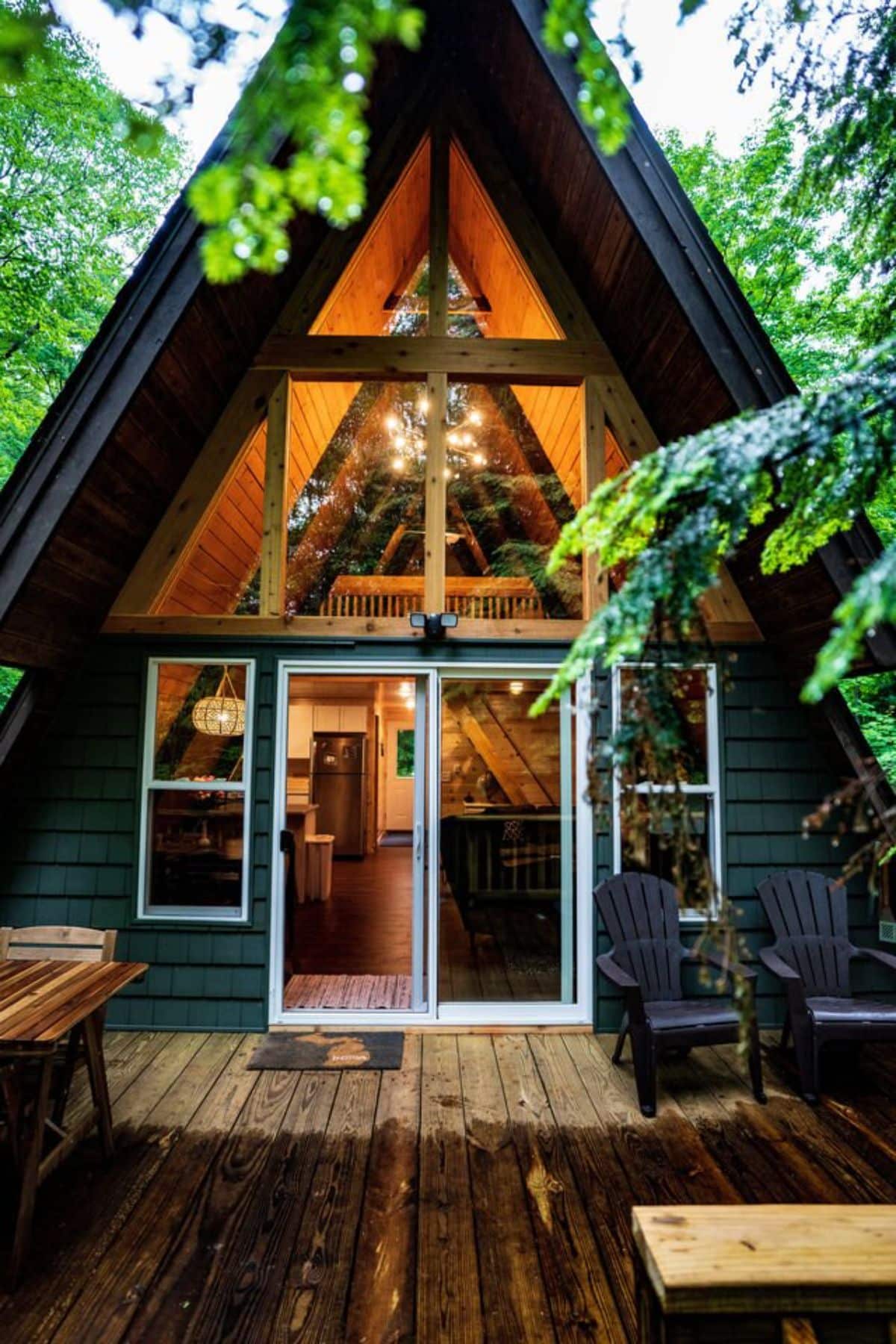 And you can't deny how nice it is to have a deck with a picnic table, chairs, and a propane grill on hand for a weekend barbecue. A cozy place to relax!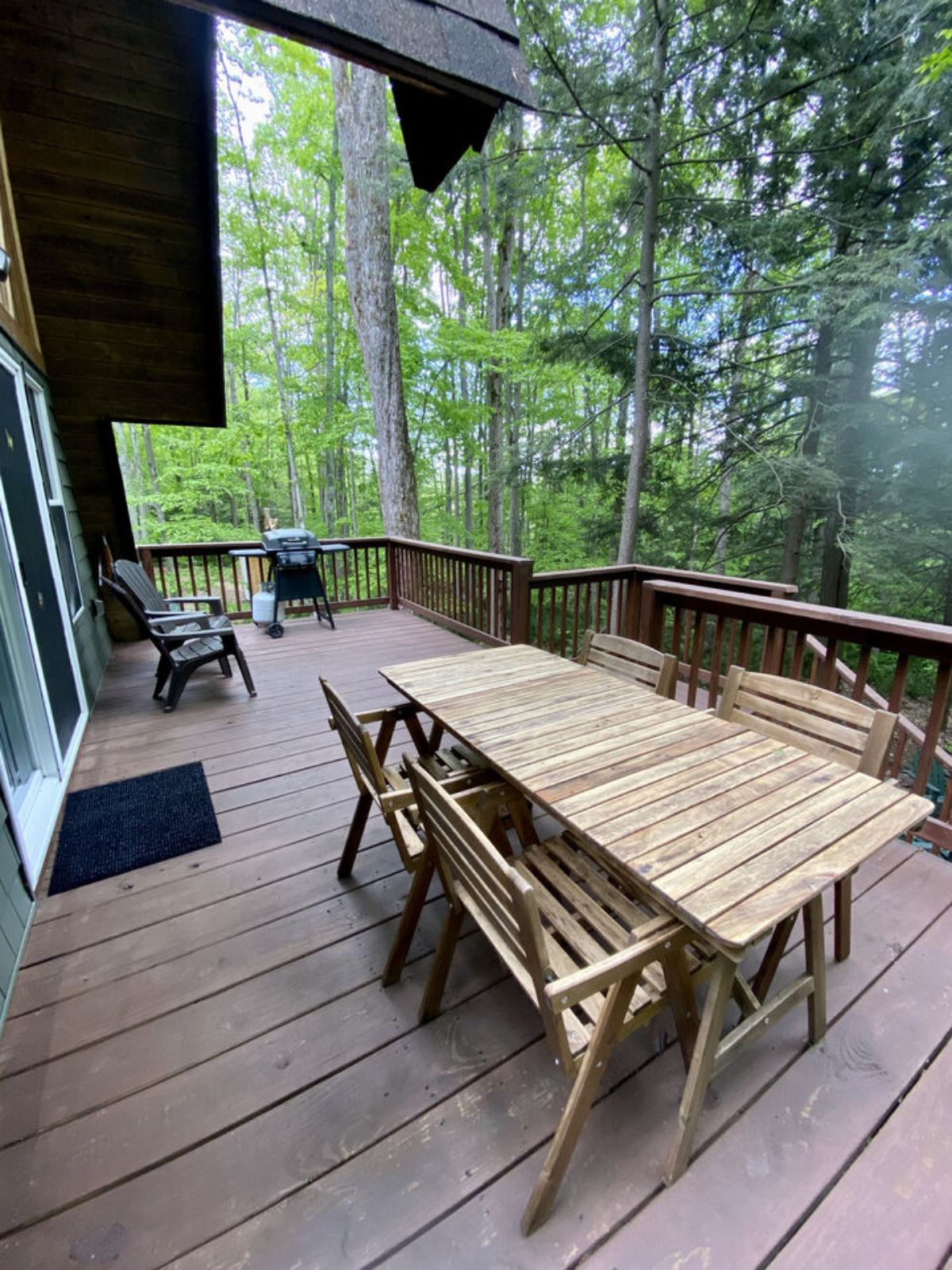 On one side of the main floor is a cozy nook with a television, chair, and sofa. This setup is the ideal living room, and with the open floor plan, the arrangement gives it privacy while still being connected to the rest of the space.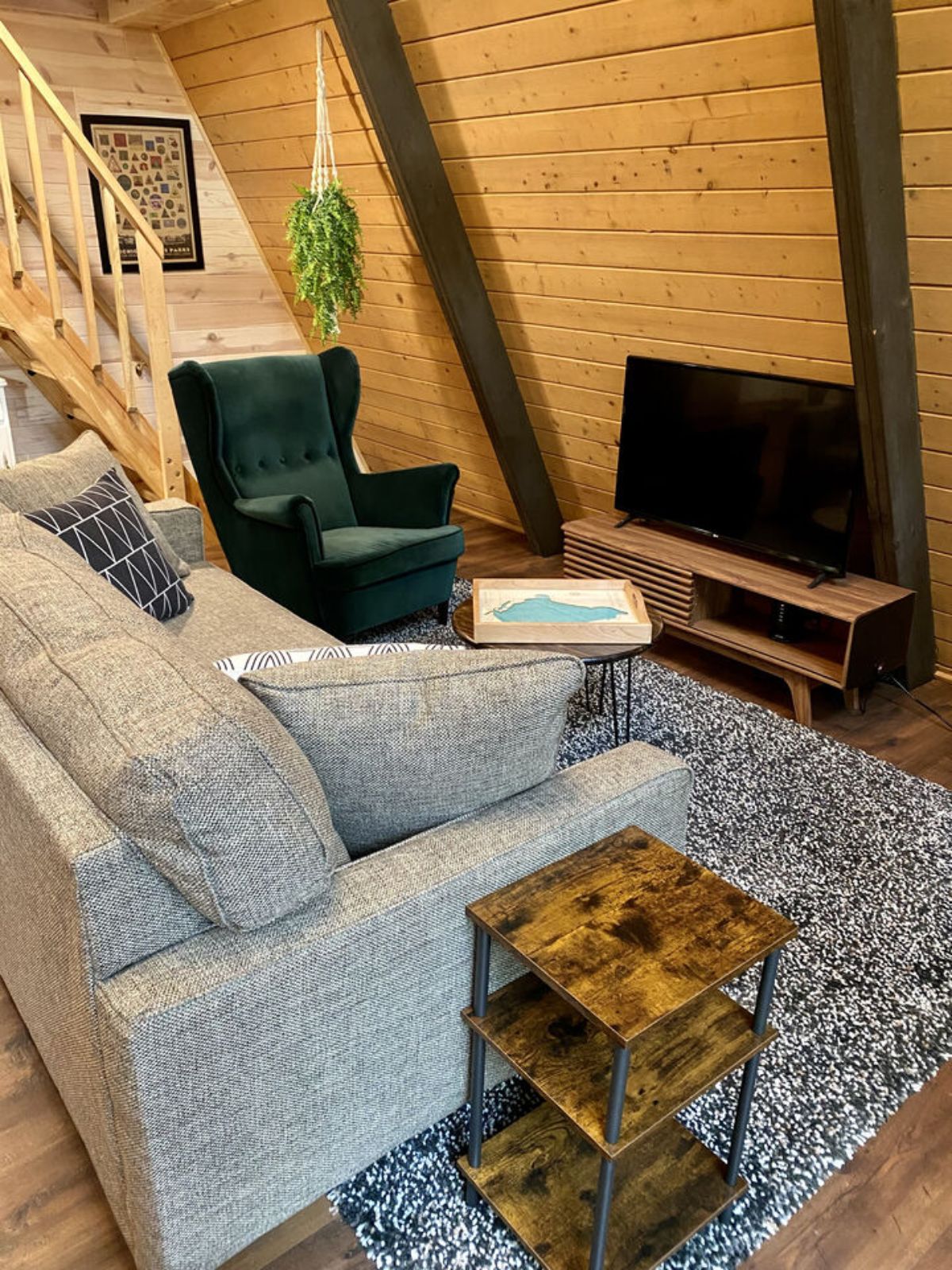 On the back side of the cabin from there, is a corner kitchen holding everything you need for your stay. Full-sized appliances, tons of storage space, and all of the kitchenware you could need are at your fingertips.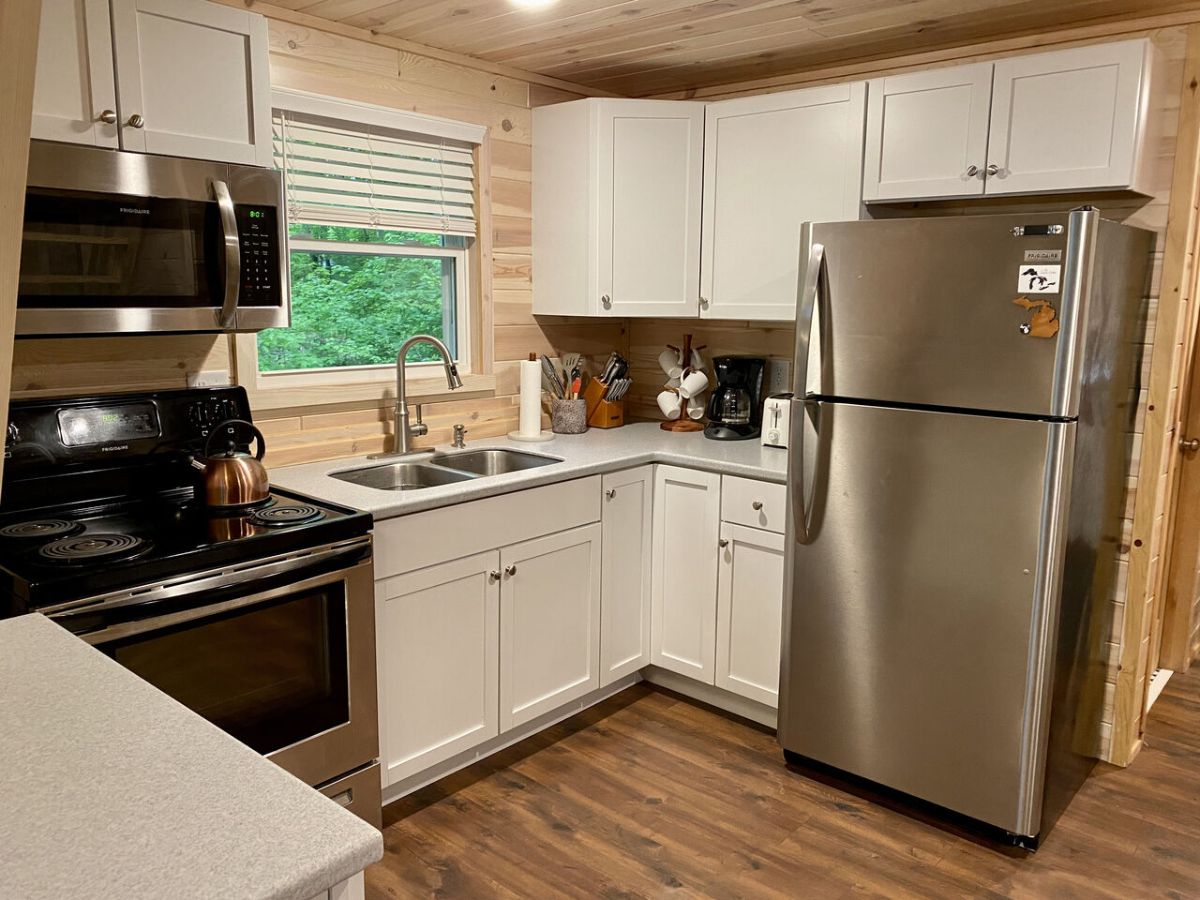 Opposite the living room book, you have another space with a dining table. There are many ways you could layout this space, but I like how this separates the spaces while keeping that open feeling alive.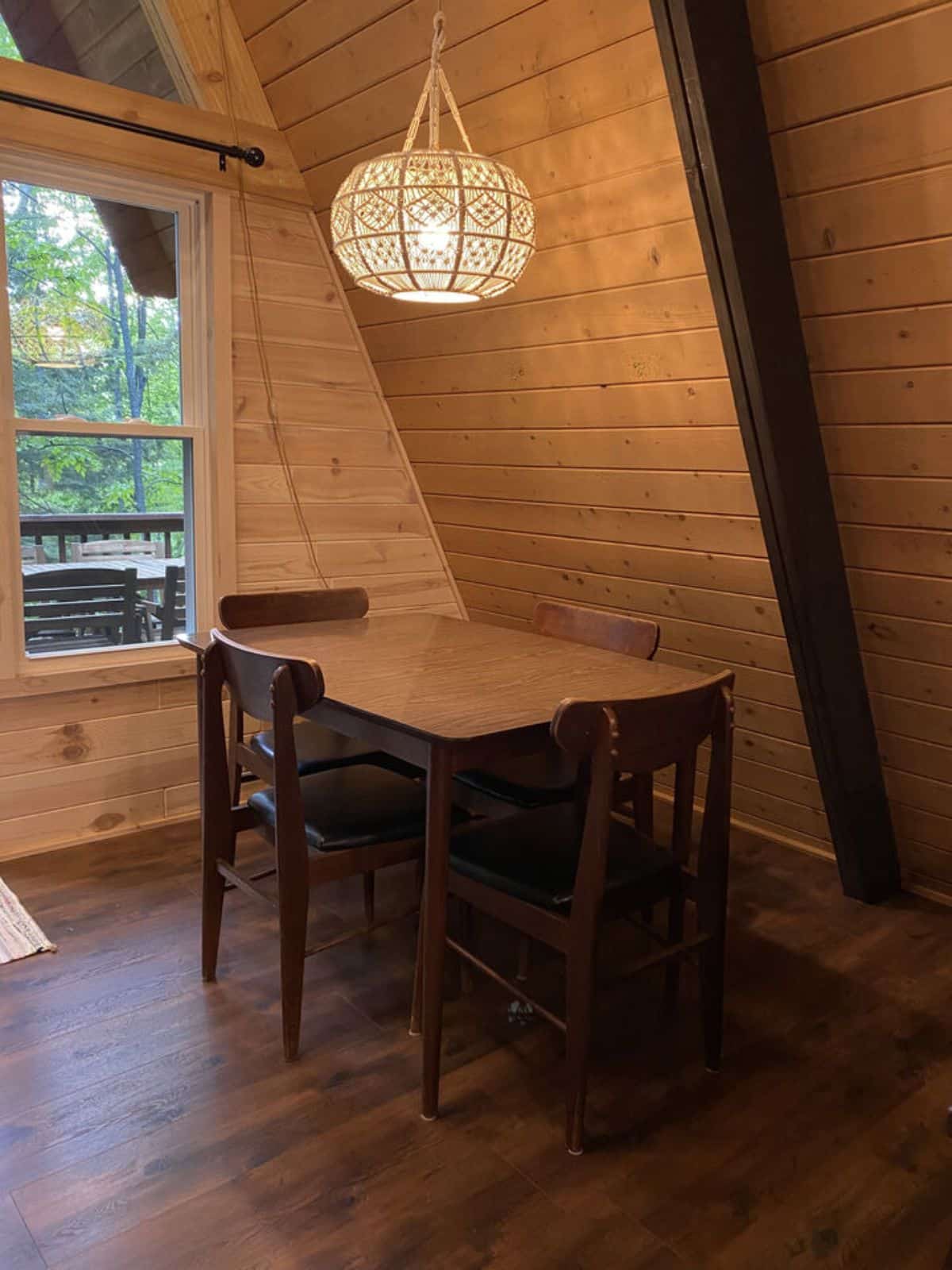 On the main floor, you have one bedroom. This smaller space has a nightstand and bed on one side. A full or queen-sized bed can fit here, but a king-sized bed would be a bit too tight a fit for most.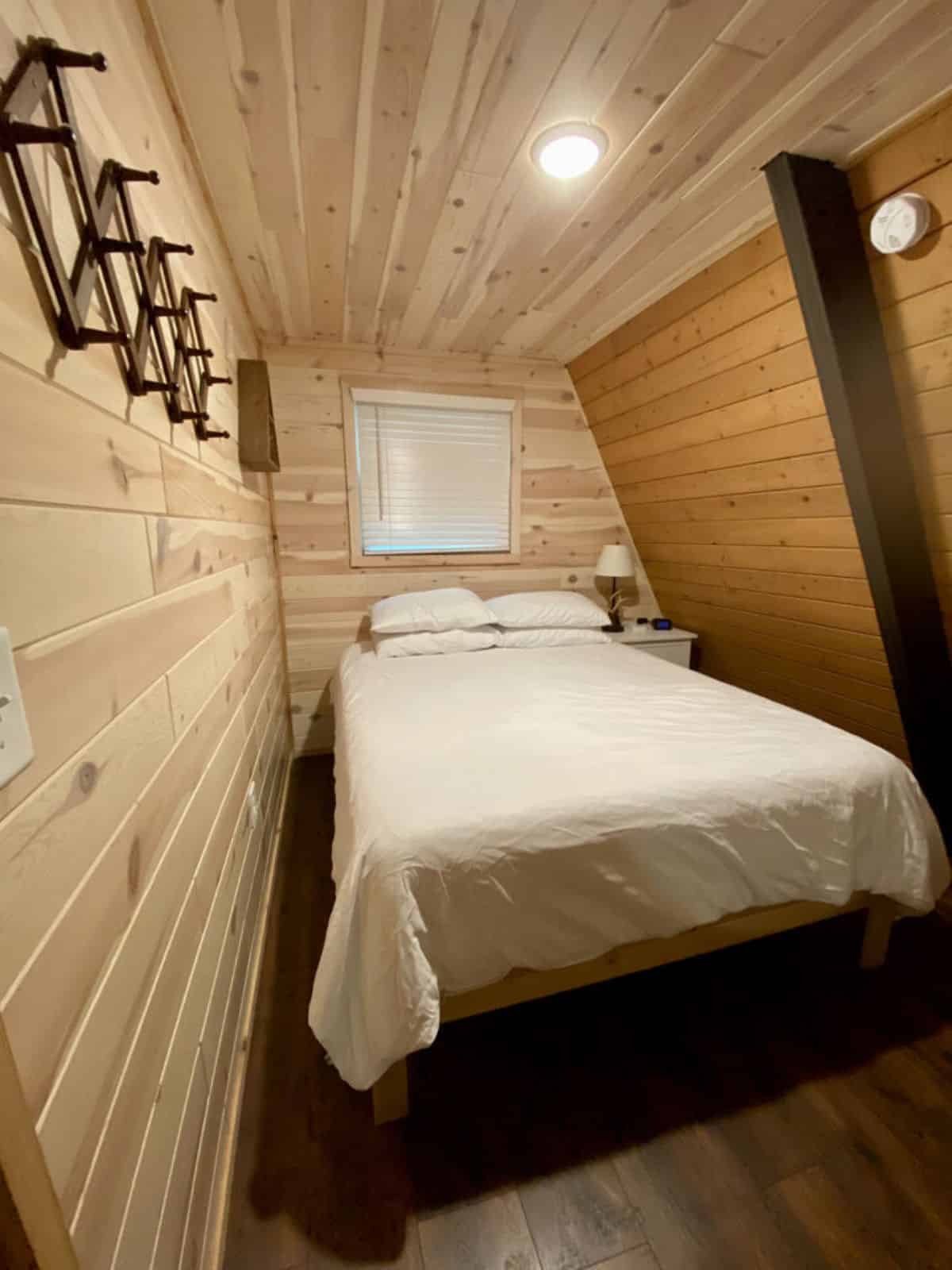 I like that there is still room for the little things like a bedside table to hold a few items, a lamp, and even a charging station.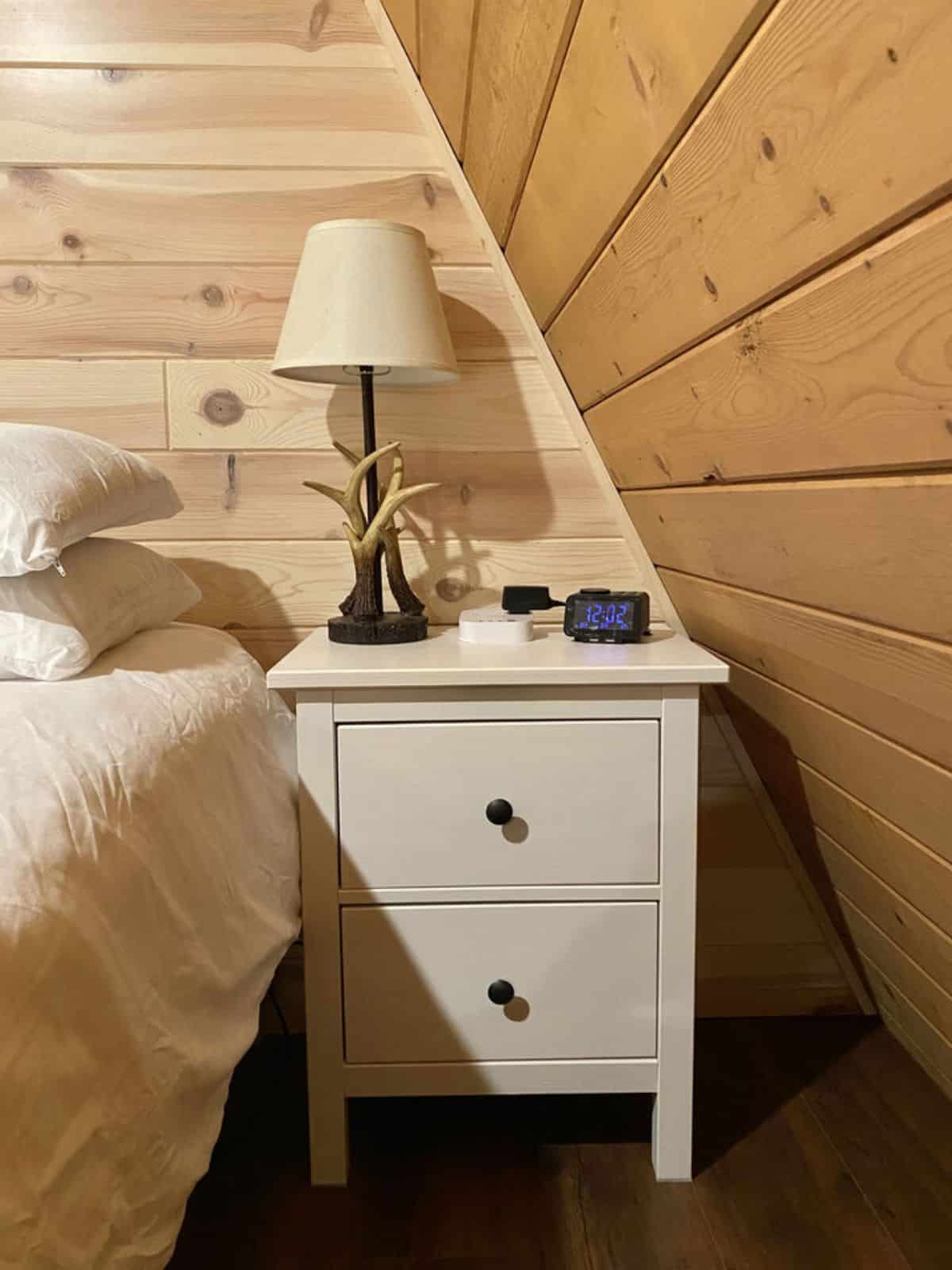 And on the other side of the space is a small chest of drawers, along with two mirrors. So, while there is a bathroom around the corner, you still can get dressed comfortably in your room or even do your makeup right here.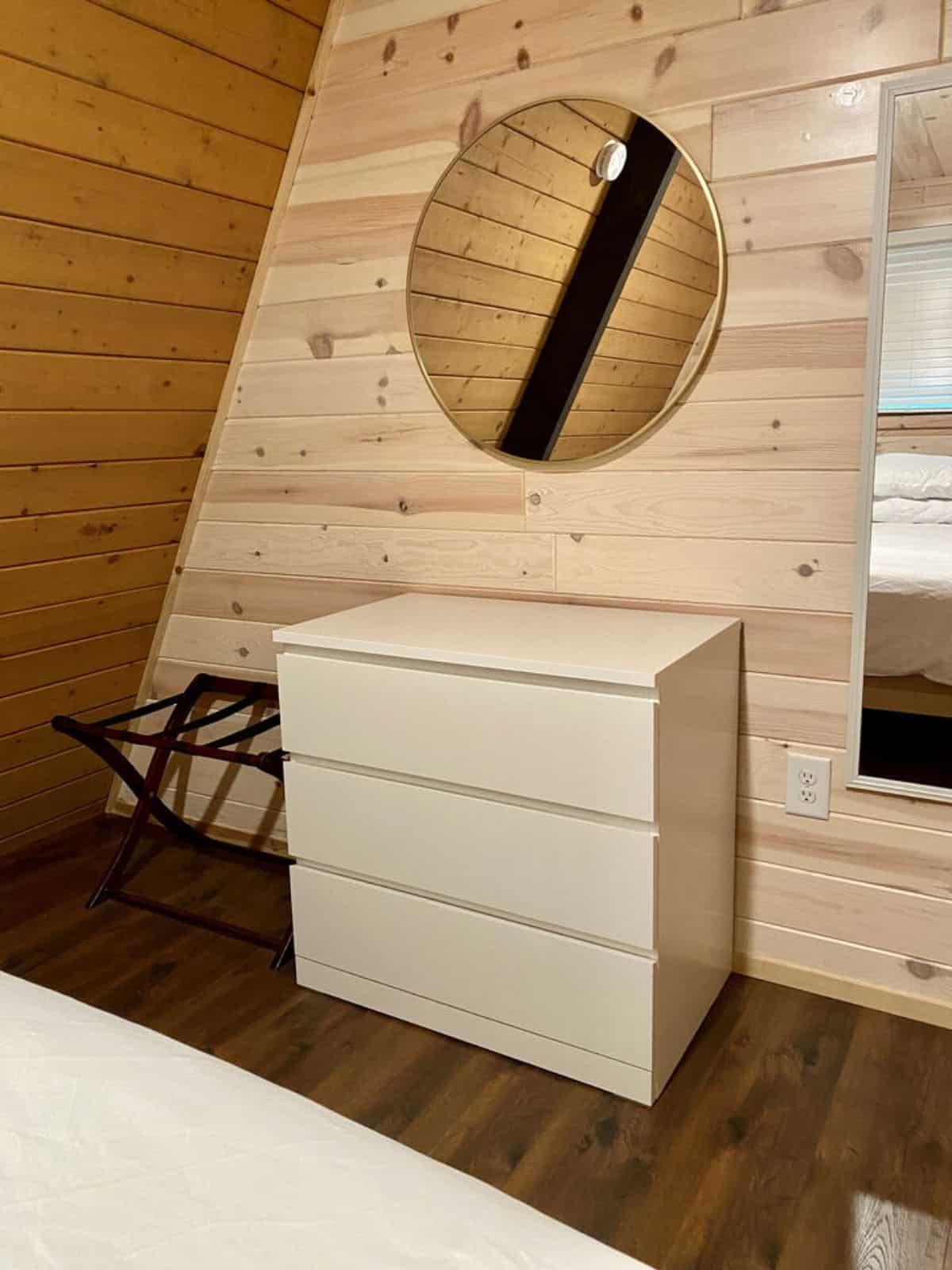 The rustic but still modern bathroom is a gorgeous addition. Here you will find a combination bathtub and shower, a traditional toilet, and a sink with storage beneath it. Of course, I really love that intricate tiny tile on the floor. It gives the space a little luxury update without adding too much to take away from the beauty of the wood.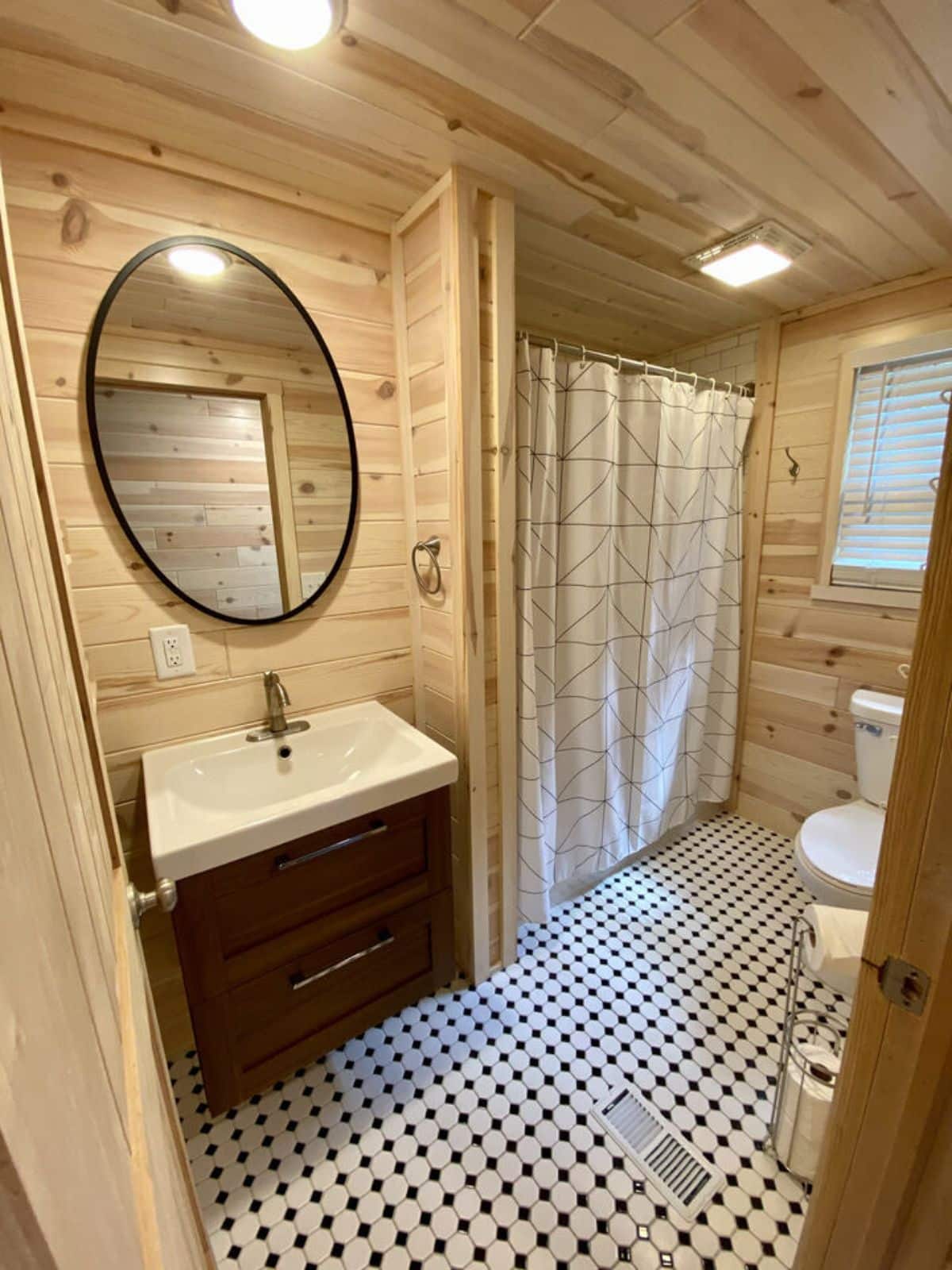 Upstairs, a small loft has just enough room for two twin beds. The ceiling fan and window help with airflow on warmer days, and you have a lamp beside each bed for light. It's small, but perfect for the kids!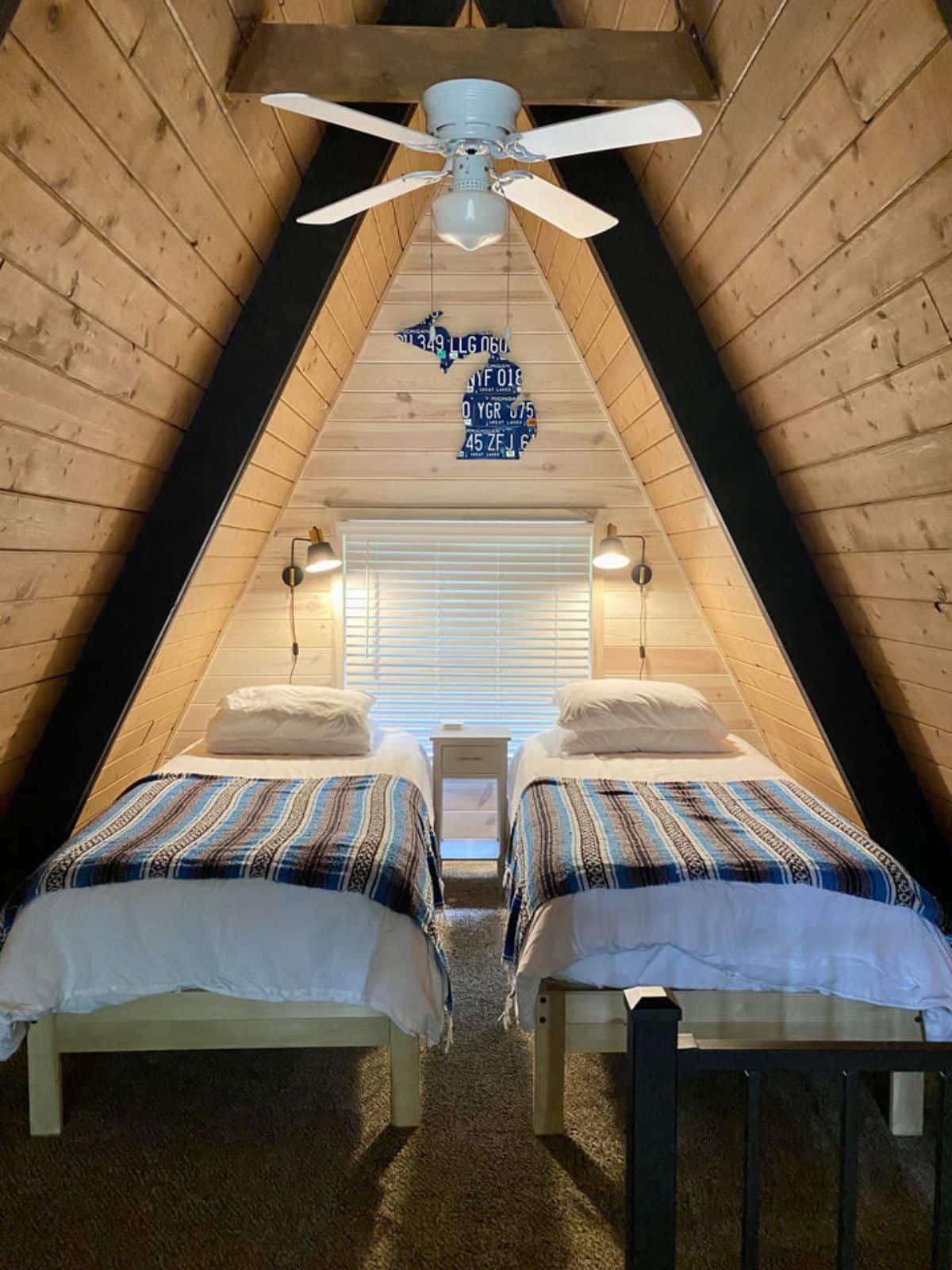 And this view shows a bit more of the open space and how you have room for a chest of drawers or even a chair or two on the landing overlooking the living area.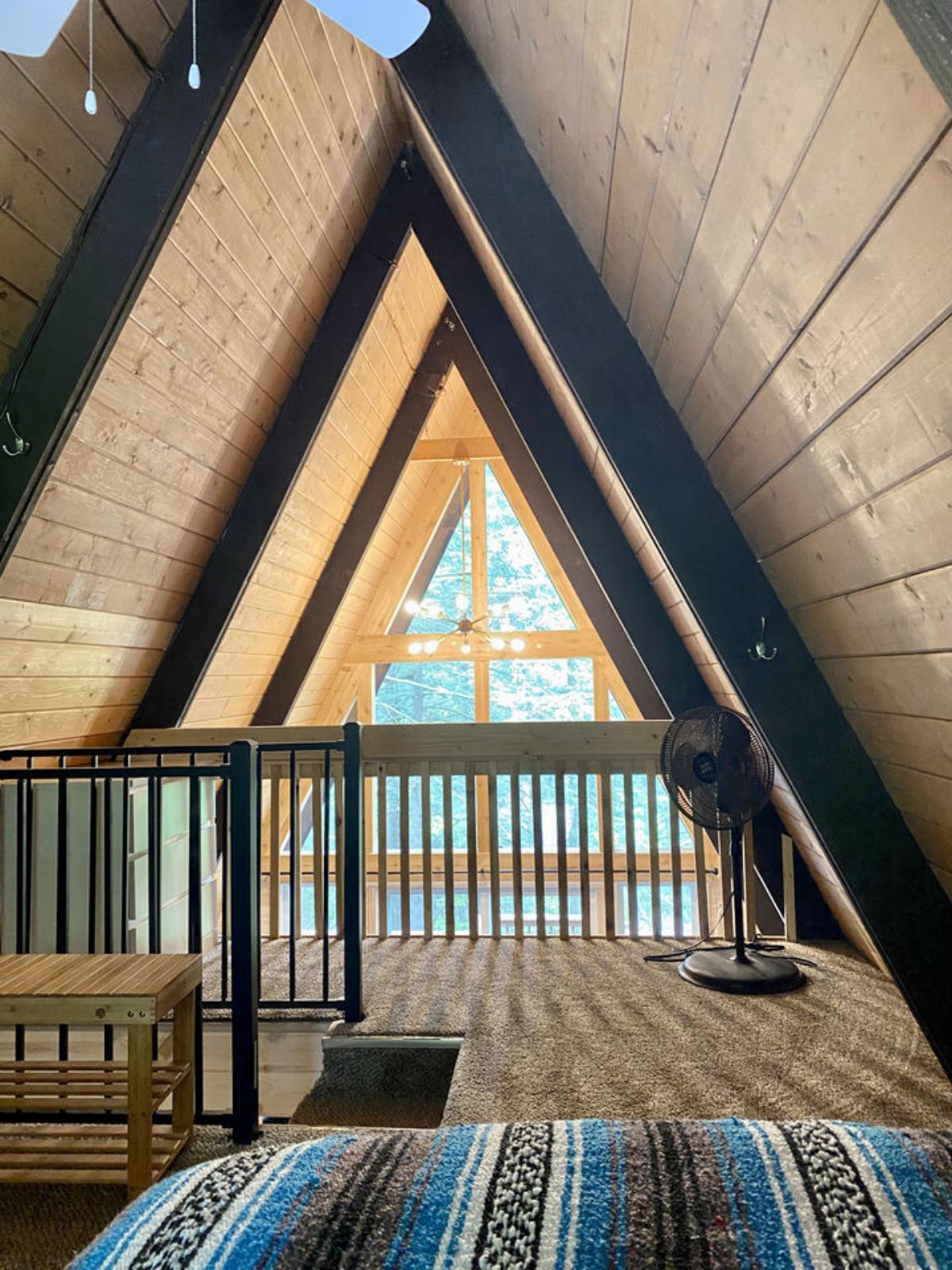 Of course, one of my favorite things in this home is the Edison bulb light fixture overlooking the main floor. It adds to the rustic style but also gives a modern look at the same time.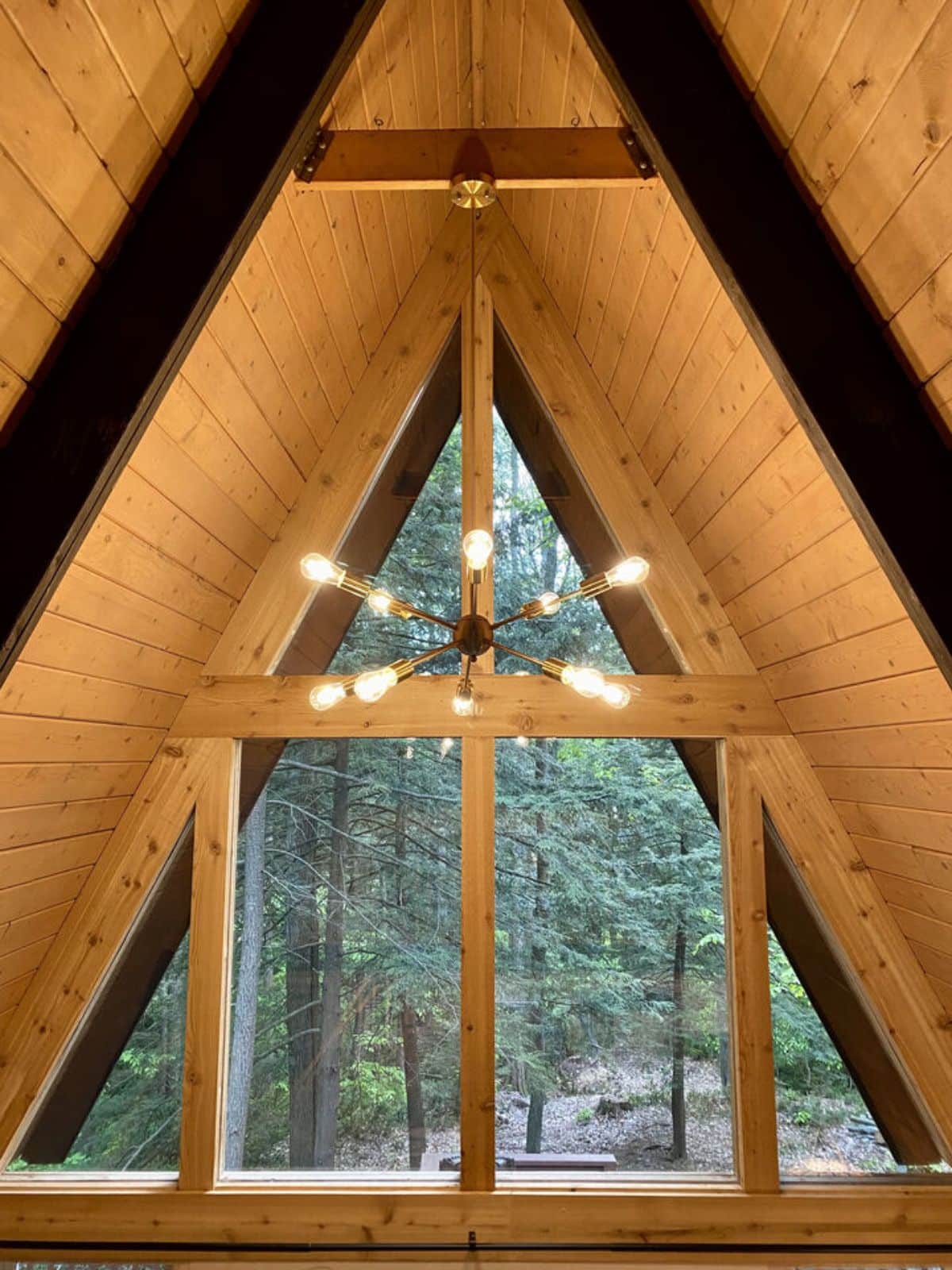 And from the loft, looking over the edge you get a better idea of the space of the main floor. This shows the living area and a little storage cabinet holding games and books.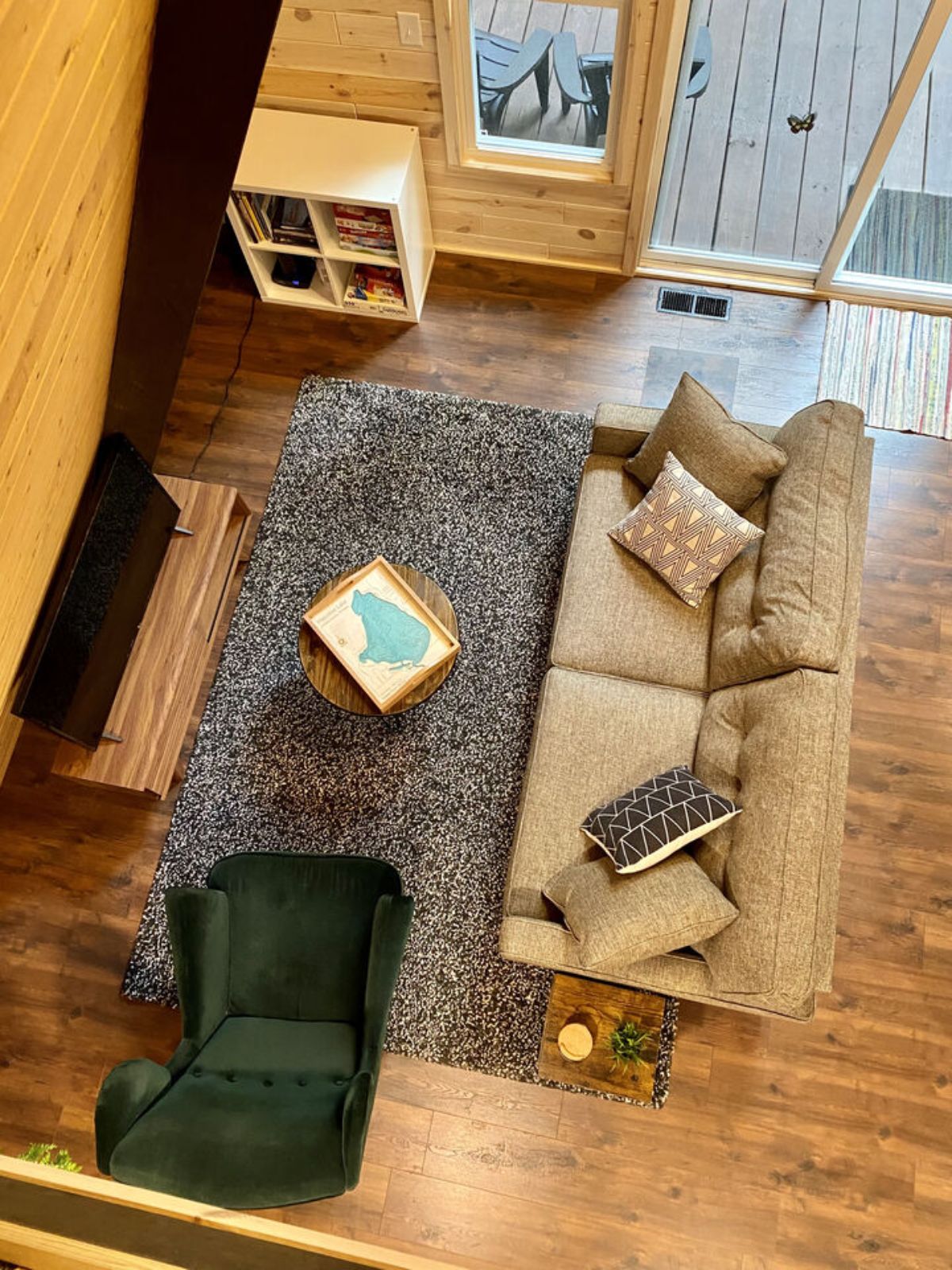 For more information about booking and availability of this fun retreat cabin, check out the Freshwater Vacation Rentals website. Make sure that you let them know that Log Cabin Connection sent you their way.
More Log Cabin Kits and Tours