Cabins aren't always free-standing structures in the woods. Sometimes, you will stumble upon unique home that fits into your ideal rustic style. The Sage Canyon cliff house is not only a cabin retreat, but it is an earth home. This cabin is built directly into the rock cliff in the background. Utilizing nature as part of the structure, you have a one-of-a-kind home that is ideal for a weekend retreat.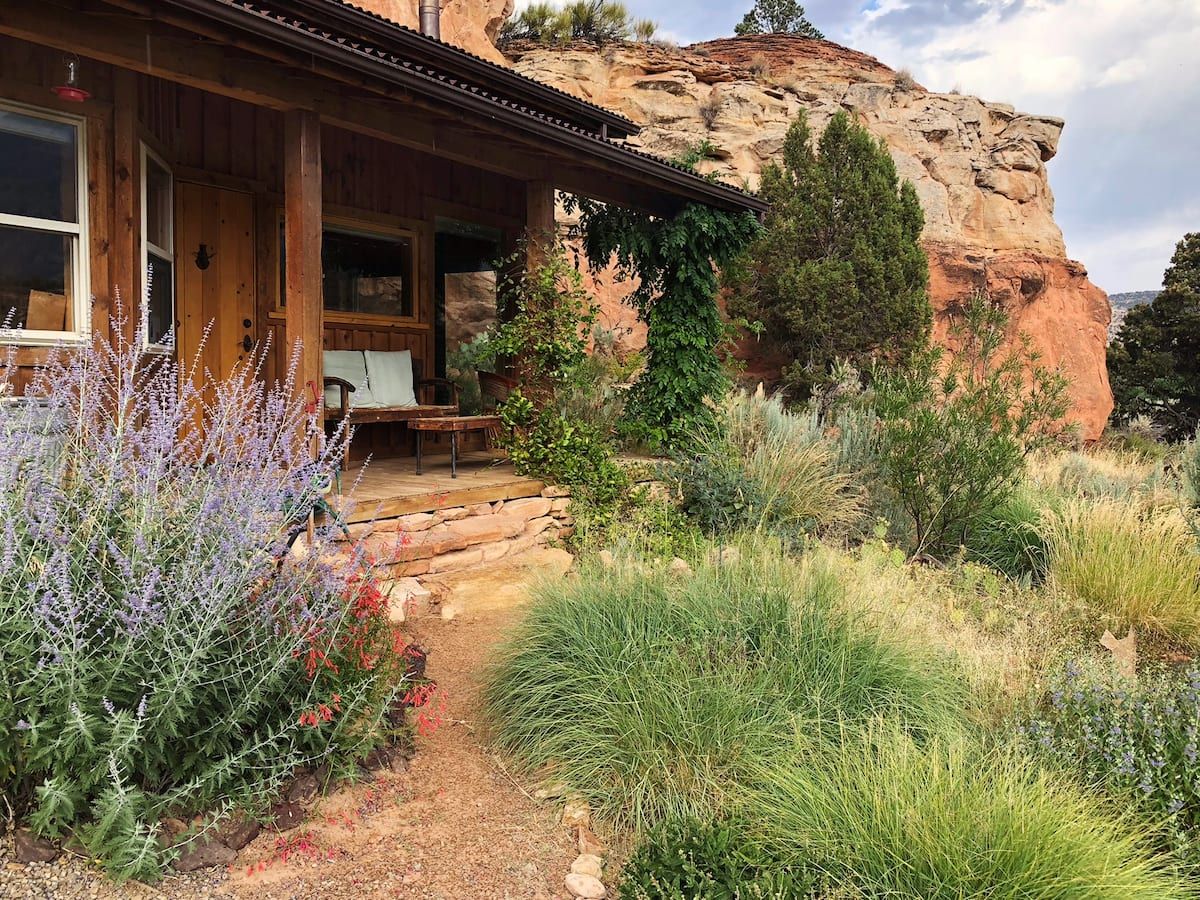 Retreat Cabin Size
1 bedroom
2 beds
1 bathroom
Sage Canyon Cabin Features
Desert and garden view with customized plants of native species to bloom all summer.
Full kitchen with cooktop, oven, sink, microwave, and refrigerator.
Wifi throughout the cabin but no television as a way to encourage visitors to explore the gorgeous outdoors in the area.
Laundry units on premises.
Split AC unit for hot summer days.
Built on the flank of Sleeping Ute Mountain in McElmo Canyon, this home is built a little less than an hour from Mesa Verde. A stunning home built with a red rock canyon alcove, this home is a stunning desert retreat you will never want to leave.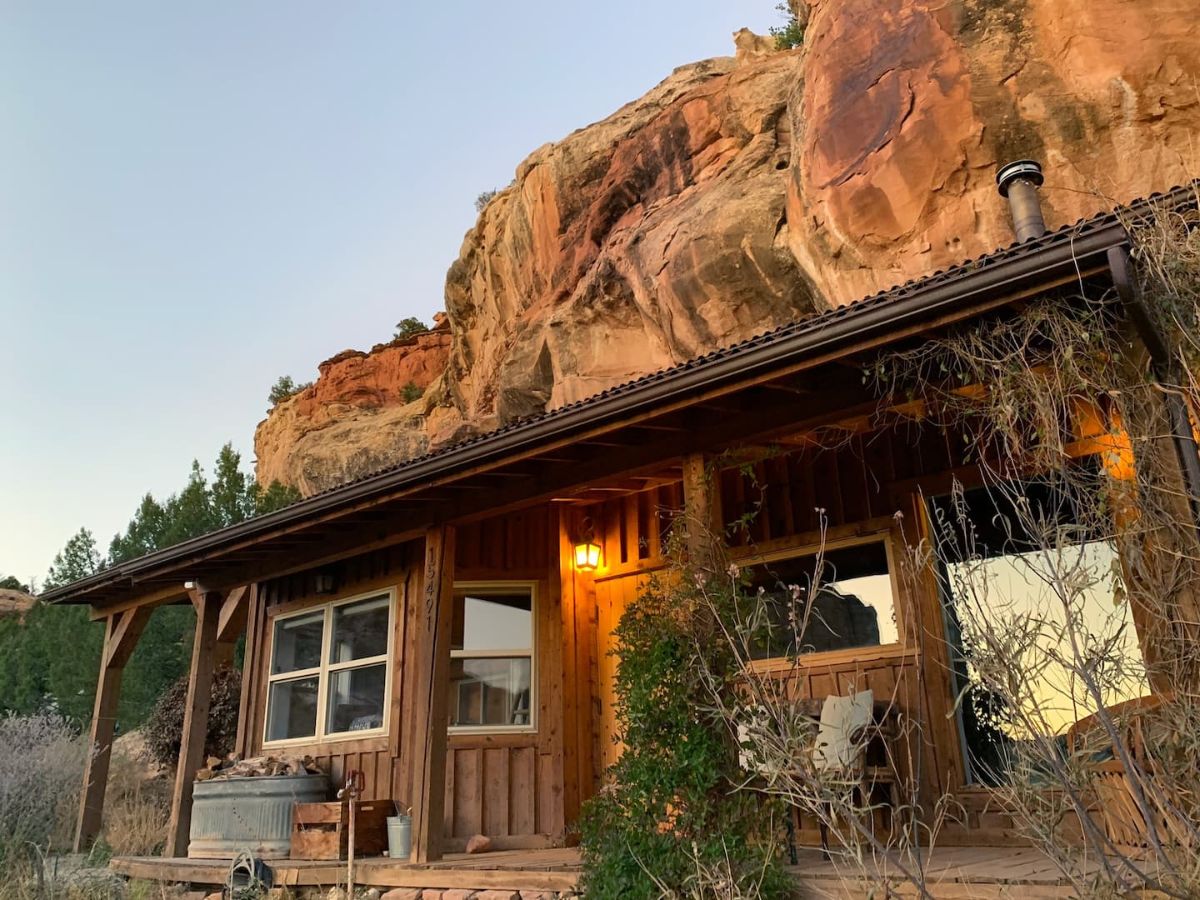 If an earth home has been a dream of yours, this is a great location to go check out how they live up to your standards. As you drive up to this cabin, you see what looks like a traditional cabin, but you open the door into a modern home with stunning rock walls and accents.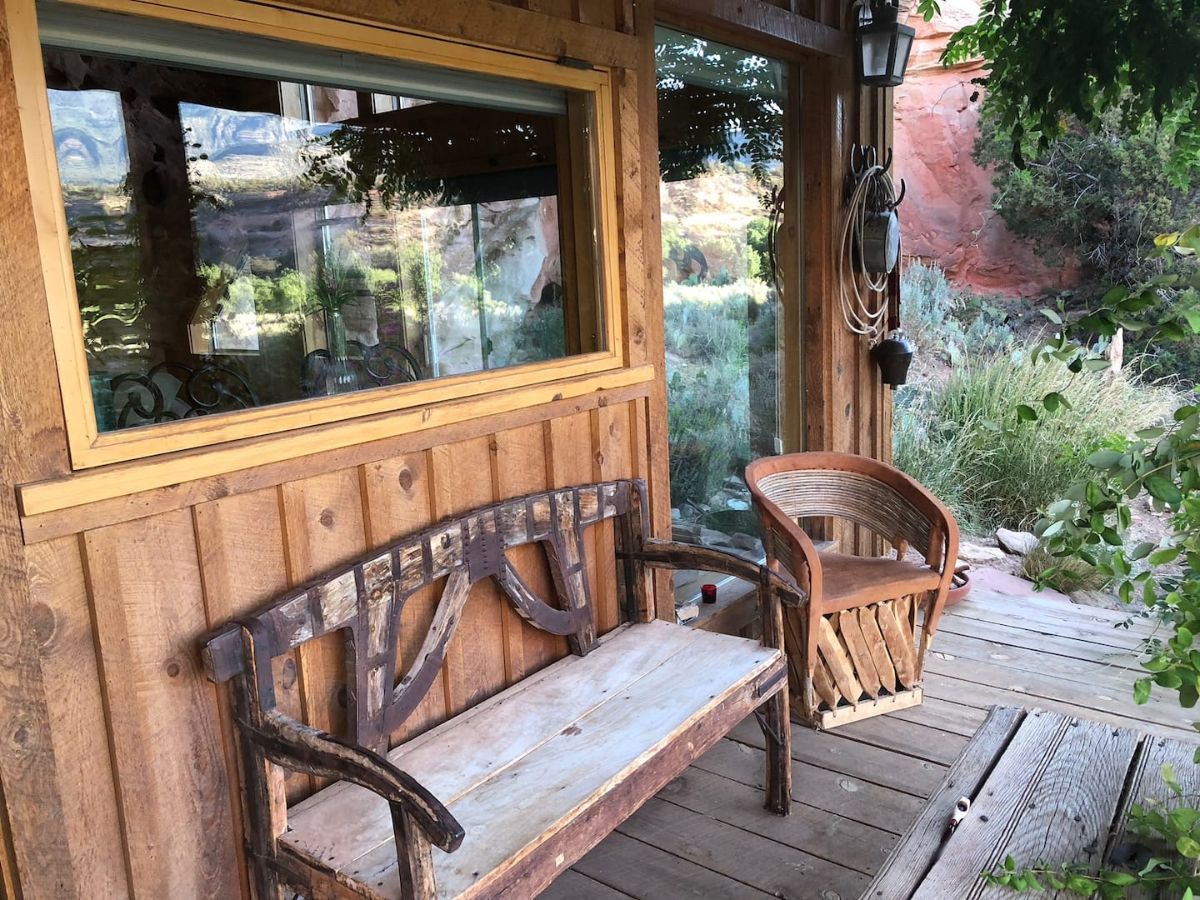 Can you just imagine sitting on this porch with a cup of coffee in the morning? A perfect escape to enjoy nature, wildlife, and disconnect from the world.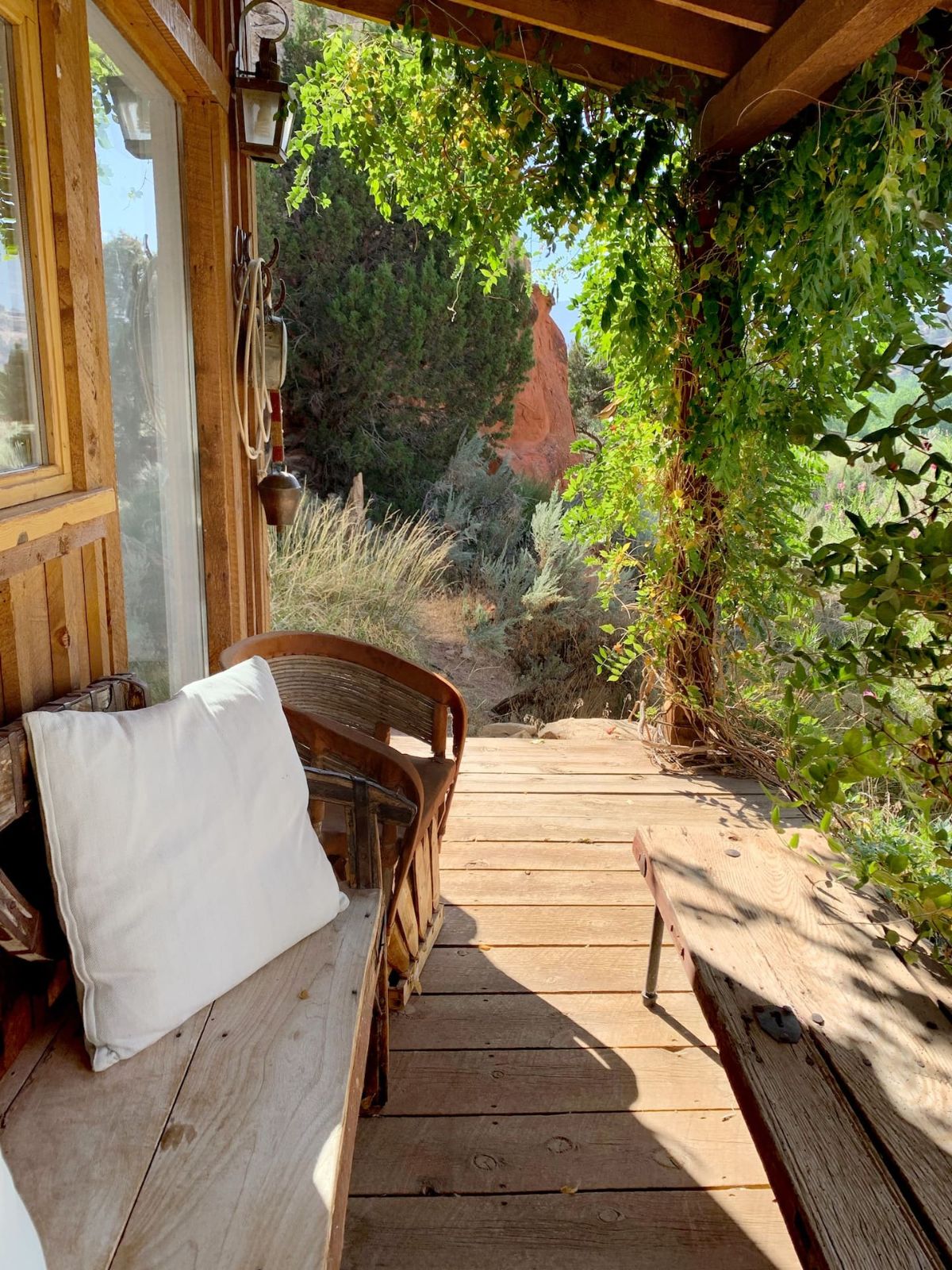 They have literally carved out a nook against the rock cliff to build their home. This front porch is very rustic and reminds me of the cabins of miners from years gone by. They have definitely kept those rustic intimate little touches.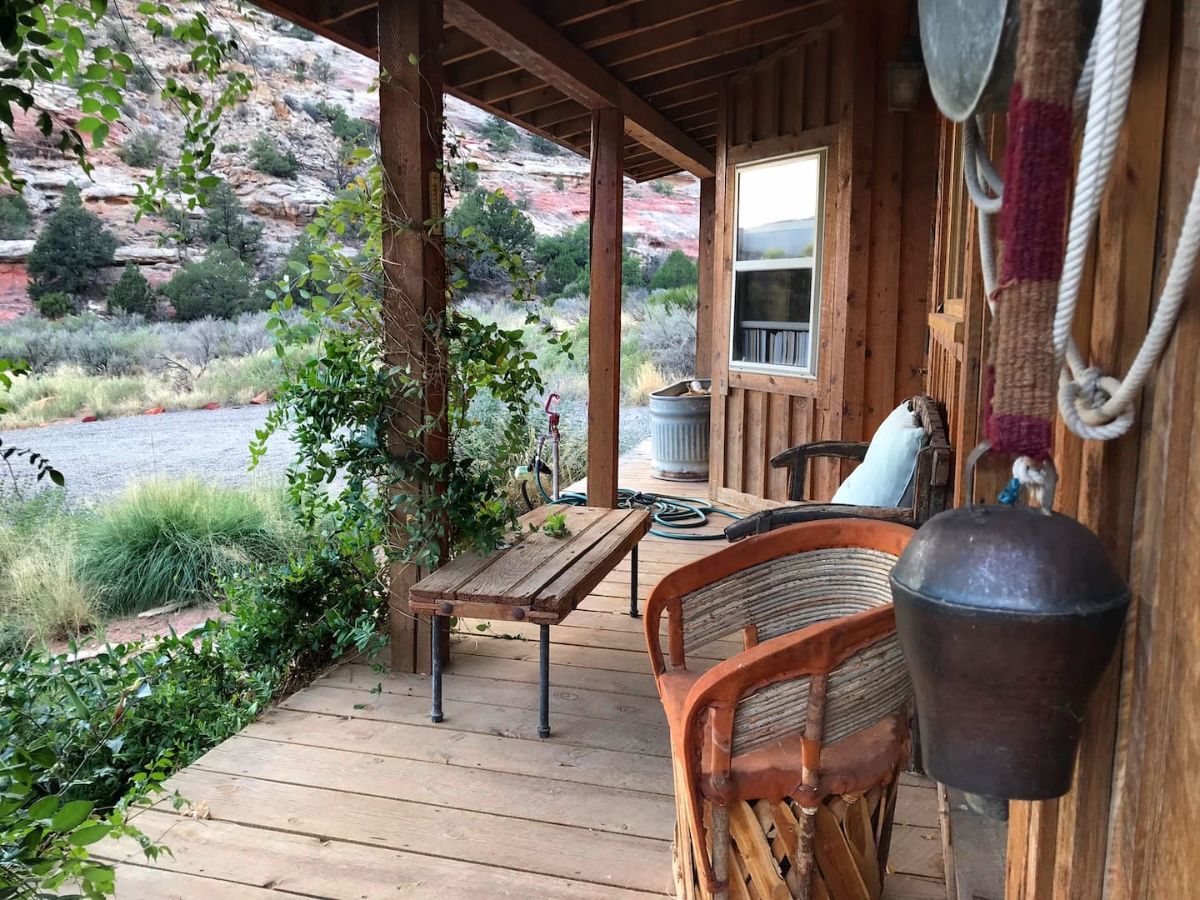 As you can see, the inside of this retreat is truly modern and gorgeous. They have created an oasis with modern furnishings and a simplistic vibe. A simple sofa and chair create the space for you to relax with a book, or have that philosophical discussion you've been wanting to have with your spouse.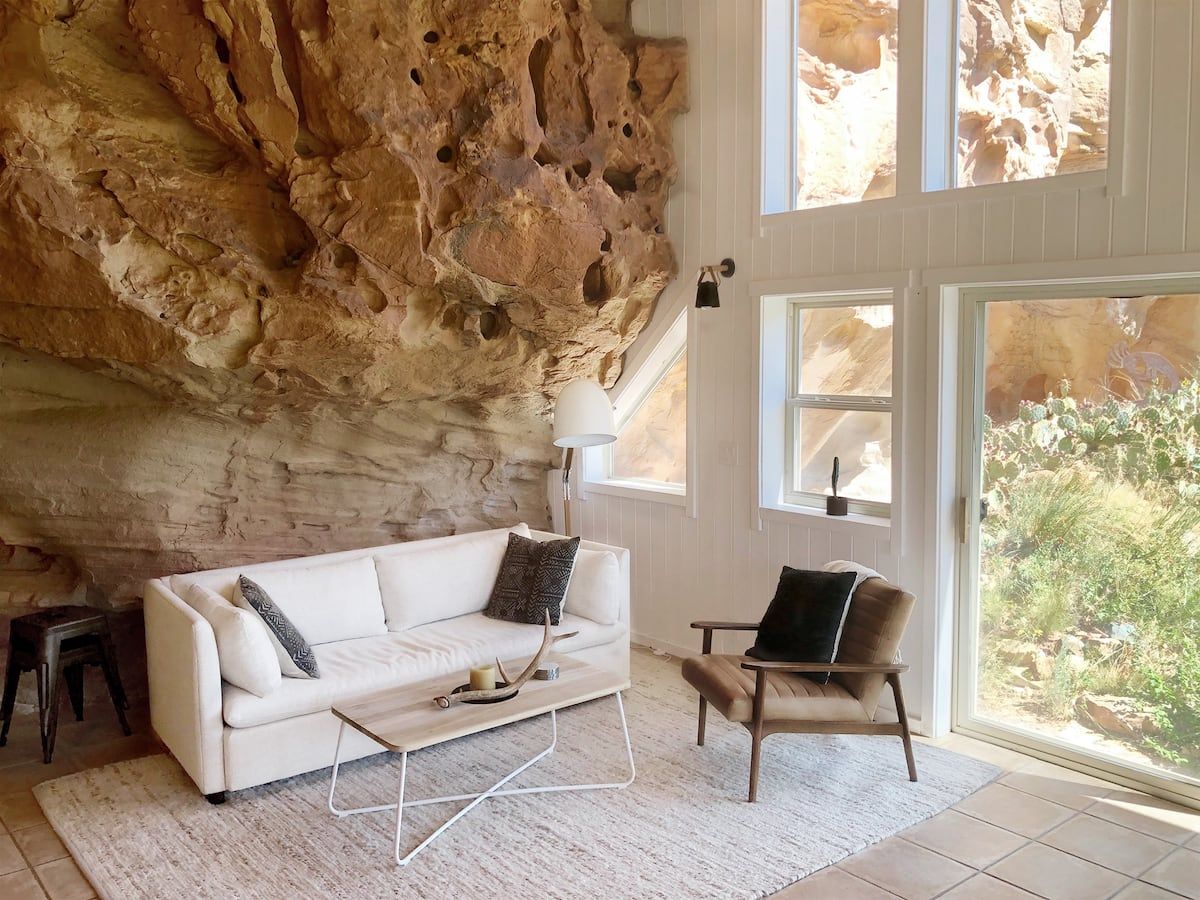 There is the main door into the home off of the porch we saw above, and a separate door shown below that leads off into the garden area outside the home. You can relax in so many ways here, all with nature at every corner.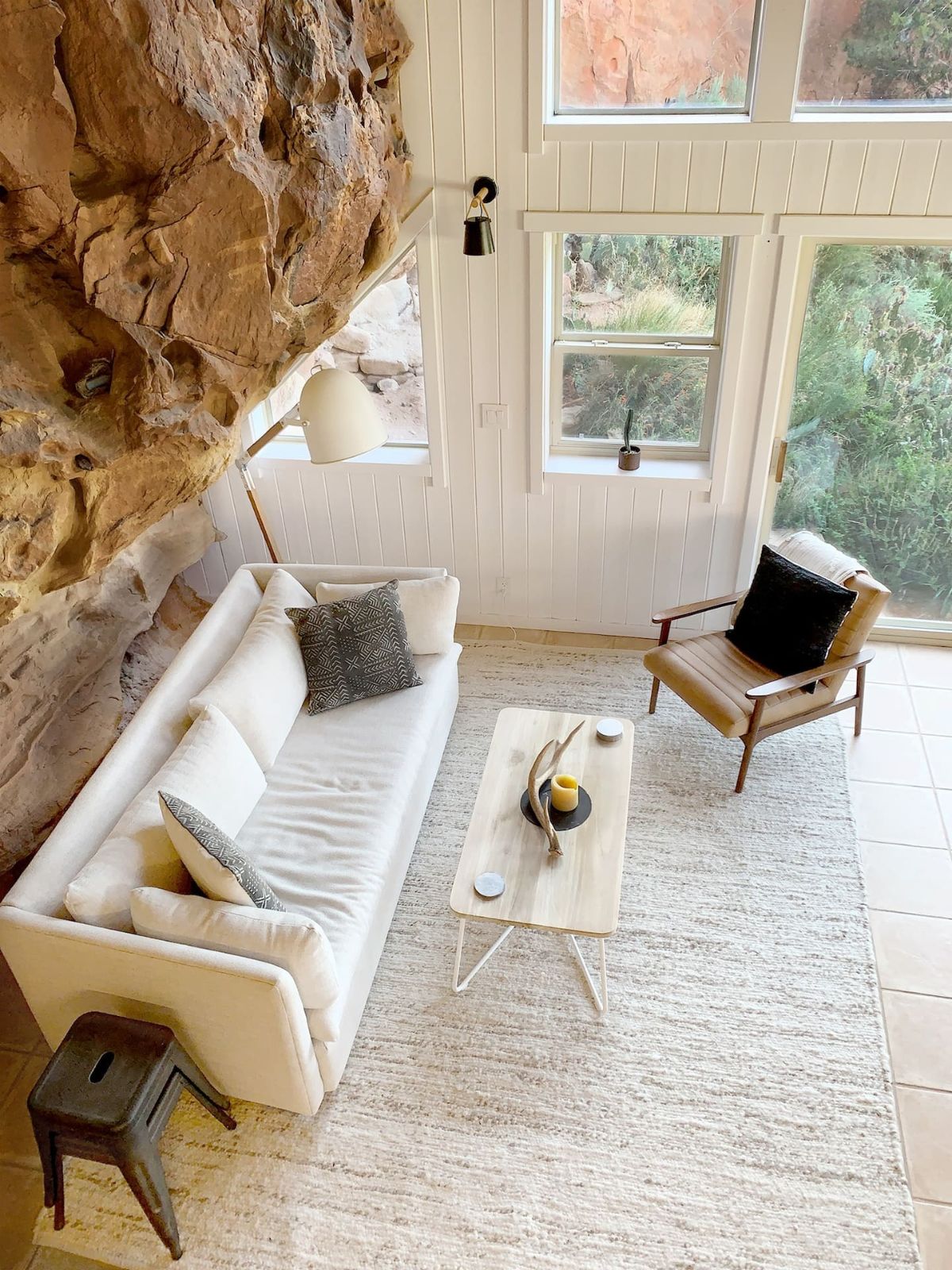 To add to the ambiance of the home, a corn wood stove is just inside near the corner of the room. While you won't need this often, it does get cold in winter and nothing is more realistically rustic than a wood stove.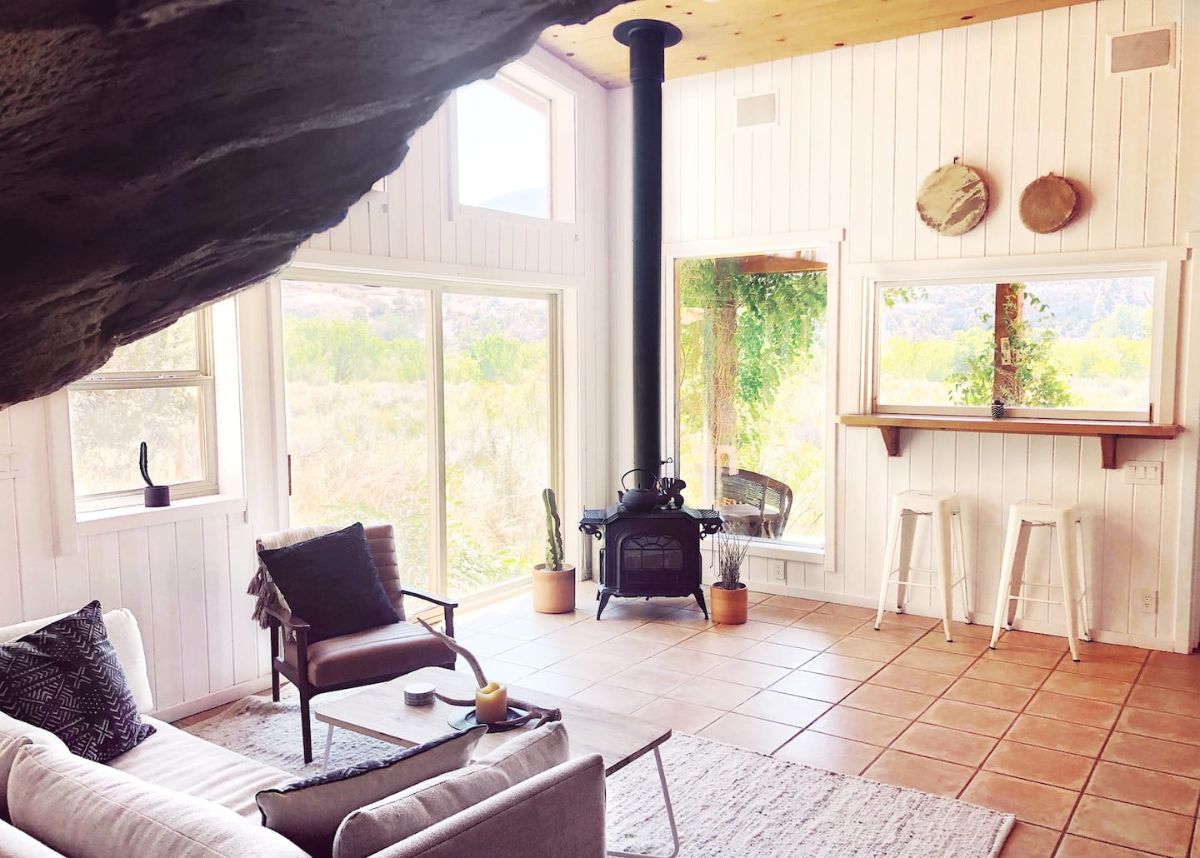 One of the bonuses here that makes it a great retreat for someone who wants to get away to work on a personal project, is there is an expanded windowsill that is perfect to use as a desk during your stay.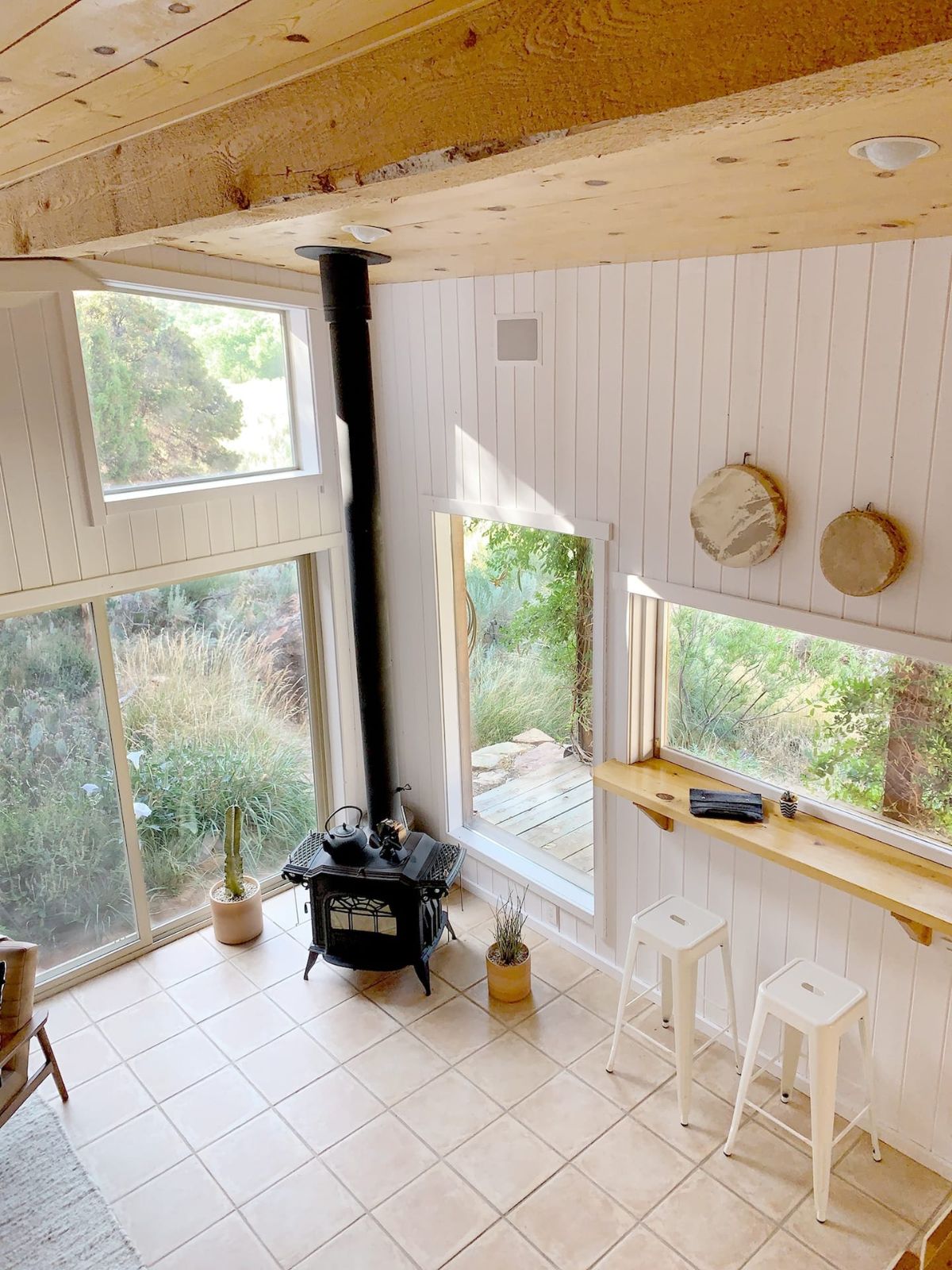 You even have a cast iron kettle here. Imagine that morning cup of tea or coffee with the smell of a wood fire. Yes, please!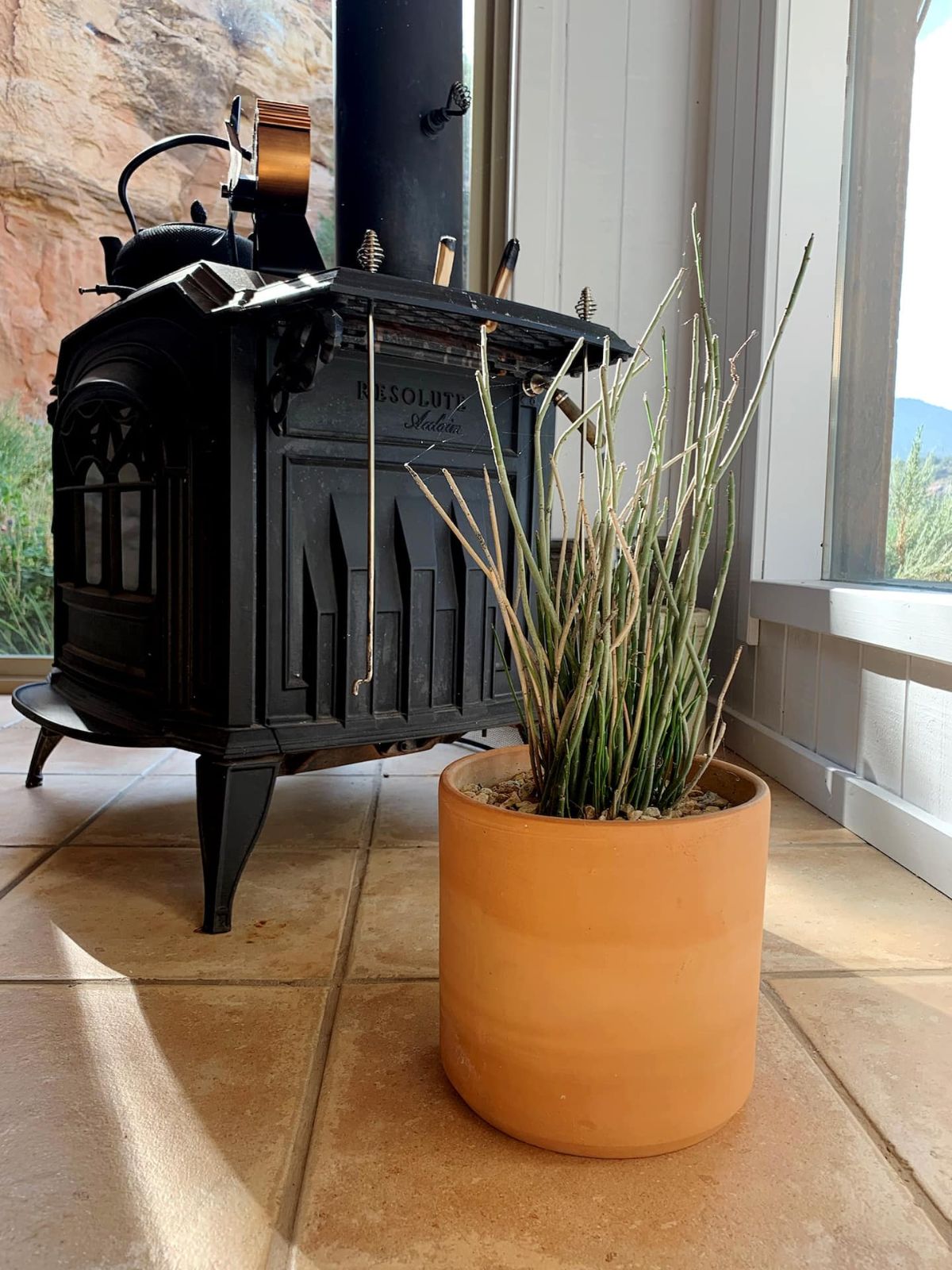 Here you get a better look at that window bench, as well as the main entry door to the right.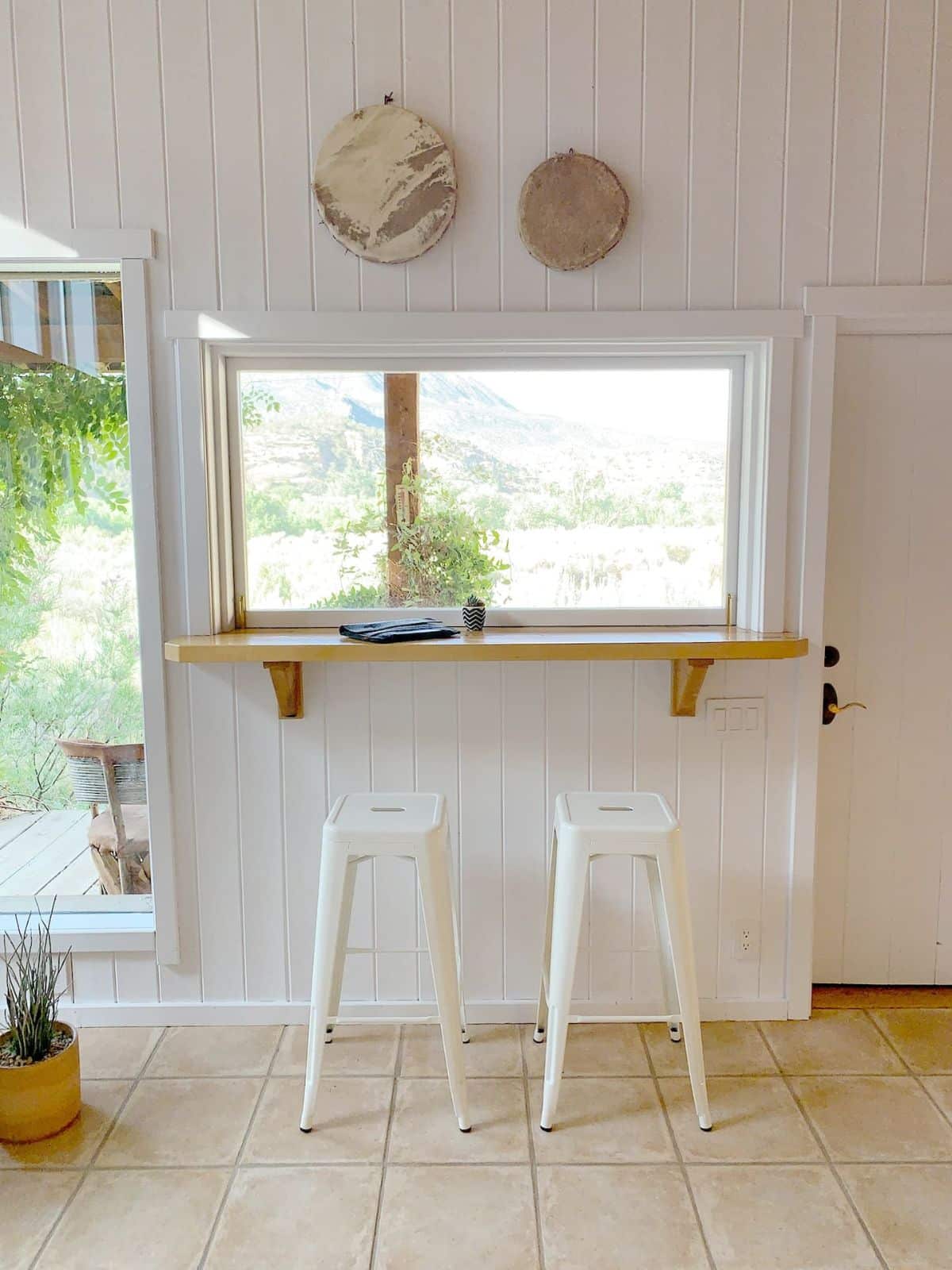 That view is incredible. I can personally feel the creativity flowing! The next great American novel could easily be written looking out at that desert view!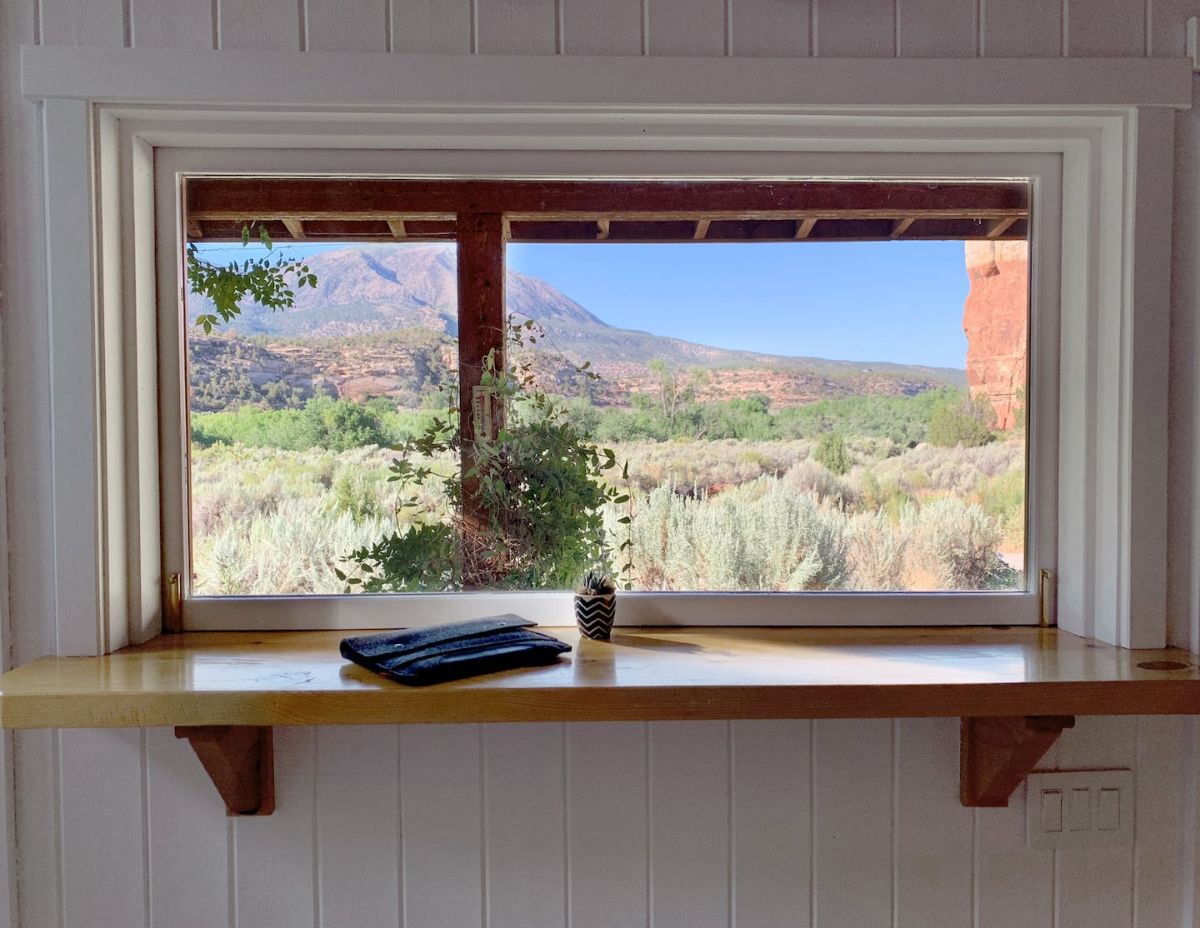 Of course, during your stay, you'll need to prepare meals. While it's not a chef's kitchen, it does have everything you need. A simple counter space with a stove, microwave, sink, and storage together is ideal for this smaller space.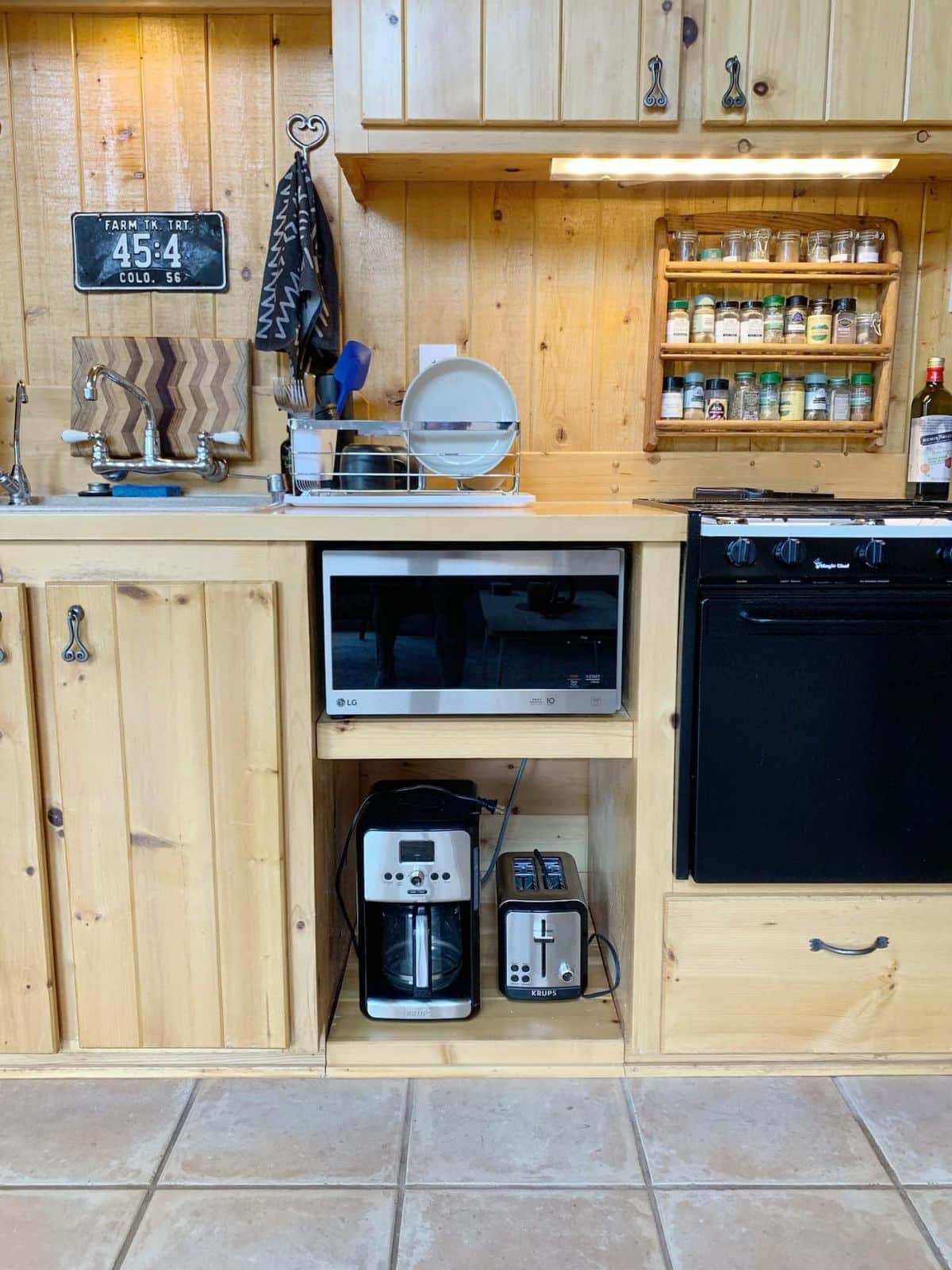 It's simple, but you have everything you need to prepare basic meals. Plus, it fits so seamlessly into the space, the kitchen doesn't detract from the rest of the home.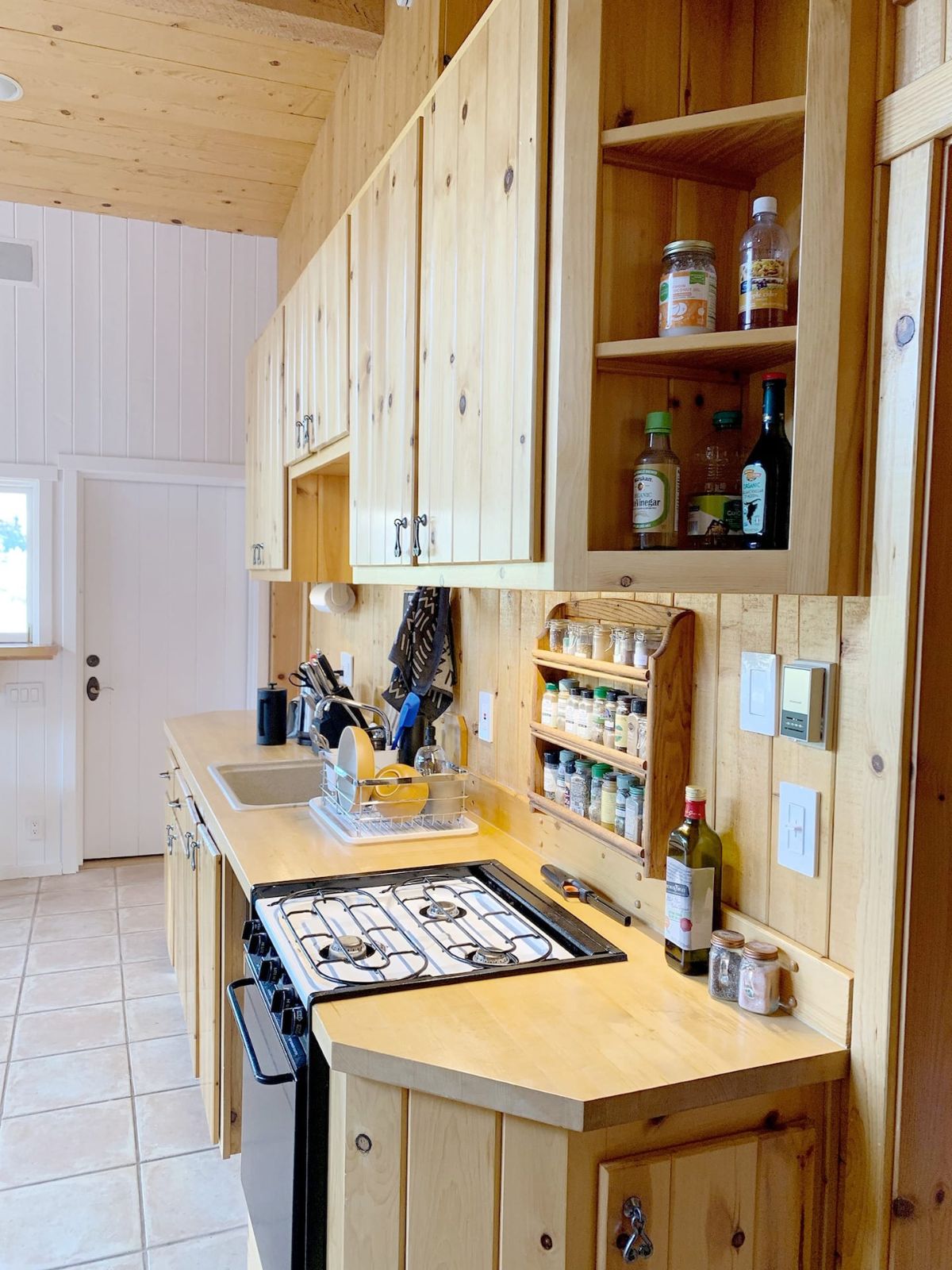 And one of my favorite things in this home is this beautiful little reading nook. In the wall you have a small bookshelf and lamp, but the rock has been carved out to create a bench seat. Throw down a blanket or pillow, and you have a cozy corner to curl up with a favorite book!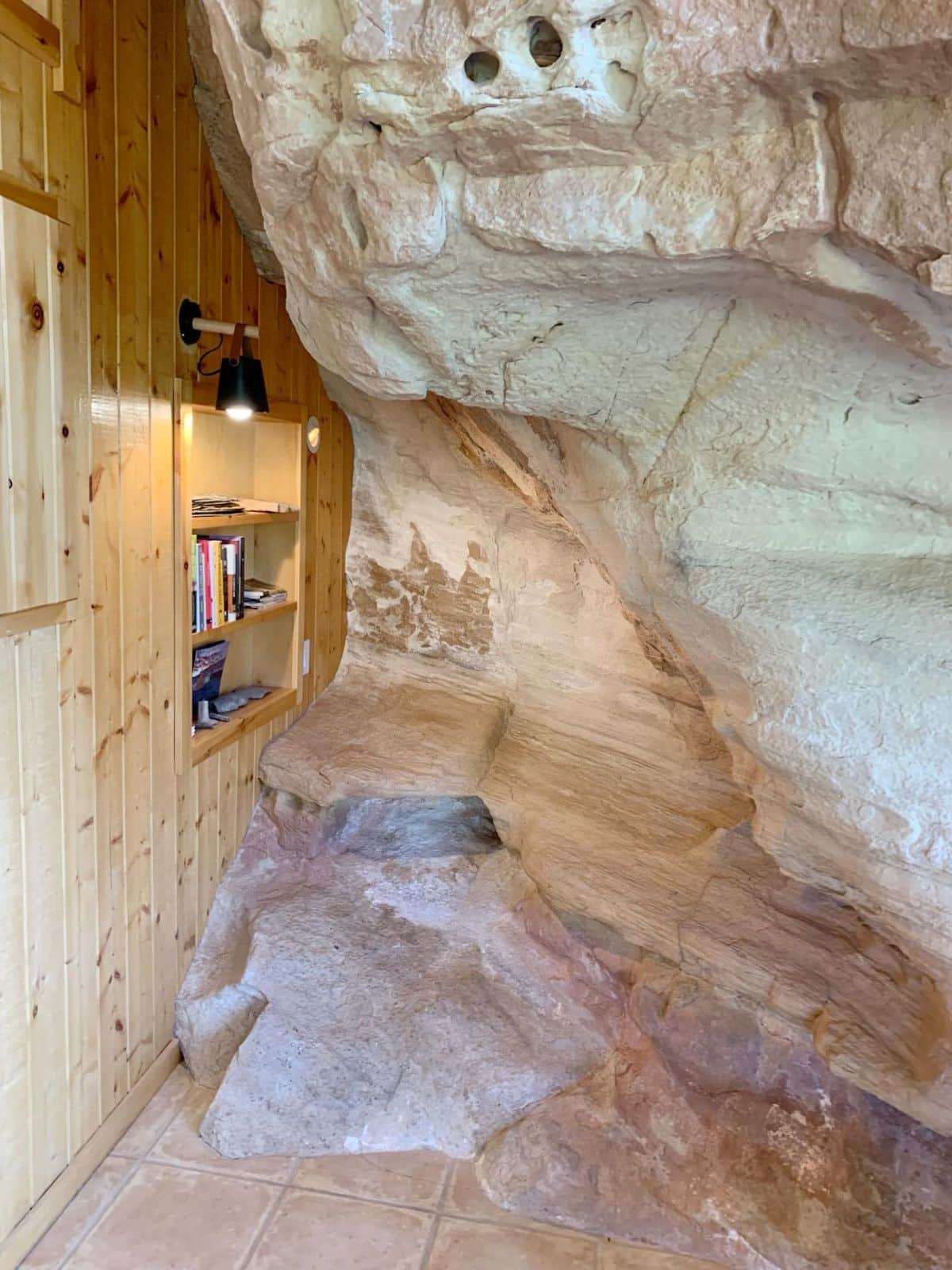 If you are interested in renting this gorgeous home for yourself, check out the Airbnb listing. When booking, let them know that Log Cabin Connection sent you their way.
More Log Cabin Kits and Tours