If you are looking for an example of luxury but still a bit rustic, the Hinesburg log cabin is a perfect choice. This home is a beautiful home with three levels and tons of unique additions like an in-home gym as well as a lovely game room.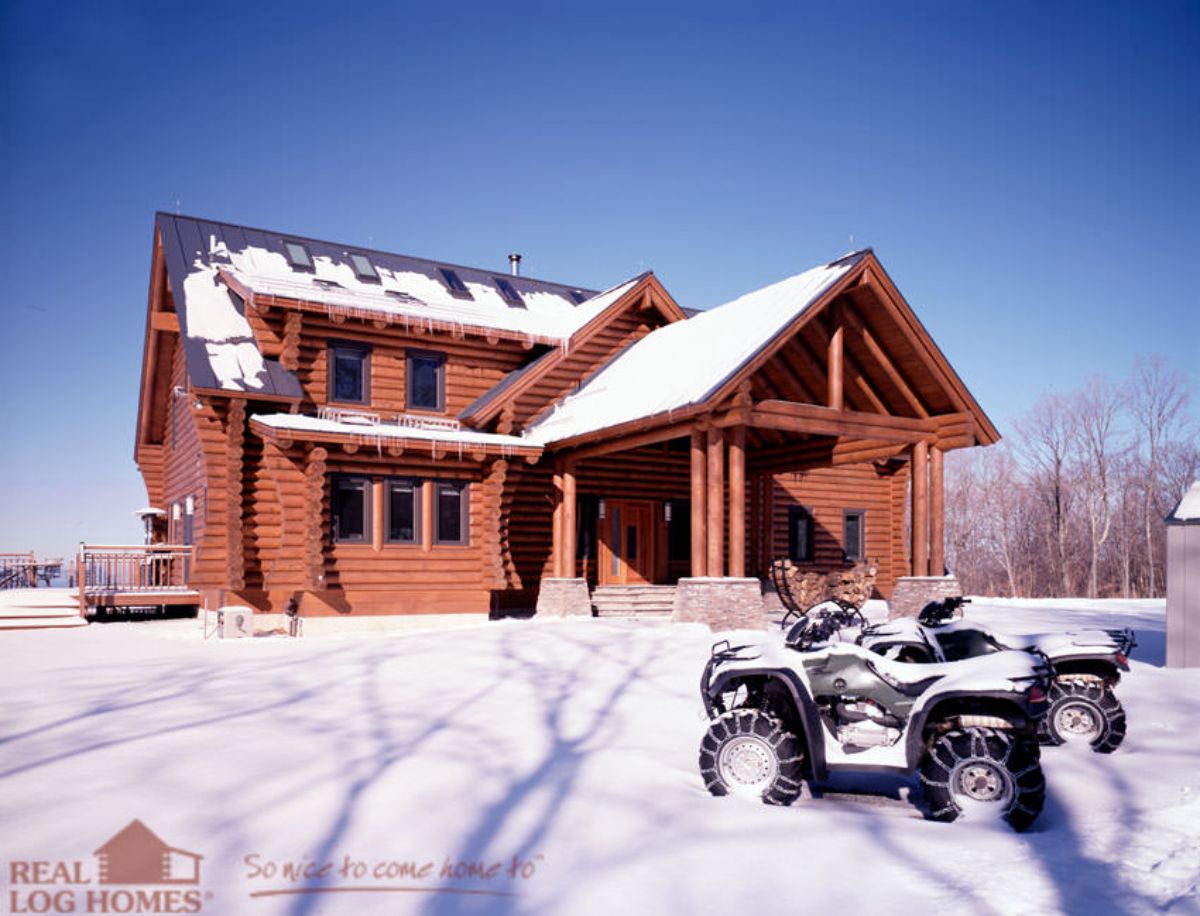 This model is somewhat sprawling with garages, an open floor plan, multiple levels, tons of skylights, and an uncovered deck off the great room that is ideal for entertaining.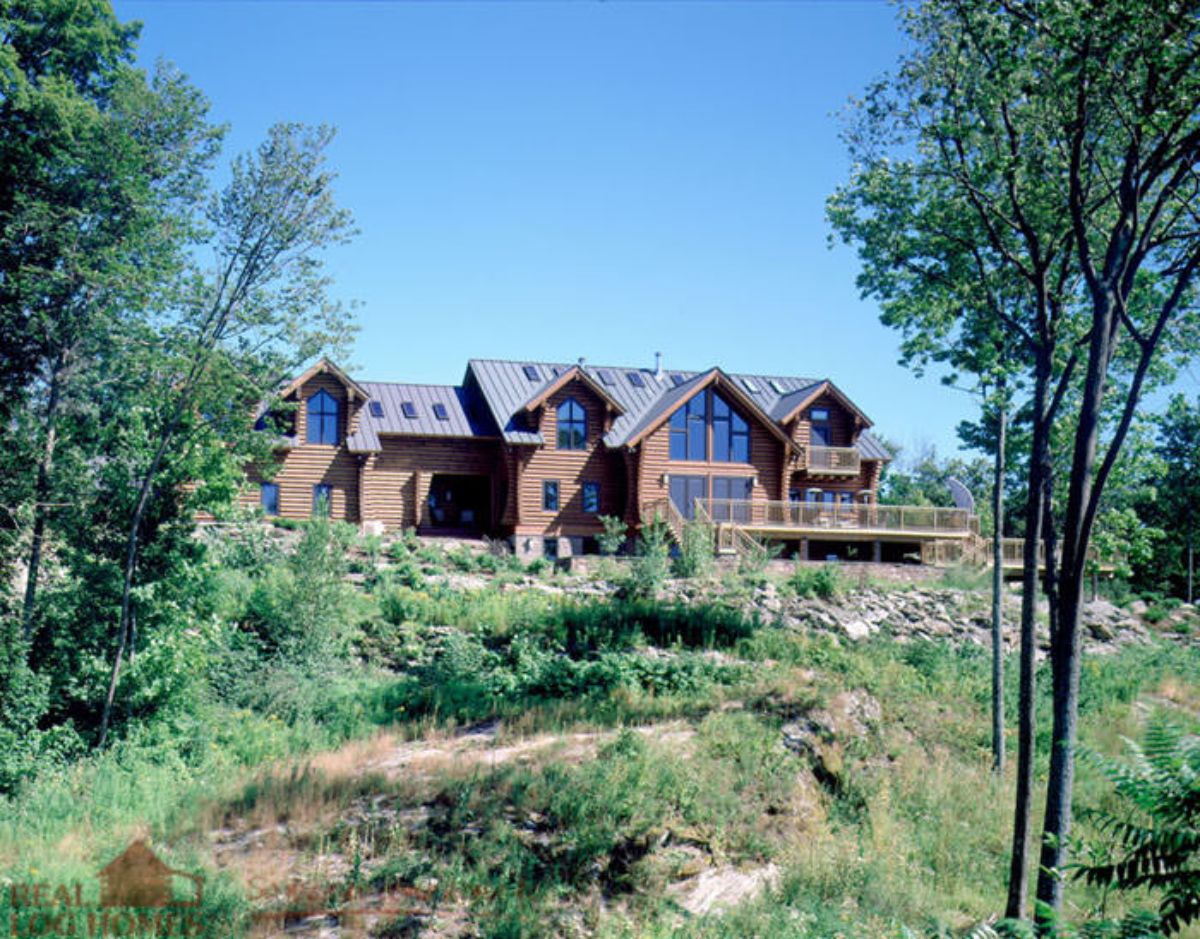 On the front of the home is an open carport that attaches to the home on both sides with a garage space as well as a separate storage area on one side and the home entrance on the other.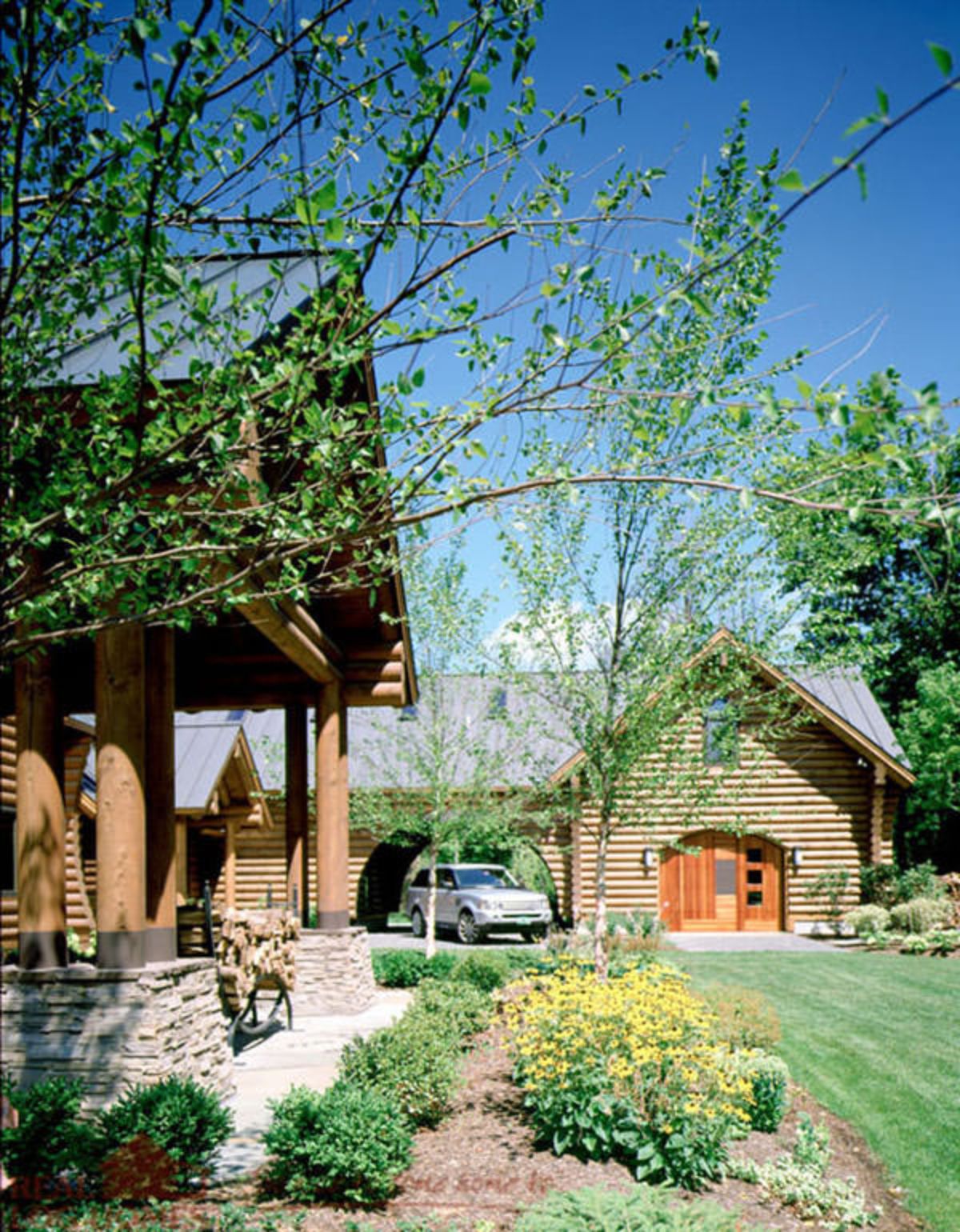 I love that this home not only has a full garage for keeping your vehicles covered but also this entrance under the carport makes it easy for guests to enter the home regardless of any weather.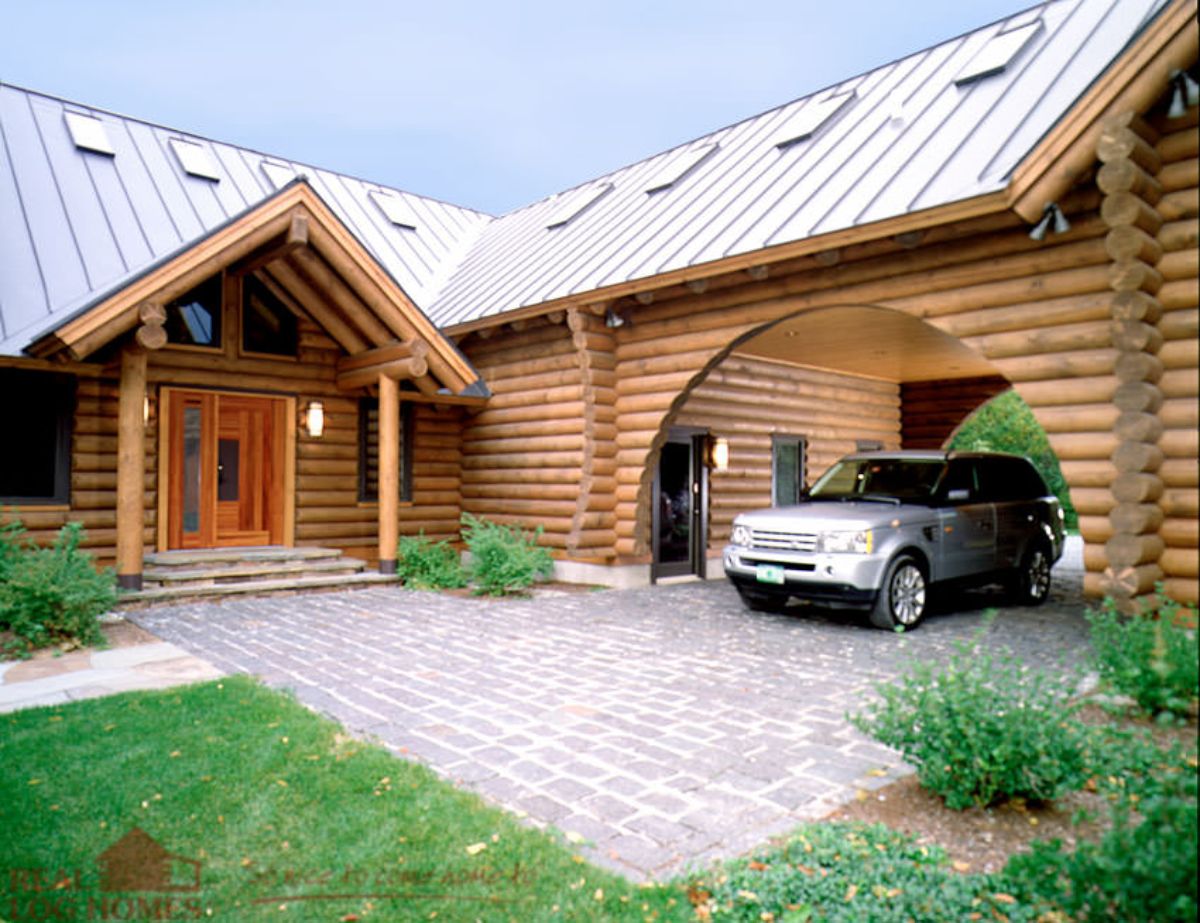 Here is a little glimpse into the garage of this home showing plenty of room for multiple vehicles or toys.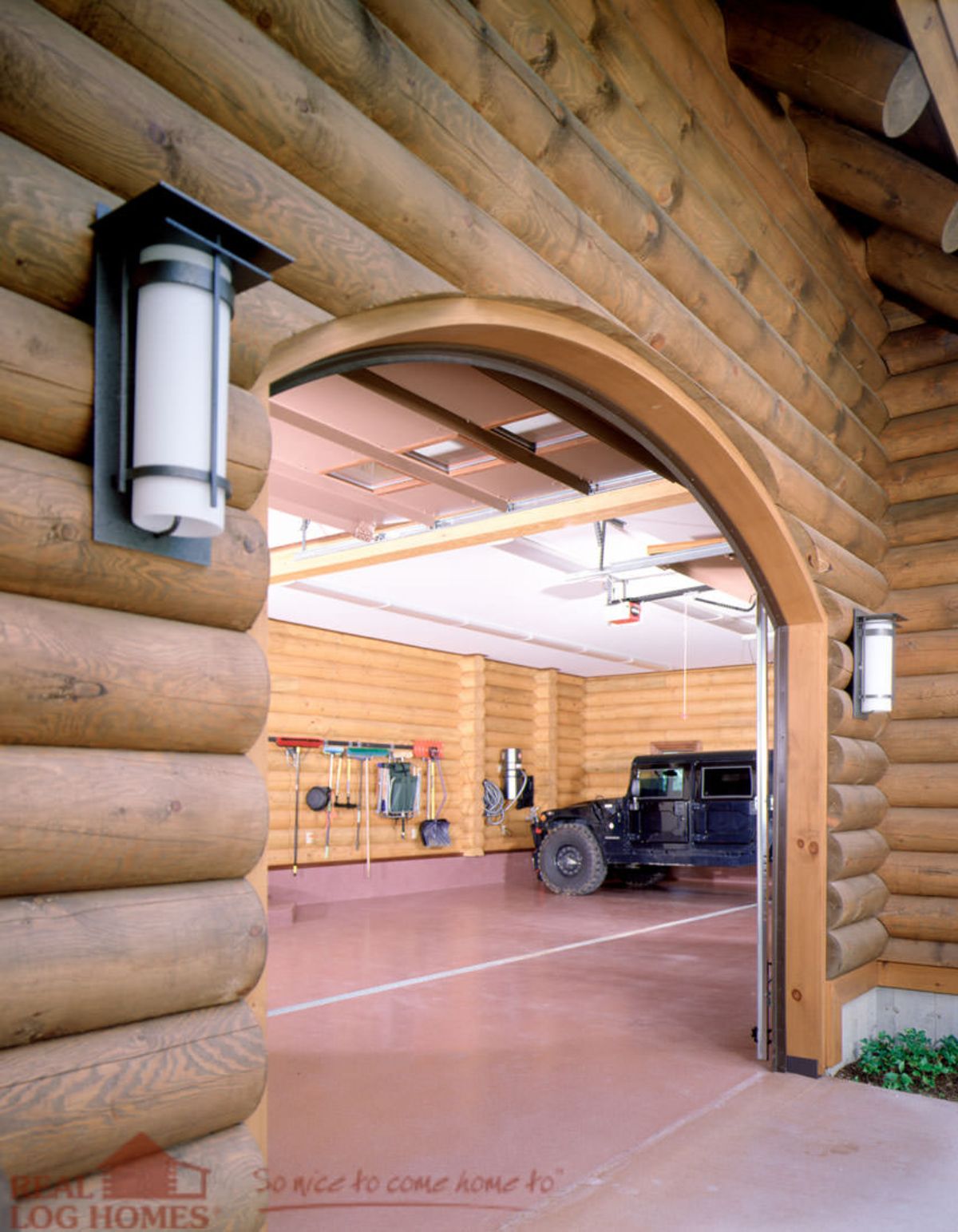 Here you can see a bit of the inside of that second space that is ideal for storing away lawn equipment and toys such as four-wheel ATVs.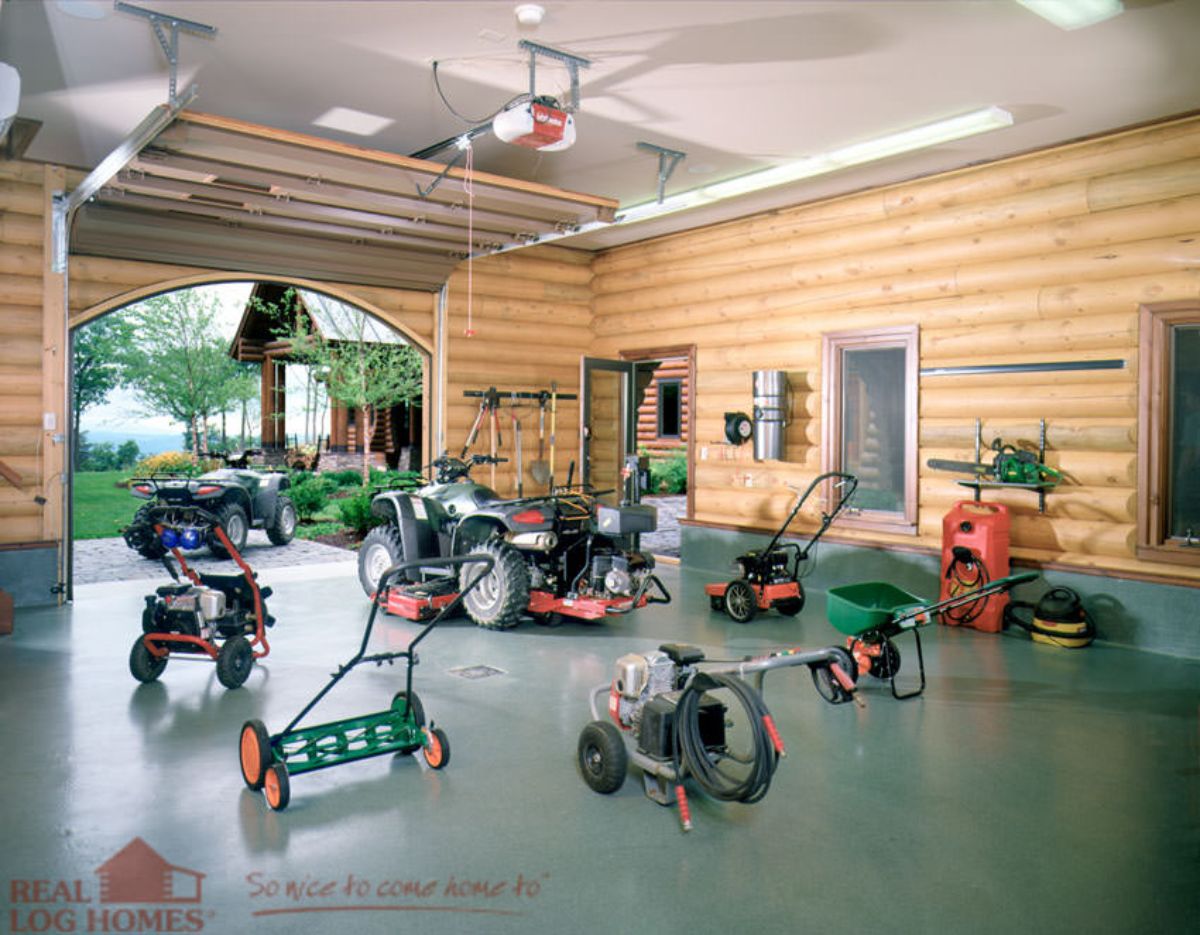 Inside the Hinesburg log cabin, you are greeted by luxury and beauty. Log walls and ceilings paired with modern updated decor create the home of your dreams.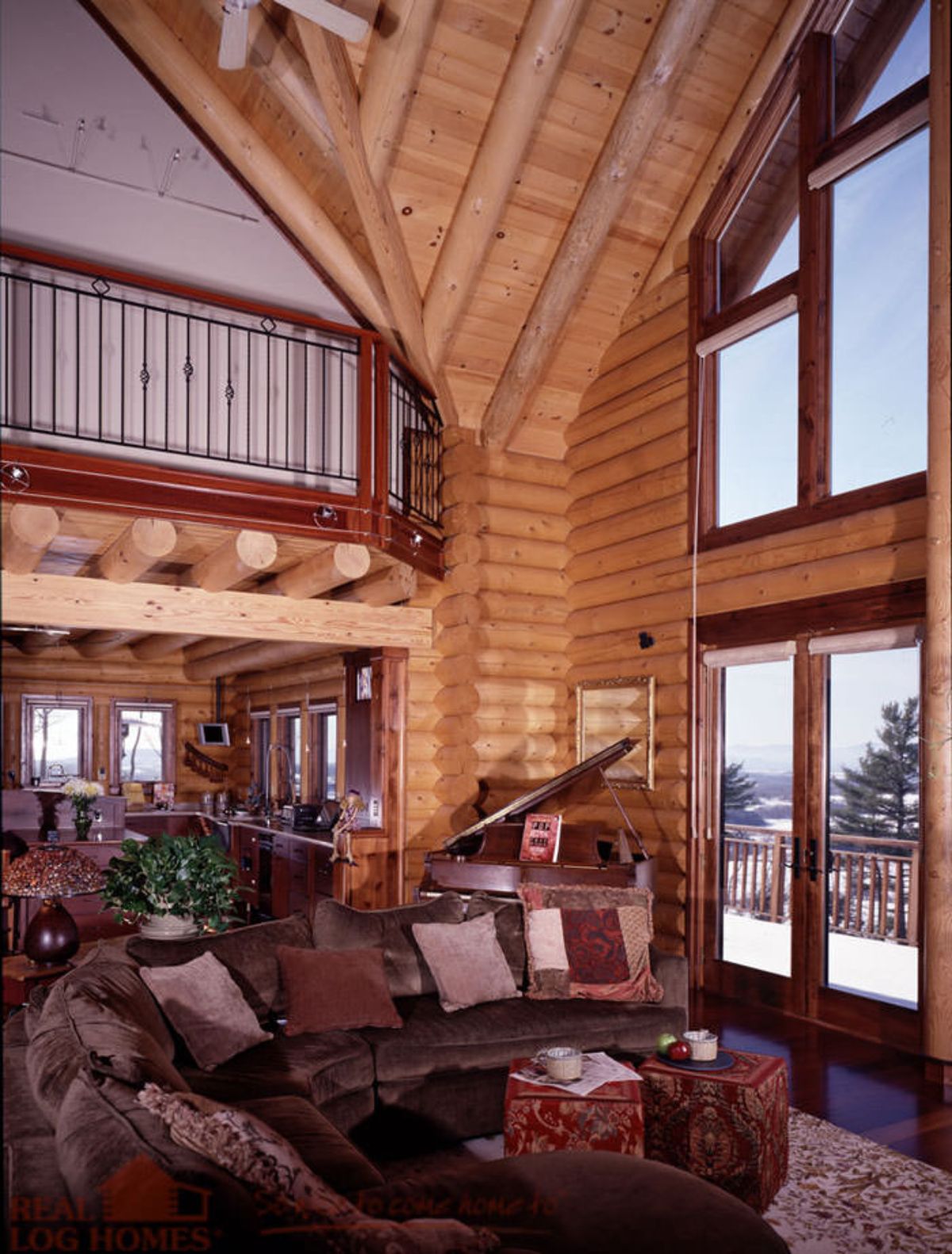 The main floor includes a living room nook that has a fireplace, a special entertainment space inside the wall, and leads out to the kitchen and dining room as well as shows the upper floor landing space.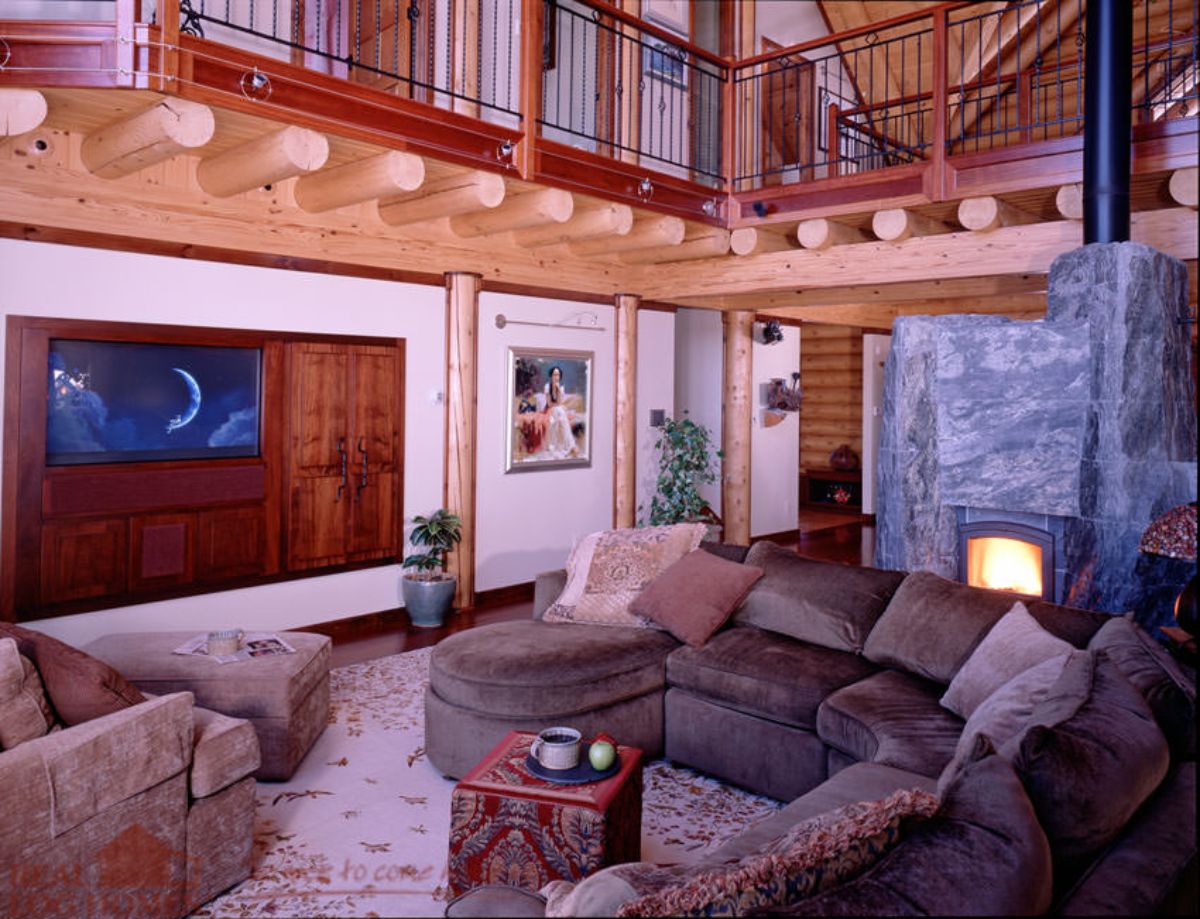 One of my favorite things about this home is the spiral staircase taking you up to the top floor landing.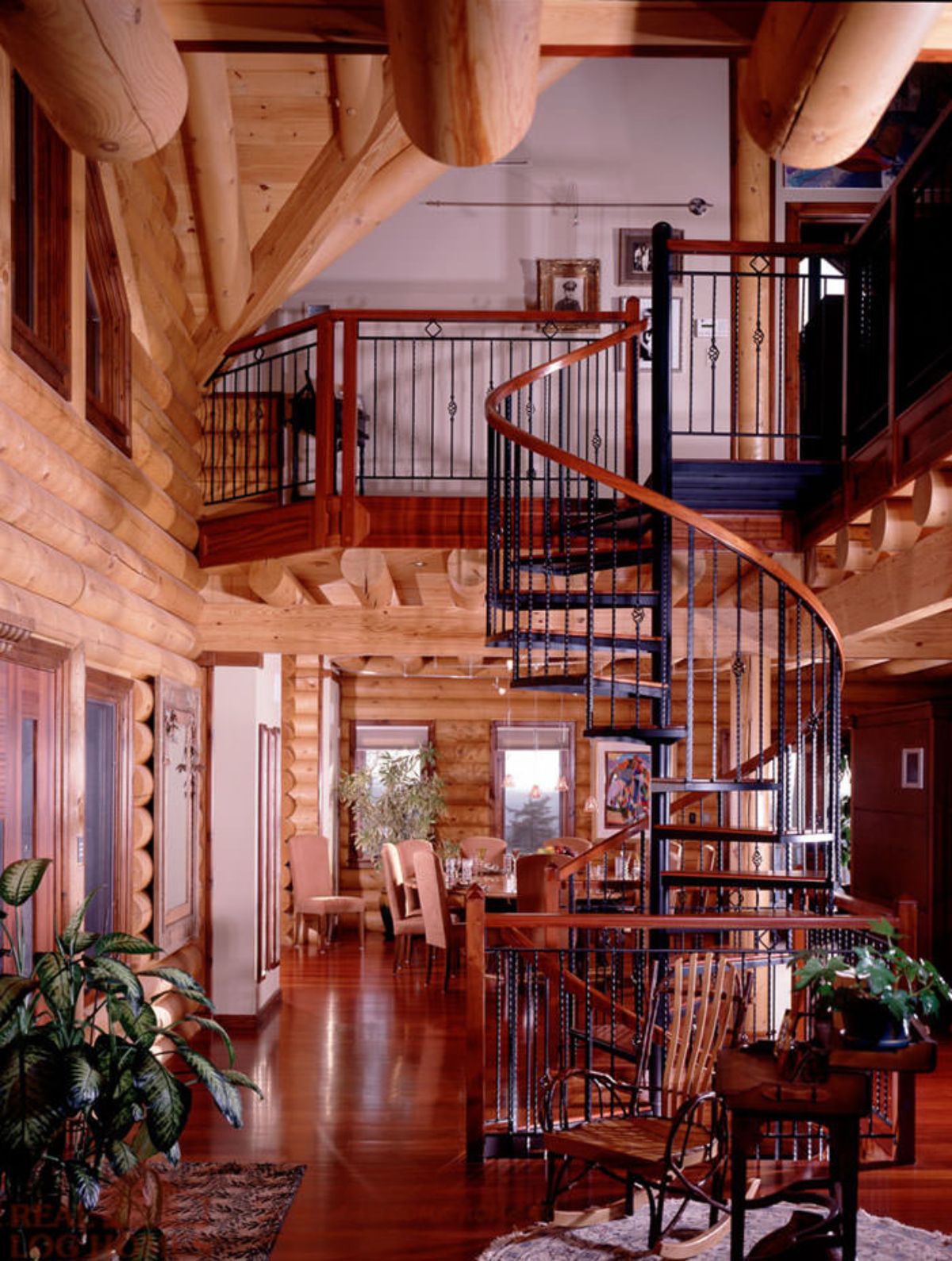 And the dining room around the corner from the living area has a huge round table with multiple seats that makes the perfect area for a dinner party. You could even use this space for game night!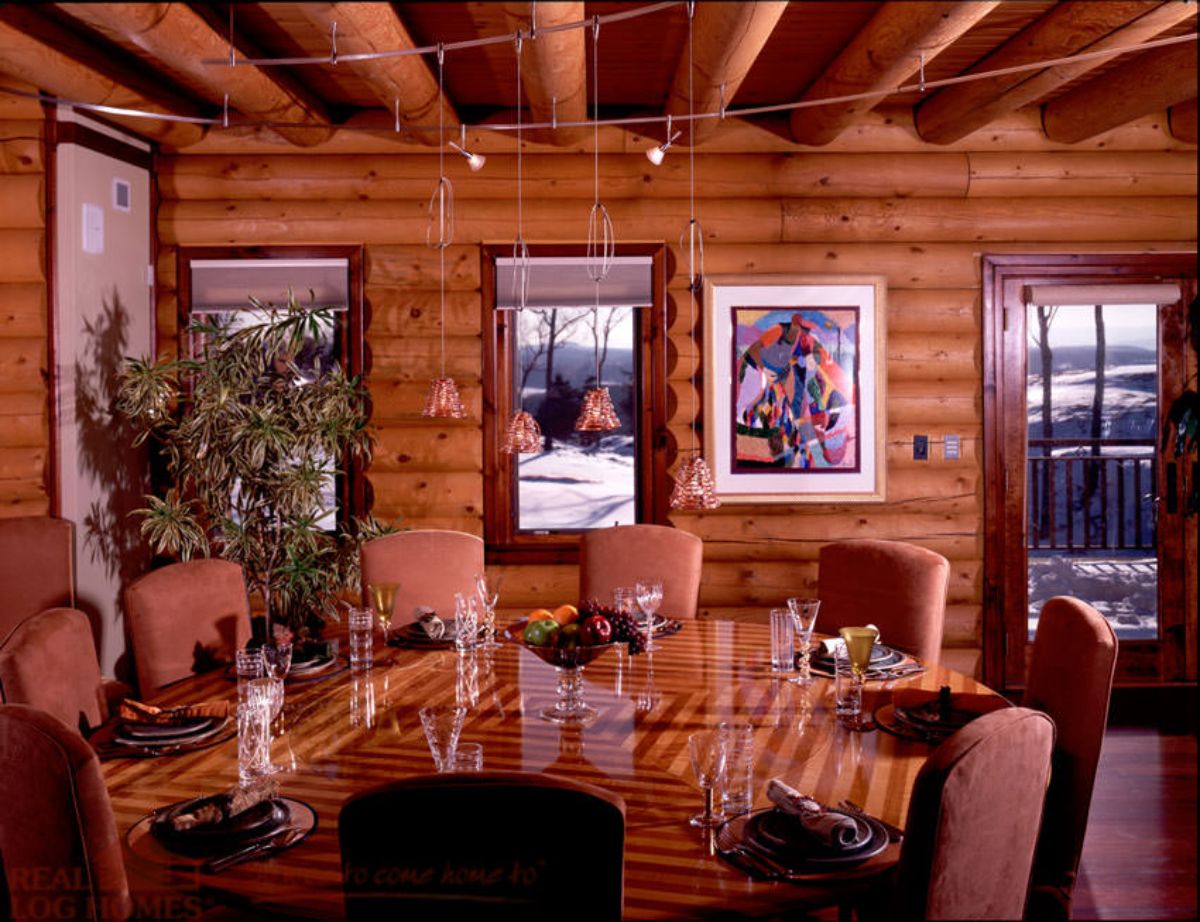 The kitchen, however, is a dream come true for the foodie. You have a lovely curved eating nook on the outside counter with a stove, extra burners, sinks, and tons of counter work space.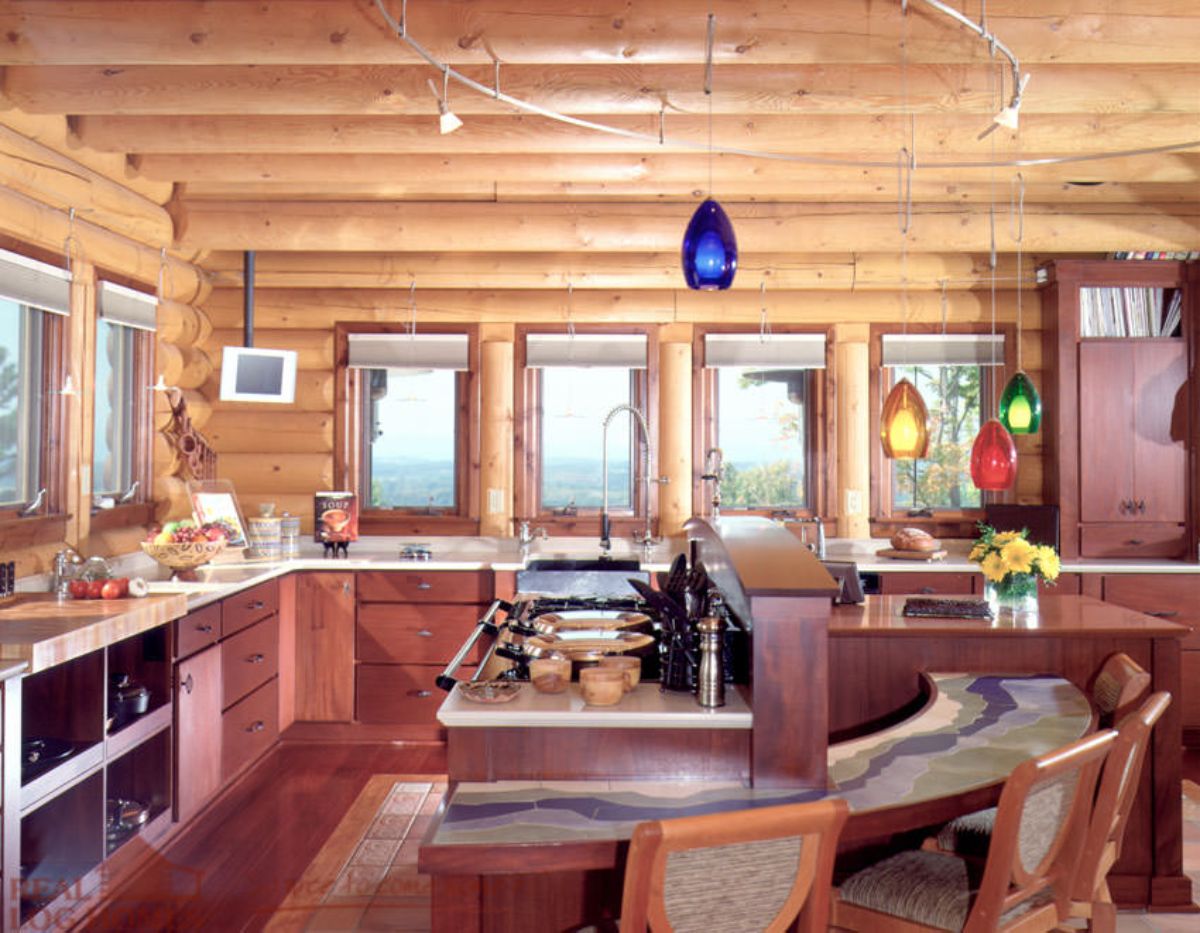 Plus tons of storage and refrigerators, this home has it all and is truly a chef's oasis with spaces and tools for making any meals. Plus, my favorite addition shown below is the water faucet set behind the stove to easily fill pans for pasta, etc. right on the stove!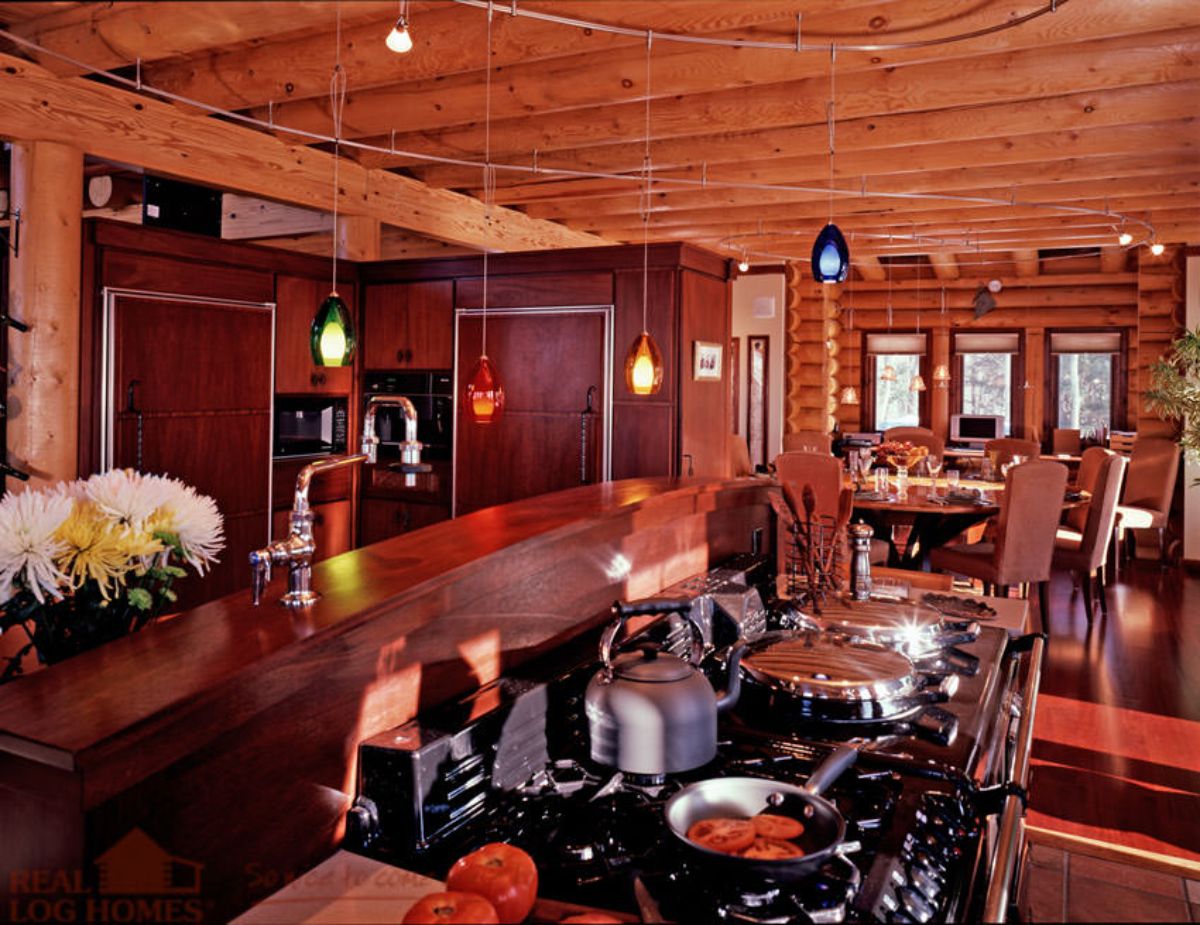 Upstairs, the landing is a u-shape with rooms on both sides and a simple walkway between. This gives you a great open feeling while also having plenty of privacy in each space.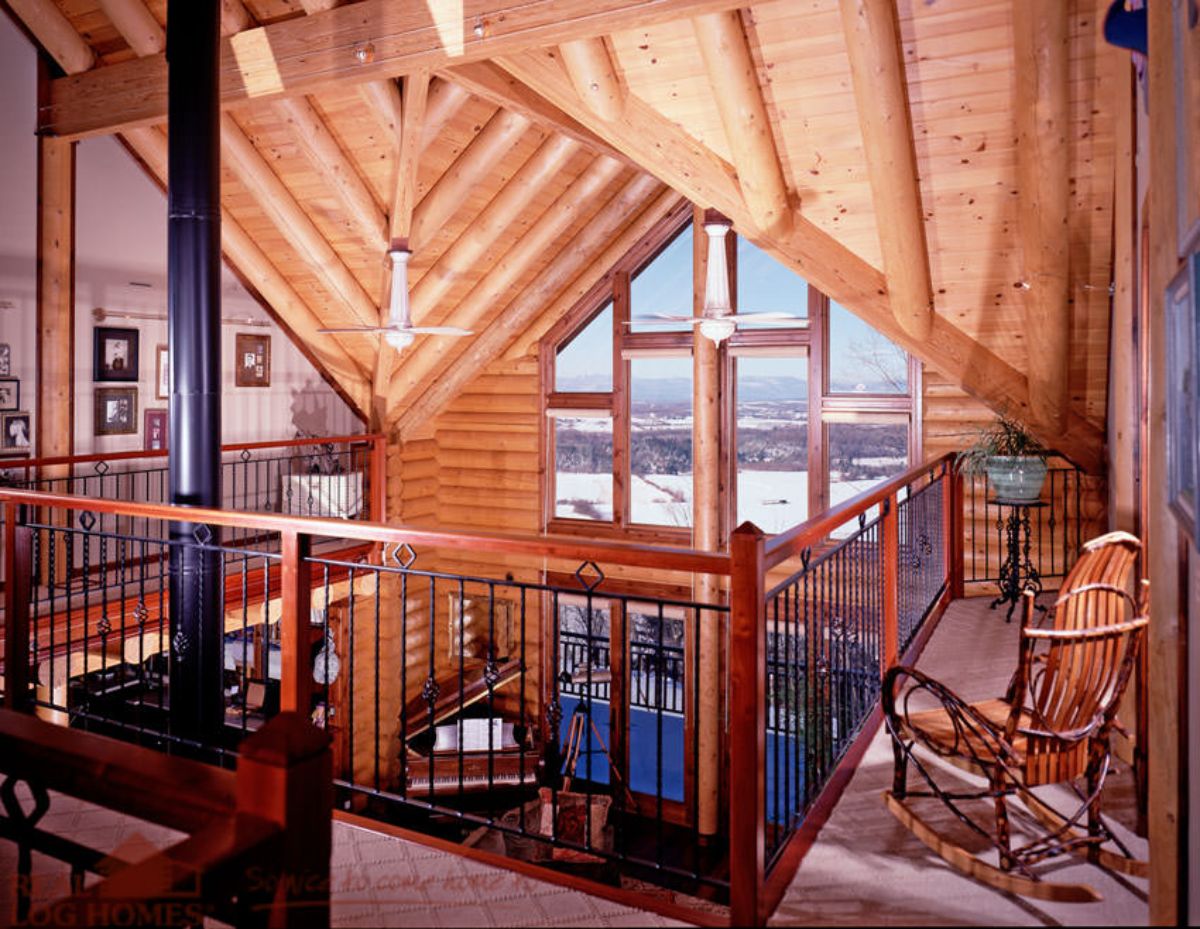 And below you can see that the living room has the floor to ceiling windows and doors showing tons of natural light. It flows into the kitchen to the left and even has room for a piano in the corner.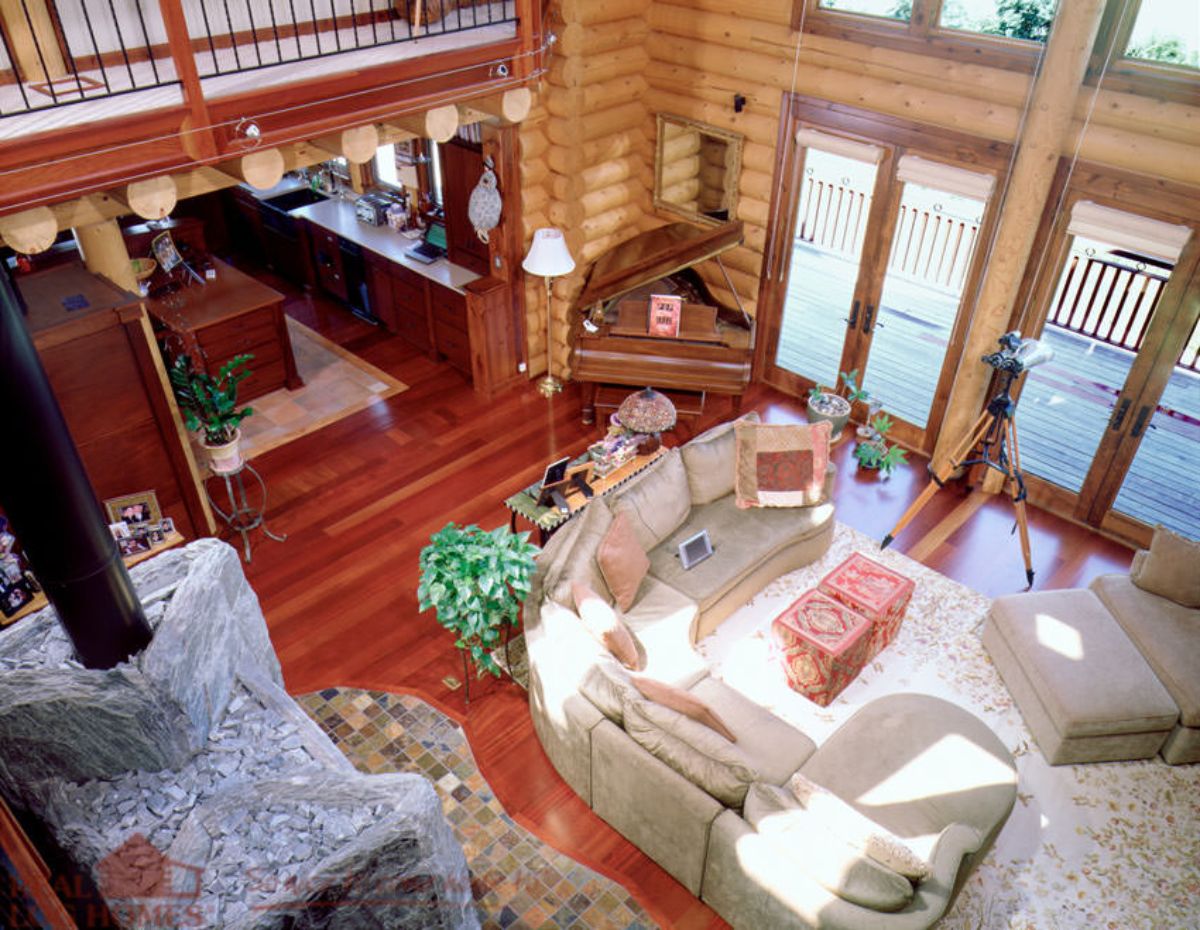 The bedrooms upstairs all feature large spaces with tall ceilings. I especially love how the rooms are divided with walls between the bed and bathroom in these areas. Plus, you have skylights above that bring in tons of gorgeous natural light.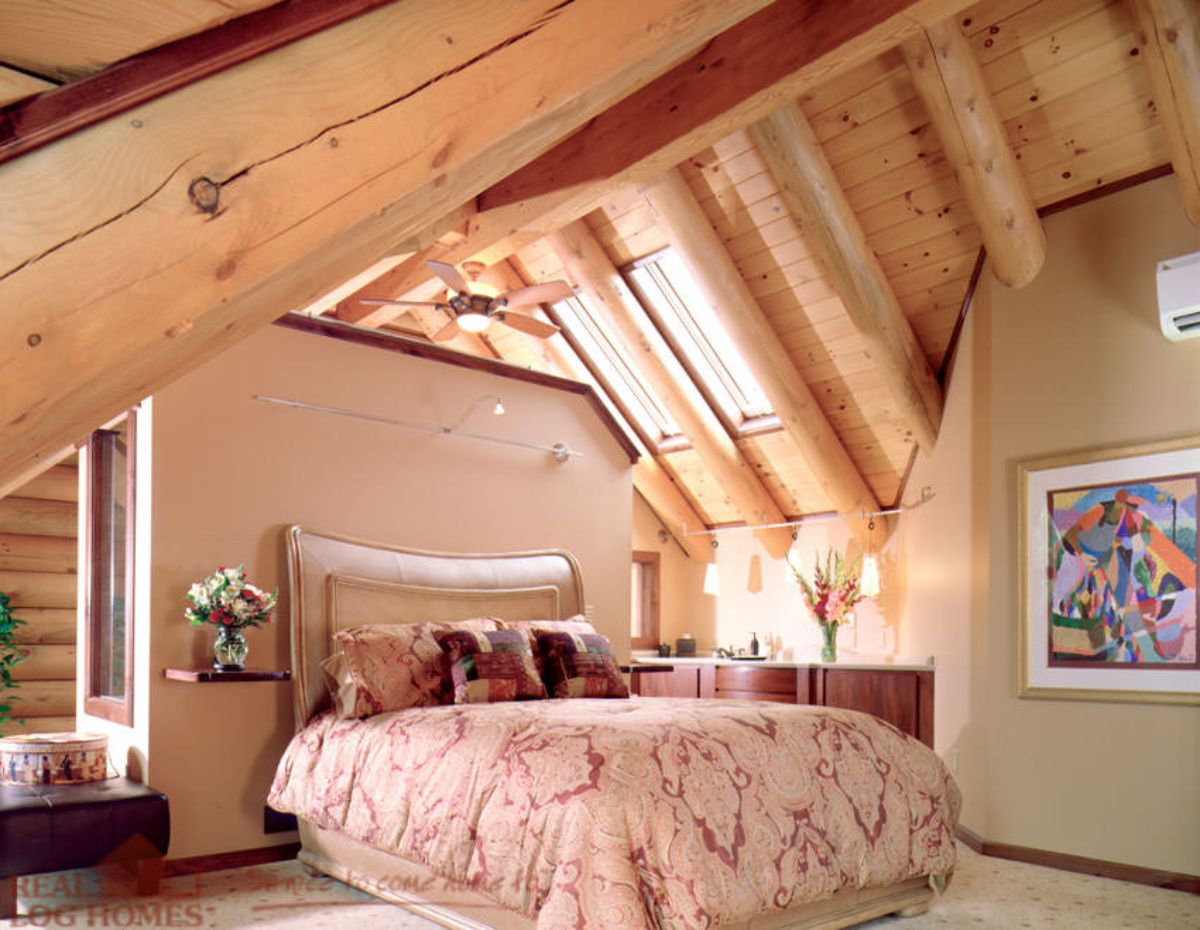 In this space, you have a shower and bathtub combination surrounded by glass walls that is welcoming, romantic, and luxurious.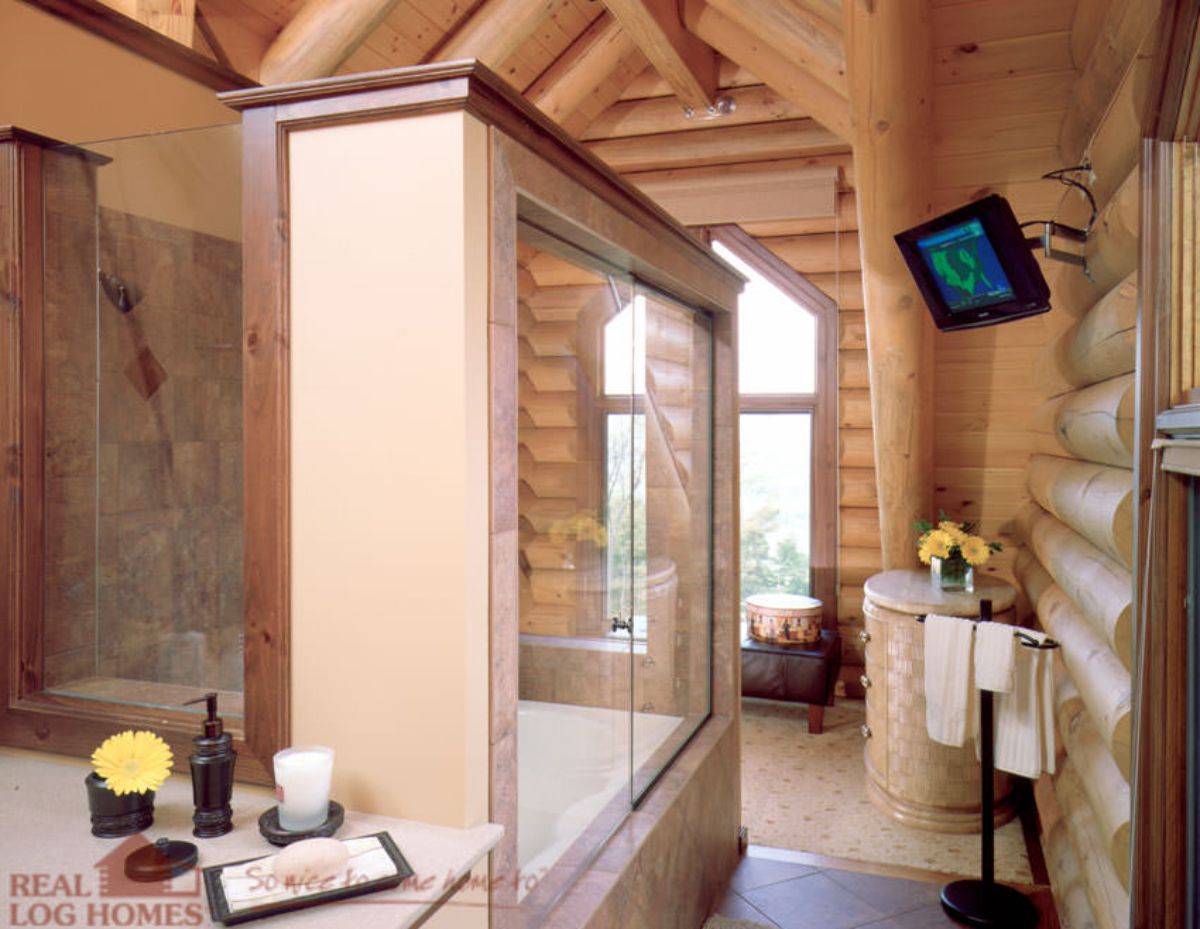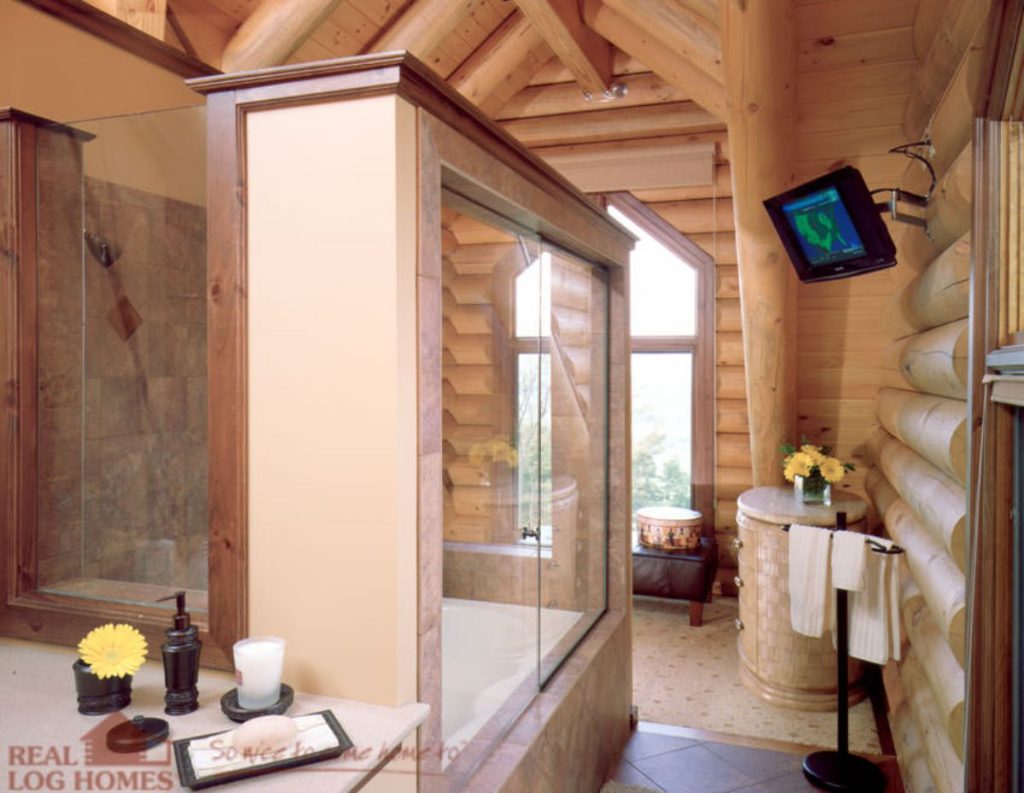 A child can enjoy an upstairs space as well with this beautiful canopy bed and room for all of their toys along with a great view out the front window!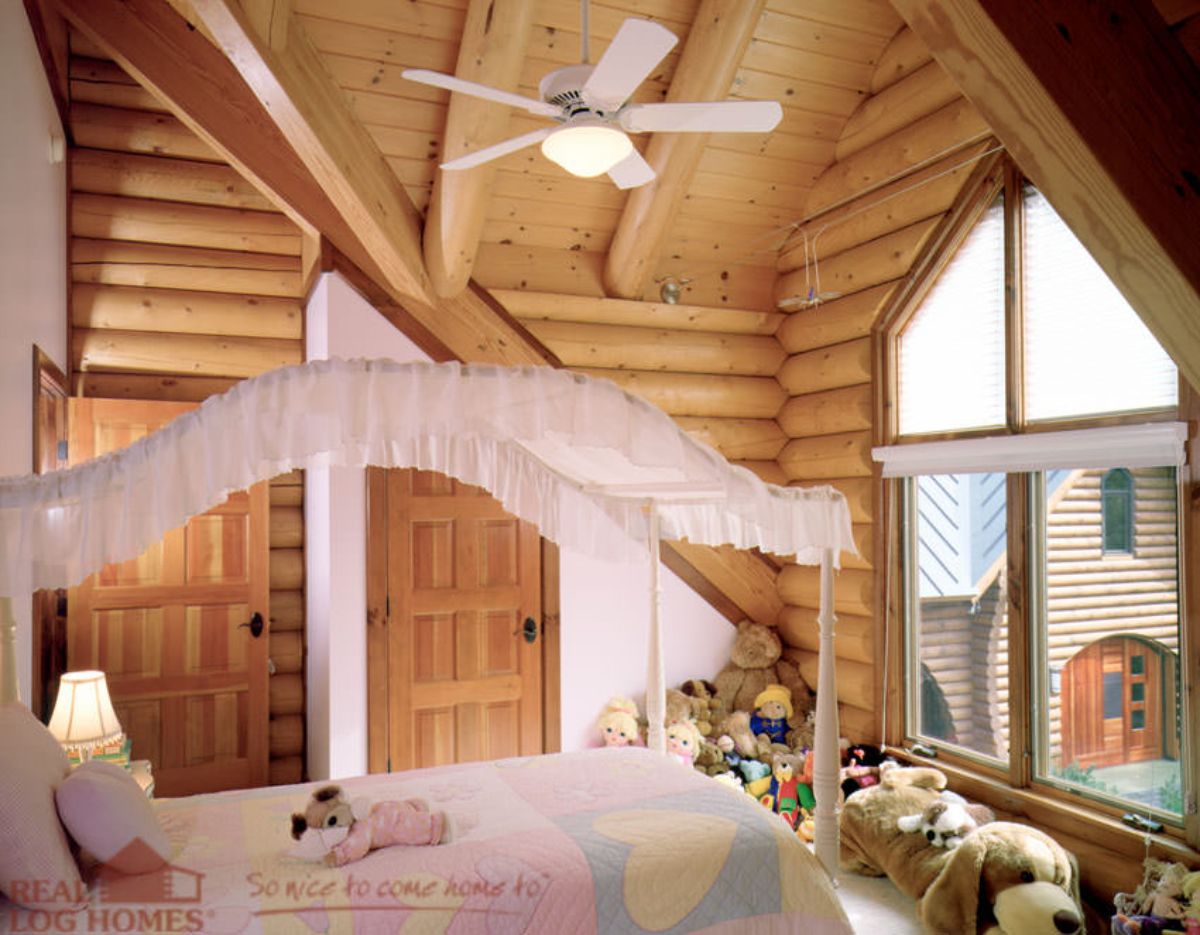 The master suite is one of my favorites. Of course, the large leather bed frame is unique, but my personal favorite is the closet space that is set up in the middle of the room as a divider between the sleeping space and the bathroom.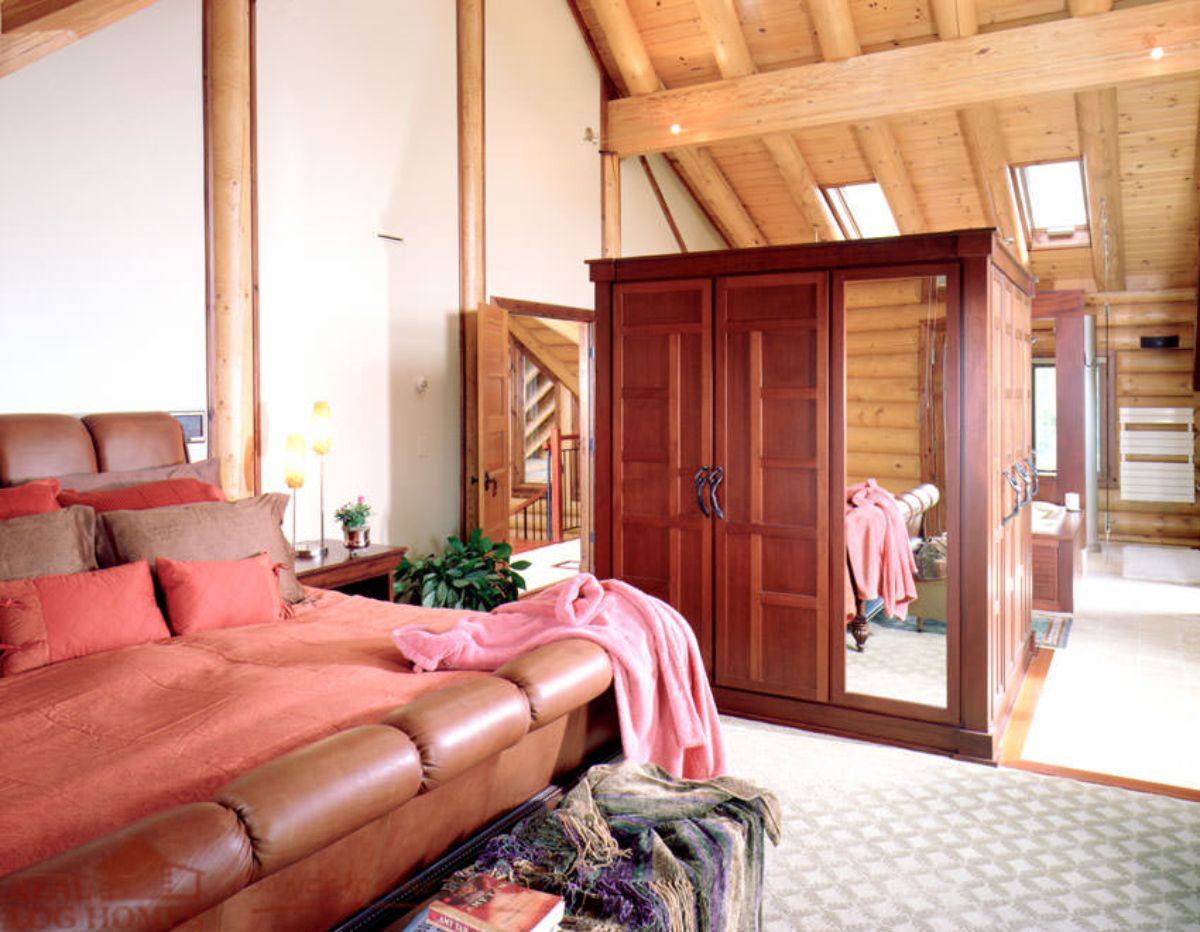 Behind that unit is this luxury bathroom with a soaking bathtub as well as an open glass shower. I love the vanity set up with tons of shelves that are open plus drawers and a unique bowl-style sink.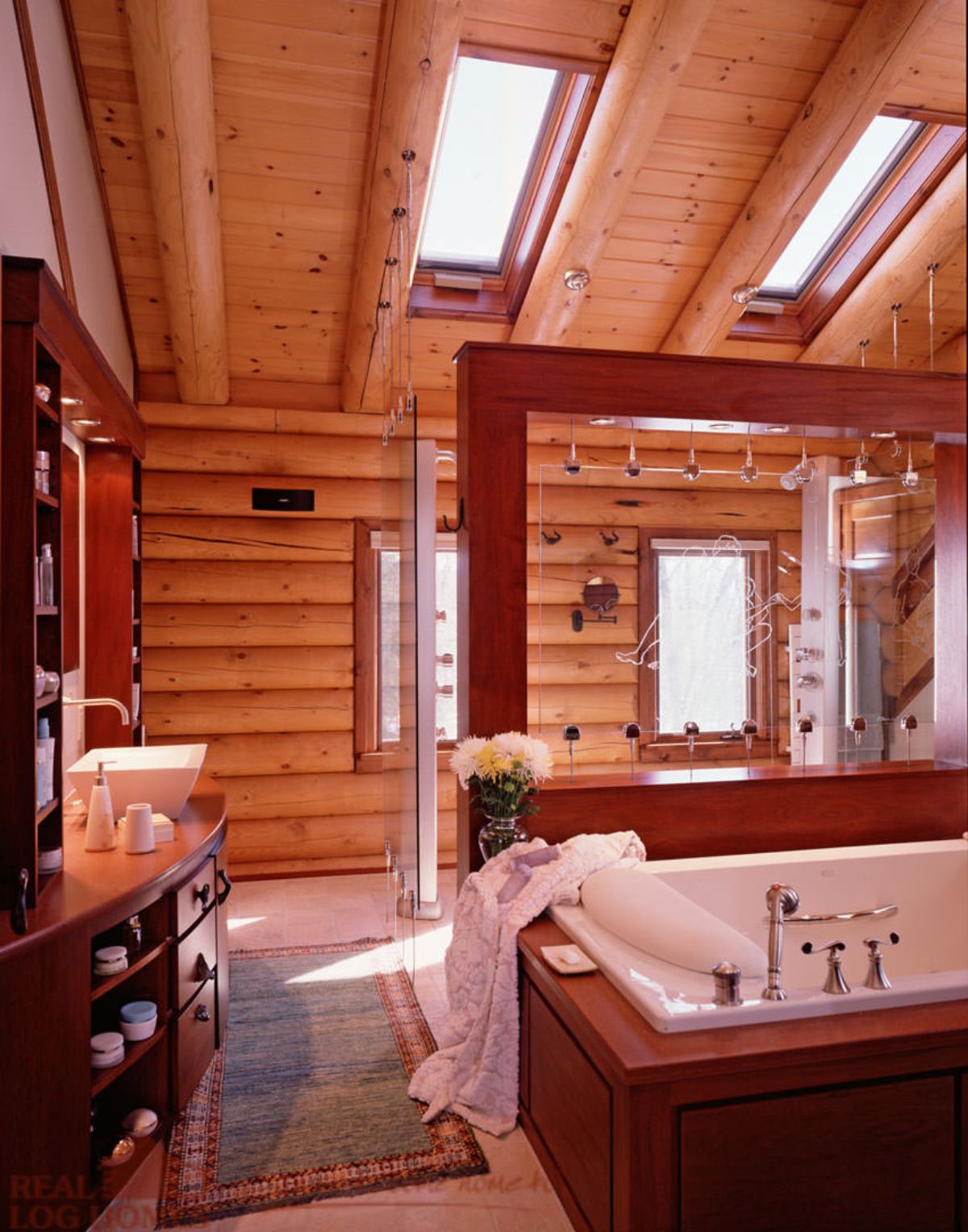 Of course, it isn't complete without looking at the upstairs game room area. A lovely sectional in the corner is ideal for relaxation to watch a movie or just chatting with friends. Plus, the pool table is a fun addition to the room.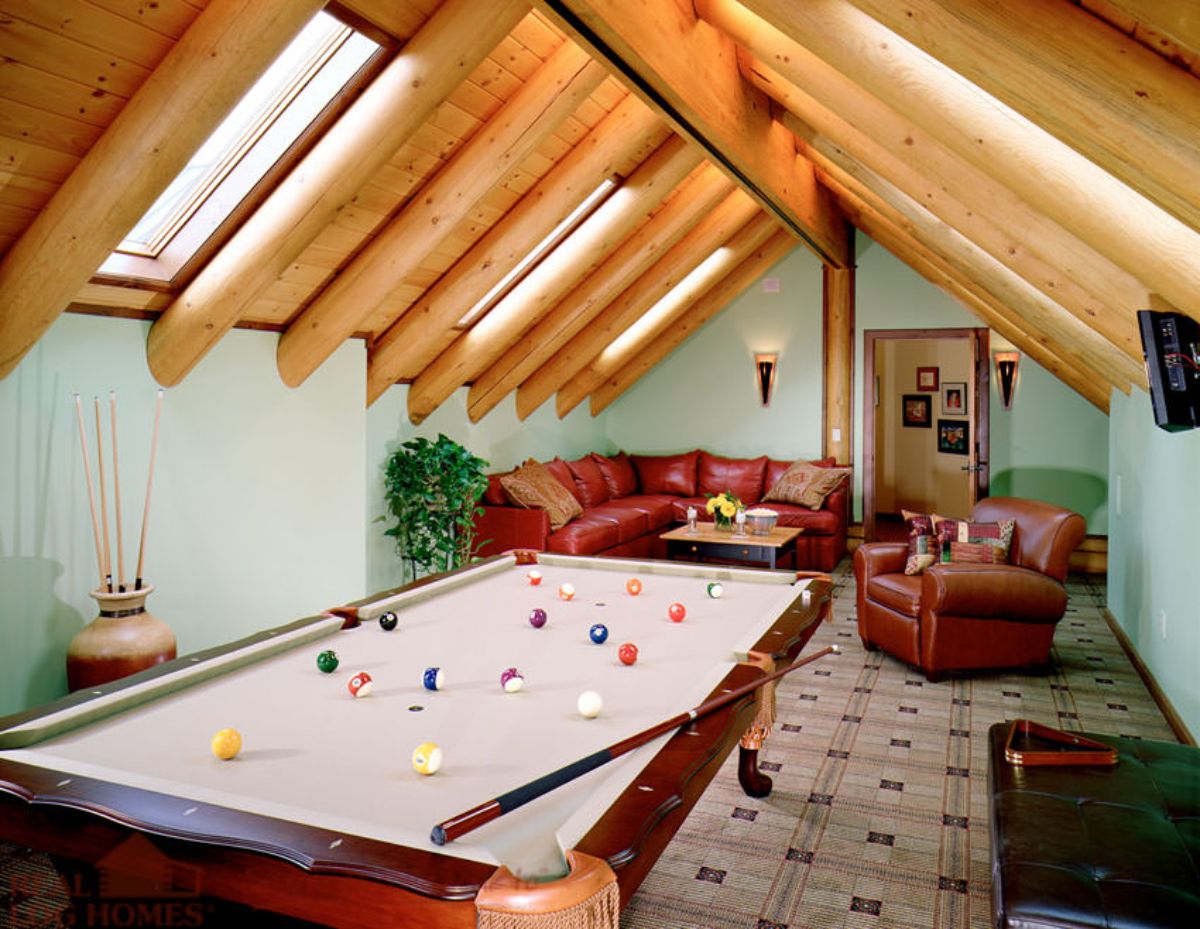 And, for those who like to work out regularly, the home gym is a great setup that means you never have to leave your home to get pumped up!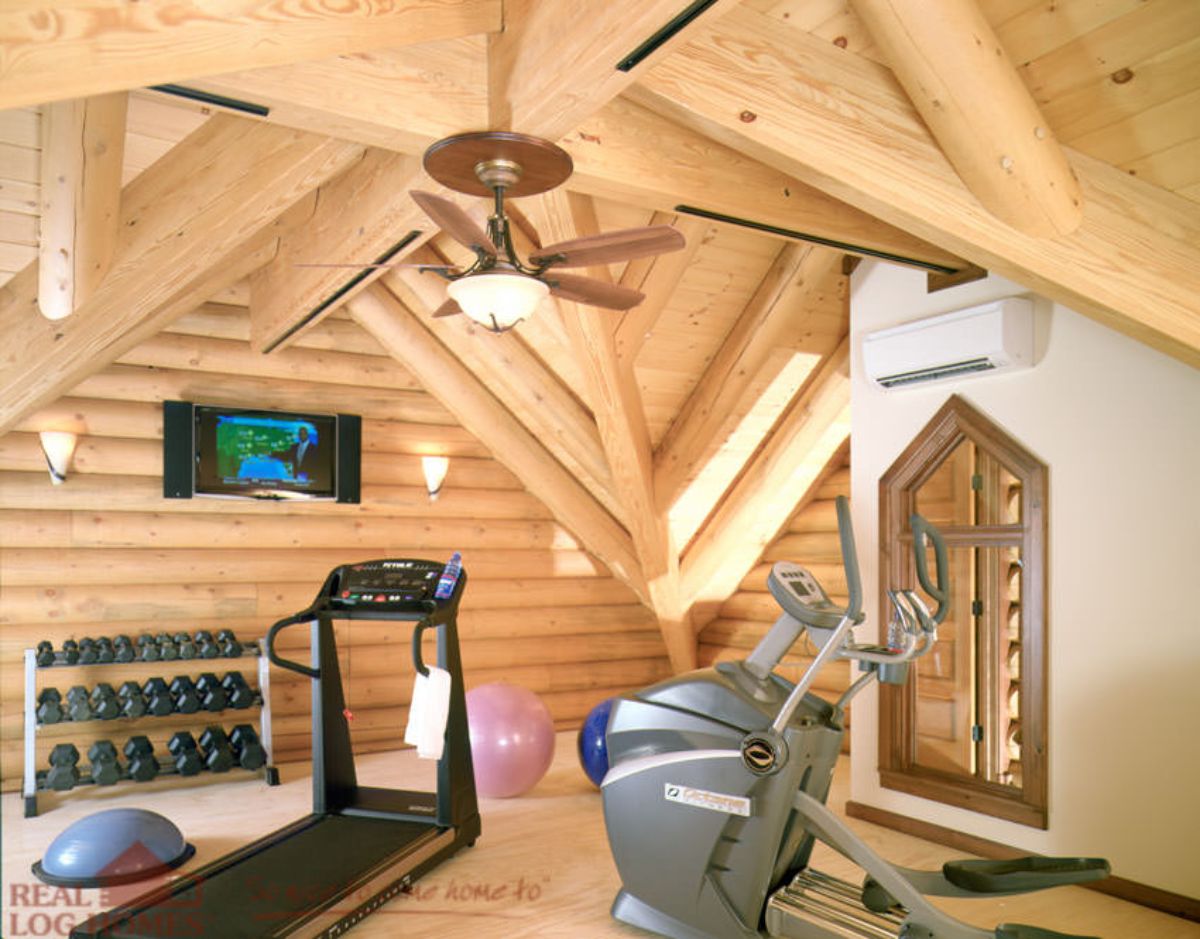 You can find out more about this build on the Real Log Homes website. A great place to start for inspiration for your own build. Make sure that you let them know that Log Cabin Connection sent you their way.
More Log Cabin Kits and Tours