Whether you are looking for a luxury log cabin or just love getting inspiration from the ones we find, this home is sure to please. With gorgeous stain, tons of porches on the back of the home, a walkout basement floor, and a breathtaking great room wall of windows, this is truly the home of your dreams.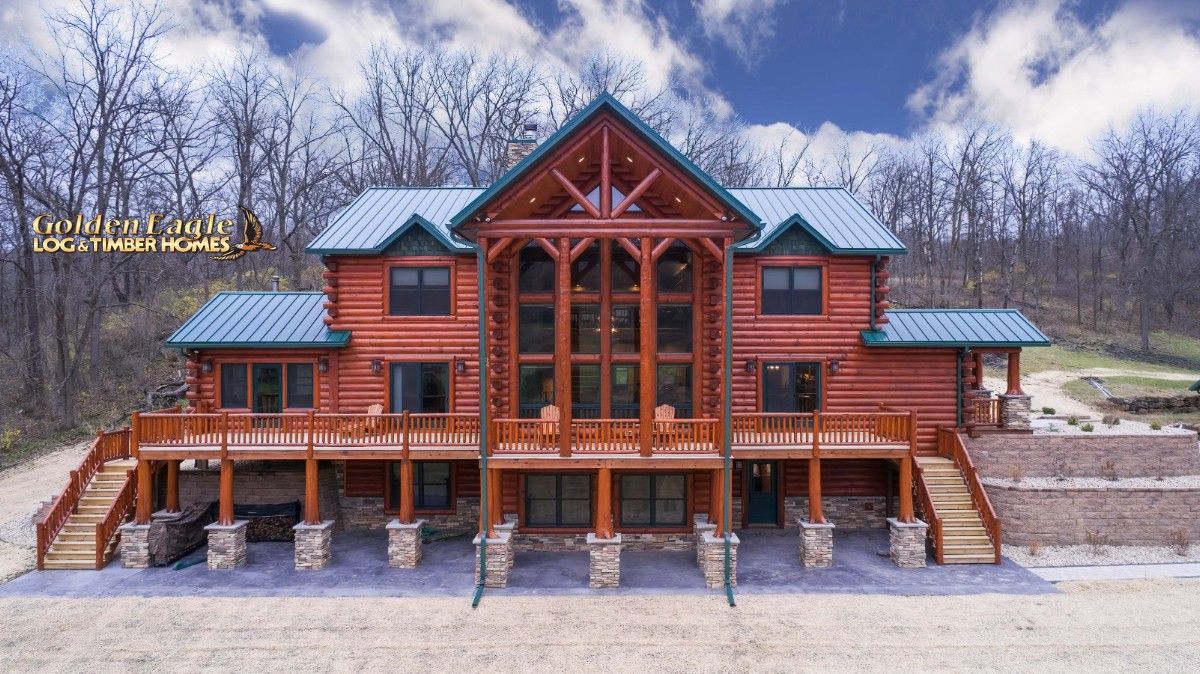 Log Home Sizing
4,327 sqare feet with only first and second floor
6,482 square feet with first floor, second floor, and walk out basement
5 to 7 bedrooms
4 to 5 bathrooms
Log Home Pricing
Log home kits start at $366,000
Log home complete builds start at $509,000
The Rocky Mountain 4327AL log home plan is a stunning customizable option from Golden Eagle Log & Timber Homes. With many options for size and layout, it's a stunning home that is both aesthetically pleasing as well as functional as daily home or retreat.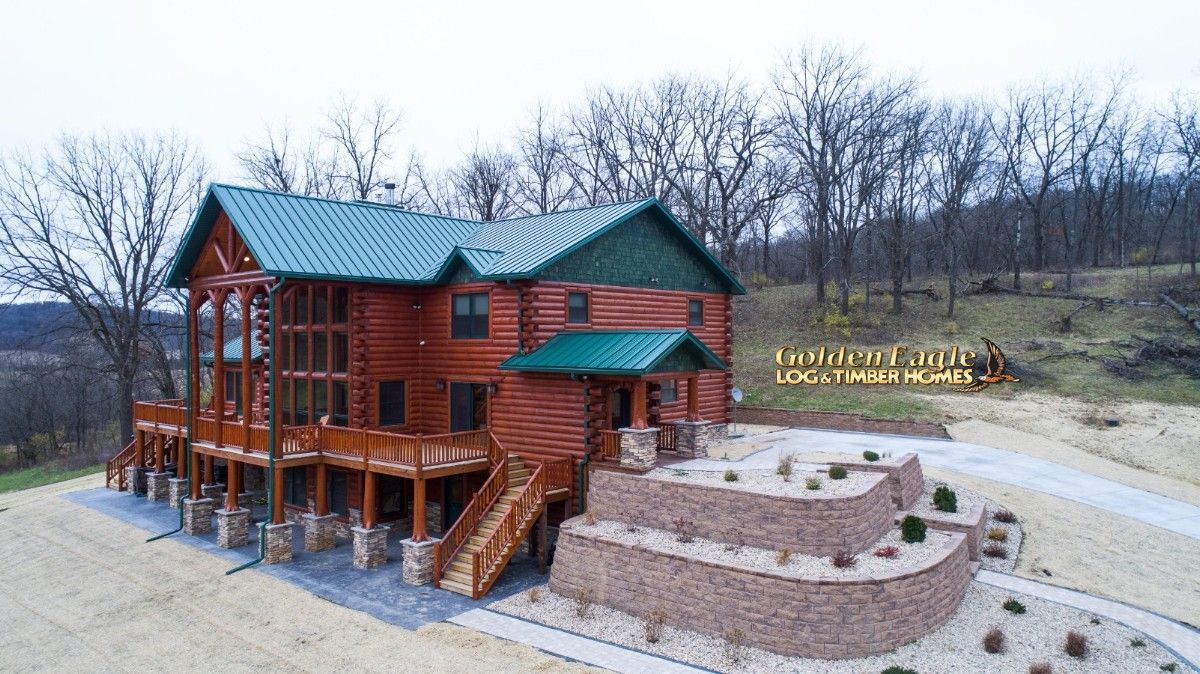 This home is unique with a main floor side entrance, and the walkout basement including a large garage on the other side making it a perfect retreat or family home.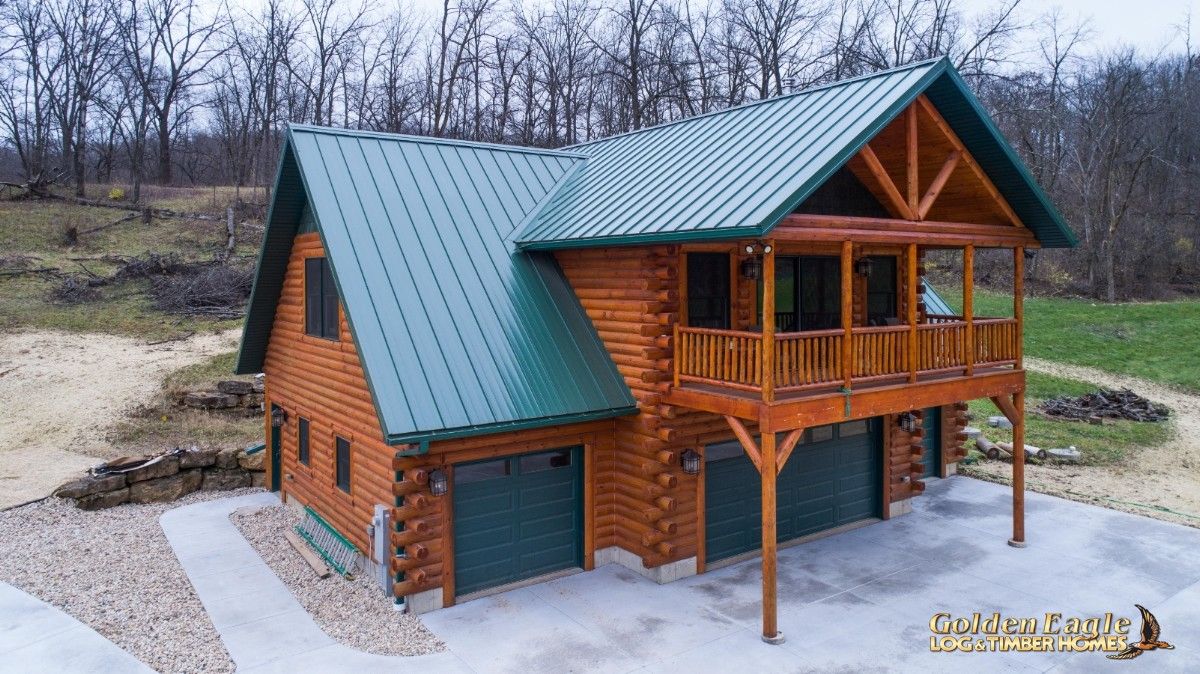 It's just so gorgeous and large. With so many bedrooms and bathrooms, it's excellent for a large family. It can also be a great home for using as a holiday retreat with friends and family, or a family reunion destination!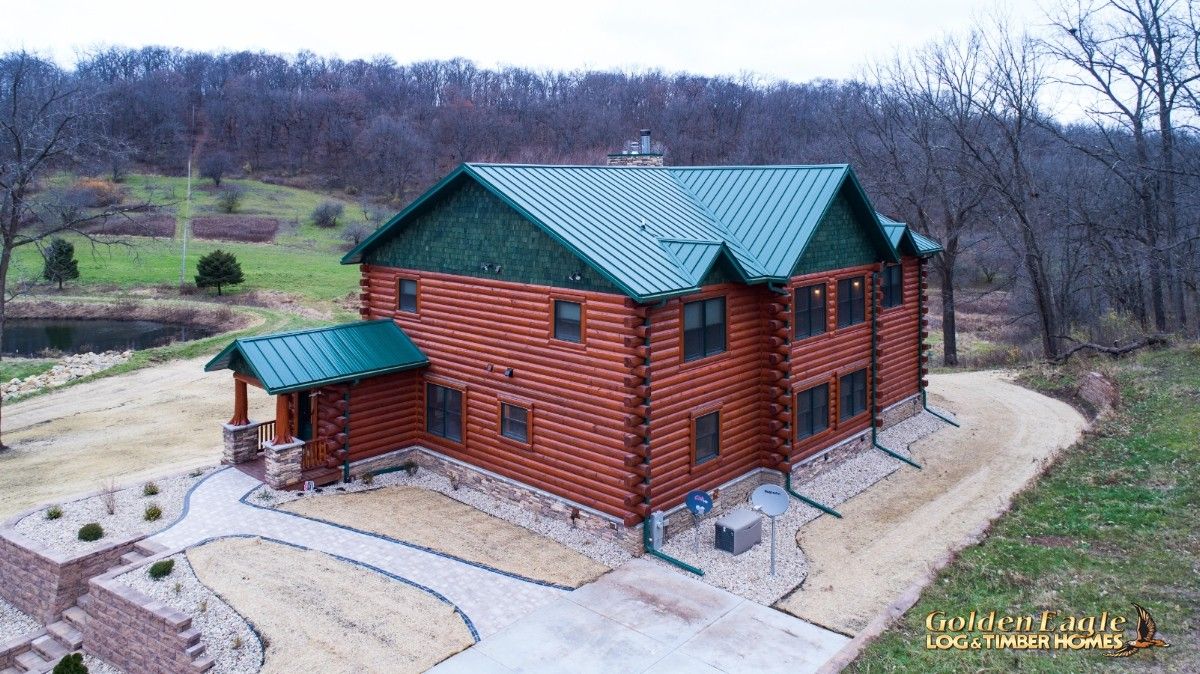 Just look at the wall of windows on the back of the house. I love that the window area is partially covered with an awning. On both sides are open decks that are welcoming and large enough to use for a weekend barbecue or just relaxing in the sunshine!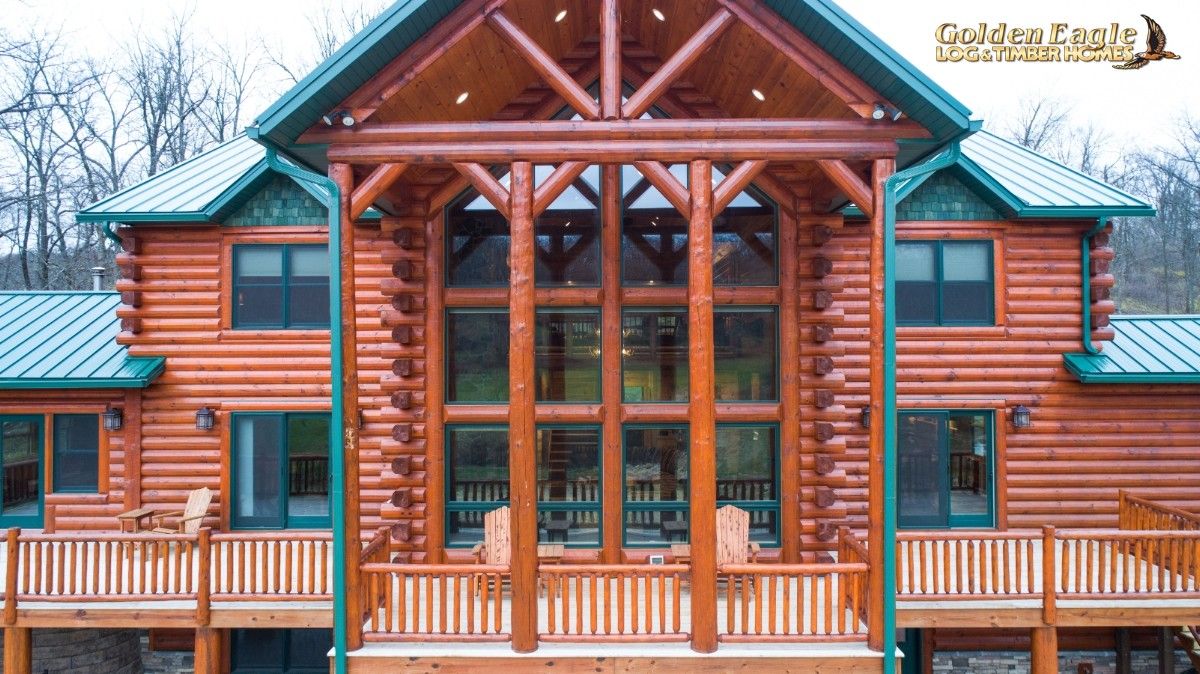 Just as gorgeous as the outside, the inside of this home is stunning on the inside too. Log work, stonework, and gorgeous views are just a part of the home that you will love.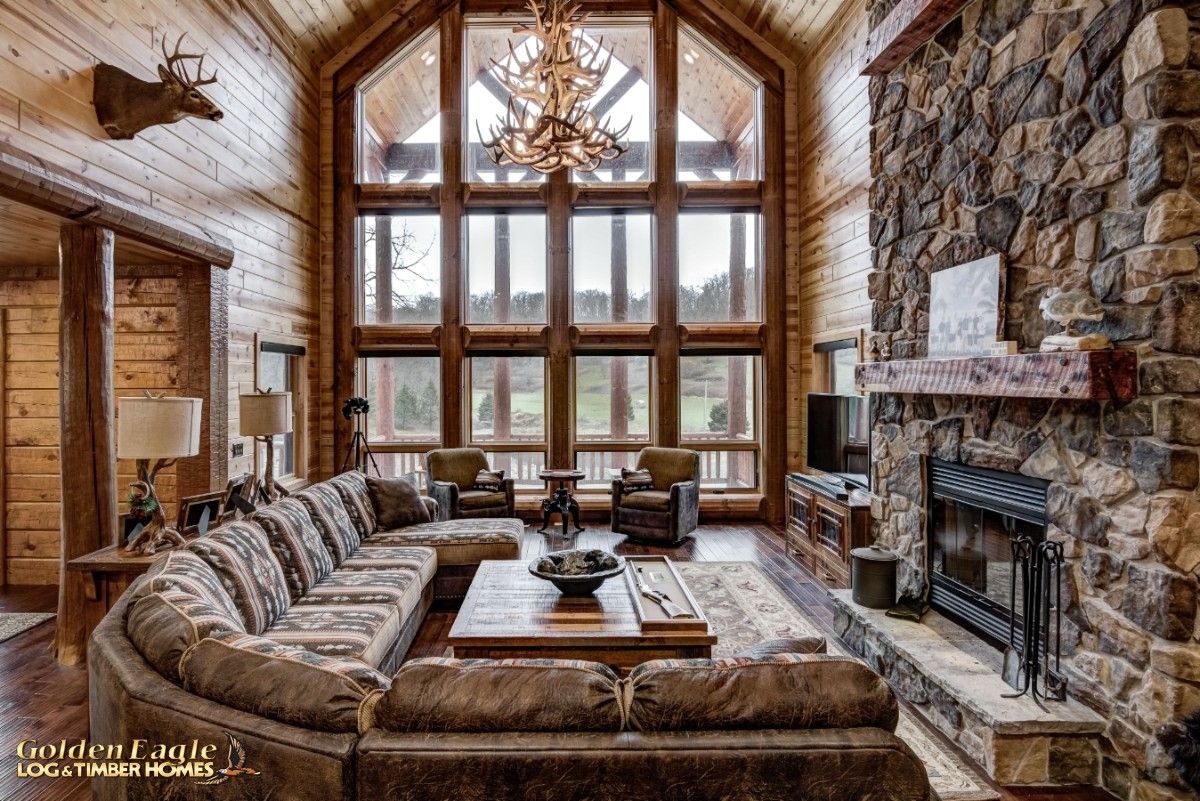 This stone fireplace is absolutely breathtabking. I love that it also goes into the bedroom on the other side of that wall!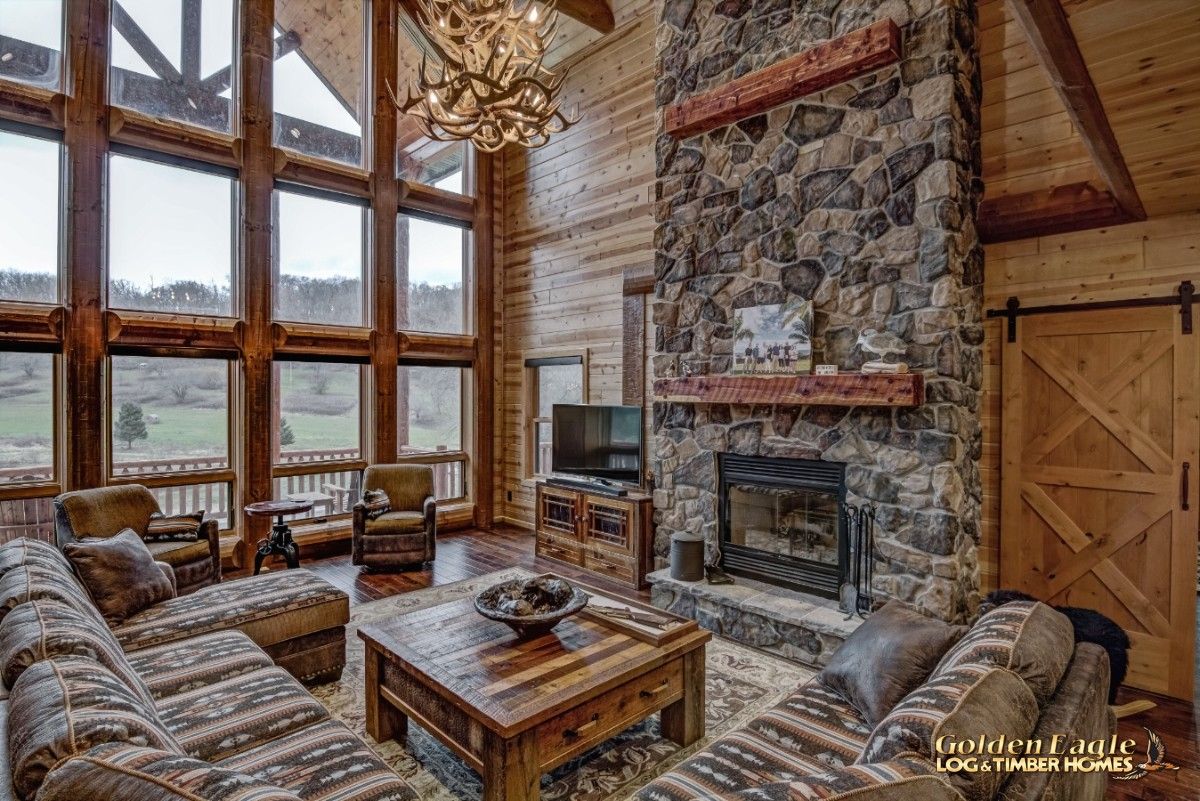 This angle gives you a look back at the kitchen and dining area, as well as the stairs leading to the second floor. It also showcases that gorgeous antler chandelier!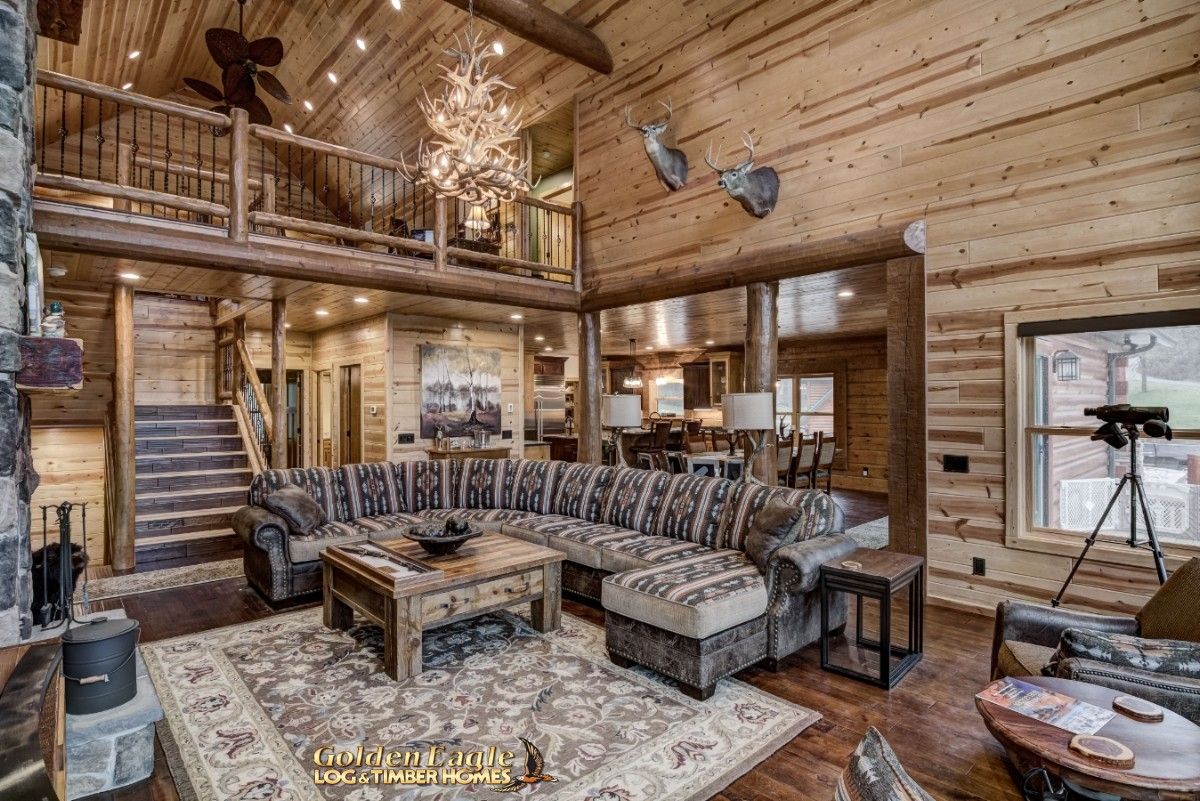 And here is the master bedroom on the main floor. It has that second side of that gorgeous fireplace and has a private balcony opening.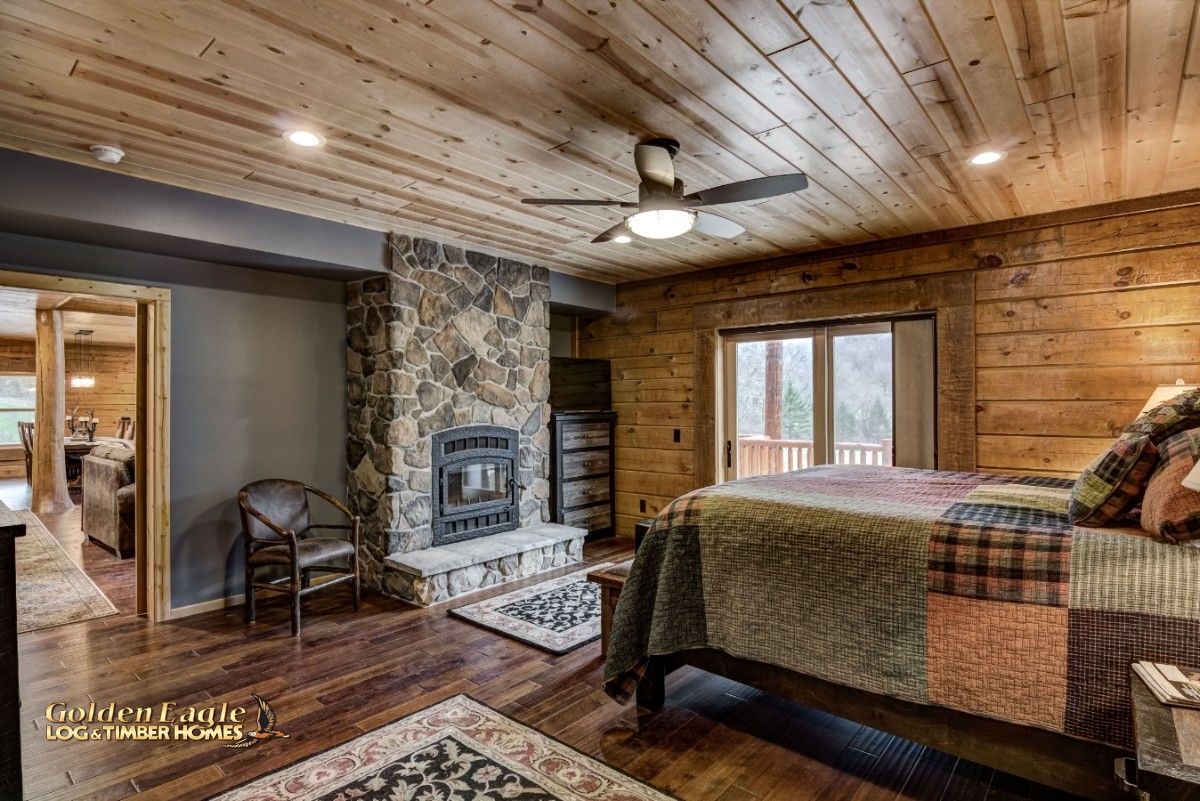 The master bedroom is beautiful with tile and woodwork that compliment each other beautifully. A soaking tub is in one corner of the bedroom with an extra-large shower on the other corner.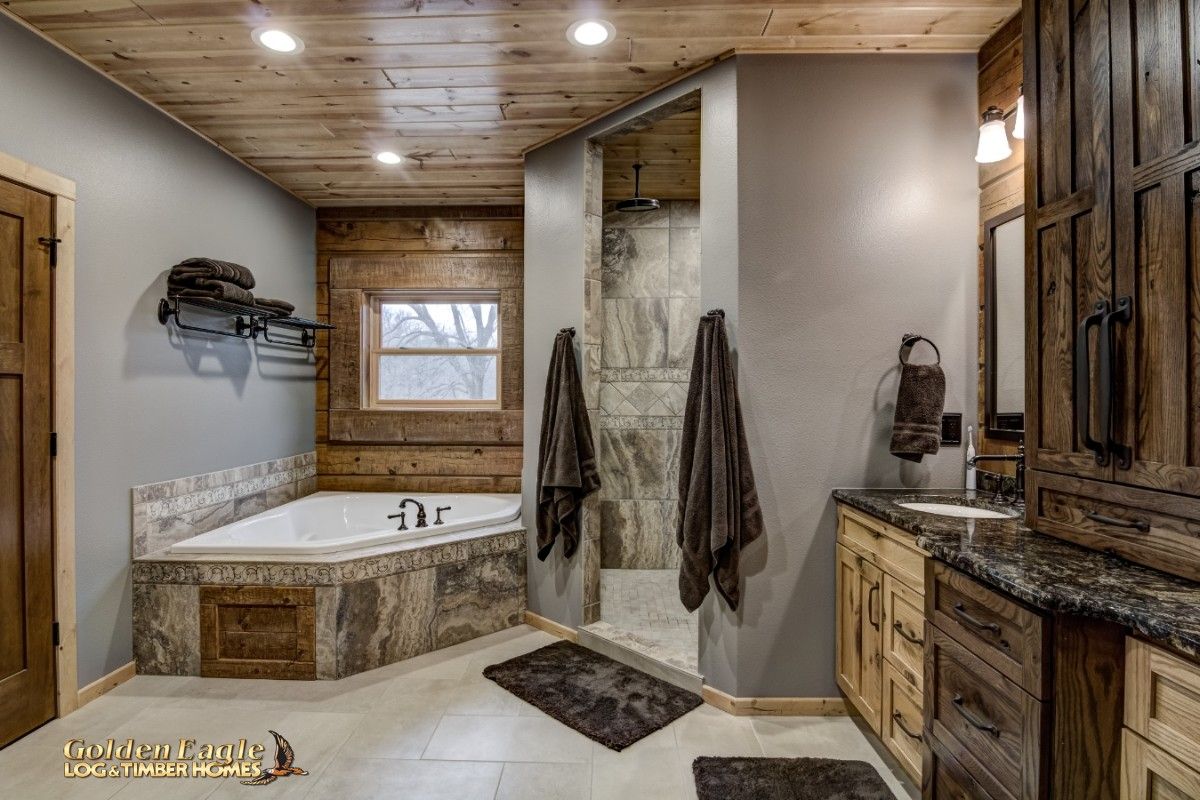 This shower is spectacular with the tiled seat and overhead rainwater showerhead!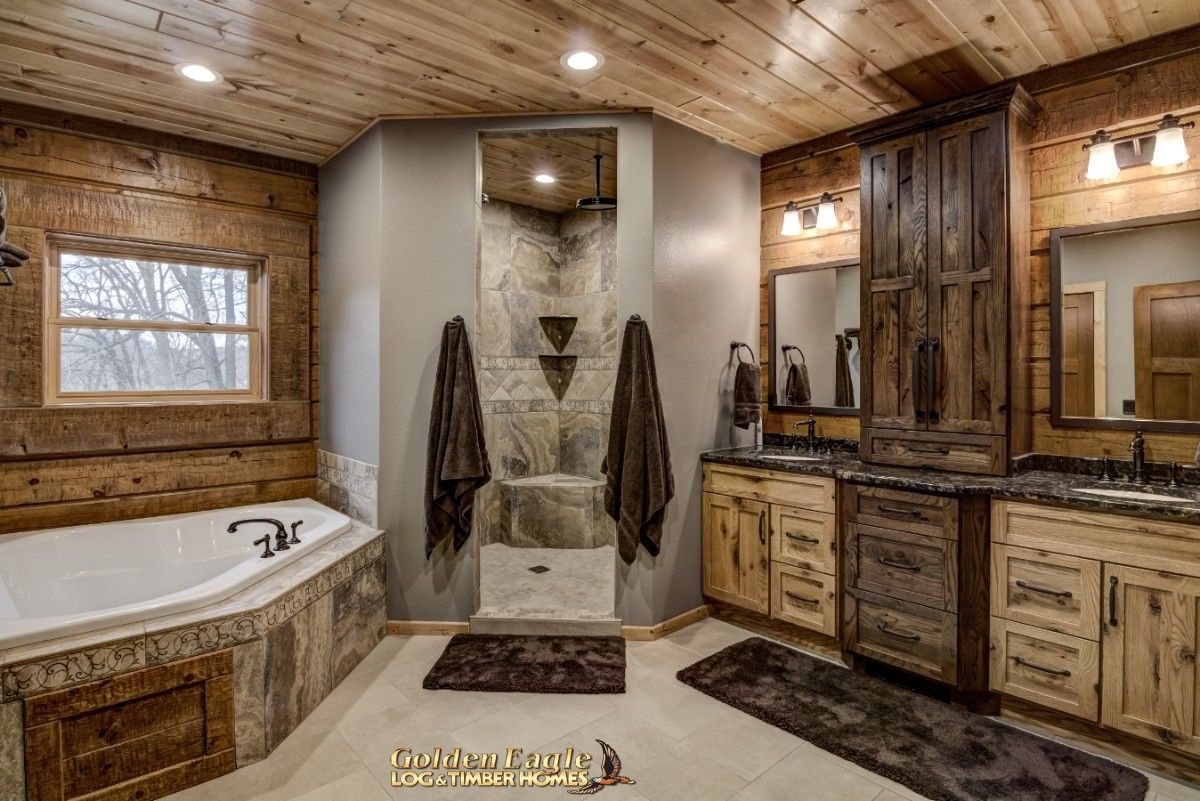 Just look at that stunning woodwork on the vanity. It's beautiful and really showcases the craftsmanship of this home.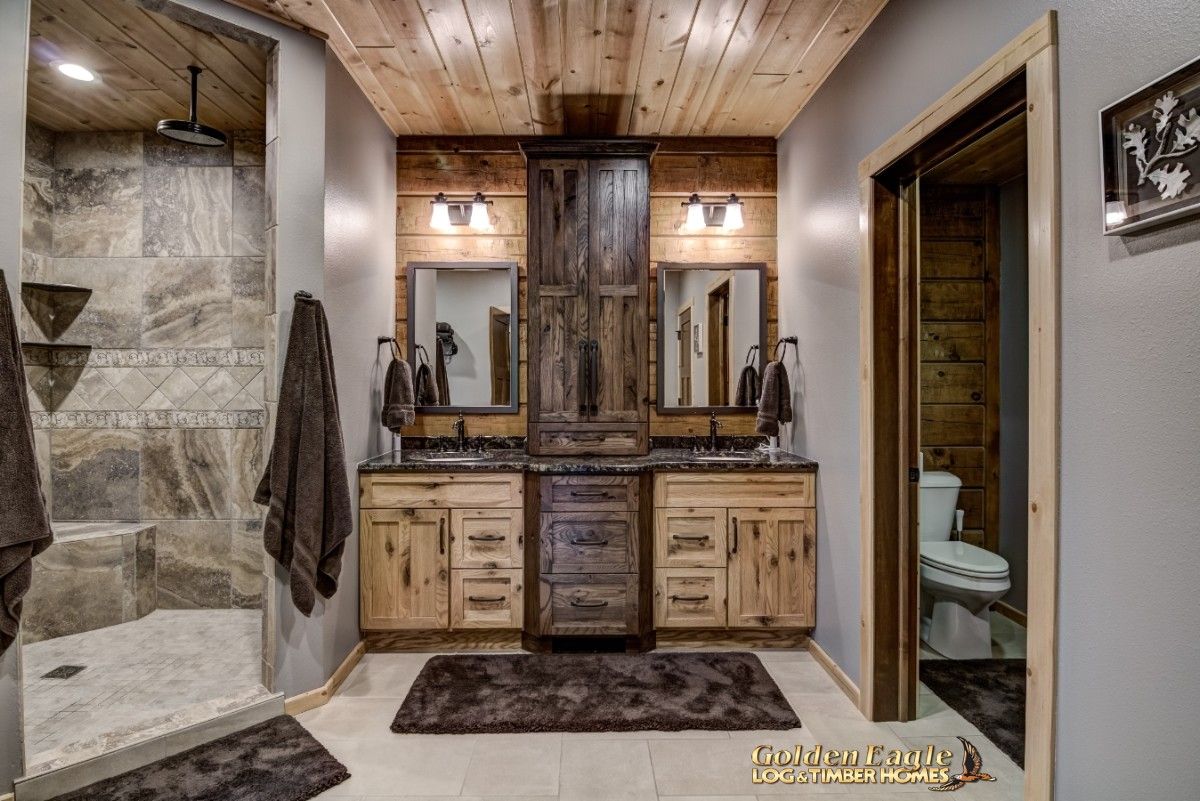 Just check out the view from the loft above the great room! This showcases all of the detail with beautiful woodwork and stonework that is both sturdy and structurally sound while being absolutely breathtakingly beautiful.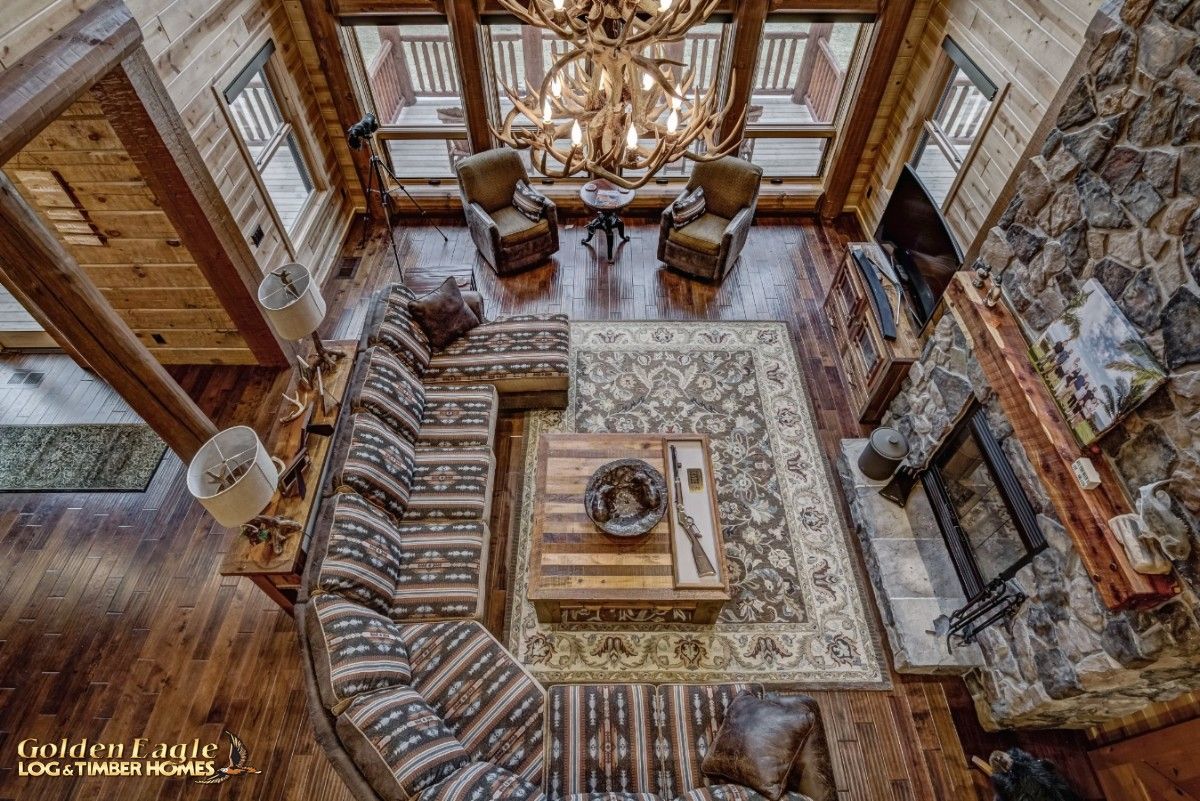 Up those stairs you will find bedrooms, but also this large open loft space that is a unique setup with office space, a game area, and window seats that are the perfect place for an afternoon with your favorite book.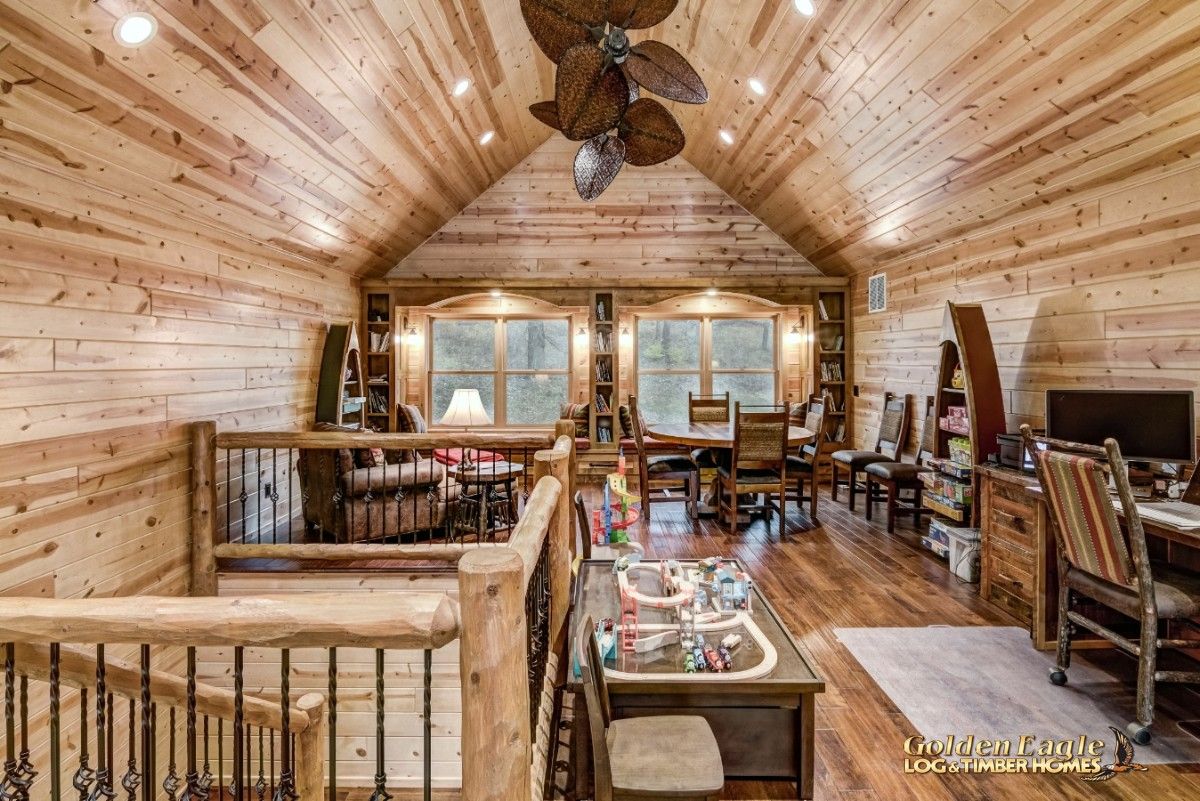 The loft includes a table for playing games and a few different chairs for lounging. This could be customized for any needs you have, but I absolutely love how this is setup as a truly welcoming family space.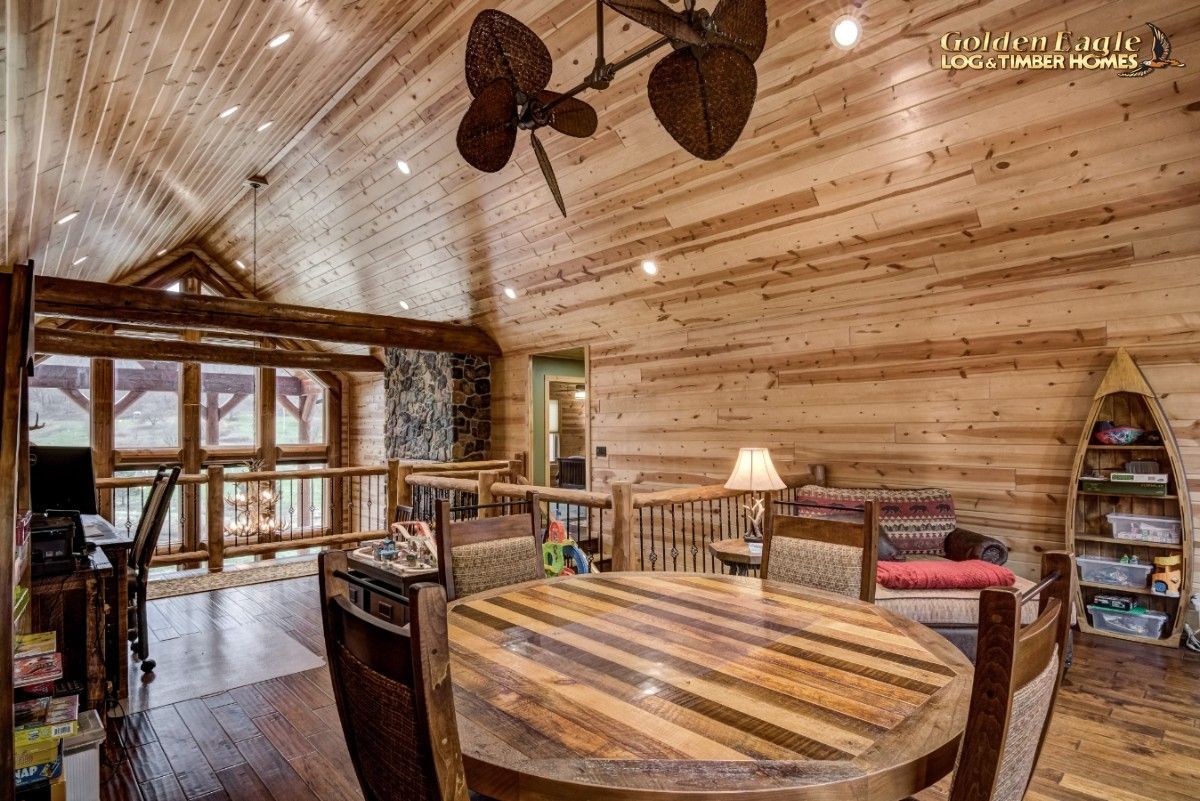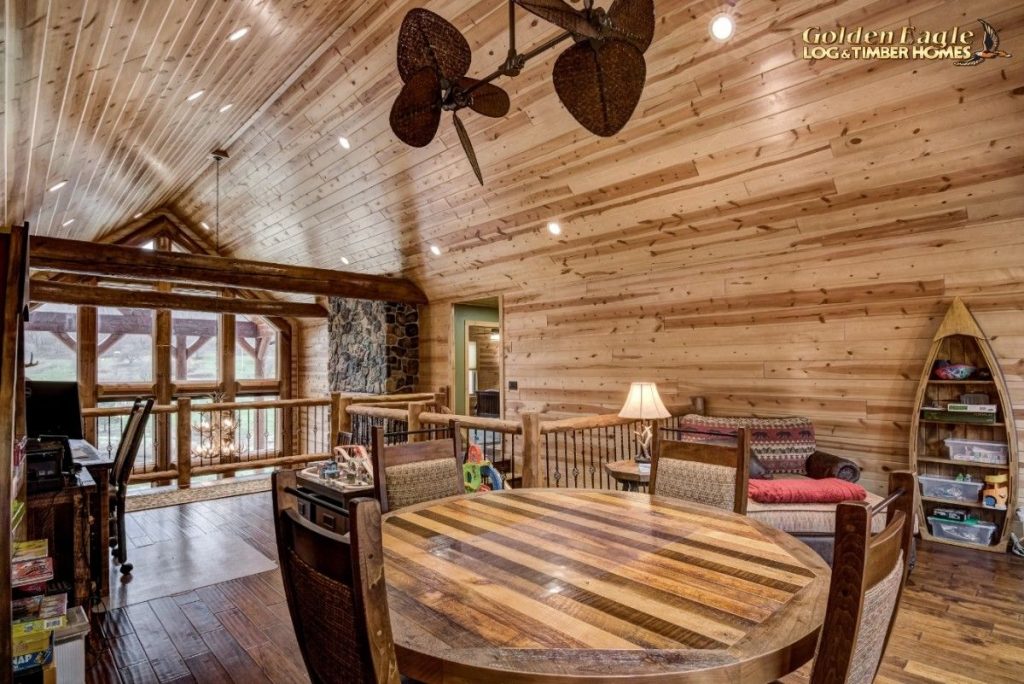 With so many bedrooms in the home, you will find beautiful woodwork along with paneling and carpeting that are modern and luxurious. With extra-large closets, beautiful bathrooms, and tons of storage space, this home has a bit of everything you need in each room!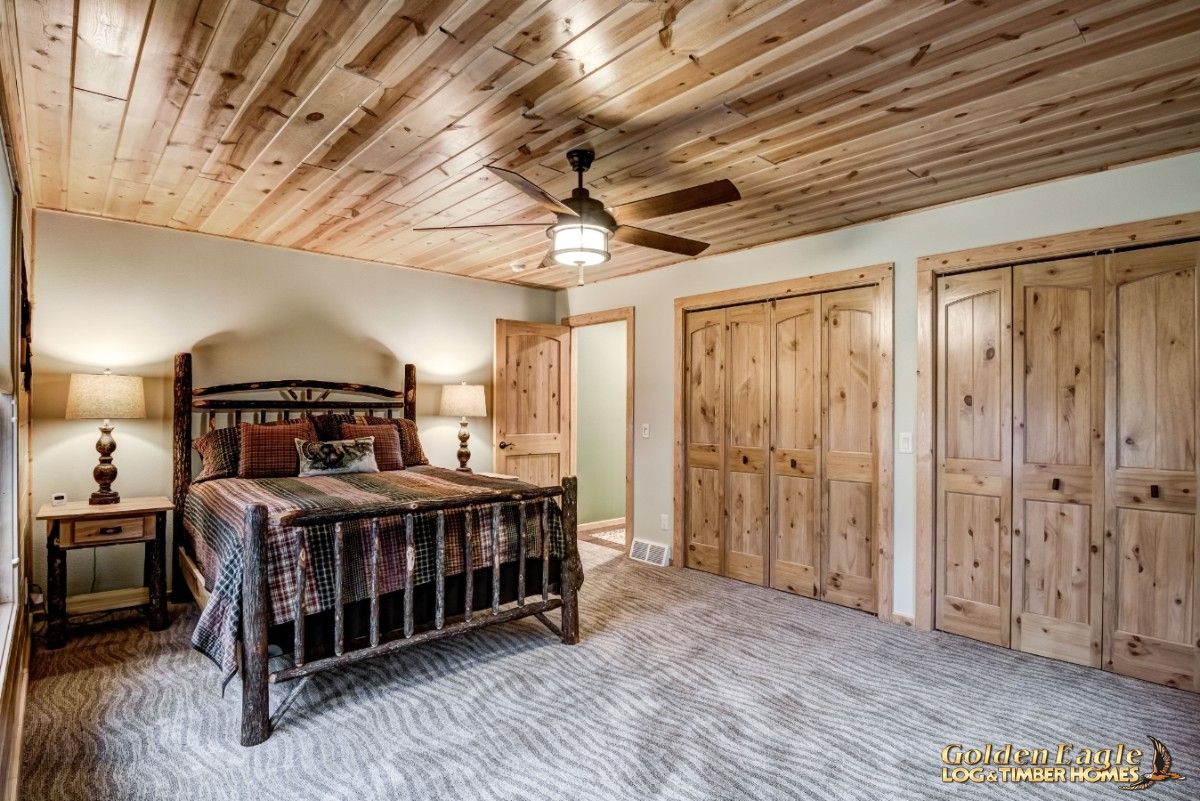 There is even a bedroom that is set up to be ideal for a nursery or a guest room with a crib for when the kids come to visit.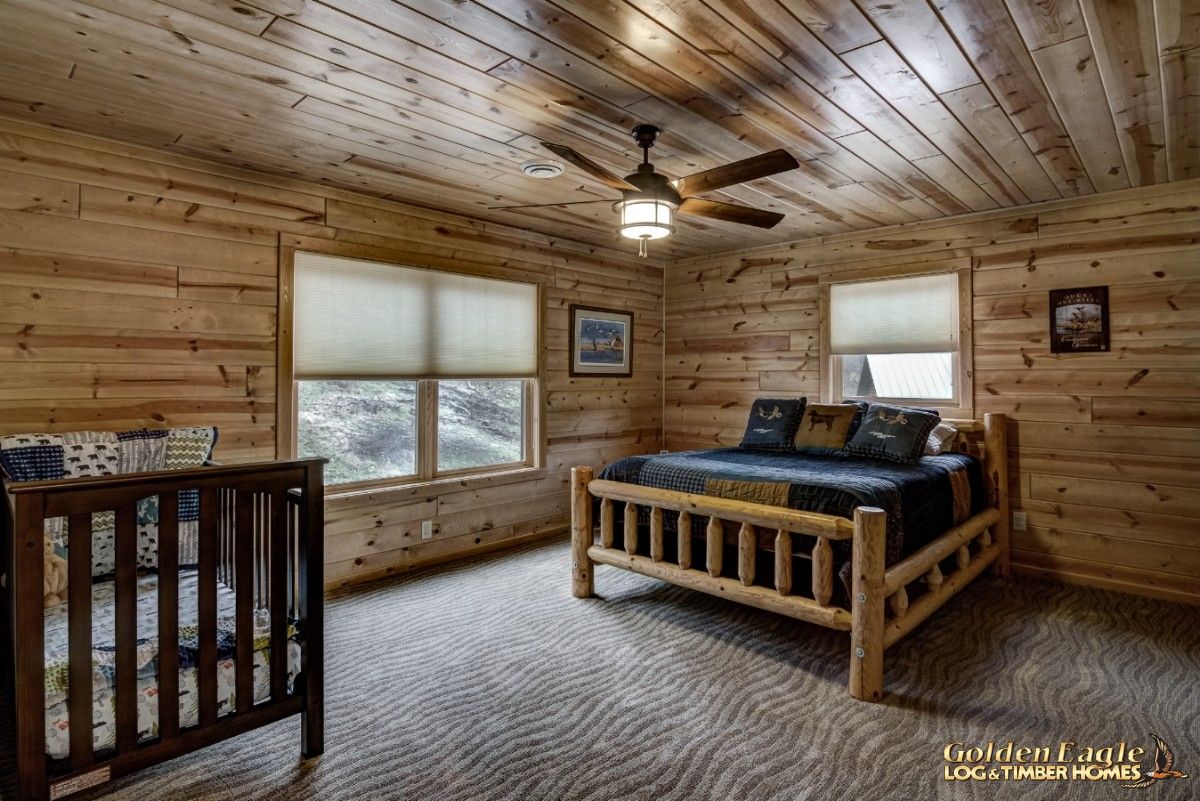 While the guest bathrooms aren't as luxurious as the master, they are still stunning spaces with beautiful woodwork, large showers, and tons of storage.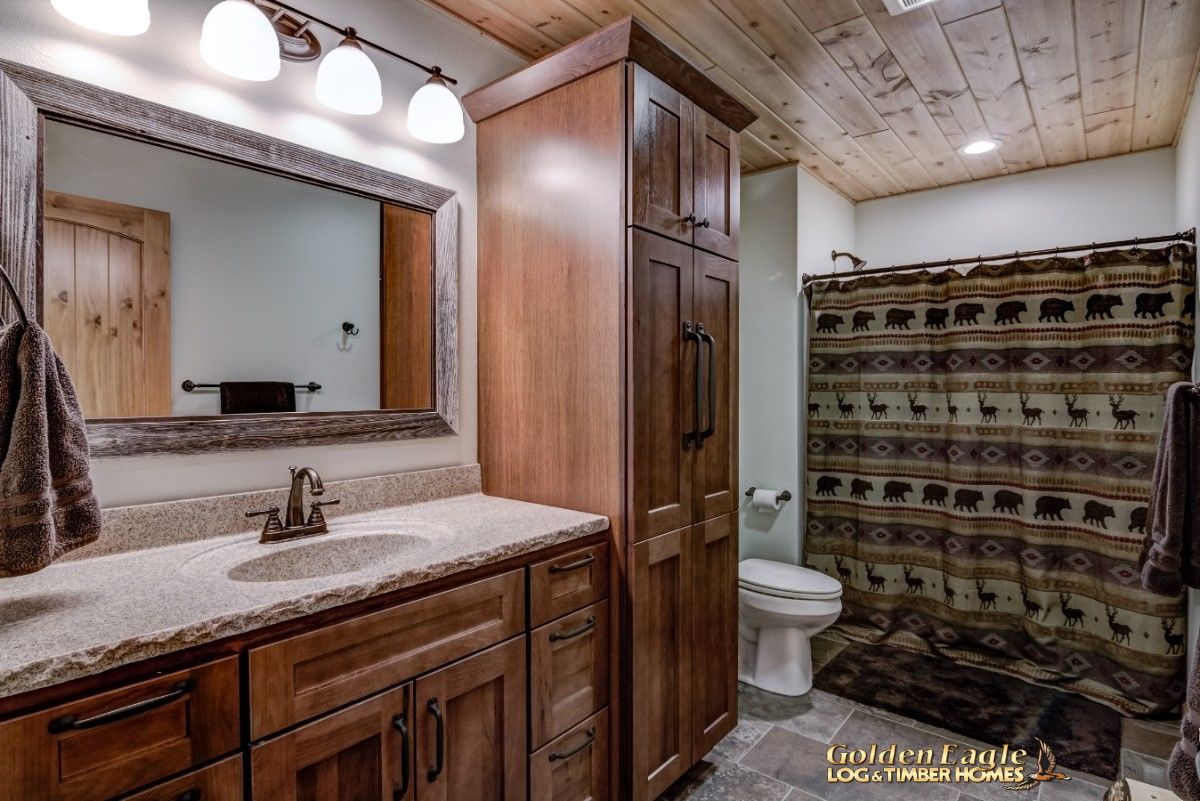 Back downstairs you will find a luxury modern kitchen with a rustic dining table, large island bar, and tons of extra storage space.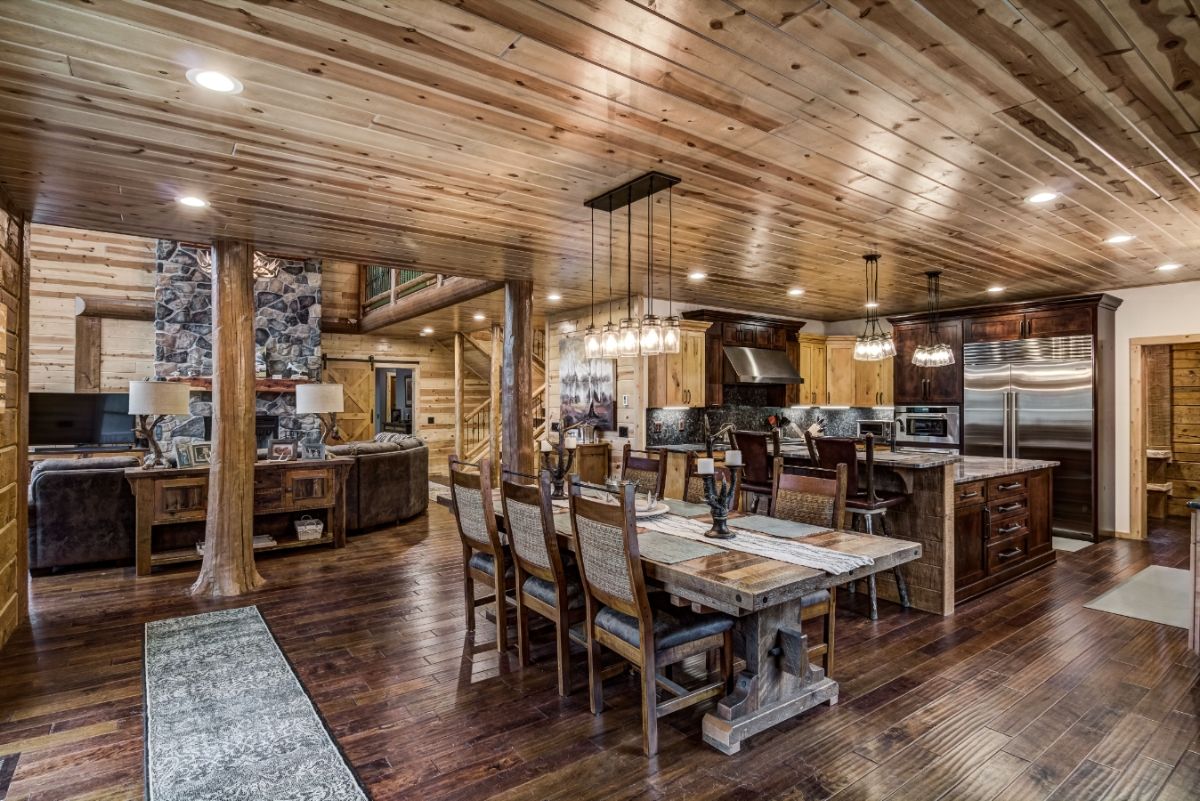 I love this dining table. It has a gorgeous view out to the balcony too! Plus, that chandelier is modern while playing off the rustic style beautifully.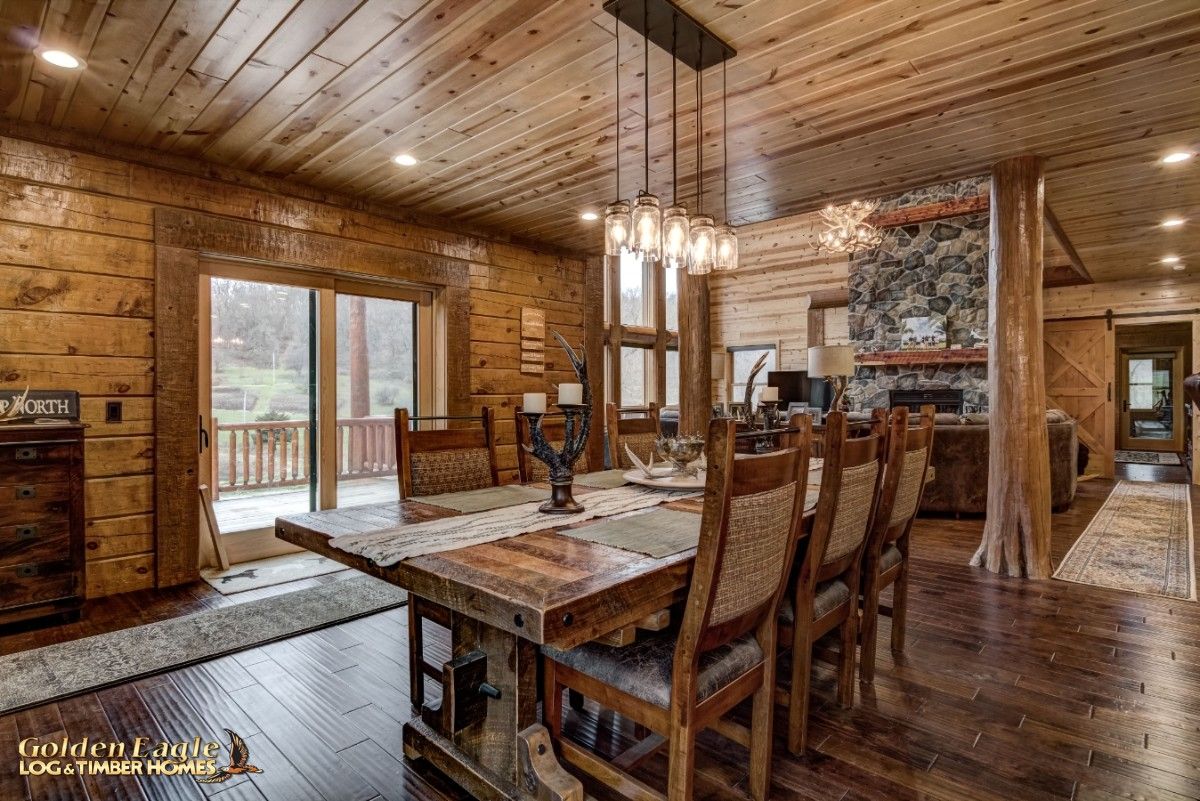 It is hard to decide if the island is my favorite part of the kitchen or if it is the updated industrial stove in the kitchen. This space is absolutely breathtaking and a dream come true!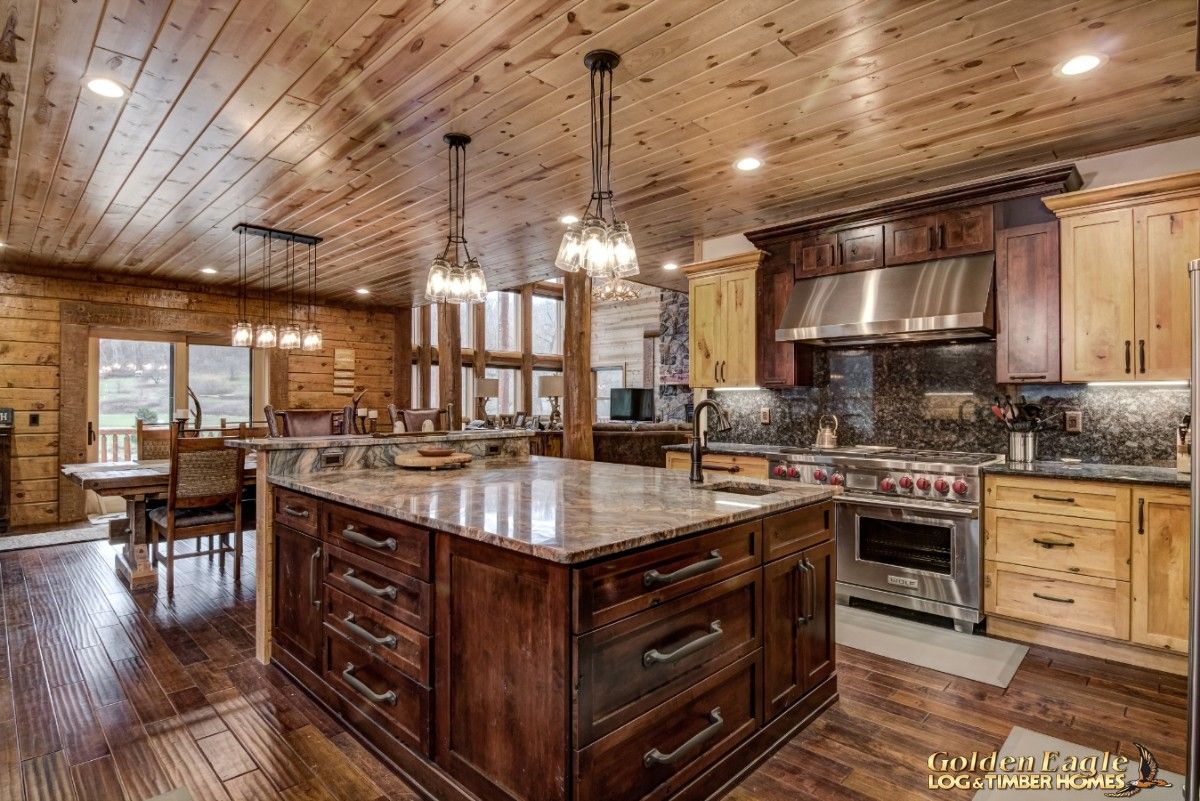 Plus, the island includes it's own separate wine refrigerator and you have a small little bar at the end that creates the perfect breakfast nook!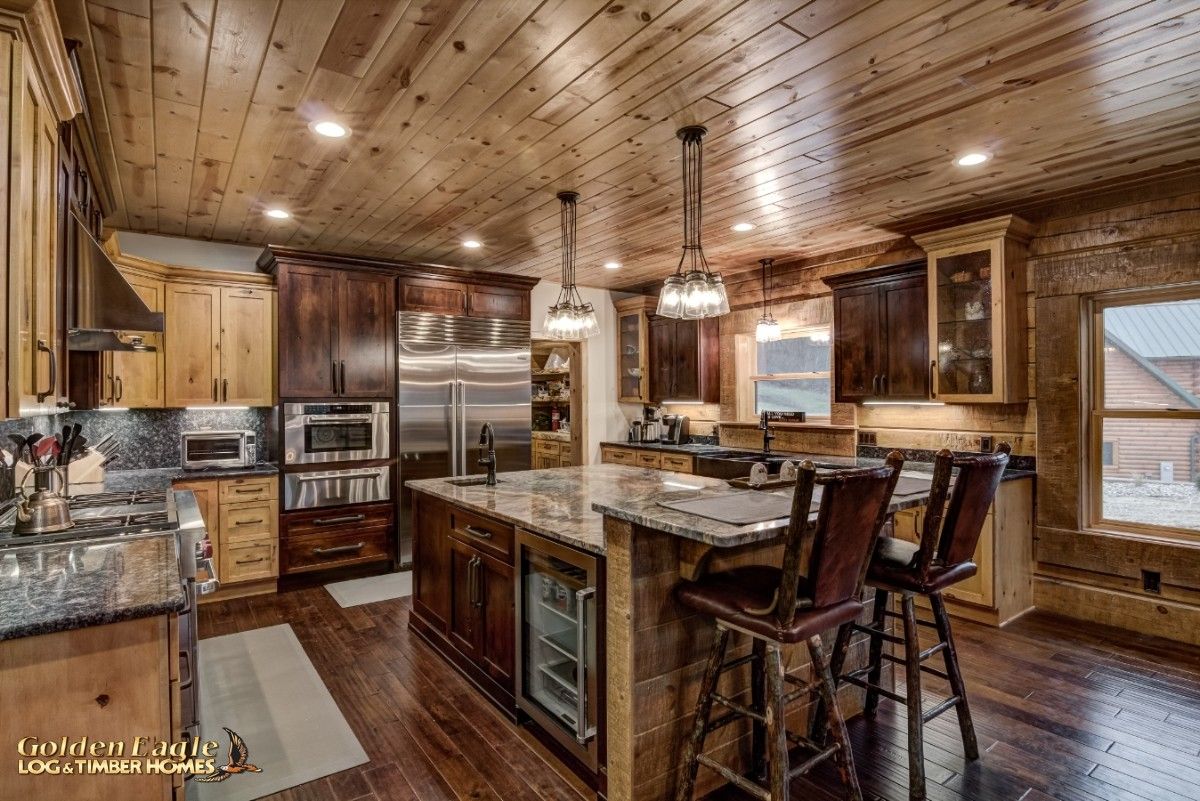 Stainless steel appliances are a must in a modern kitchen and I really love the combination of stains on the cabinets.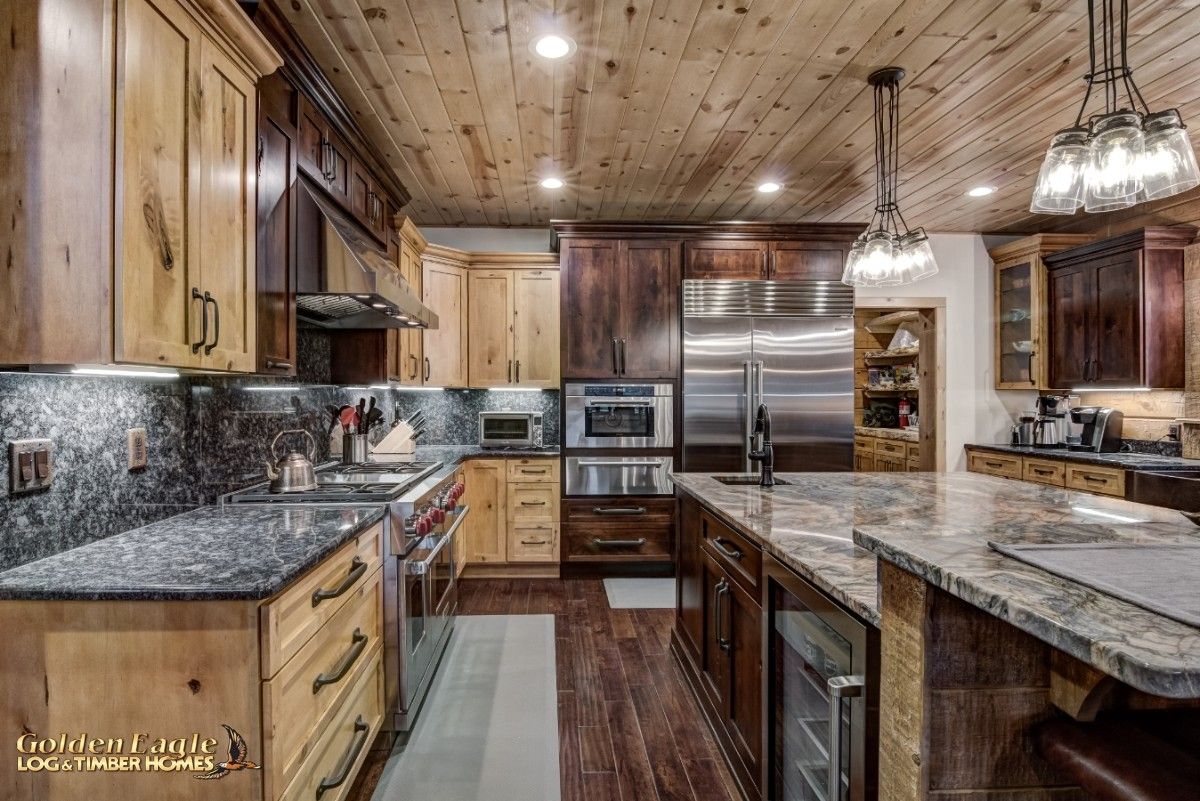 One of my other favorite places in this log cabin has to be the private downstairs office space. It's just off the living room area and is large enough to be a bedroom, but perfect for a little home office or studio.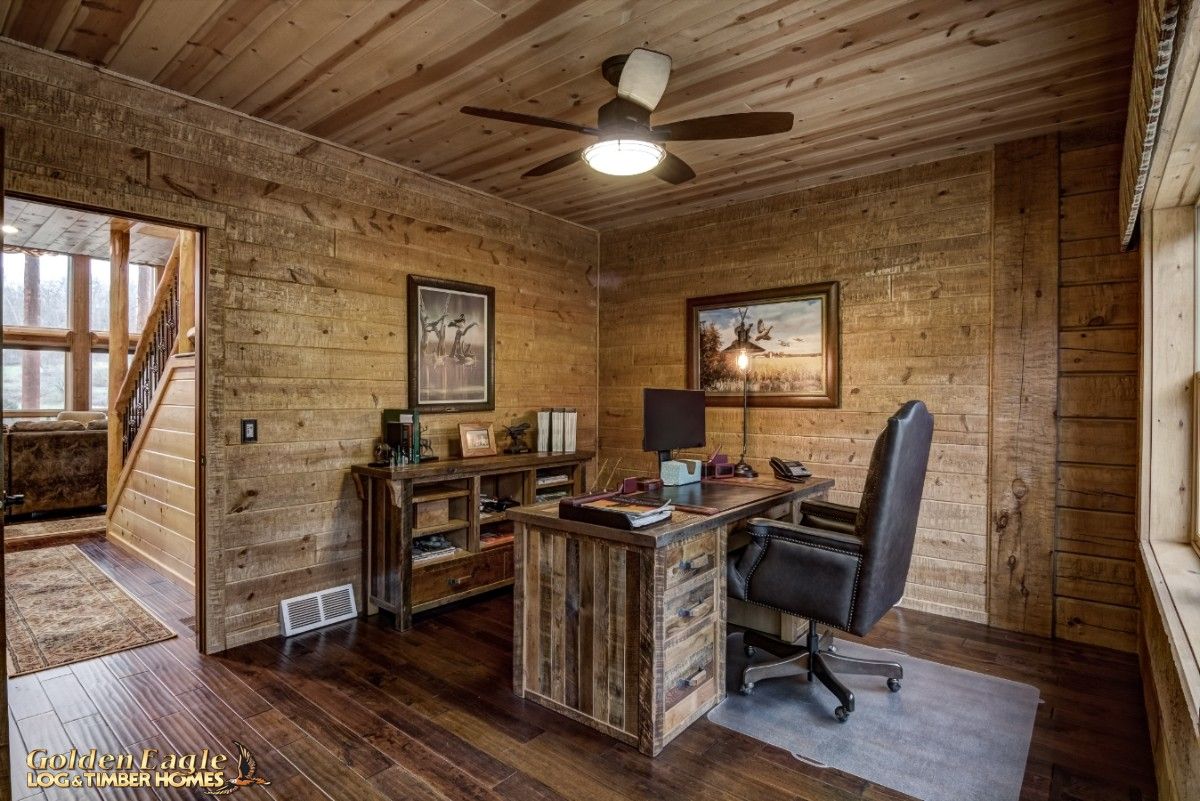 They've even added a recliner in the corner for an office reading nook if you want! Seriously, this office is a dream come true.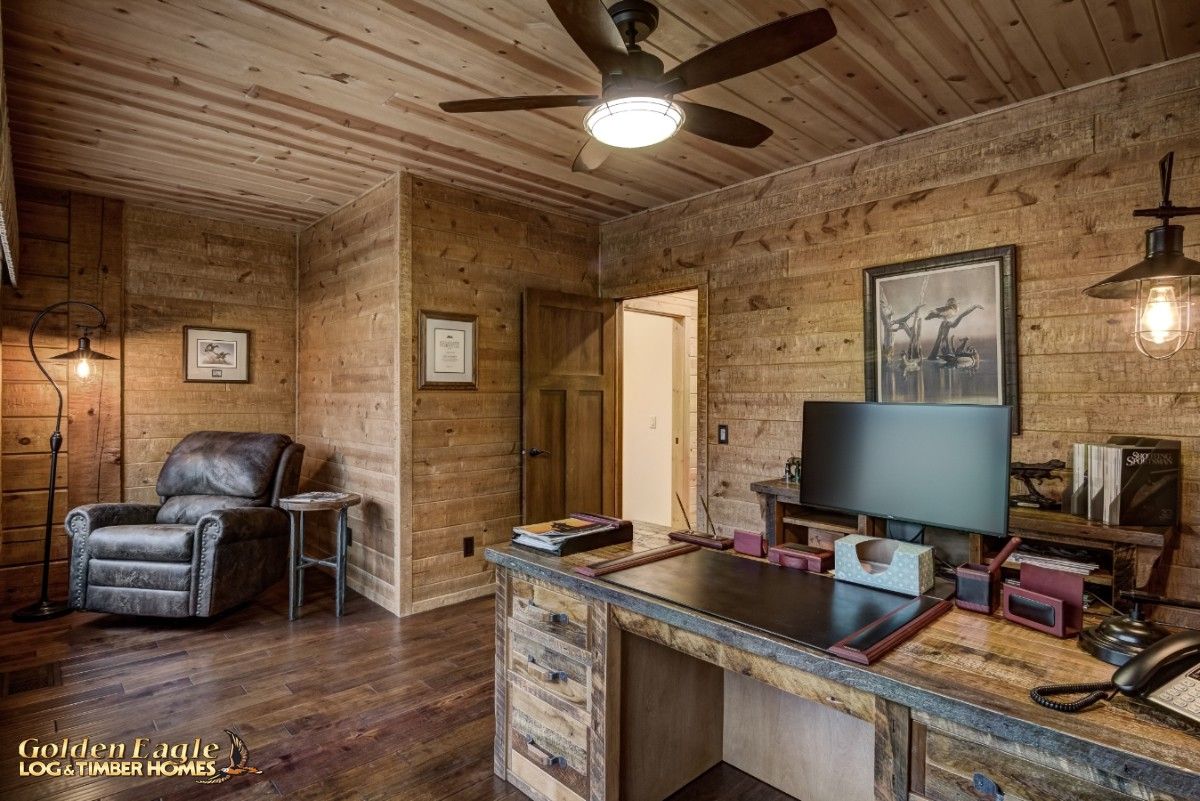 Offices aren't the only additions to this home that you might love. Upstairs there is a secondary den with its own little wood-burning stove!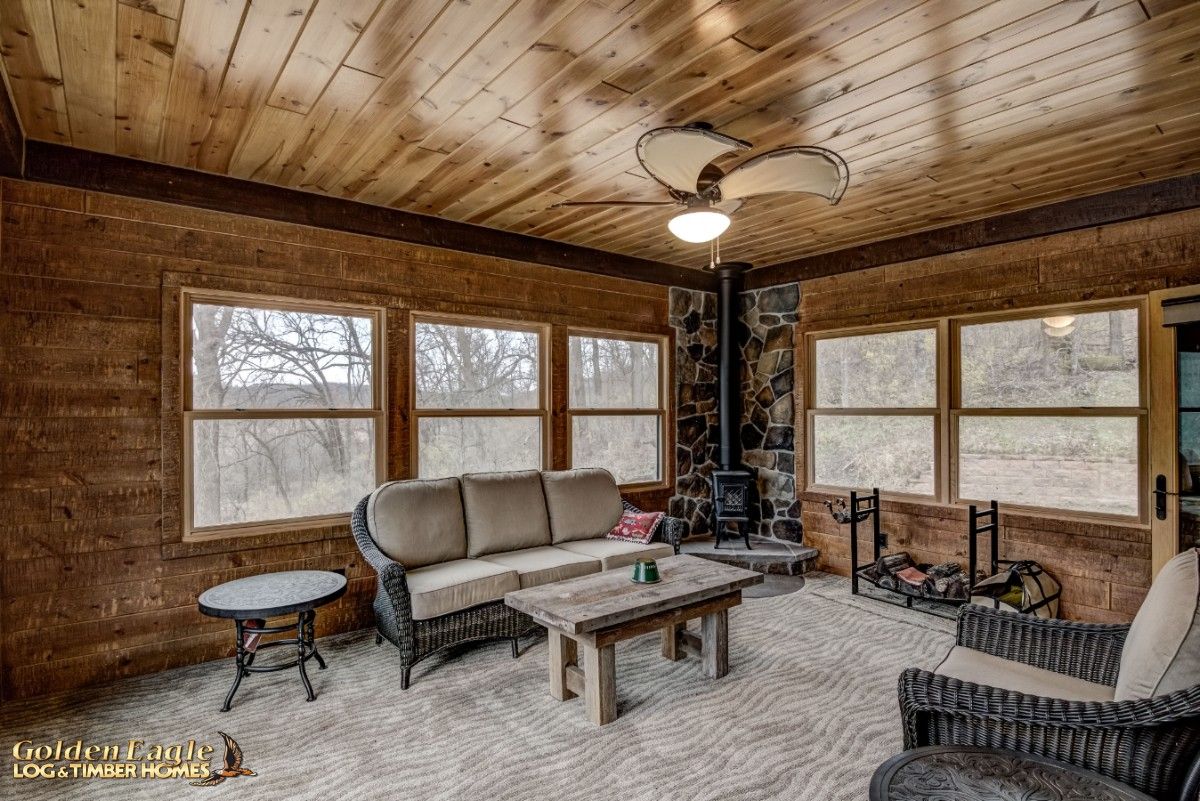 And downstairs in the basement lower level, there is room for an additional bedroom or two, and this open basement with a bit of stonework and another wood-burning stove next to the door leading outside.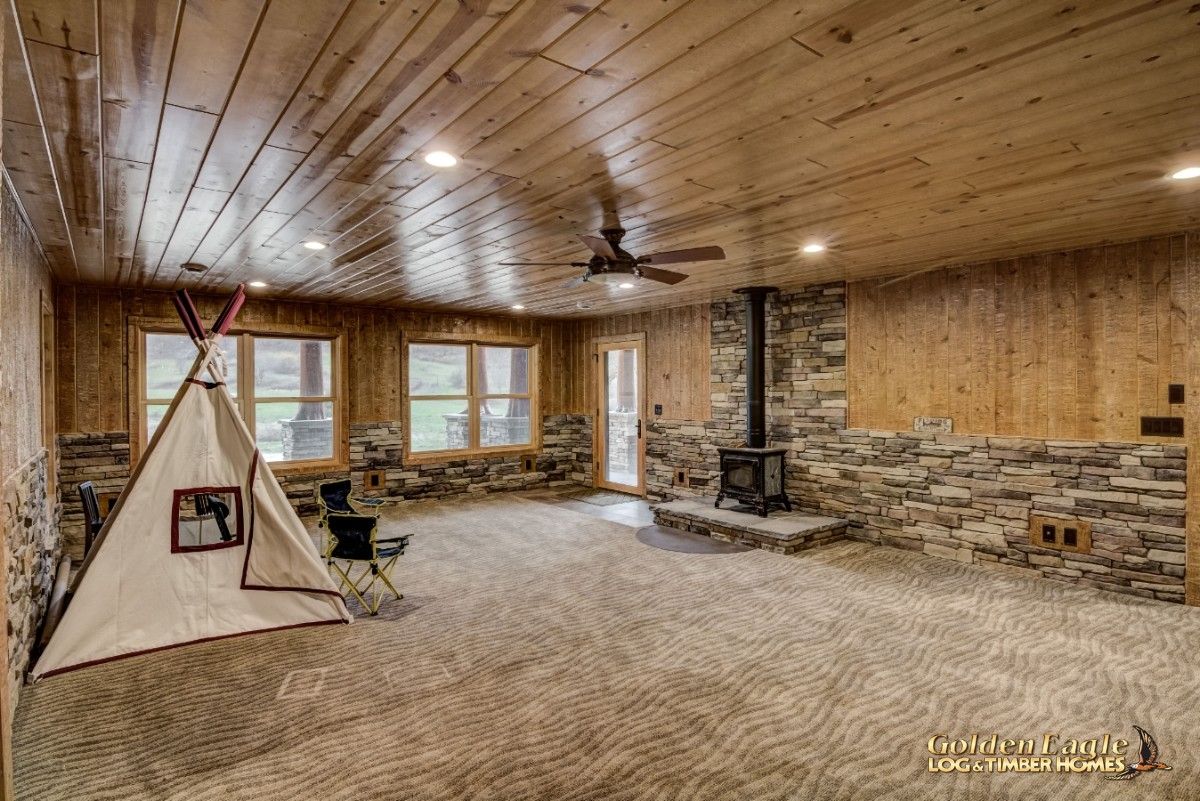 Tucked away in this home is also a wine cellar with tons of storage.
And a locking gun room with tons of safe storage for those who are hunting enthusiasts.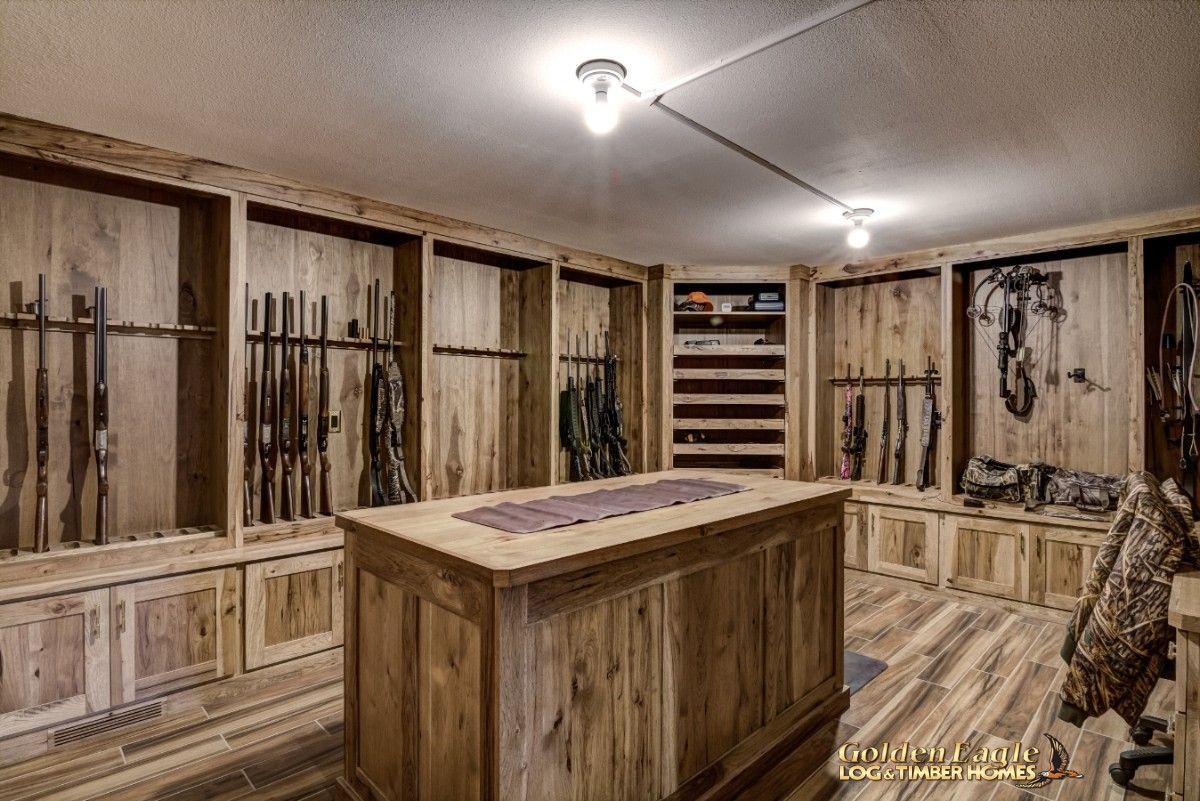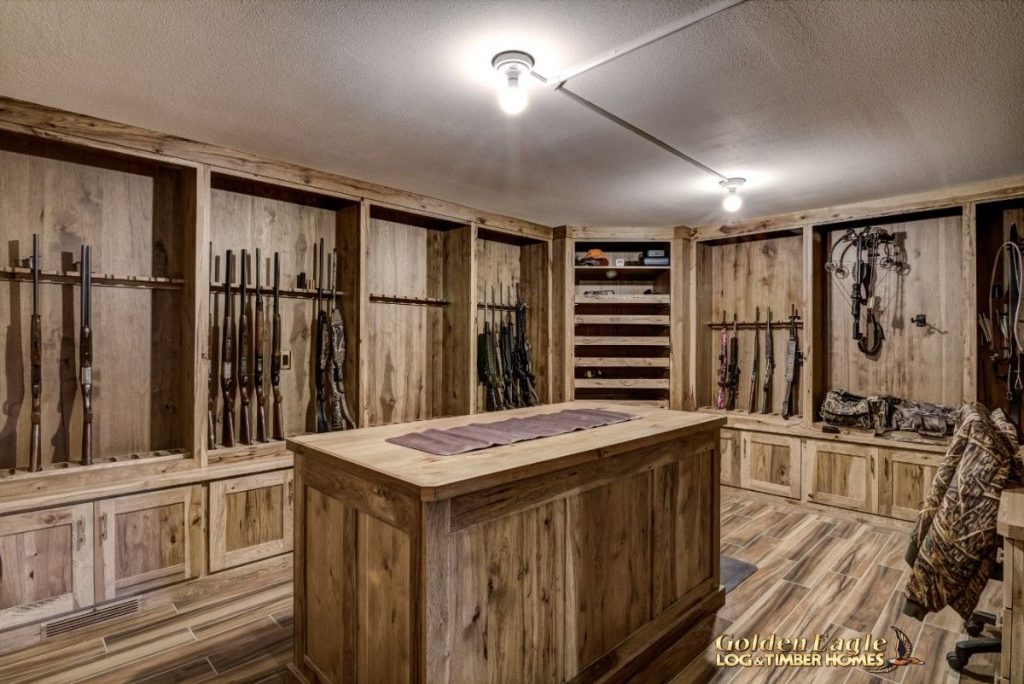 And of course, an extra-large room for laundry is a must. This space not only has a high-end washer and dryer but also cabinets and a rod for hanging clothes.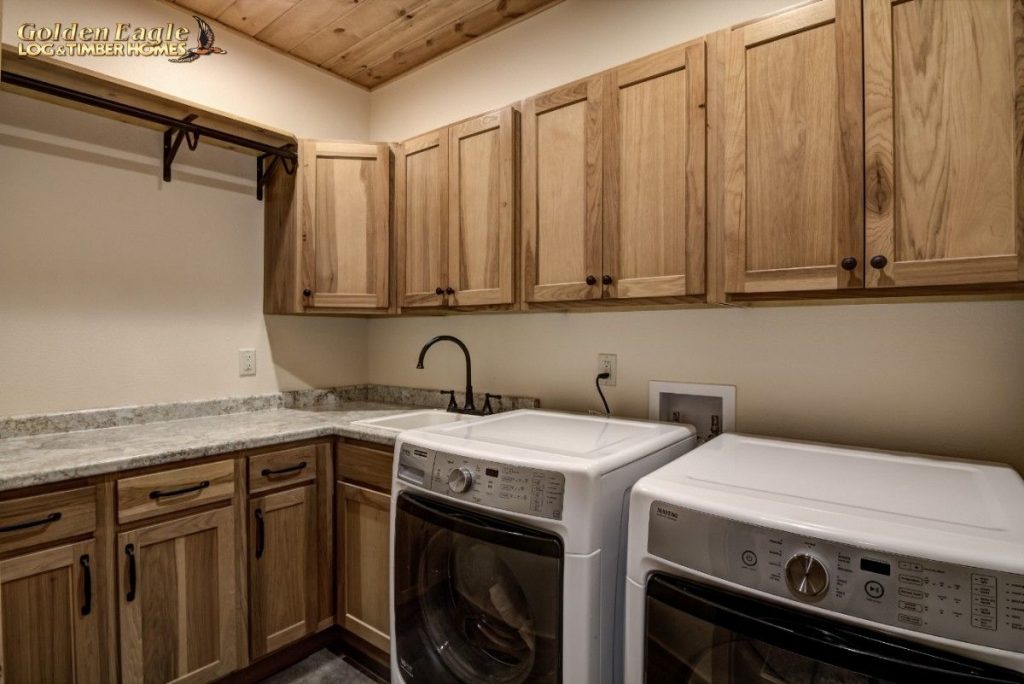 For more information on this build or kit, check out the Golden Eagle Log Homes website. You can also find them on Facebook, Instagram, and YouTube. Make sure that you let them know that Log Cabin Connection recommended them to you.
More Log Cabin Kits and Tours