South Carolina is already stunning, but add in this beautiful log cabin and those views and you have the home of my dreams. A dark wood log cabin with tons of windows and gorgeous landscaping.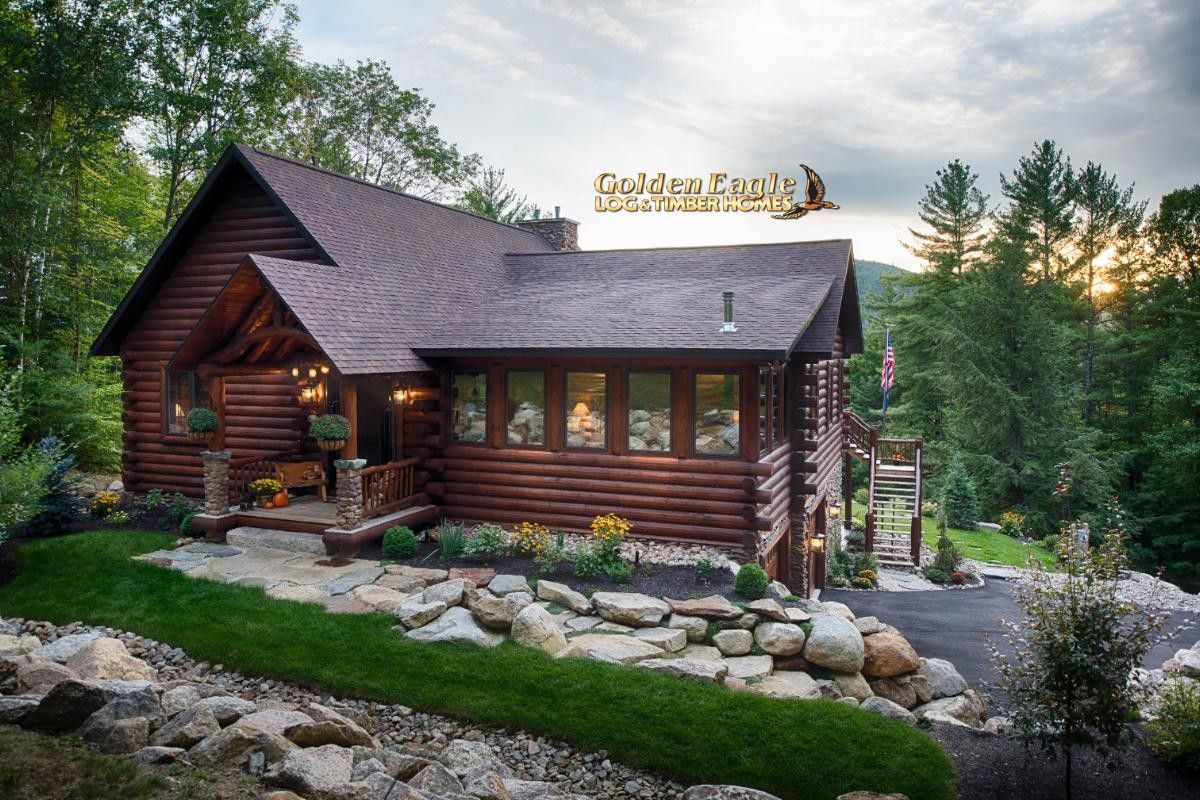 This beautiful home in South Carolina was once featured on HGTV and is the perfect example of how you can take a classic style and make it entirely your own. Large windows, decks, a walkout basement, and tons of space for entertaining, this home is a perfect choice for a family.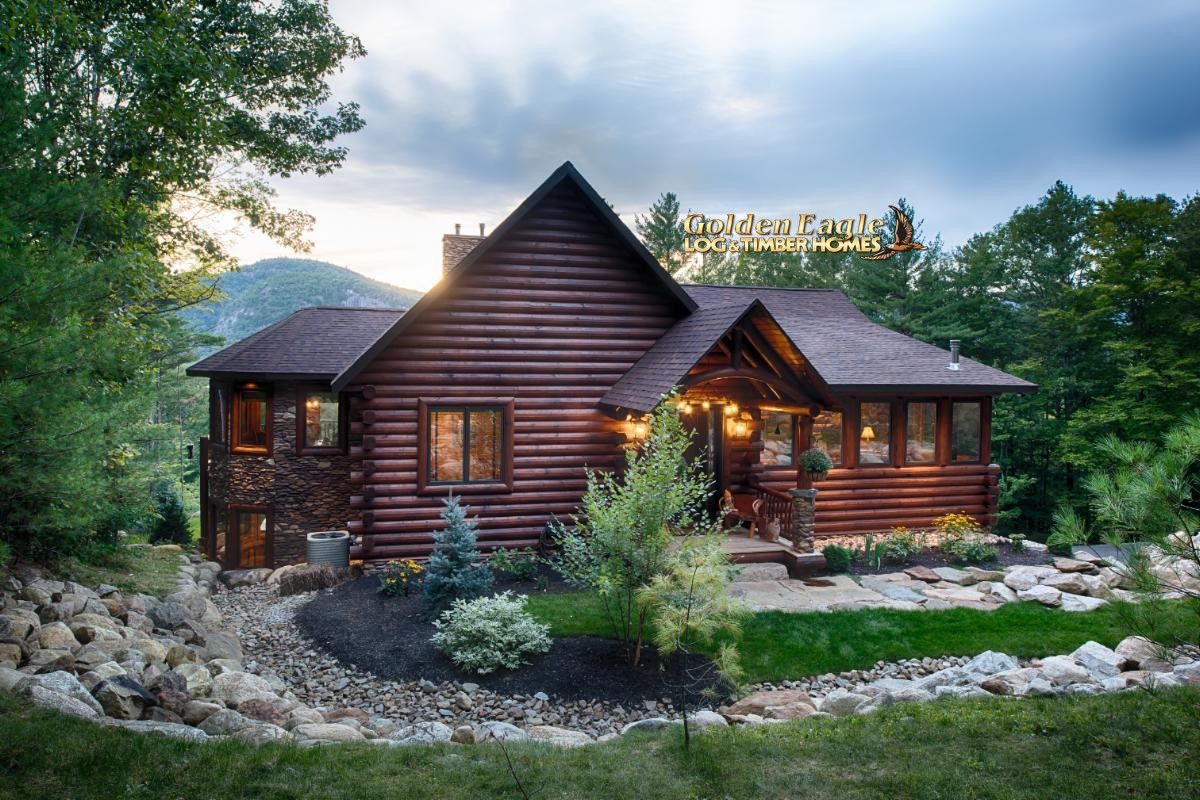 One of my favorite things about this home is that the garage is part of the lower level. You have a great entrance into the basement but also have a large walkout basement around the corner. It's nice that you don't have to go across a yard to park!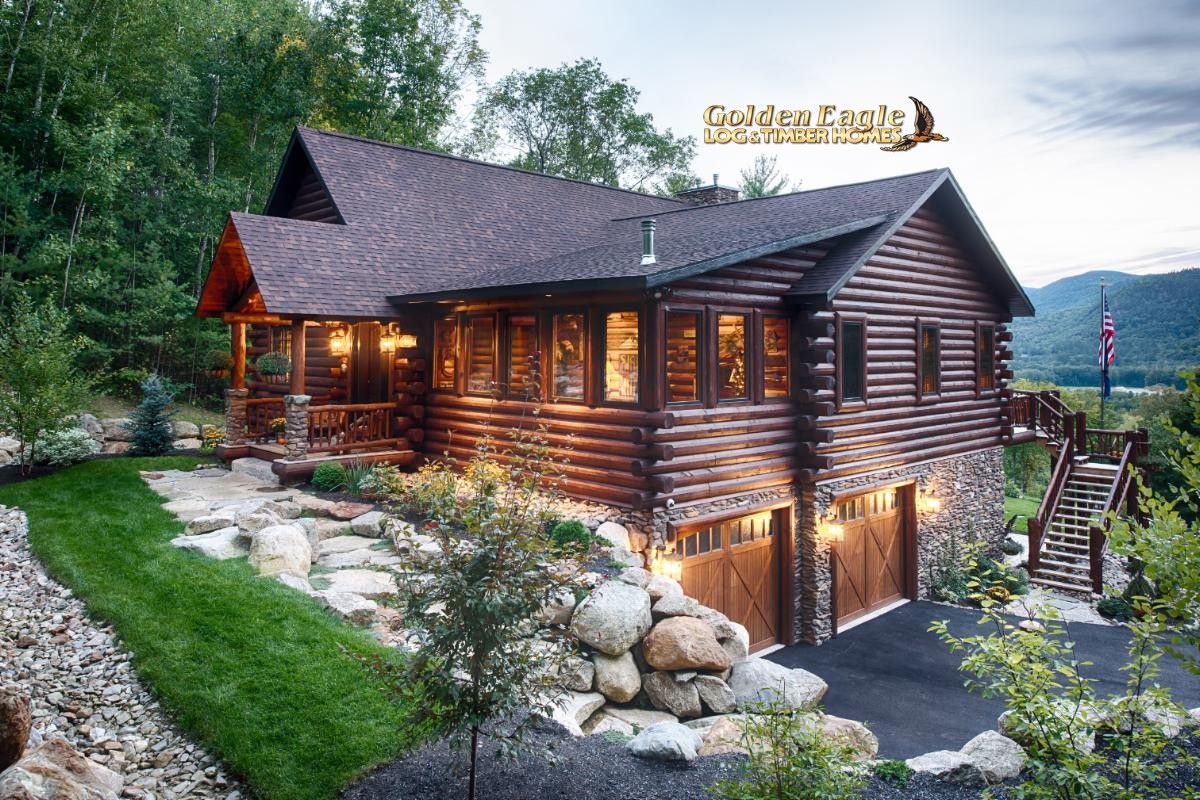 This large deck is one of my favorite things in any home. Not only are there multiple large open spaces, but also a covered area in the middle. Plus, that view off of the deck is absolutely spectacular!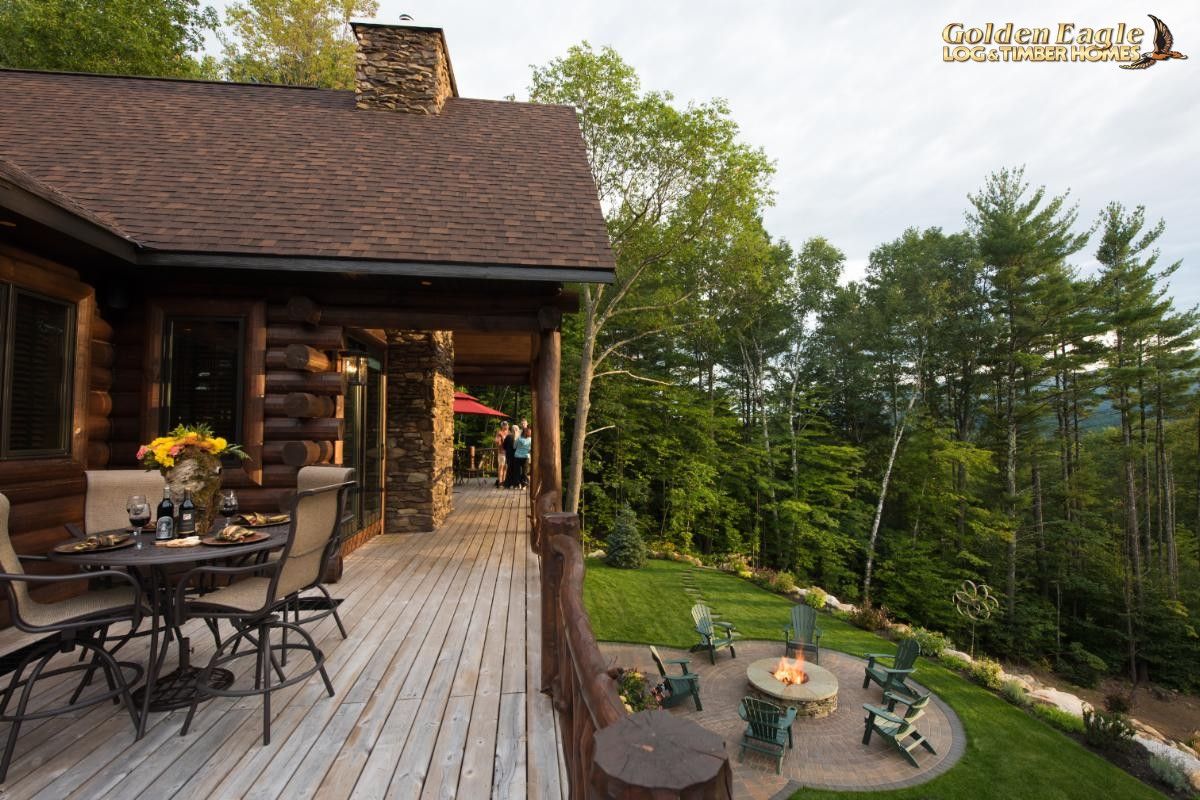 And here you get a better idea of the spaces both on the main level and the basement level, as well as a look at the fire pit in the backyard.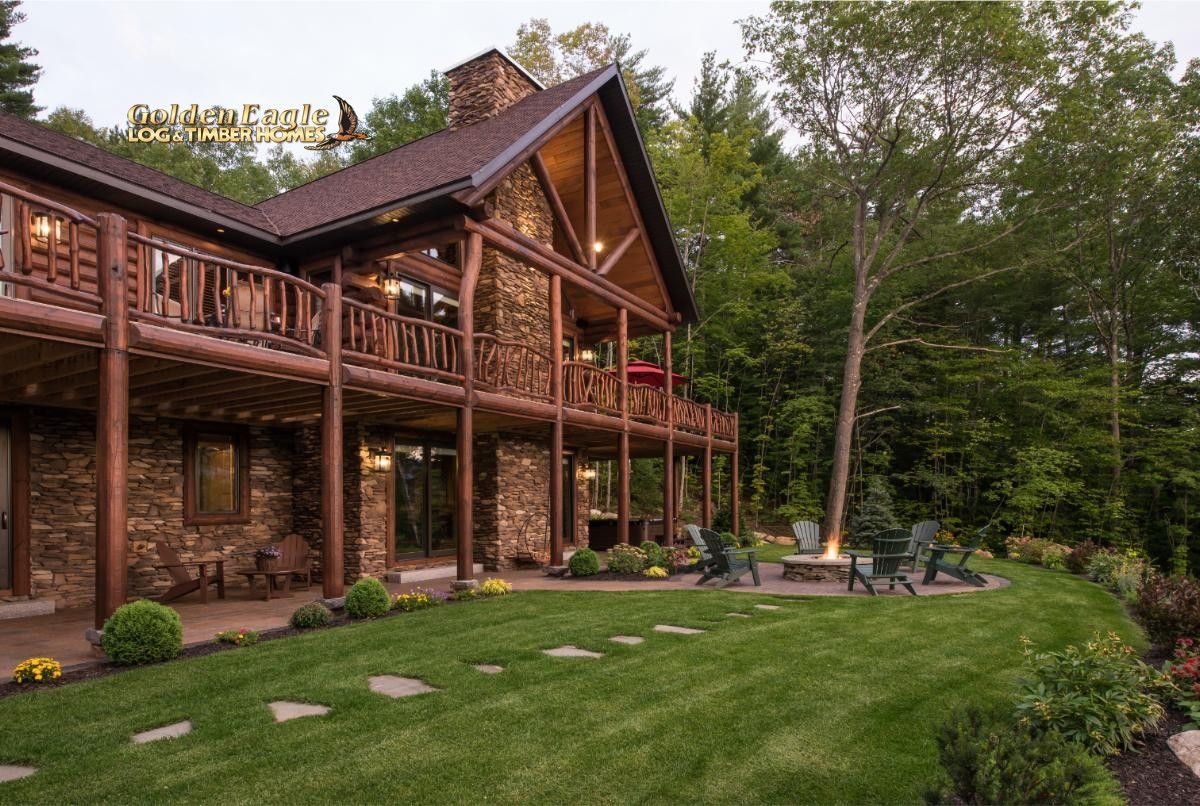 There is just something about the combination of log and stone in this home that makes it truly unique.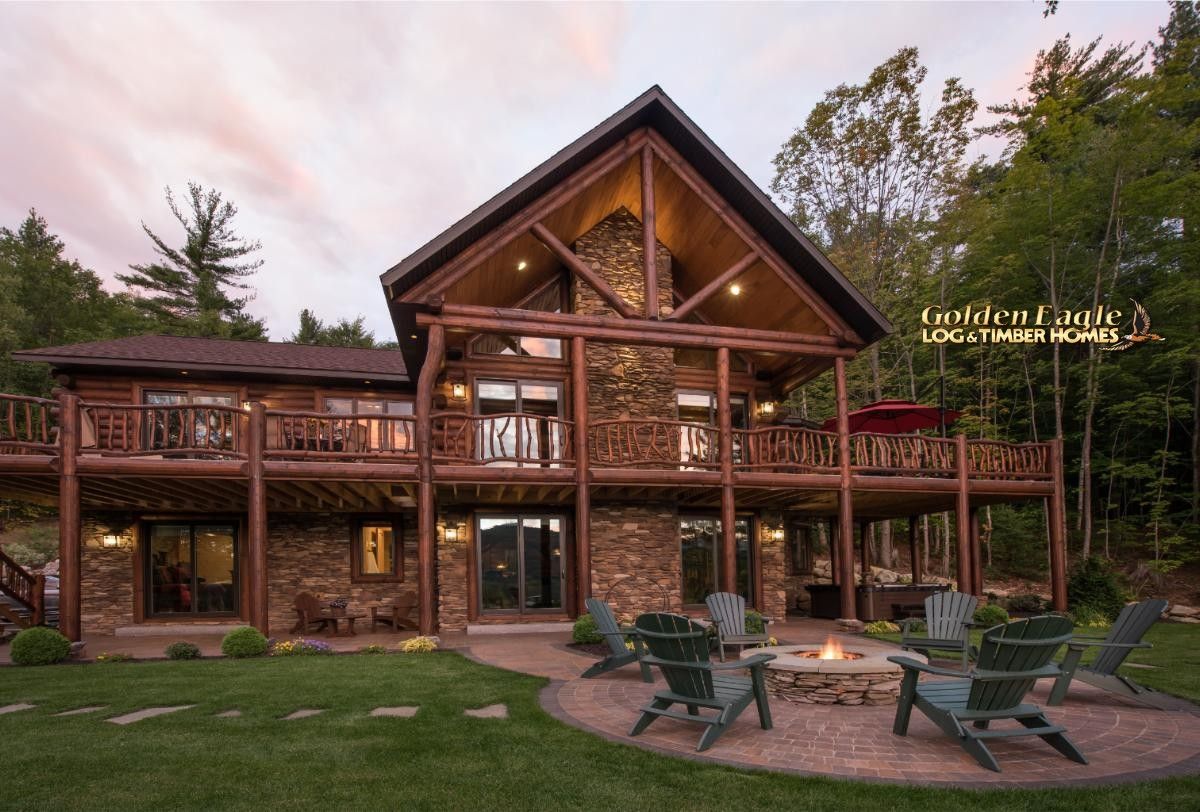 But, the best part by far, is that view. A stone-covered hill leads down to the water and makes for the ultimate retreat home.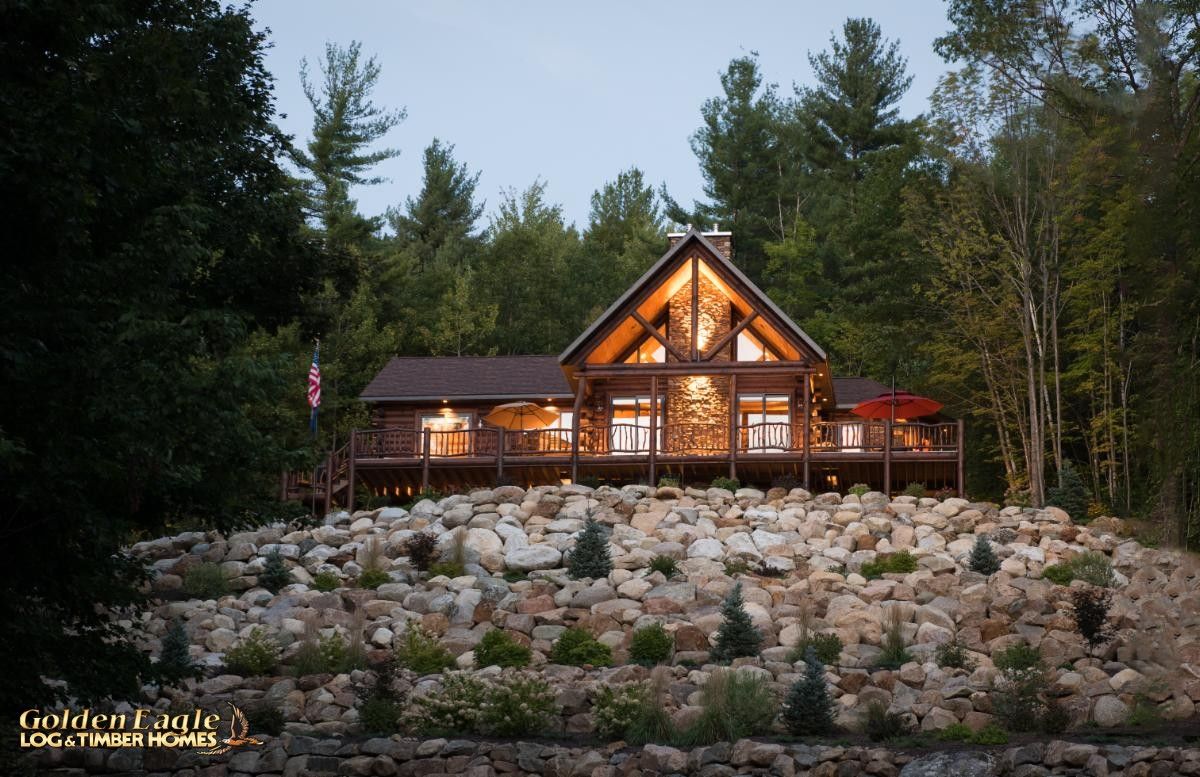 Inside the house, you will find even more beauty. This entry goes right into the main living space with a hall bathroom on one side and living space on the other side. Plus, the stairs leading to the basement are in the foreground here.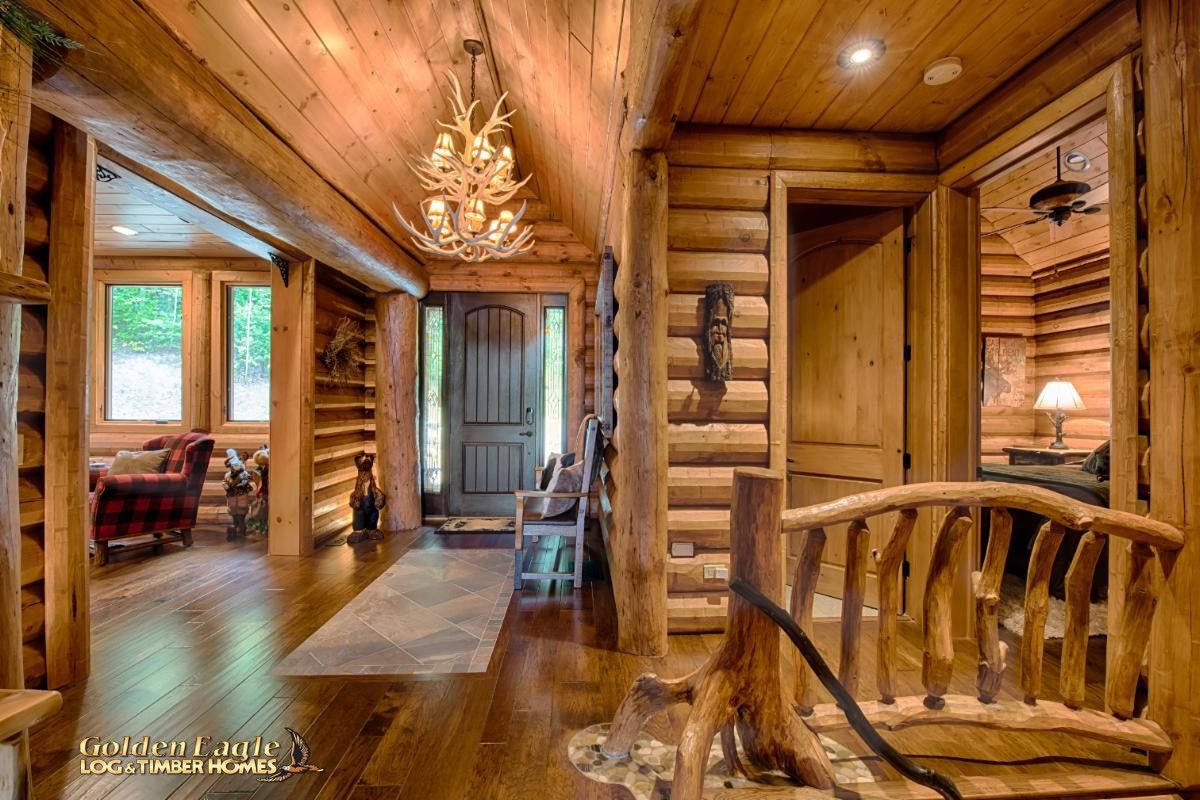 The main living space of this cabin has a great fireplace against the wall of windows of the great room. I love the log walls and tall ceilings here as well as the fact that the living area and kitchen flow so nicely together.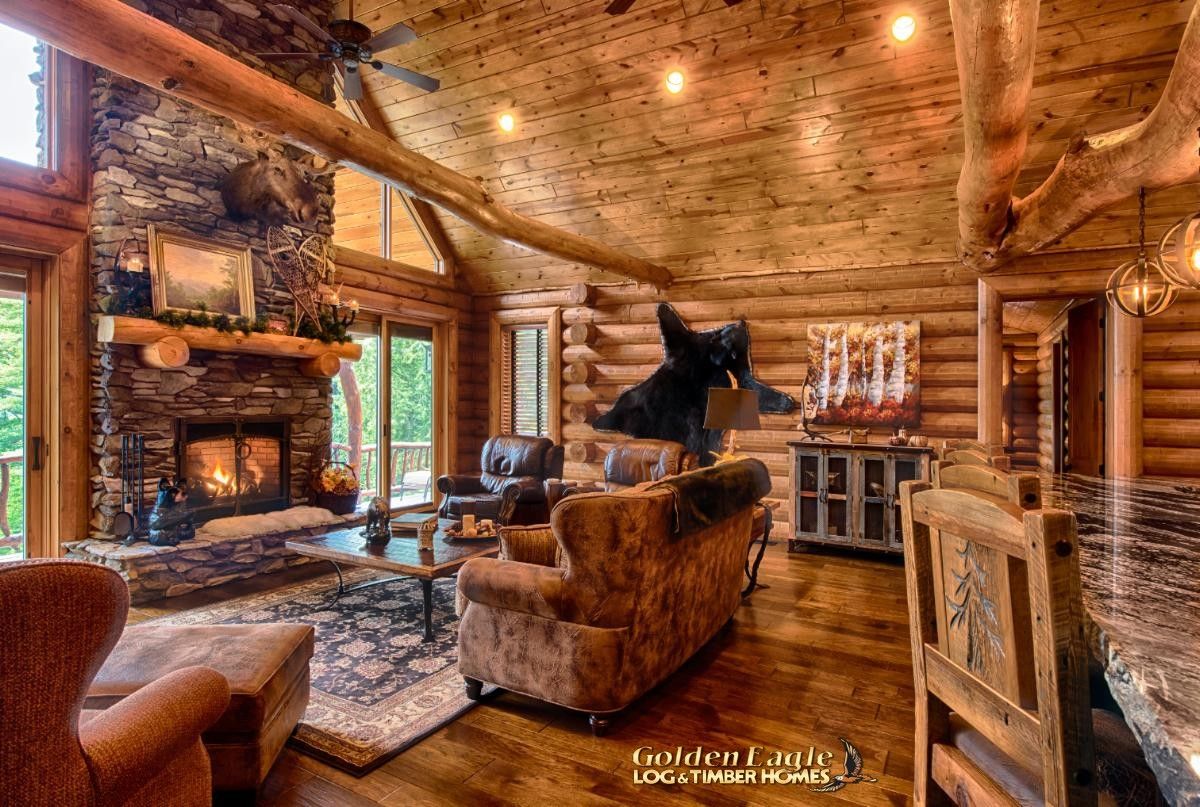 You can see here how the kitchen is along the back wall of the living room. To the right of this image is a black island with a gorgeous gray and white countertop that goes perfectly with the stone throughout the home.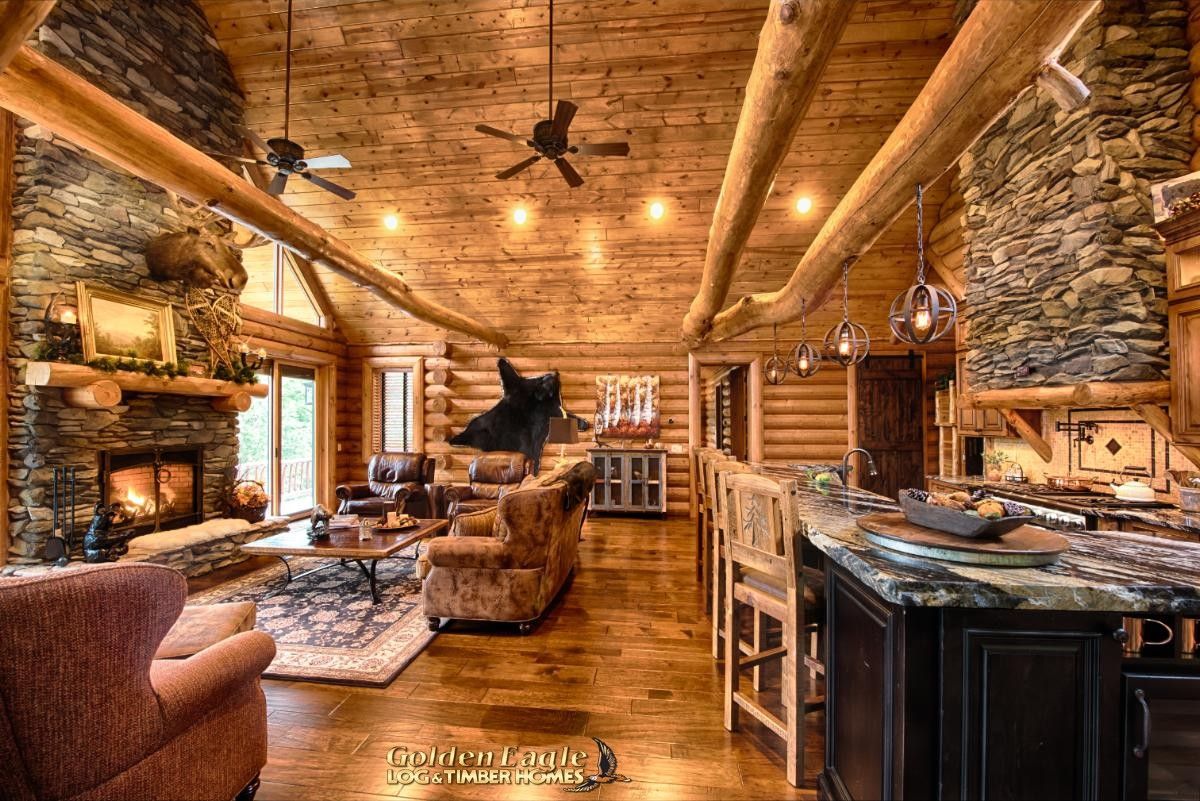 The dining table is in the back of this image but you also have extra seating at the bar. A nice place to throw a party or share a meal with friends.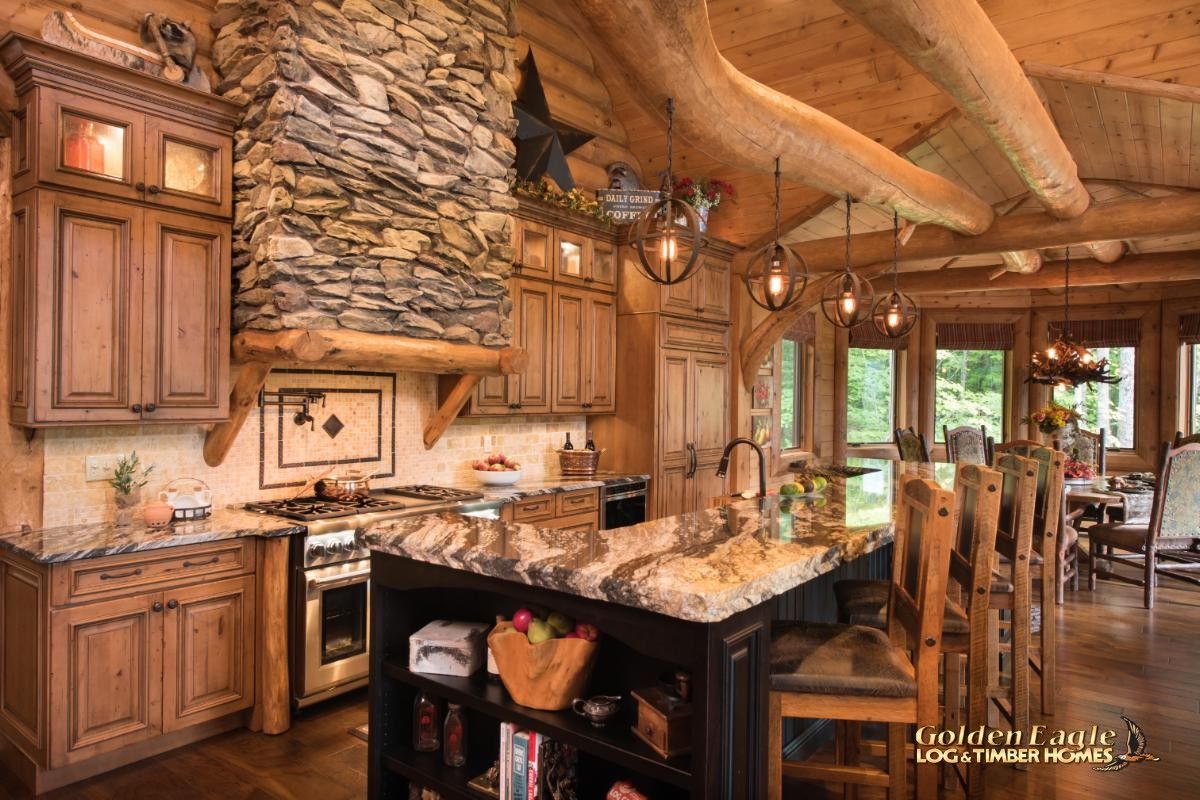 I love the stove in this kitchen because it is a true chef's kitchen with extra burners and double ovens.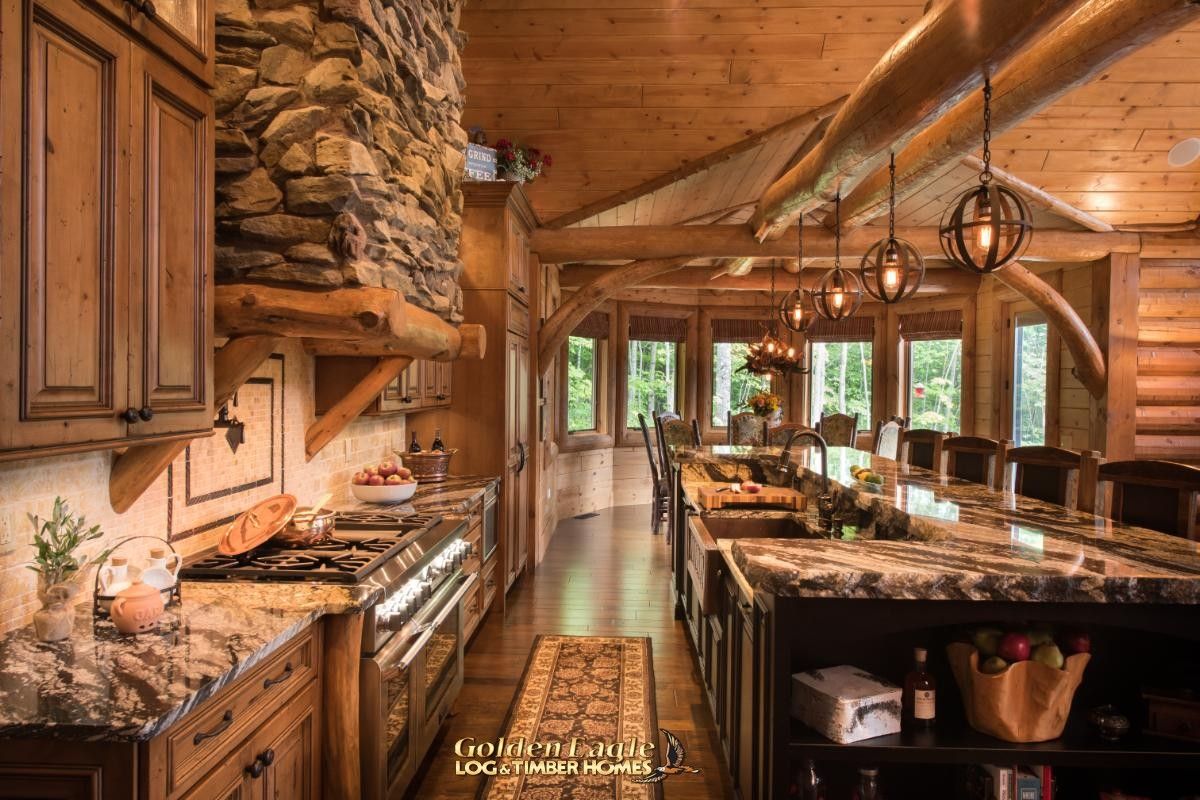 And having a more formal dining room on the side of the home makes it easy to invite others for an upscale meal or dinner, while still keeping the option of a more informal gathering.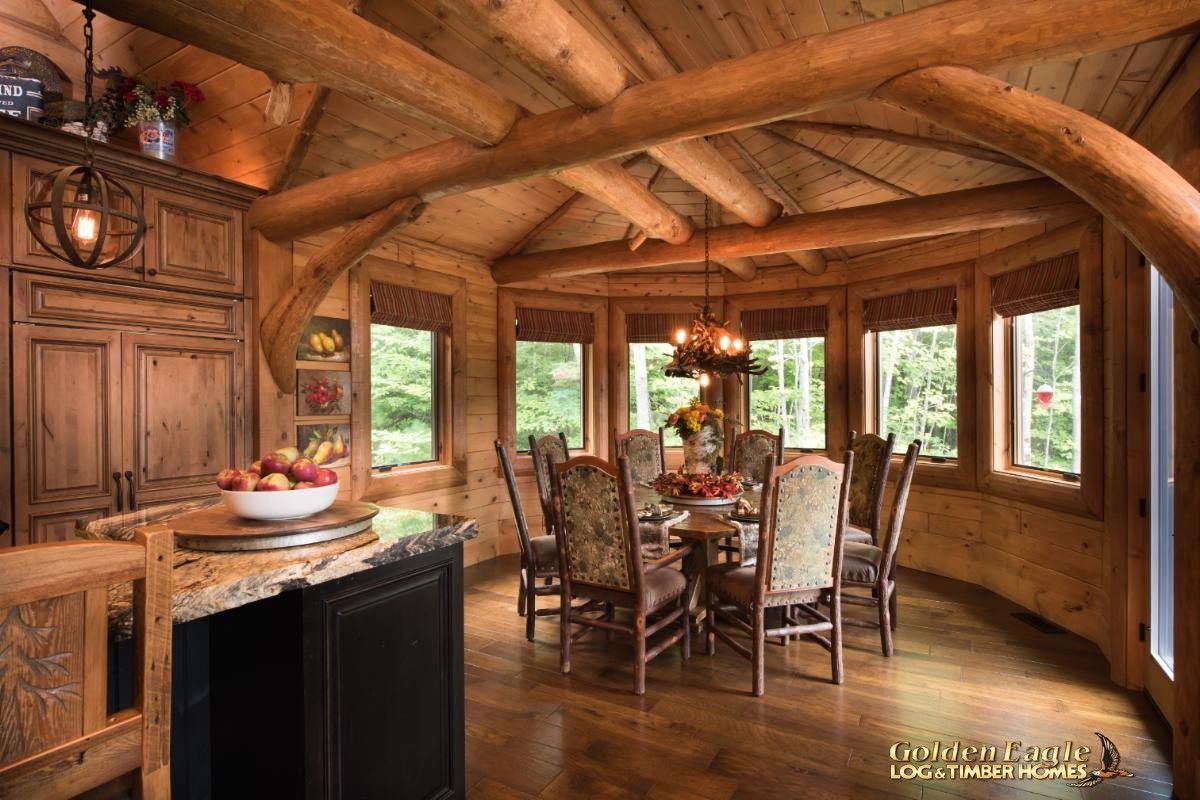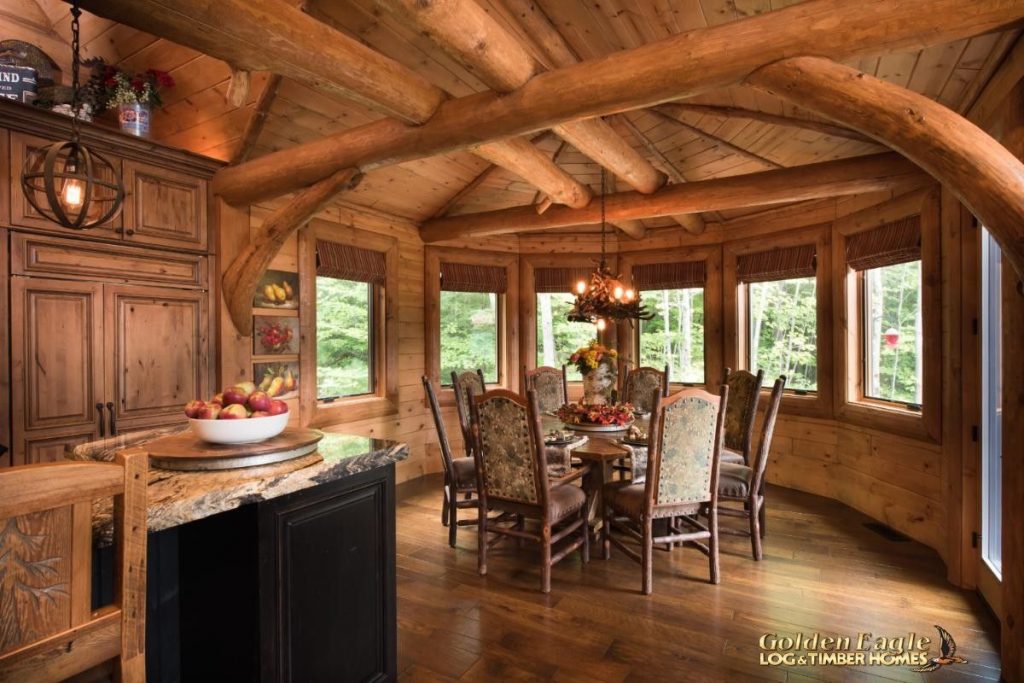 I love how they have used the open beams across the room for light fixutres. Such a great way to utilize function for style.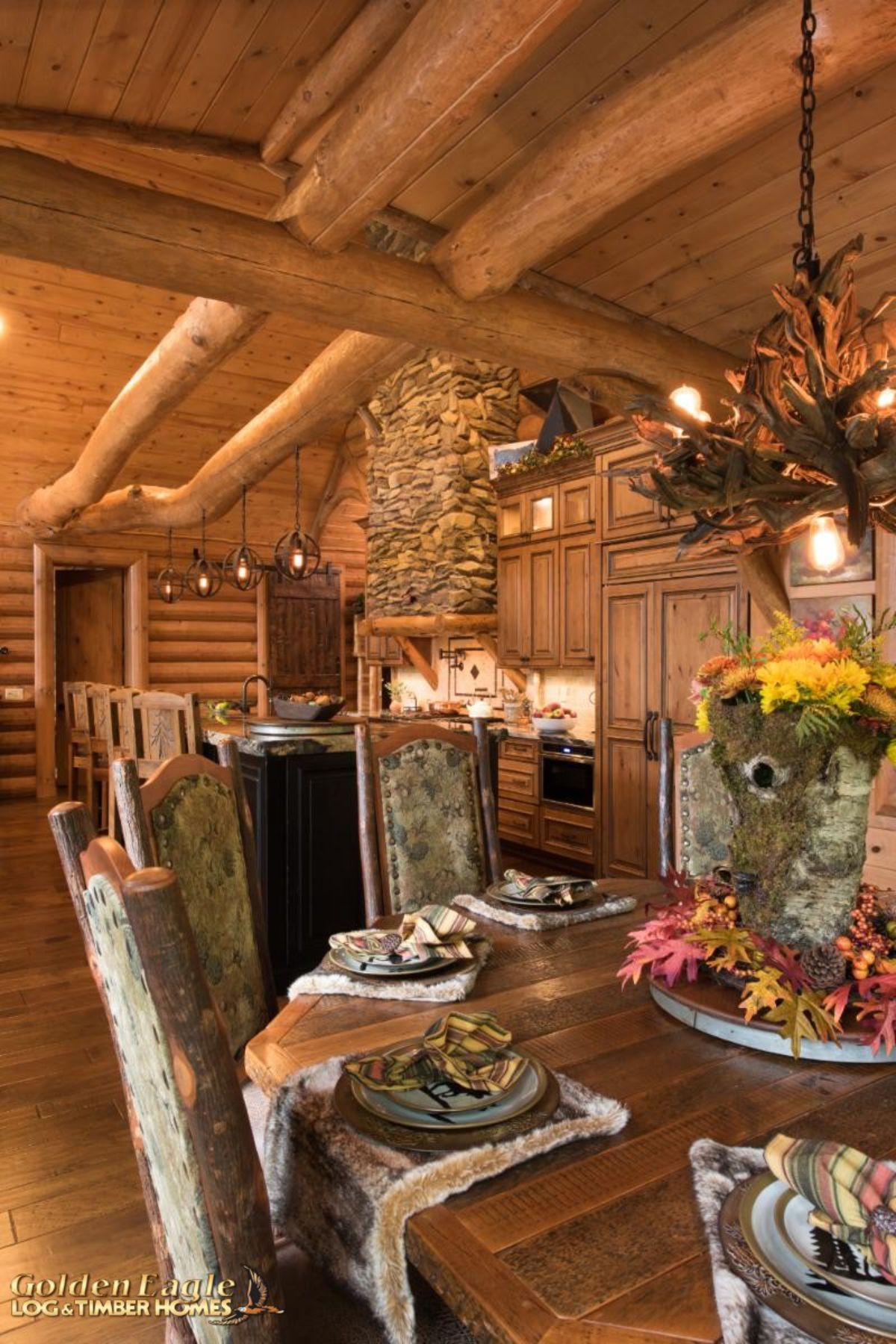 And, if you want to use that living space for movie night, you can see this wall has a television as well!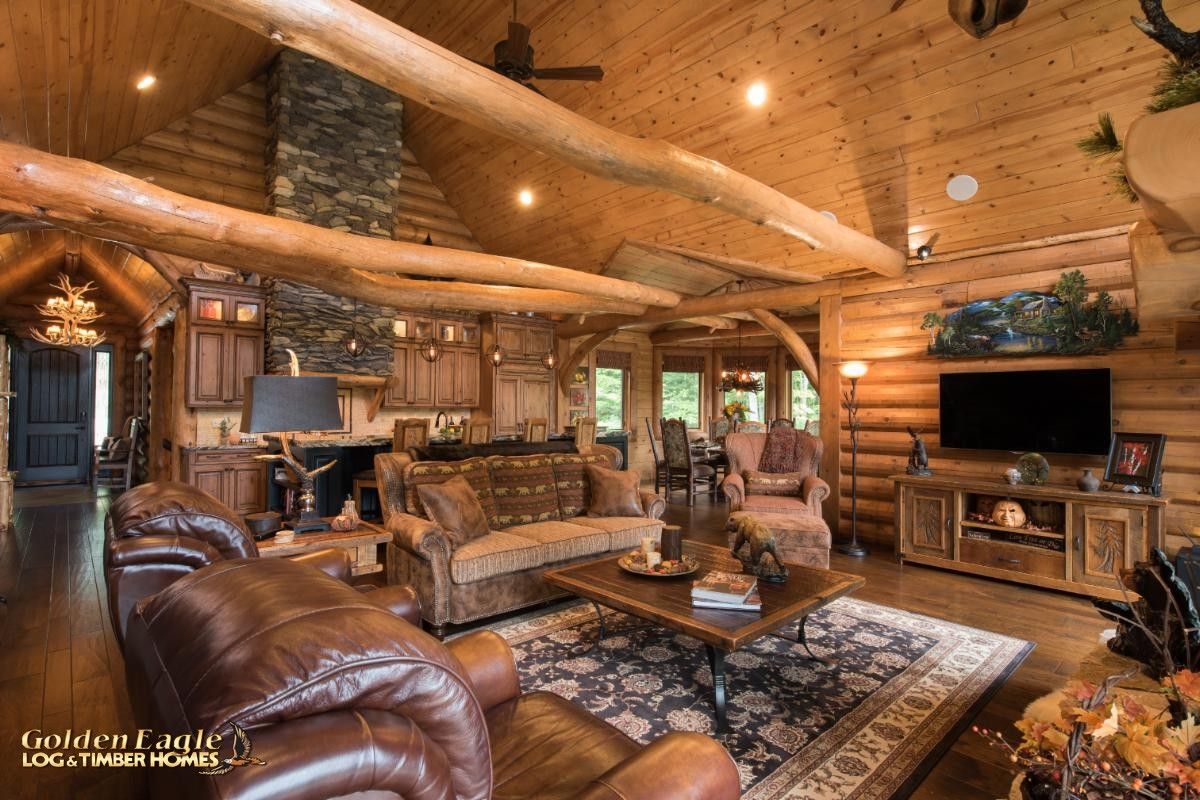 The bedrooms in the cabin have the beautiful log walls and ceilings you expect, with tons of windows. This room in particular even has a private deck entrance with sliding glass doors.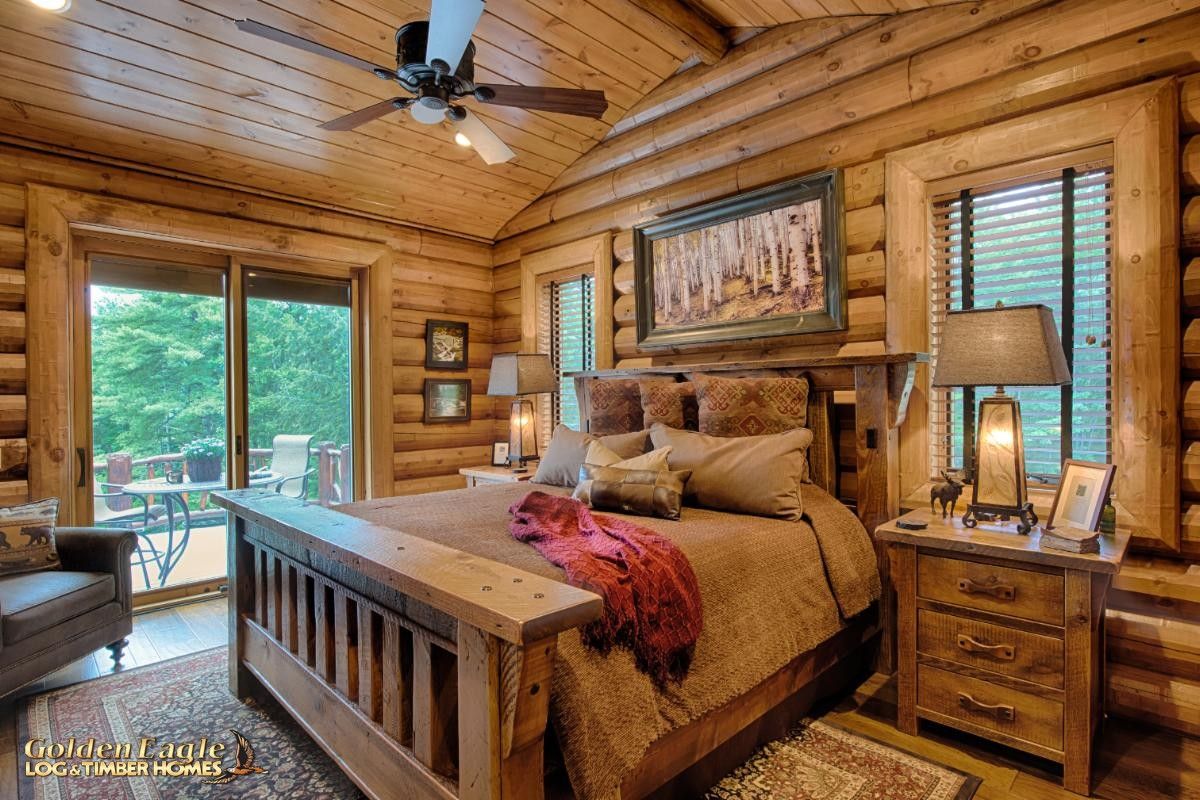 And the master bathroom is a dream come true with the extra-large soaking bathtub and a glass-walled shower. It's truly beautiful and that oasis you dream of after a long work day.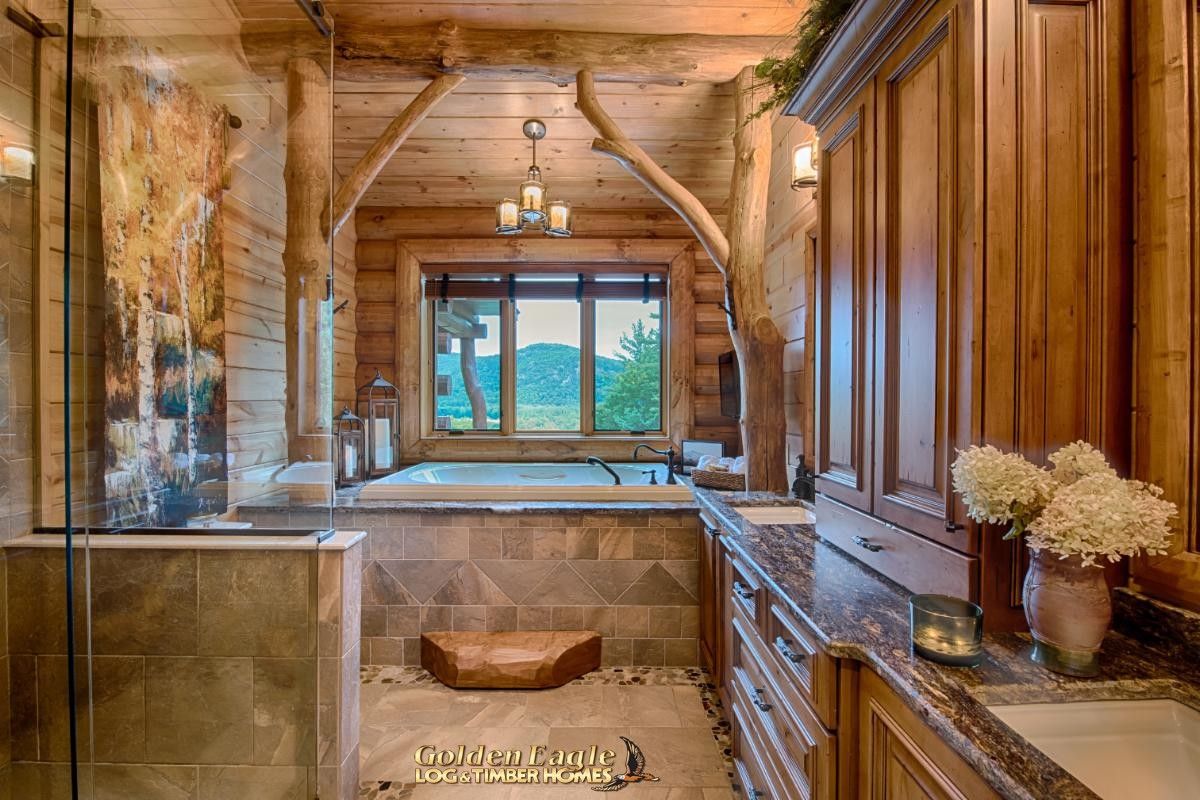 Another bedroom includes a private bathroom but also a simple lofted space for holding another bed for the kids. A great little guest suite!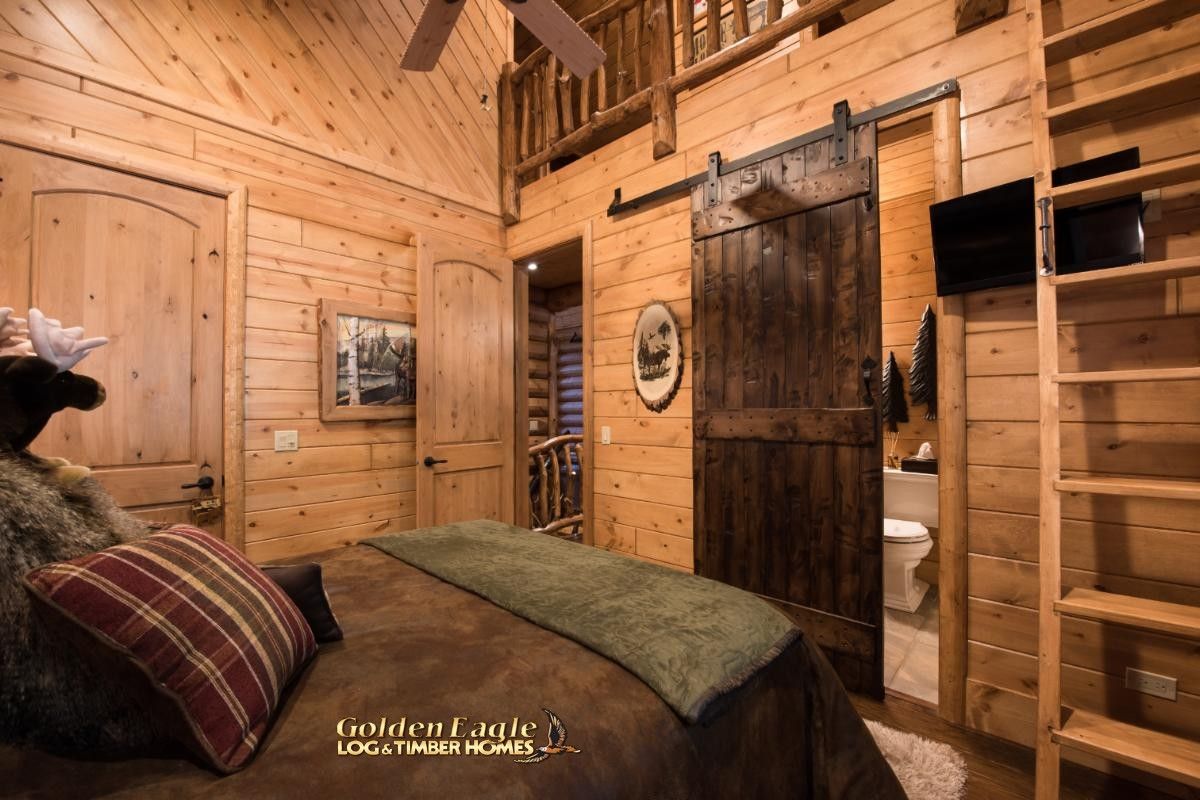 See how the ladder easily moves out when needed to make a simple way to get into the lofted nook! I love this!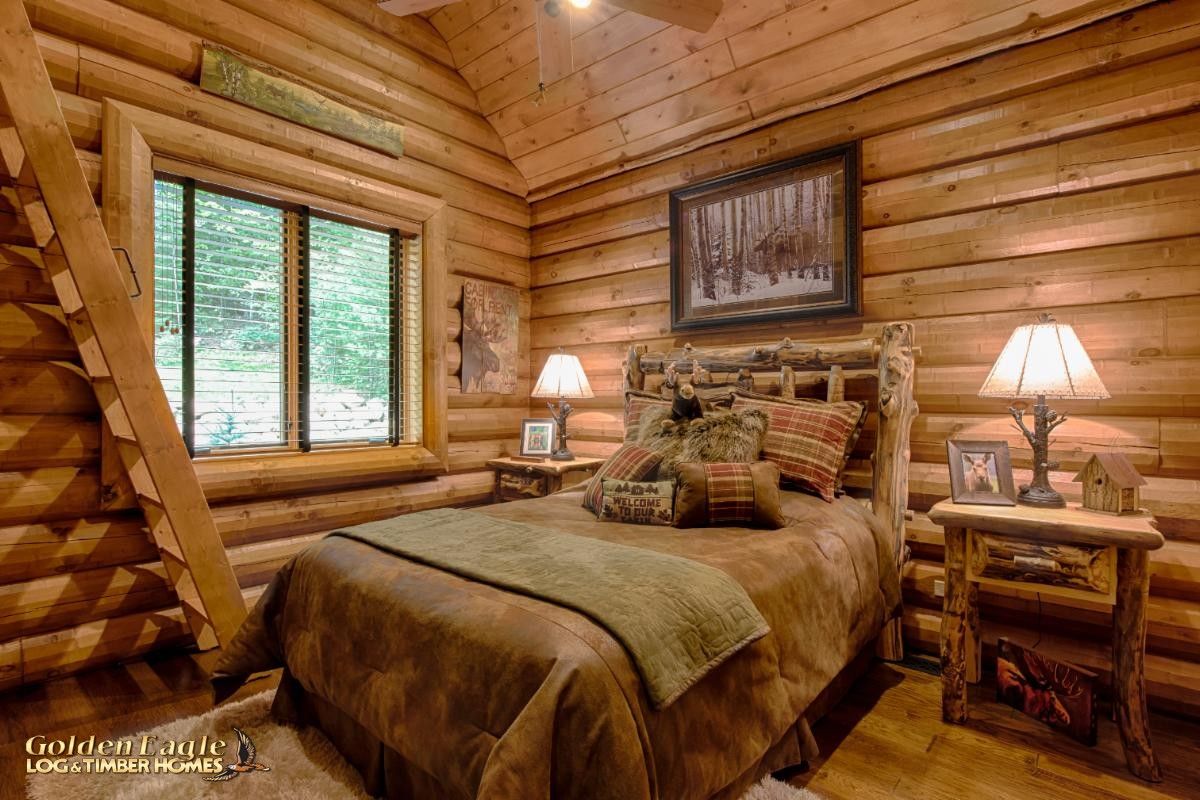 There is also a nice space in this home with a sunroom or corner nook that has a wall of windows and is ideal for a separate seating area.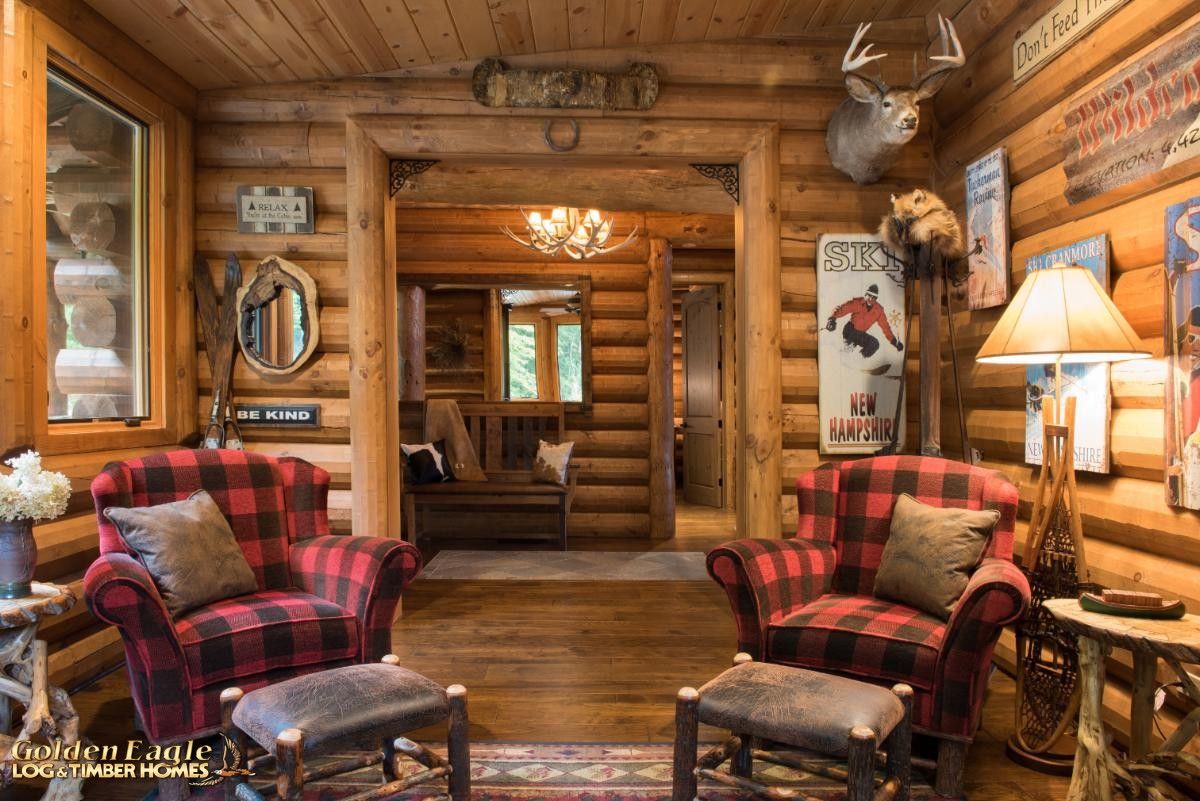 A wood stove in the corner and the surrounding windows make it feel super cozy. I really like this for a home office or reading room.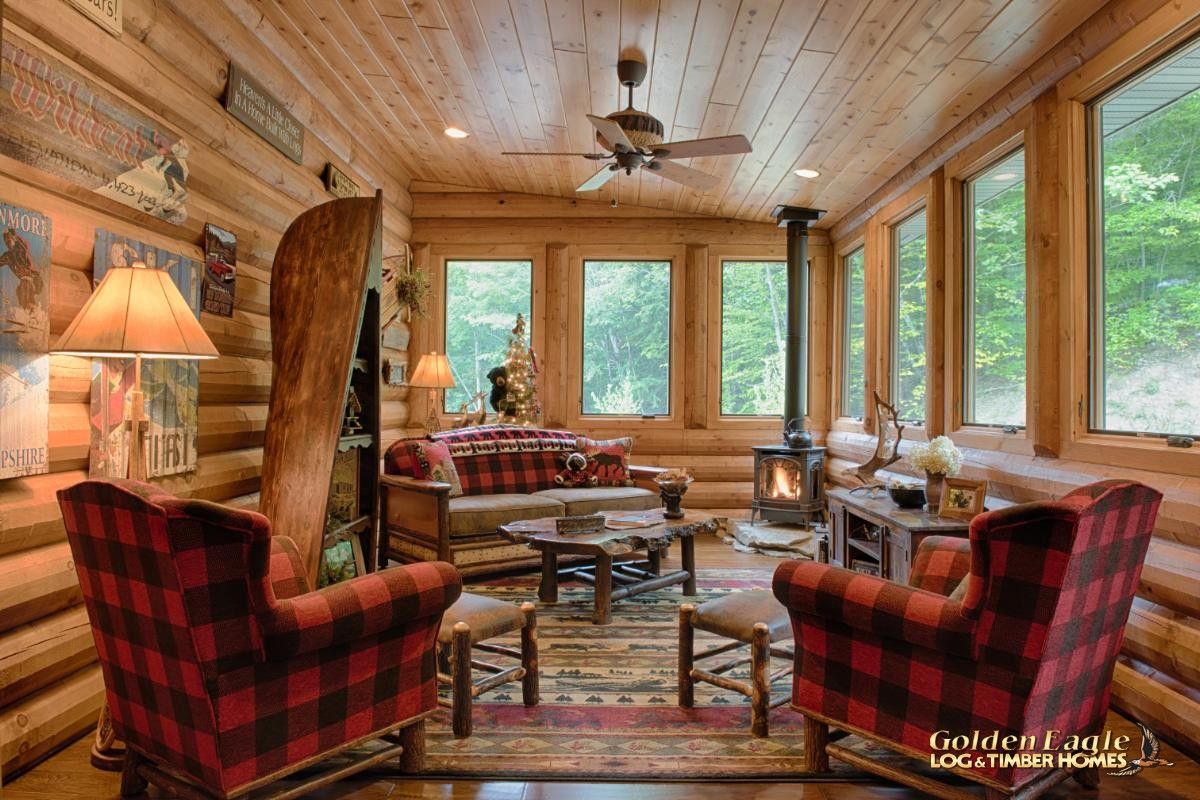 Downstairs, the basement has not just a 2-car garage, but an attached living space. A recreation room or guest quarters, this floor has gorgeous log work, wrought iron doors, and of course, the custom wood pool table.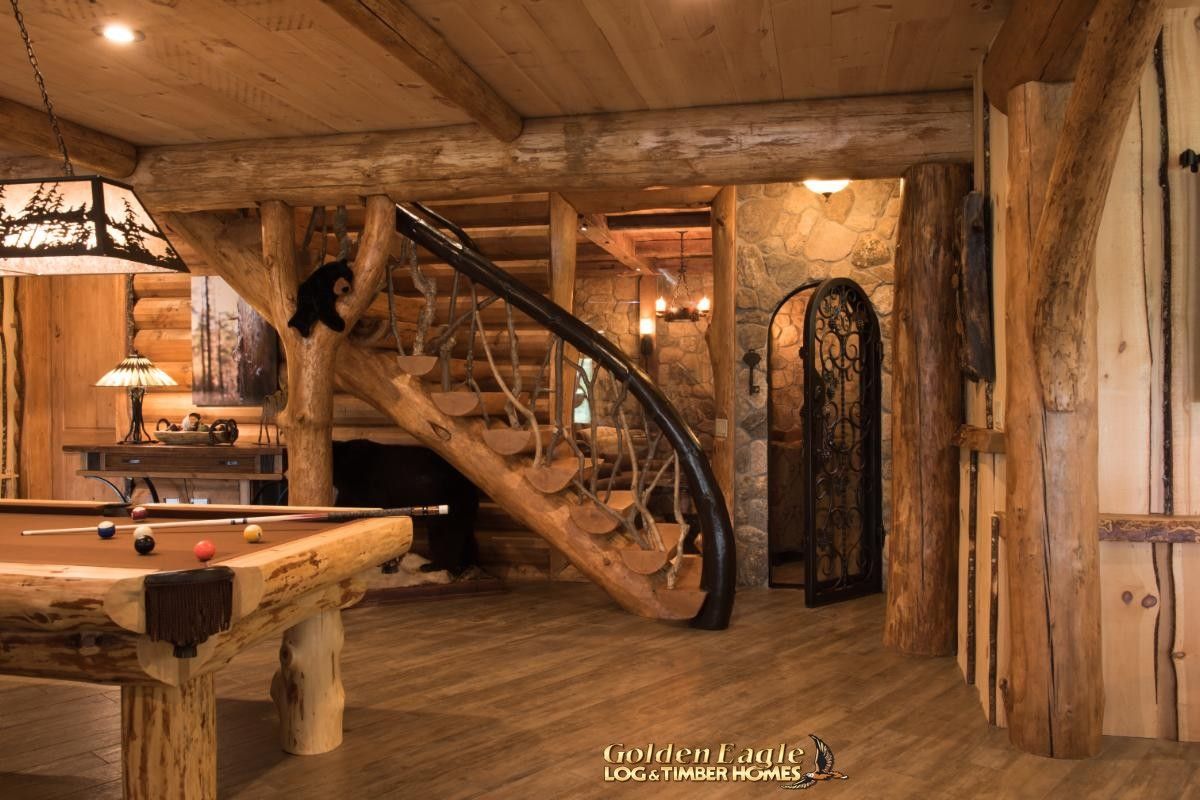 There are bedrooms off the basement floor with the middle area makes for a perfect den or family entertainment room.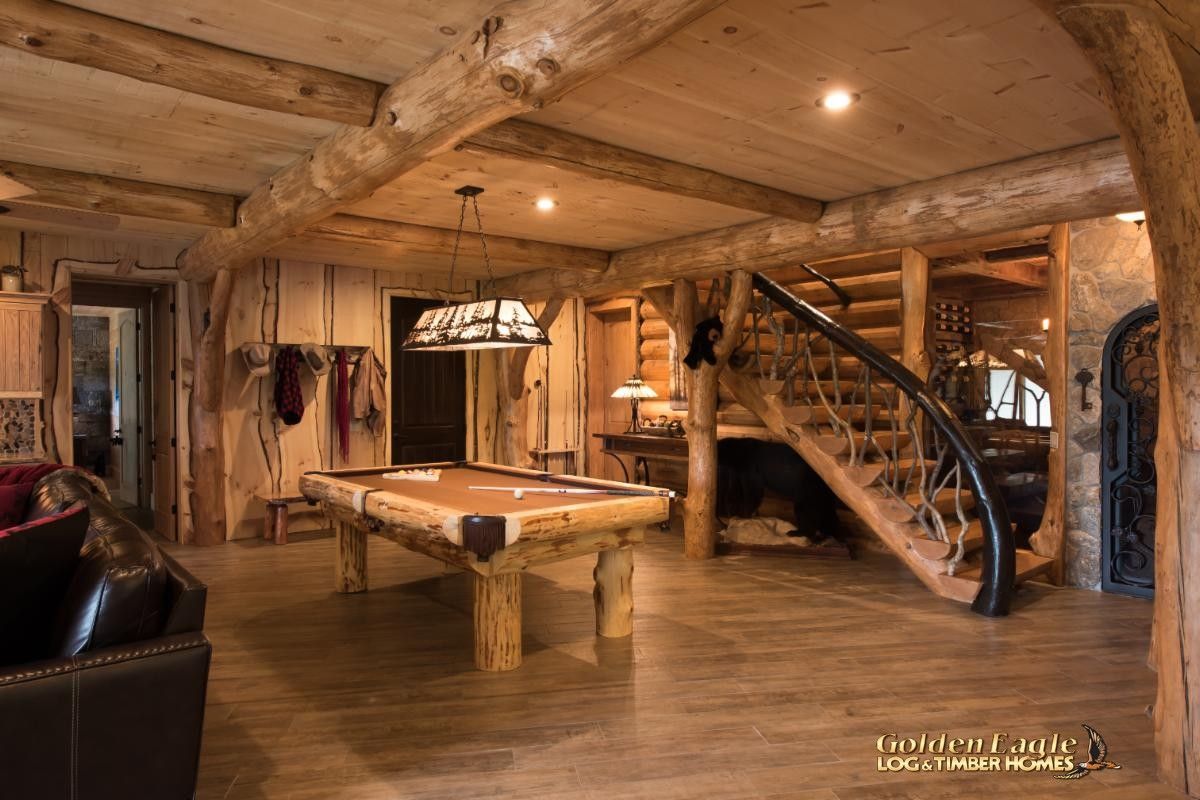 A cozy sectional, wet bar, and kitchenette all take up space in this home. You have plenty of room here for a weekend of watching movies or playing games.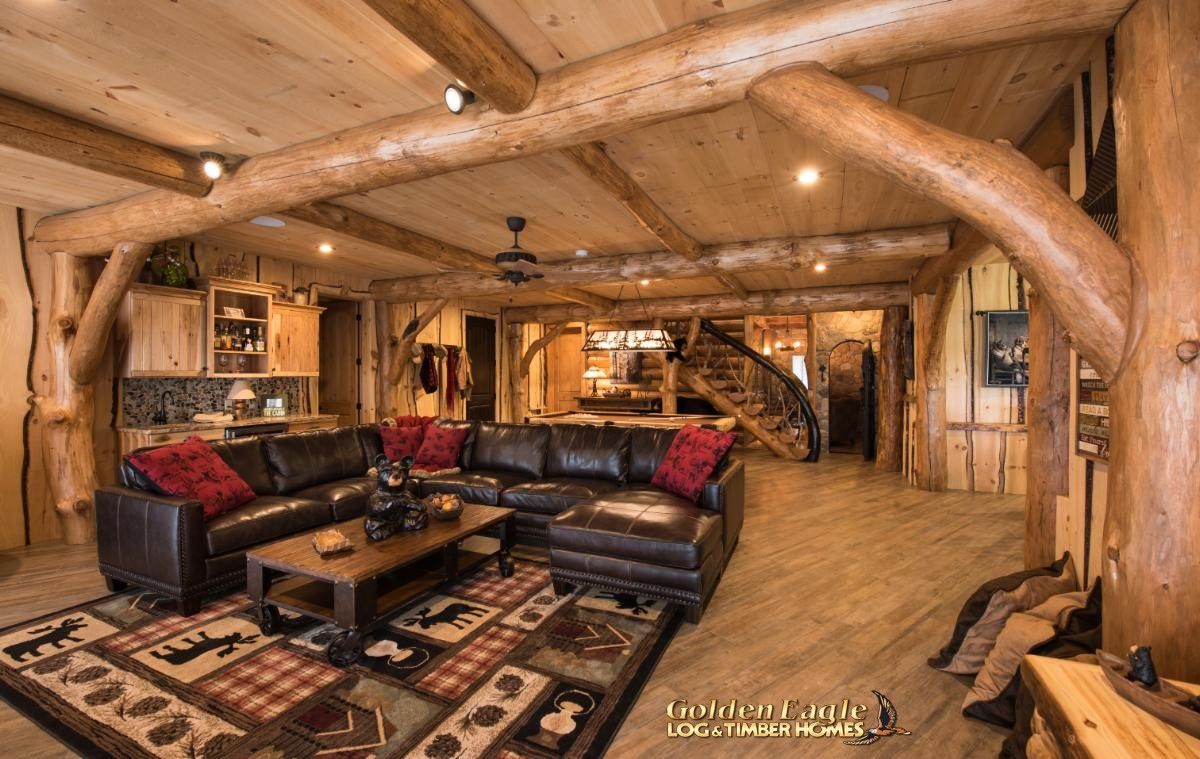 And to add to the beauty and fun of this home you have this unique little wine cellar with seating. It's ideal for a romantic evening in or a place to relax after a long day with your favorite beverage.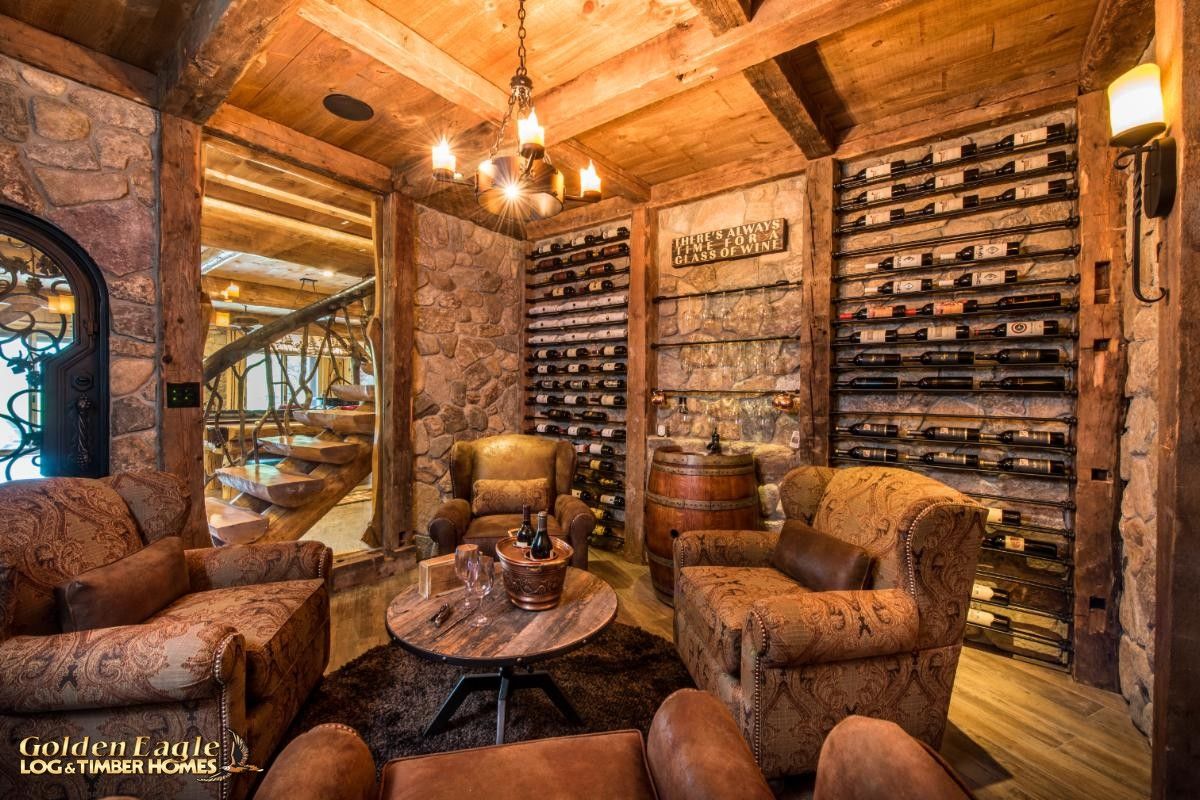 Large sofas, a wood stove, tons of beautiful accents, and multiple entrances to come and go as you please make this home one of a kind.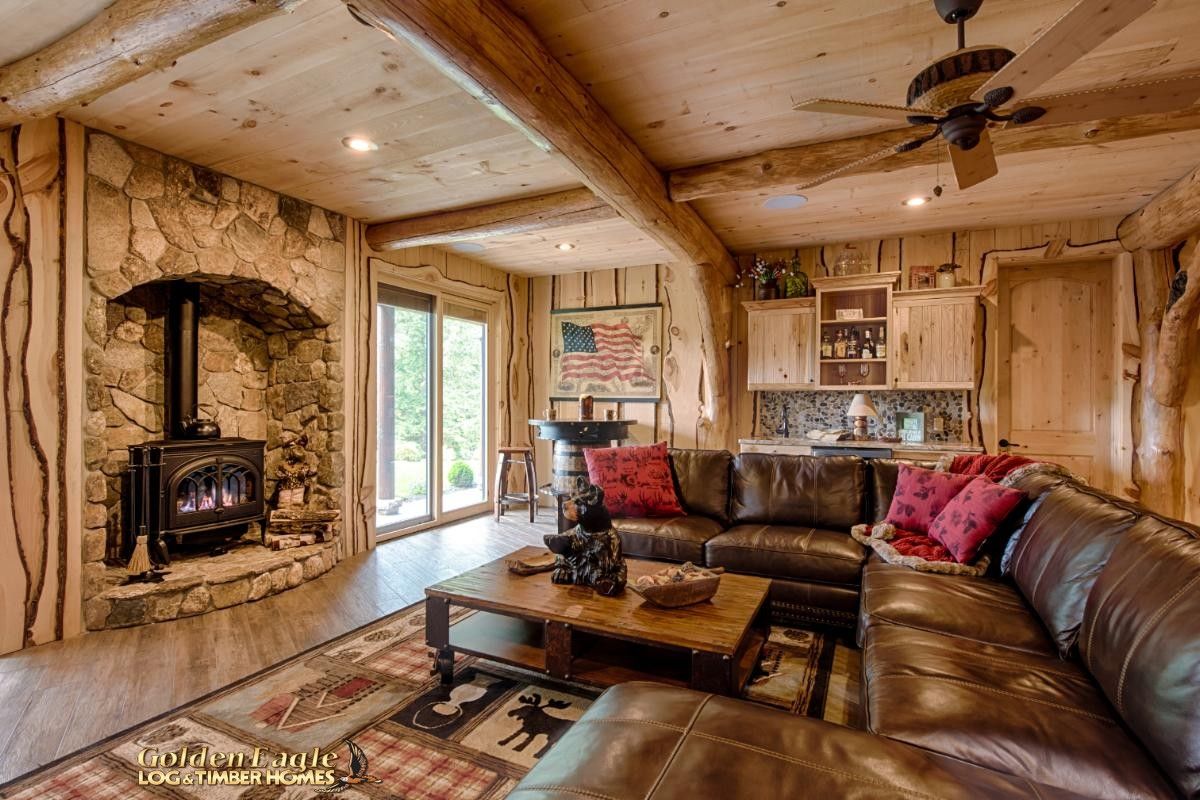 Check out more of this home via the video tour below!
For more information about this cabin and more, check out the Golden Eagle Log & Timber website. You can also find them on Facebook, Instagram, and YouTube. Make sure you let them know that Log Cabin Connection sent you their way.
More Log Cabin Kits and Tours