The Craig's Creek lodge is a perfect cabin retreat. With two entrances, two floors, and tons of open spaces, this is an ideal place to vacation with the family, or have a romantic weekend getaway.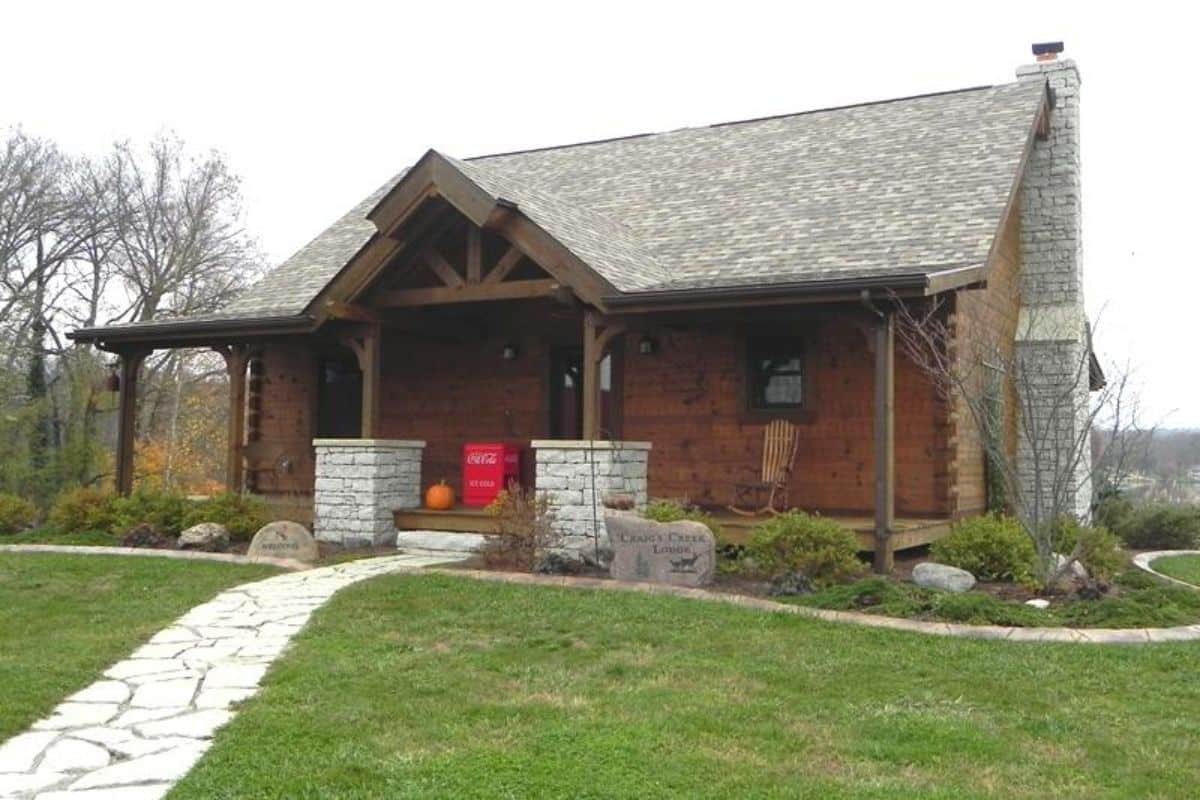 The Craig's Creek cabin has a large covered front porch that leads into the main floor. There is a smaller loft space above that acts as a bedroom, as well as one bedroom on the main floor.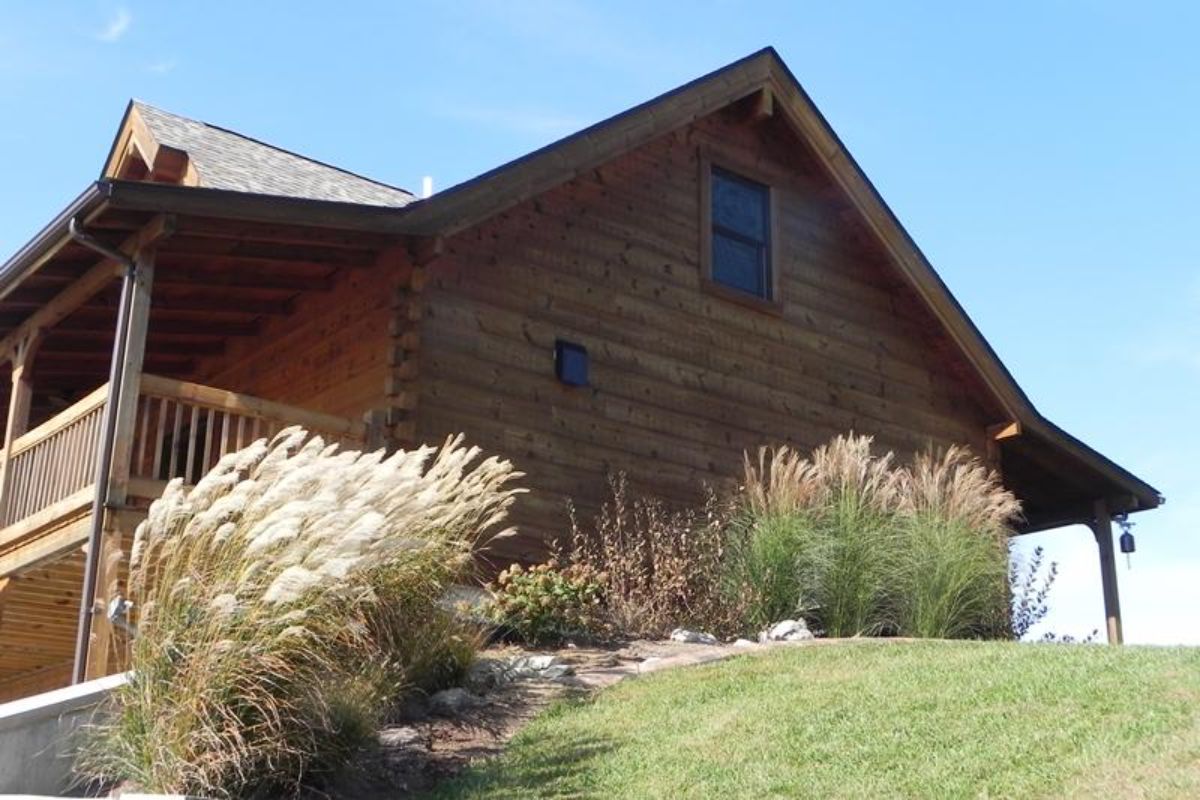 On the back of the cabin is a house-length covered deck that is off the main floor. This acts as the roof to the open patio on the basement floor of the home. A bonus in the home is that the basement is a second living space with a walkout door to that patio.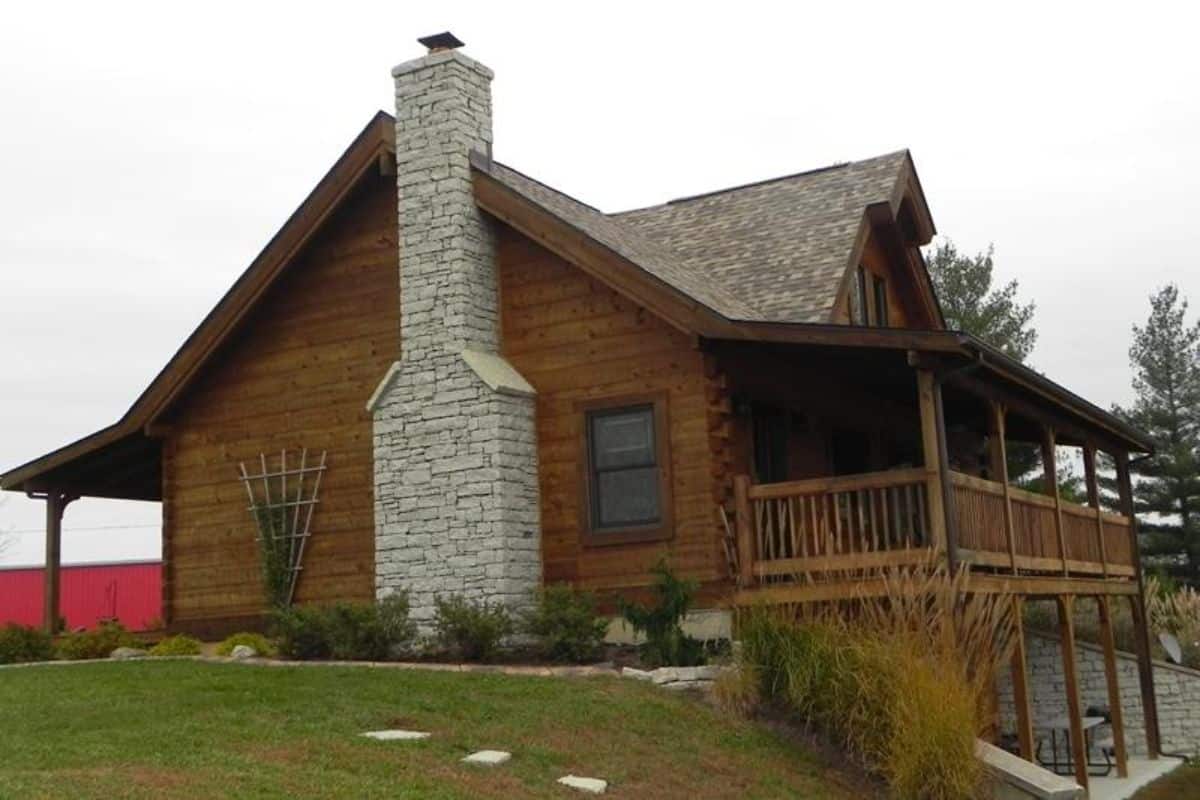 As this cabin is ideal for vacations and retreats, you have a second entrance in the walkout basement. I love the addition of the porch swing as well as a cozy picnic table on this level. This floor plan is ideal for building a home where you live upstairs but have a truly private guest suite on the lower level.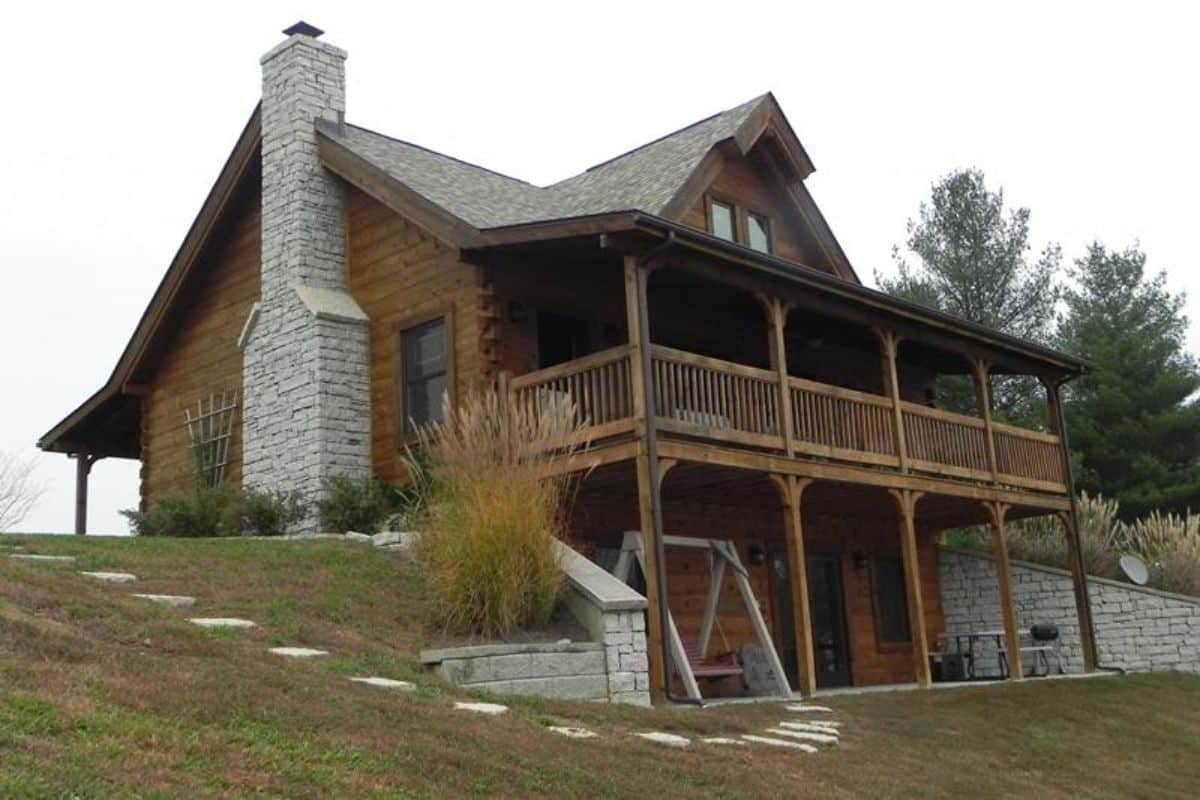 Inside the main floor of the cabin, tall ceilings make it feel more open and the stone fireplace against the side wall creates a warmth you'll want on cold winter days. This home is laid out with comfort and convenience at the heart. That includes a kitchen space adjacent to the living area.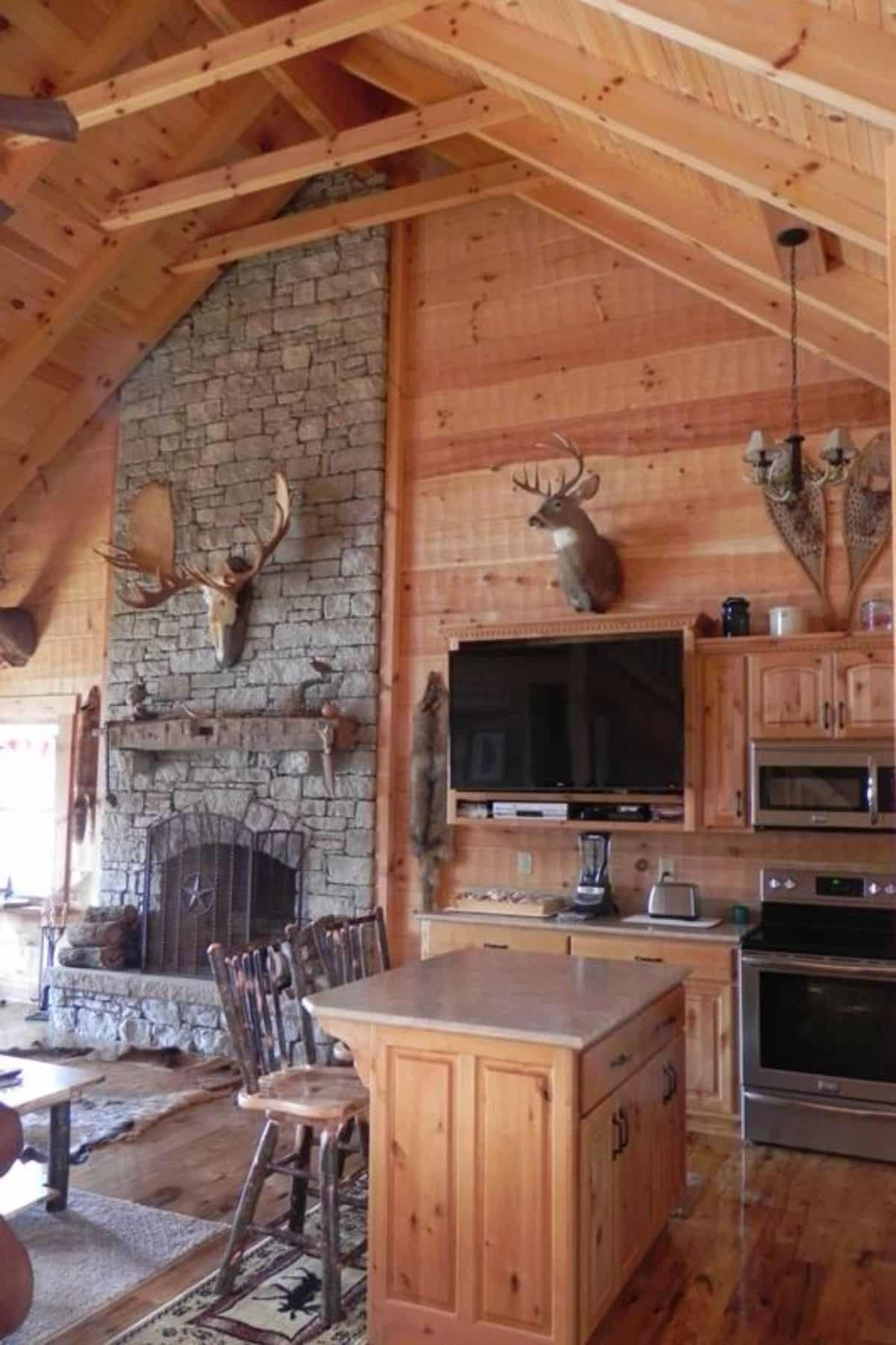 From the loft, you can look down and see the living area, kitchen, and island space here that flow together but still have a distinct separation. It's ideal for entertaining or a family who lives a more relaxed style of life.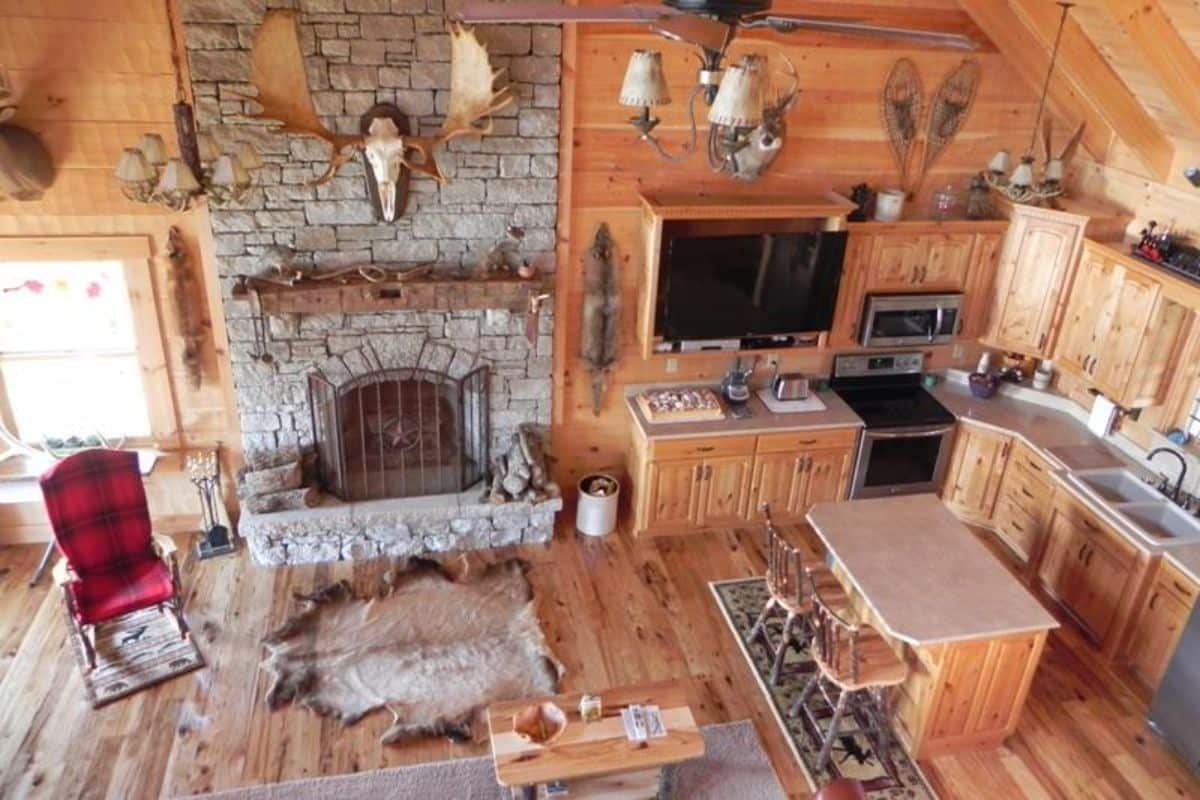 The kitchen is smaller than some cabins, but it has everything you need including updated stainless steel appliances, a large sink under the window, and this storage island that doubles as a 2-person breakfast nook or bar. And, on the far wall, they have built an entertainment center to hold the television convenient to both spaces.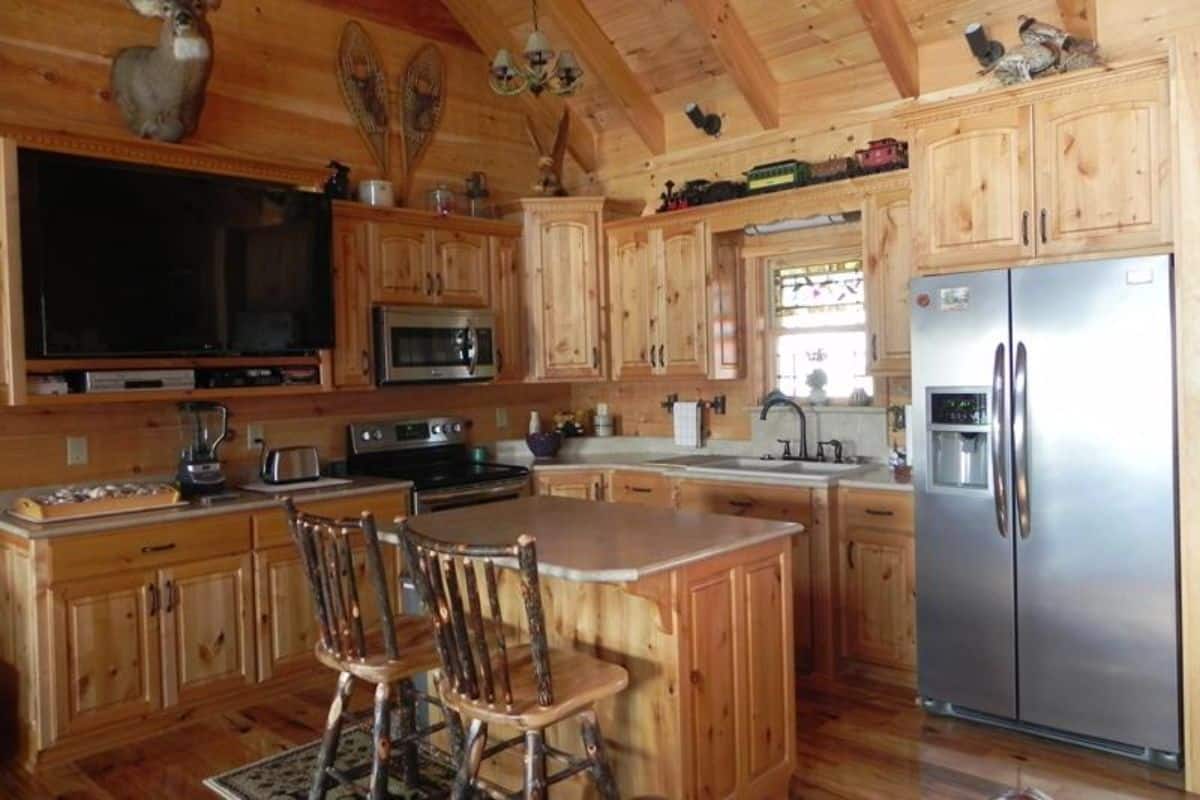 A small dining nook is right outside the kitchen. It too has a lovely open window looking out on the deck. You can easily fit this 4-top table here, but I can imagine you could fit something to seat up to 8 people with no trouble.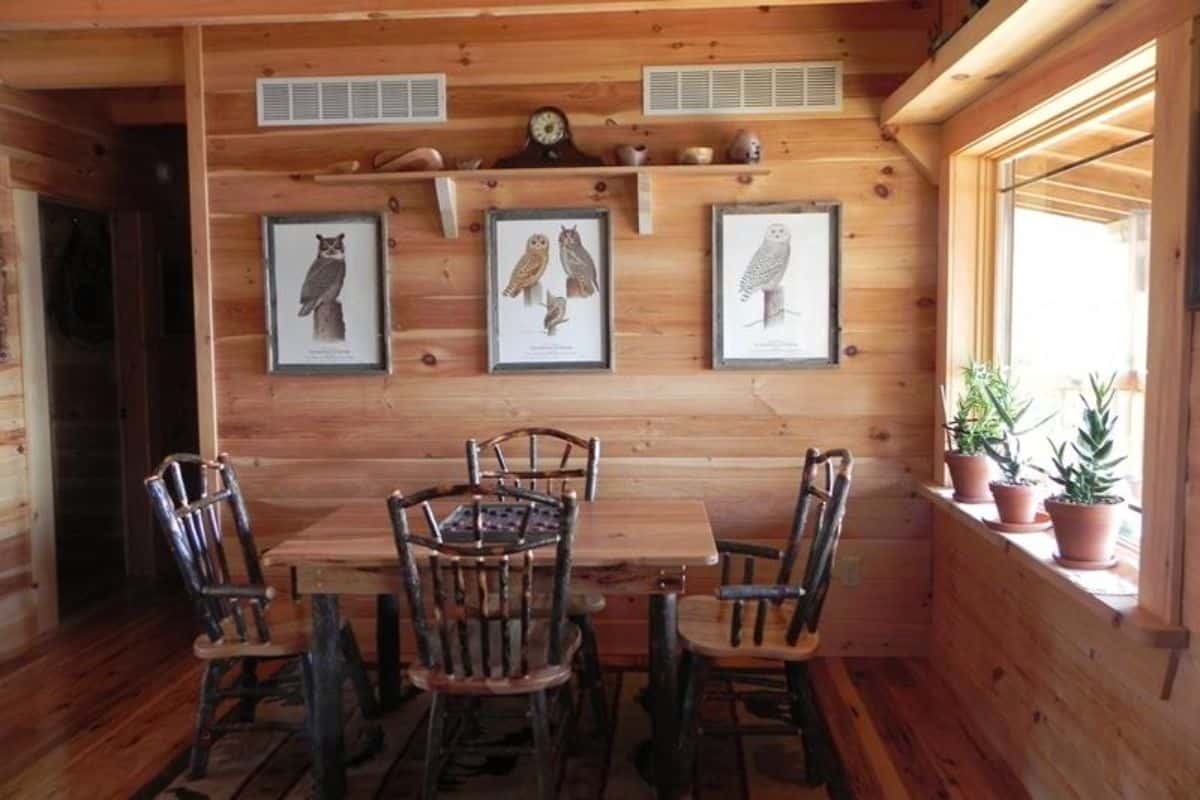 Down the hall and around the corner a small laundry room is convenient but not in the way of the rest of the home.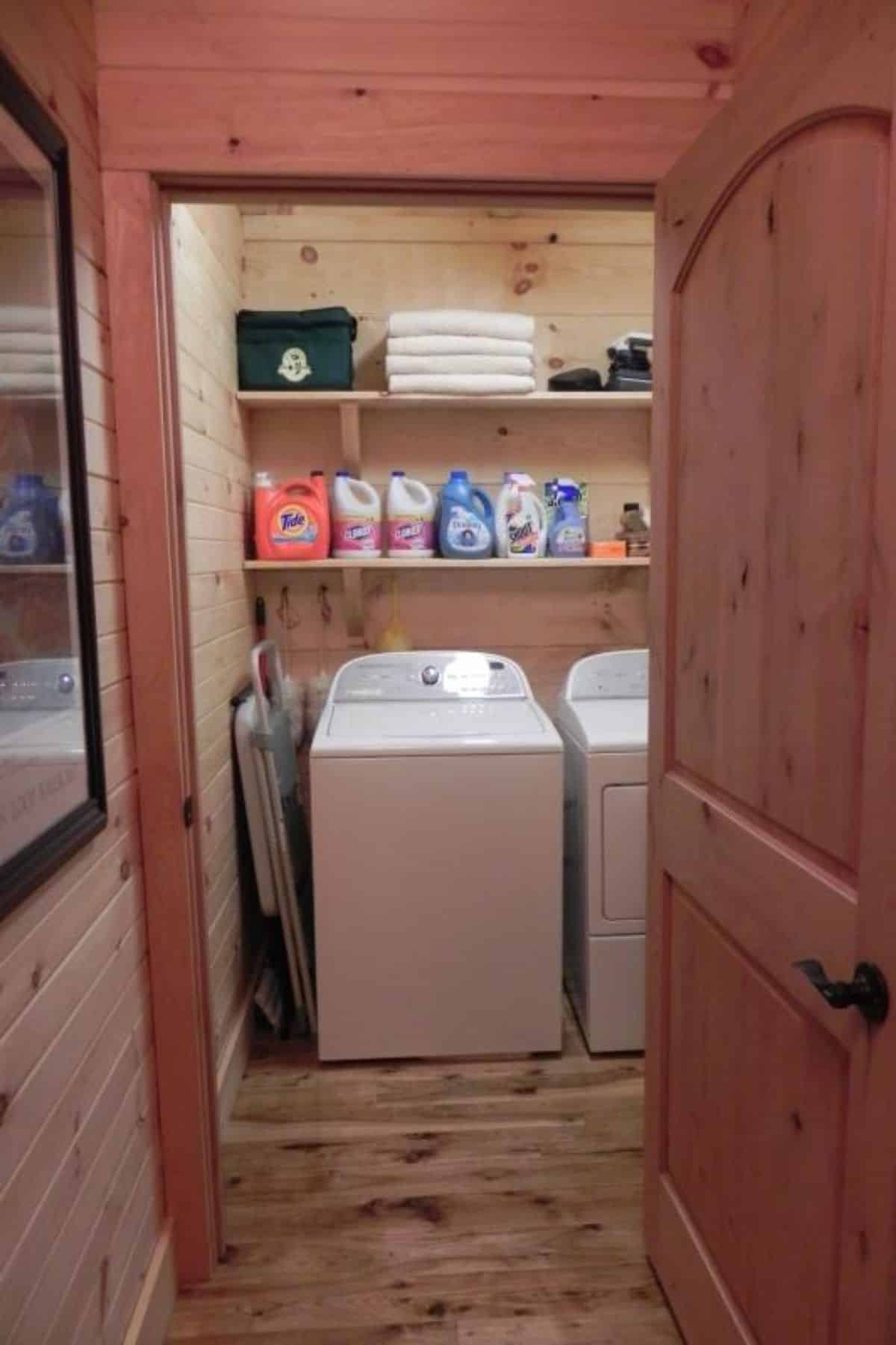 Upstairs, you have one lofted space that acts as a bedroom, kids' play space, or could just be used for storage.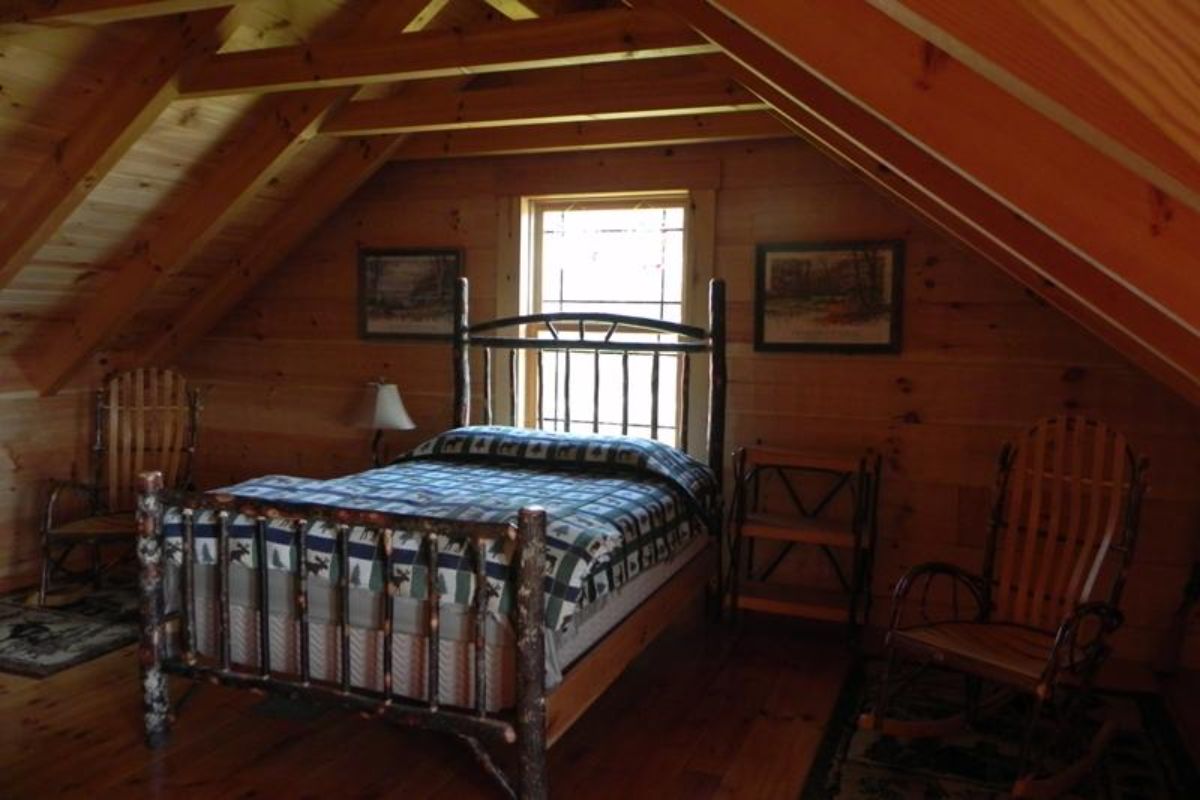 A basement-level bedroom is comfortable with a window looking out on the property. It isn't extra-large, but it certainly isn't a small space either.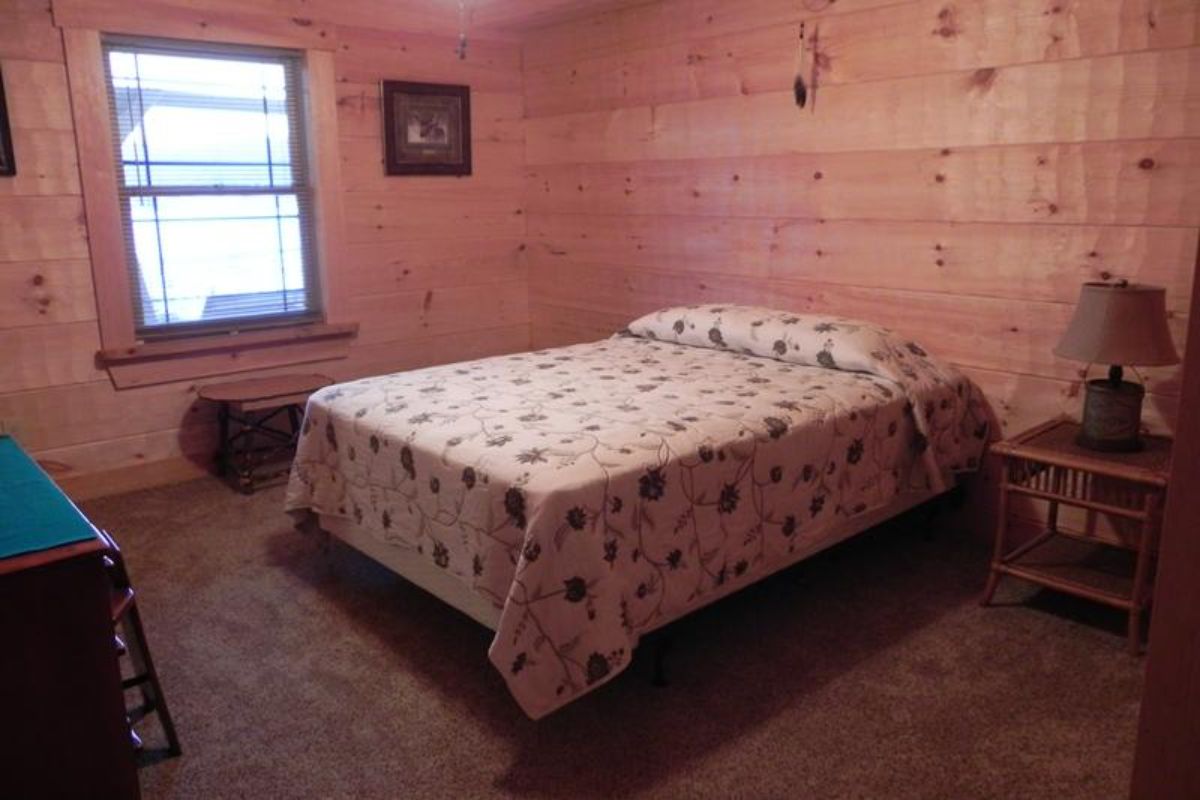 The master bathroom has two sinks, a regular shower and bathtub combination, and unique mirrors that double as storage shelves. It's a simple and rustic space that is also comfortable and ideal for regular daily use if this is a main home.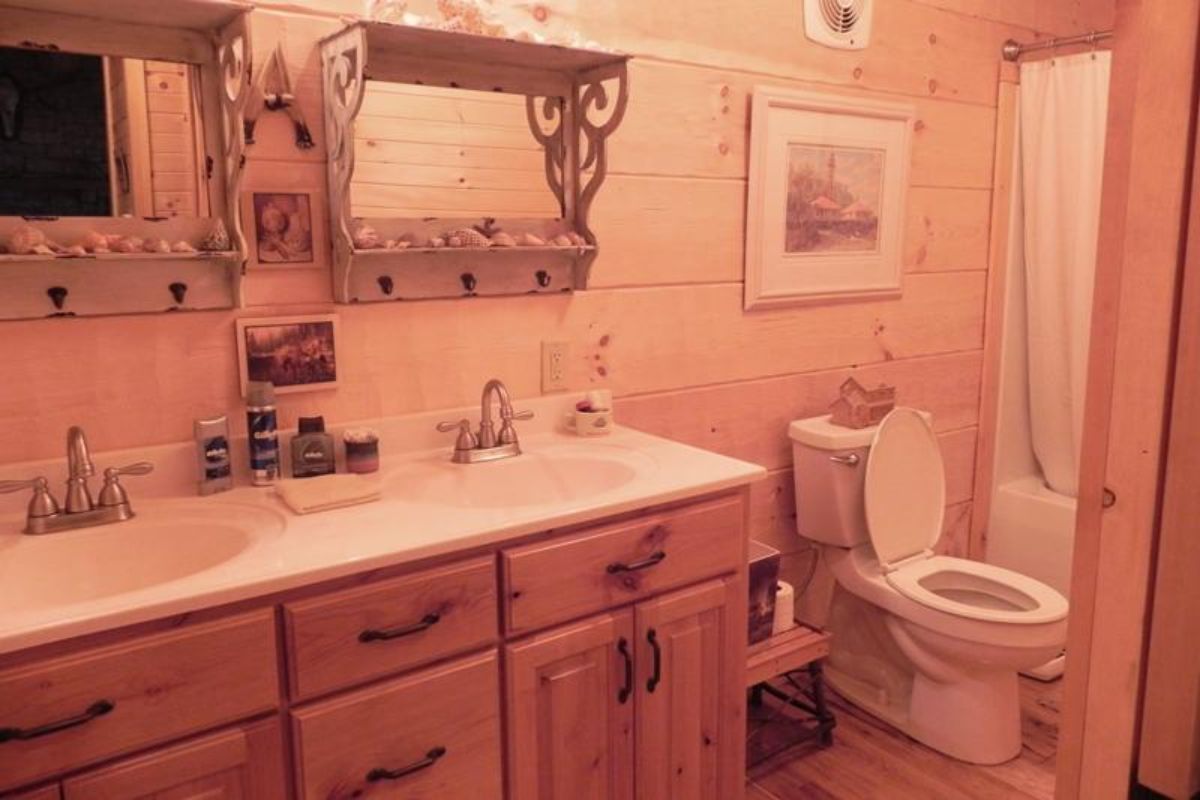 Downstairs, the walkout basement is a whole other living space. A small kitchenette has a full setup you can use with a refrigerator, stove, and microwave as well as tons of storage. Plus, a living room area with sofa and chairs. It's ideal for guests.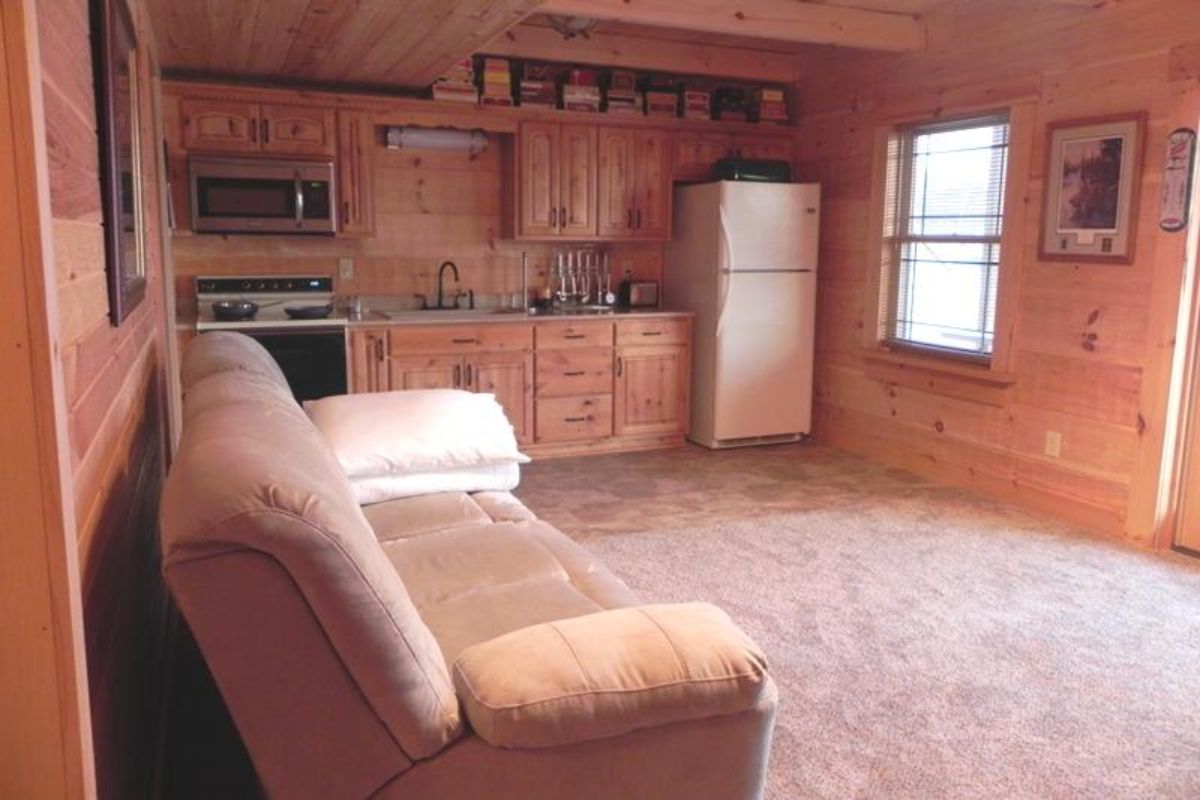 There is even a small table and chairs on the edge of the space that has a fold-out option that can easily sit 4 people in comfort. Plus the bedroom and bathroom on this floor are comfortable and easily accessed.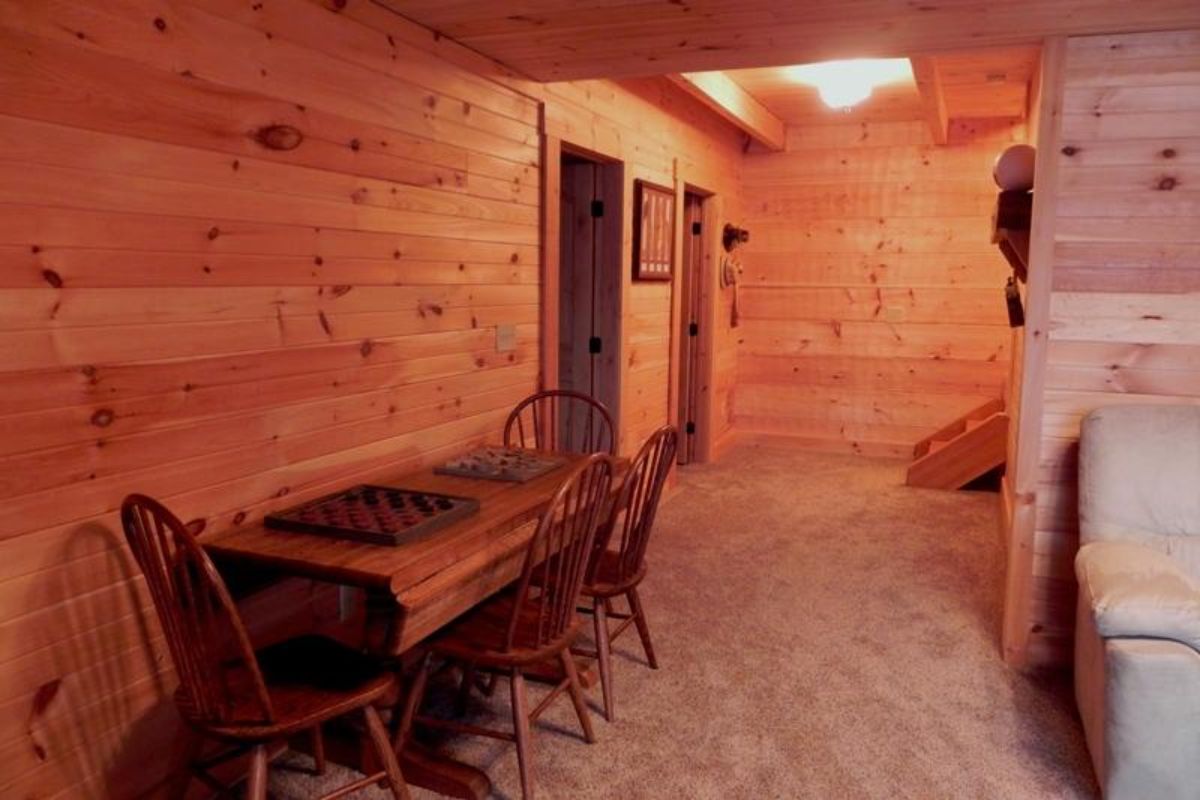 For more information about this log home, check out the Country Mark Log Homes website. You can also follow them on Facebook and YouTube for their latest updates. Make sure that you let them know that Log Cabin Connection sent you there.
More Log Cabin Kits and Tours