Aren't sure if you want to build a cabin? Let this Blue Ridge, Georgia mountaintop cabin help you decide. Rent this home for a few days, or a week, and find out all of the appeal there is in a beautiful log home.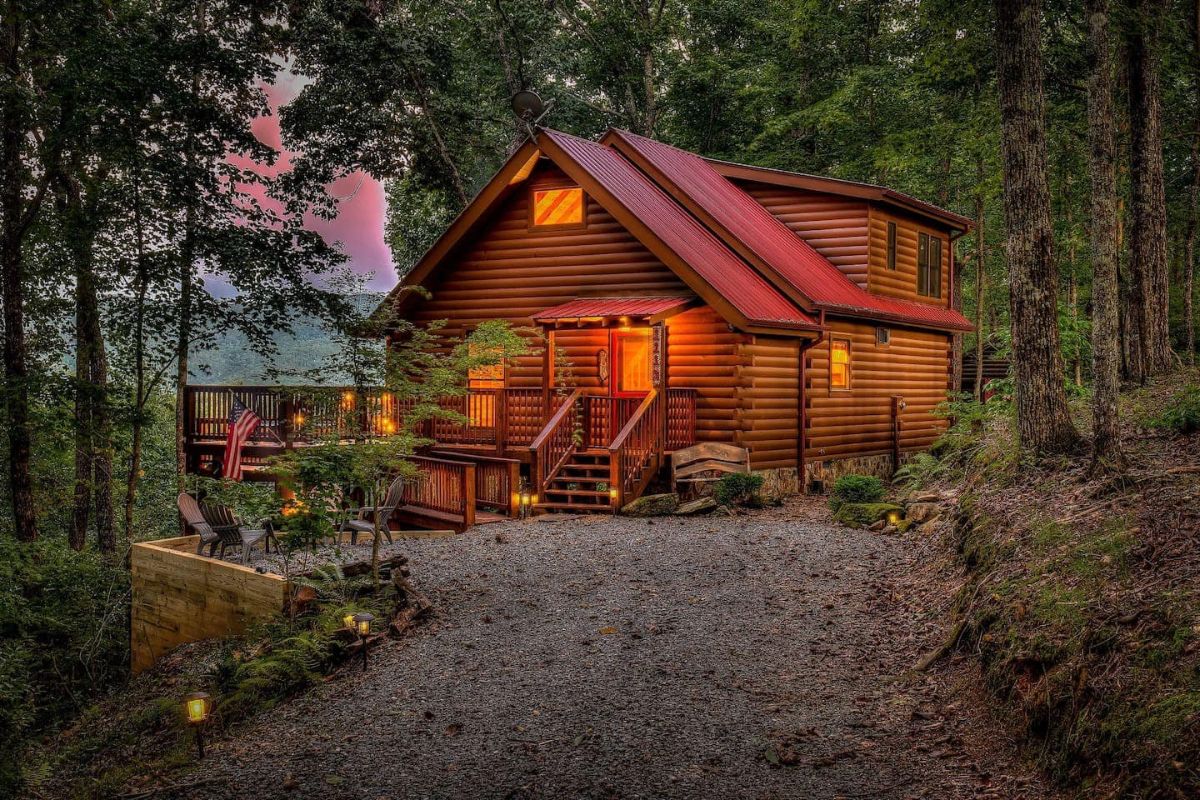 Log Cabin Rental Price
Average $139 per night, depending upon season and number of guests
Log Cabin Size
3 bedrooms
2 bathrooms
5 beds with the ability to sleep up to 8 guests comfortably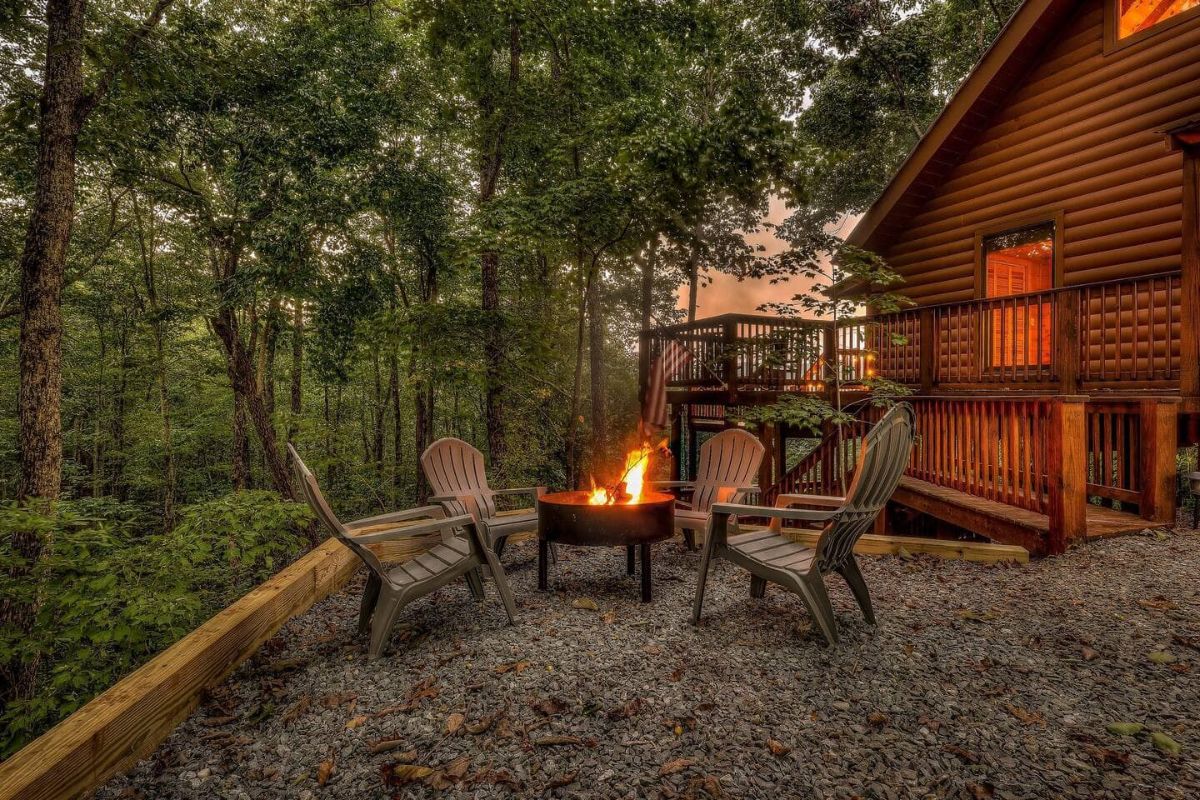 Log Cabin Features
3 bedrooms with 2 queen beds and 1 bunk bed that includes both a double and single mattress.
Additional pull-out sofa bed in loft space.
2 large bathrooms with bathtub and shower combinations.
Full kitchen, dining room, and an island in the space for added seating and storage.
Wood-burning stove on the main floor for warmth and aesthetics.
3 flat-screen televisions with Roku options in the home.
Large hot tub below deck outside the home.
Outdoor fire pit and grill.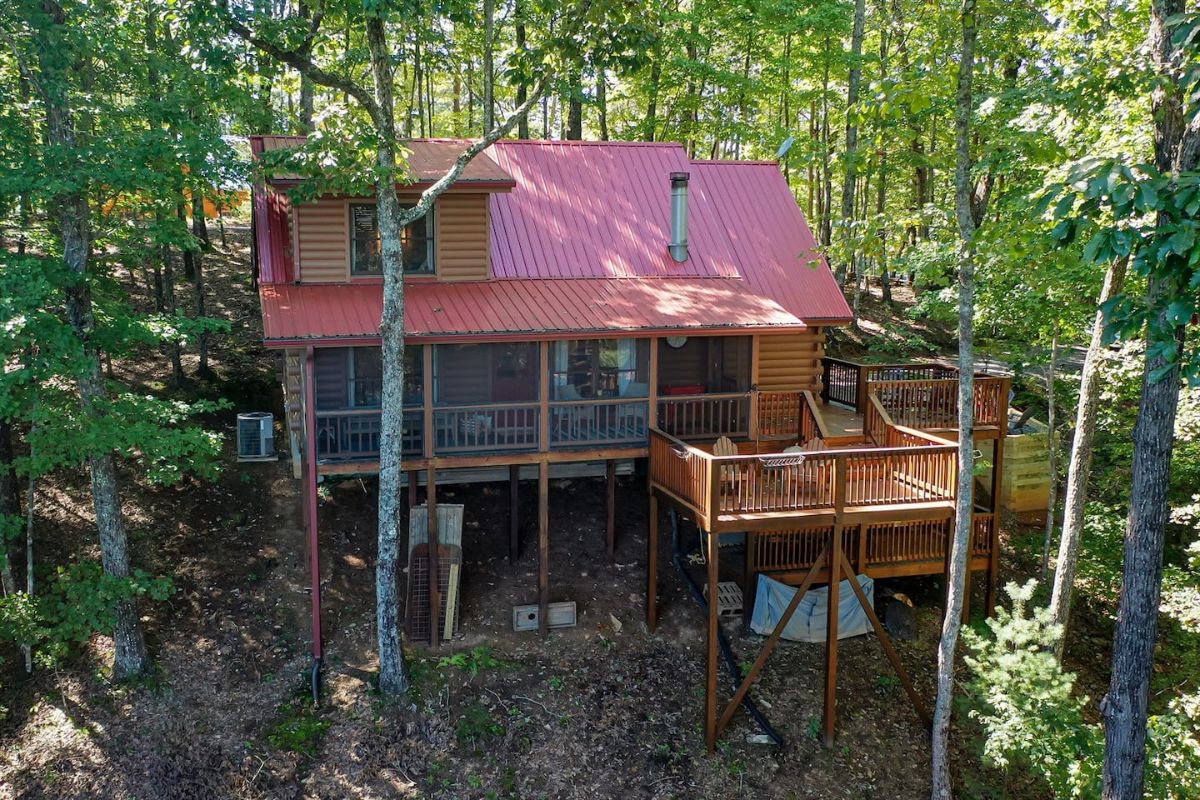 This home has 2 main floors with an unfinished basement option and tons of porches on all sides. With the open porches allowing sunlight and gorgeous views, it's a perfect retreat from the hectic life outside.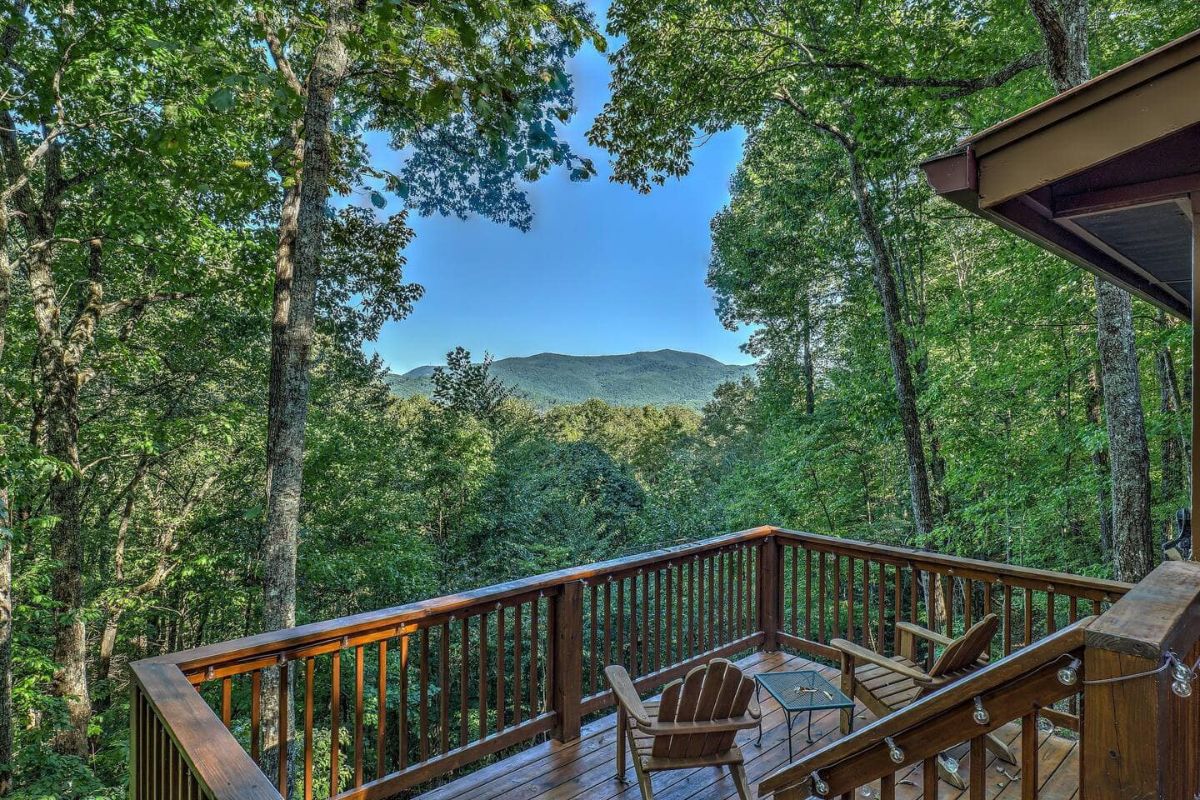 Grab a cup of coffee and relax in a rocking chair while the sun comes up, or just to listen to the beautiful sounds of nature around you.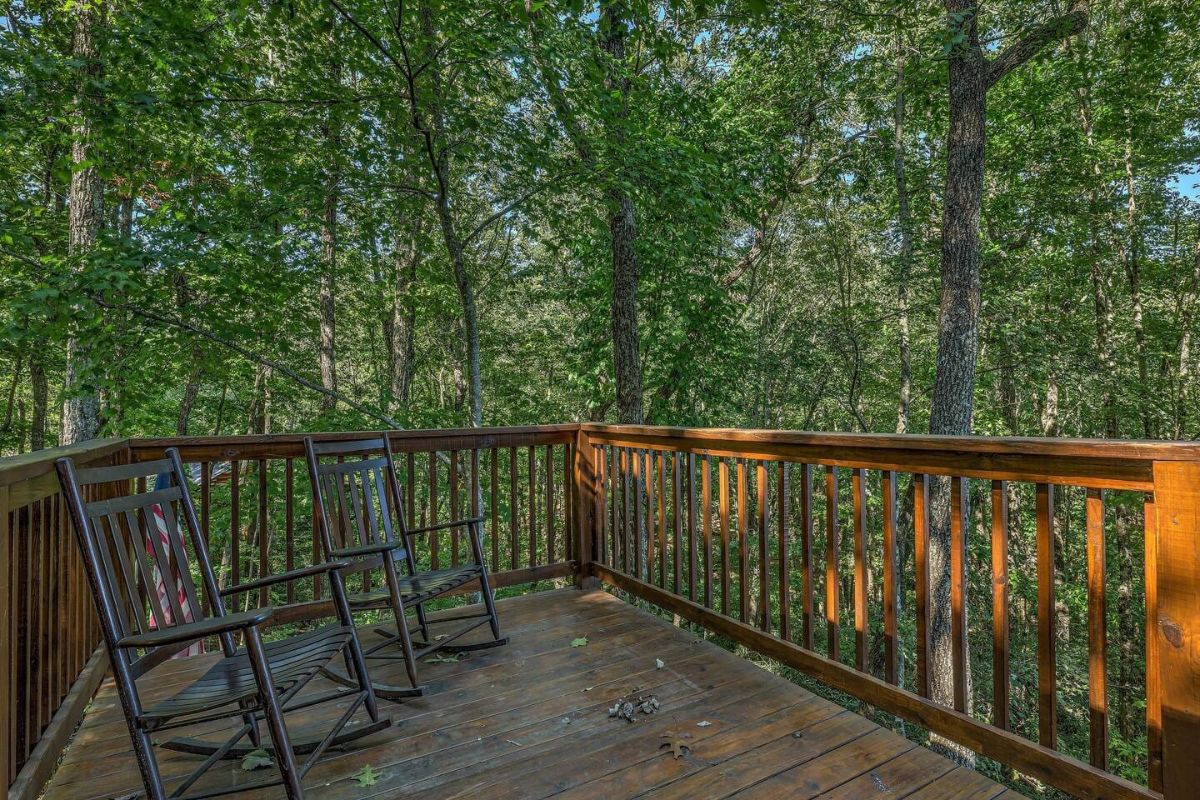 One of my favorite additions to any cabin, including this one, is the covered or "screened" porch. This gives you the feeling of being outside, but without the bugs and critters biting you!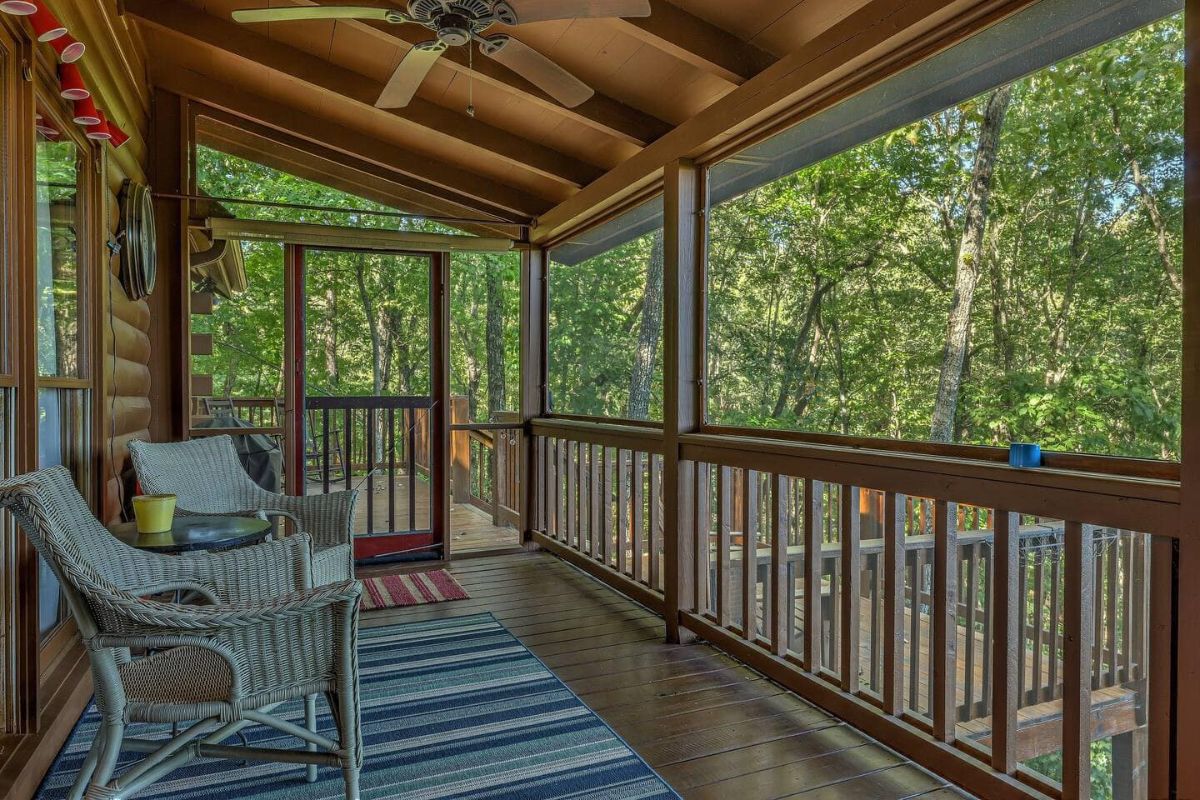 While this isn't standard in cabins, it is a great addition and one that I love seeing in rental properties. A hot tub under the deck is a great way to relax and adds a bit of "extra" to the space.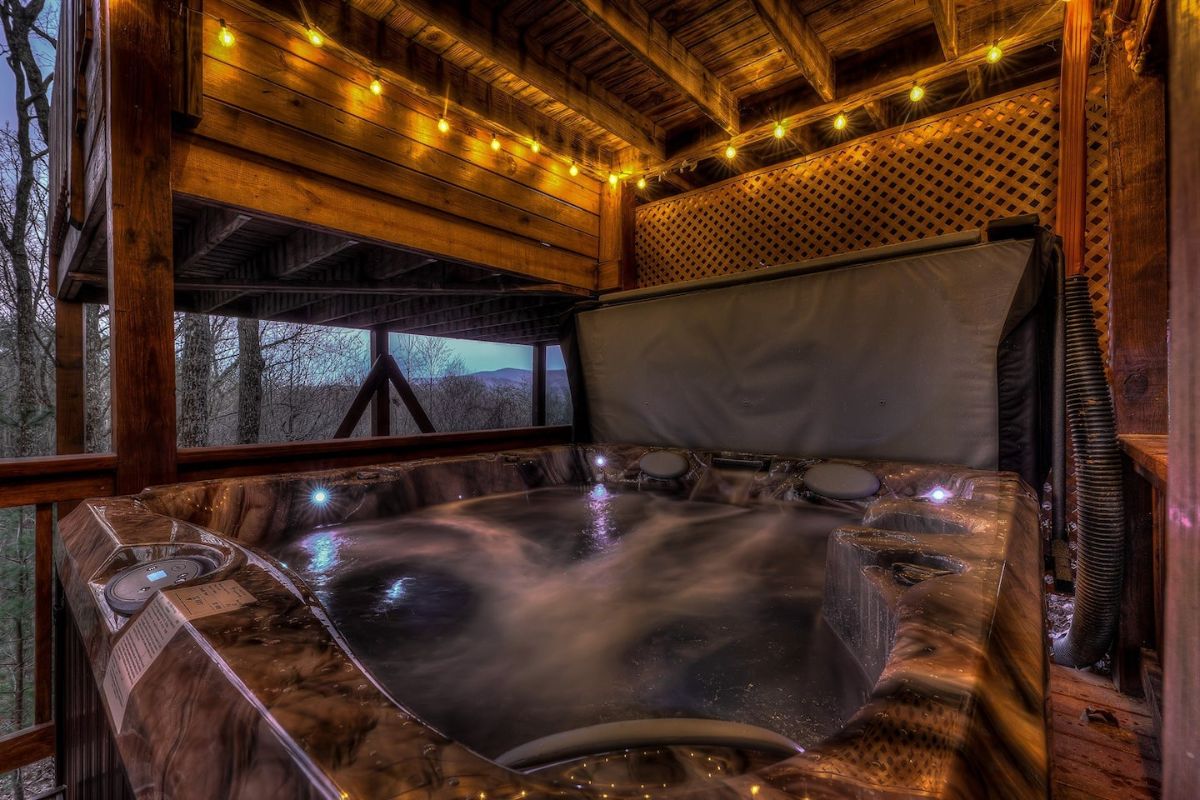 Inside this cabin, you have everything rustic you expect, right beside the modern amenities. A wood floor, ceiling, and walls are complemented by stone accents, but the furnishings, kitchen, and the wifi available make it feel like a modern home.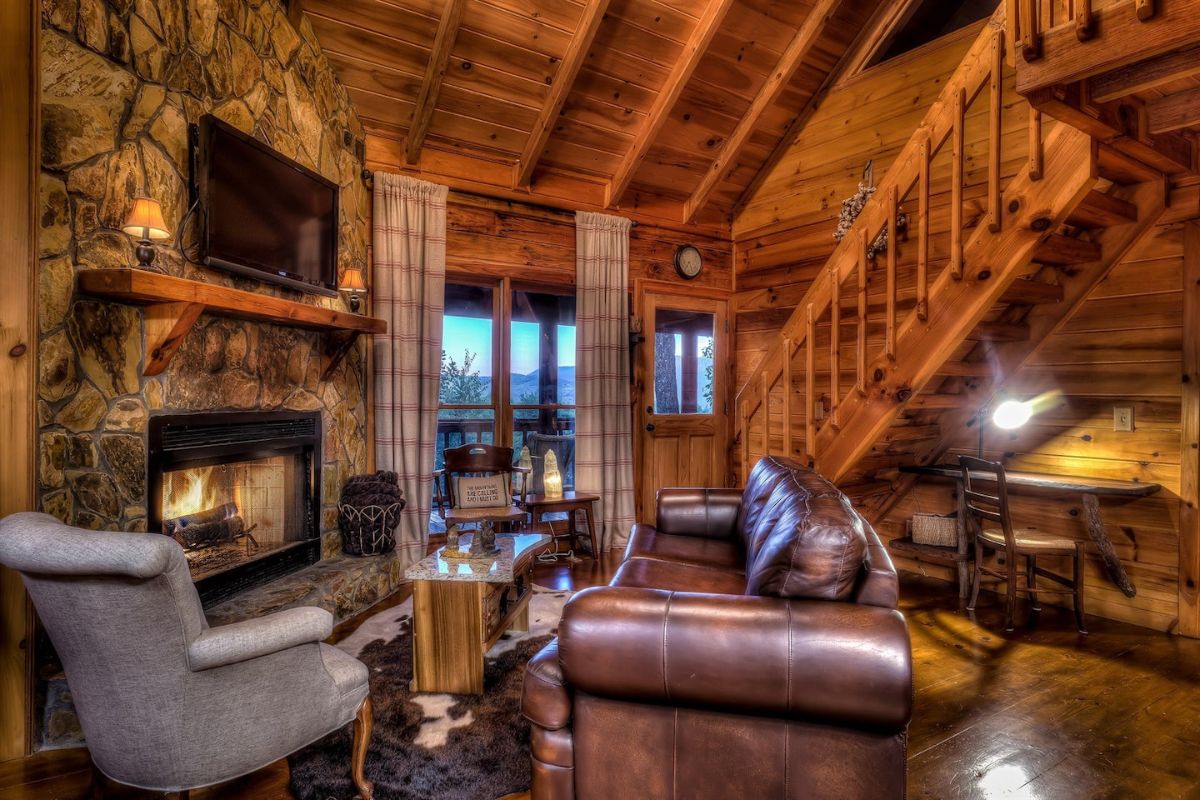 I love how the home has so many unique spaces. Here you have the living room with a fireplace at an angle so to the side you have room for a small loft space. Plus this is where the dining table sits against the wall. Out of the way, but convenient!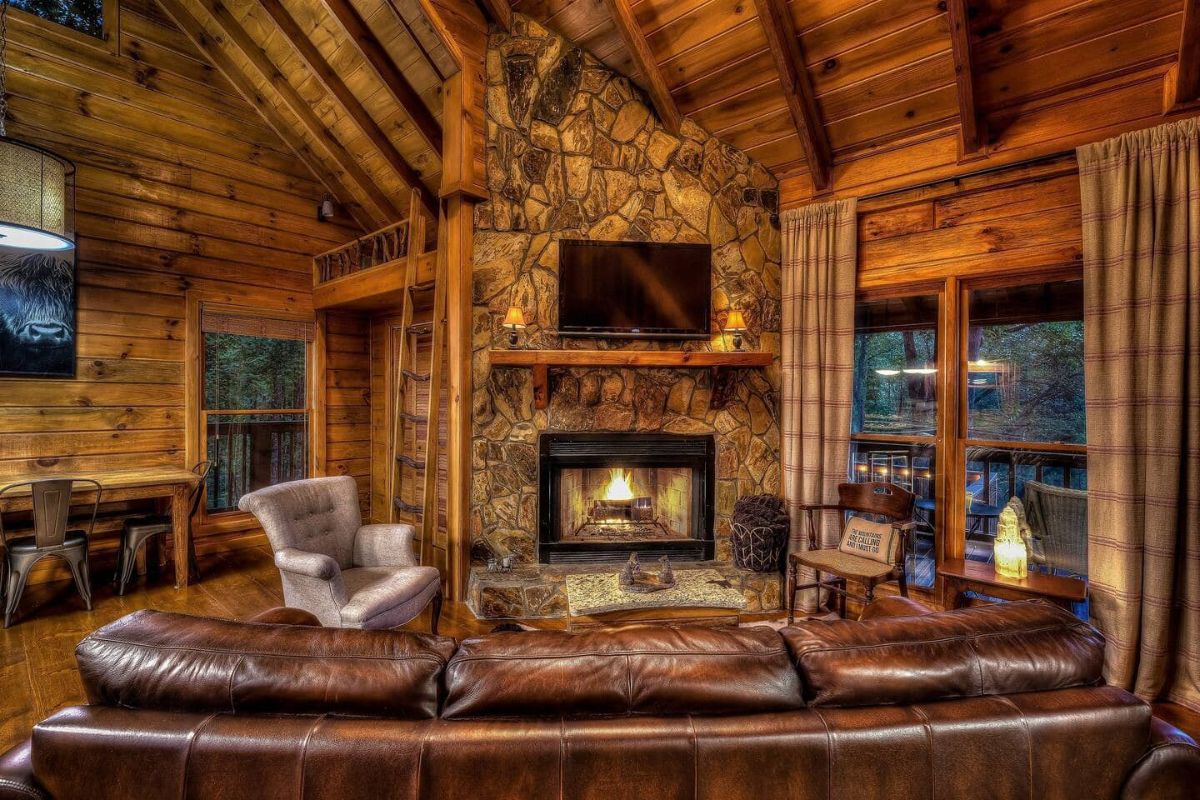 And here you have that tiny little loft nook behind the fireplace. A perfect kids' nook for reading, napping, or playing games!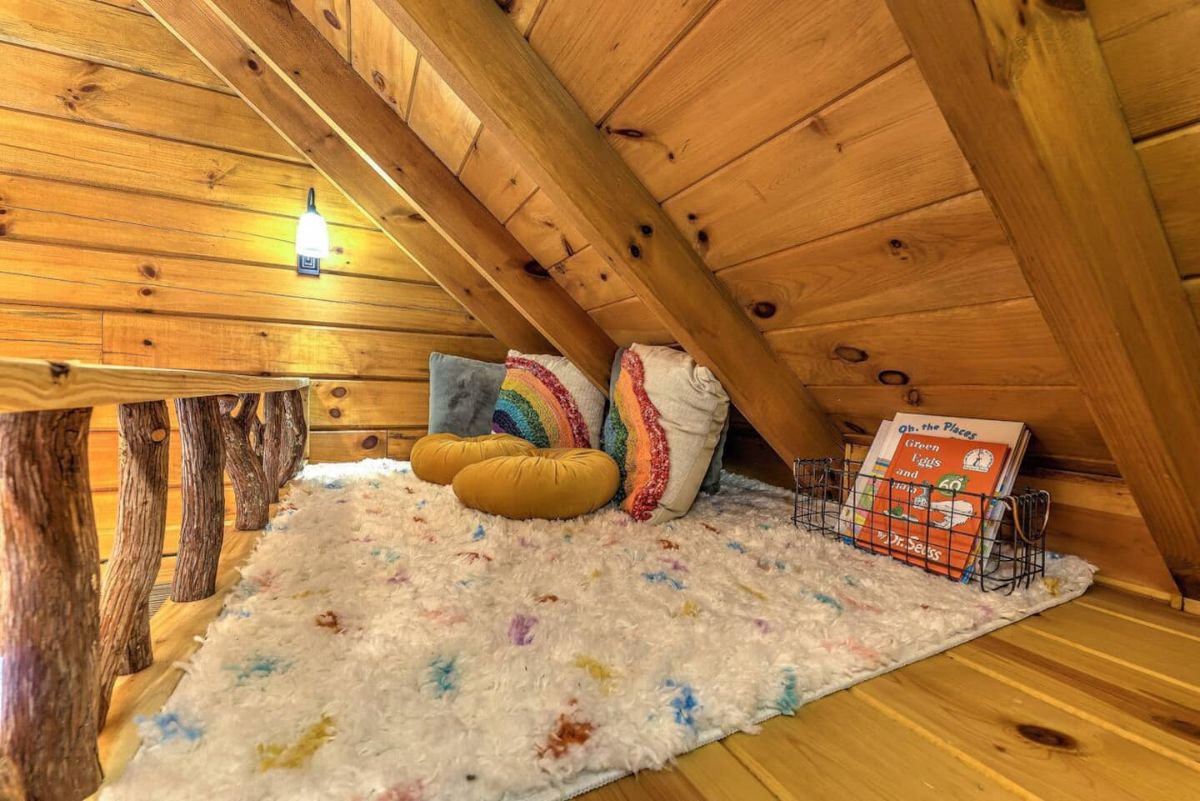 I love how the main floor of this home is open so you have a living room, dining room, and kitchen that are right by each other. Down the hall in the back are bedrooms and a bathroom, but when you enter the home, you have the main living space all together.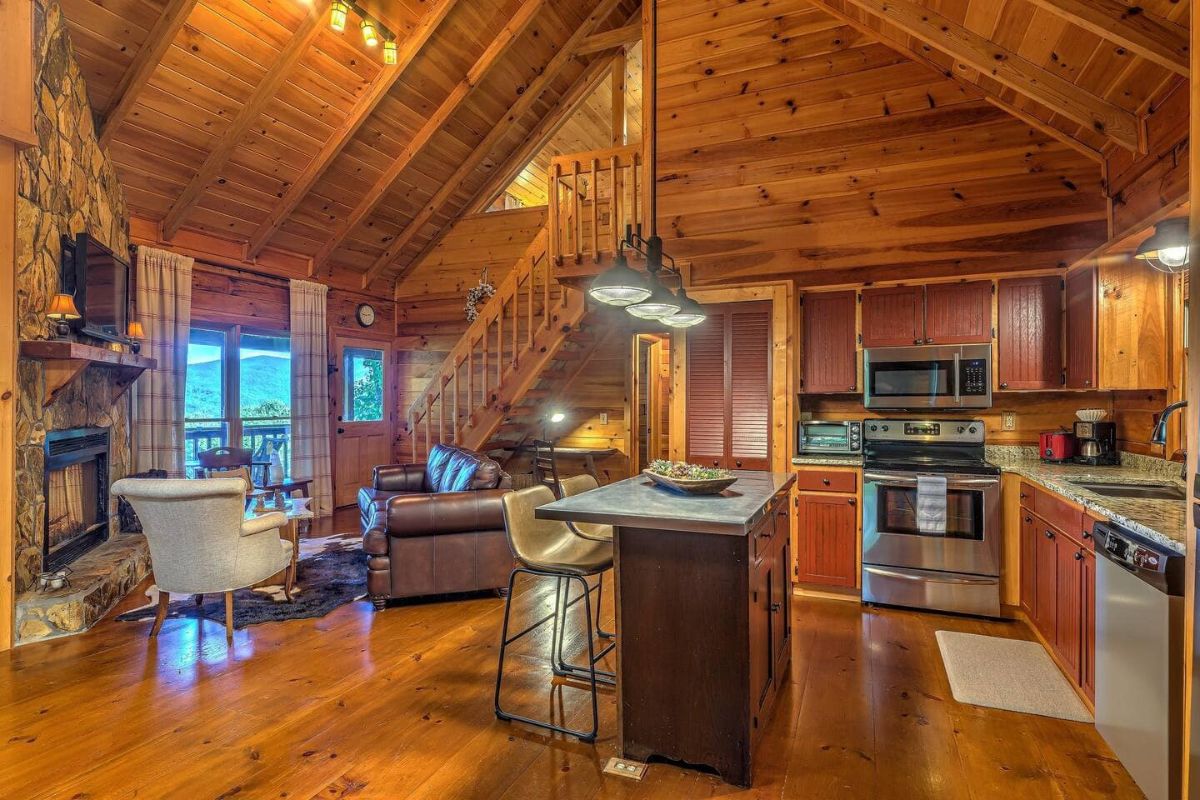 This kitchen is nice and large with plenty of cabinets and counter space. That, along with the long table against the wall means you can easily feed everyone a full meal any day of the week!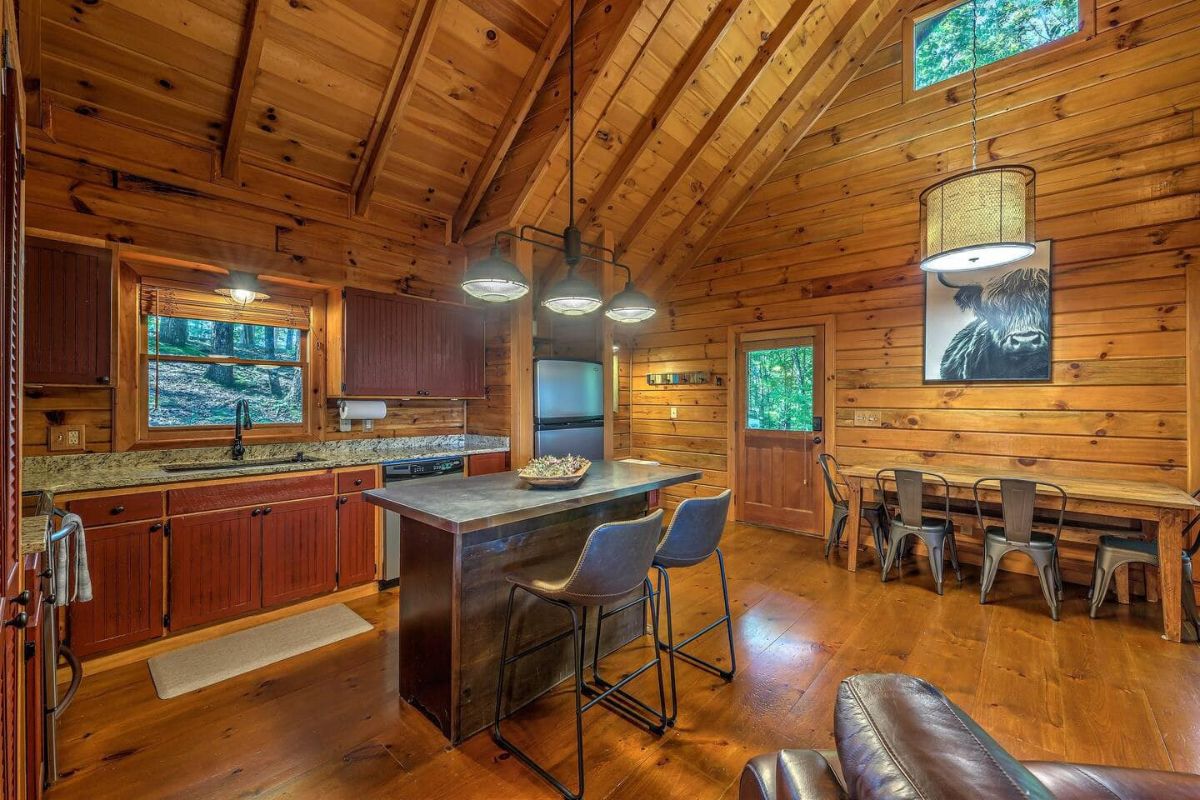 Up the stairs, you have an open space that is setup as the master bedroom. While there isn't a door at the front for a traditional bedroom, it has everything else needed. Including a master bathroom, chair, television, and a sofa.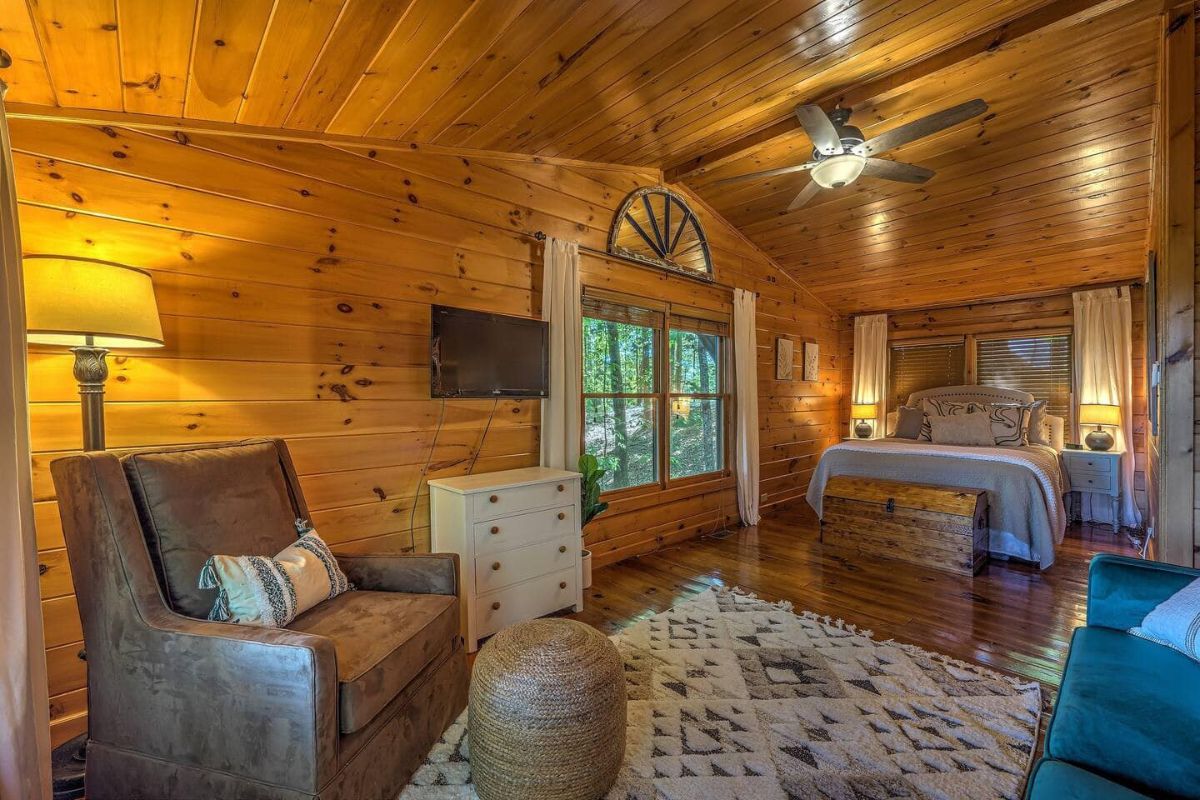 This sofa is a great addition here for relaxing. If you want to go upstairs and watch a movie while the kids play games downstairs, this is perfect!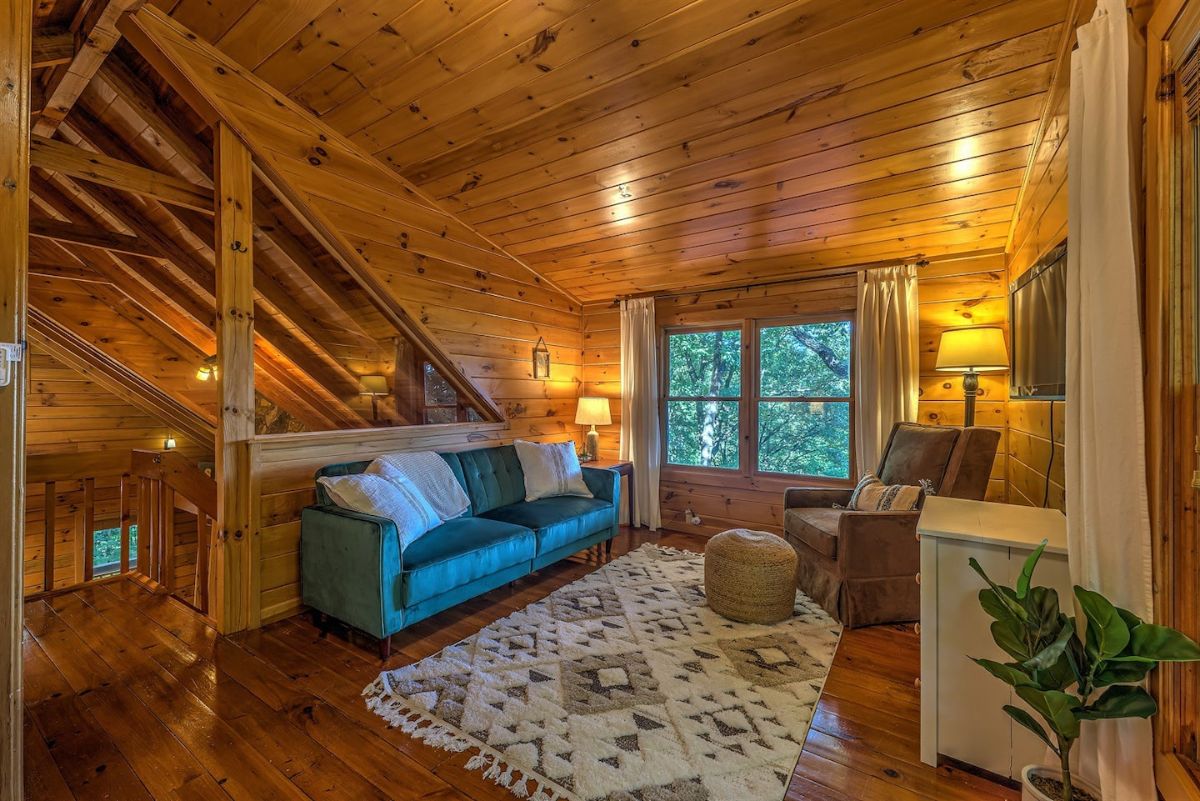 I love that this space has so many windows too! You can look over the gorgeous grounds from upstairs or outside.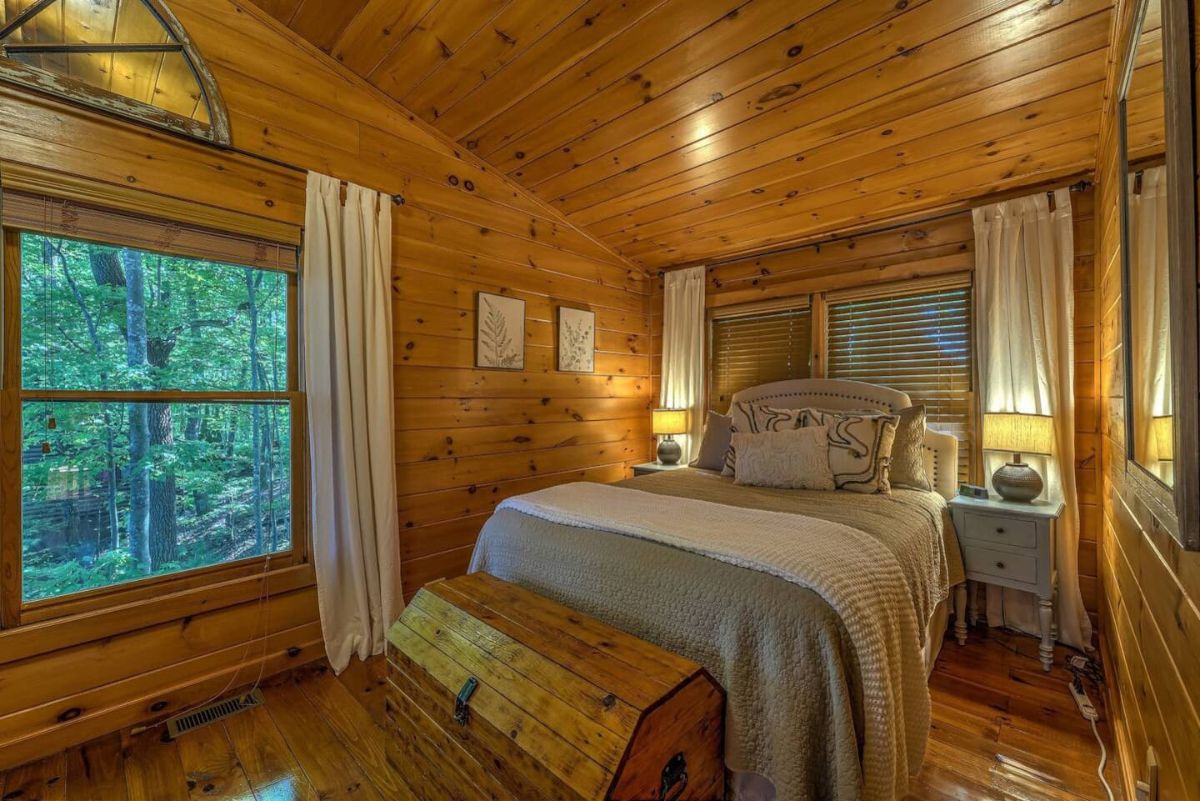 The master bathroom is spacious with plenty of room for added storage and a full bathtub and shower combination.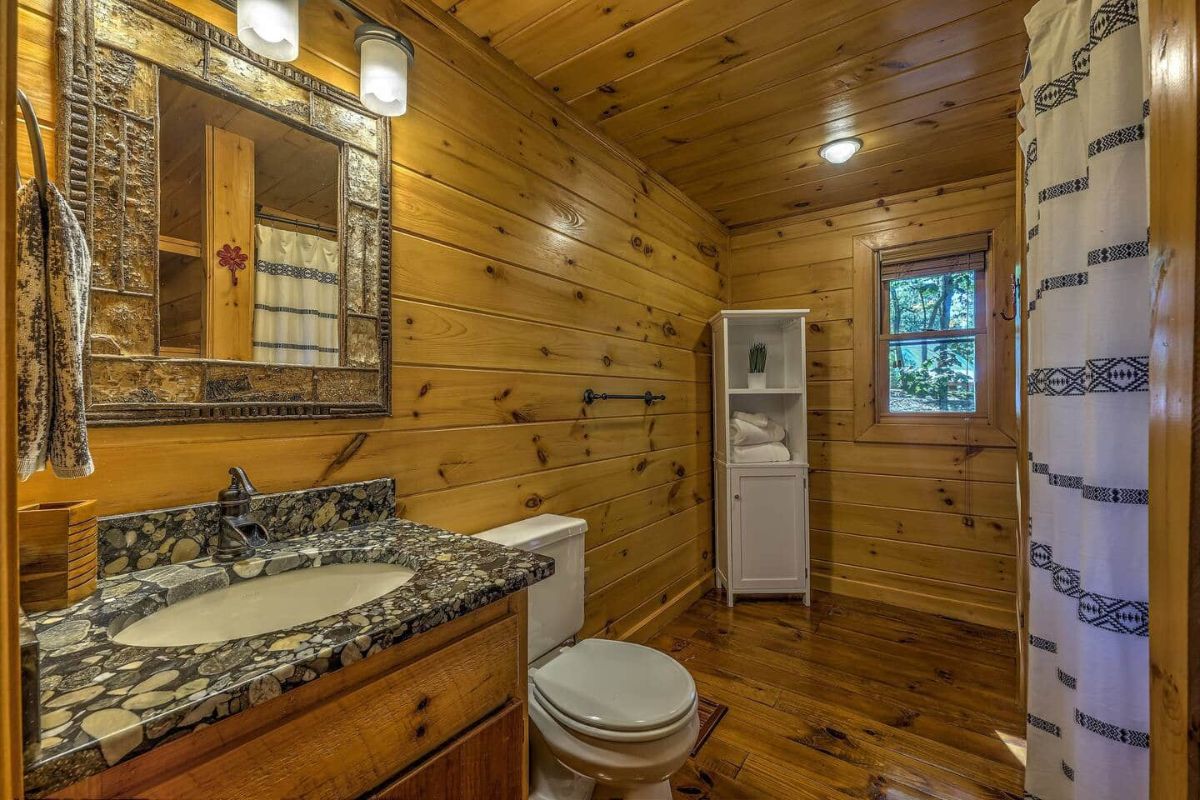 Here is another one of the main floor bedrooms with plenty of storage, and windows/doors that open up to the covered porch outside.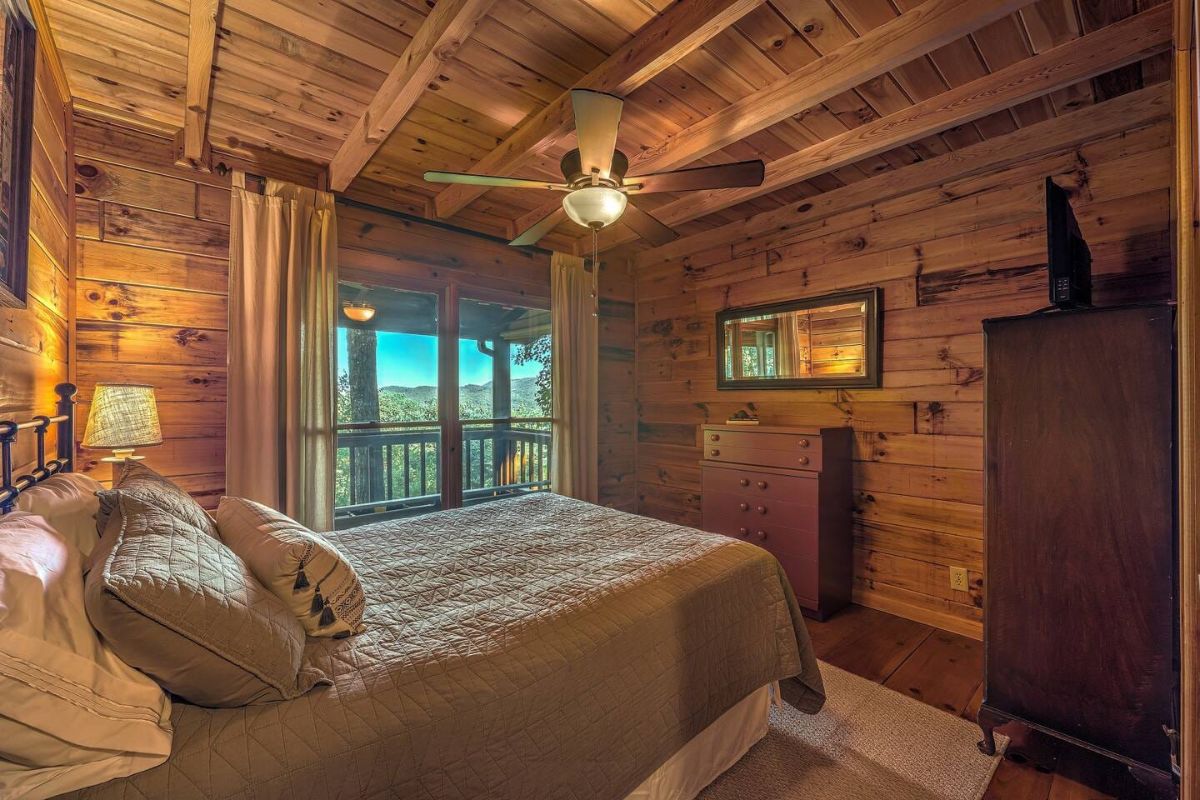 And the other main floor bedroom has this lovely set of bunk beds. The bottom bunk is a double with thet op a nice single bed. Ideal for the kids or guests.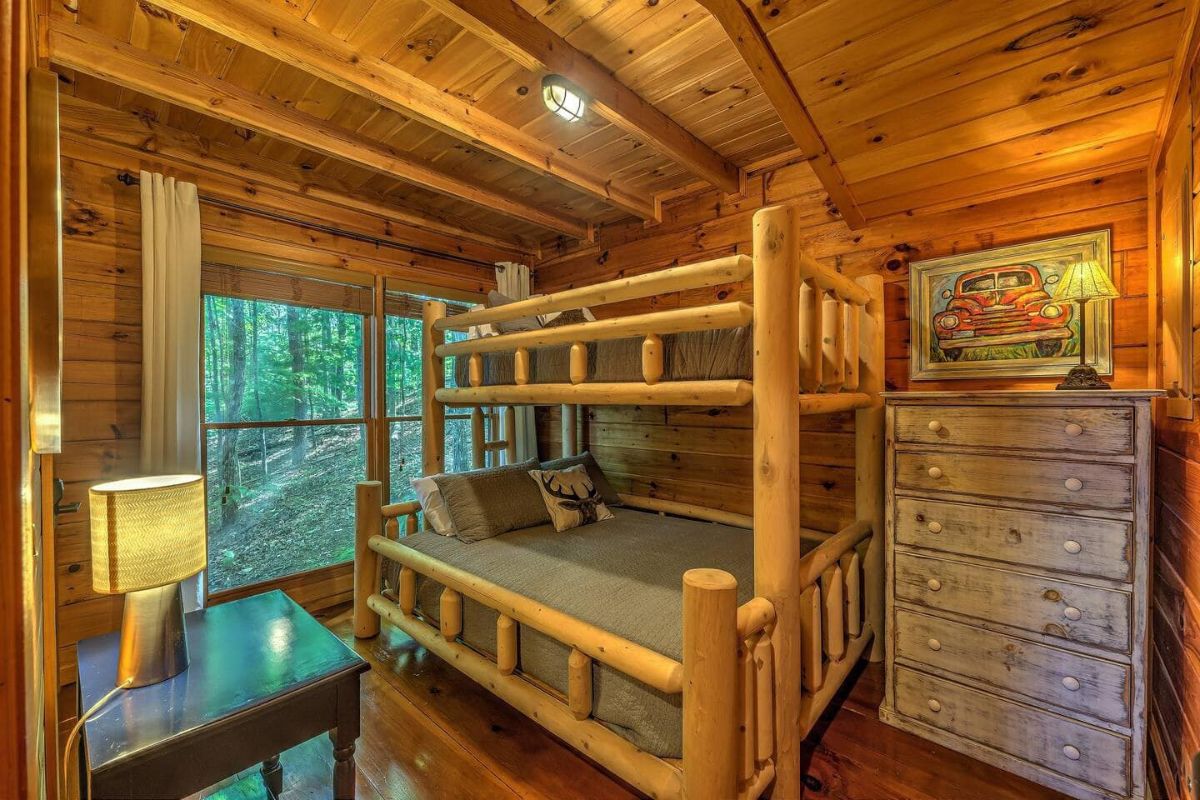 Finally, the bathroom on the main floor is setup perfectly for regular use or as a guest bathroom.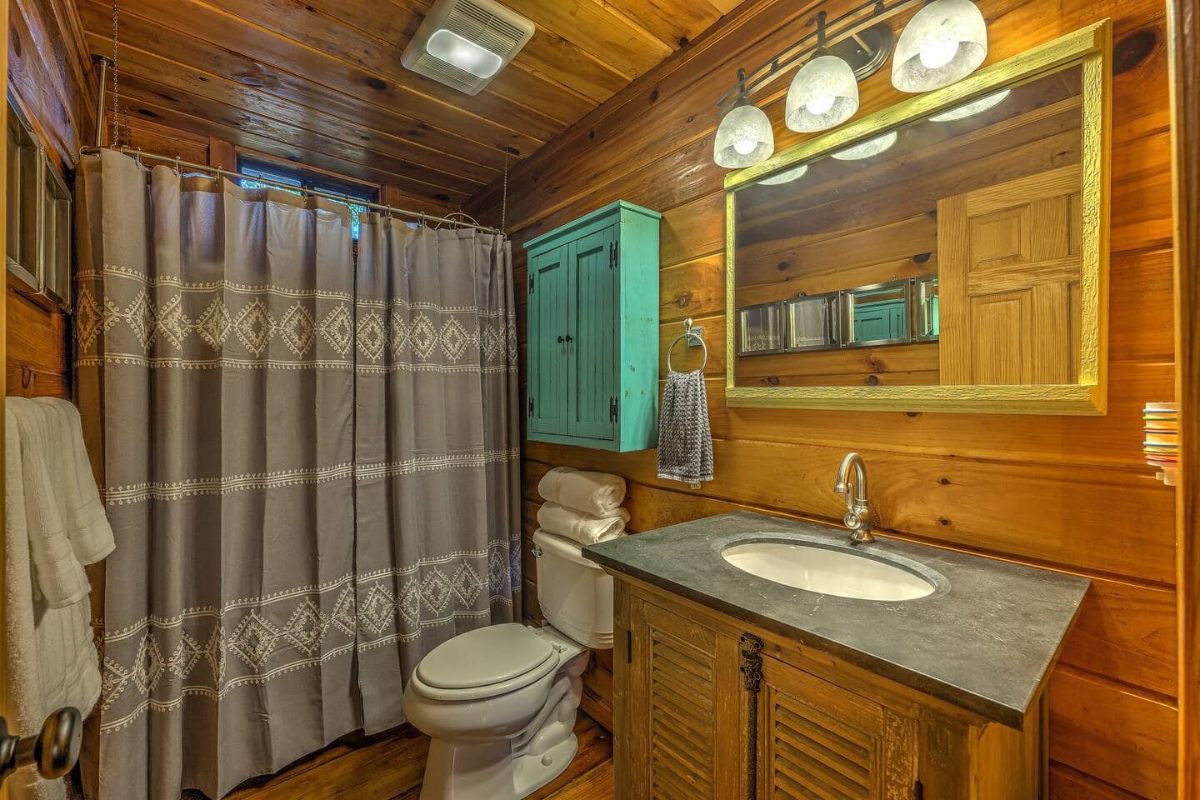 This home can be rented via their Airbnb listing. While it is currently not for sale, it does offer you options for inspiration in your own cabin build. If booking a stay with them, let them know that Log Cabin Connection sent you their way.
More Log Cabin Kits and Tours