The Ammonoosuc log cabin from Coventry Log Homes is a wonderful kit for those who want log cabin style in a more traditional ranch-style home floor plan. This home is simple, comfortable, and ideal for a small family looking for a log home.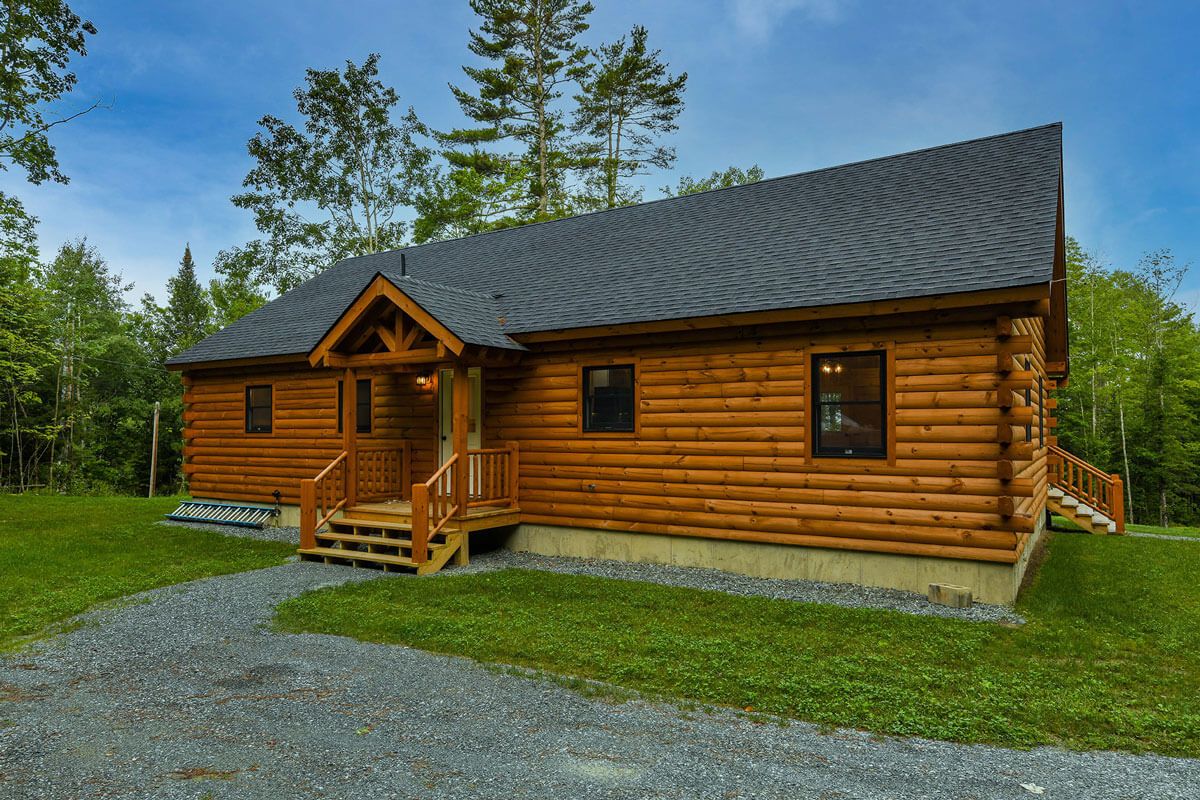 Log Cabin Size
1,400 square feet
28'x50' footprint
3 bedrooms
2 bathrooms
Log Cabin Pricing
Tradesman style package starting at $70,350
Craftsman style package starting at $117,500
Customizations add to the price with ranges up to $202,600 for this home kit.
Log Cabin Features
One story layout with 2 identical bedrooms, a master bedroom, a public hall bathroom, and a private master ensuite bathroom.
Pocket doors throughout the home save space while also giving you privacy.
Tons of extra storage throughout the home and in the bedrooms.
Private laundry space at back of home.
Full-length covered back porch leading out into the back yard.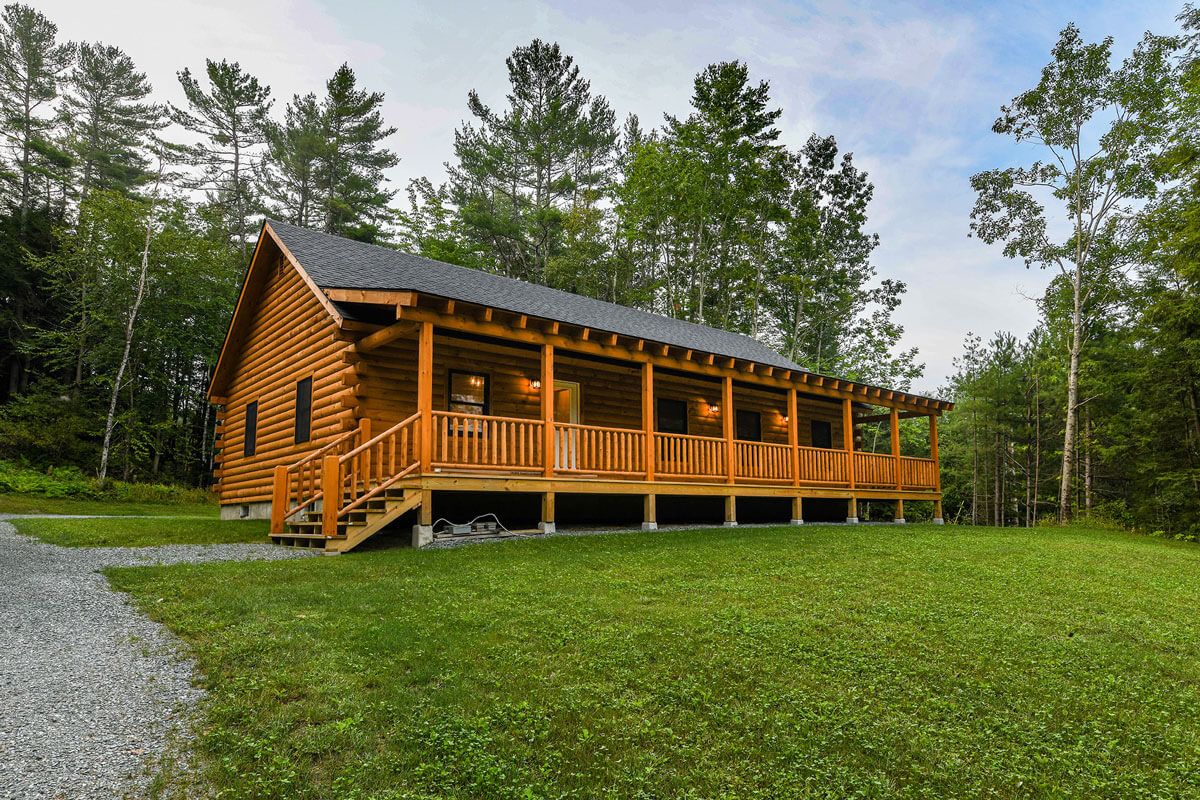 This kit is a simple design compared to most of the log cabins we share here. Sometimes, however, you just want something that is simple while still keeping that rustic style of a log home that you love.
In the main living space of this home, you'll see dark wood flooring, light wood wainscotting, and light wood ceilings. This, along with some painted drywall, is seen throughout the home giving it a cohesive rustic theme without sacrificing space or style.
One thing to note below is the large closet off the main living room. It's a perfect coat closet or linen closet for easy storage access.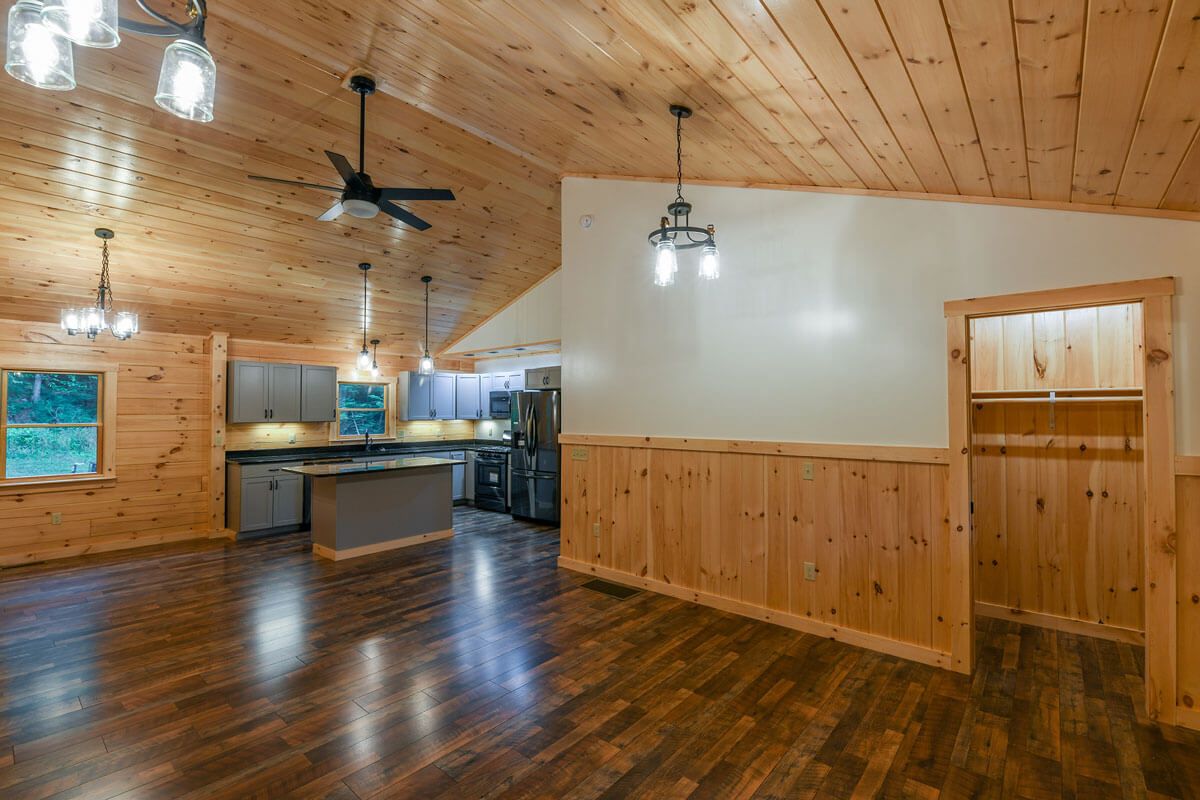 On the back of the home is a small nook entry with a laundry space that is handy for everyone, but still off the main part of the home so you don't feel like it is out in the open.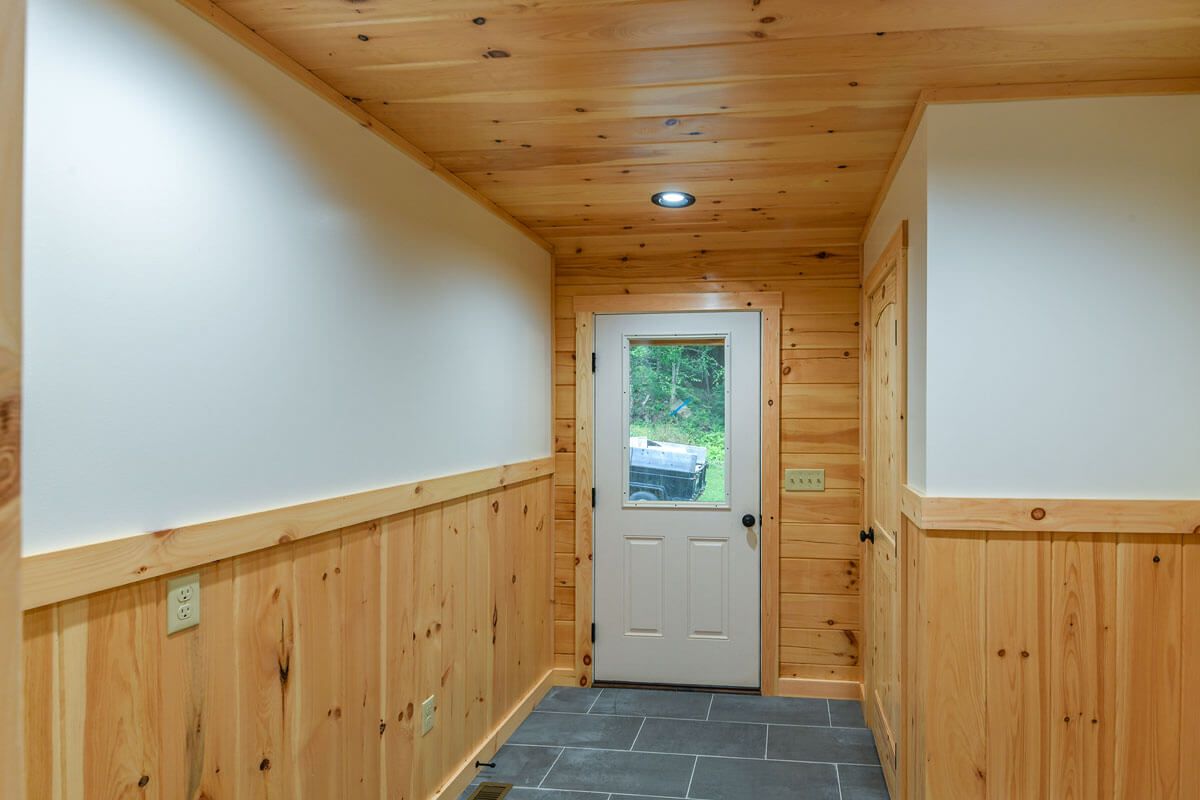 The open floor plan in the main portion of the home creates a lovely space to have a living room, dining nook, and a beautiful kitchen that flow together easily. To the left in the image below, are is an "l-shaped" kitchen with gorgeous grey cabinetry, dark countertops, and stainless steel appliances.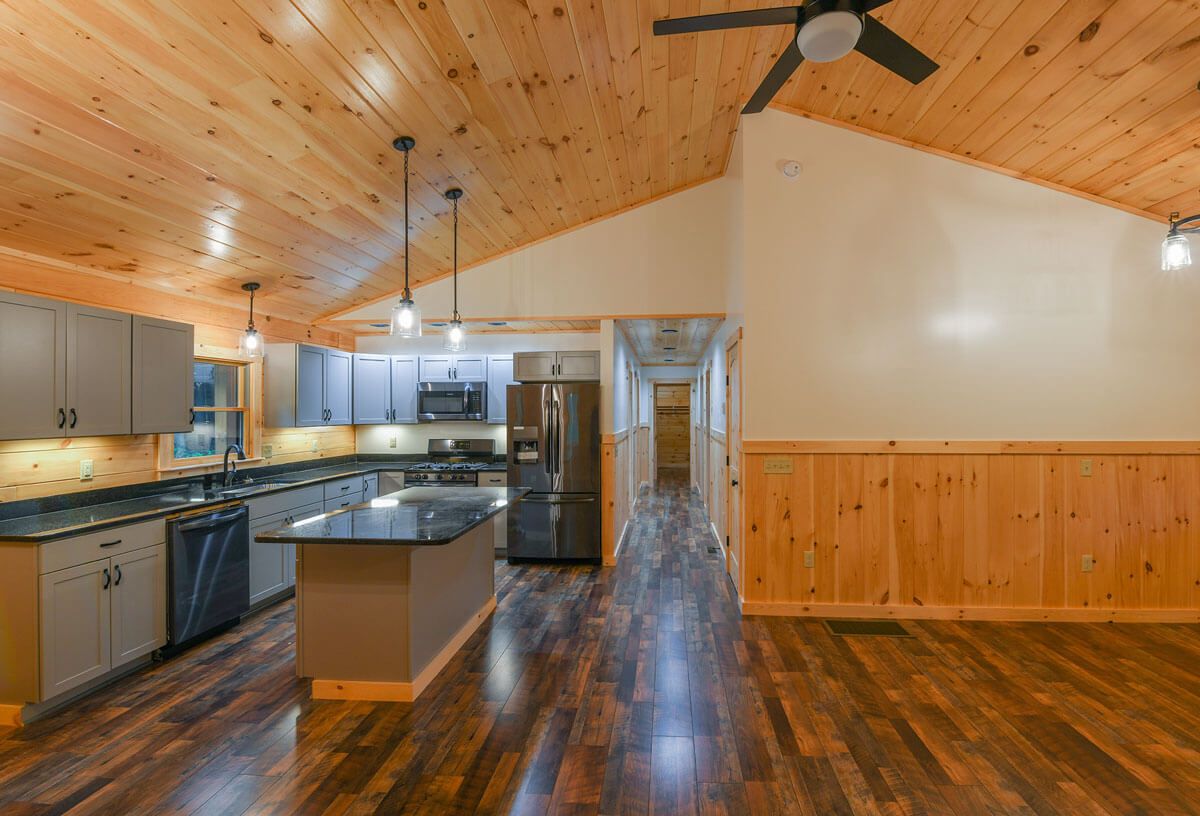 I love how much storage is here in this kitchen. A must with a family so you have everything you need on hand to prepare family meals.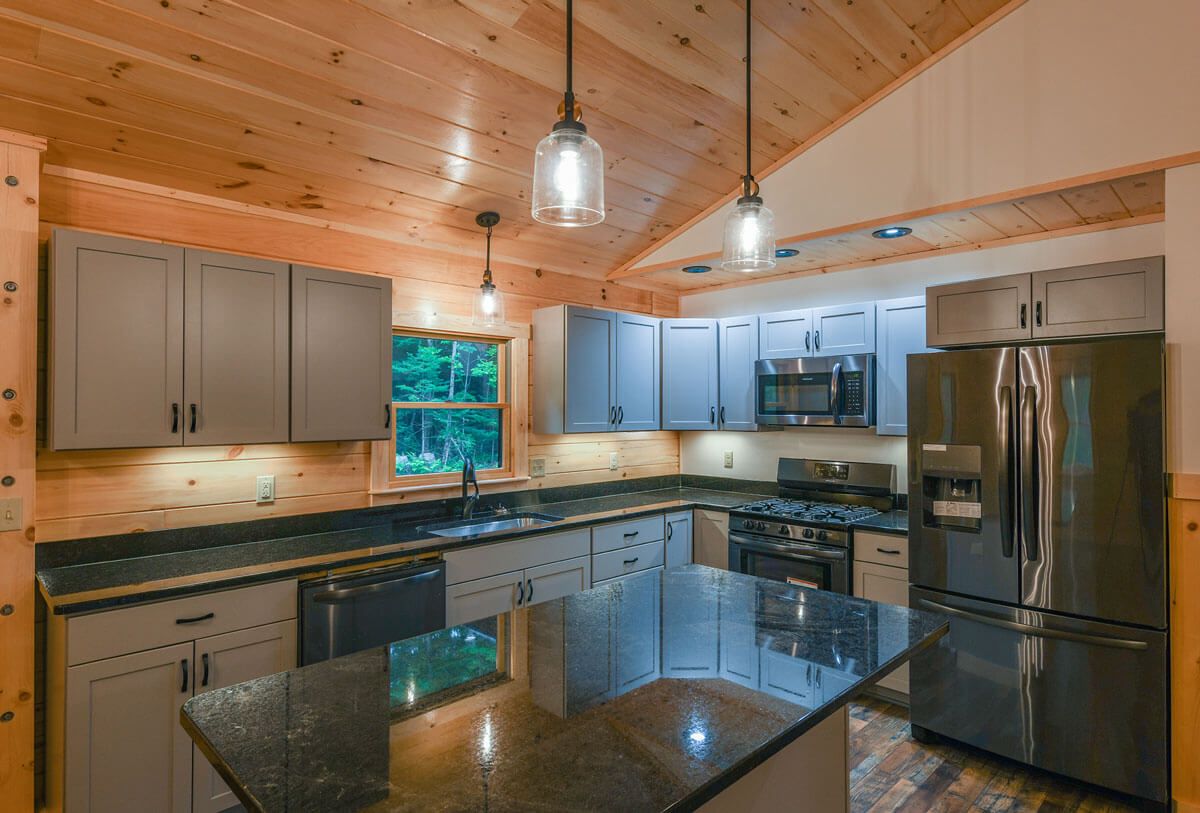 A simple hall leads down from the kitchen to the bedrooms and bathrooms with the master suite at the very end for a private oasis from the world.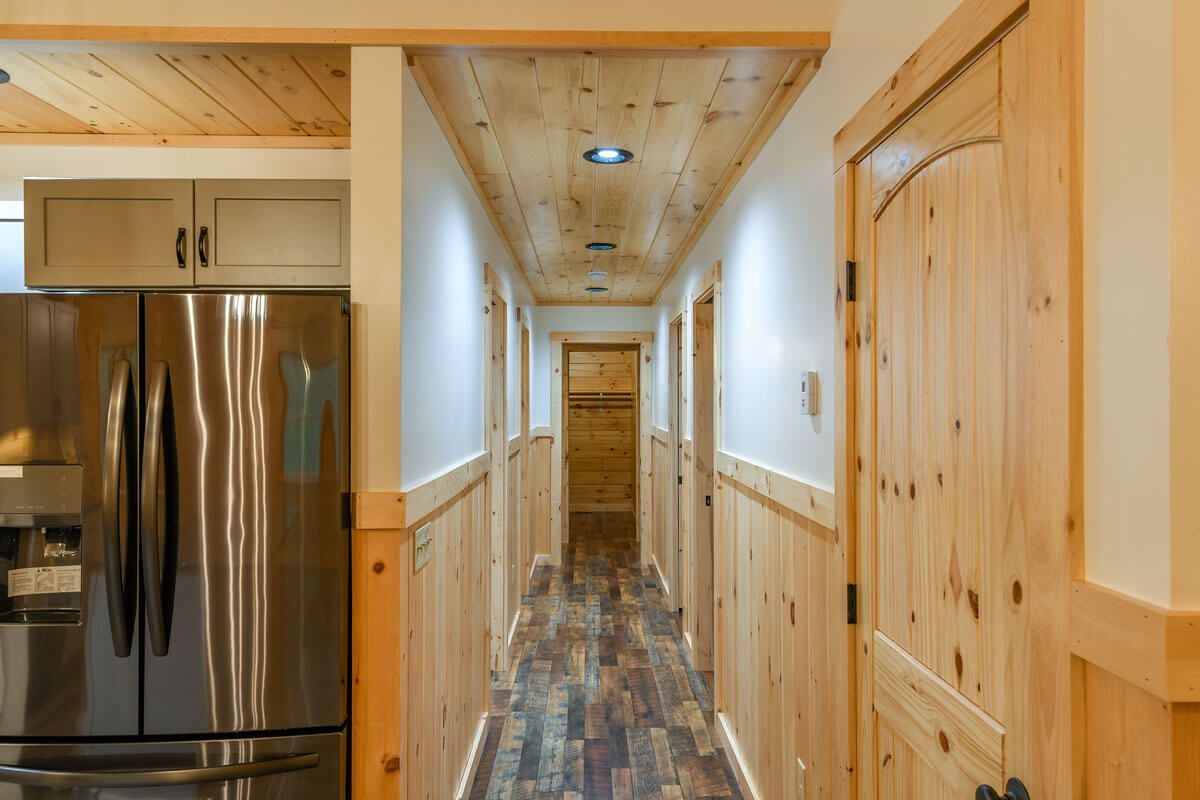 The main open bathroom is just off the hall and opens to the rest of the home for convenience. A simple combination bathtub and shower fit easily against the wall with a toilet and simple vanity just inside the door. The same countertops and cabinets are throughout the home in the kitchen and bathrooms.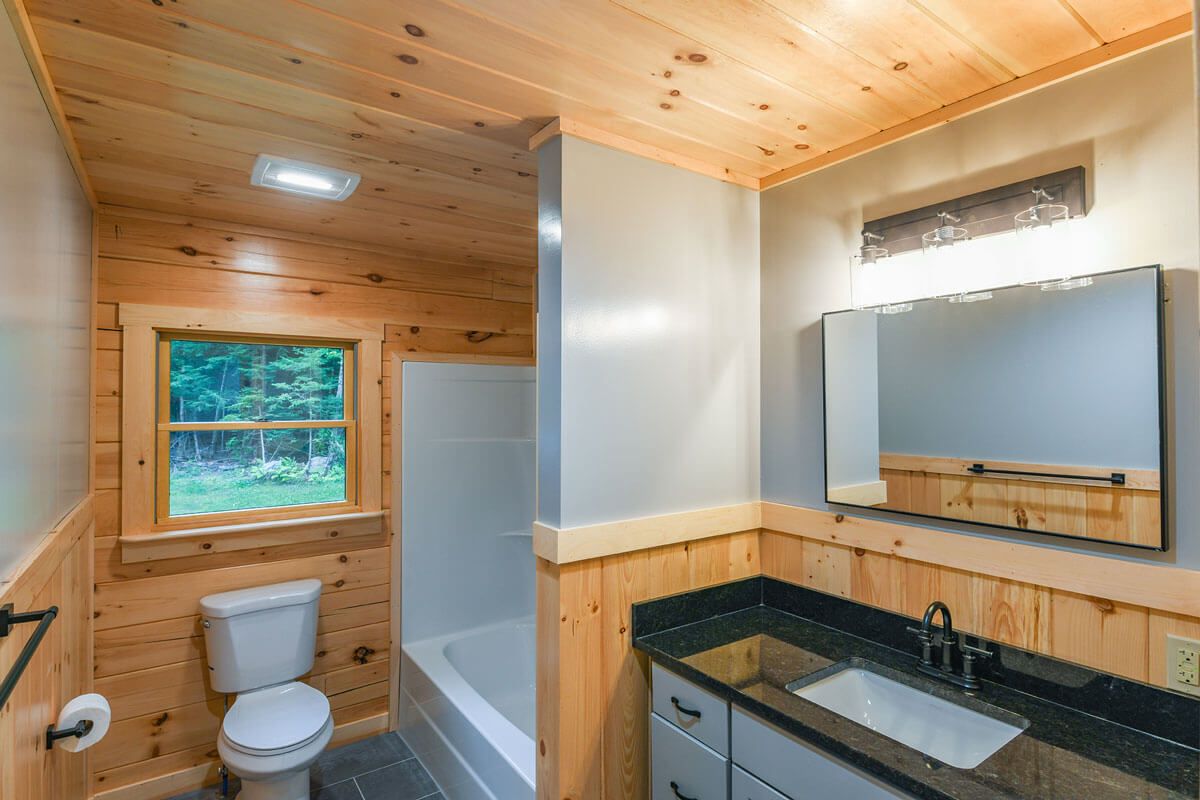 Two of the bedrooms are mirrors of each other with plenty of room for a bed, desk, dresser, or chest of drawers. They aren't overly large, but they are plenty comfortable.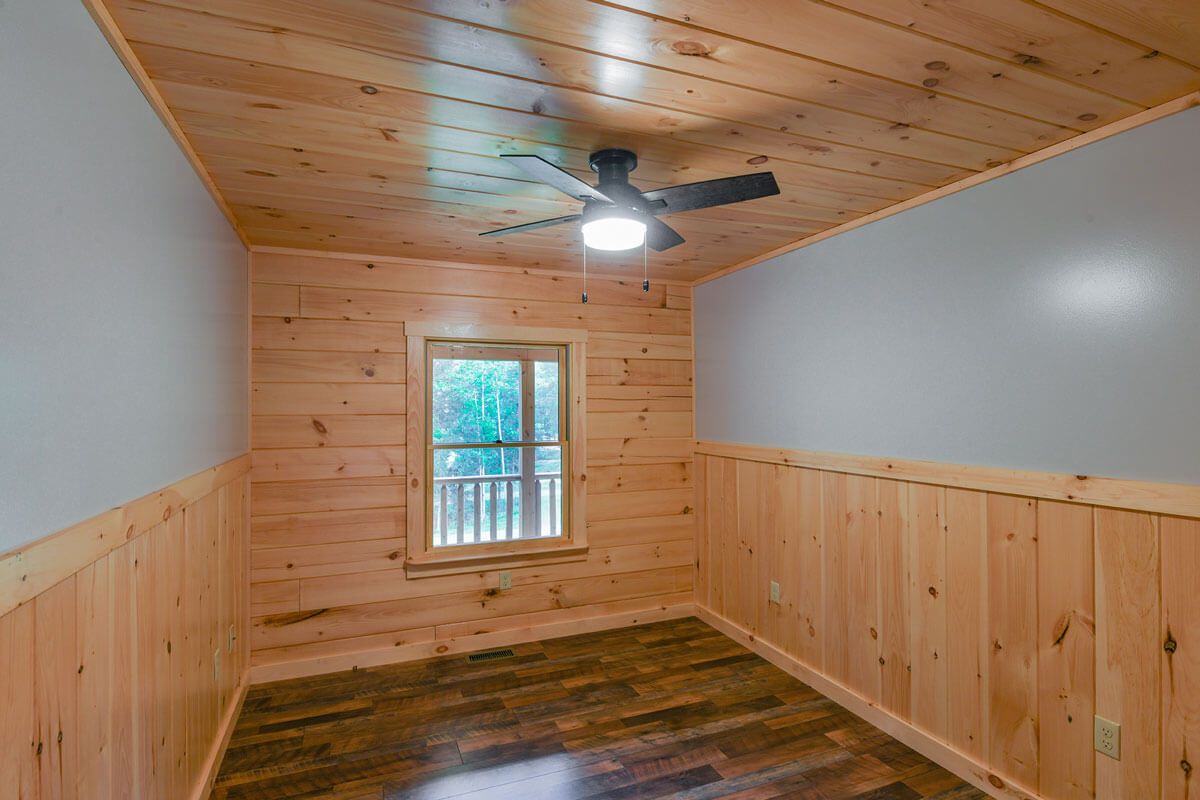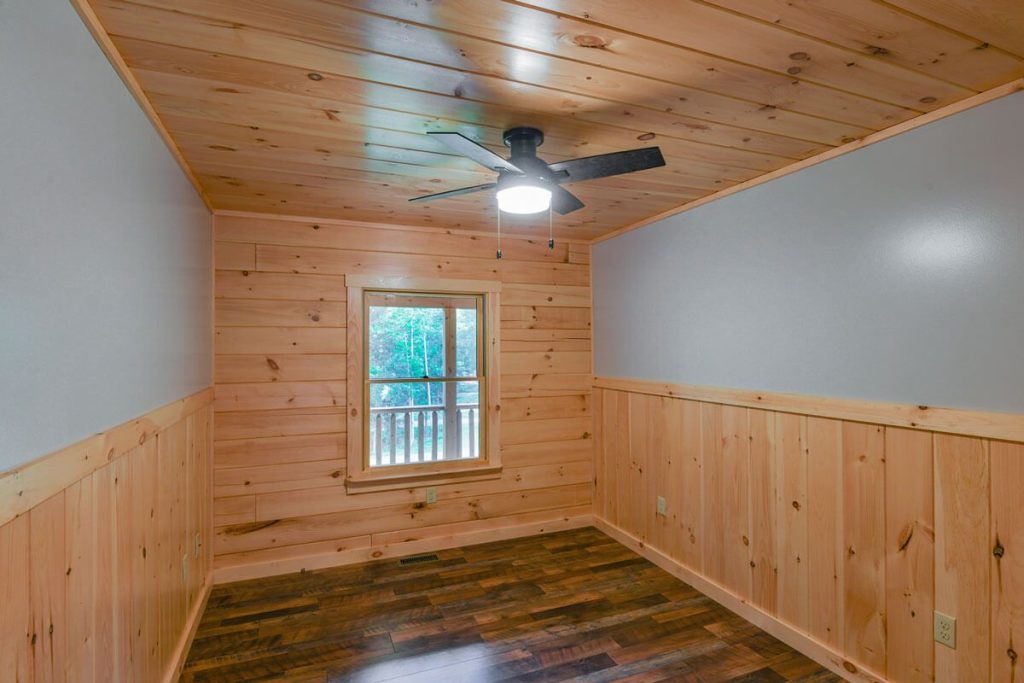 And both of these bedrooms also include a nice-sized closet along with a ceiling fan in the center of the bedroom.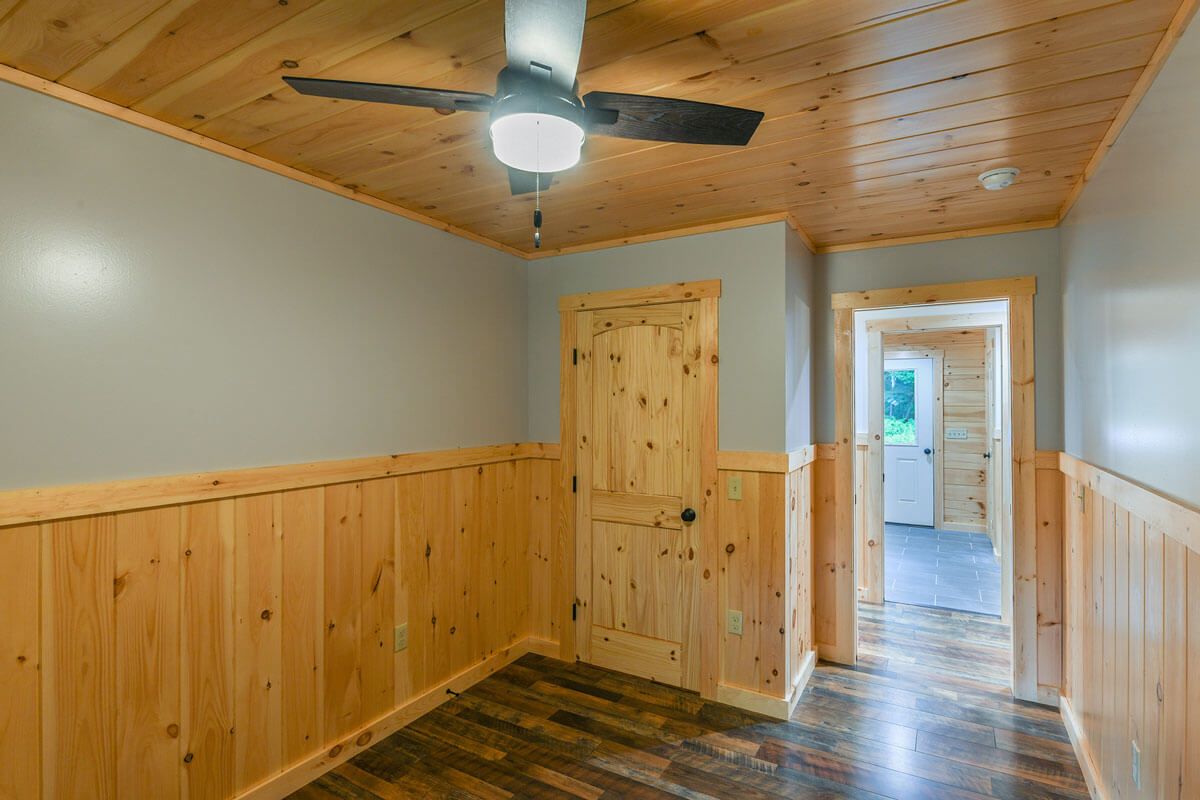 And here you get a nice view inside one of the bedrooms with the closet open so you can see a bit more of the large space that each room has for storage.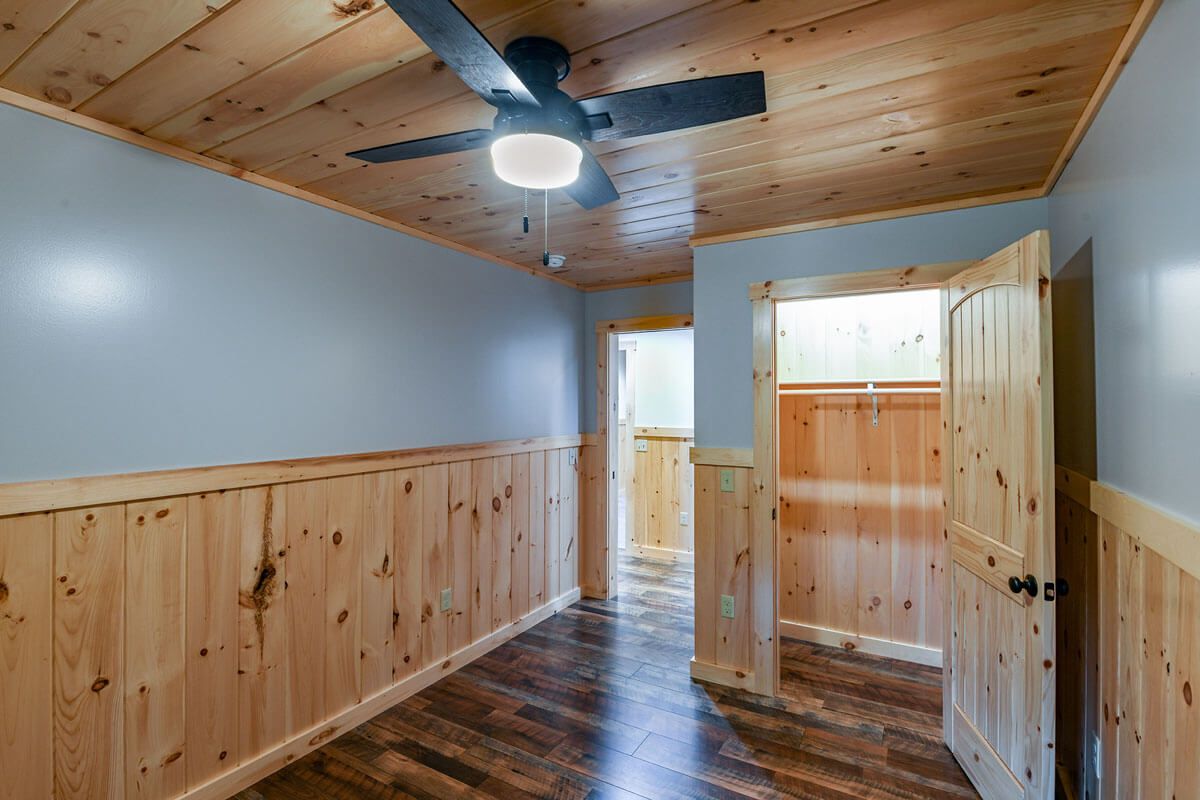 The master suite takes up the entire end of the cabin creating a large retreat that can easily hold a king-sized bed, dresser, chest of drawers, or even a few chairs to give you a nice little reading nook if desired.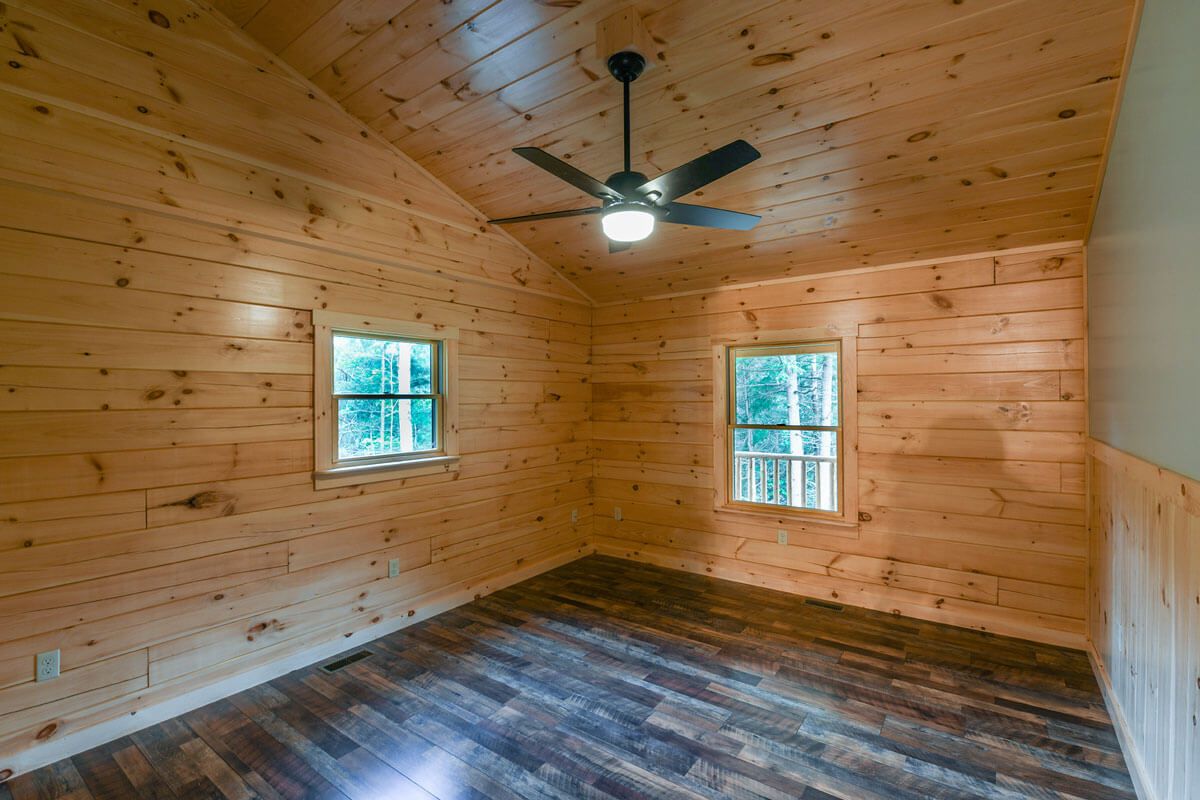 A walk-in closet beside the bathroom is a bonus to the home, and of course, having an en suite bathroom really adds to the comfort of this master space.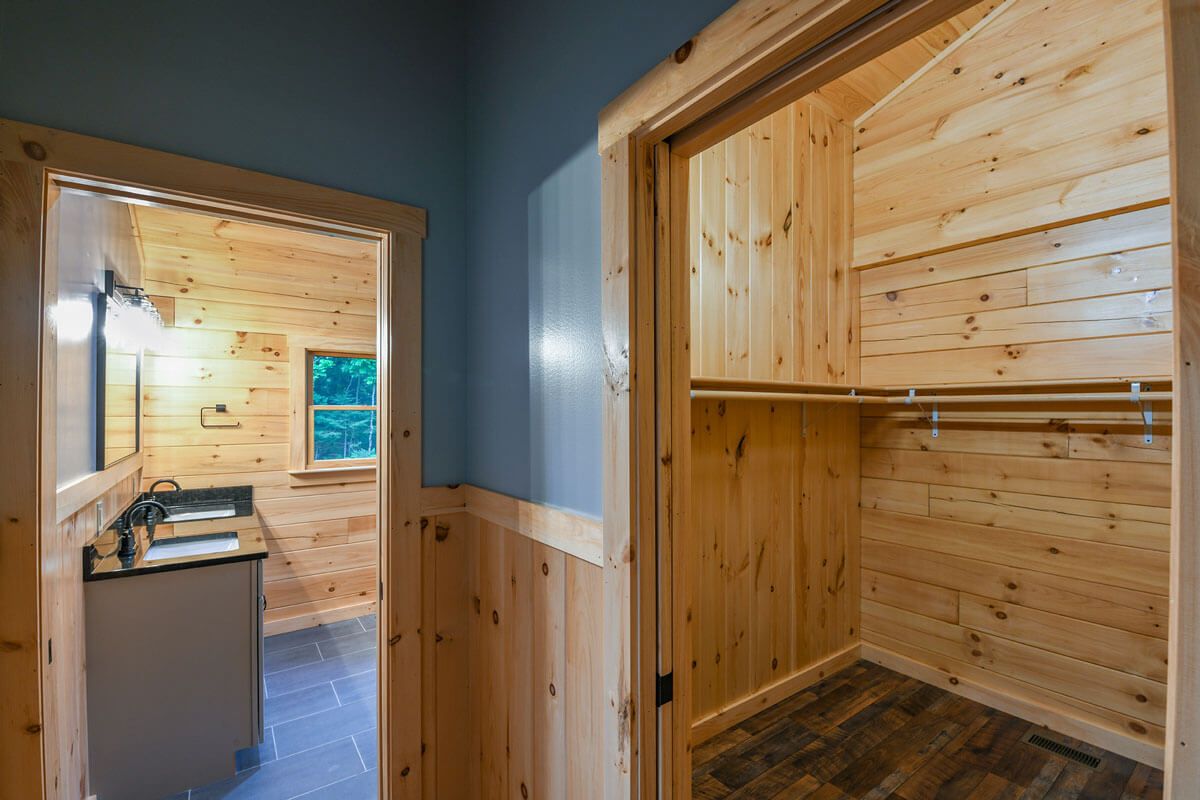 The bathroom in this suite includes a gorgeous corner tiled shower, double vanity, and beautiful tile on the floor.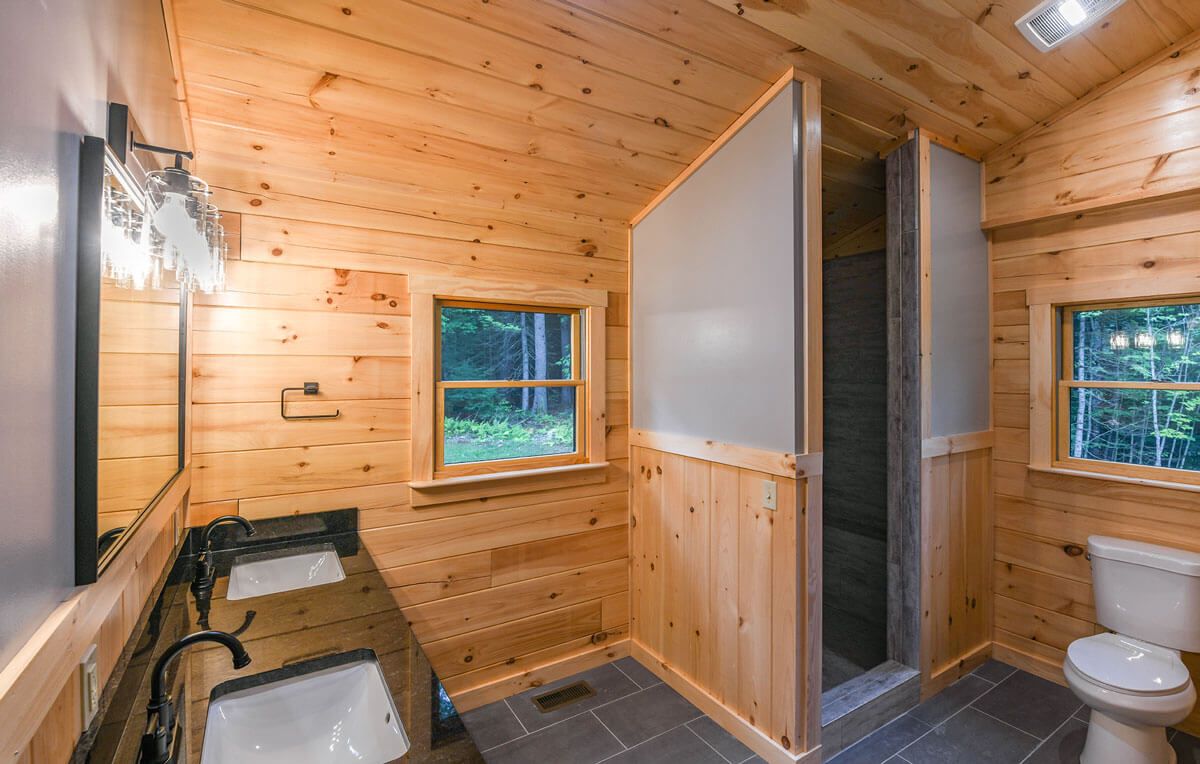 For more information about this kit, check out the Coventry Log Homes website. You can also find them on Instagram and Facebook for more day-to-day updates. Make sure you let them know that Log Cabin Connection sent you their way.
More Log Cabin Kits and Tours