If you've been looking for a unique cabin destination, then the cabin fondly called, "A View to Remember" is certainly going to be an ideal choice. This truly breathtaking cabin is excellent inspiration for your own build, but mostly a great place to spend a few days or weeks enjoying comforts and gorgeous views.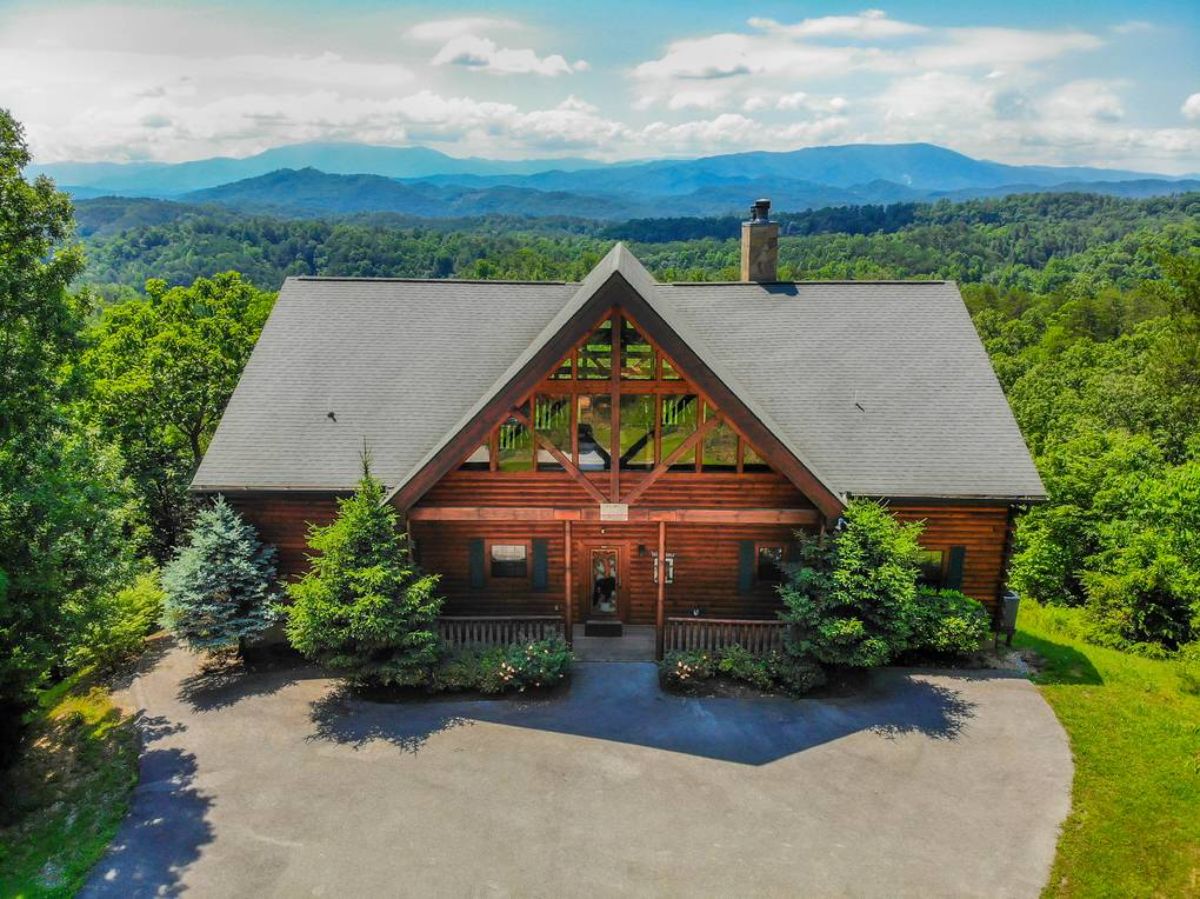 Log Cabin Location
Sevierville, Tennessee
Log Cabin Size
5 bedrooms - 4 of which are master suites with en-suite bathrooms
5 bathrooms
Sleeps 10
Rental Rate
Starting at $591 a night
The cabin is a beautiful multi-level vacation home that features 5 sizable bedrooms with en suite bathrooms in various styles. Some with showers only, others with combinations, and one with a large soaking bathtub.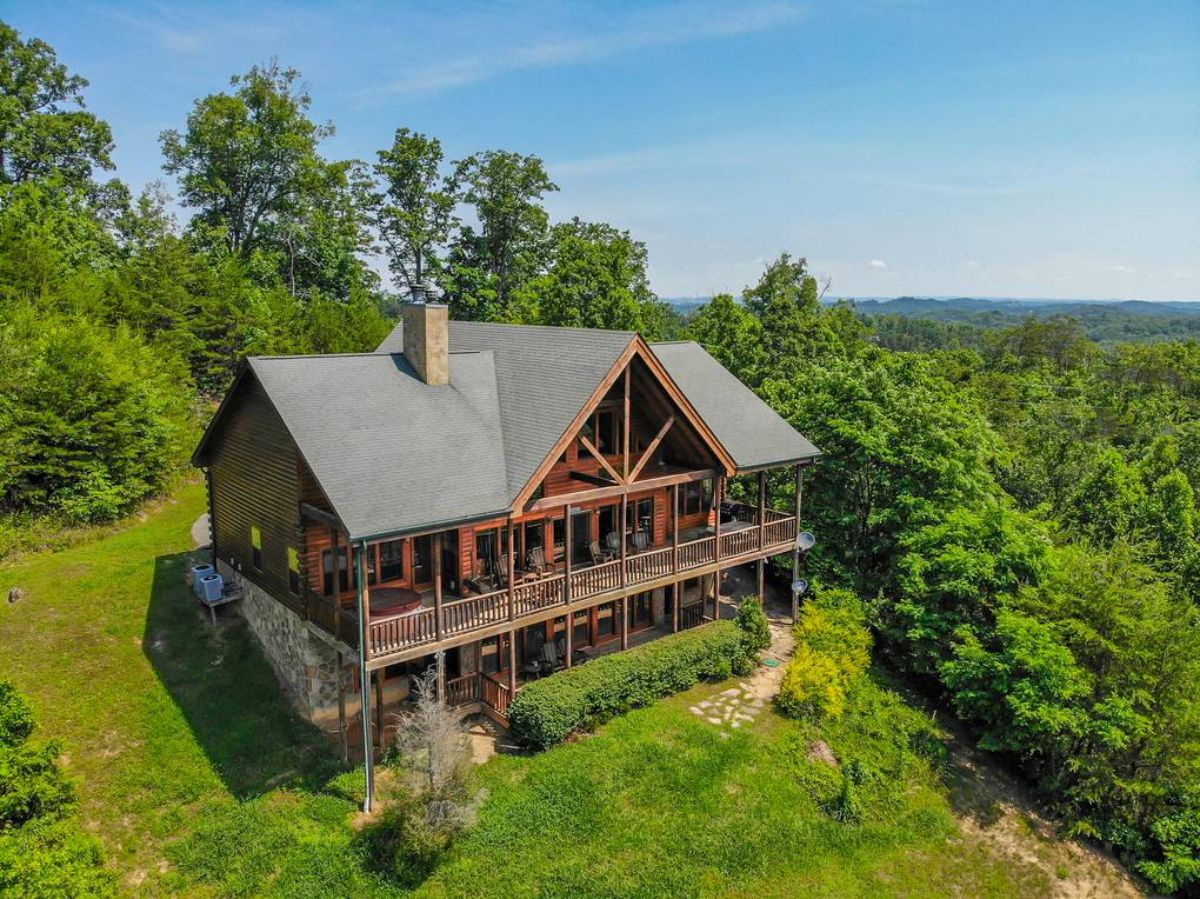 The views outside this home are the beautiful Smoky Mountains in the distance with forest and greenery all around.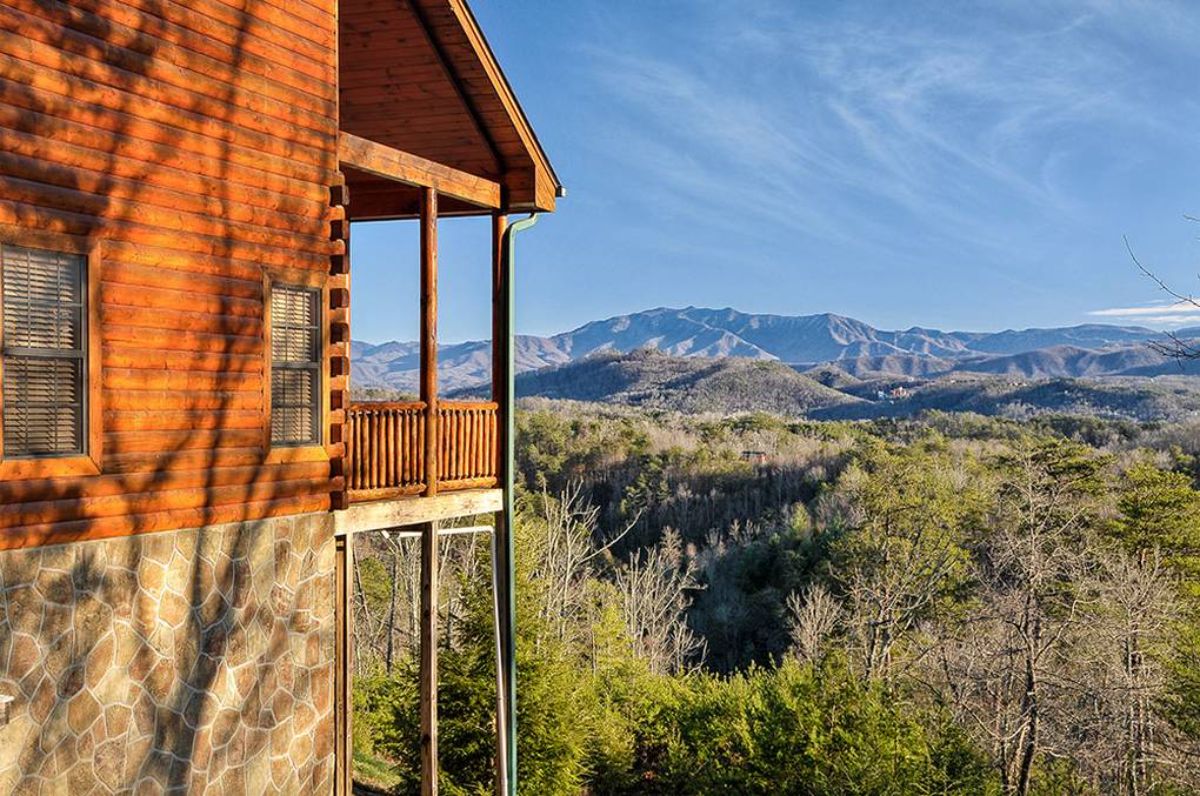 The front porch is simple but has room for a few chairs. You'll likely prefer to spend your time on the back porch with the views, however.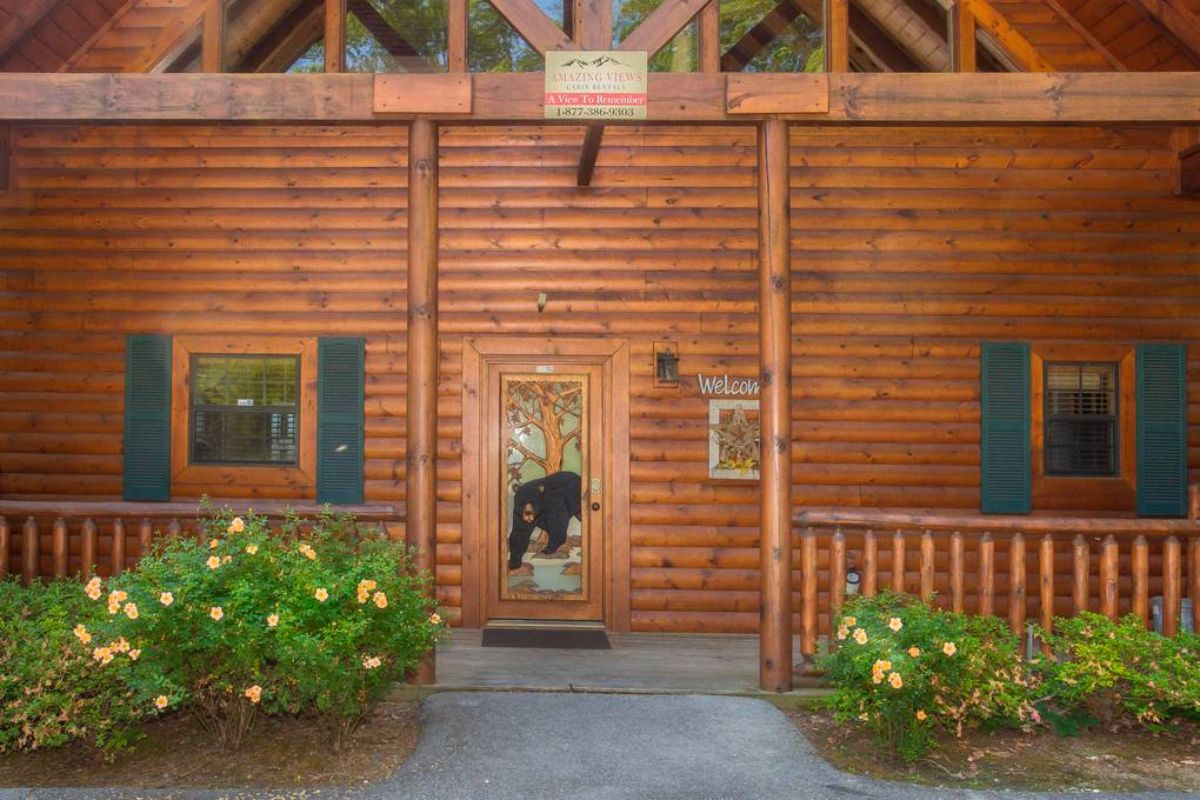 Inside this home the main floor consists of bedrooms alongside a large great room dining area, and kitchen. On the back wall of this space is that stunning wall of windows you expect in a log cabin great room.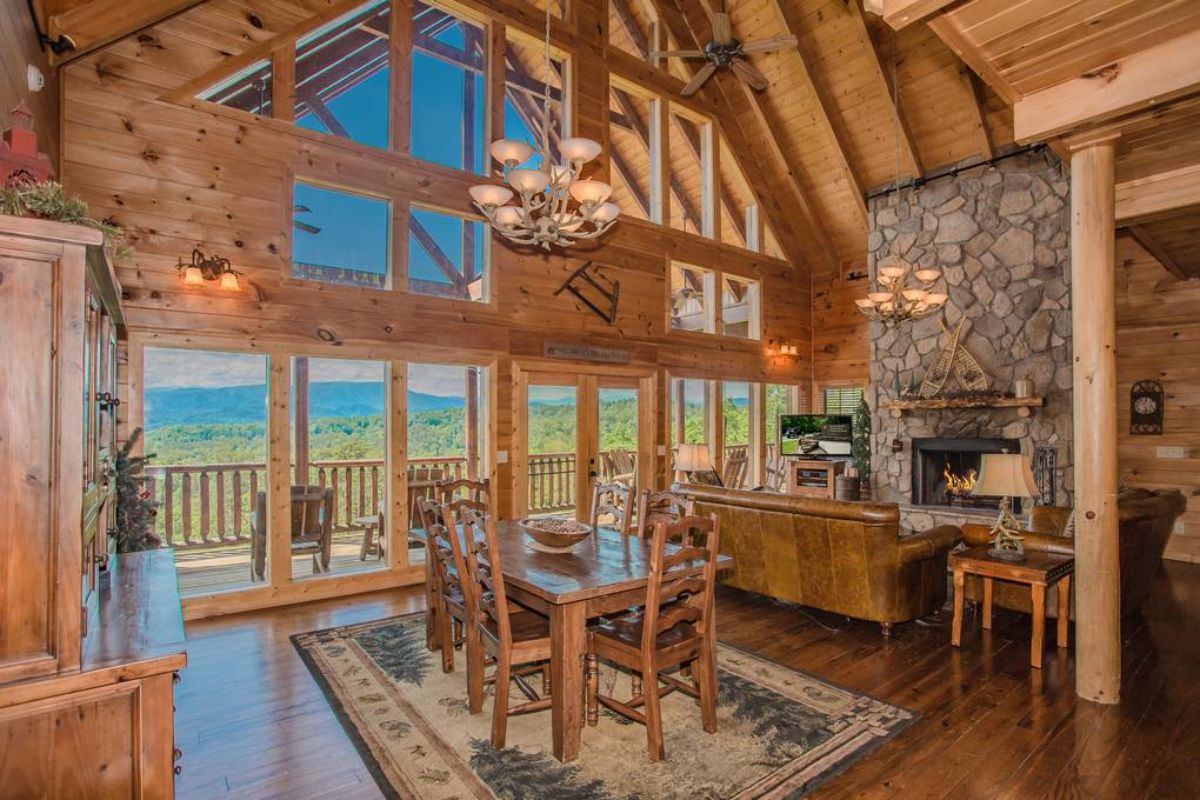 Leather sofas surround a unique rustic wood table in the living area with a fireplace against the wall to keep you warm. You'll also find a small television in the corner, but this room is more likely used to entertain and for relaxation. The lower-level living space is definitely ideal for television and more.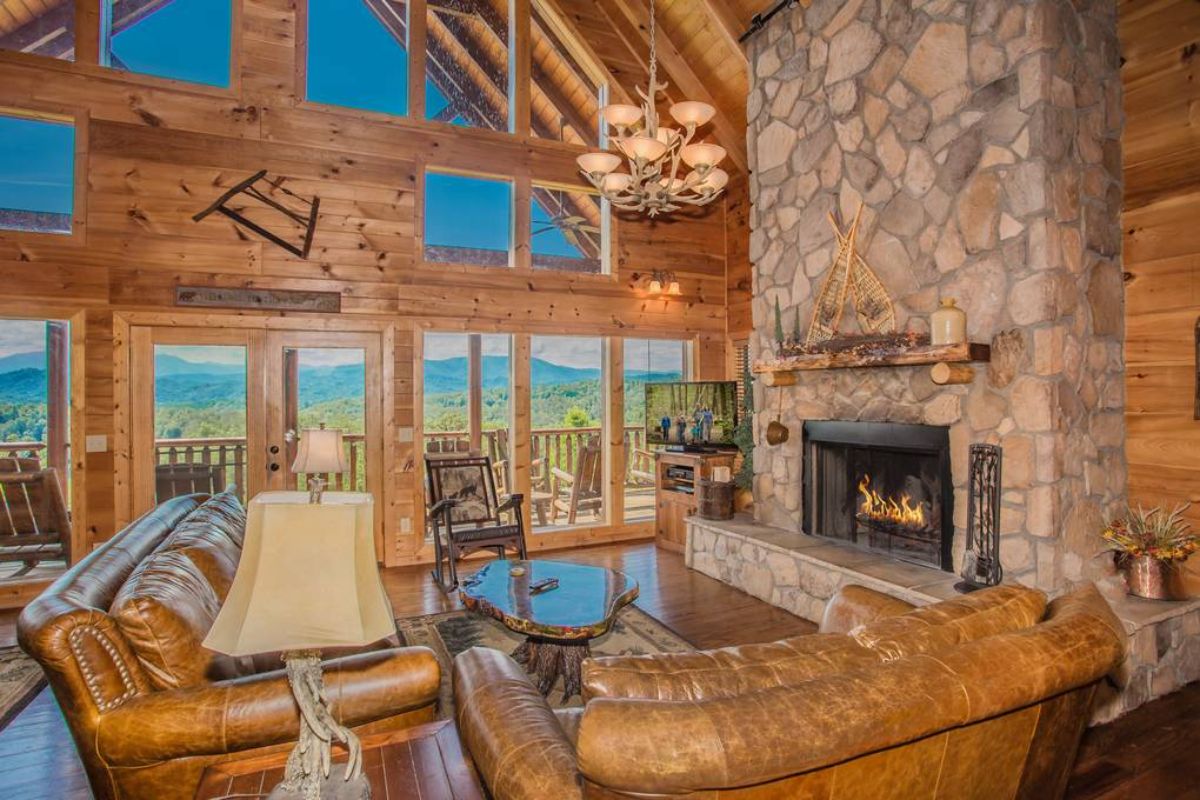 The dining table is on the opposite side of the living space with a beautiful rustic wood hutch against the wall. While the table easily seats six, it could extend to add eight chairs if you prefer or need.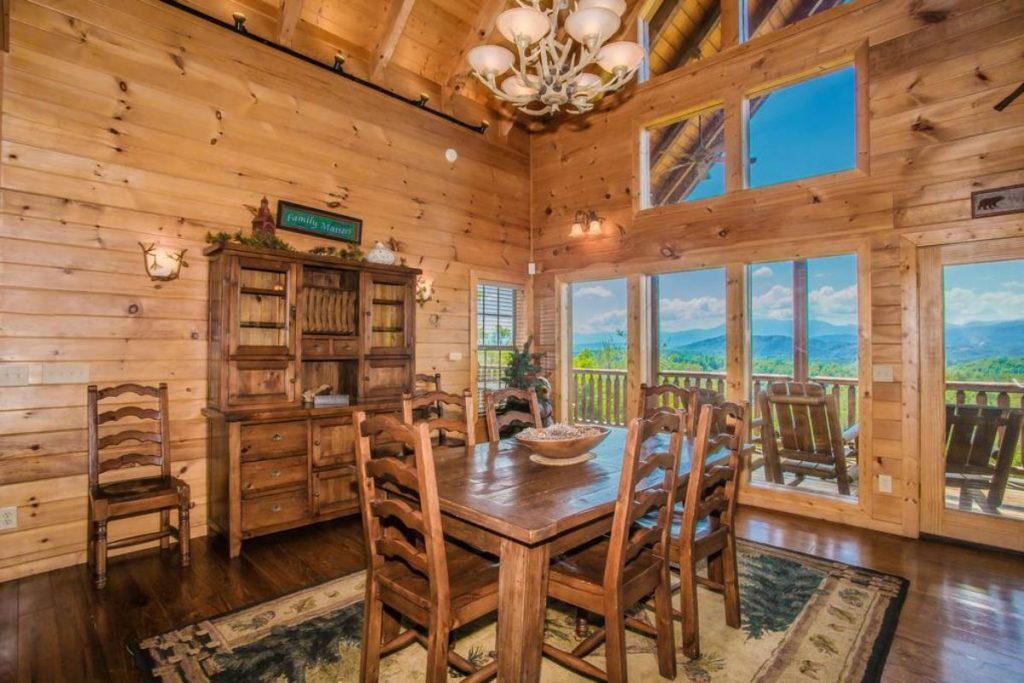 The kitchen is a simple but modern space with a nice-sized bar on the edge and full-sized stainless steel appliances. The island in the center is ideal for a cooktop and extra storage surface.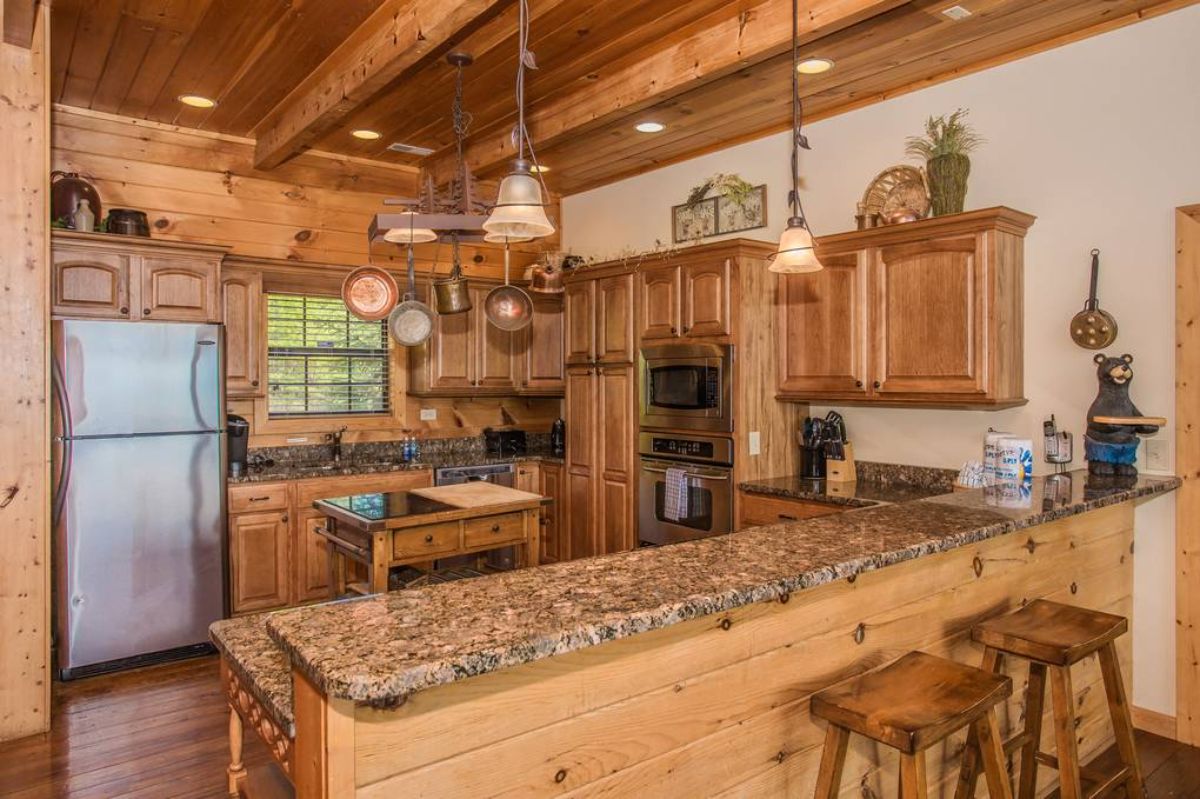 On the upper level, there are both open spaces as well as a nice large king-sized bedroom. This view down into the main floor is beautiful and really shows the overall size and layout well.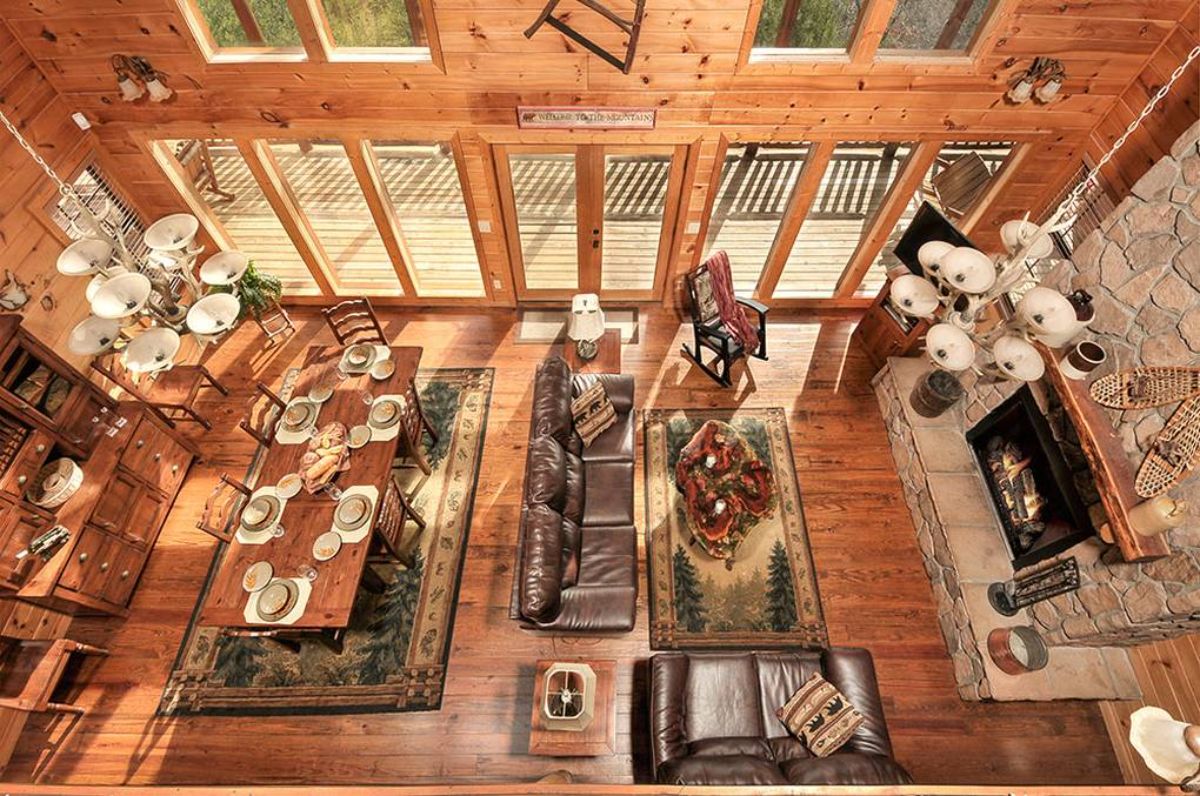 One corner near the great room windows holds a cozy chair for a reading nook. I can just imagine sitting here and reading a novel while watching the rain fall outside those windows.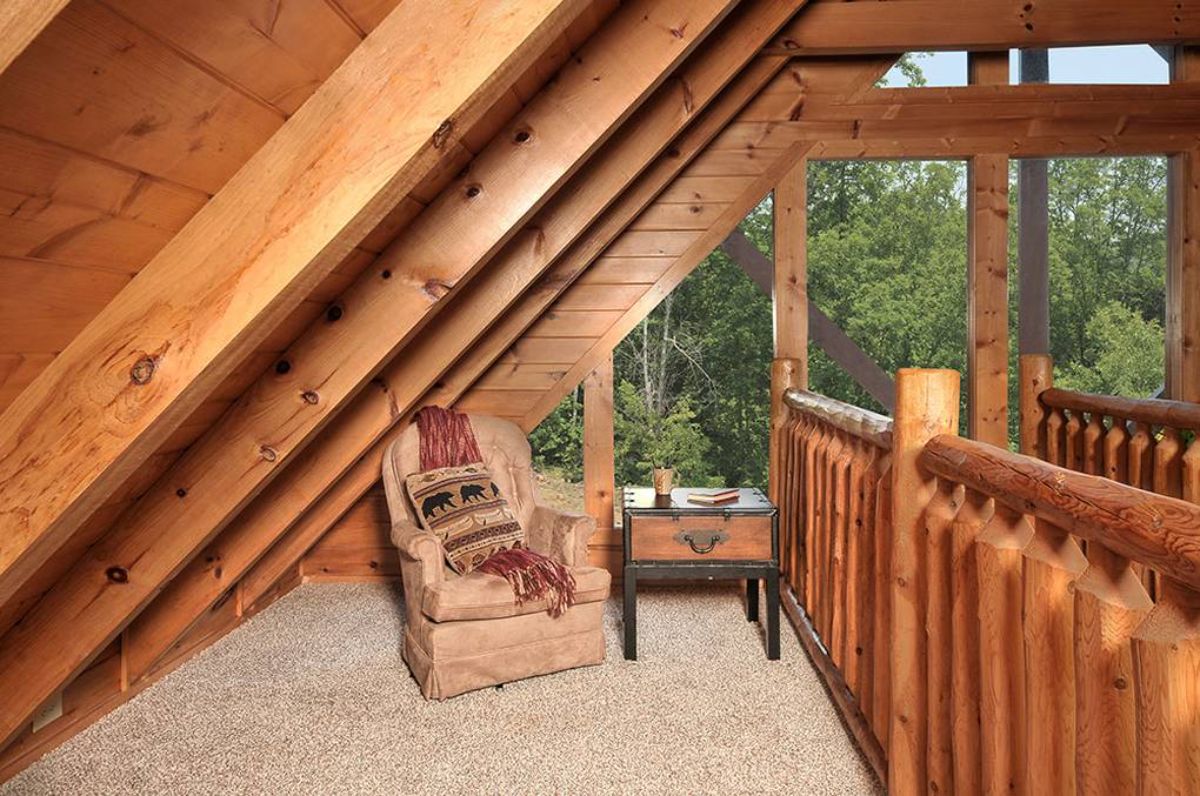 In the back corner of the loft is an open space that is currently used as an open bedroom fitting a sofa and king-sized bed. This could also just be a game room for the kids or could be used for office space.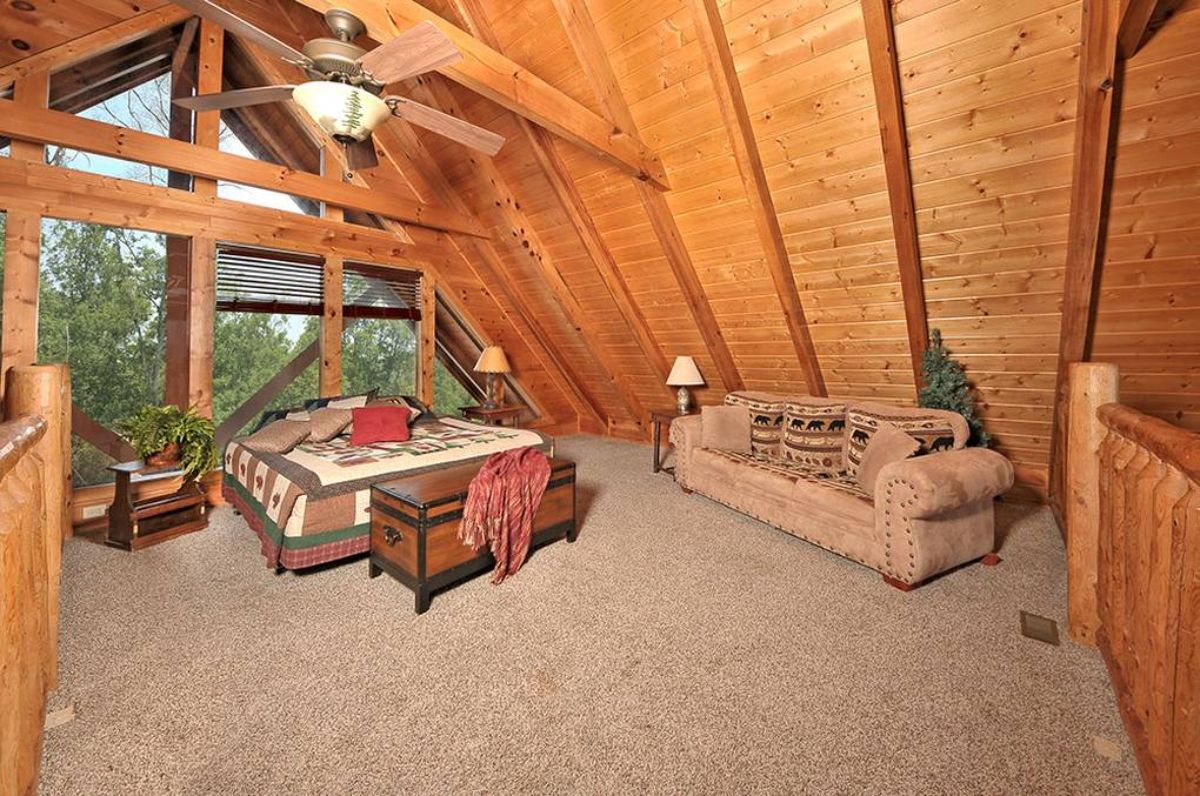 Just one of the many gorgeous bedrooms in the home, this one has private access to the deck outside and an en suite bathroom you are sure to appreciate. Each bedroom is equipped with these gorgeous log frame beds, tons of storage, and extra chairs.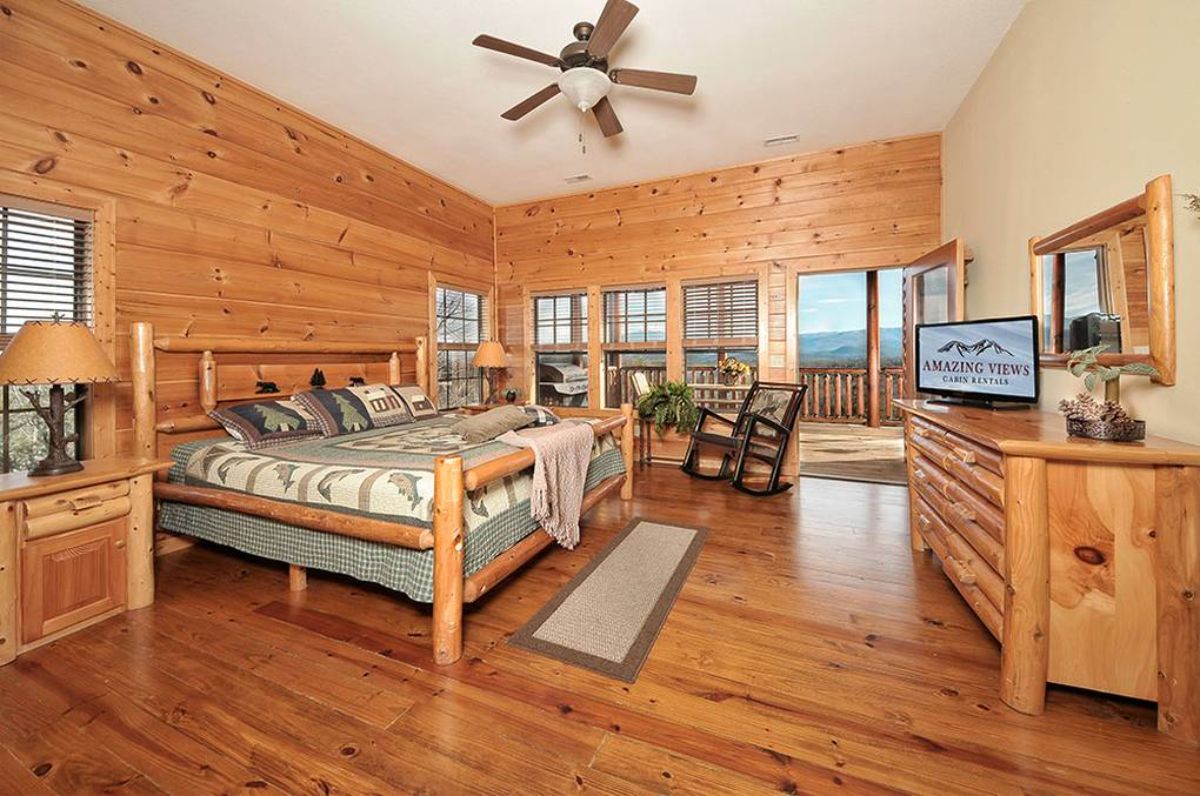 A variety of bathrooms in this home offer you options. This bathroom is ideal for a handicap-accessible choice with a roll-in shower, open vanity, and larger spaces to move around.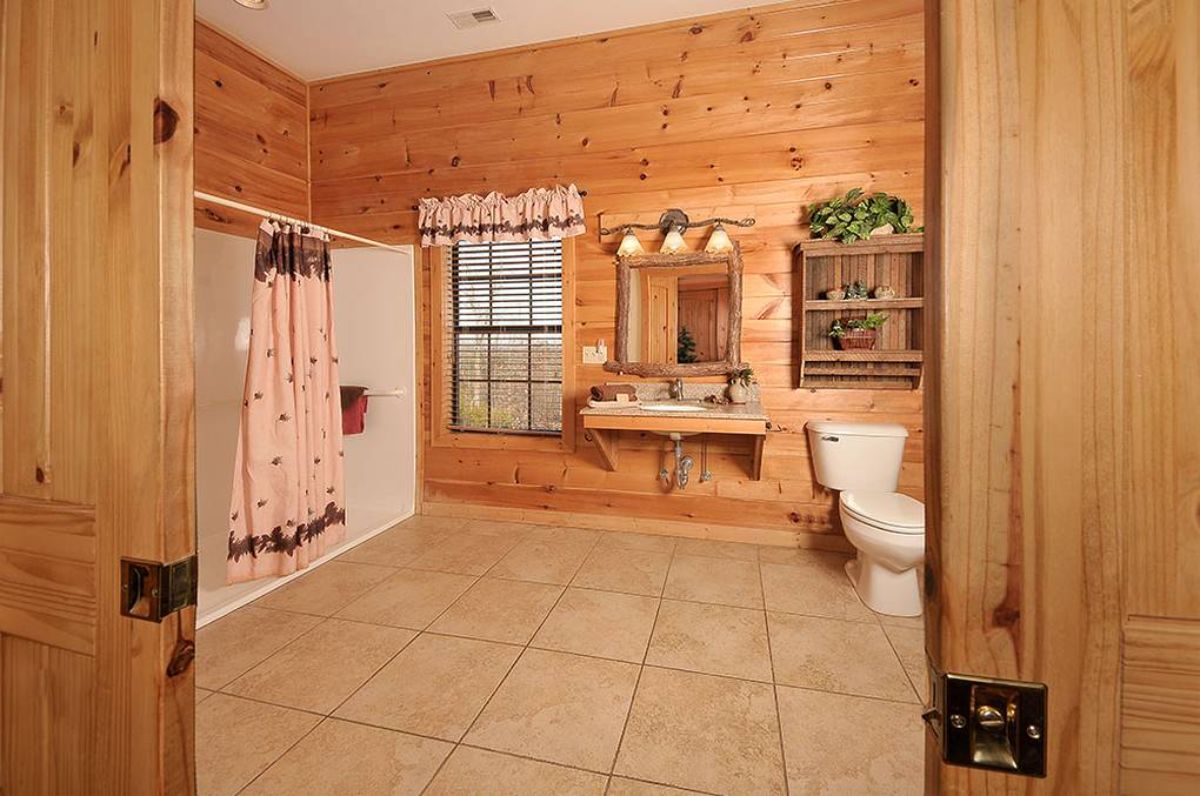 Of course, my favorite in the home has to be this gorgeous bathroom with a soaking tub in the corner. Ideal for a nice warm bath at the end of a day exploring the area.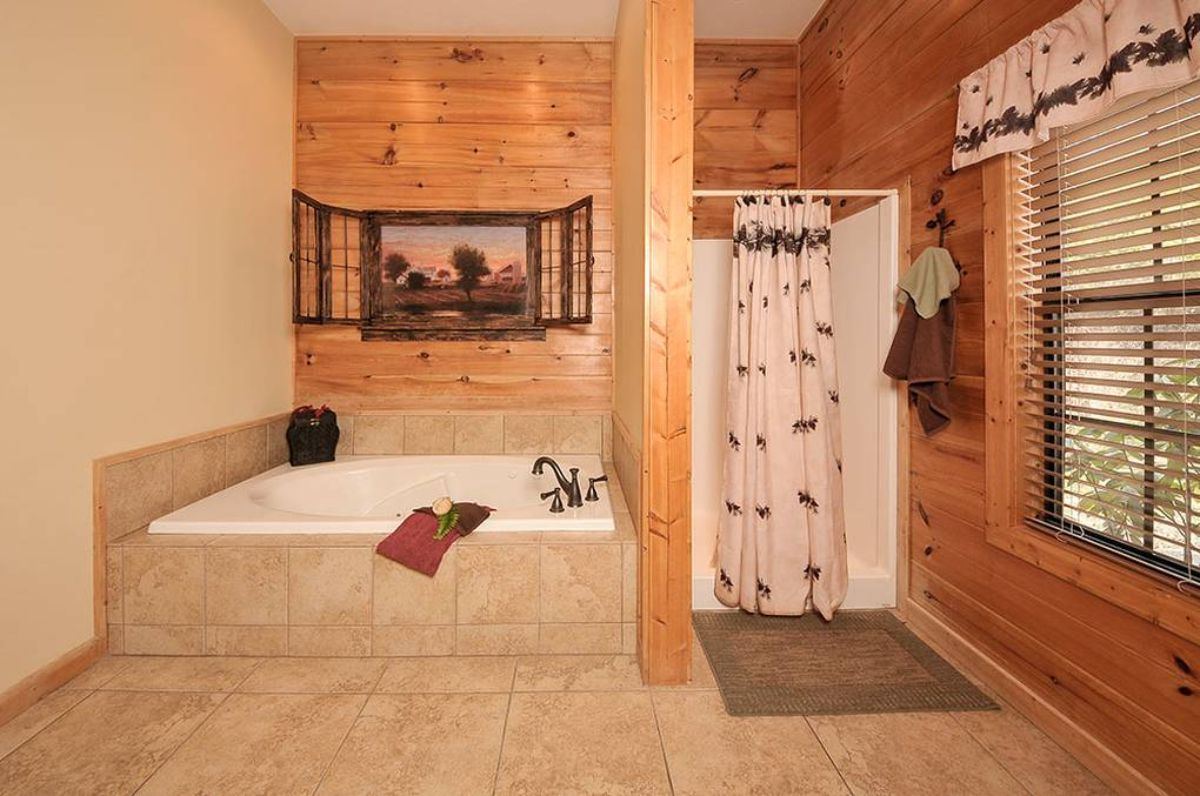 The lower level of the home has a private living space that also includes a fireplace, beautiful wall of windows for views, and of course, a television in the corner.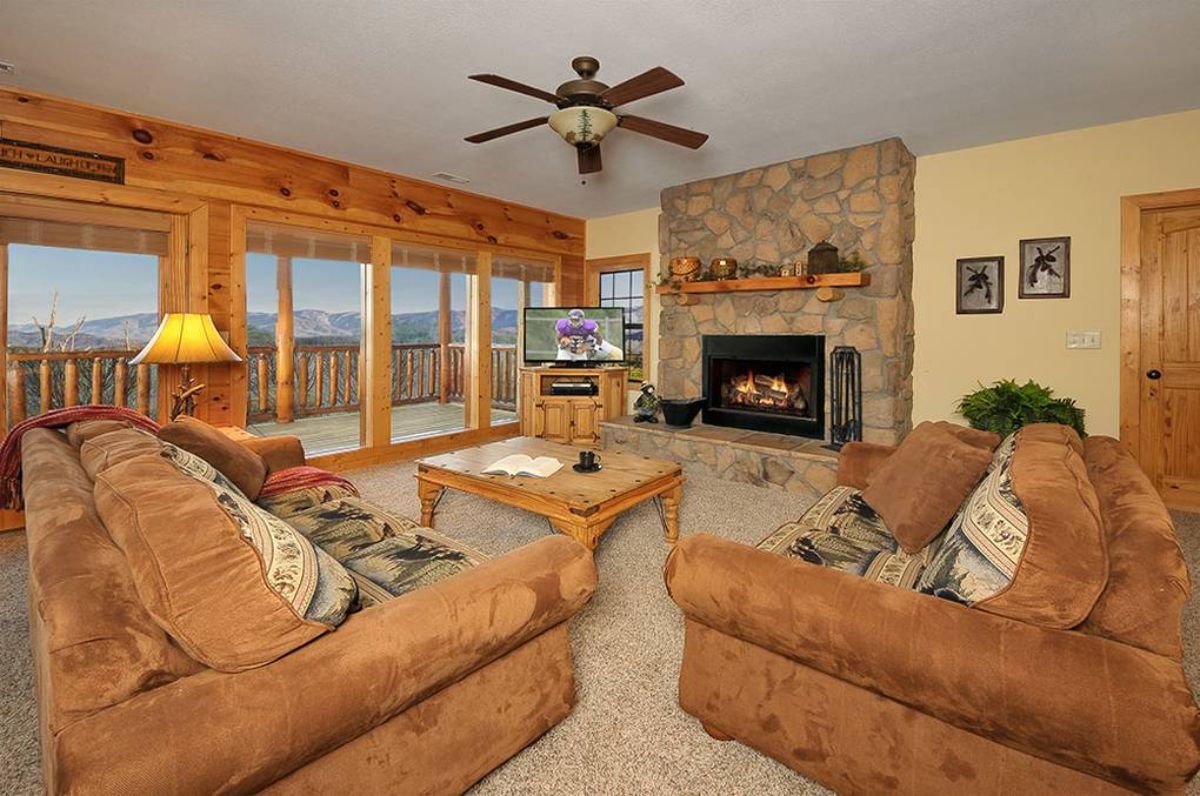 It also includes a kitchenette with mini-bar so you can use this area as an entertainment space. I like that addition because it gives you a bit more flexibility to have separate levels of entertaining with the family. Kids can stay in one area while the adults go to another level for relaxation for everyone.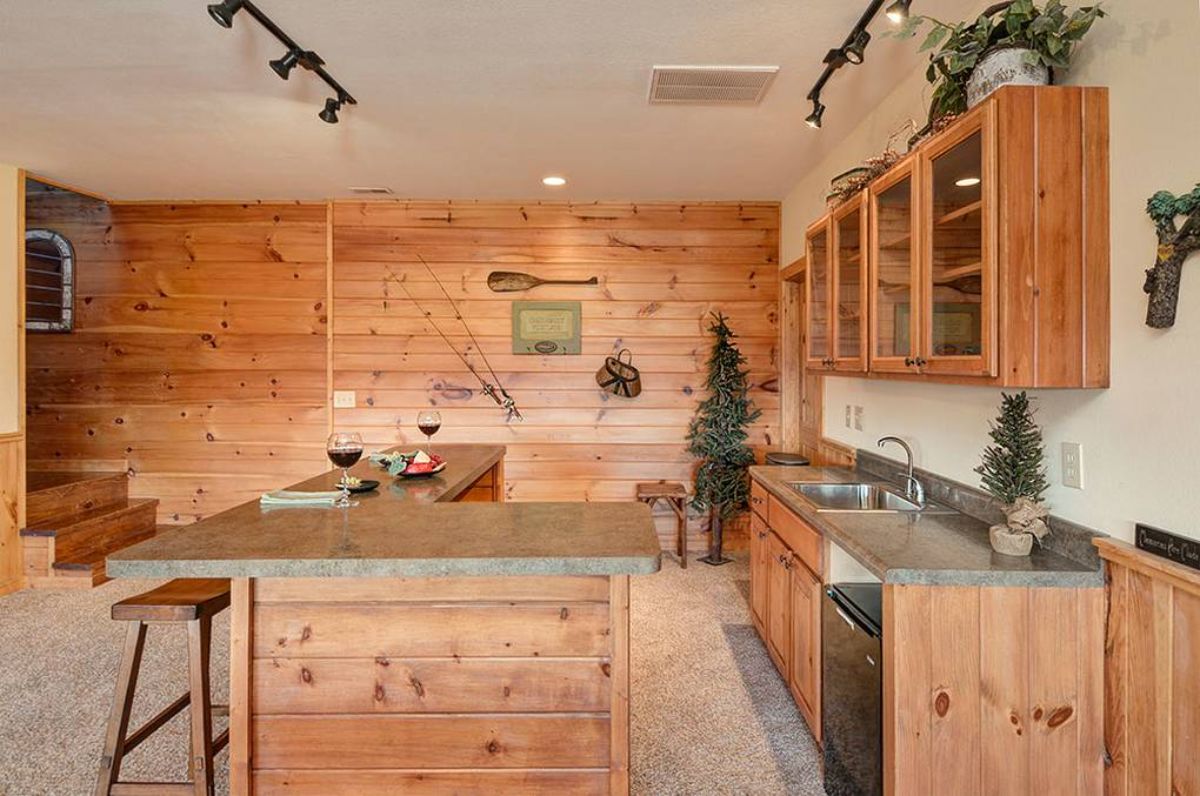 This room also includes a nice pool table in the center that is perfect for hours of entertainment.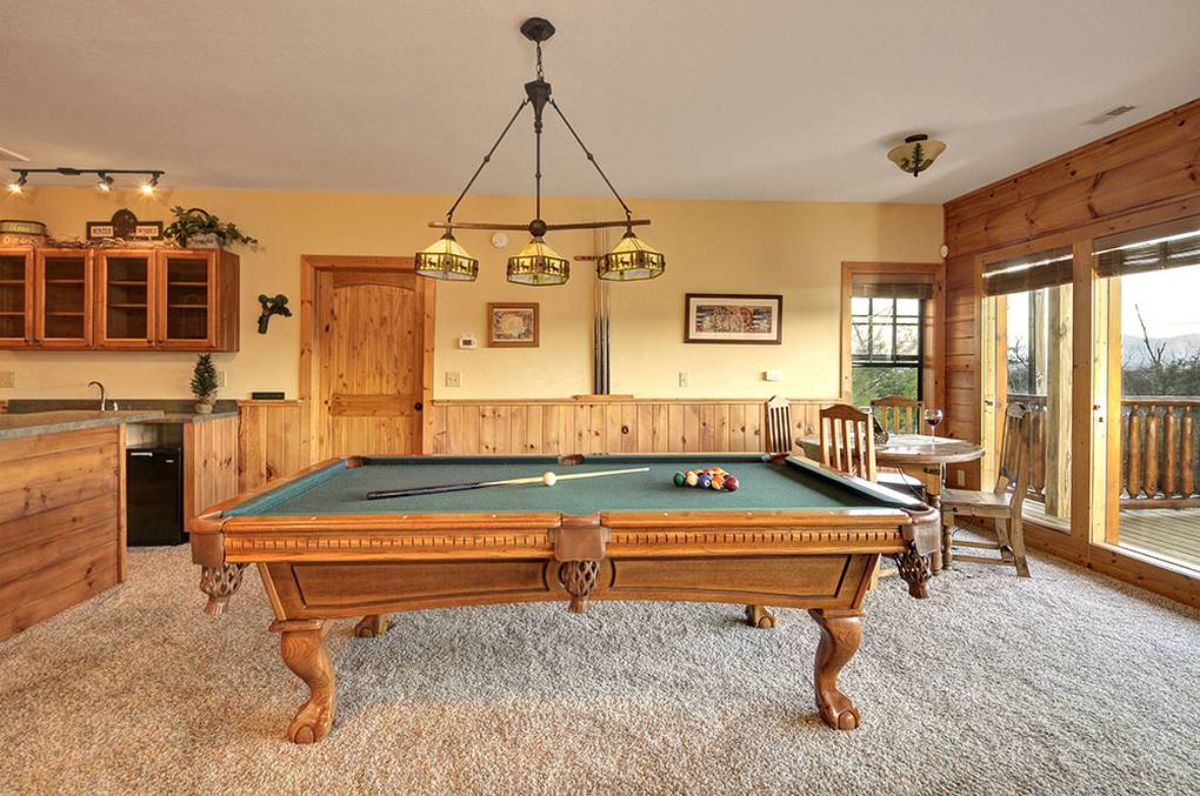 And there is even a corner table for dining downstairs or just sitting down to a game of cards with friends and family.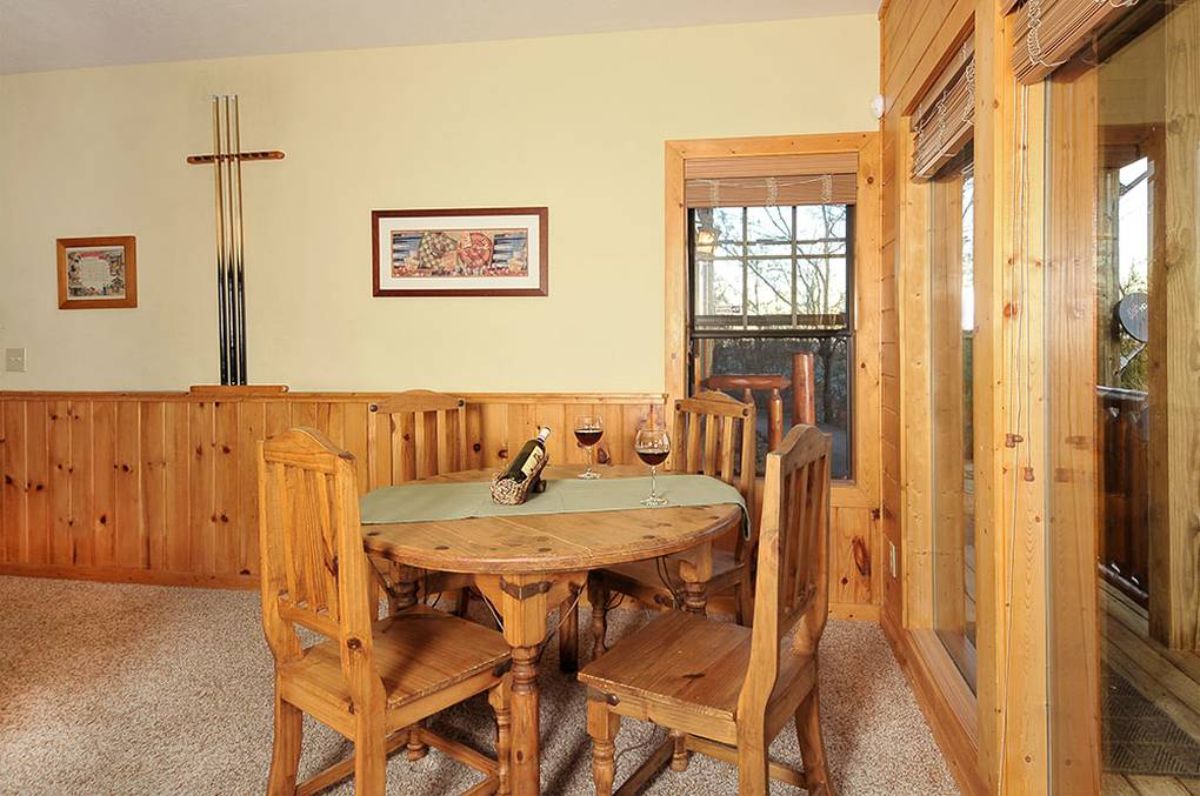 Of course, the outside of this home is also beautiful and built for you to relax and enjoy gorgeous views. It already includes a porch swing, rocking chairs, and tons of space.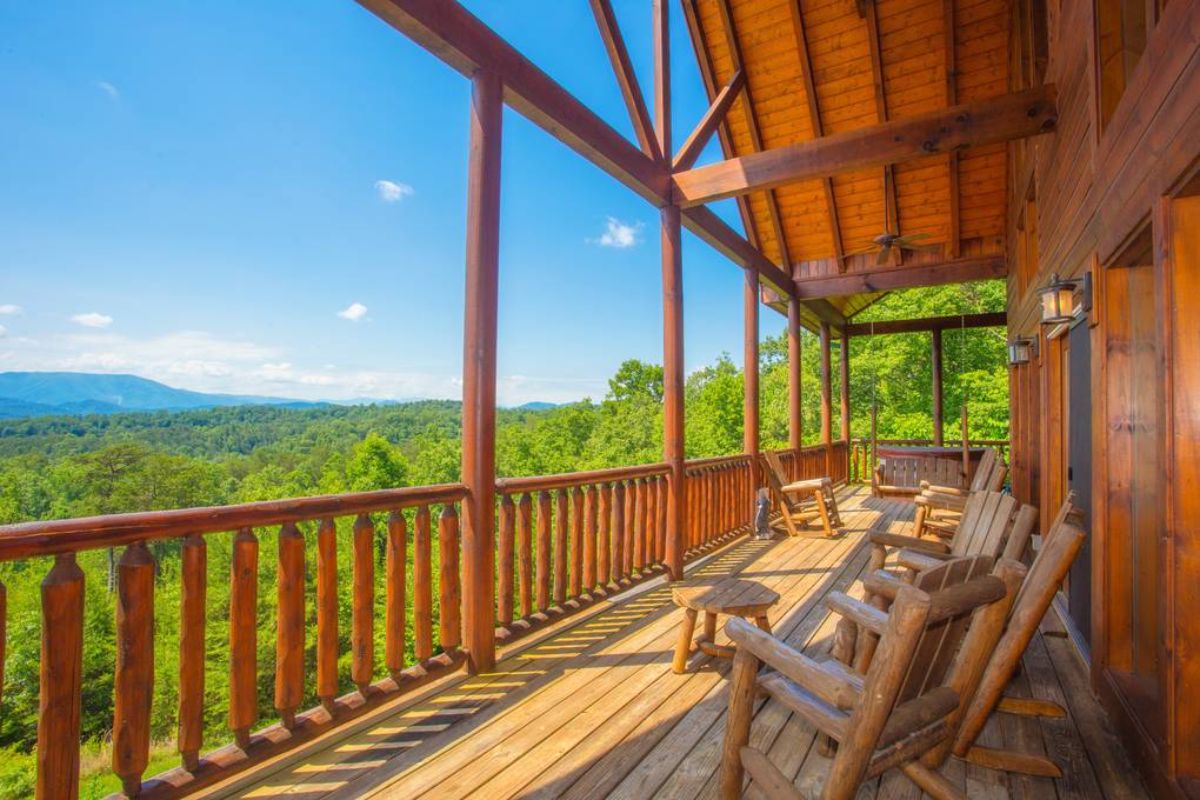 I can imagine a nice little cup of coffee here in the mornings or a late night glass of wine after dinner.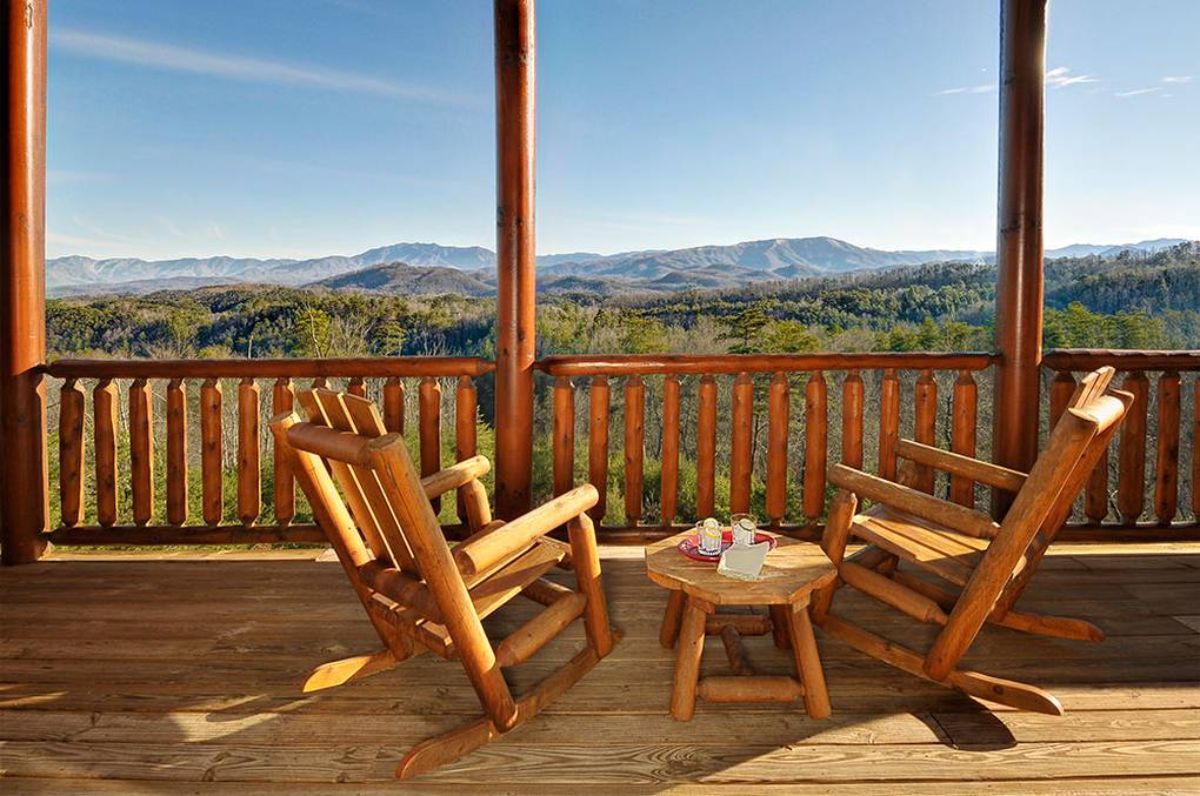 Of course, my personal favorite is this hot tub in the corner! That of course is an excellent addition to any vacation home!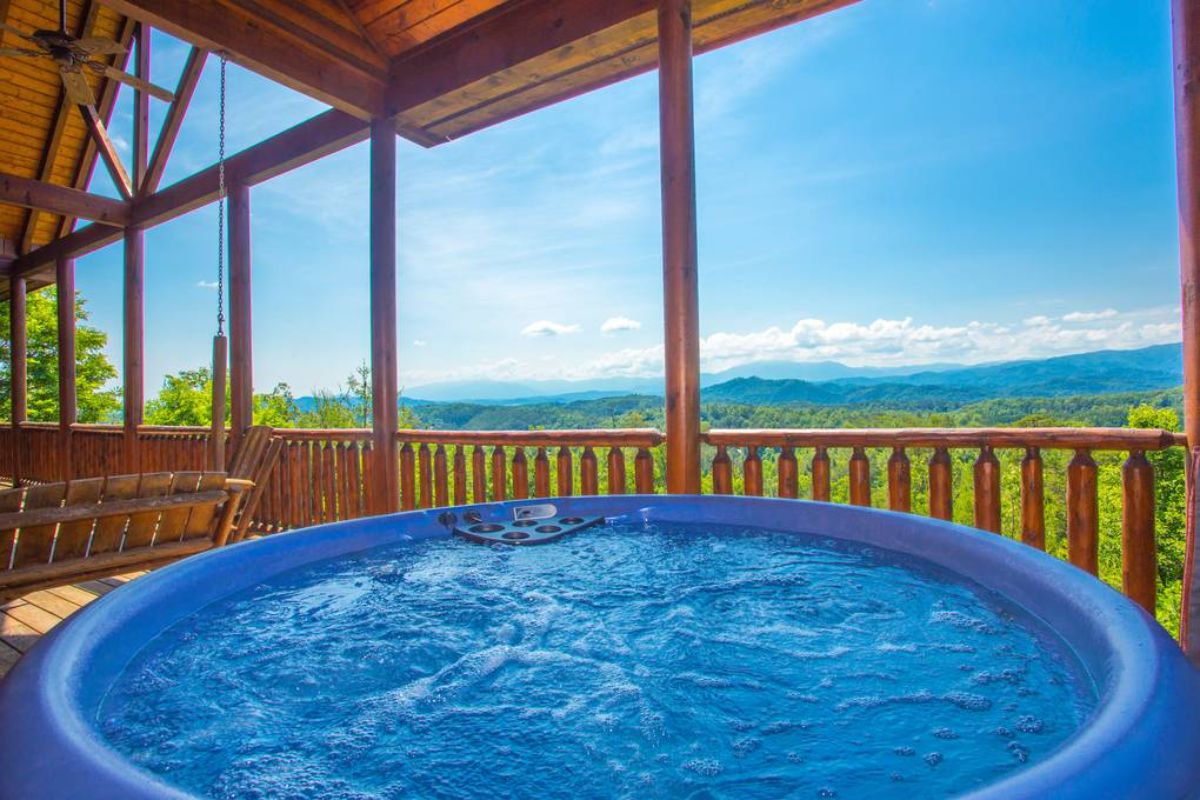 To book a stay at this stunning cabin, check out the full listing on the Timber Tops Luxury Cabins website. You can also see other listings on their Facebook page, Instagram profile, or even their YouTube channel. Make sure to let them know that Log Cabin Connection sent you their way.
More Log Cabin Kits and Tours