Whether you are looking for a rental that will easily fit your family, or you are in the market to build your own log cabin with room for the whole family, the Lookout Lodge from Black Hills Cabin Rentals is a perfect home for inspiration.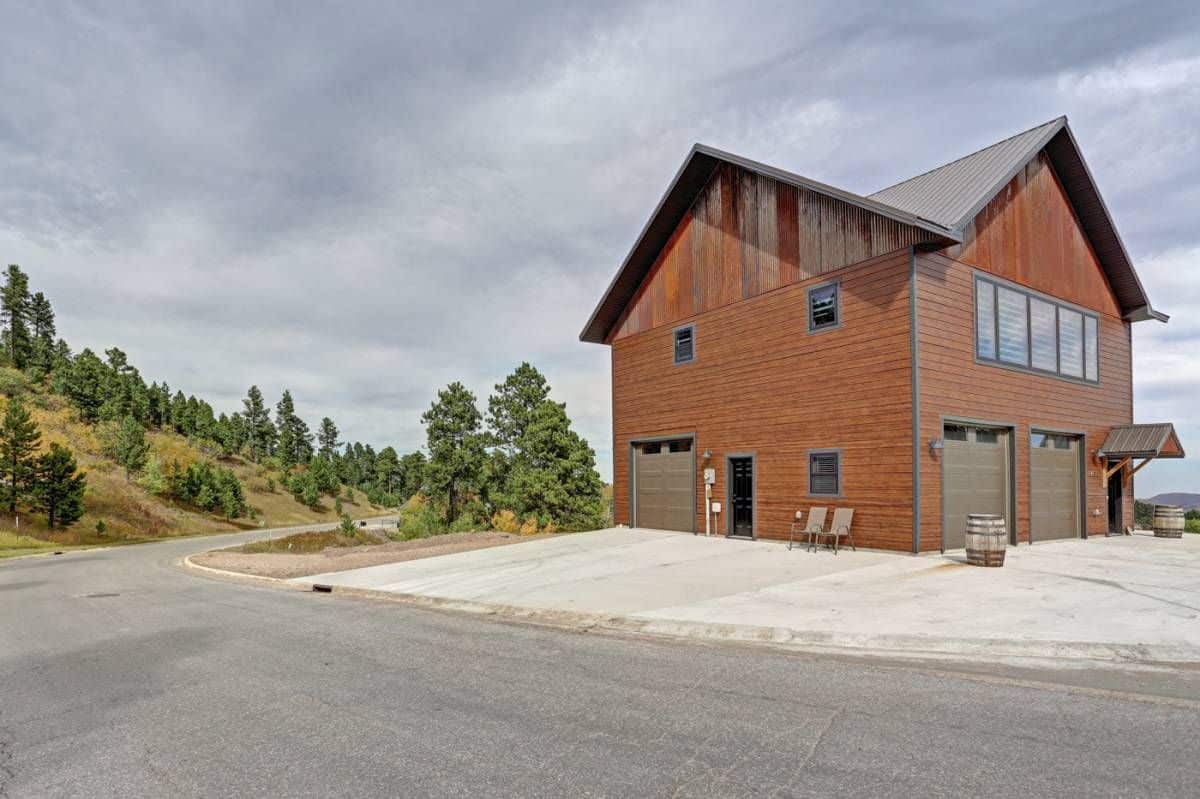 Log Cabin Size
2 level home
1 king bed
4 queen beds
3 twin beds
Sleeps 10 in comfort
1 full bath
1 3/4 bath
1 half bath
Log Cabin Price
Average $350 per night for a minimum of 3 nights plus an additional cleaning fee. Peak season and holidays may be up to $450 per night.
Log Cabin Features
Main floor king "master" bedroom with en-suite bathroom that includes jetted soaking tub, shower, and toilet.
The Queen bedroom on the main floor includes a closet with 3 twin-sized bunks off the side of the room with a private door closure.
The guest bathroom on the main floor includes a shower, sink, and toilet as a 3/4 bath open to the entire home.
A lower "garage" level includes one bedroom with 2 queen beds and an adjacent half bathroom.
Large game area and bar space on the lower level as a "family room" with garage door openings on two sides.
A living room that is open to the kitchen and dining nook and includes a fireplace and open spaces for furniture, including a cabinet bed.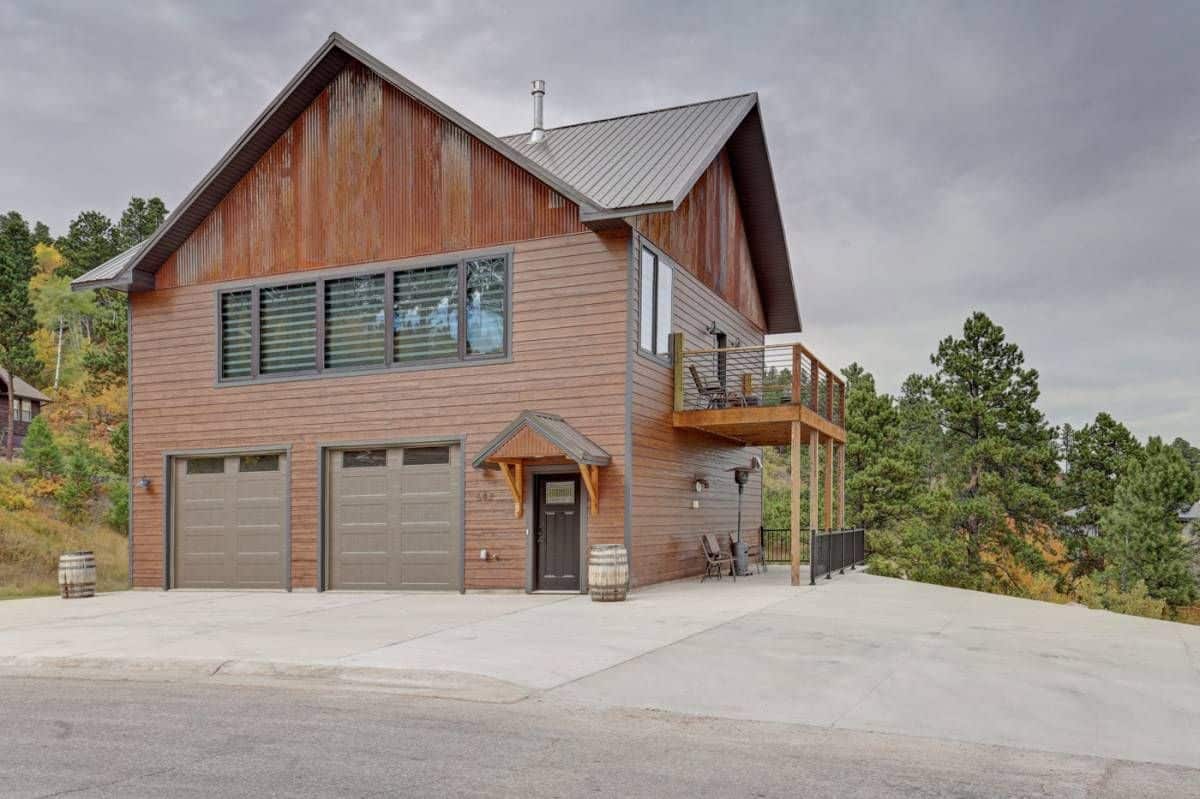 This cabin entrance on the side has a private door next to the 2 garage doors. These doors open up into the lower level family room area that also includes room to park 2 cars if desired.
To the side of the home, overlooking the valley below, you have a patio with railing on the lower section and an open deck above that is off the main level of the home.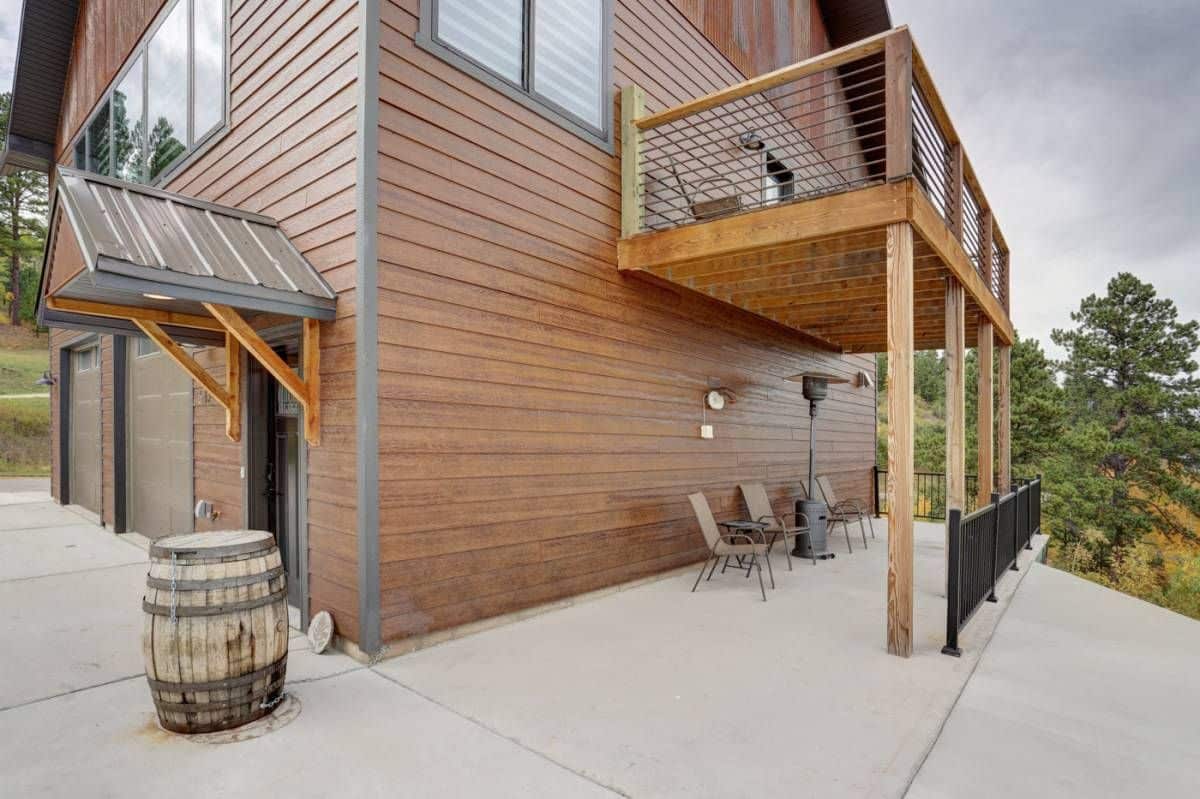 The view off the upper deck is stunning and ideal for an evening nightcap or sipping your morning coffee in the quiet.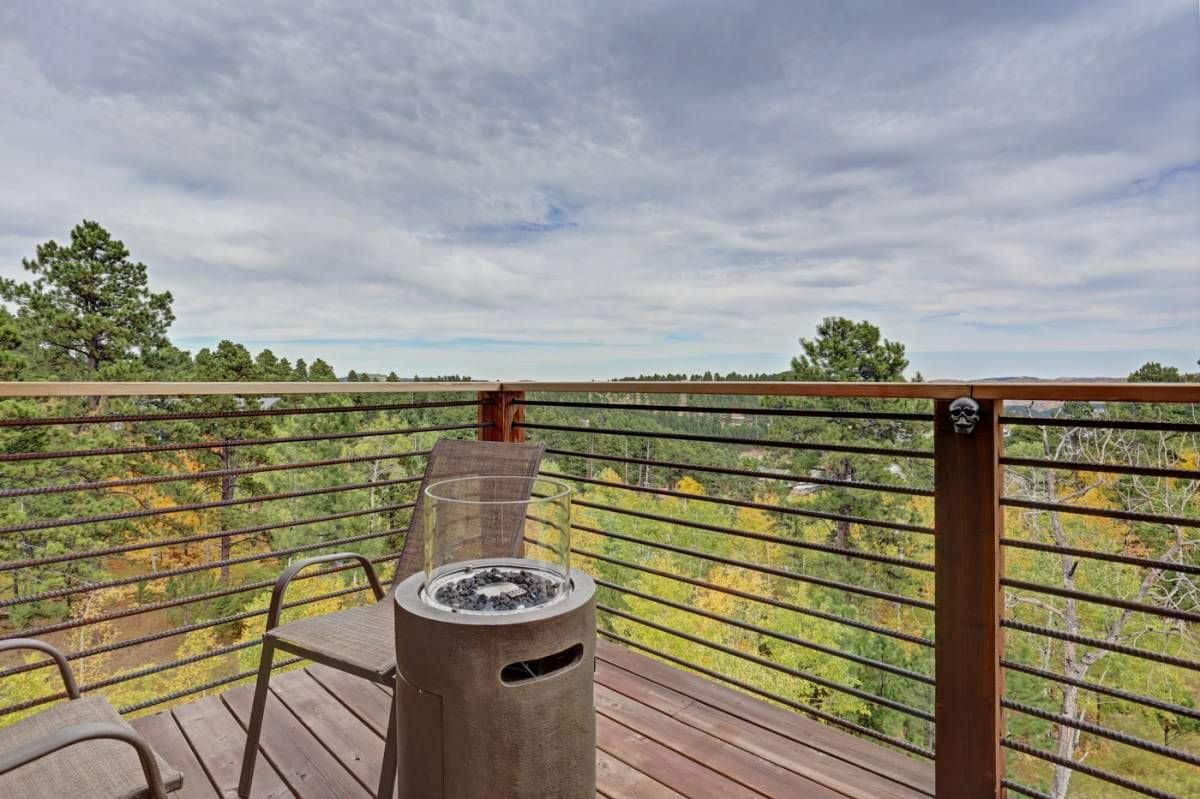 Entering the upper main level of the home, you come up stairs on the side right into the living area. This half of the upper level includes an open living room, a fireplace, a dining nook, and a kitchen on one side. On the other side, behind the fireplace, are the two upper-level bedrooms an the 3/4 bathroom.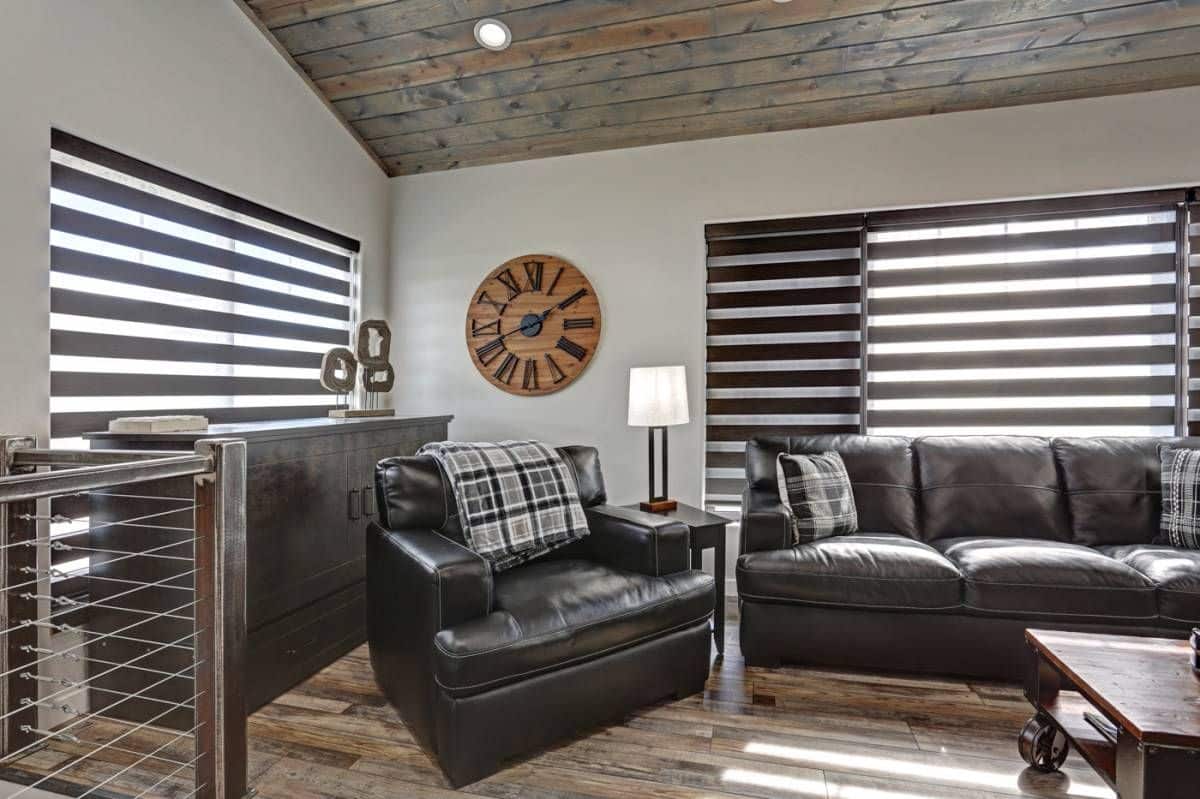 A look across the room shows how open this space is with the kitchen on the far wall.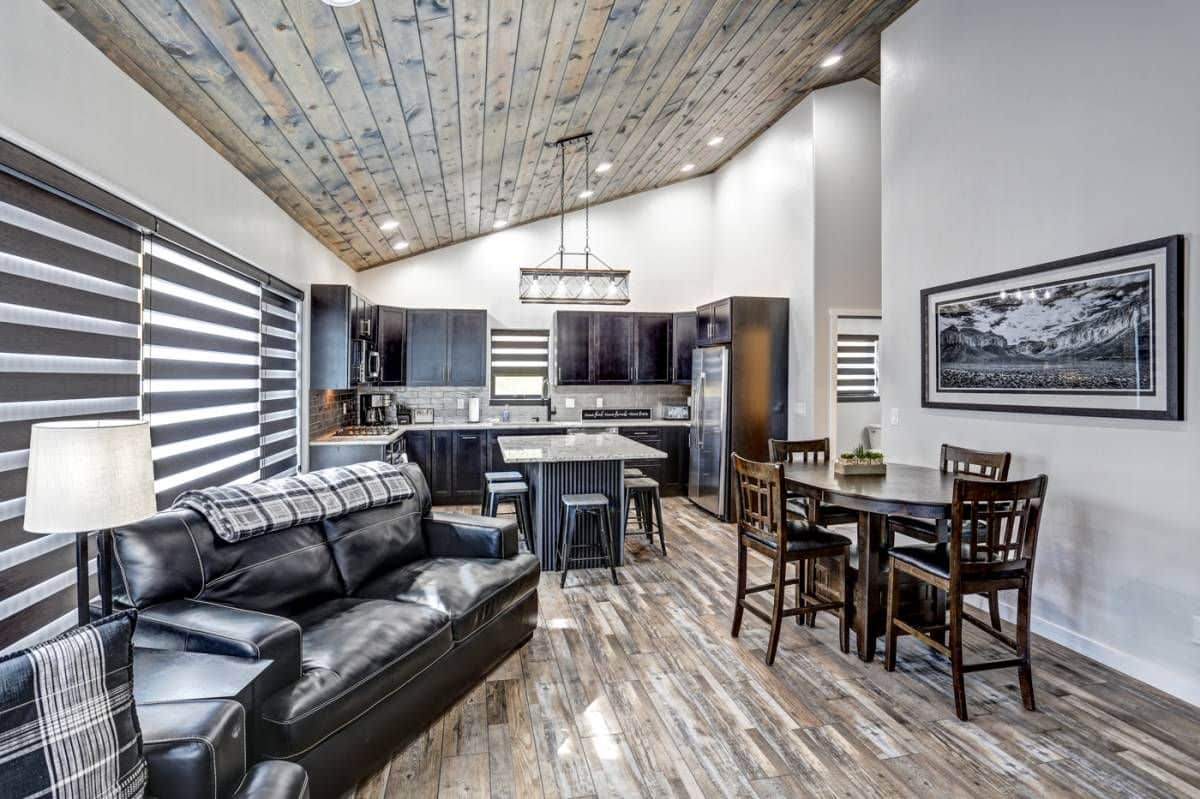 The fireplace with a television mounted above it are the focal point in the living room space.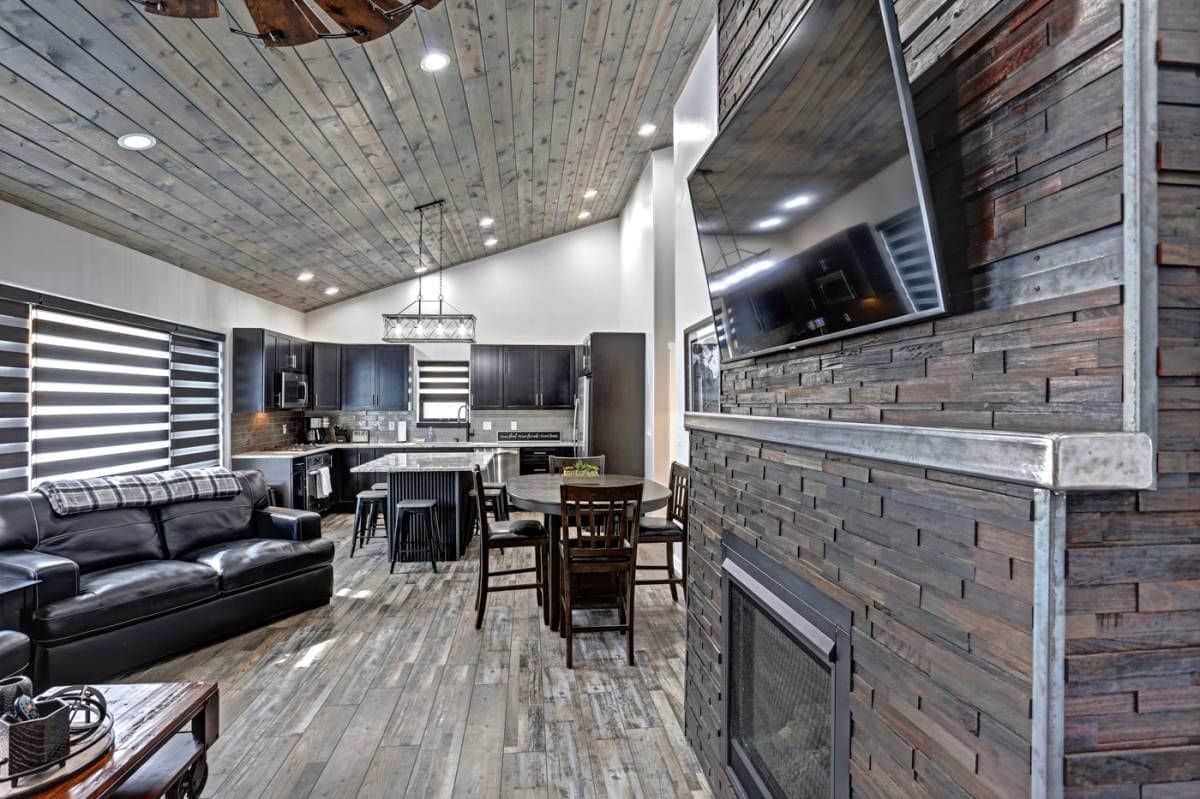 And from near the dining table, you can see the two sofas and chairs give you plenty of room for the whole family to relax. That cabinet behind the chair comes out into a queen bed when needed. So, you have room for everyone in comfort.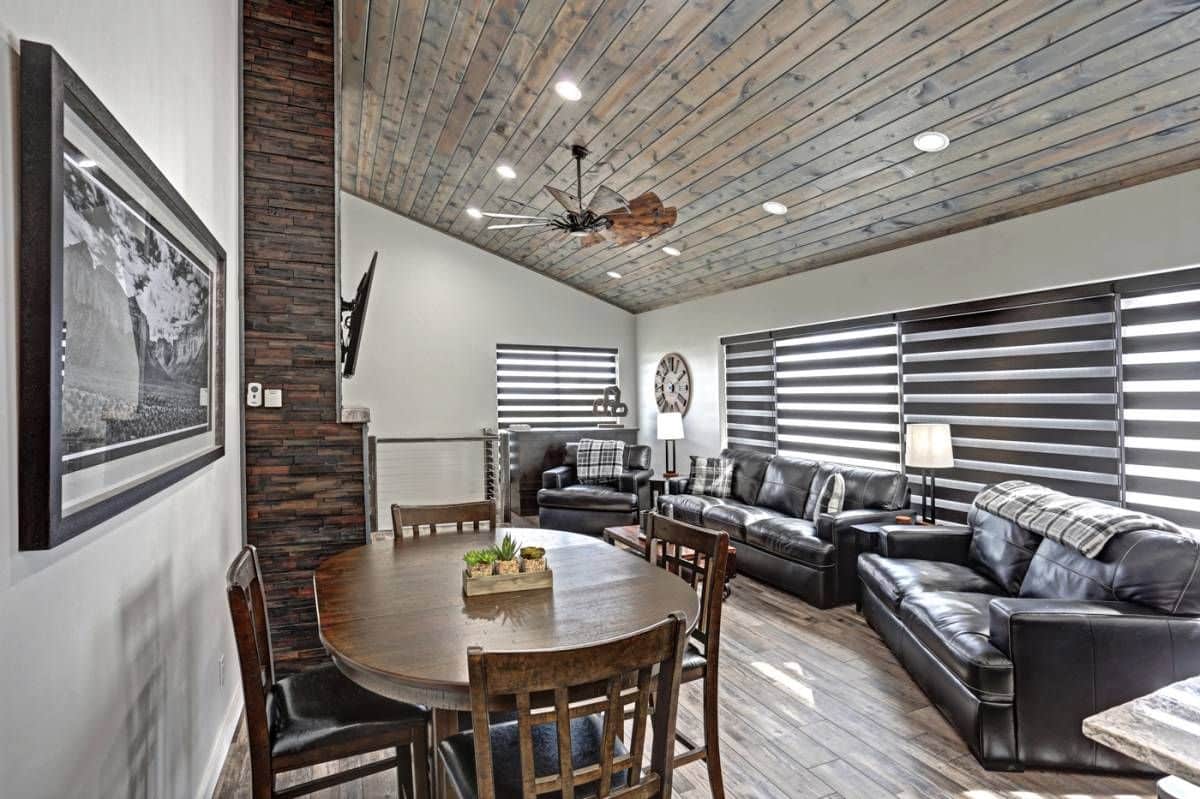 And here is another look across the level from the kitchen area. As you look out, you see a ceiling fan here that is ideal for adding some extra airflow through the upper level of the home.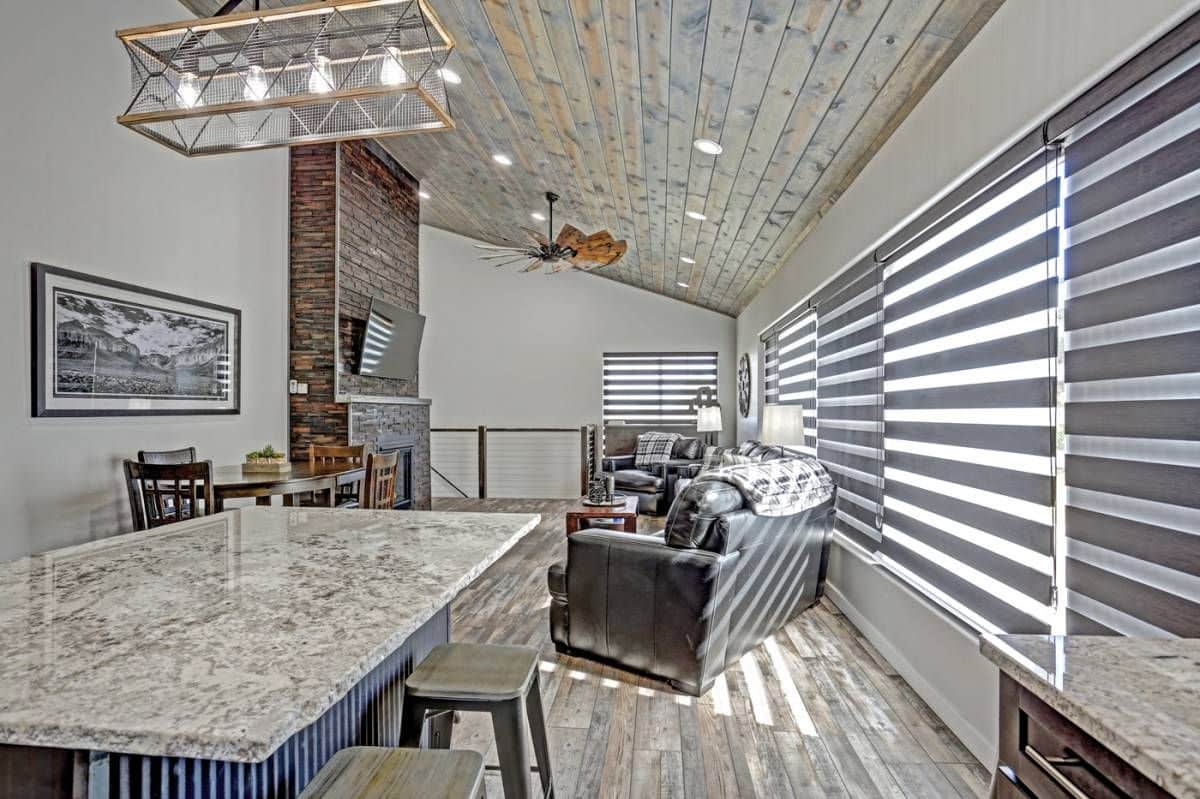 The kitchen is a nice corner space that is modern, comfortable, and welcoming. An island sits in the center with extra workspace as well as room on three sides to create a dining table or breakfast nook from it.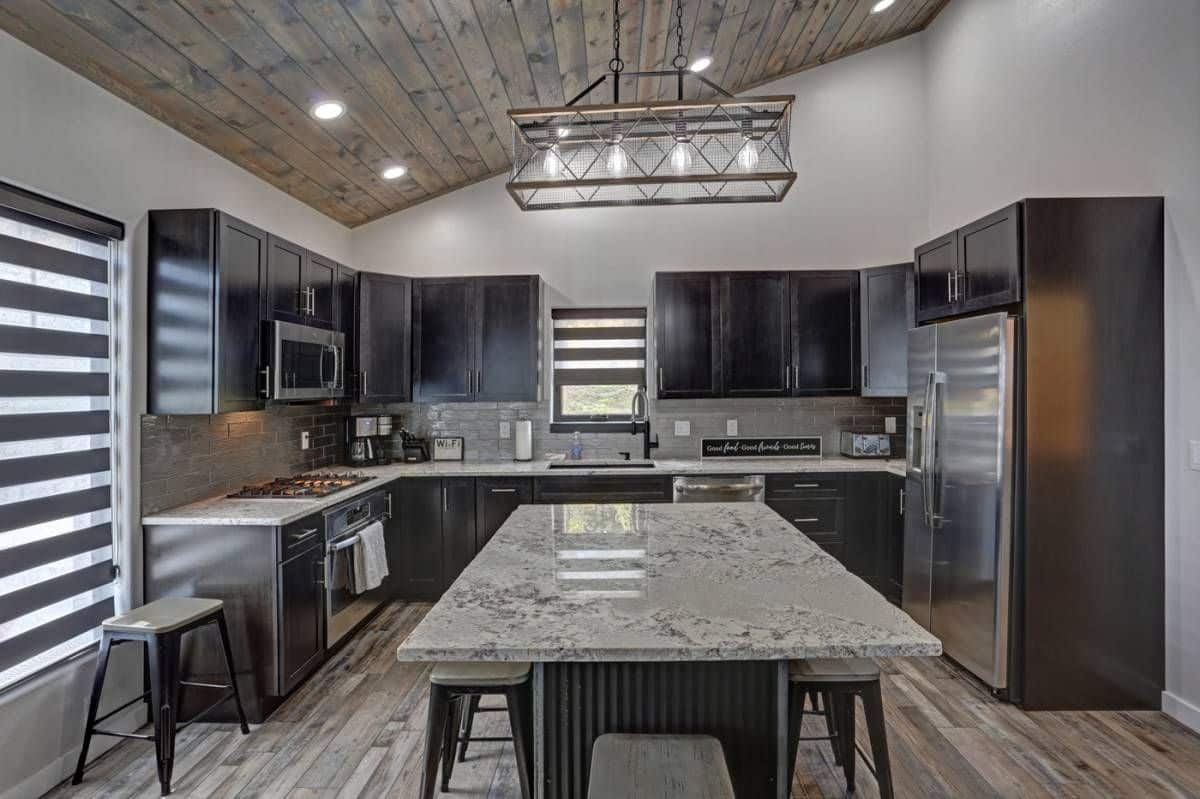 Stainless steel appliances and the modern gray look have been placed in this kitchen, but you can see there is room to create any layout or design you prefer. If you want a rustic look with more woodgrain, it's an easy swap!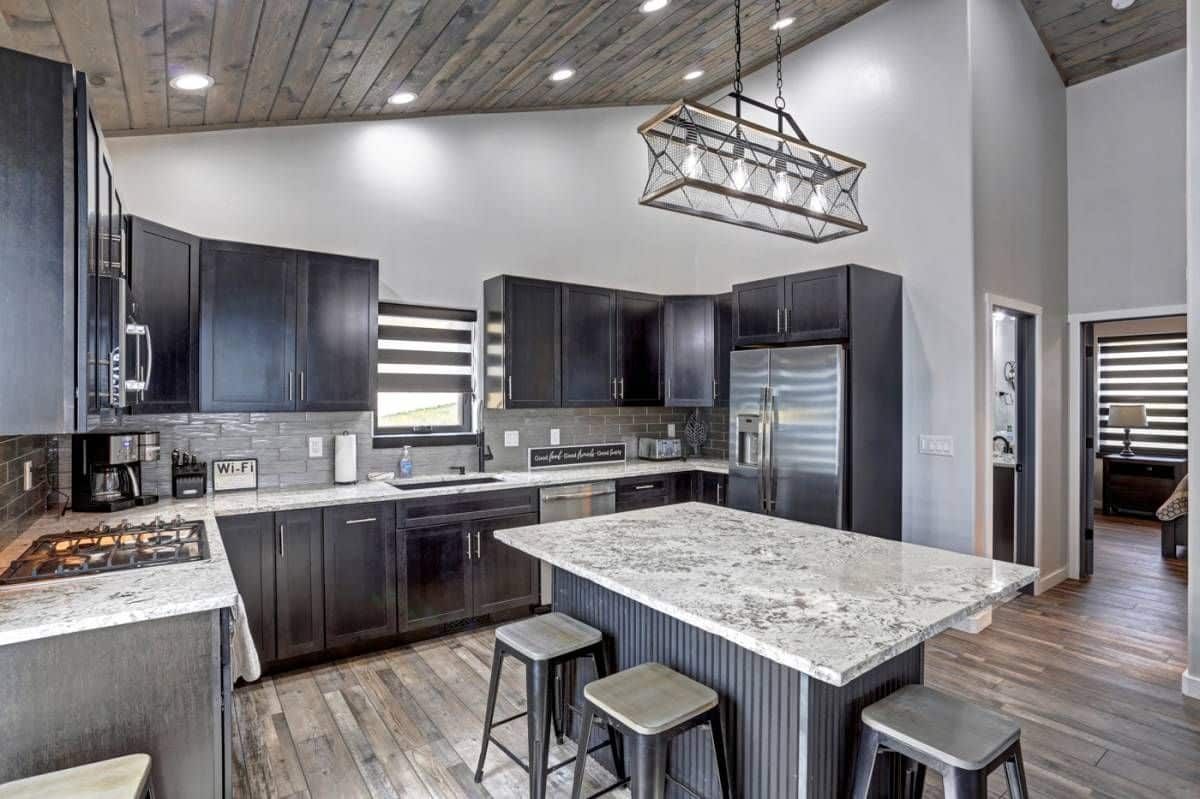 I love that this rental is truly equipped for daily life. You can eat out, pick up food or order in, or just prepare full meals here for your family. Everything you need is provided.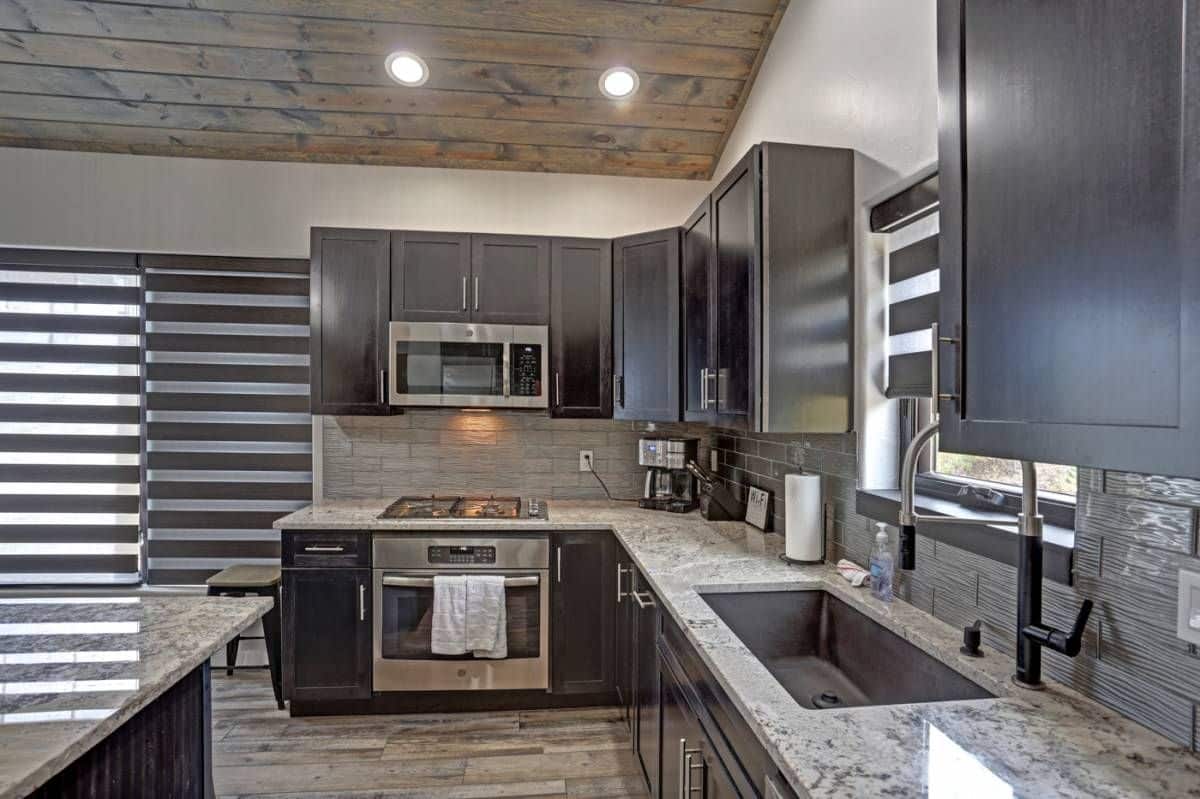 The upper level "guest" bathroom is a simple space behind the kitchen by one of the bedrooms. It has a modern look complete with an angled glass shower as well as a vanity cabinet angled toward the shower.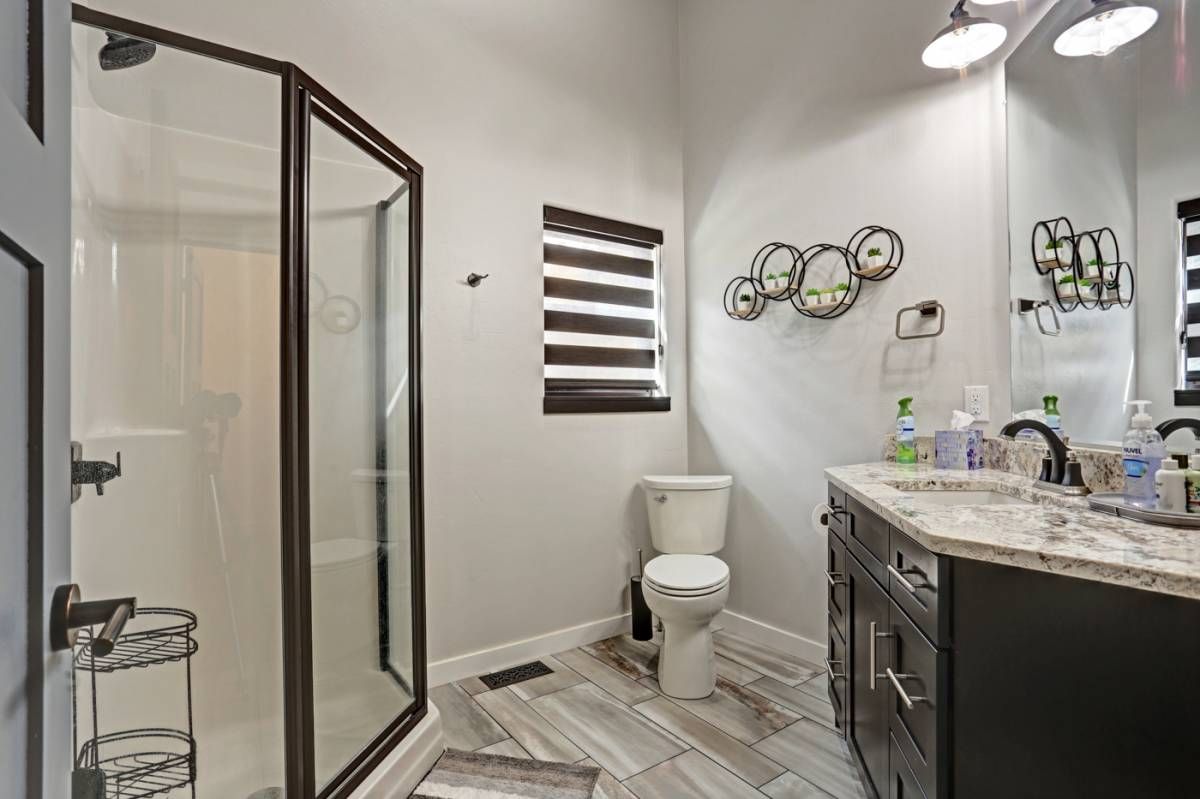 The first bedroom we look at it is setup with night stands, a queen bed, and room to move around easily.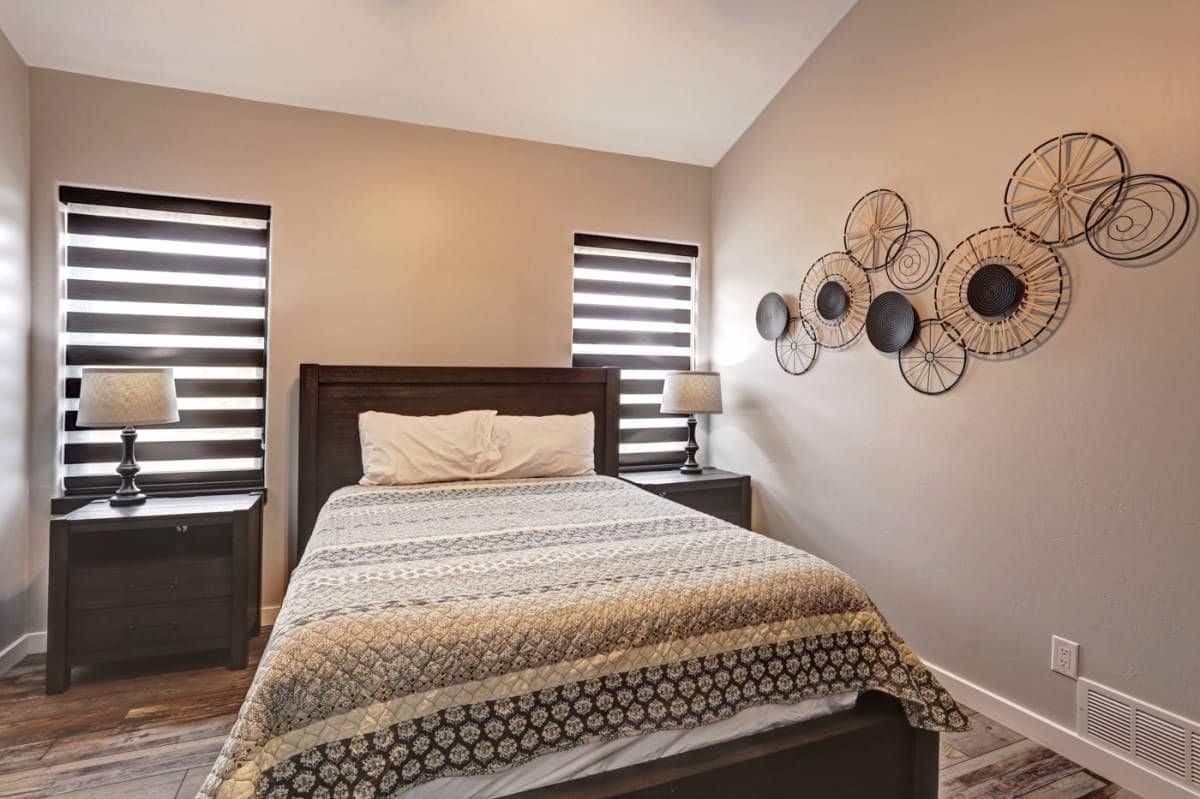 On one side of the room is a door that slides open to reveal the three stacked bunk beds. These are single beds that are ideal for kids, but a small adult could be comfortable here.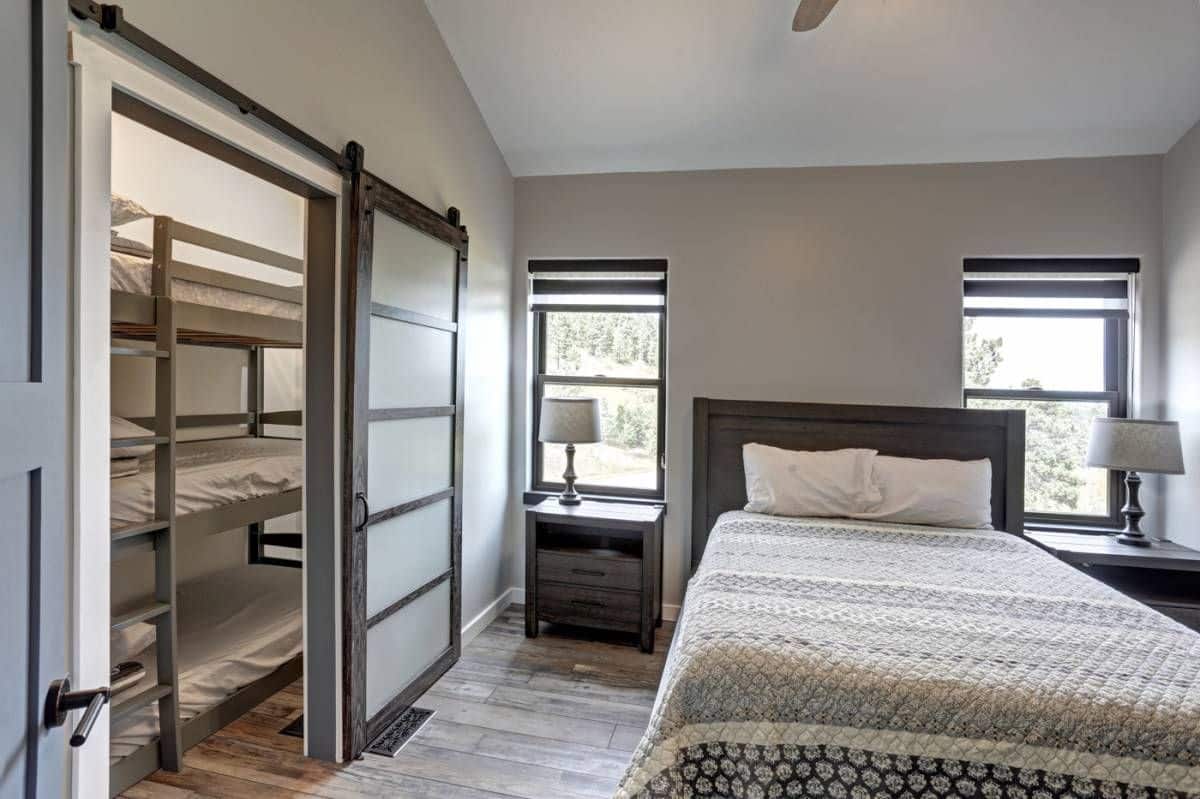 While they aren't in a separate room, the door adds a bit of privacy. It's not much more than an expanded closet space, but kids will love the adventure of it.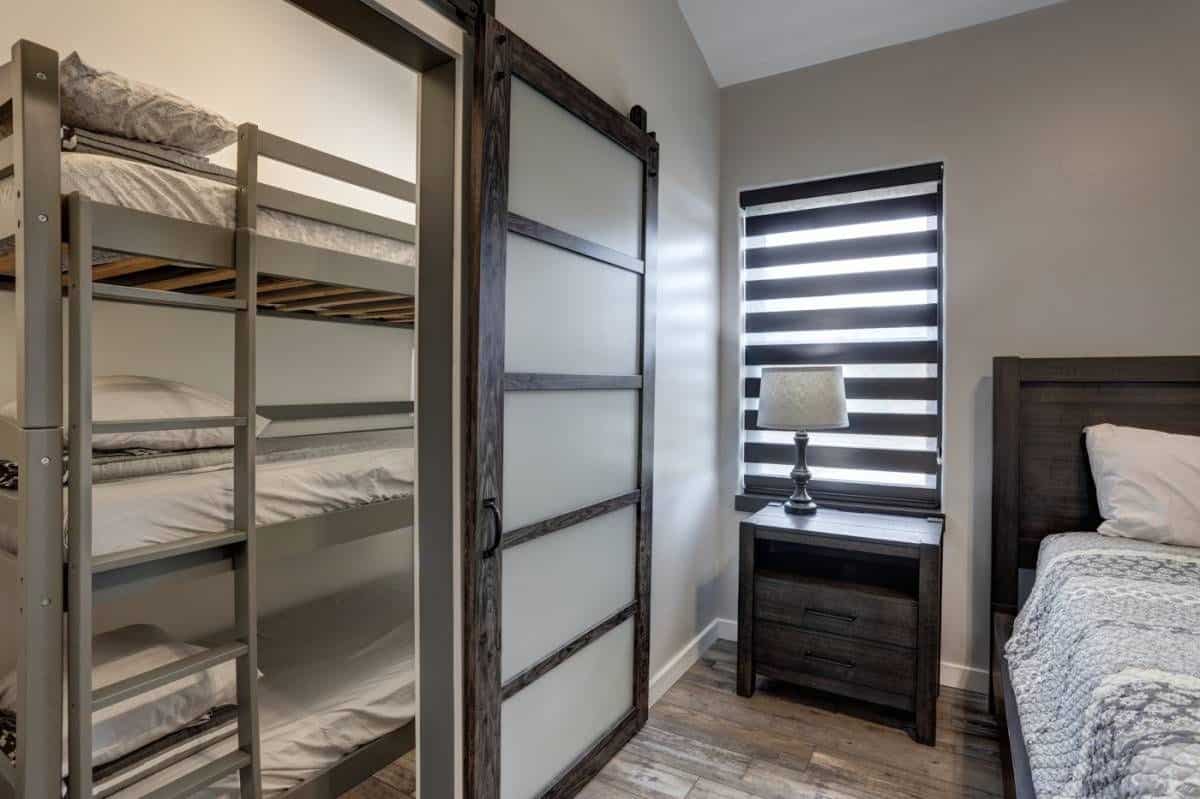 Across the space, on the other side of the living room and fireplace, you find the master suite. This room includes the beautiful en-suite bathroom which is what dreams are made of.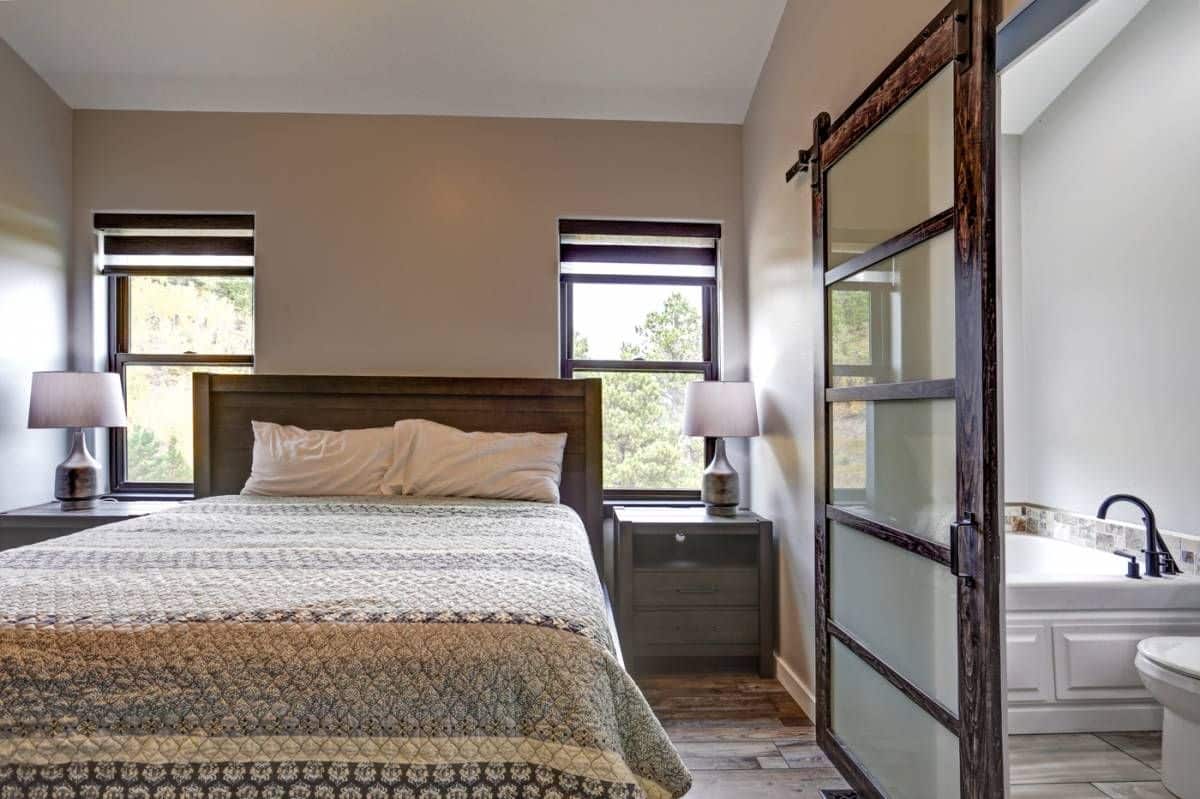 In the bedroom itself, you have a simple chest of drawers and a television mounted in one corner. There is room to move around, add a chair if desired, and unpack your belongings for your stay.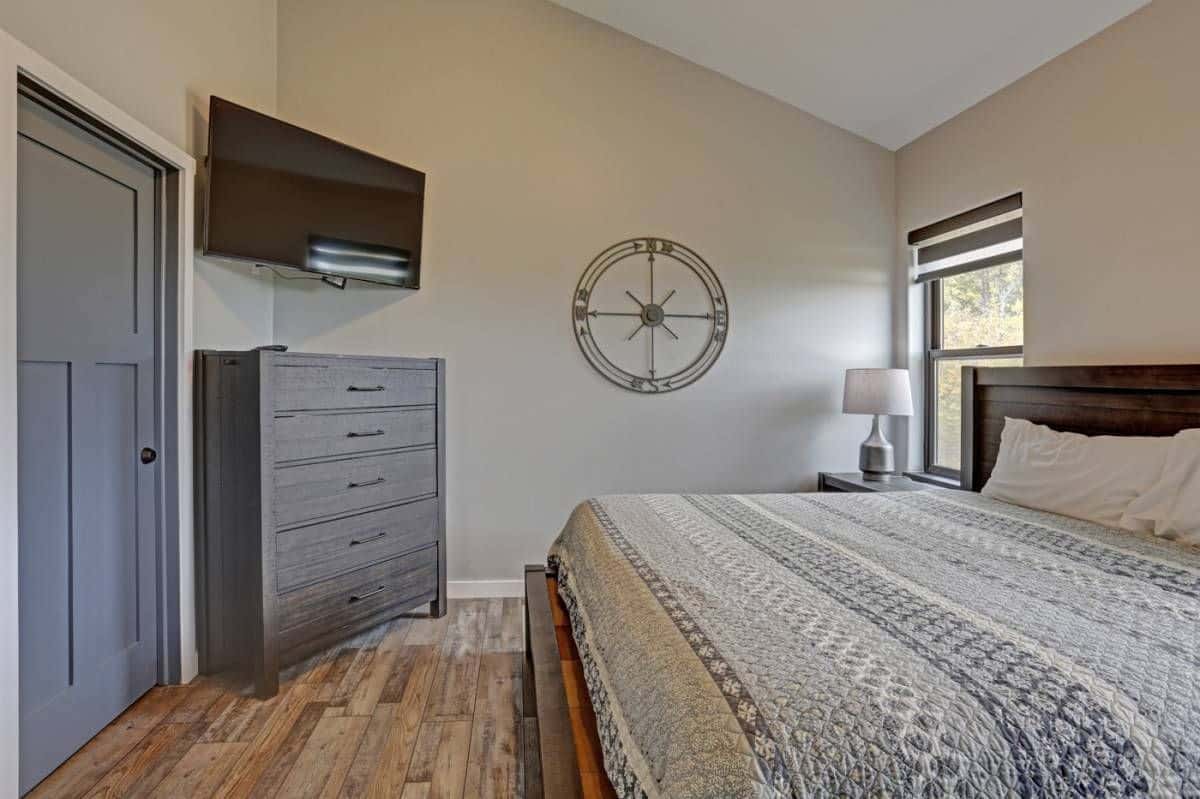 The other side of the room has the bathroom. A sliding barn door with frosted glass is a perfect closure to add a bit of farmhouse rustic to the space.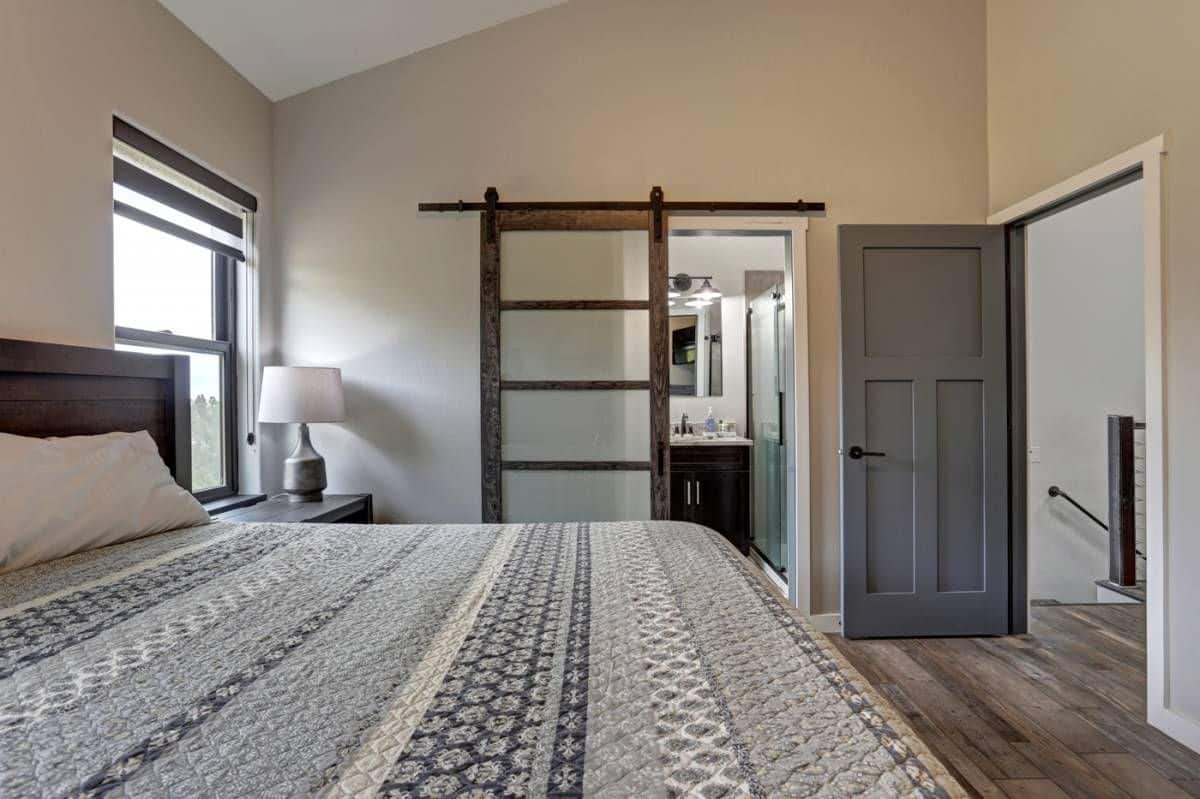 On the outer wall, you have a soaking bathtub with jets that looks to be large enough for two people. Of course, this space also includes a toilet and vanity with tons of cabinet storage space.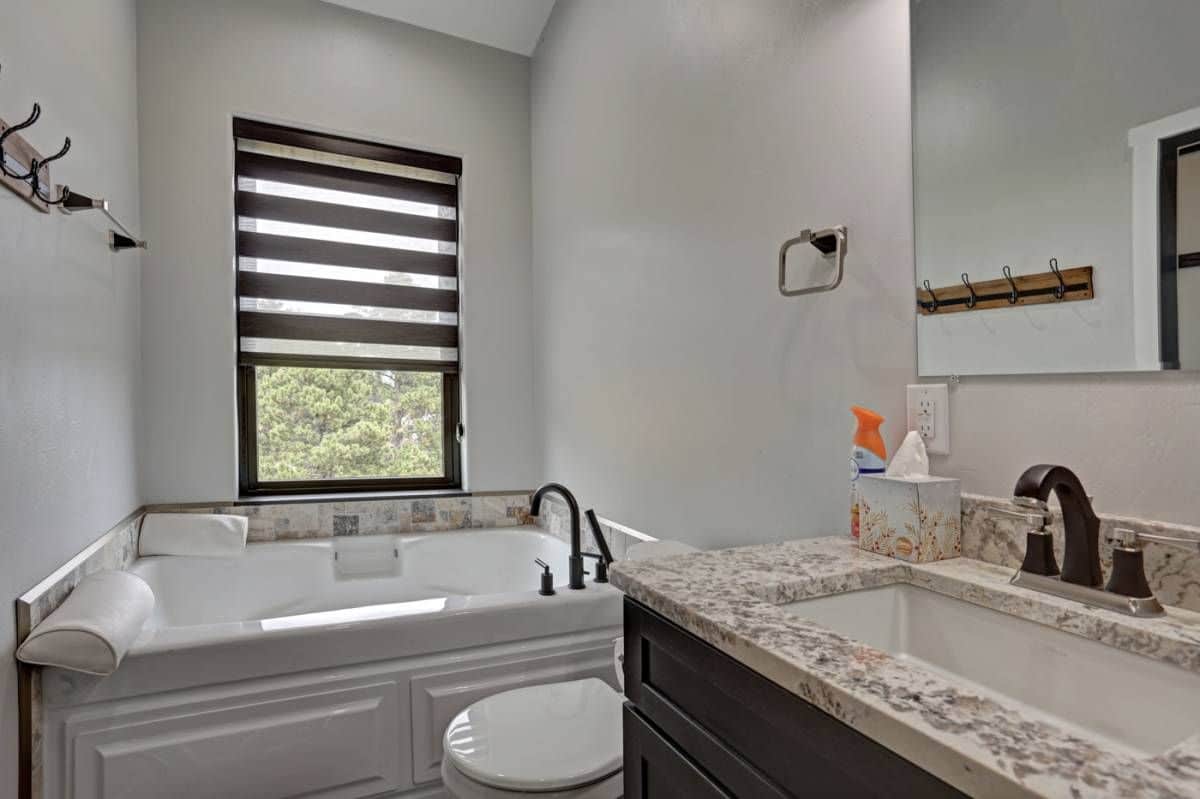 And on the wall facing the living area, you have a large glass door shower that is a spa-like experience.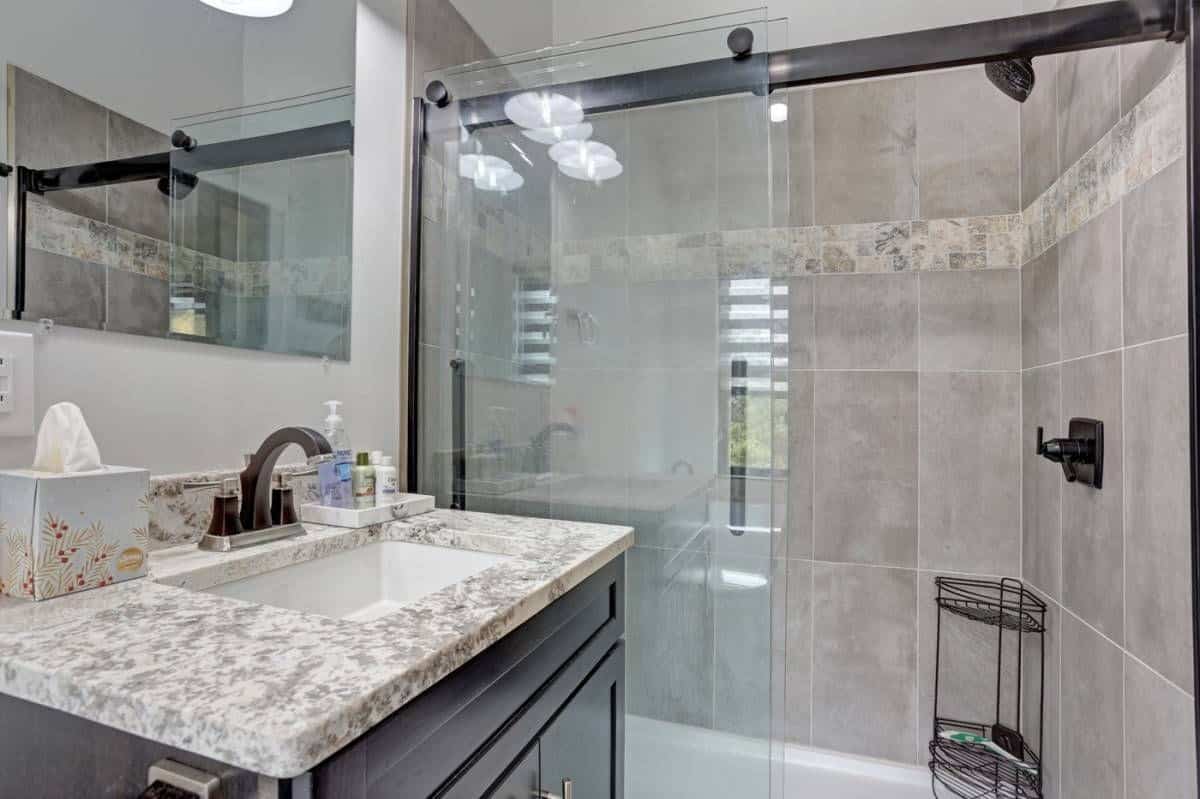 Another addition that is convenient for travelers or anyone who wants to build a similar style cabin, is the laundry room. It's a separate space with countertop and cabinet storage. A perfect additional ammenity.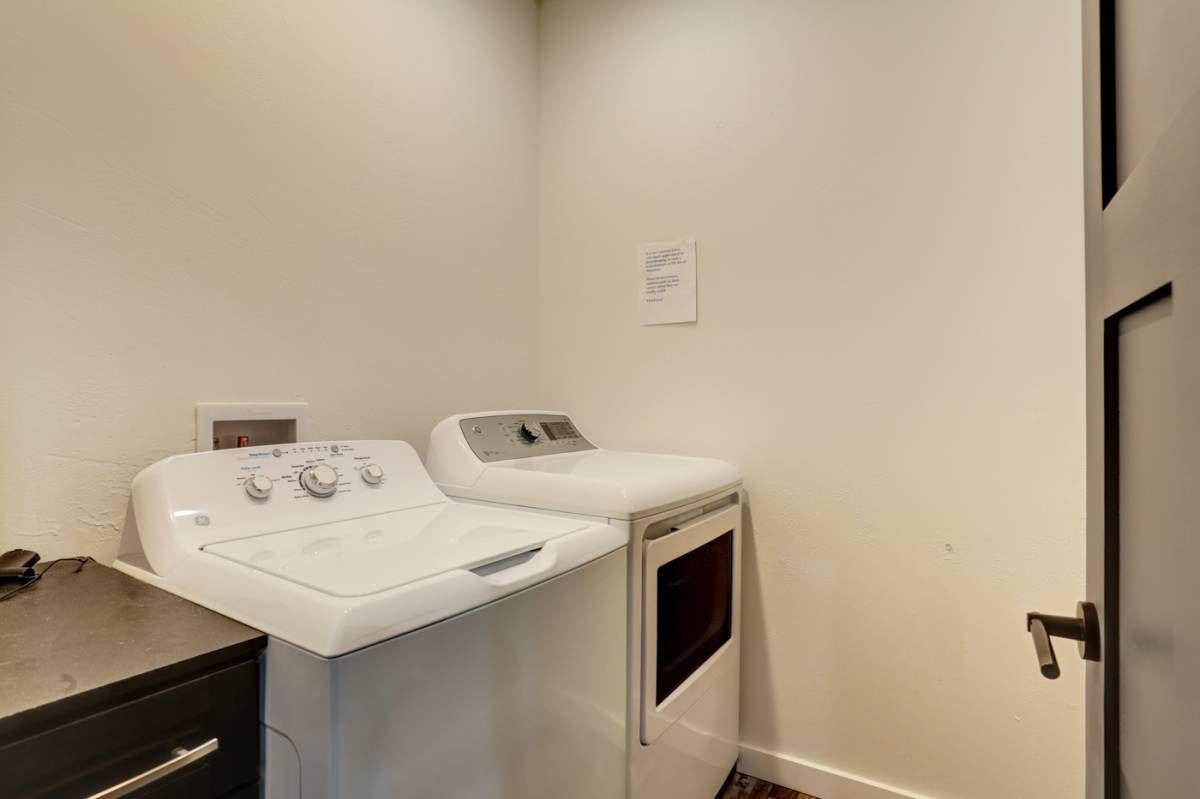 On the lower level, you will find a unique option. This space actually has 3 garage doors. Two of which still have open space for you to pull in and park if you desire. However, this is setup more as a "man cave" or game area.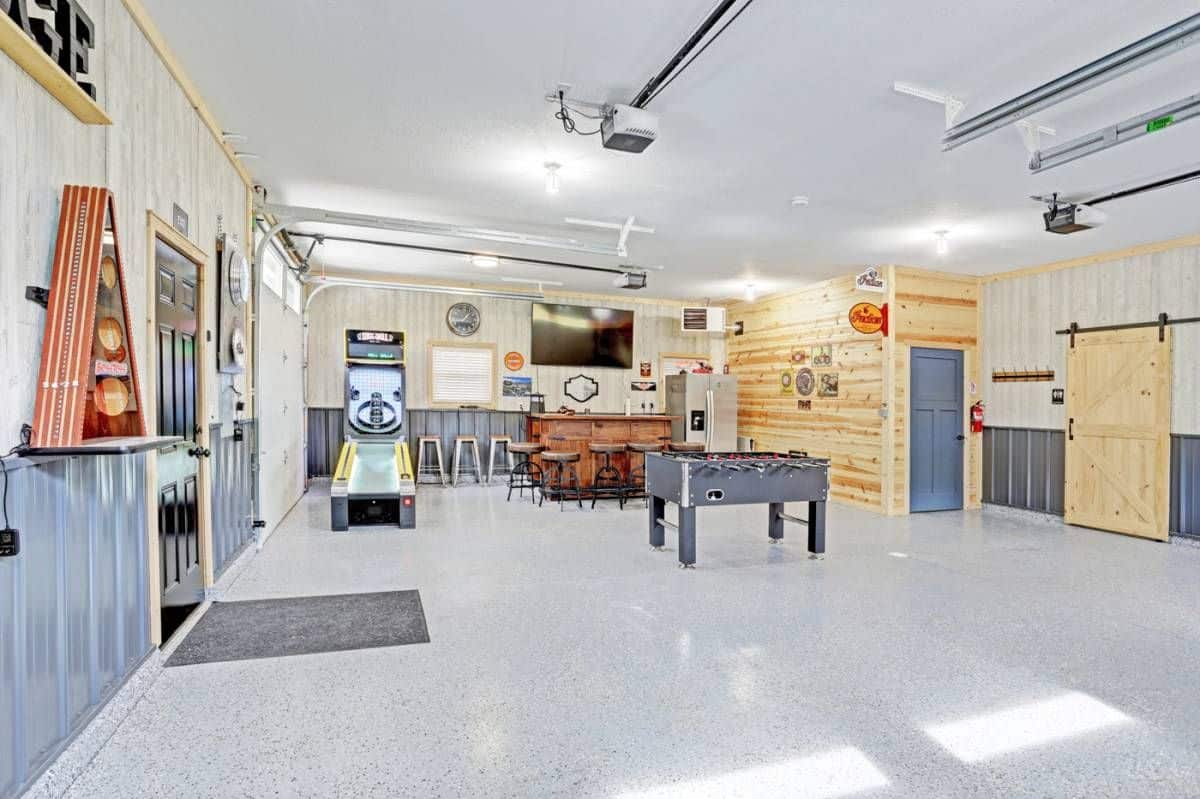 In this area, you have a small wet bar, a full-sized refrigerator, and a large flat-screen TV on the wall. Plus, the toys included are the foosball table and a skeeball setup. It's a great place for the guys to go hang out and drink a beer or watch a game.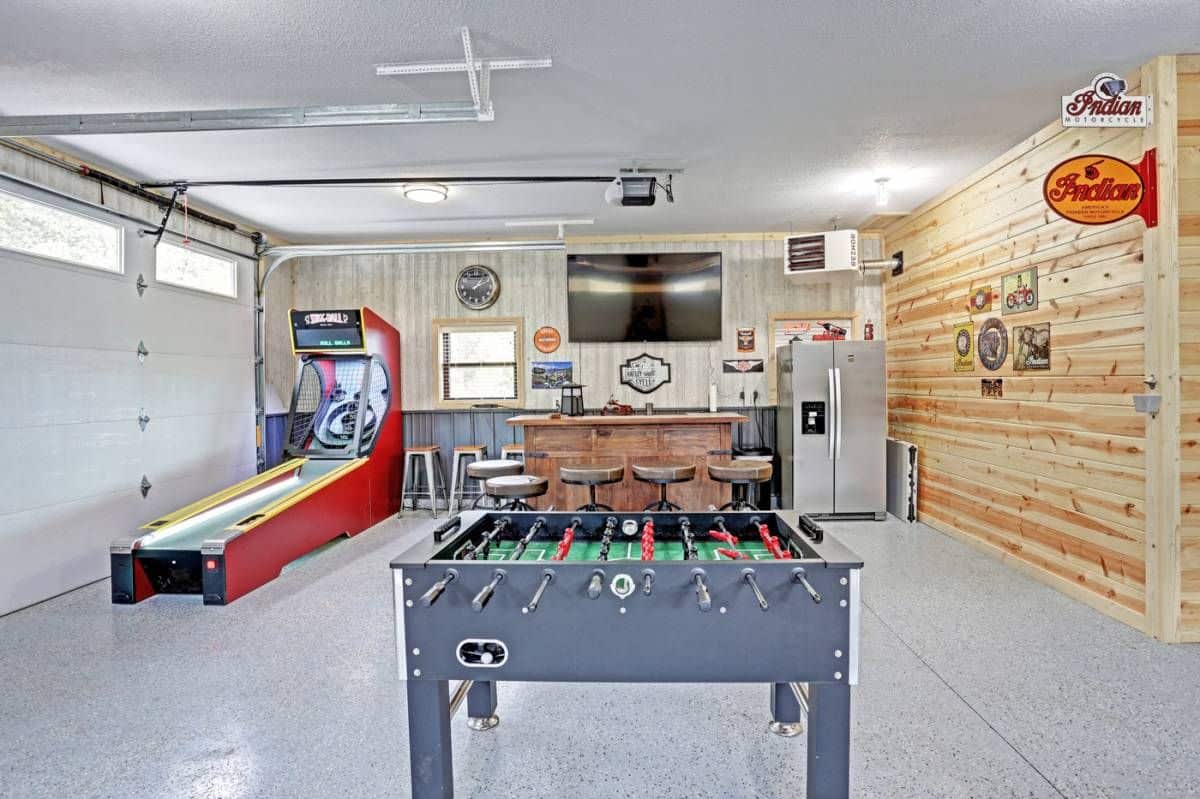 I love that they added a full bar space here with two different stool options. It's a fun space that also includes the lower level bedroom and half bath just to the side.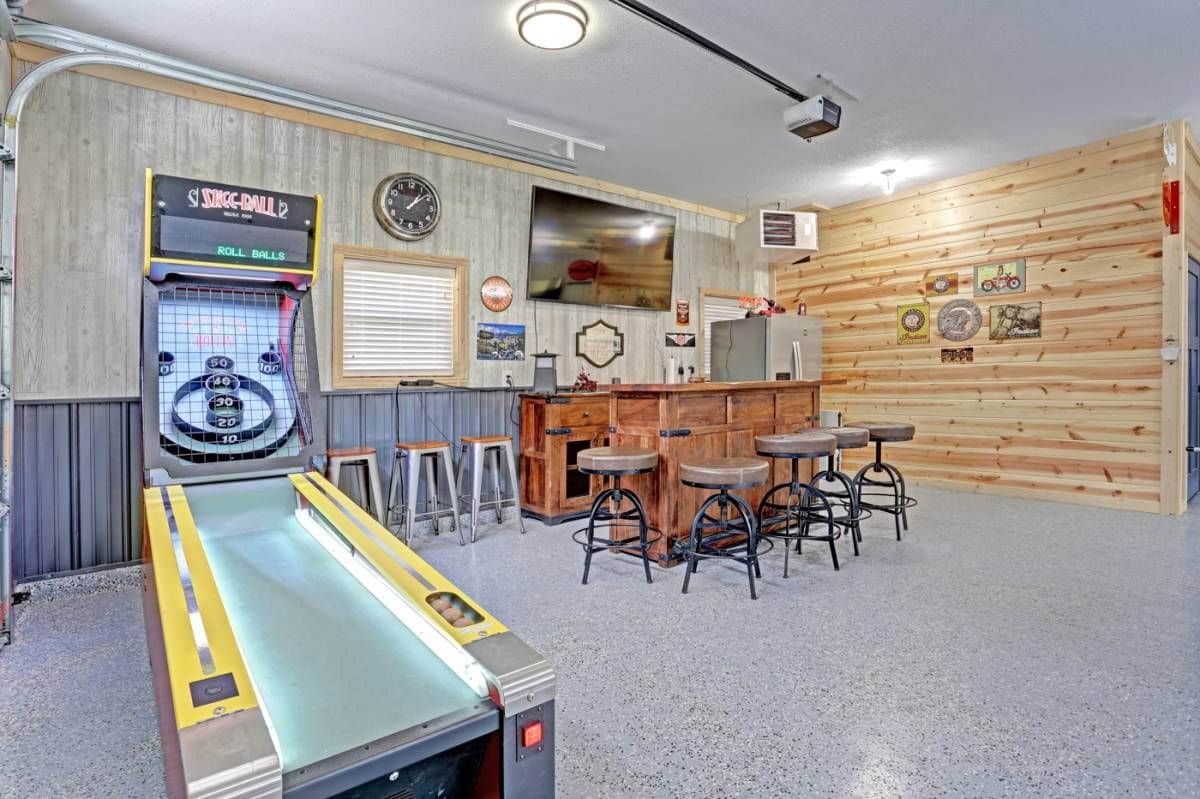 On the far side of this level, you have a door leading into the half bath and another adjacent door to the bedroom. For a home owner, this is a great guest suite!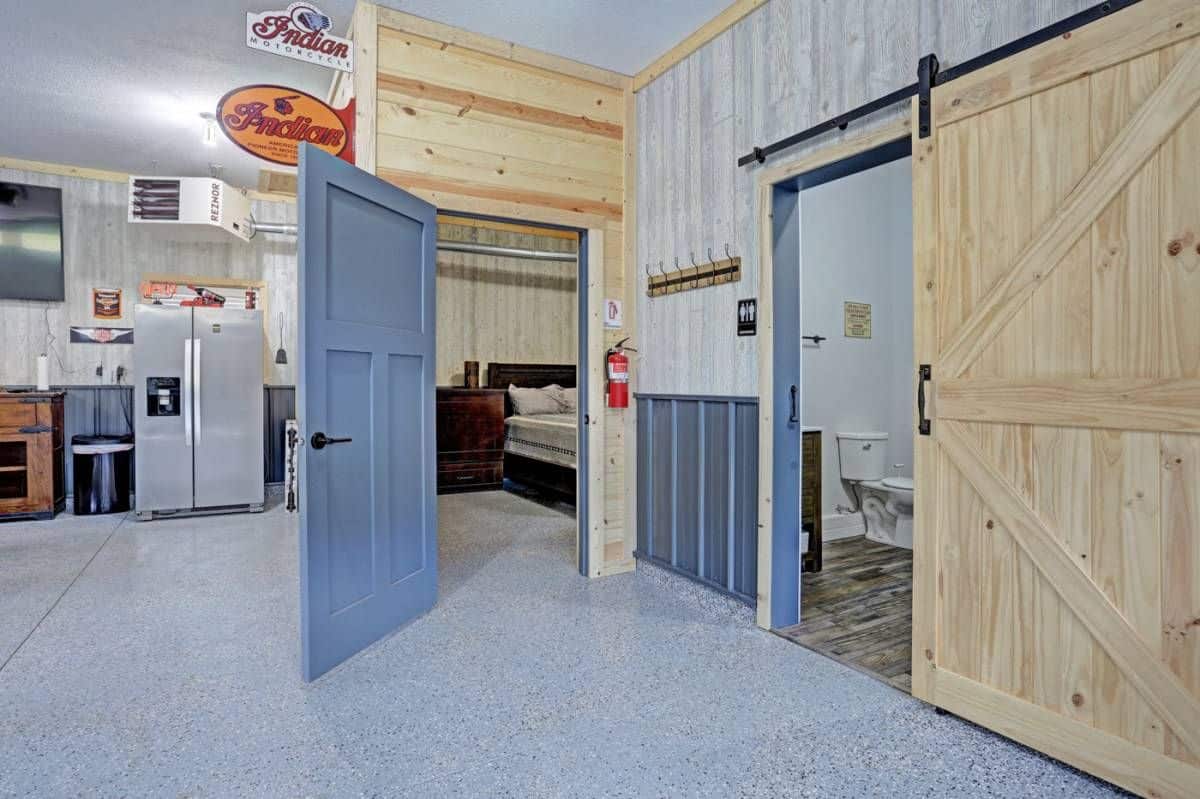 This small bedroom includes a traditional queen bed, as well as a cabinet queen beside it. This is simple, but comfortable.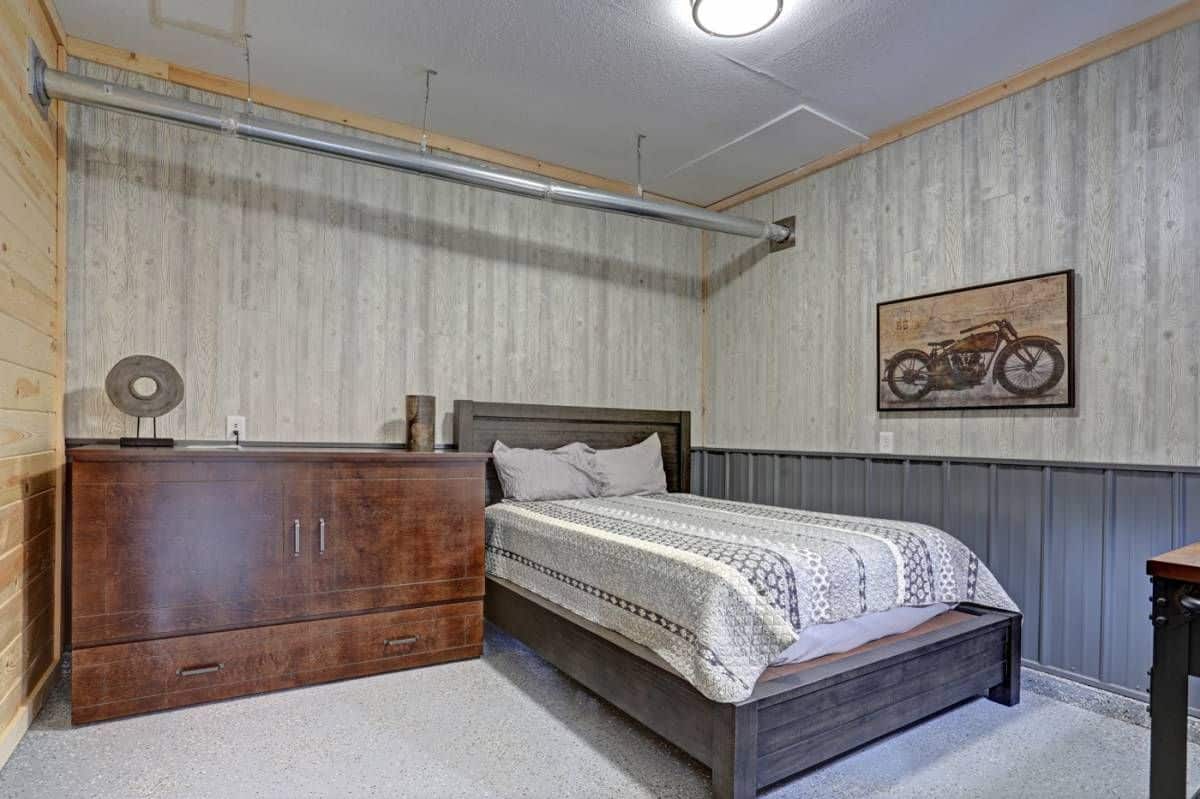 This lower level bathroom is setup to be a half bath or 3/4 bath depending upon your needs and preferences.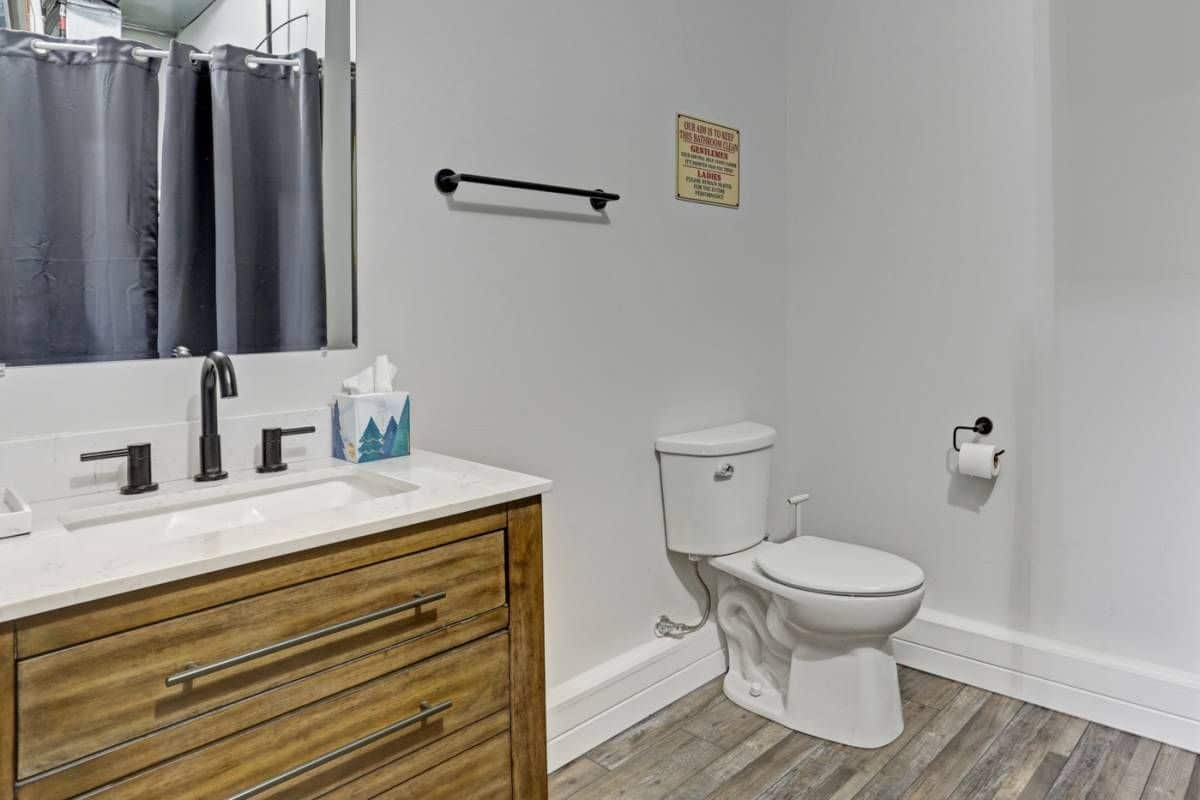 If you are interested in renting this cabin for a family vacation, check out the options and availability on Black Hills Cabin Rentals' website. Let them know that Log Cabin Connection sent you their way.
More Log Cabin Kits and Tours