If simple is what you want, look no further than the Creek Side cabin. This basic layout has a screened porch off one side, a garage in the background, and a nice covered porch on the front of the home.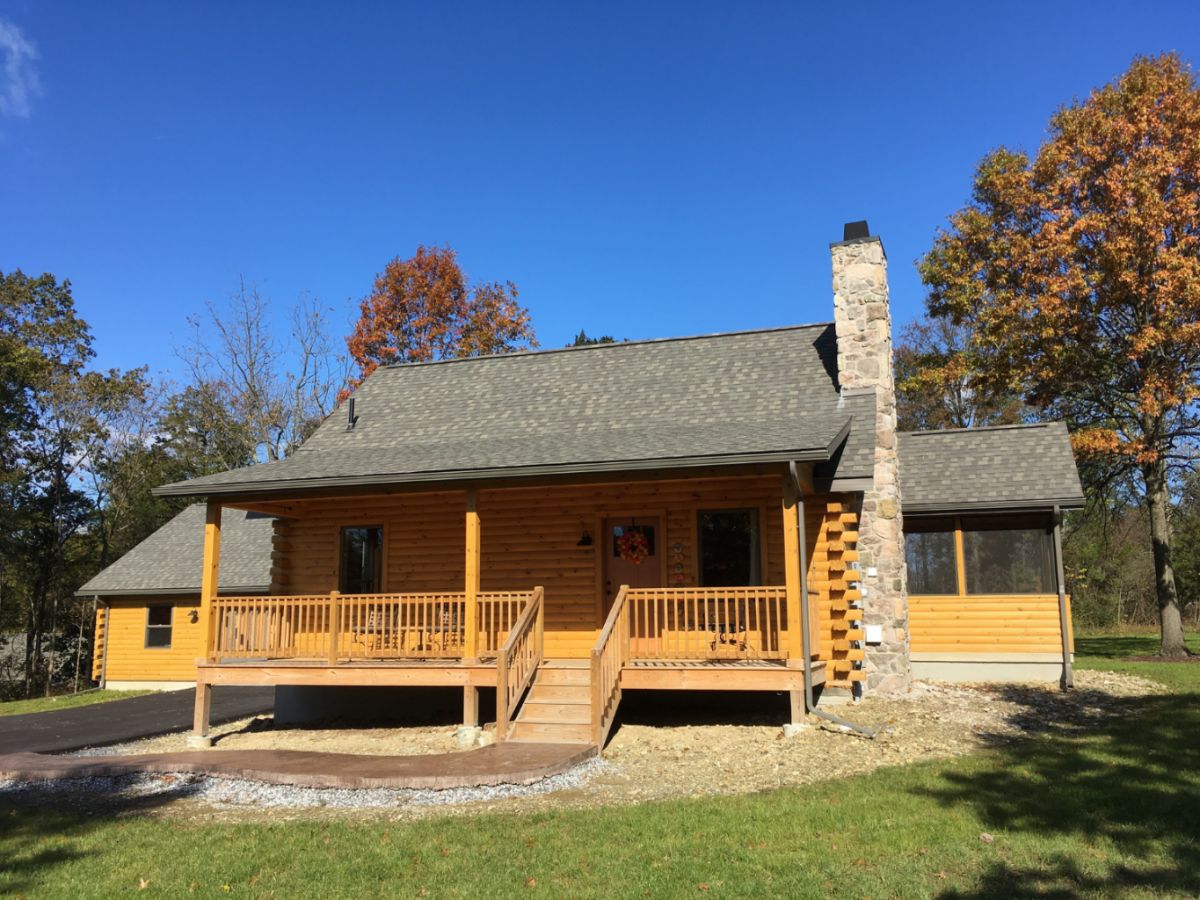 Log Cabin Size
1,100 square feet
2 bedrooms
3 bathrooms
Log Cabin Features
Superior Walls© foundation system or 12 courses of concrete block foundation
6″ or 8″ thick pine or cedar logs
Architectural shingles
Stone veneer on interior fireplace or wood stove
Tilt – in Anderson 400 series windows
Raised panel solid pine doors
6″ x 8″ exposed loft joists
Tongue and grooved pine floor available for loft floor.
Hardwood flooring in selected areas
Vaulted great room with wood ceiling and exposed beams
Custom built stairway – crafted from white pine beams
Choice of kitchen cabinetry
Choice of drywall or wood on interior partitions
Integrated Smoke detectors and carbon monoxide detectors
An affordable cabin for those on a budget, this home is built with pine logs and all of the quality you expect from a professional build.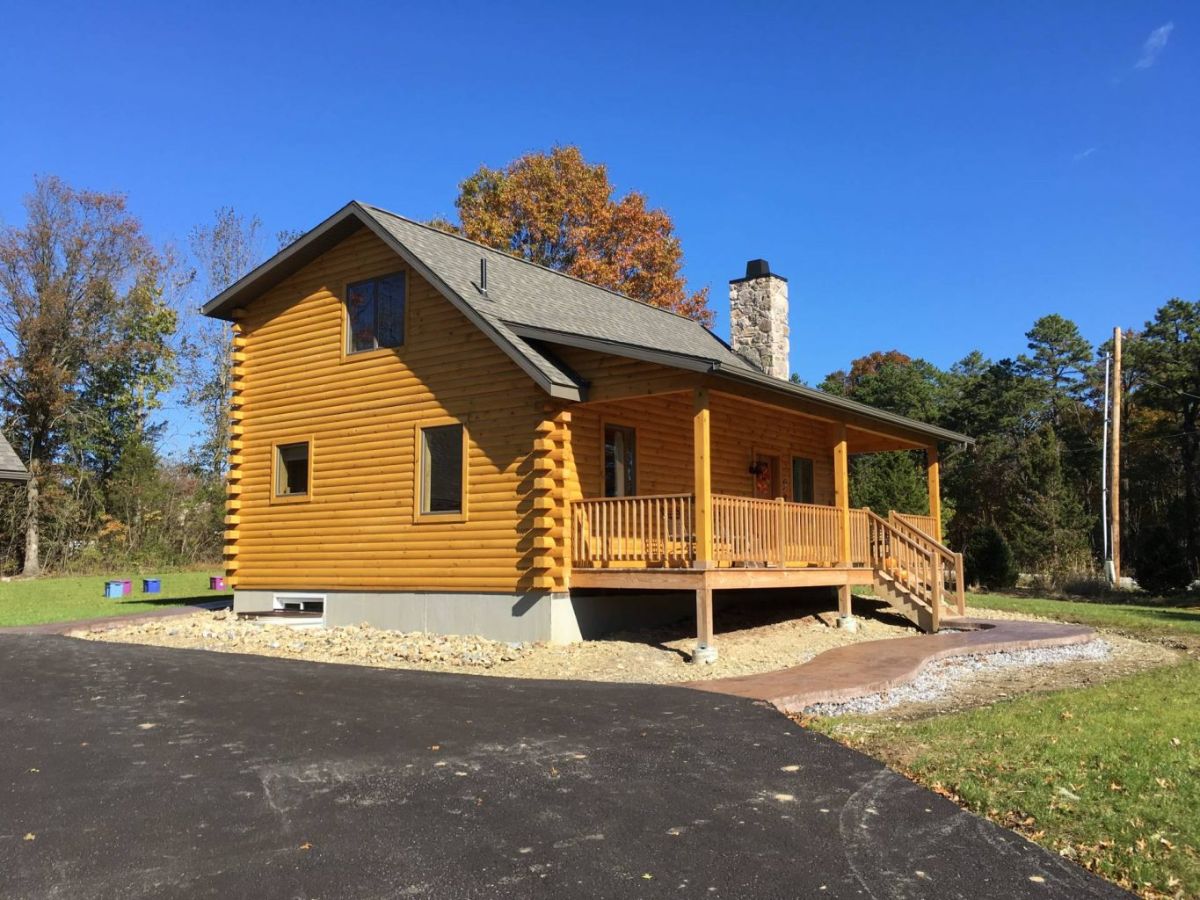 The angled roof allows for a second floor but also a sloping higher ceiling on the main floor of the home. The front has that nice covered porch, but around on the back side you have a simple open deck with stairs out into the yard.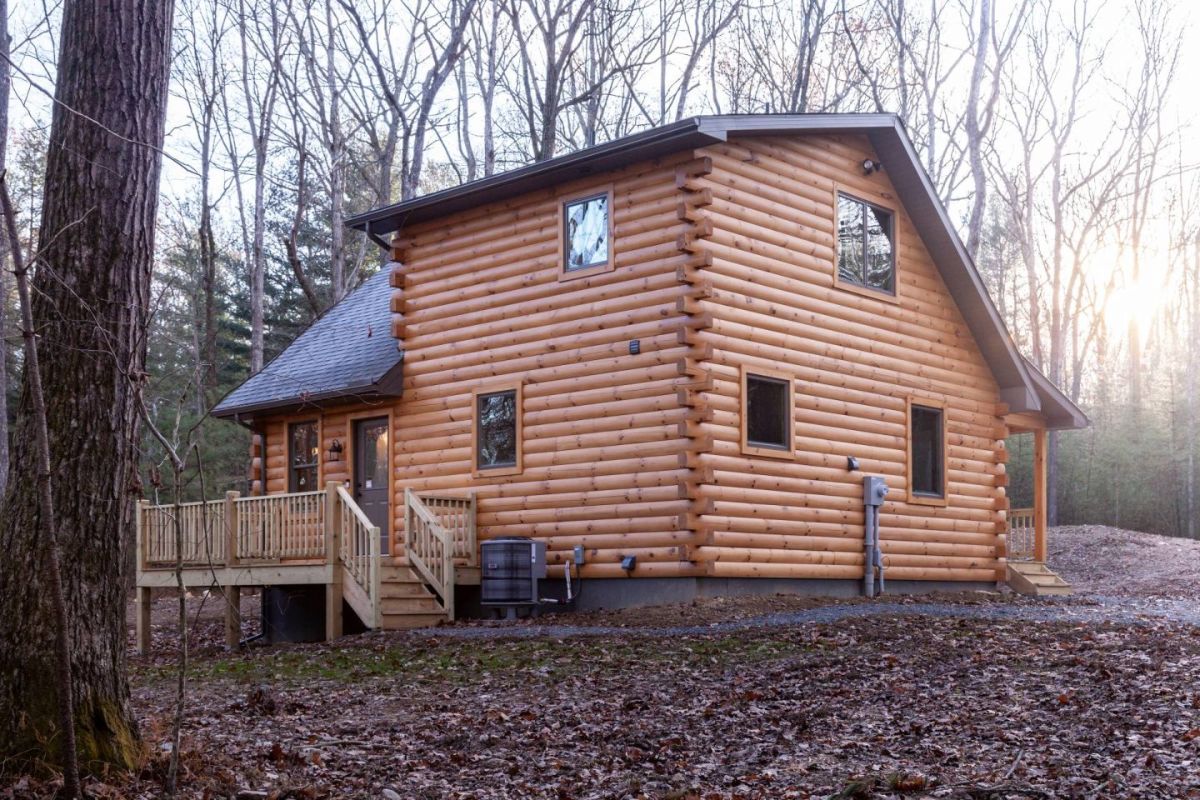 From a different angle, you can see a bit more of the size of the cabin. This is just one of many styles available that can easily fit into your budget. A customized build is a bit more expensive, but can be worth it for those that need specific additions to the home.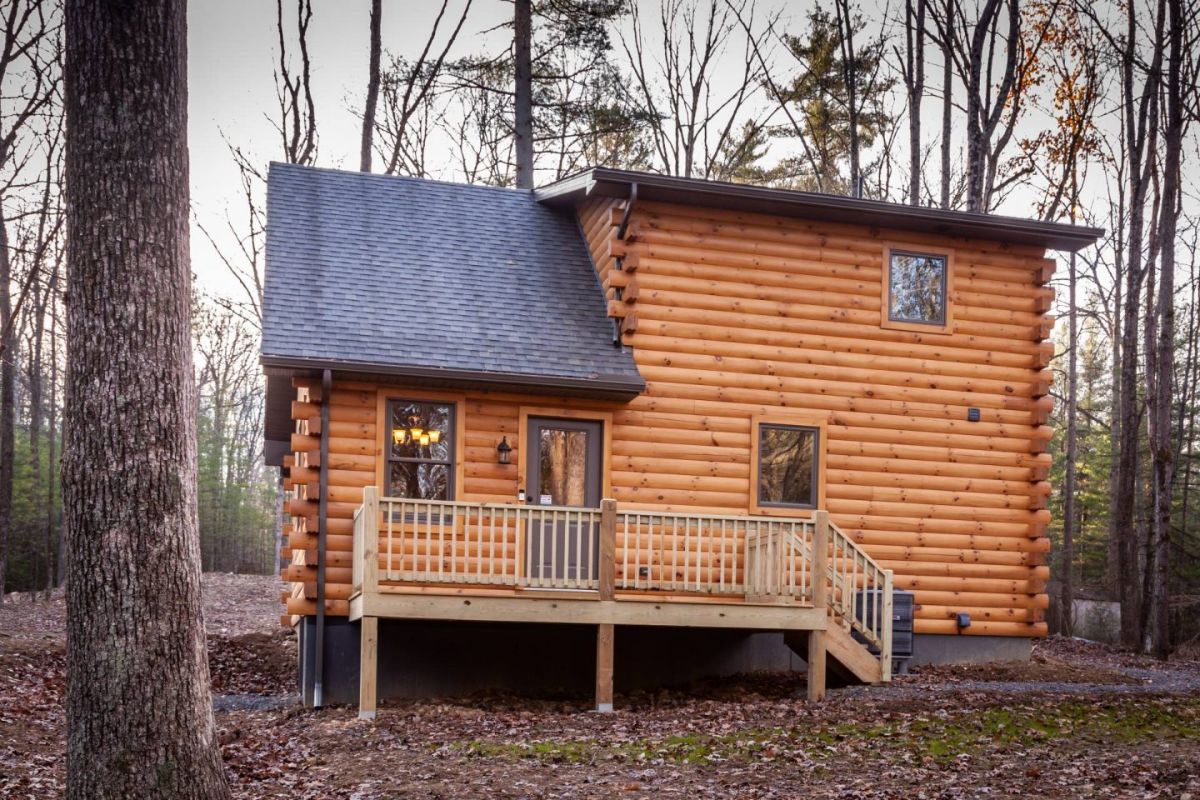 Inside this cabin are simple spaces with flat log walls that can be stained or left simple depending upon your preferences. Plus a stone fireplace against the wall brings in some warmth and adds to the appeal of the home.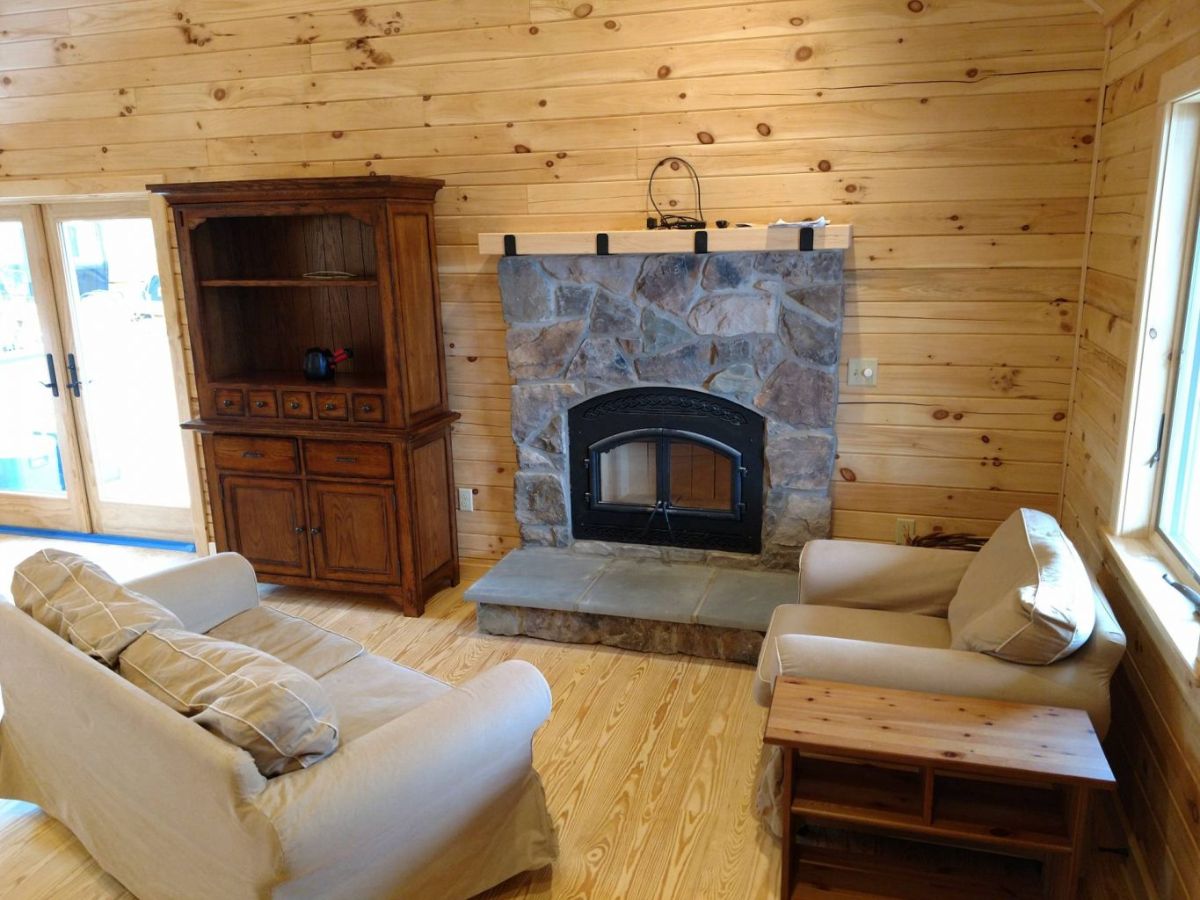 The kitchen is simple but it has everything you need on hand. You can add a counter with a small bar between it and the dining area if you prefer. So many options for customizing this layout and model for your own family needs.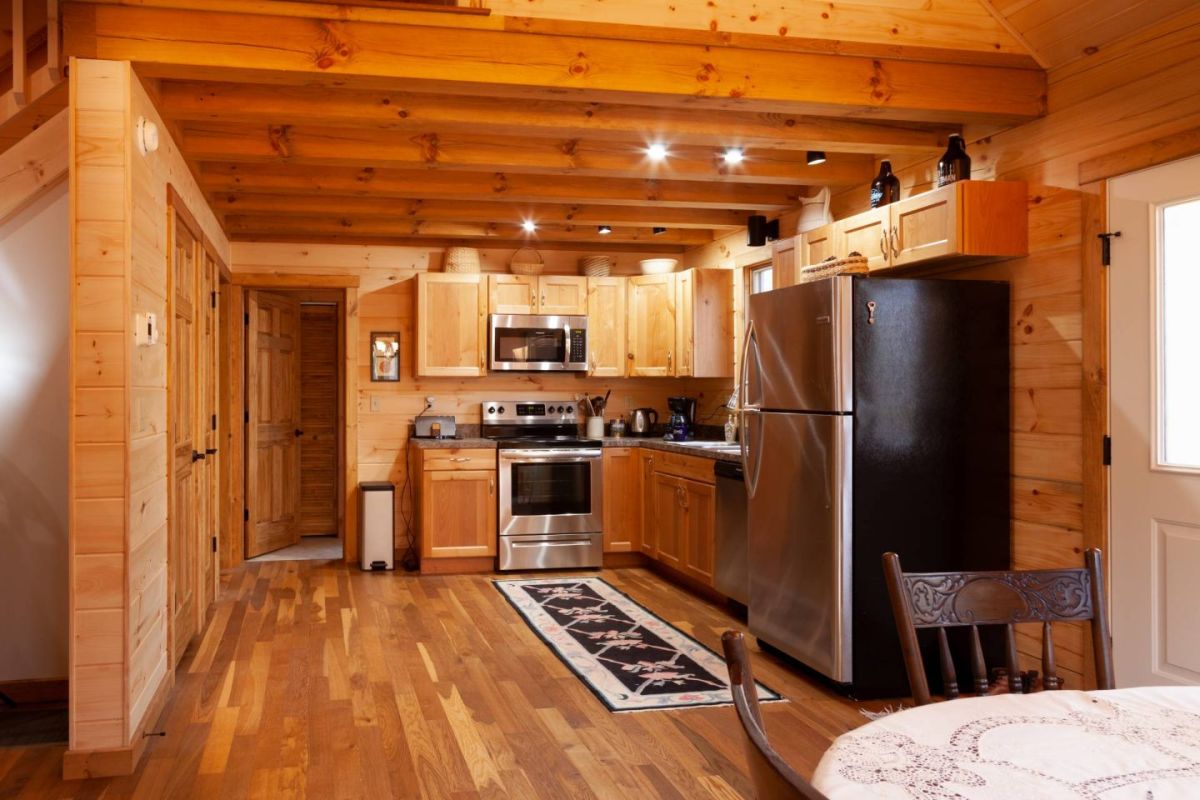 For more information about this cabin and others, check the Gingrich Builders website. You can also follow them on YouTube and Facebook. Make sure you let them know that Log Cabin Connection sent you their way.
More Log Cabin Kits and Tours