The Patterson log cabin is a gorgeous combination of wood and stone. This home is built for families with a sprawling floor plan, tons of windows, a walkout basement, and attached garage.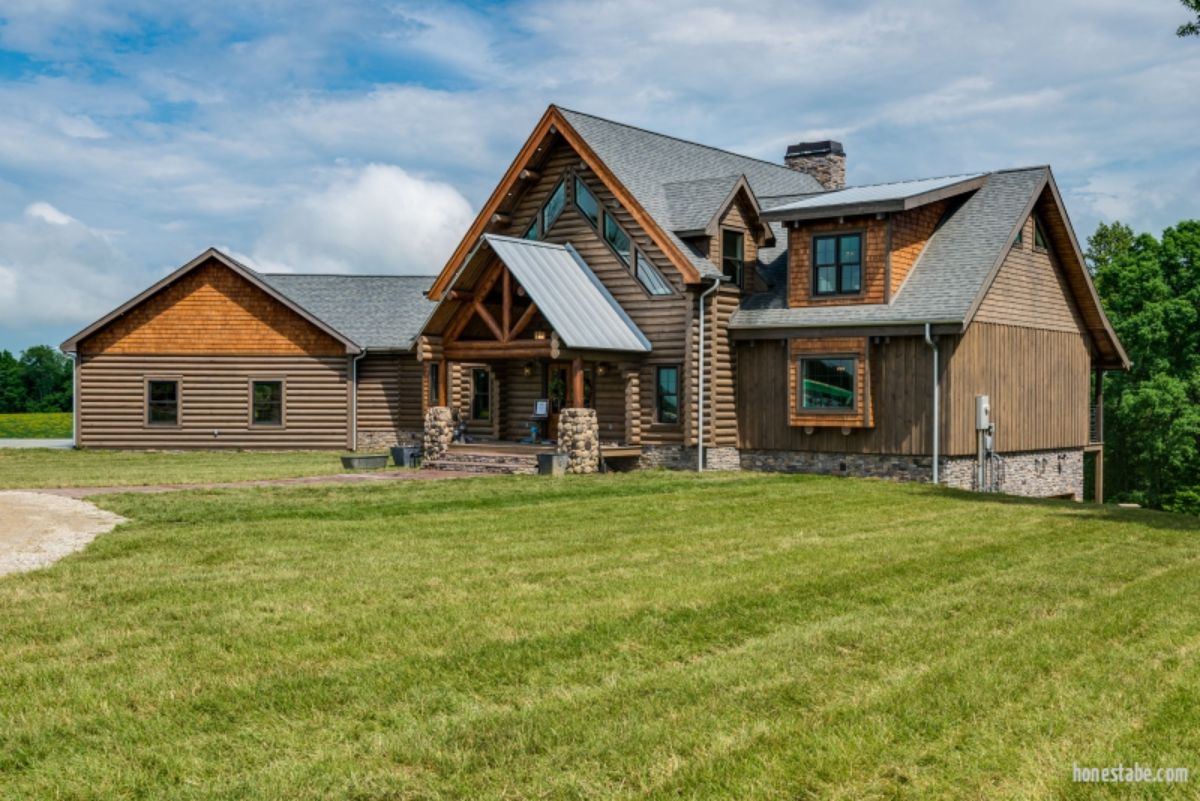 Driving up to this cabin you will love the layout with the home built on a hill with a walkout basement on the backside. This type of build allows the basement to be built into the hill. Natural insulation makes this a huge benefit for energy savings in the summer months.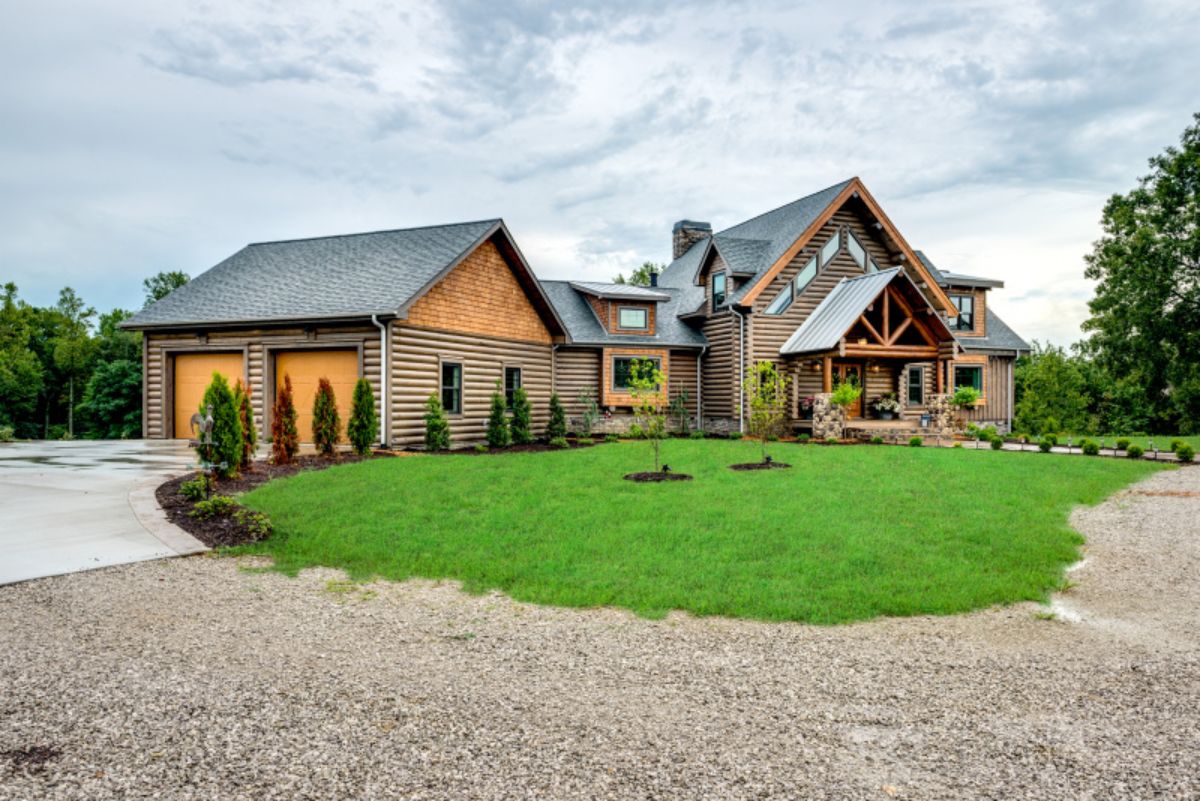 The front door of this home is so welcoming with the stone columns and covered porch. While there isn't a large porch here, there is on the back of the home. So, don't worry, there is plenty of room to relax in a rocker outside the home on sunny days.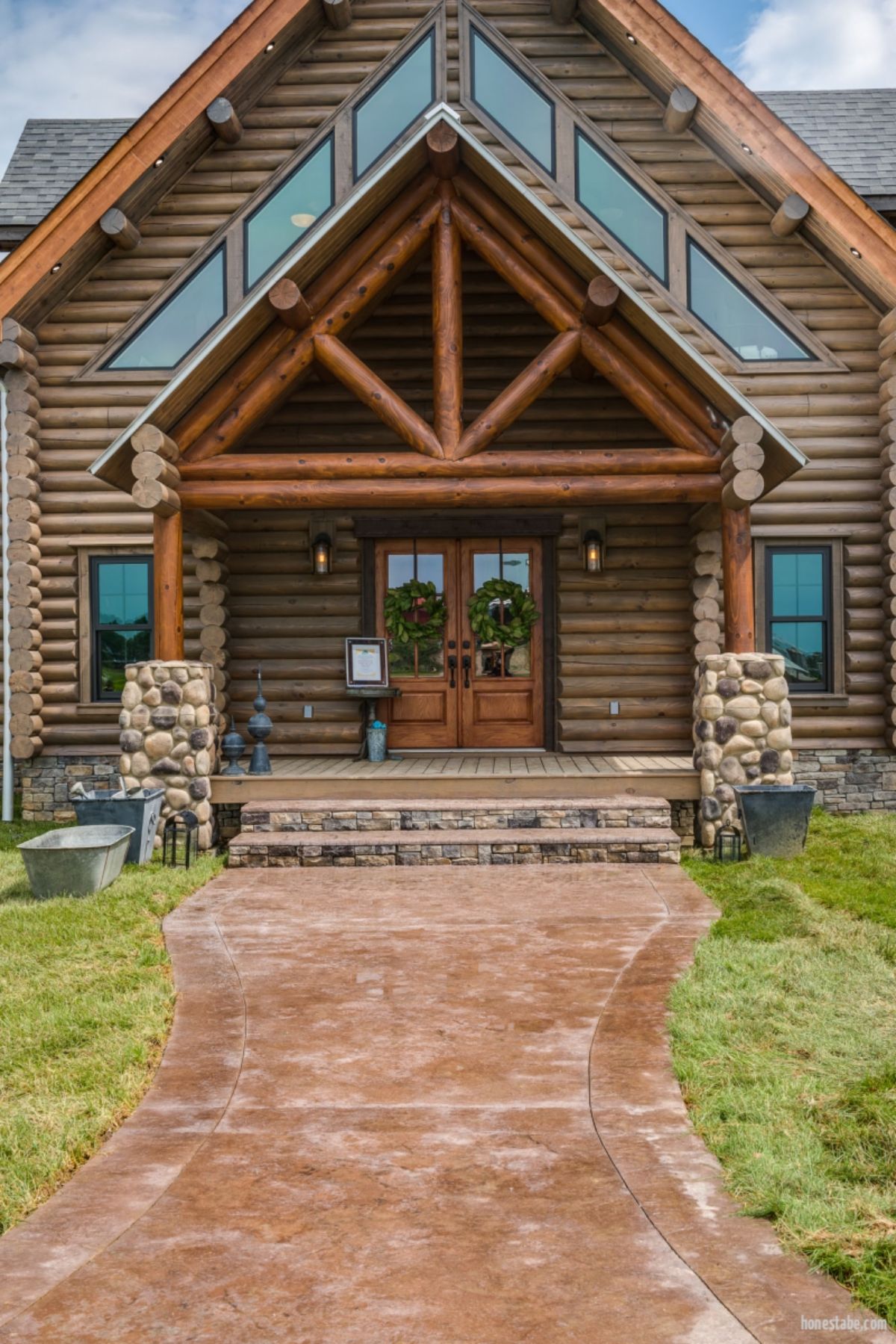 Just inside the doors to this home is an open entry space that leads to the main living space, a corner office, and seating area.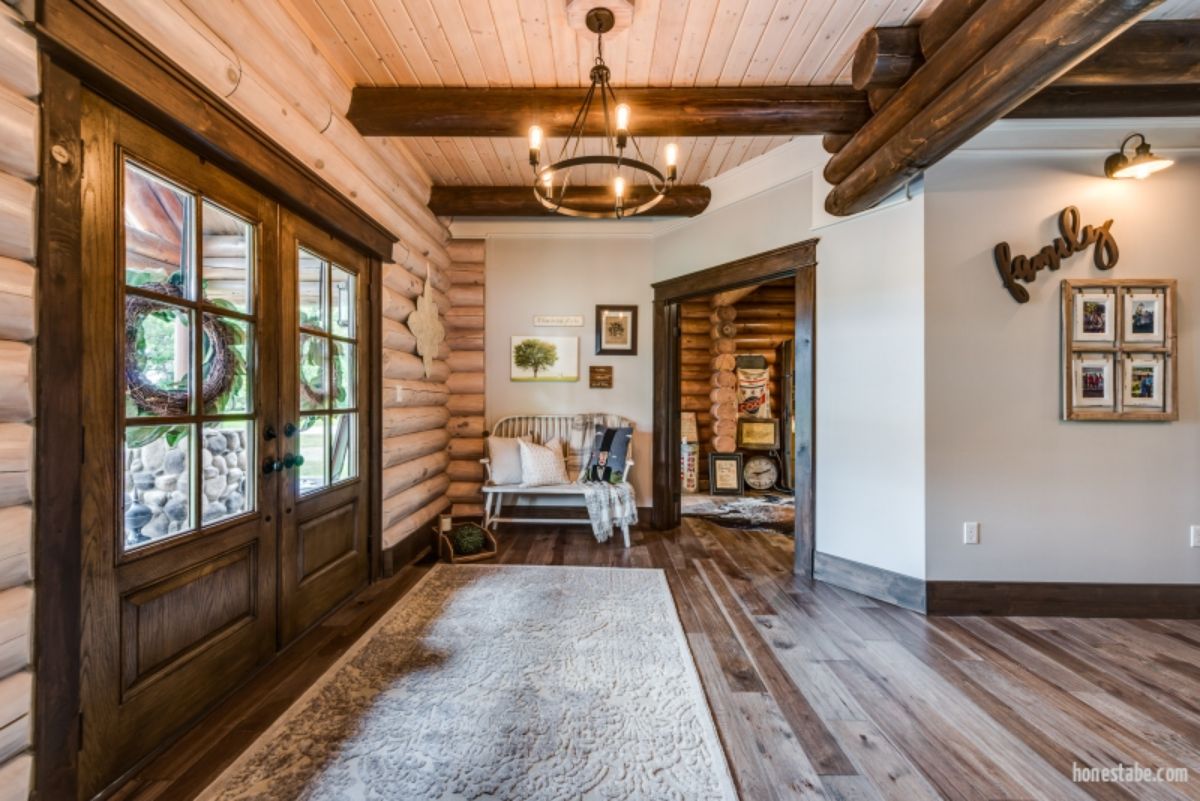 On one side of the entry is this simple little office space that has a corner desk shelving unit and a cozy chair. I can see using this for regular daily household bills and such, or as a work from home space.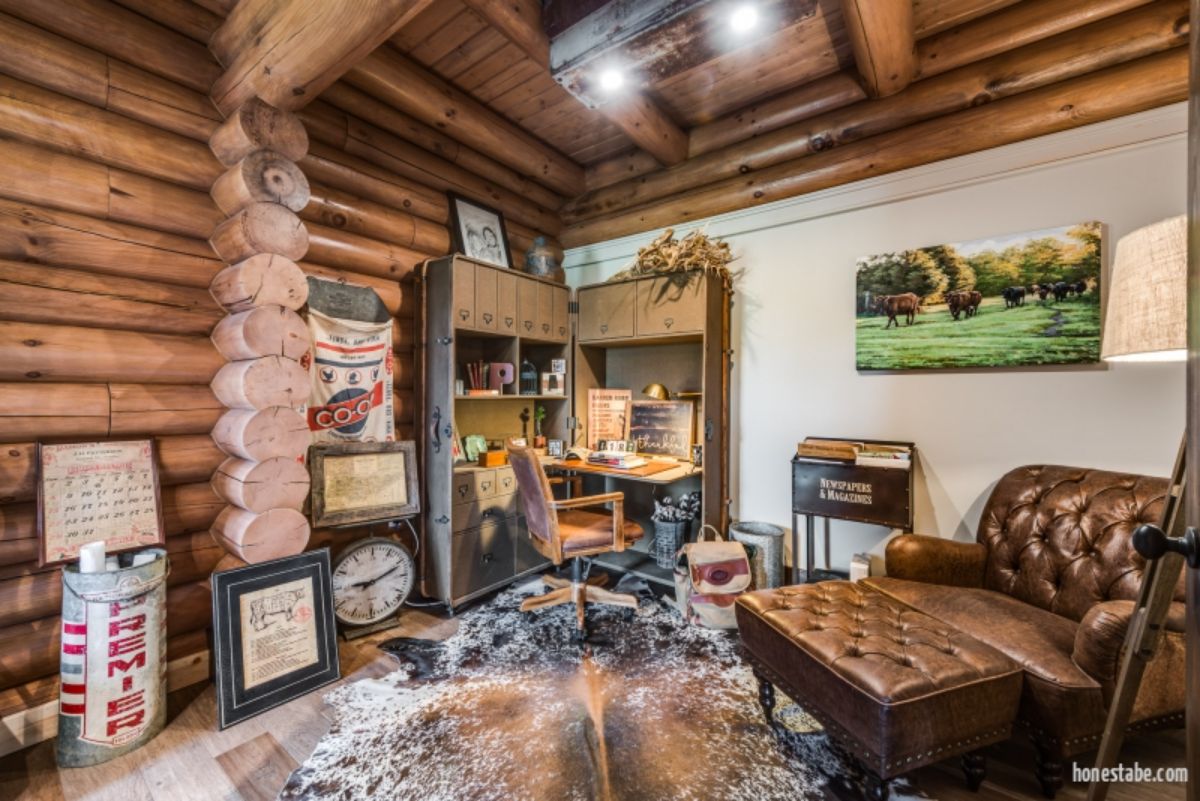 Another more formal office setup here shows how you can have a desk and chair that is ideal for serving customers or seeing clients.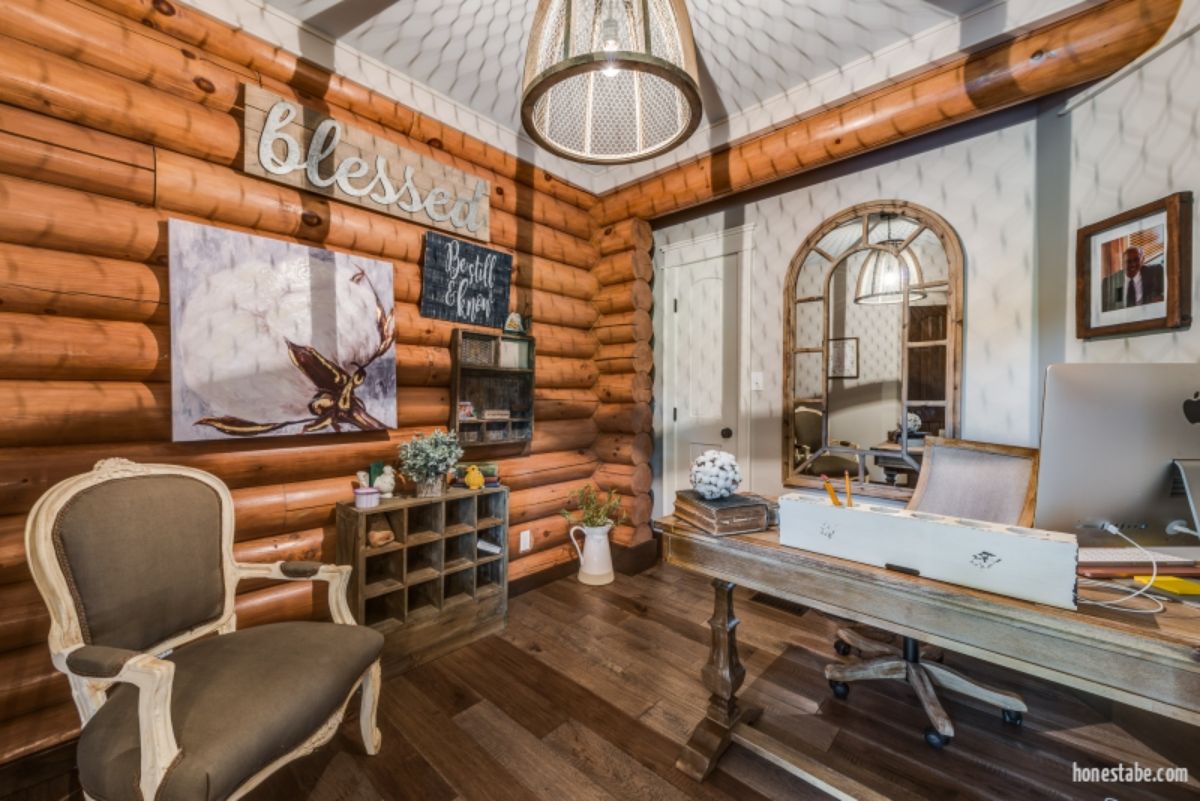 Through this short hall, you will find the living room with a cozy seating area and fireplace.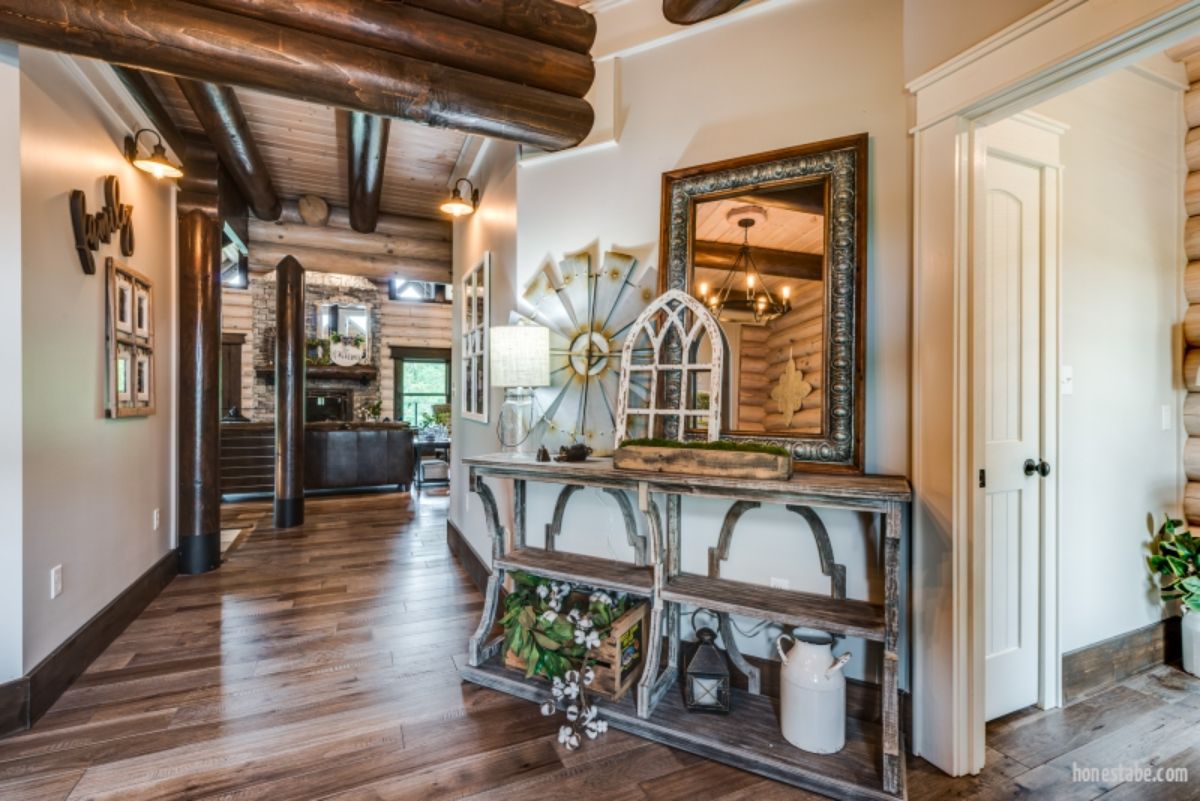 As is common in many log cabins, the great room has cathedral ceilings and a wall that is made of mostly windows that bring in tons of natural light. This space also has the stairs leading up to the second floor as well as down to the basement at the back of this room.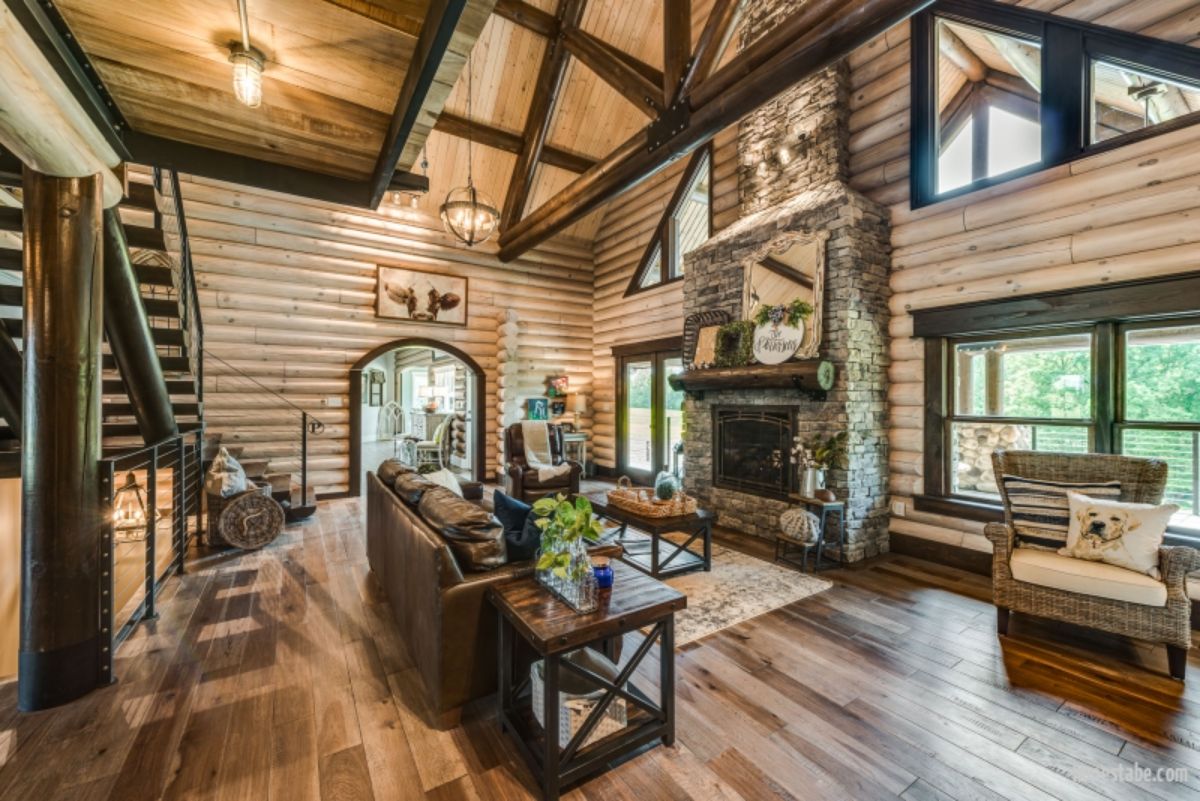 Here is another view of the living space with an open archway on the right leading to the kitchen space and a better view of the second floor landing.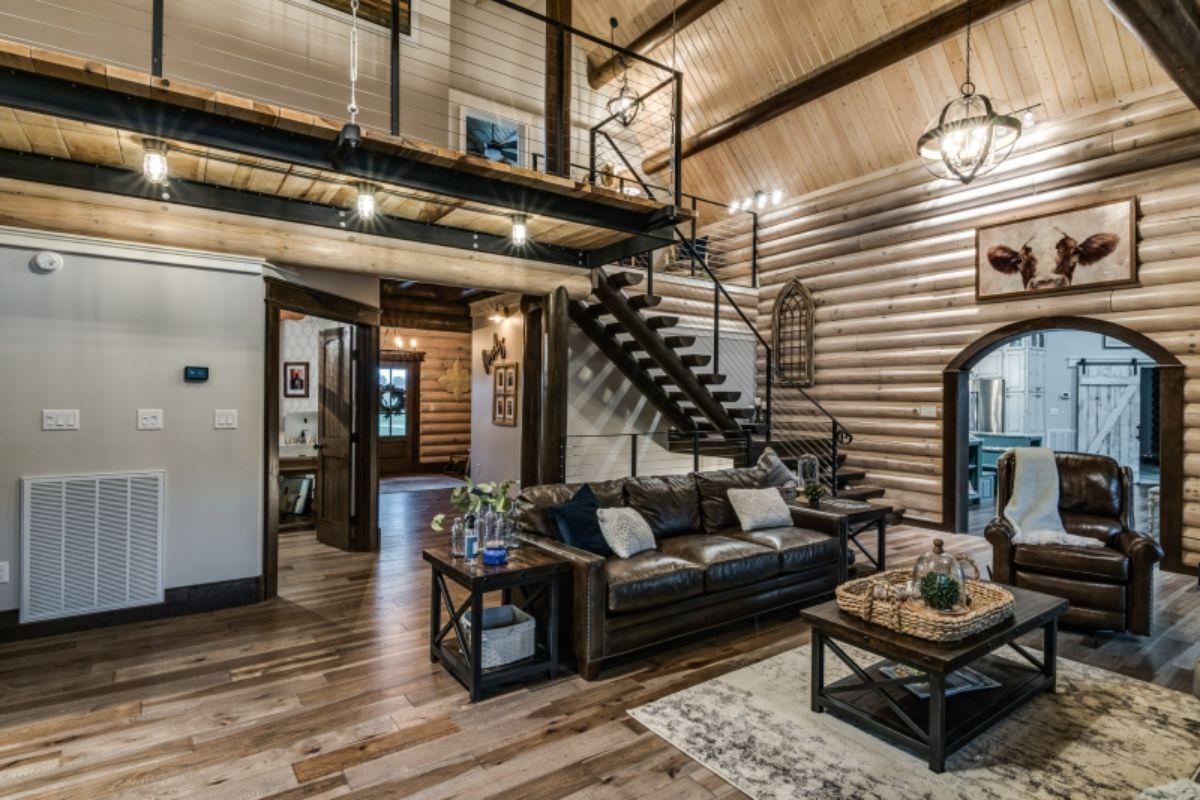 The kitchen is a dream come true. If you've ever wanted to have a truly unique experience in a kitchen, then step up to this one. A combination of white, wood, and teal create a cabinet layout with everything you need for daily meal preperation.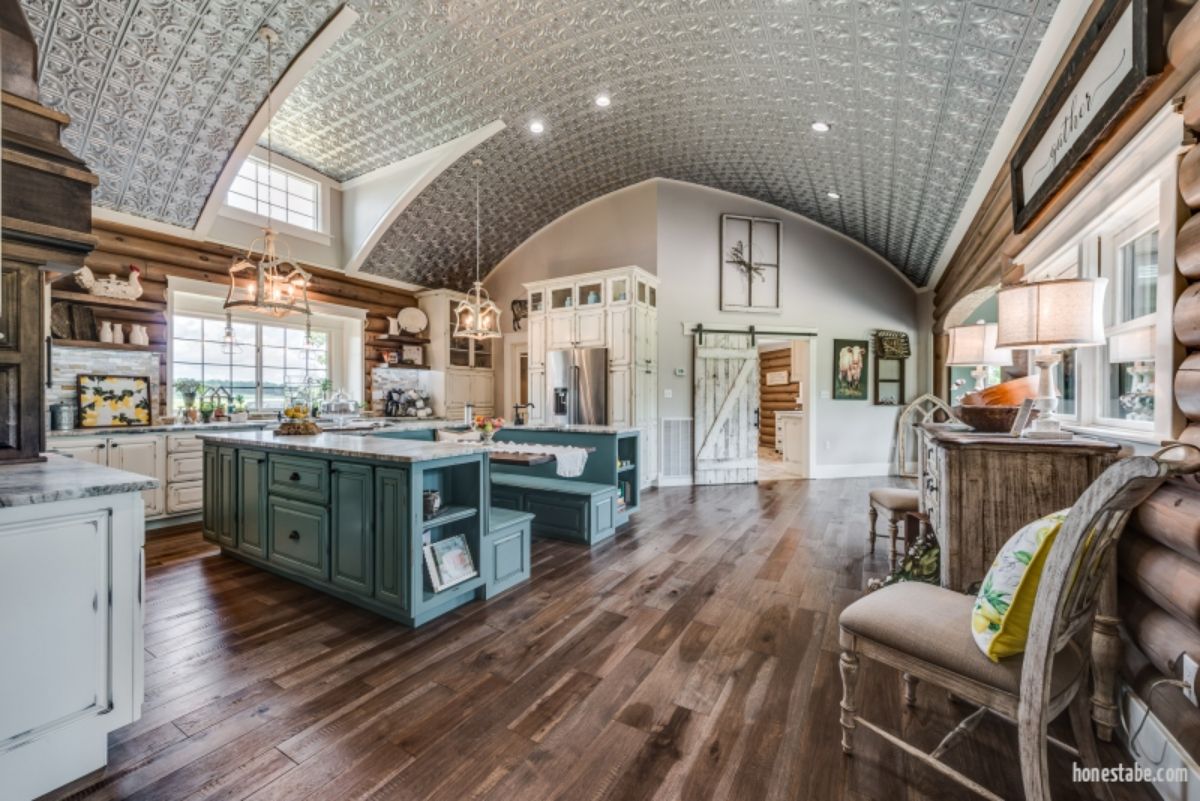 This large island in the center of the kitchen is more than just an island. It has tons of storage, a microwave, extra sink, and in the middle, seating.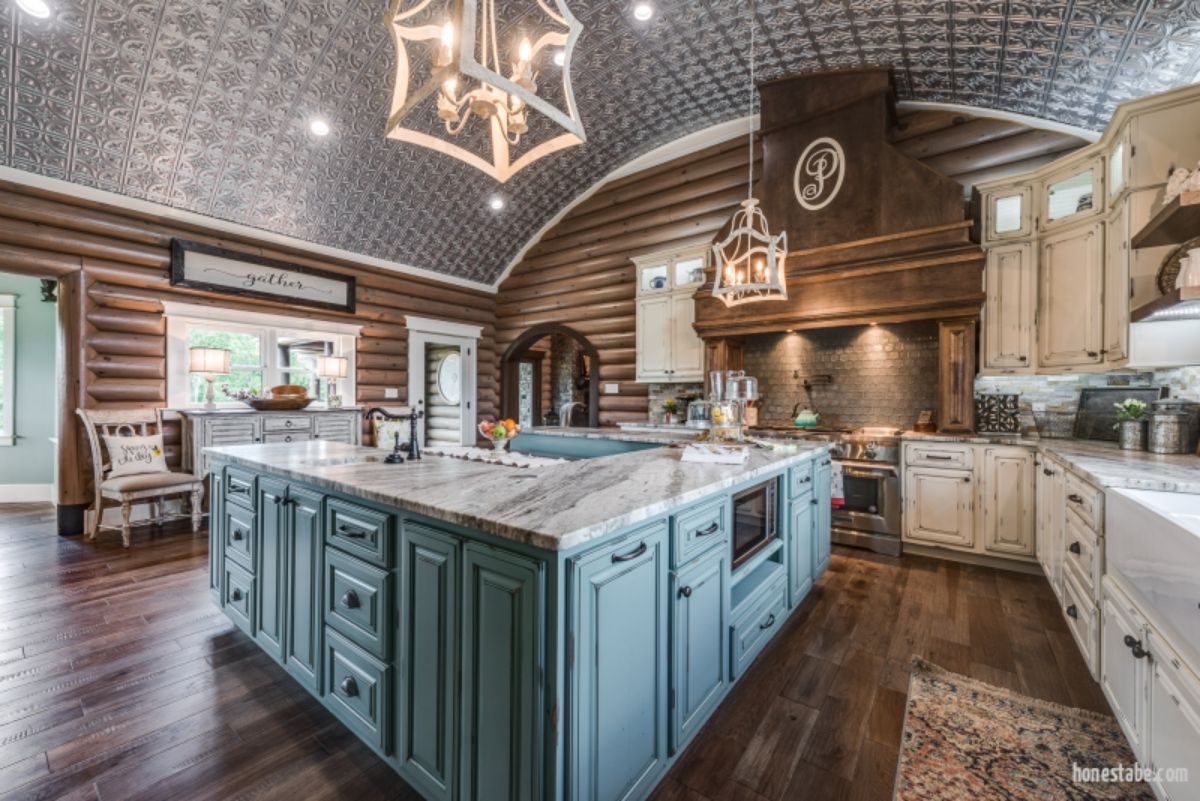 The island is actually a small breakfast nook with a bench seating inside the middle. How unique is that? I love how this looks.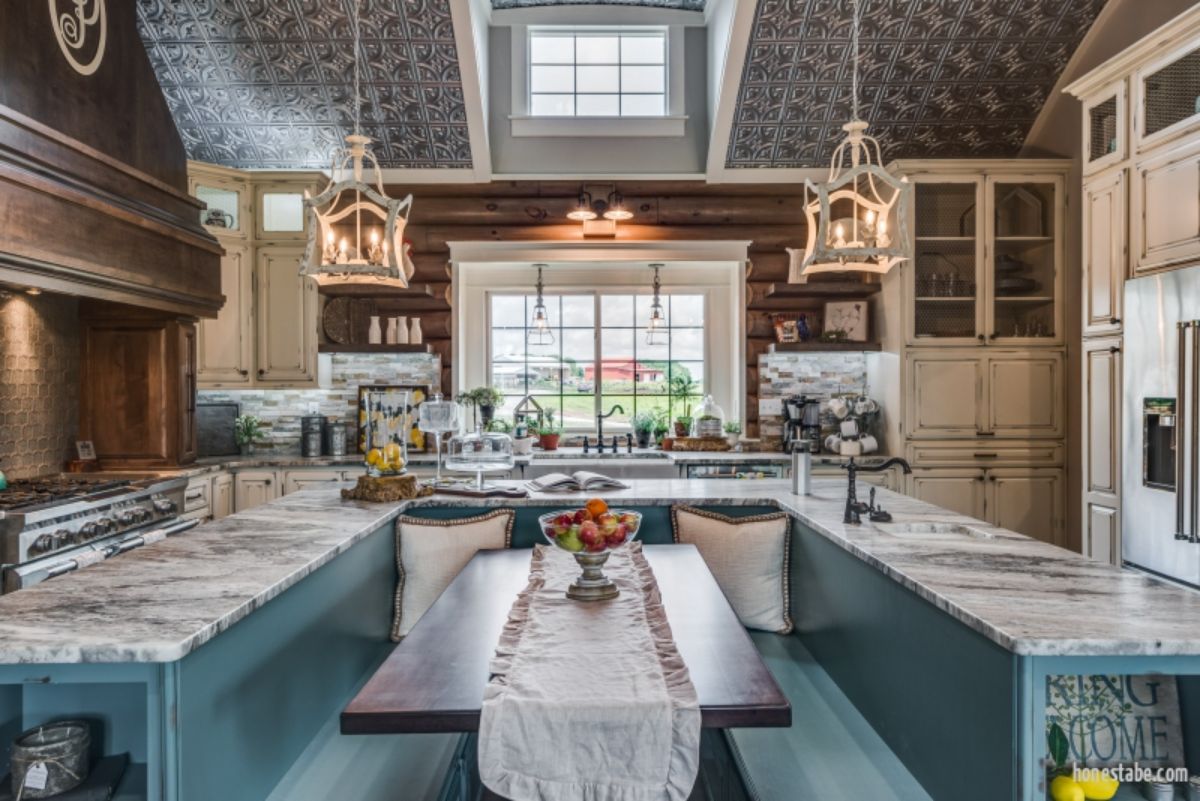 Across the room is a simple formal dining room tucked into a corner. This home includes windows around all of the walls and while it is a separate space, it still feels connected to the home.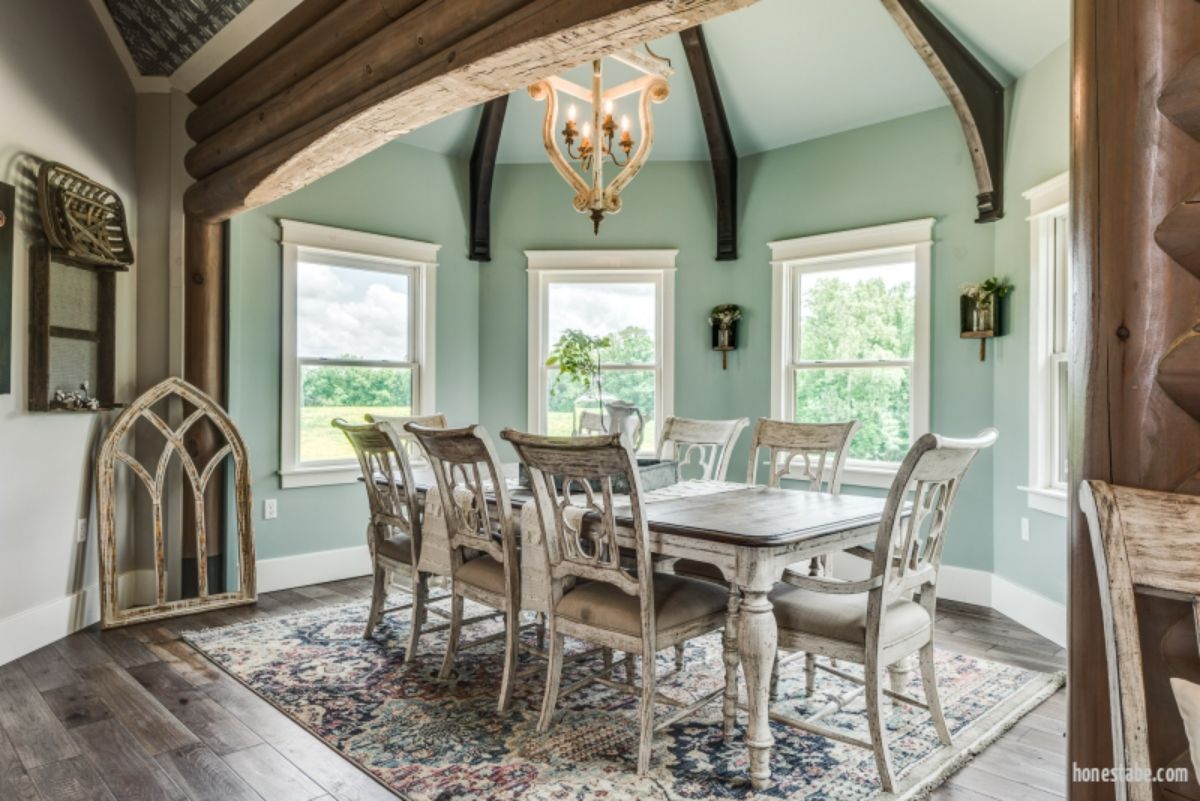 Just off the kitchen is this huge pantry. Similar to a butlers pantry, this room has shelves on all sides for food items and dinnerware.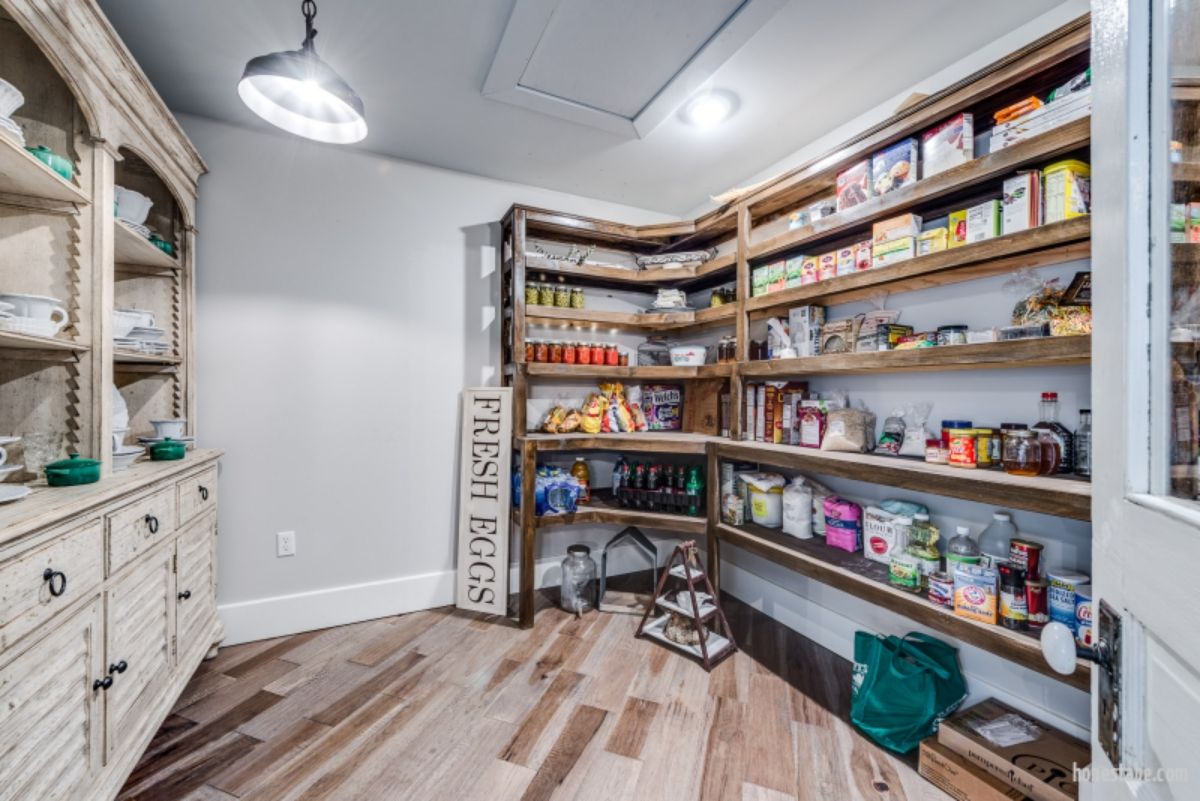 Upstairs, the home includes an open seating area, bathroom, and bedrooms. Here on the landing, you see into the bathroom that is accessible to everyone on this floor.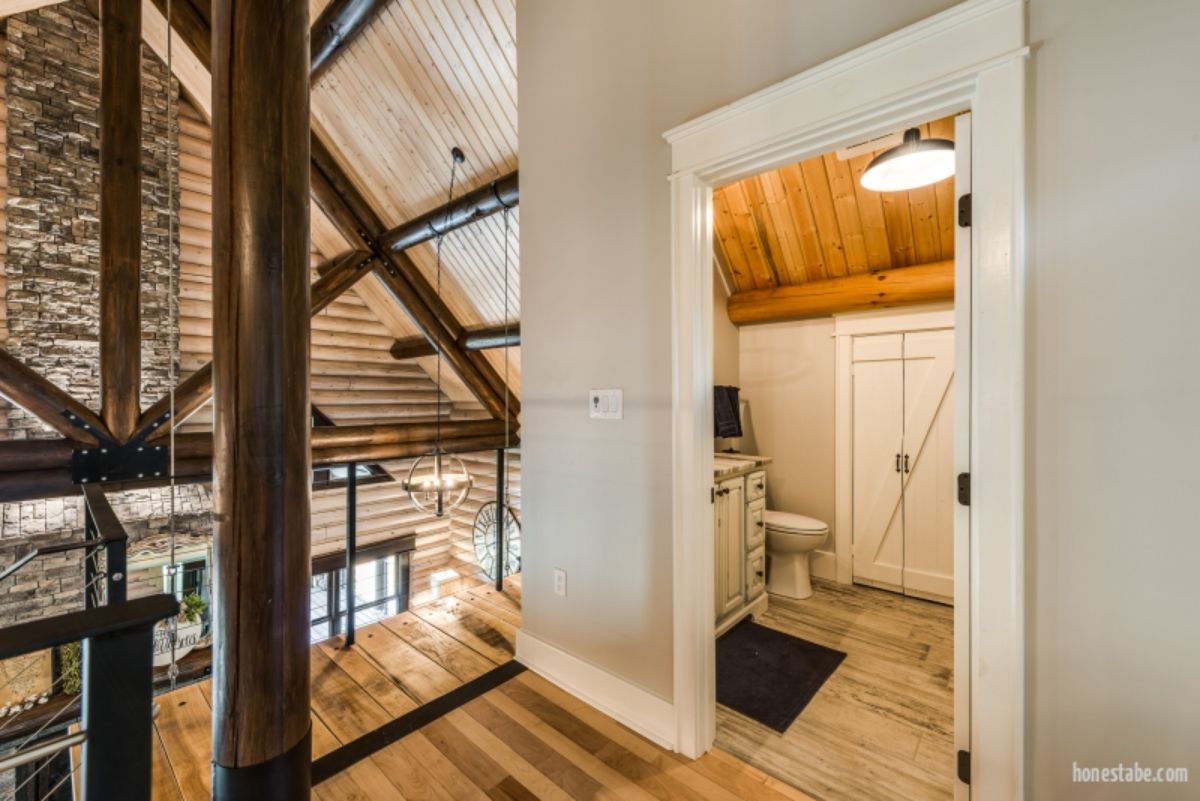 These bathrooms have beautiful features like this unique tile in the shower, and tons of extra vanity storage.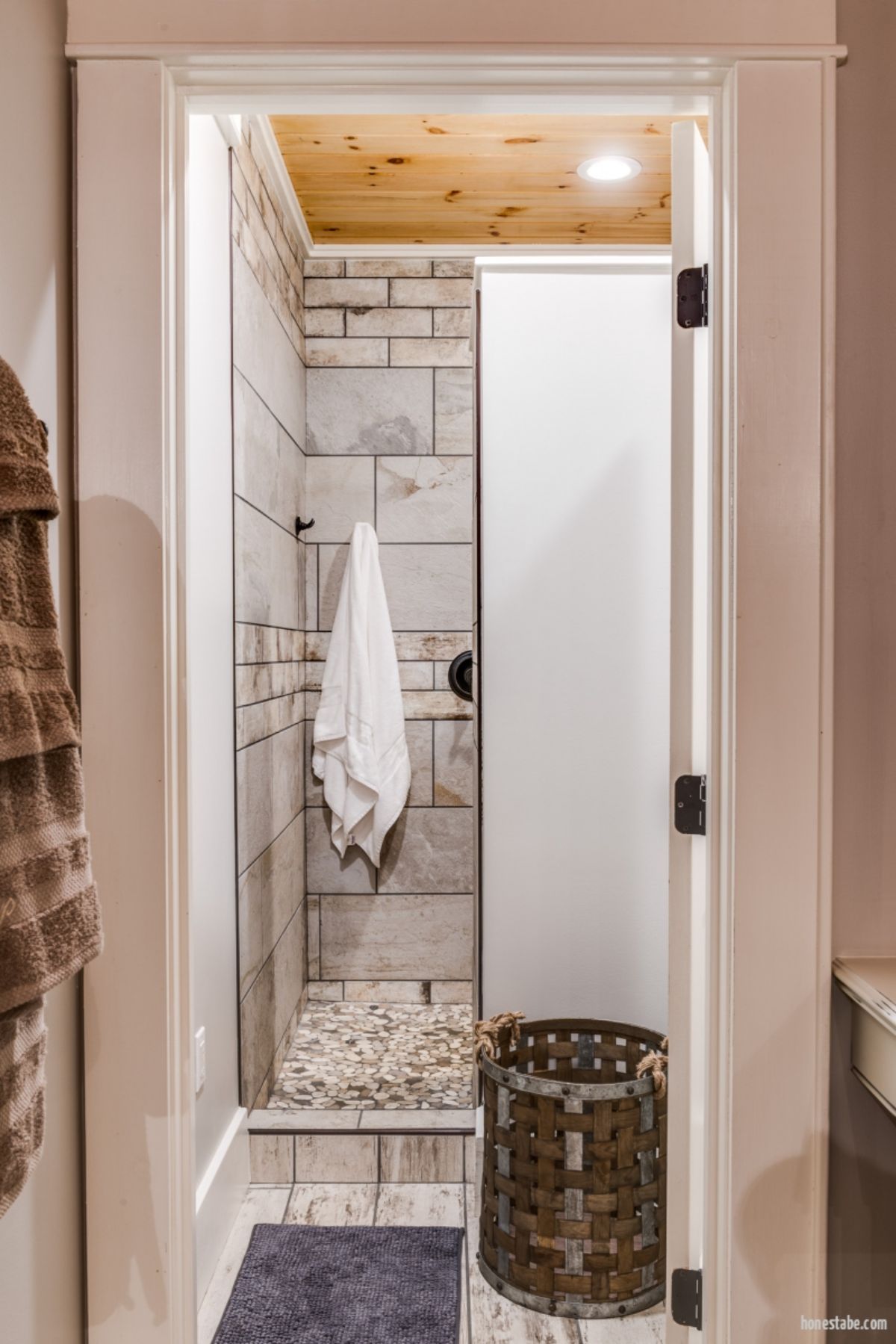 The master bedroom is a wonderful choice for allowing you to have privacy, while also feeling open and large. The open beams along the top of this space really make it feel like it is much bigger.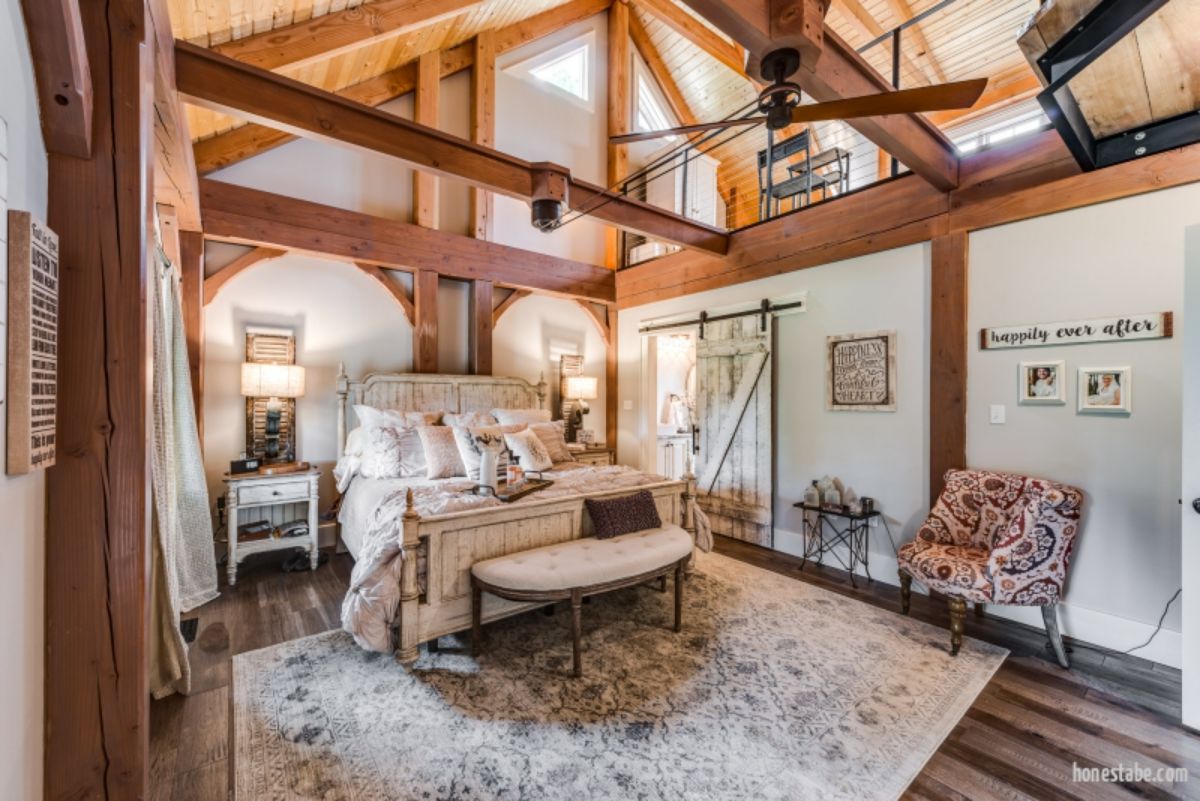 Through that door, you see into the main room of the house and also have a private entrance on the side of the room.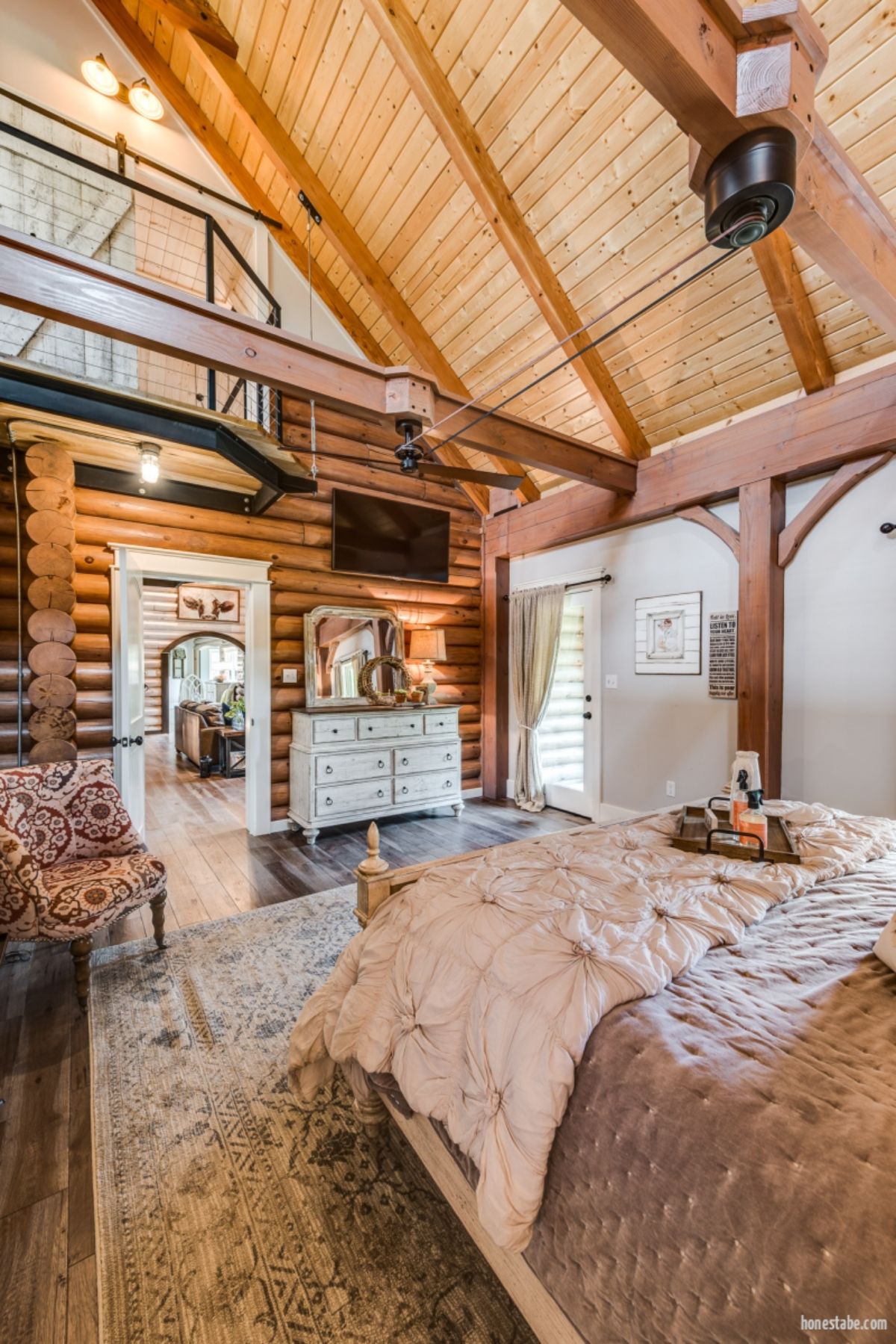 Of course, a closet is a must, and this one is superior to most. A full walk-in closet with open storage shelves, drawers, and tons of hanging spaces. I love the built-in chest of drawers under this window.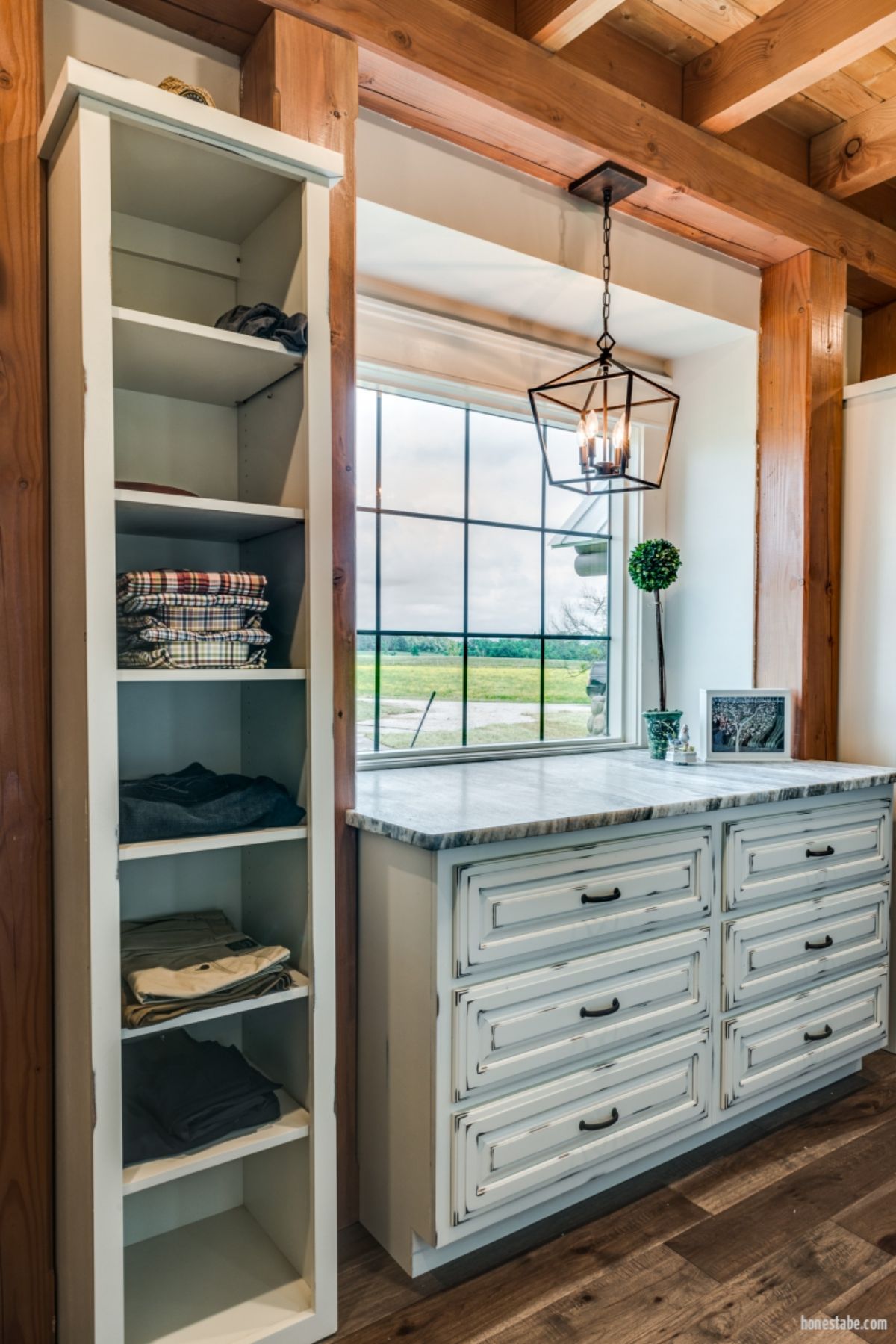 Opposite this shelving area, you have the hanging portion of the closet with multiple heights and sections for divided his and hers closet space and storage.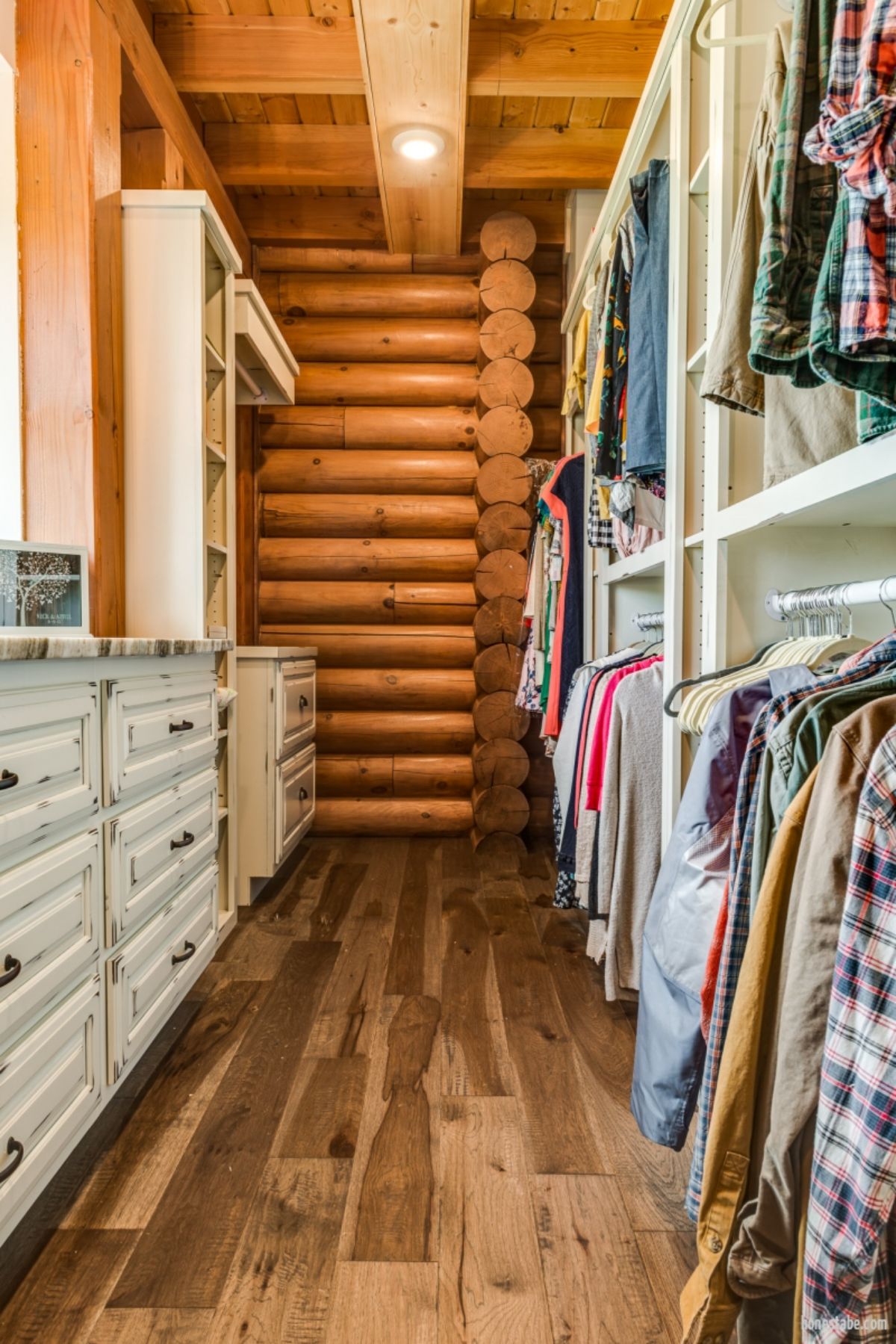 The master bathroom has this gorgeous white washed rustic wood look that is so popular in farmhouse style. I love the bowl sink style as well with the vintage pump style faucets.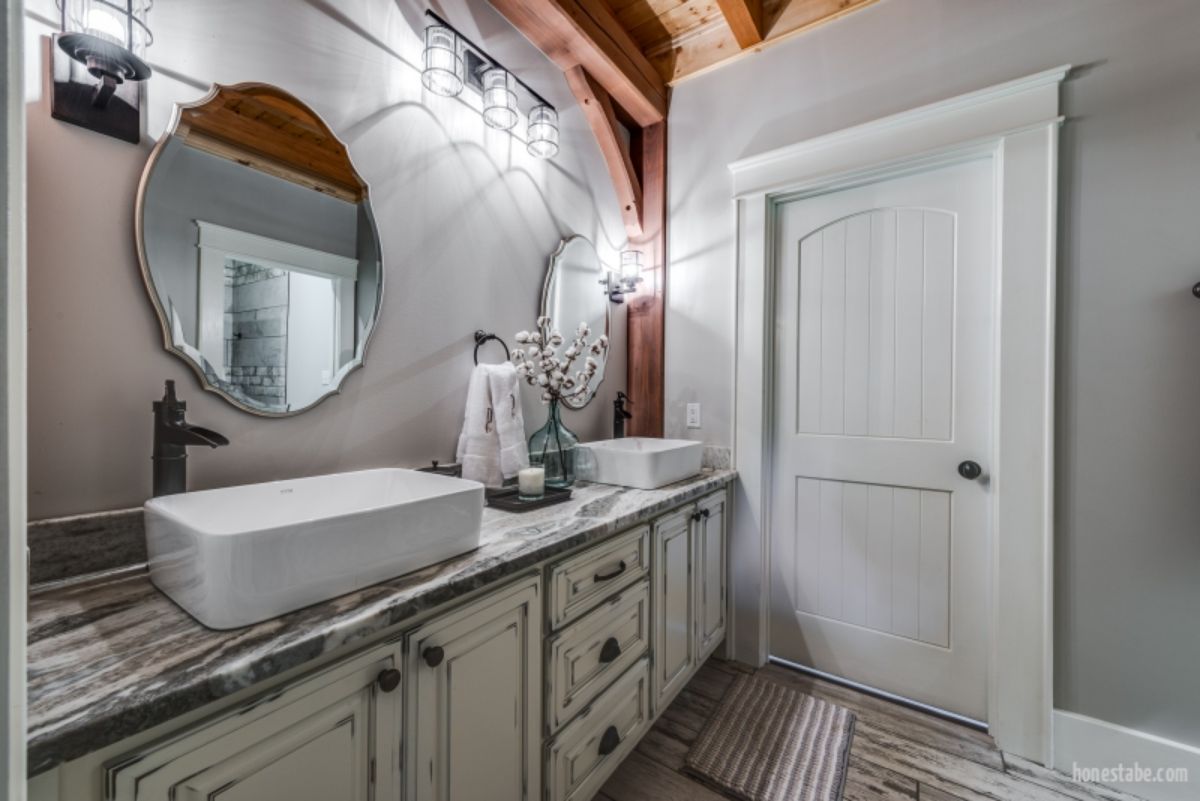 Another addition to the home is this fun room on the top level with twin beds. This is a great kids' room or guest room, but the part I love the most is that set of windows. Angled and unique, they are a real showpiece.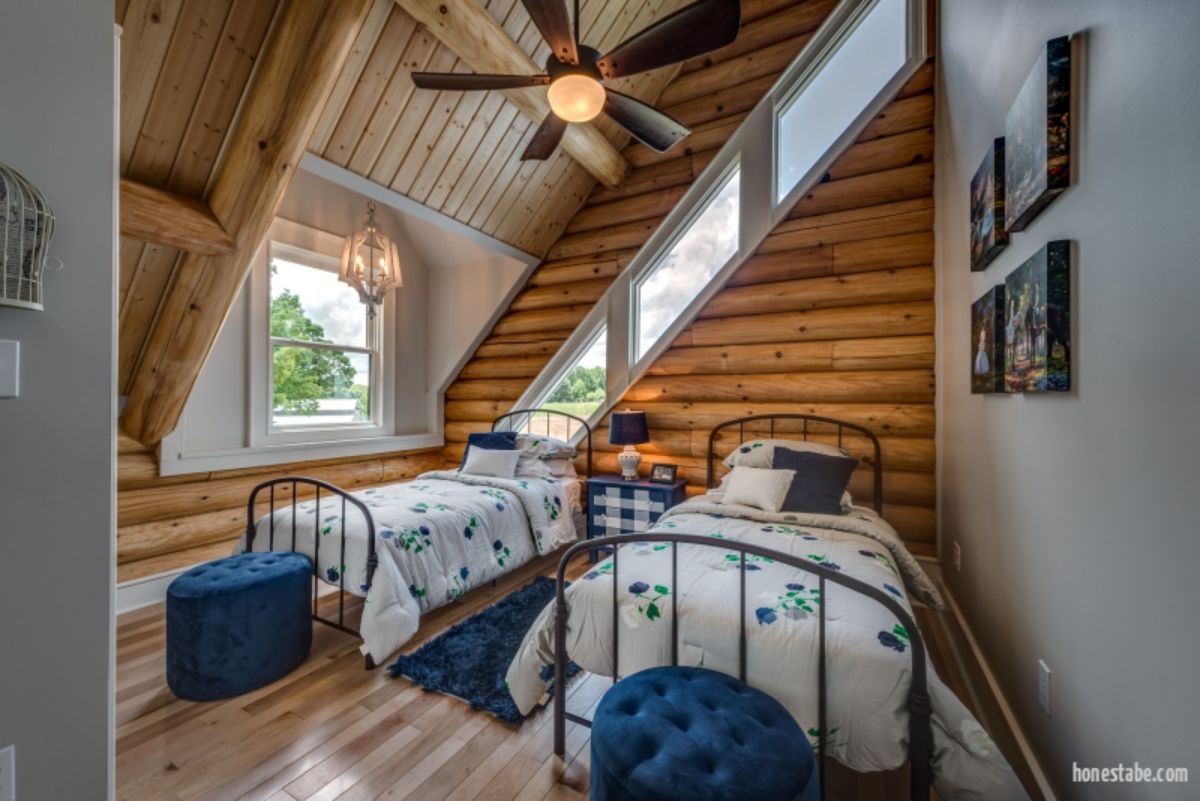 And another bedroom opposite of the one above shows how a full bed fits and a simple chair in the corner can create a guest room so easily.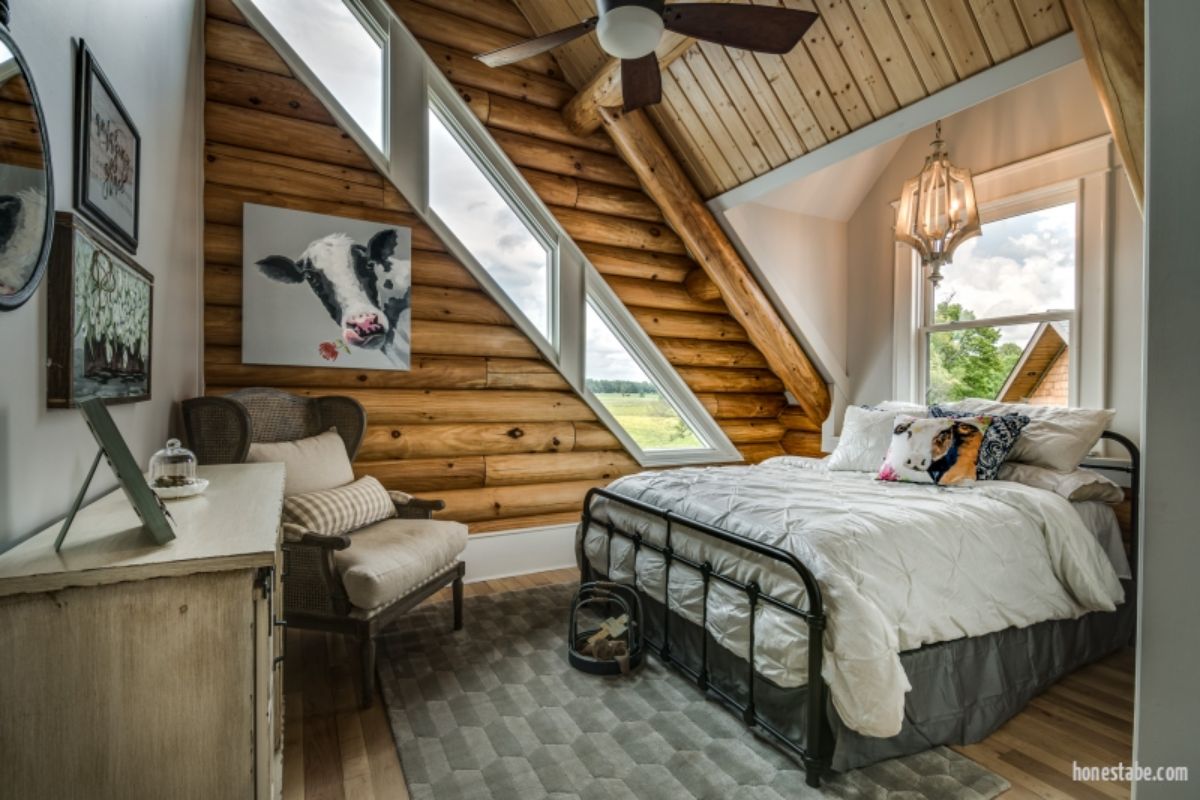 How about an office space just under the dormer window? This is a favorite room for me!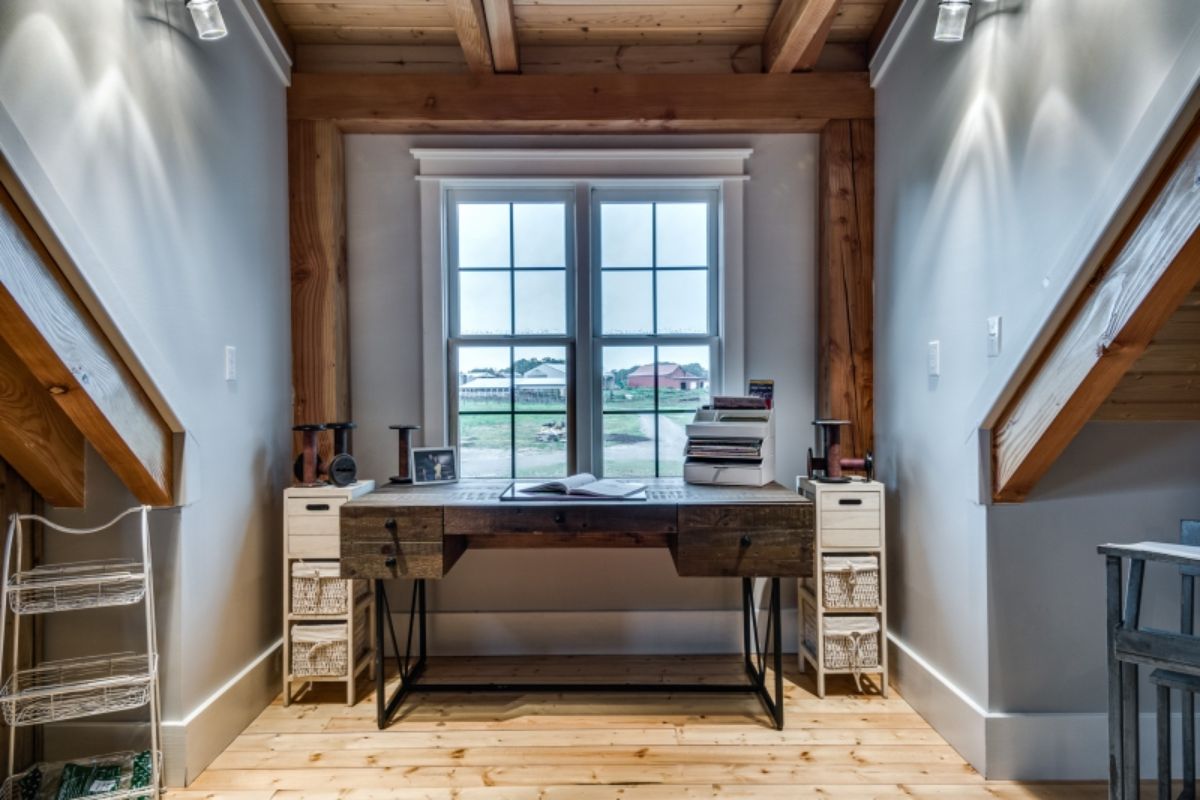 Downstairs on the basement level, you will find more of that vintage farmhouse style with weathered wood, lots of gray, and lots of metal pieces.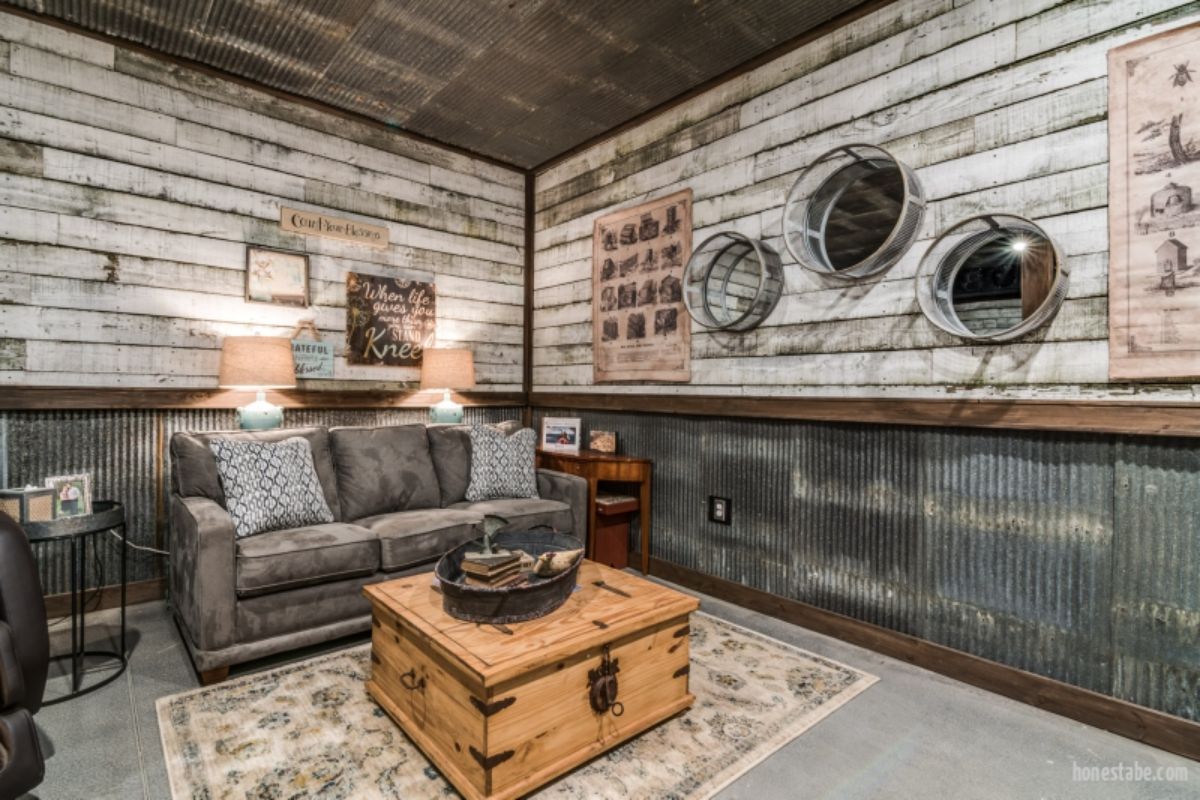 This floor even has its own private kitchen. I love the little kitchenette space in the corner and the walkout basement doors leading to a grill out back. Plus, the fun mix and match chairs around the table really add a fun style to the space.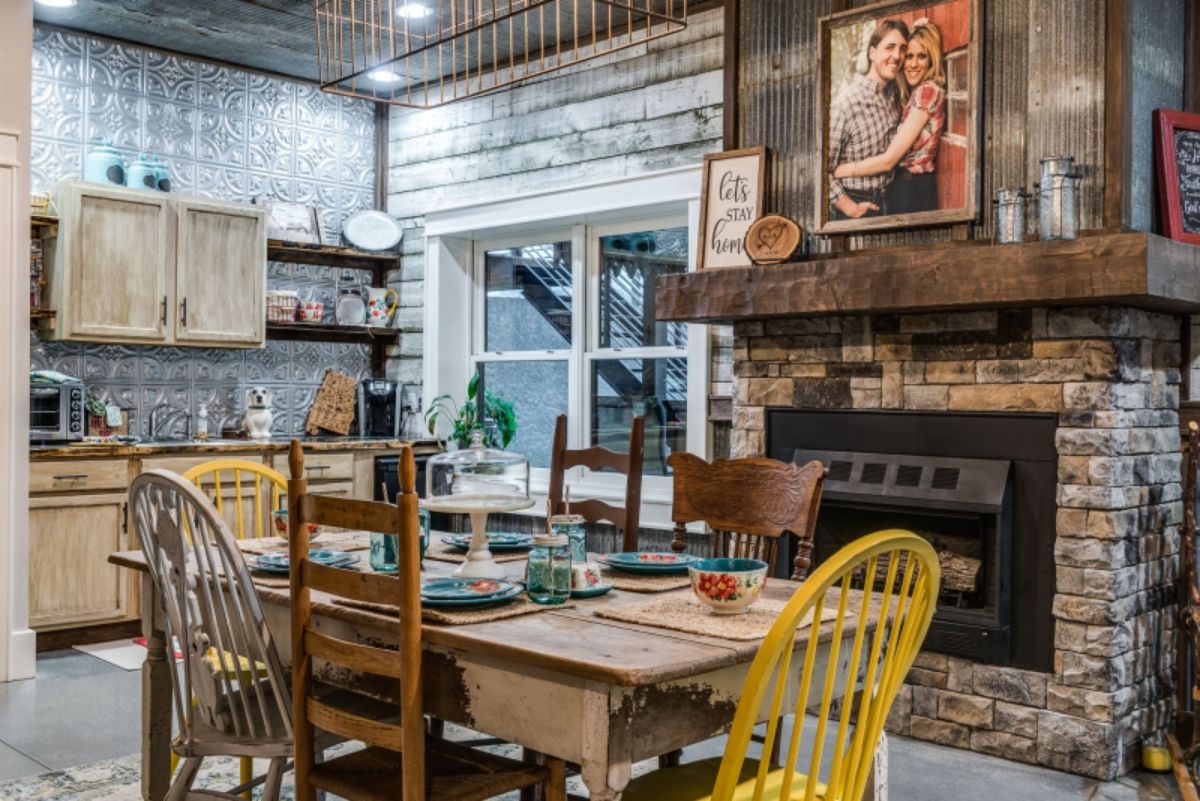 Check out that backsplash at the sink! How cool is that? I can totally see the basement being a perfect AirBnB rental.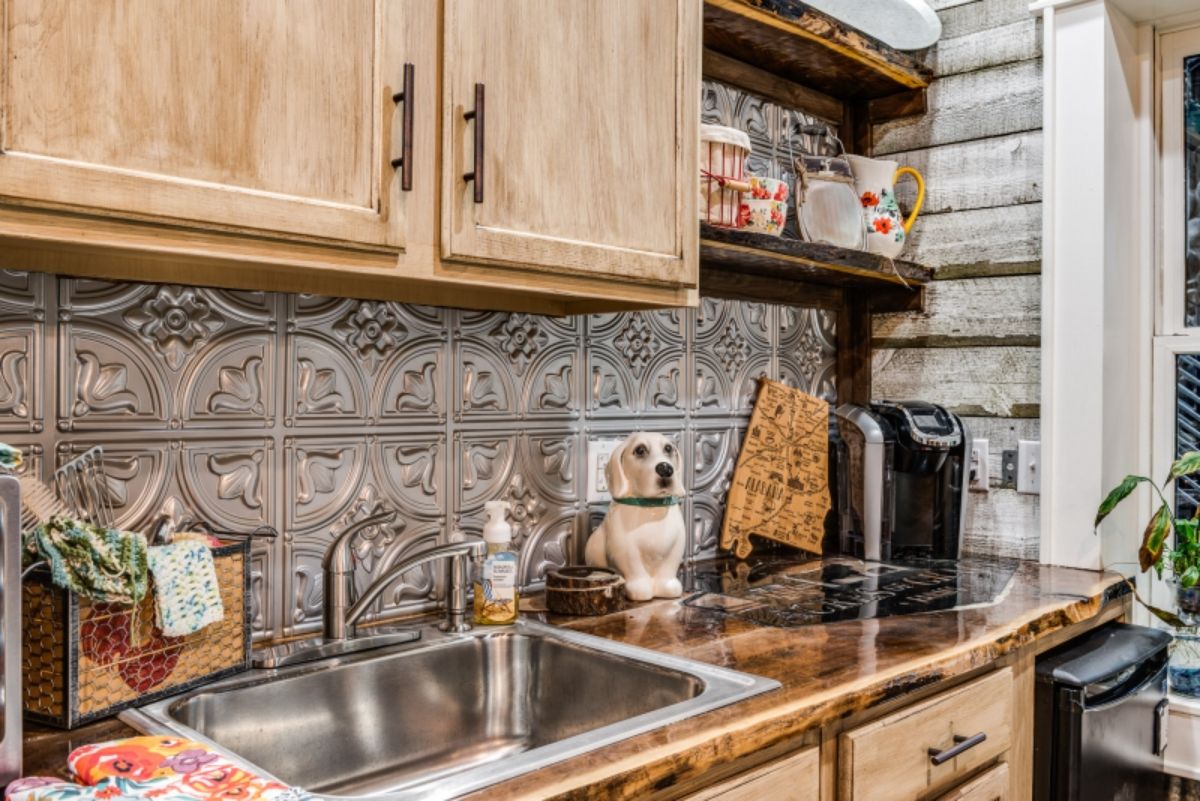 And outside these spaces are just as wonderful with a combination of covered and open decks and porches. The main deck has cozy seating around a large outside fireplace that is perfect for a simple evening at home.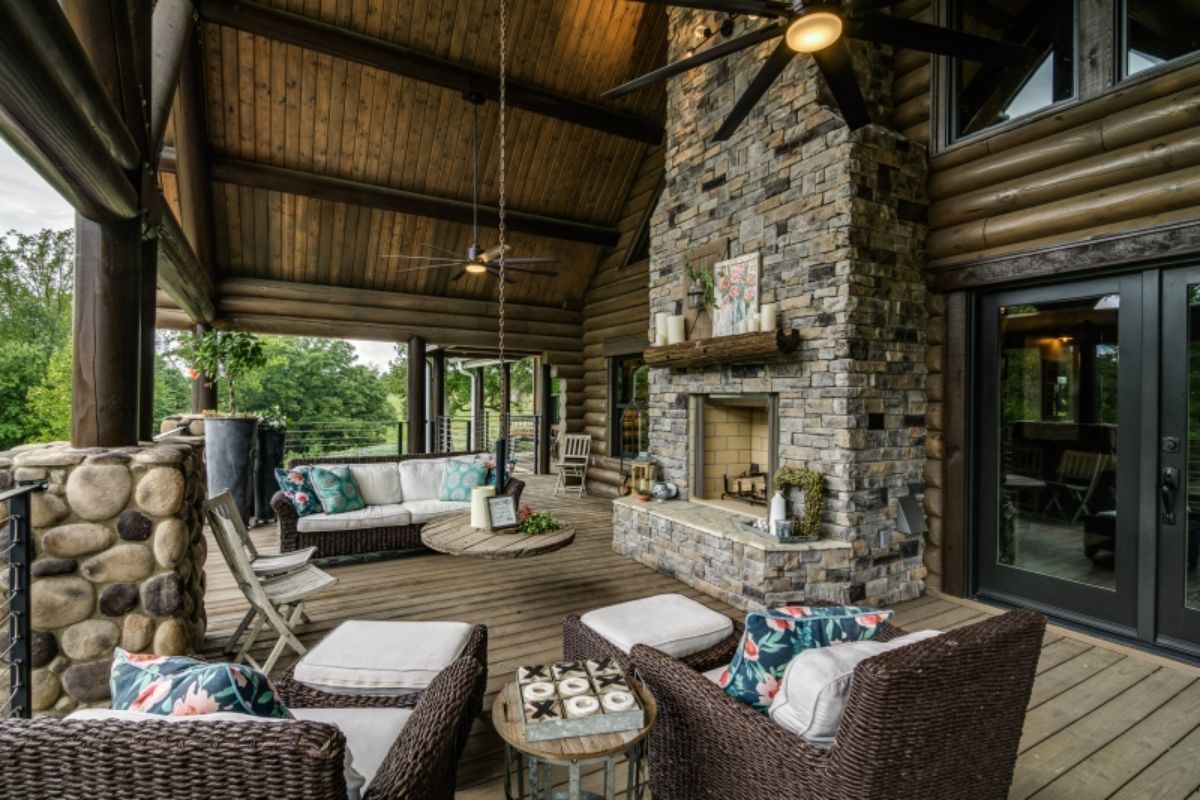 For more information on this cabin style and more, check out the Honest Abe Log Homes website. You can also find them on Facebook, Instagram, and YouTube for daily updates. Make sure you let them know that Log Cabin Connection sent you their way.
More Log Cabin Kits and Tours