The rolling hills around this log cabin just amplify the beauty of the home. A gorgeous family home, the Shiloh is a log cabin that has everything you imagined plus more. A walkout basement, main floor open floor plan, and small loft second floor combine to create a home that is ideal for a family.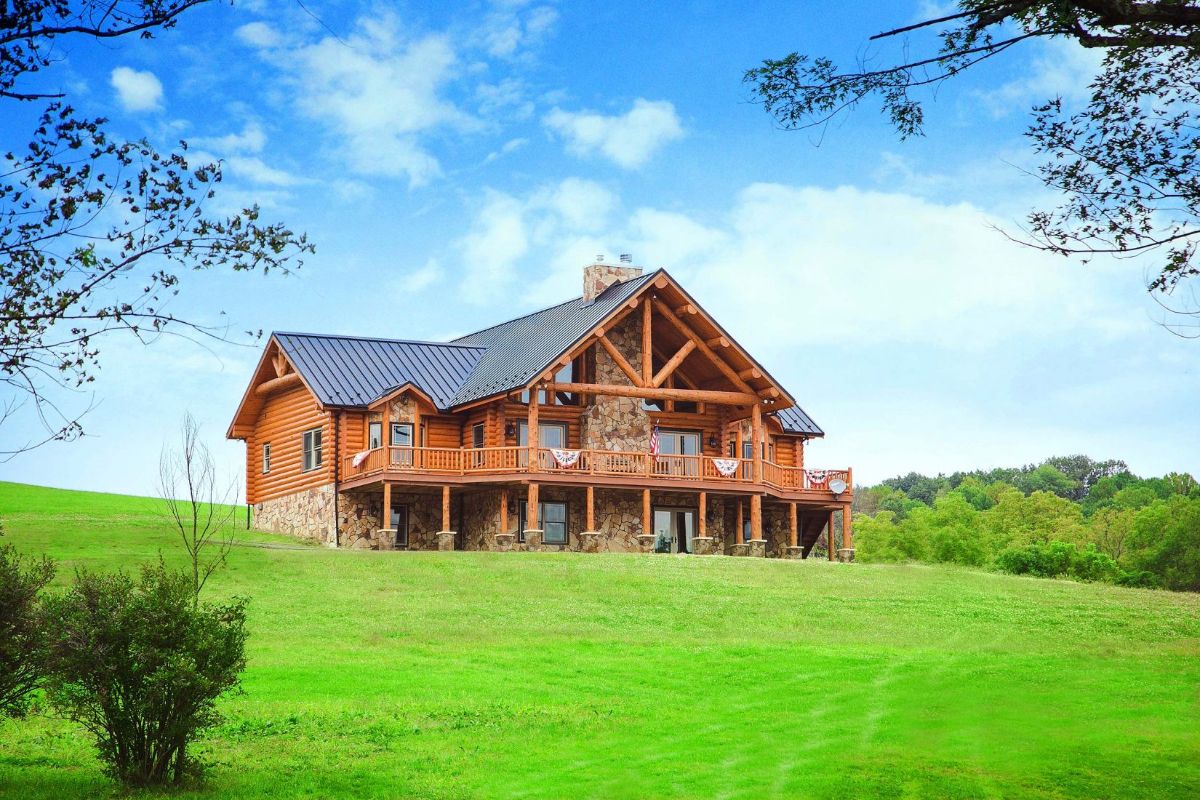 Log Cabin Size
3,075 square feet
2 bedrooms
2 1/2 bathrooms
Log Cabin Features
10" Lodgepole Swedish Cope Logs.
Master suite with large walk-in closet and en-suite bathroom including tile shower and separate soaking bathtub.
Second floor loft bedroom with additional full bathroom.
Half bath on main floor adjacent to the laundry room.
Large custom kitchen with stainless steel appliances, plentiful storage and pantry, as well as a sizable island with bar and stools for extra seating. Adjacent dining room with large table beneath loft.
Open loft area can be used as a third bedroom, kids playroom, or home office space.
Large covered porch on back of home with open spaces on both sides.
Walkout basement with patio and open seating areas.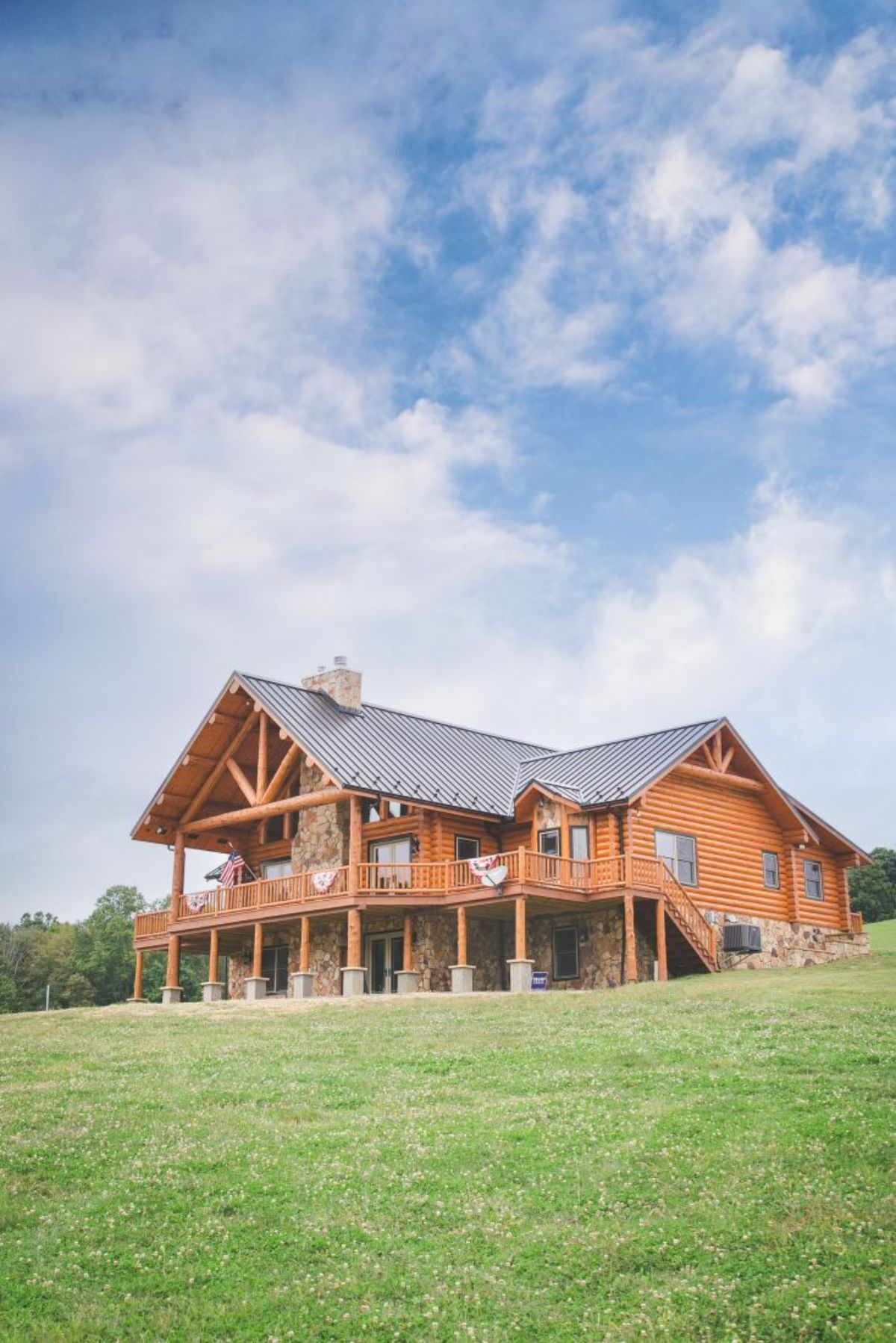 The gabled back porch is one of my favorite additions to this home. You have plenty of options inside for comfortable seating, as well as outside with this covered space.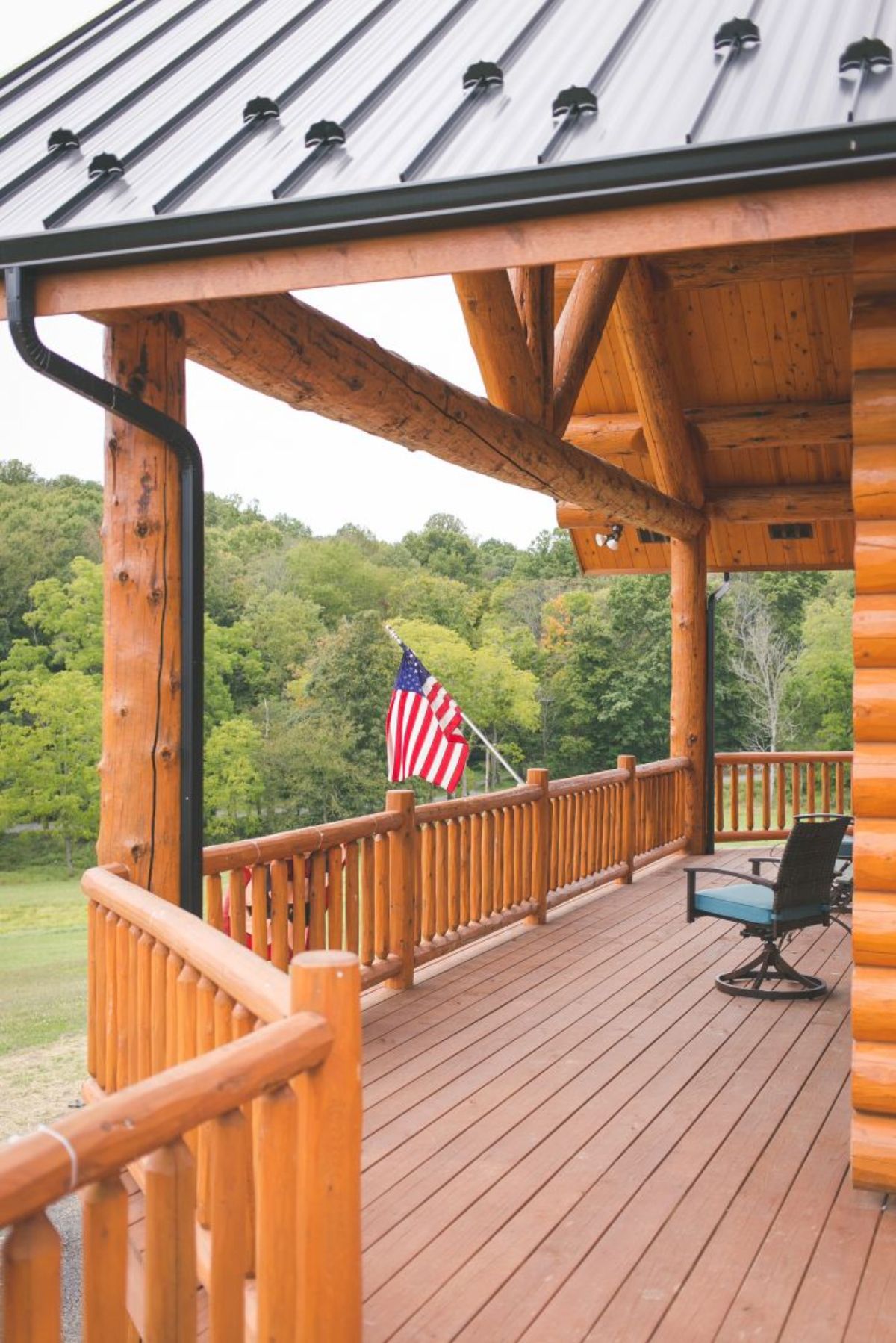 The siding on this home is not a veneer but actually real logs with gorgeous hand-hewn shape and a lovely stain you will find throughout the home.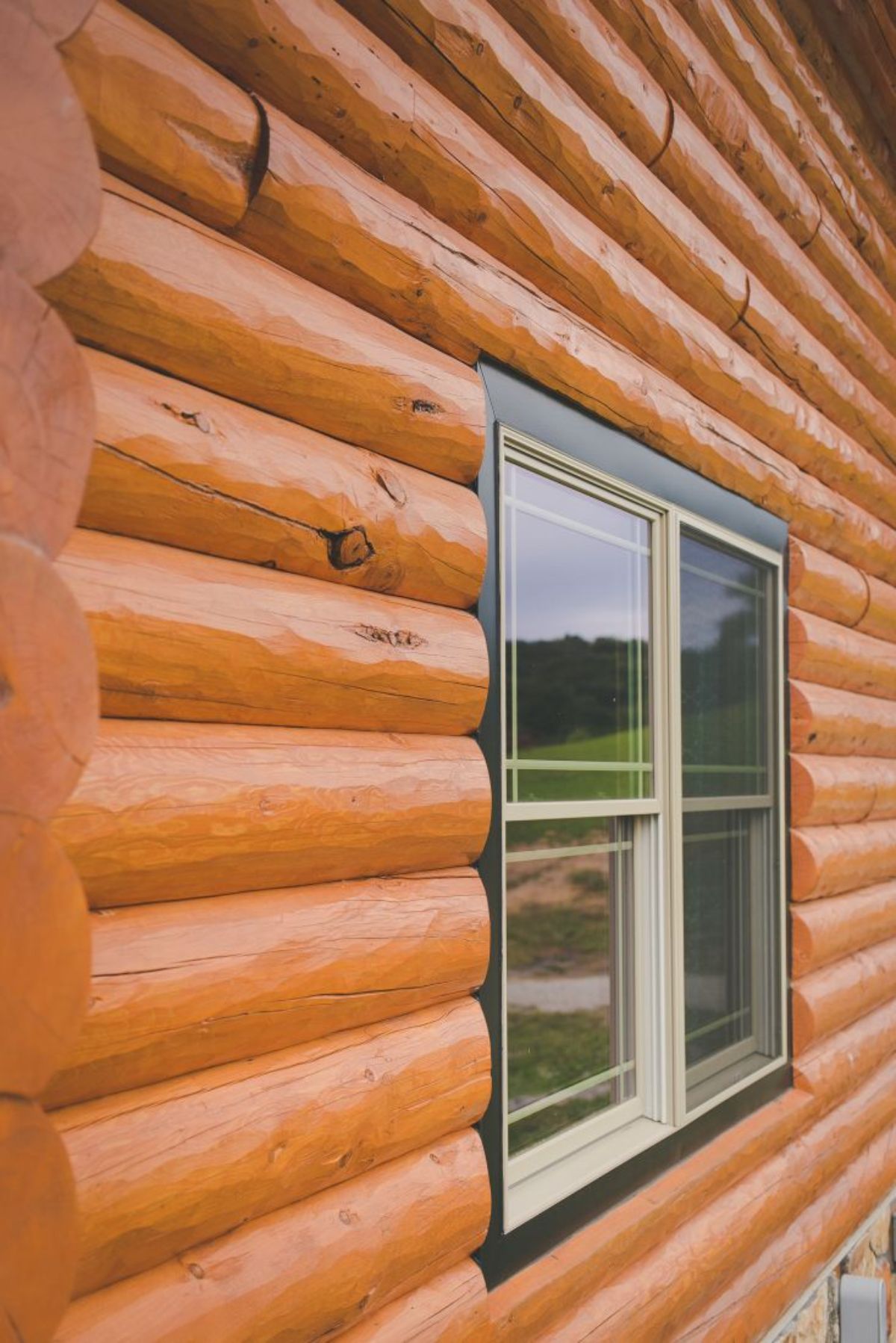 D-link corners are a common addition in any log cabin build, but this one, in particular, it really stands out as a beautiful way to build a home with classic functional style.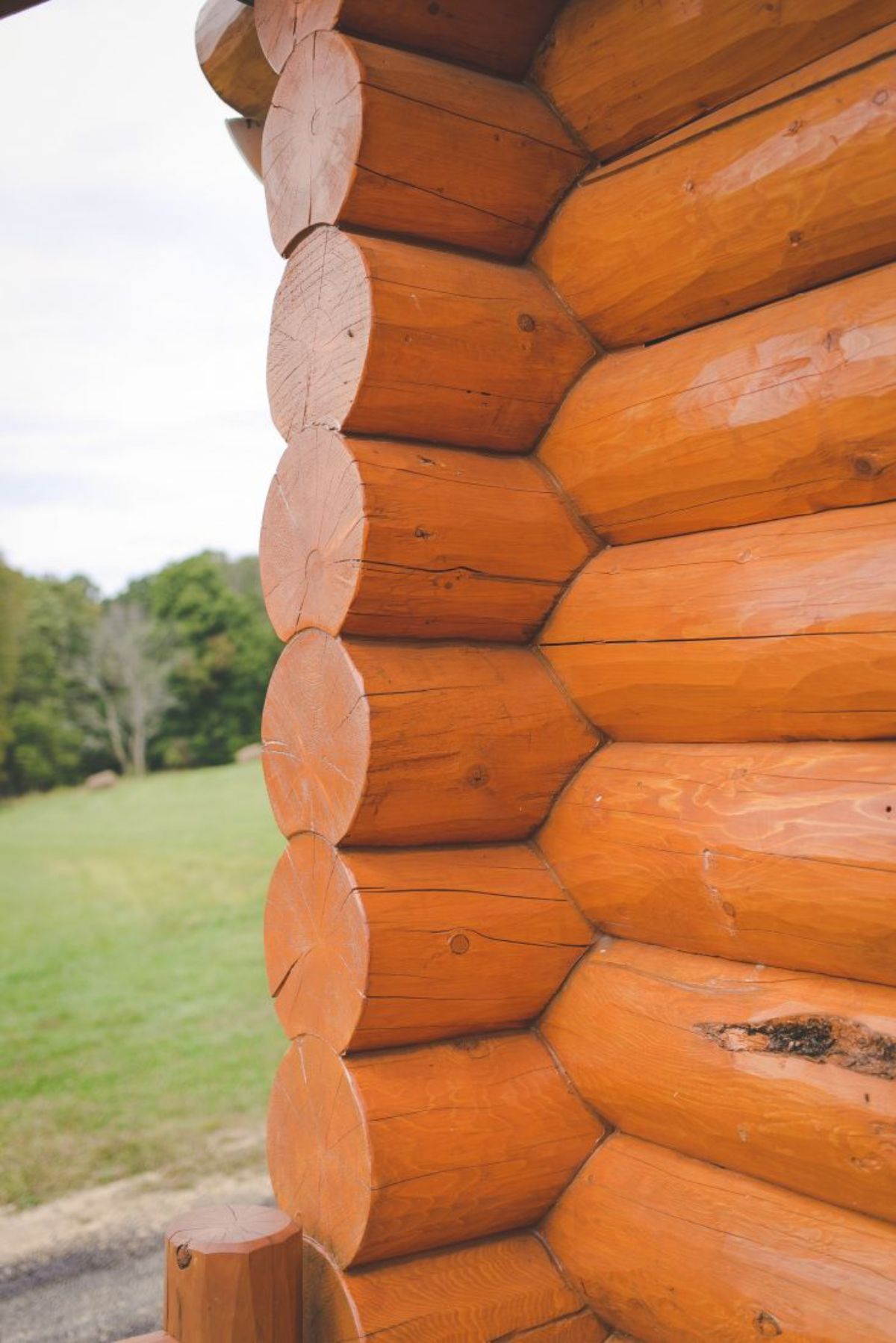 Custom porch lights can be found beside each of the exterior doors and entries into the home.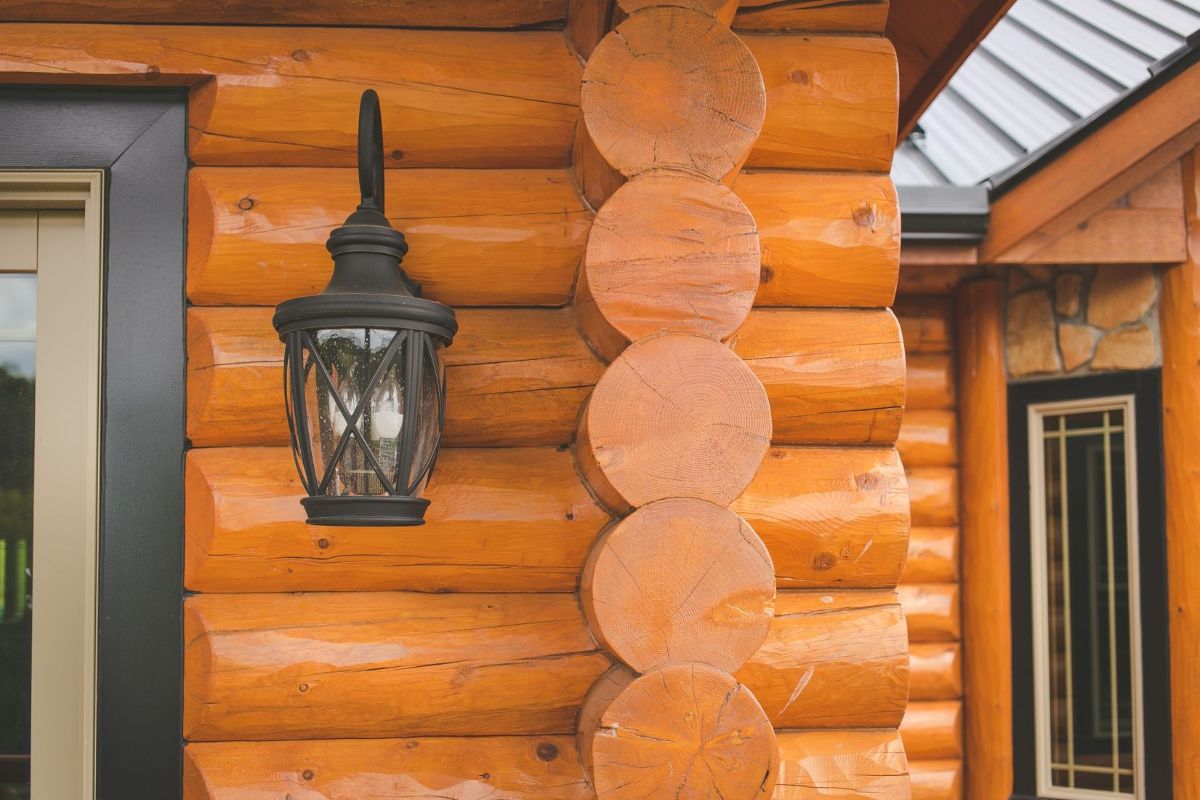 This window is part of the master bedroom on the inside. I really love how it has that bay window style without being overly obtrusive on the back deck space.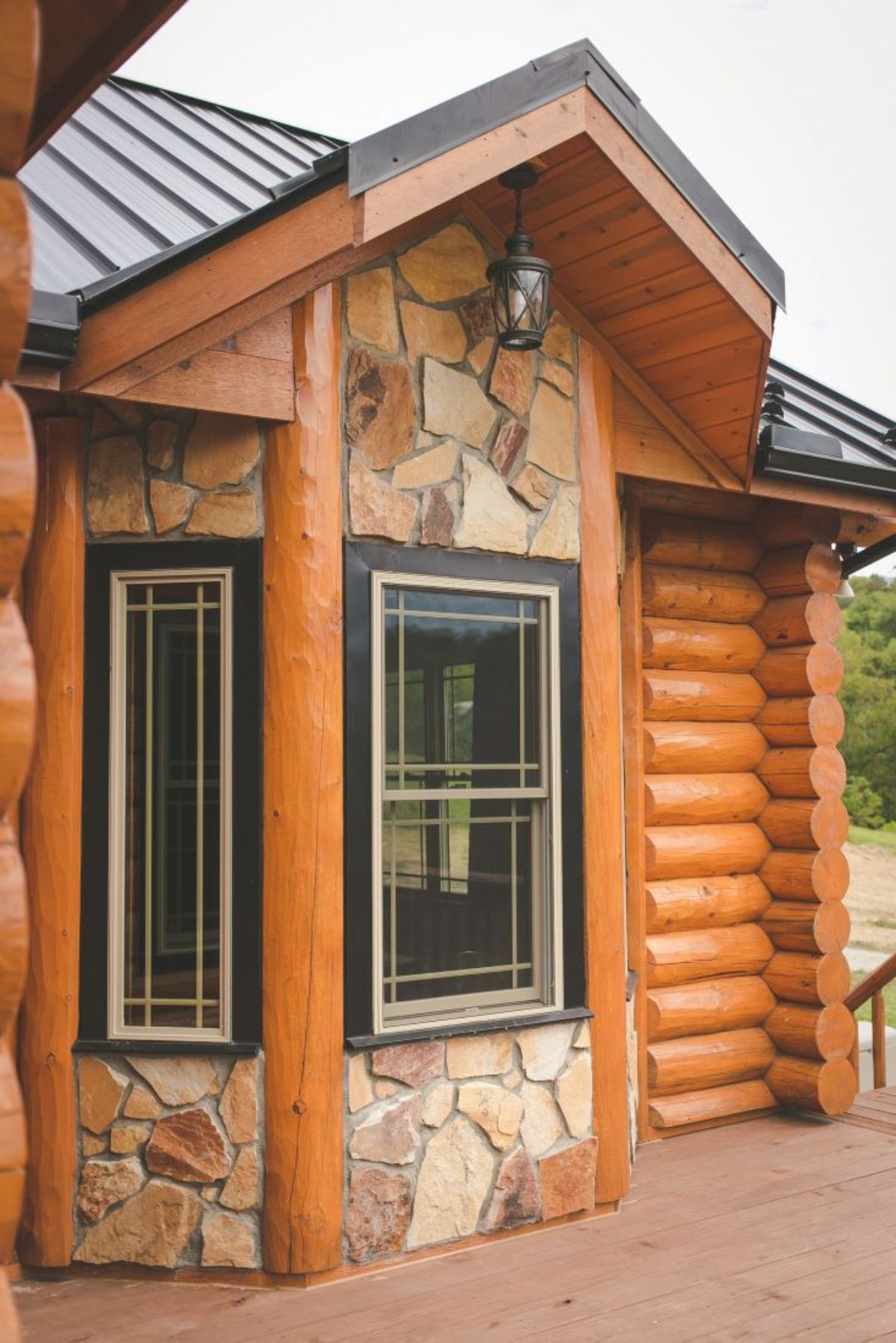 Inside the home, you have three levels to enjoy. The main floor is a nice open floor plan in the center with a great room, kitchen, and dining room in the middle, and the bedrooms on either side.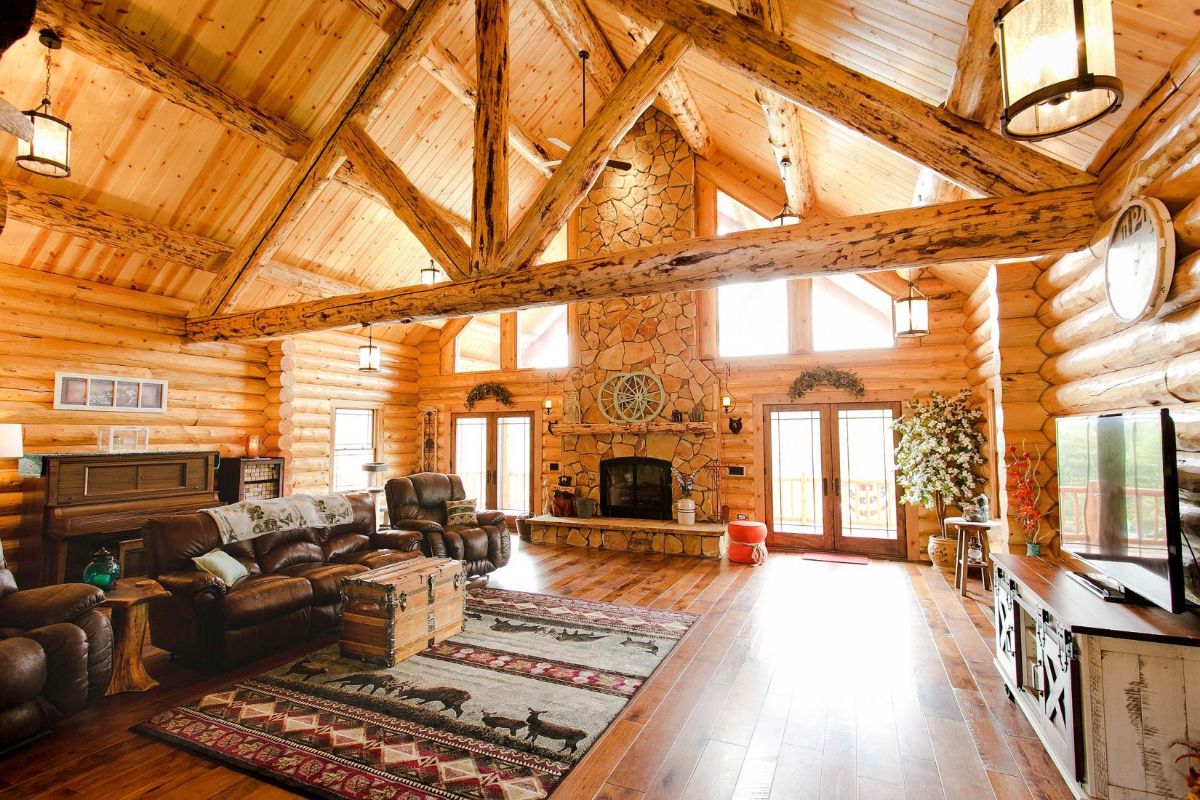 The great room has the classic wall of windows and French doors that lead out to the deck on the back of the home. I love all of the natural light this creates. Such a gorgeous space and area you can transform with different seating arrangements to create the ideal living room for you and your family.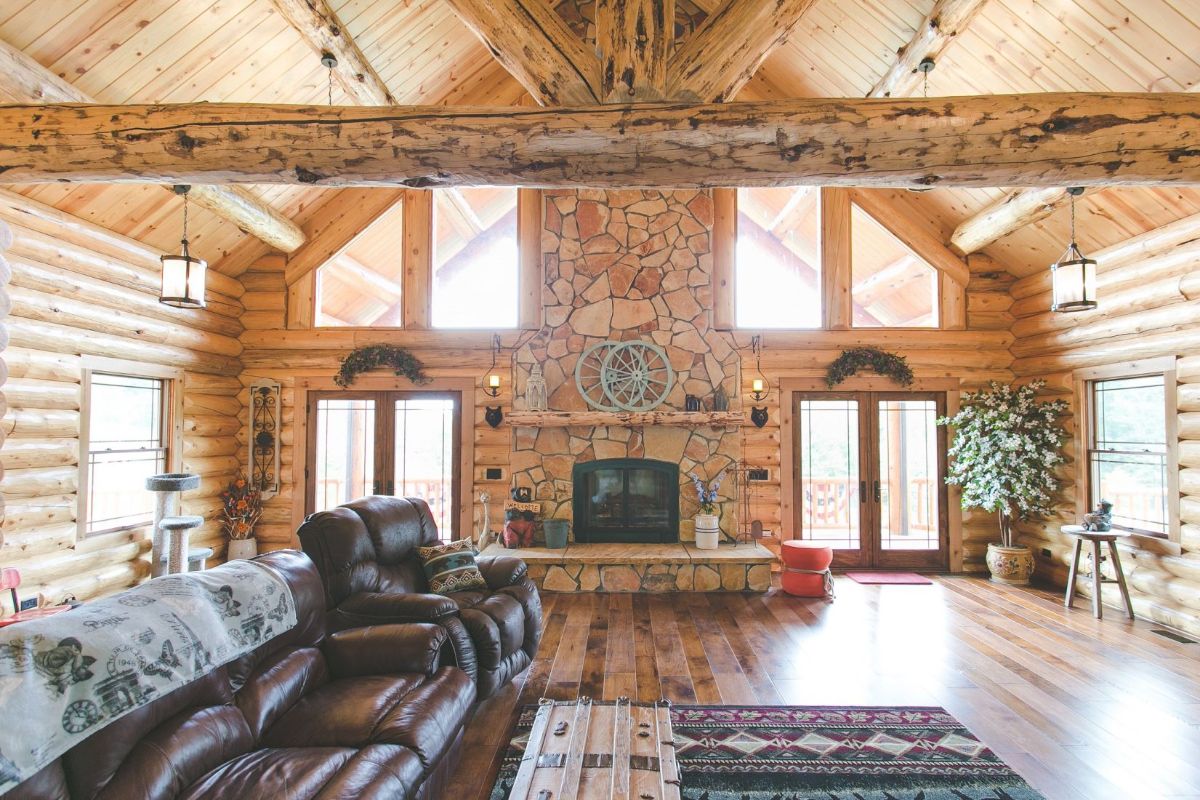 The stone fireplace inside the living space is one of my favorite additions to any home, but especially a cabin. It has the ability to make a simple space into a luxury home and oasis from the outside world.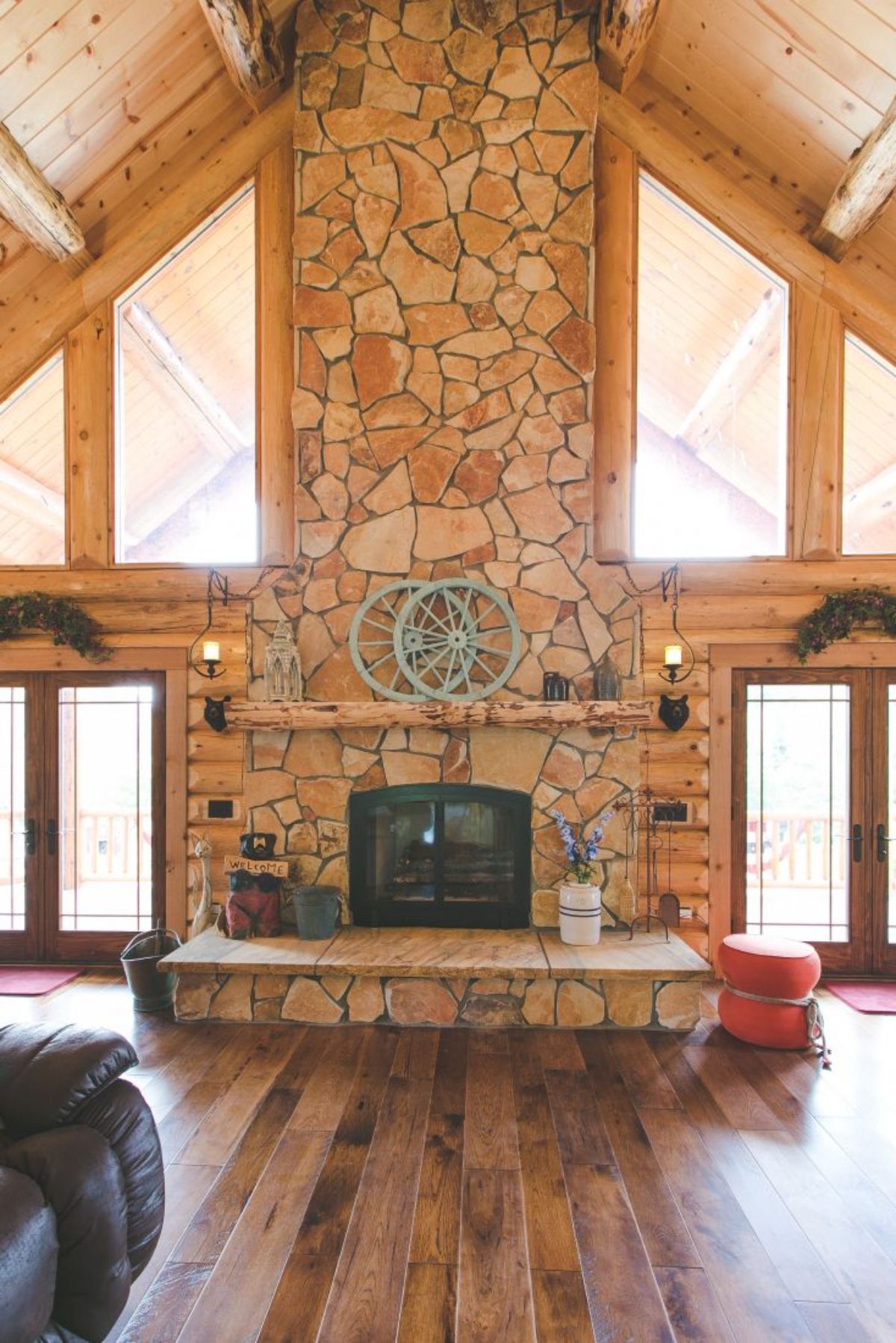 Behind the great room, you have an open kitchen and dining room that has an open loft above. I love how open all of this is to each other so you don't feel trapped into a small space.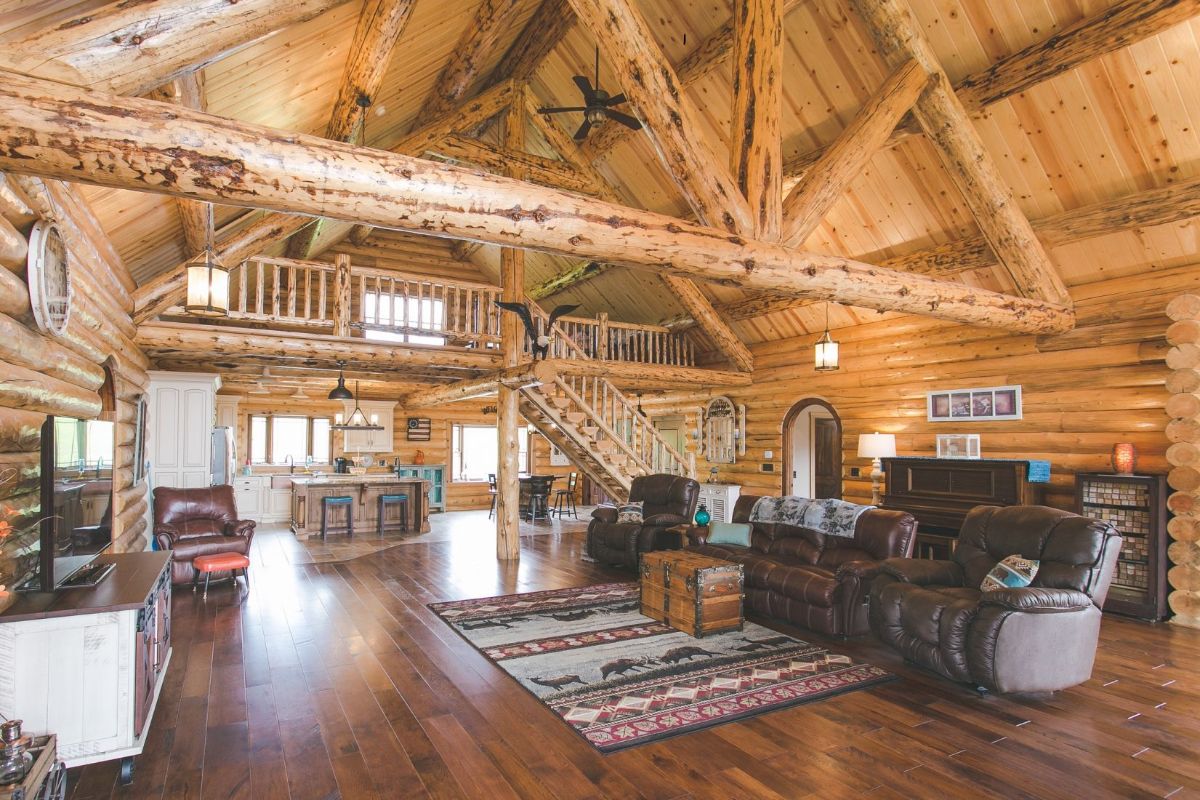 Open wall space lends itself to holding an entertainment center with television as shown. Of course, television might be preferred downstairs in the den or open family room, but it is a nice addition here as well.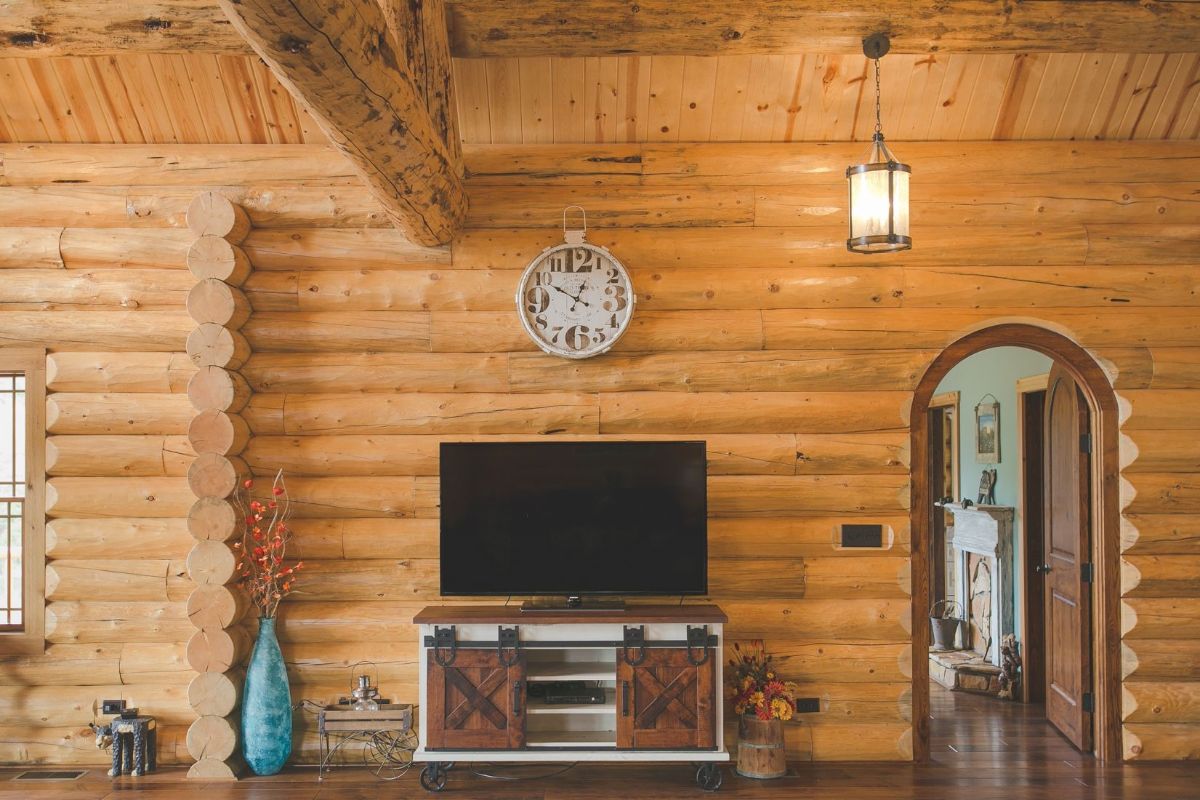 The loft above the main room is open and can easily be used as a game room or bedroom for kids.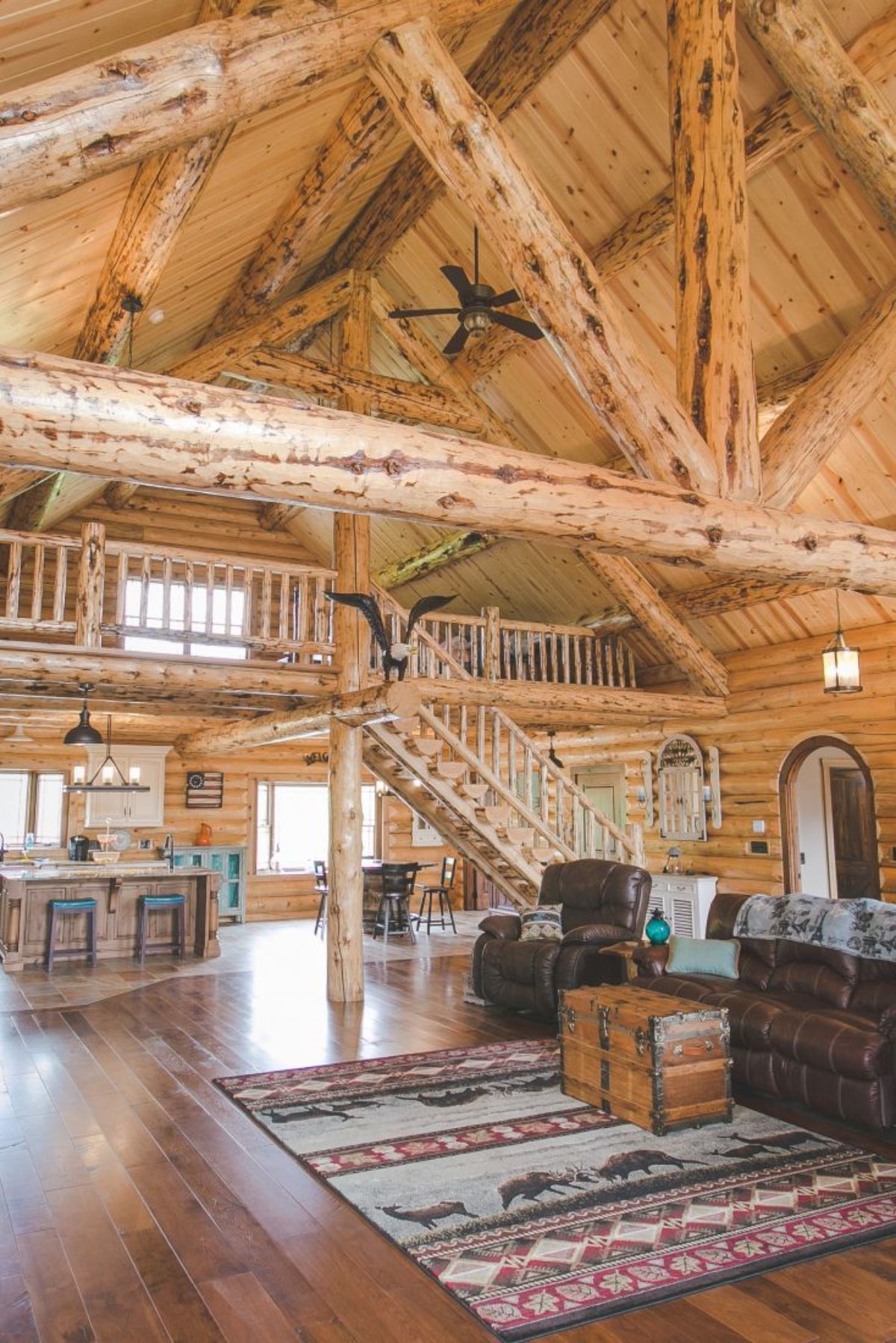 This kitchen has a nice L-shaped design with appliances on one wall and cabinets throughout. Plus, this island in the middle includes a second sink and room to slide a few stools in for a simple breakfast nook space for the kids.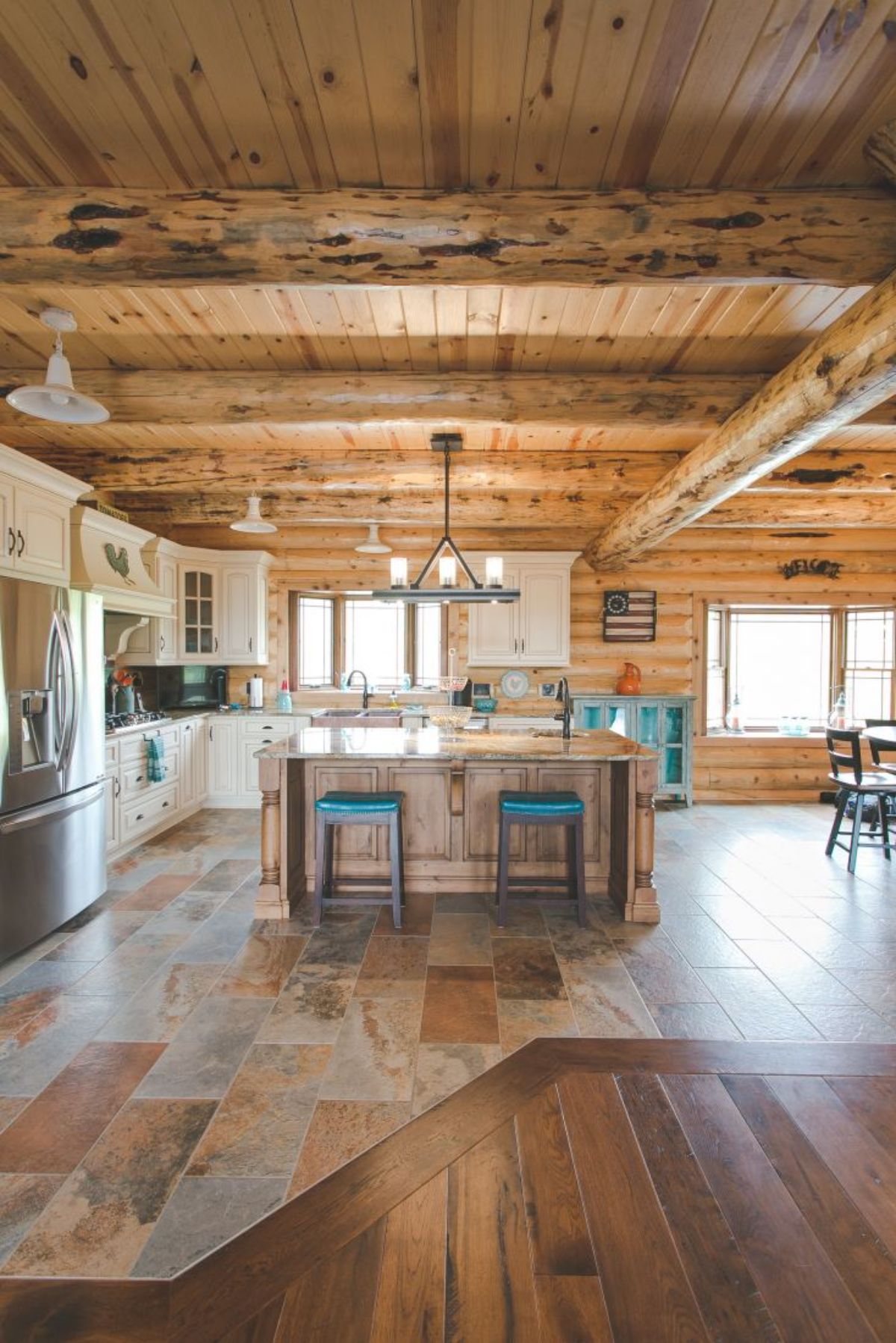 I appreciate the lighter cabinets here against the darker wood, but the teal accents are another fun pop of color that makes it feel homey and a bit more welcoming.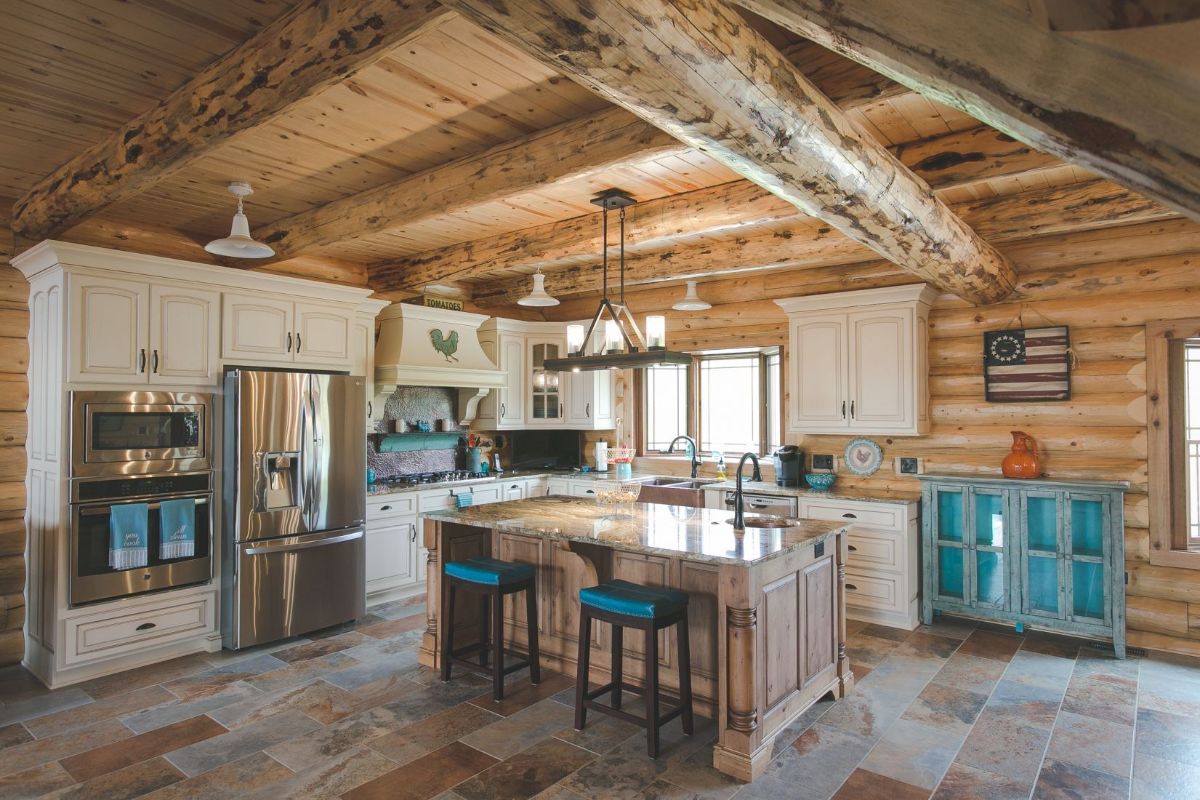 A table with extension options is across from the kitchen and beneath the loft. While it's not a formal dining space, it can easily be transformed to seat 6 to 8 people easily for a dinner party.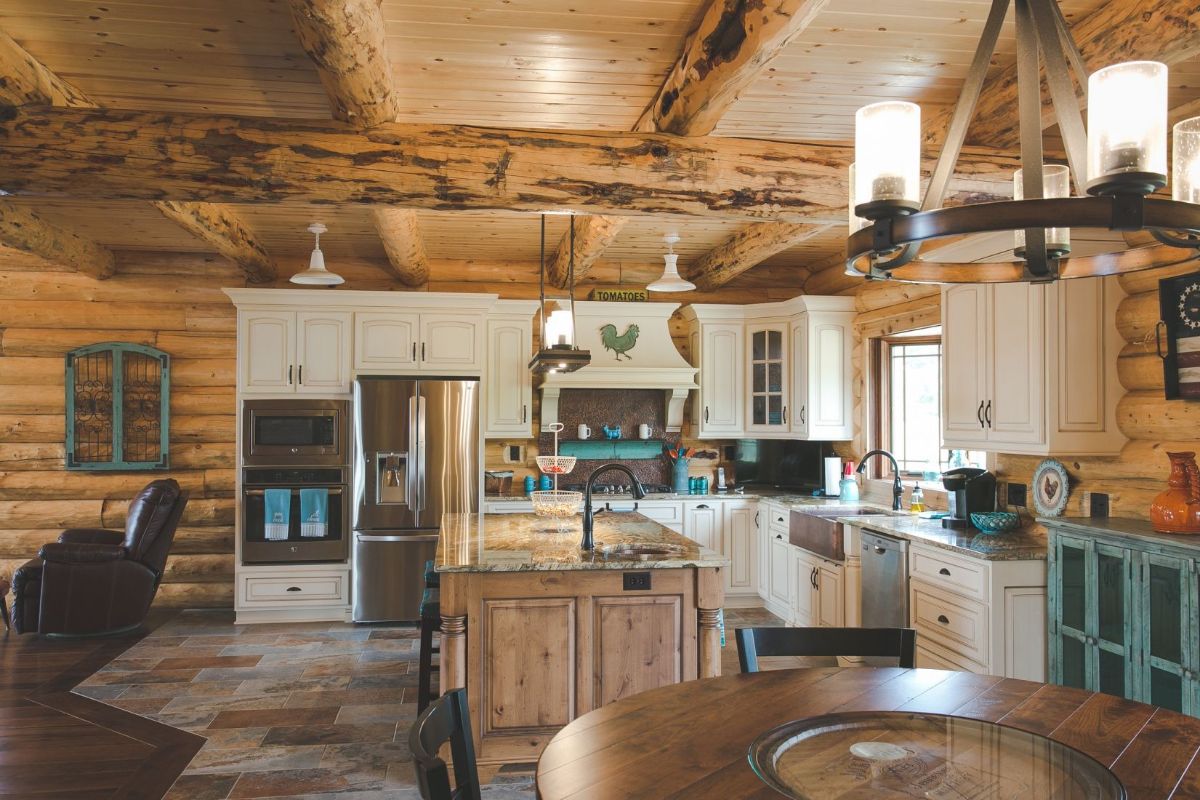 From here you can see into the laundry room on the side with a half bath attached. It also shows how nicely the stairs are sloped for an easier ascent into the loft if desired.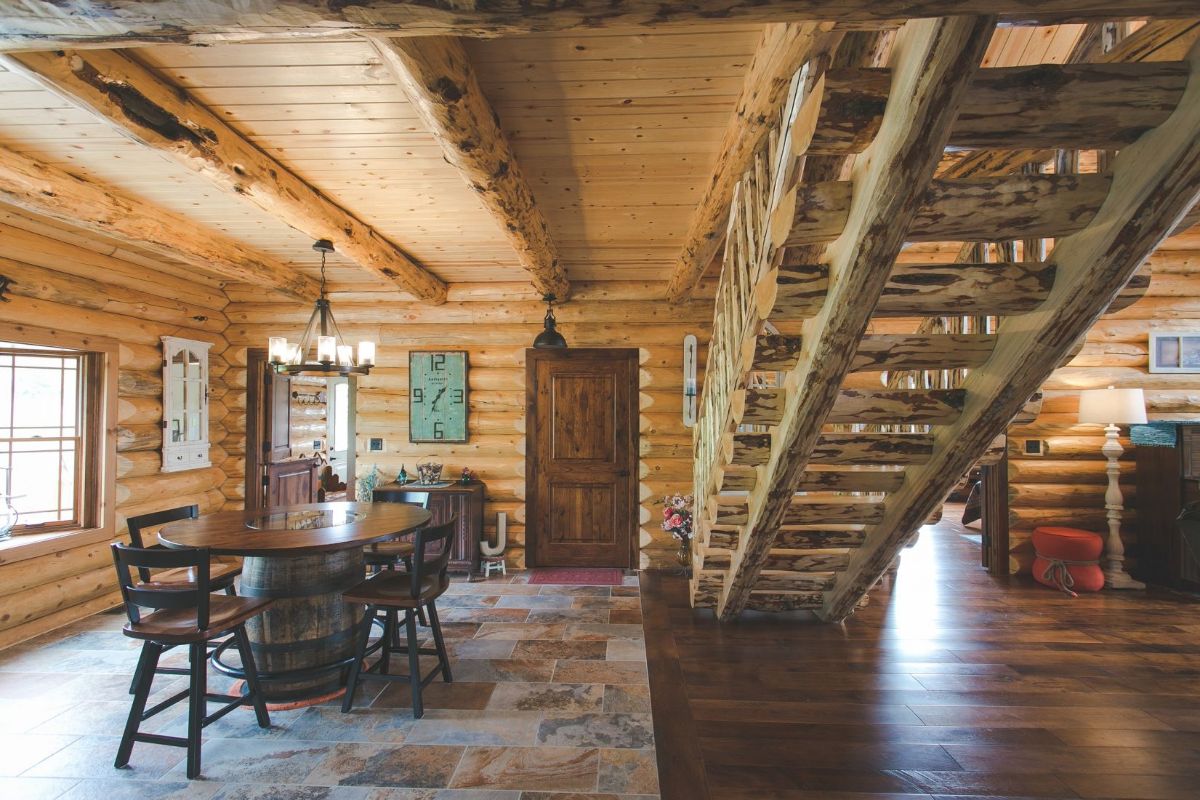 An open loft is a fun addition to any log cabin. It really adds to the open style and floor plan, but keeps you from feeling like you have a lot of wasted space.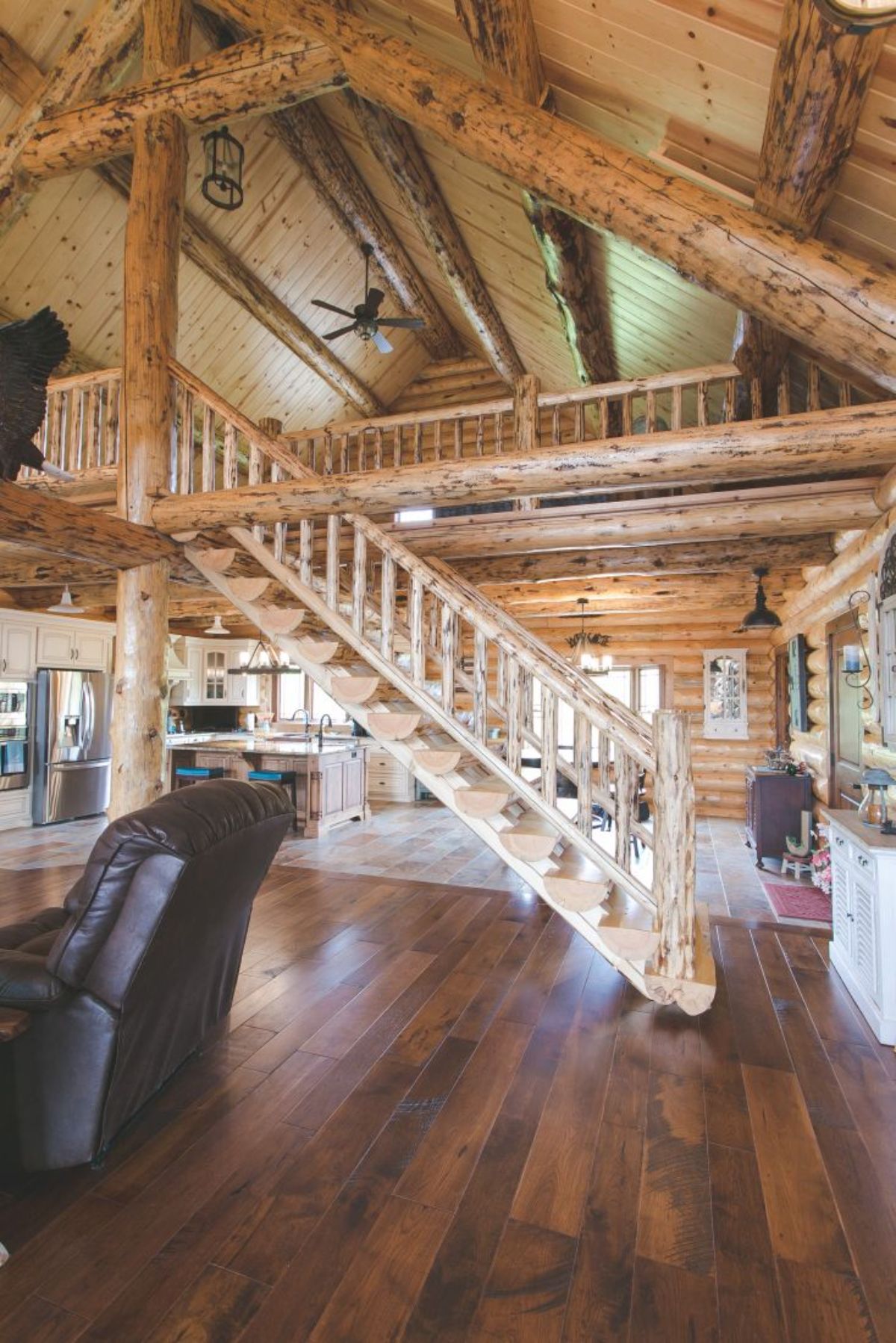 Just look at the beautiful workmanship of the woodwork in this cabin. The real wood look is so much better than all of the processed and overly pressed boards you typically see.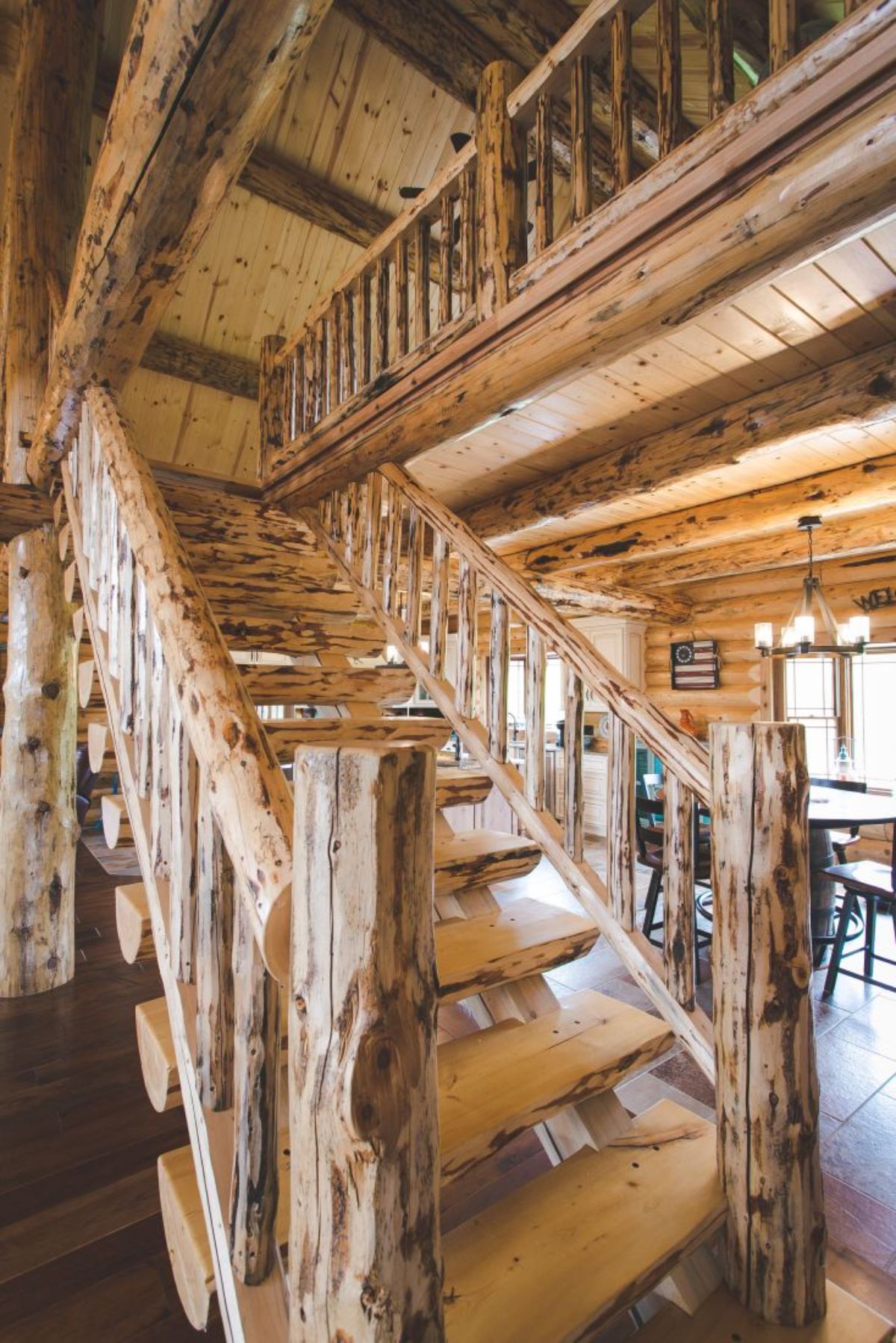 They have a bed up here in the loft, but you could so easily turn this type of space into a home office, reading nook, or a special game room for your kids.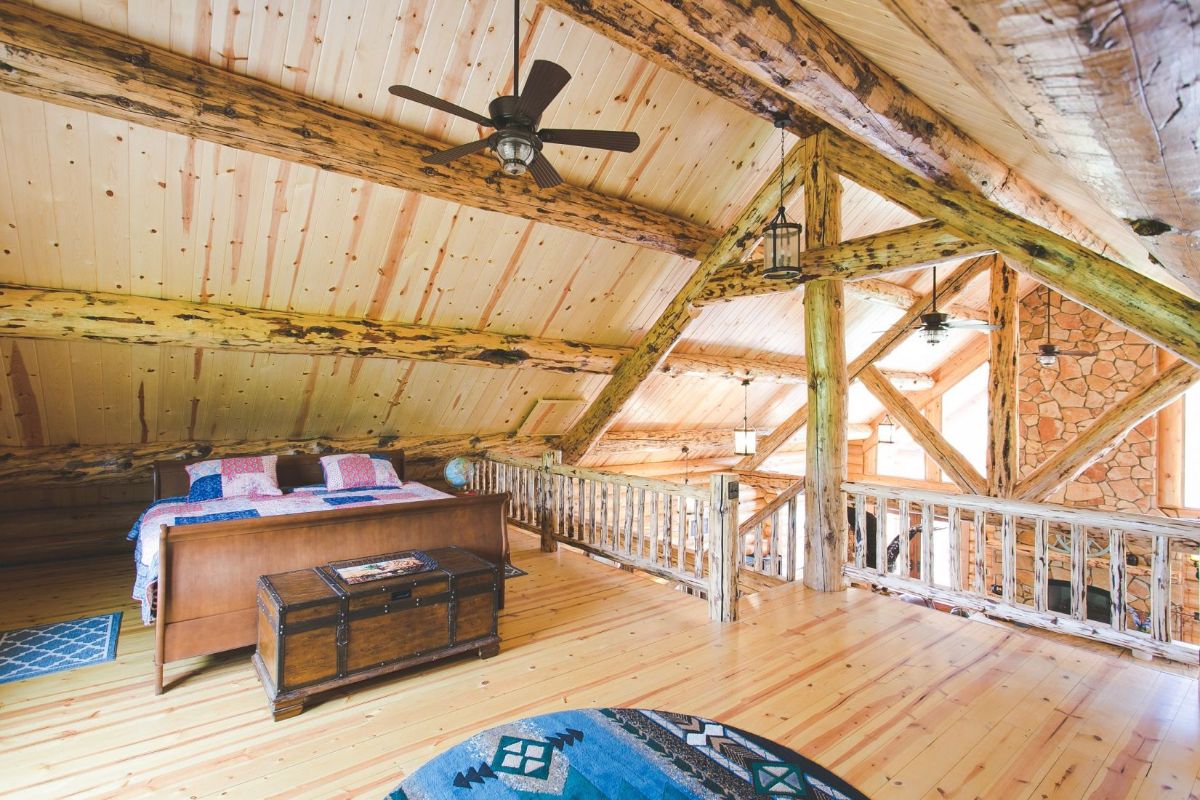 Downstairs, the master bedroom is one of my favorite additions to this home. It is an open space with small details that make it a true oasis.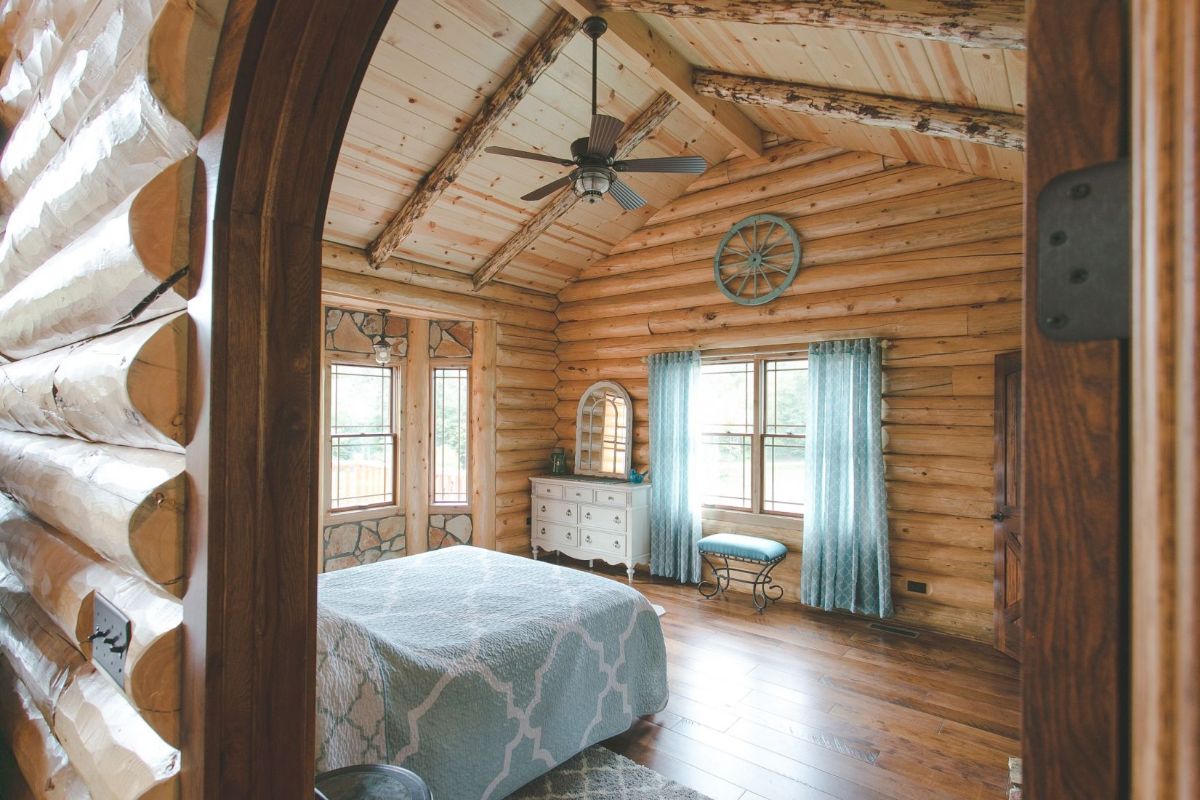 A bed is against the front wall with bedside tables on both sides, and a gorgeous white vanity across from the bed.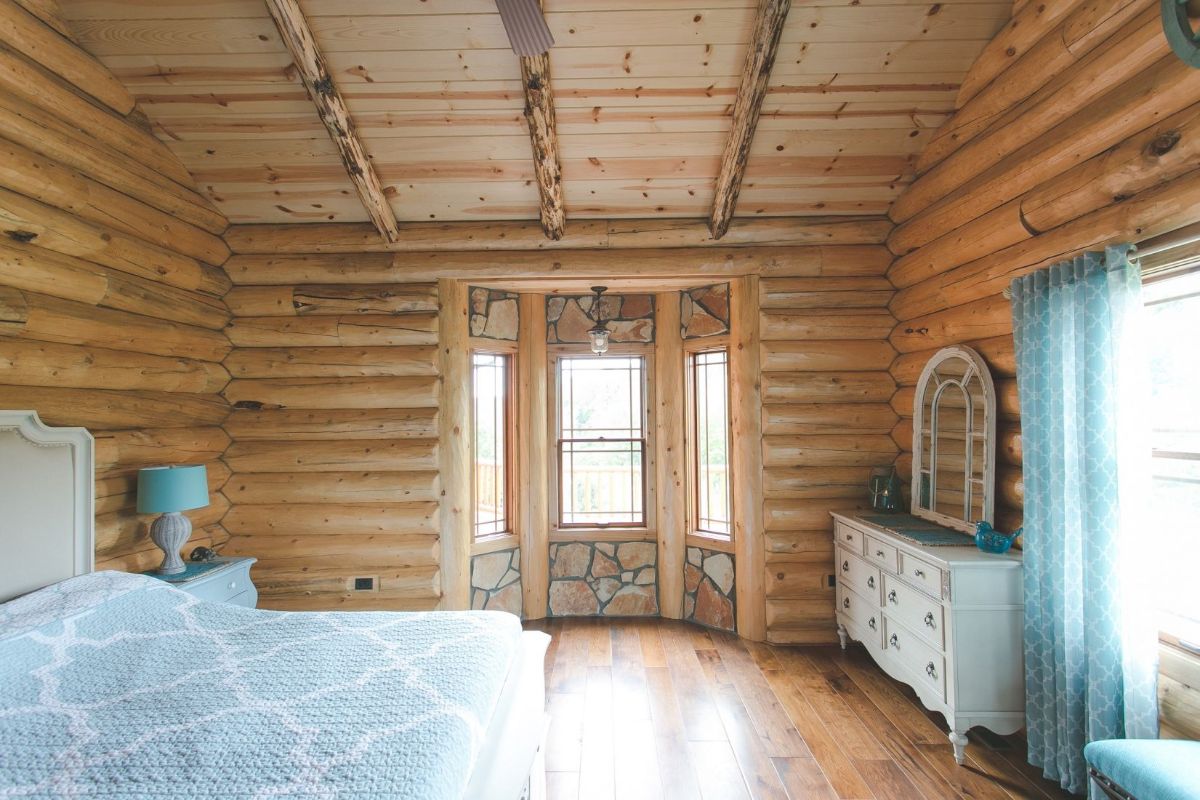 he corner window could easily hold a bench or chair to create your very own in-bedroom sitting space.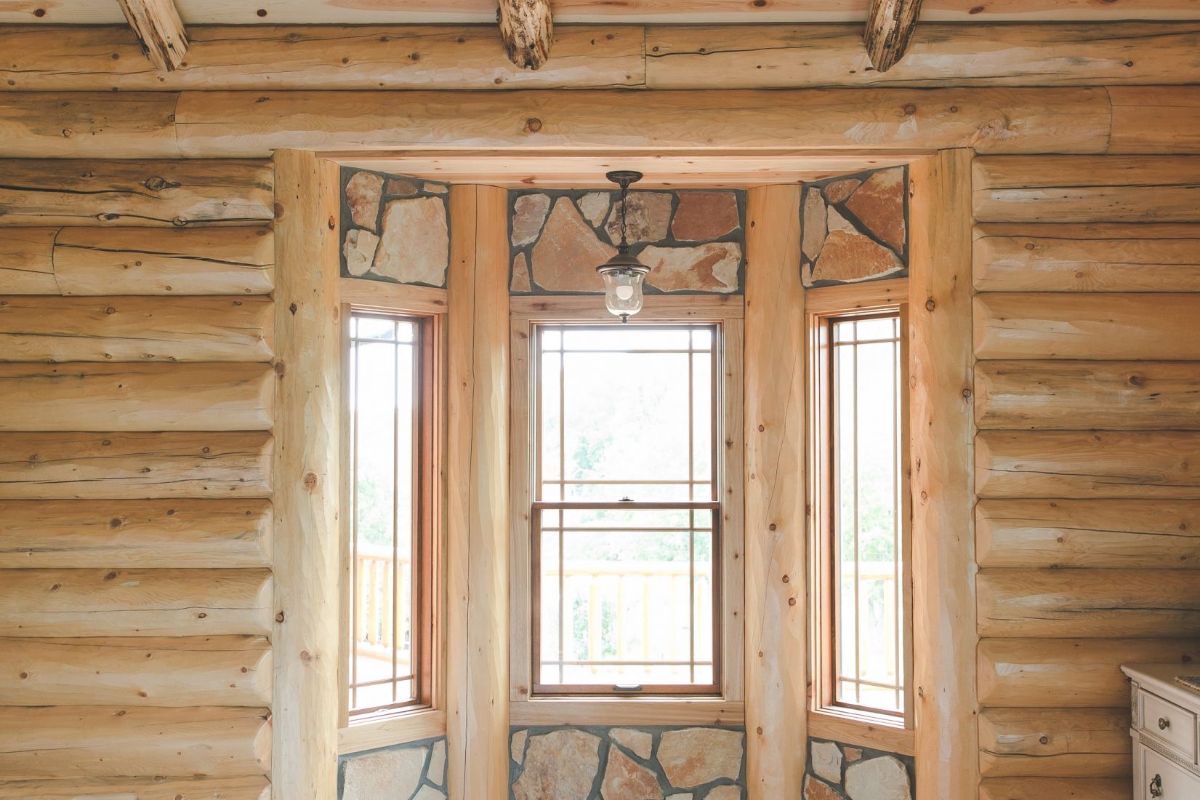 Empty walls could hold storage shelves or decor, but can also be left blank as shown for a simple and welcoming bedroom.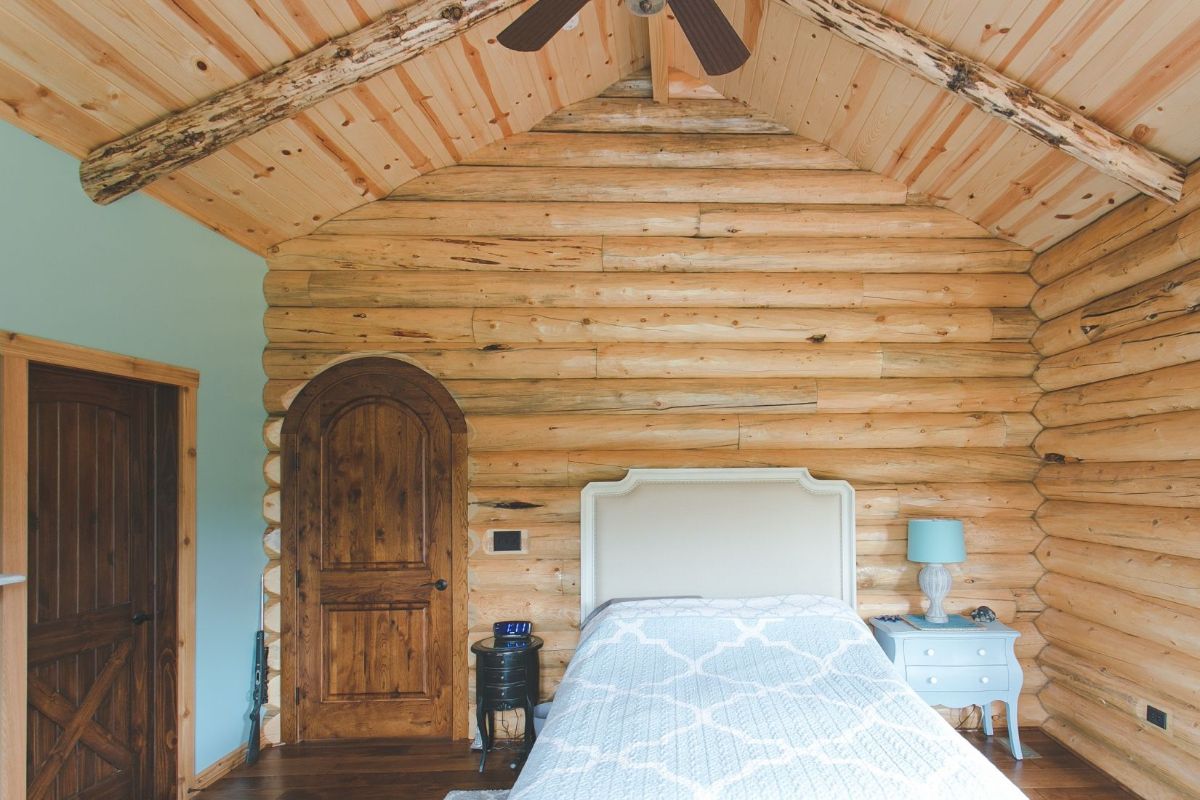 One of the more unique things in this home is the arched doors. It reminds me of the Hobbit houses from the Lord of the Rings!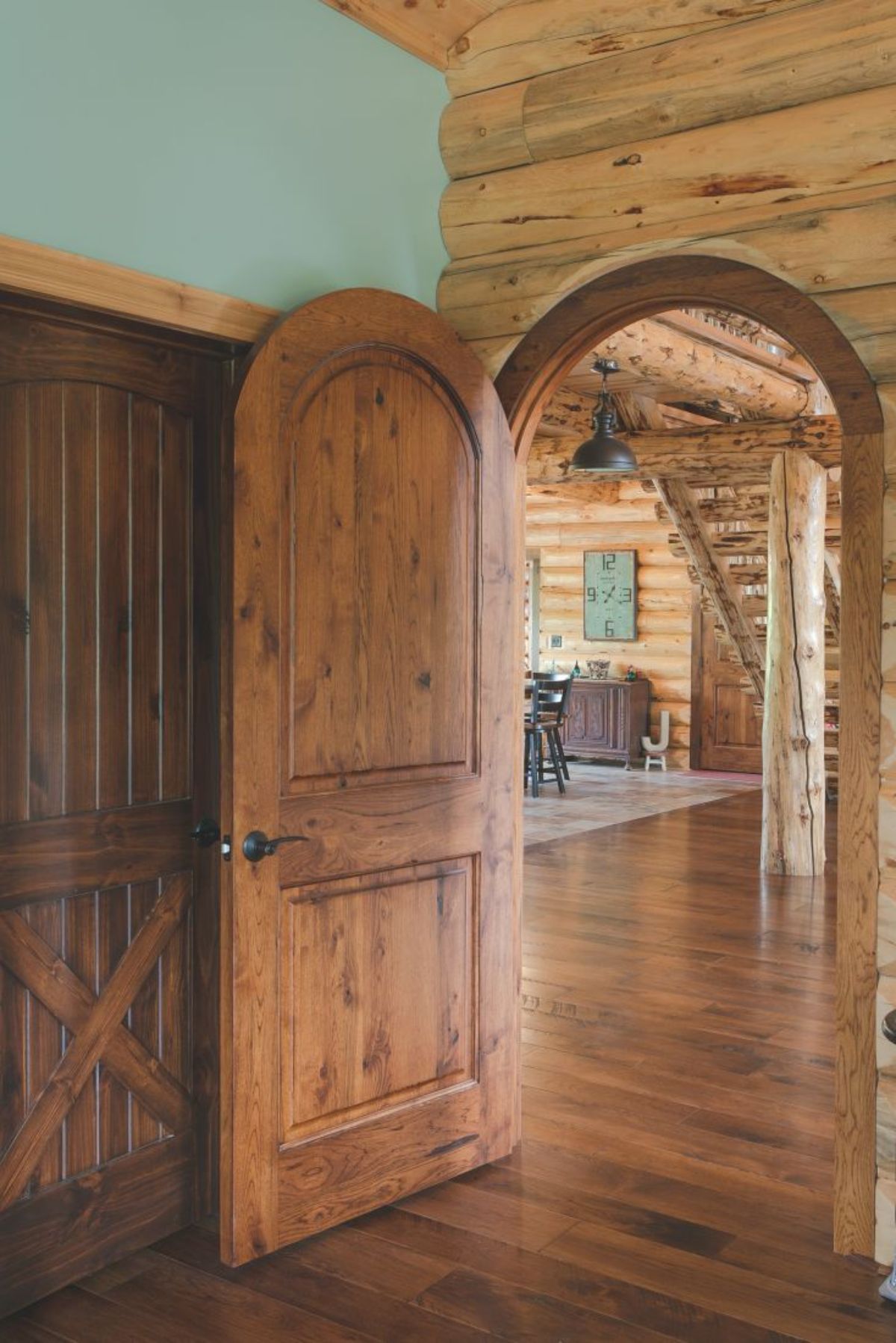 Accent walls are common, and in this home, that same teal color that is used as an accent in the kitchen carries over to the master bedroom. A bench, wall, decor, and even the bathroom rug and clock all carry various tones of teal.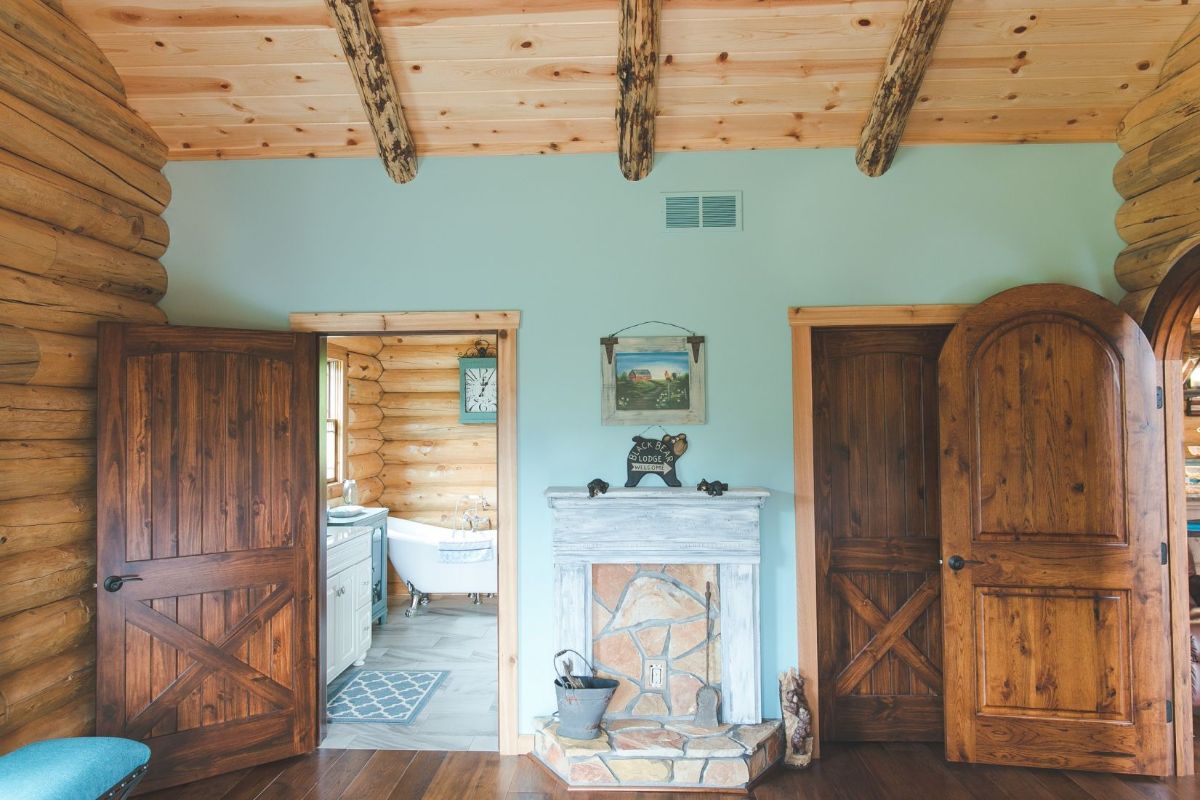 The best part of this cabin, however, has to be the master bathroom with a gorgeous soaking tub and tile shower. If you want luxury and a spa experience, this is the home for you!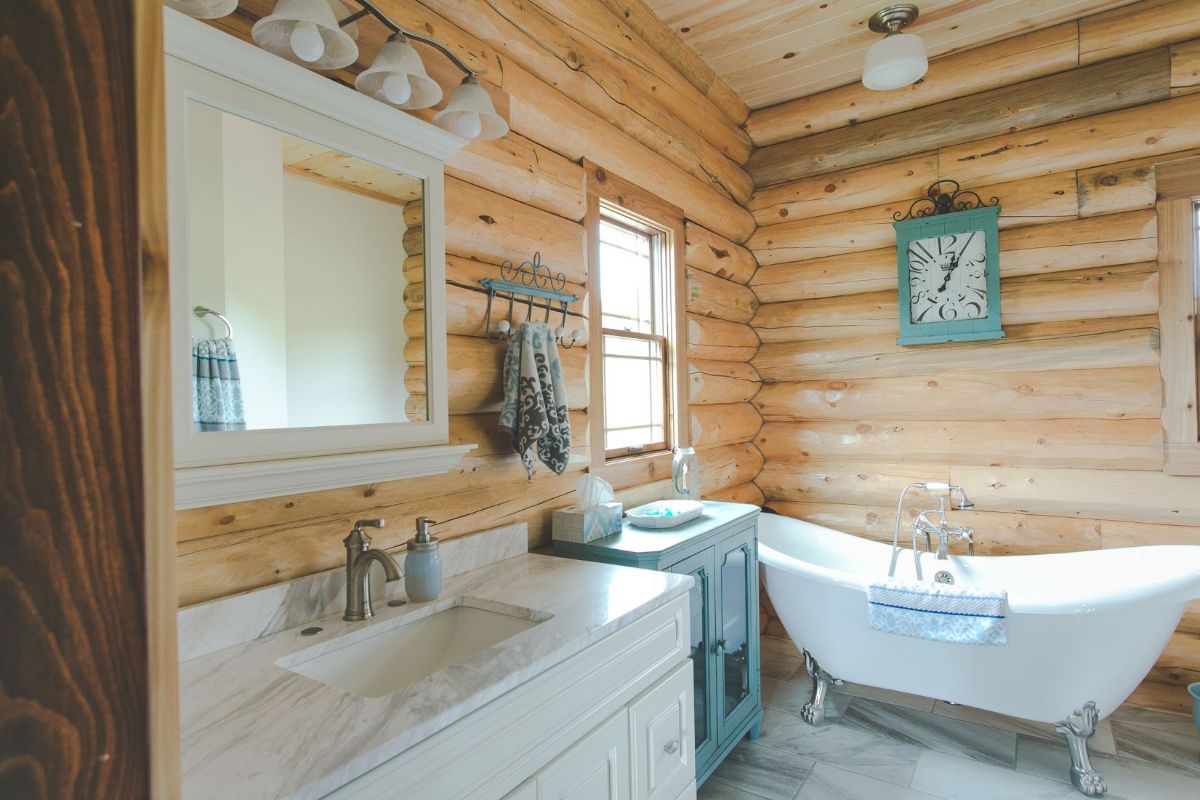 For more information about this and other log cabin builds, check out the Fairview Log Cabins website. You can also find them on Instagram and Facebook for regular updates. Make sure you let them know that Log Cabin Connection sent you their way.
More Log Cabin Kits and Tours