Log cabins in North Carolina are commonplace, but the Jackson County timber frame build is a gorgeous home that is filled with beauty and class. If you are looking for a home that is rustic and modern at the same time, then this is the one for you!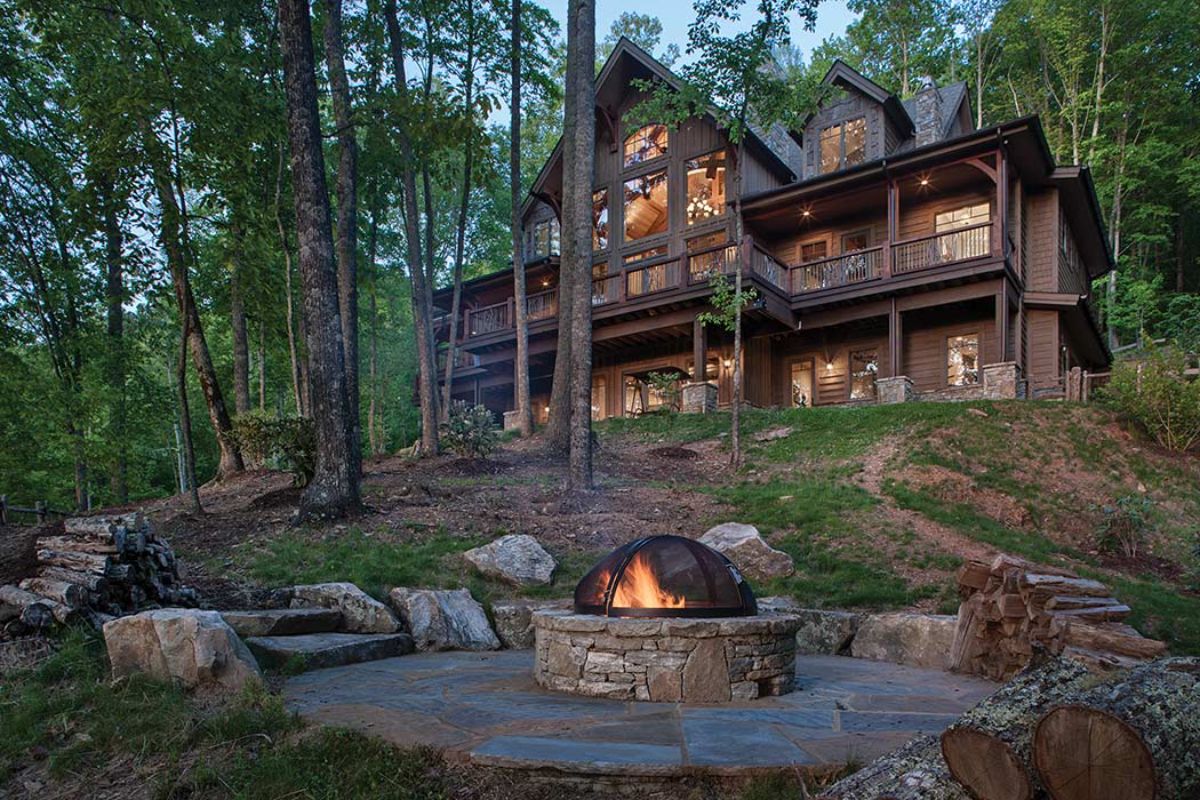 Log Cabin Size
Log Cabin Features
Located in Nantahala National Forest, North Carolina.
Built on a hill for a perfect flat entrance and walk-out basement below.
Large outdoor living spaces and porches, alongside three levels of bedrooms, offices, living spaces, and more.
Two kitchens, one on the main floor and one in the basement.
A cozy covered back deck with a wood-burning fireplace.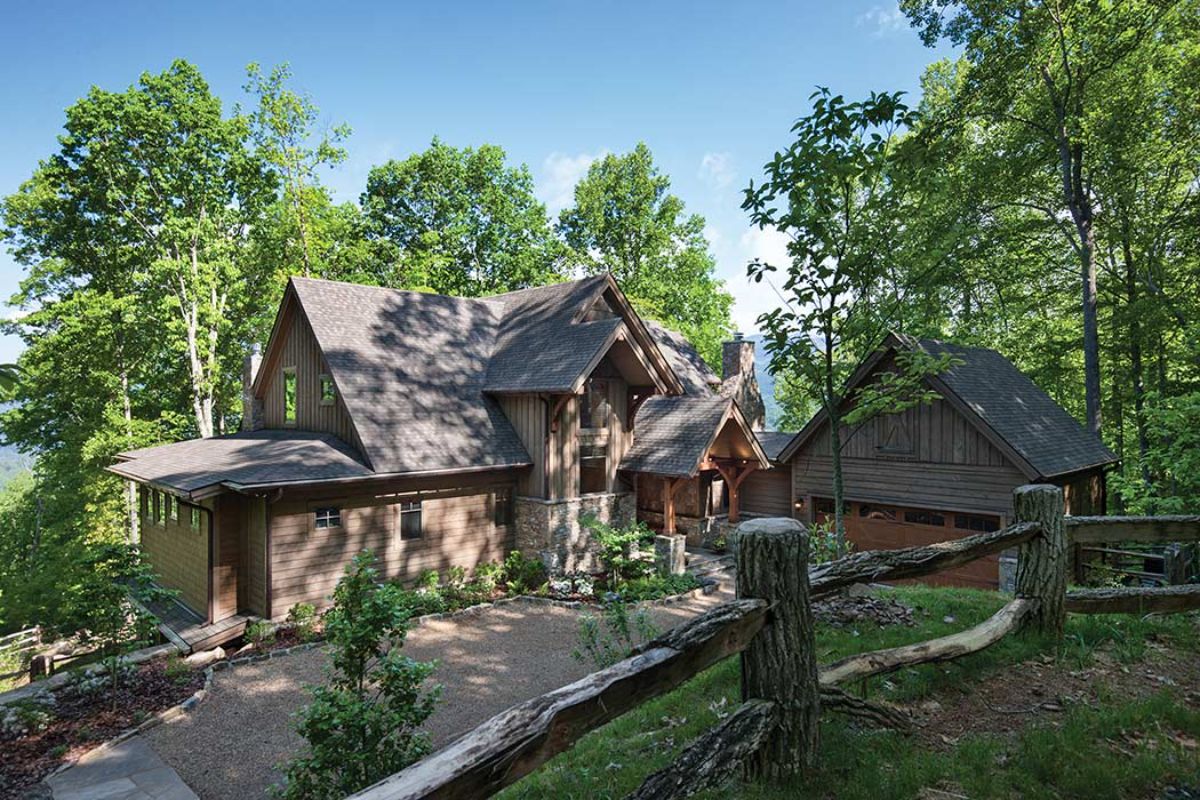 This back porch is a dream come true. Even if it is cold out and snowing, you can light up a fire, relax in comfort, and enjoy the surrounding beauty of the North Carolina hills.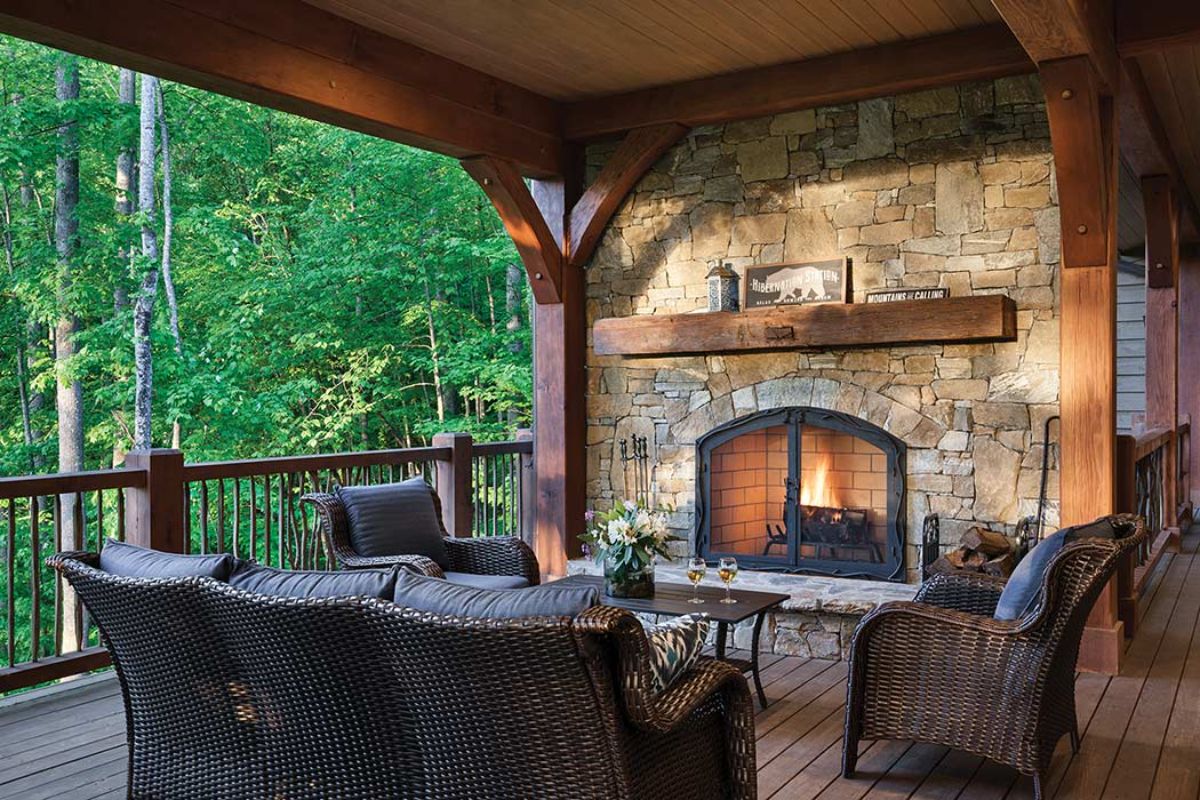 A combination of stone and wood can be found all around the exterior of the home. This front porch is a great feature place with stone bases on the columns and an arched doorway.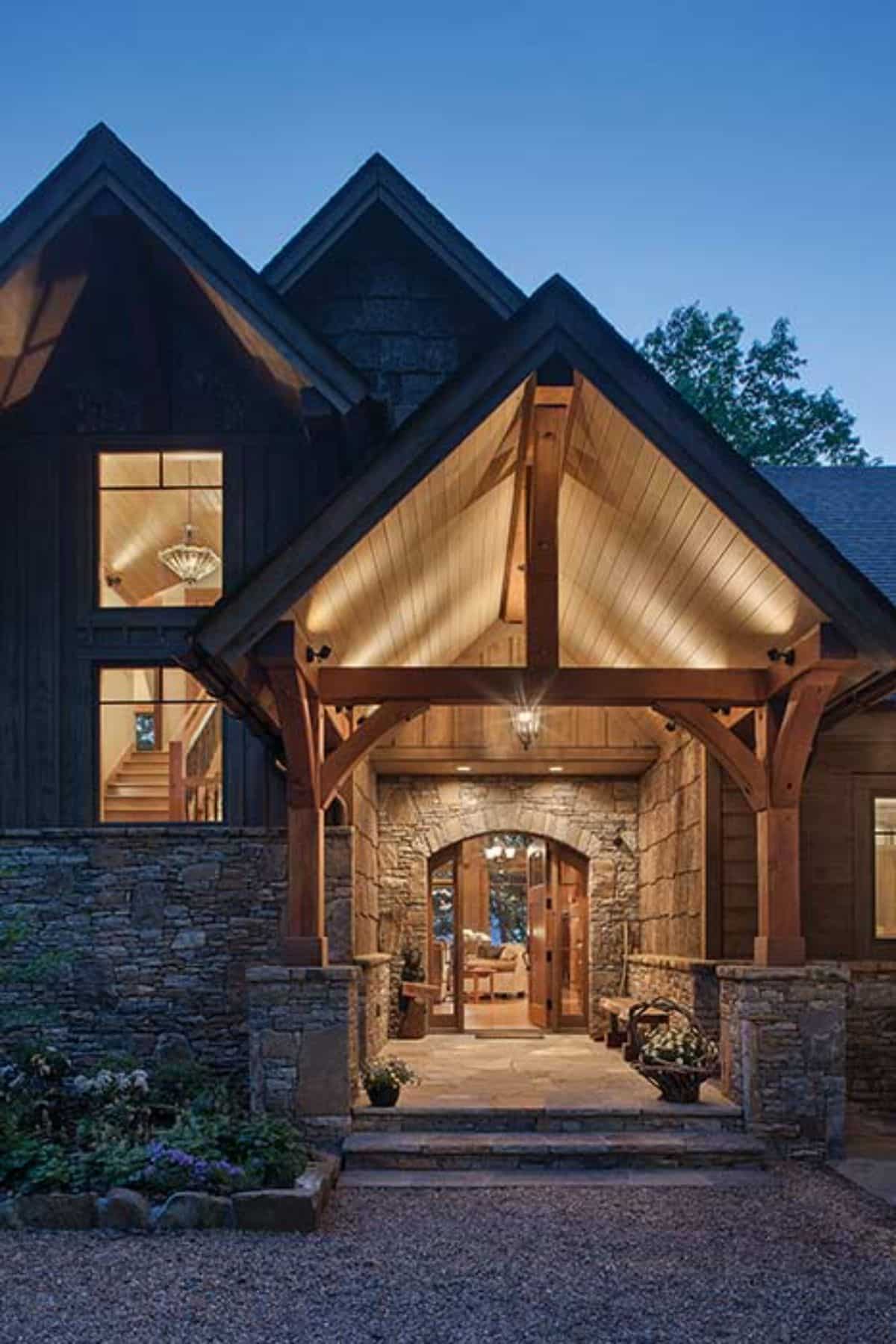 Just inside the front door, you have a large open foyer that leads into the main living space. To one side are the stairs leading both up to the top floor as well as down to the basement area of the home.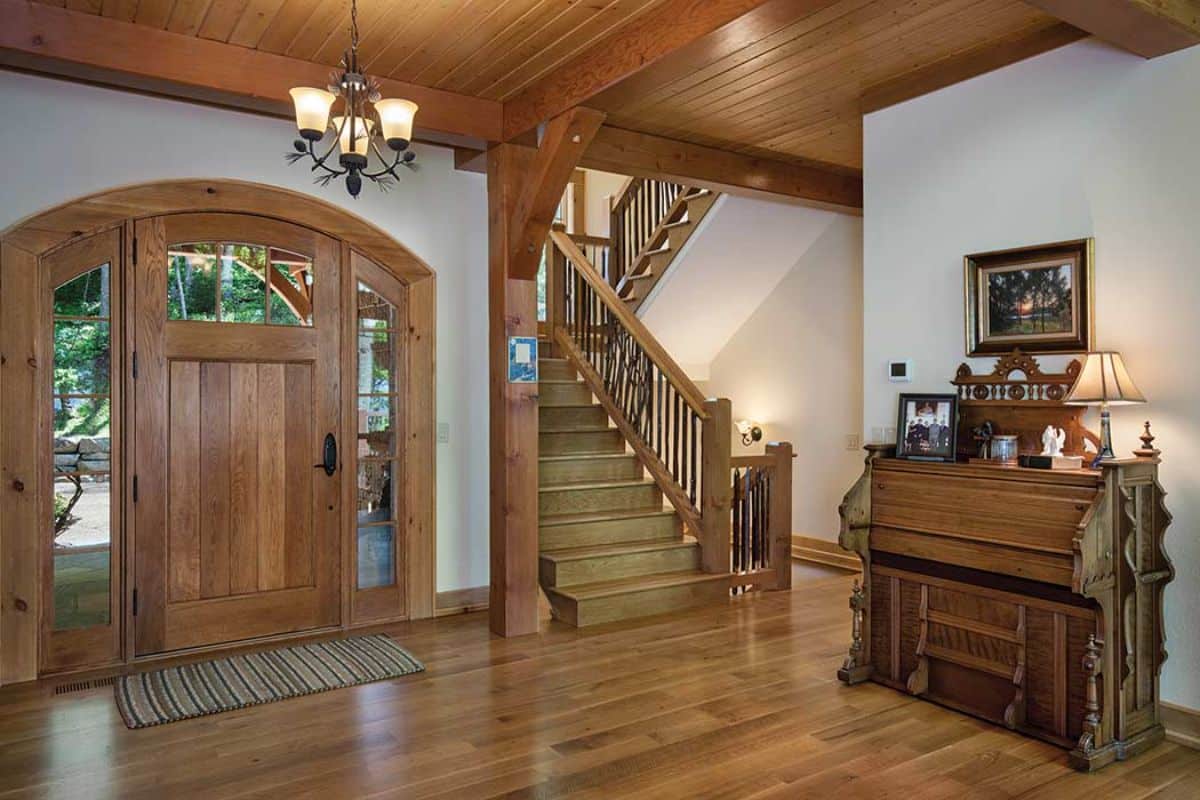 The entry leads right into the main living space with a great room shown below. This area includes a fireplace as well as cozy seating, and a nice view up to the loft's landing. To the left in the image below, you'll find the dining nook and kitchen.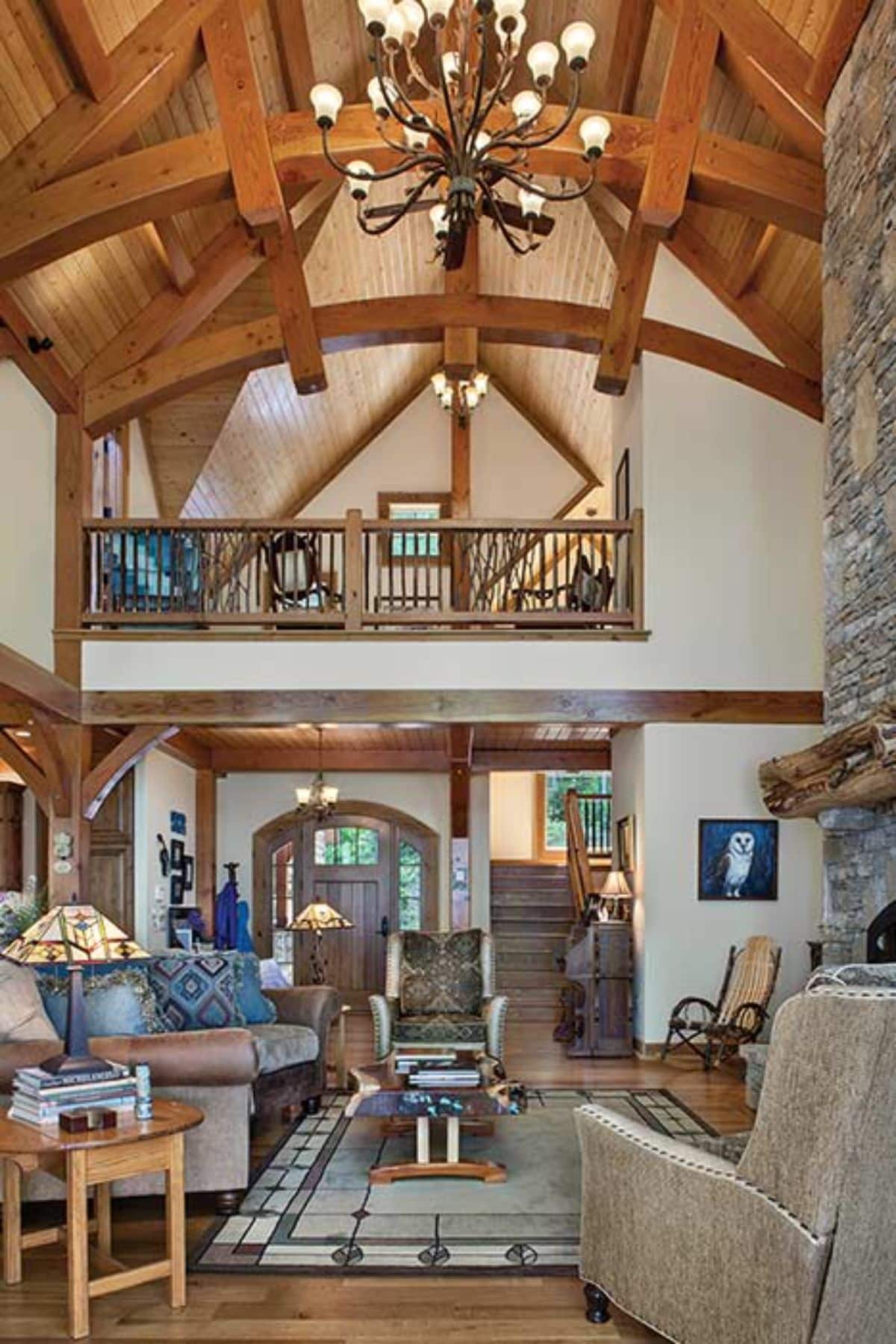 With a gorgeous wall of windows overlooking the wooded area below, you have the ideal place to relax and enjoy the view in comfort. I love that glass doors lead out onto this open deck with the covered area including the fireplace just around the corner.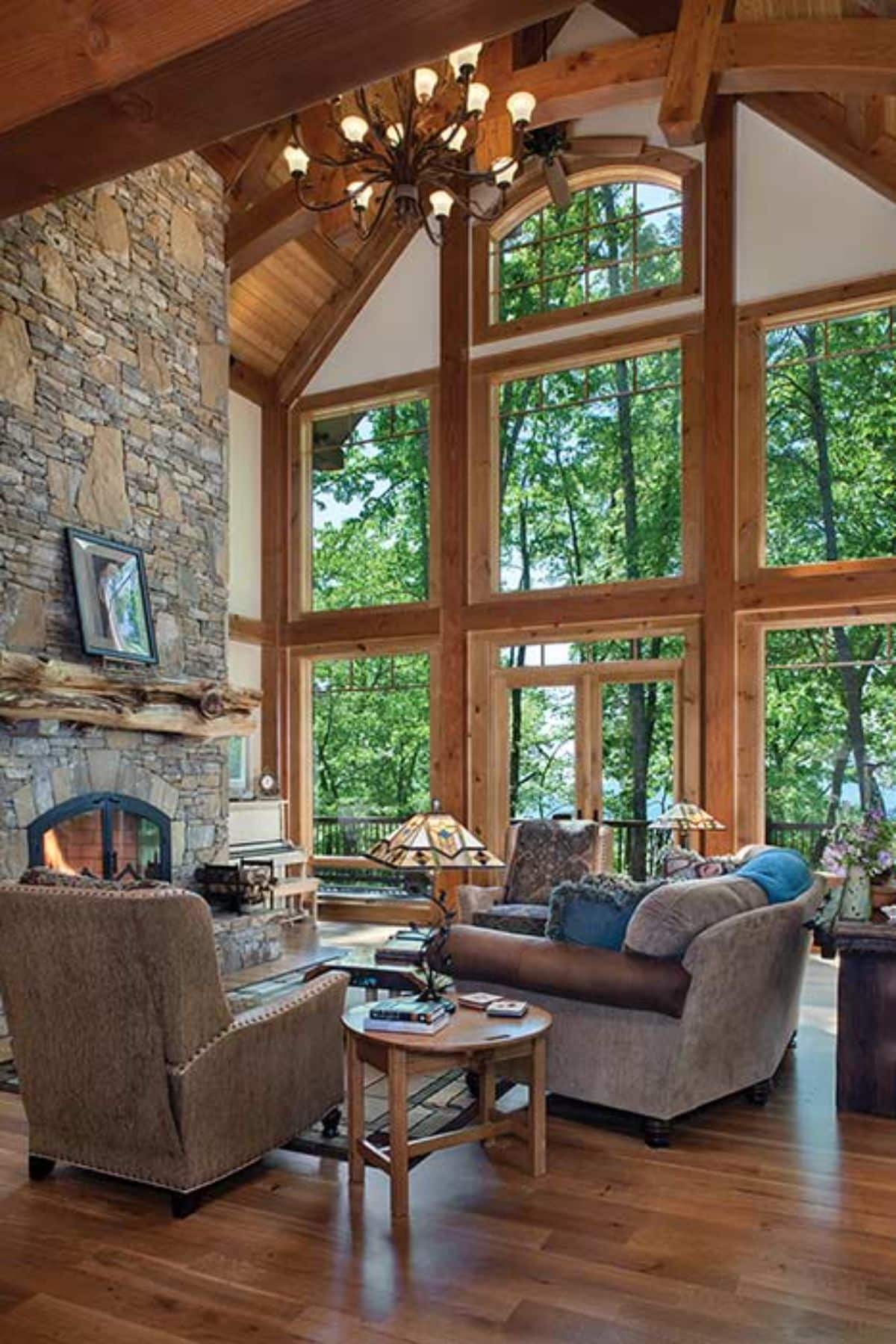 Here you can see the cozy dining area that is surrounded by windows and has a private door out to the deck. The table easily seats 6 but can be expanded to seat 8 if desired or needed.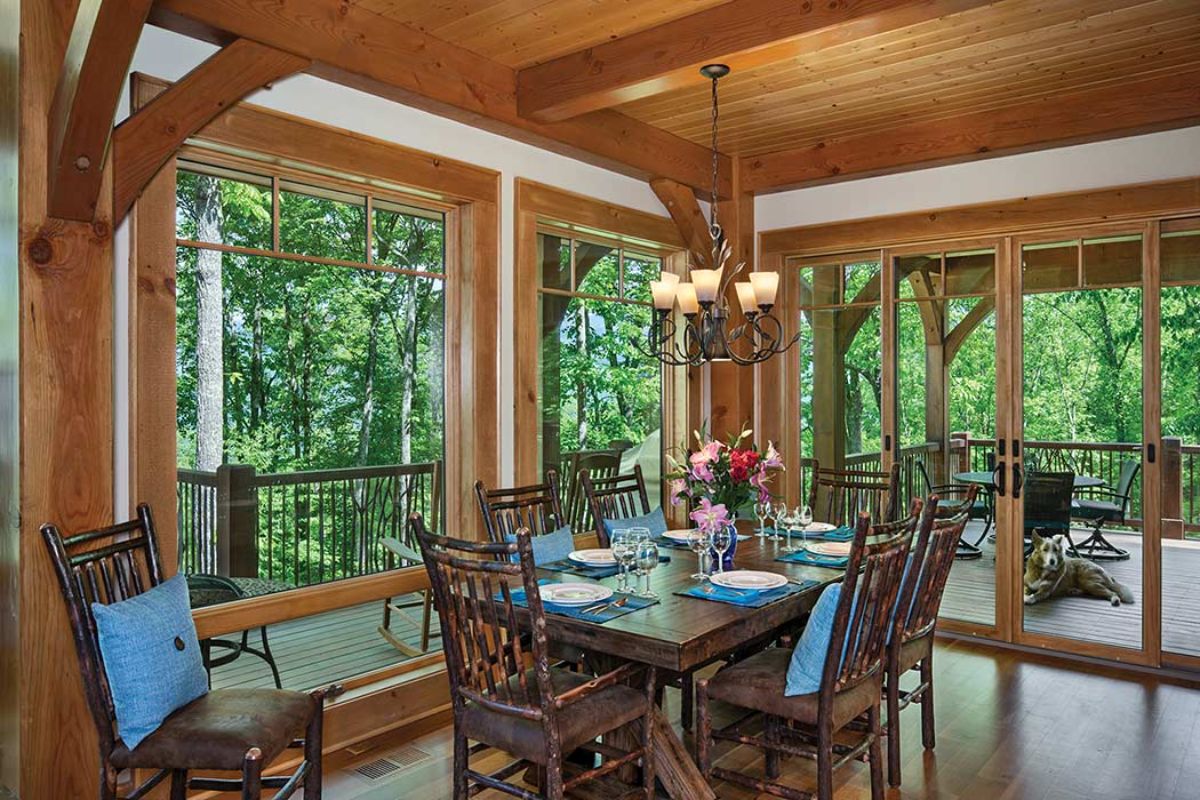 And behind this is the main floor kitchen. Light wood cabinets, high back stools, and gorgeous stonework throughout here are the ideal welcoming family kitchen. You'll notice in the background below the stone vent hood is a faucet ideal for filling pots and pans with water for cooking.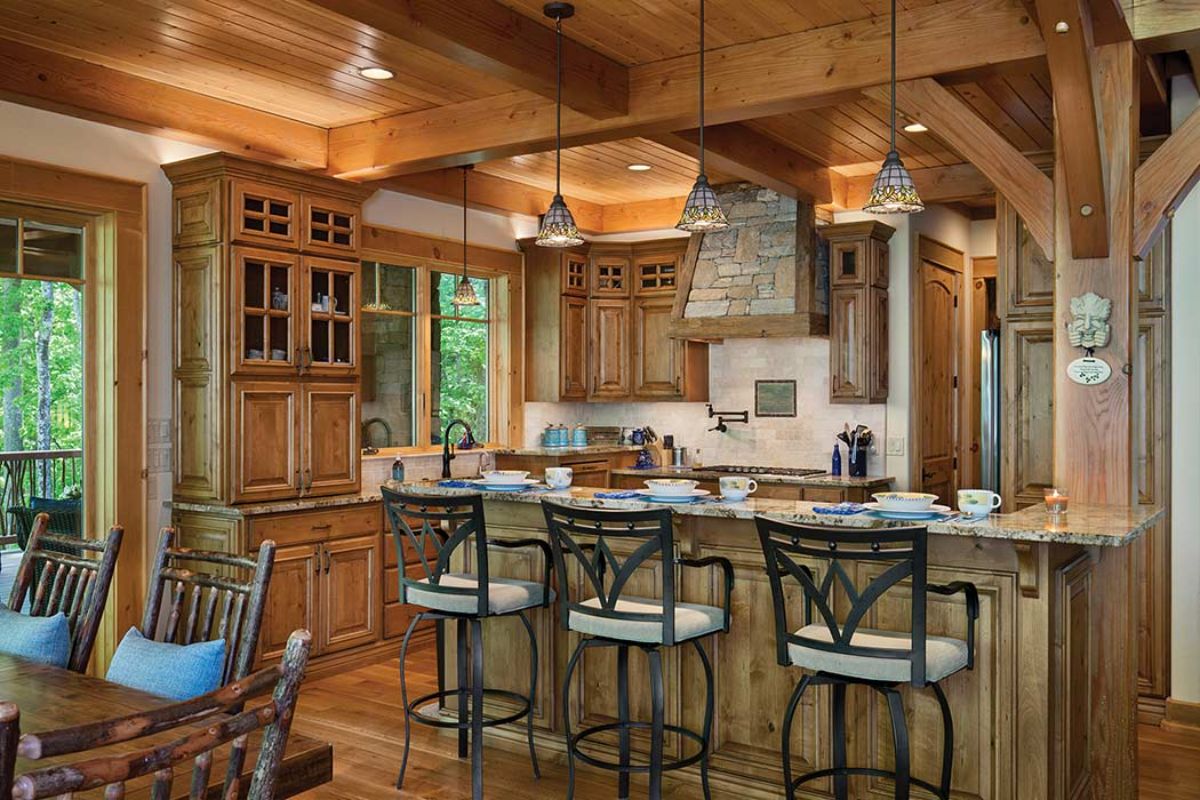 One of my favorite nooks on the main floor of this home has to be this little corner with a piano right next to another wall of windows. I can imagine escaping to this corner to play a favorite son and just relaxing for a cozy afternoon.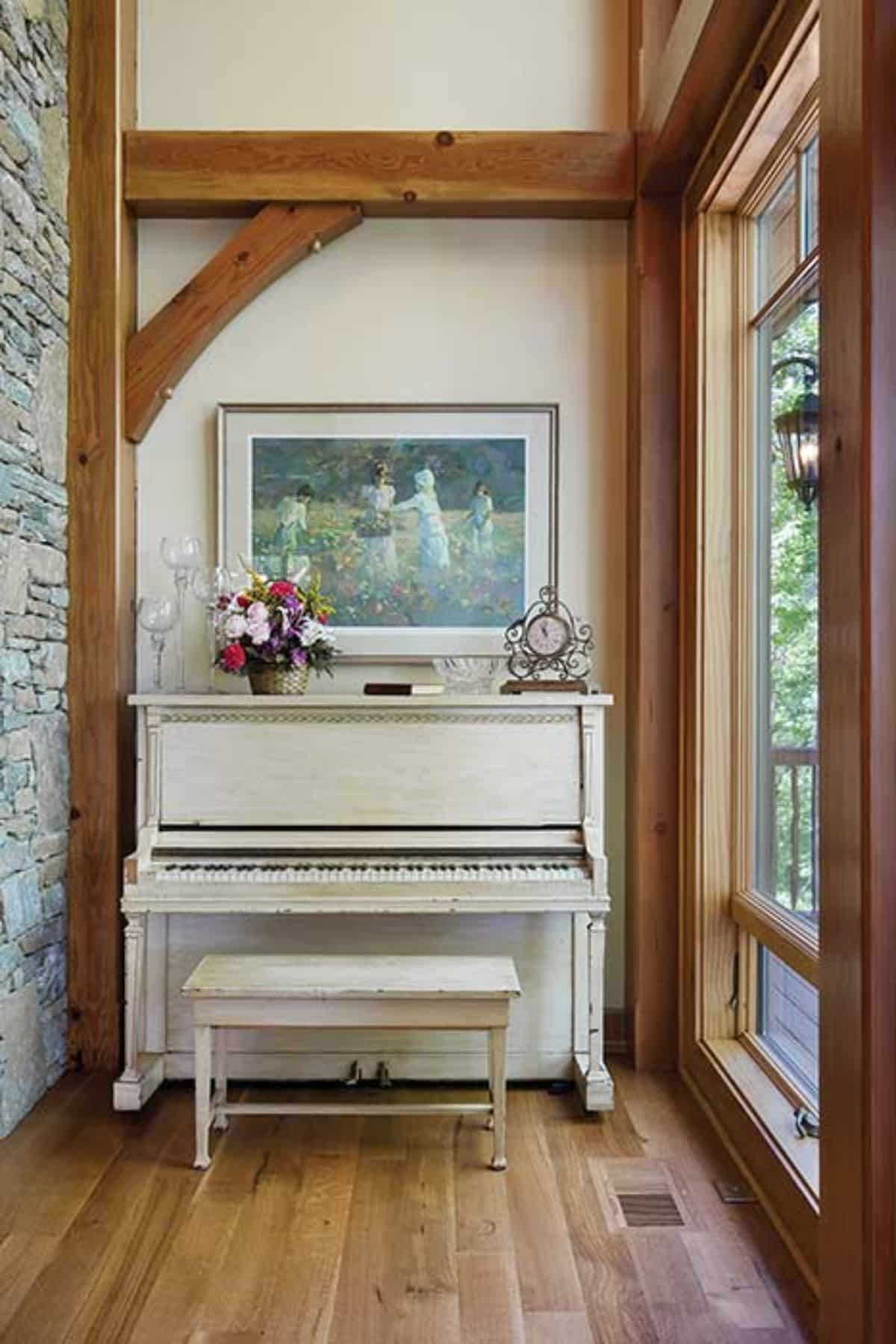 Around the corner from the living area is a beautiful space with a master bedroom that includes a private fireplace and doors leading to a private deck space overlooking the property.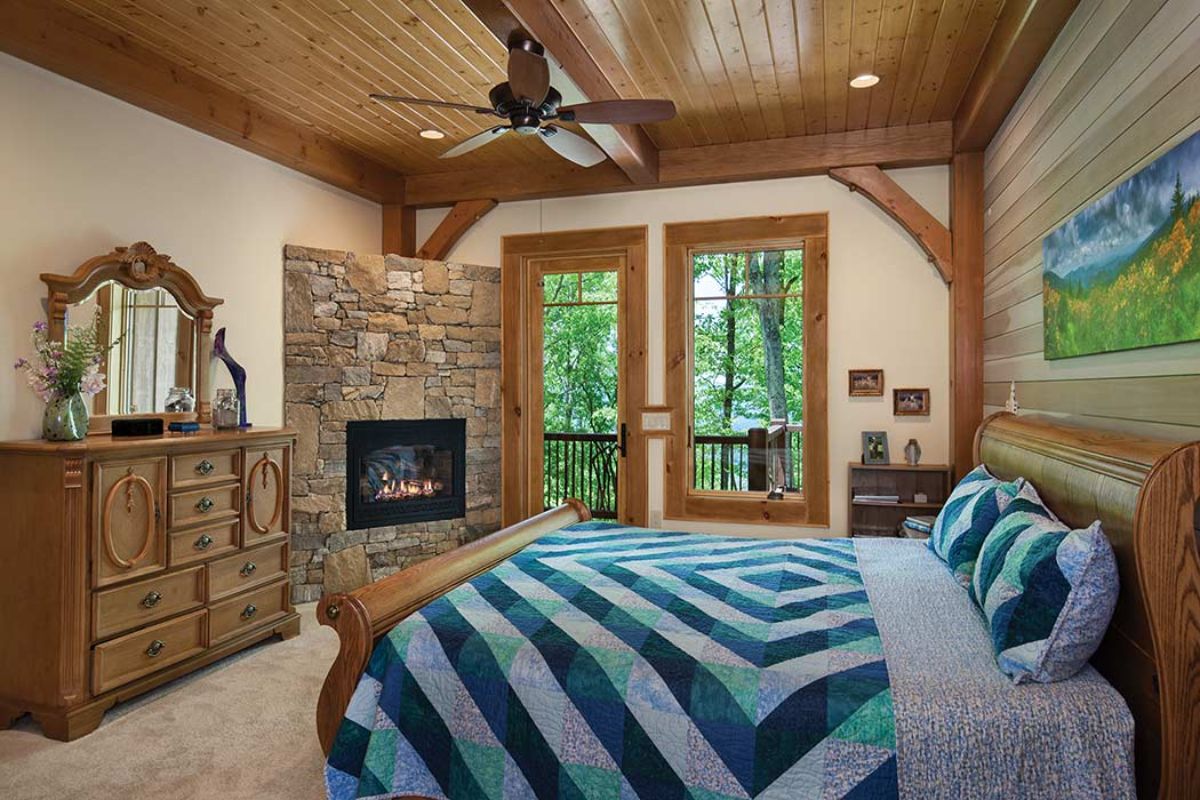 Then, attached to this space is a private master bathroom with a soaking tub situated just under the picture window and next to an updated modern vanity with dual sinks and tons of storage.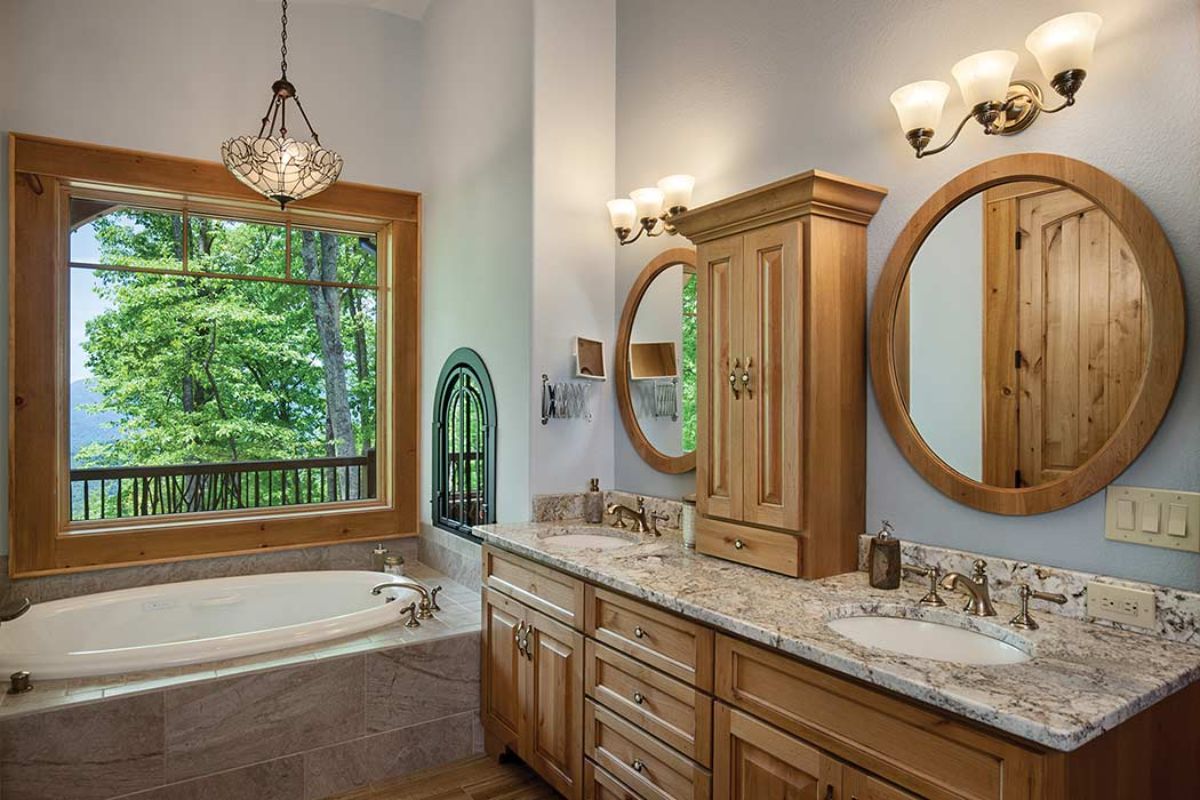 When you go upstairs, the space there has a lovely landing with additional seating for another little family room or comfortable reading nook.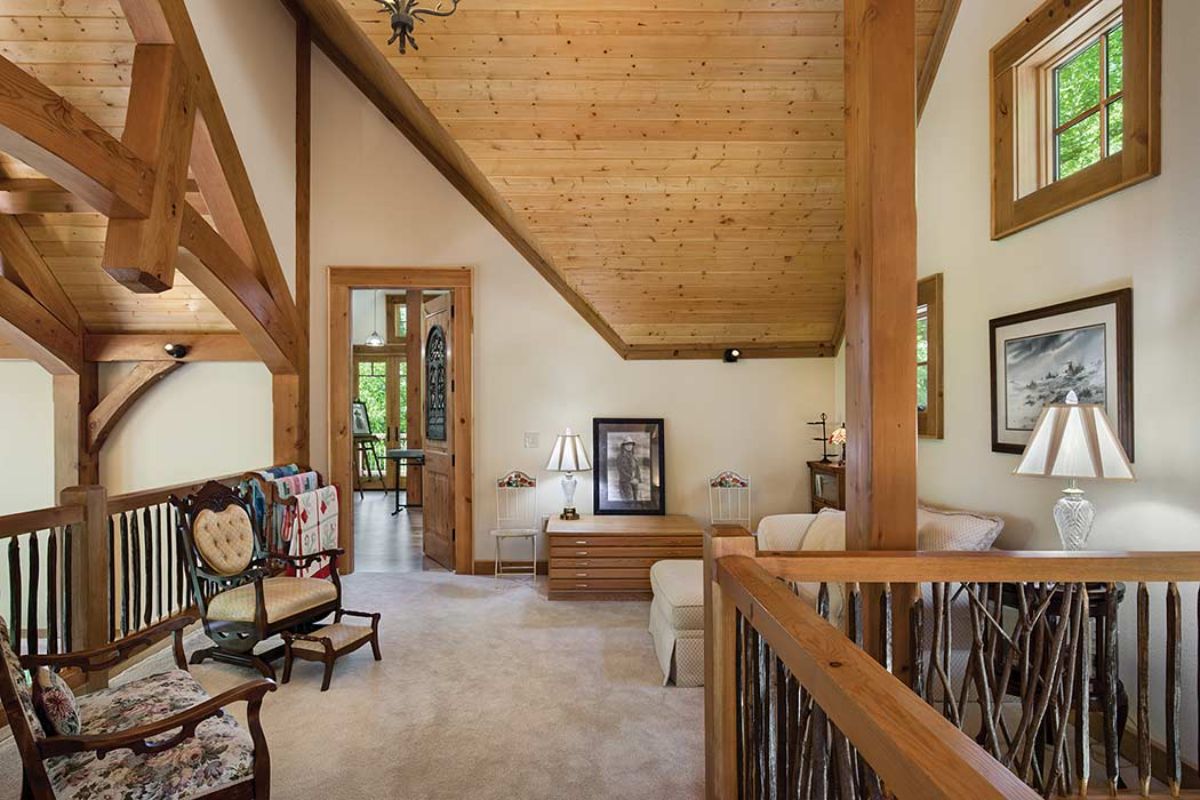 That intricate door at the back of the landing space opens into a stunning work space or home office. I can imagine this being a craft room, artists studio, kids' game space, or a private home office with its own balcony and views overlooking the property below.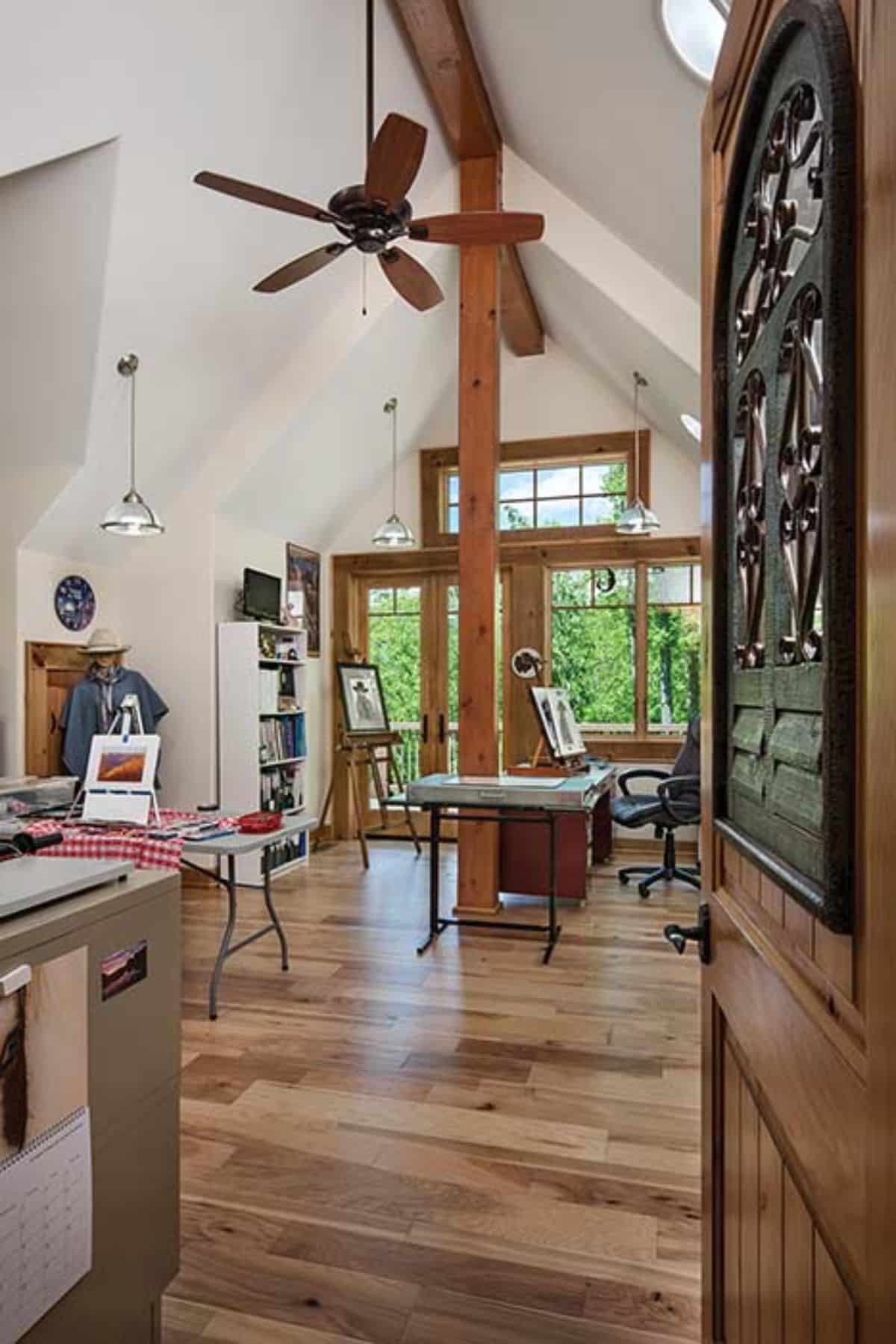 Last but not least, the basement is a whole other living space with a kitchenette bar that is ideal for serving up drinks to your friends and family. This space includes more bedrooms and tons of living space for a lovely guest area or extension on your favorite living areas.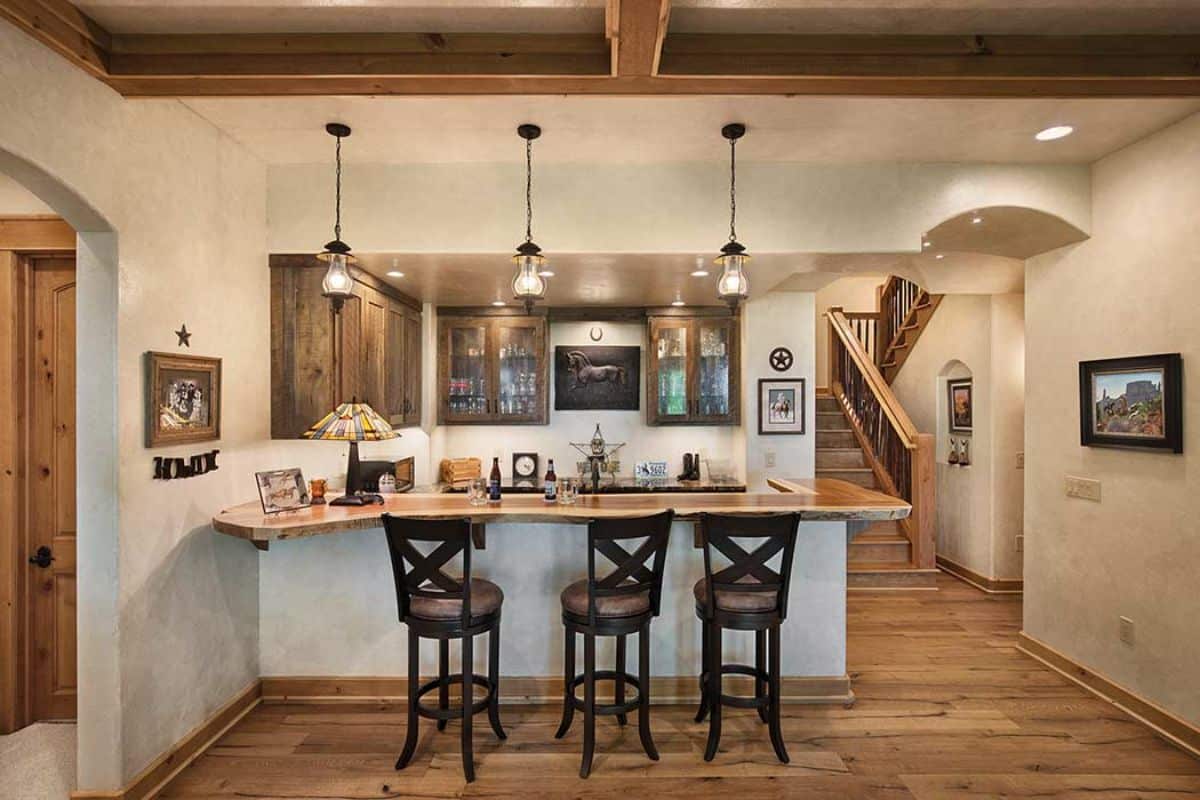 For more information about this model and others, check out the Precision Craft Log & Timber Homes website. You may also find them on Instagram and Facebook for regular daily updates. Make sure that you let them know that Log Cabin Connection sent you their way.
More Log Cabin Kits and Tours