Some of the more popular builders in the log cabin world are the Amish. Not only do you have quality craftsmanship, but often you find them to be more affordable. This home is one that is a prime example of quality and beauty. A true lakeside retreat, this home is one that I know you will love.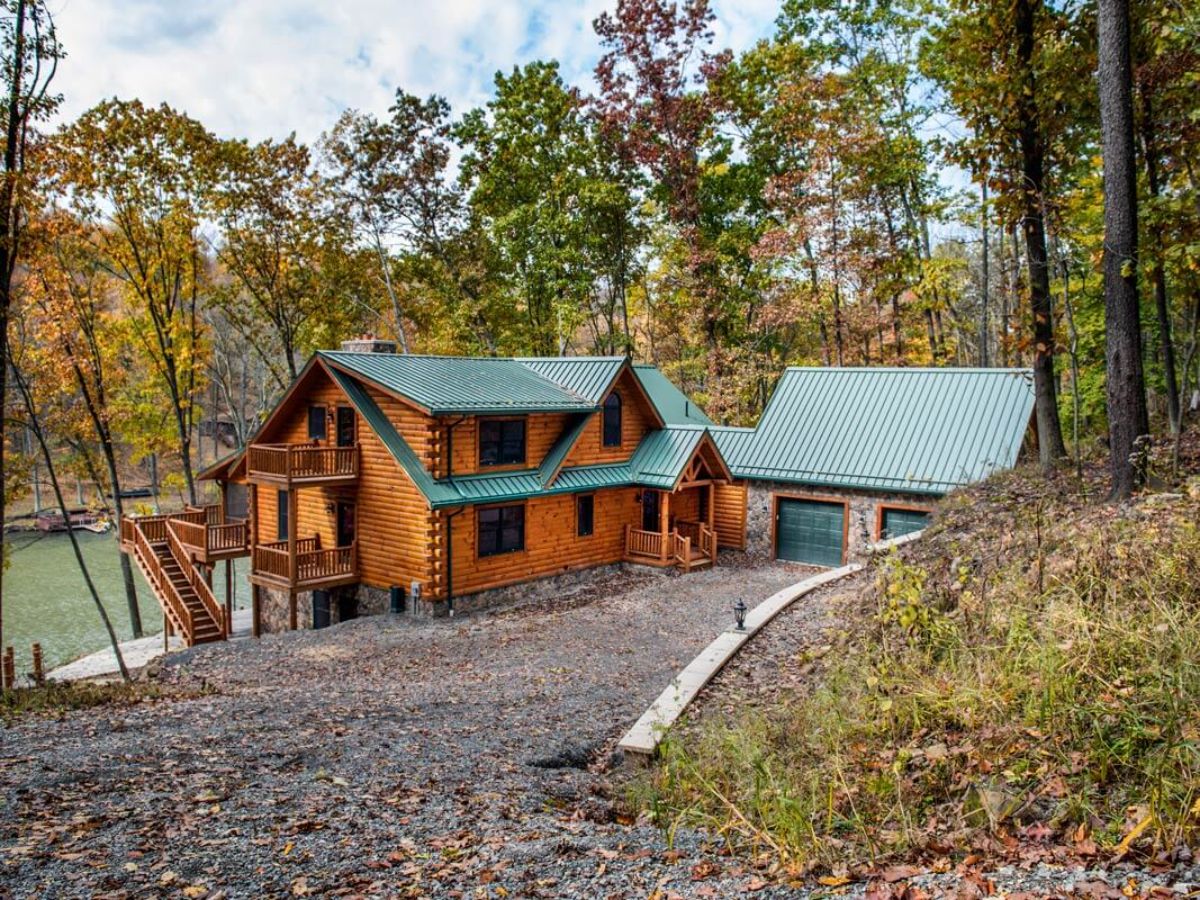 This home is built on a hill overlooking a lake. The waterfront options on log cabins add to the rustic look. For this build, you have a three-level home with an attached 2-car garage. While I don't have a lot of details about the interior, I can say that if the outside is any indication, it is sure to be a pleasing home.
This home includes three levels, but also this large walkway and private dock on the lake. No, it's not a beach, but it looks like a great area for fishing and potentially swimming. Plus, you can see better from this angle that there are multiple porches both covered and open along the back of the home. These are ideal for entertaining.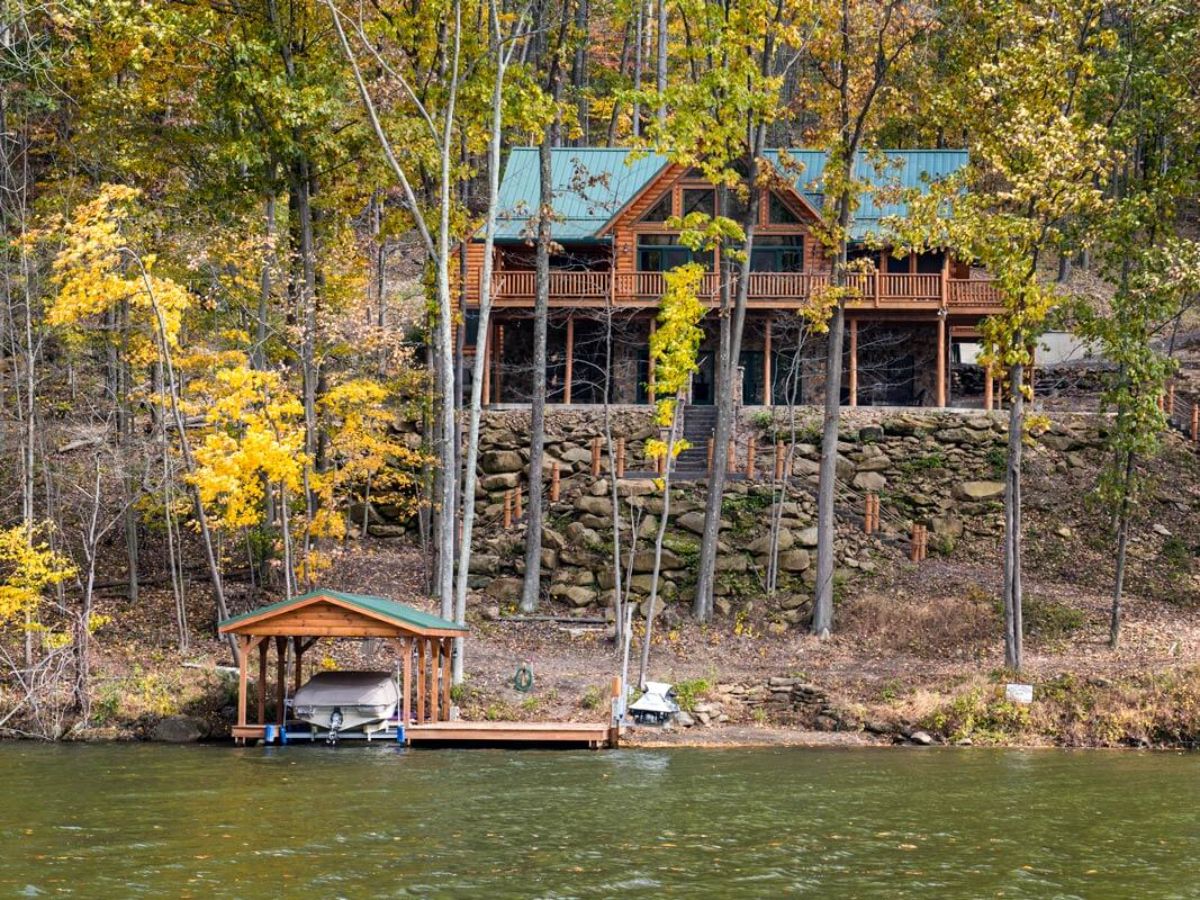 The landscape around this home lends itself to be used as part of the home itself. Situated on a hill, the base of the home has a rock foundation that includes a walkout basement with decks above and a custom walkway down to the water's edge.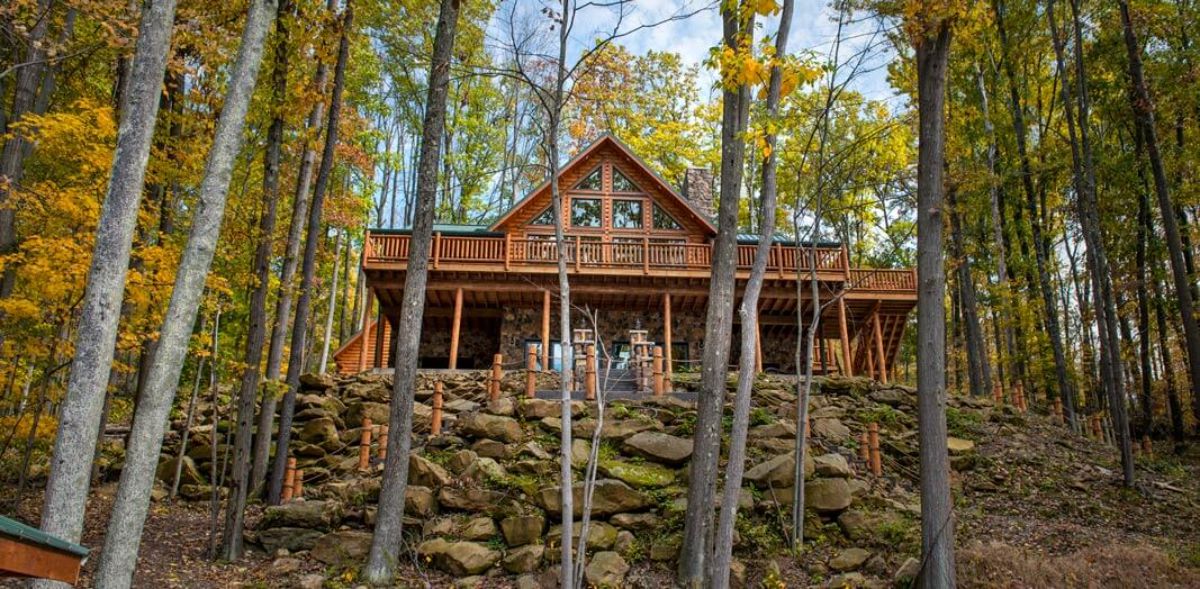 This custom-built pathway combines the existing landscape, wood steps, and a combination of logs and ropes to create a lovely railing that is sturdy while also being aesthetically pleasing.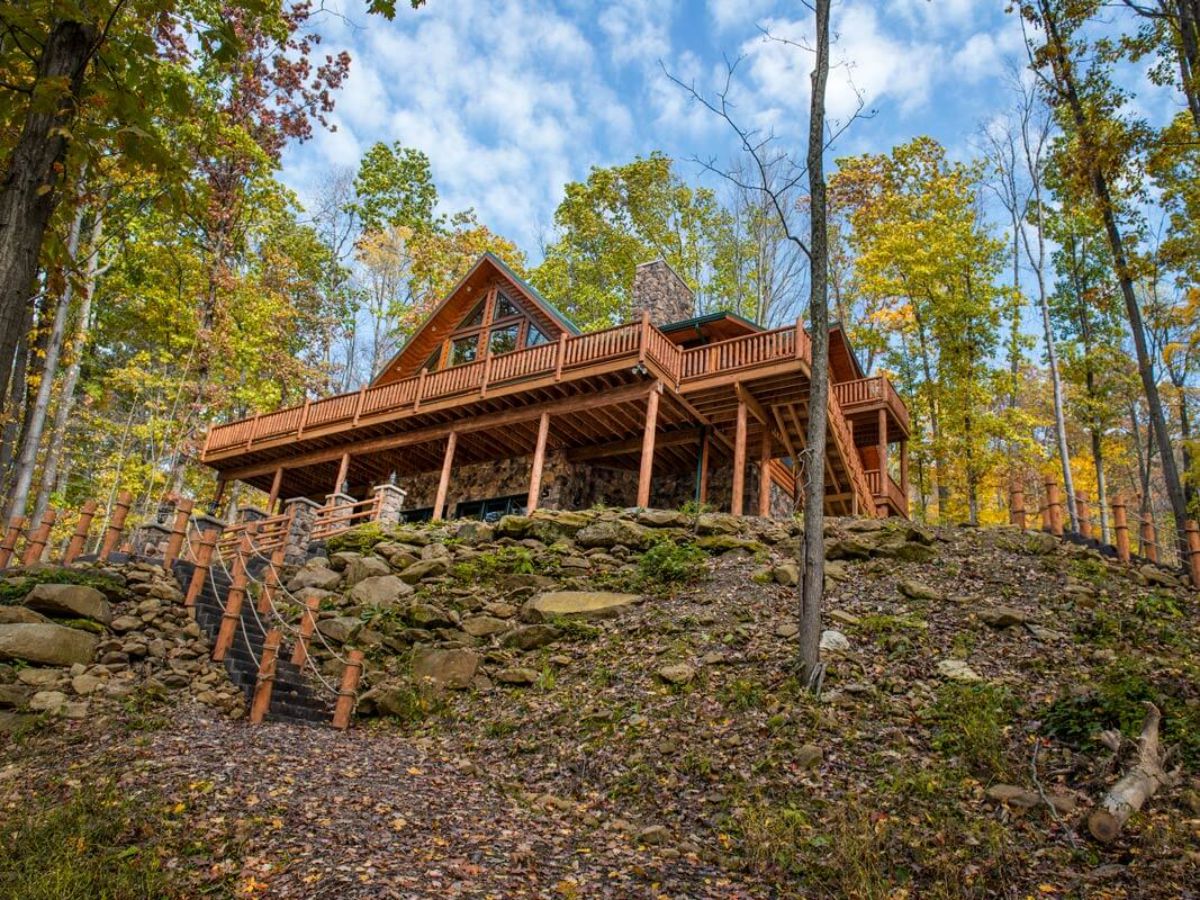 Drawing from nature, the lower level of the log cabin has a custom stonework exterior. While this is beautiful, it also adds an extra layer of insulation to the lower level.
This cabin has a main floor entry near the garage, and then an upper-level loft space with a gorgeous great room filled with windows facing the lake. The lower level could potentially be for storage, a basement, or entirely separate living space or guest suite.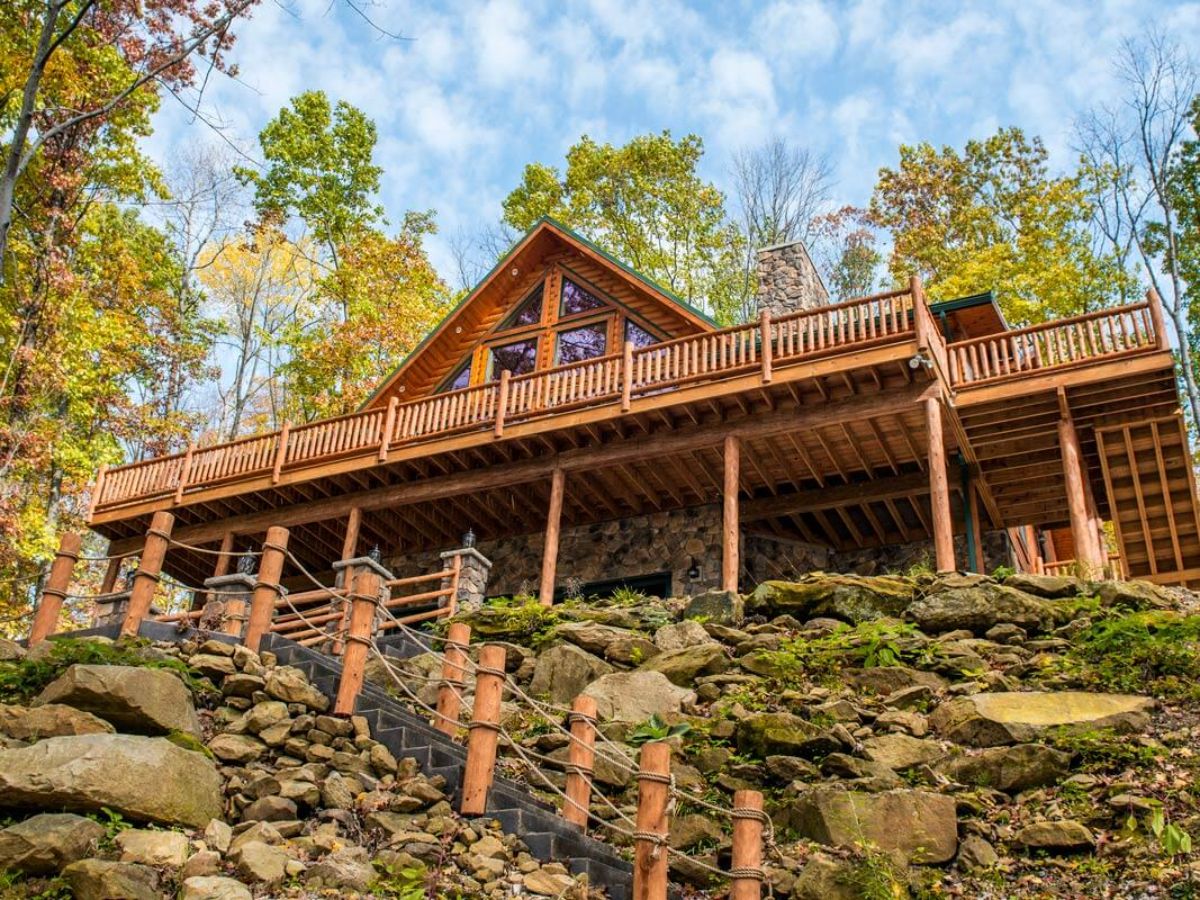 I really like that this path with the log railing goes down both sides of the hill. Whether the rocks were placed there naturally or hauled to give the area a more sturdy rustic look doesn't matter. It's breathtaking both from a distance and up close.
You can easily turn this into a retreat Airbnb rental or a family home. While it's not the largest of cabins, it definitely has the luxury you are looking for and tons of room for everyone to have their own personal spaces.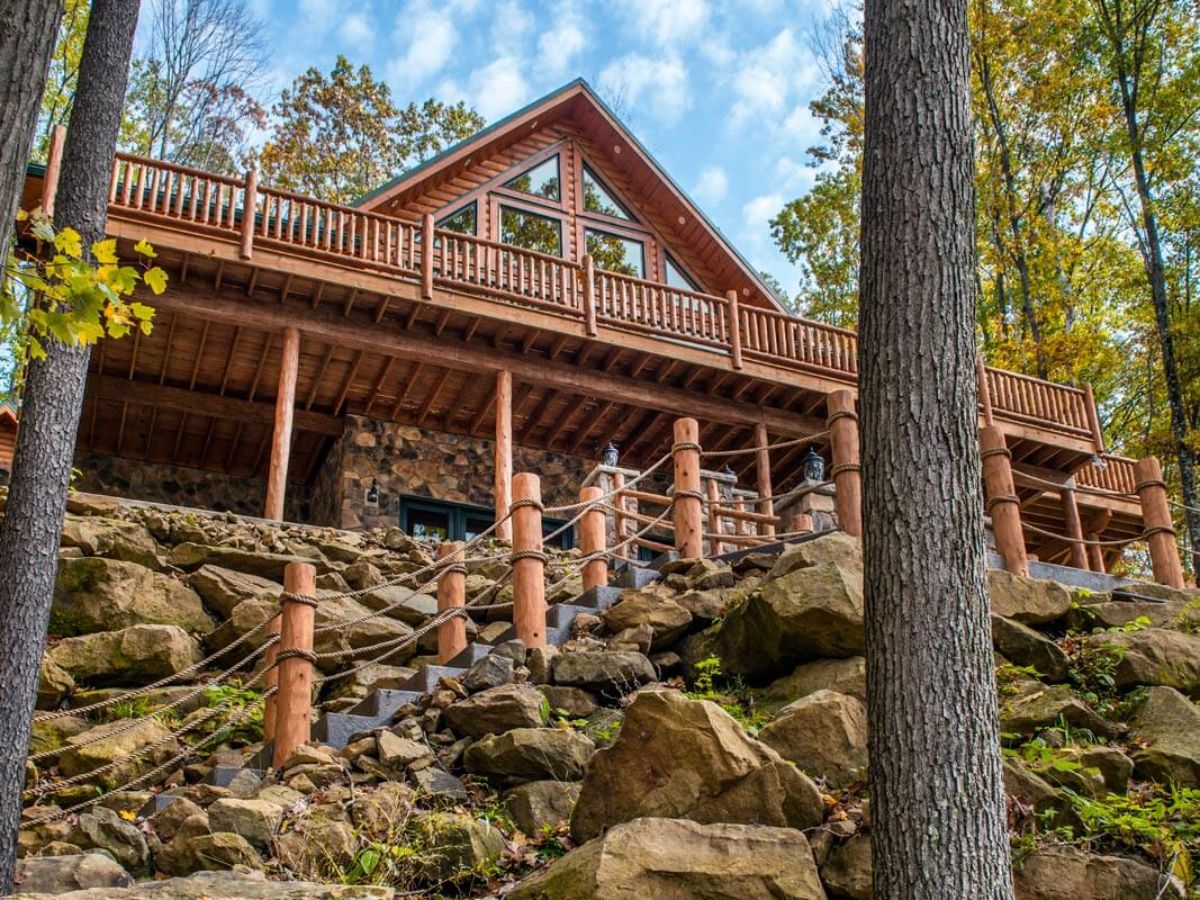 From this side, you see how the path leads right up to the edge of the house. Concrete steps are a sturdy foundation, but the log railing and ropes give it that natural look.
Another addition from this angle that I love is that two of the spaces have their own private balcony off the side of the home. How great would that be for a rocking chair on a cool morning with a fluffy robe and cup of coffee?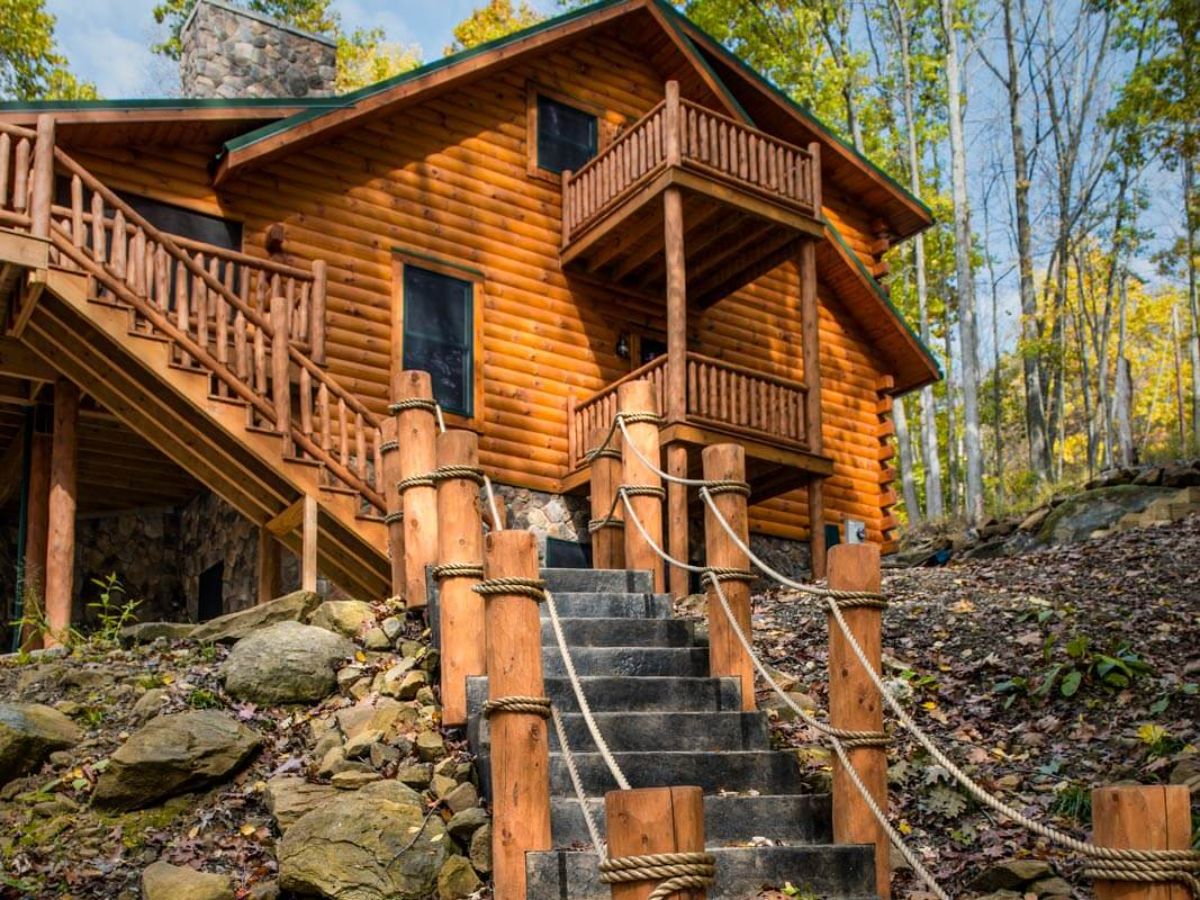 Learn more about this and other log homes on the Walnut Valley Log Cabins website. Make sure you let them know that Log Cabin Connection sent you their way.
More Log Cabin Kits and Tours