A smaller cabin like this one is the perfect way to create your own custom cabin for a weekend getaway. This 500 square foot cabin has a small living space, kitchenette, full bathroom, bedroom area, and a loft sleeping space making it the ideal getaway for a small family!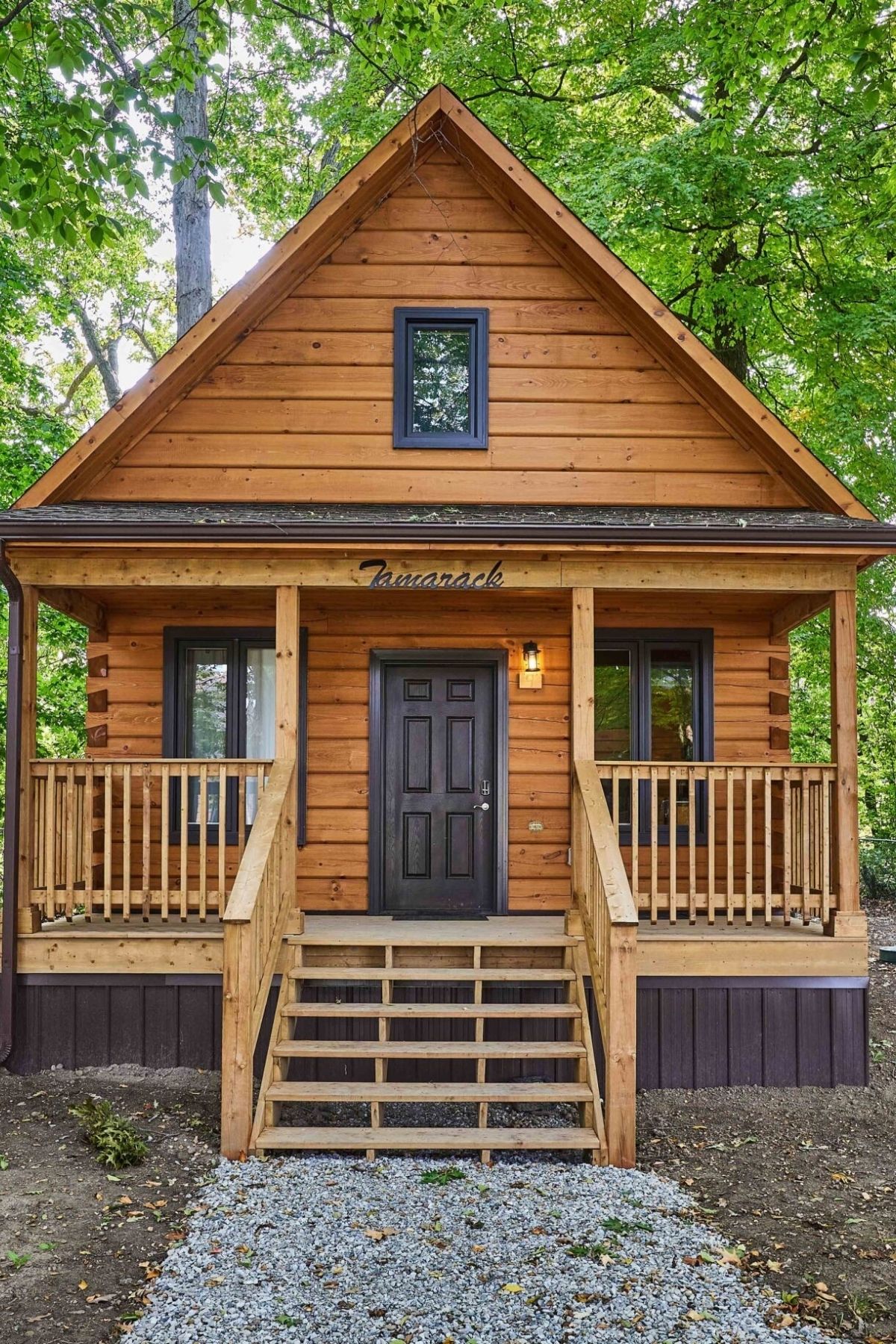 Log Cabin Sizing
498 square feet
1 bedroom
1 bathroom
Log Cabin Features
Small covered front porch.
Lofted sleeping space overlooking main floor of the home.
Bathroom including shower, toilet, and small vanity with white sink.
Kitchenette with small 2-person dining table.
Corner bedroom nook and sleeping space.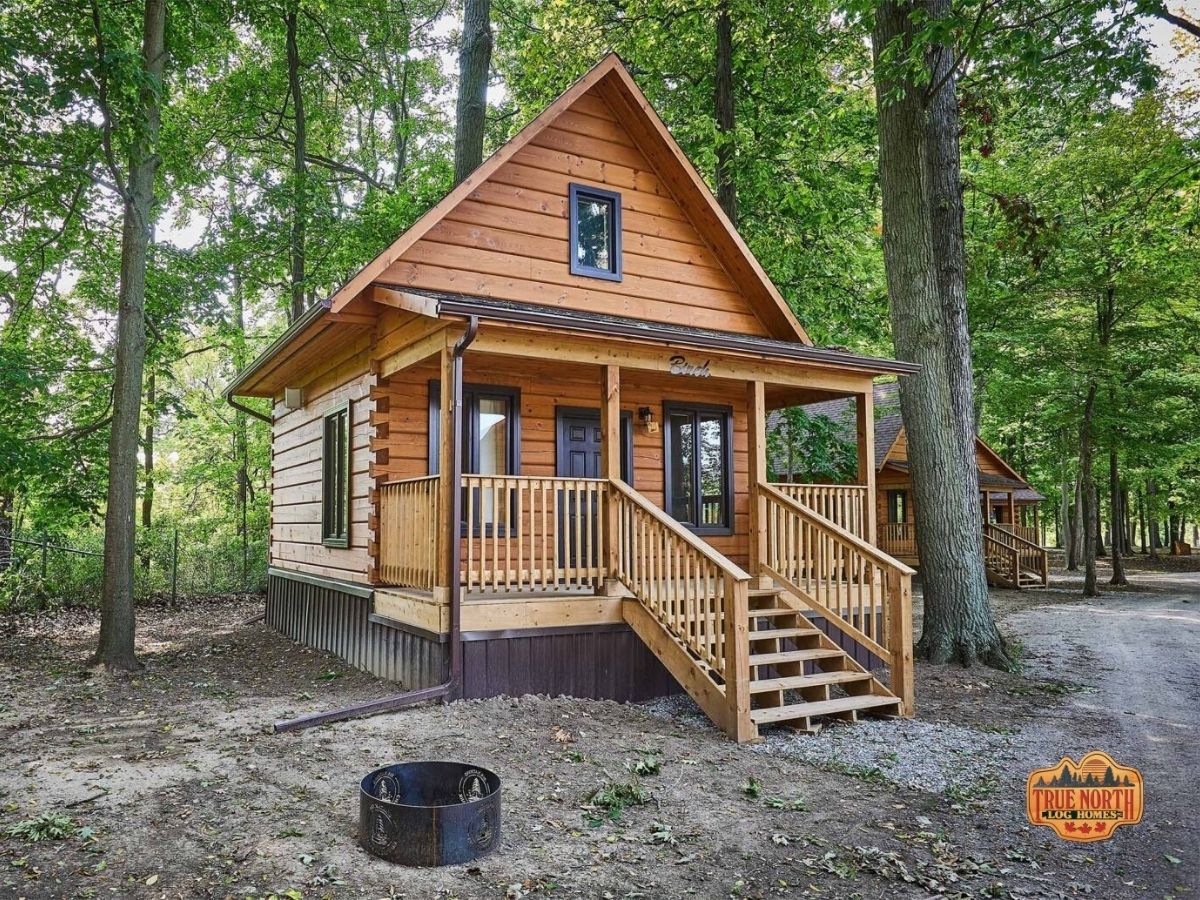 Step inside the doors of this beautiful log home and you are greeted with a small living space with sofa on one side and a kitchenette on the opposite side. This home is used as a rental cabin but could be a family home for someone who wanted just the basics in a smaller space.
The kitchenette space includes a sink, mini-refrigerator, and hotplate tucked into the corner. A small closet beside that could be used for storage of many kinds. And, a small 2-3 person dining table takes up just a bit of space against the wall.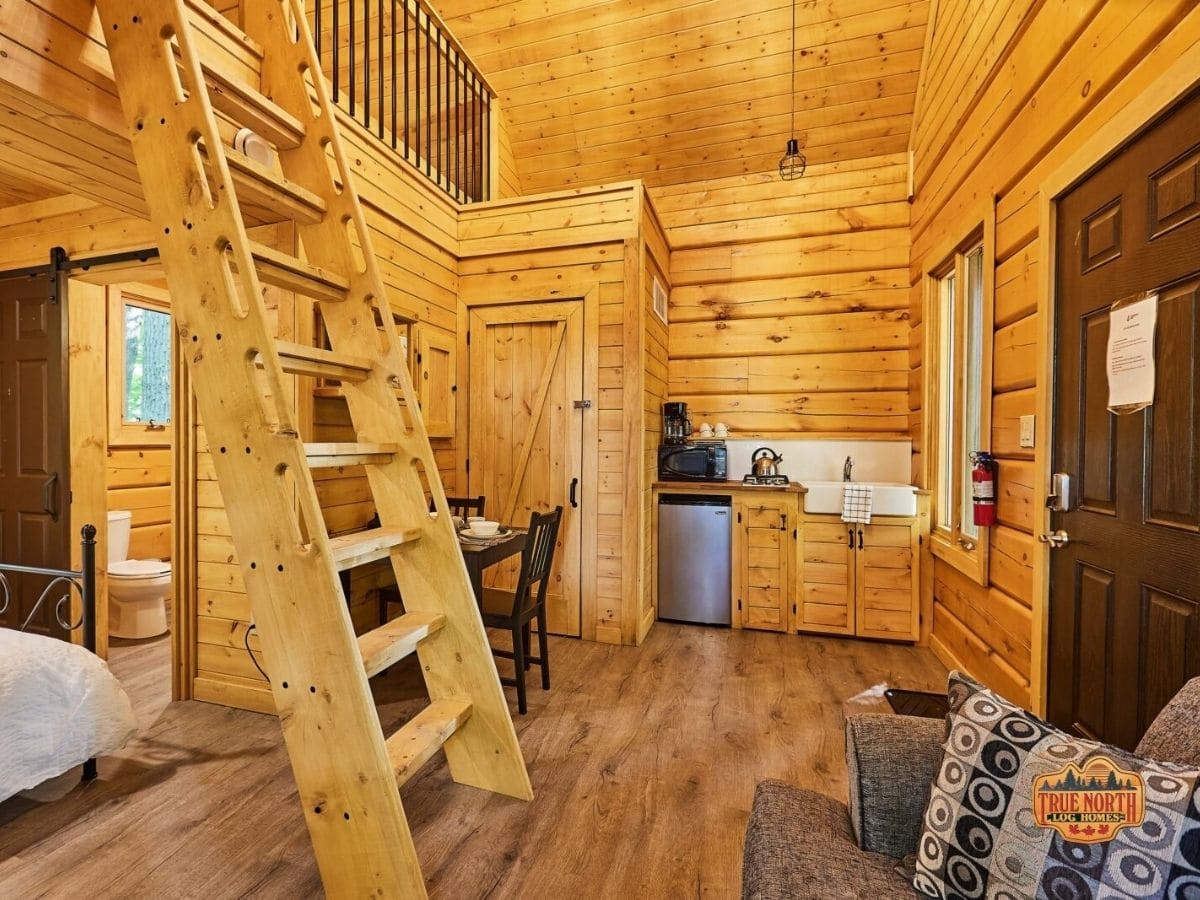 A sturdy wooden ladder is in the middle of the room leading up to the large loft that covers the back half of the cabin. While it feels like it might be in the way, it actually doesn't take up too much of the cabin footprint.
There is no door to the bedroom, but a curtain can easily be hung here to give you privacy. You might also be able to add a wall or door here if customizing this for your needs.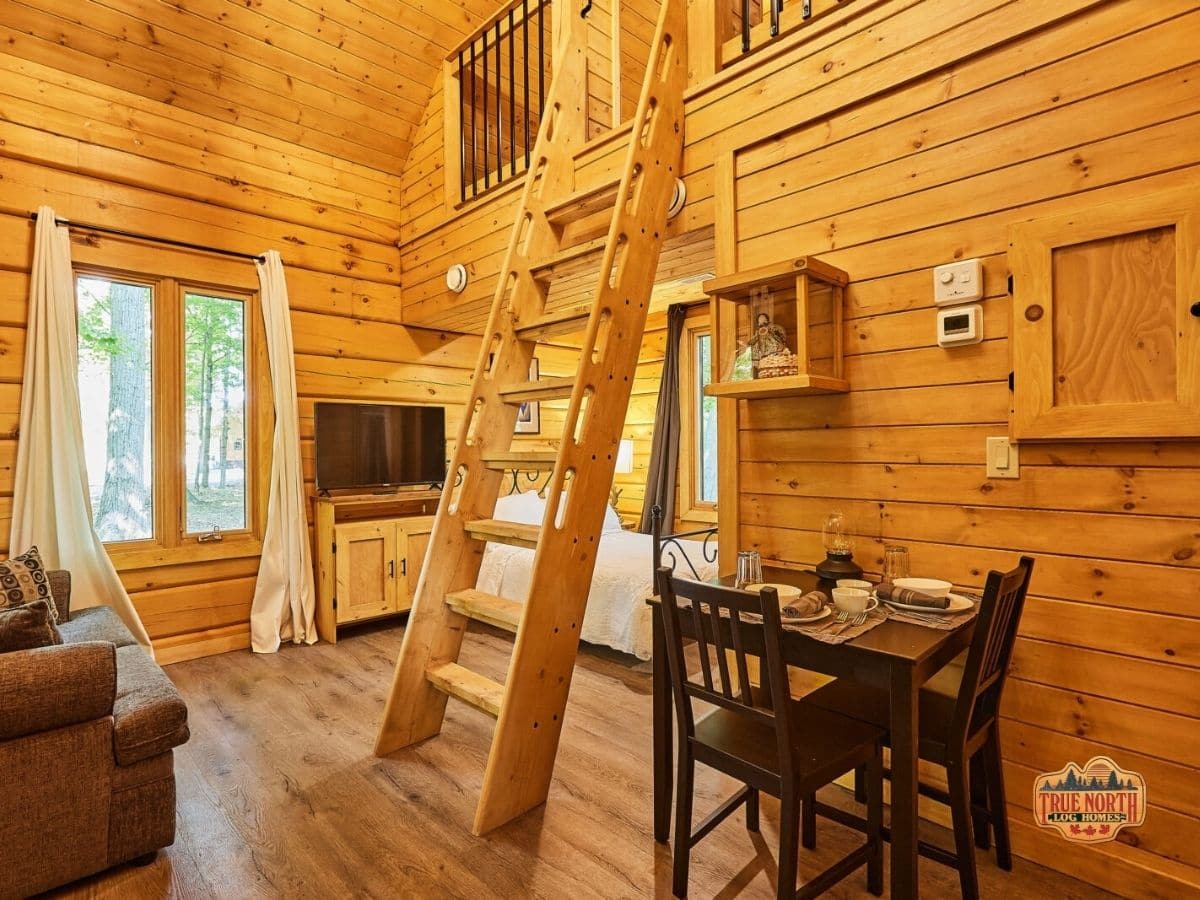 Upstairs in the loft, you have the width to add a full or queen-sized bed or even a few tin mattresses for the kids. Since it is as wide as the house, you can definitely make this work for sleeping 2 to 4 people comfortably.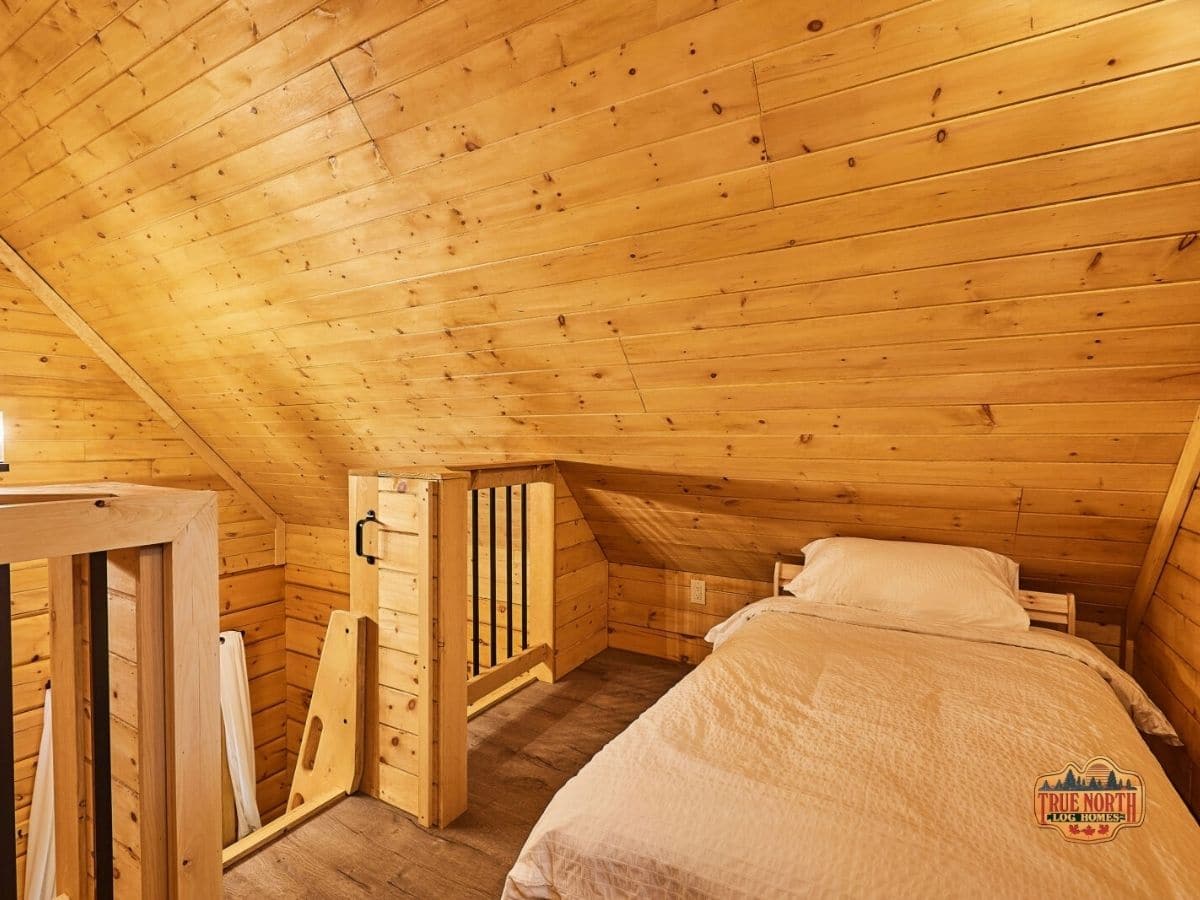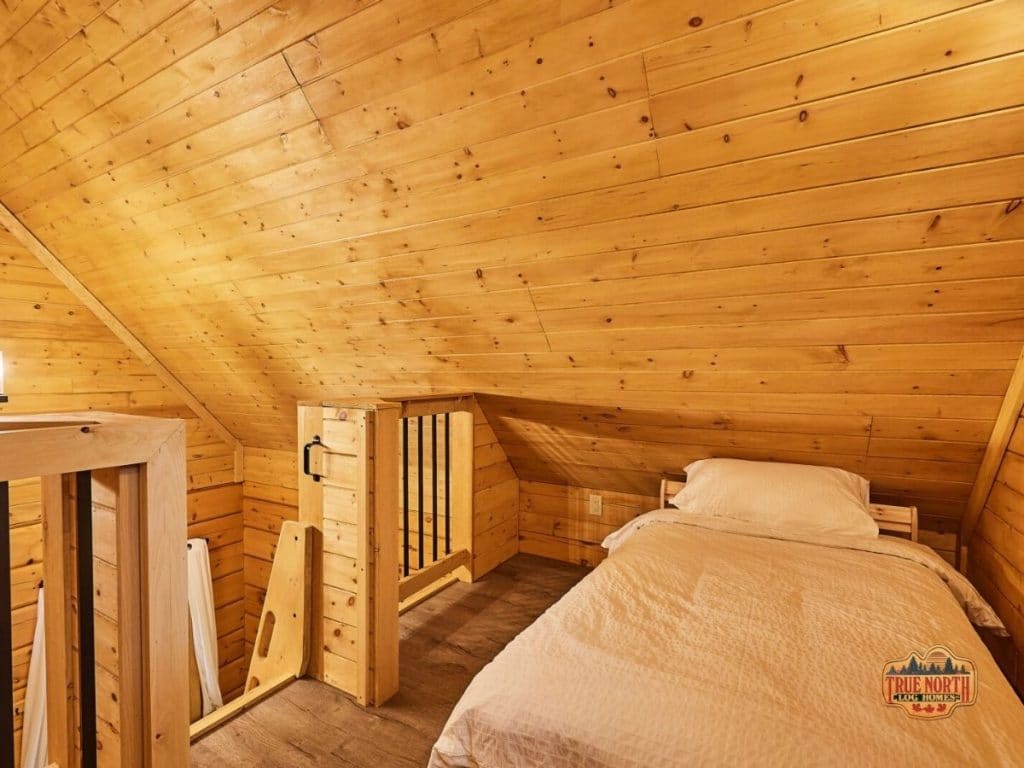 With the open space of the bedroom nook, it definitely feels bigger than if there was a wall here. The room easily holds a queen-sized bed with room for a bedside table. You could also very easily fit a king-sized bed here or even bunk beds if you wanted.
The bathroom opens up with this barn-style door on the back wall and is actually a fairly large space with tons of open wall space for storage.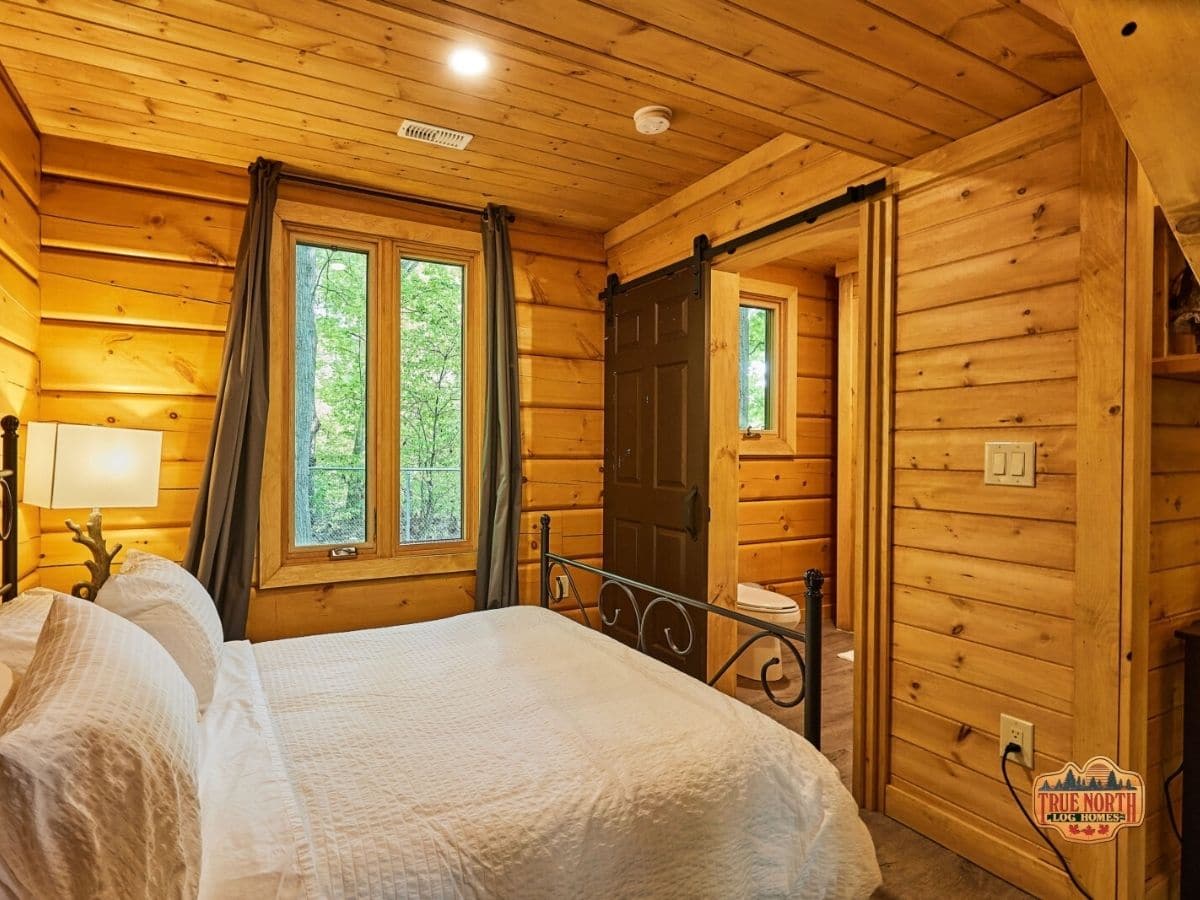 For such a small space, the bathroom is rather sizable. It has a large shower but could be replaced with a bathtub and shower combination. There is room for a storage shelf, a wall-mounted sink, and a traditional flush toilet.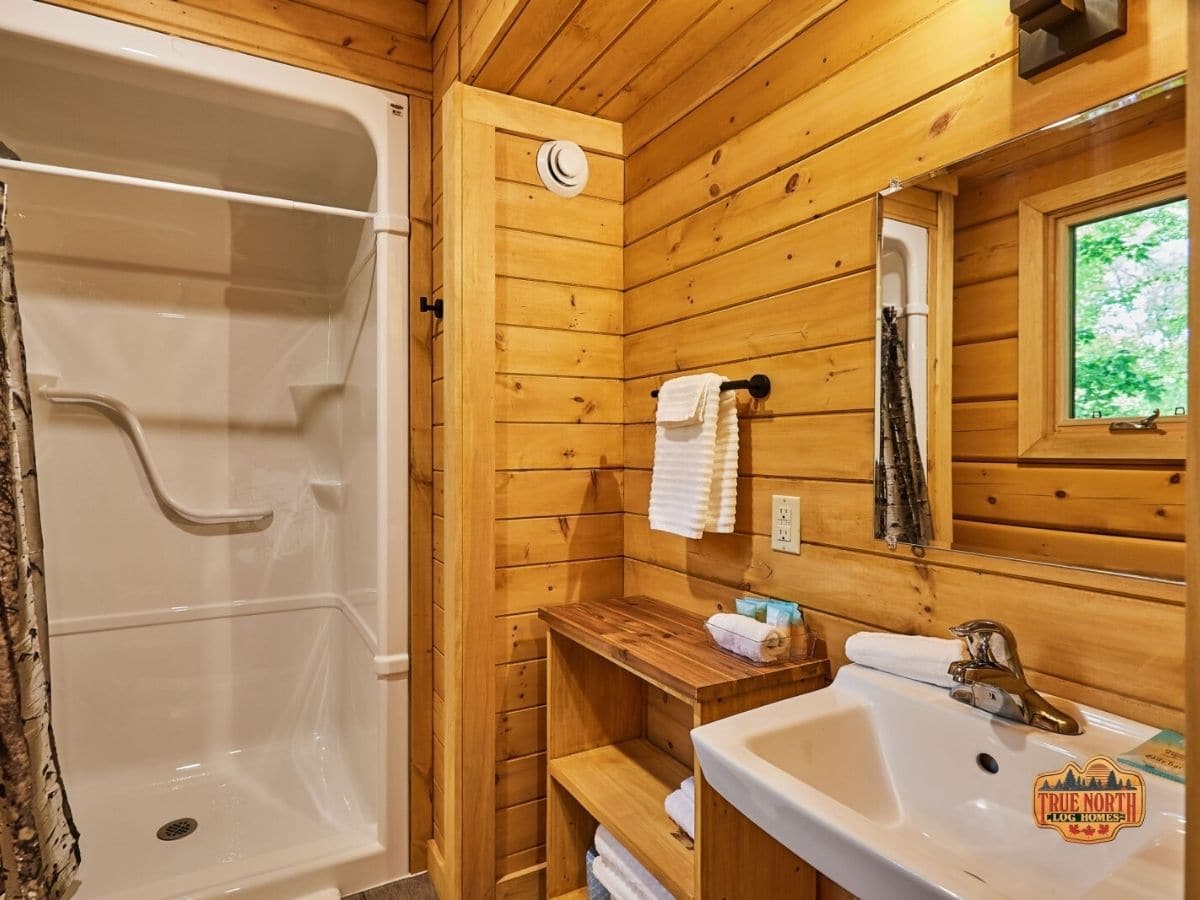 These cabins are beautifully built and perfect for a small rental cabin, but for those who prefer the smaller home look, it's ideal for turning into a permanent residence. Check out the video below for more of an inside look into this home!
To find out more about this cabin or other models, check out the True North Log Homes website. You can also find them on Facebook, Instagram, and YouTube. Let them know that Log Cabin Connection recommended them to you.
More Log Cabin Kits and Tours