Kentucky is a beautiful state with gorgeous views, and the Wilson log cabin is a truly wonderful log home design that showcases natural beauty in this gorgeous location.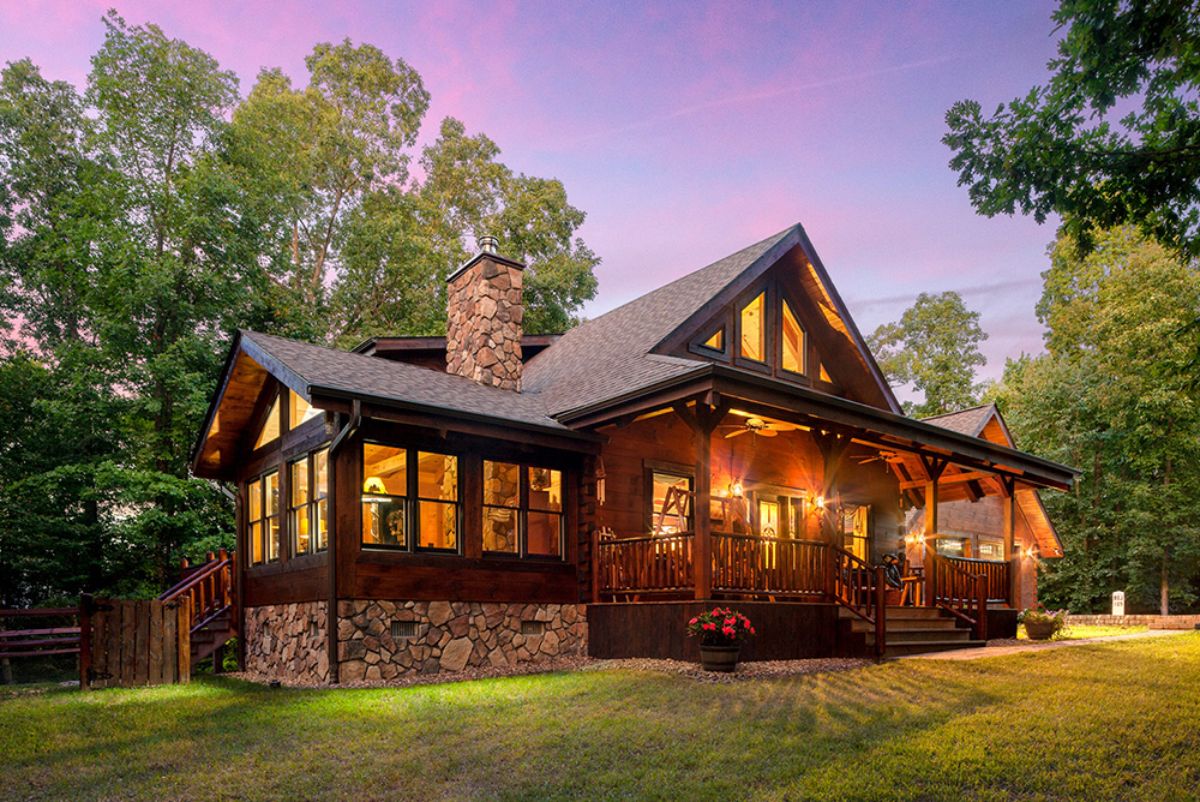 From the moment you pull up in front of this home, you are greeted with that warm welcoming look that makes you feel right at home. A darker stain on the logs of the garage and home really add a richness that makes the home stand out.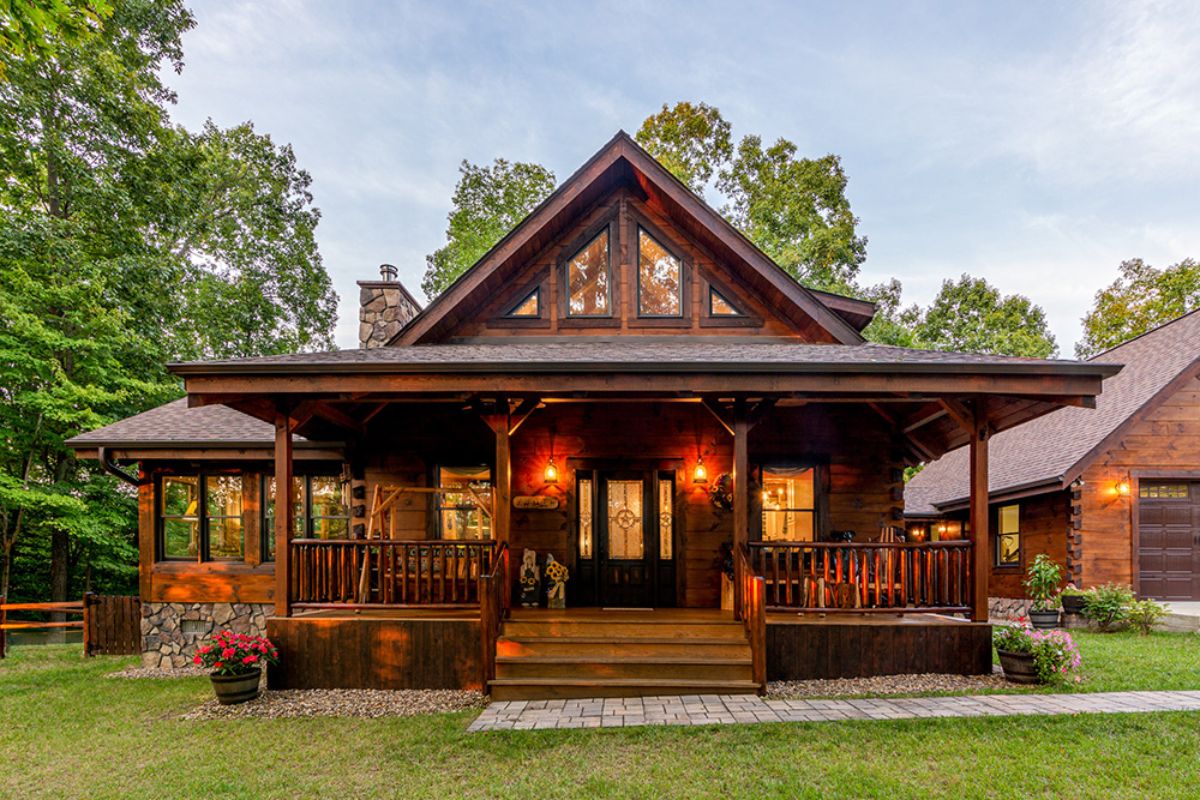 The detached two-car garage has the same style with large attic space for storage. While not attached to the home, the short walkway between the buildings is covered for convenience.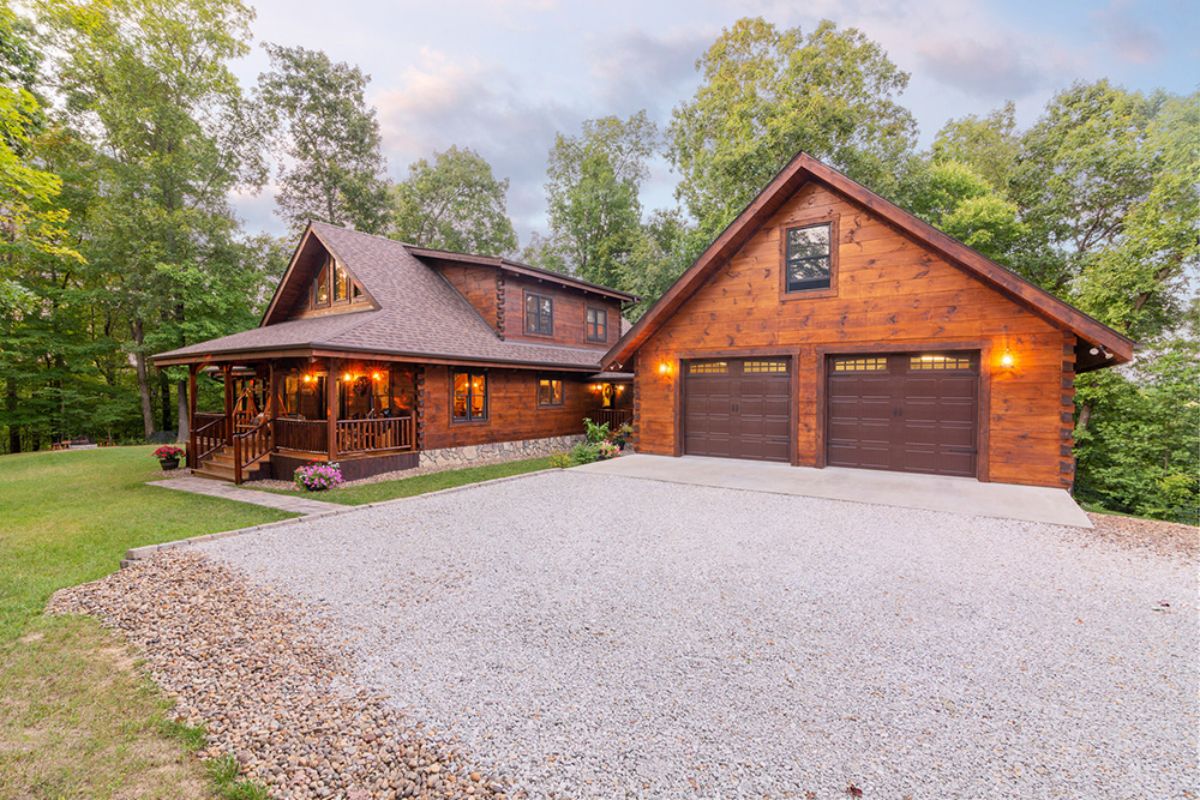 The front porch on this cabin is one of my favorite spaces here. A nice long covered space the length of the front of the home means you can easily add chairs, swings, or a small bistro set to utilize this as an extension of the home for entertaining and relaxation.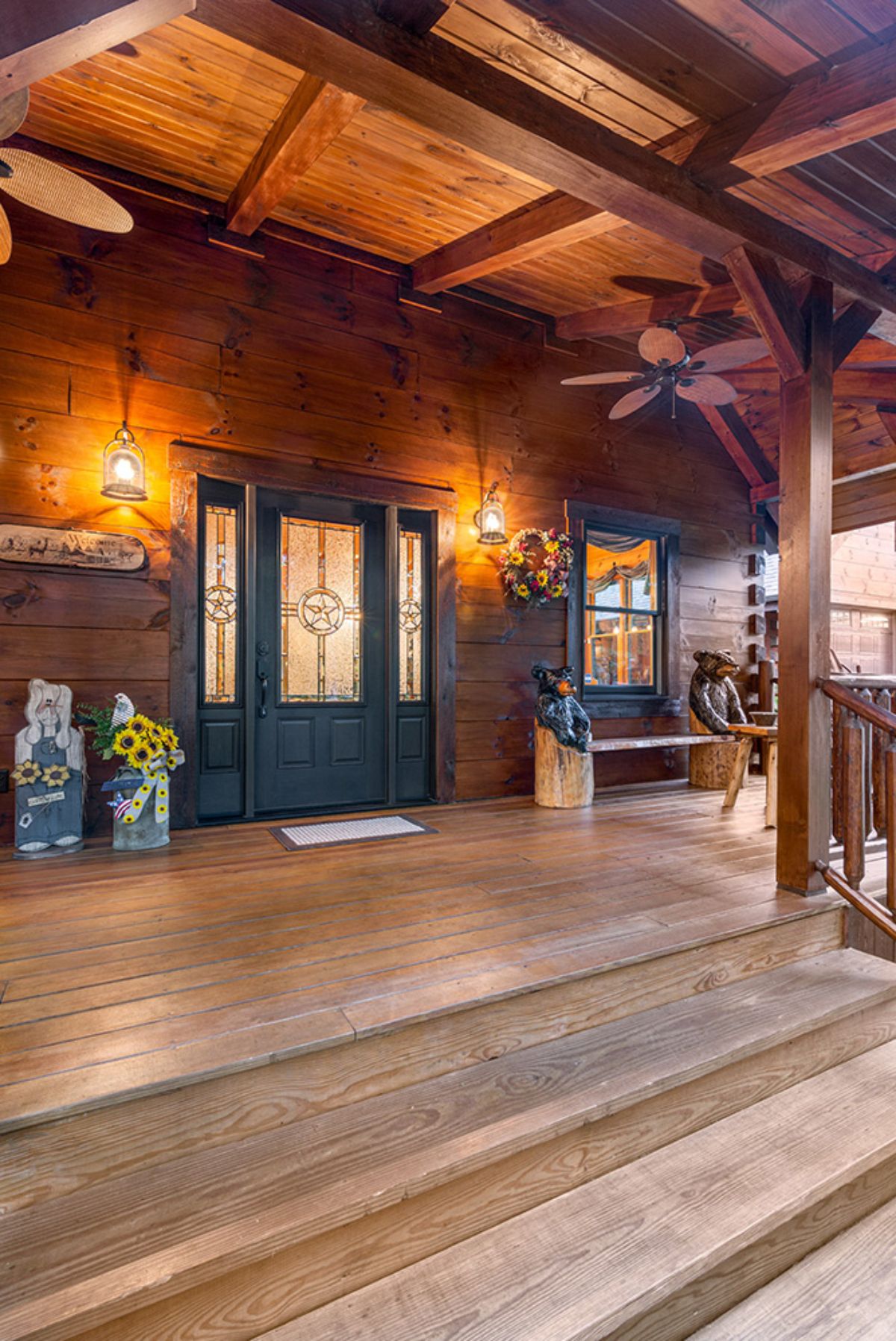 The porch even has ceiling fans so on warmer days you'll have a nice breeze to keep things cool and comfortable while you relax with a glass of sweet tea!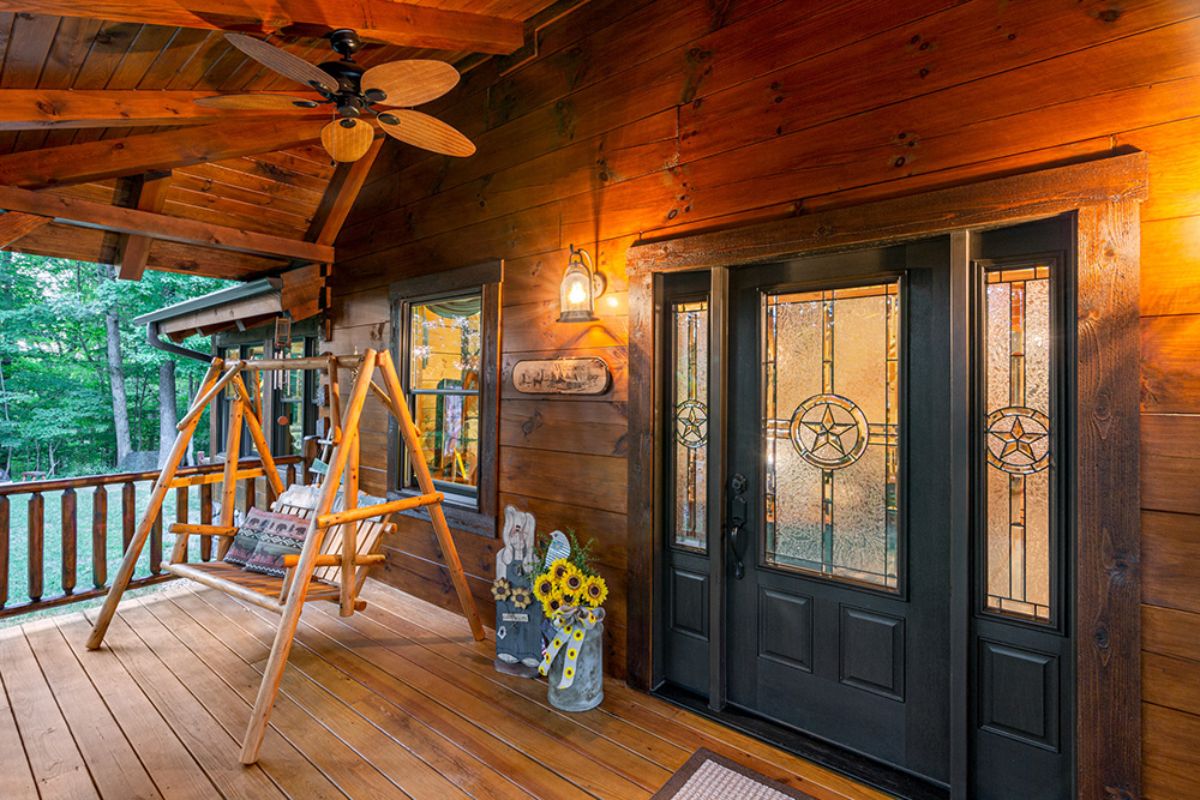 Inside the cabin is an open floor plan on the main floor with the door opening right into a living room space featuring this stone fireplace against the side wall.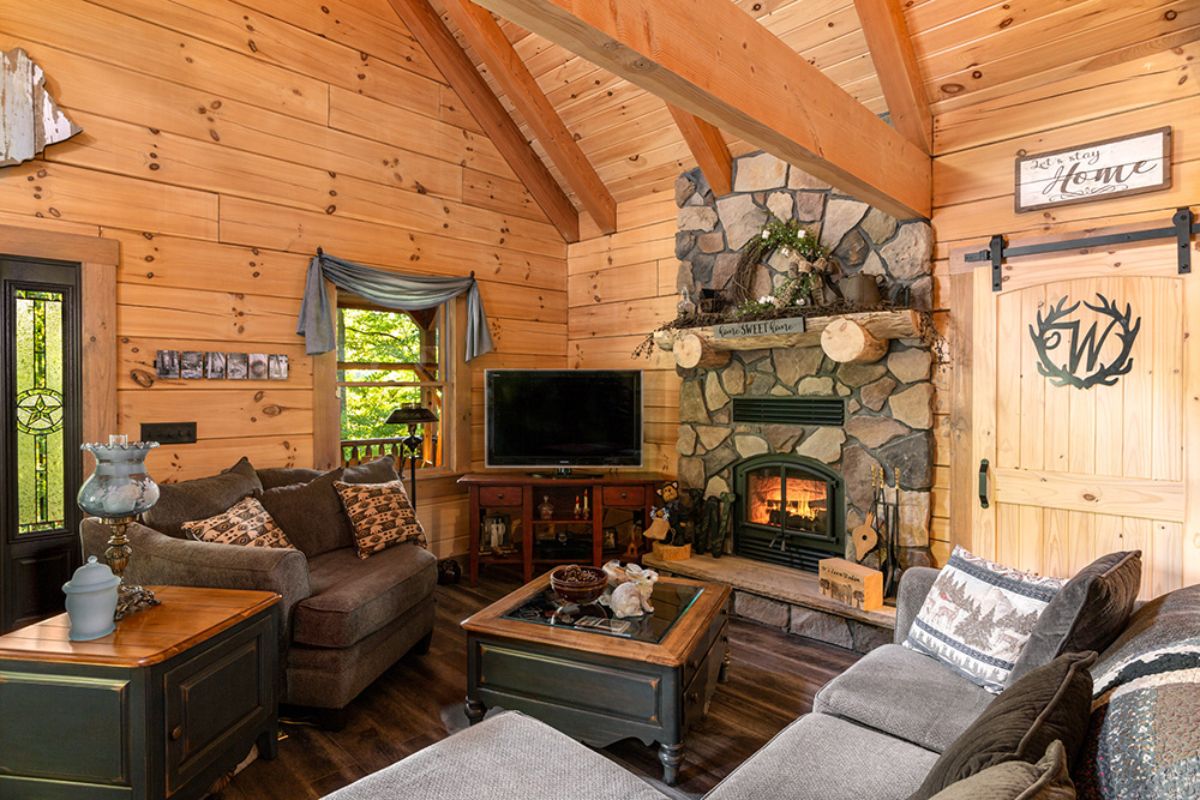 Behind the sofa, you can see below that there are stairs leading to the loft and of course, in the background the open kitchen and dining room. Past these, you also have a "four seasons room".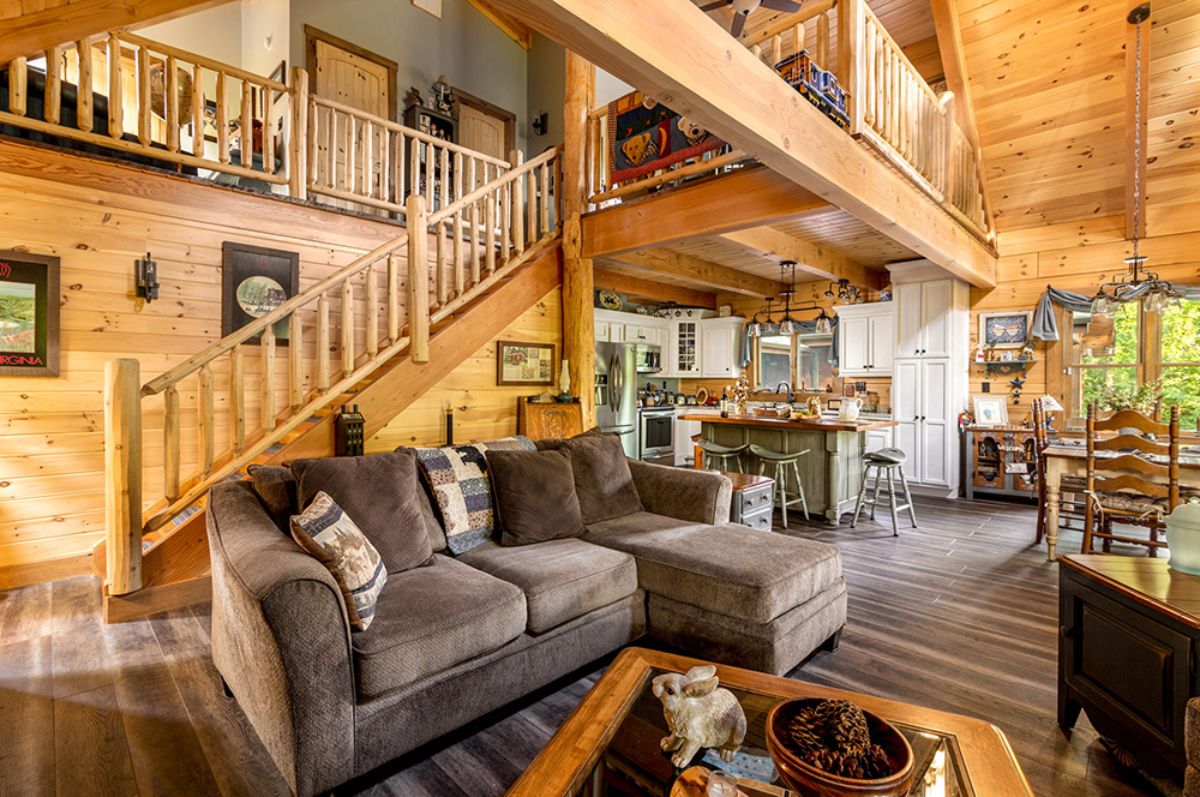 Behind the door to the right of the living room is a gorgeous space that is often referred to as a four-season room. This enclosed area has windows all around and is a sunroom or reading room with space for a small loveseat and table. It's the ideal location for summer afternoon luncheons or to snuggle up with a good book on a winter day.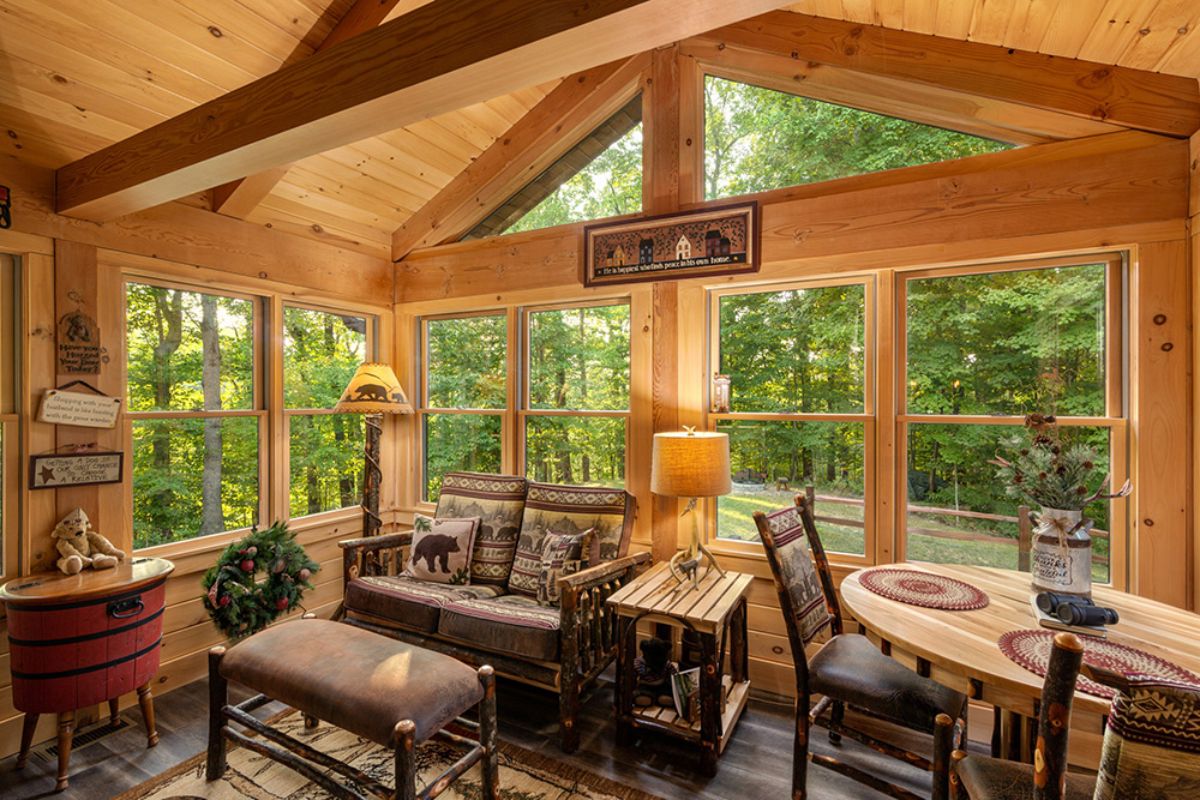 The kitchen and dining room are modern with that country chic style that is popular in many cabins. Light butcher block countertops and tables go well against the white and light green of the kitchen. Stainless steel appliances bring in modern style and function.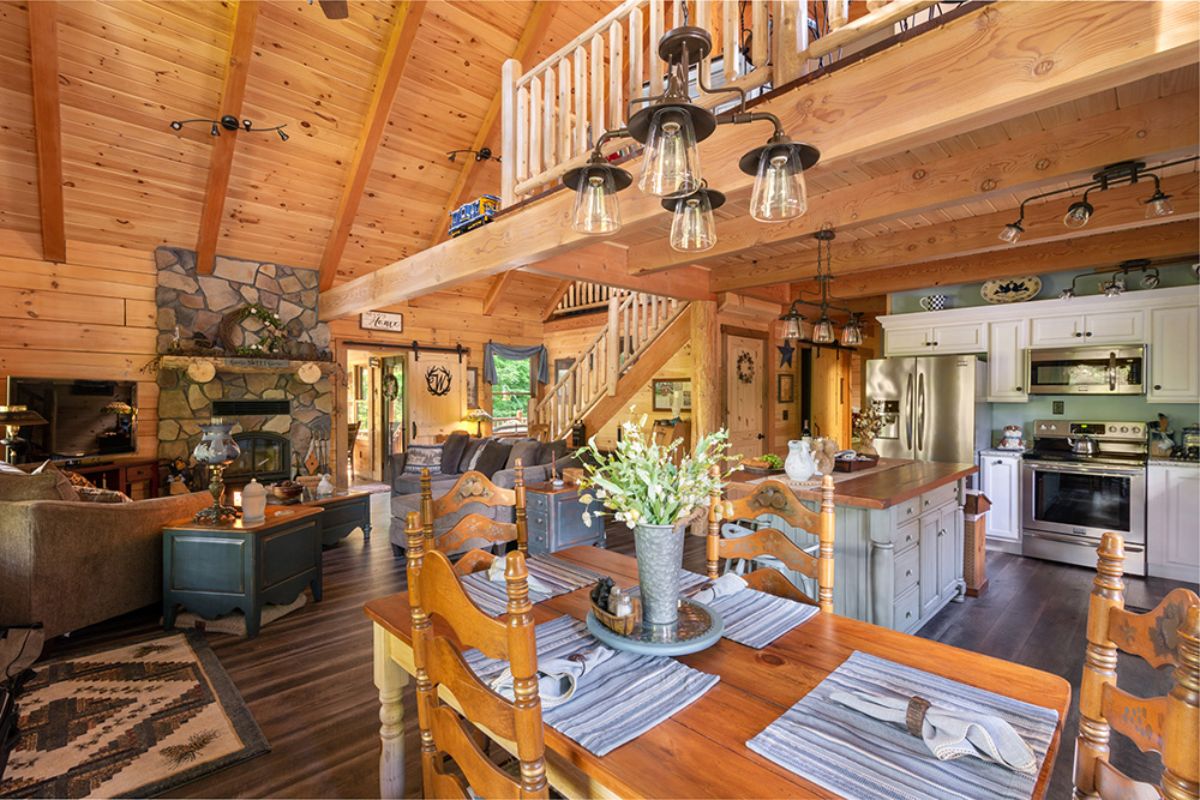 I love how the dining nook is open next to the front door and across from the living room space. Plus, it has room for these rustic hutches to fill with vintage dinnerware.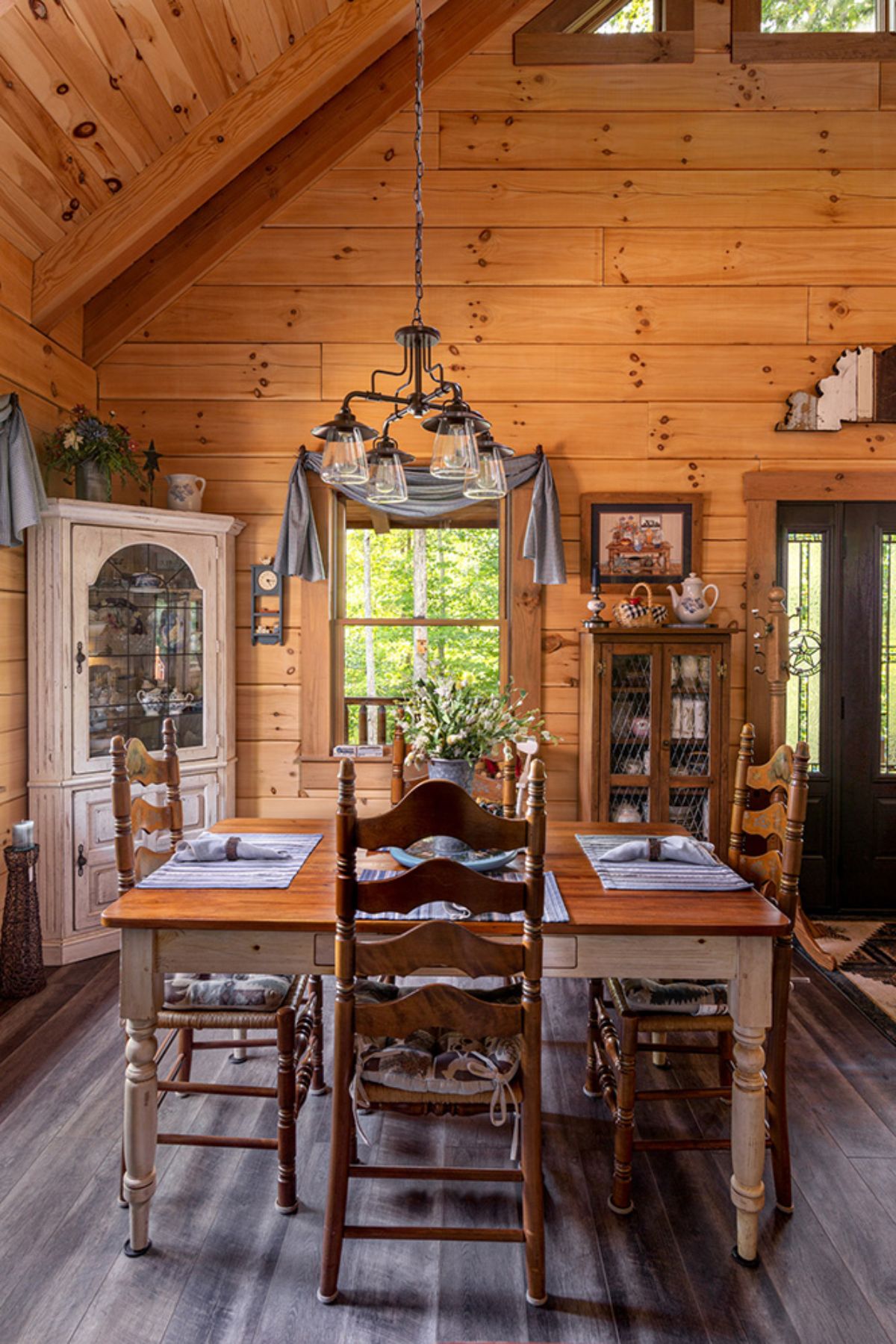 If you want a kitchen that has a little of the farmhouse style but is functioning for a modern cook, this is a great room for inspiration.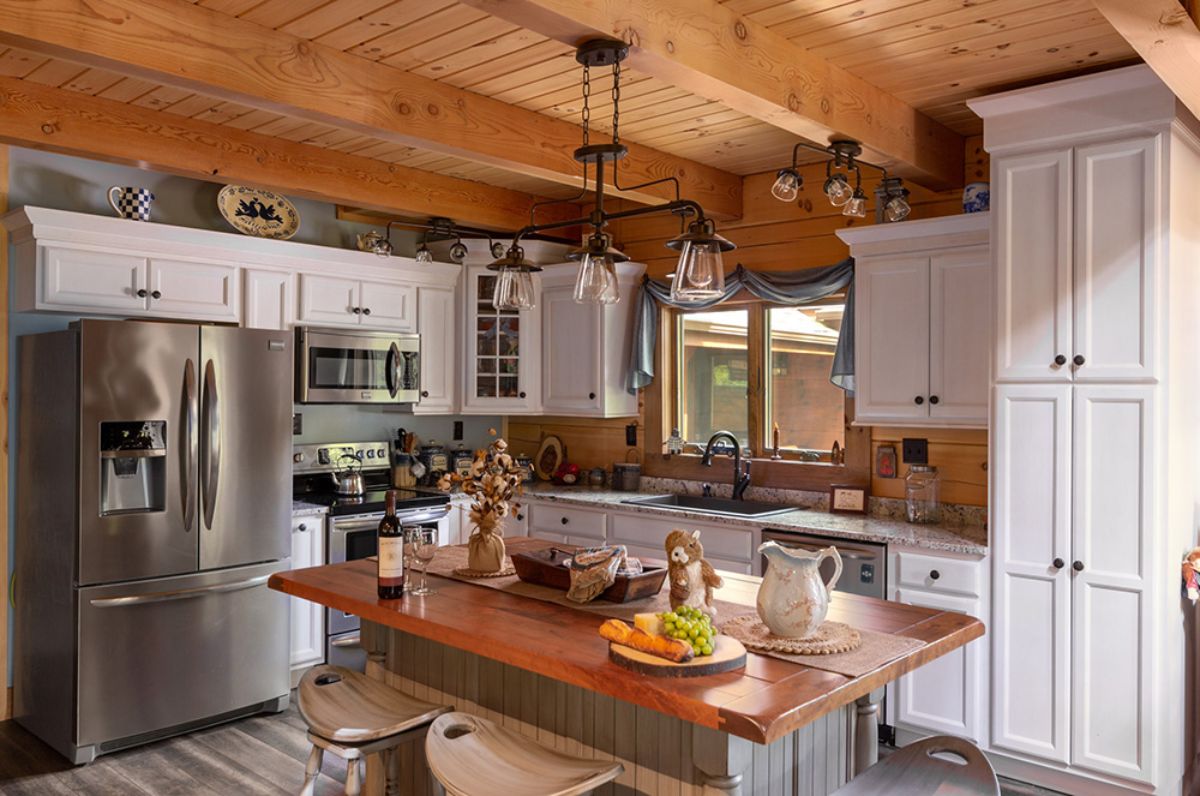 I especially love islands like this one that includes a bar for a breakfast nook but also has good storage spaces beneath the countertop. They really make it easy to have everything on hand in the kitchen without feeling too cluttered.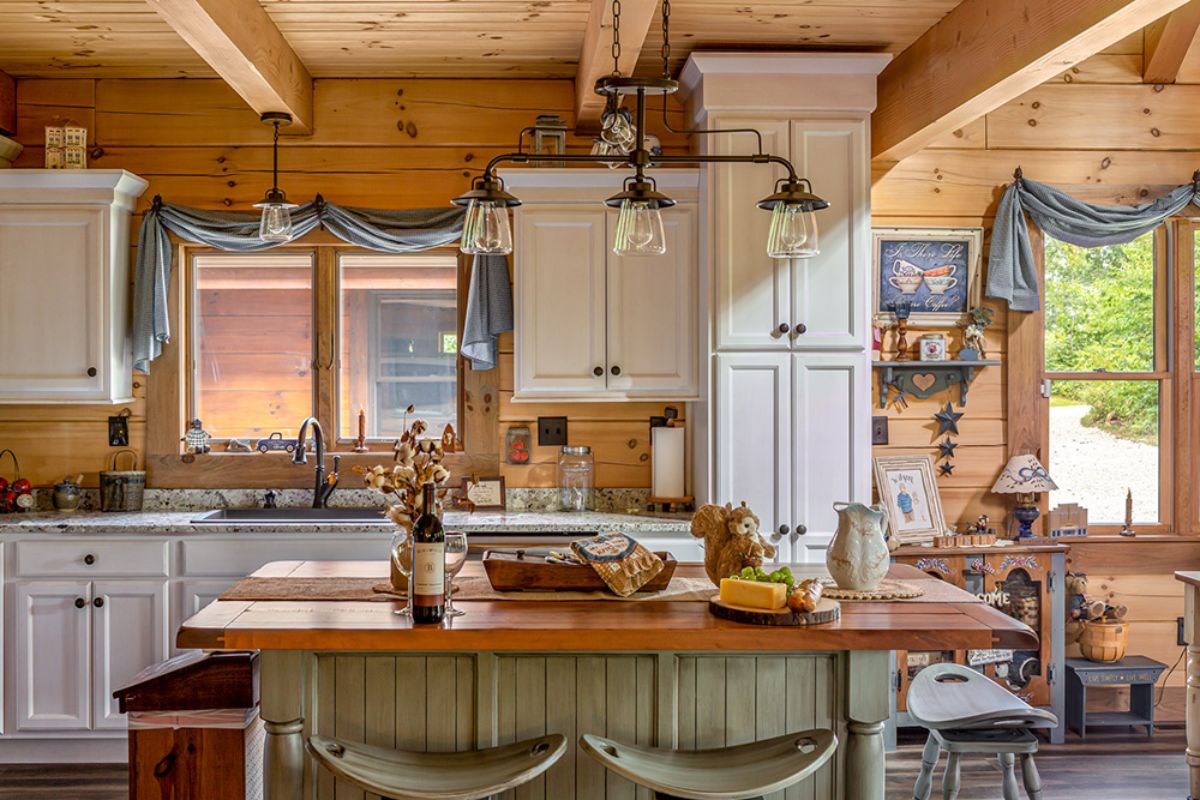 The master suite is on the main floor of the home and has plenty of space for a queen or king-sized bed with gorgeous views out the windows. A nice large double closet on one wall is next to the door leading into the master bathroom.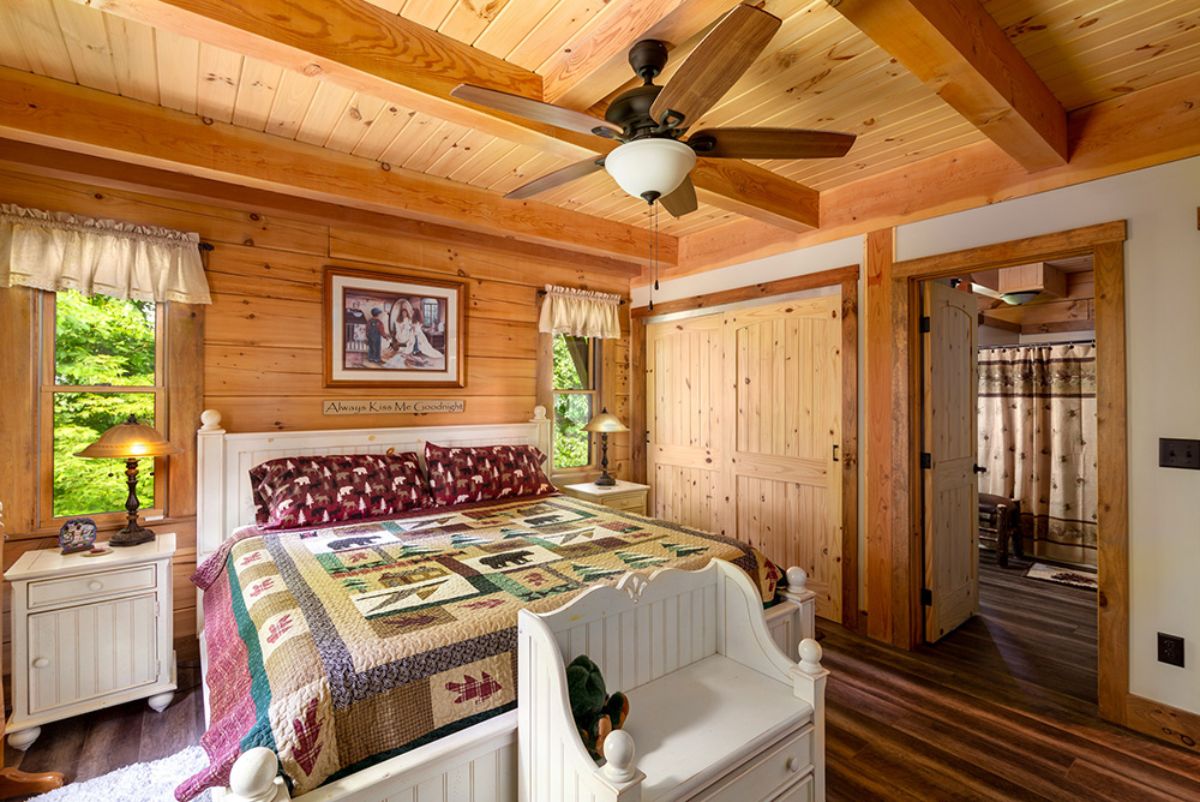 This en suite is a great space with two separate sinks and a nice large open storage space between them as well as a semi-private toilet and large shower with bathtub.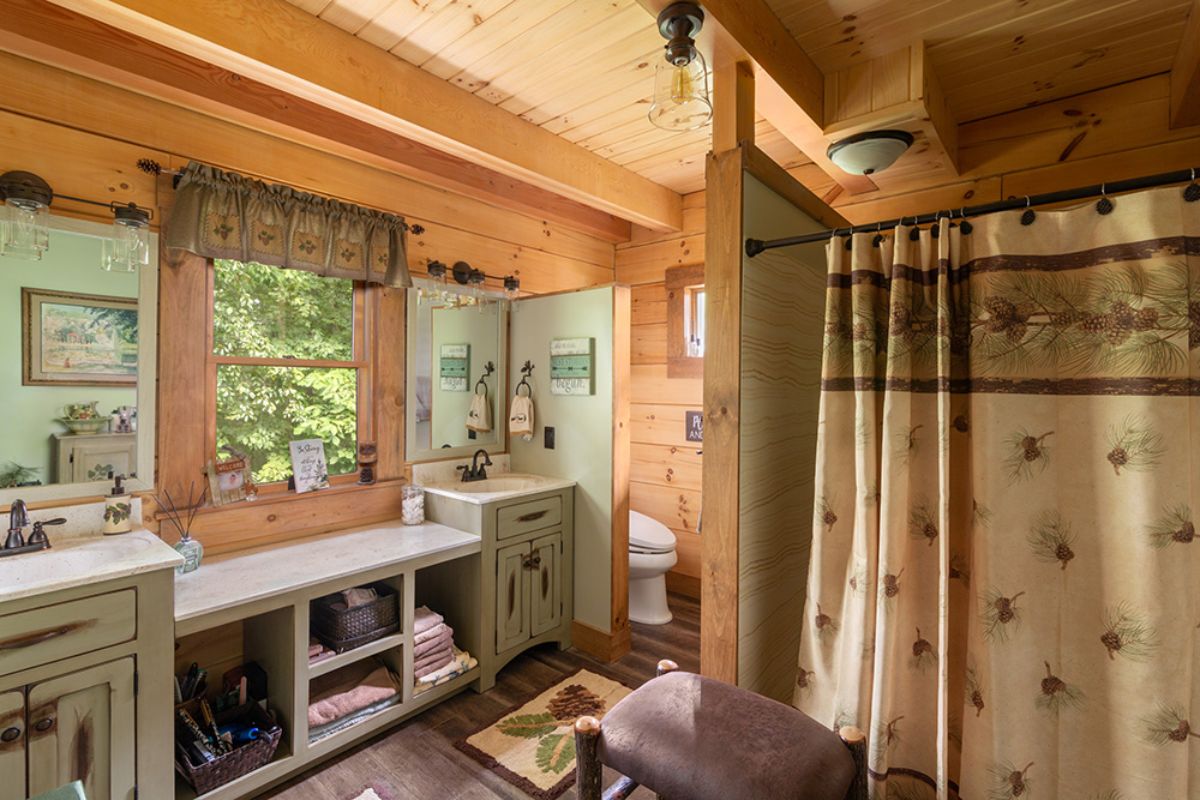 If you are interested in having your own custom log home built, you can find out more and see all of the plan options on the Hochstetler Log Homes website. You can also find them on Facebook for daily updates. Make sure that you let them know that Log Cabin Connection sent you their way.
More Log Cabin Kits and Tours