While most of our cabin tours are for ideas to use when building, this is one that you can actually rent and enjoy in person. It has beautiful views, a great layout, and is a breathtaking location near Bryson City, North Carolina that is sure to become a favorite destination.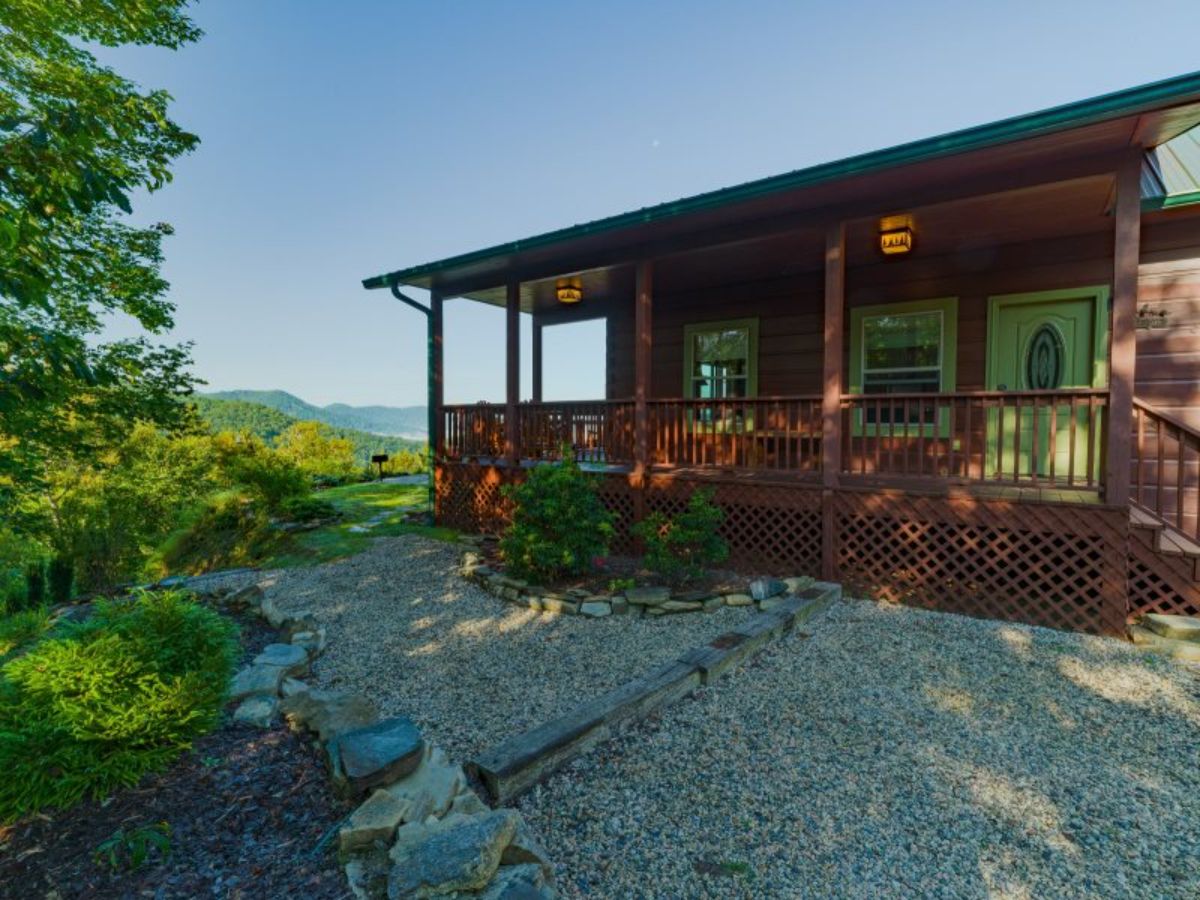 Log Cabin Size
2 bedrooms
2 bathrooms
Sleeps 4 guests
Log Cabin Features
A large porch wraps around two sides of the home with an entrance on one side and an exit overlooking the valley off the back wall of windows.
This home includes bedrooms, bathrooms, and a full kitchen for a traditional home layout.
The hot tub is located on the back patio area with a stone pathway and firepit nearby.
The Interior open living space includes sofas and chairs with a television and a cozy corner fireplace.
A large dining table plus additional seating at the bar in the kitchen area makes it ideal for sharing meals with guests or family.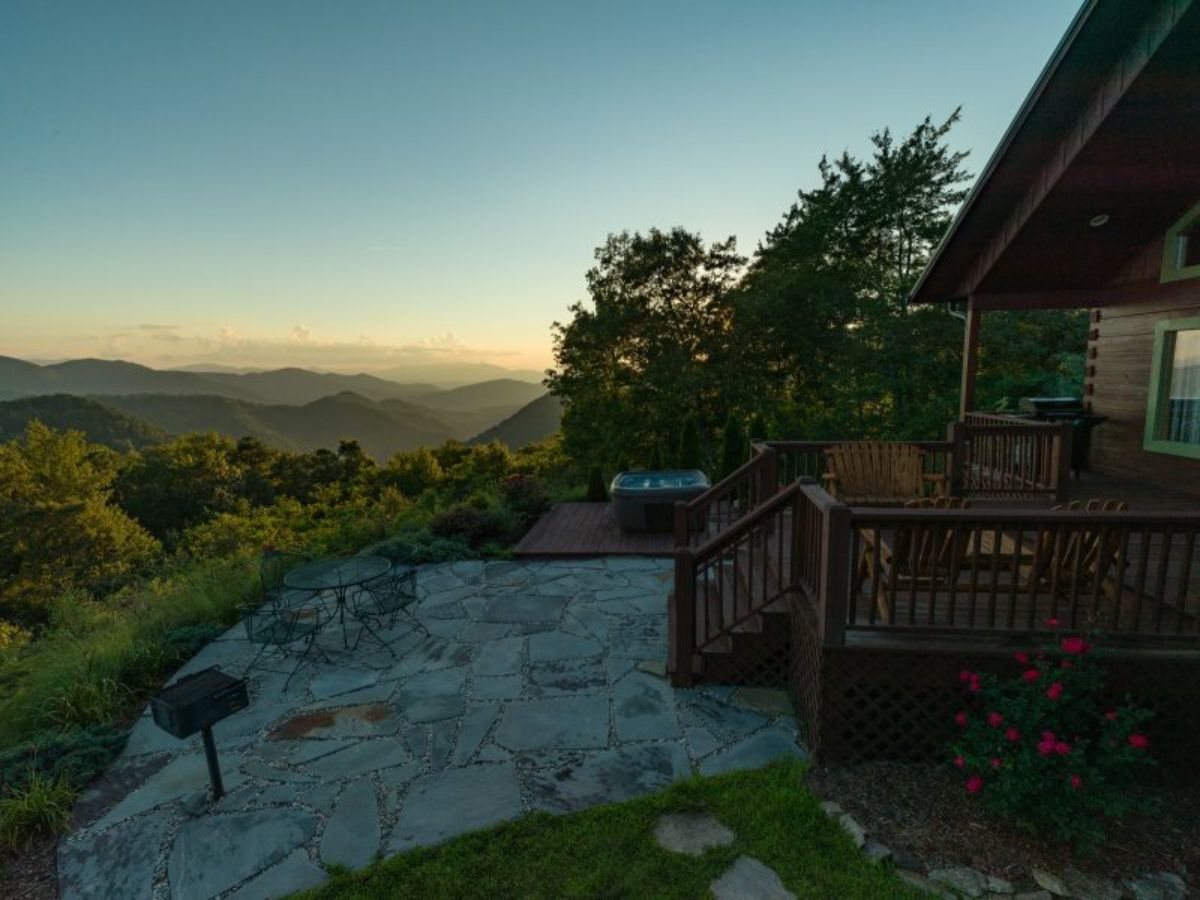 I love that this home has such beautiful open spaces for relaxation both inside and outside. On the side of this back deck is a two-person hot tub that makes for an ideal romantic space to relax. While it is named the Honeymoon Ridge, it is large enough for a family vacation destination.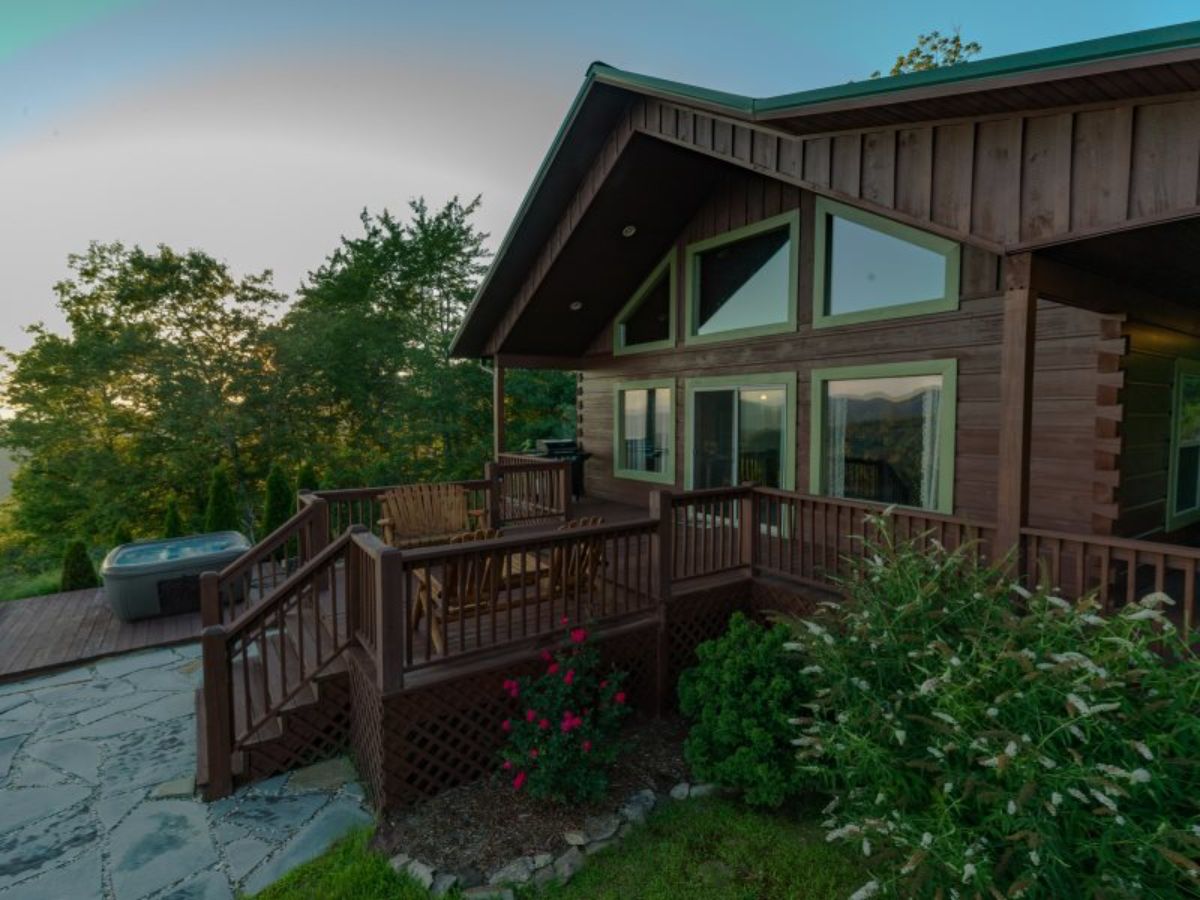 The back deck also has a covered space that includes a gas grill for convenient meals if you prefer throwing a steak on the grill over cooking indoors.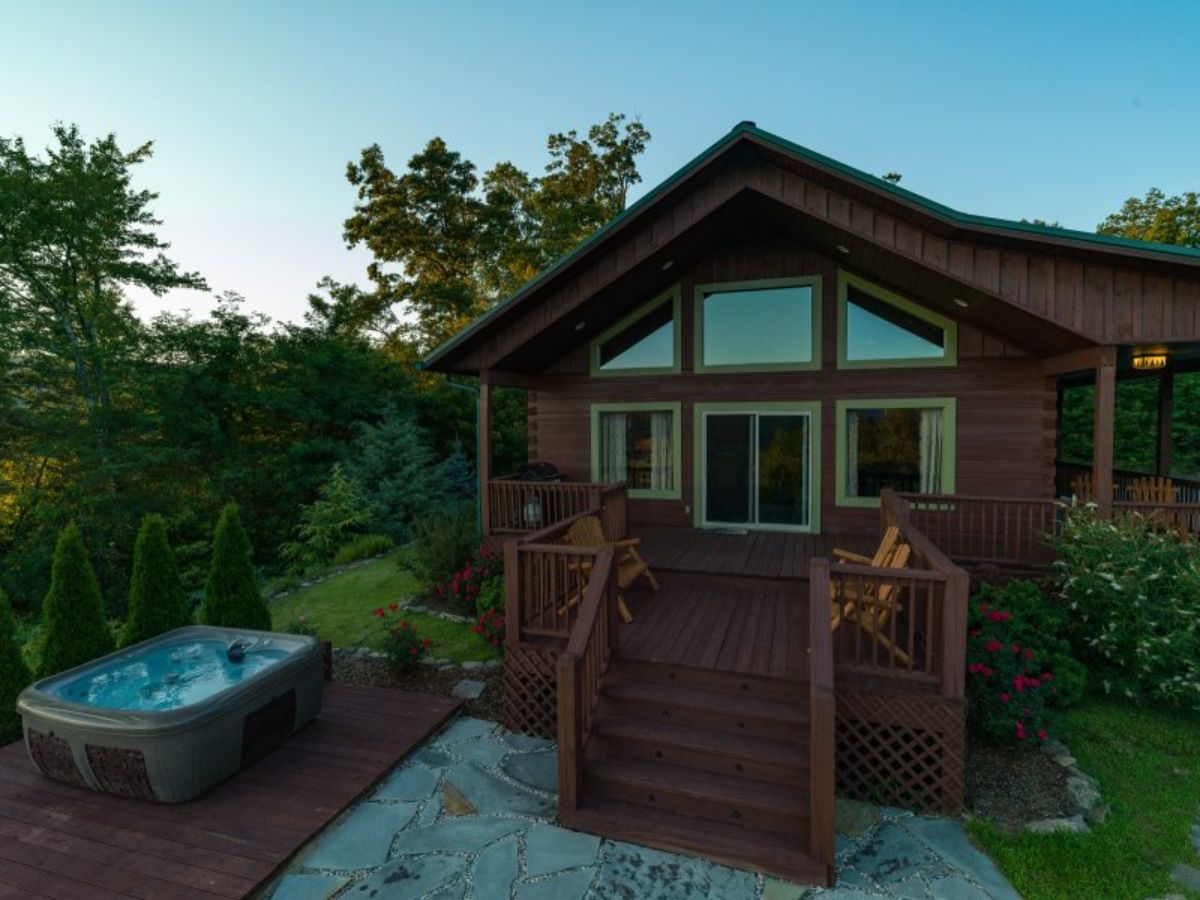 Just look at that breathtaking view! I love how these cabins are located looking out on the mountains.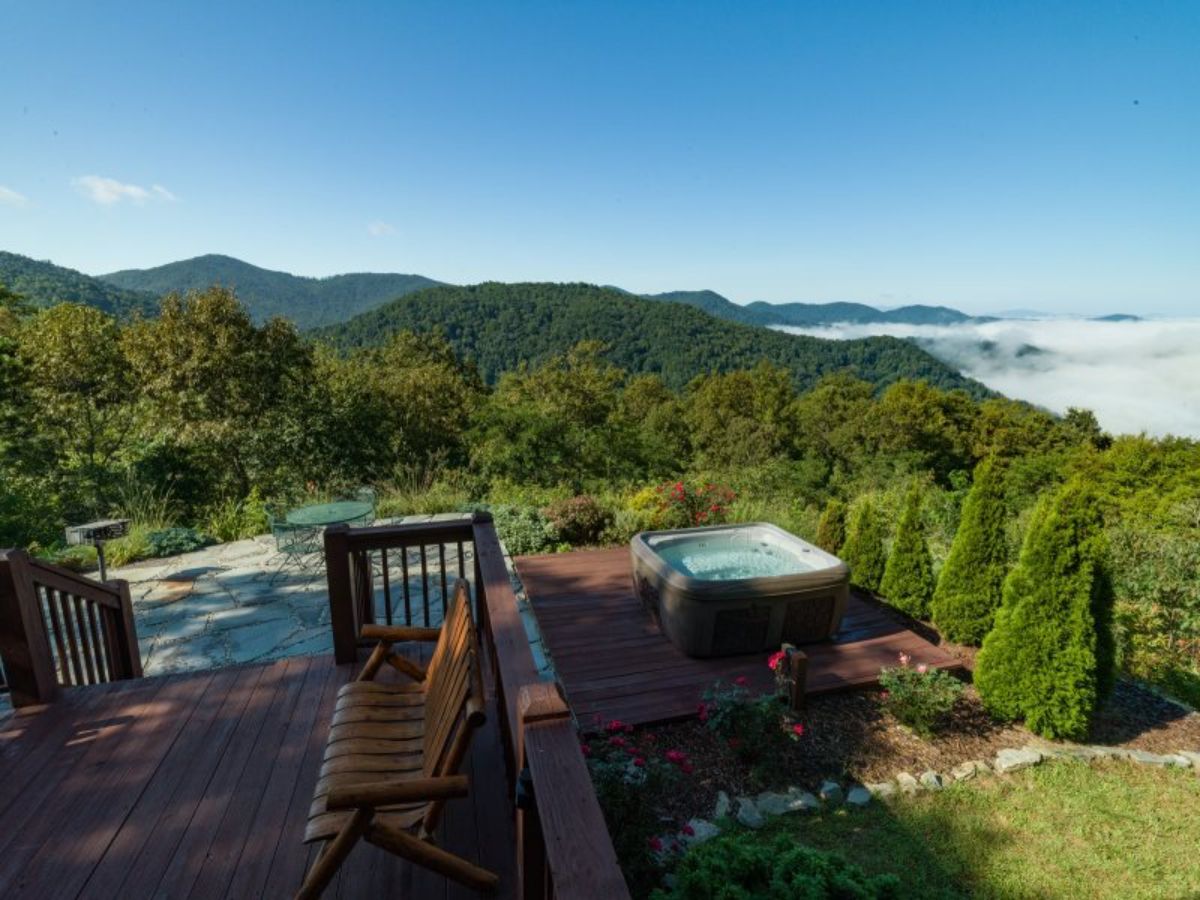 Can't you just imagine a morning cup of coffee in these cozy chairs? Not just a beautiful view, but also a cozy space to relax.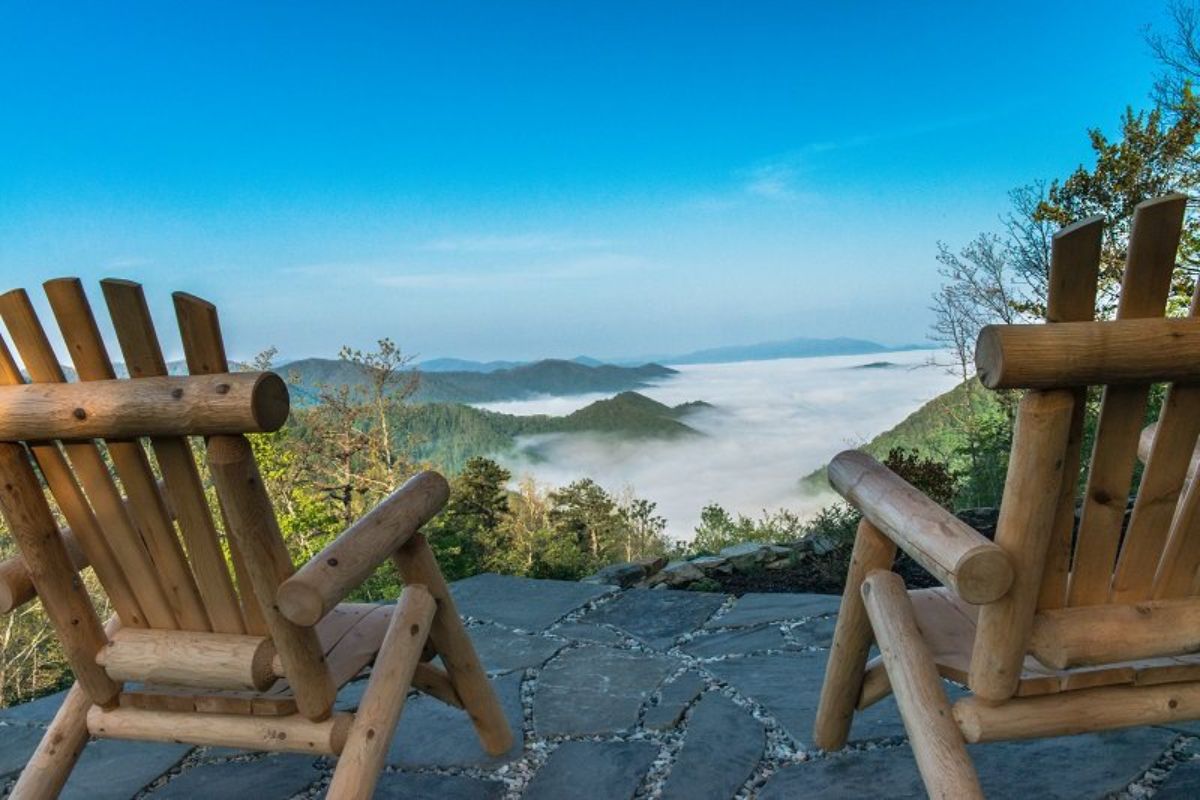 Along the side of the home, by the entry door, you have additional covered porch spaces with chairs and a bench for relaxation.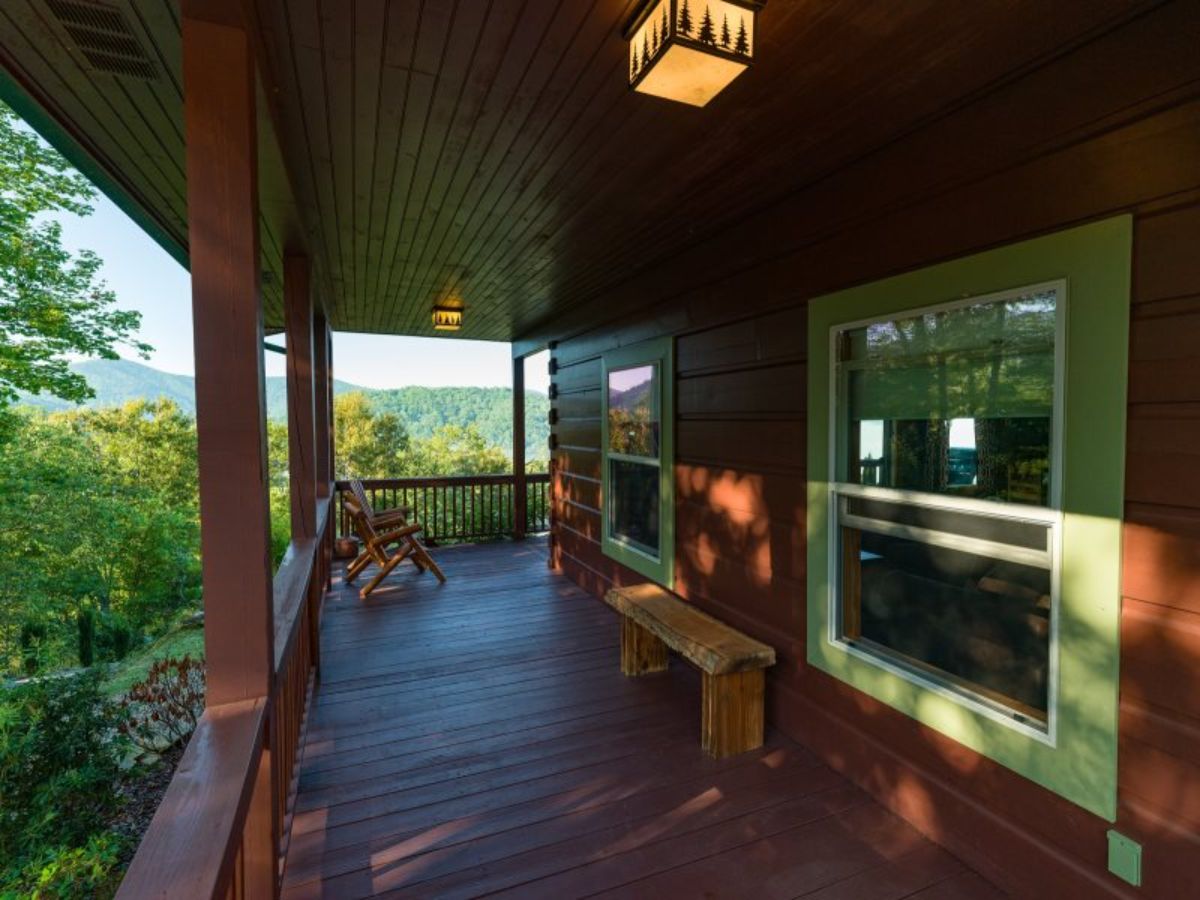 Inside the cabin is a nice open floor plan featuring the great room here that overlooks the mountains outside and off the back deck. This space easily holds a sofa and chairs on one side with a fireplace in the corner including a mounted television above.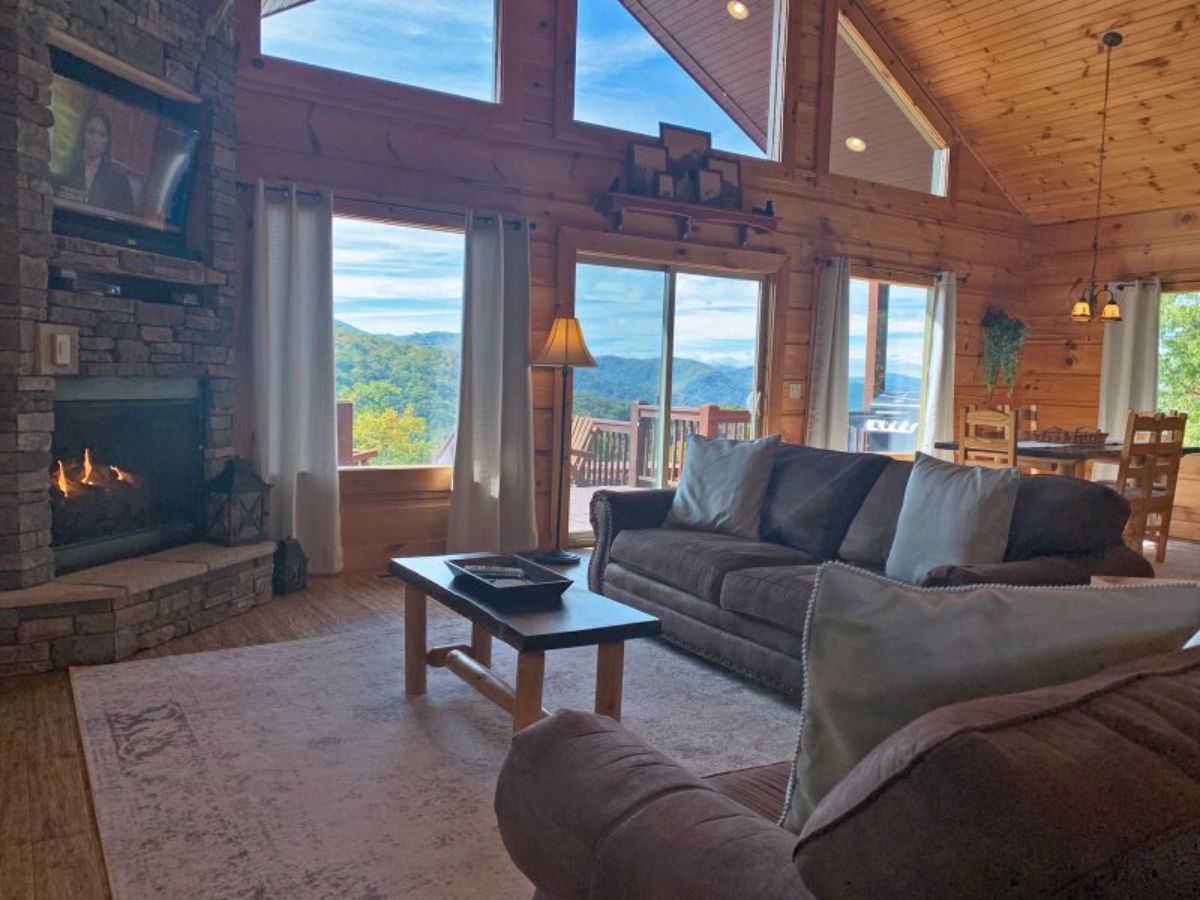 Despite it being a small cabin, the tall ceilings and abundance of windows make it feel large and open.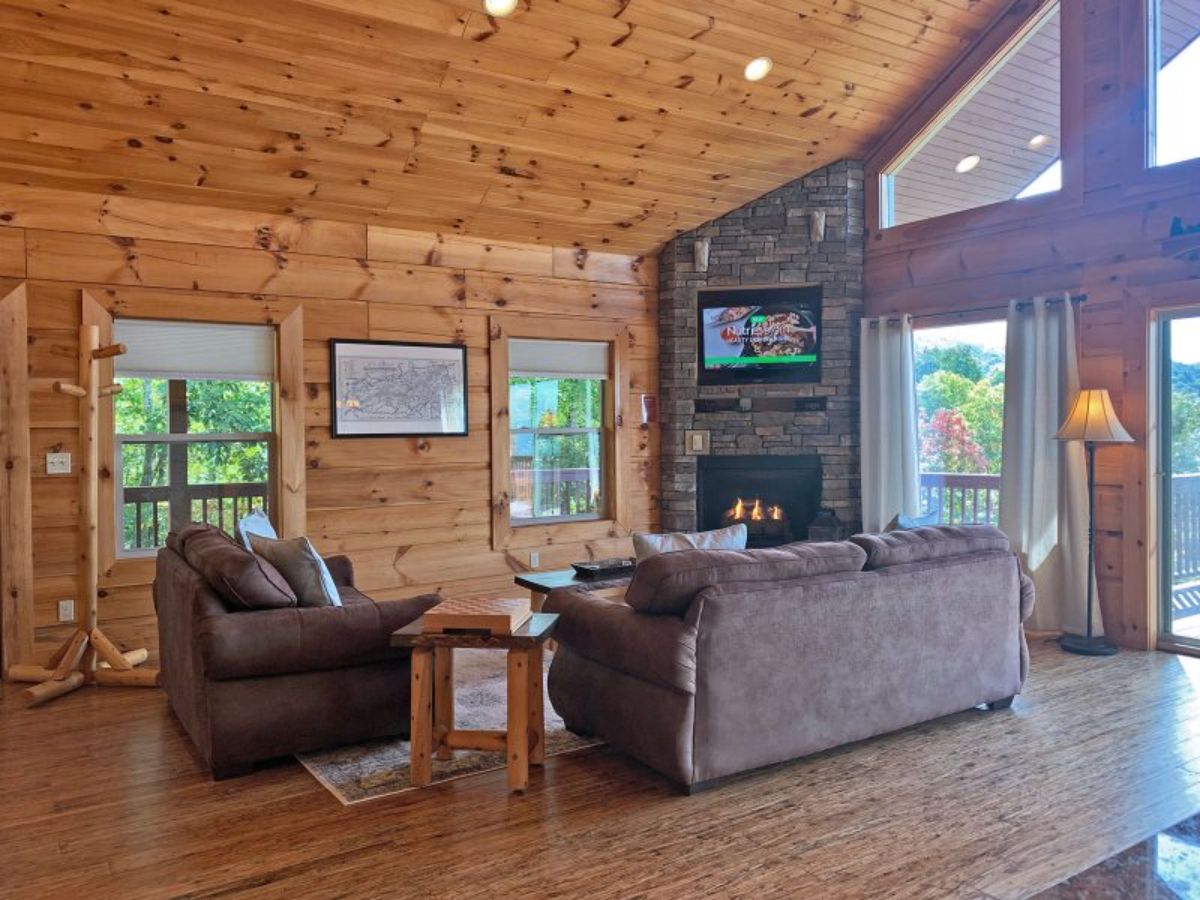 A separate but open dining space is nice if you plan to have your family on vacation alongside you, or want to host a small dinner party while staying in the cabin.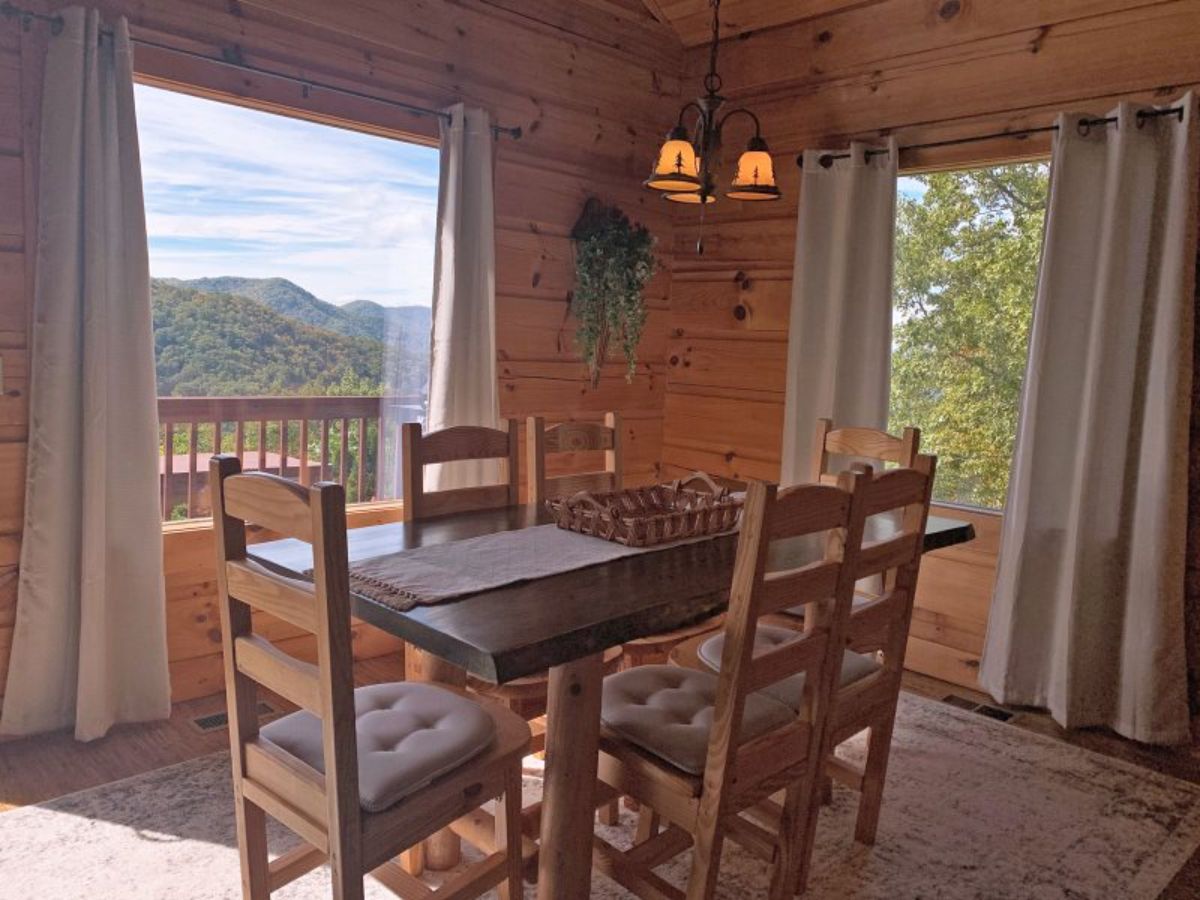 This angle showcases the entirety of the front of the home with the living space and door on the right, an open hall leading to the bedrooms and bathrooms, and a kitchen in the background to the left of the image.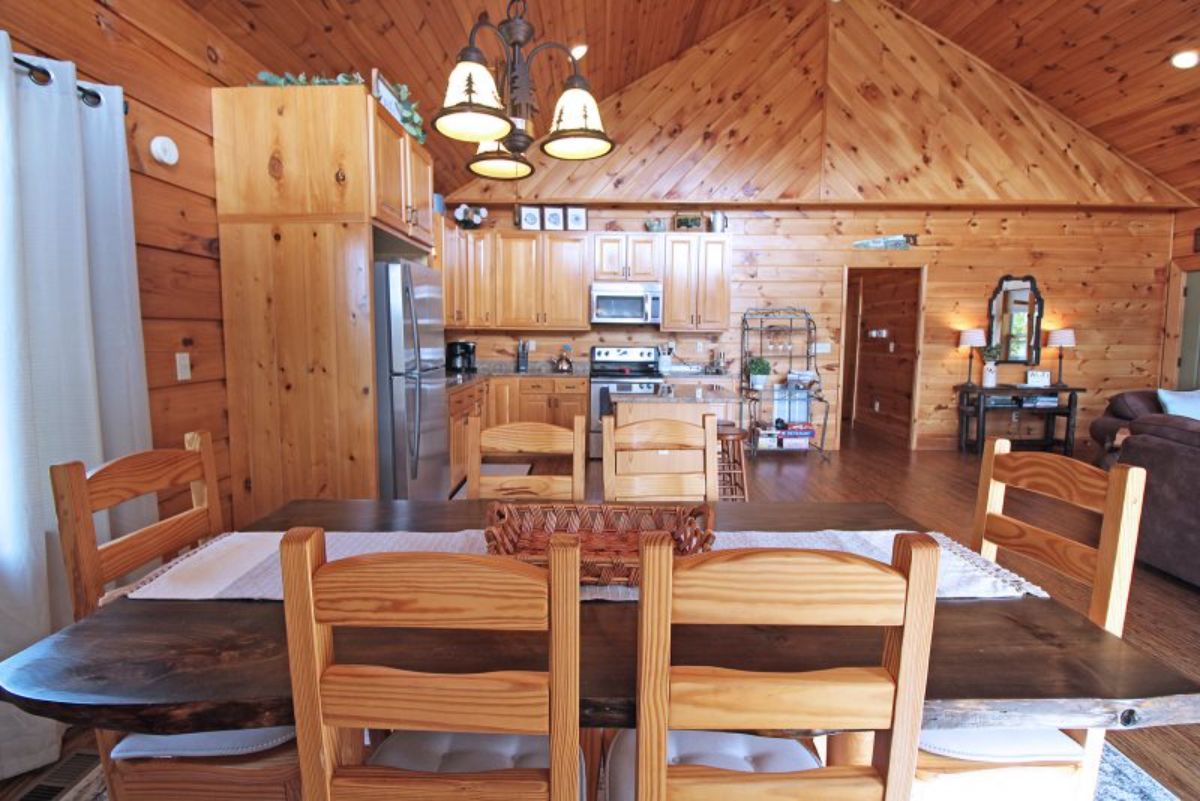 One of my favorite things is that the kitchen includes traditional full-sized appliances with a refrigerator, dishwasher, and stove. A microwave above the stove acts as a vent hood as well with a small island in the center for additional work space and seating.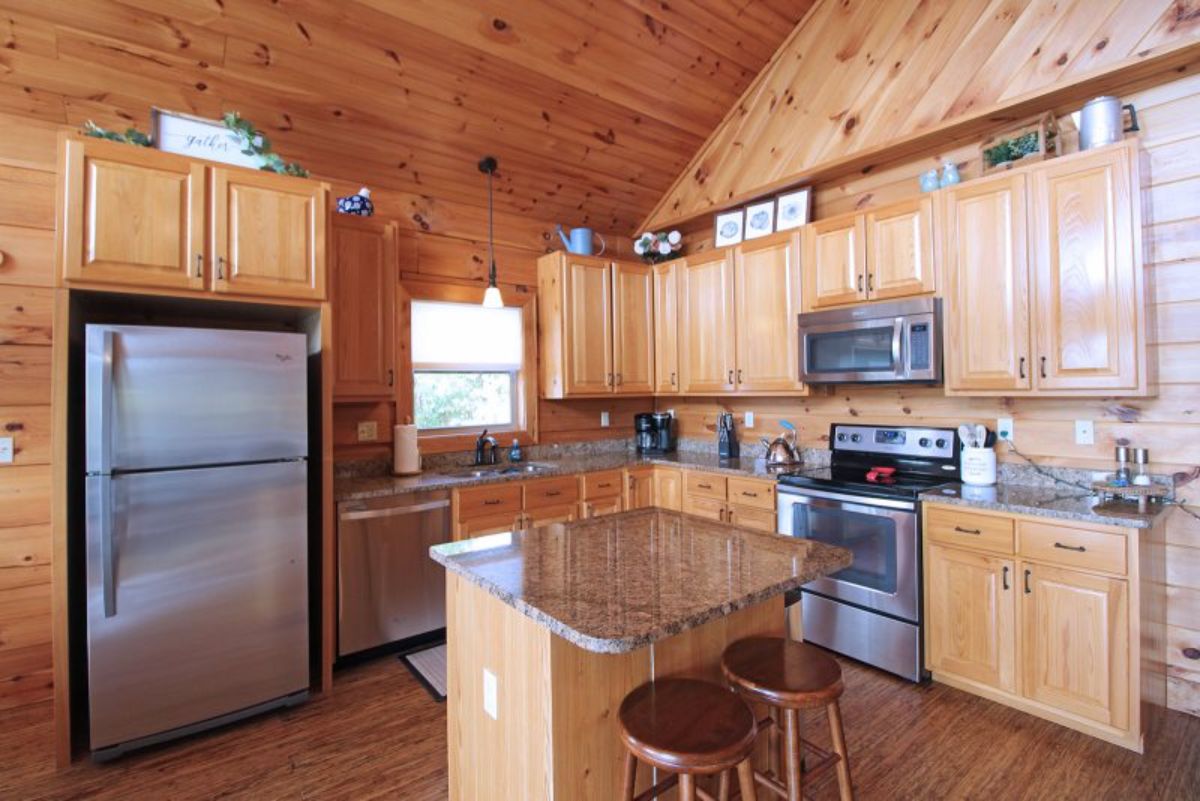 The two bedrooms in this cabin are both sizable with room for a queen or king-sized bed, nightstands, a wardrobe or chest of drawers, and a closet space.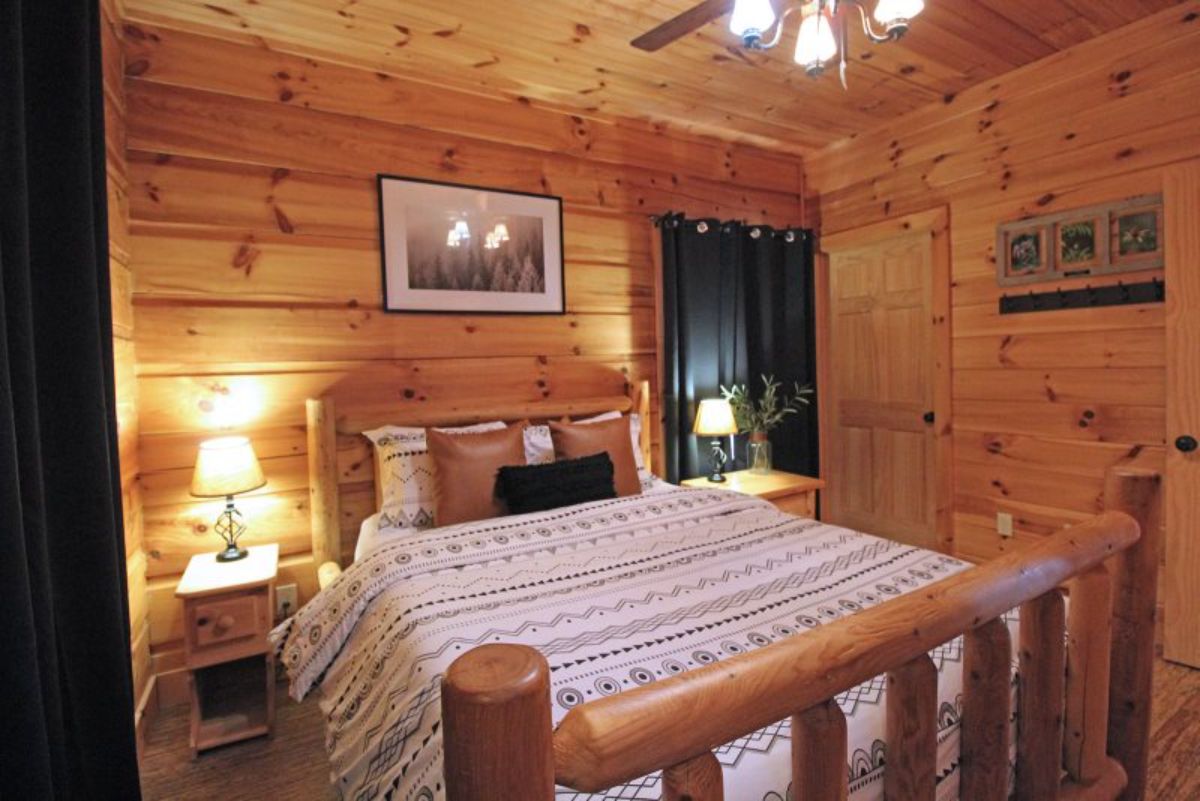 The master bedroom includes an en suite bathroom with a gorgeous soaking bathtub as well as a TV mounted on one wall.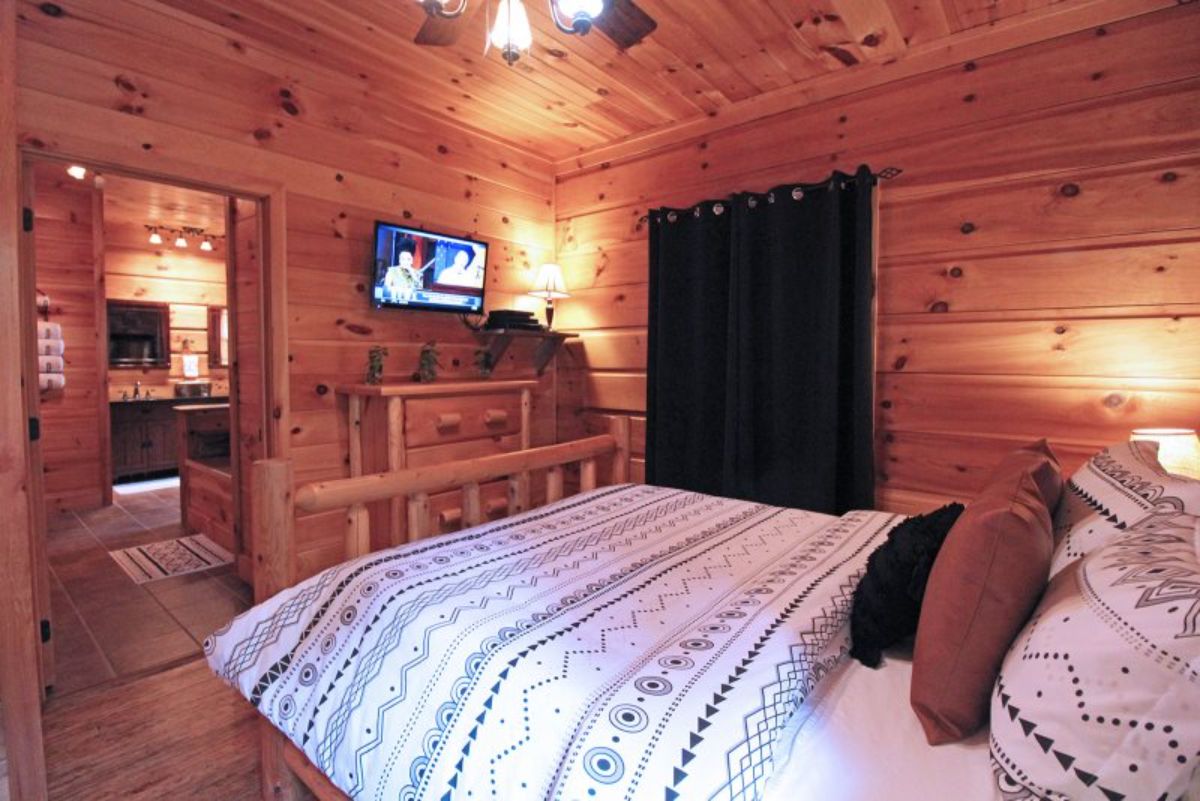 I really love that this home includes the cozy tub here and has such a clean but rustic look in the bathroom.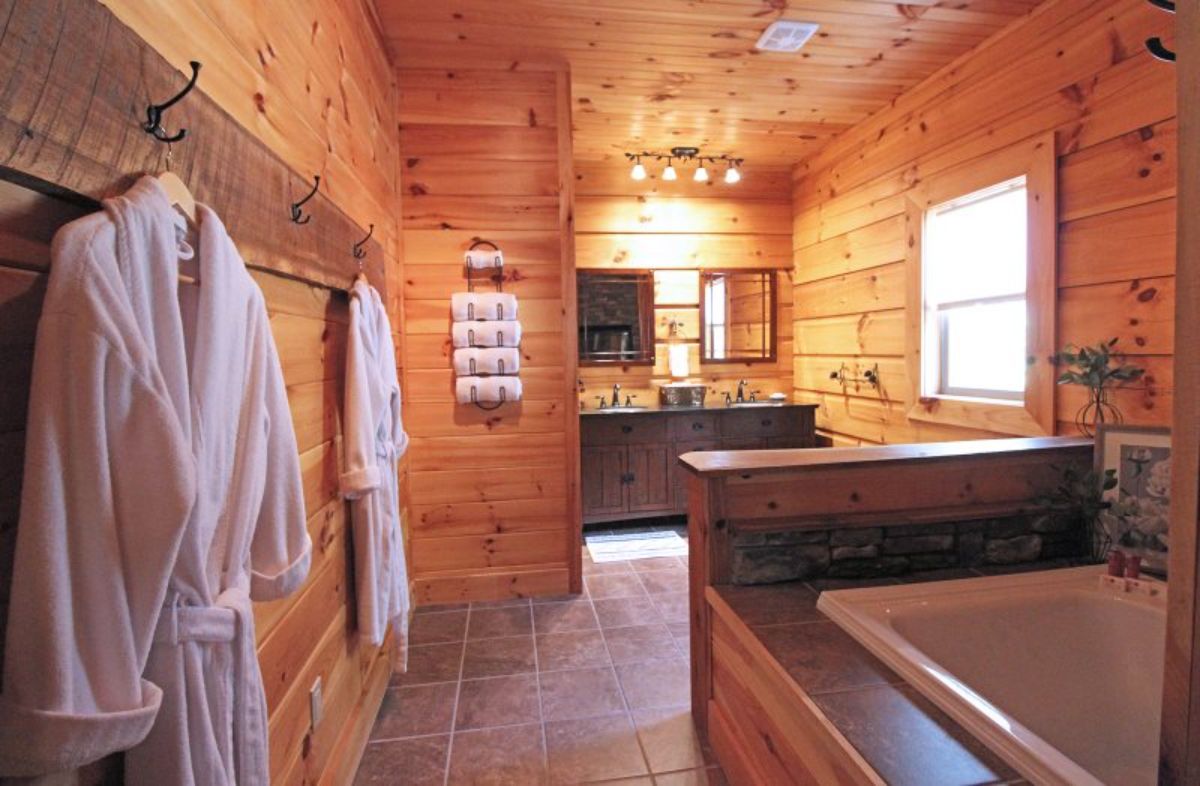 I can imagine a nice hot bath with this fireplace above the bathtub adding to the relaxing ambience.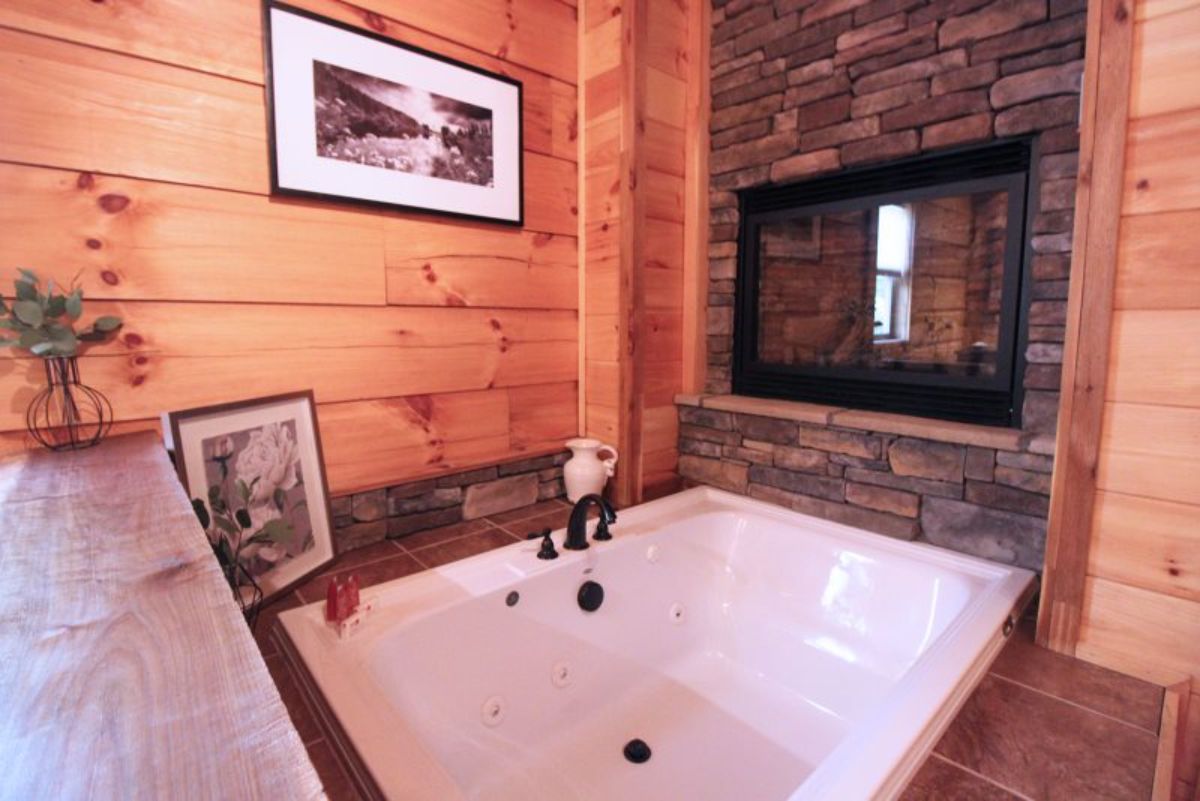 Dual sinks and mirrors on this dark wood vanity are ideal for his and her setup. This is definitely a sizable space and nothing like a hotel bathroom that is cramped and crowded.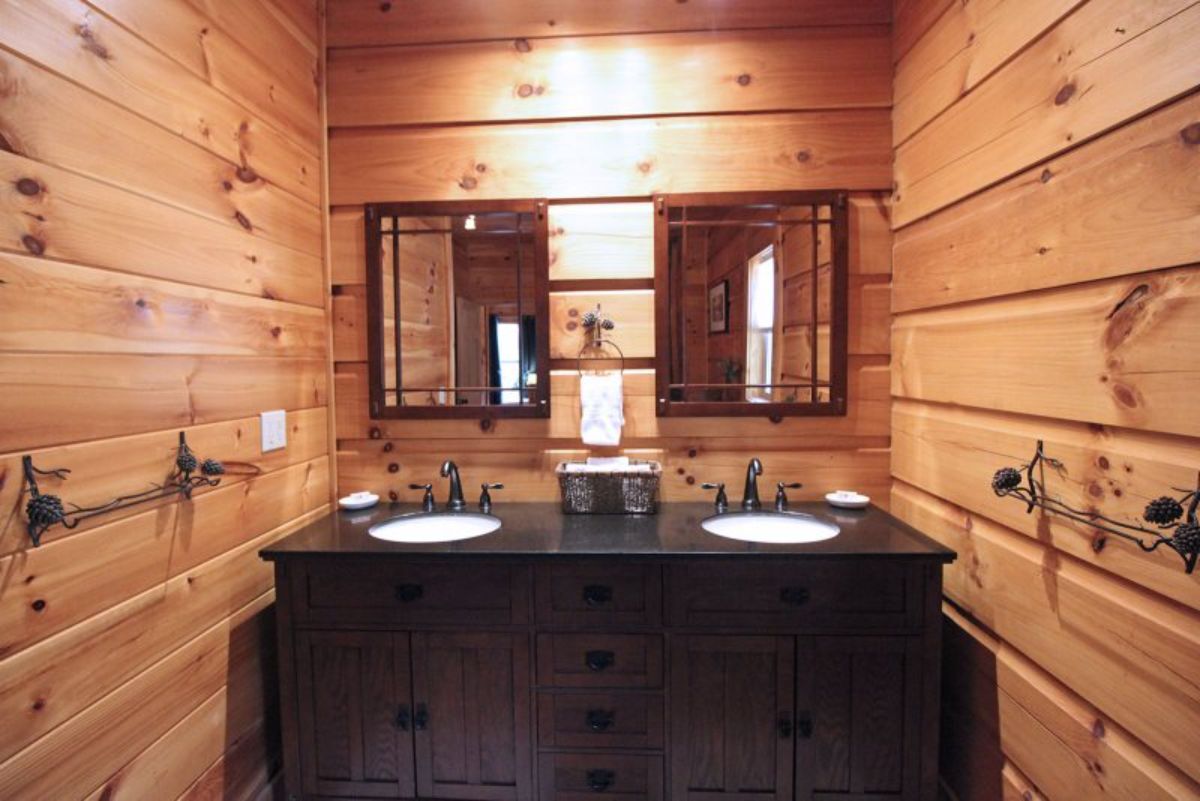 The second bedroom is just as cozy with the same simple layout and a ceiling fan along with windows.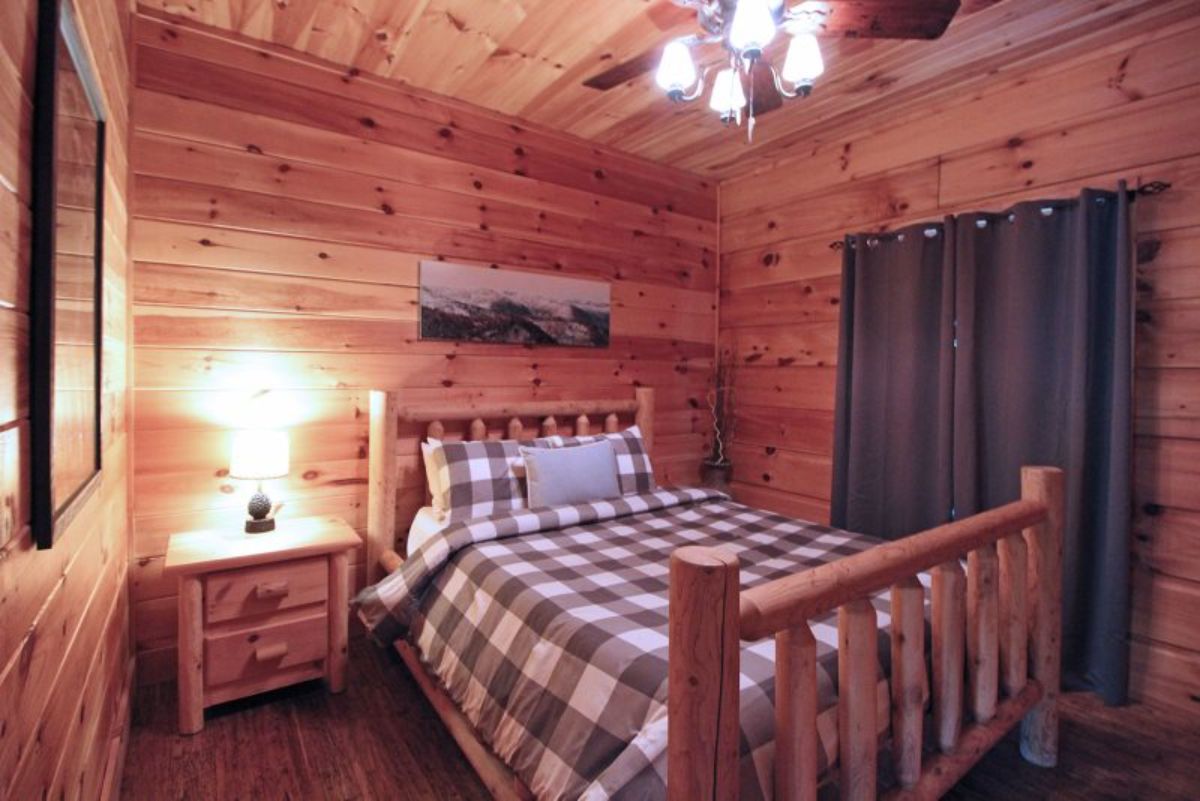 While this room does not have an attached bathroom exactly, there is a bathroom in the hall open to everyone if needed.
The second bathroom in this cabin includes a nice large white shower stall with a bathtub, toilet, and simple vanity. It's basic but has everything you need.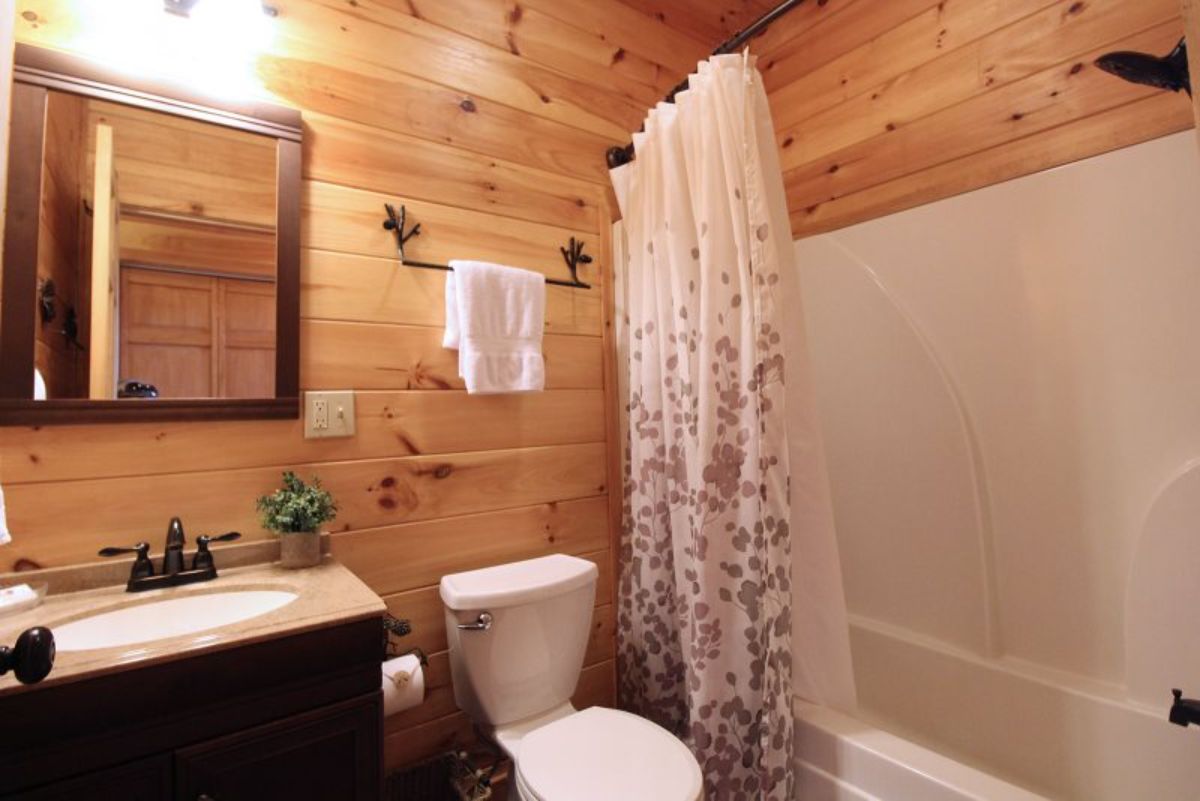 This cabin and other gorgeous rentals and builds can be seen on the Smoky Mountain Cabin Builders website. You can also book a stay with them via the Bryson City Cabin Rentals website. They can also be found on Facebook with regular updates of their latest build or rental availability. Make sure you let them know that Log Cabin Connection sent you their way.
More Log Cabin Kits and Tours