The Silver Valley is a stunning home sprawling on a mountainside and overlooking stunning views of the valley. From the classic cabin siding to the modern interiors, you are going to be swept away by the beauty of this home.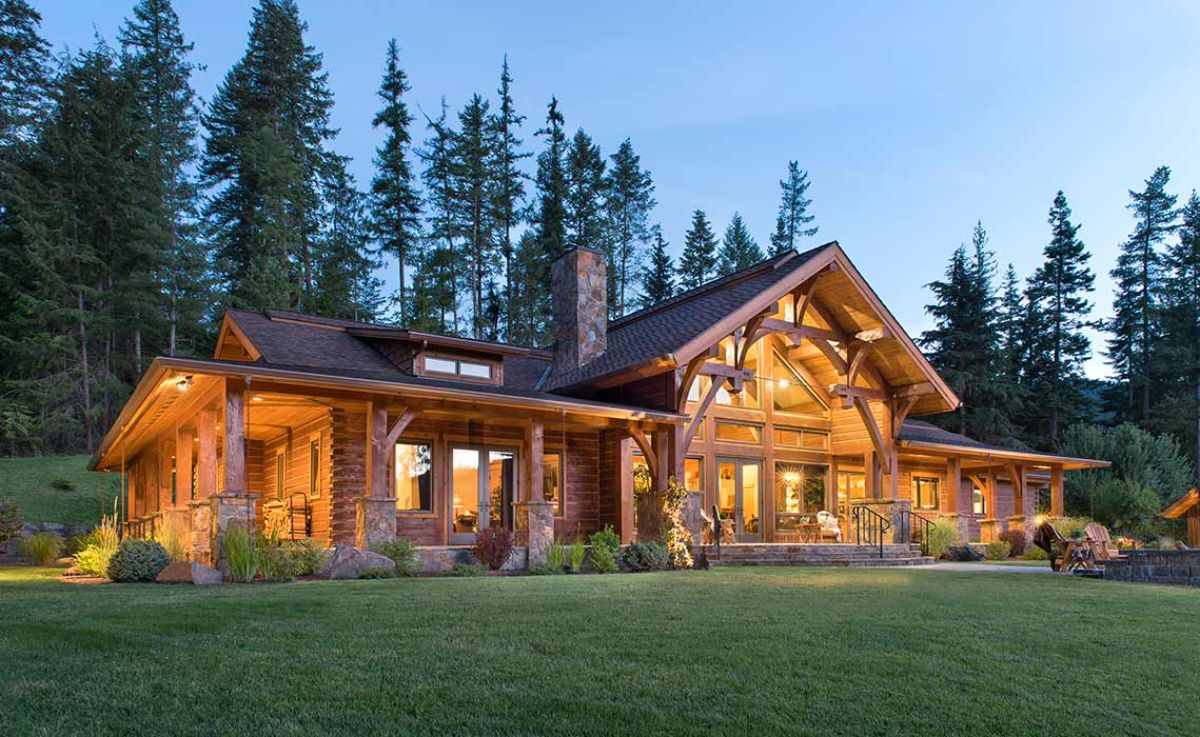 Log Cabin Size
Log Cabin Features
Square milled log walls and timber trusses.
Customized windows and framed in timber with a ton of natural light.
Both covered and open porches and decks as well as an exterior fire pit.
Large open floor plan with living room, kitchen, and dining nook flowing together beautifully and ideally for entertaining.
2-car attached garage.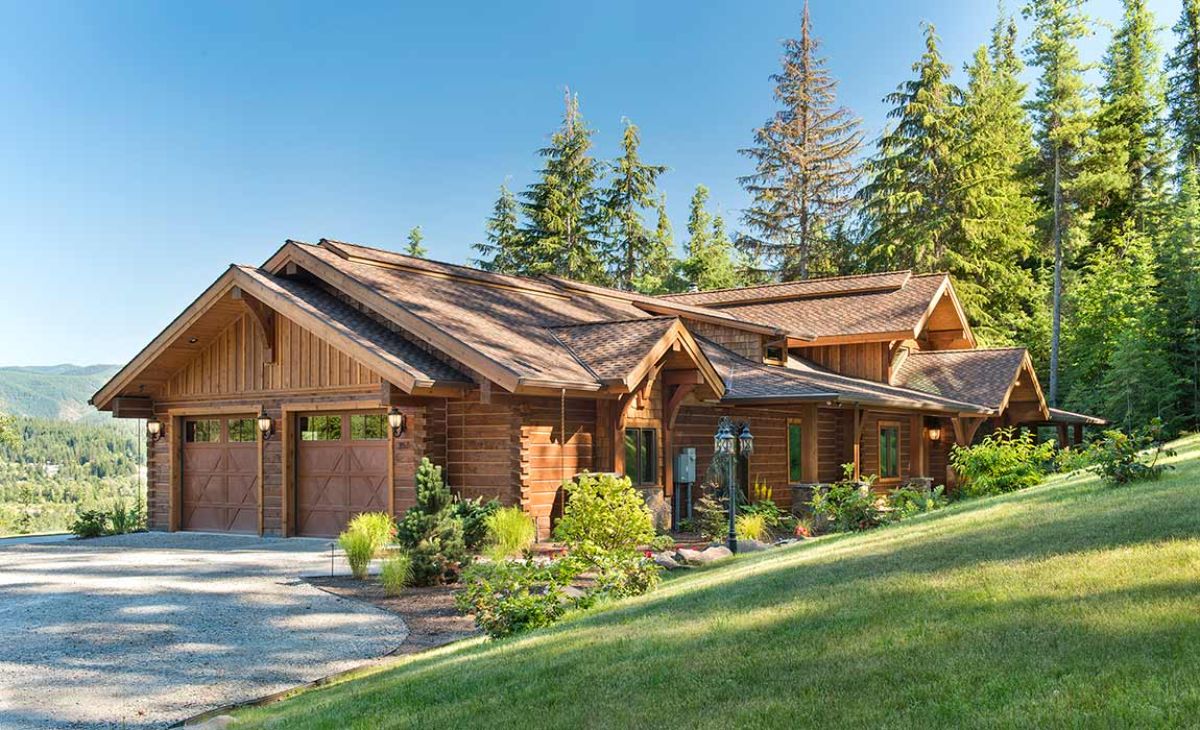 The firepit outside is one of my favorite spaces because of the views. It's like an extension of the home, with cozy seating, warmth, and beauty on all sides.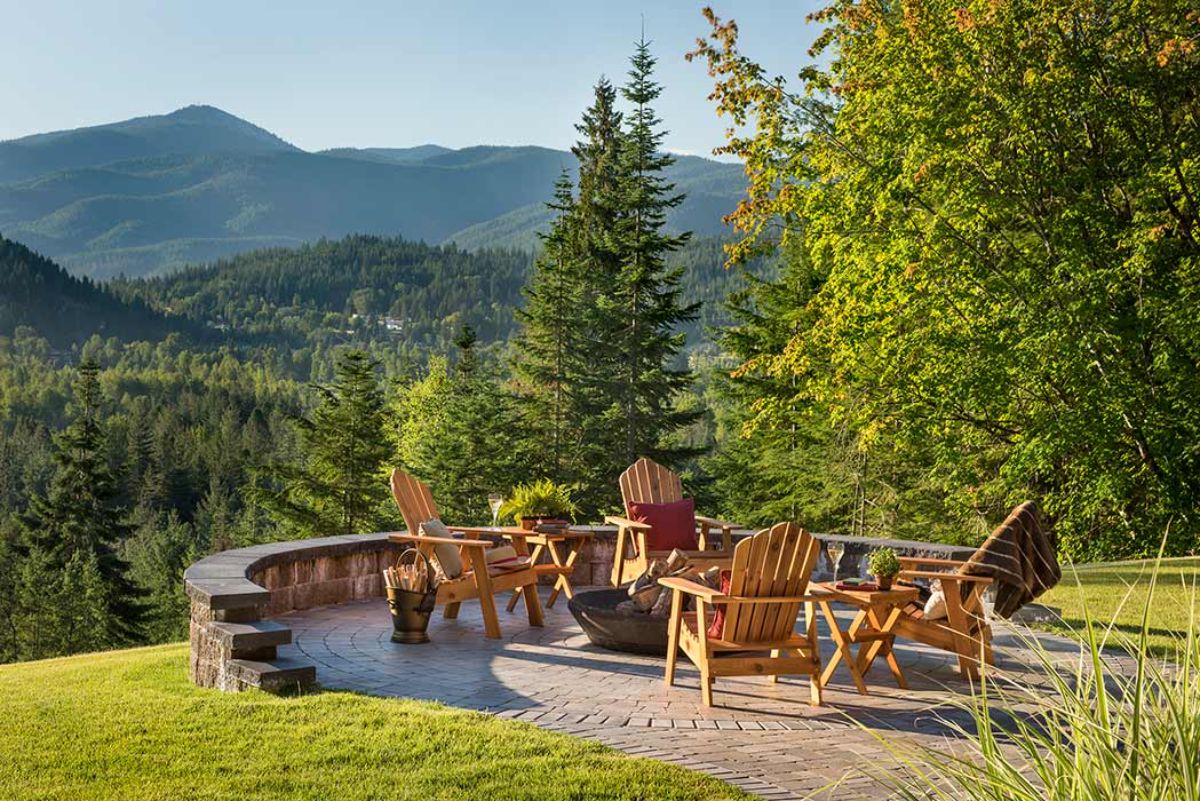 The covered porches are wrap-around the home with beautiful views and wide-open porch spaces for a few chairs, a table, or a bistro set. All comfortable ways to relax.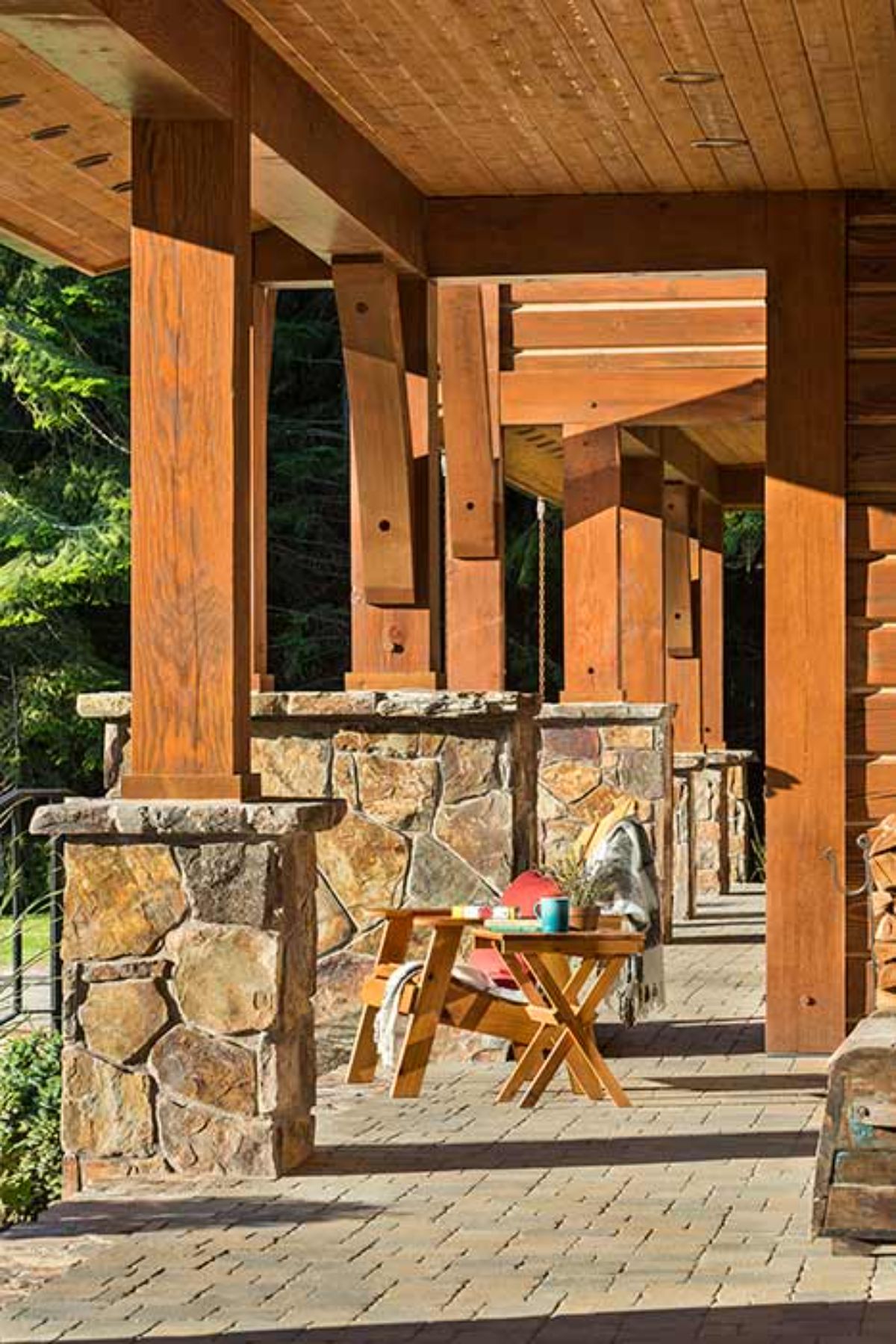 While the home is definitely a beautiful rustic cabin, the interior has notes of both that style and modern. The entry opens up with beautiful woodwork, but to the side you find modern art bringing color to the space.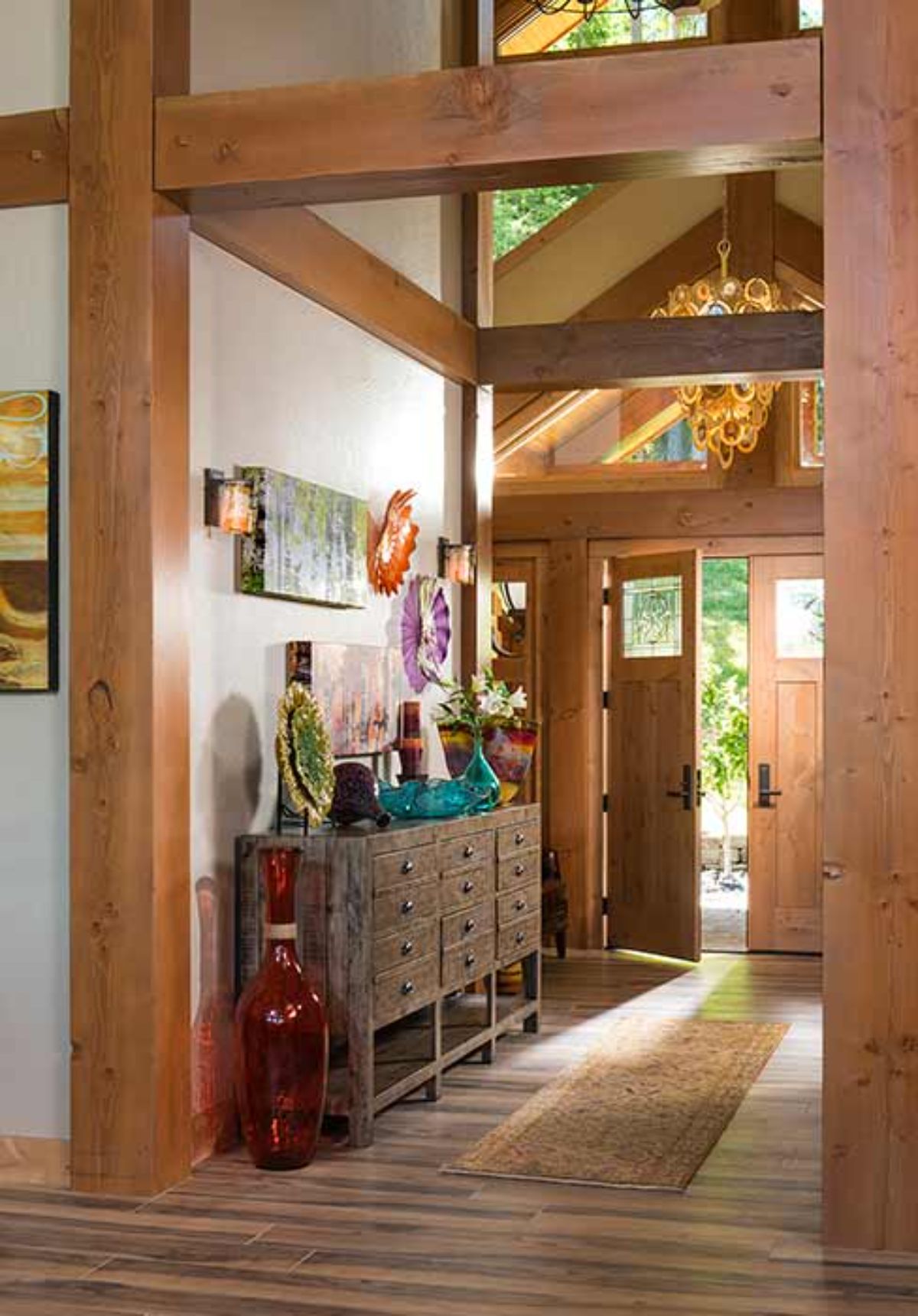 Another simple space includes a little rustic art with this cowboy painting and the adorable rustic seat below the window.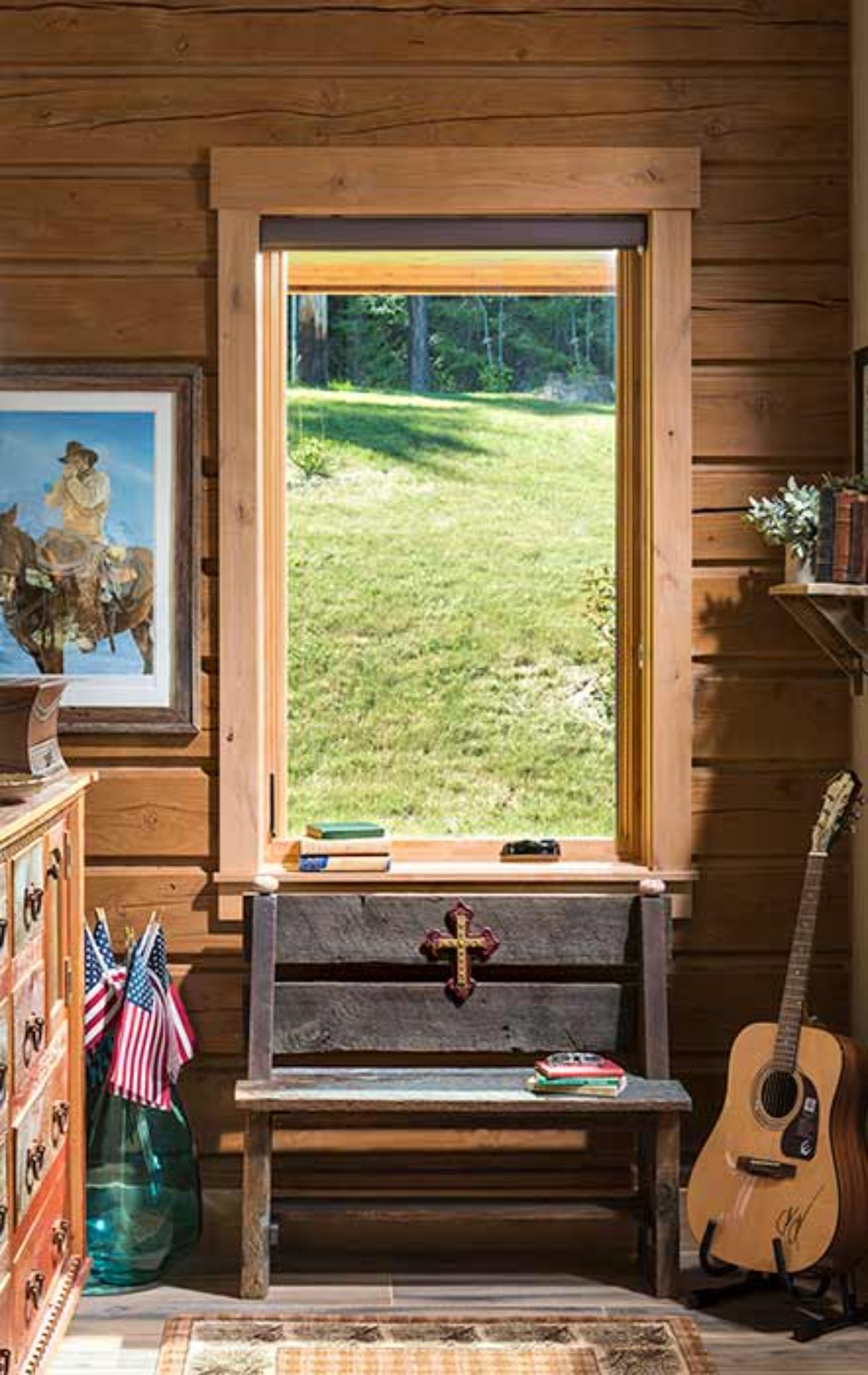 The open floor plan means the living room is open with tall ceilings and tons of space to relax. A fireplace on one side keeps things warm, with the wall of windows on the side opening to one of the many covered porches that overlook the property.
I love the cozy look that includes a bit of modern style and comfort alongside the beautiful rustic wood and stone work.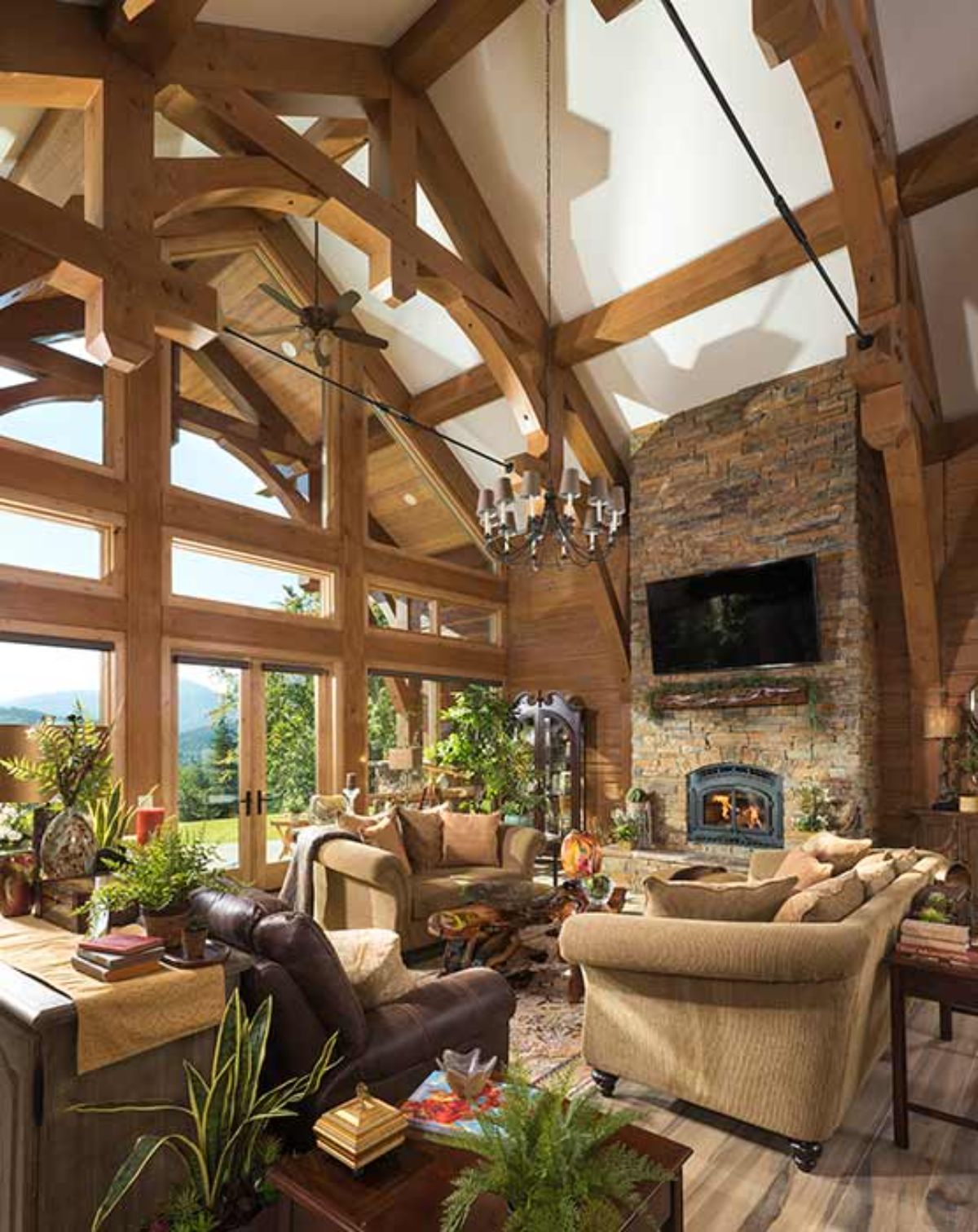 Just look at the stunning views out the wall of windows. There is nothing like a breathtaking view for encouraging your day to get better. Plus, the openness makes a smaller home feel so much larger.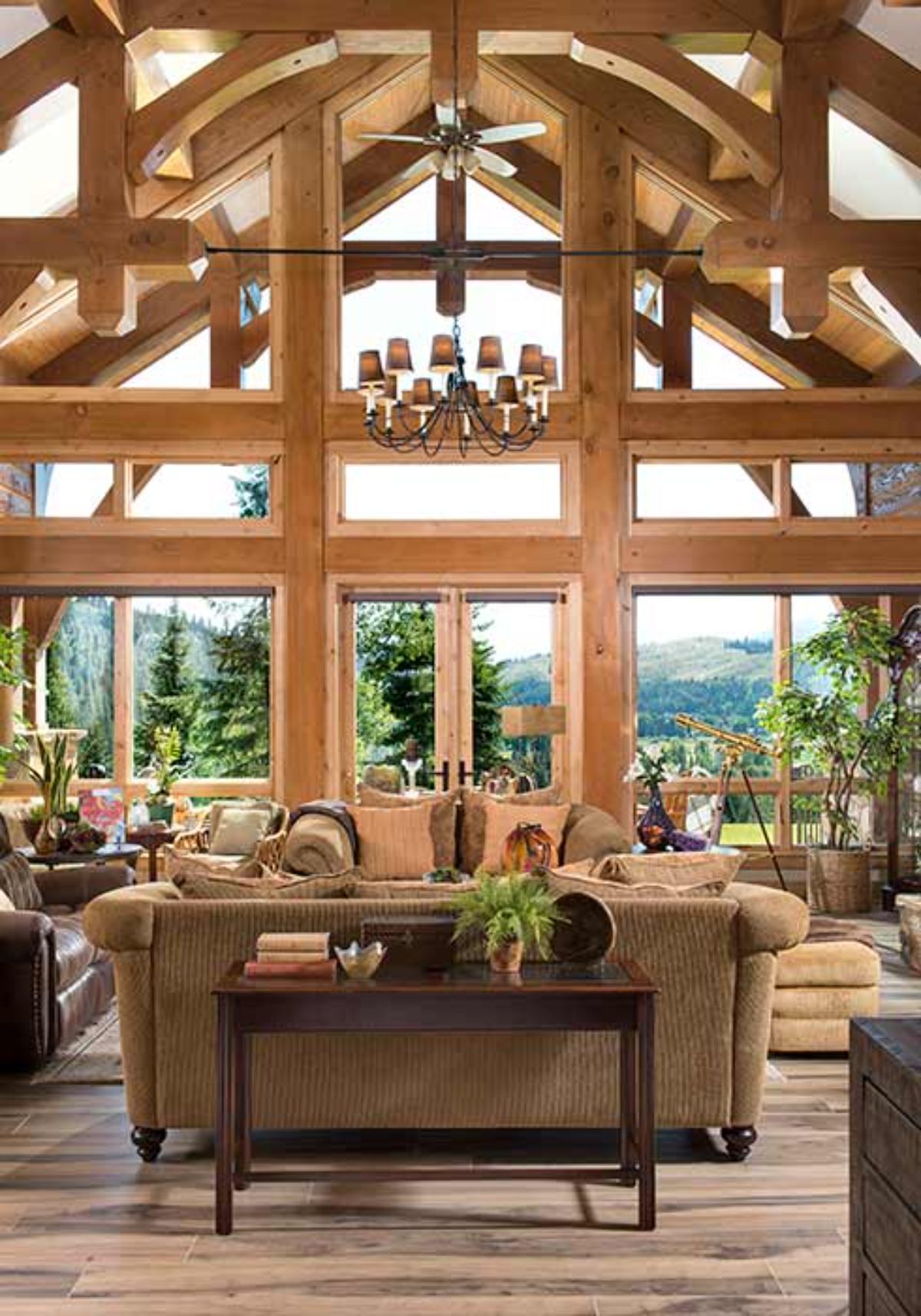 Light wood cabinets and stainless steel appliances make this kitchen feel modern with the rustic additions of decor all around. You will adore the dark wood of the stools, tables, and leather-covered chairs. I also love the rustic look of the candle chandelier hanging above the table. It's lovely, large, and open making it ideal for families or for entertaining.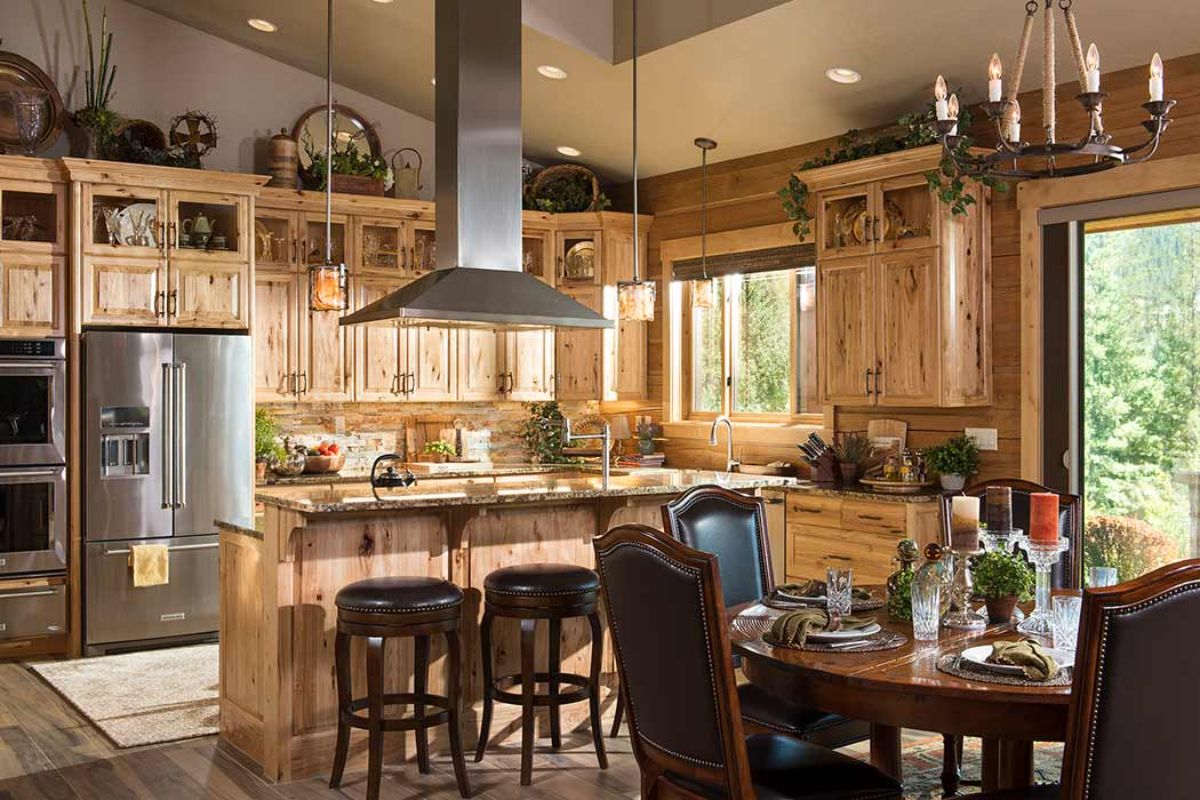 The dining table easily expands or stays round like this for a comfortable experience with your family.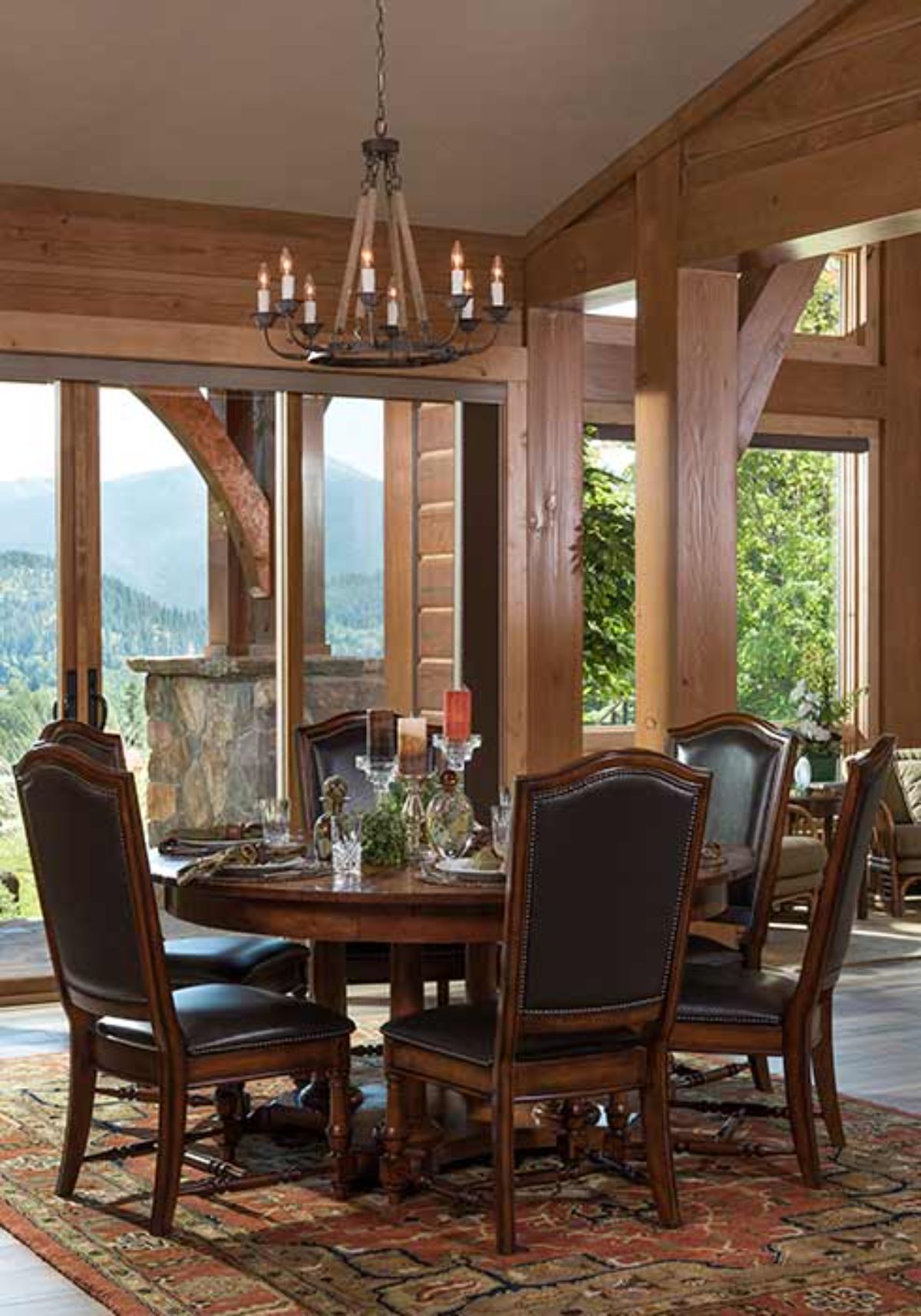 The bedrooms of this home are all large and open. Ideal for a large bed or a room with a small reading nook or entertainment center. Plus, many of the rooms also have private access to the porches. A great addition for a master bedroom. I can imagine sneaking out to stargaze for a romantic date night in!
The bathrooms are modern and comfortable with tons of storage and of course, custom-tiled showers. This is just one example of what you will find in this home layout.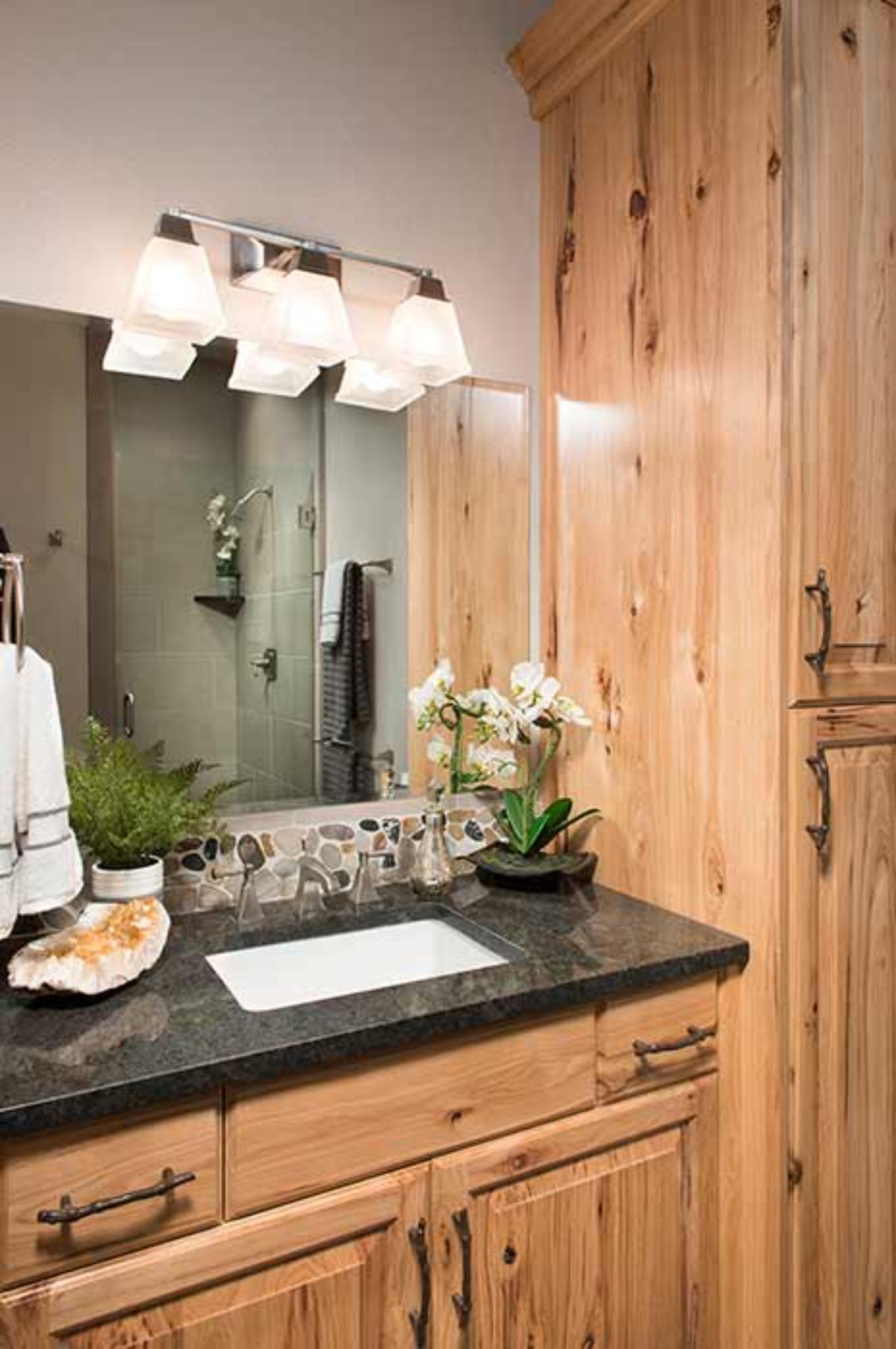 And the master bathroom also includes a small vanity with an area for a stool. The ideal place for doing your makeup or hair!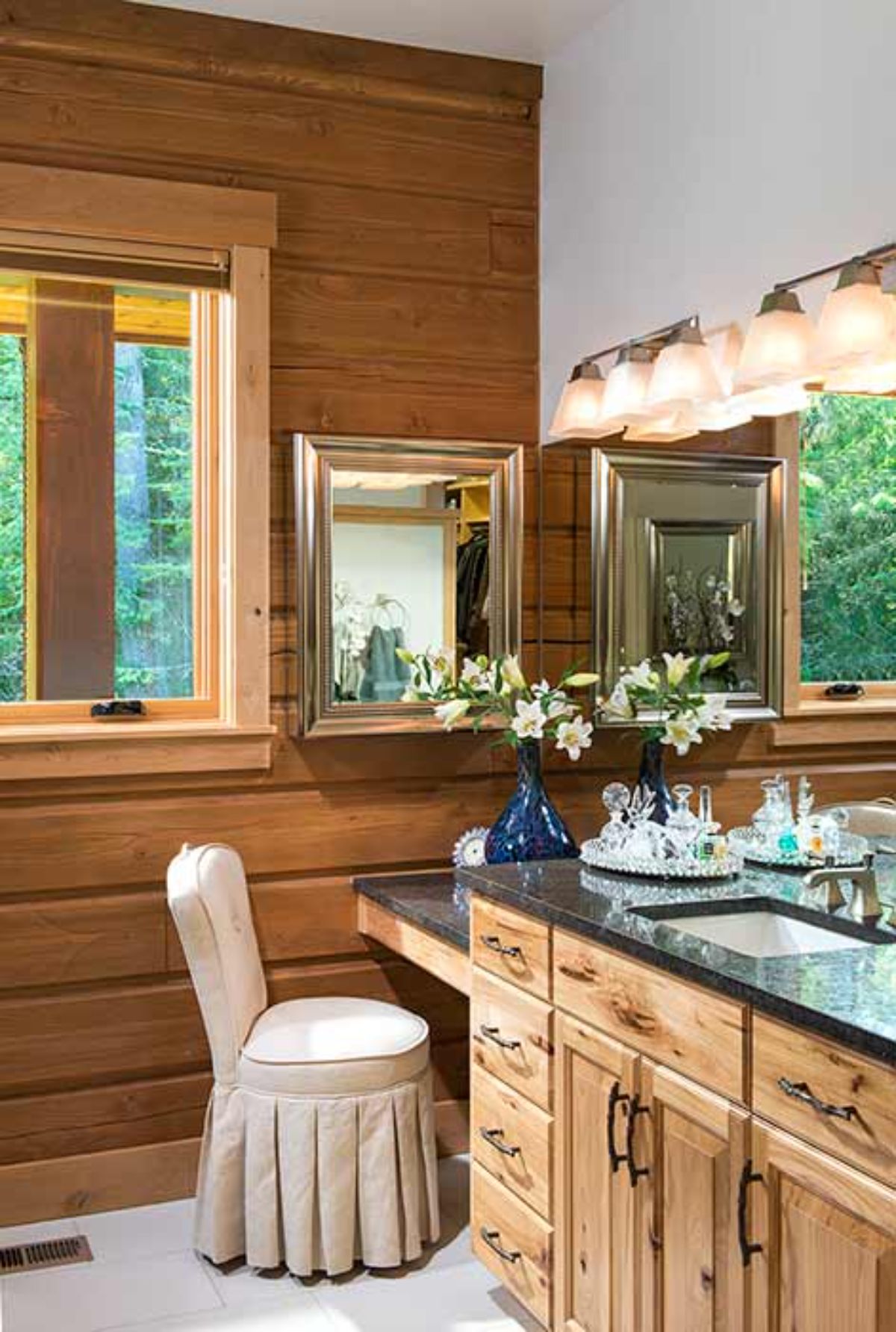 And this stunning shower is wall-to-wall tile with a beautiful bench seat, some corner shelves, and two showerheads for the real spa experience.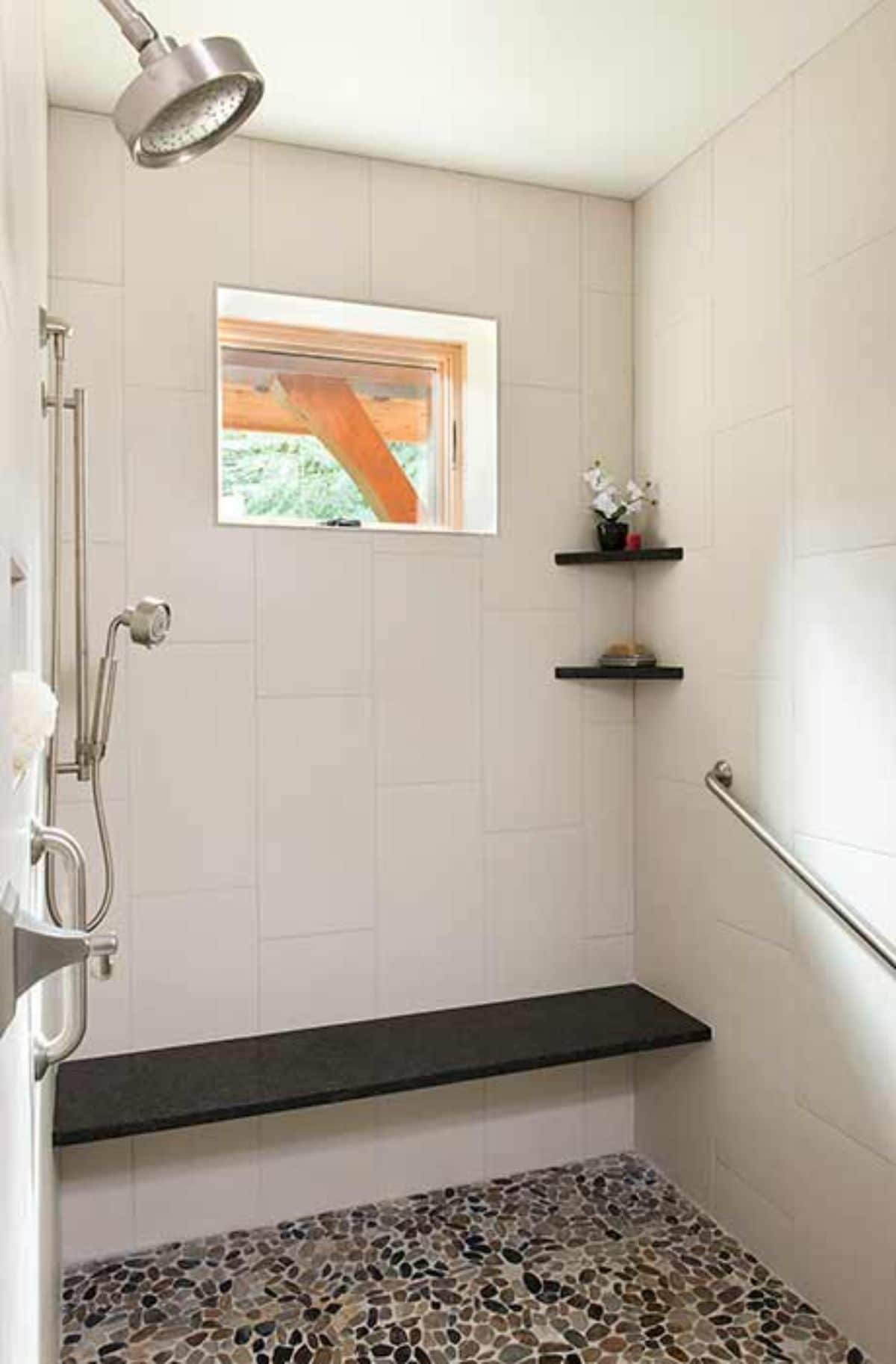 For more information about this log cabin build, you can find all of the information on the Precision Craft Log & Timber Homes website. You can also find them on Facebook and Instagram for more regular updates. Make sure that you let them know that Log Cabin Connection sent you their way.
More Log Cabin Kits and Tours