Luxury comes in different forms for different people, and the Fairview log cabin is a home that I truly would consider a luxury home. Why do you ask? Because of the absolutely breathtaking style and of course, the indoor pool. In our home, that's a luxury we have dreamed of for years!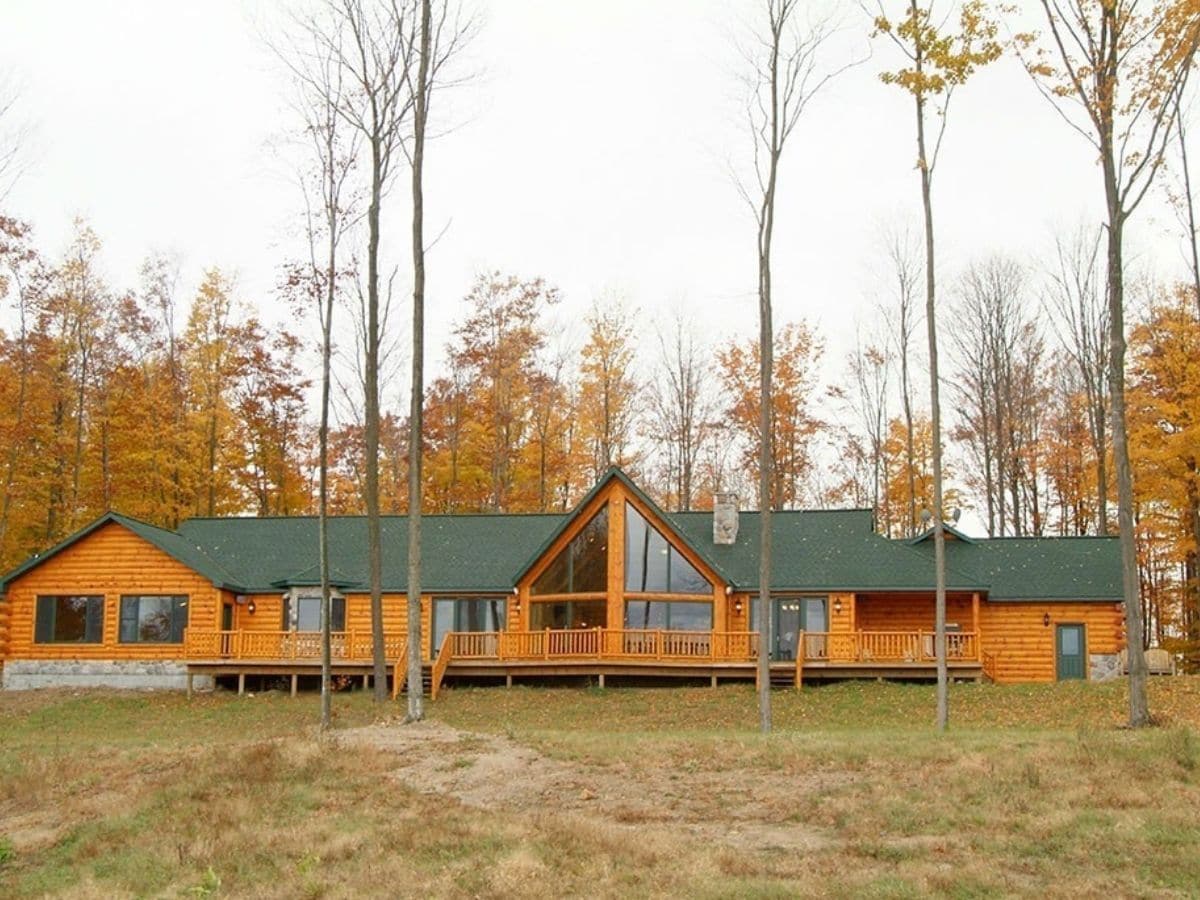 Woodhaven Log prides itself in quality builds, and this home is definitely a great example of that hard work. With half log pine exterior, a stunning cedar railing on the back deck, and accent pieces throughout the interior, it is one example of beauty using basic styles that really draws you in.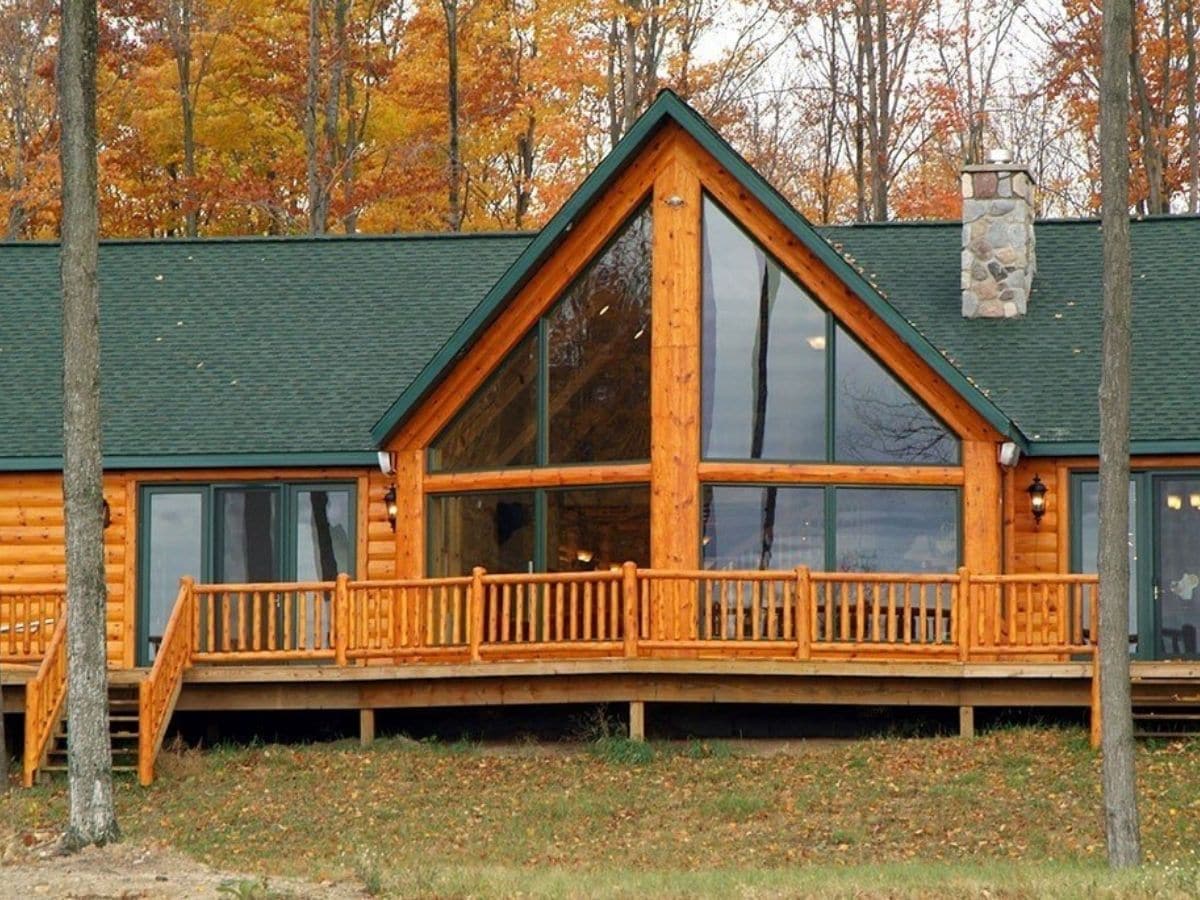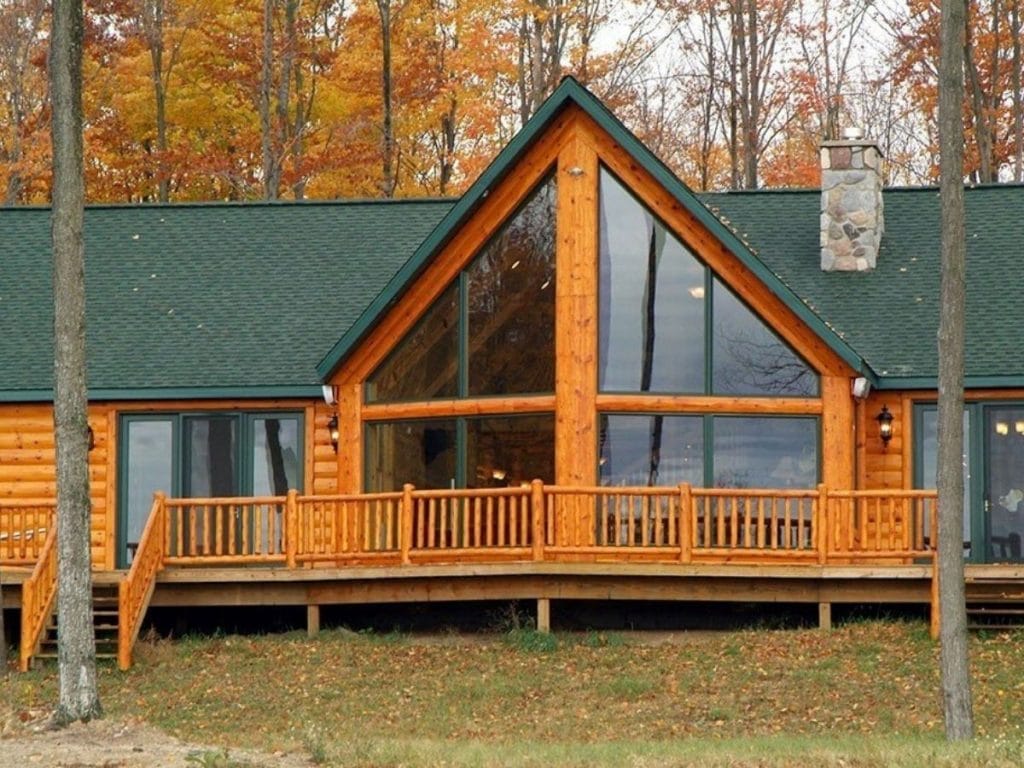 This home, located in Michigan, is made of 3x10 hewn log siding with butt-n-pass corners. A classic home with cedar accents that is sure to be a beloved family home or unique vacation home.
Below you see the seamless transition from the pine siding to the cedar railing on the porch at this entry. Quality, beauty, and incredible craftsmanship are exhibited in every inch of the Fairview home.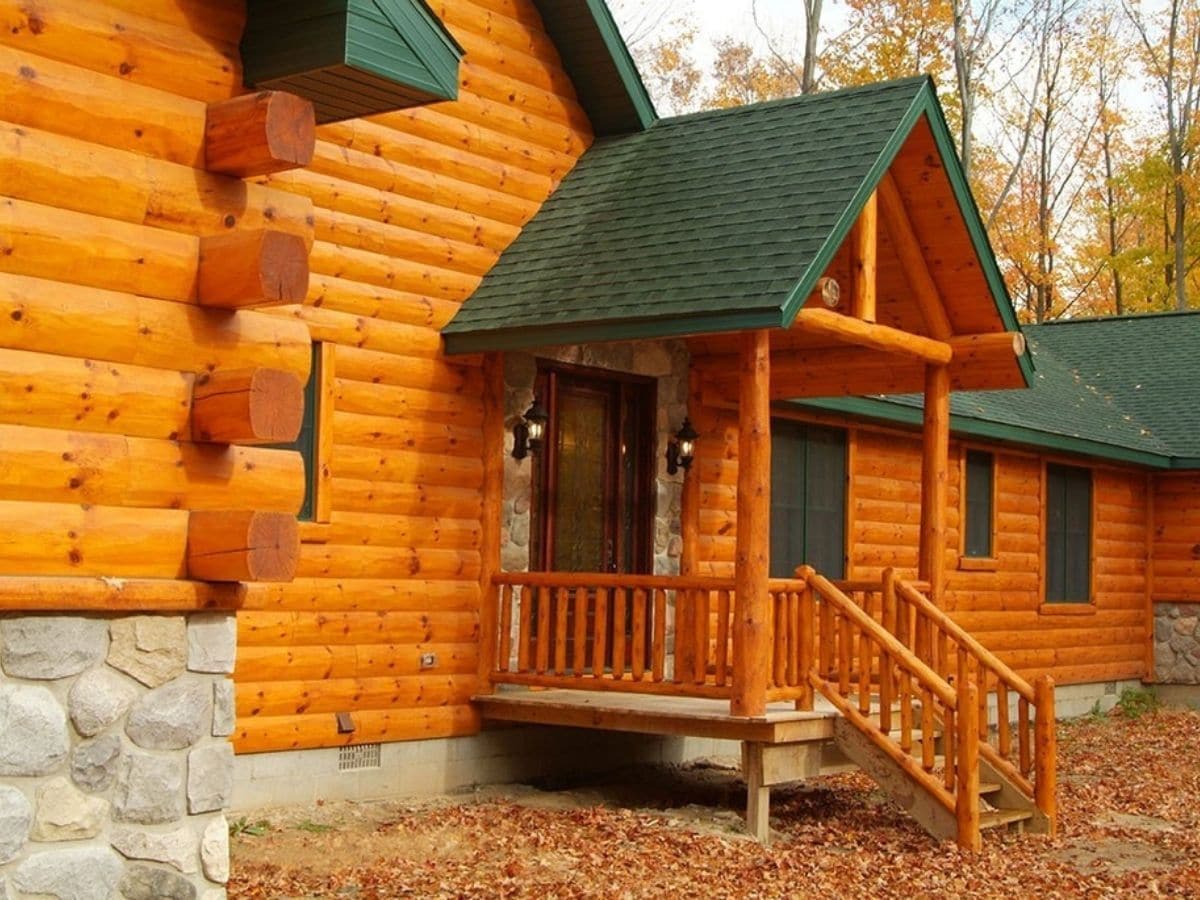 The butt-n-pass corners are perhaps my favorite part of any log cabin, and this one definitely showcases this style beautifully throughout the outside and even some inside spaces of the log home.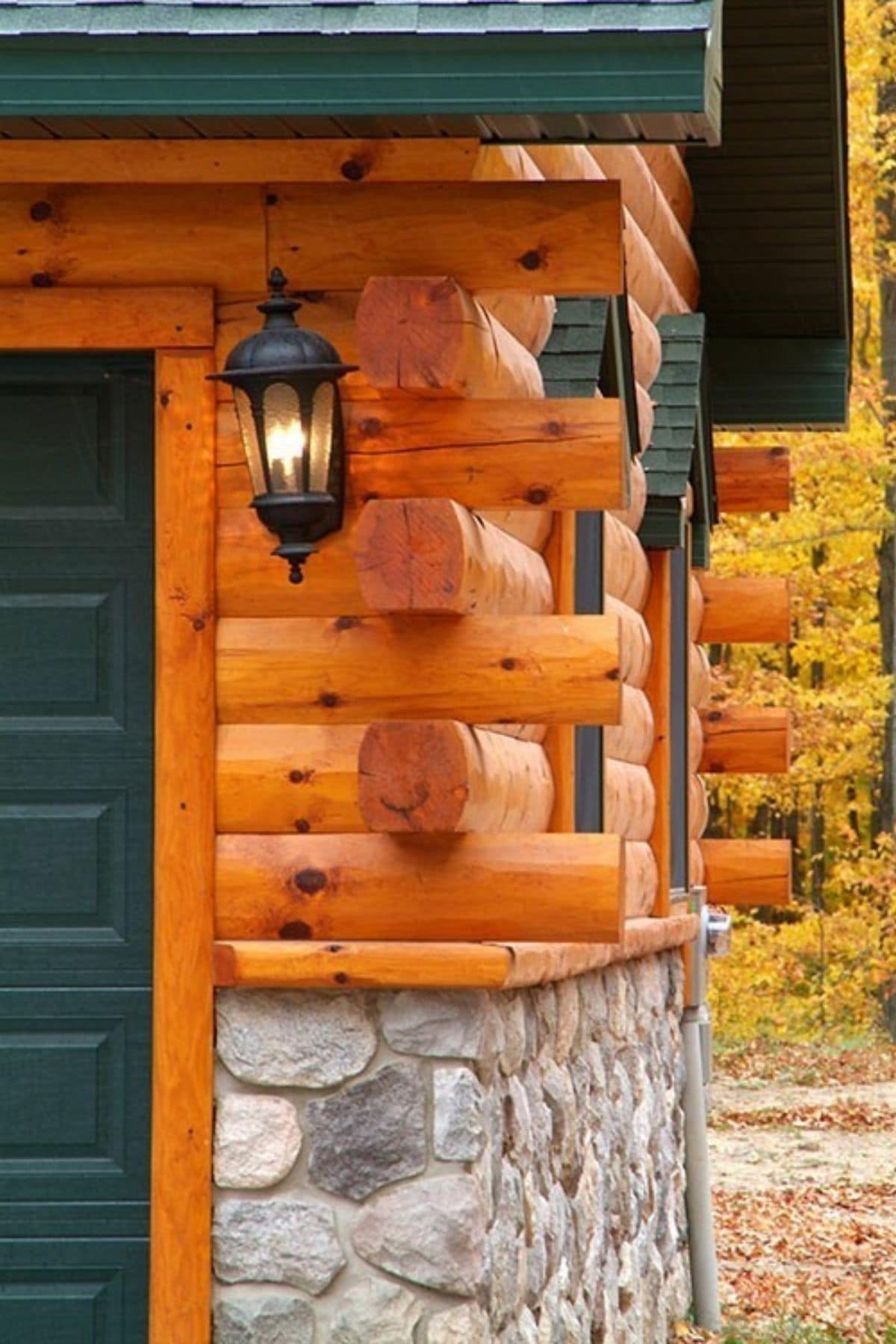 The decks on this home are beautiful, but one of my favorite things has to be the cedar railing. Hand-hewn and perfectly tailor to match the stain of the home, this really adds to the quality and beauty of the Fairview cabin.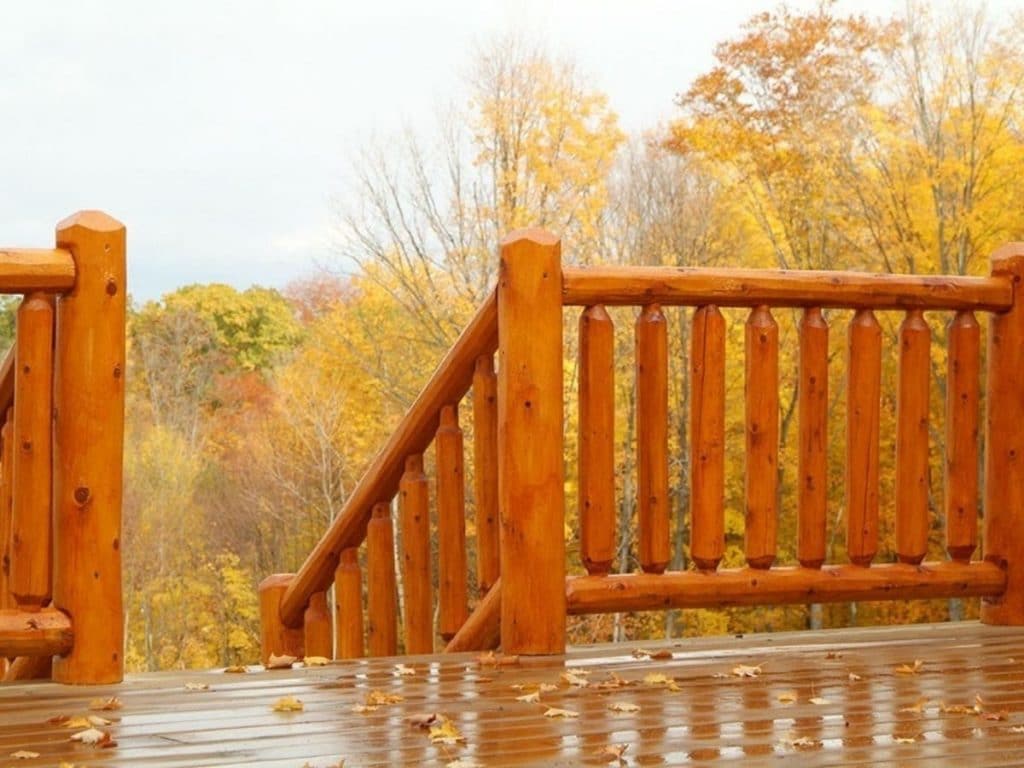 Inside this log home, you are greeted by the light blonde pine paneling and ceiling with half-hew long walls, paneled ceiling, and tons of gorgeous accents including this dark wood stained floor.
The entry opens up to showcase the great room but also right below the loft and the stairs leading up to the open loft. Unlike most cabins, this loft is just an open space and not used for bedrooms.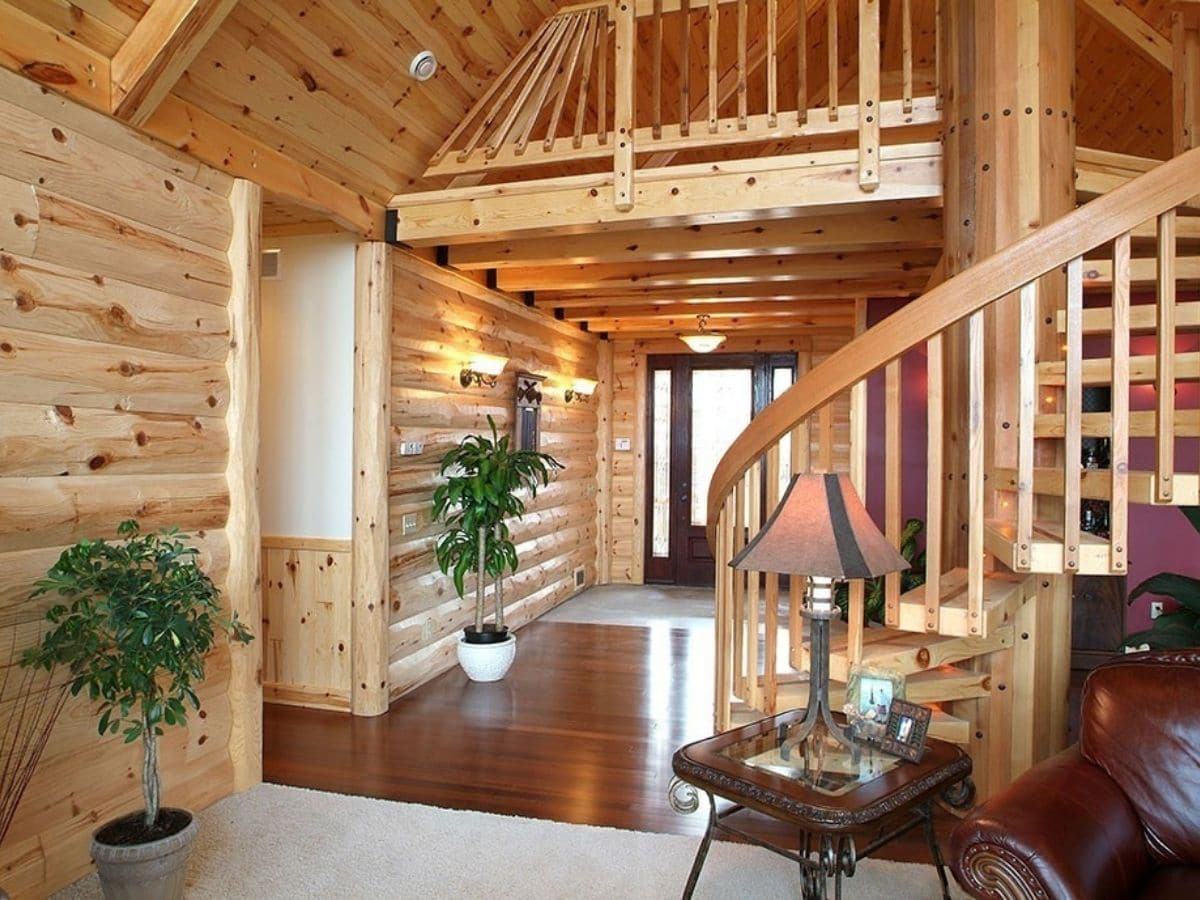 The great room here is one of my favorites I have seen so far. The floor-to-ceiling windows on the back wall are absolutely gorgeous. Of course, that Michigan view outside is spectacular, but no matter where you are located, this is beautiful.
On the left side of this image, you can see the stone fireplace. While the fire3place is stone, the mantle is a beautiful log addition that brings a nice fusion look to the space.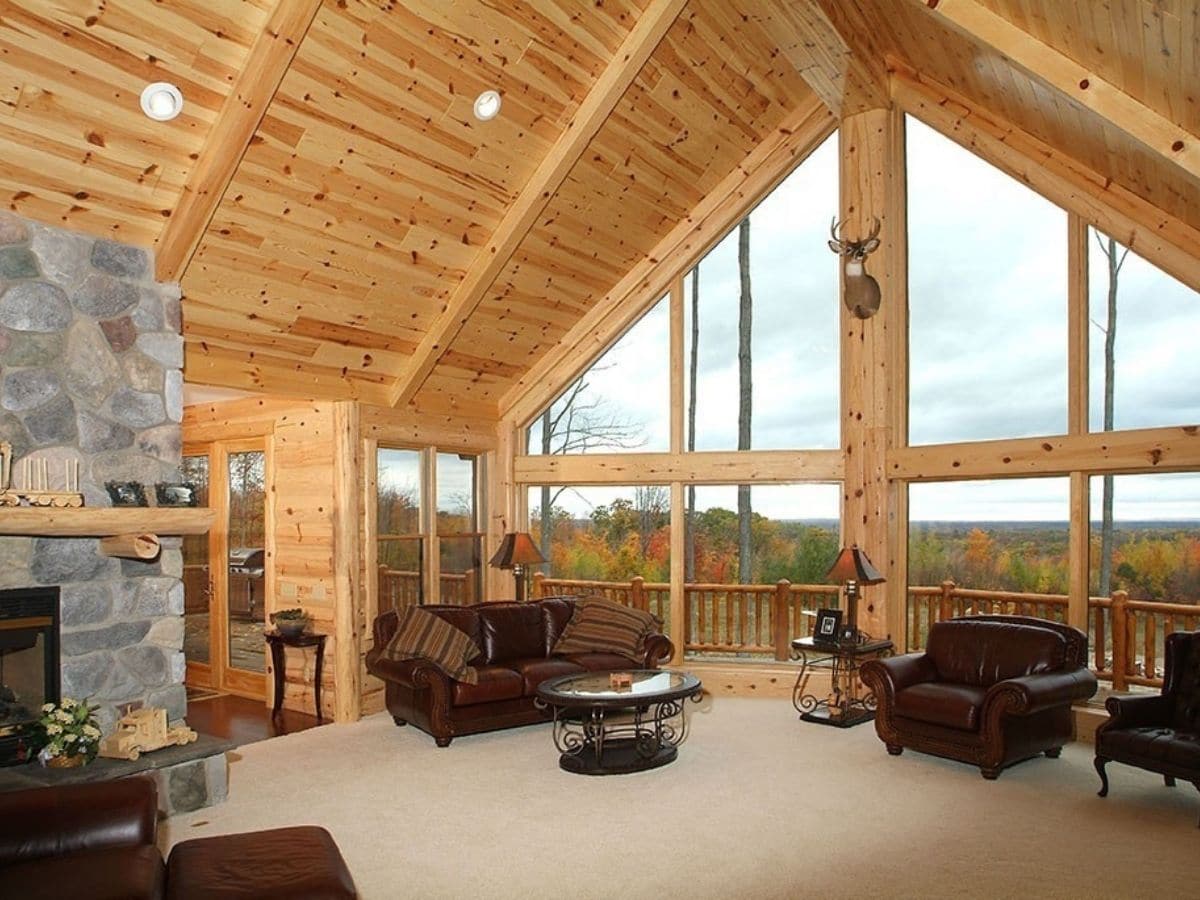 One of my favorite things in any home is an open loft. This one is beautiful and can be used for many different things. The spiral styled staircase is one favorite part of the room, but I also really love that it is open to the rest of the home. You could make this a reading nook, home office, kids game space, or just a family room with television and game systems.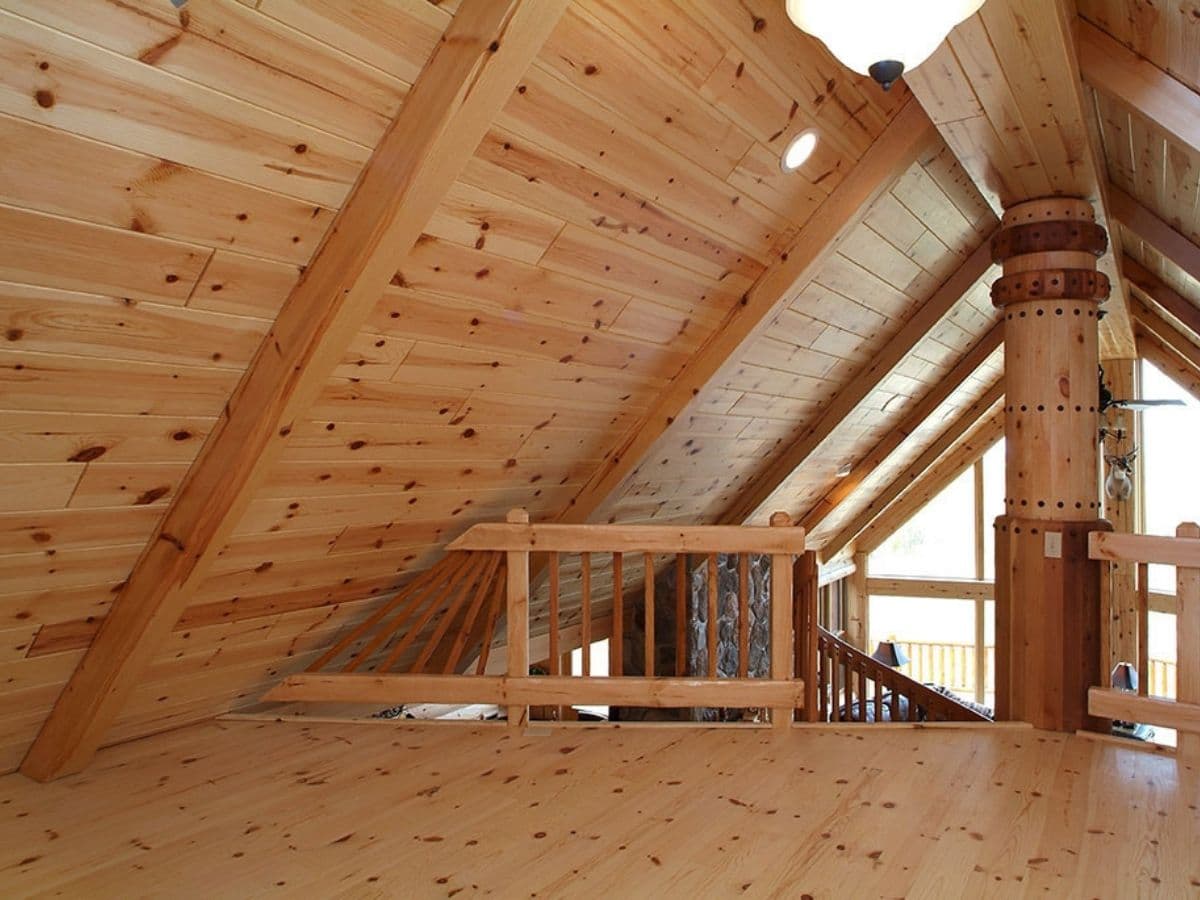 I absolutely adore a kitchen that combines rustic and modern. This log home kitchen has gorgeous cabinetry right next to the modern appliances. Above the cabinets are these open spaces made perfectly for displaying your unique kitchenware. Plus, I really love the frosted glass door on the pantry beside the refrigerator. Plus, this kitchen has a bar on one side for a simple little breakfast nook.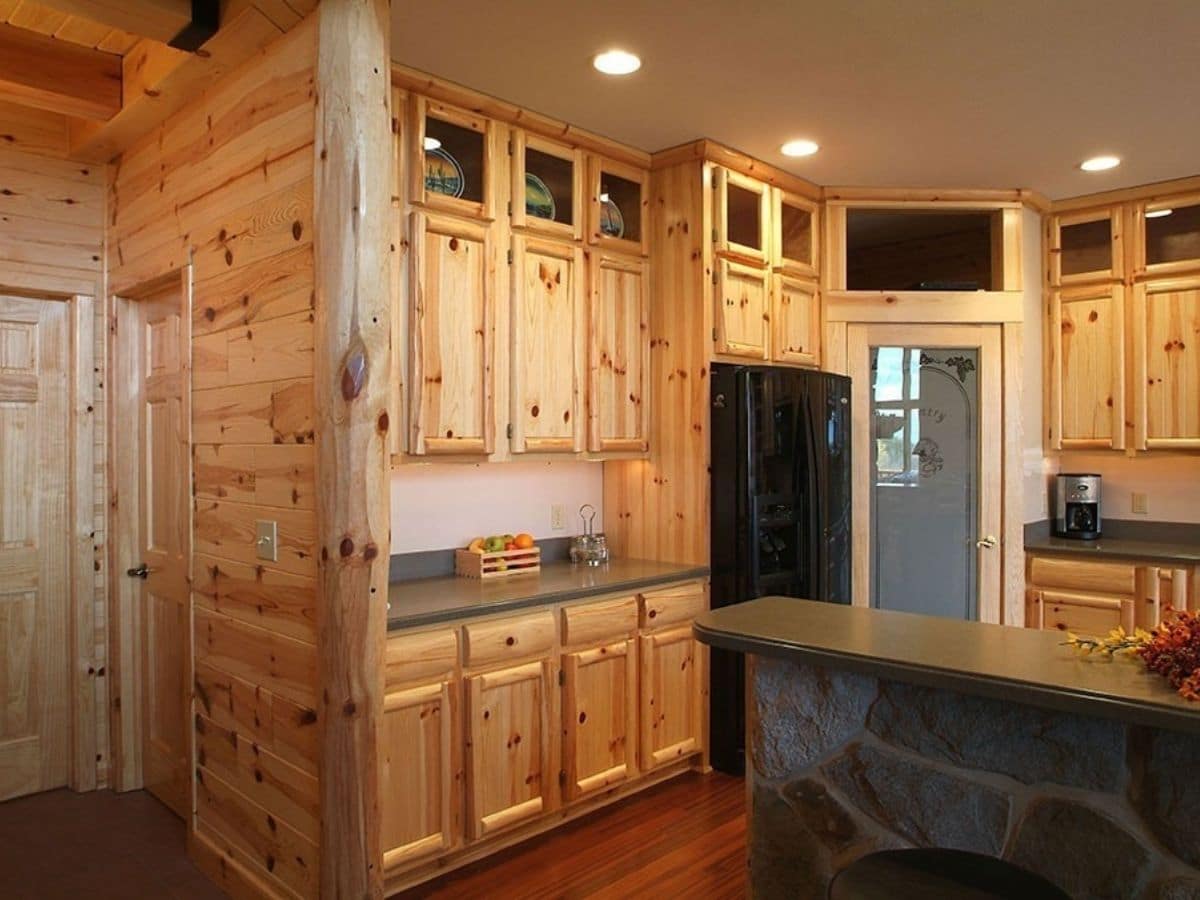 In the bedrooms of this home, you will find a unique combination of rustic wood and a modern drywall look. This uses half walls with trim around the windows to showcase the log cabin look but doesn't make the space look too rustic, instead of a beautiful blend of modern and old-school styling.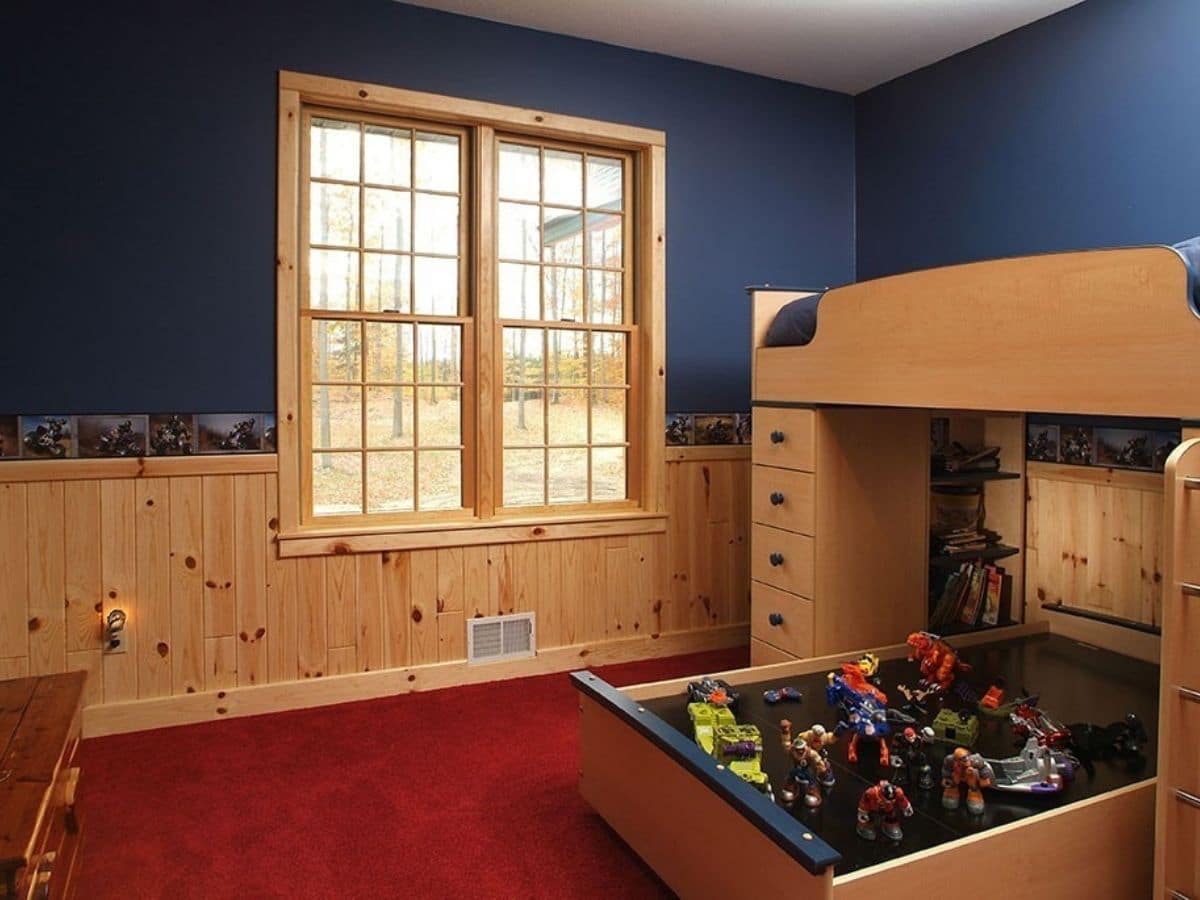 Of course, this home has truly gorgeous bathrooms as well. This master bathroom has a unique wood base around the jacuzzi bathtub. Once again showcasing that you can combine rustic and modern together easily.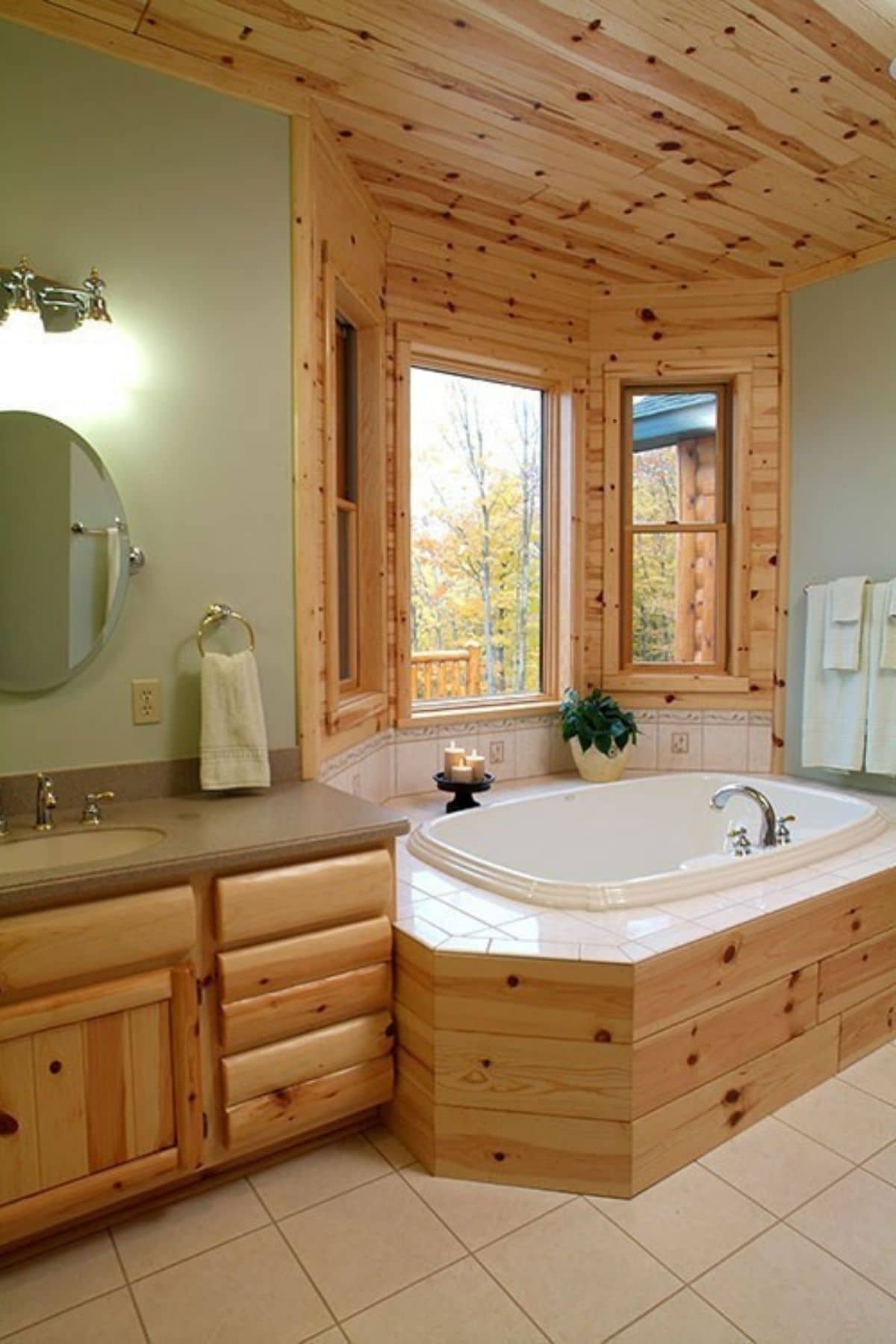 And of course, the part of this log home that is my personal favorite. The pool room! Pine walls and ceilings surround a beautiful pool with a hot tub. If you are a family who loves swimming, Michigan can be a bit hard to manage that in the winter. So, an indoor pool is an ultimate solution!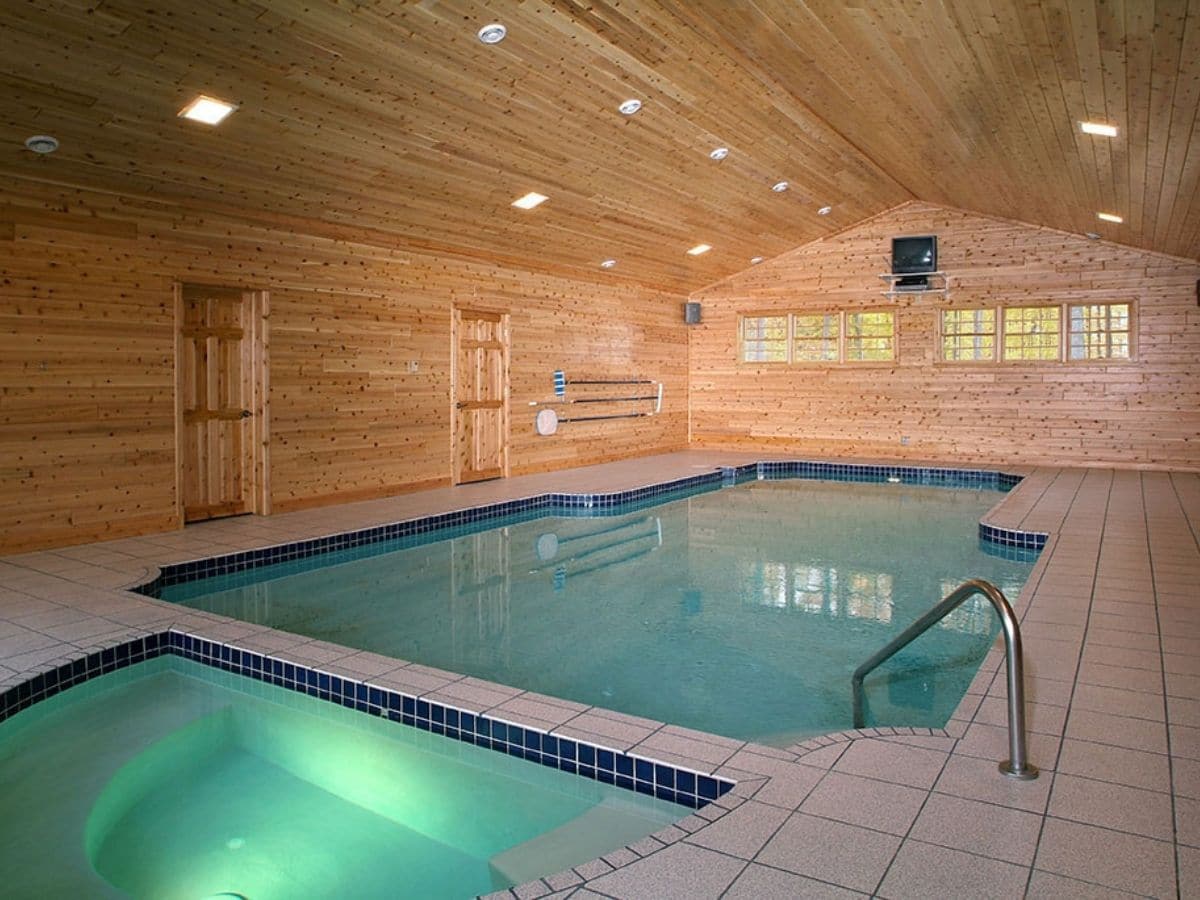 If you want to learn more about the Fairview log home or other similar styles, check out the Woodhaven Log & Lumber website. You can also find them on Facebook, Instagram, and YouTube with more about their latest builds. Let them know that Log Cabin Connection recommended them!
More Log Cabin Kits and Tours