The Drummy log cabin is a true step back in time with a few modern extras. These beautiful smaller log cabins was built as a perfect space for kids and grandkids to stay when home for the holidays. I love the style, size, and the thought put into making this a welcome place to get away to for a weekend.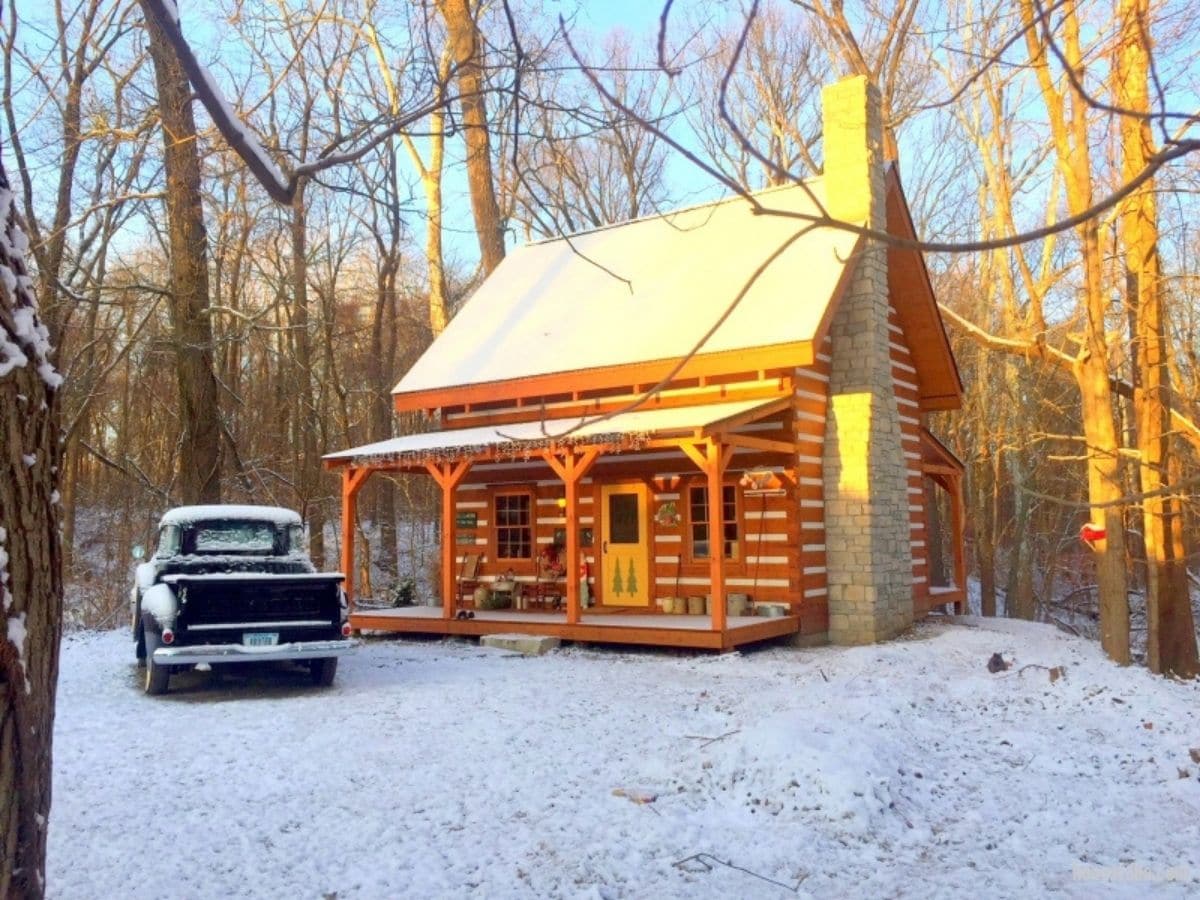 Log Cabin Size
750 square feet (500 main floor with 250 in loft)
2 bedrooms
1 bathroom
Log Cabin Features
Extended covered porch space.
2 loft bedrooms with room for multiple twin beds for the grandkids and a nice overlook from the stairs to the main living space.
Rustic stone fireplace.
Open floor plan with dining room adjacent to living room.
You can read the full story of this log cabin's design here and learn all about the couple who had this built and how they determined what was needed.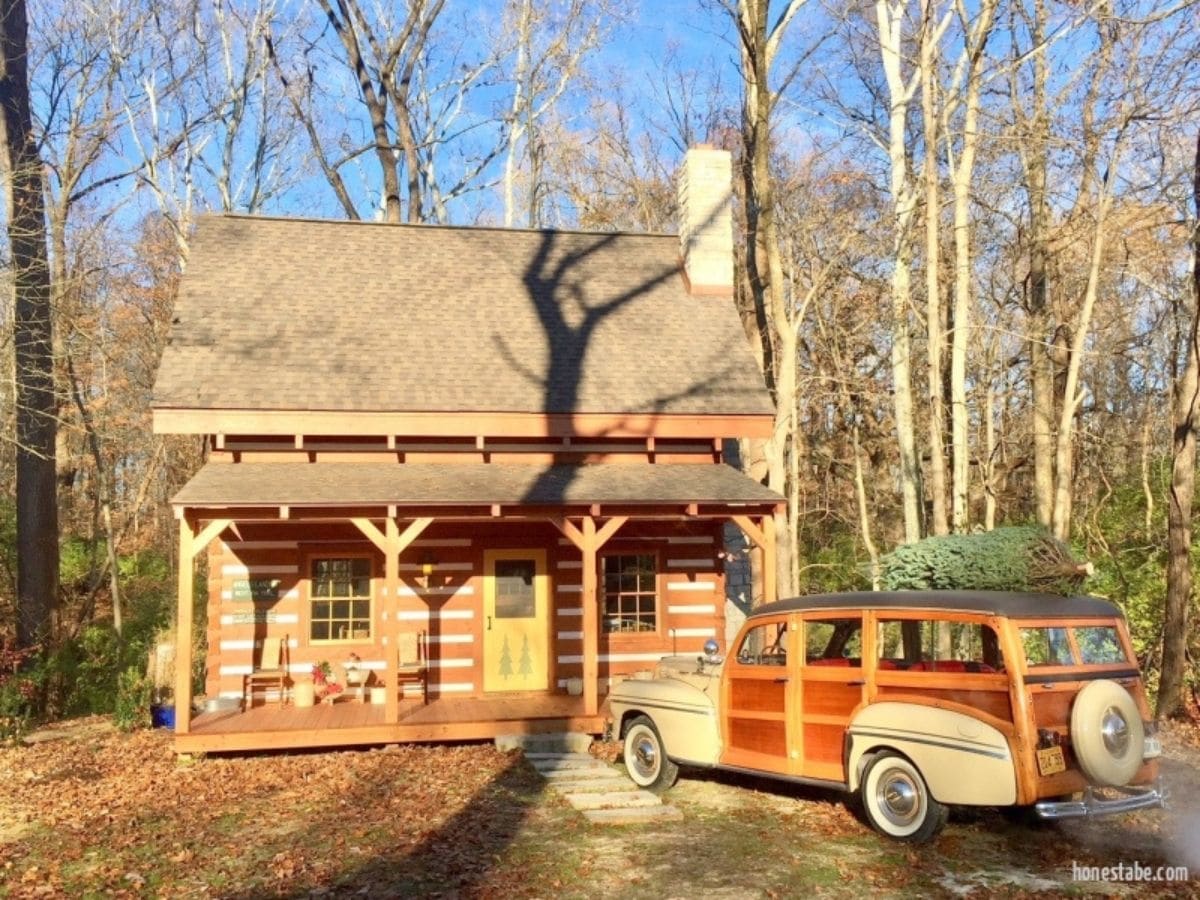 The moment you see this home you know it is going to bring back all of those memories of cozy childhood holidays in front of the fire opening presents. Whether you are looking for a guest home such as this, or a permanent residence, the 750 square foot cabin has tons of potential.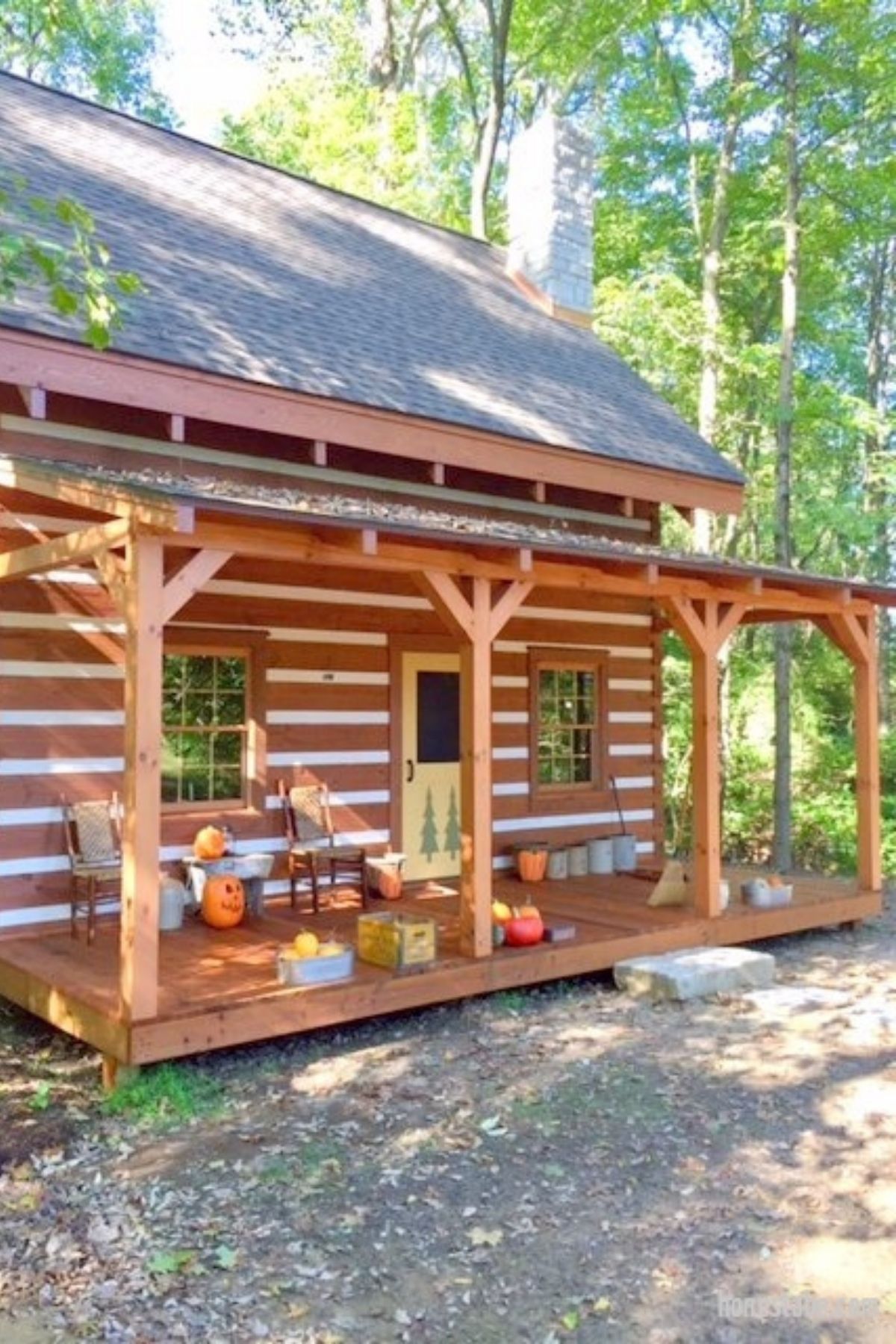 The home has two floors with the main floor at 500 square feet and the loft bedrooms around 250 additional square feet. On the main floor, you have the living space with a dining nook, living area, and bathroom with an open floor for adding a kitchenette or just more seating.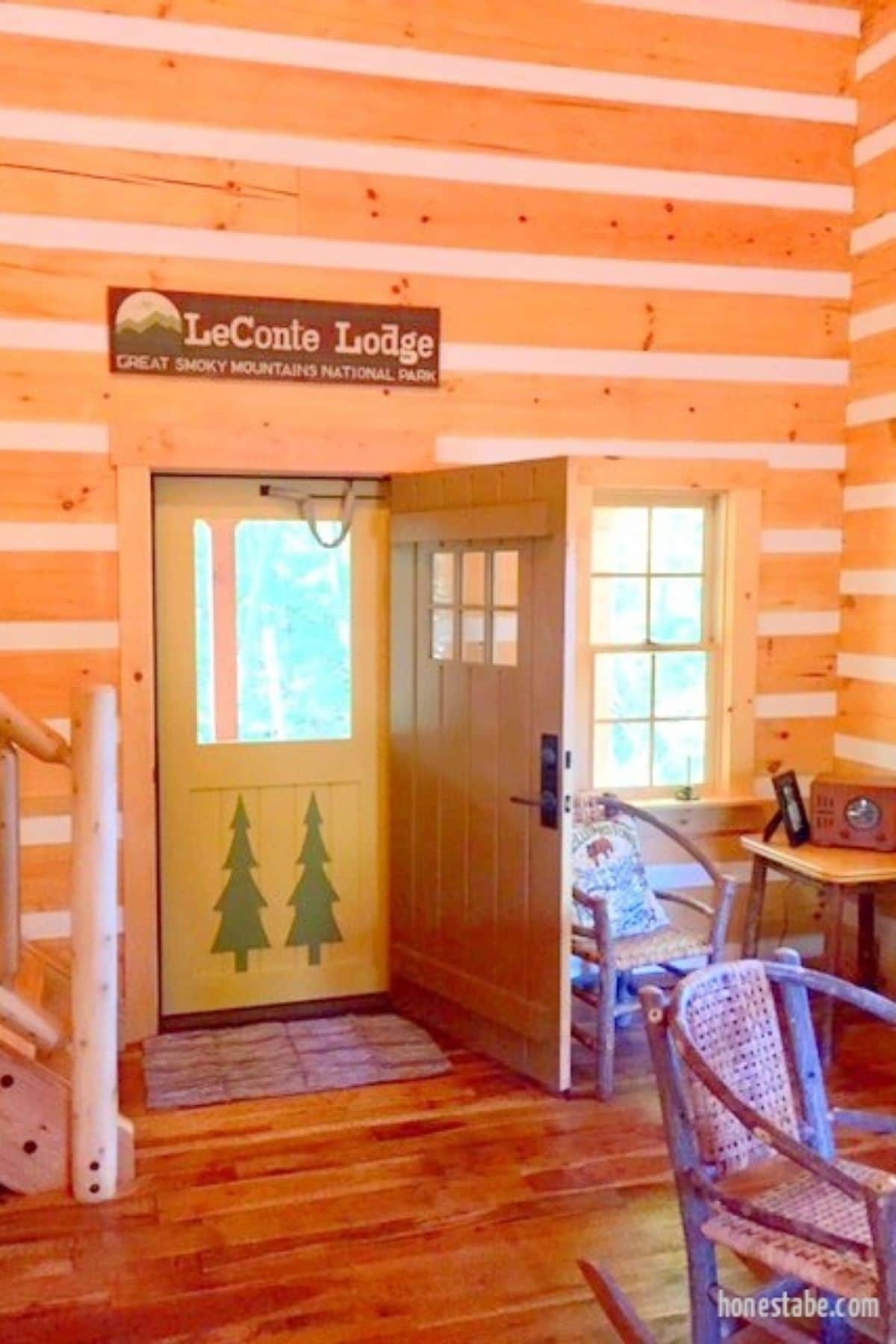 The stone fireplace really adds that comforting feeling in the living space and is perfect for snuggling up in front of the fire with a good book. Of course, I really adore the fact that they have decorated and included things like a table in the corner with a classic radio.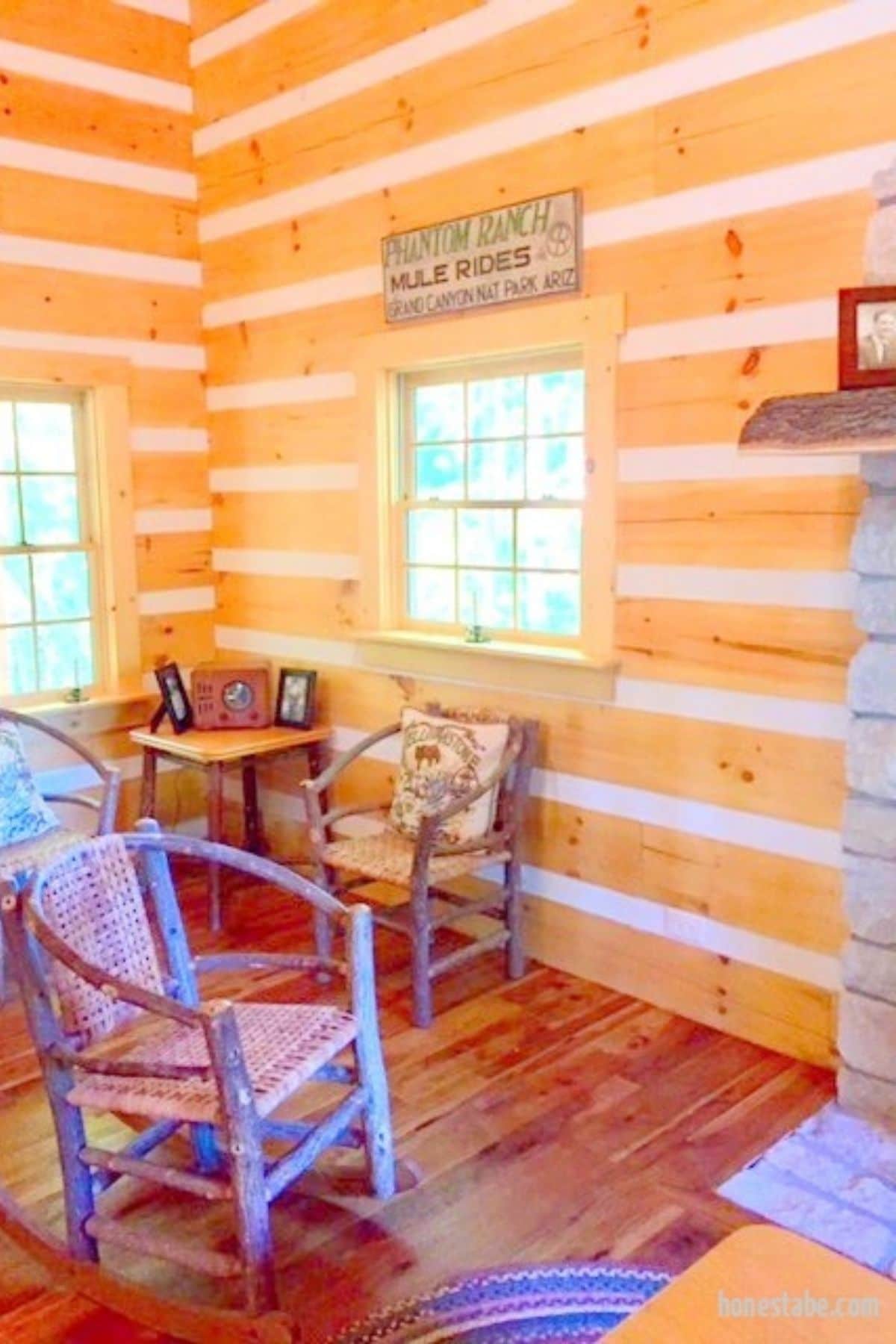 On this side of the front door is the dining area. This has a small hutch and buffet next to the table. It is really designed for snacks and simple items and doesn't have a stove, sink, refrigerator. That said, you have tons of space here to add a kitchen if you wish.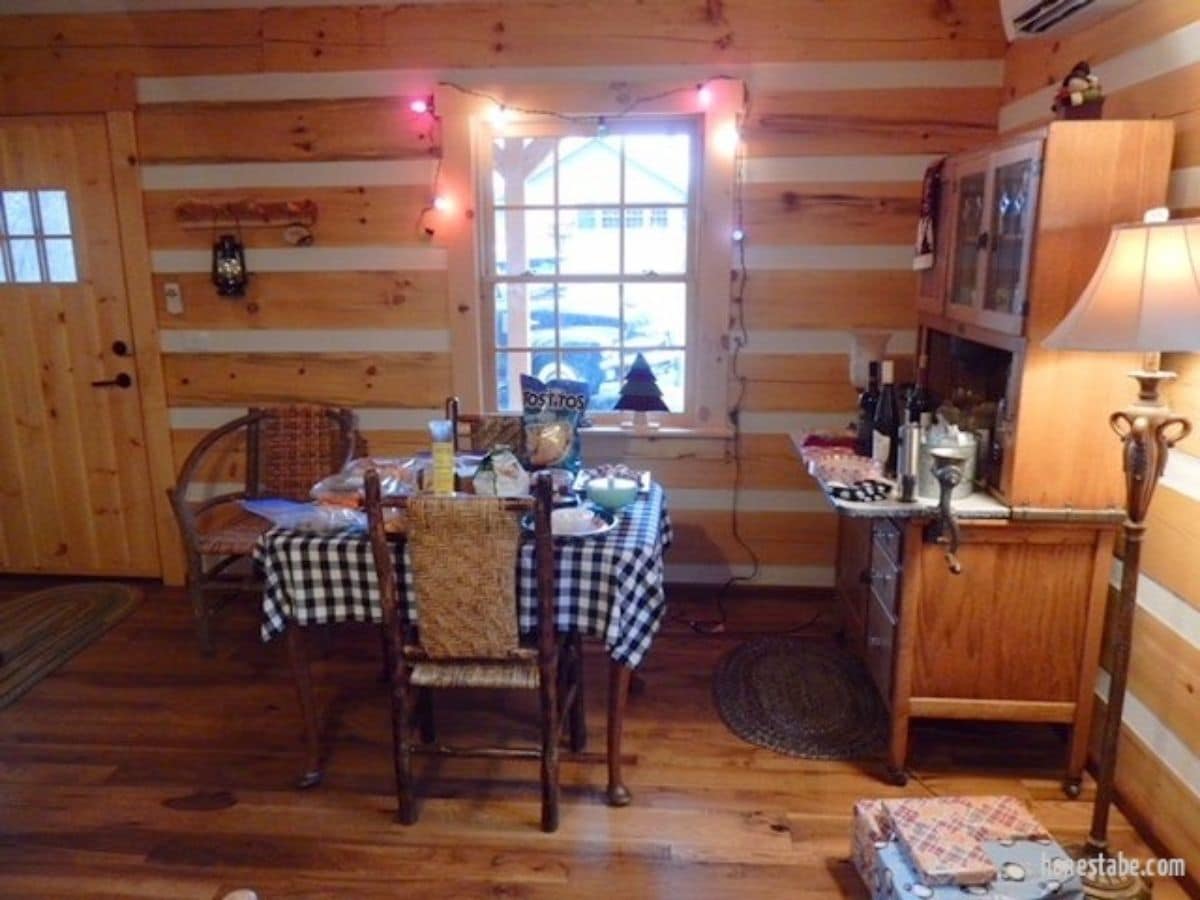 I can't deny how much I love this vintage buffet though! It's unique and perfect for family gatherings!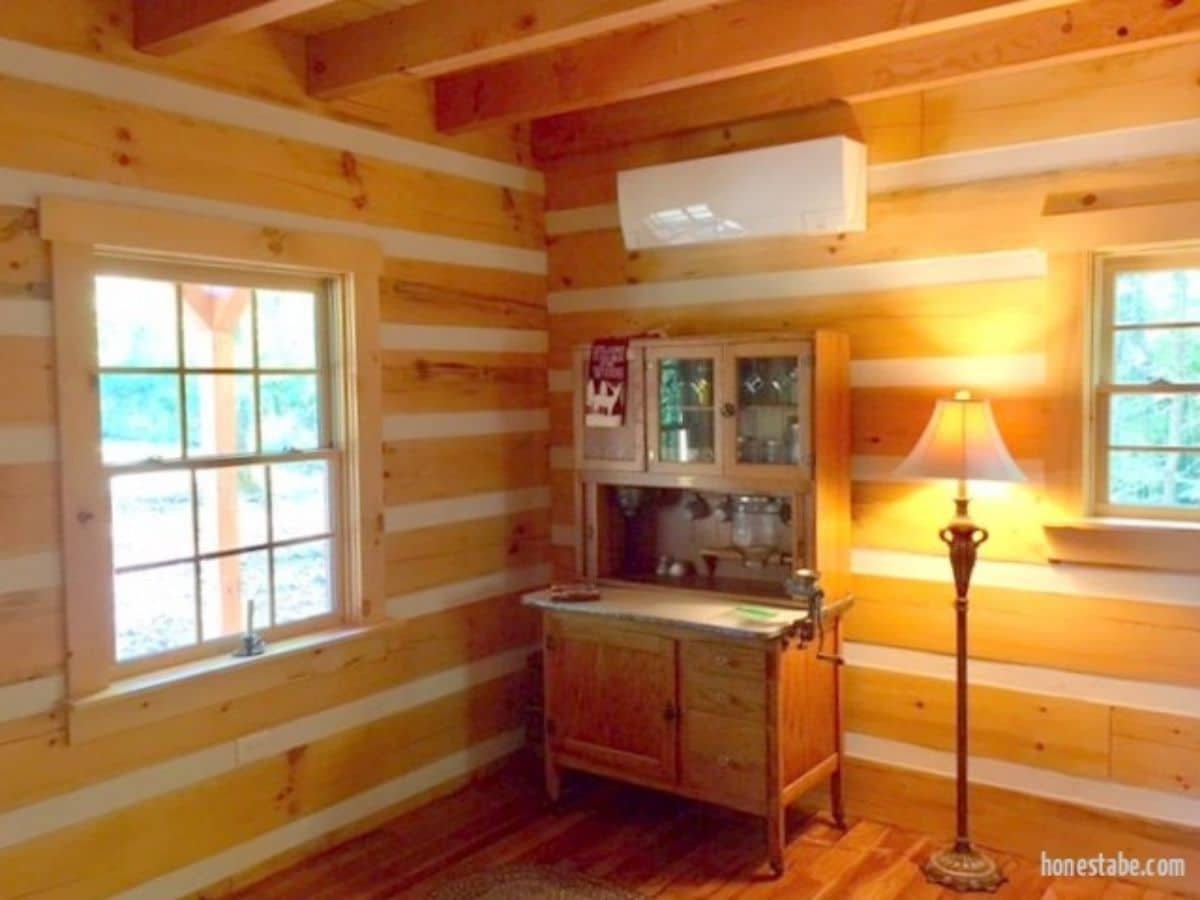 Just check out how cozy this space looks during the holidays! Tons of places for rocking chairs or you could bring in a sofa if you prefer.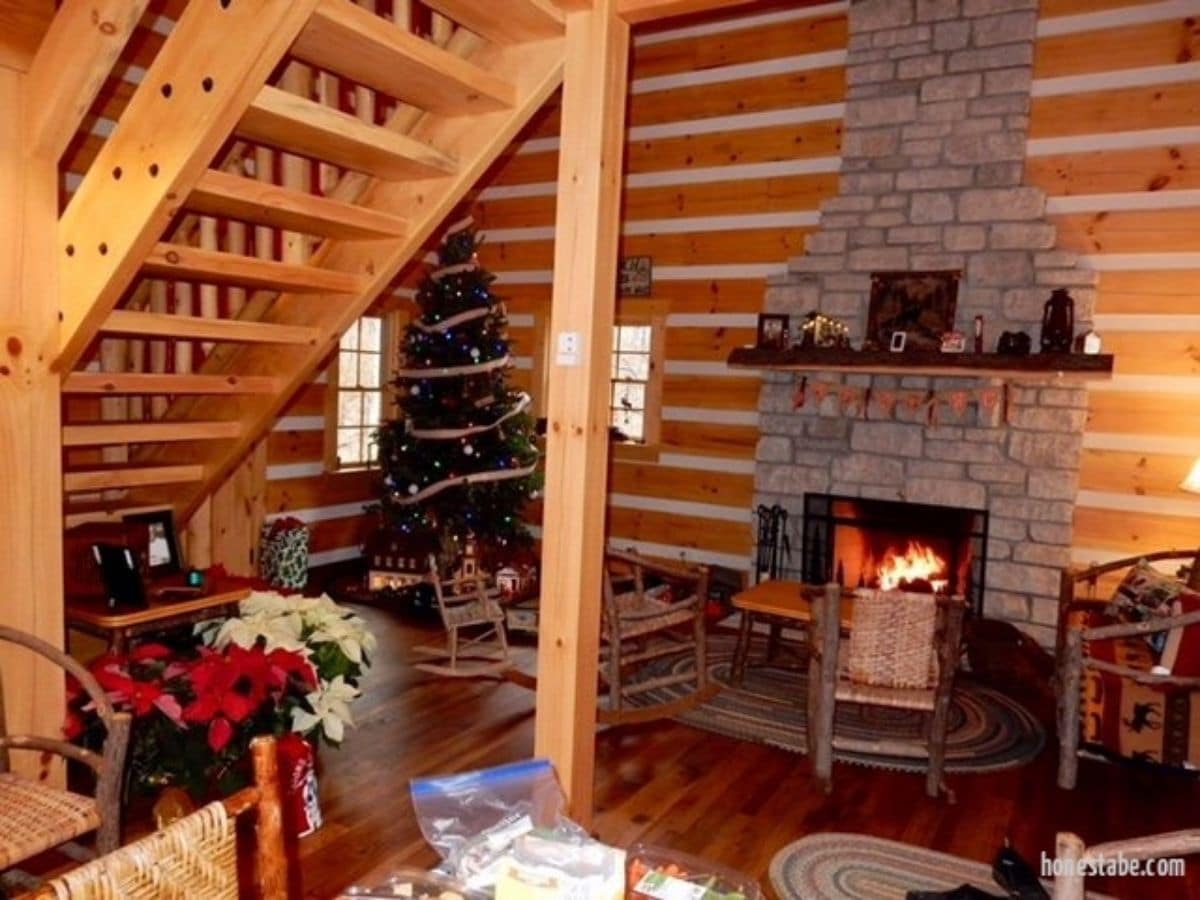 And the rest of the year, it is just as inviting, even without all of the holiday trim and decor! Th fireplace is a perfect place to gather for a game of cards or just to chat.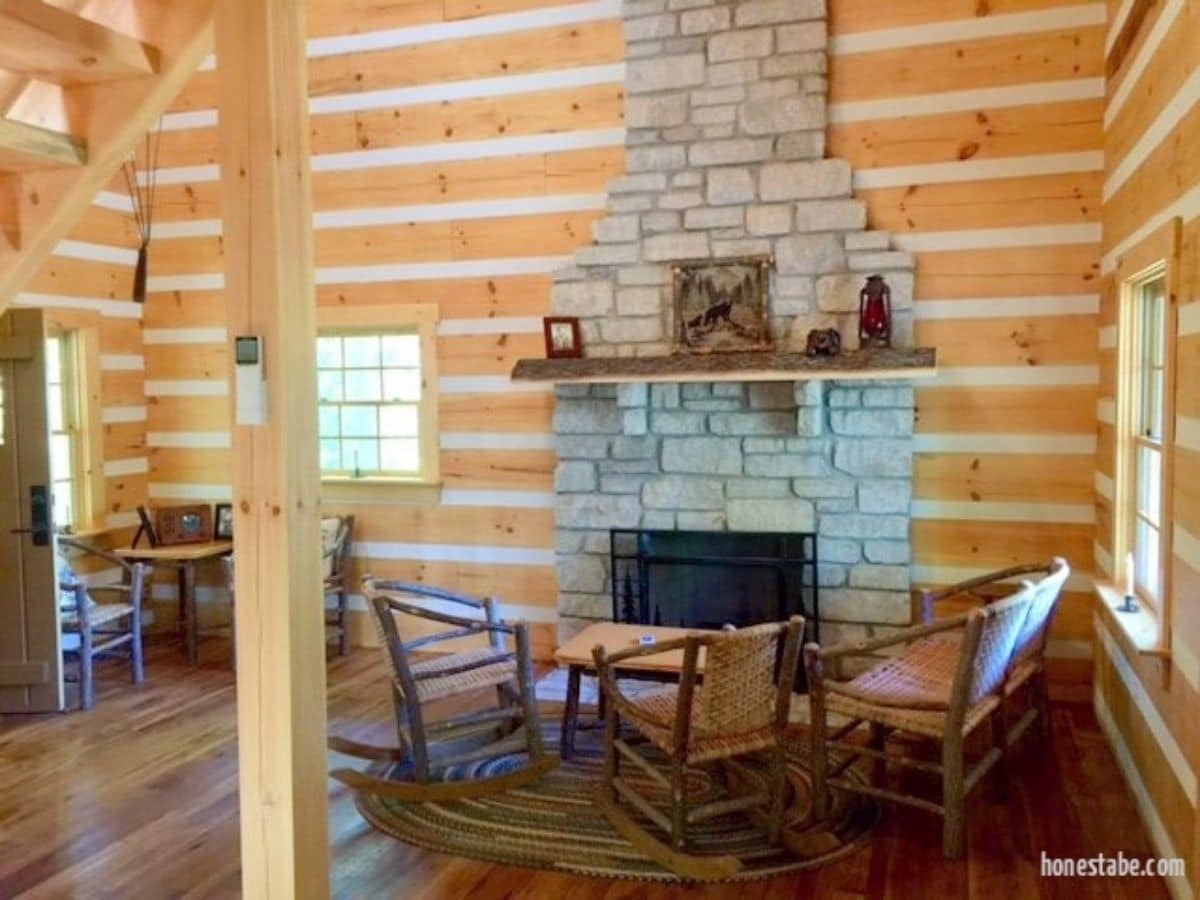 Upstairs are two bedrooms. The first being a "master" bedroom with an nice queen-sized bed.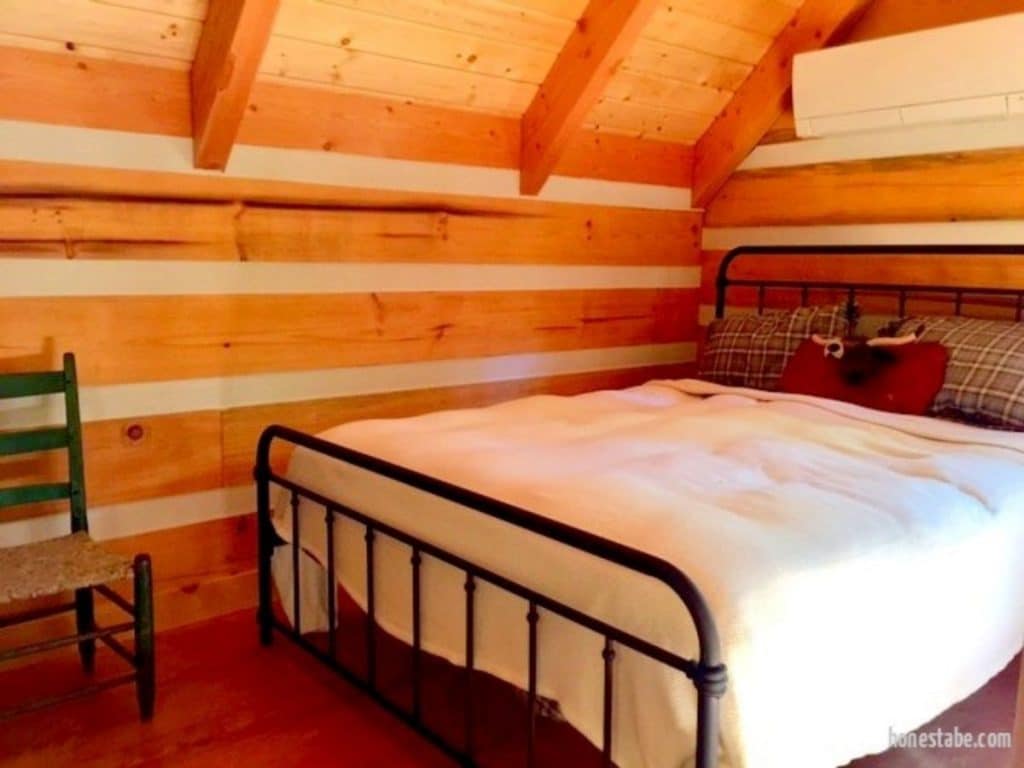 The room is large enough to add a king-sized bed if you prefer, but I like the coziness of this classic bed frame and size.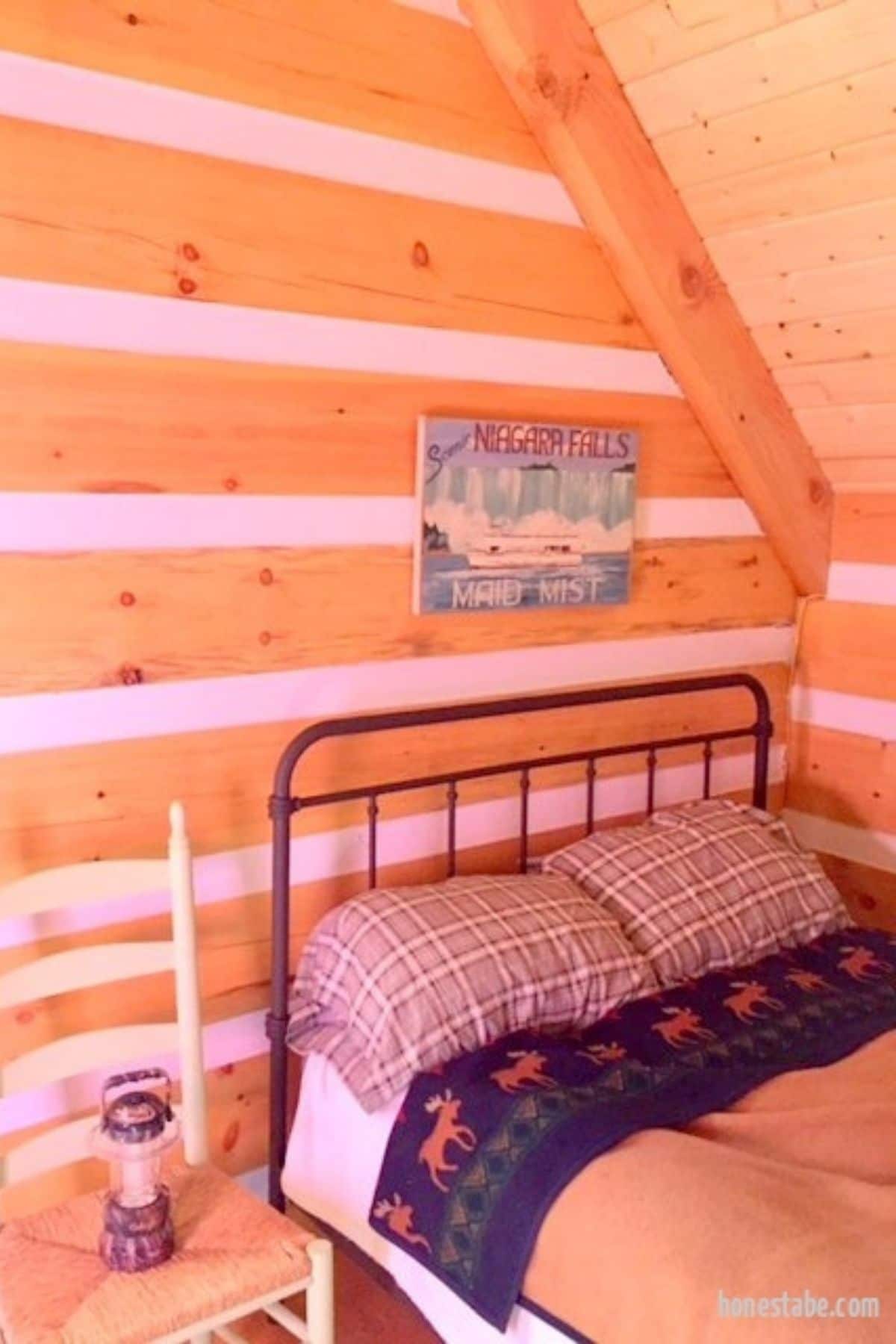 The other bedroom is set up for a kid's room with individual twin and full-sized beds. It's so nice to have this open space here for them with plenty of room for the kids to relax!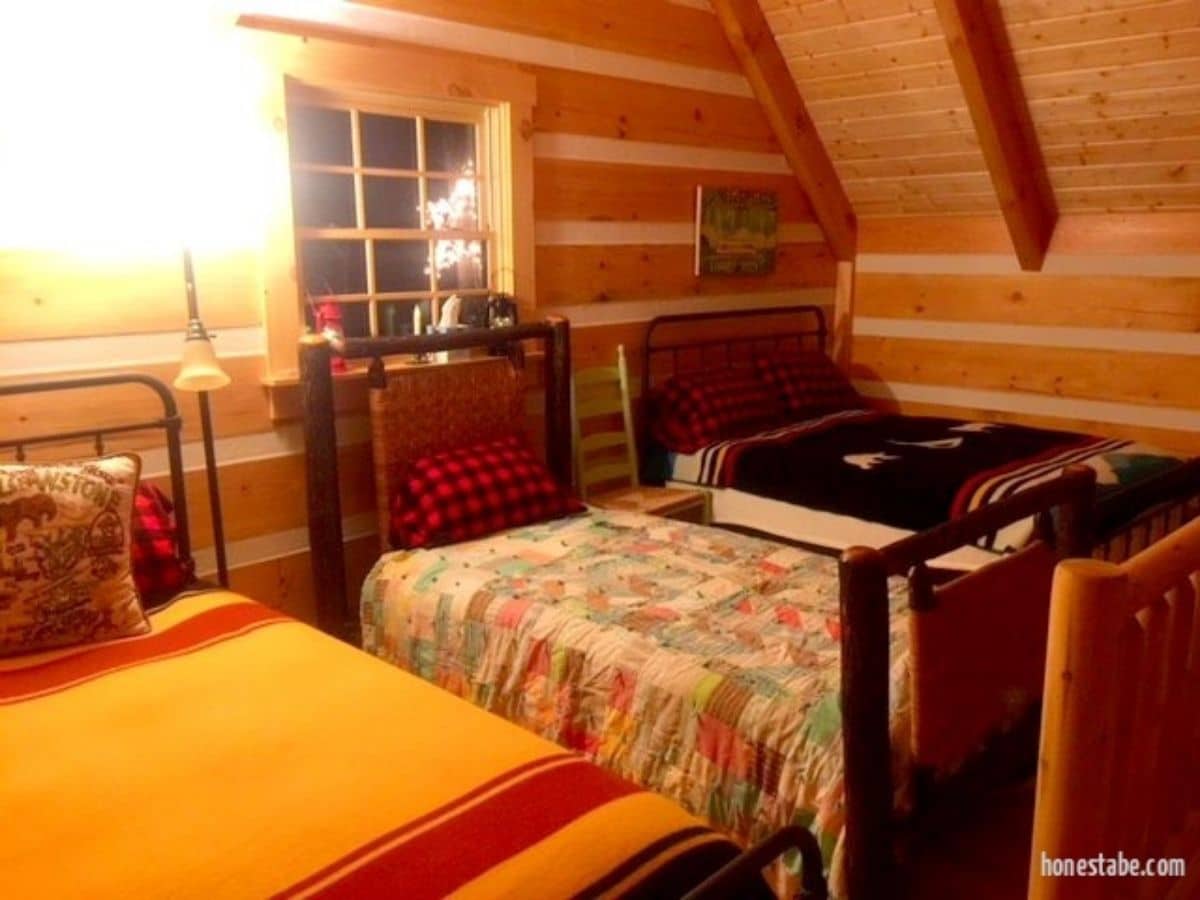 To learn more about this log cabin build or to inquire about your own, check out the Honest Abe website. You can also find them on Facebook, Instagram, and YouTube with more beautiful homes and models to choose from. Let them know that Log Cabin Connection sent you their way!
More Log Cabin Kits and Tours