This classic log cabin style is the stuff dreams are made of. The Clearwater is built with gorgeous logs both inside and outside. Two floors, a large front porch that is covered, and beautiful spaces indoors make this home the perfect fusion of modern with rustic elements you love.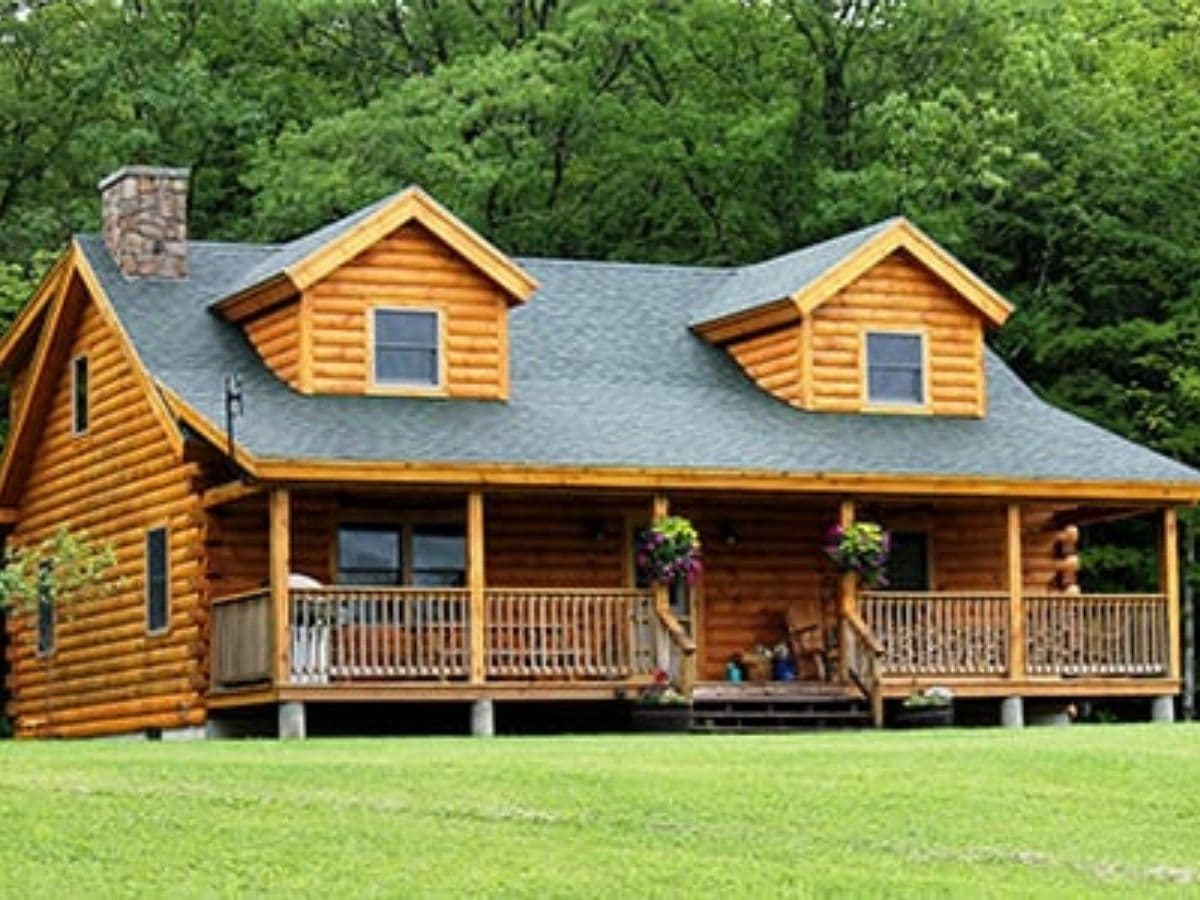 Log Cabin Size
1,586 square feet with 26'x36' footprint
3 bedrooms
2.5 bathrooms
Log Cabin Price
Packages starting at $148,250
Log Cabin Features
Full-length covered front porch.
2 dormer windows on second floor give gorgeous views from the unique bedrooms.
Large modern kitchen with rustic wood background.
Beautiful open living spaces with stone fireplace in living room.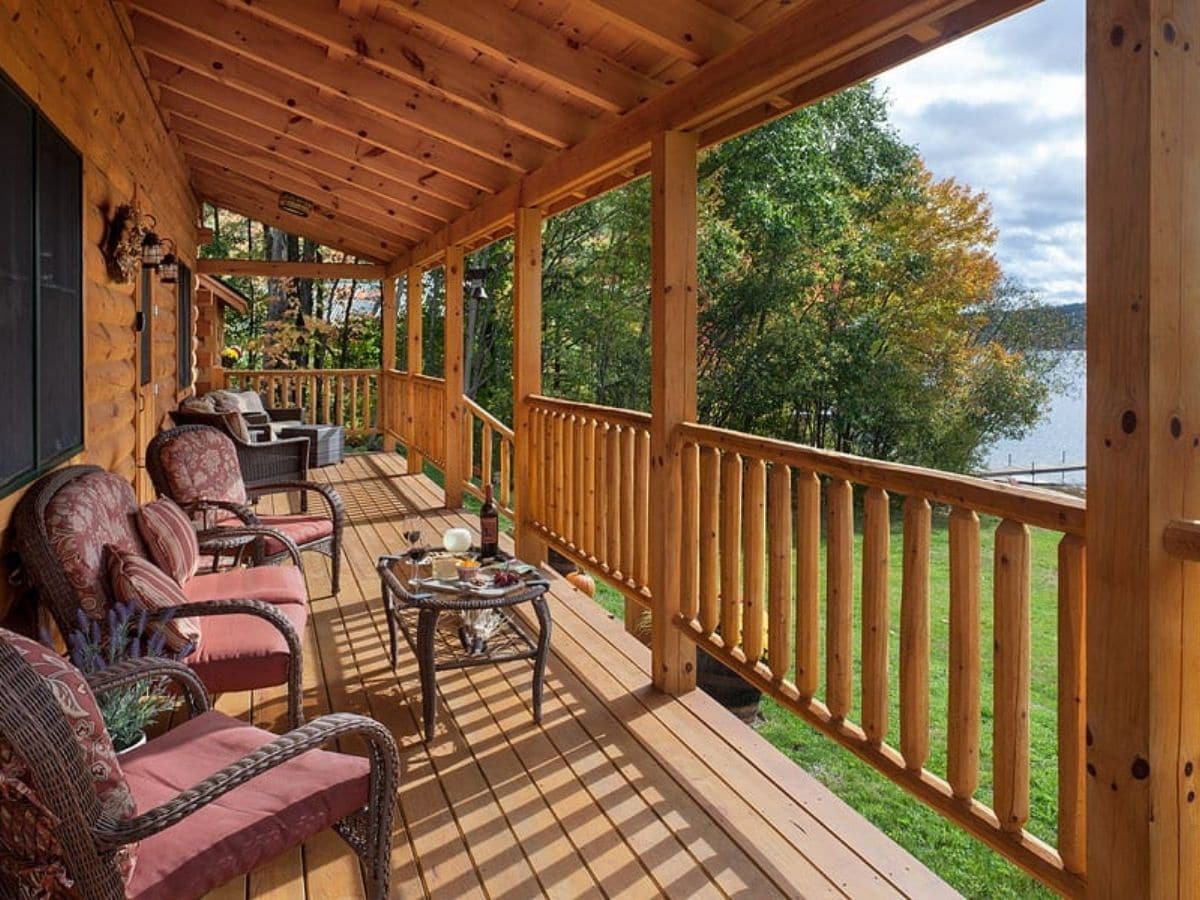 The main floor of the log cabin includes a spacious family living space, kitchen, and dining space. The great room opens up to the back deck with tons of beautiful woodwork, a stone fireplace, and a cozy room for relaxing with family.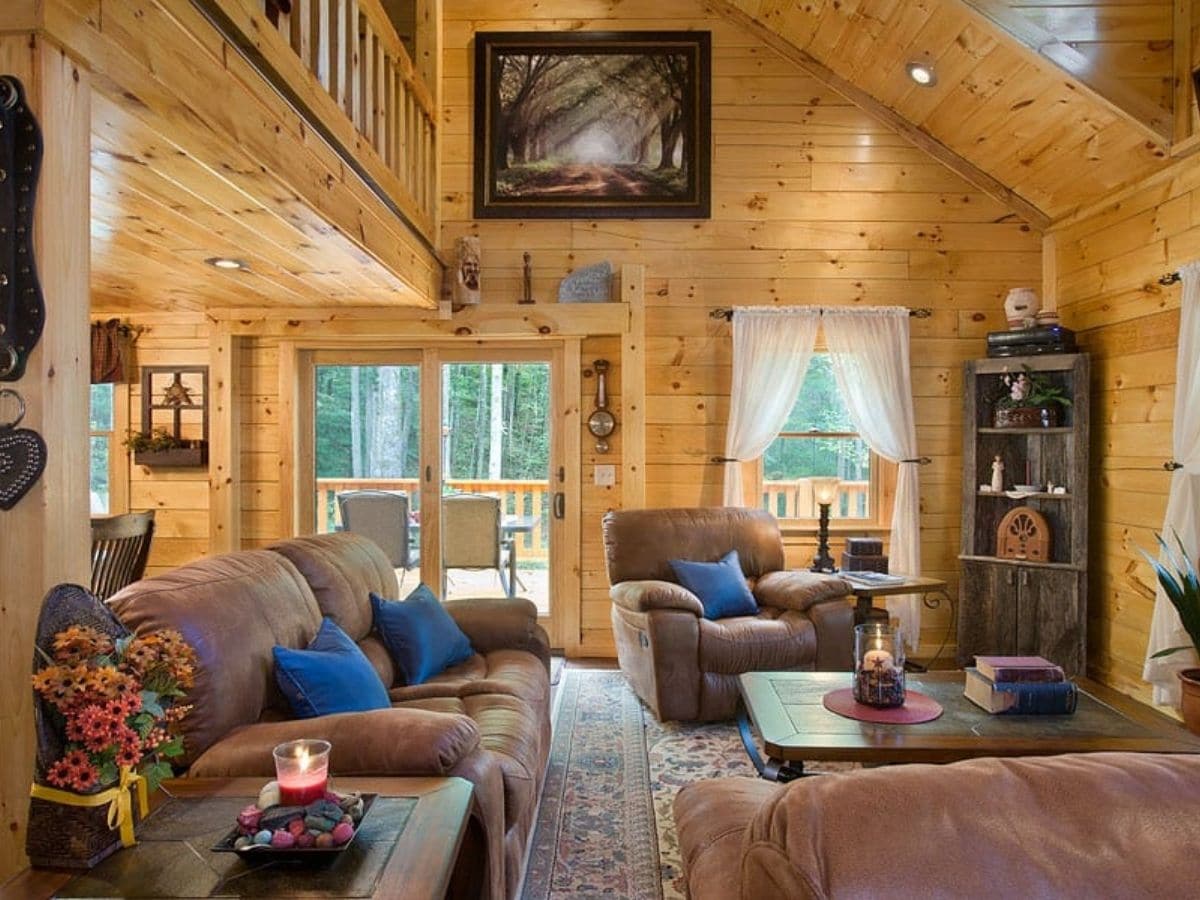 The open floor plan is my favorite with the living room and kitchen being next to each other. It makes entertaining so simple to manage. Plus the loft upstairs has the bedrooms but also a nice open space for relaxing that is also open to the living area.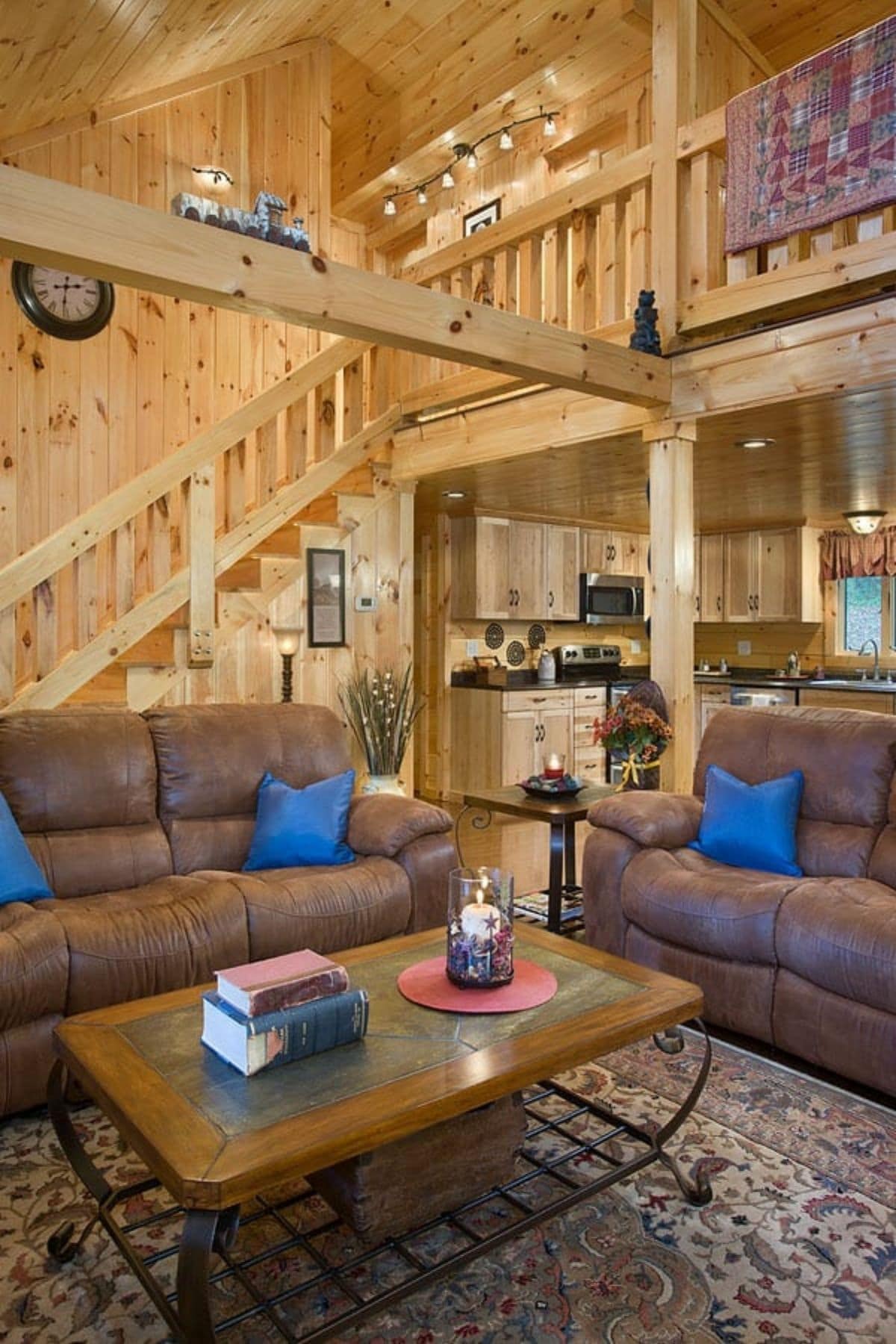 This dining room opens up to the kitchen and living room. You could swap out the table or even make this an extension of the living space. I love the classic table for family meals though!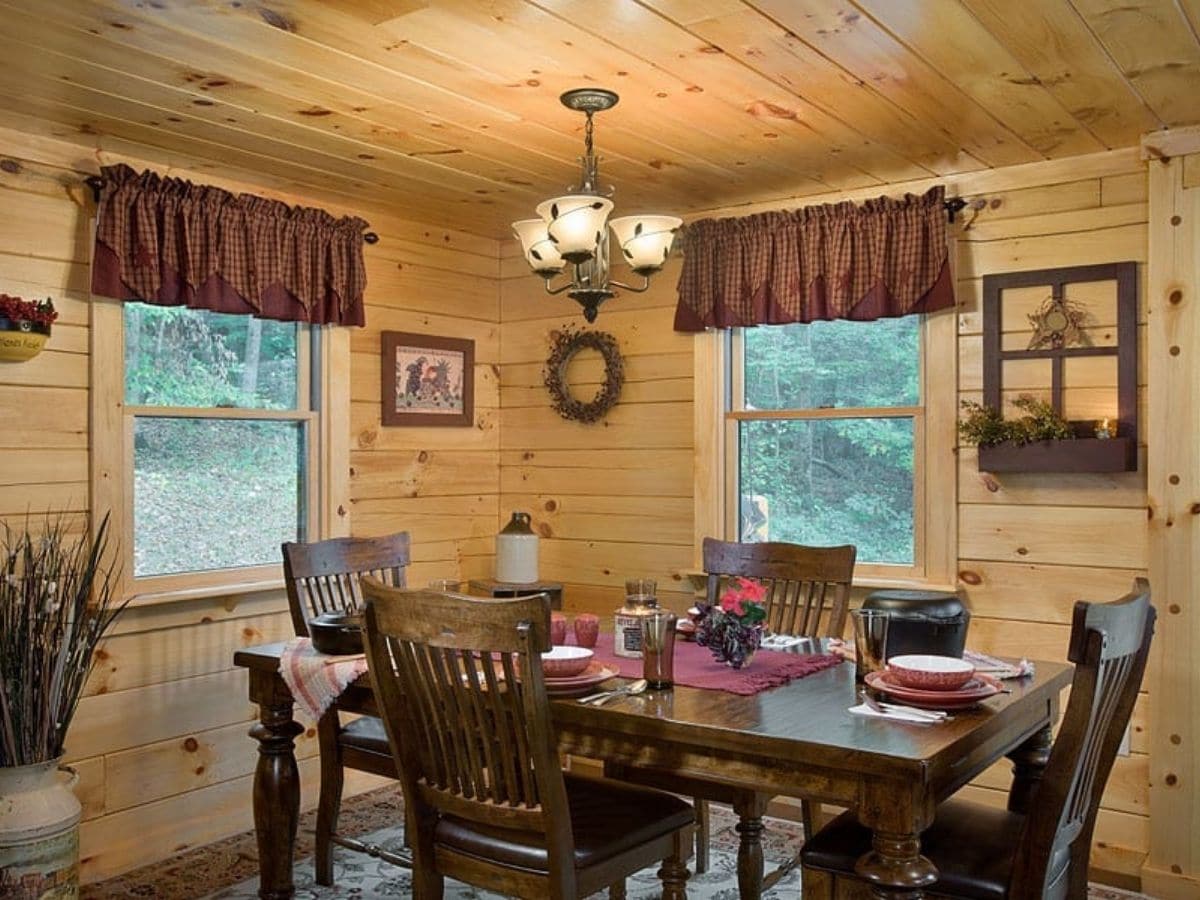 A basic corner kitchen includes the rustic wood cabinets and background you know and love, with the modern stainless steel appliances that make preparing meals for your family so easy to manage.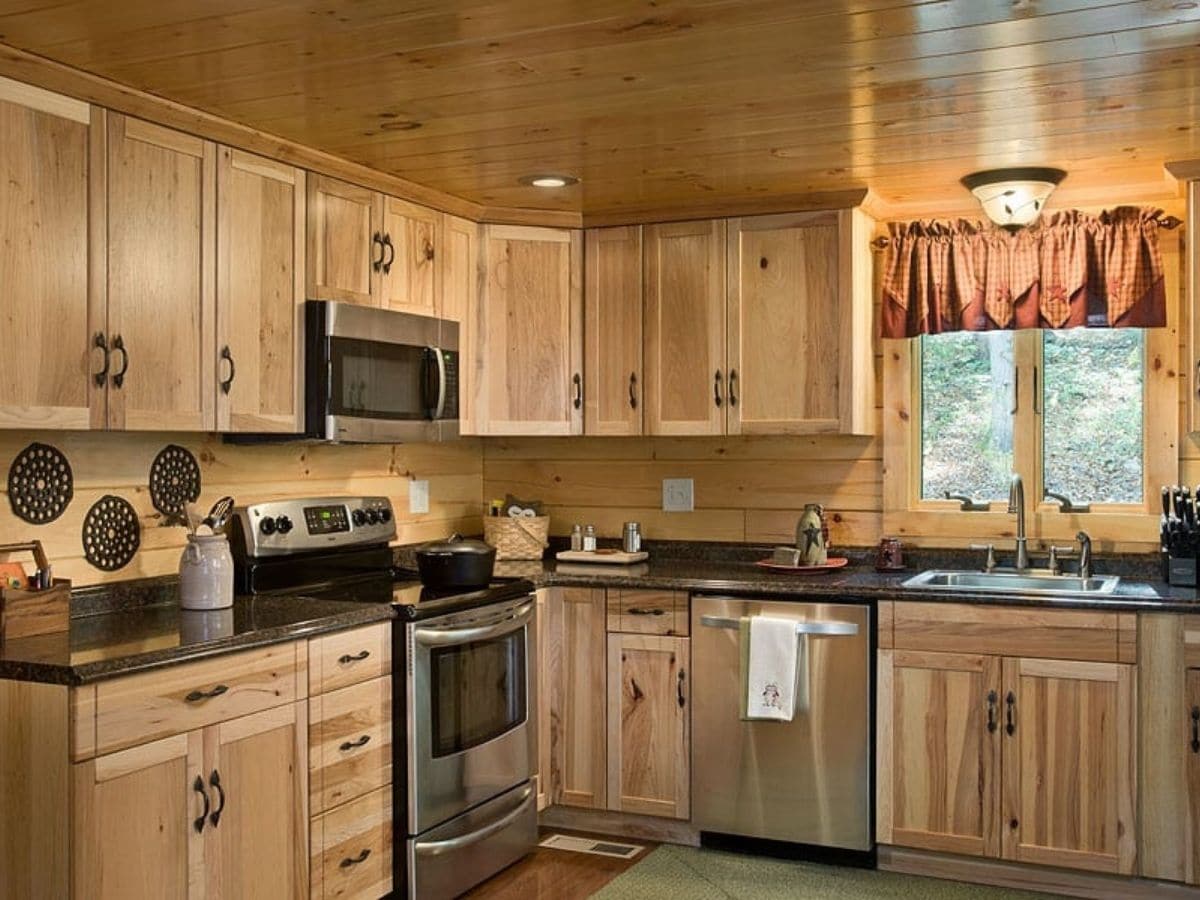 Bedrooms are large and open with customizations you will love. Things like a colored statement wall blend in beautifully with the beautiful pine walls.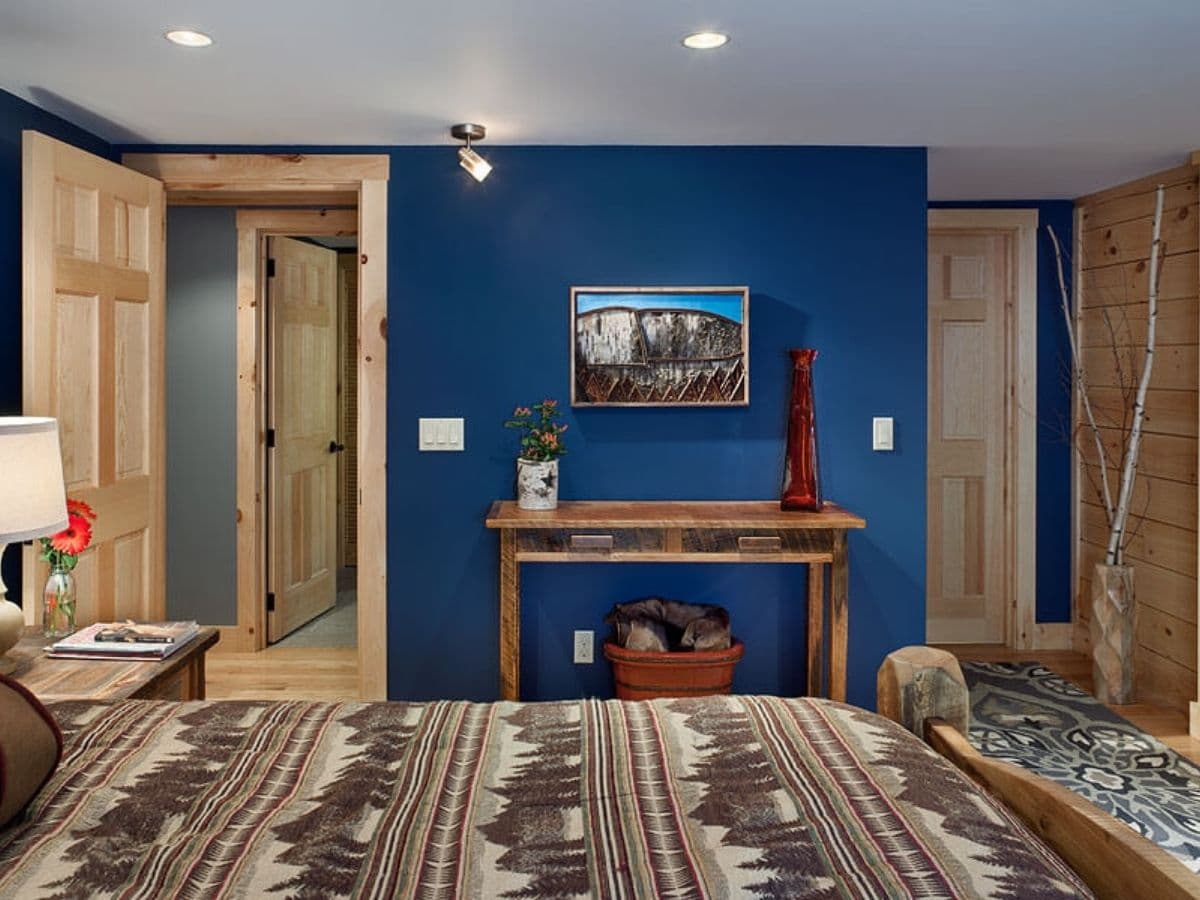 Then there is the bathroom with the matching color and a large open glass shower stall. The double vanity makes this ideal for a master suite or a Jack and Jill bathroom for kids.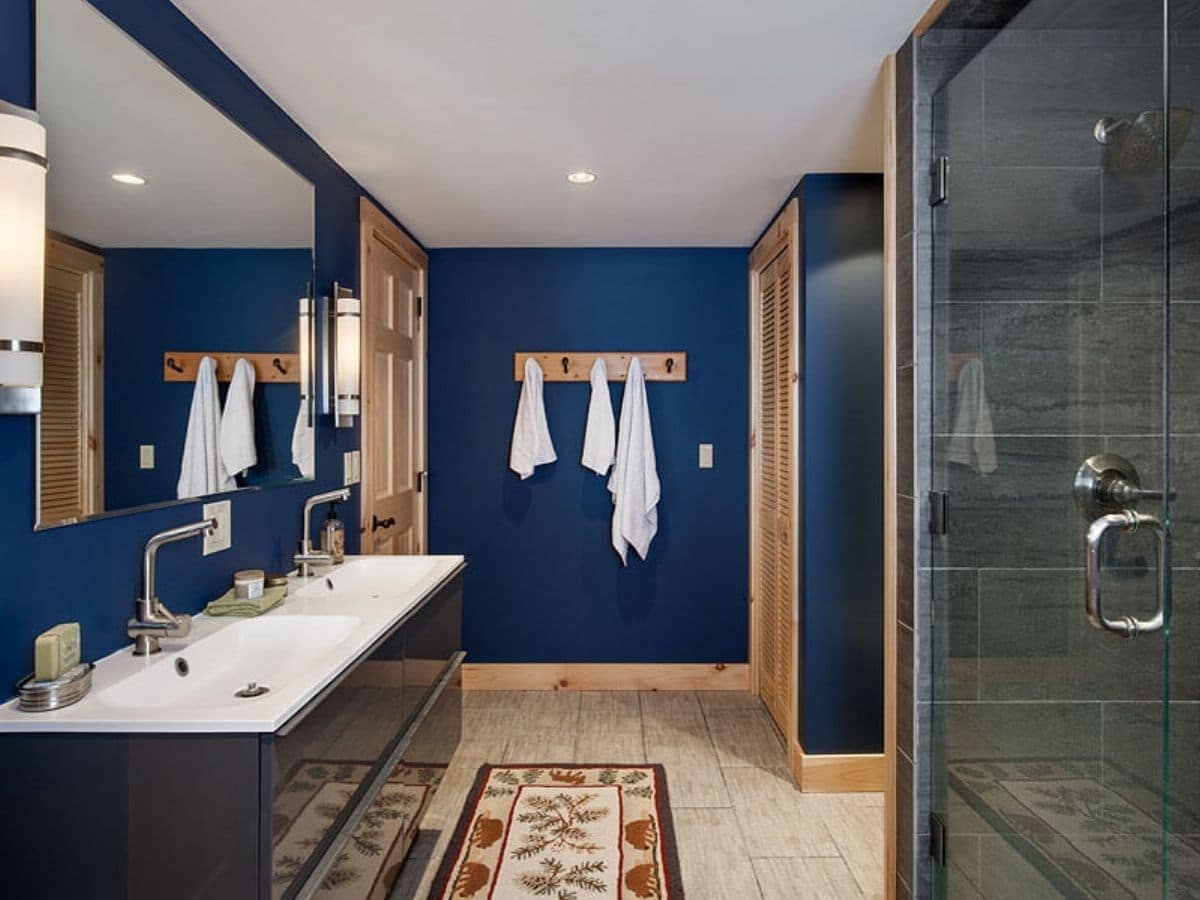 The dormer windows aren't just for show. You will love how the space is used for extra room in the bedrooms.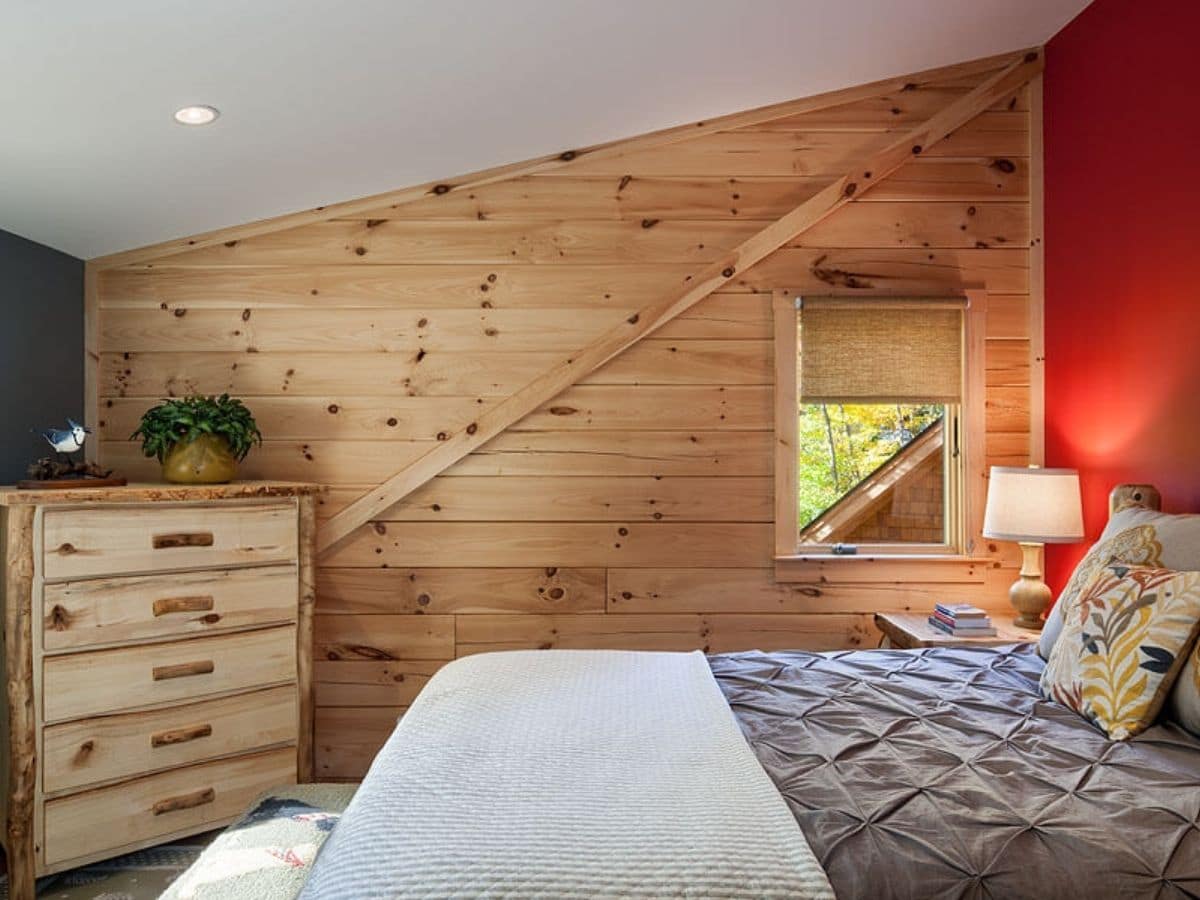 I love that these eaves aren't creating a lack of space, but instead, a nice cozy area to add more storage or tuck away a bit of your favorite decor or even a chest of drawers like shown.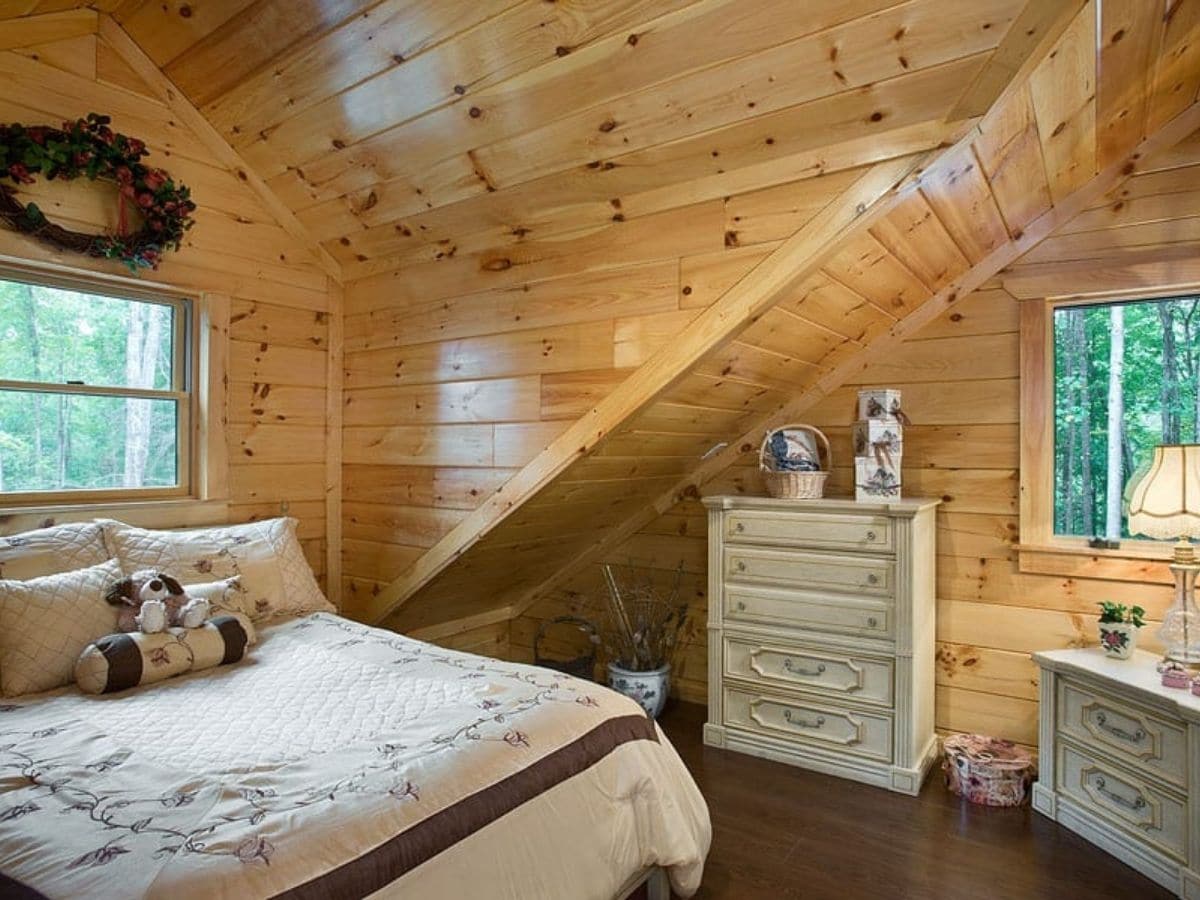 You are sure to love that each bedroom has its own unique style, but also that the log cabin look is so prevalent. From the ceilings and walls, all the way to the accents around the windows.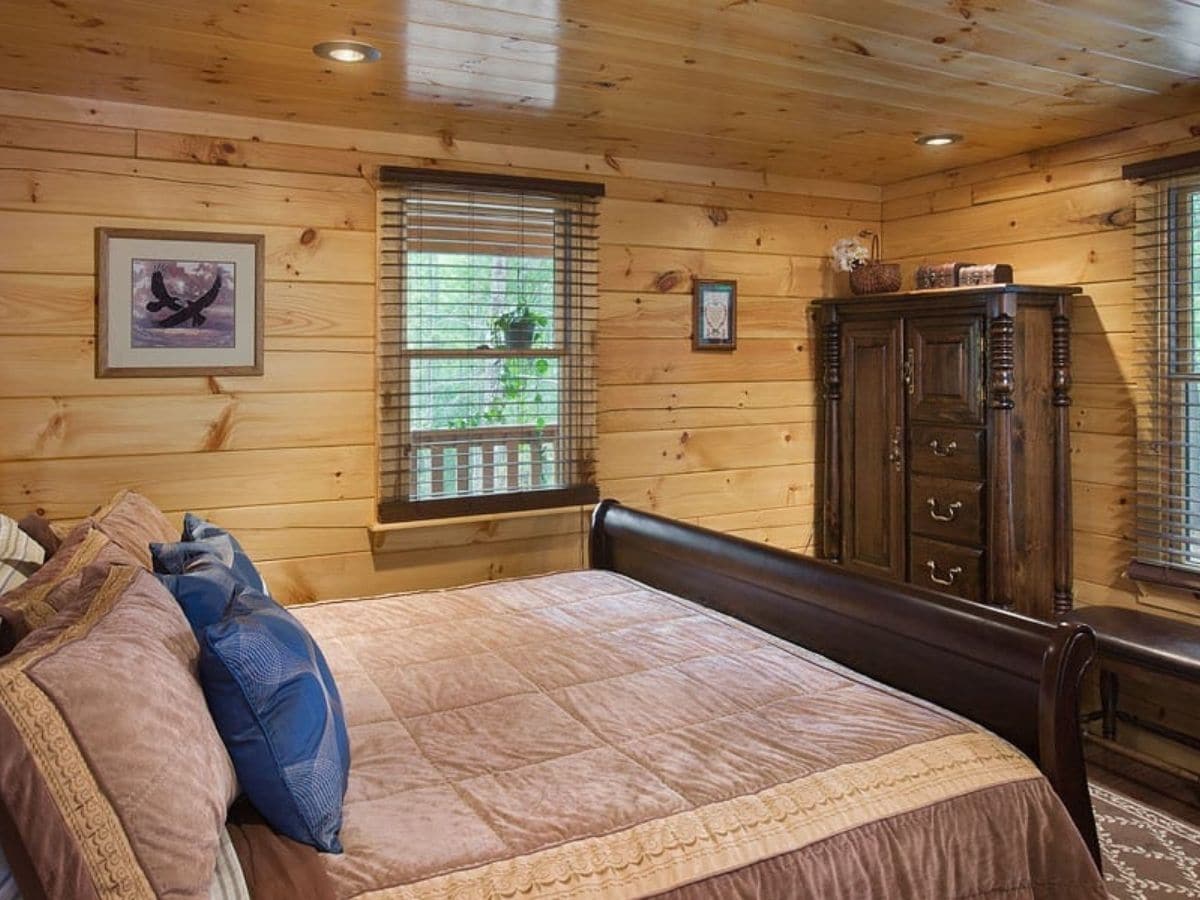 And last, but not least, you'll find that practicality does play a big part in these builds. This bathroom, with dual sinks, also has a great addition of rustic shelving in the corners that utilizes the space while also giving it the perfect style to match the home.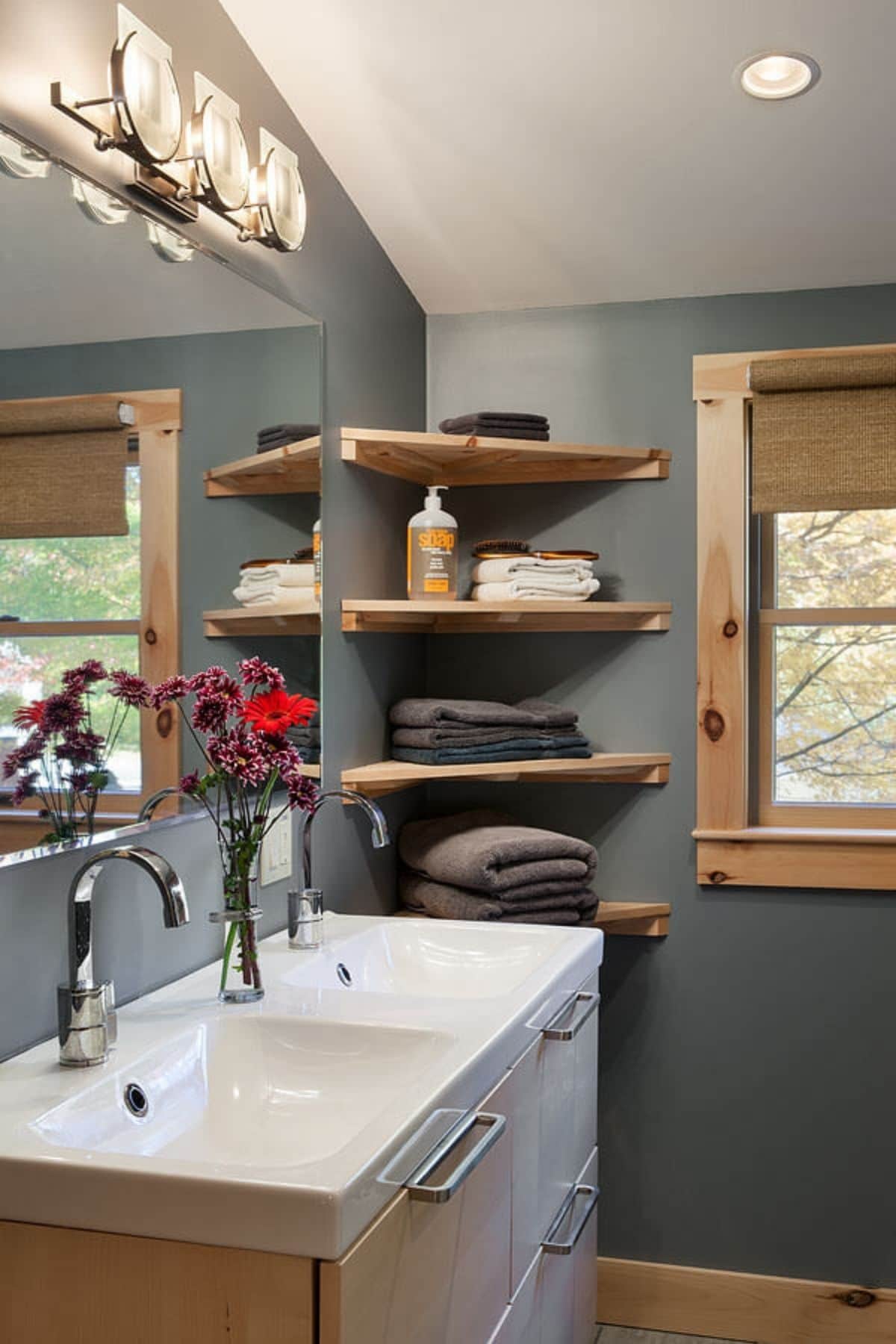 For this and other gorgeous log cabin designs, check out the Coventry Log & Timber website. You can also find them on Facebook, Instagram. Make sure that you let them know that Log Cabin Connection recommended them.
More Log Cabin Kits and Tours