The Clear Fork cabin is a gorgeous home with a beautiful style that is a great example of how you can stay true to that rustic look you know from a cabin but still offer true modern luxury. From the moment you pull up the drive, you see a beautiful log exterior, stone base, and that classic green metal roof.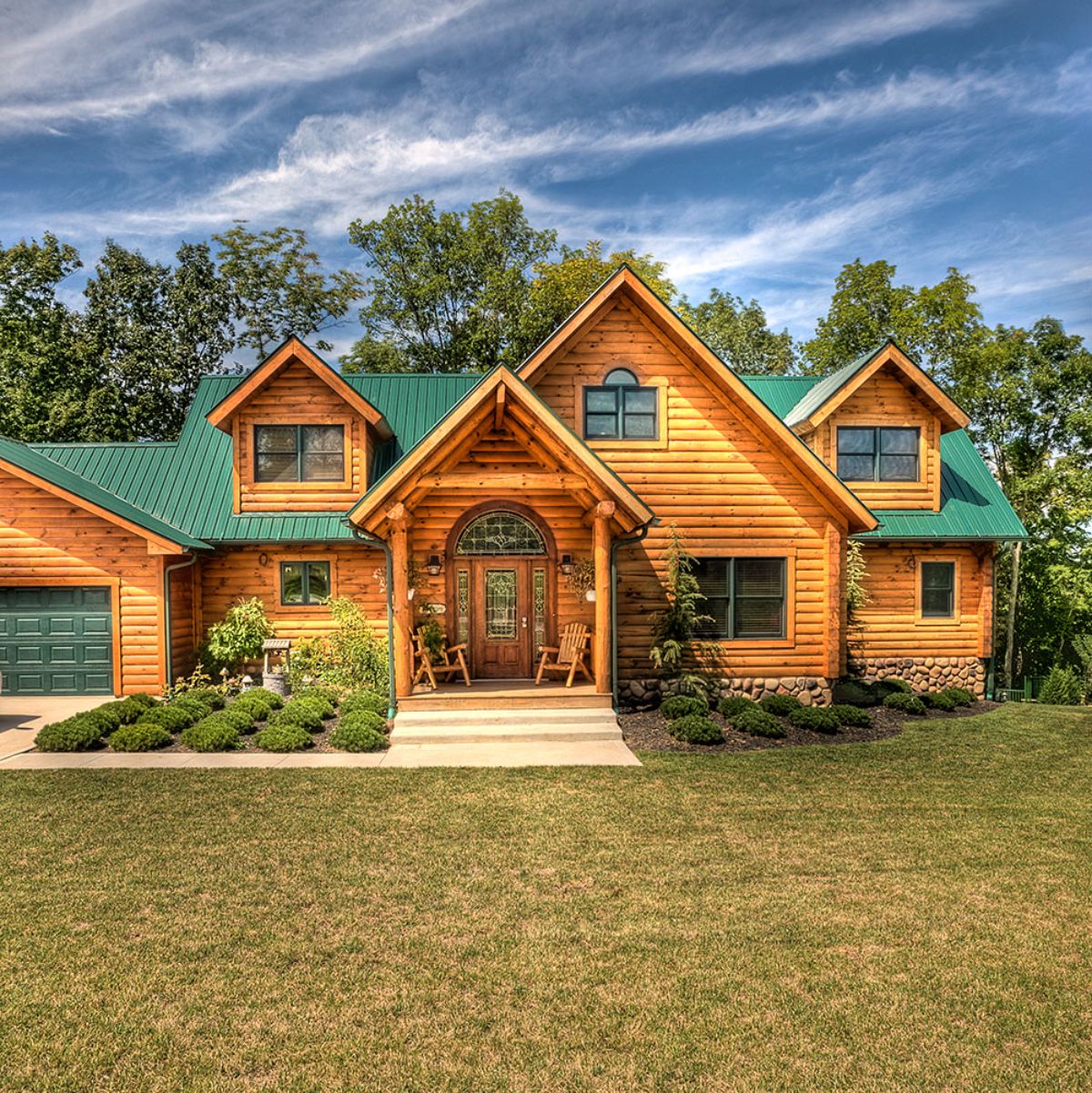 This home doesn't show a larger porch on the front, but it does have a welcoming awning over the entry door with room for a few chairs and of course, you should take note of the beautiful glasswork above and inside that entry door. No expense was spared in building this home.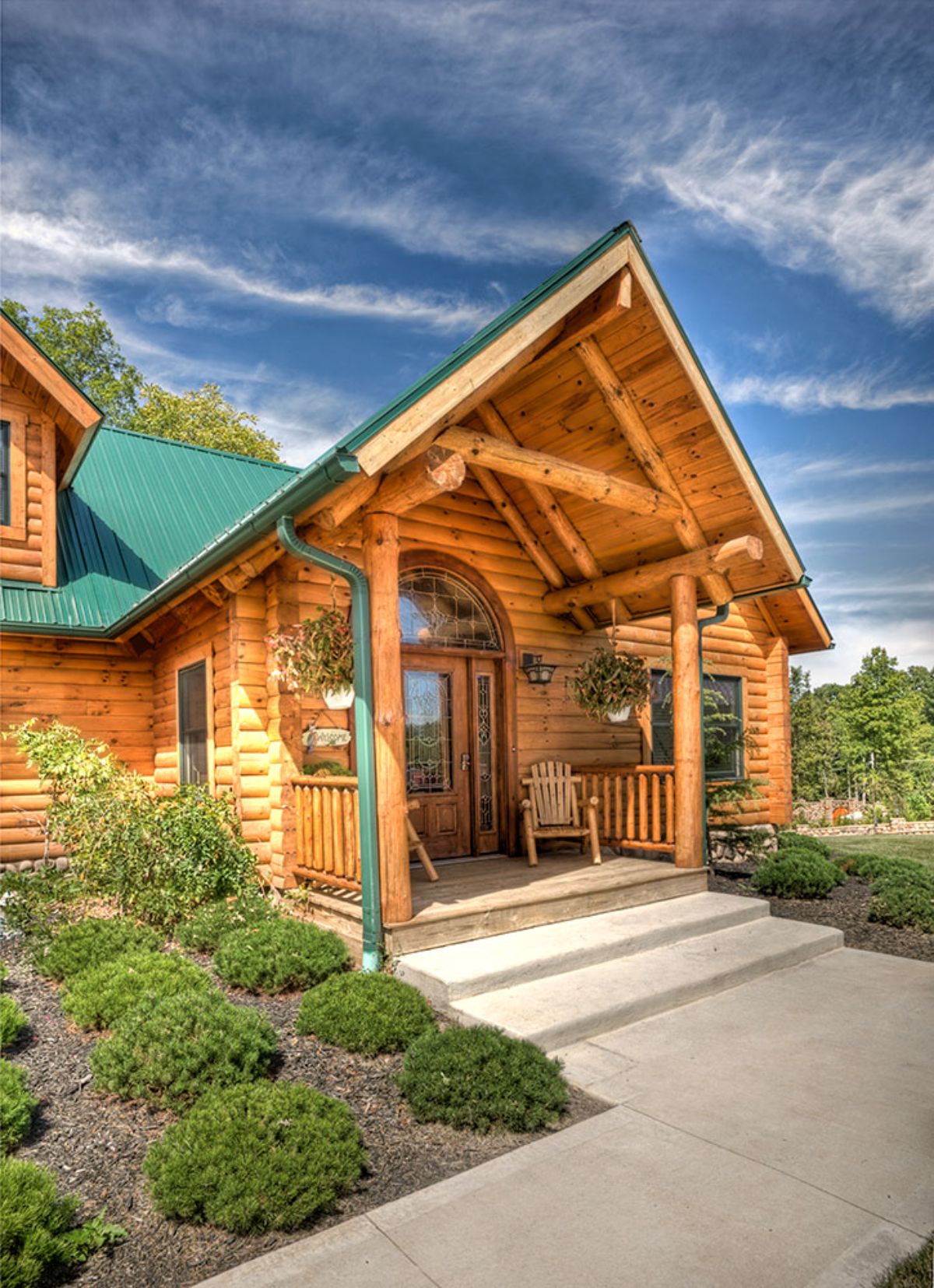 While we don't have a lot of images of the interior, there are a few things of focus to share. First of all, the entry goes right into the home with a loft above, stairs to the left, and of course, this living room in the foreground. What I love about this living space is that it features a unique sunken living room space.
Full open log beams across the top of the room are not only a structural addition but also keep that rustic look to the space. Additionally, a stone fireplace in the center of the home is not just a place of warmth, but a statement piece that helps pull the entire layout together.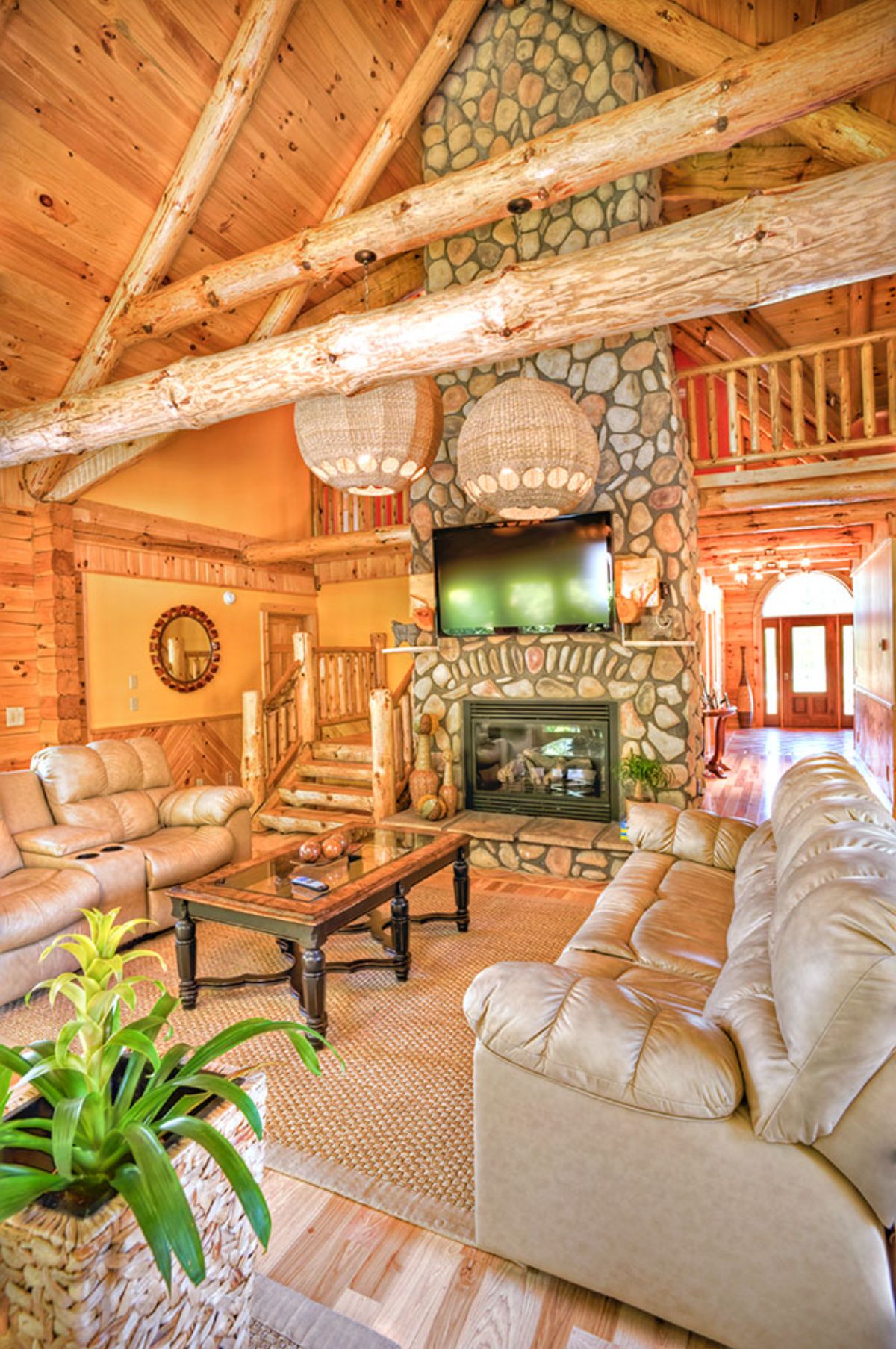 I love the corner kitchen with a fun tiled countertop around the stove and island bar. So many hints of the Southwest in this space, but also the classic wood cabinets wth a variety of sizes and spaces for holding pantry supplies, cookware, dinnerware, and even small appliances.
I love the updated modern stainless steel appliances in a rustic space like this. It brings that luxury you are looking for without sacrificing the overall aesthetic. The space looks inviting and definitely seems to be a family-style kitchen for simple meals and entertaining.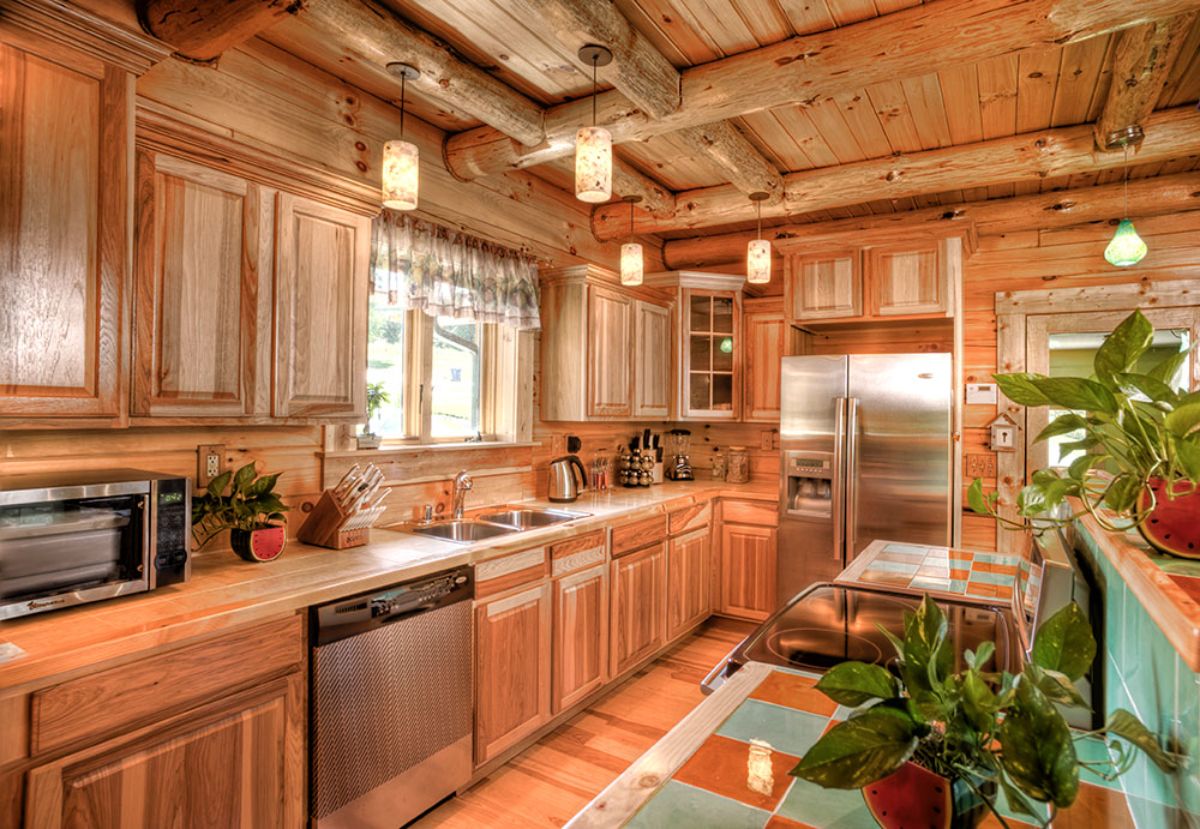 Of course, the back of the property features tons of gorgeous landscaping, walkways, and yes, a pool. While not part of the log cabin itself, this shows you how a simple cabin can still fit into a luxury space and look modern and pleasing to everyone.
No matter what your goals are for building a cabin, this home is a perfect example of inspiration. You can find something unique in every space to carry on to your own home plans and build.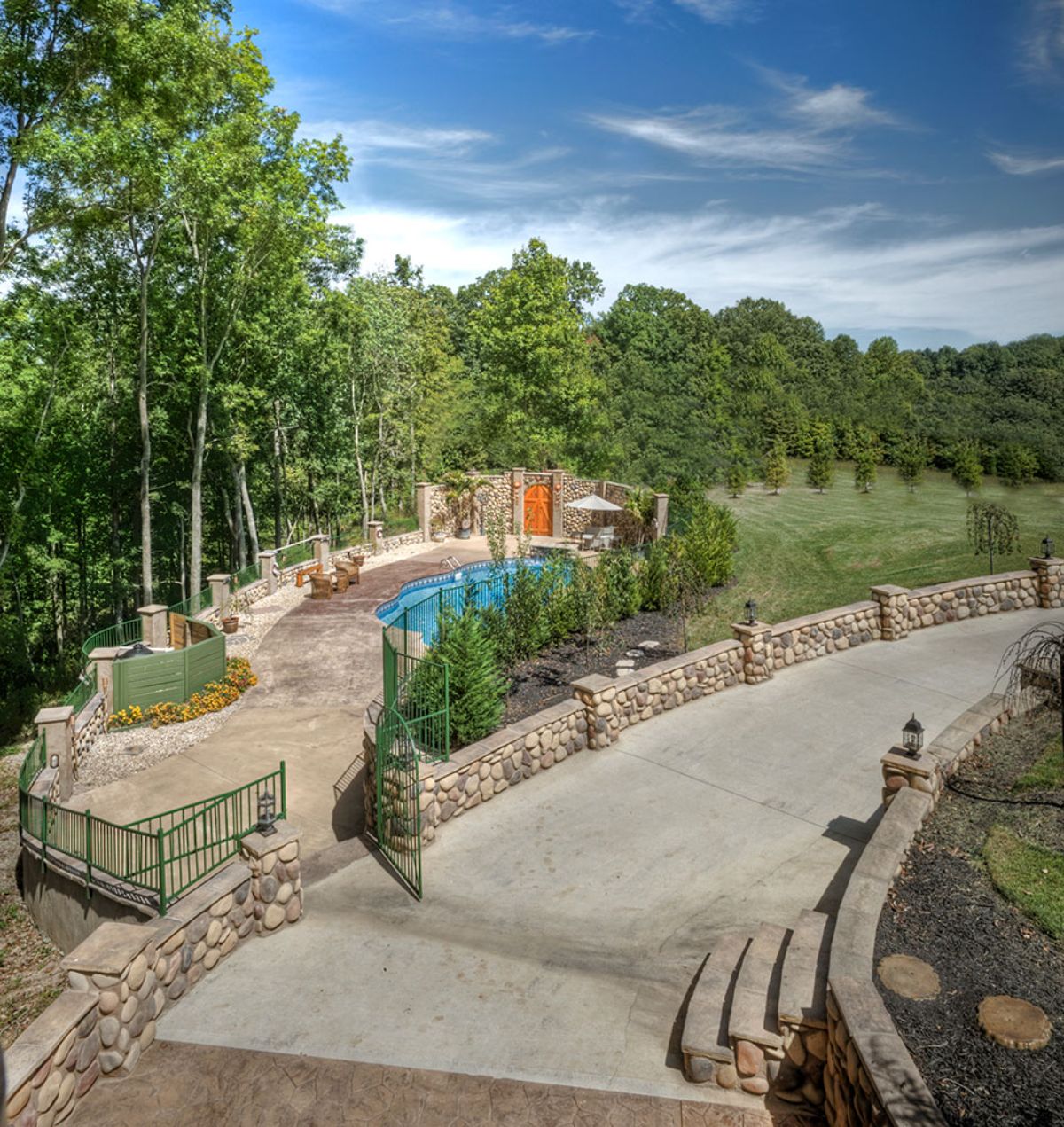 For more information about this home and others, check out the Hochstetler Log Homes website. Make sure that you let them know that Log Cabin Connection sent you their way.
More Log Cabin Kits and Tours