Another beautiful home from Fairview Log Homes comes in the form of the Caldwell. This home has an attached 3-car garage, an open floor plan, and a lofted second floor that overlooks the beautiful great room. This home has everything you want plus tons of gorgeous views.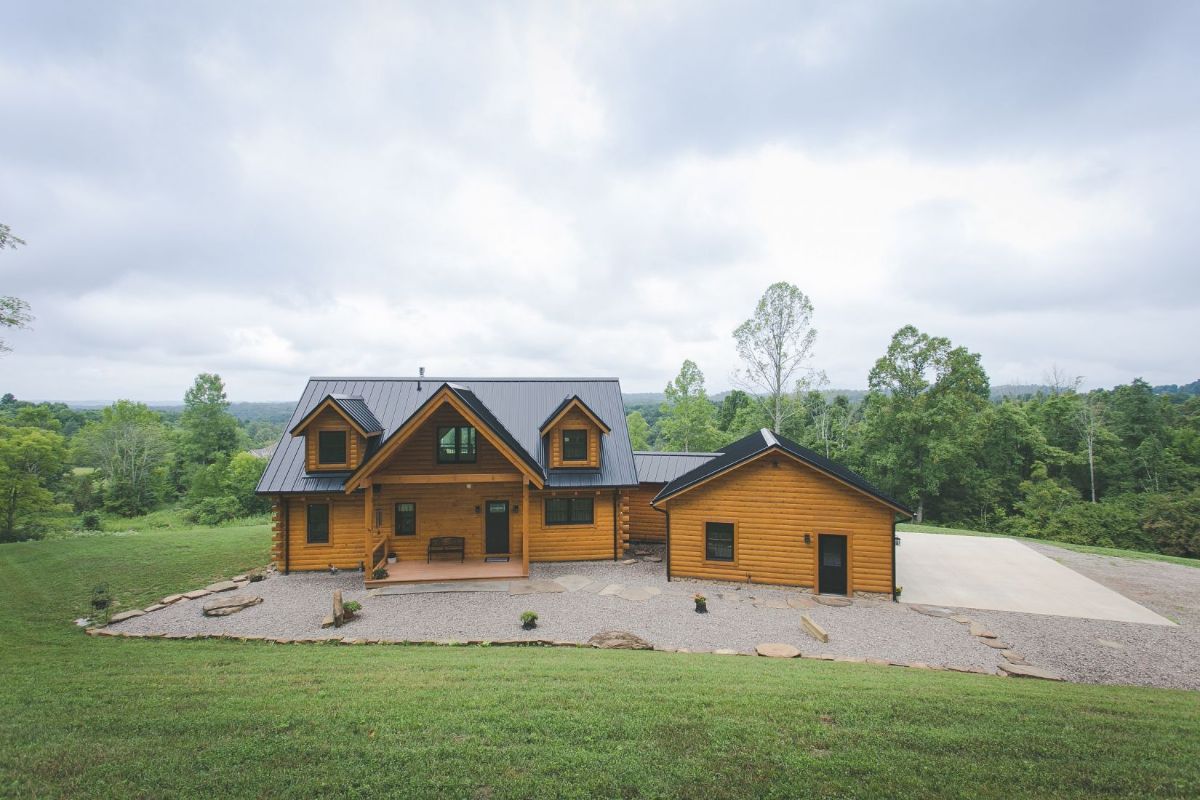 Log Home Size
2,270 square feet
2 bedrooms
2 1/2 bathrooms
Three floors with walkout basement
Log Home Features
Built with 8"x6" white cedar "D" logs.
Attached 3-car garage.
Open floor plan with kitchen, great room, dining room, and master bedroom on main floor.
Second bedroom and bathroom in lofted second level along with a secondary living space.
Large open deck off back of home with covered patio outside unfinished walkout basement.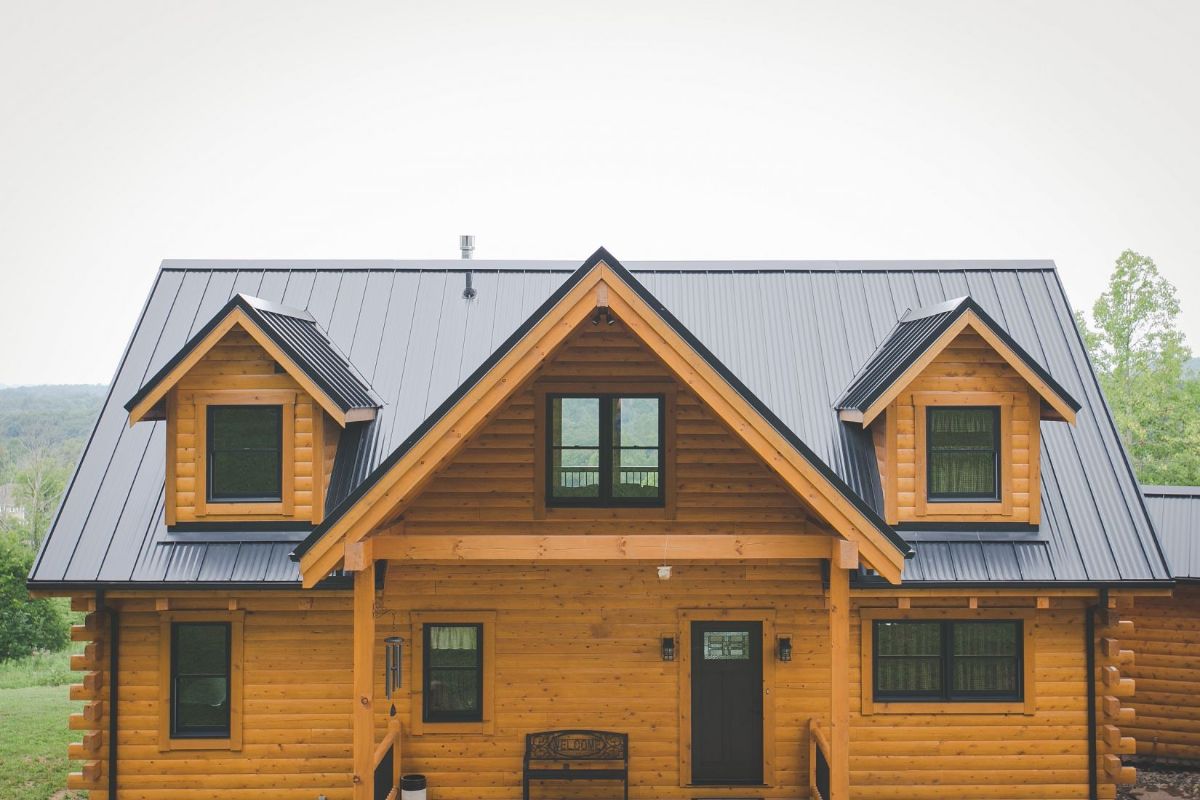 The front entry of this home is a bit more sedate than some of our log cabin tours. There is a gravel and stone walkway with a covered porch that has just enough room for a small bench seat or a few rocking chairs.
It may not be the large and expansive porch, but on the backside of the home, you will find a gorgeous open deck ideal for entertaining. This is just the door into the home that is welcoming to all friends and family.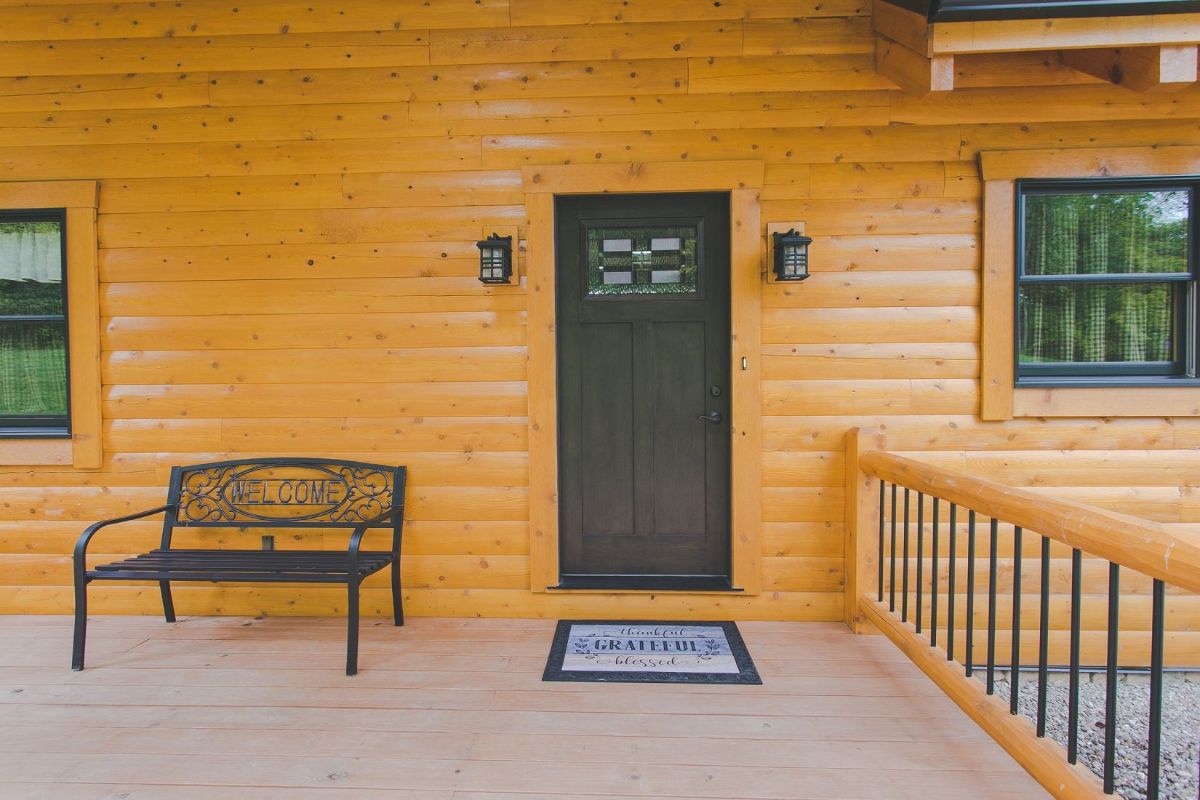 The three-car garage is a great addition with some storage space above and a short breezeway between it and the main living space.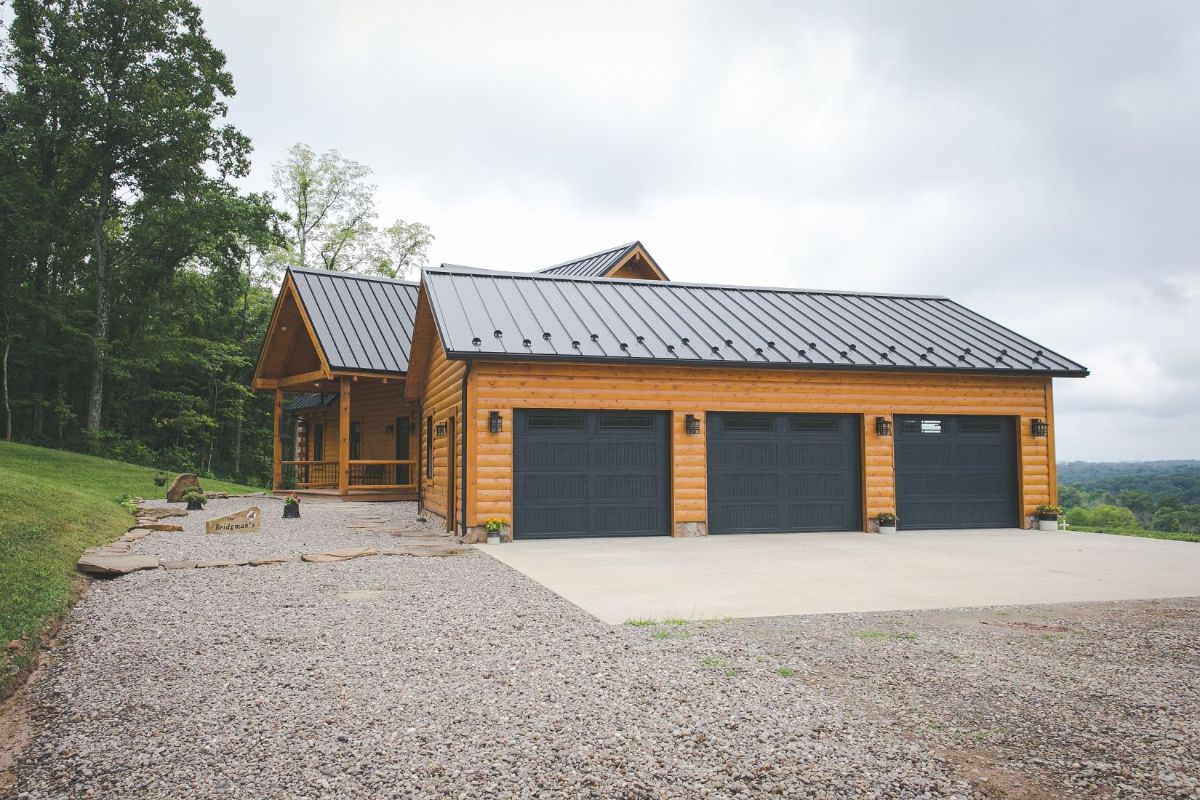 Around the back side of the home is a large open deck off the great room with access points around the deck.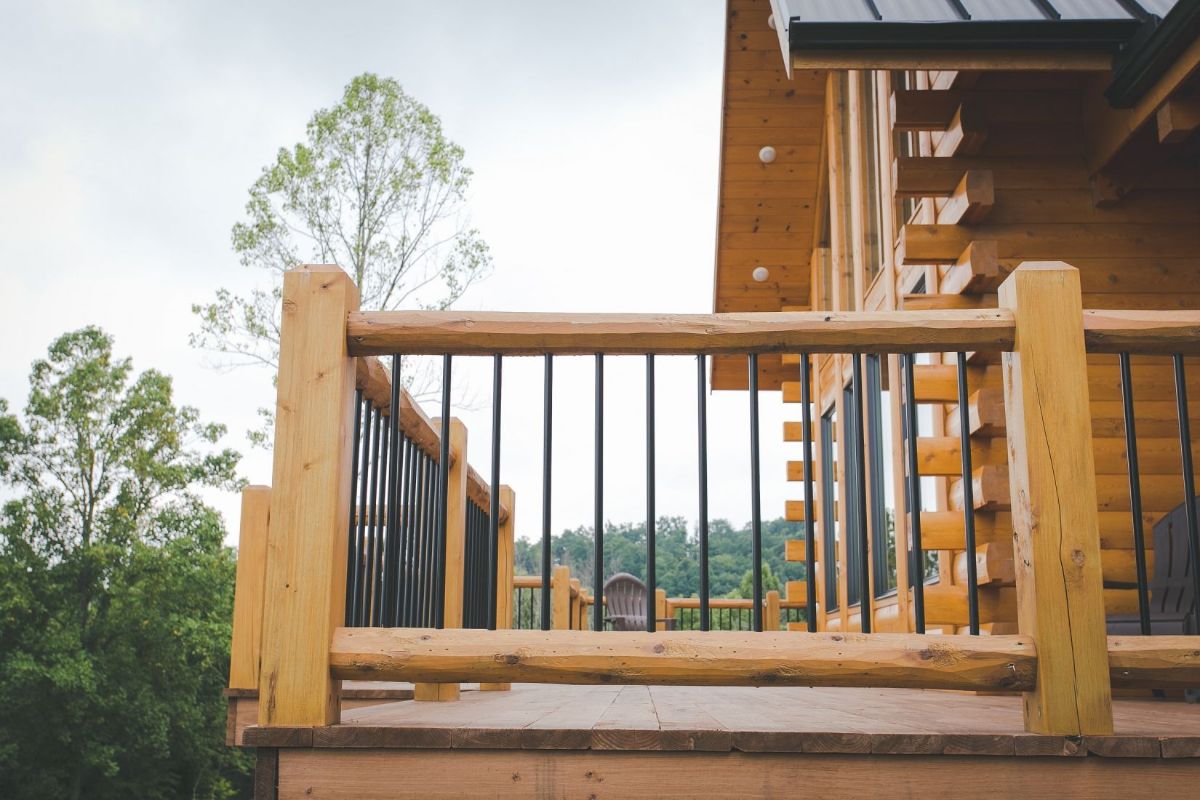 It's the perfect spot for entertaining. You can host friends and family here for a weekend barbecue. I love the idea of adding a few chairs, picnic tables, or a bistro set here alongside a smoker or grill for a great weekend event.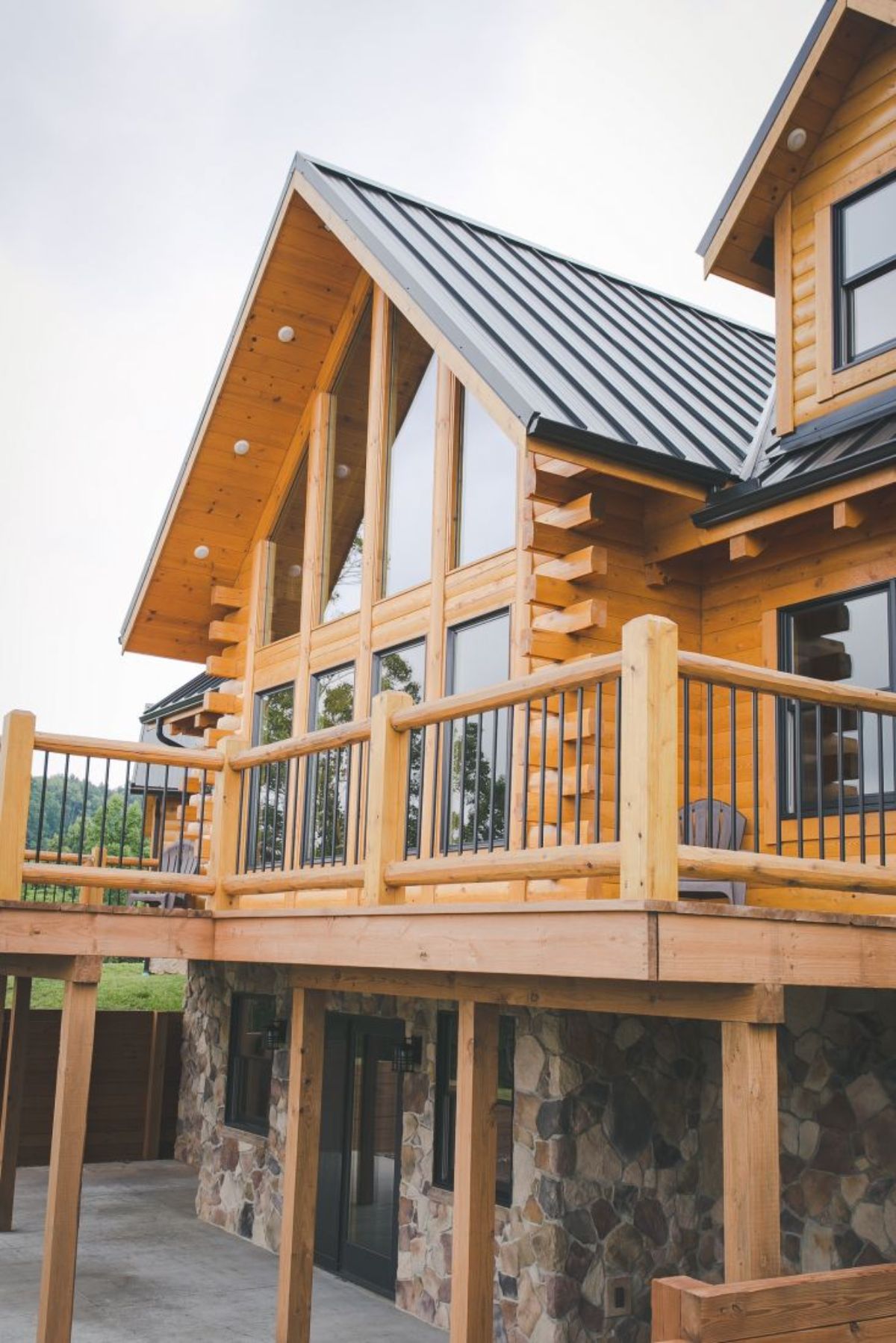 The main floor includes this gorgeous great room space with a stone fireplace. I love that this is so open and warm. The wall of windows gives you a great room that is perfect for an evening of movies with the family, or for simply relaxing with a view out the windows of the lovely countryside.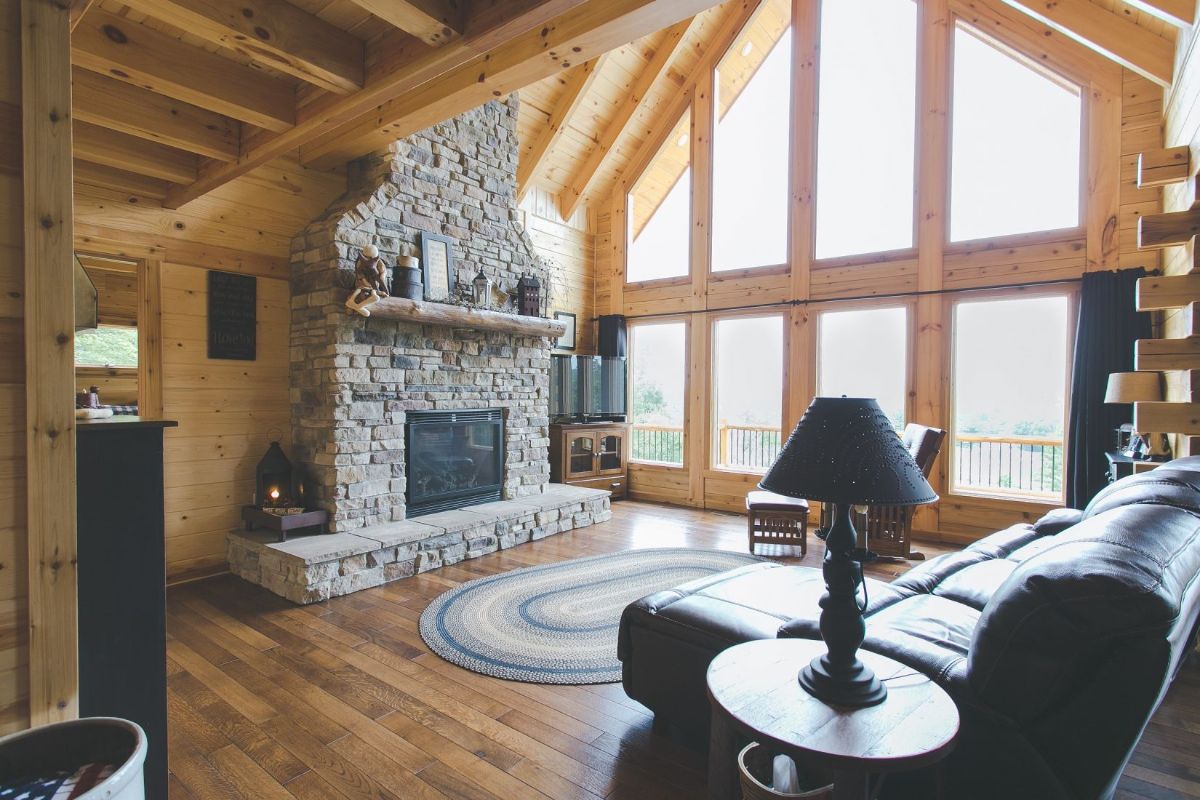 A leather sofa here divides the great room from the dining area. A nice sized space that is open but still has a level of division and privacy.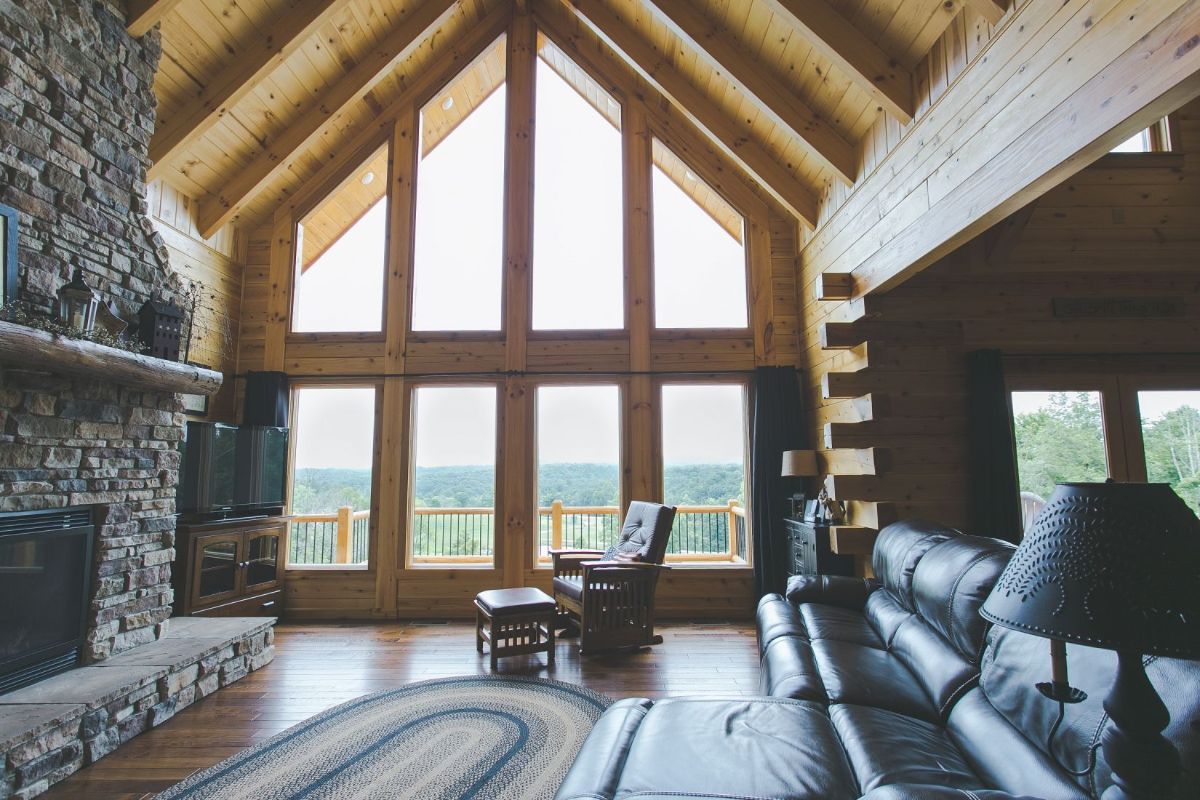 One of my favorite parts of this great room is the large stone fireplace against the far wall. I can so easily imagine a roaring fire here with snow outside on the deck.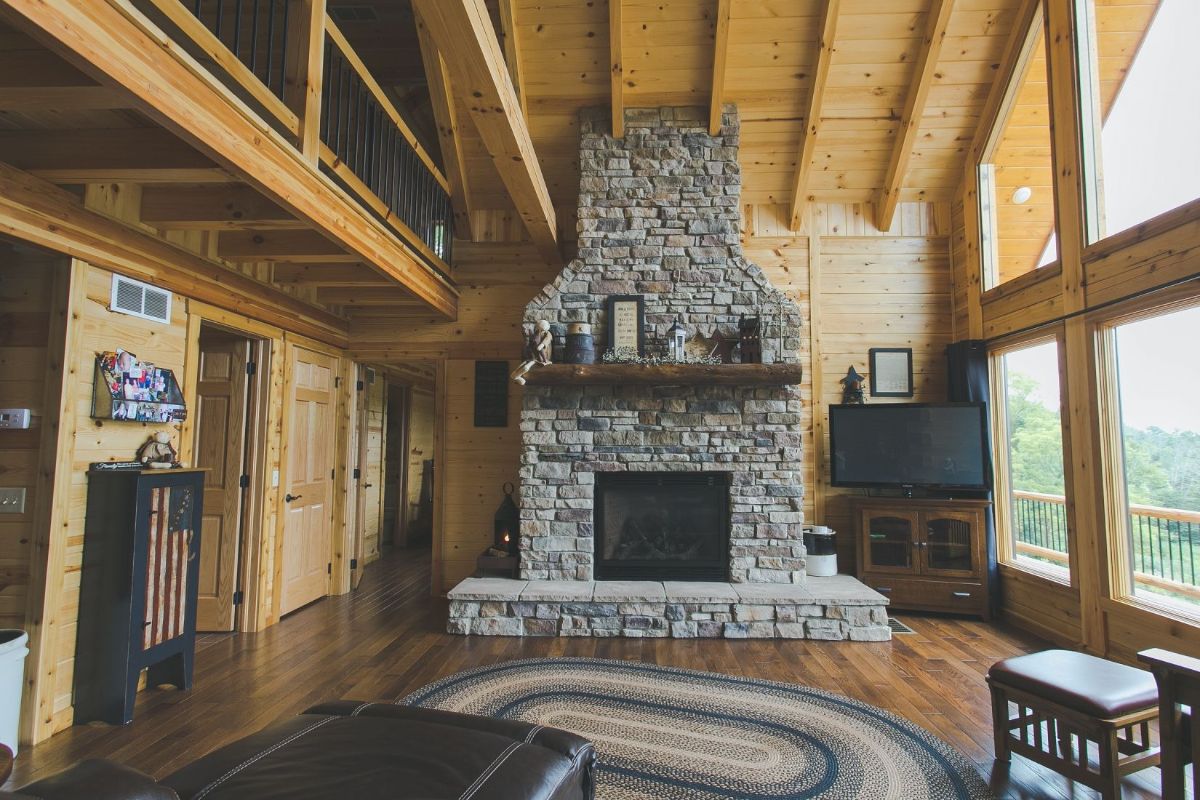 Despite it being stone, you have a gorgeous wood mantle attached that combines the styles into a beautiful and functional fireplace.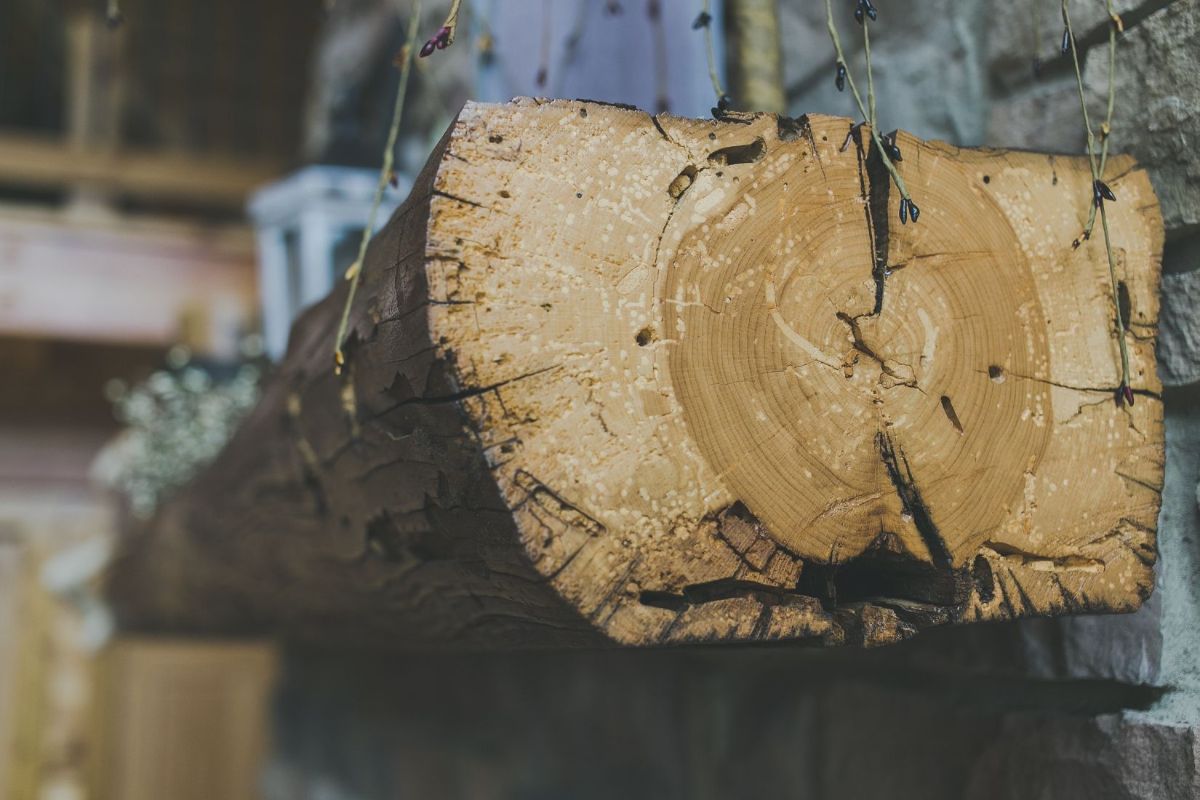 From this angle, you can see a bit bigger picture of the home. A nice view over the dining table into the living area with the kitchen to the left. This allows you to have an open view for entertaining. The extra seating around the kitchen island expands the space you have for guests but also gives it a nice area for laying out a buffet of food for a dinner party.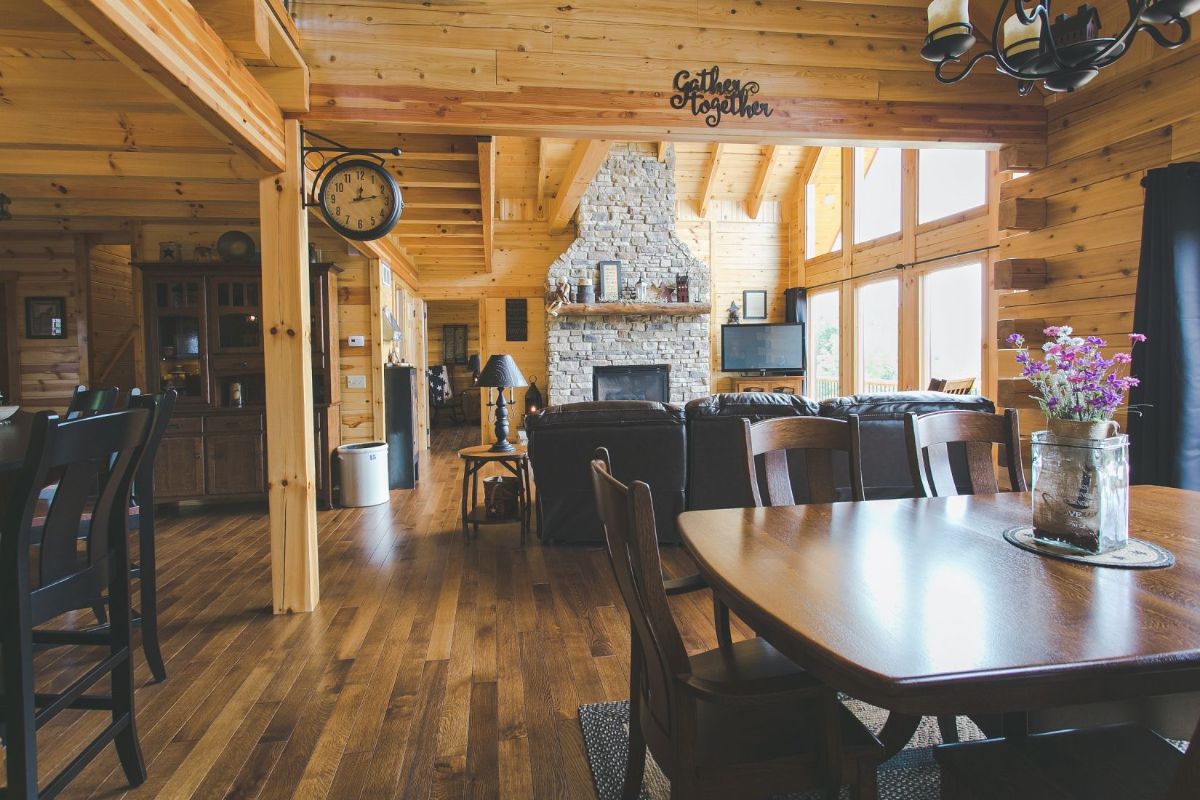 The kitchen in this home is a lovely corner space with a hutch on one side and tons of storage adjacent to the stainless steel appliances. The island bar is set up with two heights of counter that makes it ideal for preparing meals on one side and serving on the other.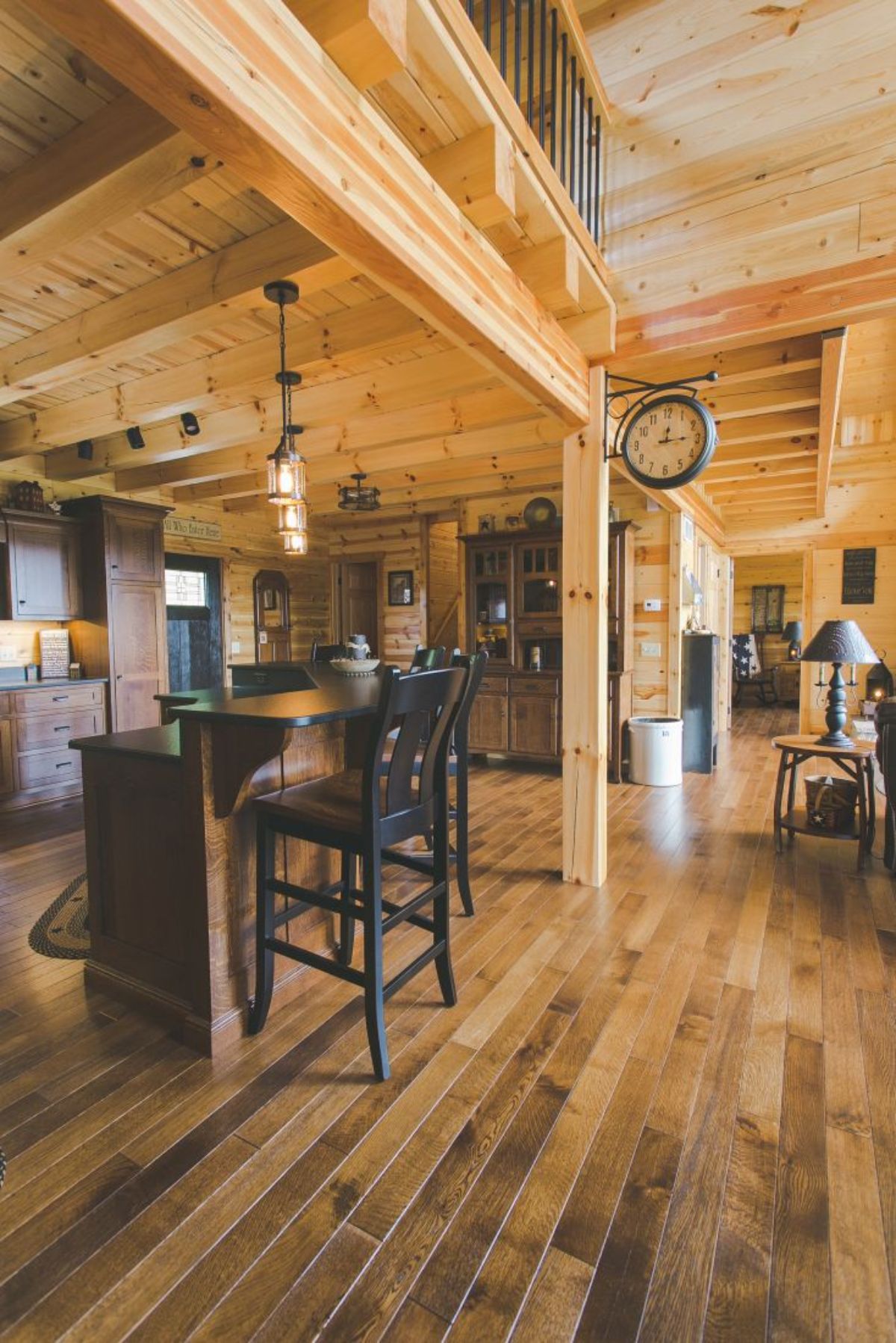 I like the layout of this kitchen. It is open enough to feel inviting so when cooking everyone can gather around rather than feel separated from your guests or family.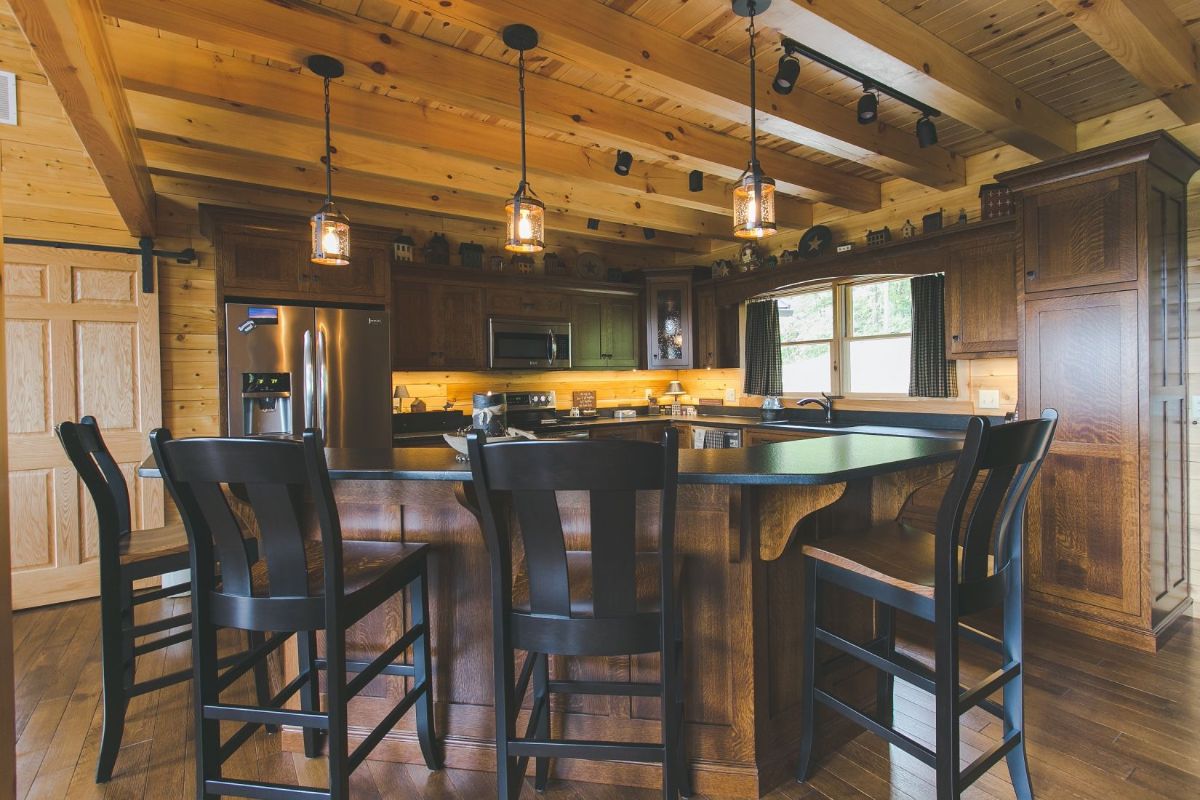 Between the garage and the main floor of the home is a breezeway. This space is a simple hall that has room for storage. Just a nice addition to the home.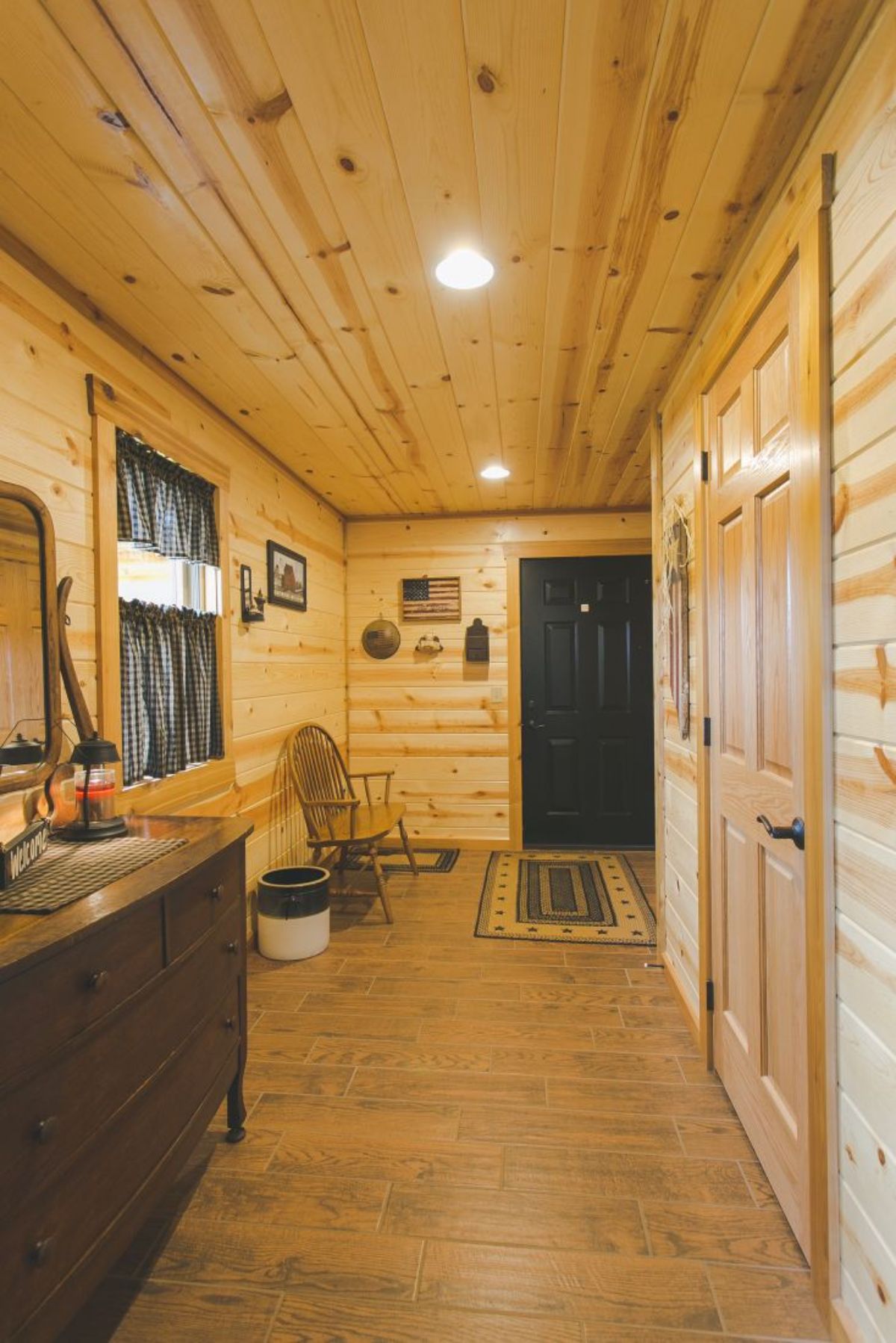 A master bedroom on the main floor of the home has a beautiful view out to the deck with a beautiful master bathroom and space for a closet, chest of drawers, and even extra seating.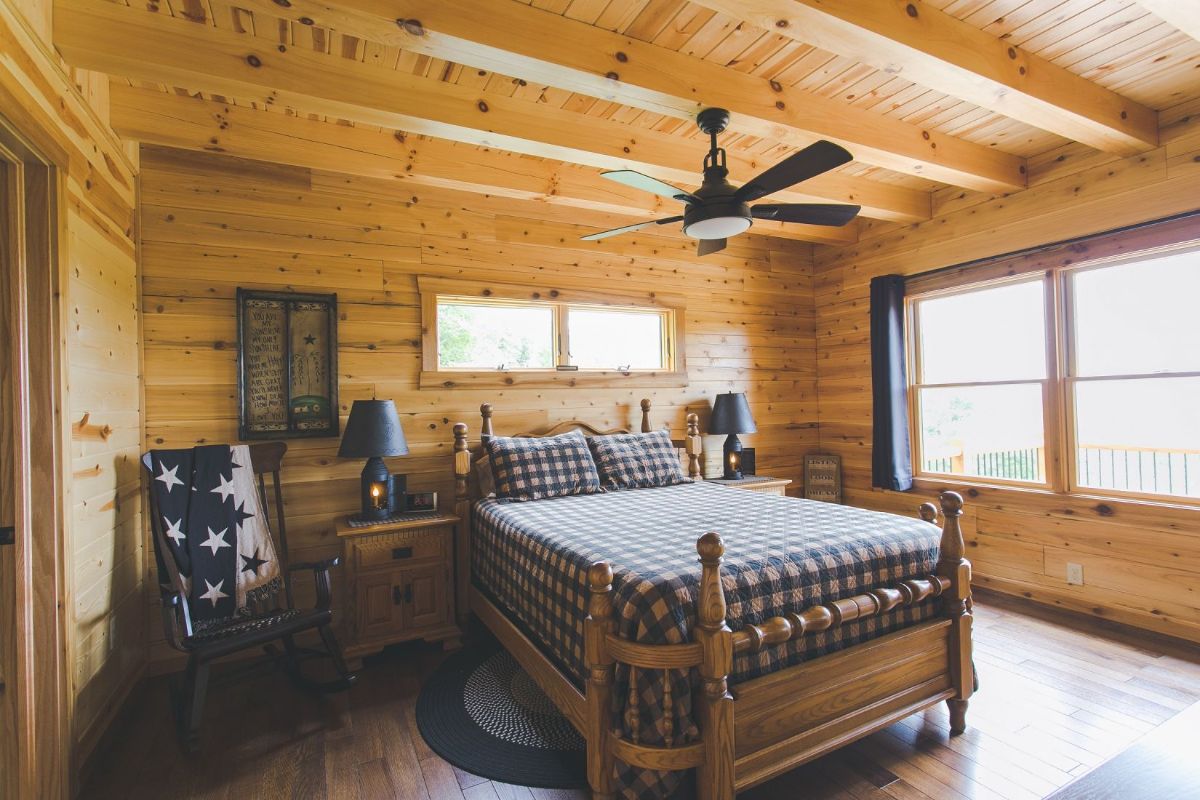 The master bathroom is my favorite in this home with the beautiful clawfoot bathtub here. Such a nice farmhouse-style luxury.
Upstairs is a second bedroom as well as a lofted space with a secondary living space overlooking the great room.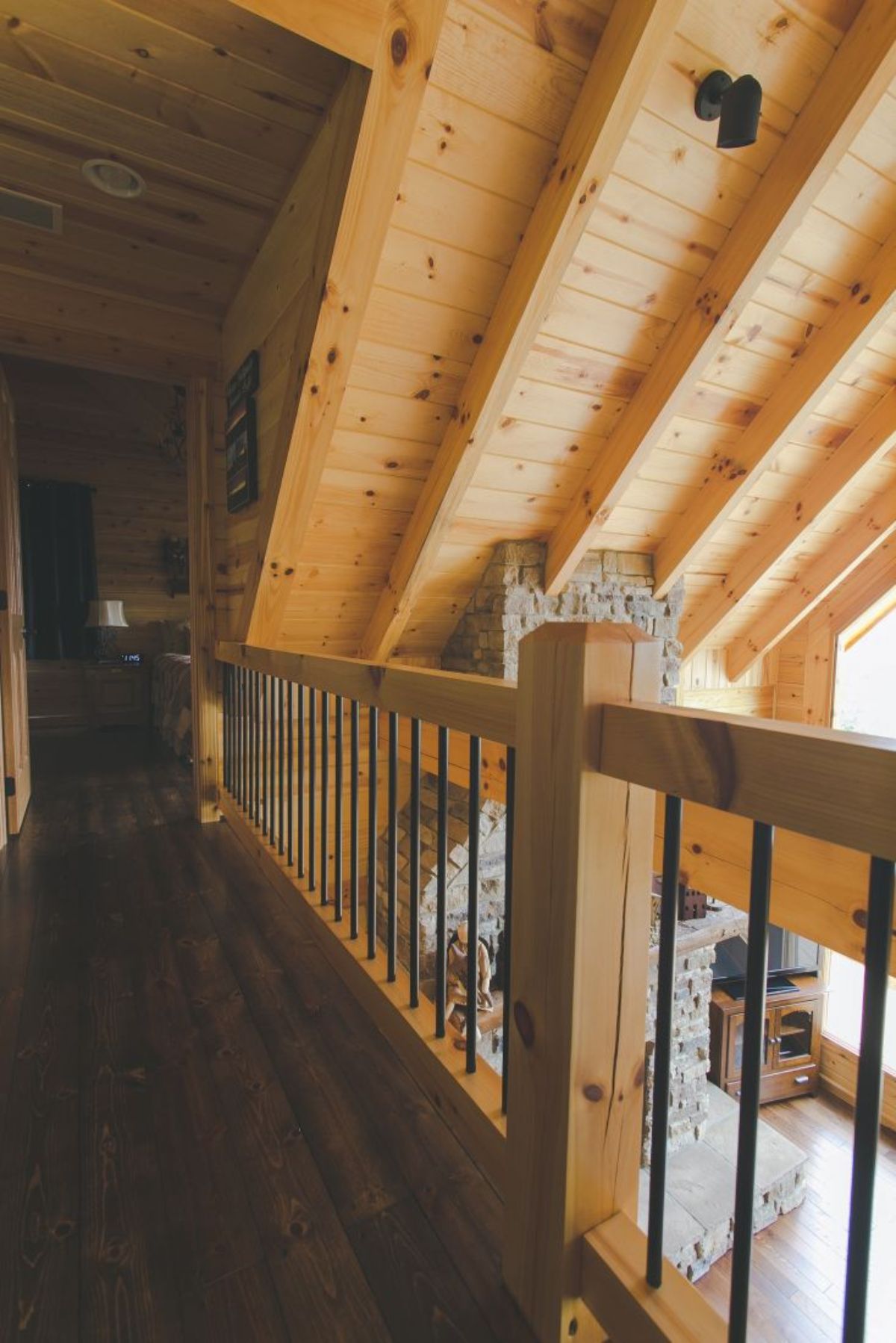 I really love that the second floor of this home includes this open loft space that overlooks the living area downstairs.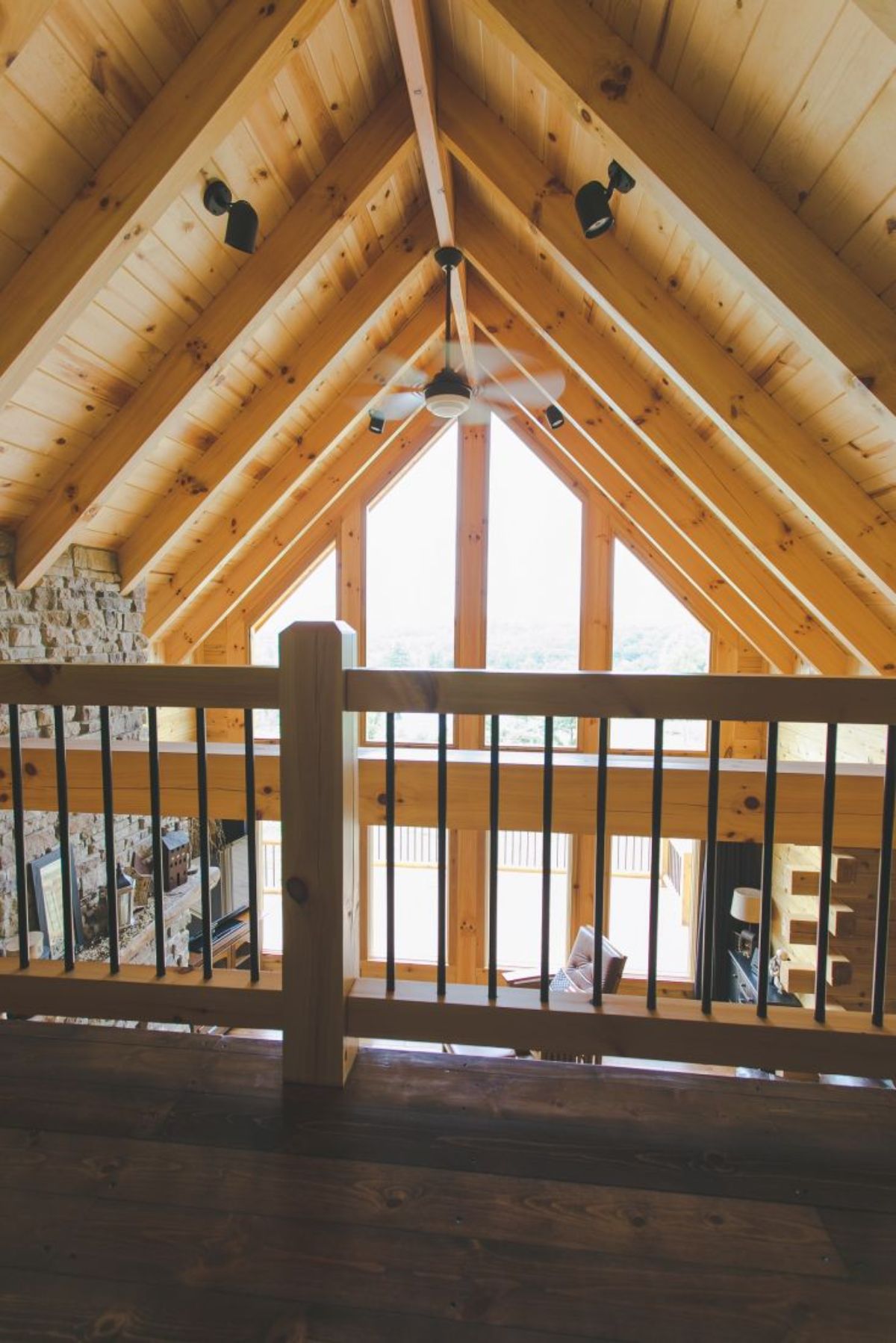 Check out this gorgeous dining space! I love how beautiful the window overlooking this dining room is. A large dining table in the middle of the room with a hanging chandelier and of course, the window of the dormer on the front of the home bringing in natural light.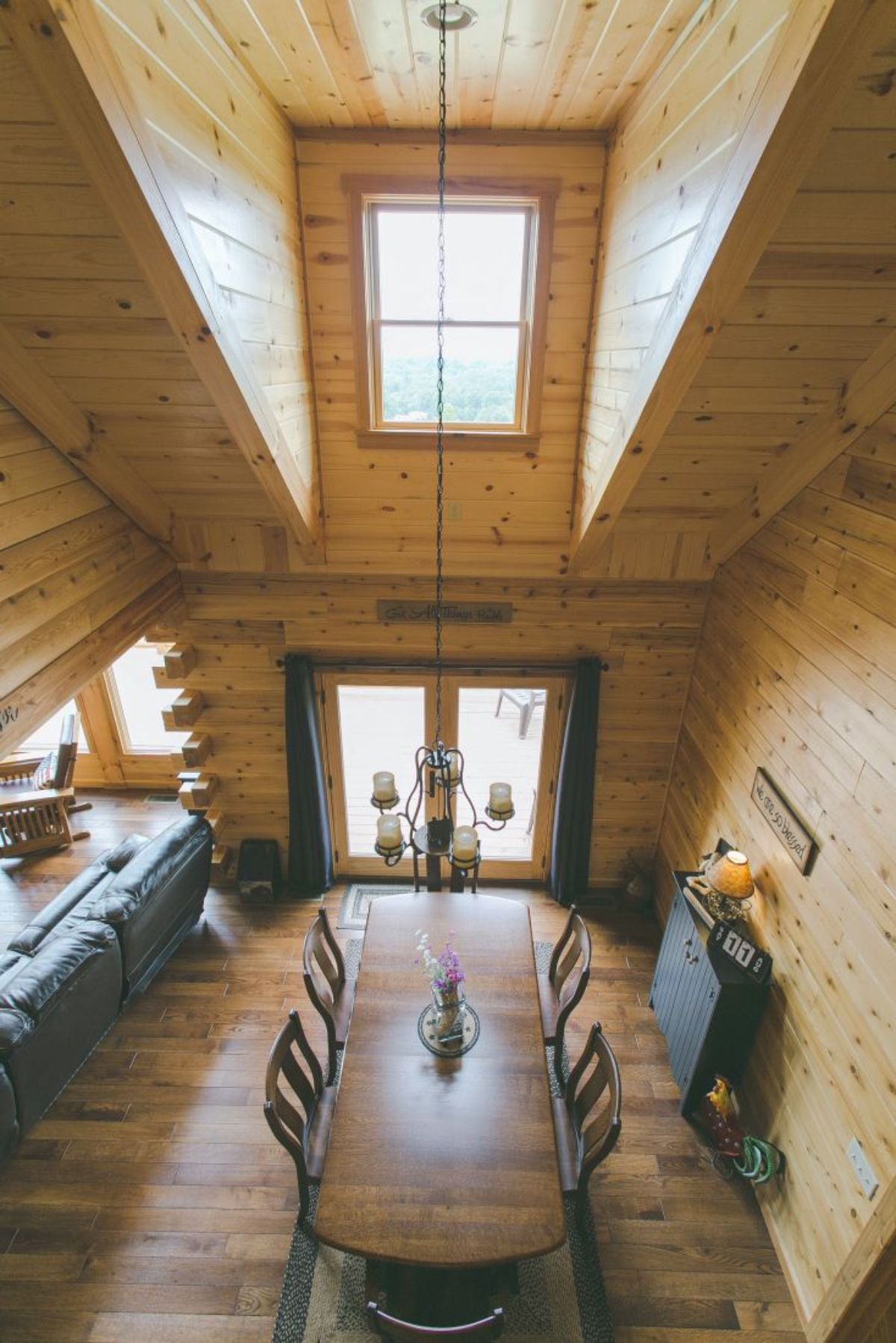 Upstairs, the loft contains a few spaces to relax, including a little family room area here with space for sofas and a television. This is the ultimate kids living space or game area that is cozy and a bit less formal.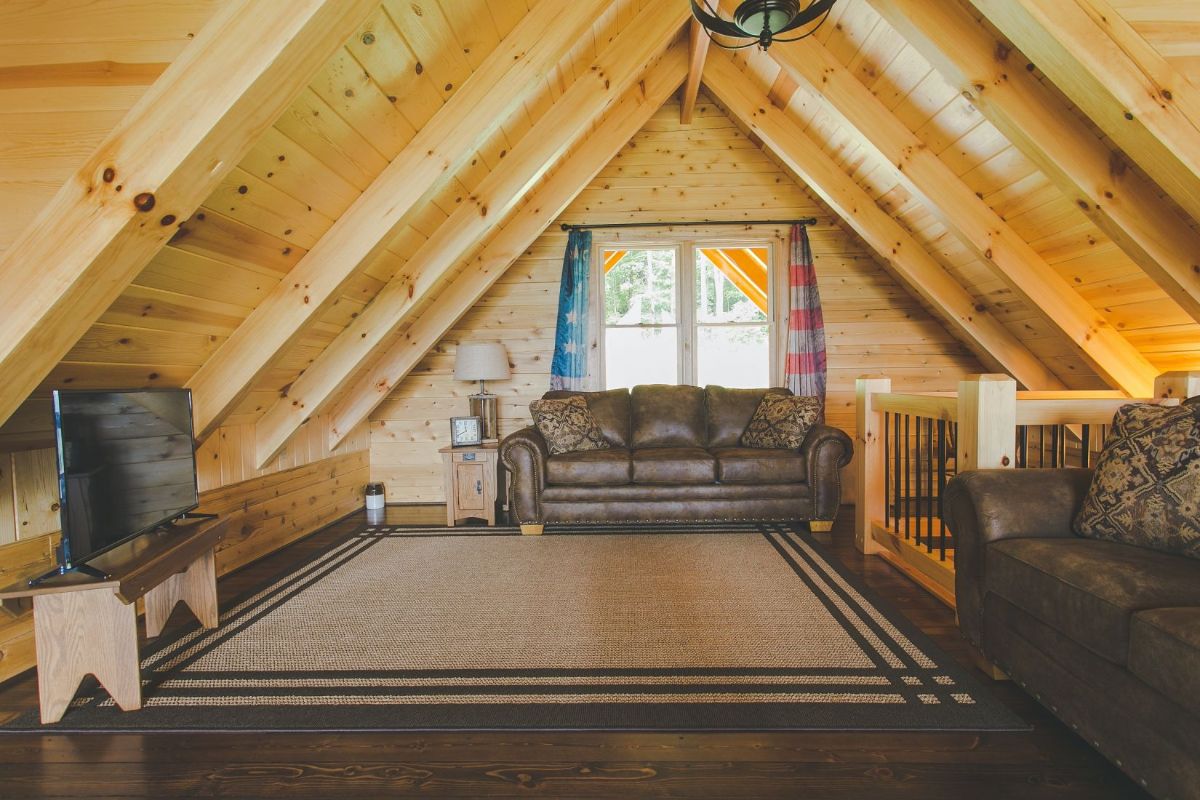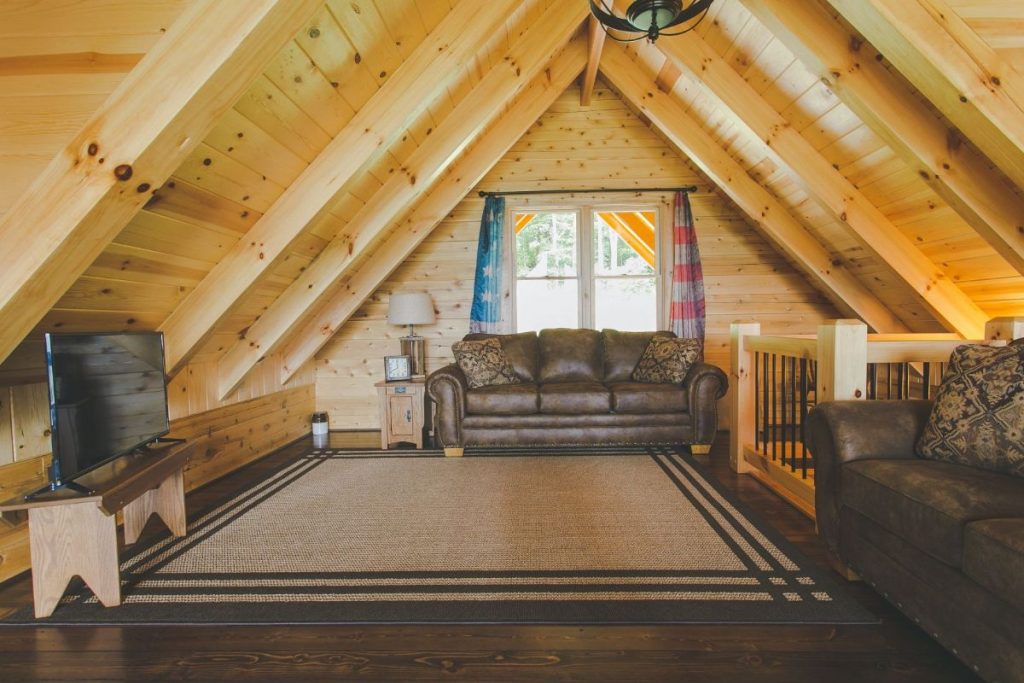 I love the rustic look and bits of style they have added to this home.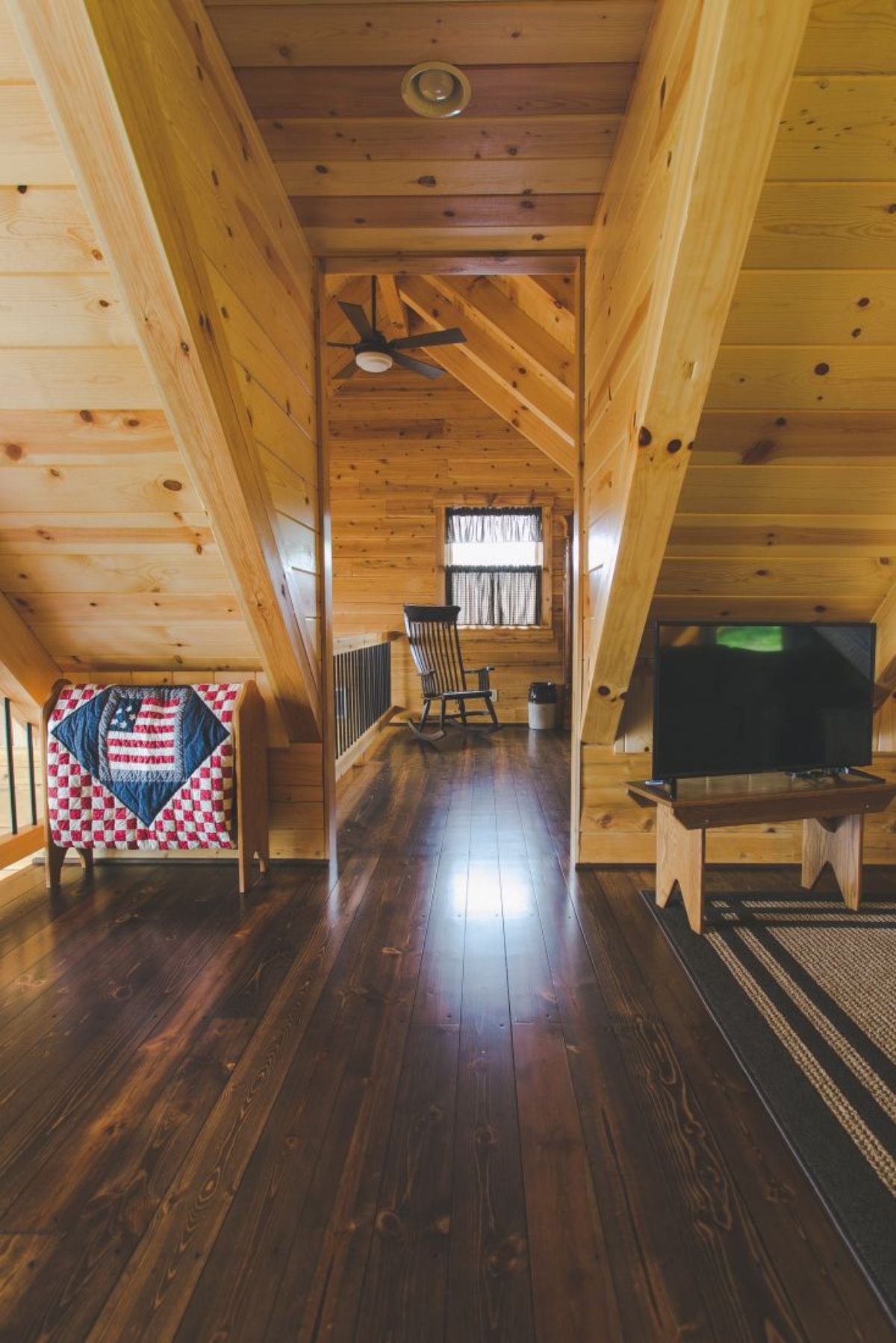 The second open space in the loft isn't a bedroom, as it is open to the rest of the home through a railing at the loft edge, but it is a nook that is ideal for creating a home office.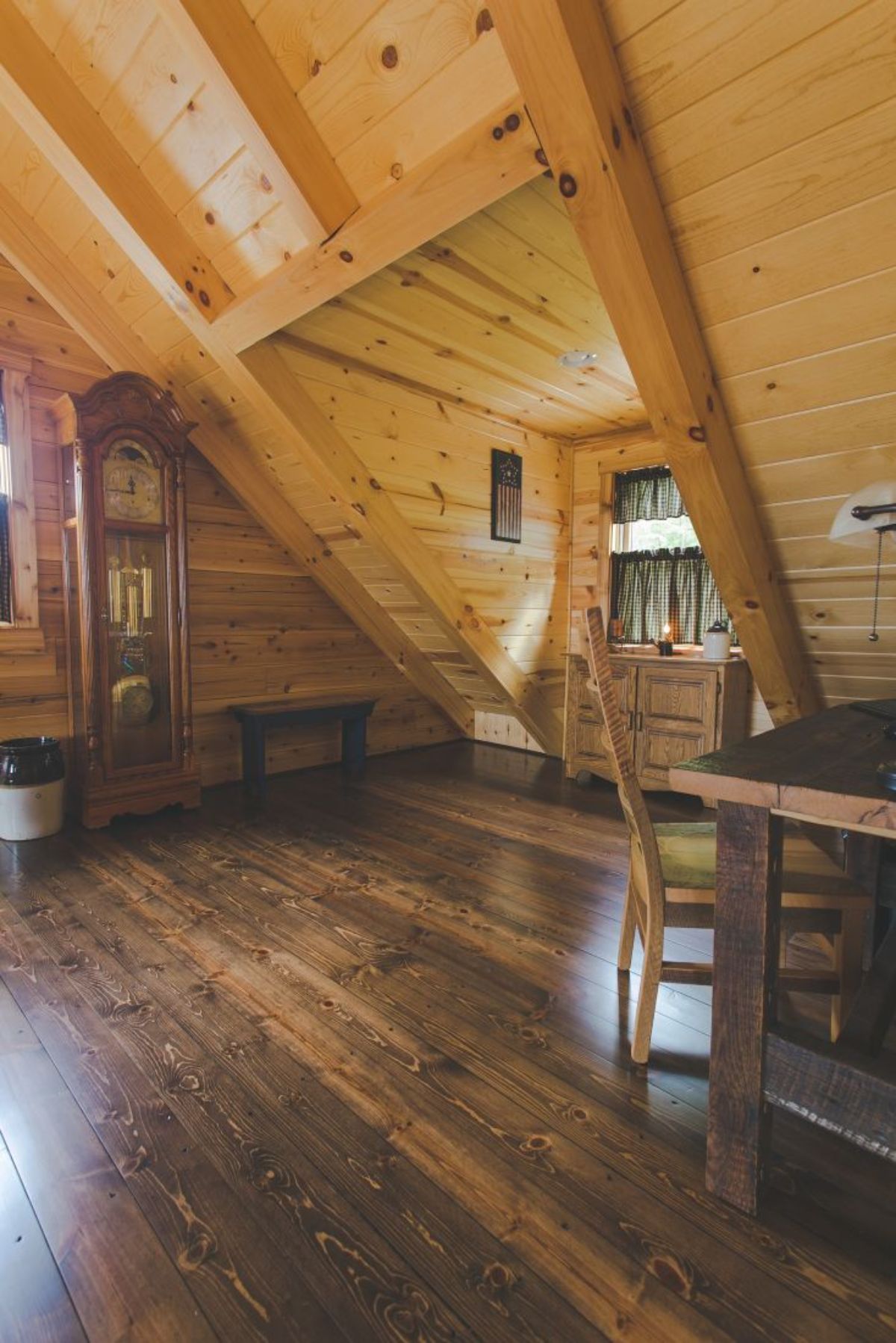 A desk on one corner can easily hold a computer and space to store office supplies. Or, it could easily be used for kids homework or gaming if you prefer.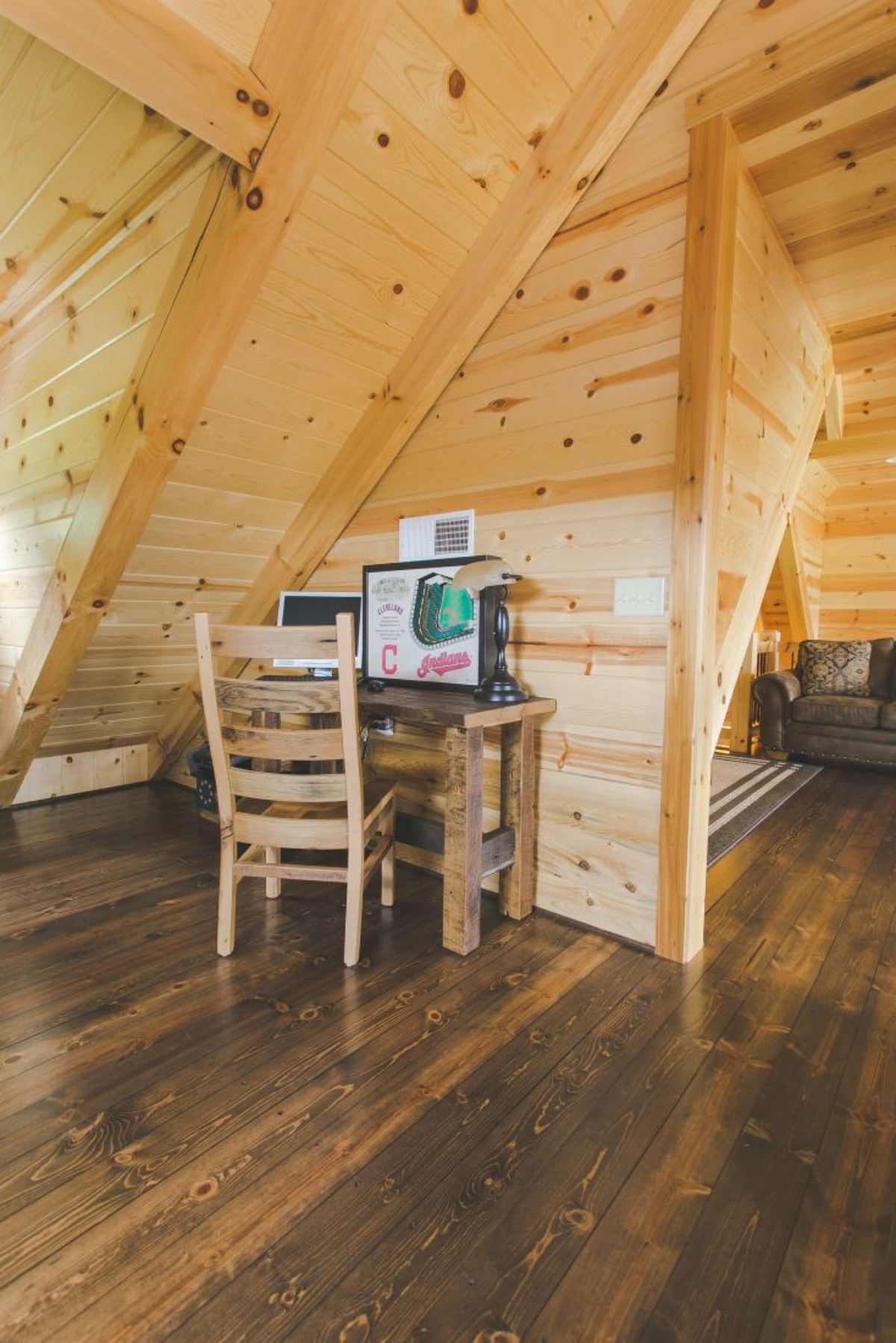 Just a lovely space that you can enjoy relaxing in with your family or use for storage and extra living space for the kids.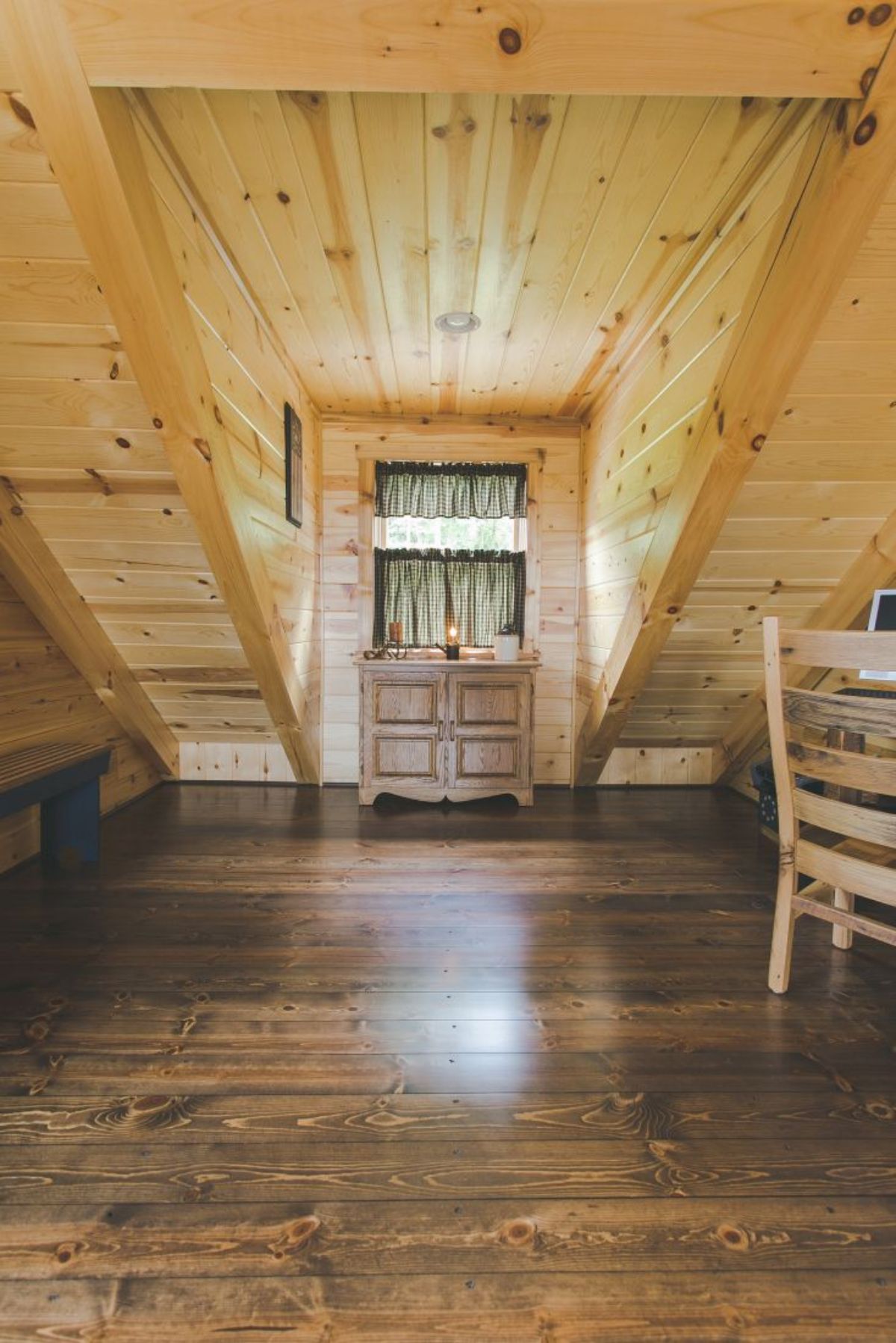 In the lofted second floor, there is also a private bedroom. Built under the eaves, this room is a cozy space with tons of extra room and tall ceilings.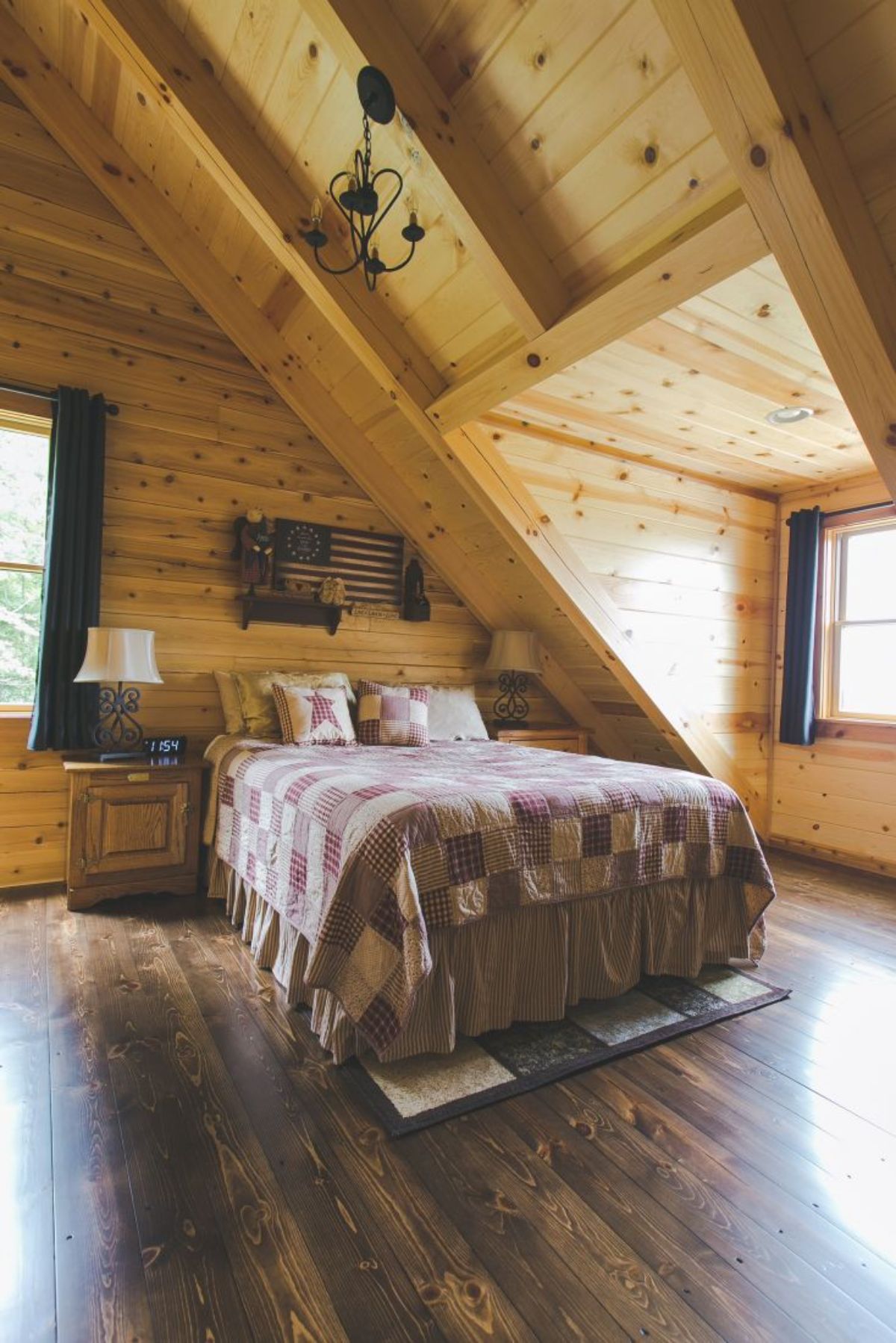 And a second bathroom on this floor has all of the beautiful style and rustic elements you expect in a farmhouse or log cabin.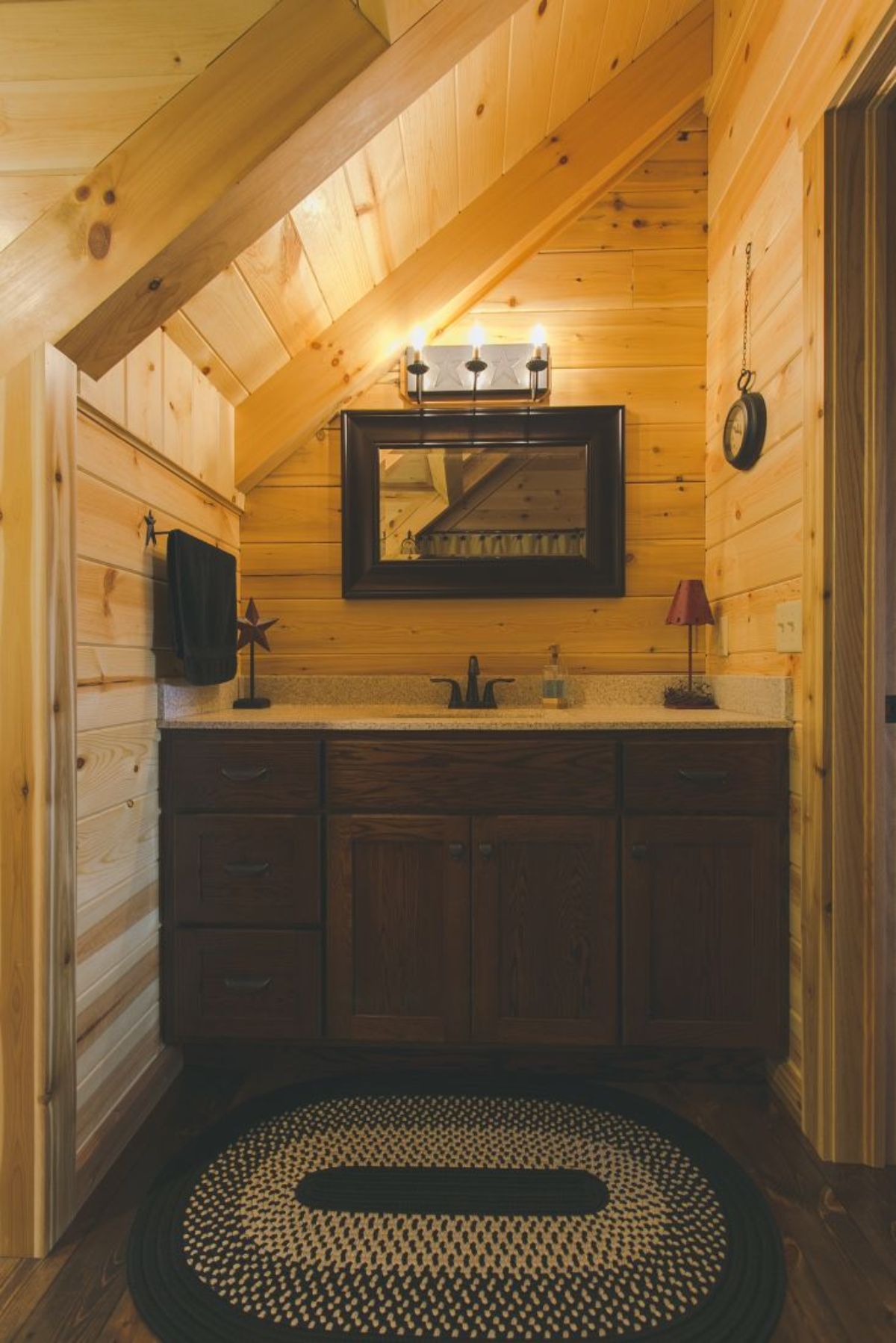 If you are interested in this build or similar models, check out the Fairview Log Cabin website. Make sure you let them know that Log Cabin Connection sent you their way.
More Log Cabin Kits and Tours