If you love the raw wood look and appreciate the use of reclaimed wood throughout a build, then the Black River log cabin is one you are going to adore! This simple home has wrap-around porches, a two-car garage, and beautiful woodwork throughout.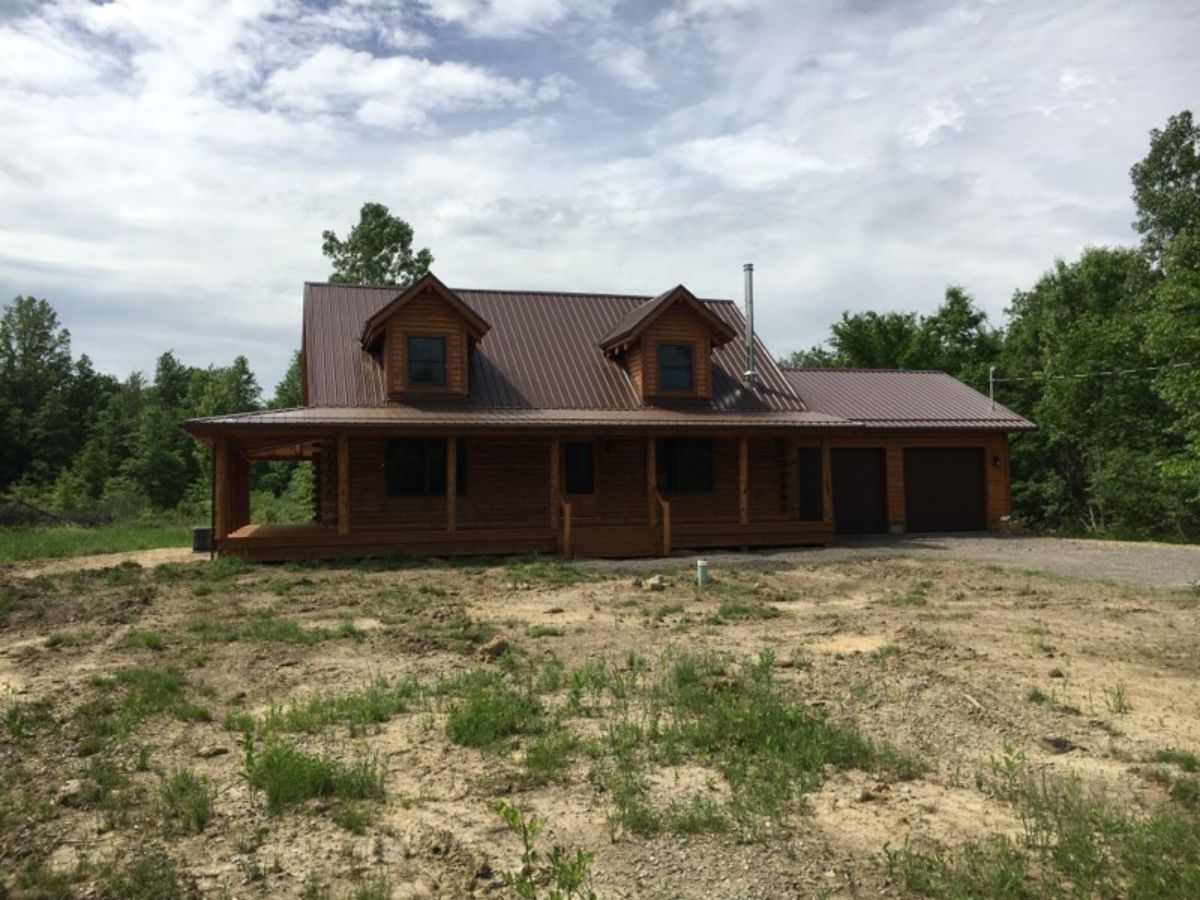 Log Cabin Size
1,647 square feet
1 bedroom
2 bathrooms
Log Cabin Features
Open floor plan with main floor bedroom as well as an open loft with space for secondary sleeping space.
Master suite with full bathroom en suite.
Unique second full-bathroom with a custom whiskey barrel vanity.
Reclaimed barn wood used to build kitchen cabinets.
A wood-burning stove with stone veneer backing in the corner of the main floor living space.
Tongue and groove barn siding on interior walls and ceiling.
Full wrap-around porch.
2 car attached garage.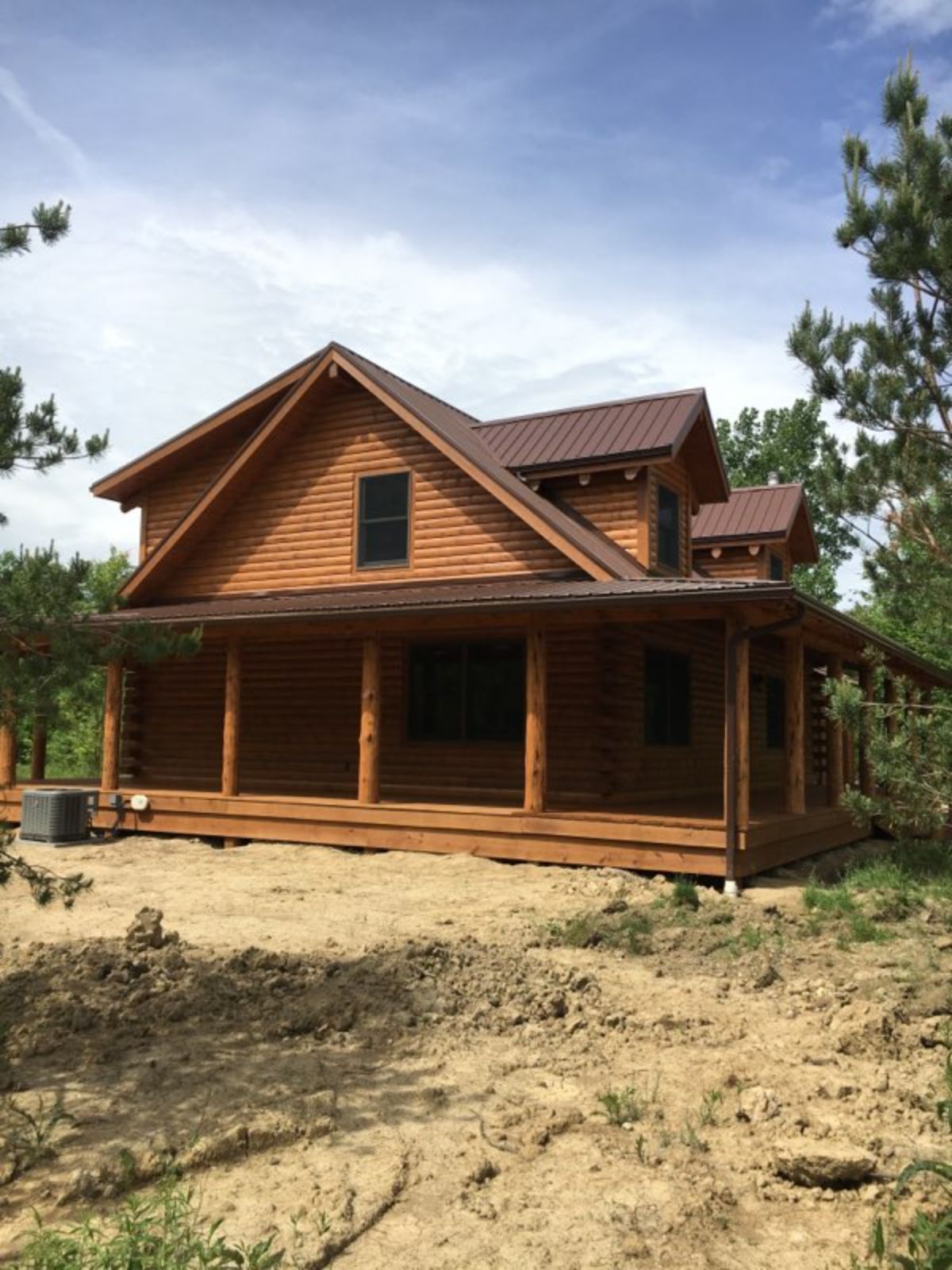 I love seeing wrap-around covered porches on homes, but especially on a cabin build. This reminds me of old-school farmhouses, which I also love. The combination of styles really appeals to my love of all things vintage.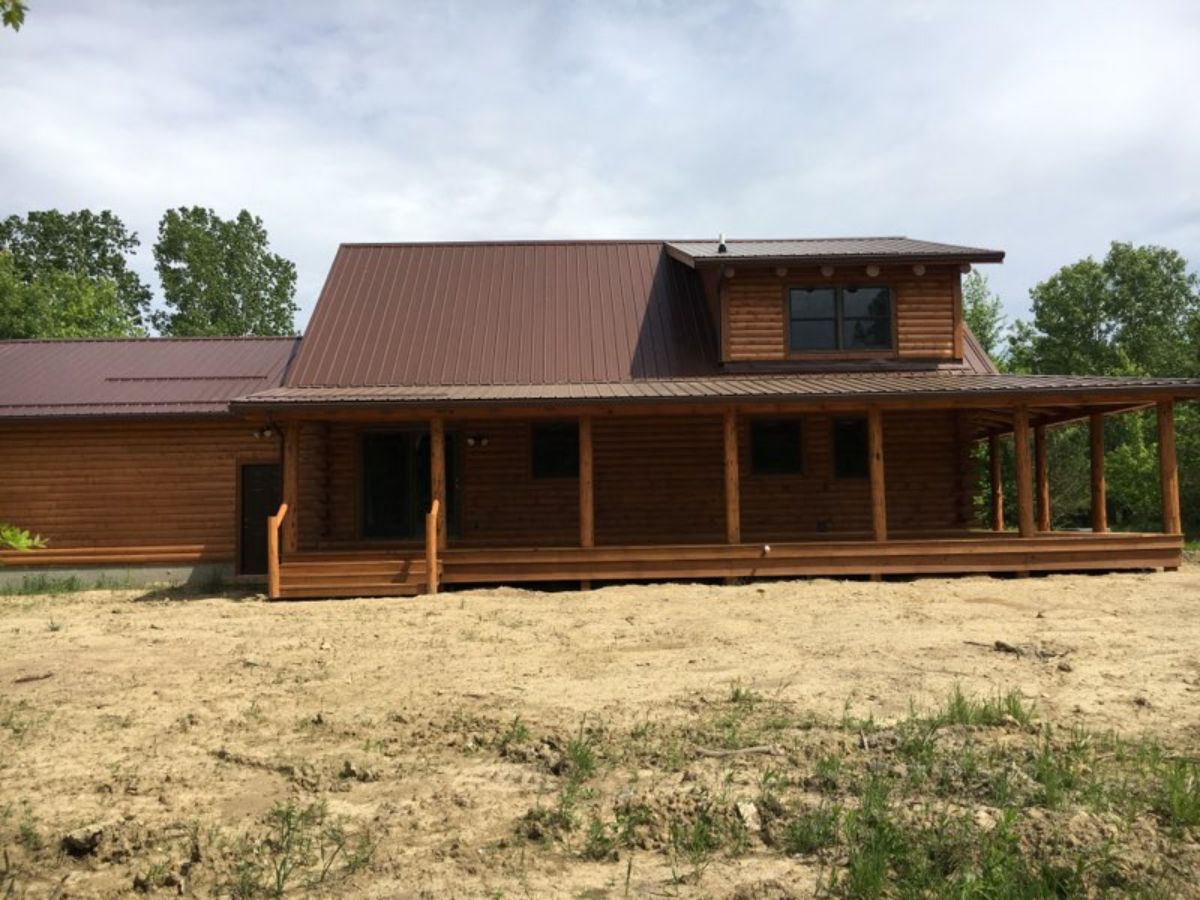 While the home does have a second-floor loft, it is an open space with a dormer window that, while can be used for a sleeping space, is a perfect home office or game space for kids.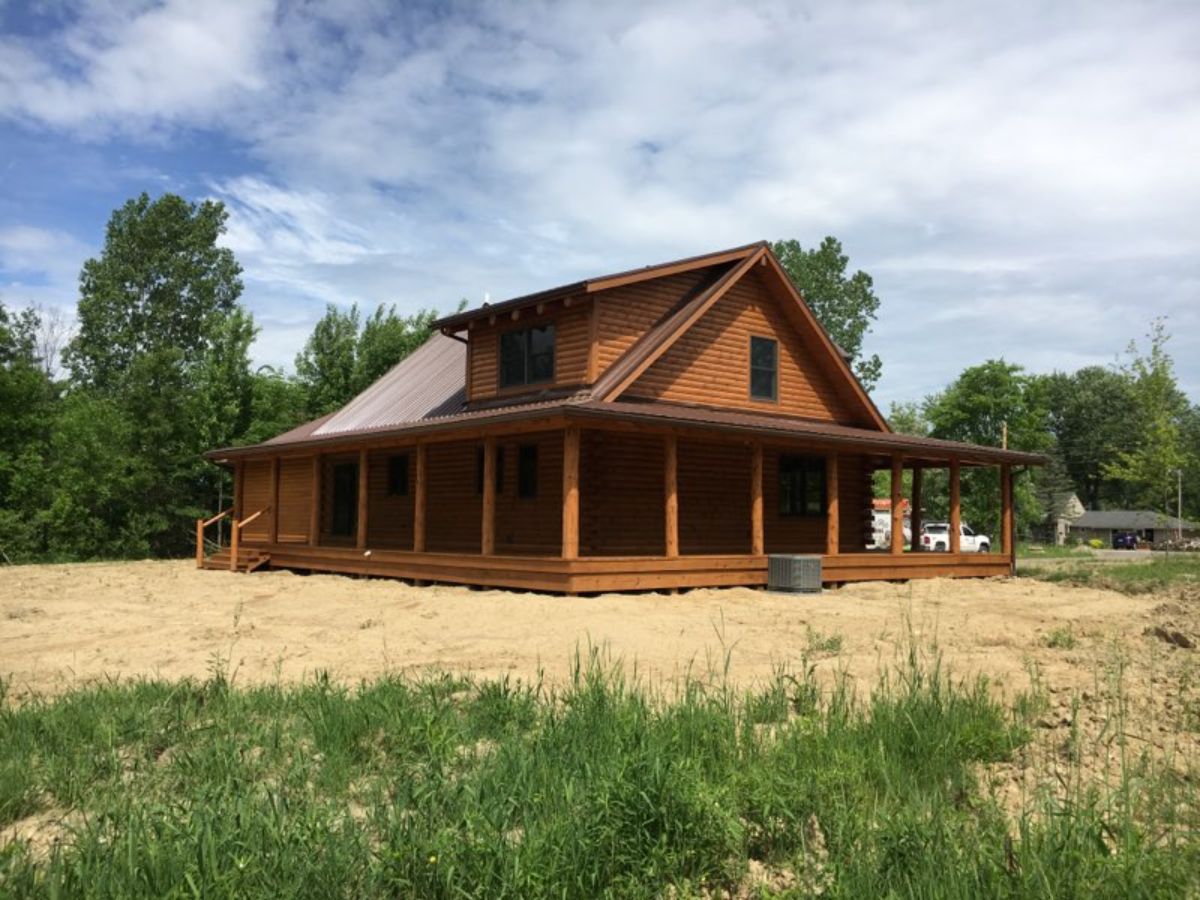 Just look at this gorgeous woodwork on the porches! I can just feel the cool breeze while sitting on a rocking chair with a glass of sweet tea in the summertime.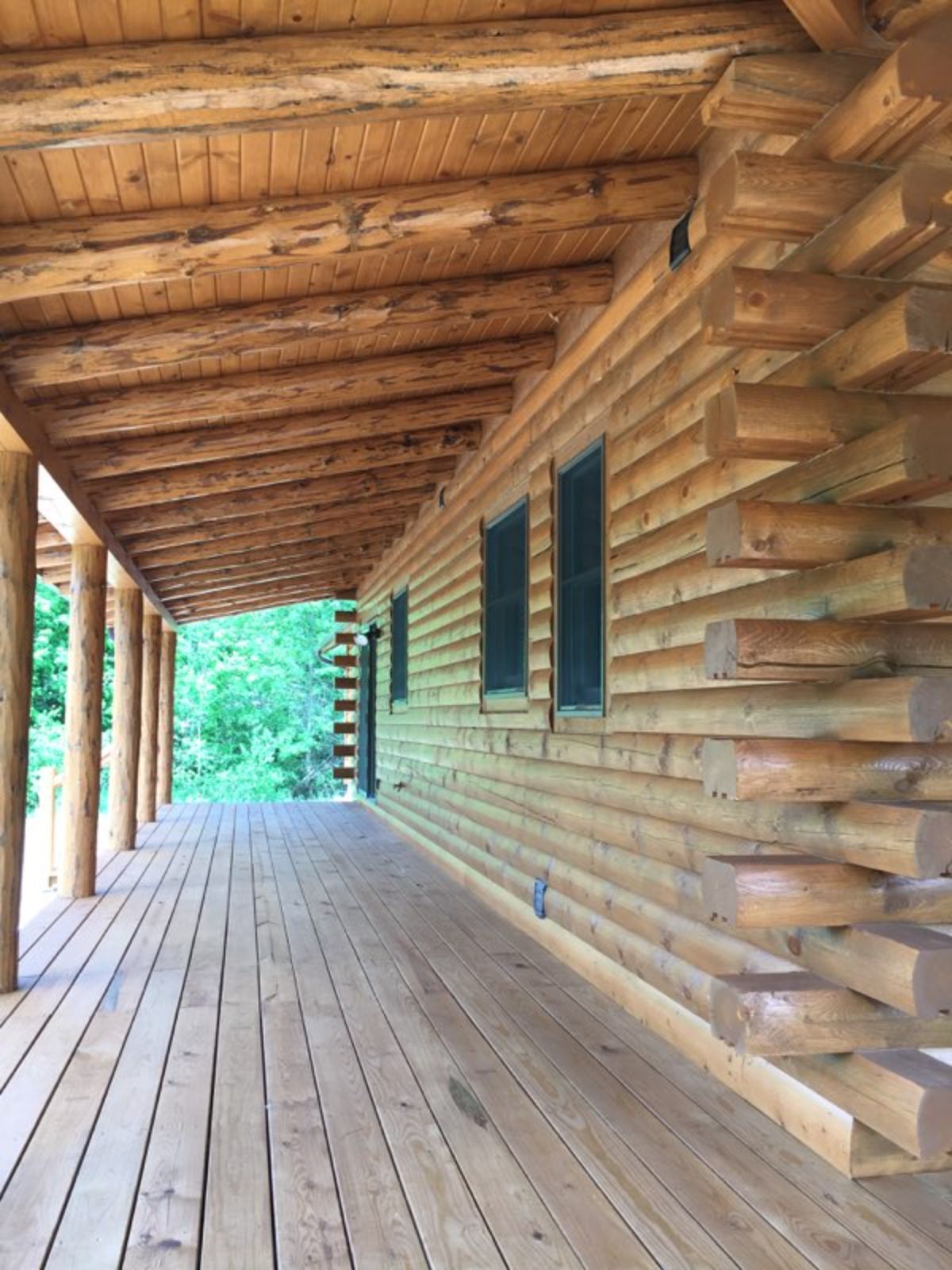 Inside the cabin, the main floor includes the kitchen, master bedroom, and bathroom, as well as this open living area. I love the use of real log beams throughout the home as both an aesthetic but also functional addition.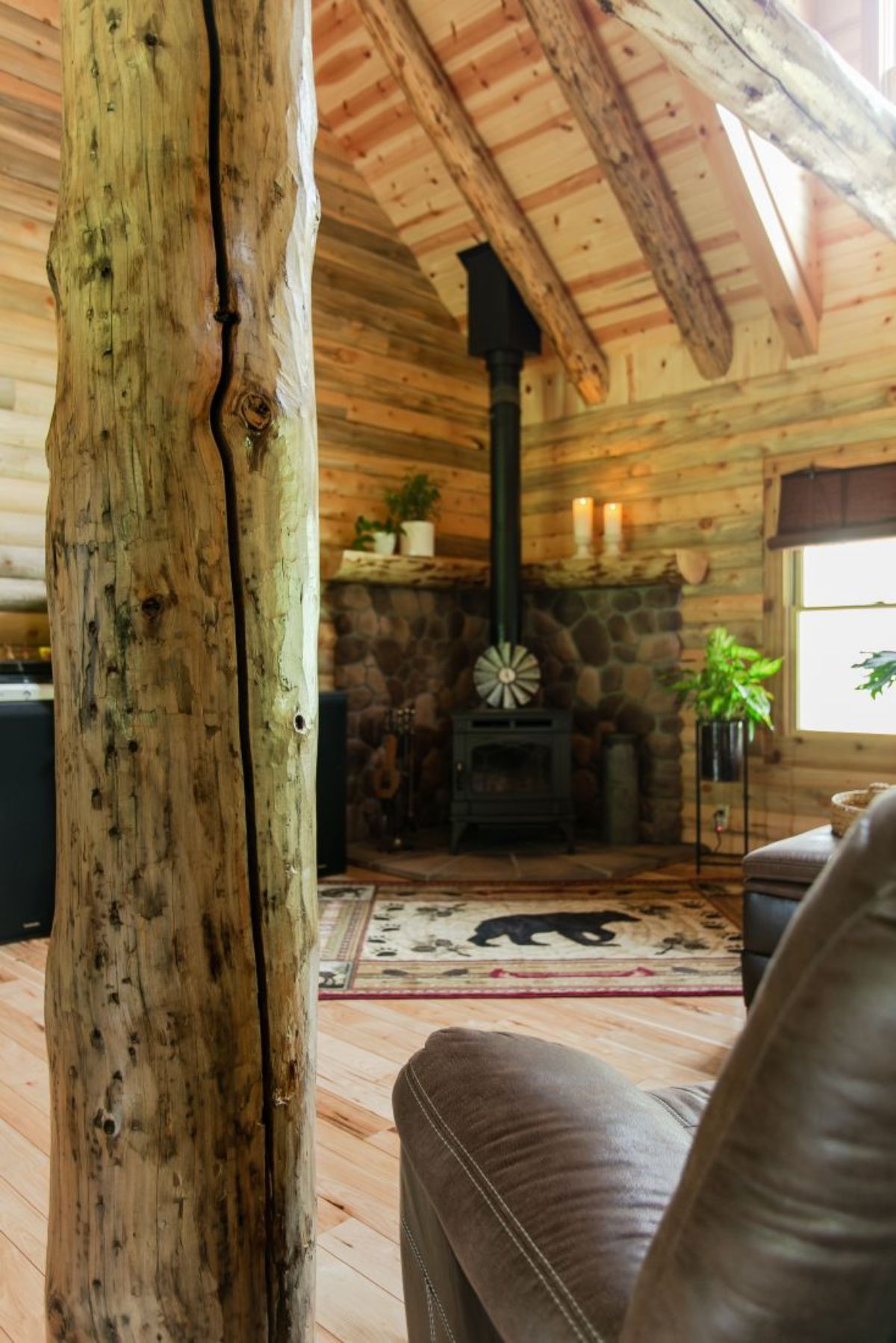 In the living room, a little corner wood stove is a great addition. A stone veneer behind the stove also has a half-log mantle that is ideal for decor or those holiday stockings.
While it's not a large space, it is cozy and has room for a sofa, chair, the television, and of course the cozy stove in the corner to create a perfect family room.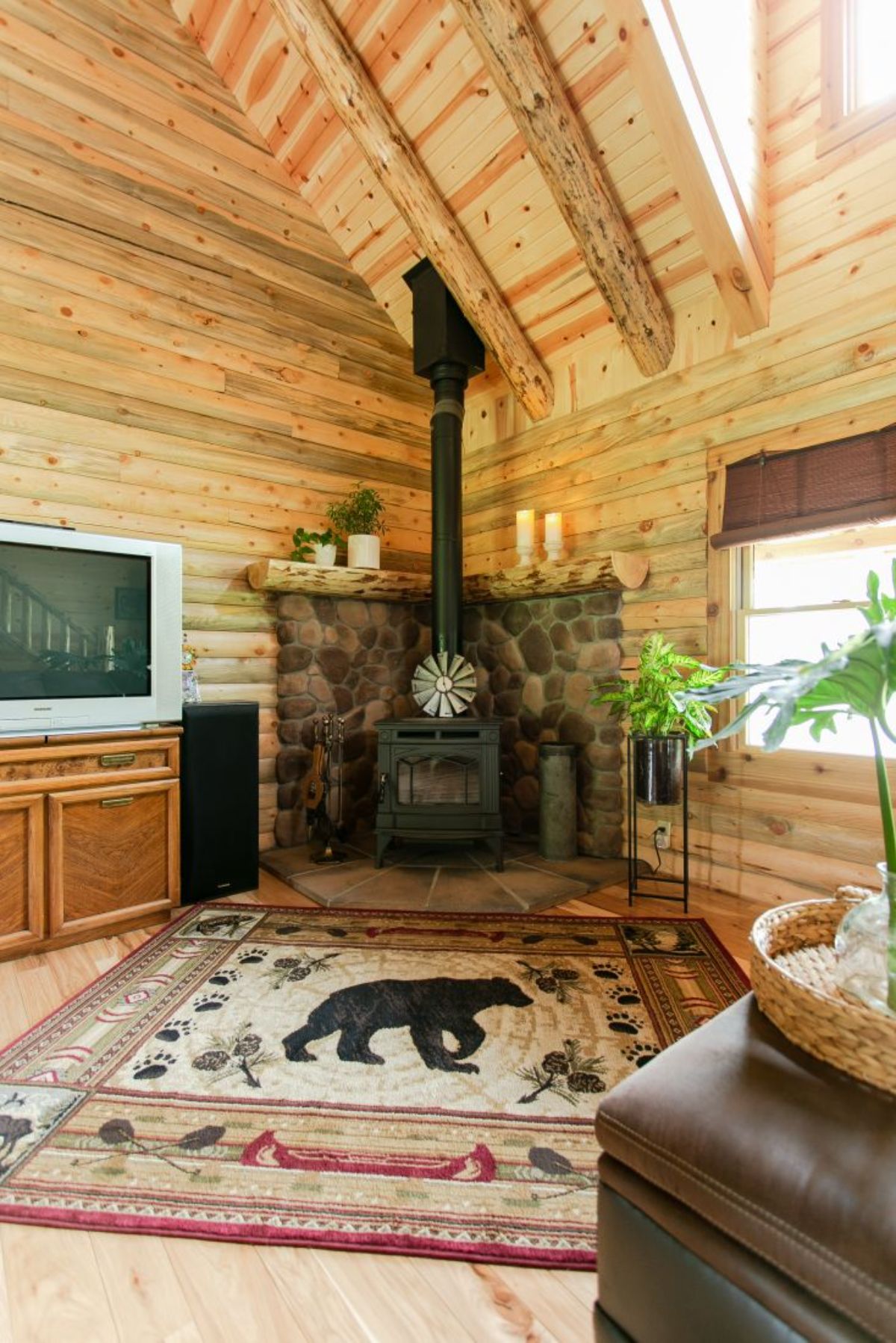 On the other side of the space, behind the living room, you have an open kitchen area, a door out to the back porch, as well as a small hall leading to the main floor bathroom and bedroom. I appreciate the reclaimed barn wood cabinets here. So unique and a perfect addition to the rest of the log work throughout the home.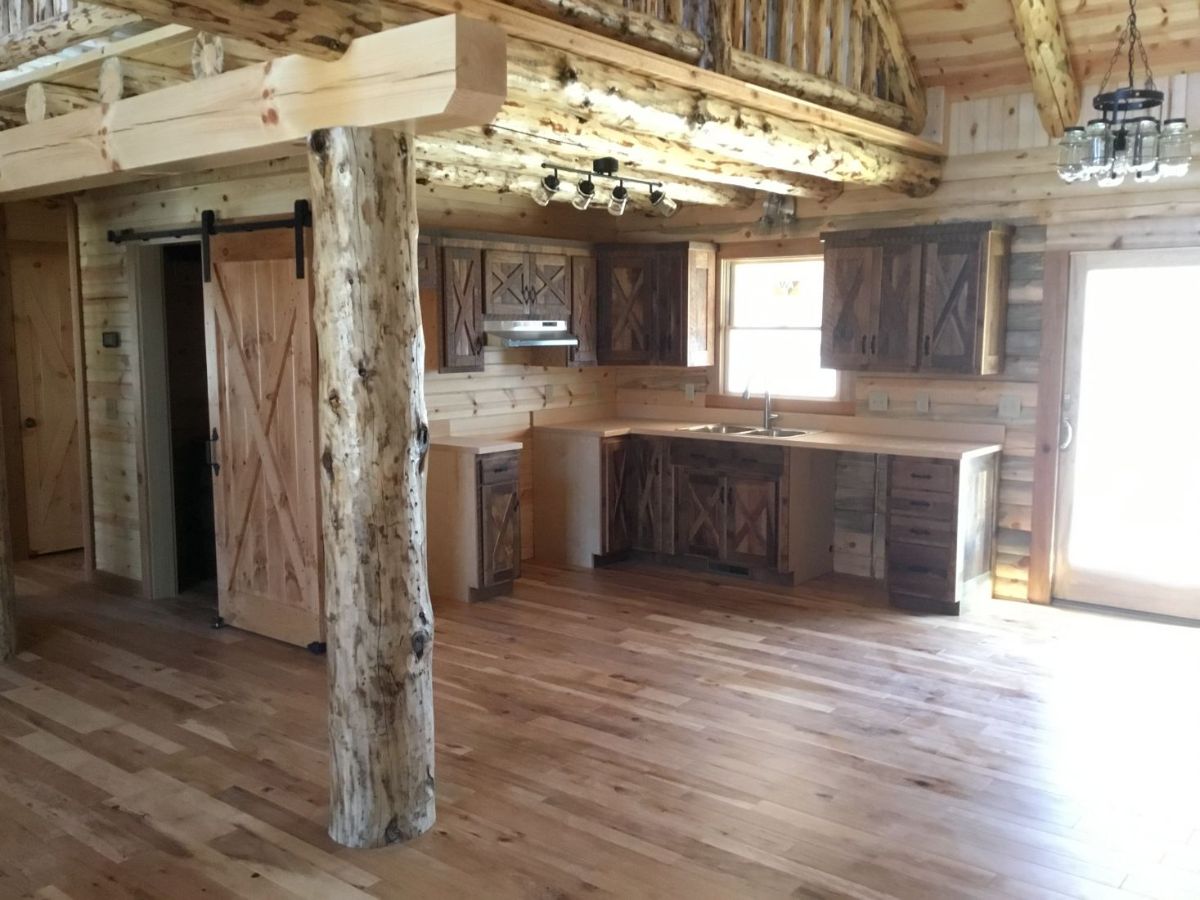 Once the kitchen was finished, appliances put into place, and decorated, you can see just how great it looks with those cabinets! I love the simplicity that also manages to showcase unique style.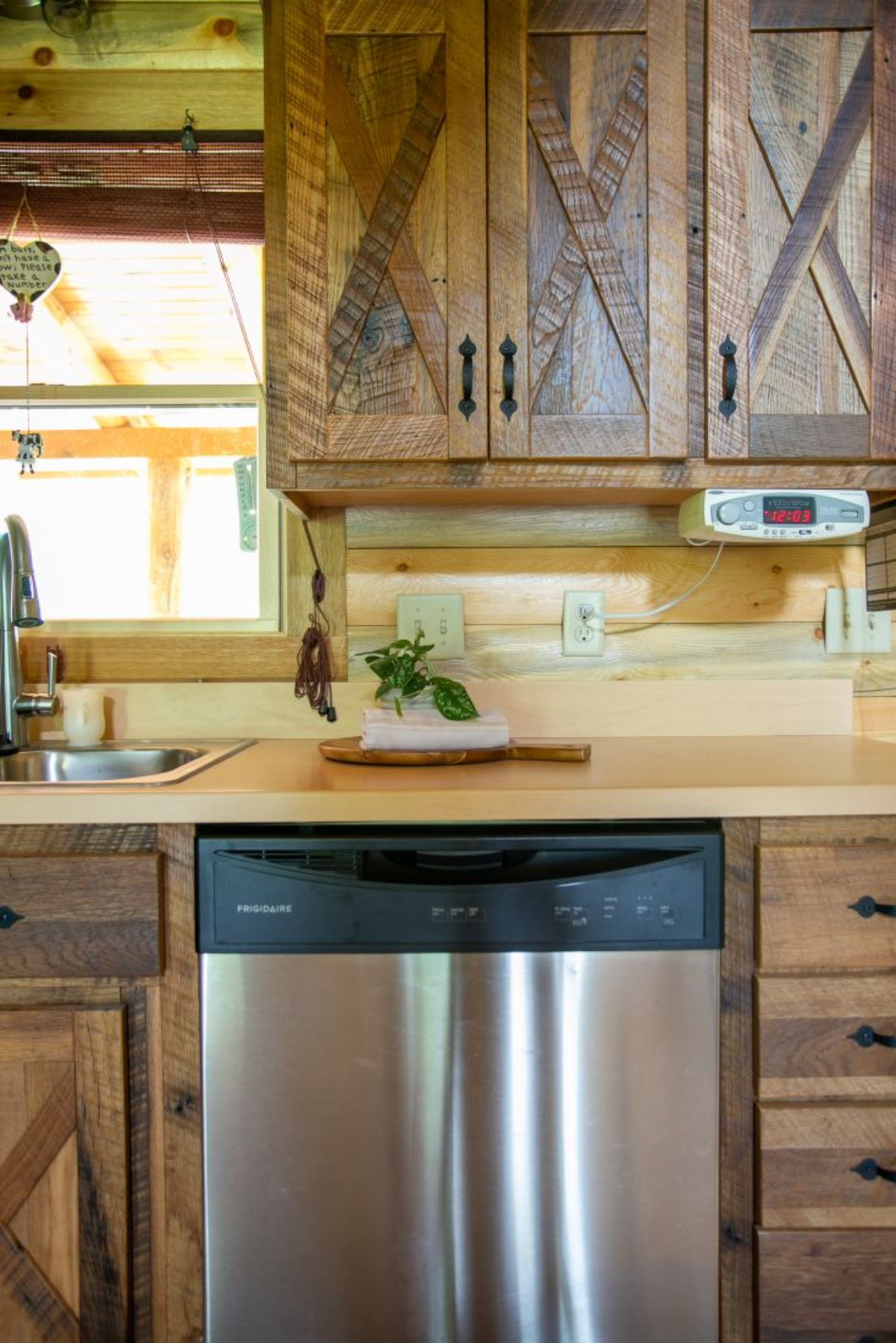 A master bedroom is located behind the kitchen on the main floor of this home. While there is a second space upstairs for sleeping, this is the only technical bedroom with four walls and a closet. It has windows on two sides with a ceiling fan above making it an ideal oasis from the world.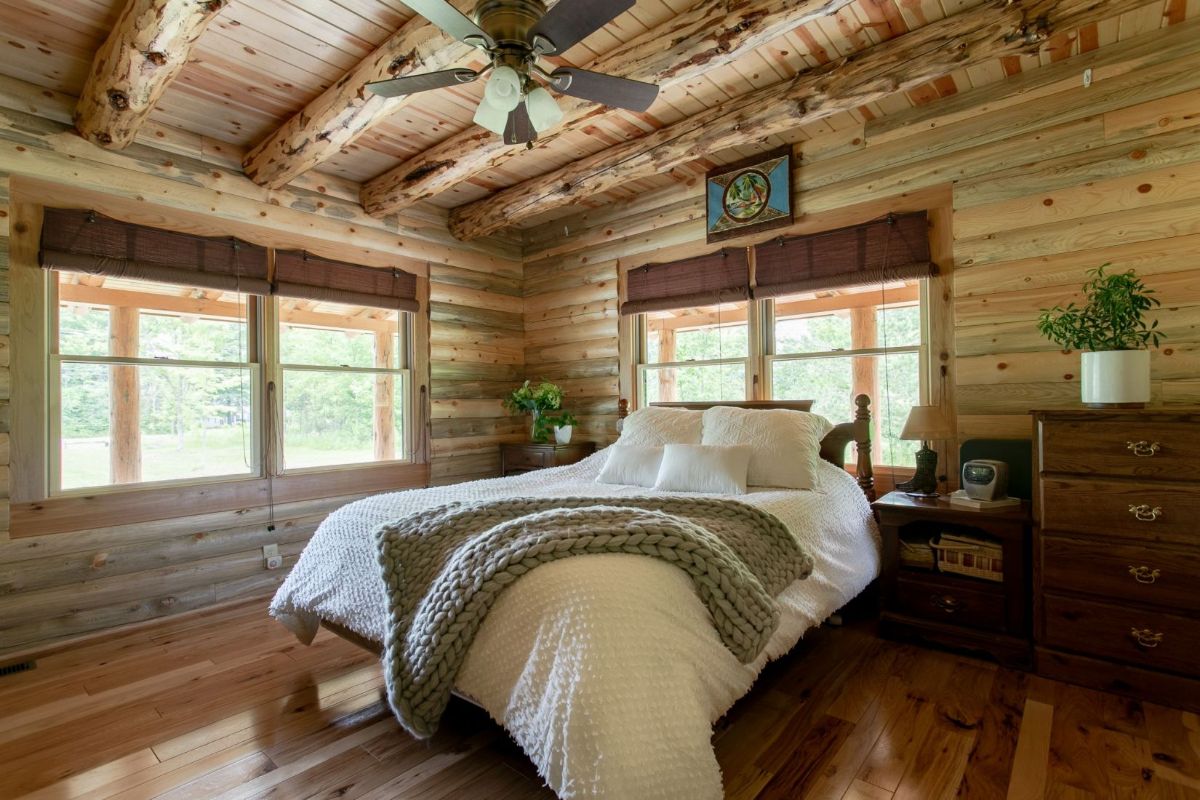 Here you can see out the door to the hall with additional storage closets and room to keep your day to day items on hand.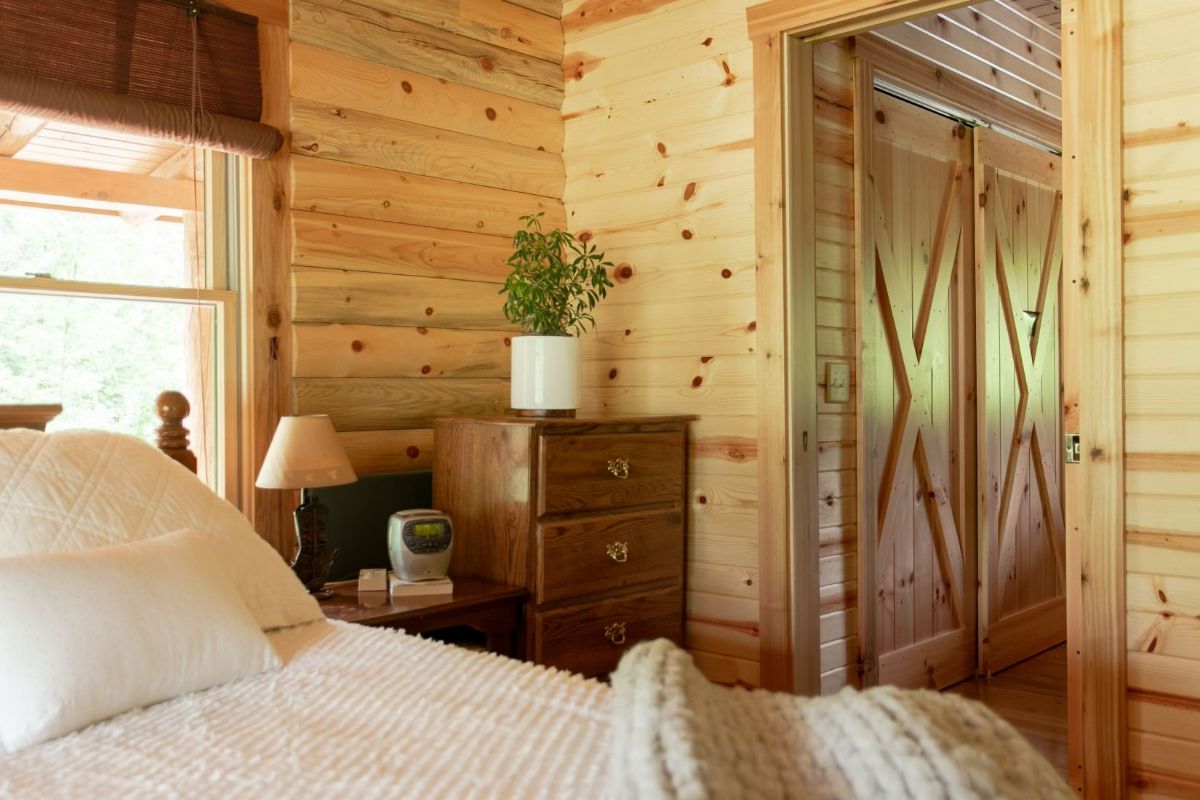 The master bathroom is large with a nice-sized sink that includes the reclaimed wood surrounding the medicine cabinet. It also includes a combination bathtub and shower against the far wall.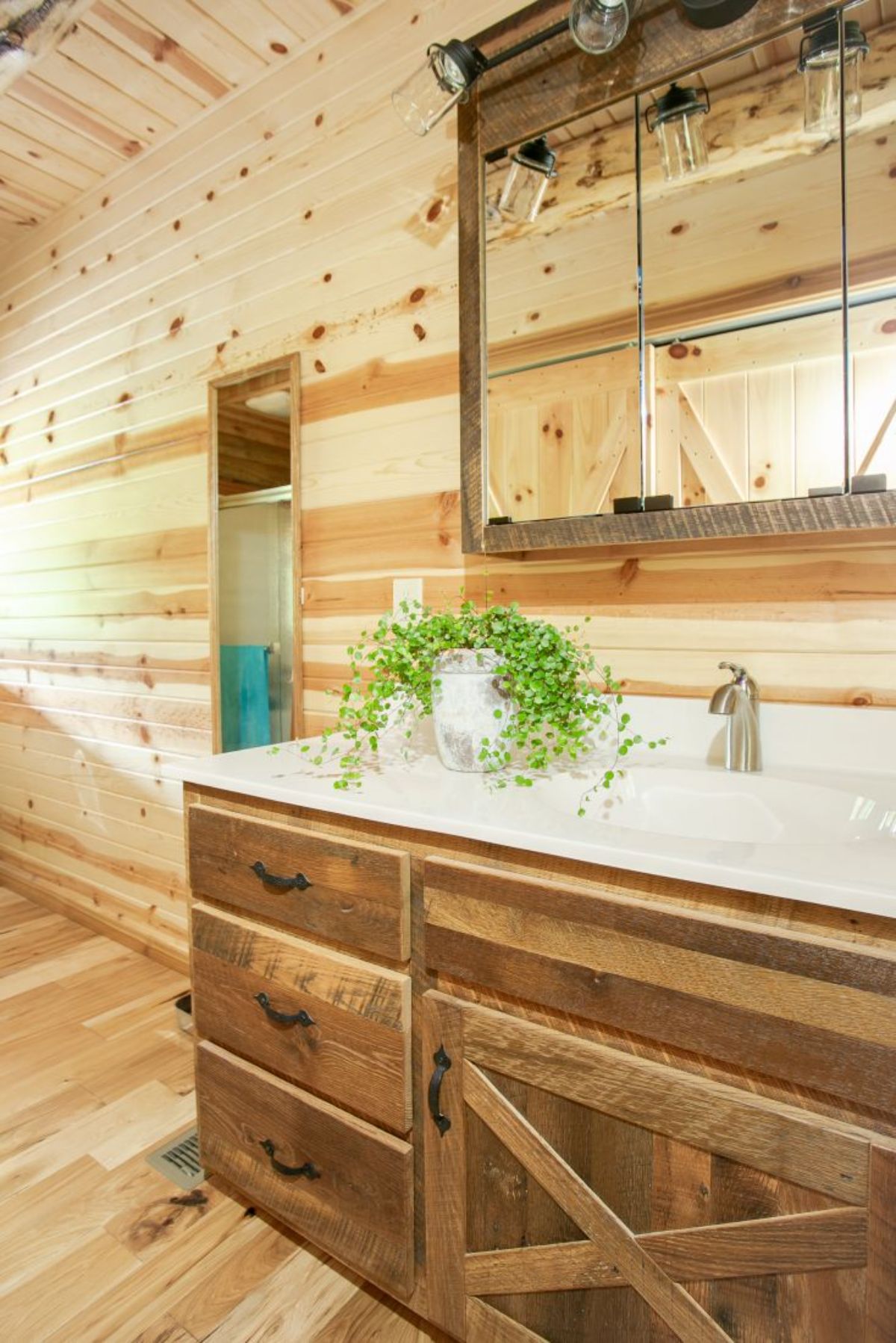 And an additional main floor bathroom includes this unique look with the whiskey barrel sink! I love that this owner went all out with the rustic look, including their shower curtain!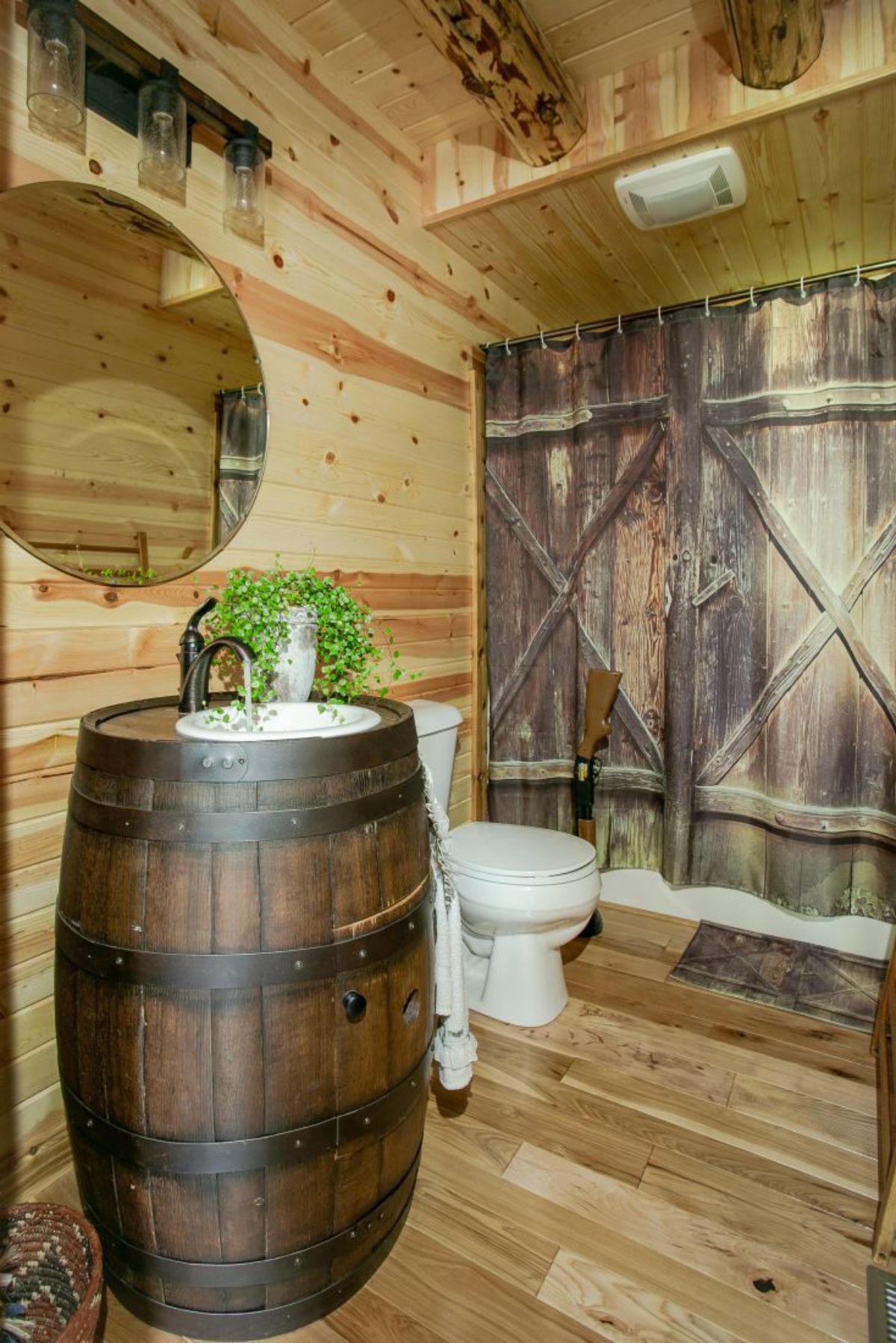 The stairs found going up to the loft and down to the basement of the home include the full log rails and hewn log spindles. Plus, half-log hewn stairs. It uses that custom woodwork to create something beautiful and functional.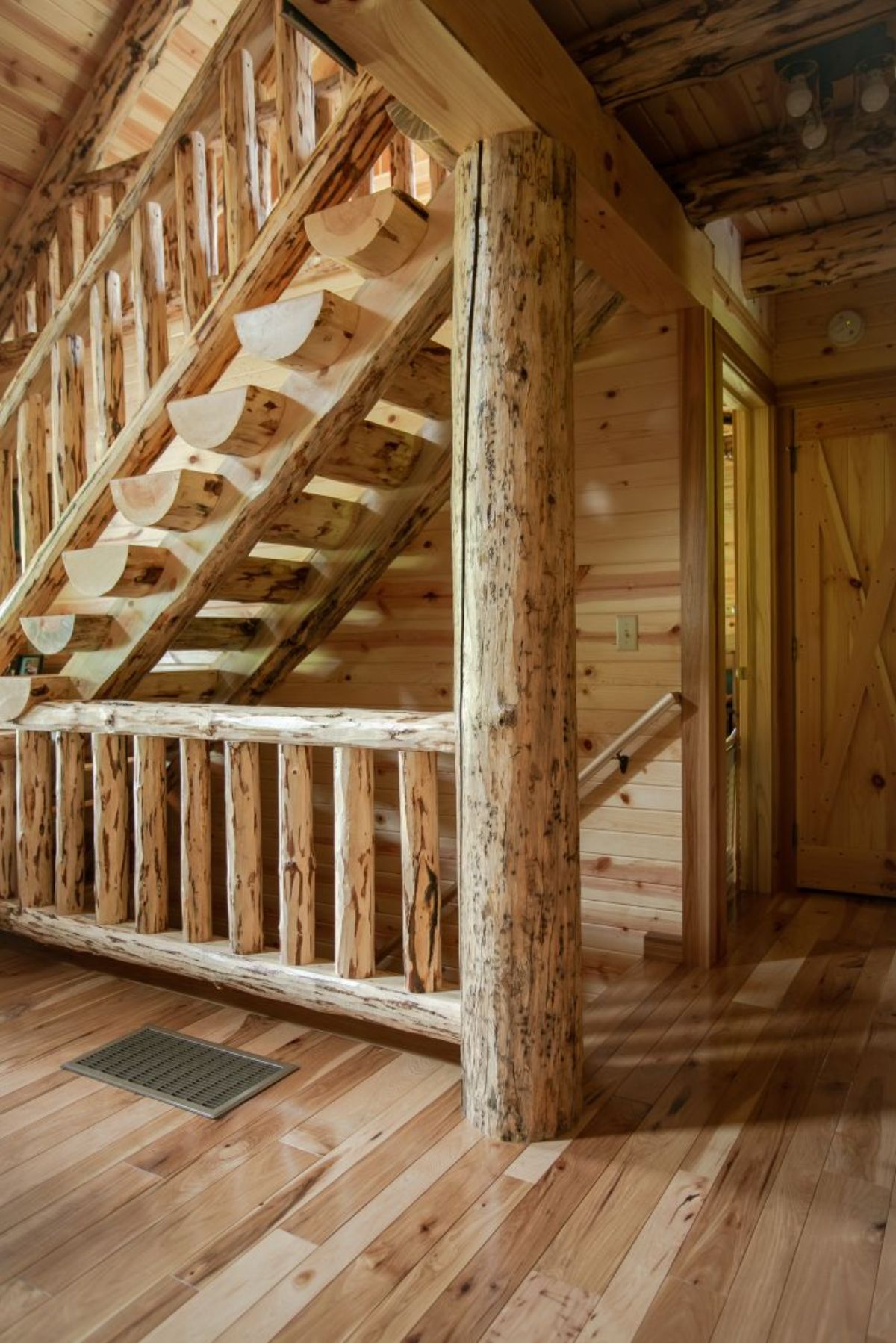 This owner has added a cozy twin bed beneath the dormer window in the loft. It's not an overly large space, but it is a comfortable area.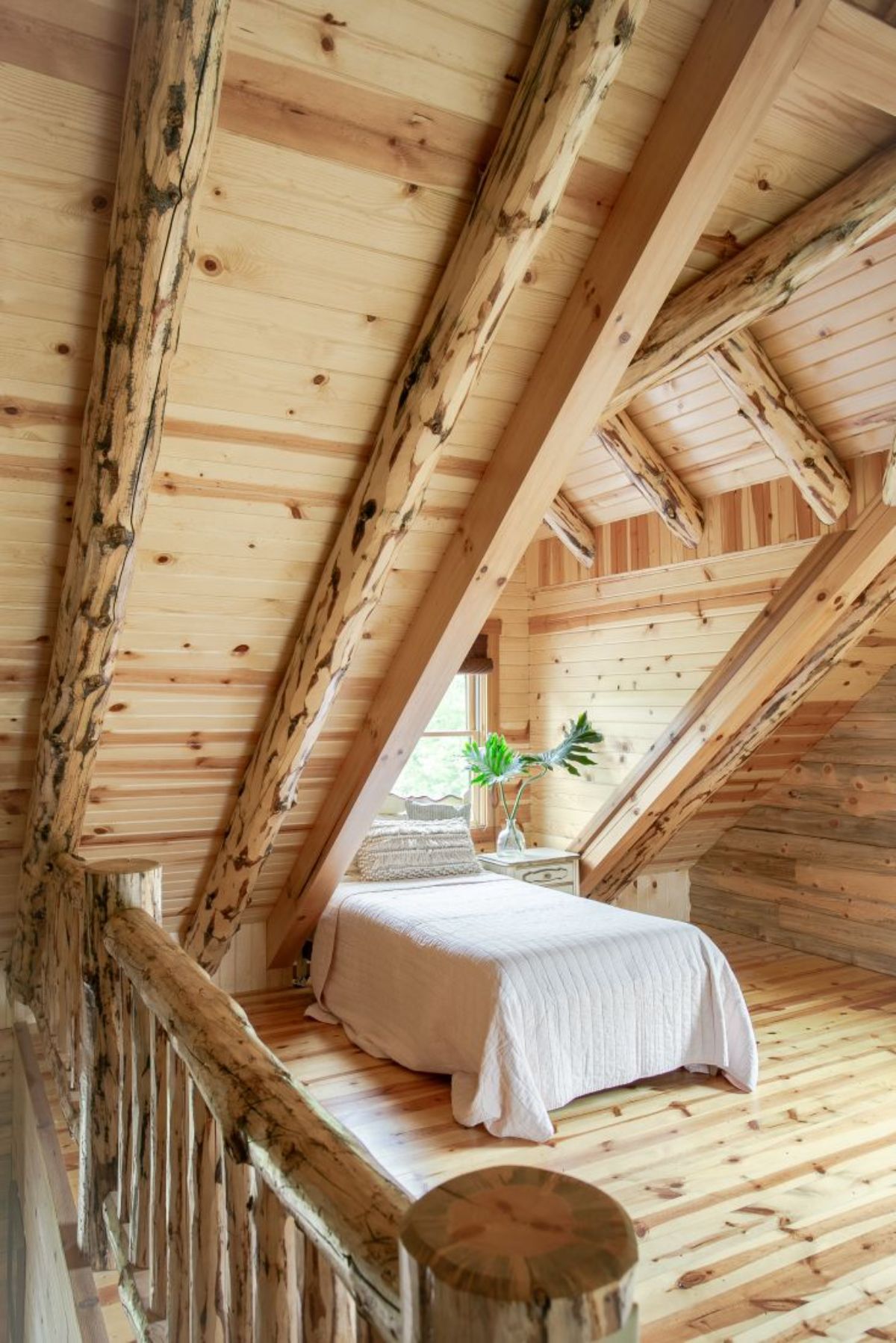 From here you can see a better idea of how much room is on this side of the loft. You could easily fit a larger bed, chest of drawers, desk, or another sofa here if you desire.
And on the other side of the loft, there is a cozy seating area with a reclining loveseat set up for convenience. This could also be used on the other side to create a large family room for relaxation instead of sleeping space.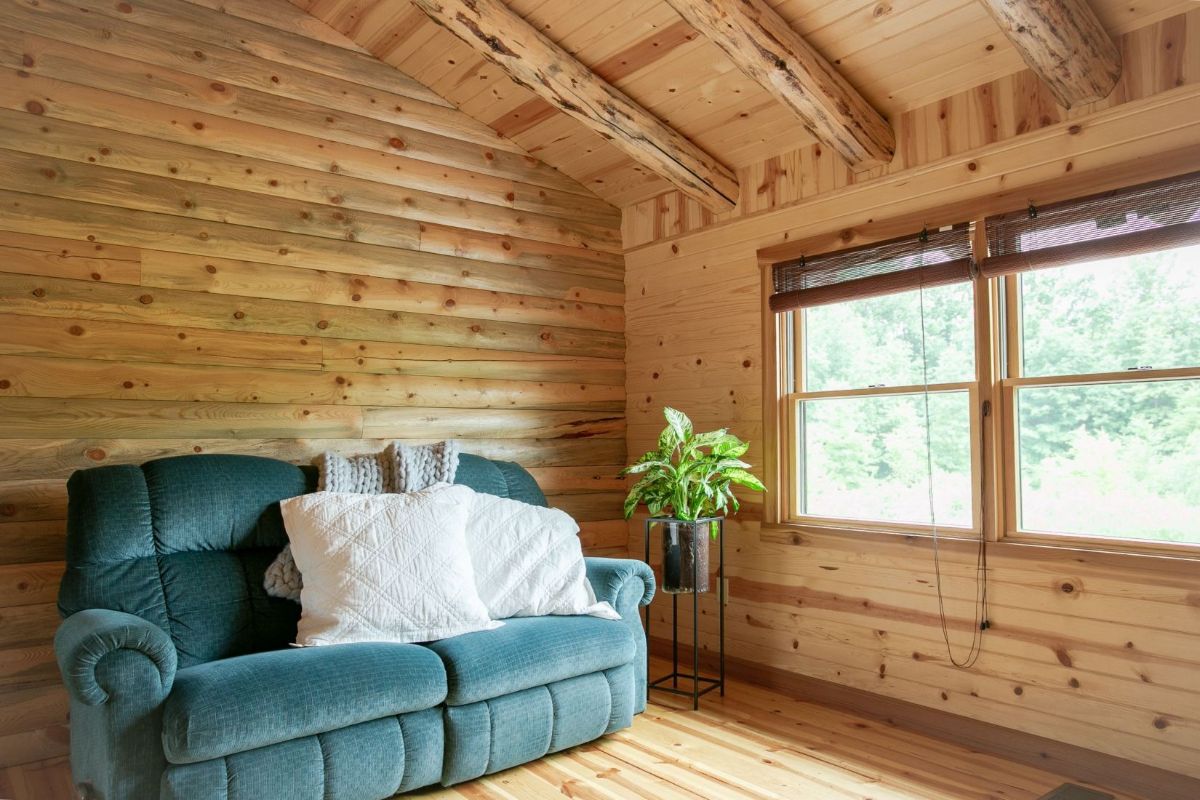 For more information about this log cabin build and others, check out the Fairview Log Homes website. You can also find them on Facebook and Instagram with more day-to-day updates. Make sure that you let them know that Log Cabin Connection sent you their way.
More Log Cabin Kits and Tours