The Island Park log cabin is a beautiful home located on Idaho's Henry's Lake with stunning views on all sides. A rustic look with plenty of room for the family to relax in comfort and style.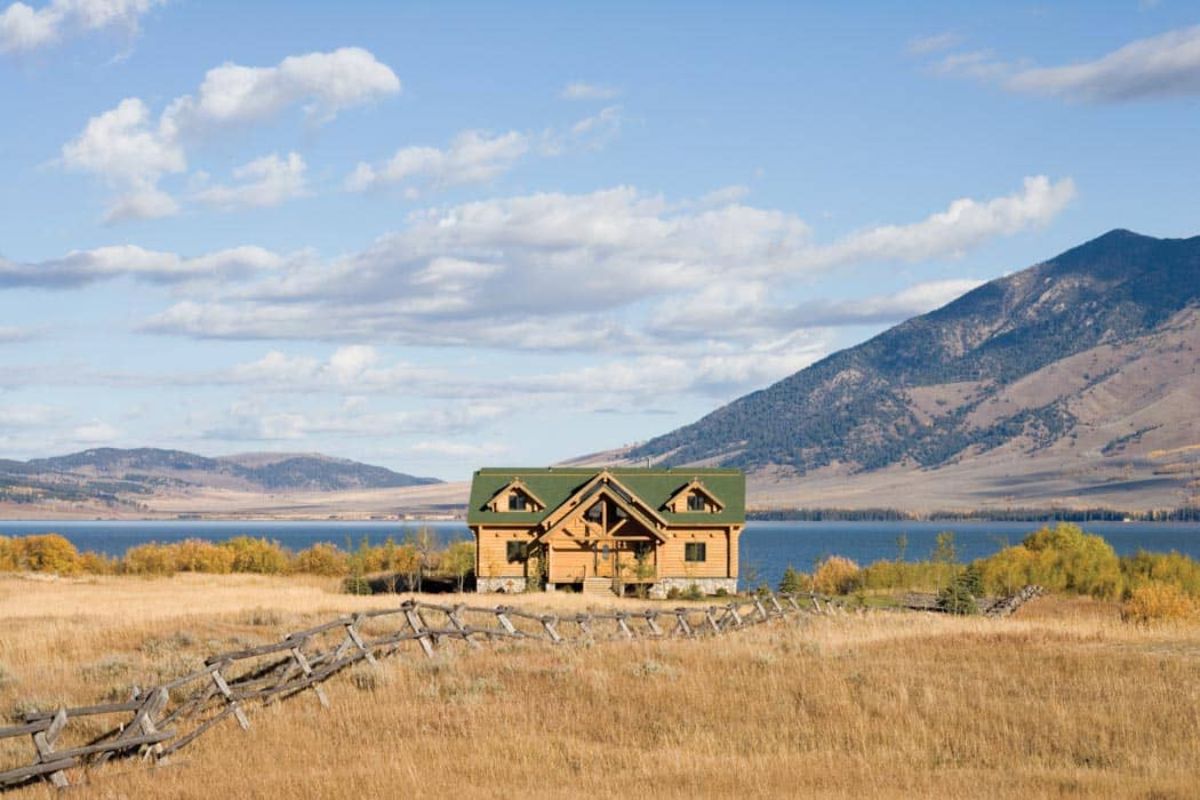 Log Cabin Size:
Log Cabin Features:
Round milled log walls.
Floor-to-ceiling window prow with pristine views of historic Henry's Lake.
Private balcony off each bedroom.
Large master suite with attached bathroom including soaking bathtub.
Expansive decks and porches with a combination of covered and open spaces.
Open floor plan with sprawling main floor living space, kitchen, and dining room open to each other and ideal for entertaining.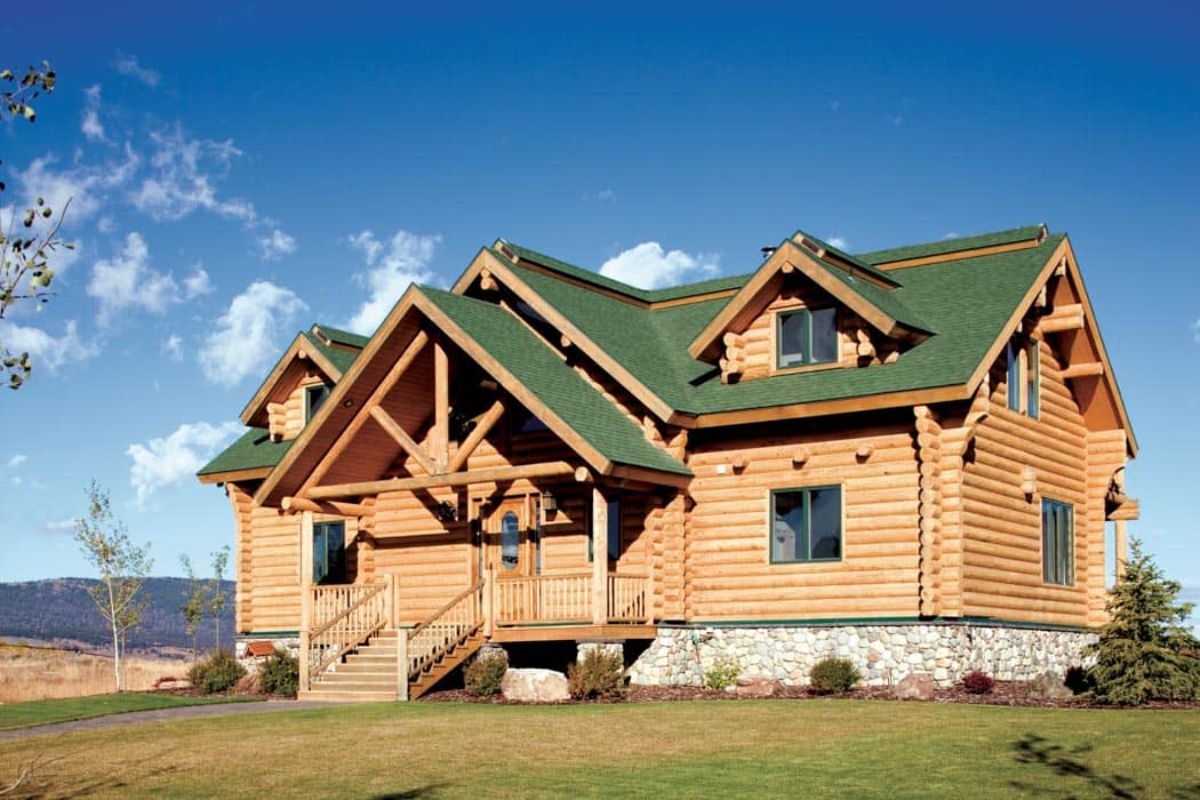 I love how the open but covered deck opens up out back to showcase the beautiful Henry's Lake views. With a partial covering here, it is easy to see a weekend barbecue picnic with adults outside for a nightcap watching the kids playing in the yard.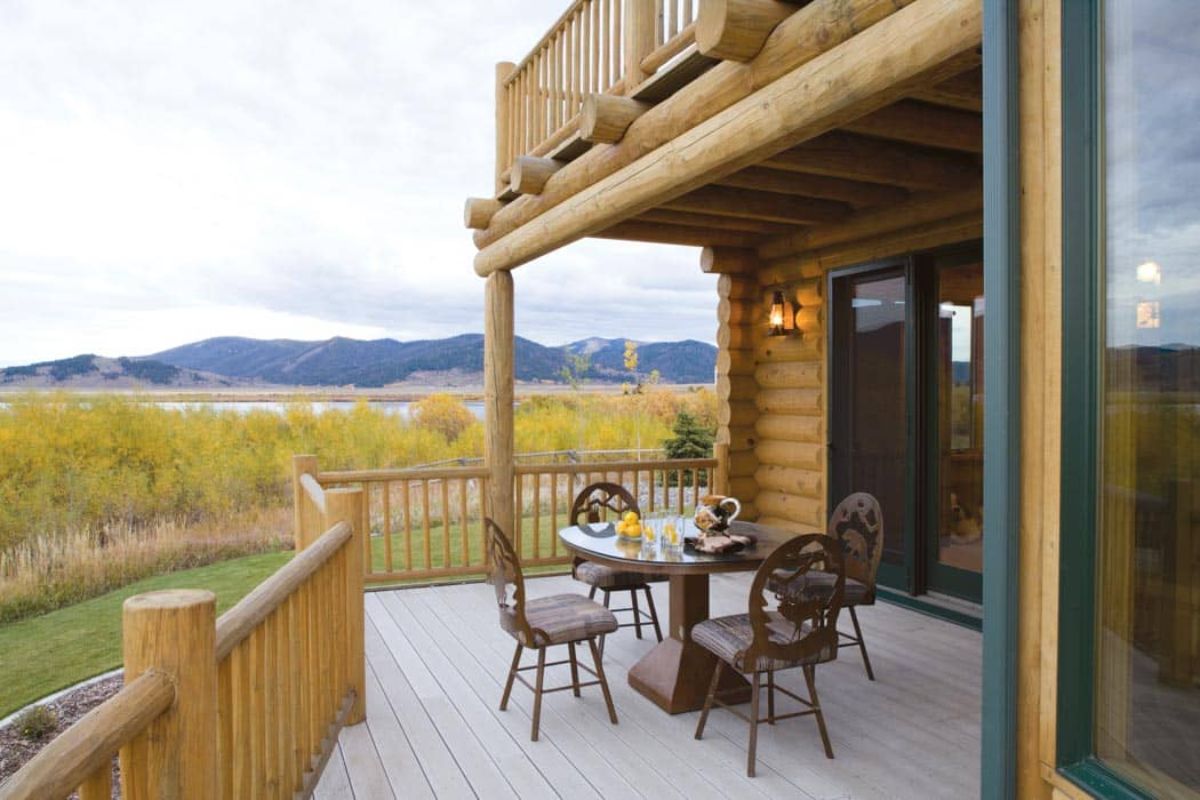 There is even a custom fire pit on the lawn that is ideal for making S'mores or cooking hot dogs as a fun summer evening activity with the kids.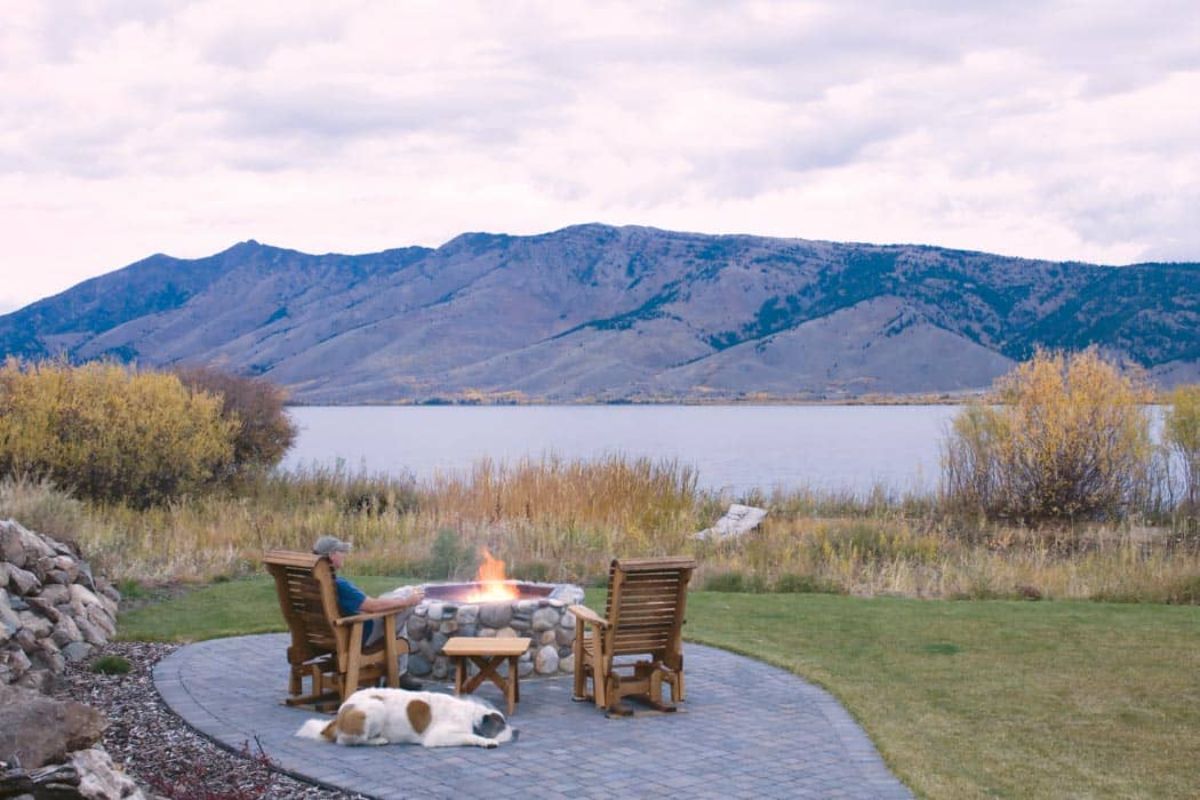 While the front of the home is a bit simple, once you walked around the back of the home, you can see just how special and unique this home actually is. Stunning balconies and open decks are ideal for parties and events, plus give the home a bit of luxury you might not otherwise have thought would be a part of this property.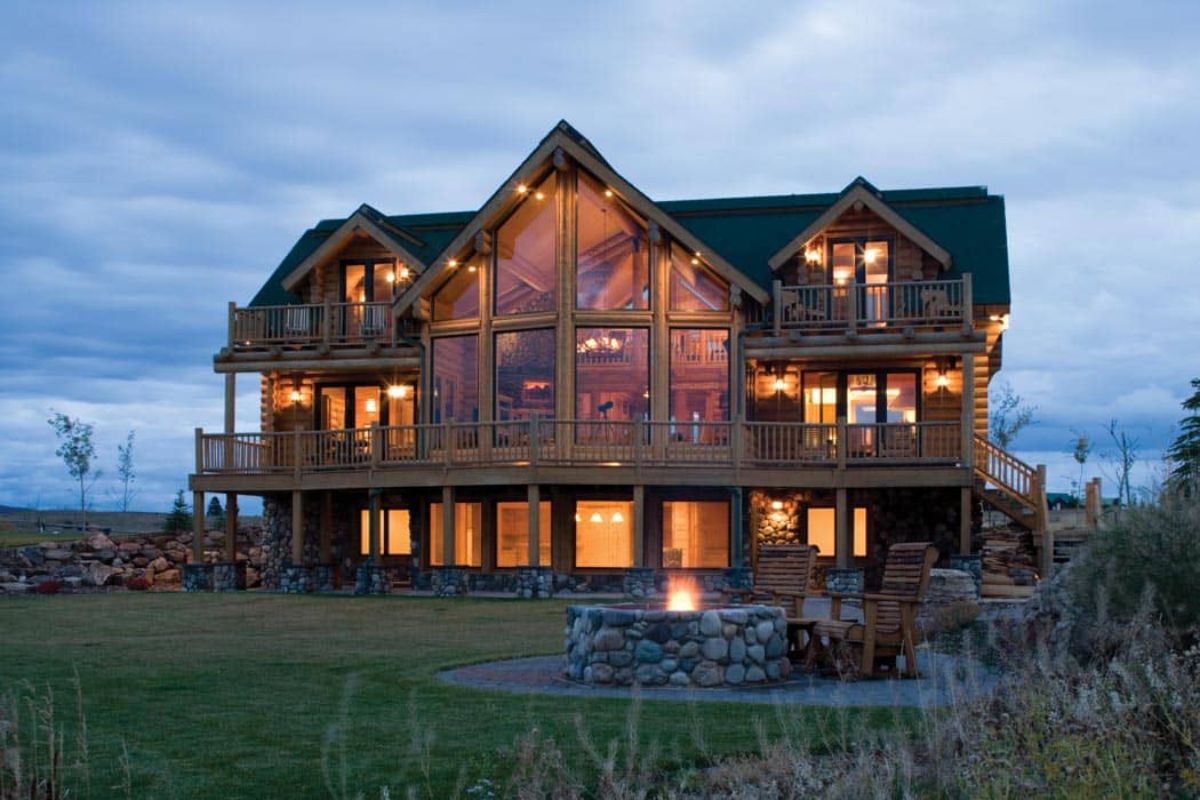 Entering the front door of this home, you probably expect a simple cabin, but once you step through the door, you are greeted by gorgeous woodwork and a large open space with expansive windows overlooking the lake.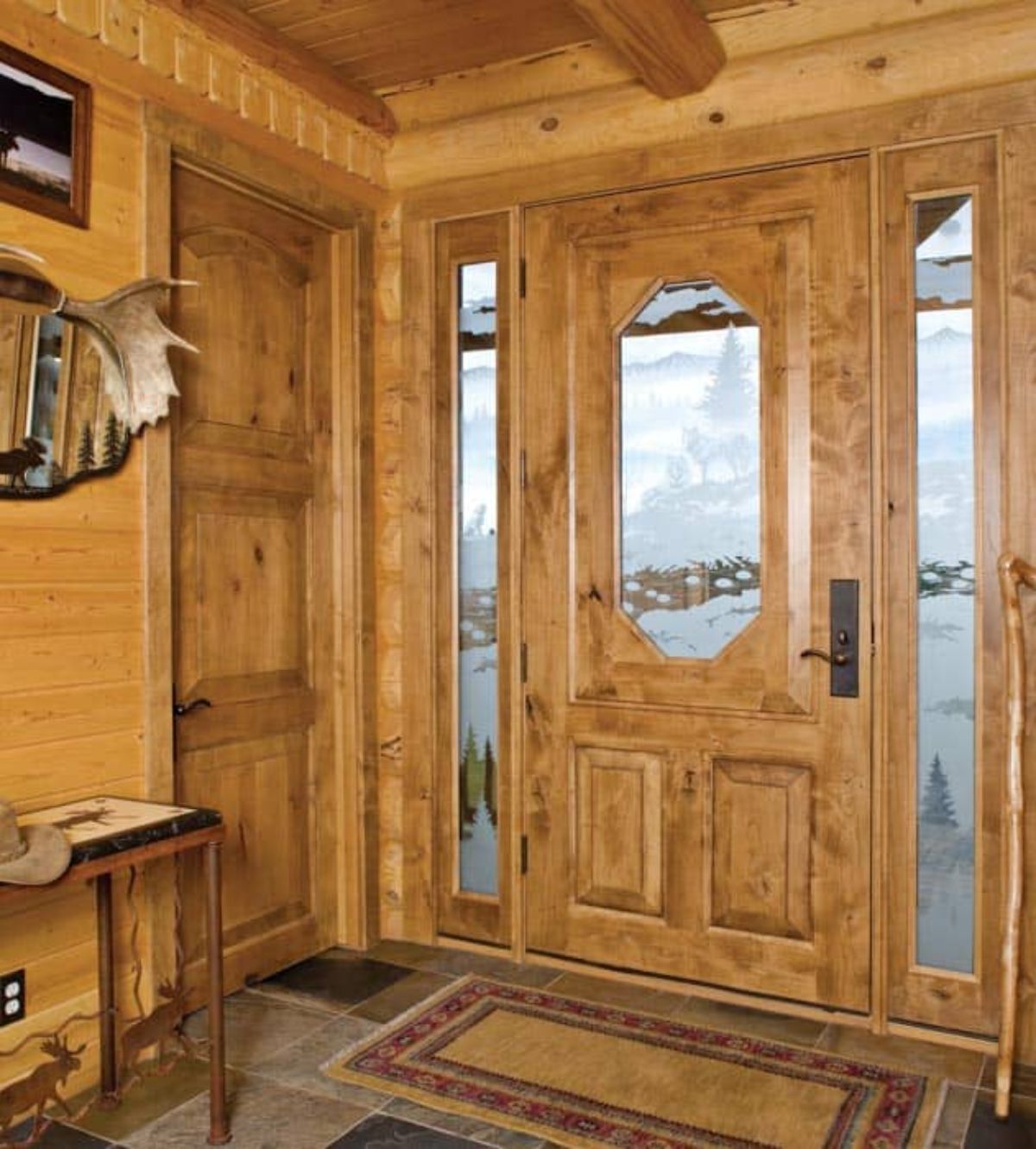 This wall of windows is part of the beauty of the home and looks stunning both from the inside and outside. This large open living room has windows that are gorgeous, but also a nice large open space for relaxing. With a combination of sofas, wooden chairs, and open spaces, it's a perfect family home.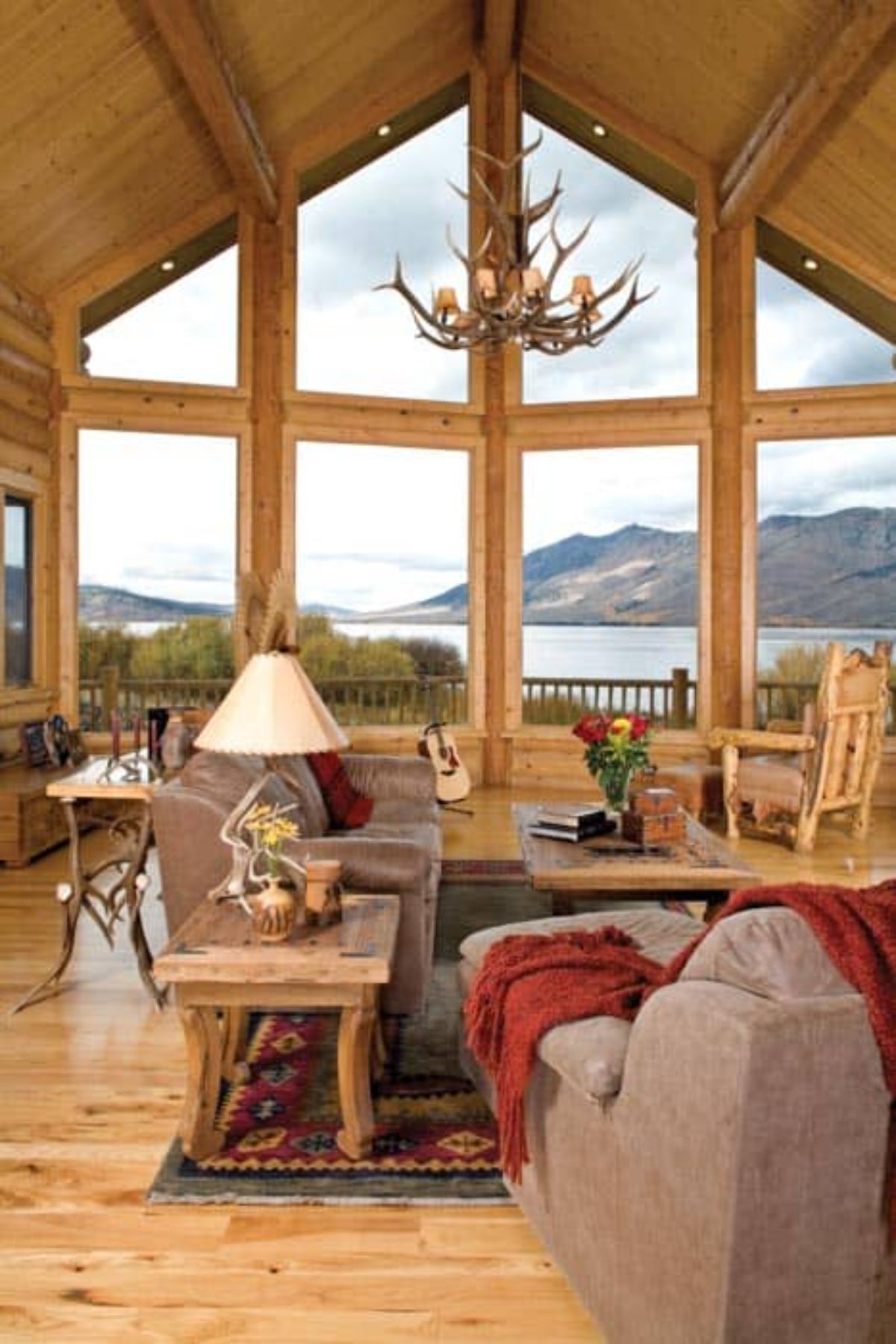 I really love how they have included the stone fireplace in the corner of the room, leaving the wall of windows open without an interruption. This gives the space a homey feeling and allows you to set up the entertainment center to the side for a cozy family movie viewing space.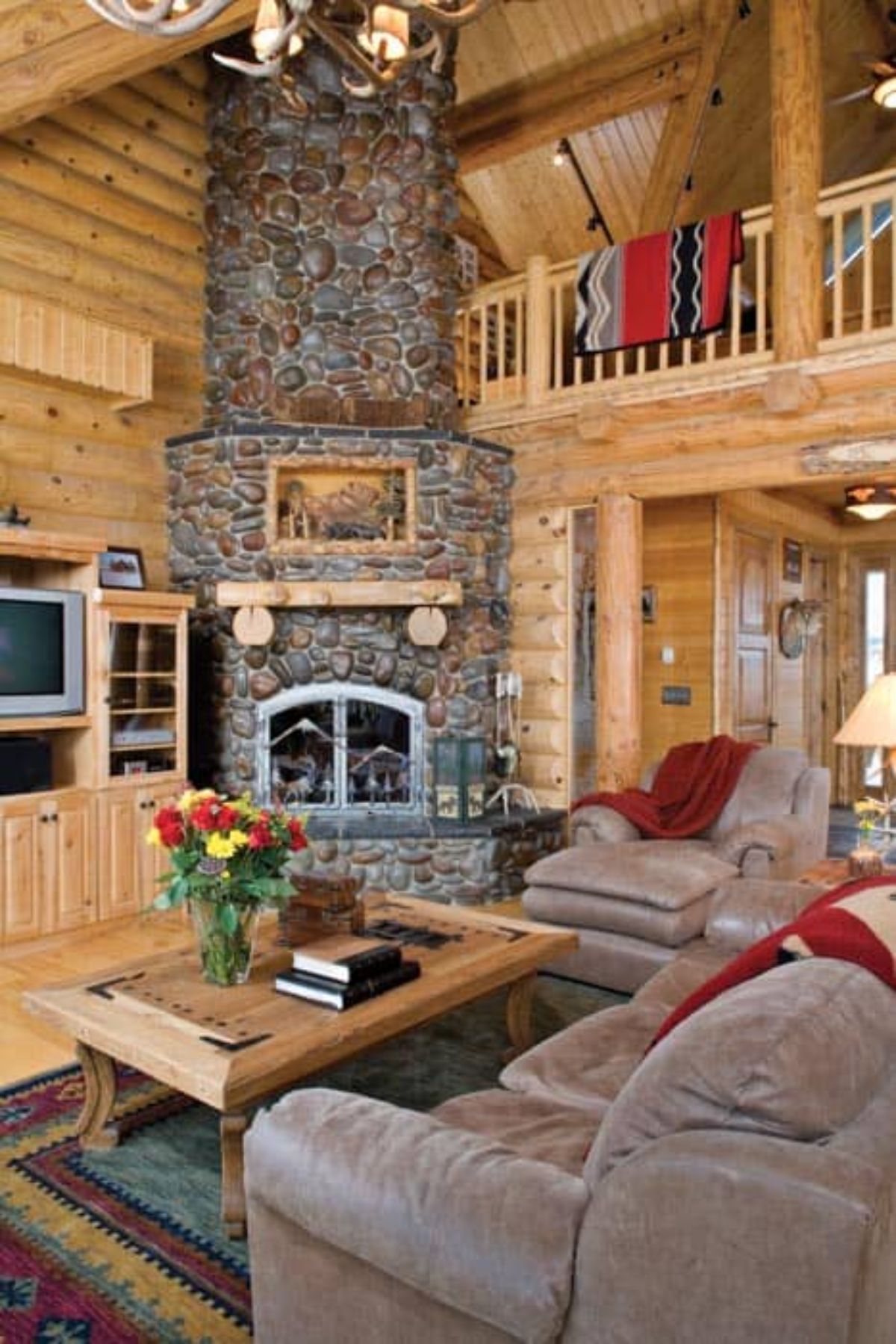 On the other side of the space is a large open kitchen with beautiful wood cabinets, stainless steel appliances, and a bar space surrounded by beautiful stone and dark granite countertops.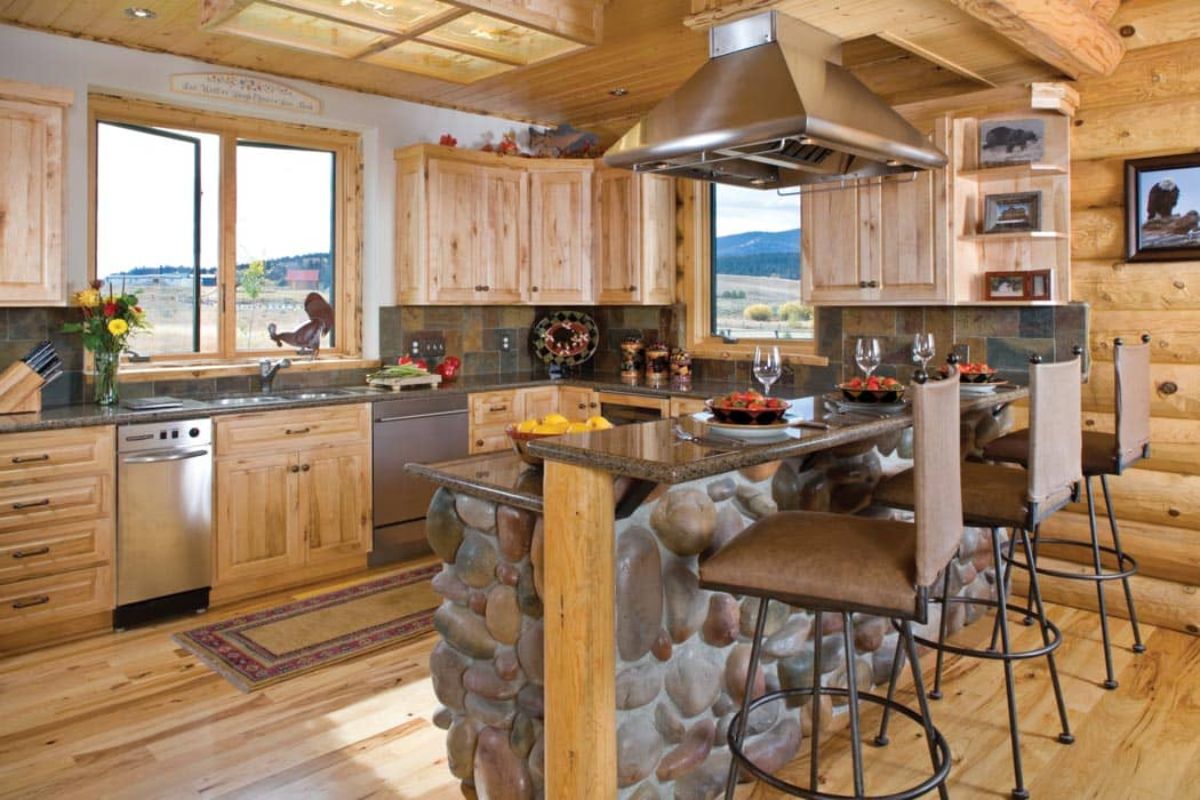 I love that the dining room is just outside the kitchen and has access to the decks with its own private door. A lovely space that can work for casual meals, or for a formal event. I love the versatility in this room.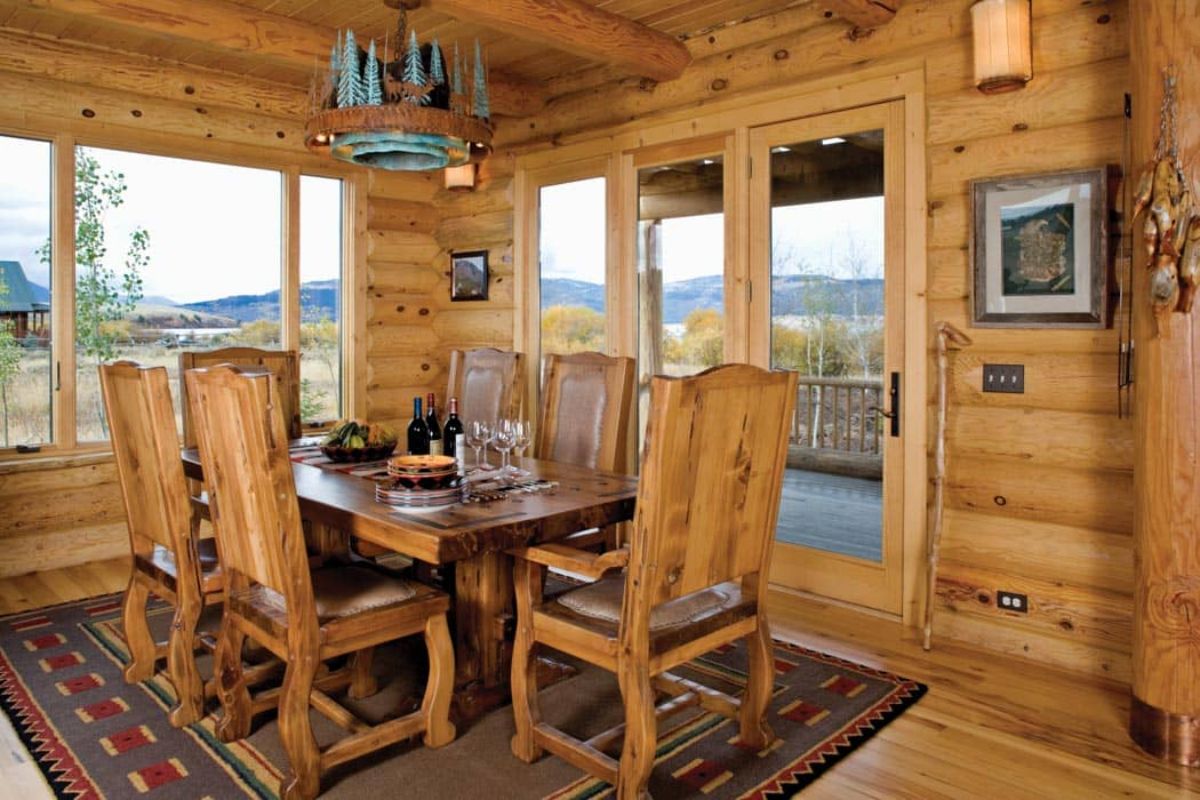 The bedrooms upstairs are spacious with their own private decks and stunning views of the lake and hills in the background.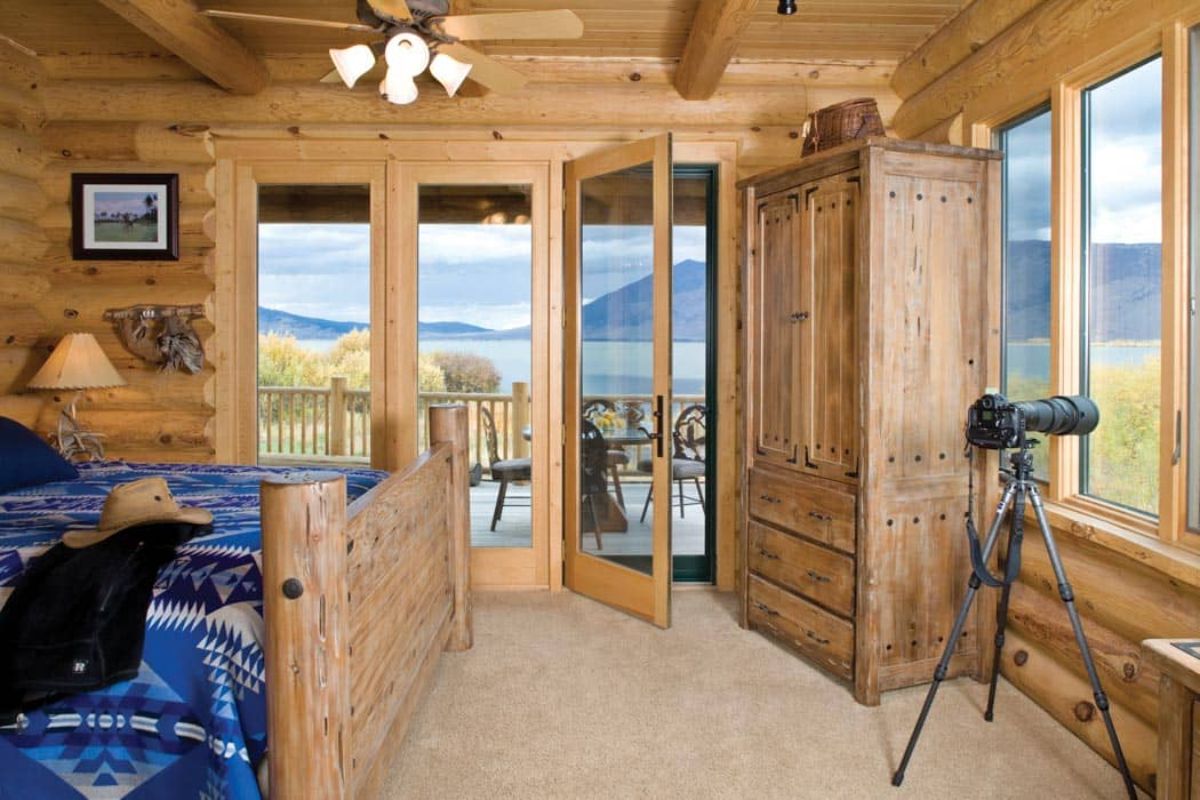 And of course, the space has plenty of room for your own custom dresser or chest of drawers, and probably walk-in closets or wardrobes for even more space to hold your belongings.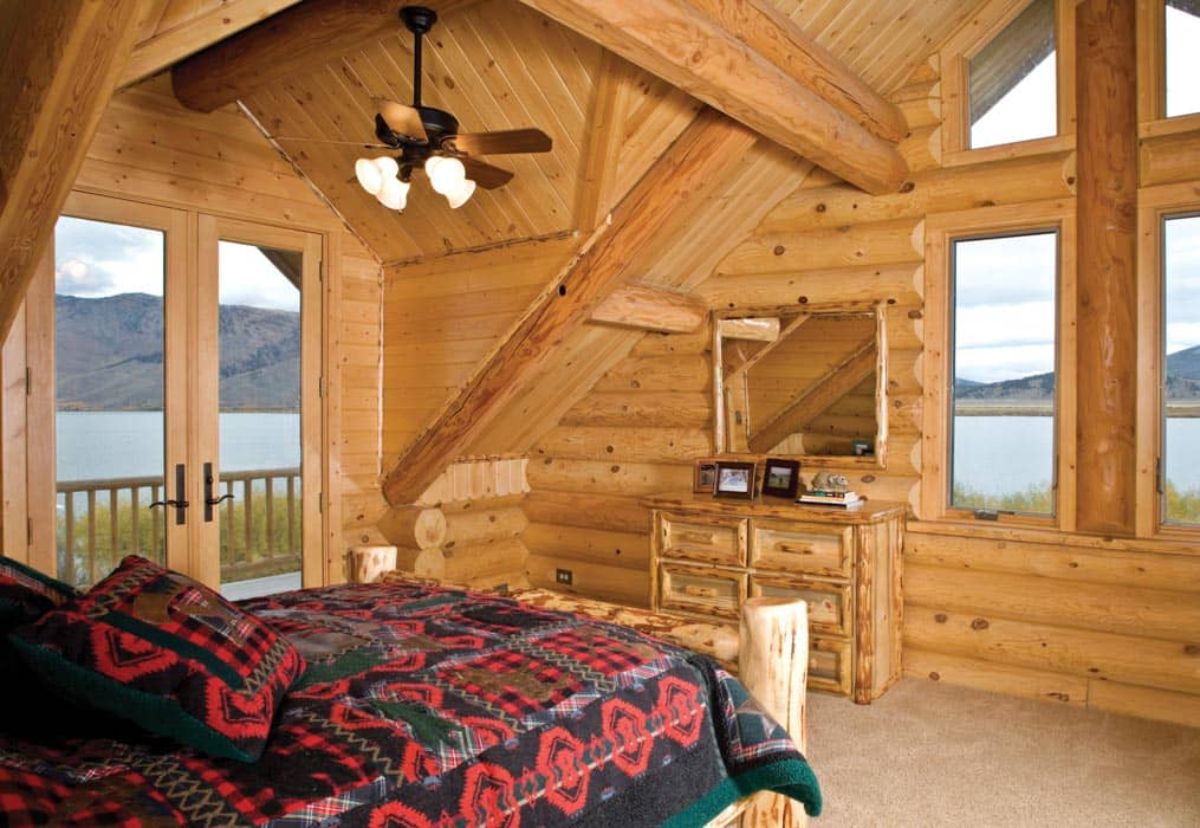 The master bathroom is one of my favorite things in this home. Beautiful tile work with a gorgeous soaking tub and a custom tiled shower make it feel luxurious without sacrificing the rustic style.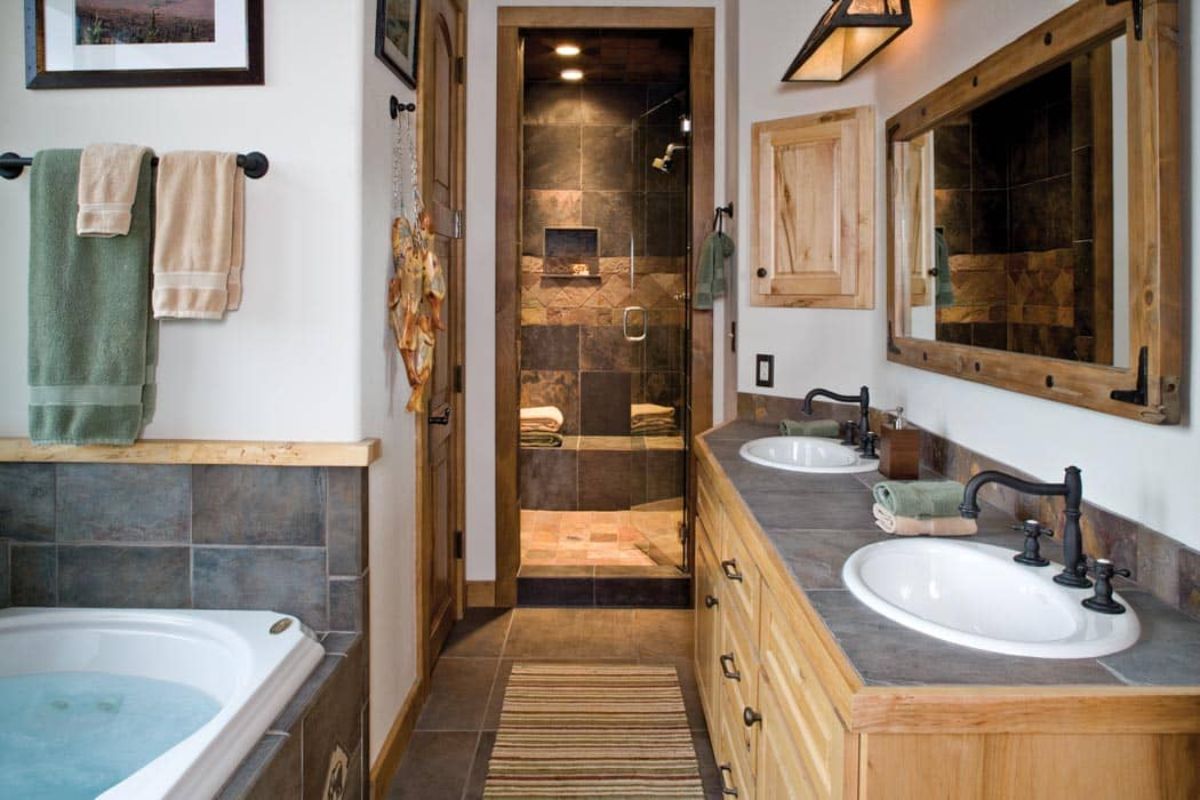 For more information about this beautiful log cabin build, check out the Precision Craft Log & Timber Homes website. You can also find them on Facebook and Instagram for regular updates of their latest builds. Make sure that you let them know that Log Cabin Connection sent you their way.
More Log Cabin Kits and Tours