Log home kits are a great way to save money on building your dream home. By utilizing a kit, you know you will have a quality build, but you'll save money along the way. The Artisan Log and Timbers company provides you with tons of options for stunning homes that include all sizes Below, you will see a set of homes that are identical and perched along the water. This is the ideal vacation destination.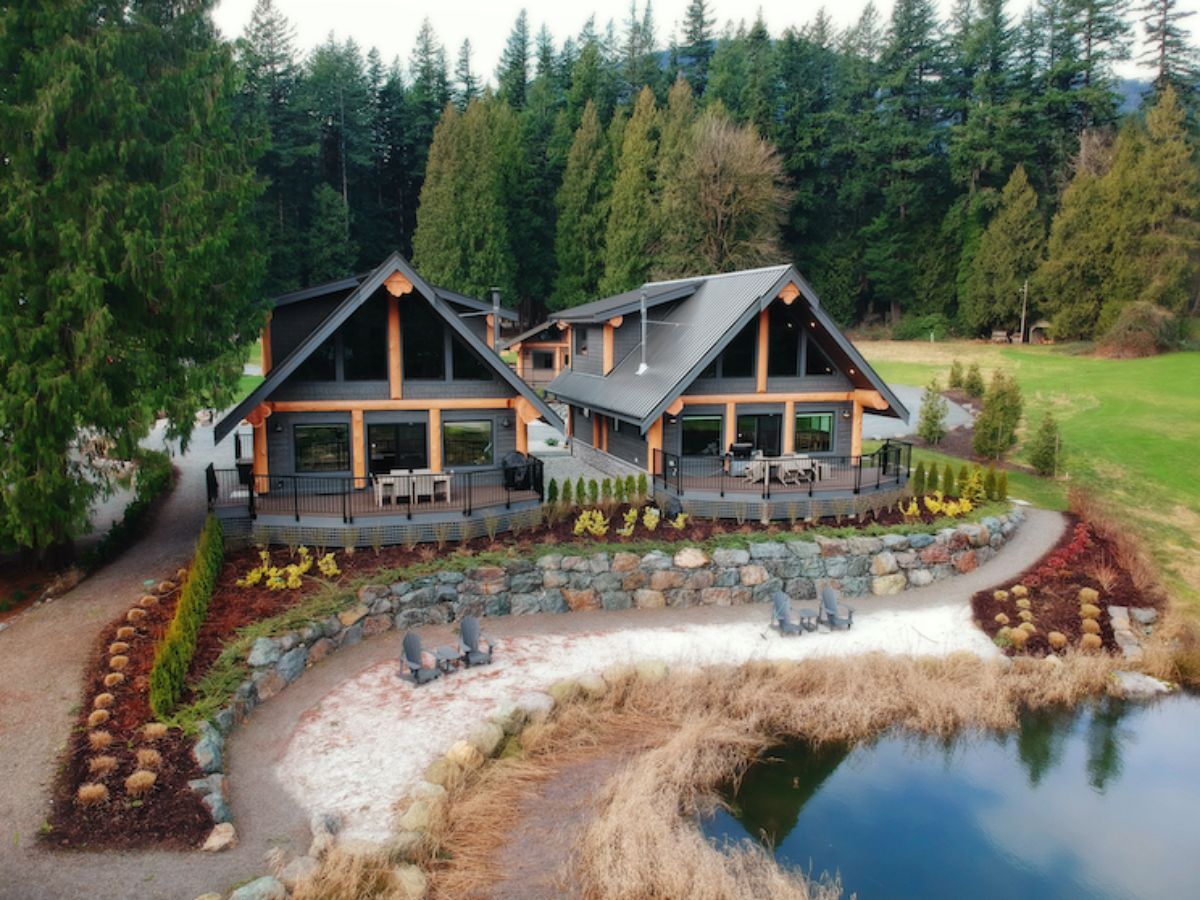 If you want to learn more about the individual kit options, check out their full Log Cabin Kit page with details and sizing options. You can choose from a variety of styles and sizes that are ideal to fit your personal needs.
Below, you will see a look at what is a cottage rental location. These cabins are a perfect starter option if you have a property you want to use for rentals. The ideal summer getaway, or perfect for a family reunion!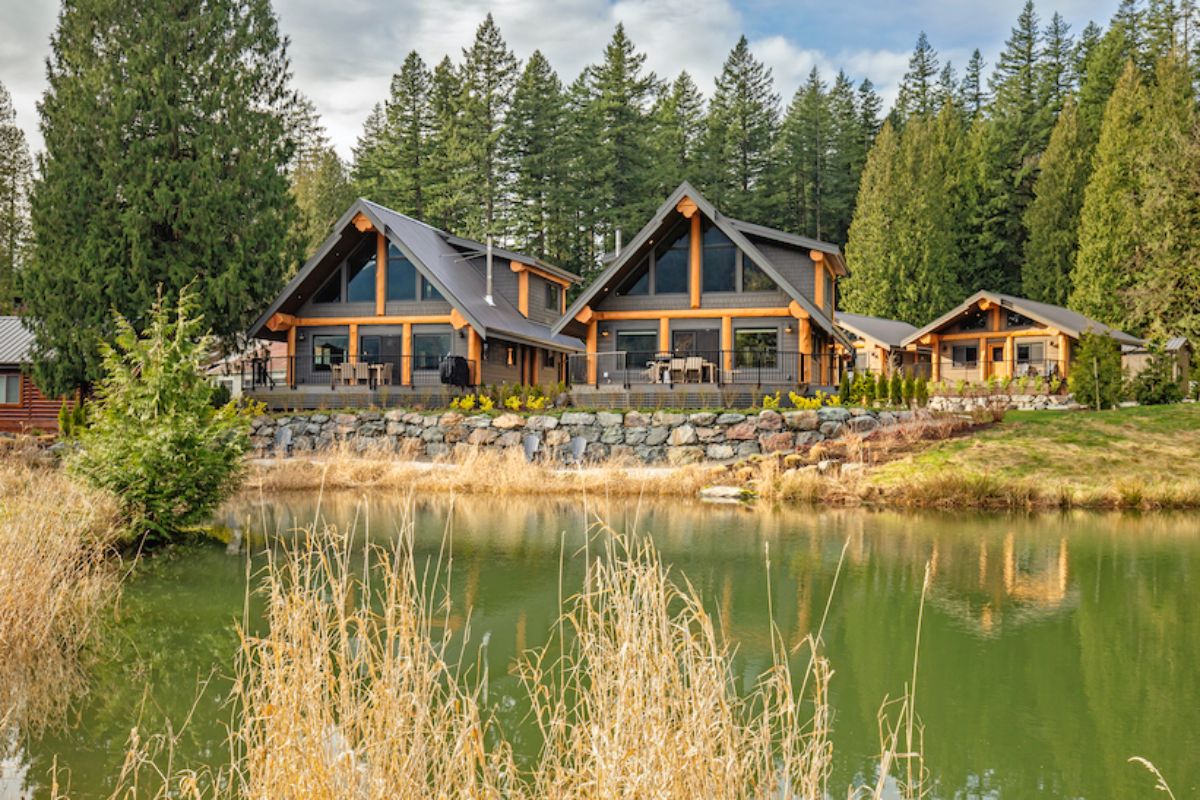 These homes combine classic log siding with painted or stained wood. The gray tone of this cabin is a modern look that is popular in recent years. It has a clean style that stays rustic but has enough modern style to make you feel like you are in a luxury destination.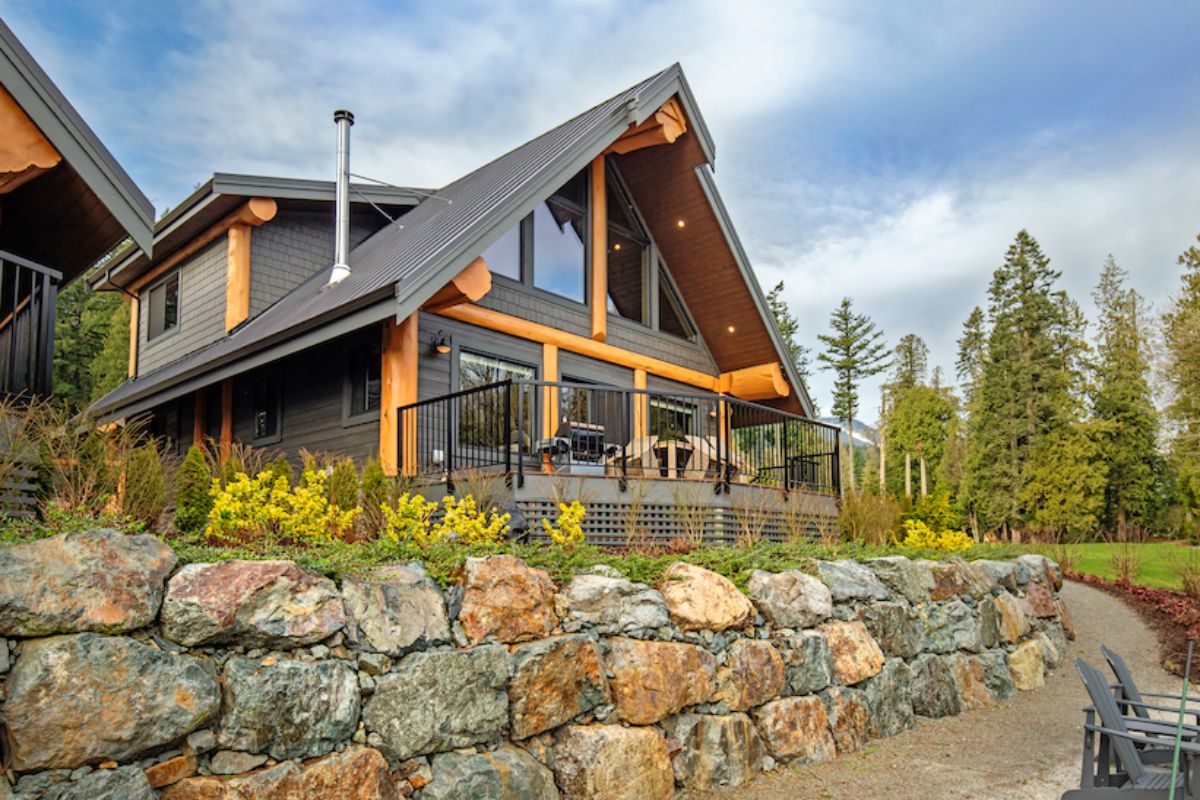 These homes have multiple entrance options. On the side, a small porch takes you to a side door that leads right into the main living area. On the back, as shown above, you have a great room wall fo windows with doors to enter on both sides.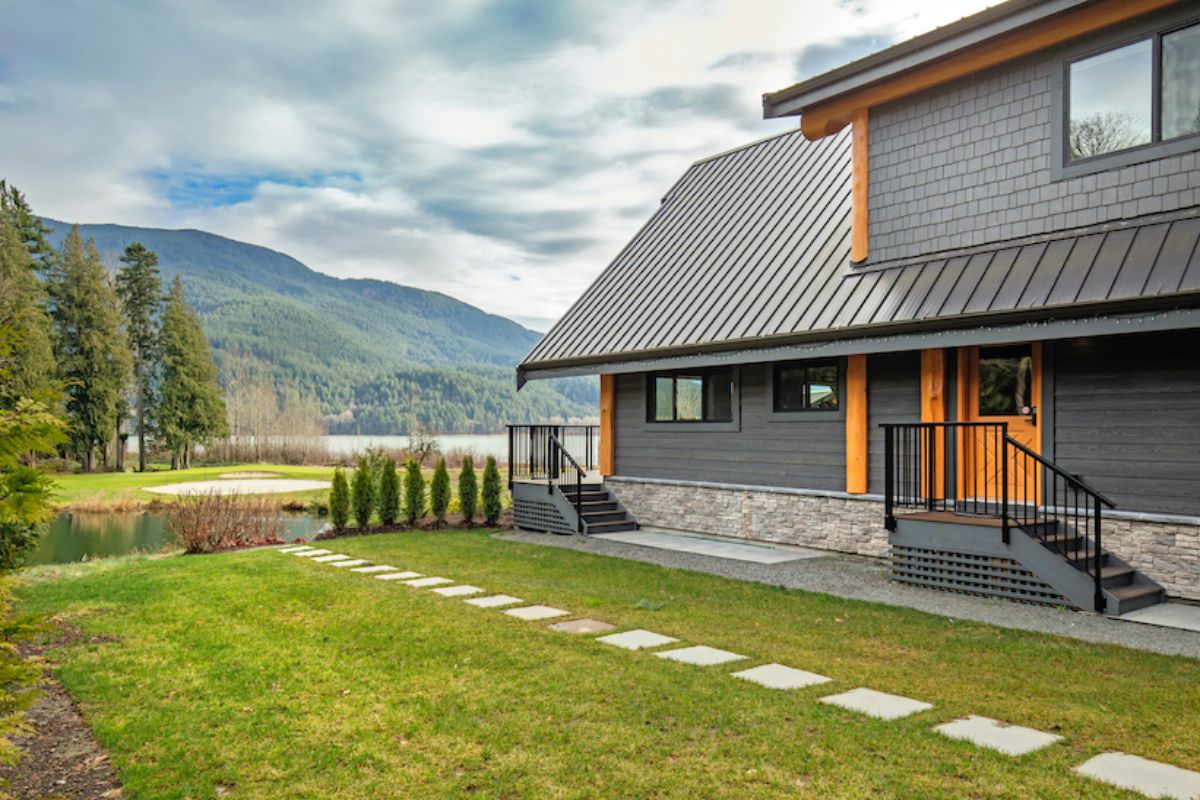 These cabins are two floors with the main level including a bathroom and bedroom and the upper level holding additional bedroom(s) depending upon the size you choose for your kit. Keeping the second floor on just one3 half of the home makes the main floor living room feel even larger with its cathedral ceilings.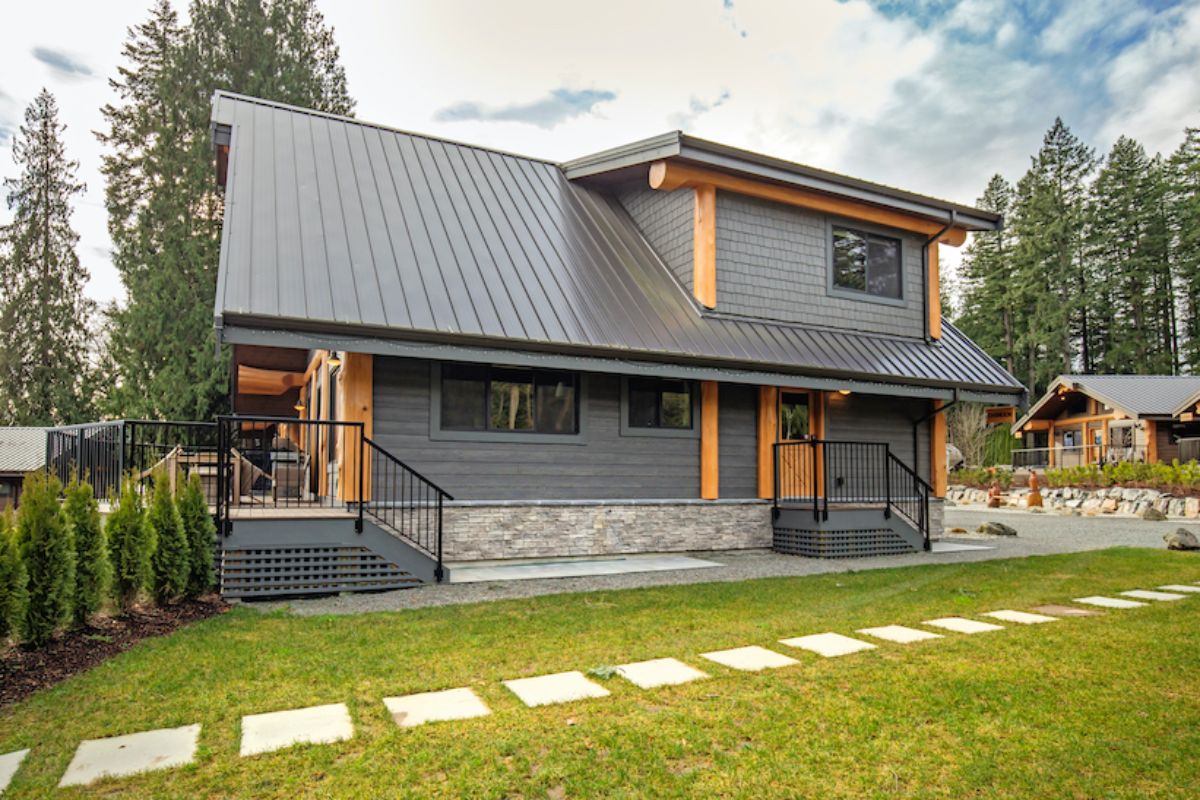 Inside these cabins, you will find the same sophisticated style you would expect from the outside view. The walls throughout are shades of gray with natural wood trim, beams, and accent pieces.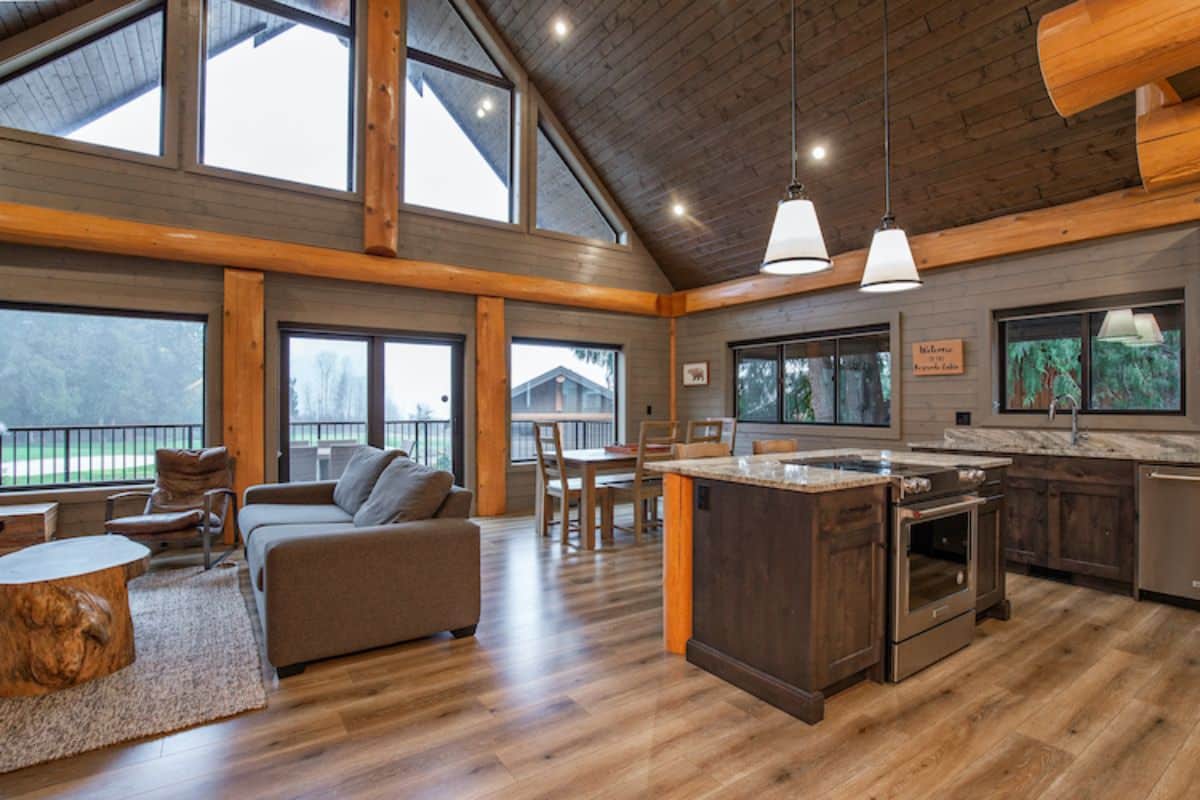 The cozy living space has chairs and a sofa right by the wall of windows. I love the idea of adding a sleeper sofa here for even more space for the family if needed.
You can see above in the background the stairs lead right up to the second-floor space with a small loft landing area and open areas that lead to 1 or 2 additional bedrooms.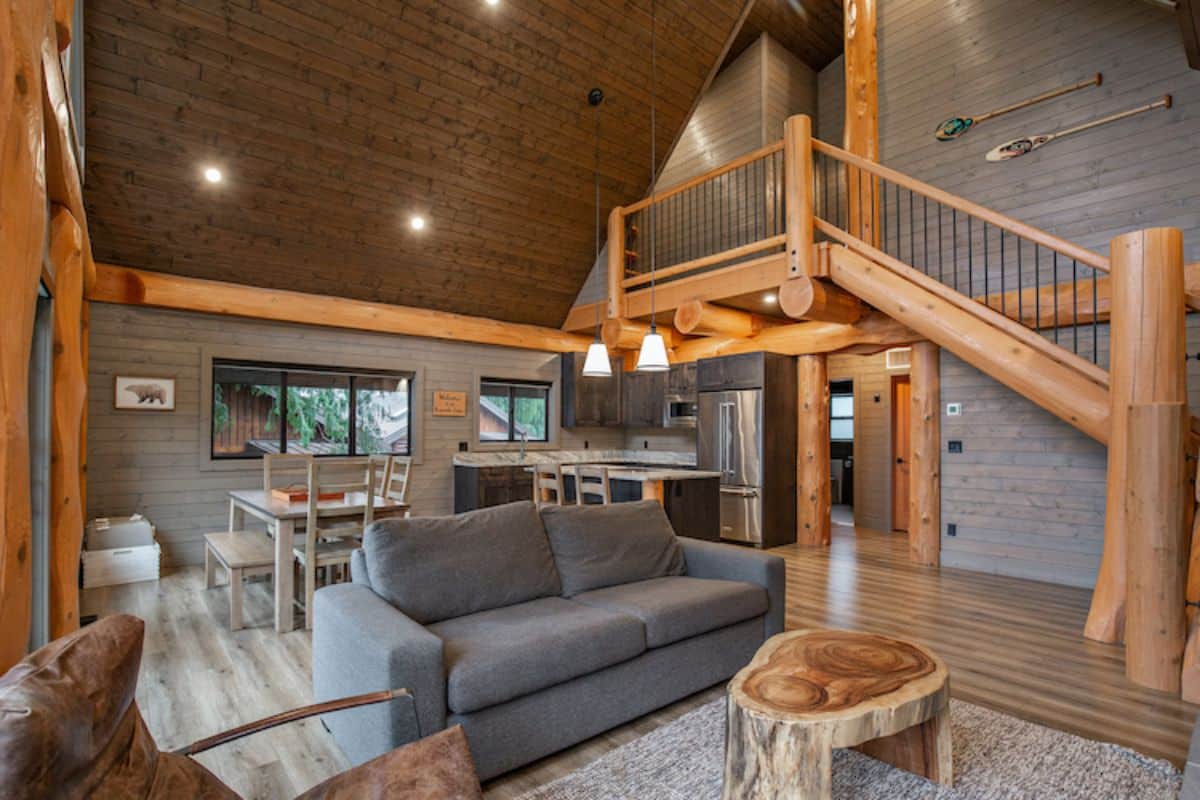 Looking back across the main floor, the dining table is just to the side of the kitchen and behind the sofa. This open space makes it nice to expand for a more formal meal but is also easy to relax with just the family.
The island in the center of the kitchen space also includes a bar with room for two stools. This is ideal for a breakfast nook for the kids!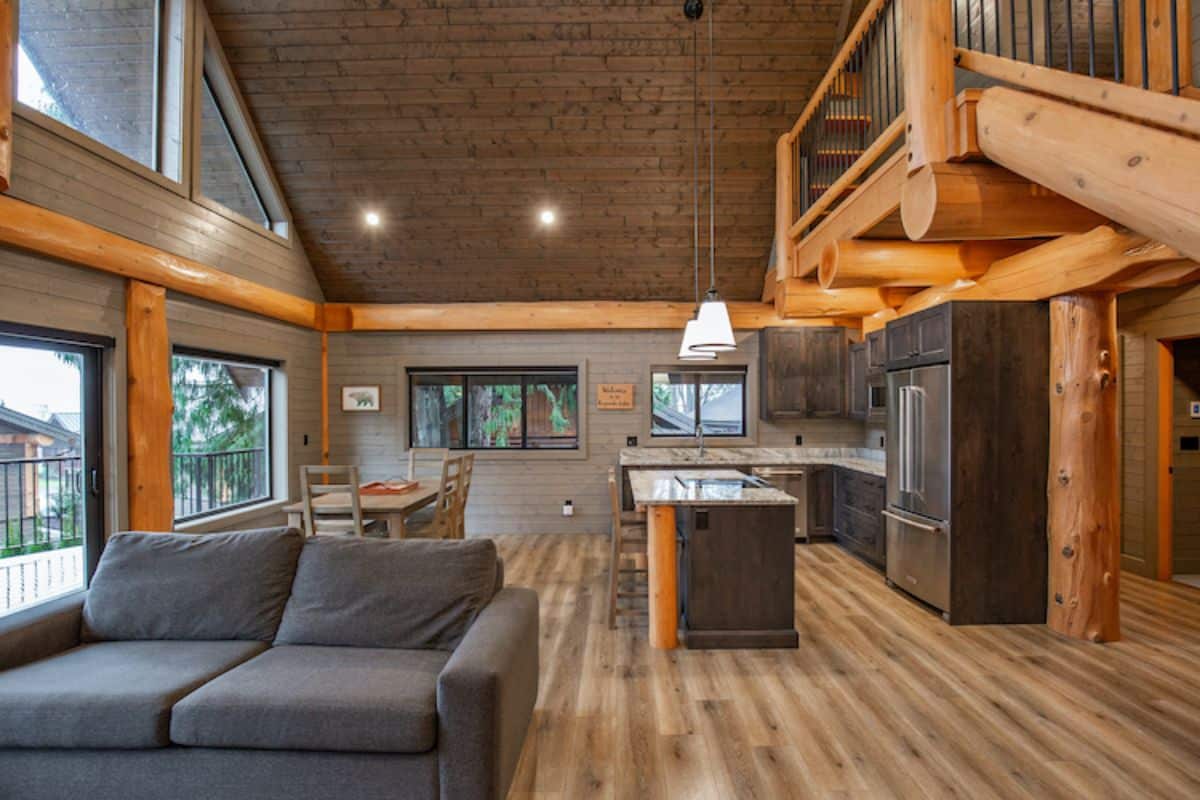 The stove is located in the center of this island with a cabinet on both sides. I love this central space for preparing meals. It really feels inviting and welcoming. Your guests can linger around to chat with a drink in hand while you stand at the stove finishing up your meal. Then, the bar space is ideal for laying out each dish buffet style to serve.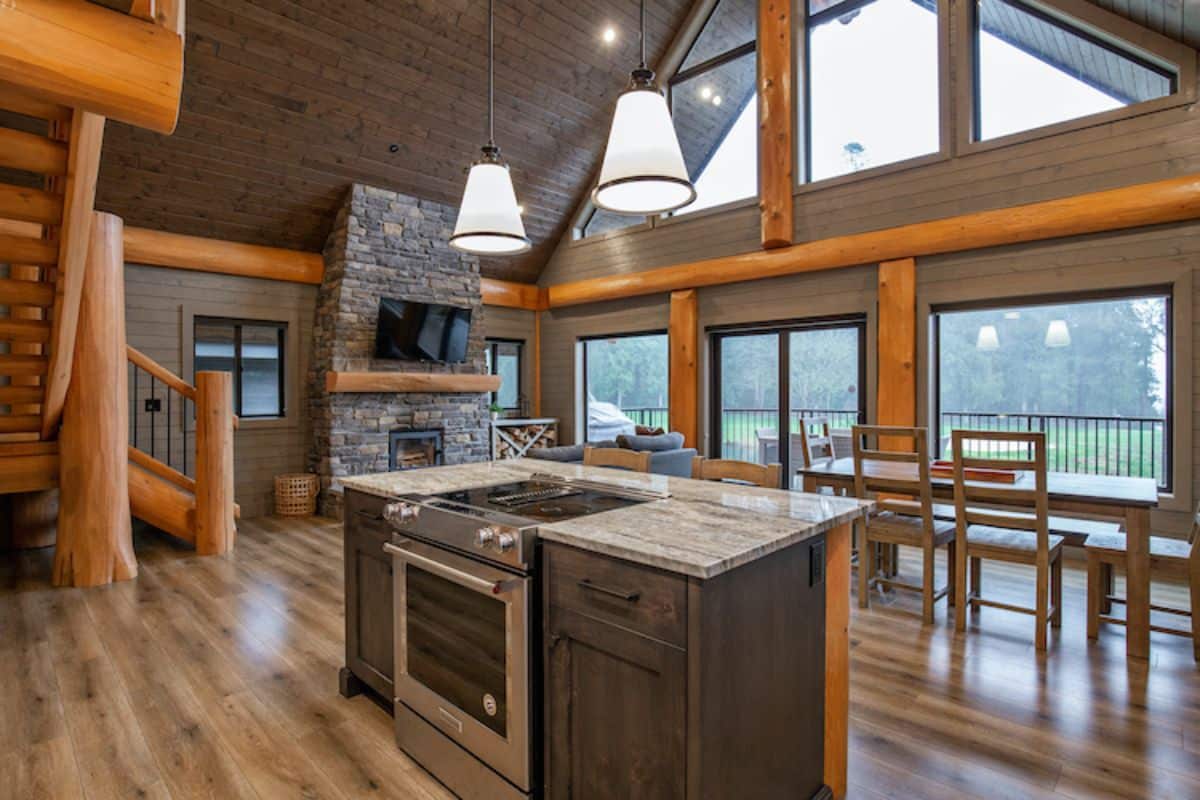 This kitchen is all clean lines with gray wood cabinets, gray and white counters, and stainless steel. I love this custom look without a ton of frills. It is modern but still simple.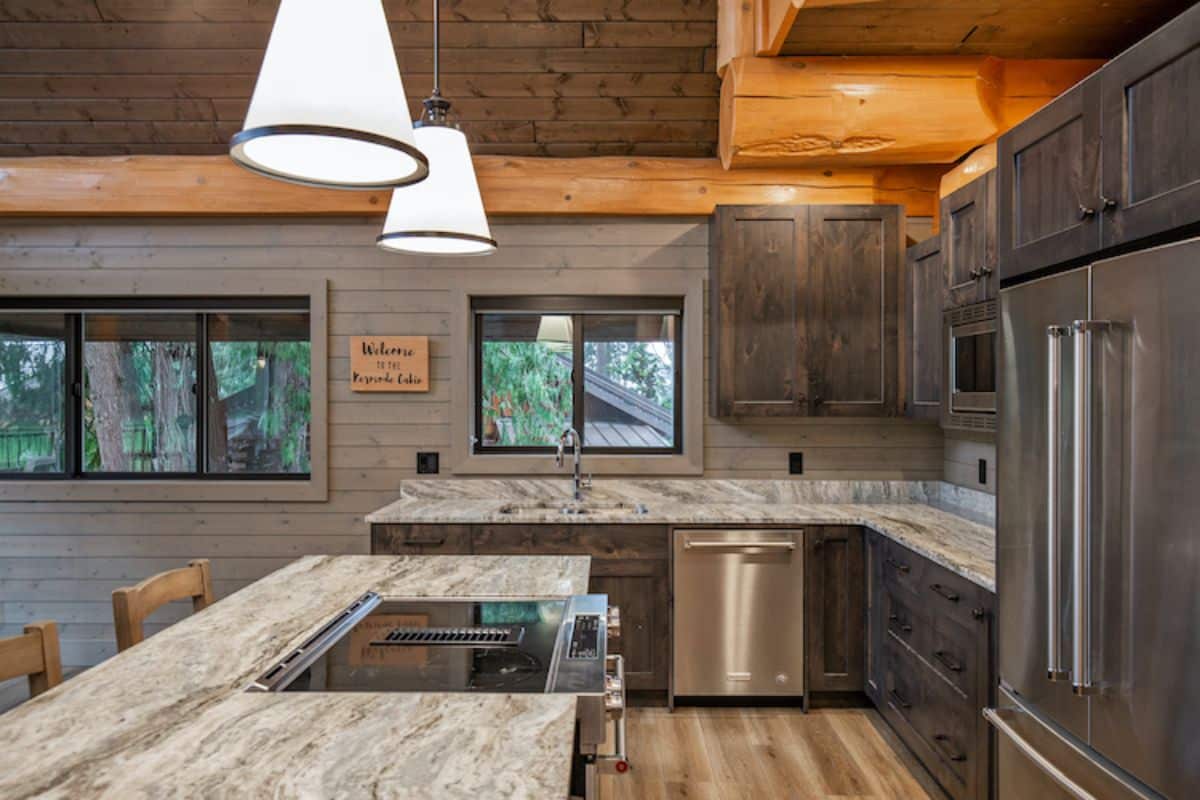 Just behind the kitchen, you can see through an opening to the bedroom as well as the hall with the main floor bathroom. Depending upon the size of your home, this could also include an additional bedroom.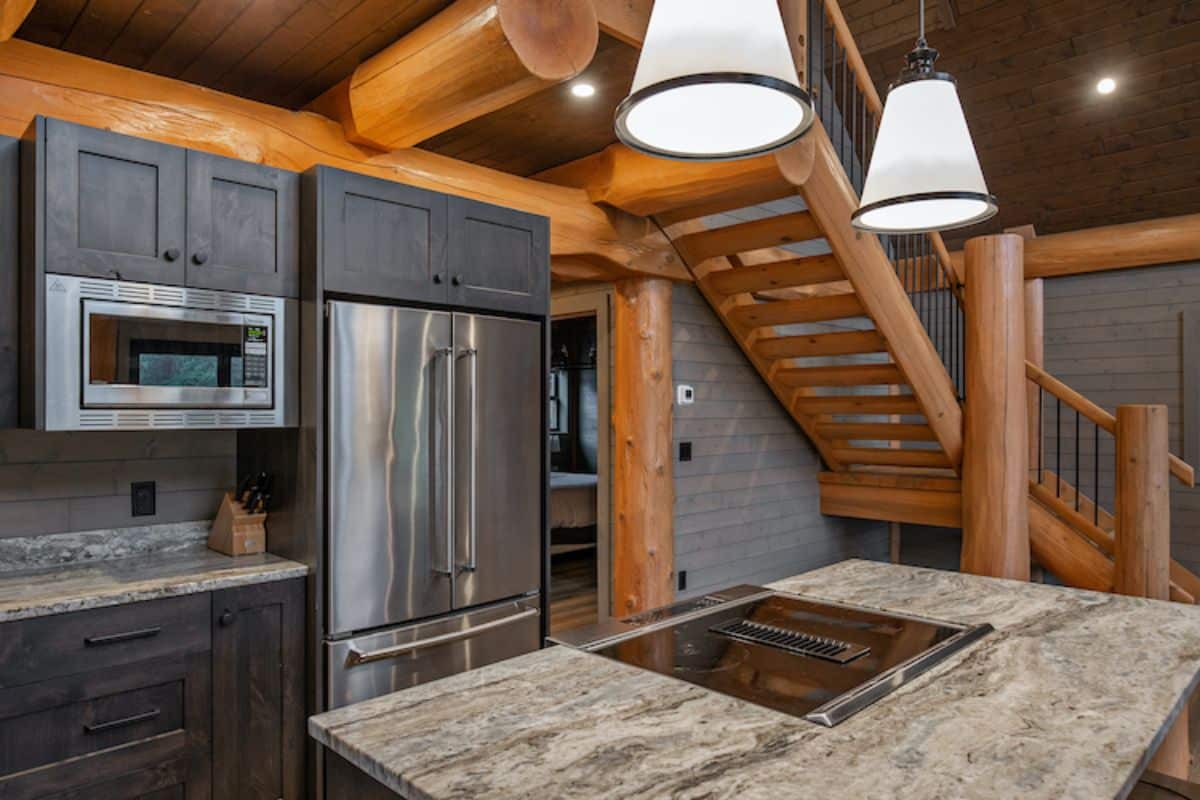 Here is a look down the hall from the other end. In this, you see three doors along the wall that could include the bathroom, a linen closet, and an additional bedroom.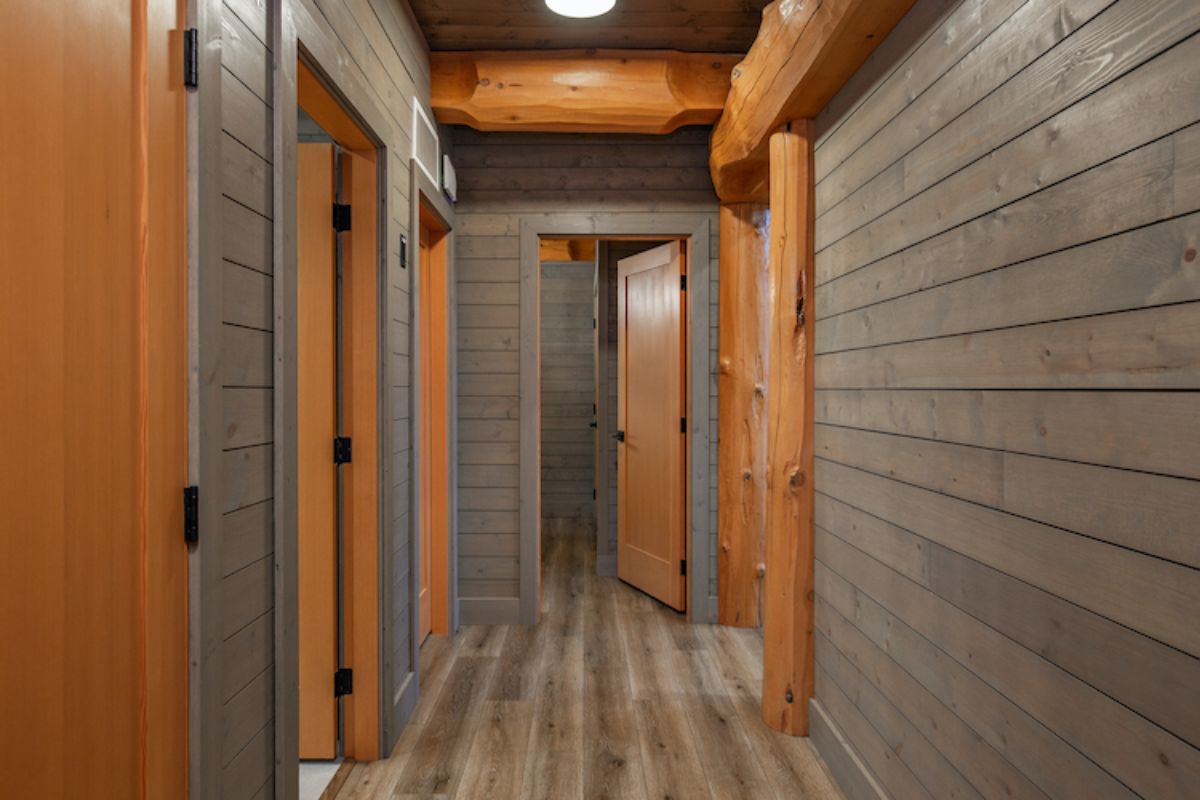 Of course, the bedrooms are spacious and have special accents like this chandelier. I love the candle style for a rustic look, but it's all modern and lit with a flip of a switch.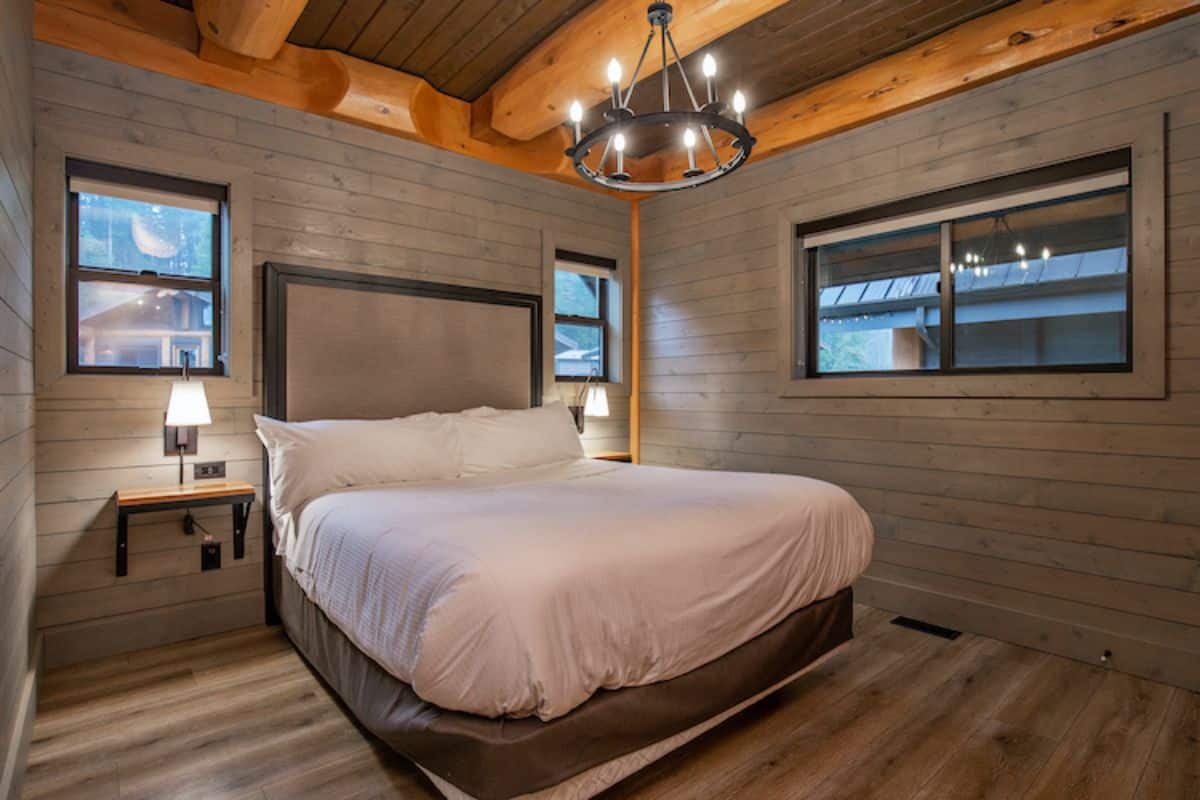 And the bathrooms are just as clean and luxurious. Simple gray and white with updated fixtures and faucets make them ideal for a modern vacation or daily home, but still, pay homage to the rustic style with wood beams around the edges.
Lastly, a nice view from the stairs and loft landing looks down into the main room to give you an overview of the space. The open area is perfect for a comfortable family home or vacation destination.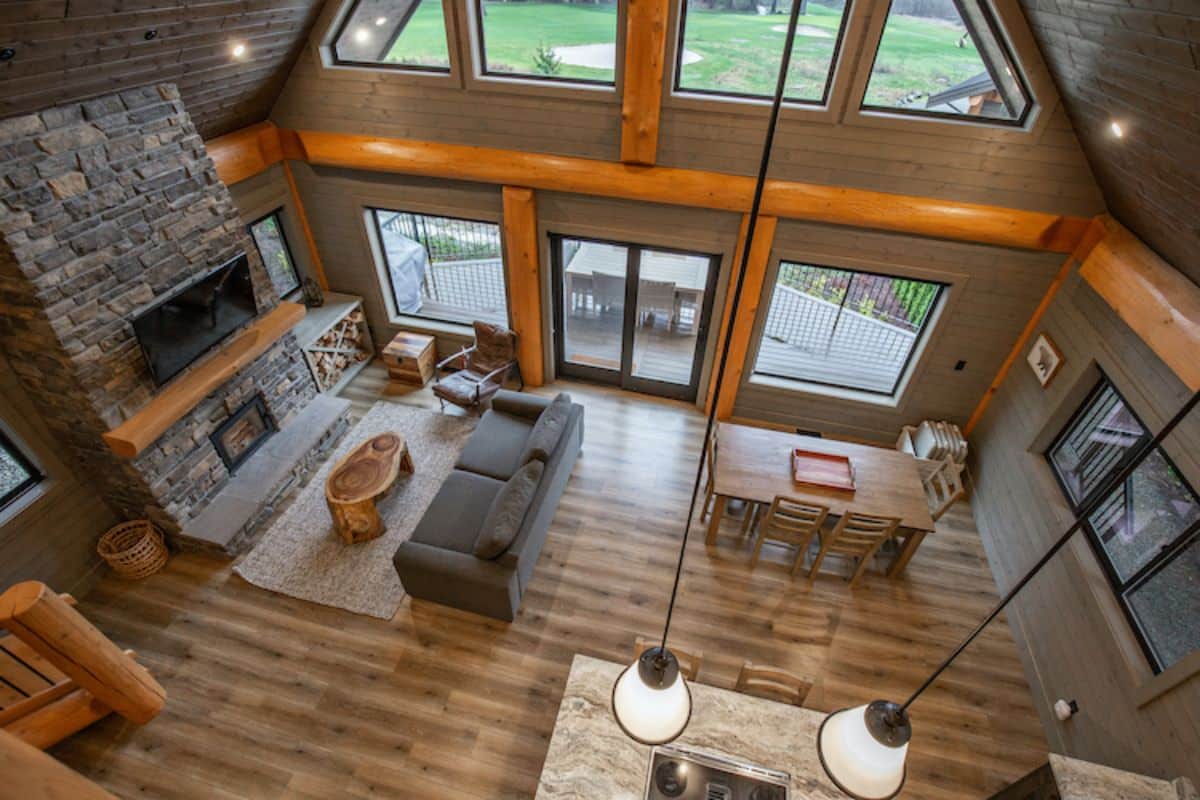 Want to see how a cabin like this is built? Check out the construction time-lapse below for a look at the process.
For more information about this beautiful cabin and similar designs, check out the Artisan Log and Timber Homes website. You can also see more of their designs and regular updates on their Facebook page, Instagram profile, or YouTube channel. Make sure that you let them know that Log Cabin Connection sent you their way.
More Log Cabin Kits and Tours