Cabin building on a slope presents challenges that are different from building a log cabin on a level lot. But building on a slope also offers unique opportunities for cabin design and sweeping long-range views that are unmatched on standard building sites. We'll look into both the difficulties involved and the best ways to handle those issues.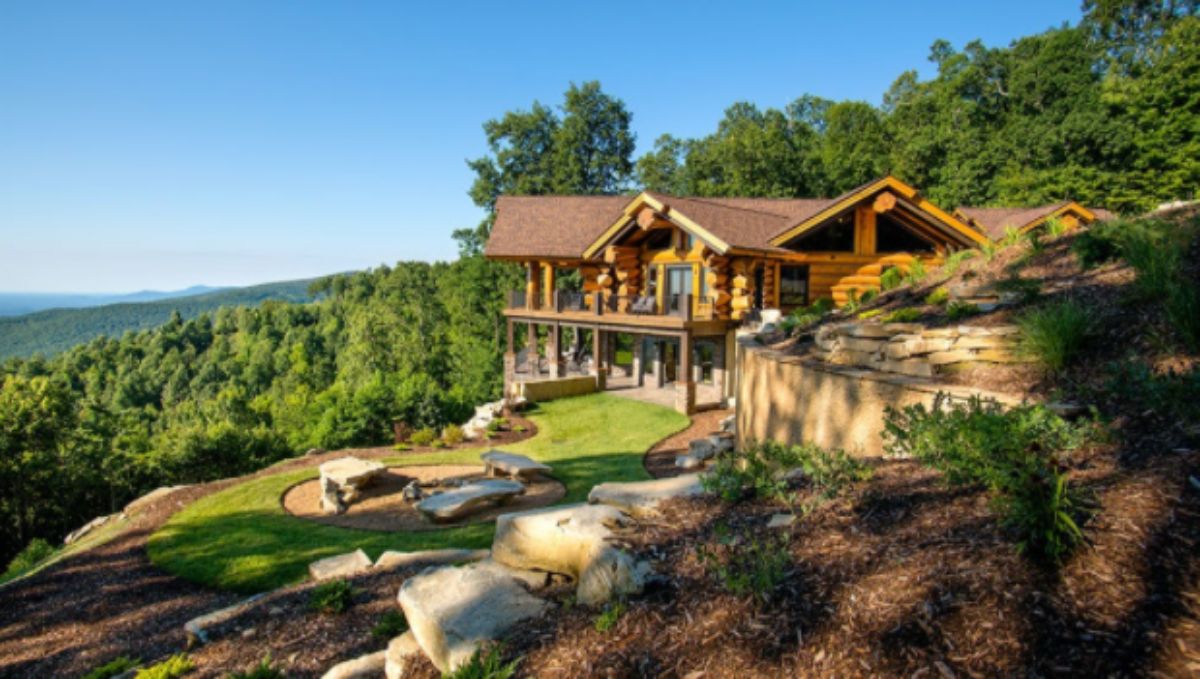 Many people are scared off from buying land or cabin building on a sloping property because they think that it is just too hard or that it will cost too much. While there are unique challenges involved in the log cabin design for building on a slope, these are not insurmountable or excessively expensive and the resulting log home offers expansive views and an interesting floor plan.
Jump to:
Slabs and Slopes
Slab foundations don't generally work too well when building on a slope. This is a case where building up the lot for the slab foundation just doesn't pay off. Slabs need to be placed on level, virgin ground or on compacted soil approved by a building inspector. This is expensive and time-consuming and you're much better off digging into the sloping hillside and building out a daylight basement or walk-out lower floor and pouring a foundation against the excavated slope.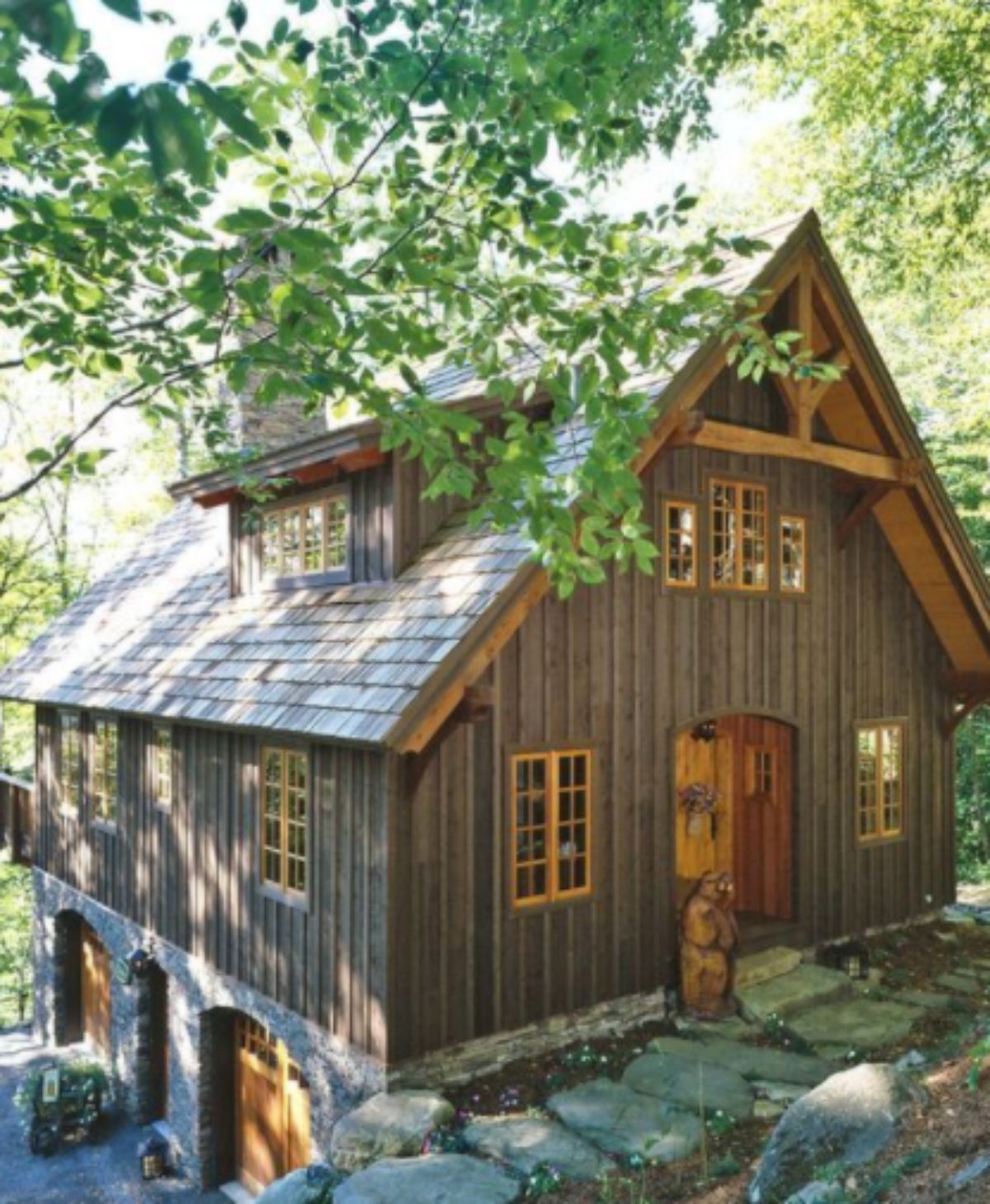 Foundations on a Slope
We like to use a poured concrete foundation backed into the dug-away slope, reinforced with rebar and waterproofed on the upper side before being backfilled. We apply a foundation sealant to the poured concrete wall to resist moisture penetration into the wall and cover that with a waterproof membrane to protect the waterproofing from sharp backfill.
Along the bottom of the trench or cutaway zone on the upper side of the cabin we will install a bed of gravel and lay drain pipe in the trench before backfilling to direct water draining down the hill away from the back wall.
The weight of the water in the soil pressing against the foundation wall can be significant so it's important to allow this to drain away and to direct the water where you want it to go. If not you can expect a damp basement and perhaps even a failed foundation wall.
In addition to the drainage of water downslope, it's also important to address water coming off of the roof. We install gutters to collect rain and direct it around the house and downslope away from the foundation and the log walls.
By installing buried drain pipe before backfilling and final grading, we can tie in the gutter downspouts into the drains and direct this water further down the slope and away from the cabin.
Sale
Alternatives to a poured concrete foundation include concrete block walls, precast concrete and ICFs, or insulated concrete forms, which are made of reinforced concrete sandwiched between thermal insulation that stays in place as part of the finished wall system.
Measuring Slope
It's relatively easy to measure the slope of your property using a builder's level or transit, but even without this piece of equipment you can quickly determine the slope using a tape measure and a string level. Hold the line level downslope (using the string level) and measure the distance off the ground of the lower end.
Measure the run along the slope and you can determine the slope as rise / run. Slope is the amount of fall in 100 feet of run. In other words, if you measure a 1.5' drop in 10 feet, this would be a 15' drop in 100' and thus a 15% slope.
SLOPE = RISE / RUN
Once you've determined the slope, you can use this in your log home design, calculating the amount of excavation necessary and the height of the foundation or crawl space walls.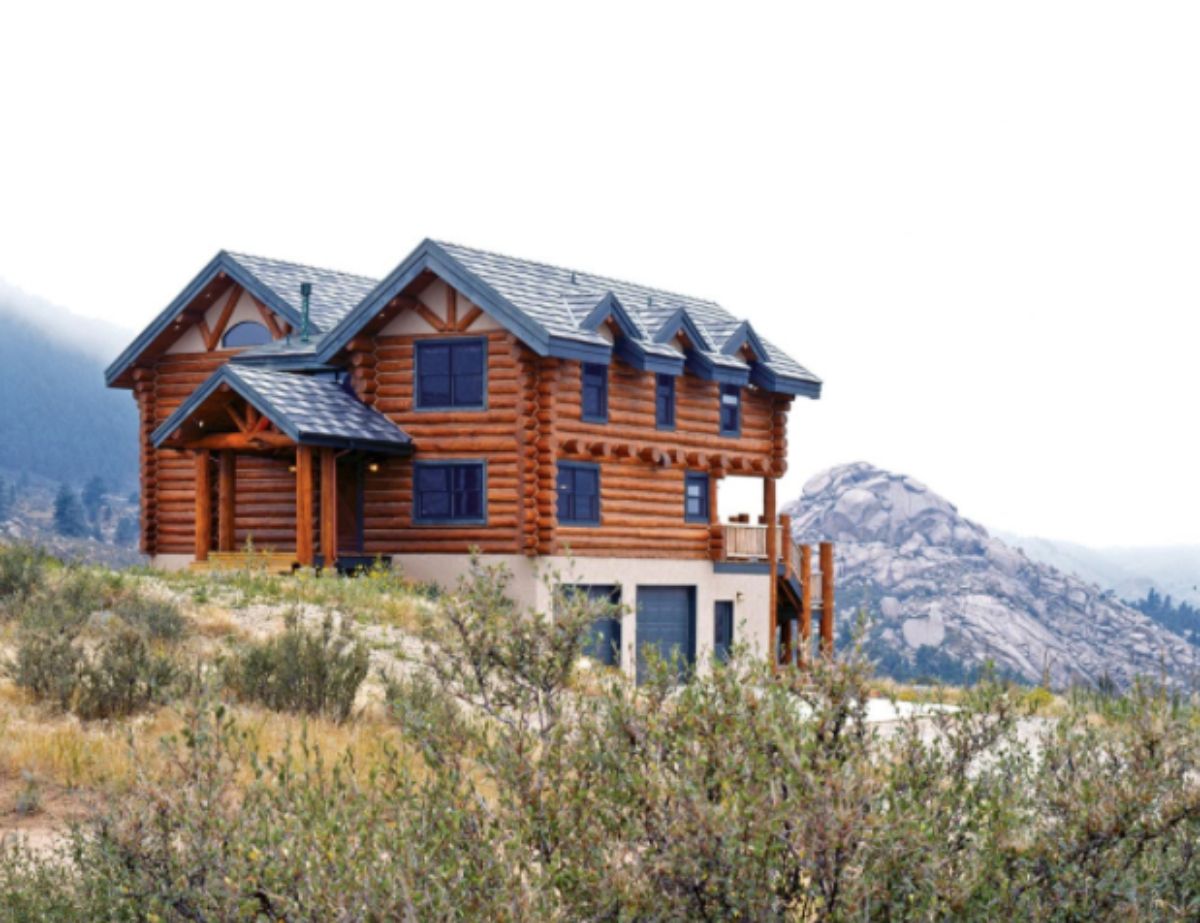 Building on a Slope
Building codes require at least 8" of separation between the soil surface and any non-masonry building materials.
I consider this an absolute minimum and would recommend at least doubling it in order to best preserve your log walls. Water drainage and splashing onto logs can quickly damage the log stain and ultimately the logs, requiring log repair and cabin restoration.
If you are dead-set against building a basement, at least consider a crawl space built into the slope. This allows for a more energy-efficient foundation than a slab and can provide useful and smart storage. A crawl space also allows an easier route for utilities when running plumbing and wiring a log cabin.
The ideal slope would result in a 6-foot difference between the front of your cabin and the back. This lends itself to completing an 8-foot finished ceiling in the basement without having to excavate extra material.
Looking at it in another way, if your cabin depth - front to back along the slope - is around 30', an ideal slope would be 20% (30' x 0.20 = 6 feet).
Building a basement also allows you to utilize this space as a guest room and mechanical space, freeing up the upstairs living area in your cabin for great rooms and master bedrooms. Build the basement as a three-sided retaining wall built into the hill and frame out the final wall.
Retaining Walls for Building on a Slope
When building your log home on a sloping property it's almost inevitable that you will require retaining walls. You are resculpting the natural terrain to redirect water where you want it to go and keep it away from your expensive investment.
Retaining walls are fairly straight forward until you get into building high walls. Anything over about two feet high will require careful engineering, including reinforcement and the use of deadmen - tiebacks into the hill behind the retaining wall.
Sale
For example, if we're building a retaining wall from 8" railroad timbers laid horizontally, we will build in deadmen by laying a timber horizontally back into the hill behind the wall that will be buried when it gets backfilled.
This provides needed support for the wall against the pressure exerted by the backfill. I like to anchor the timbers using log screws. These drive easily, never rust or corrode and provide exceptional holding strength.
You must also consider the route that water will take when building retaining walls, and incorporate drainage and drain paths to direct the water downslope and away from the wall.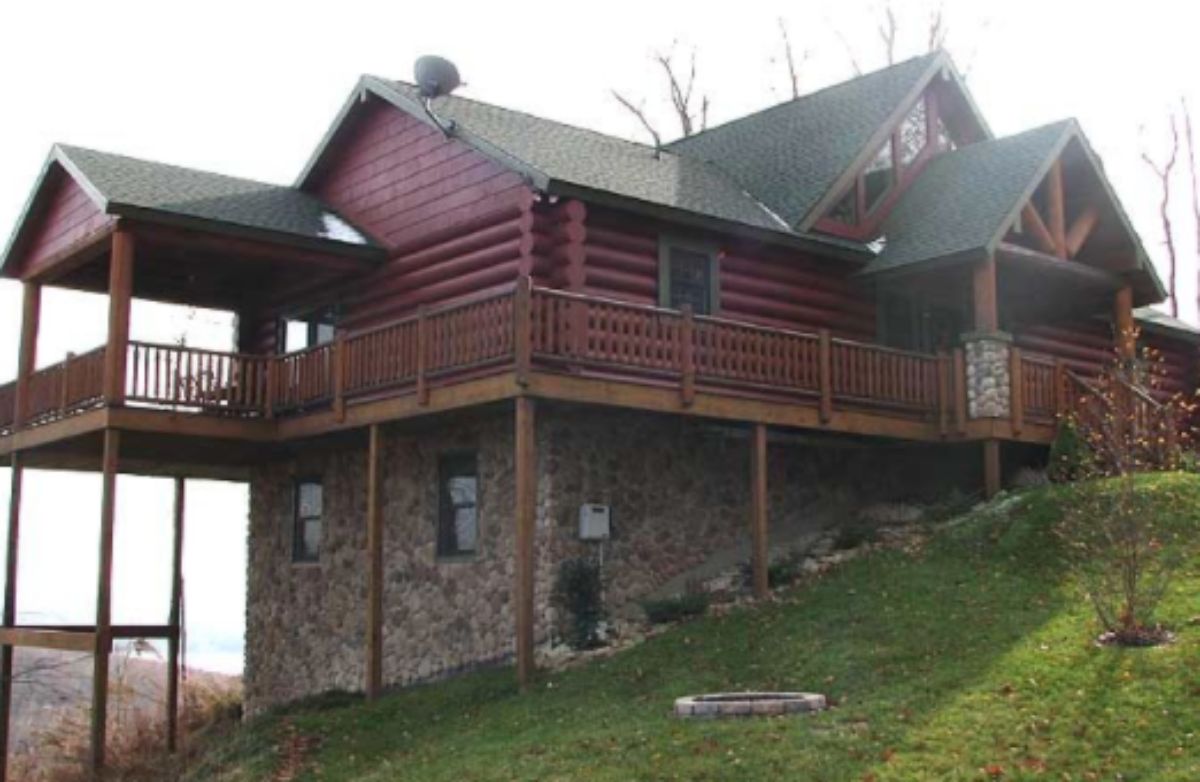 Tips for Cabin Building on a Slope
Reverse the Cabin Layout
Put the front of the house downslope where the best views are. Build out porches and decks to take advantage of the space and use the up-hill portion of the house as the back entrance. This provides for grand, sweeping views over the land.
Build Up Rather than Out
It's cheaper to build vertically, stacking your cabin higher on the land, than it is to excavate and build wider, especially in the 2500-4000 sq.ft range. This also increases your view and makes it more economical for excavation and installing utilities. A finished basement is cheaper to build than a second story.
Put Driveway Above Rather than Below Cabin
Not only does this open up the views below the cabin, it avoids having to cut into the hill further below and build expensive retaining walls to protect your driveway from both dirt and water runoff. This also makes it easier for you to unload groceries from the top of the hill rather than struggle up from below.
Site Your Log Home Carefully
Once you understand the typical weather patterns for your particular building lot you can site your cabin where it will be protected from any fierce winter winds and be sheltered from hot summer sun. You will save on heating and cooling costs and also preserve your log home investment from weathering and damage.
Cabin building on a slope can seem difficult and daunting, but don't be discouraged by the challenges presented. With some care and forethought you can actually turn a sloping property into an enchanting and breathtaking cabin site.