There are pros and cons to buying a sloping property and building a log home or cabin there. Some people may be scared off because they don't understand the engineering challenges that must be faced. But with careful planning, a sloping property offers many unique opportunities.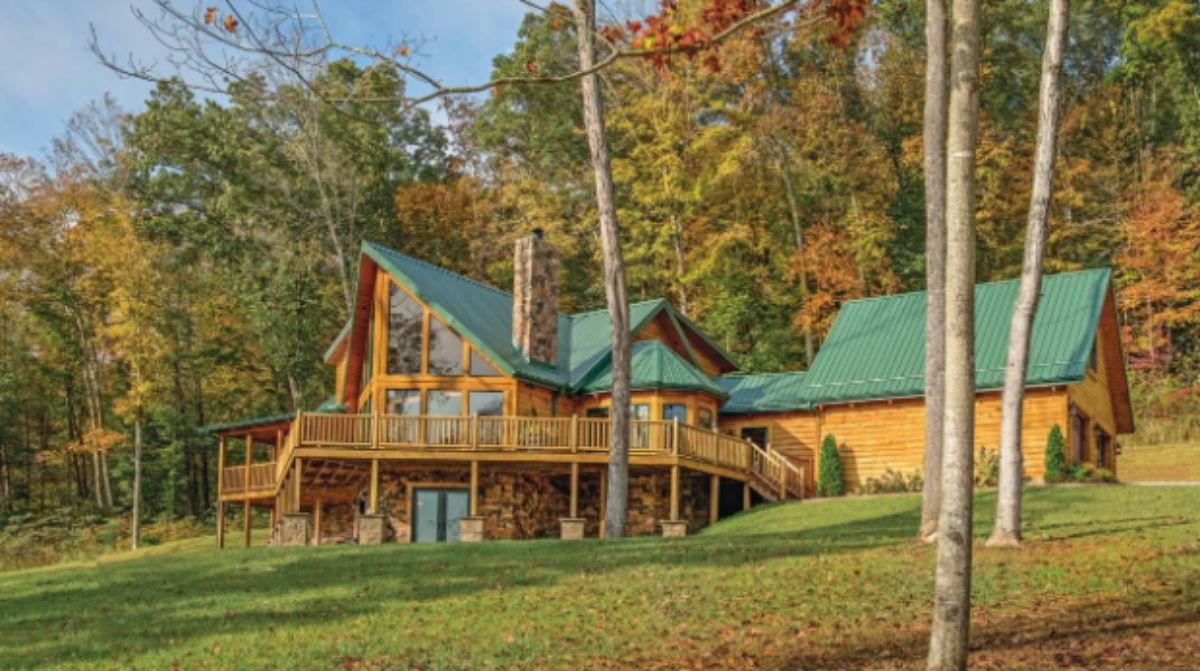 Jump to:
Pros to a Sloping Property
On the plus side, cabin building on a slope promises amazing views and can transform what seems to be a difficult lot into a welcoming and unique homestead.
By building into the side of a hill or mountain on a sloping property, you can carve out a walk-out basement or lower floor in your cabin that opens up to beautiful views and an open, airy atmosphere rather than the dark, closed-in feel of a subterranean basement.
By incorporating large windows you can bring in commanding views of a meadow or mountain range along the entire downward side of the cabin.
You can save costs on your log home design by reducing the amount of excavation required compared to digging out a basement or lower floor for your log home that would be required on a level lot.
Measuring Slope
For precise measurements of the slope you can use a builder's level or transit which has a built-in spirit level, or a laser level. But you can also determine the rough slope of your lot with a tape measure and a simple string level. Suspend the string level on a line and hold it level down-slope. Measure the distance the string is off the ground and measure the distance along the slope.
SLOPE = RISE / RUN
A 20% slope means that for every 100 feet of ground, the land slopes off by 20 feet. If you've measured a 2' drop along 10' of slope, that translates into a 20% slope.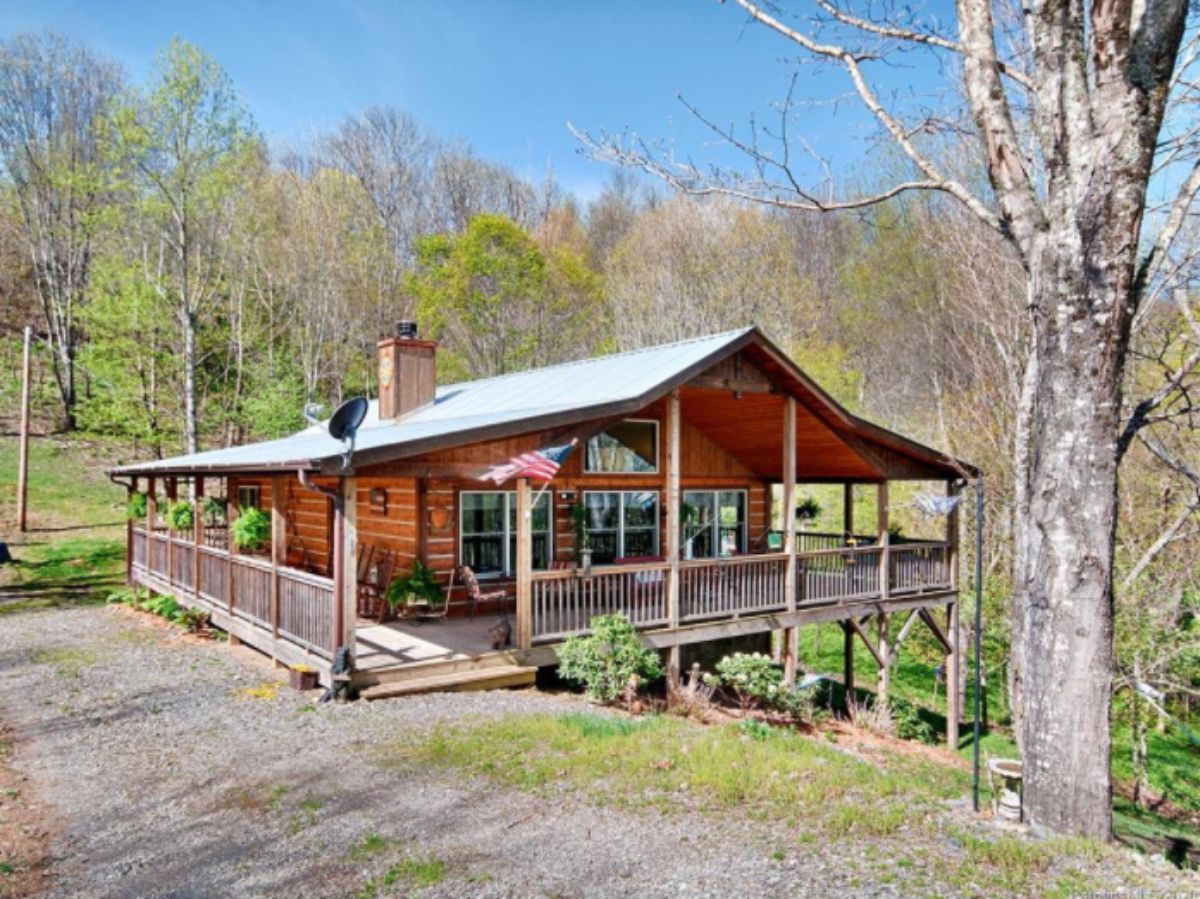 Cons to a Sloping Property
There are two major concerns when building on a sloping property: drainage and accessibility.
DRAINAGE
If you build your cabin too far down the slope you must take into consideration where the water running down the hill from above the site will travel. Careful consideration of the landscaping for your log home will direct the water around and away from the cabin foundation so that it isn't scoured away in heavy rain.
Local building codes require that the land around your foundation slopes down and away from the log home, so this may require the builder to excavate the upper side of your foundation further to allow for a slope away from the cabin.
But at least some of the dirt excavated from the down-slope side can be used for fill on this upper slope while keeping your cabin footers and foundation in virgin soil.
ACCESSIBILITY
Access to the building site must be considered as well. On a sloping property this can create a challenge requiring careful siting of access roads and driveway and when installing utilities.
We usually recommend putting the driveway on the upper side of a sloping property so you don't have to worry about extensive retaining walls and washed-out roads down below. This also makes it easier for you entering the house with groceries and supplies since you won't be struggling further uphill from a lower driveway.
If your property has a very steep slope, specialized construction equipment may be required in order to properly access the site and you may need to pump concrete for footers and foundation walls.
This can incur additional expense but is not insurmountable - it just requires a general contractor or subcontractors with concrete pumping experience.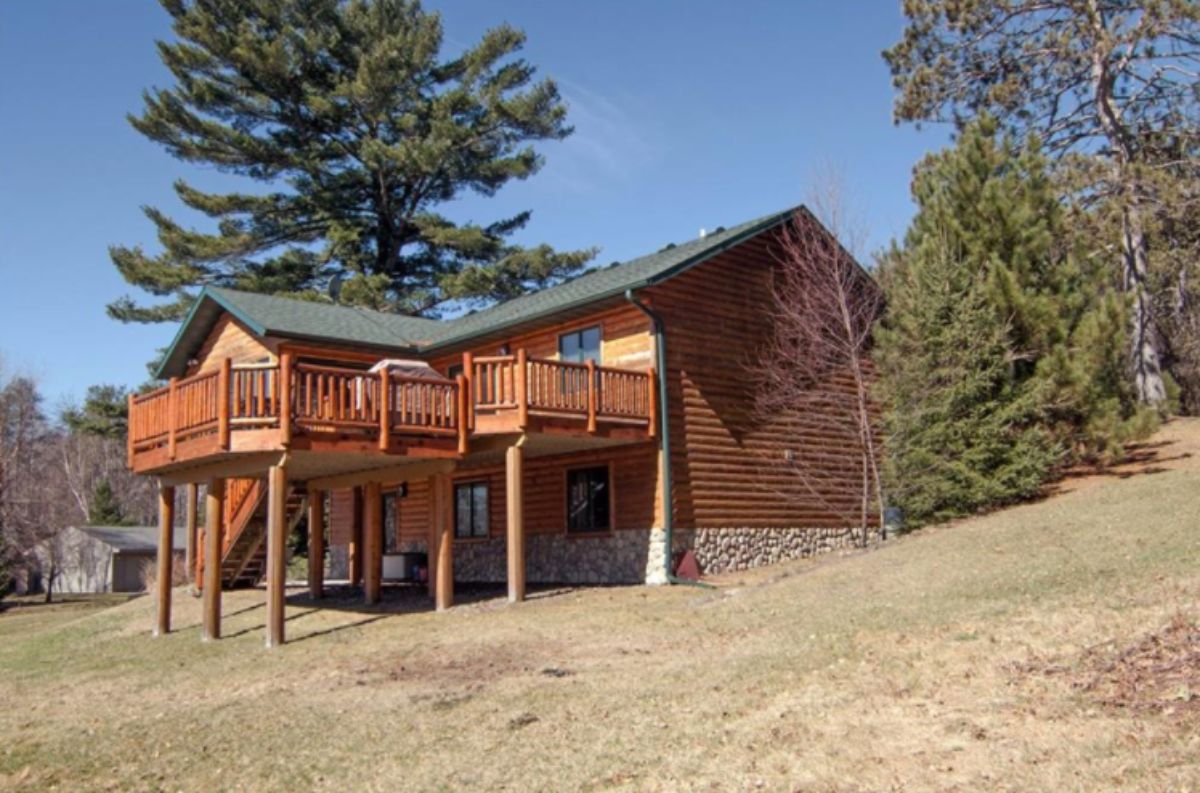 Cabin Design for Sloping Property
Once you know the slope of your lot you can use this to determine the best cabin layout and design. For example, say your log home dimensions are 28' by 54', and you are building on a sloping property with a 20% slope.
If you were to situate your log home with the 28' dimension down the sloping property and the 54' dimension along the hill sideways, you would have to excavate about 5-½' into the hill on the upper side for the walk-out basement.
However, if you were to lay out the cabin so that the 54' dimension ran up and down the slope, almost 11' of excavation would be required: a significant difference in cost and planning.
Building on a sloping property will generally require retaining walls to give you flat areas for parking, driveways and yard areas.
Sale
Shorter retaining walls of two feet or less are relatively simple to build, but building retaining walls higher than two feet will require planning, extra reinforcement and the use of deadmen anchors. These deadmen maintain structure and rigidity by connecting the wall to the hill behind it. I like to use log screws to tie a perpendicular timber to the wall since they have exceptional strength and won't rust or corrode. Then we backfill the timber into the slope to anchor it.

Don't be scared off from a sloping property when buying land for your cabin simply because you don't understand the challenges involved in building on a slope. A sloping property offers outstanding views and an interesting log cabin home design on multiple levels once the engineering considerations are properly addressed.