The Bear Rock cabin is a gorgeous custom home built with the classic log cabin style and luxury at every corner. With wrap-around porches, a four-seasons room, a gorgeous basement perfect for entertaining, and even a private craft workroom. It's the home of our dreams and one that is sure to inspire you!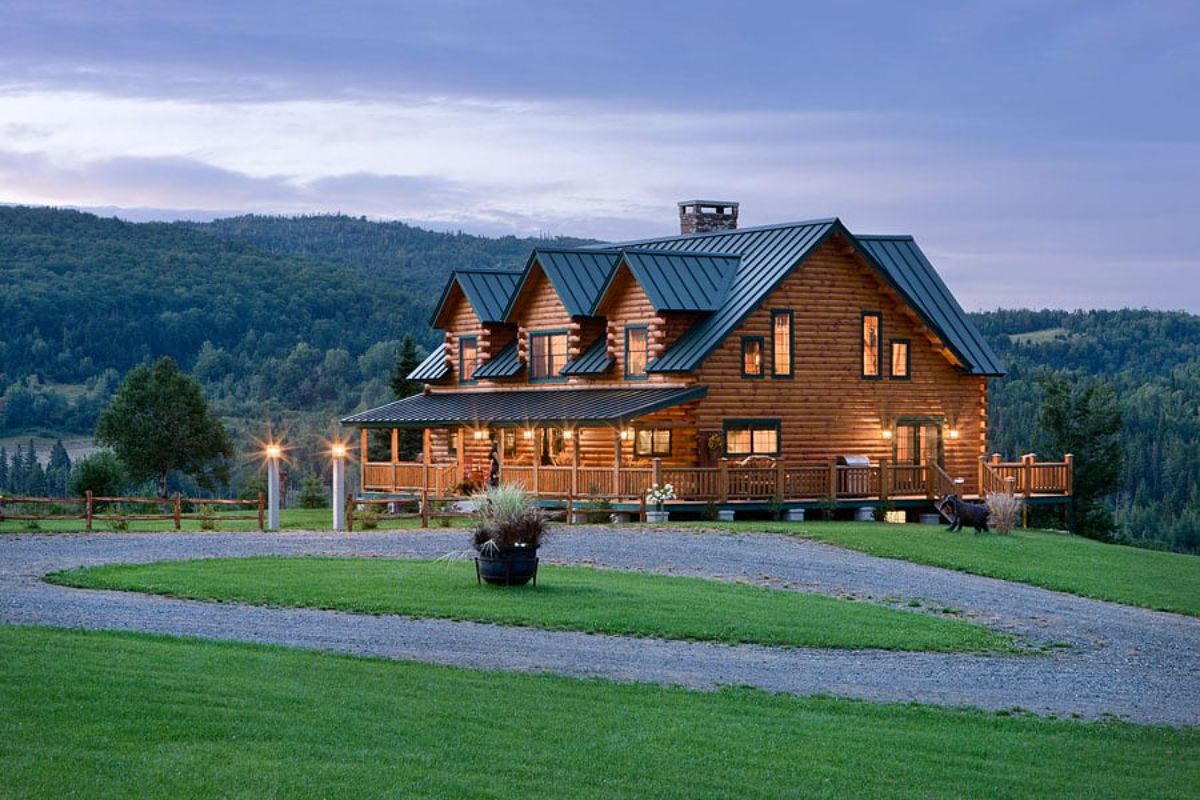 For more information on what a log cabin package from Coventry Log Homes would include, you can check out their spec sheets HERE.
These builds are custom for each owner with unique additions that suit their needs. This home in particular is definitely a luxury home with the extras throughout. You'll notice first and foremost the beautiful log work on both the exterior and interior with railings, staircases, walls, and exposed beams everywhere, including the basement level.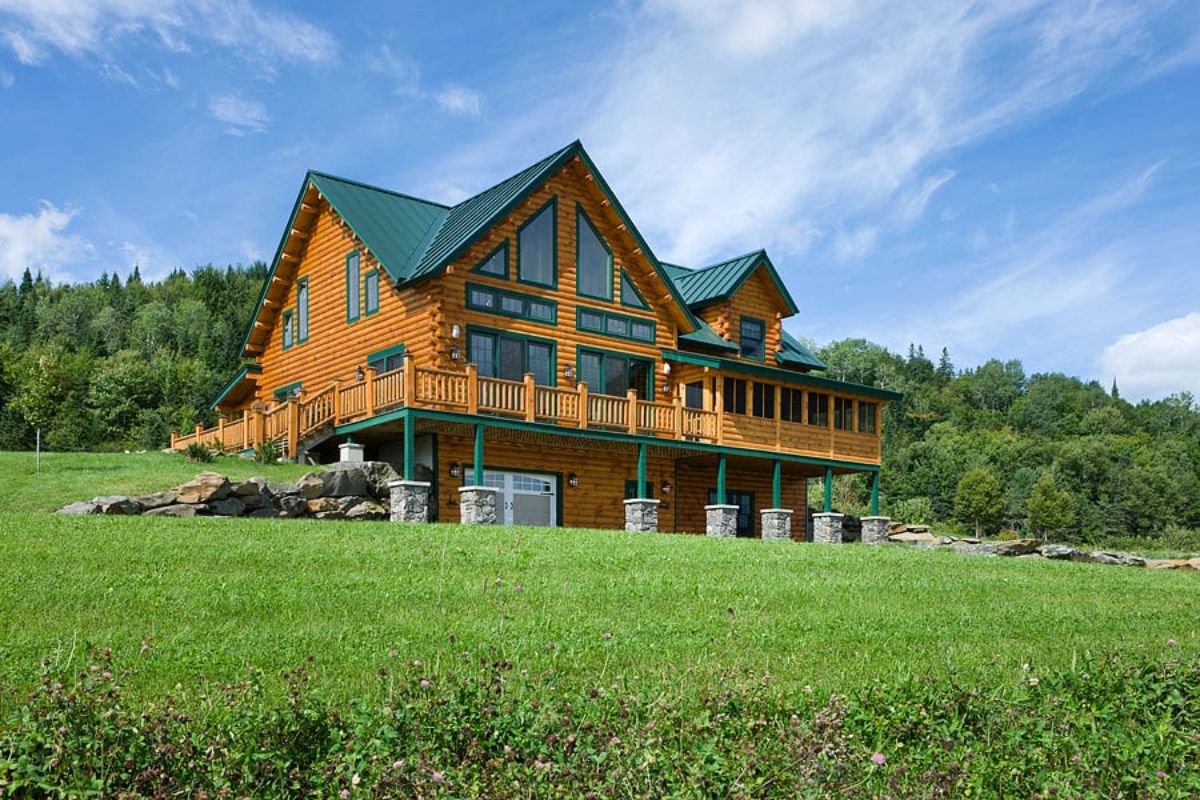 Since this home is on a rolling hill, the views are spectacular. This property includes an outbuilding that appears to potentially be a barn for horses but also includes this large garden space. A truly self-sufficient space if you wanted!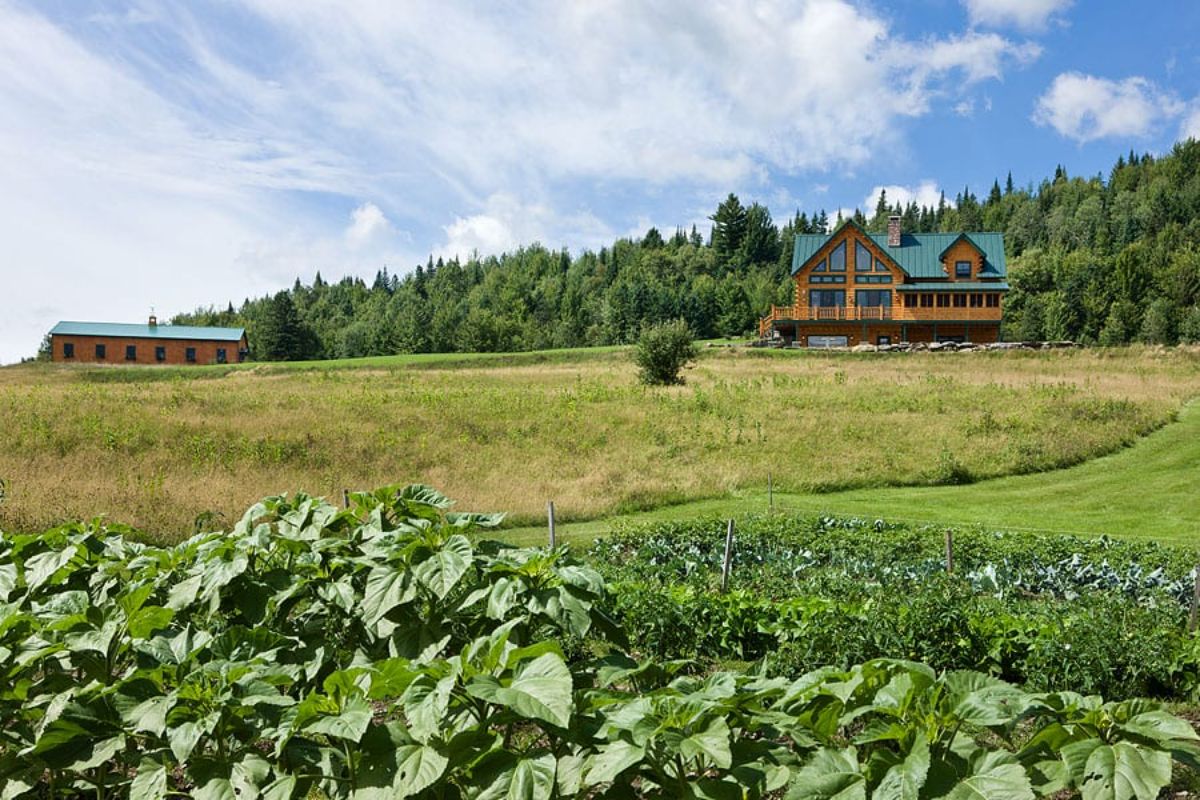 The front porch is just as welcoming as the rest of the home with a beautiful area for porch swings or rocking chairs, and that classic custom log railing along the front porch.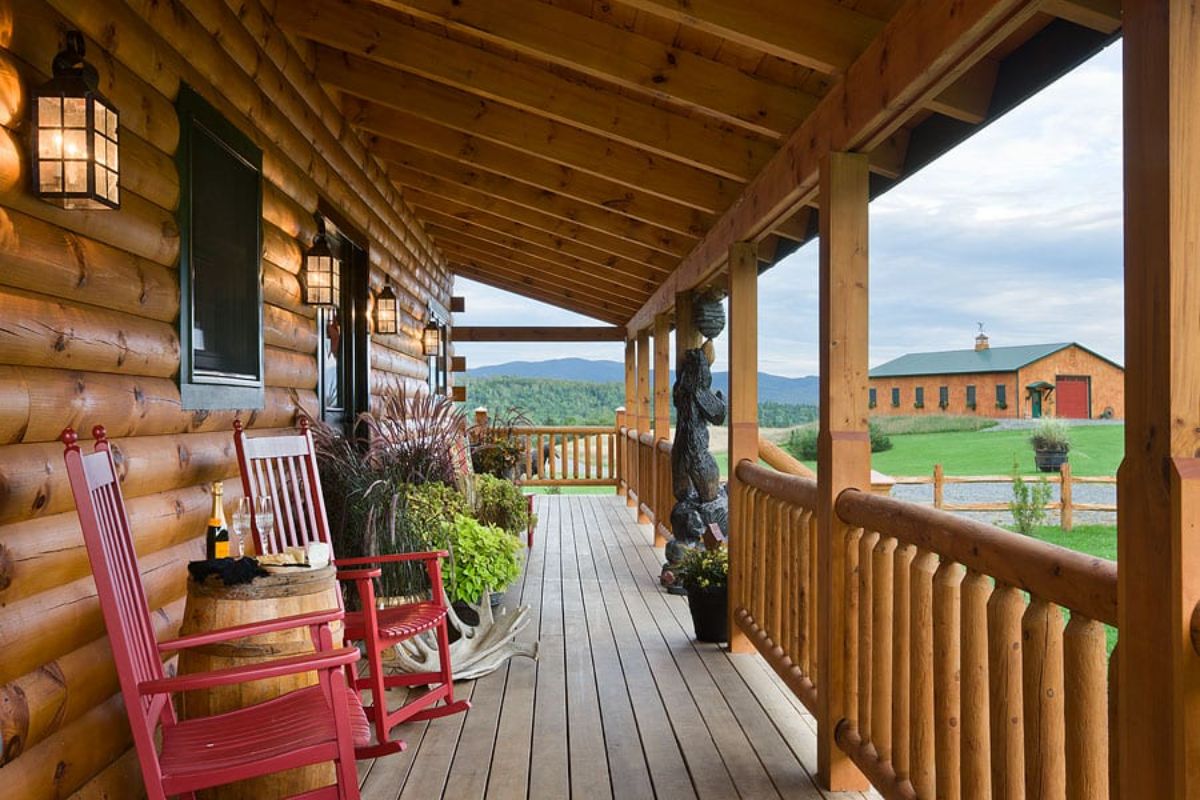 The main floor has an open plan with the living space, dining room, and kitchen flowing seamlessly together. In the living area is a nice sectional sofa with a dining table between it and the kitchen. Things like the custom hutch on the wall just help tie the look together.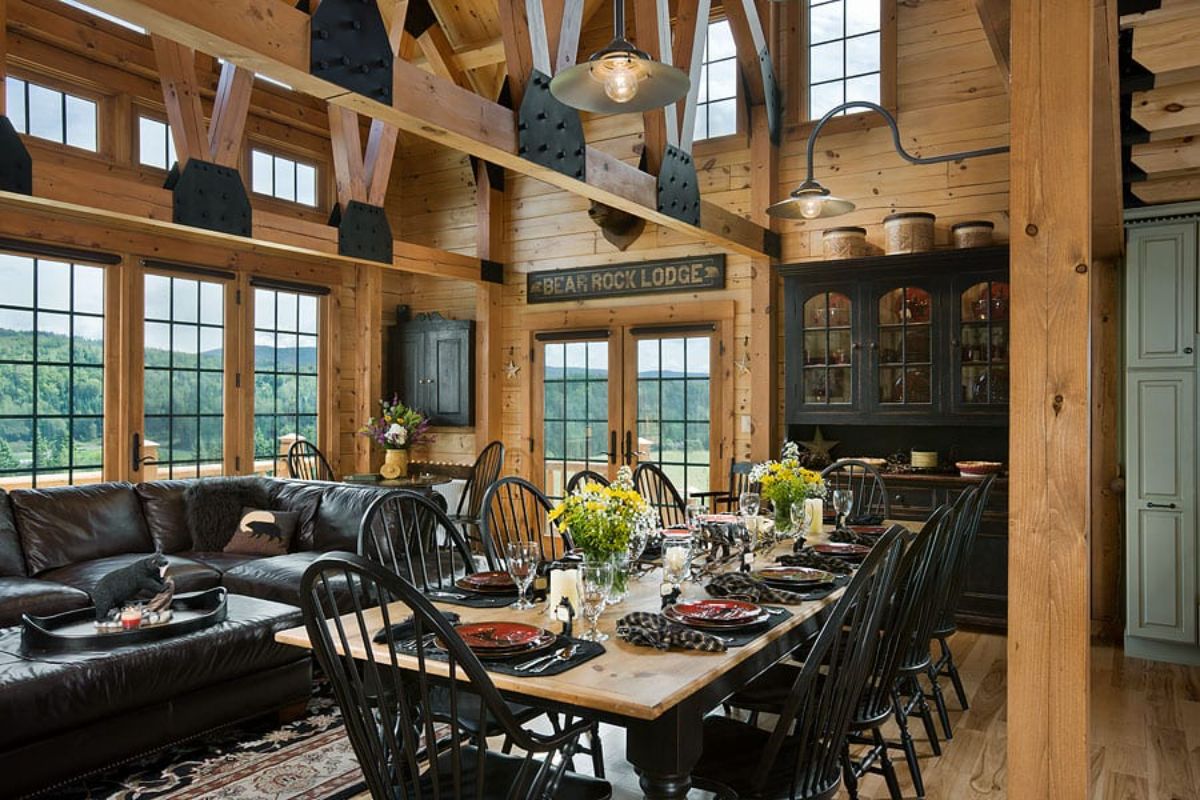 You can see from this angle how the stone fireplace in the center of the home provides warmth for the living area as well as the dining room and kitchen.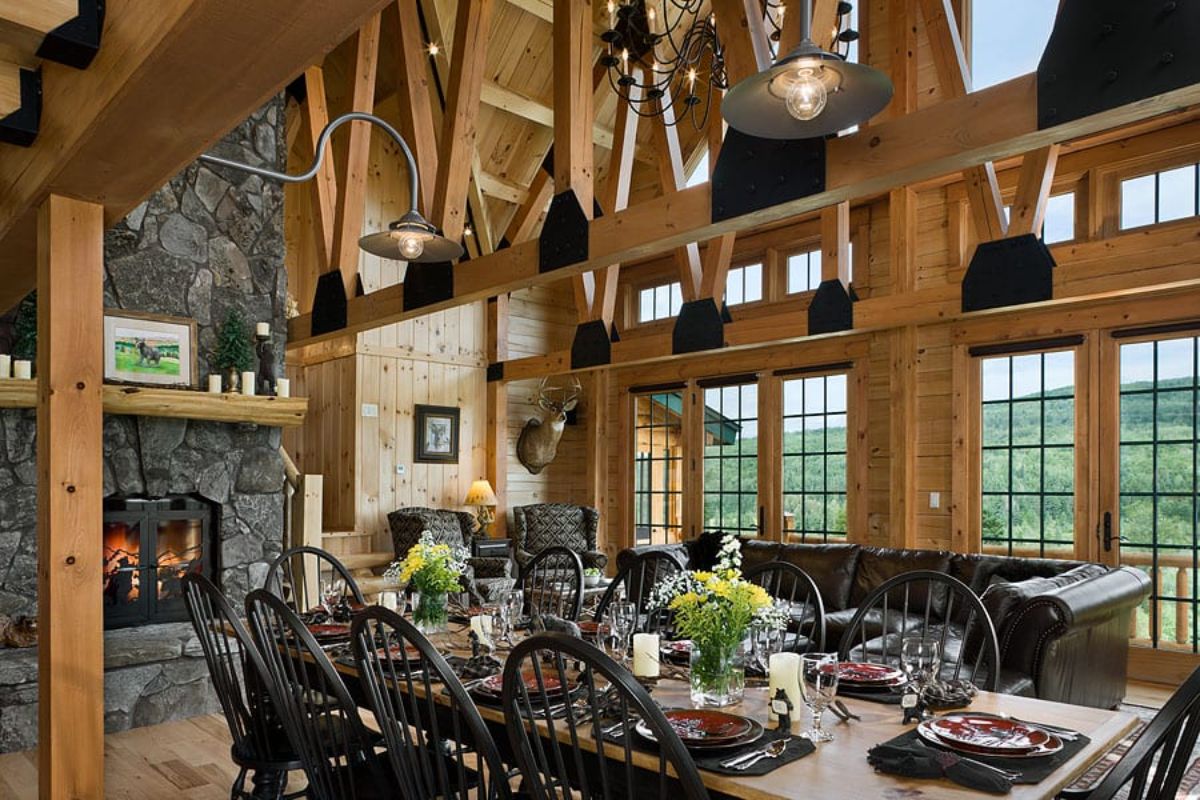 I love that you can see up to the second floor from this space. It's partially enclosed but also has some open areas which really make the home feel larger and more welcoming.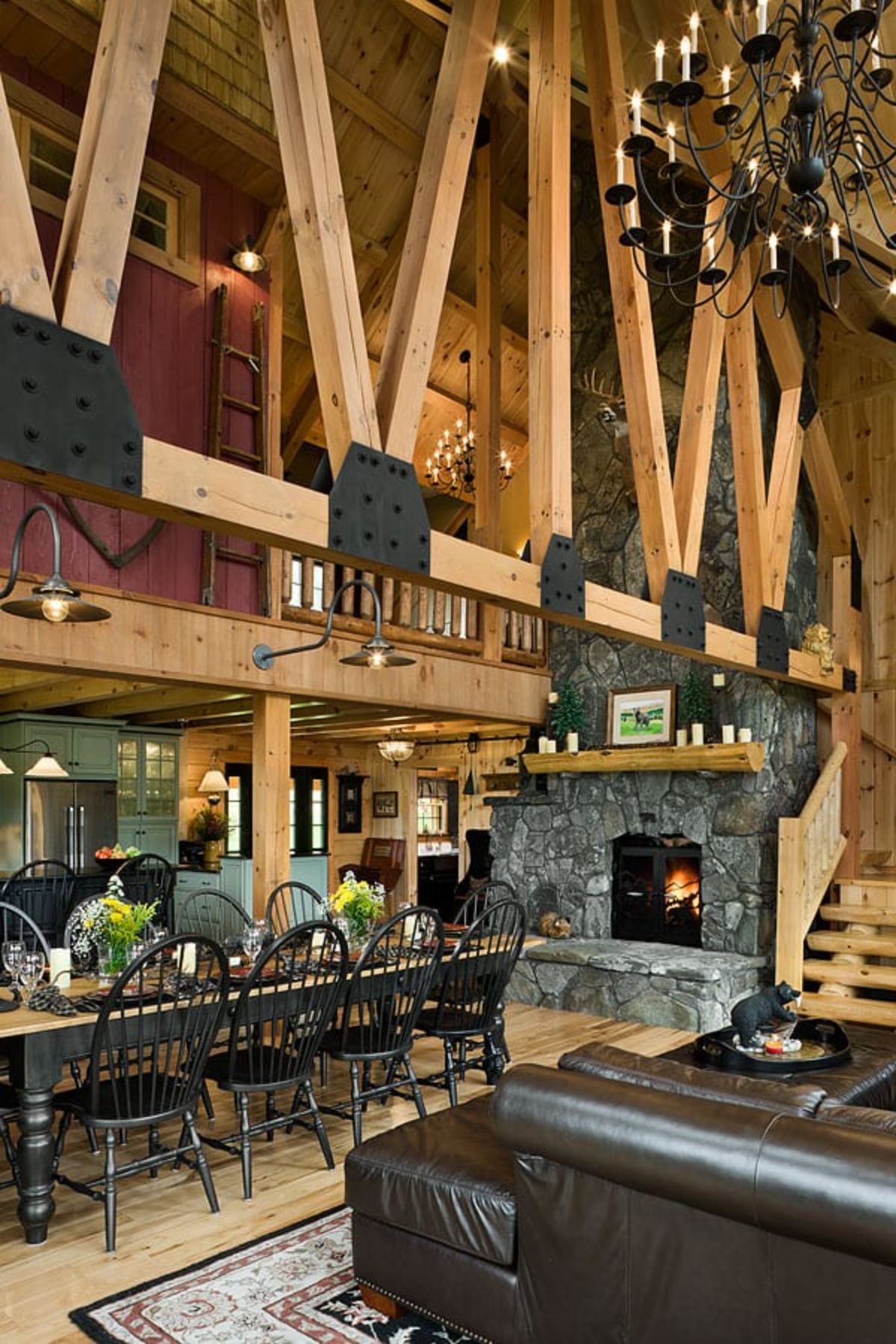 The kitchen, while on the same level as the living and dining room, is a bit more secluded with a lower ceiling. It gives it a bit of a private feeling without being separate from everything. I love the island here with shelving on the end to hold the cookbook collection.
I also love the stainless steel appliances against this light green cabinetry with black accents and hardware. It really works well together to create a stunning look that is welcoming and functional.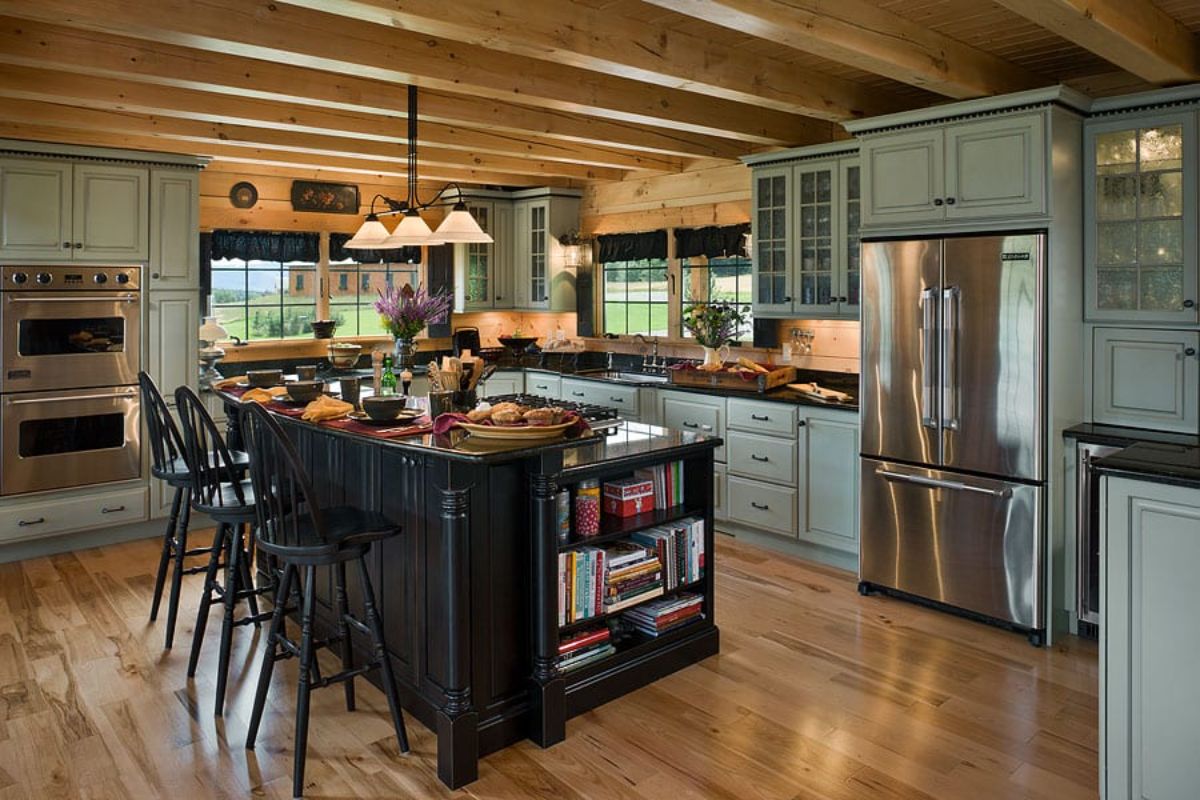 Just look at these cabinets! Quality workmanship with a lovely modern look against the rustic log backdrop really has created a perfect location to make your favorite family meals!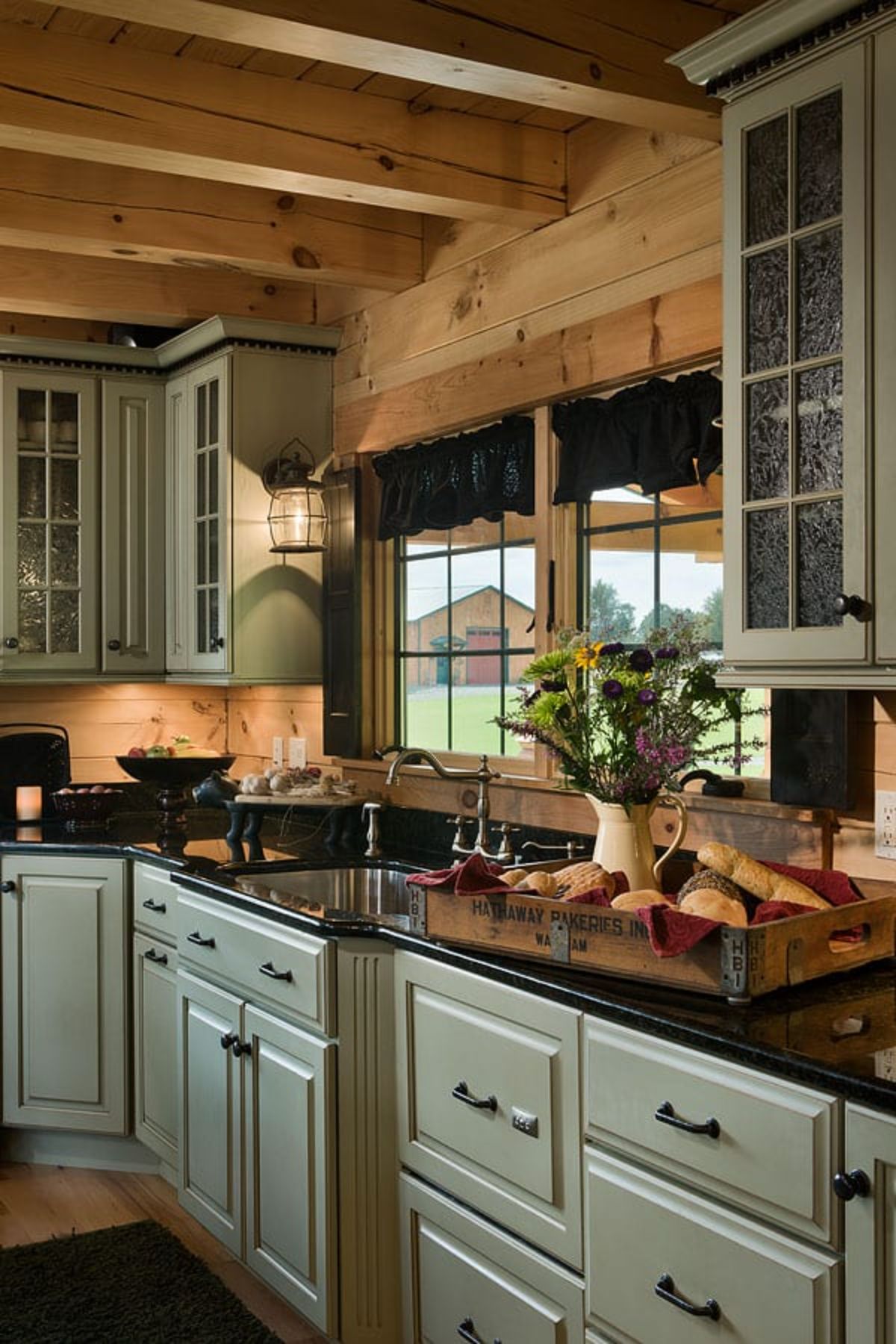 I love this separate little prep nook with a deep farmhouse sink. A perfect place to wash those fresh vegetables straight from the garden!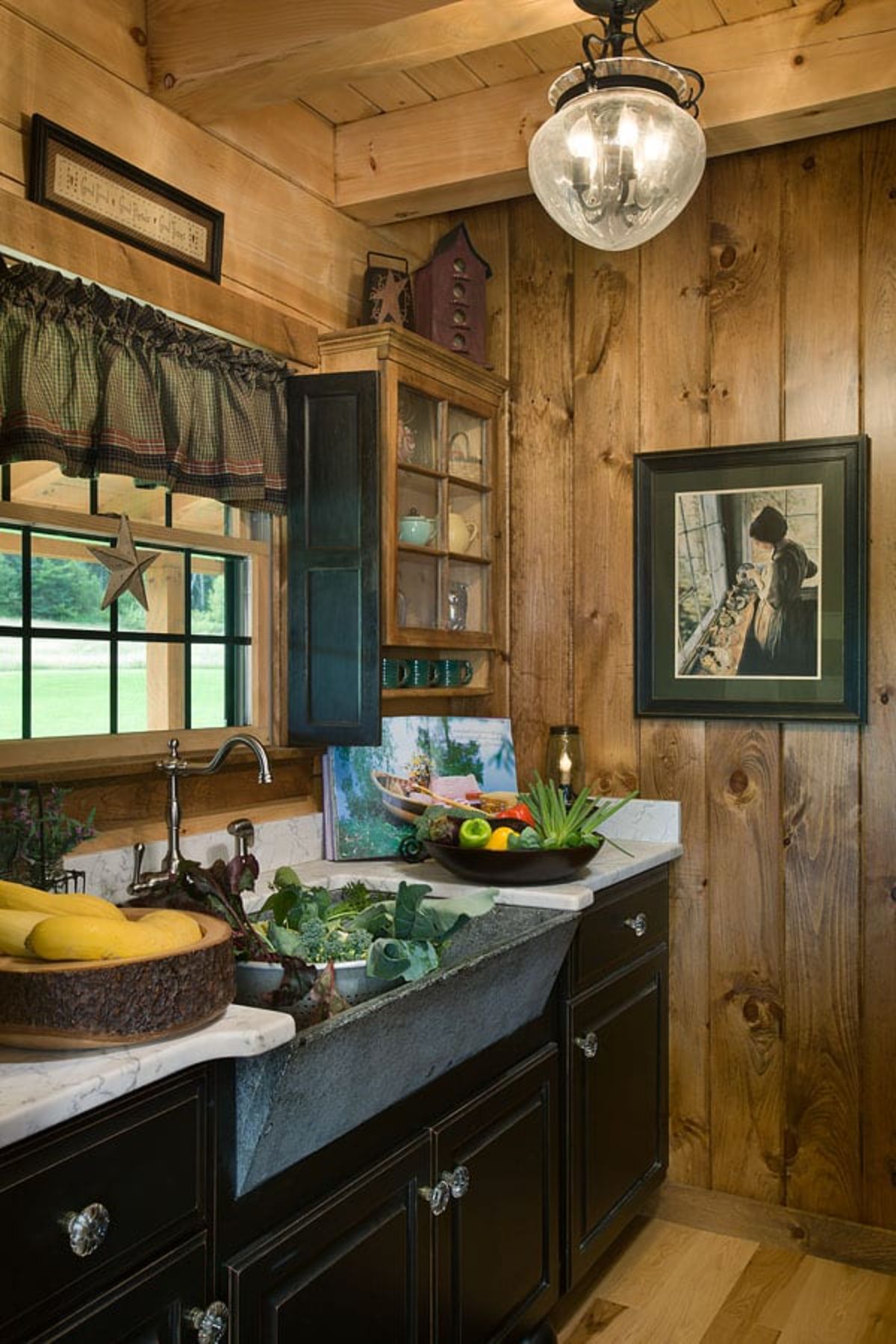 Of course, no home is complete without a laundry room, and this one is a personal favorite for quality use of space. I love the cabinets and extra counter space.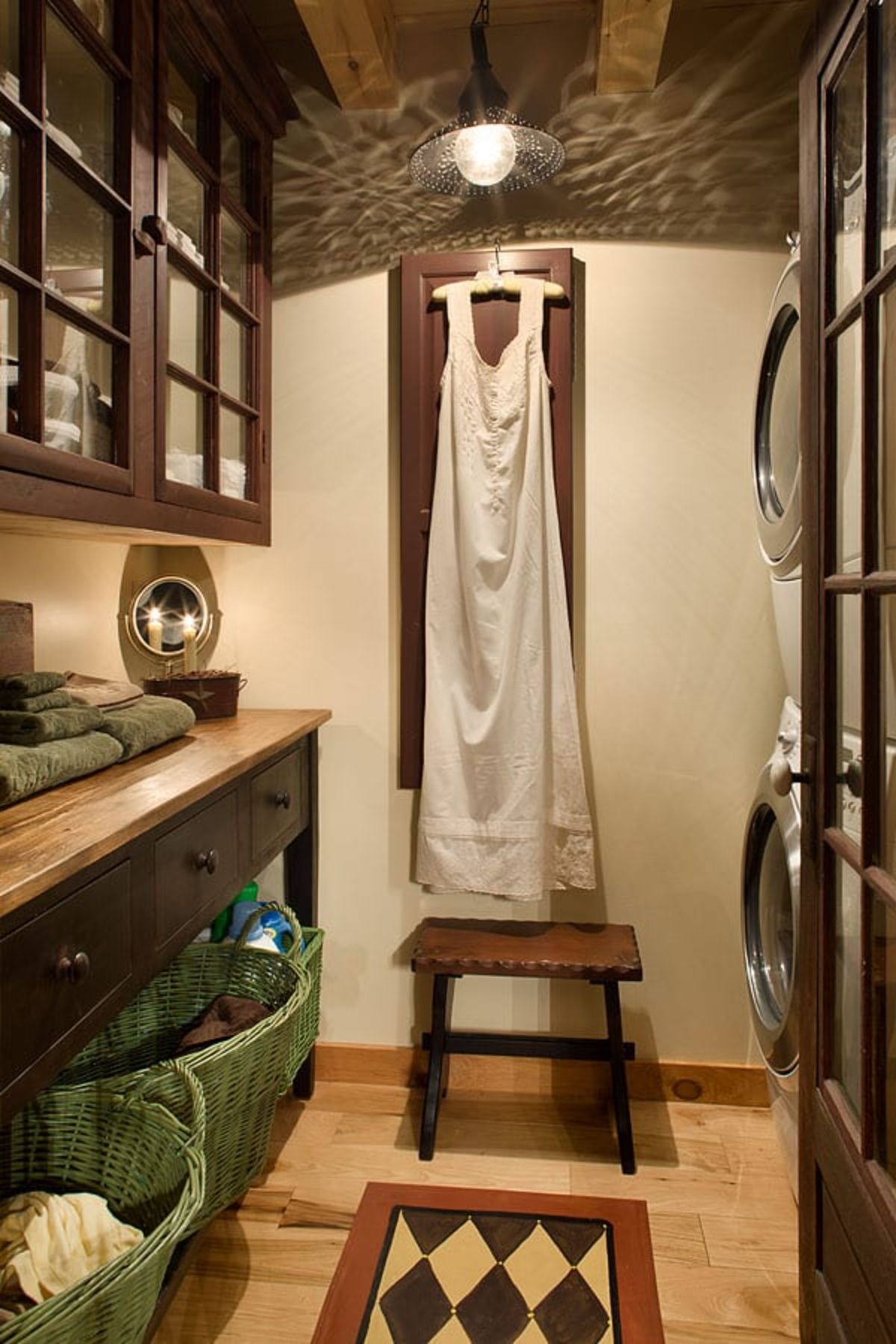 Upstairs you have some gorgeous bedrooms with room for beds, cabinets, chest of drawers, and even a few chairs.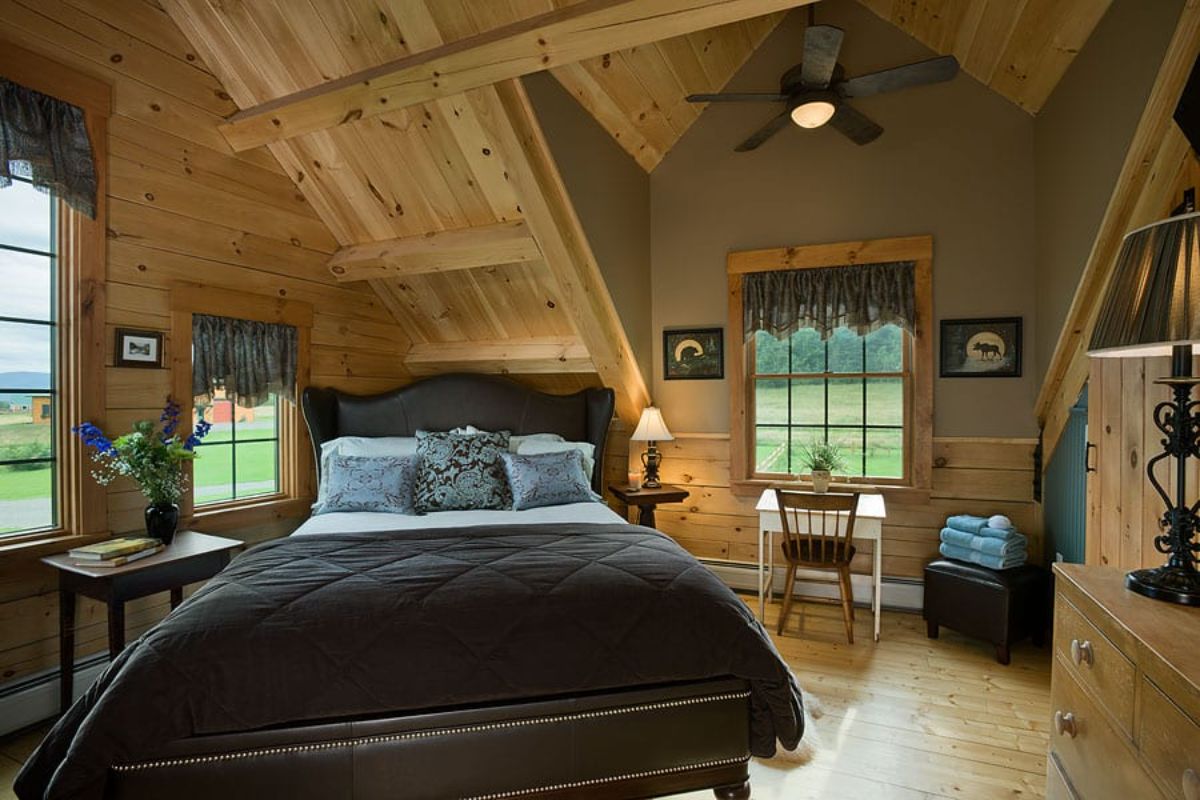 This bedroom is my favorite with the fireplace in the corner and that black theme against the light wood. Truly beautiful!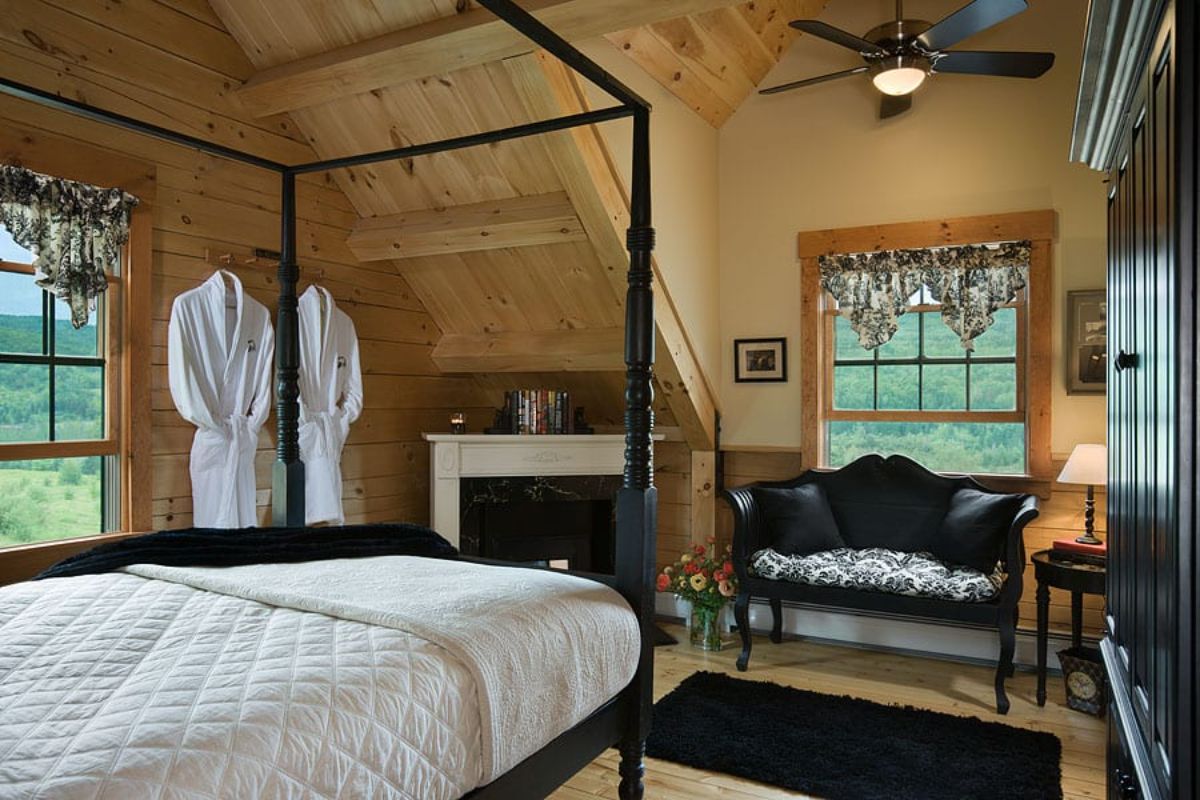 There is even a separate nursery space with a cute little mini-cabin nook in the corner of the room. How precious is that for an indoor playhouse for the kids?!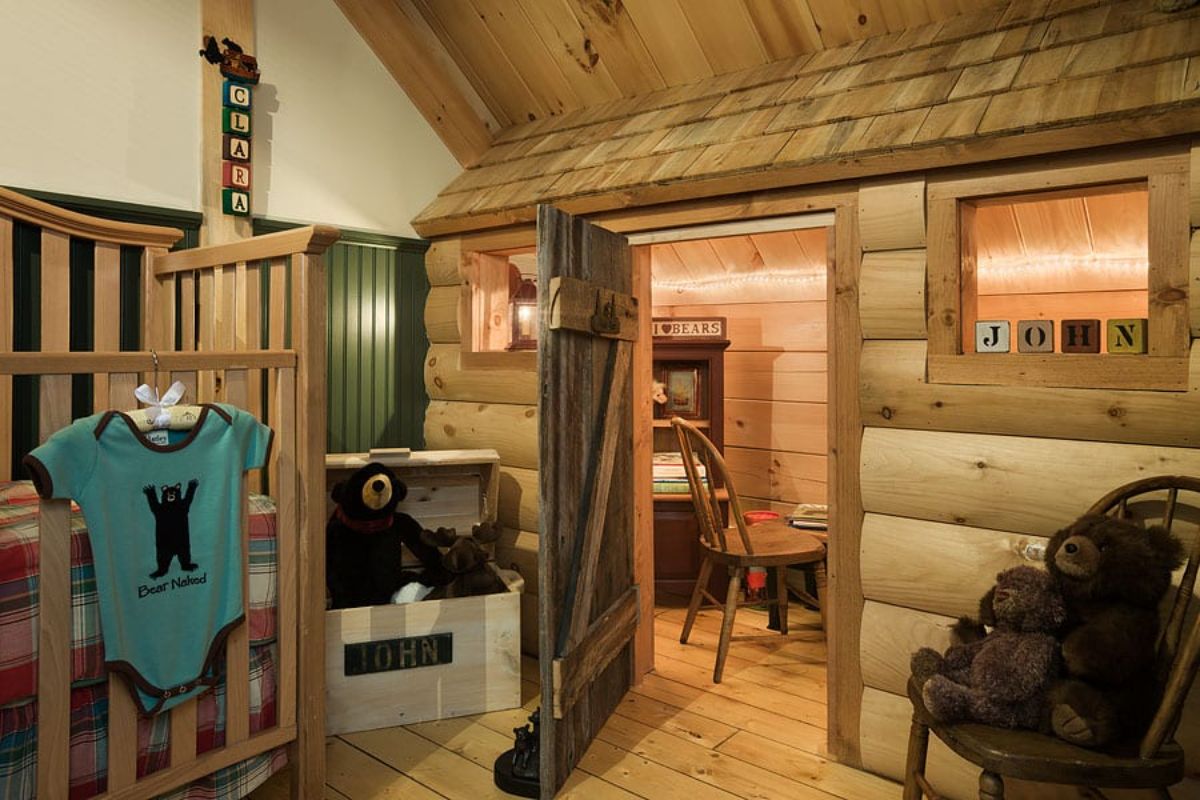 One of my favorite parts of this home has to be this private office workroom. It looks like it is setup perfectly as a crafters space, but I just love how it has shelves, drawers, and storage everywhere that is ideal for any number of projects you might imagine.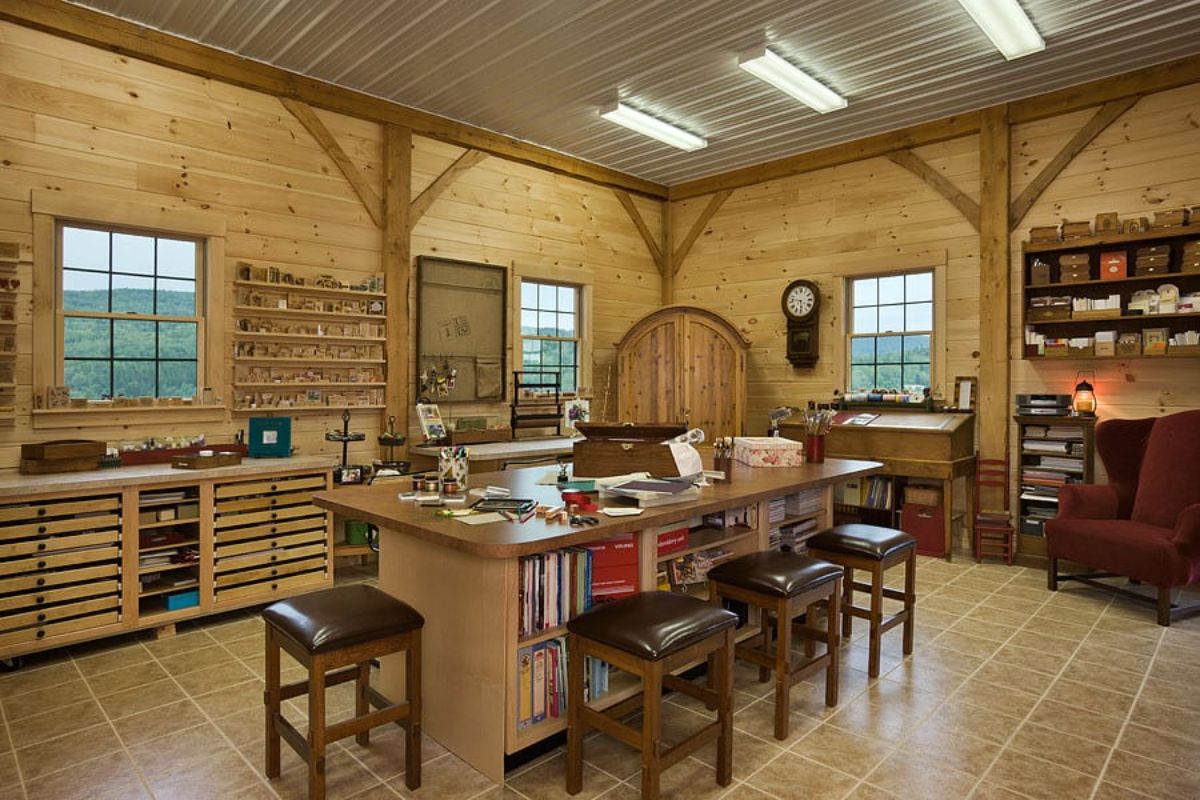 Of course, downstairs is another amazing space with this basement bar being ideal for entertaining. A cozy nook with room for a small table, bar stools, and even a sofa. Plus, if you peak the background, you'll notice a few bunks against the wall!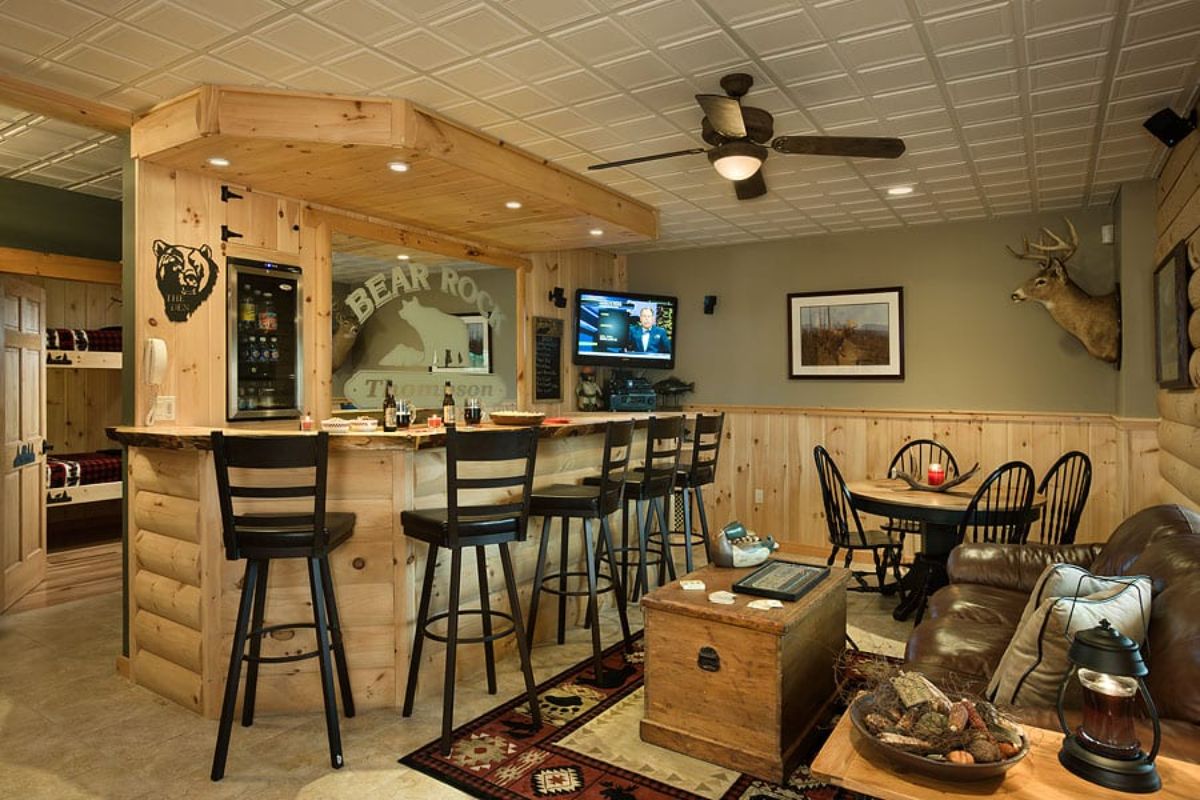 And of course, every home needs what is often referred to as a four-seasons room. This little nook is a part of the home but also outdoors making it ideal for sitting in the sunshine to read a book on a beautiful summer day.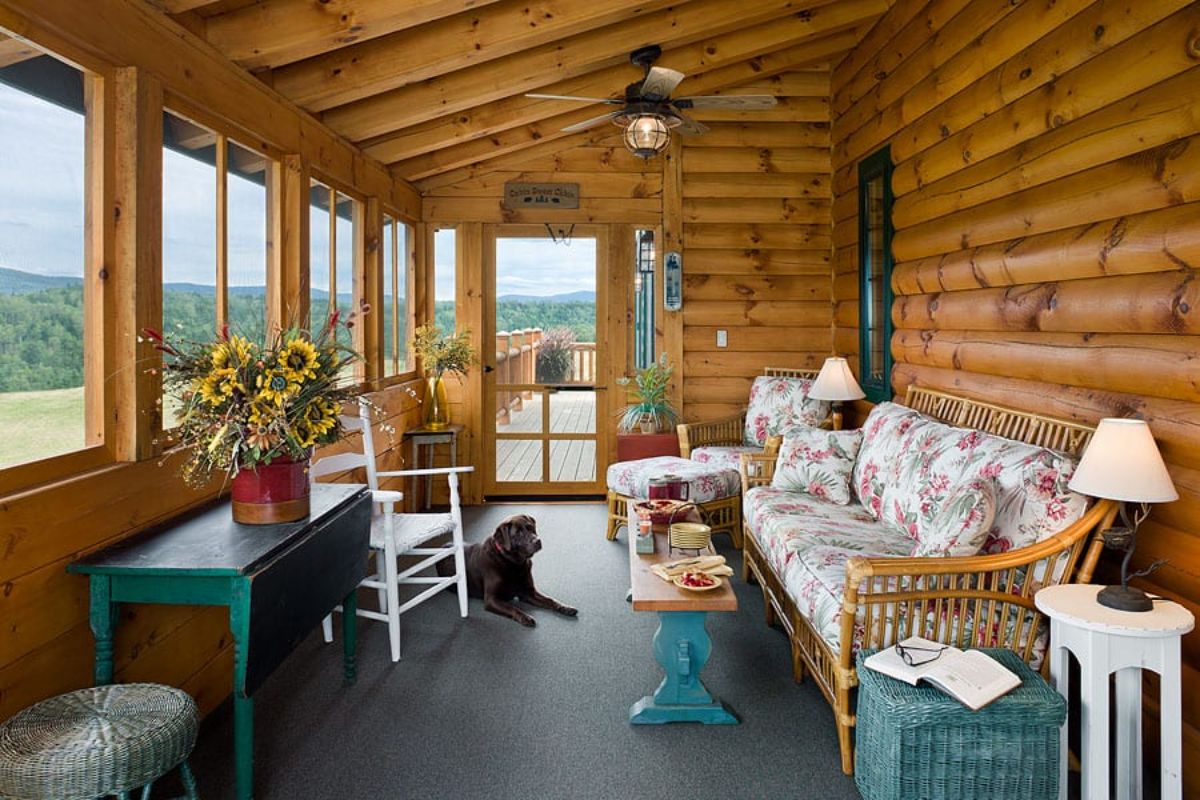 To learn more about this home and other beautiful log cabin builds, you can see the Coventry Log Homes website. They can also be found on their Facebook profile or Instagram page. Make sure you let them know that Log Cabin Connection sent you their way.
More Log Cabin Kits and Tours