It is said that this stunning log home was built as a true dream come true for the Carlisle's. Once you look at the beauty inside you will no doubt understand why. With a gorgeous floor plan, attached garage, and stunning views, this home was built with comfort and joy in mind. If you want your dreams to come true, consider a build like this!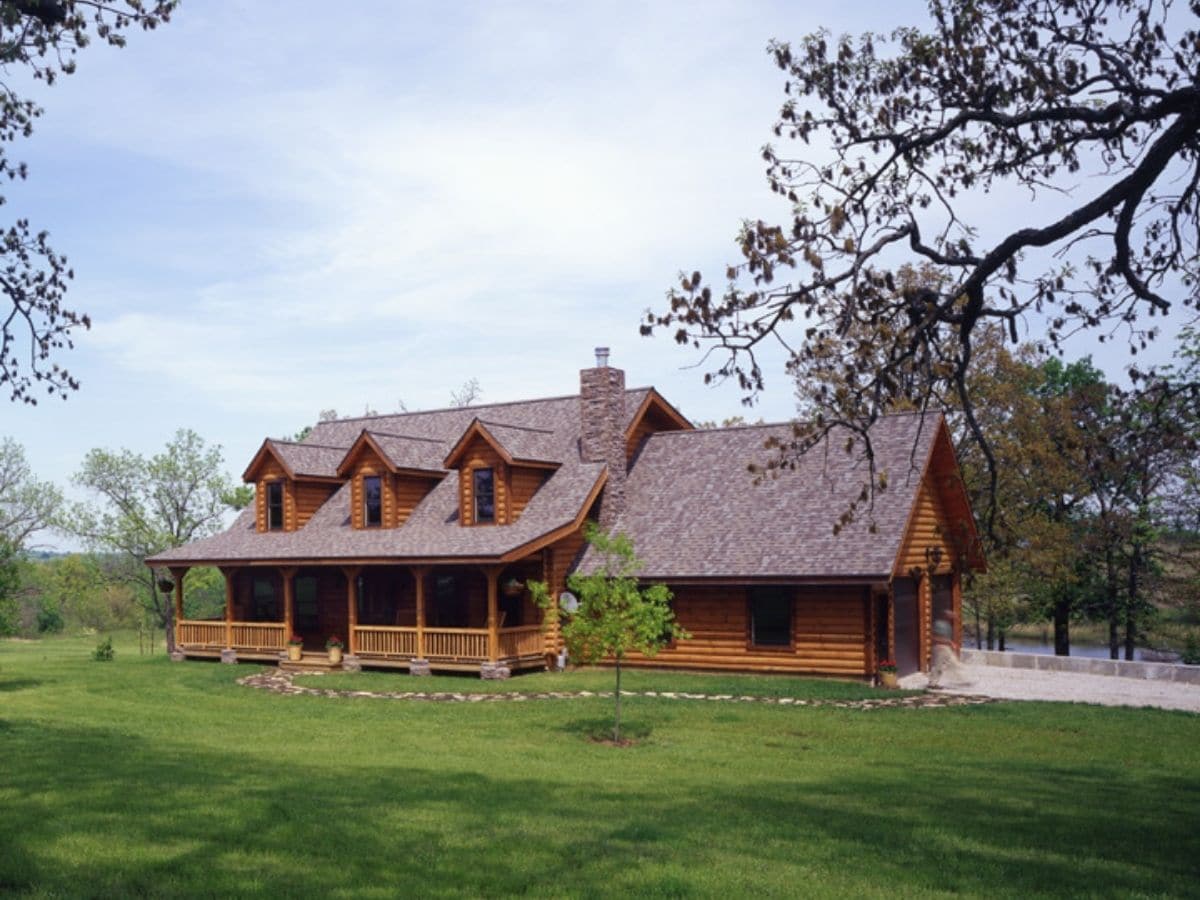 Log Cabin Size
2900 square foot plus attached garage
3 bedroom
2 bathroom
Log Cabin Features
Featured in September 2009 issue of, Country's Best Log Homes.
Walk-out basement.
Separate private balcony and porch on the back of the home.
Full lenfth porch on the front of the home.
Log beams and rustic live edge accents throughout the interior.
Large modern kitchen with island and tons of storage.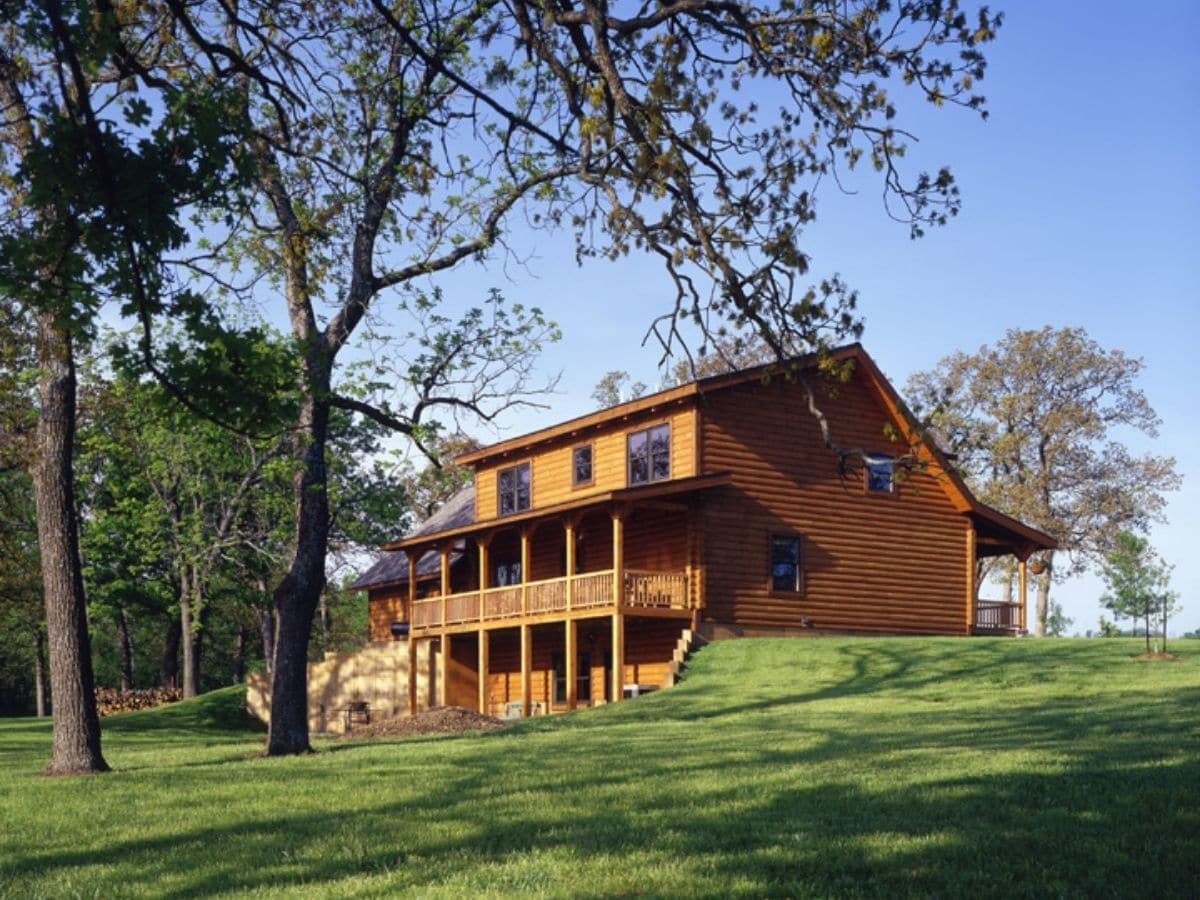 Of course, while not about the home itself, you have to take a look at the property and the gorgeous view of the pond behind the home. They even have a private floating deck!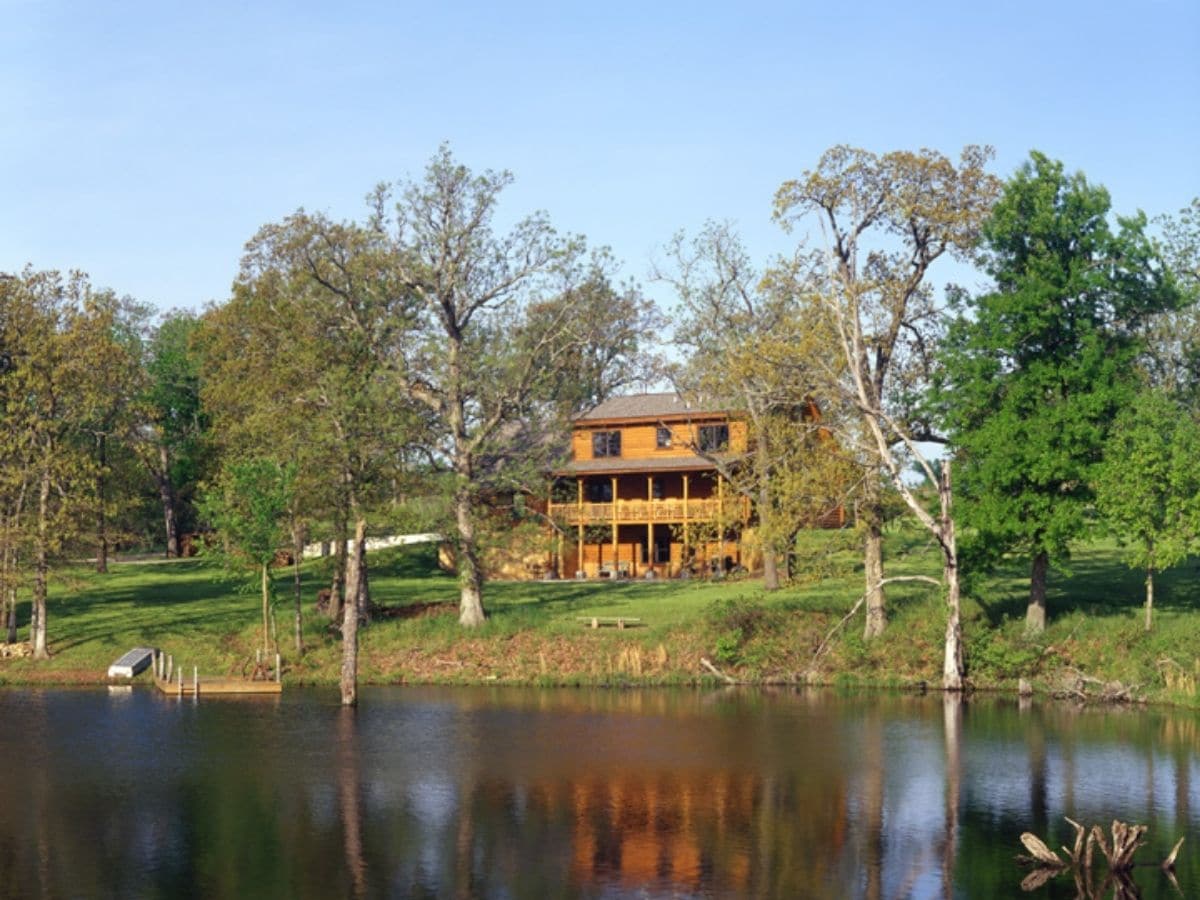 This back porch is what dreams are made of with rocking chairs, ceiling fans, and a picnic table on the end. I can just imagine summer days relaxing here with a glass of sweet tea and a good book! Of course, you could also snuggle in a blanket and sweater with your morning coffee!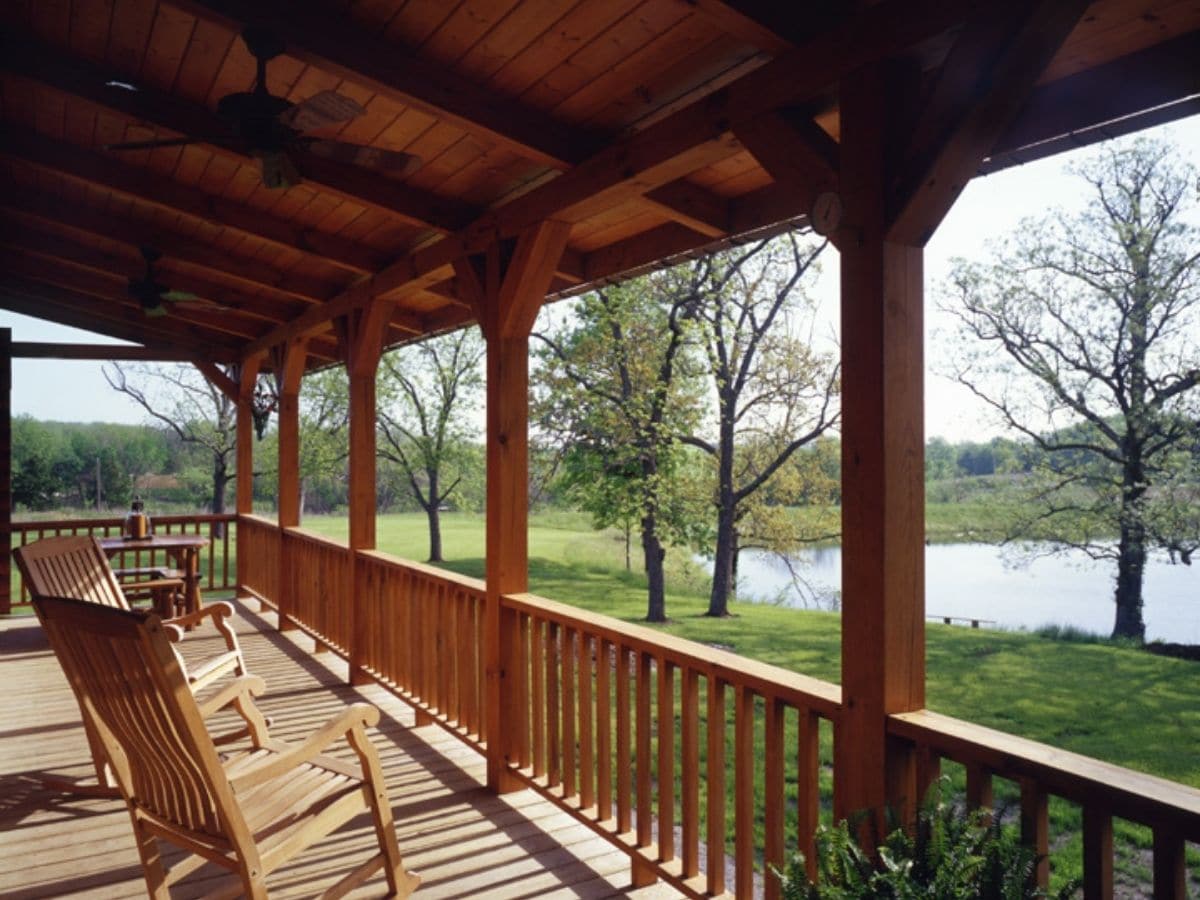 The interior of the home is made of logs and the occasional drywall space with white walls. The accents of dark wood stain against light natural wood blend perfectly and create a welcoming space that is family-focused and ideal for a weekend game night or holiday gathering.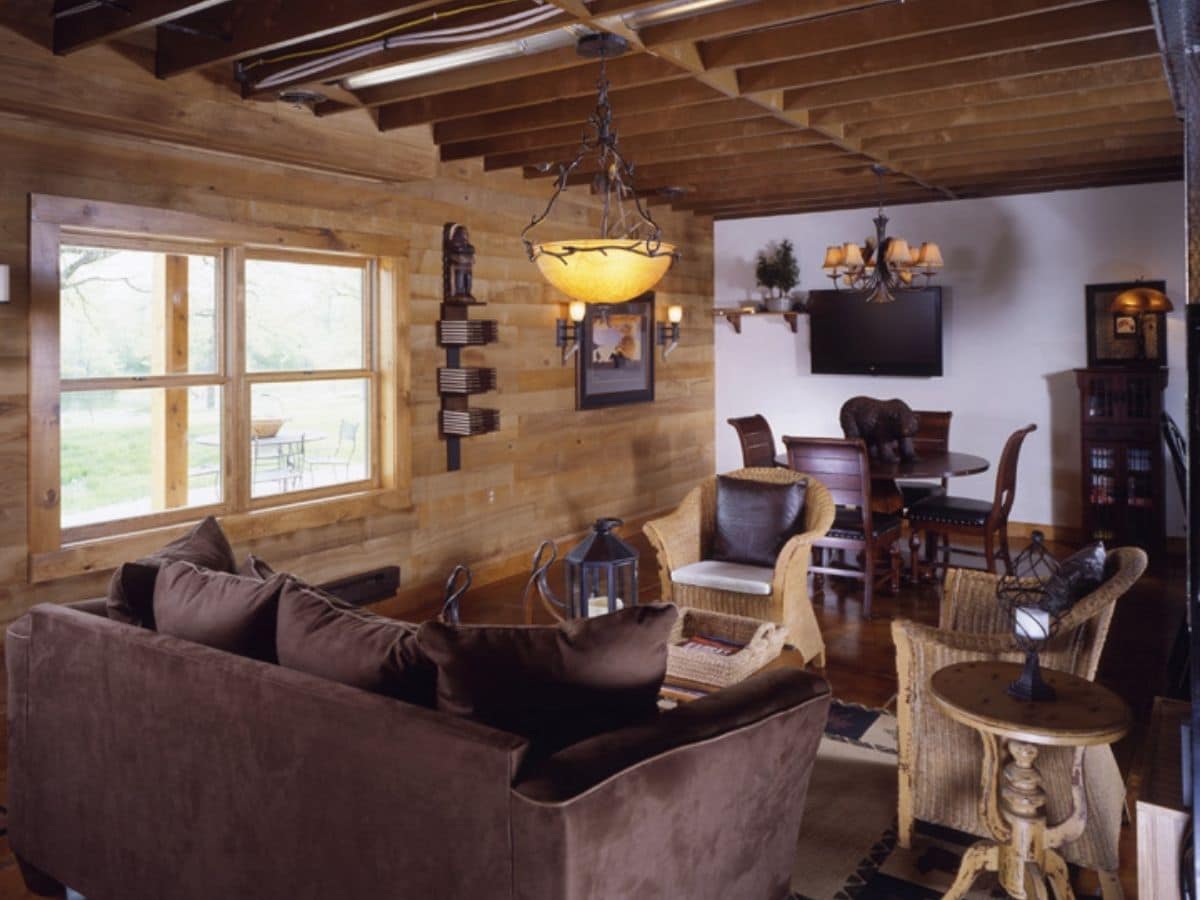 Inside these walls, you will find all of the comforts you expect, right alongside unique pieces like this antler chandelier over the main living space on the main floor of the home. That rustic "cabin in the woods" or "hunting cabin" decor is found throughout, but there is definitely plenty of the modern things you prefer as well!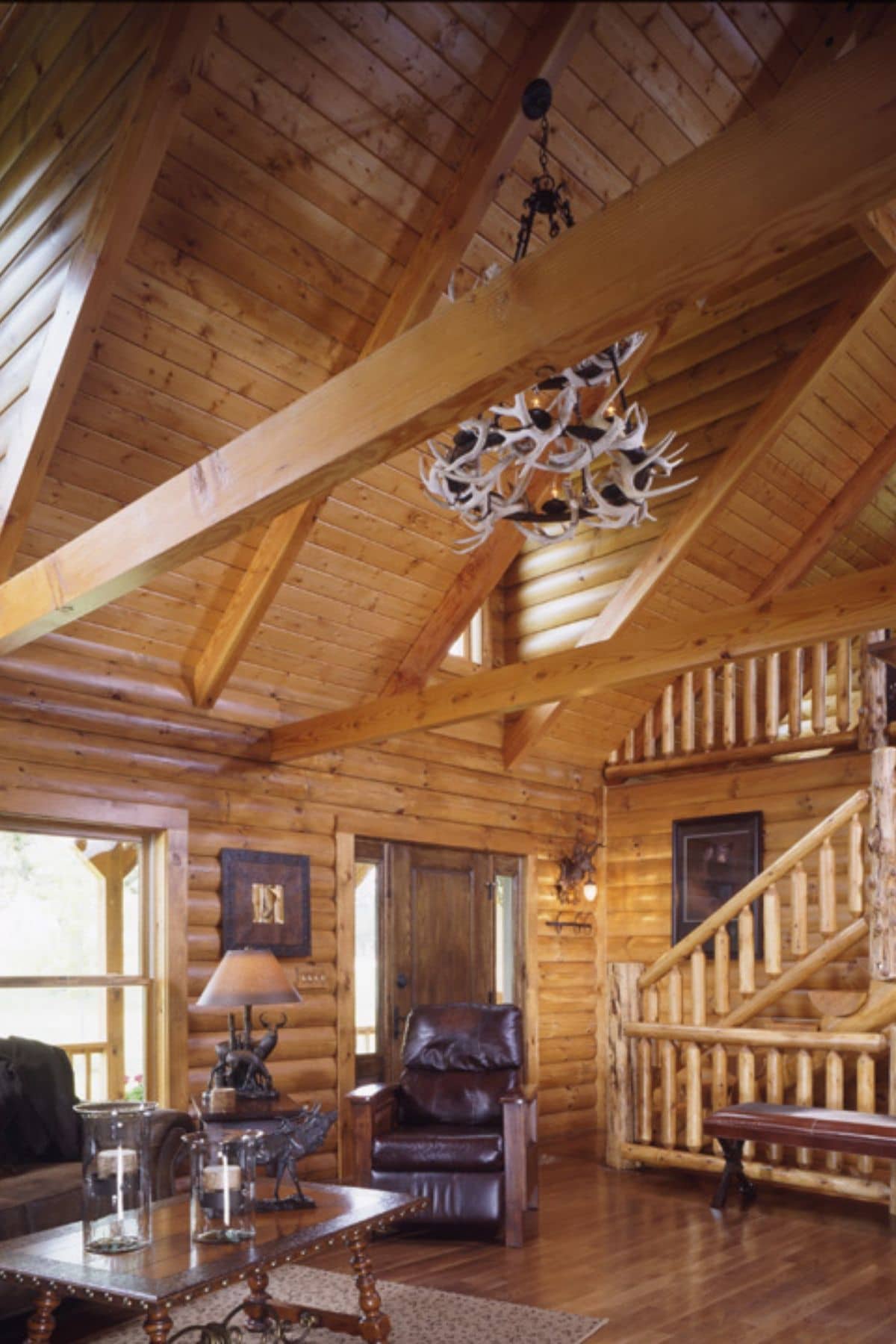 You can't miss the gorgeous stonework on the fireplace in the living room. Of course, a log cabin has to have a true wood-burning stove or fireplace, and this does so with a centerpiece that is both functional and stunning design.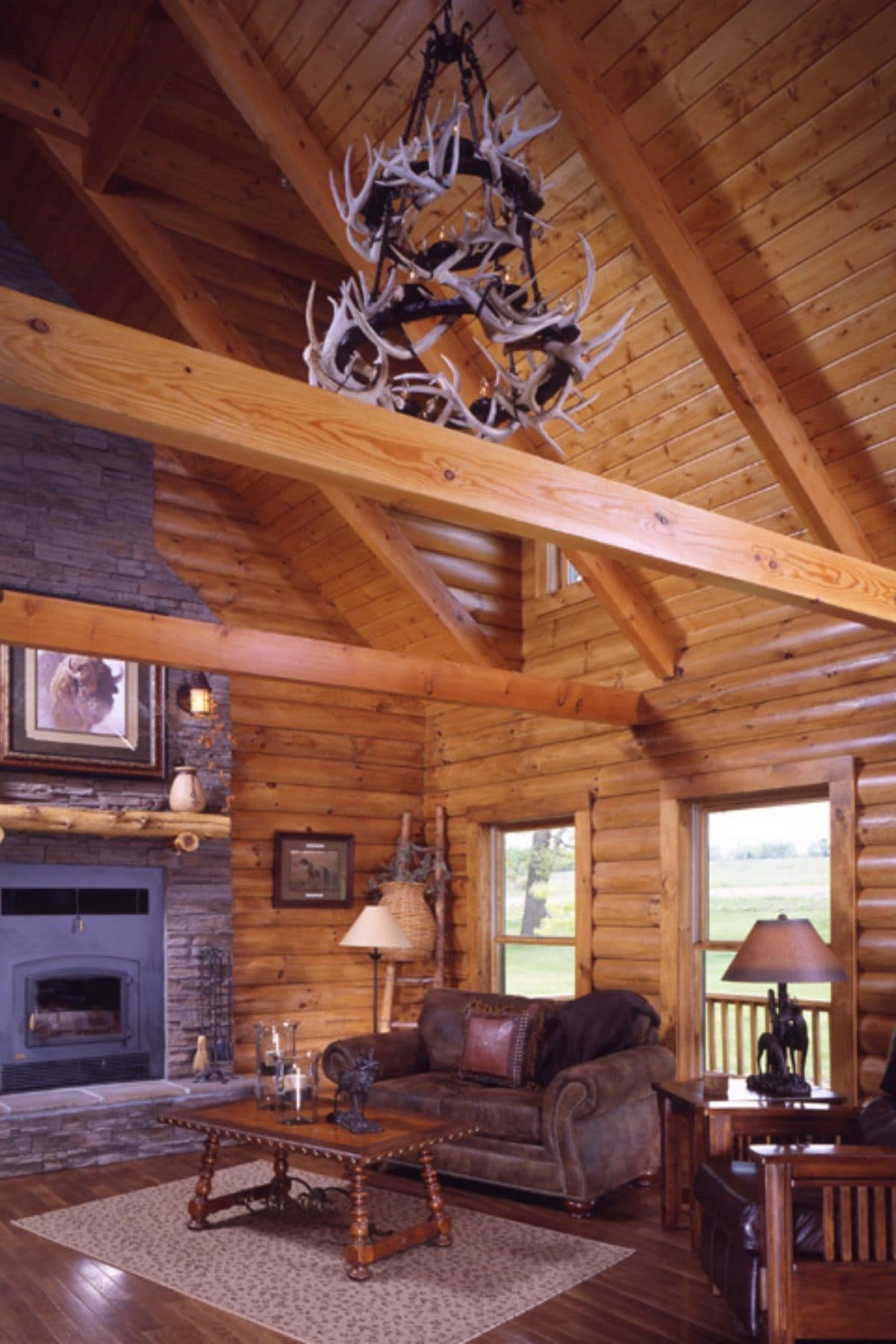 Family meals are made easy with an open kitchen with modern updated appliances including the refrigerator, stove, and dishwasher. I also love this island on the edge that could also be a breakfast nook or simple workspace. And of course, I have to mention the rack above the stove where pots and pans are hanging. How amazing is that detail?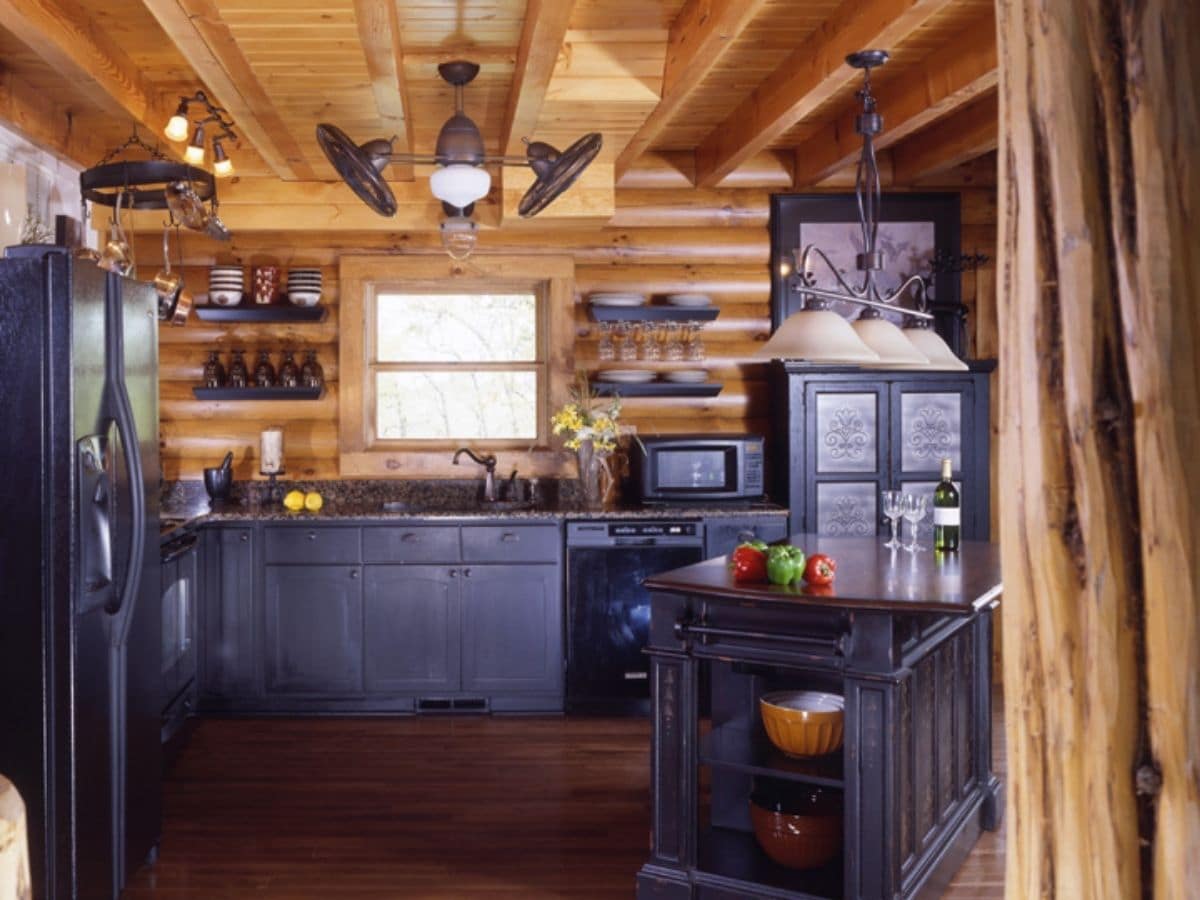 A picnic table-styled dining table is a great addition, and I love how they have highlighted the menu on the chalkboard hanging on the wall. You could of course build your own unique dining space, but this one just seems perfect for a family.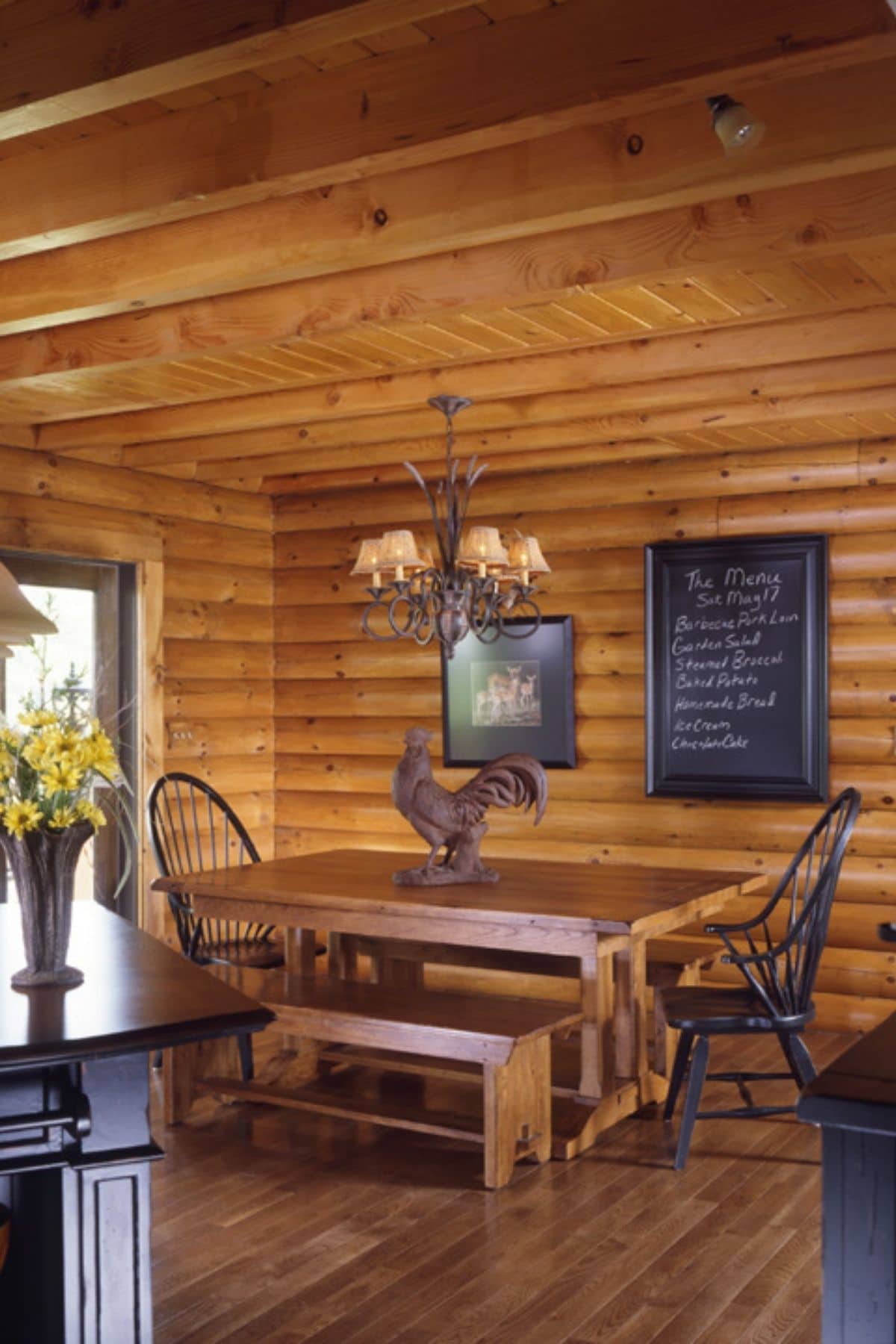 Upstairs, the second floor includes bedrooms as well as this nice little nook that looks like it may be used for a home office space. Such a cozy little space under the rafters for relaxing or taking care of business.
Also, take a look at that metal railing with cowboy cutouts. I just love that extra feature!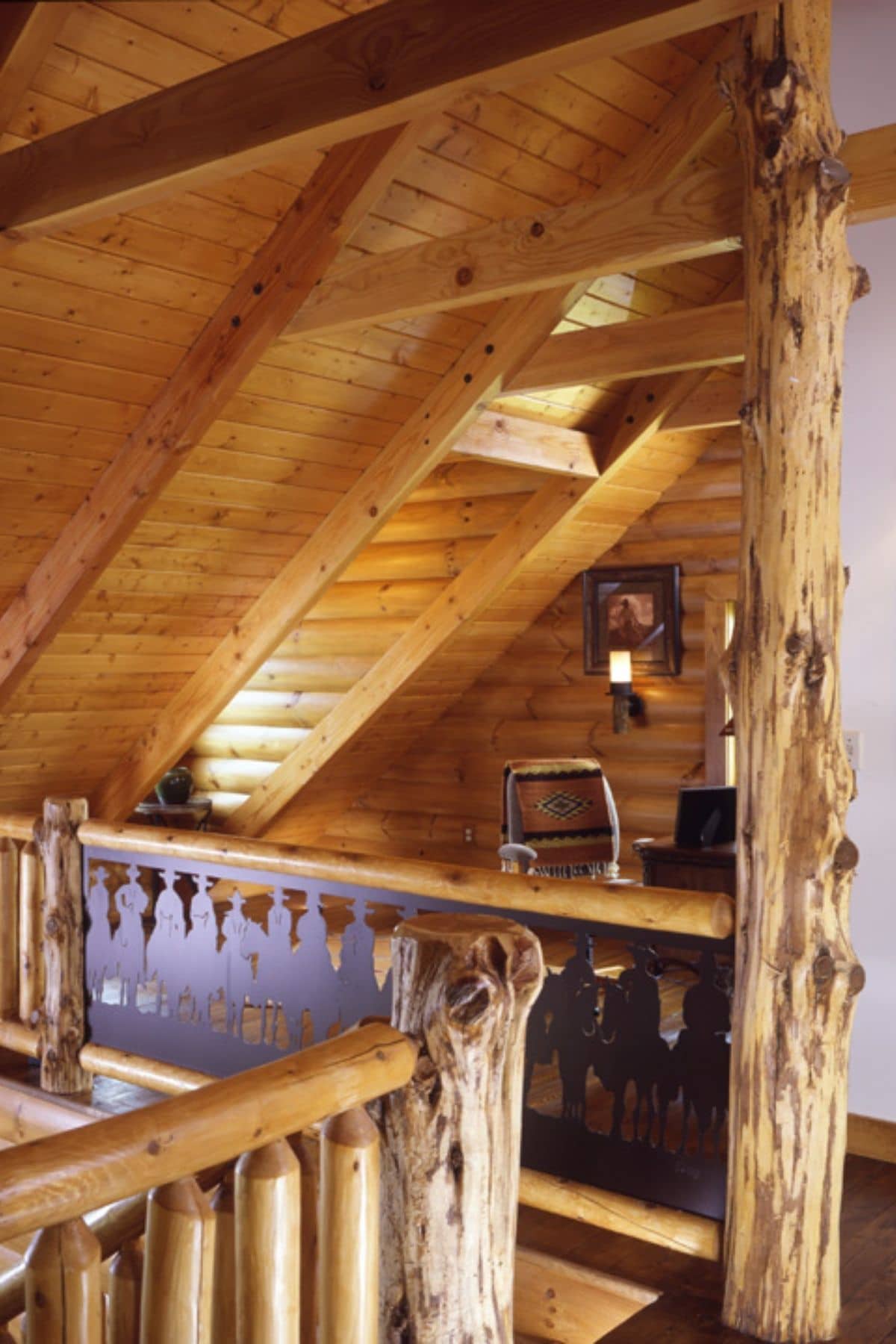 There are three bedrooms in the Carlisle build. This bedroom has unique bunks with a twin on top and a full-sized mattress on the bottom. I really love how this is full of rustic style and has room for two built-in bunk bed sets. Ideal for the kids or grandkids coming over to visit for a weekend.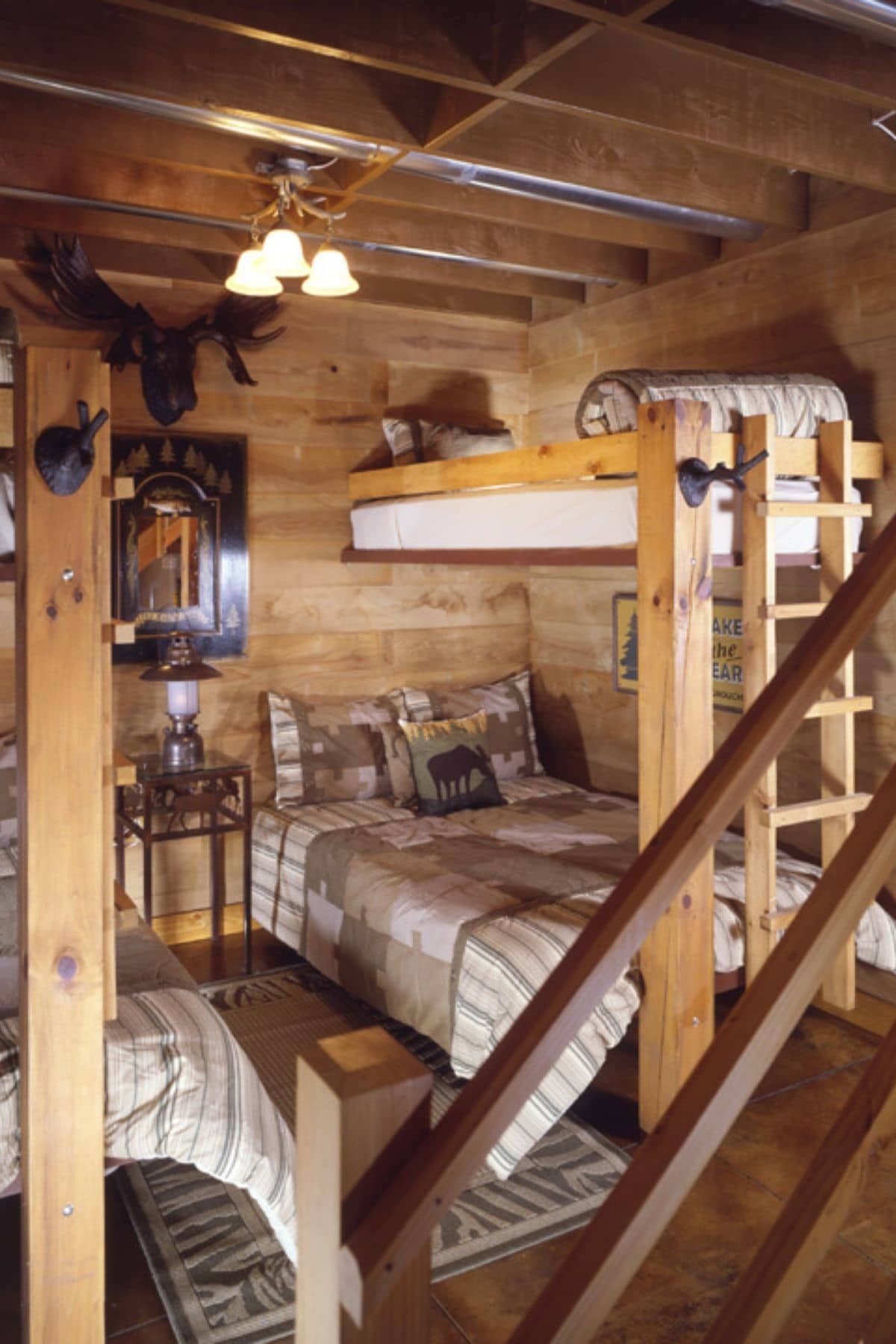 Larger bathrooms include nice large windows looking out on the property, the tall ceilings, and of course a ceiling fan for air circulation.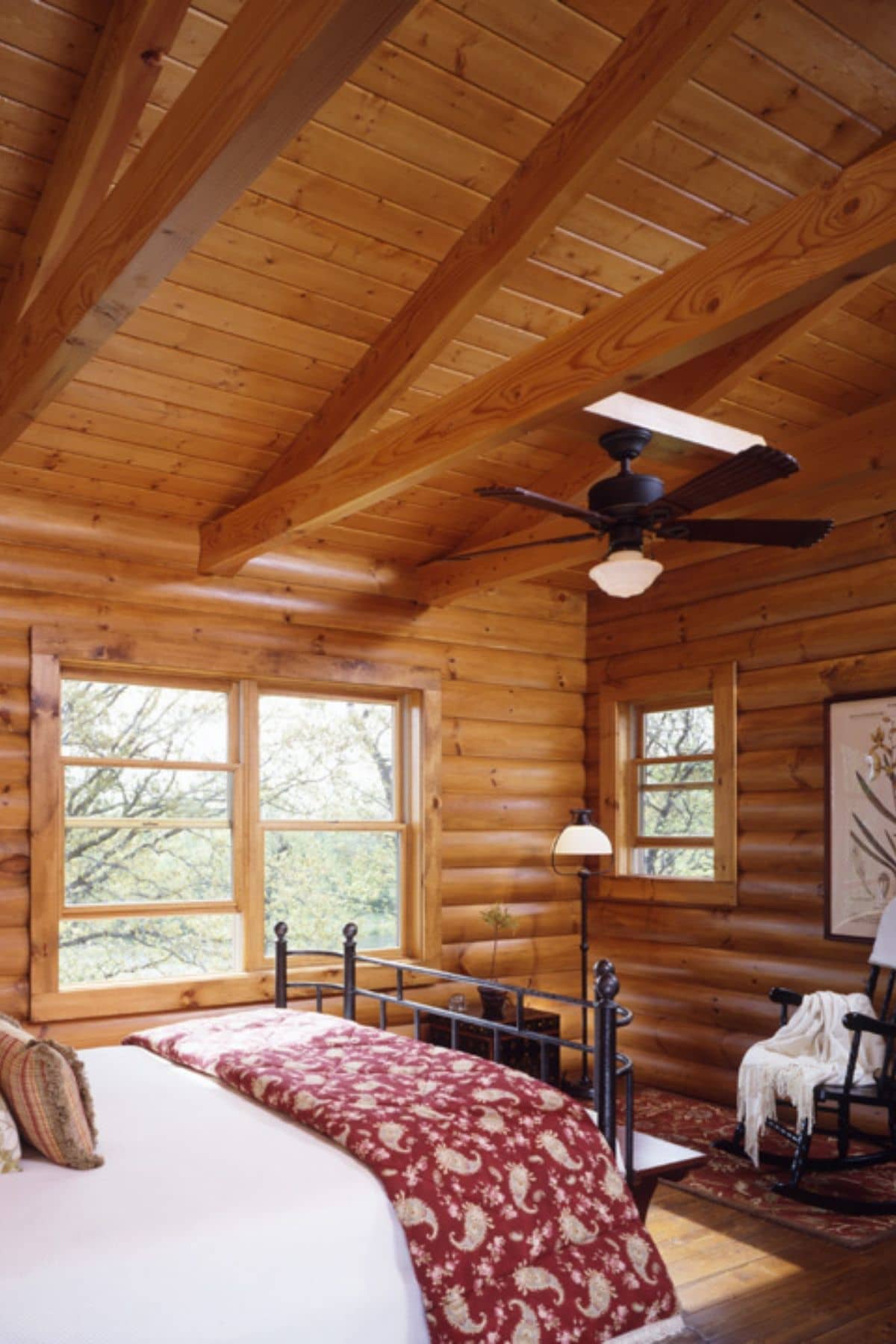 And this gorgeous bed fits right into the home against a white wall that really pops next to all of the custom log work throughout the space.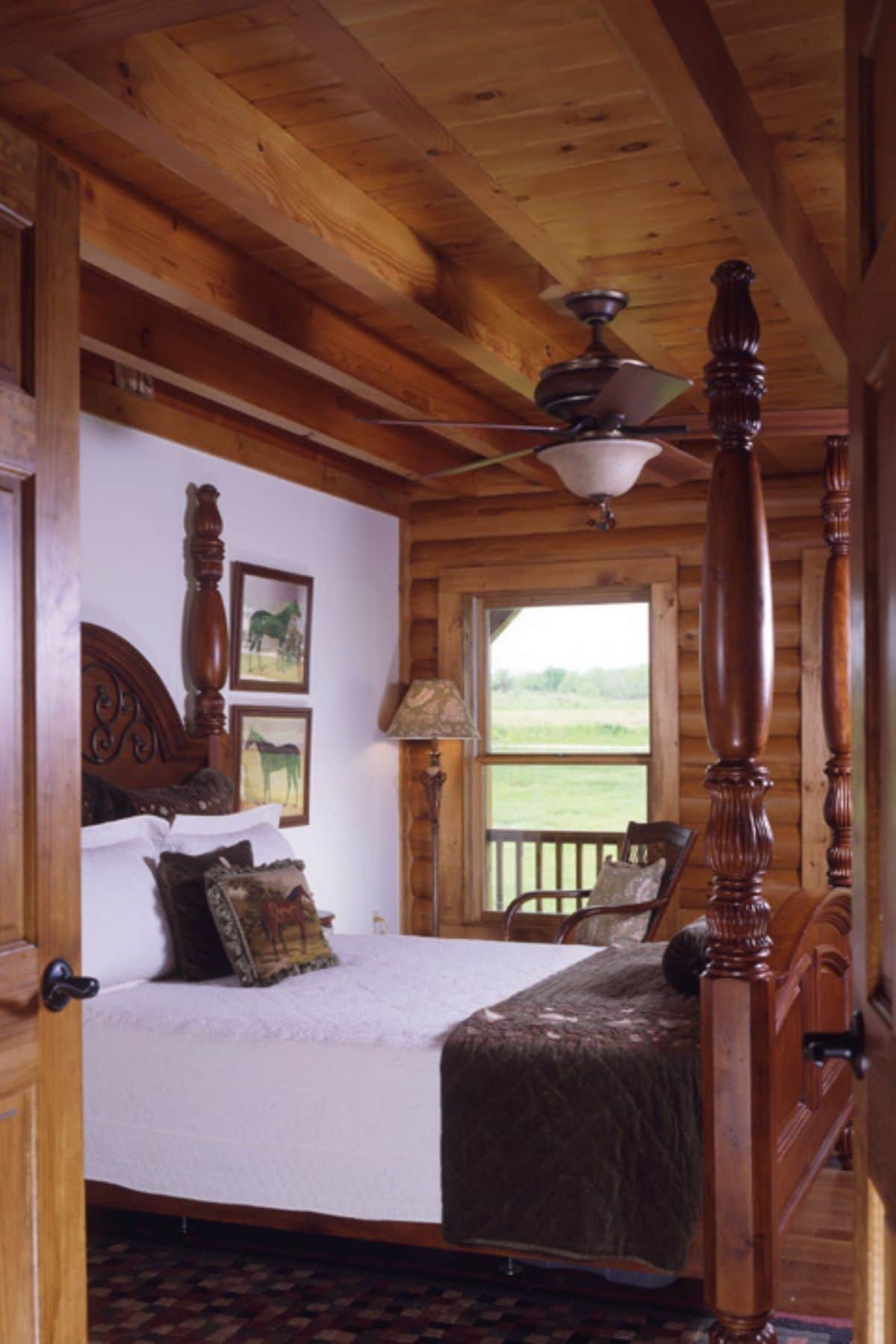 Of course, with all of this beauty you didn't think the bathroom would be boring did you? This cabin actually has two bathrooms. While I am not certain if one is on the main floor or not, I do know that both are totally unique and beautiful.
Below yous ee the live edge base for a bowl sink below the rustic wood mirror and another of those unique cutout features with a tree front on the vanity light.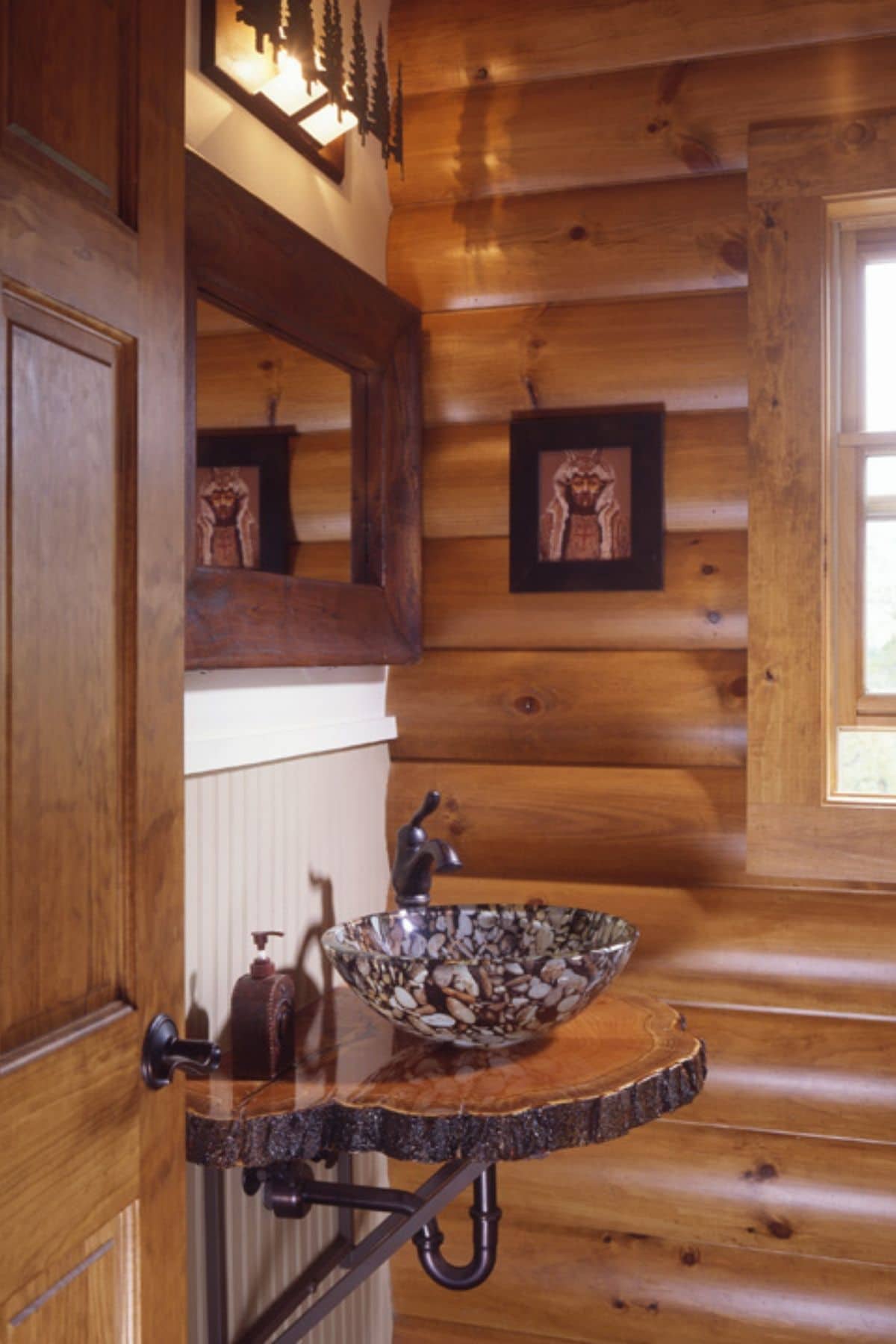 And, this bathroom, while just as beautiful is definitely different with a more traditional pedestal sink and it looks like a log-lined shower at the end of the space.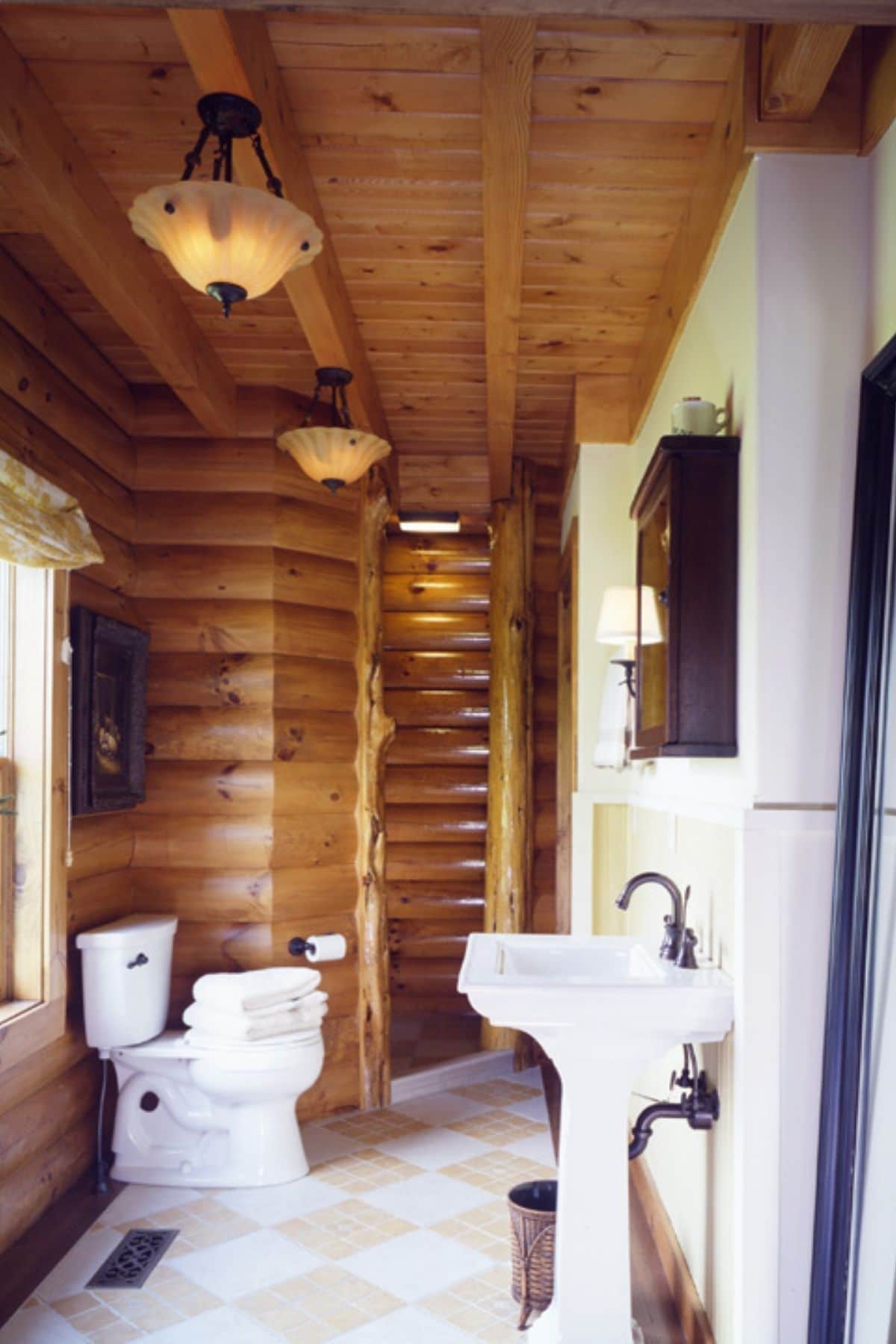 For more information about this stunning log home and how to build your own, check out the Honest Abe Log Homes website. You can also follow them on Facebook, Instagram, and YouTube for more models and day-to-day updates. Make sure you let them know that Log Cabin Connection sent you.
More Log Cabin Kits and Tours