The Spearfish is a popular model from Golden Eagle Log & Timber Homes. It has a sprawling design with tons of open space both inside and outside. You are sure to appreciate the extra-large garage space as well as the combination of both covered and open porches on all sides of the home.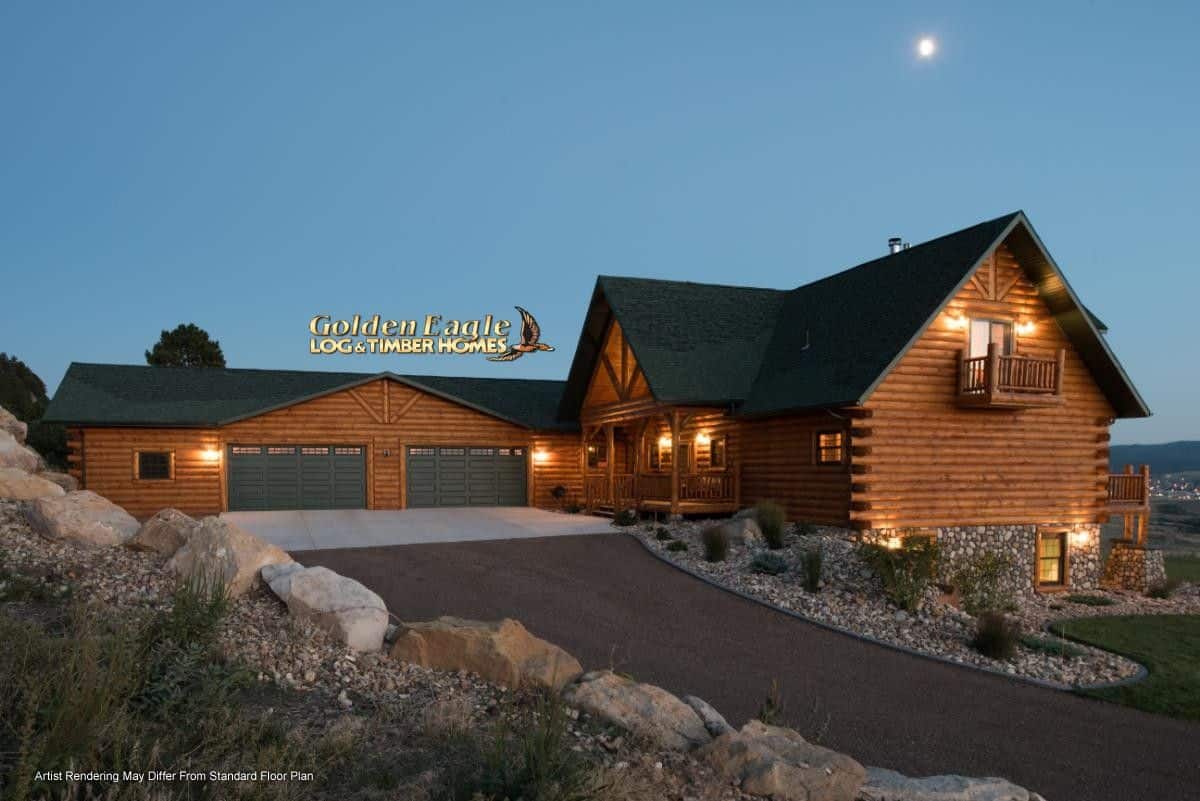 Log Cabin Size
This home has options for how many beds and baths you want, as well as if you want to add an additional lower level. I love that it is a flexible layout with room to expand if you desire.
3,515 square feet with first and second floor
5,615 square feet if including lower level
3 to 4 bedrooms
4 to 5 bathrooms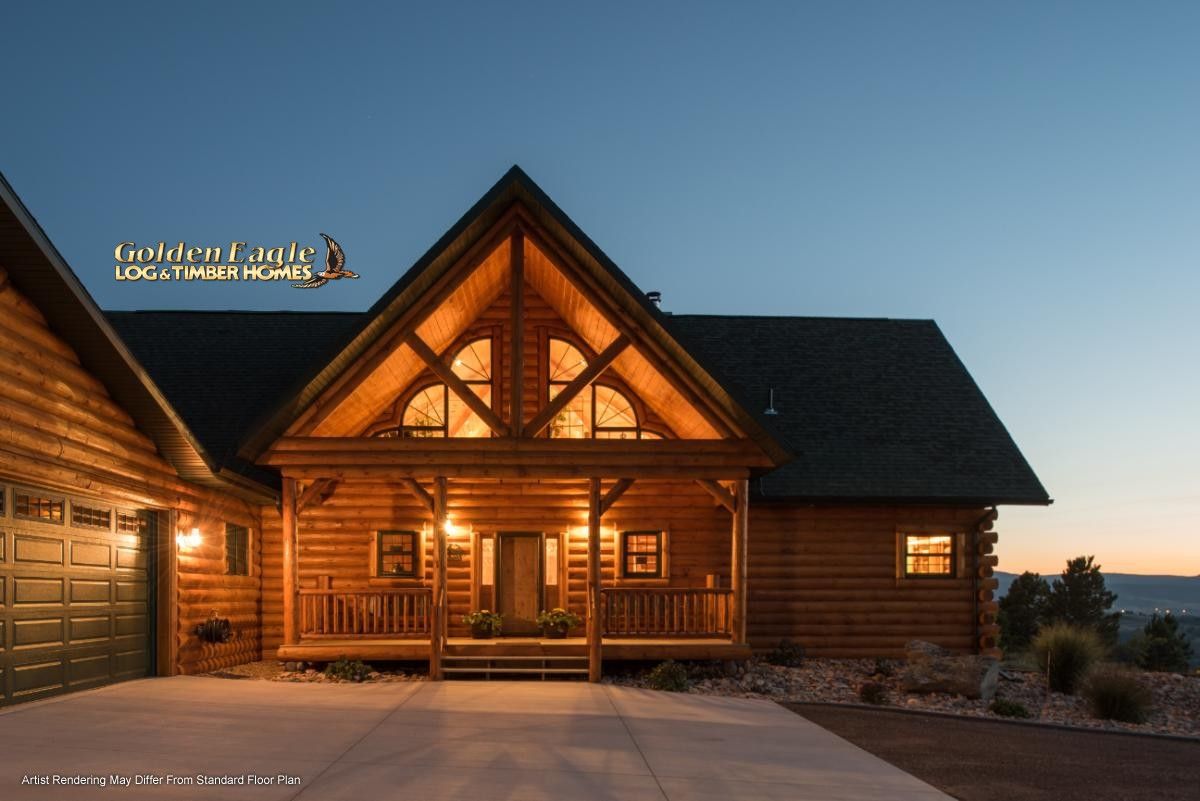 Log Cabin Features
Based on the popular Country's Best 3361AL model, this home includes custom additions while following the basic layout.
Has options for both round log and timber frame styles.
Open floor plan.
Extra-large garage with workshop space and recreational toy storage space.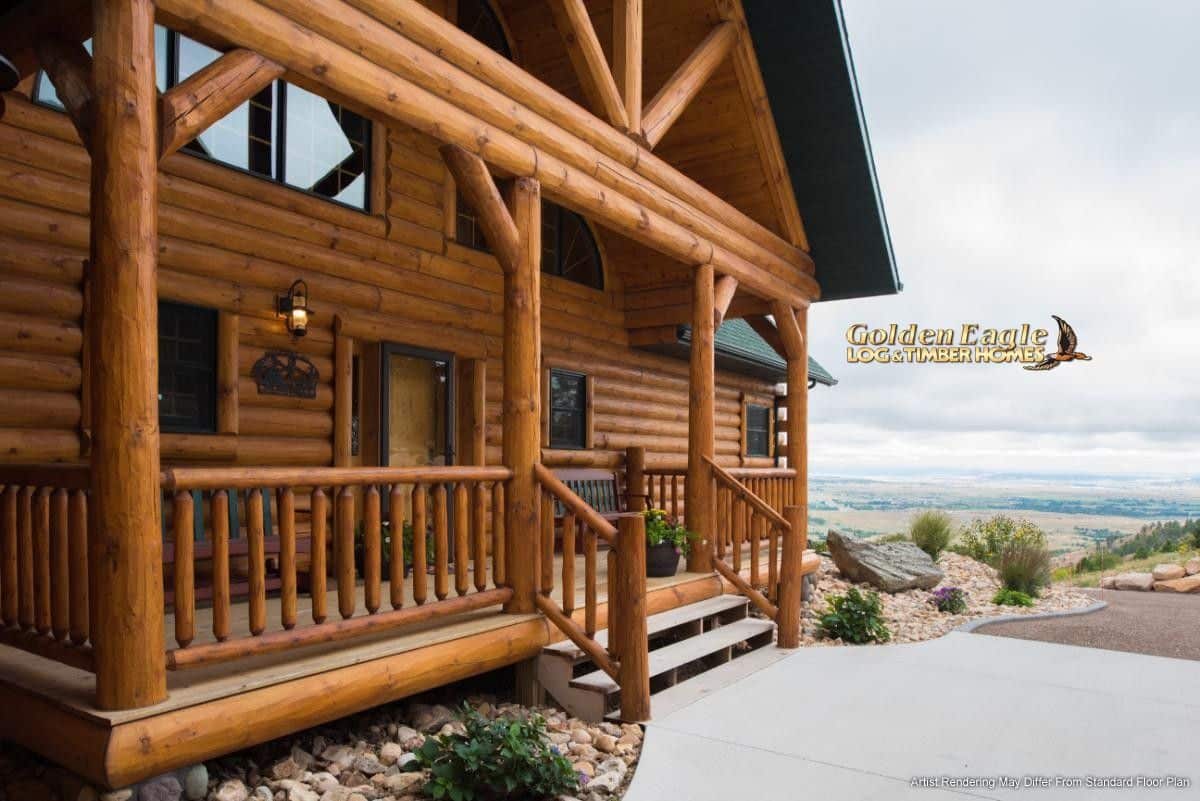 One of the best things about this home, in my opinion, is the extensive porch spaces all around the home. There is a variety giving you options to sit out in open sunshine, or on a cozy covered porch to sip tea or coffee even if it is raining outside.
Below you can also see the cute little corner "gazebo" style room. This is the perfect dining room on the main floor or a cozy reading nook on the lower level. While they aren't exactly a sunroom or a screened porch, they are nice and cozy and make you feel like you are outside enjoying the sunshine while also being in a climate-controlled space.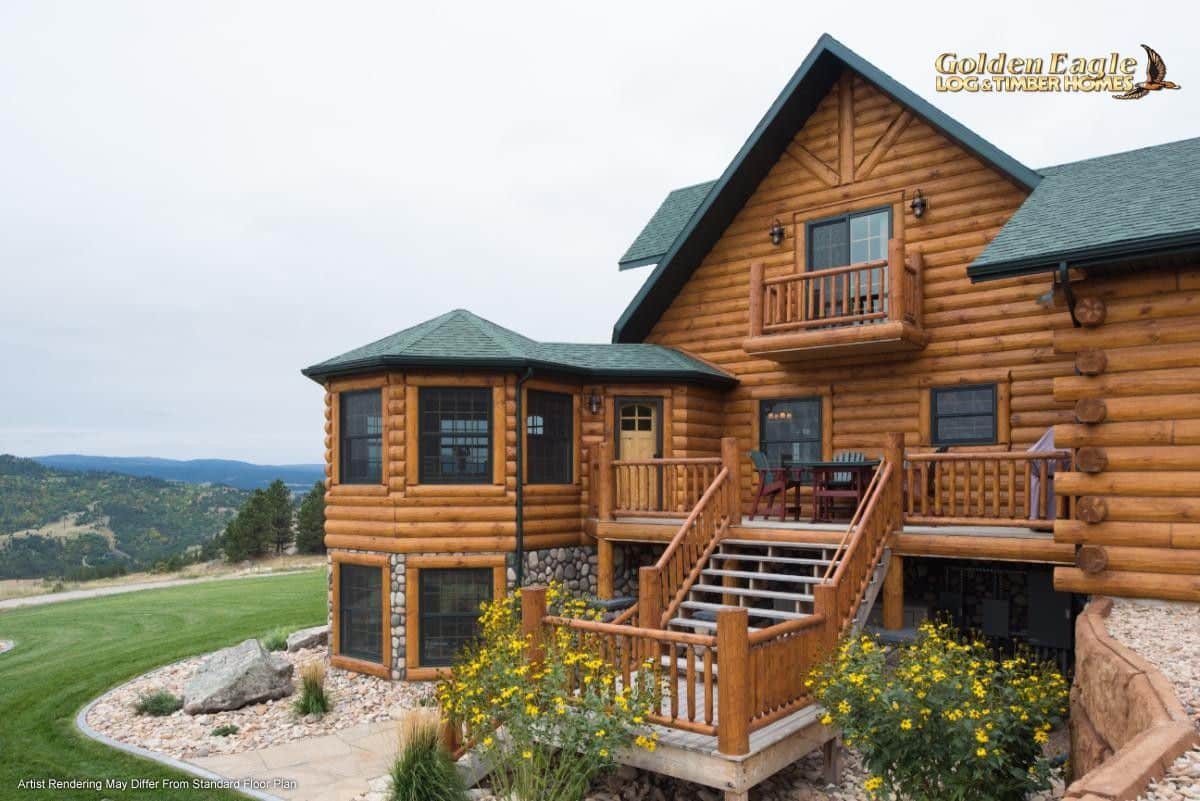 You can easily build this with just the main floor and loft space. Of course, that lower level adds on more living space, but also an additional bedroom and bathroom. If you are looking for the ultimate family home that everyone can come back for the holidays and have a place to stay, this is the model for you!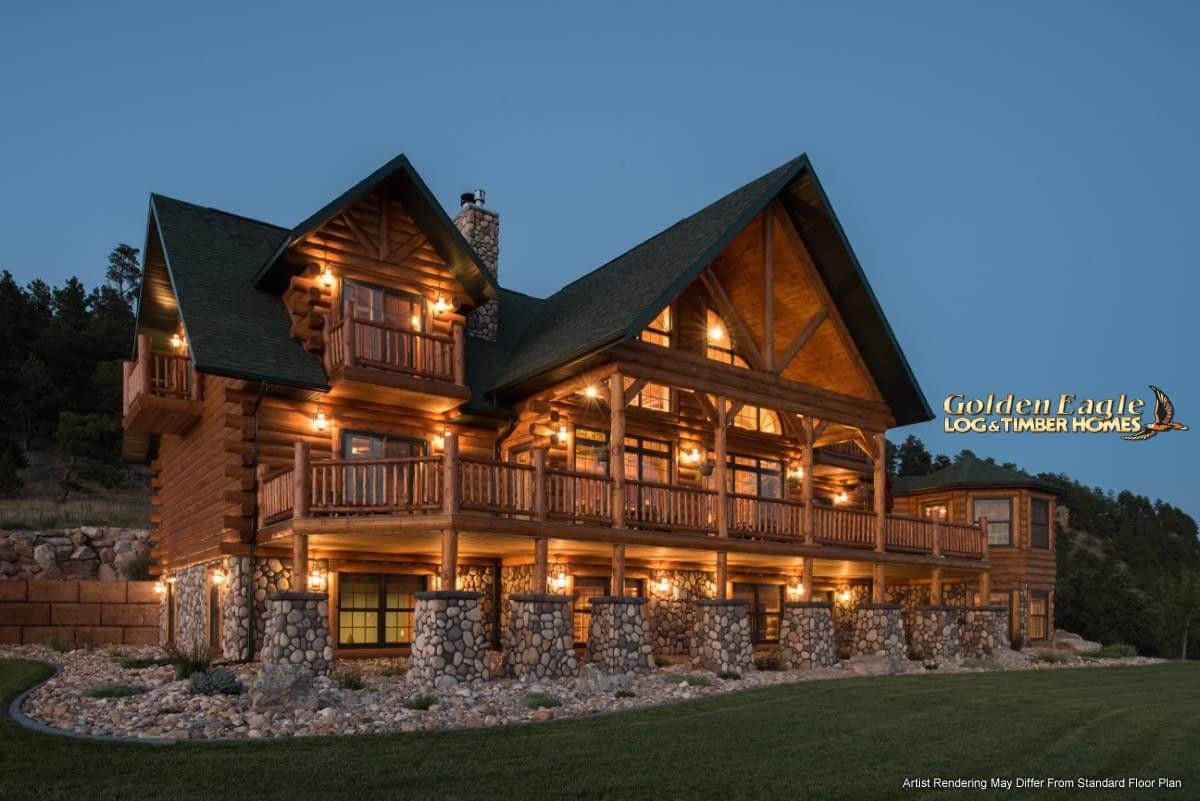 Just look at how large the space is, and that attached garage has two traditional garage doors to park your cars, plus a third door on the side for things like a motorcycle, ATVs, or even just your lawn care equipment.
While this home is built on a hill with a sprawling lawn, the same model can be built anywhere you prefer. You don't have to have a hill for the lower-level addition to be fantastic.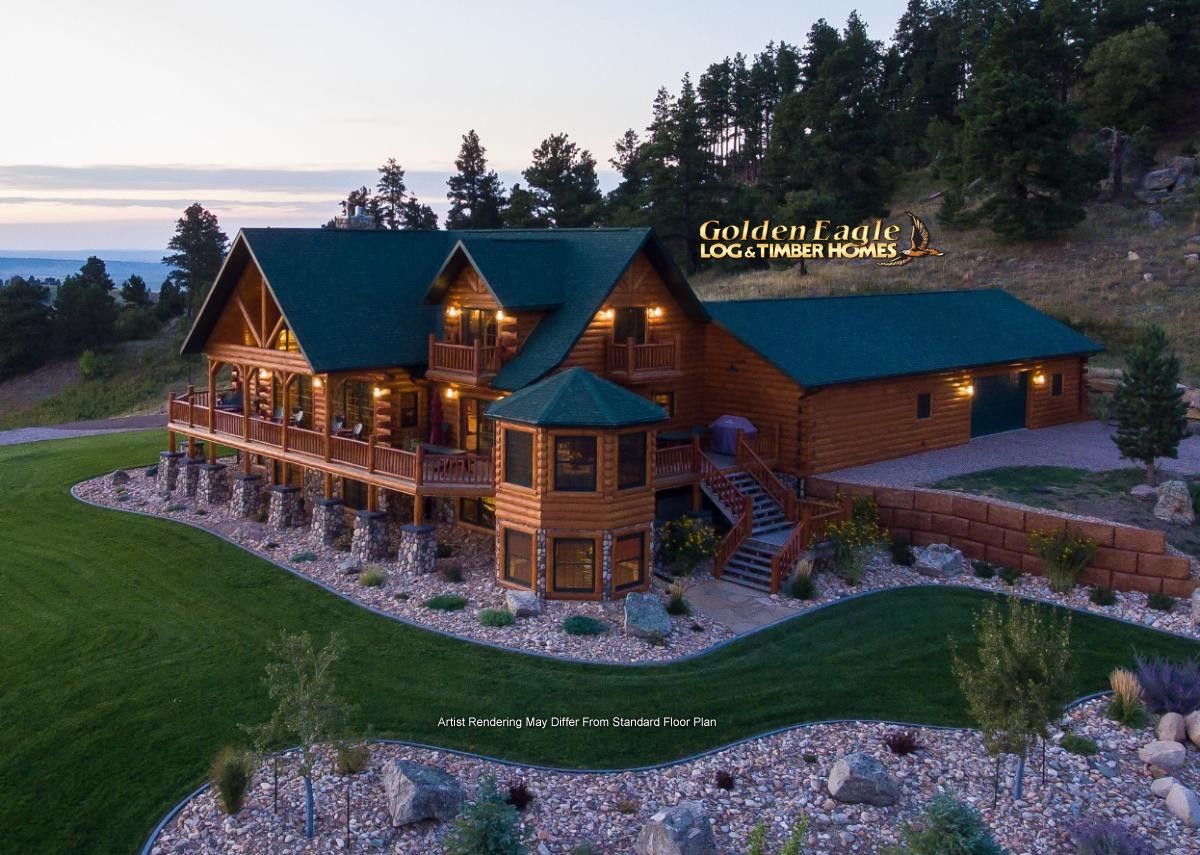 For a better look at the overall floor plan, you can check out the simple plans below. I love knowing more about the layout from this view. It's just easier to see how everything looks at a glance.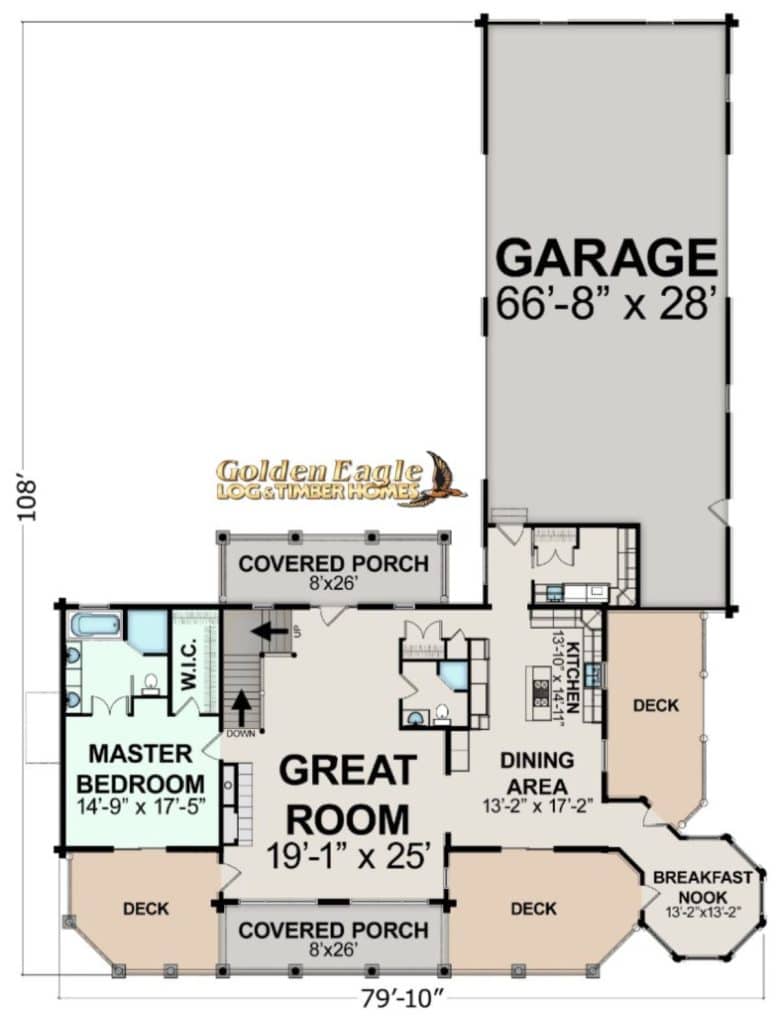 For more information about this cabin, you can check out the Golden Eagle Log & Timber Homes website. You can also find them on Facebook, Instagram, and YouTube. Make sure that you let them know that Log Cabin Connection sent you their way.
More Log Cabin Kits and Tours