There are some log homes that just leave me speechless. I have long wanted to live in a cabin in the woods, then something like the Teton Springs model comes across my path and suddenly the open spaces with mountains in the background are more appealing. This stunning log home is a beautiful ode to modern style and function with good old-fashioned rustic appeal.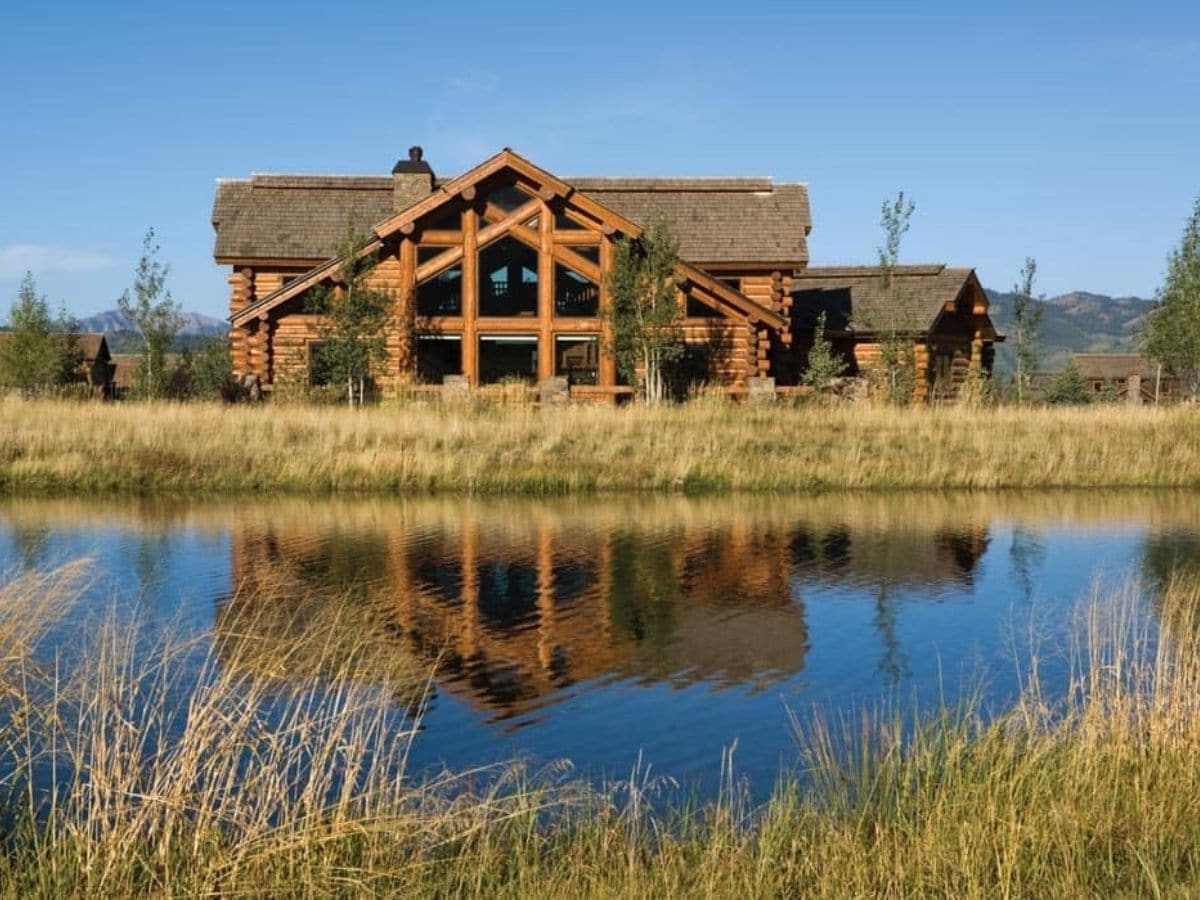 Log Cabin Size
5,284 total square feet
3,357 square feet liveable space
1,257 square feet of patios and decks
Awards Received
2008 Excellence in Log Home Design
NAHB Building Systems Councils 2010 Best Master Suite
Country's Best Design Awards 2021 Best Master Suite
Log & Timber Homes Design Awards
Log Cabin Features
Woodhaven Floor Plan with sprawling style including 3 to 4 car attached garage.
Custom log cross-bracing in the window features above the entryway and great room with trapezodial windows.
Stunning picture window on back of home across entire great room.
Two levels with unique open home office in loft.
Master suite including fireplace.
Open floor plan for kitchen and dining space with fireplace for added warmth.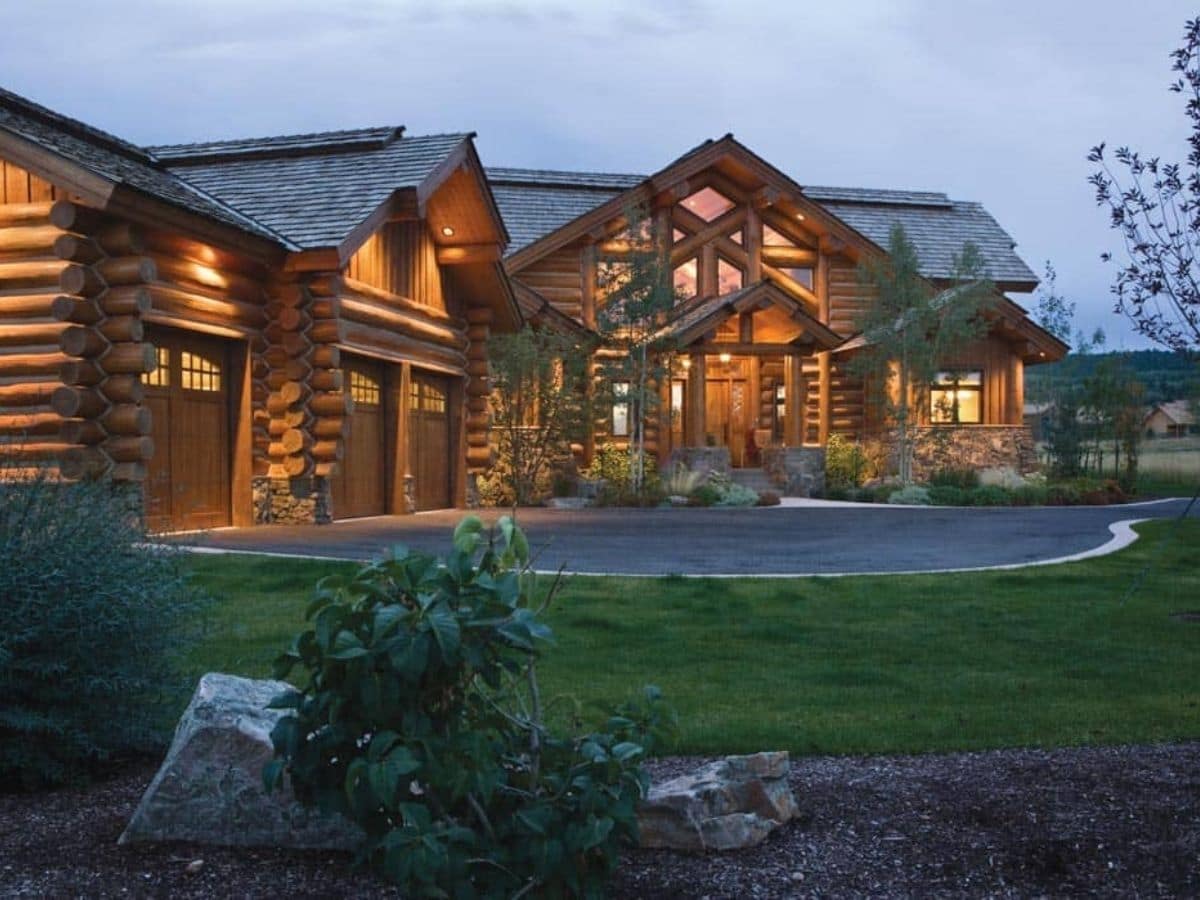 The views of this home after dark are just breathtaking. I love the way the home feels bigger with the windows all across the back of the home.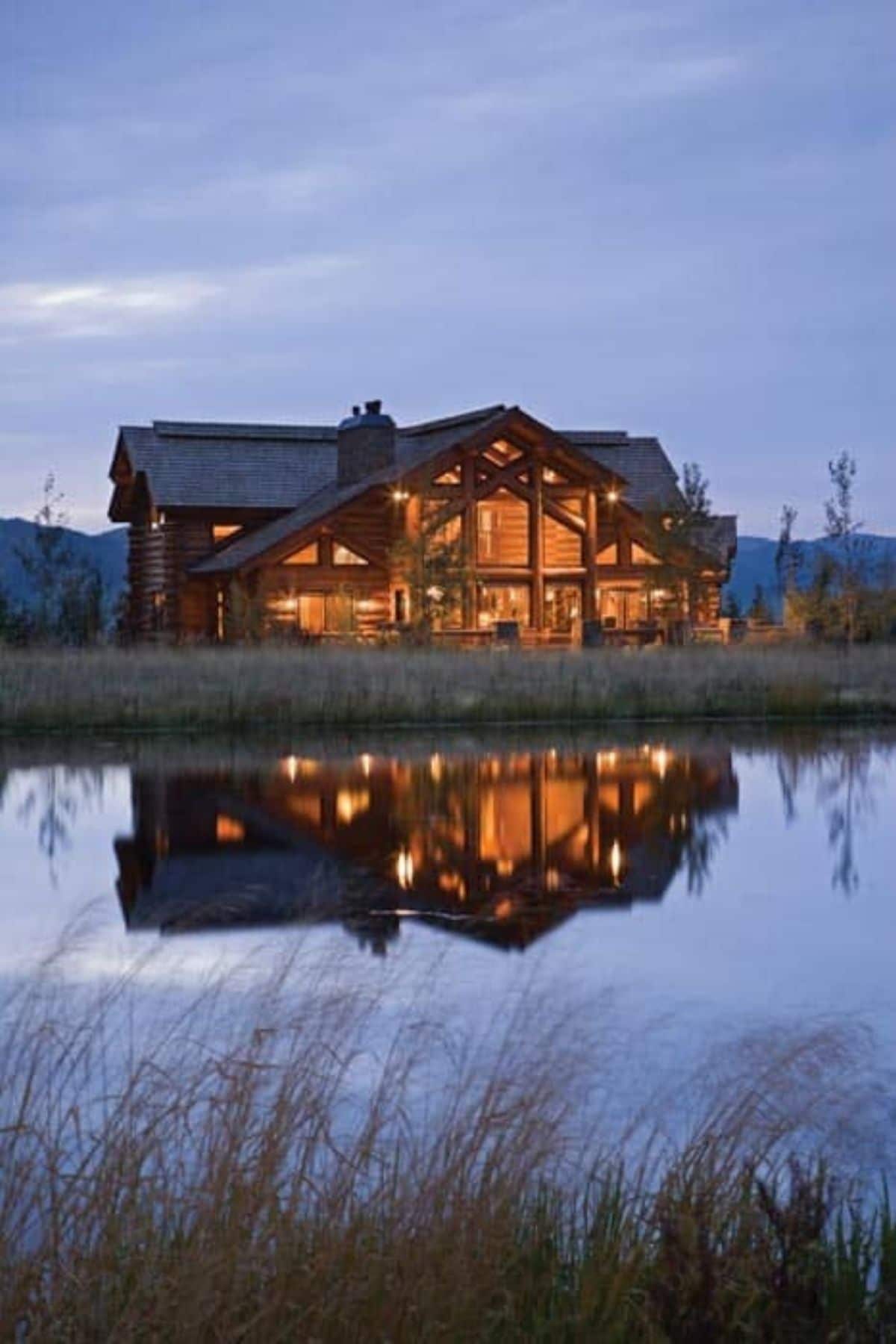 Don't tell me you can't imagine living in that beauty the rest of your life? I know I sure could! I especially love the office view you can see from below, but will get an inside look of later in the tour.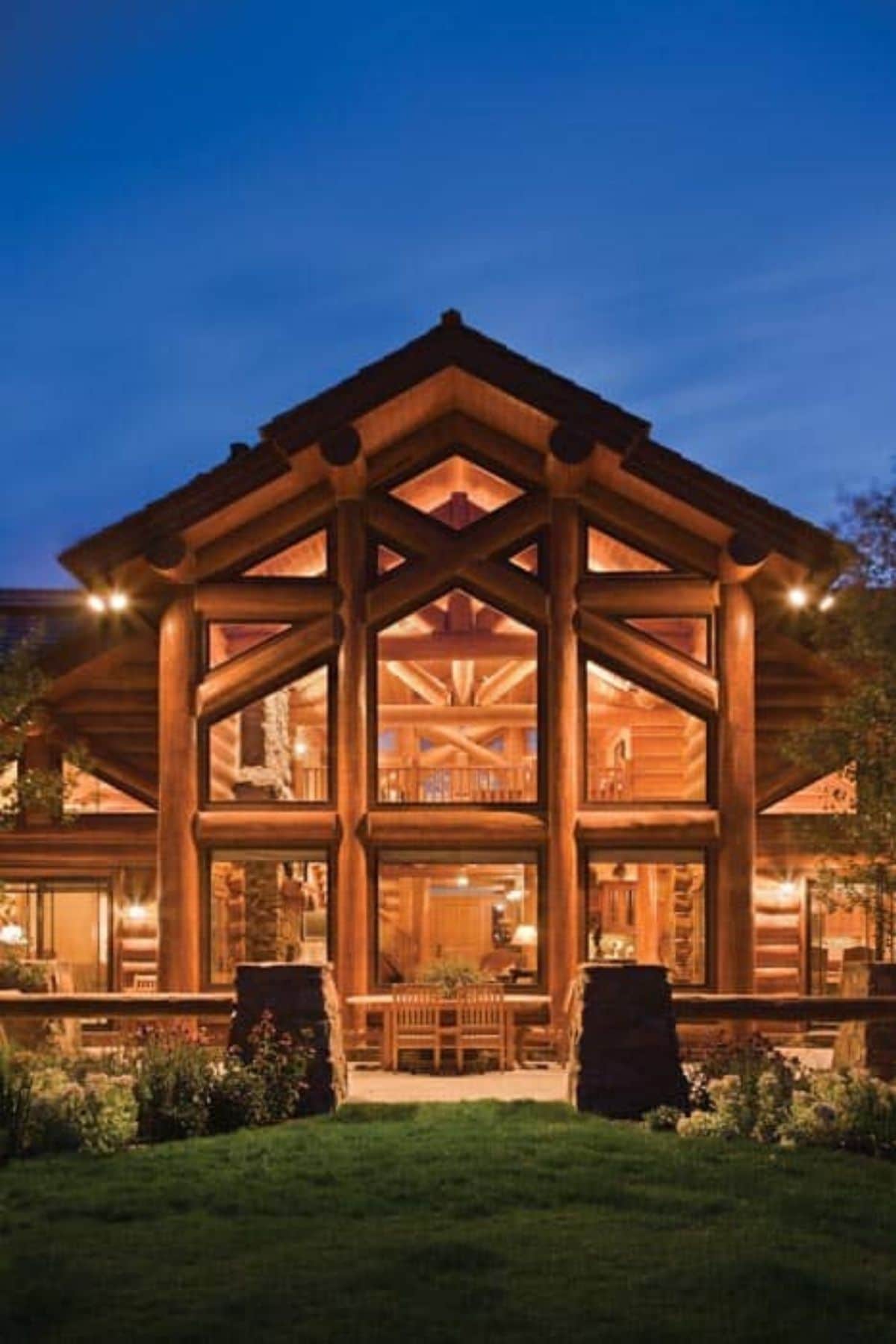 The tall ceilings really open up the space making it a perfect place for gathering with friends and family. There are fireplaces throughout the home, and the living space one is one of my favorites because the surrounding chairs and sofa fit perfectly against that backdrop of warmth.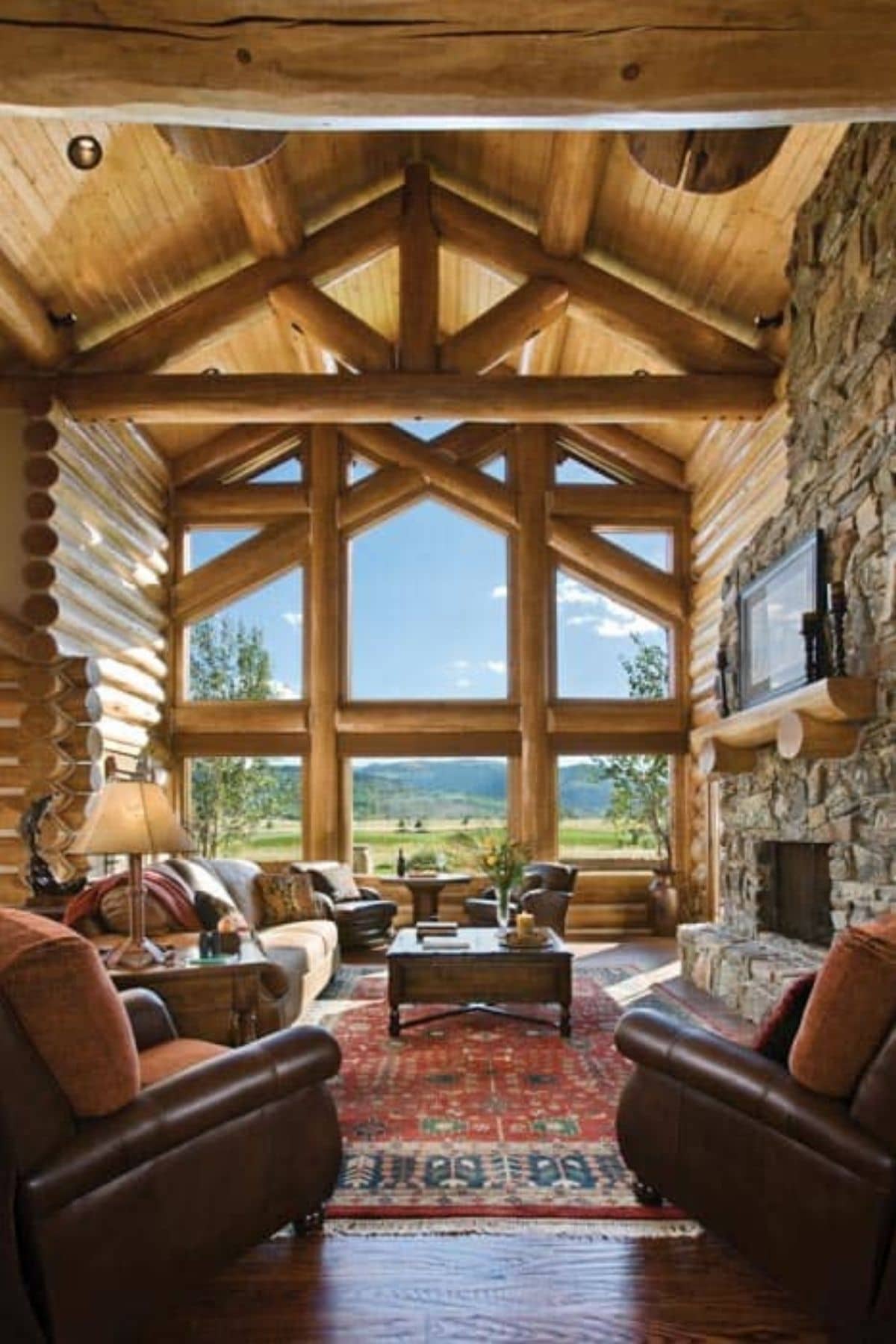 The stonework is unique and customized with log features for the mantle and surround. It is just lovely and the same quality craftsmanship is seen both inside and outside this home.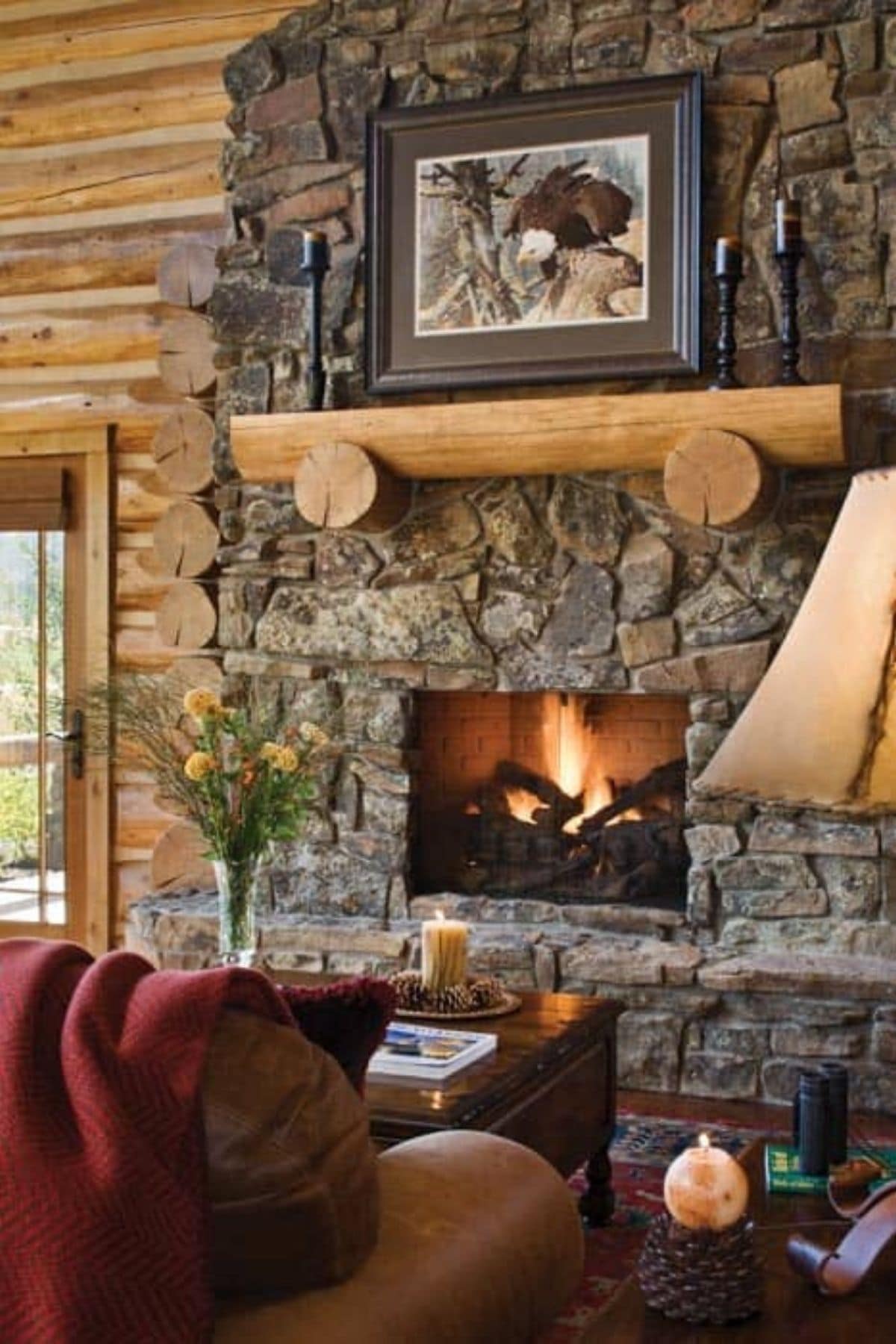 From the living room, you can also see up to the loft with stairs to the left of the image below. The open space is the home office with a bedroom beside and above the kitchen.
The kitchen and dining room are to the right of this image and give an open space for entertaining but not too open to feel like you can't have a private conversation.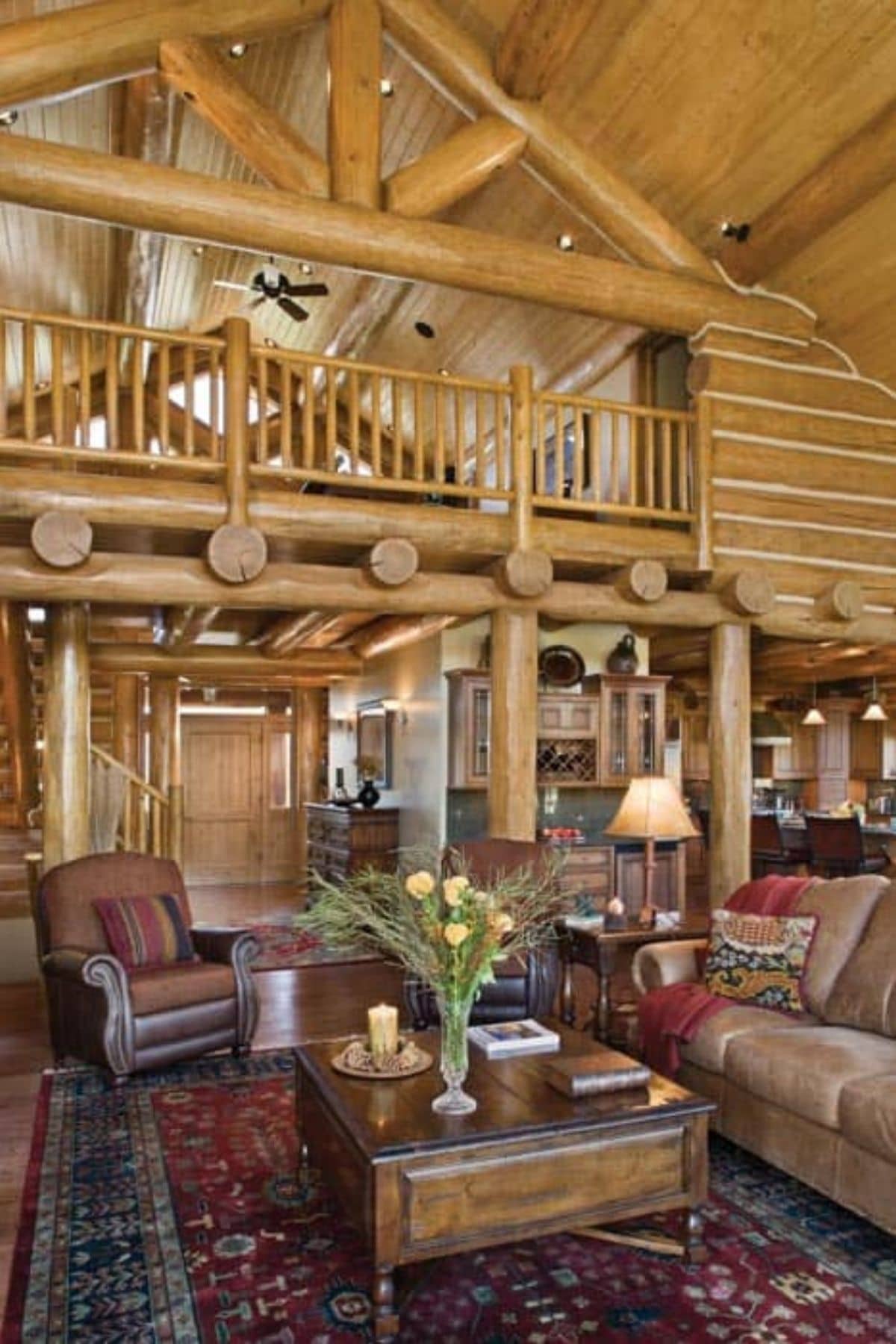 The kitchen is modern with sleek stainless steel appliances and tons of storage. It also has a nice little island that doubles as a bar or breakfast nook.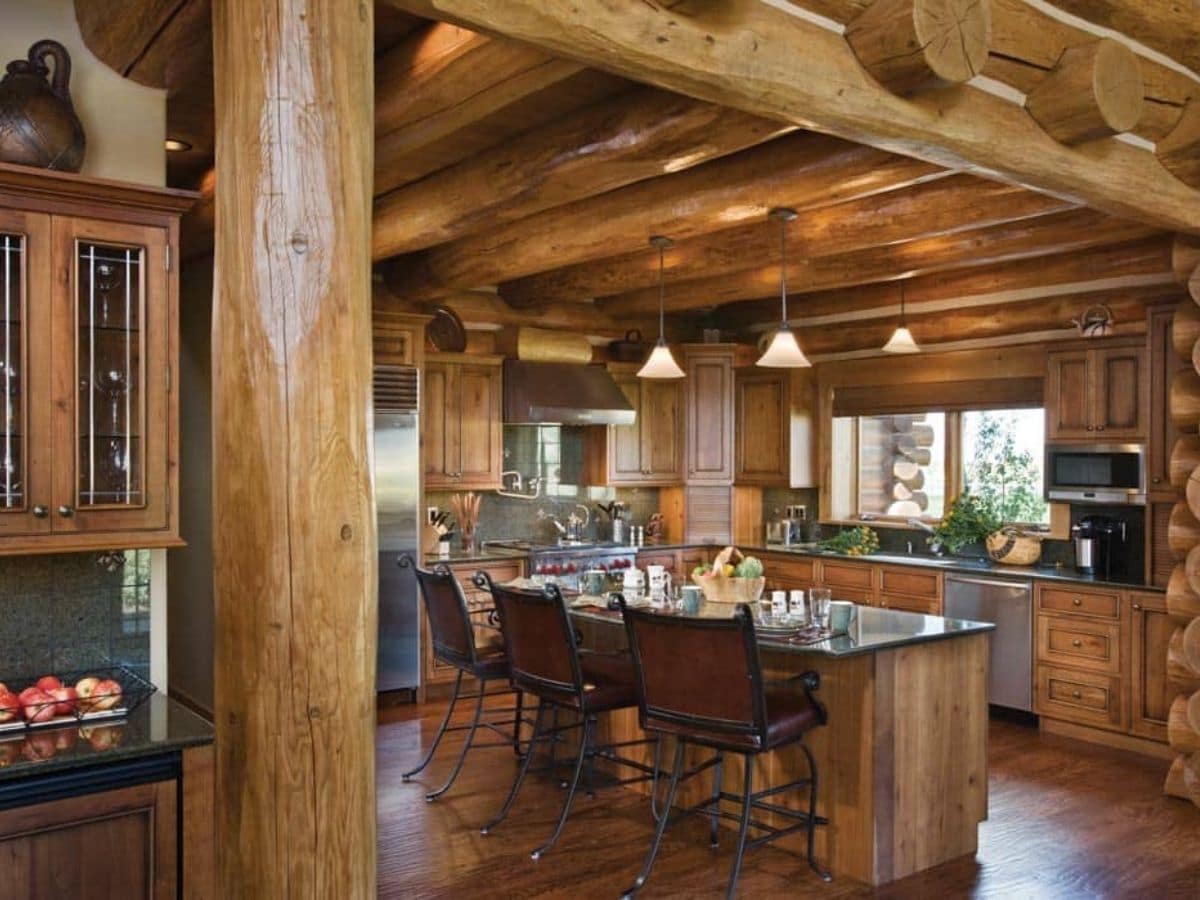 The dining room is behind the living room and adjacent to the kitchen. It has another great feature with this lovely and unique lighting fixture featuring antlers hanging above the table.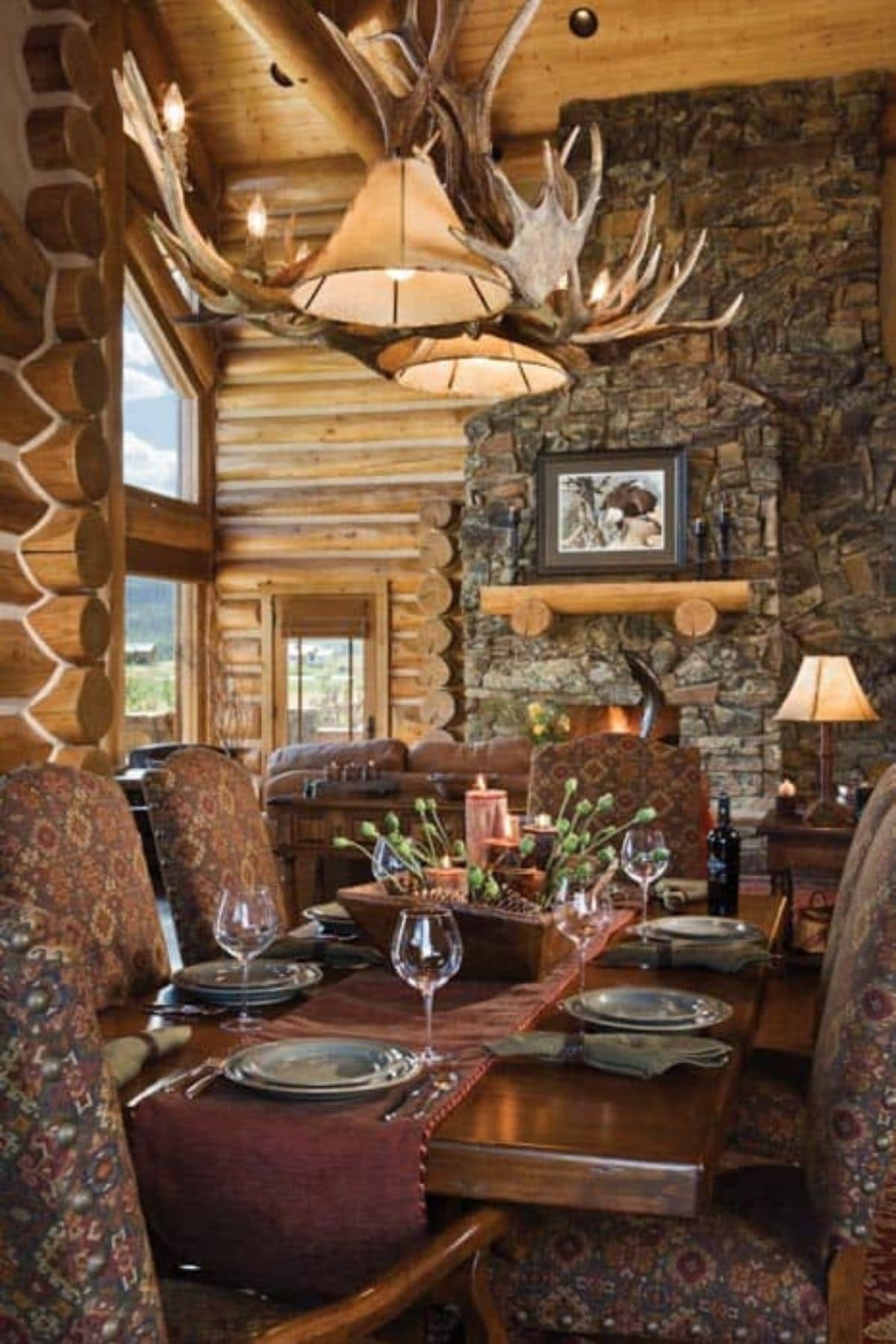 Upstairs is the bedroom space with plenty of room for the bed, a few nightstands, and of course closet space. I love the combination of the logs and traditional drywall on the walls. It makes it feel like a perfect combination of modern and rustic design.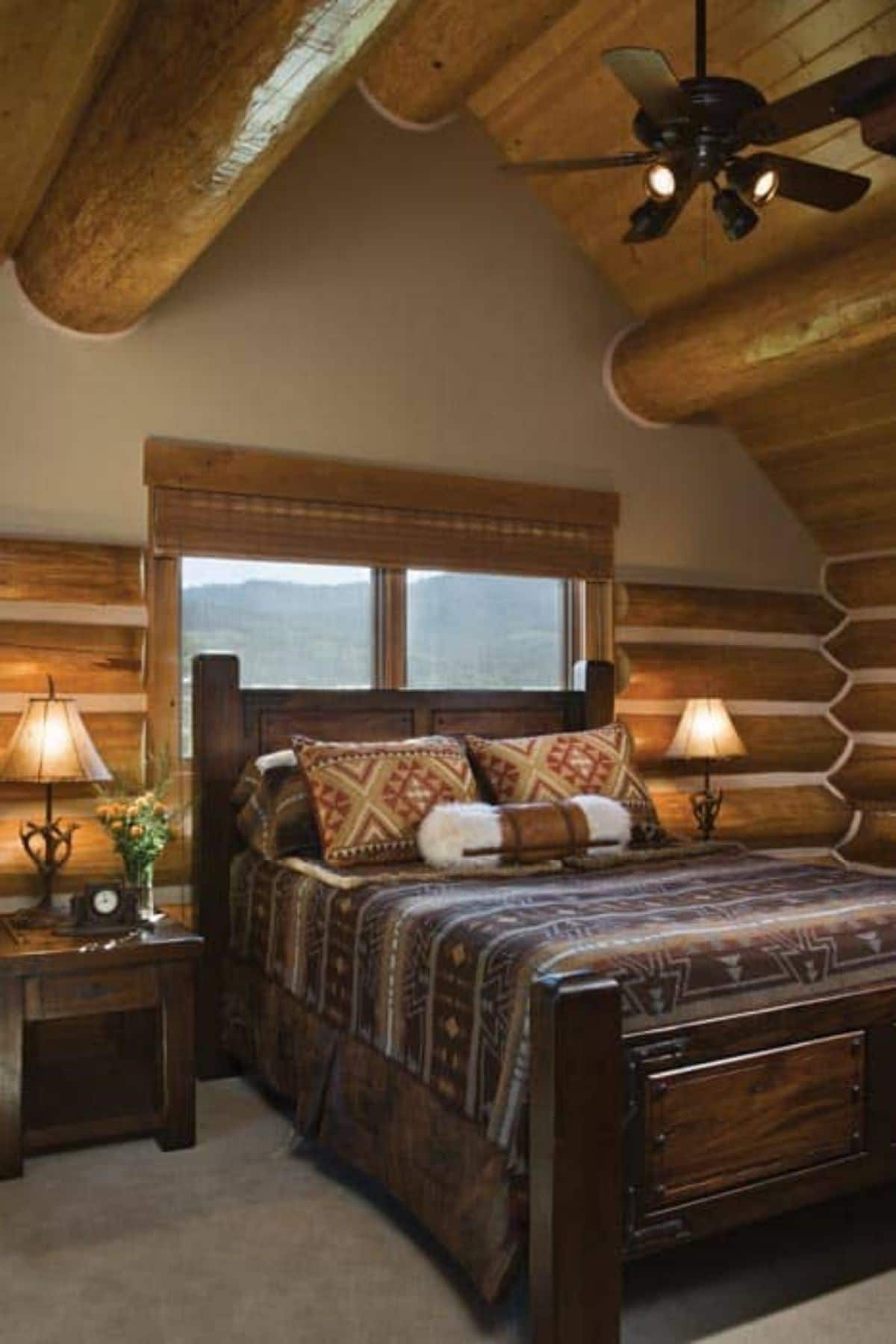 This is what I believe to be the master bedroom with a gorgeous bed, sitting area, and fireplace with the extended rock wall. It is definitely a space that would win awards! Plus it has a walk-out balcony for a lovely view that is perfect for the sunrise each morning.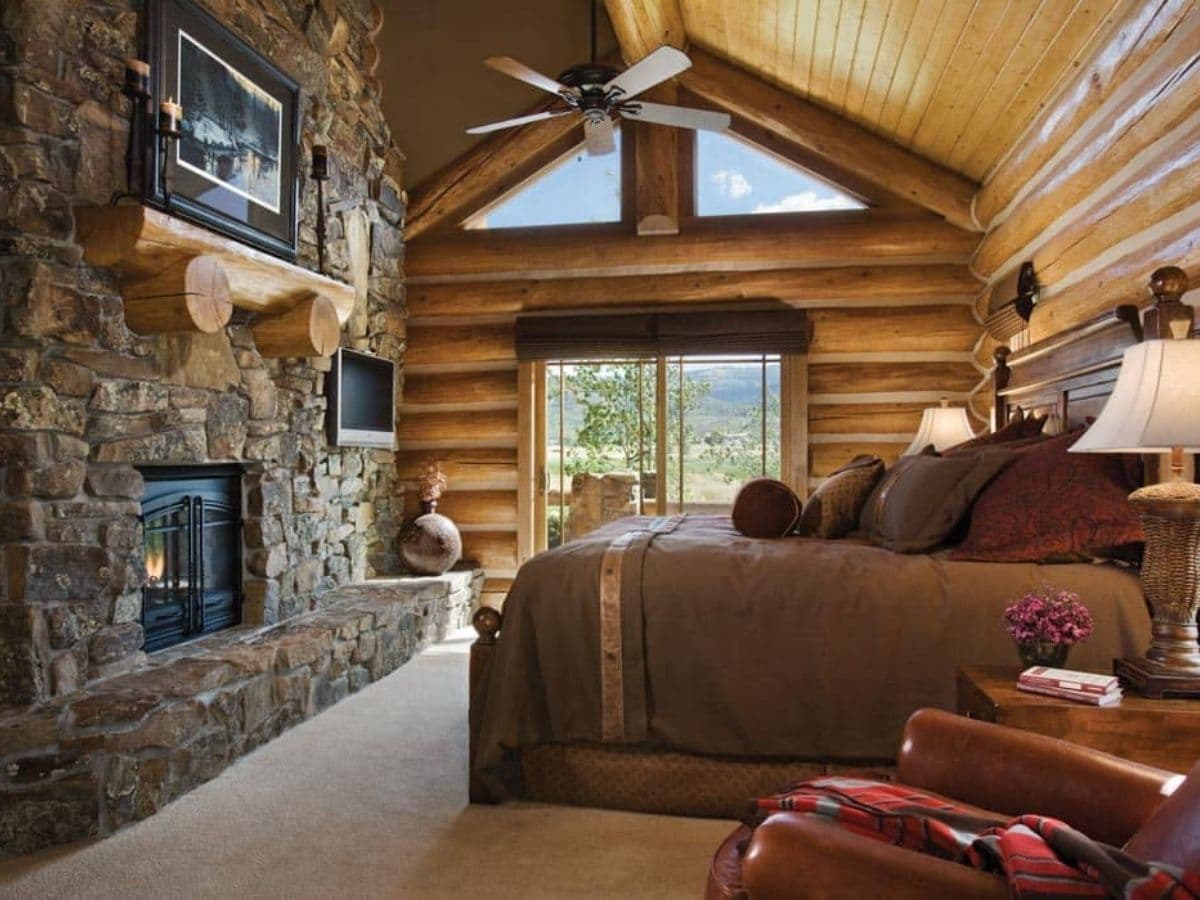 The master bathroom is stunning and has everything I love. A large glass-enclosed shower stands behind the soaking tub making it a true oasis.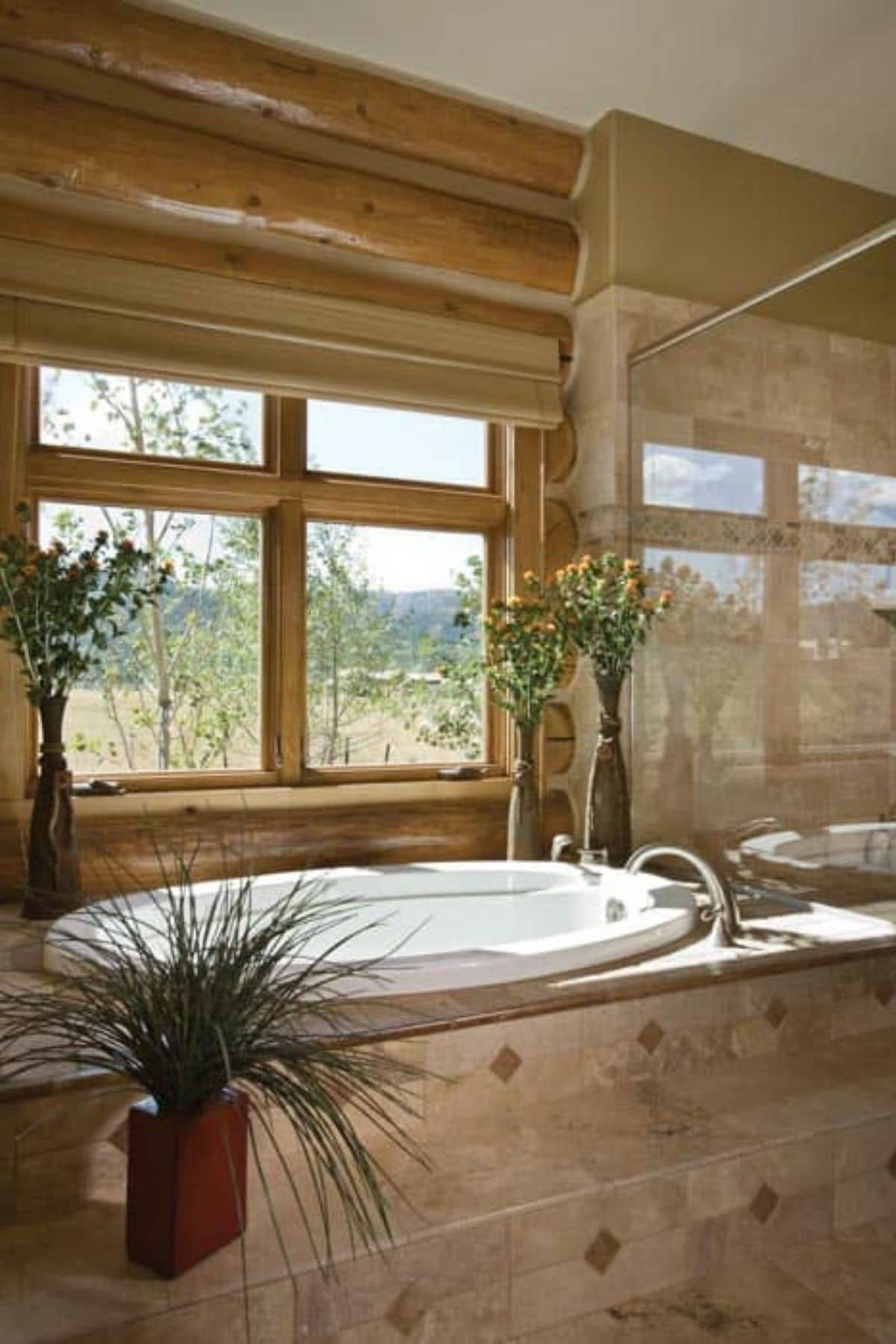 Upstairs, I have to admire the lovely work and detail in this little office. It's open to the rest of the home but is still private enough to not feel exposed. A traditional desk is ideal for business or day-to-day household tasks, and a sewing desk on the side is a custom piece. Plus an extra chair for lounging makes it a great getaway.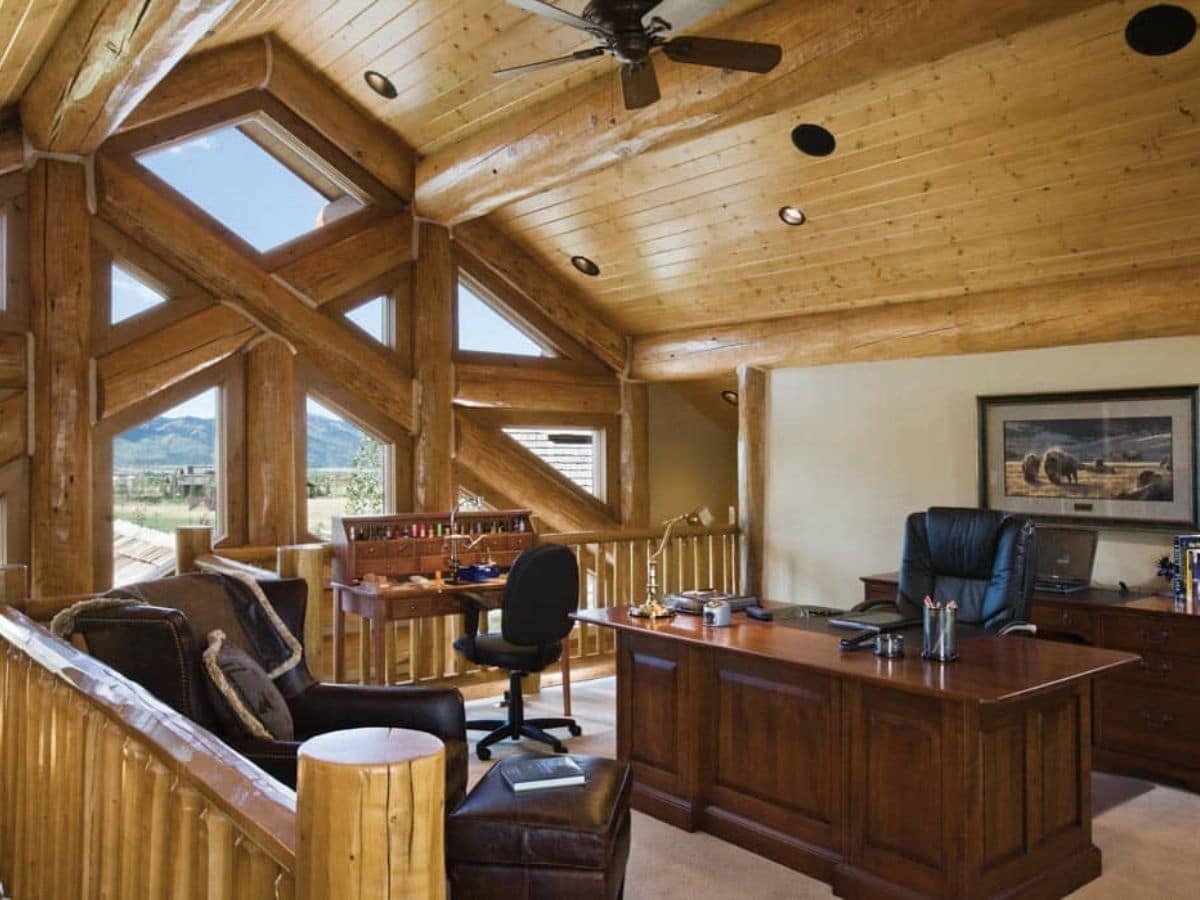 I can only imagine the beautiful creations made at this desk. Whether it is sewing or embroidery I cannot tell, but I know that a custom desk is definitely a sign of a passionate hobbyist or business person.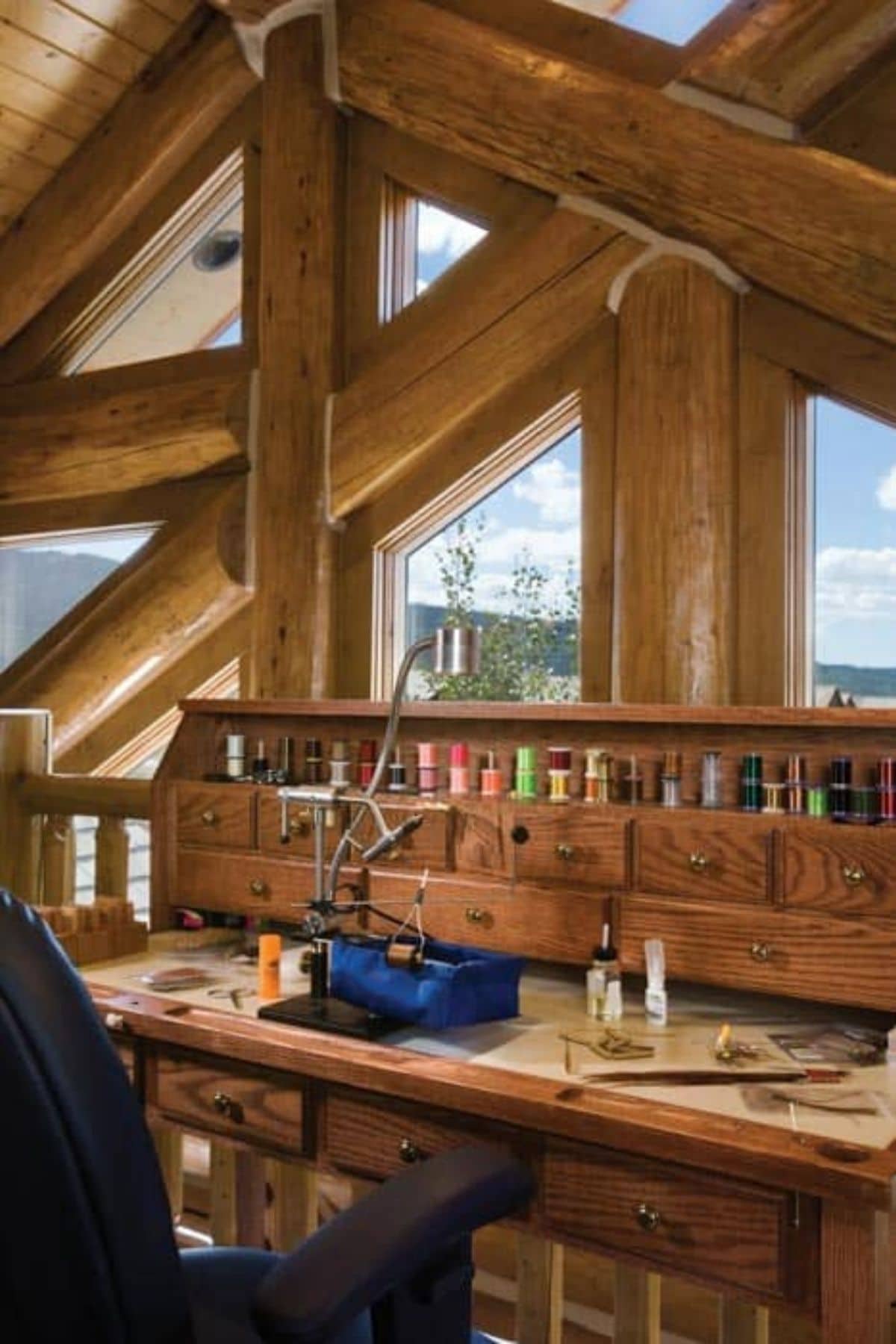 If you are looking for more information on having a custom Woodhaven model built for yourself, look to the Precision Craft Log & Timber Homes website. You can also follow their Facebook and Instagram for more day-to-day updates on their latest designs and builds. When reaching out to them, let them know that Log Cabin Connection sent you their way.
More Log Cabin Kits and Tours