The Athens log cabin is a stunning home that is made even more beautiful by the views all around. While the home is the star of the show, you can't help but appreciate the beauty surrounding this particular home.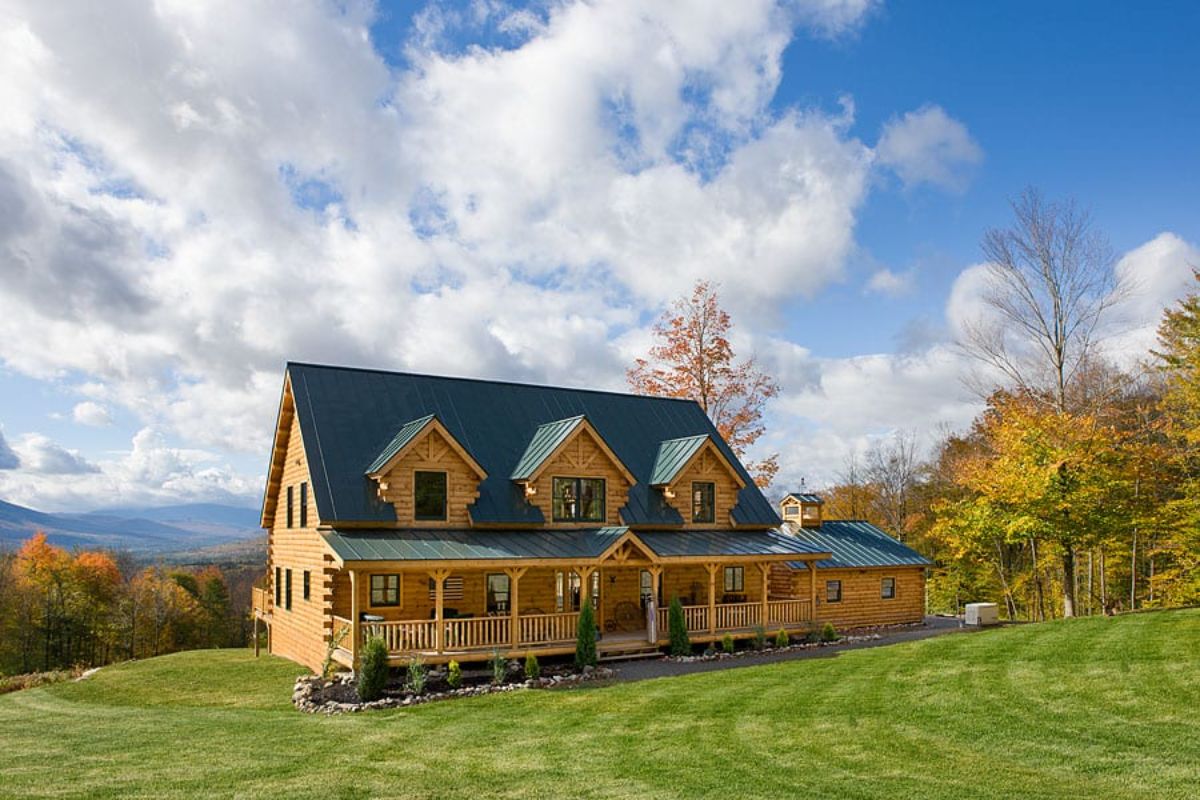 Log Home Size
2,640 square feet
30'x50'
2 bedrooms
2.5 bathrooms
Log Home Price
$316,800 - for the model shown, but prices fluctuate depending upon customizations and the current price of lumber.
You just have to love the front porch on this home. A nice long covered porch that is made perfectly for rocking chairs, porch swings, and a nice cup of coffee in the morning or a glass of sweet tea in the afternoon!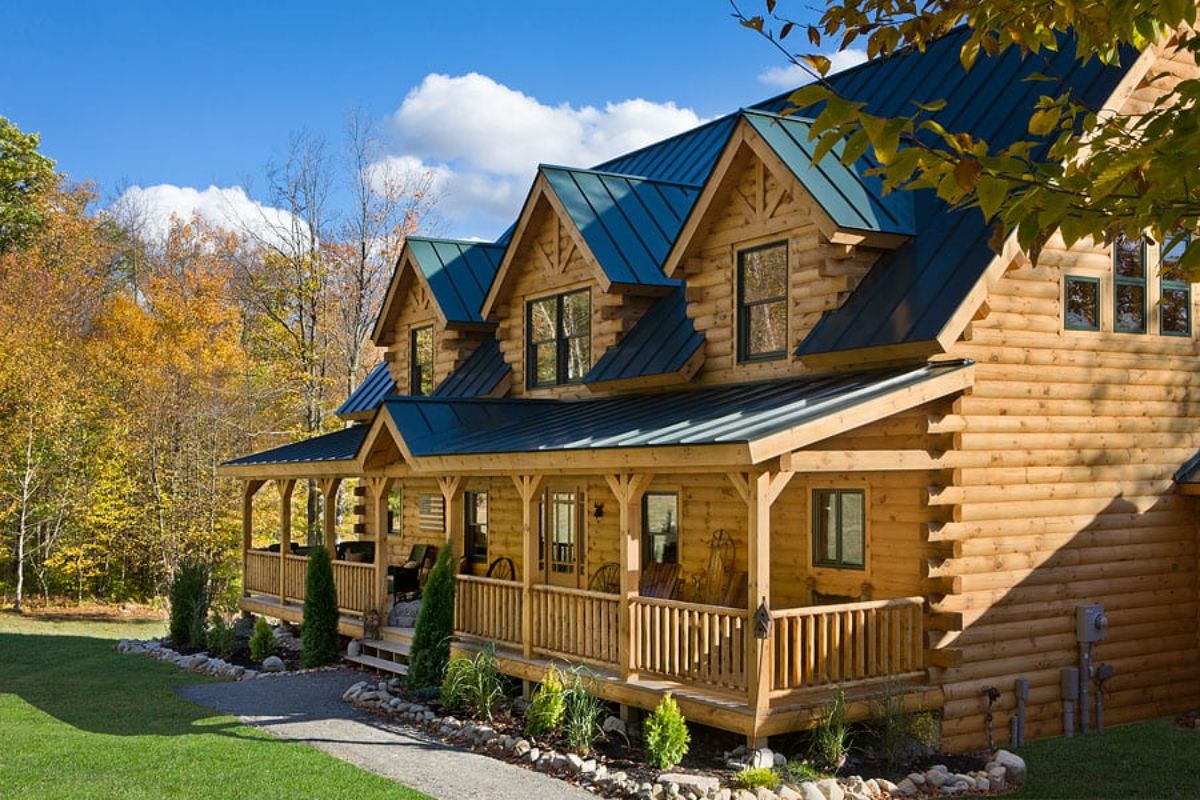 This home features a large front porch, two levels with a walk-out basement, an open back deck, and an attached garage. Plus, a great room on the main floor of the home that overlooks the deck and the gorgeous outdoor spaces.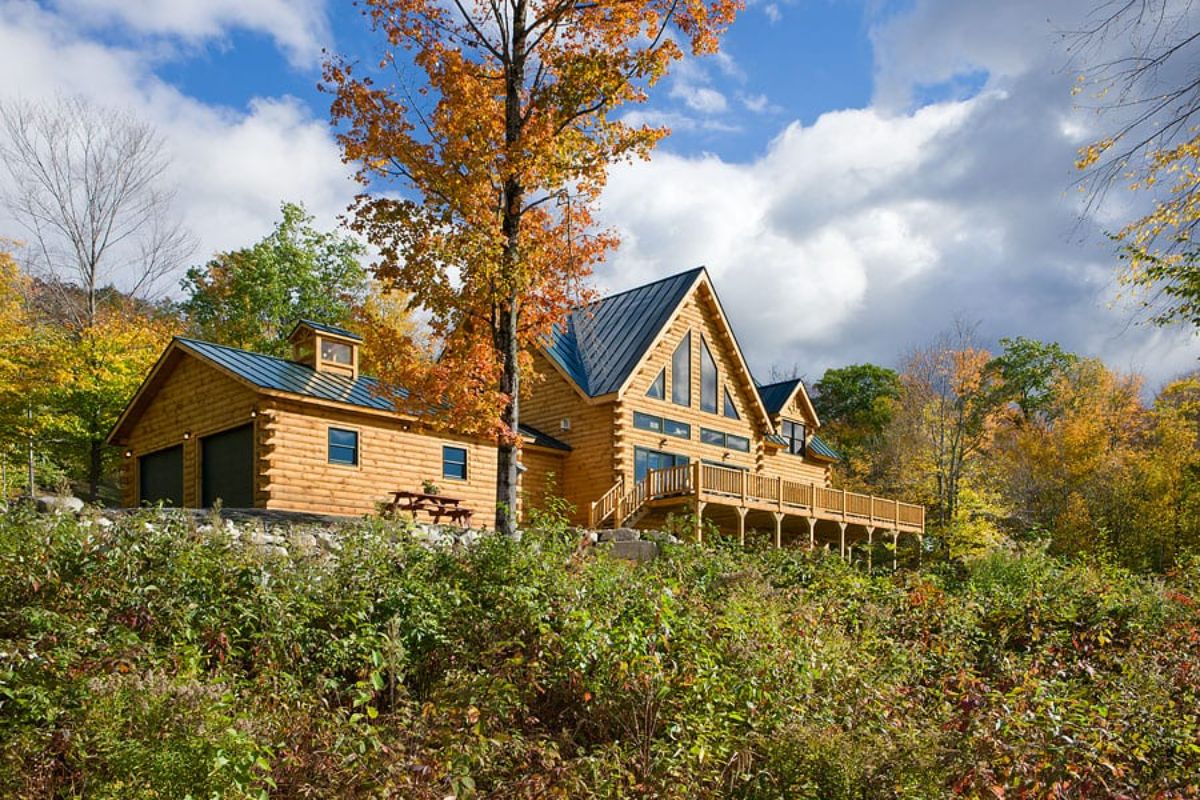 The owners have set up this porch with rocking chairs and a little table with chairs for relaxation. I would add a swing on one end for sure!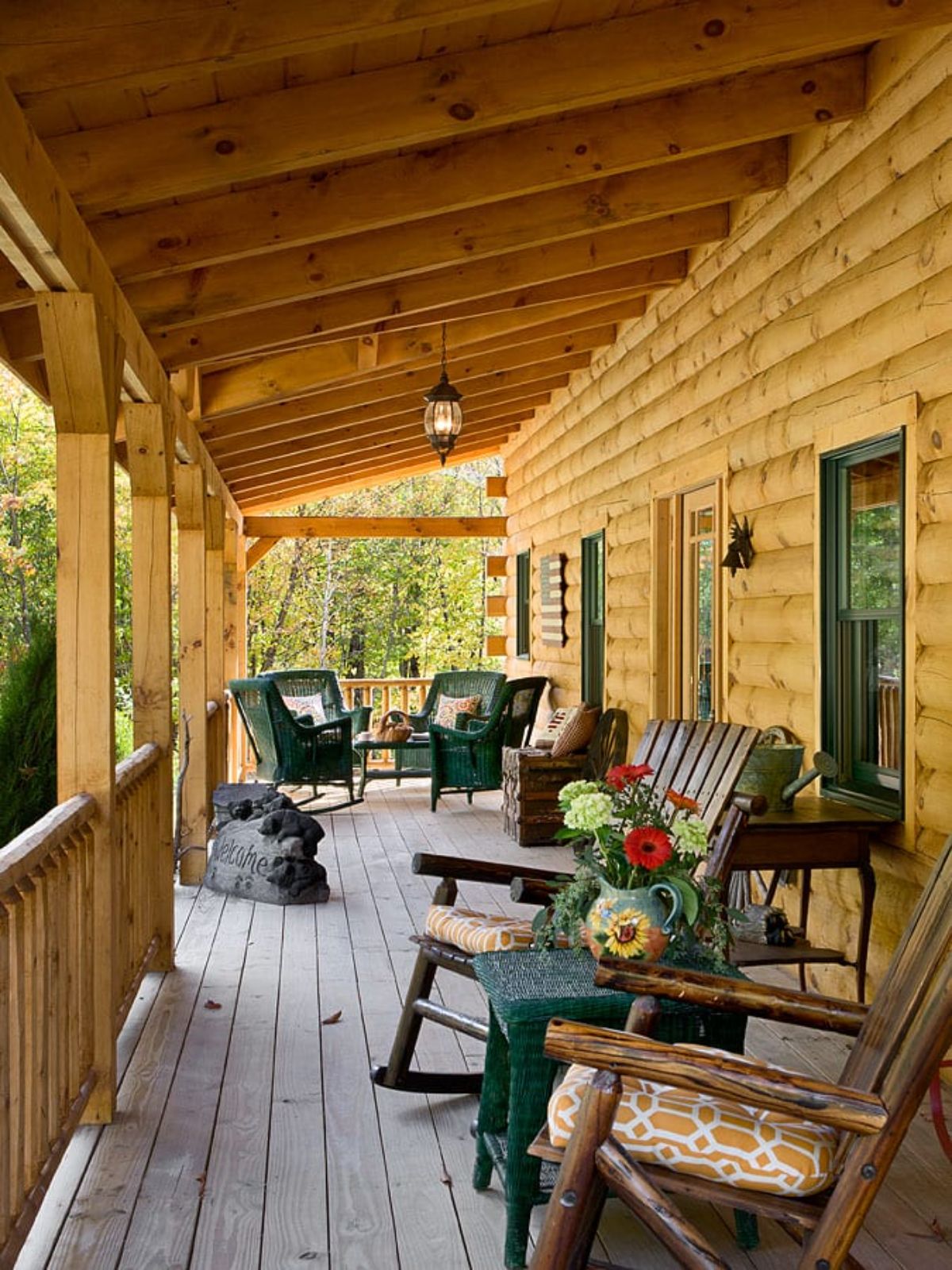 While the back deck is not covered, that doesn't mean it isn't beautiful and welcoming. This is a great place to set up a picnic table and a grill for weekend barbecues!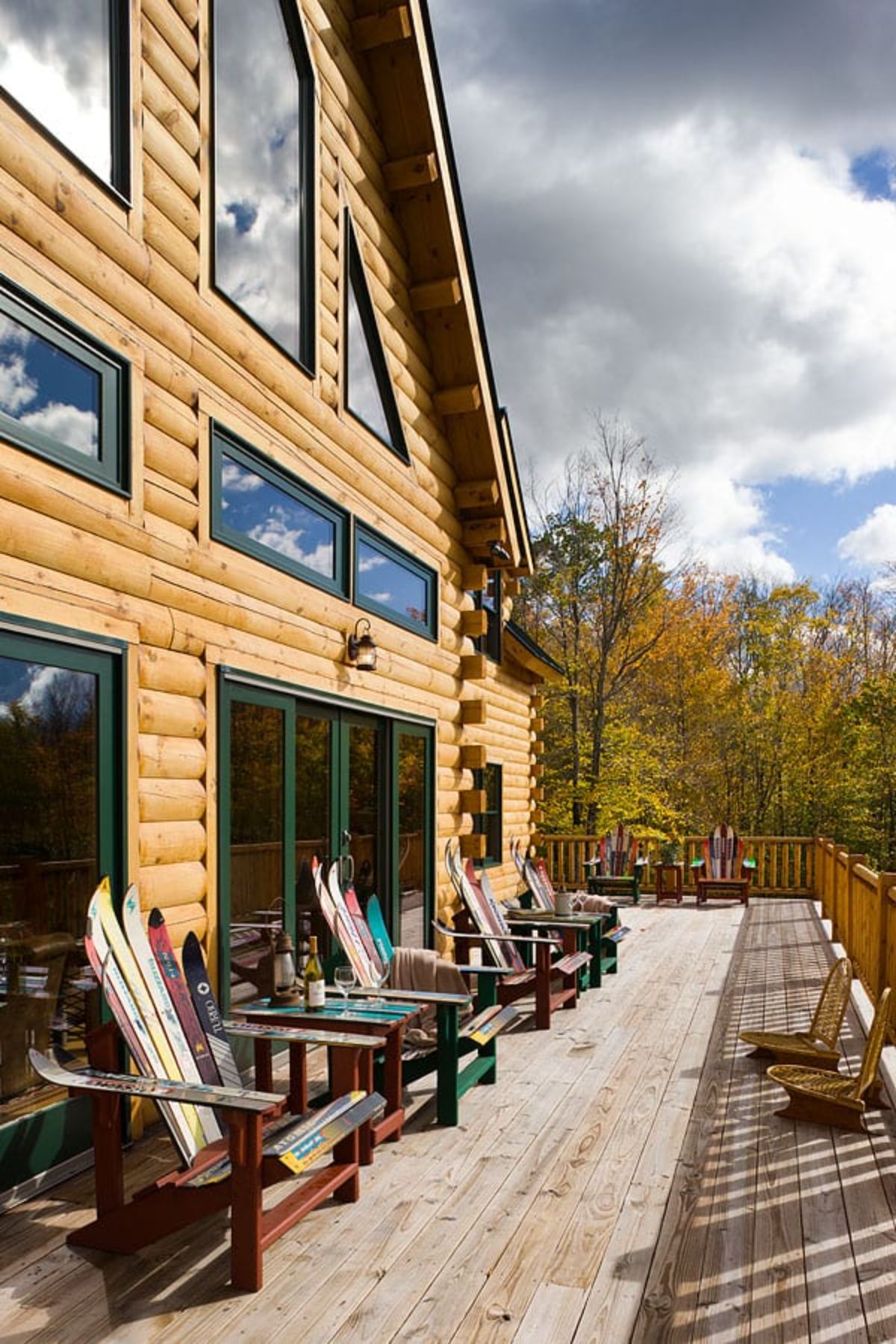 The great room is really a show stopper in every log cabin, and this one is definitely that and more. With the wall facing the back of the home basically a wall of windows and glass doors, the sunlight in this home is fantastic.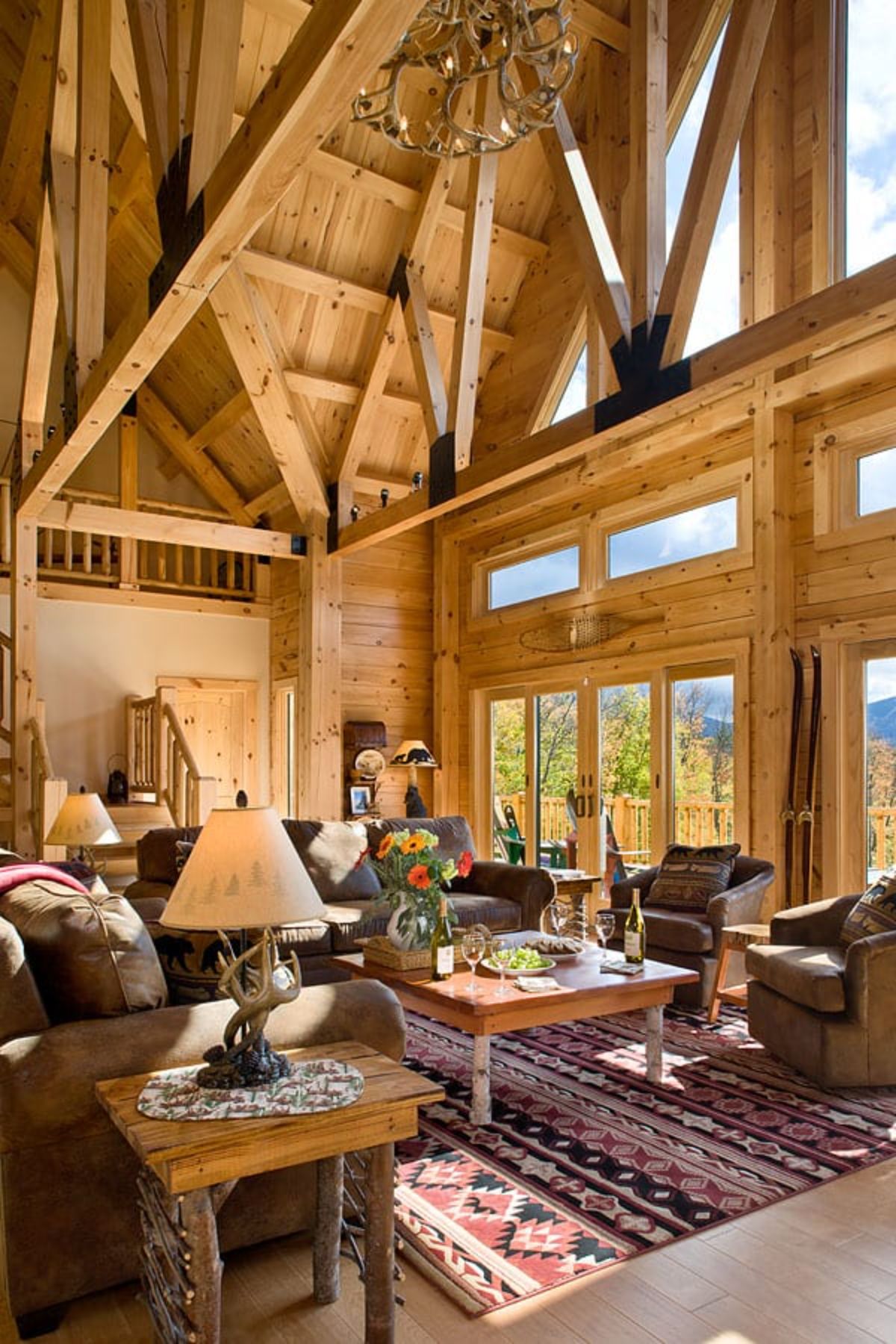 The sidewall has a gorgeous stone fireplace that is both beautiful and functional. And if you look on the upper right of this image, you'll see how they also added a unique look on the loft wall. This gorgeous "shingle" style of the wall with a fake shutter and sign is so cute and unique!
Of course, I also love just how much seating is here and that there is a great open space with the kitchen and dining room. It is ideal for entertaining as well as just a nice relaxing space for your family.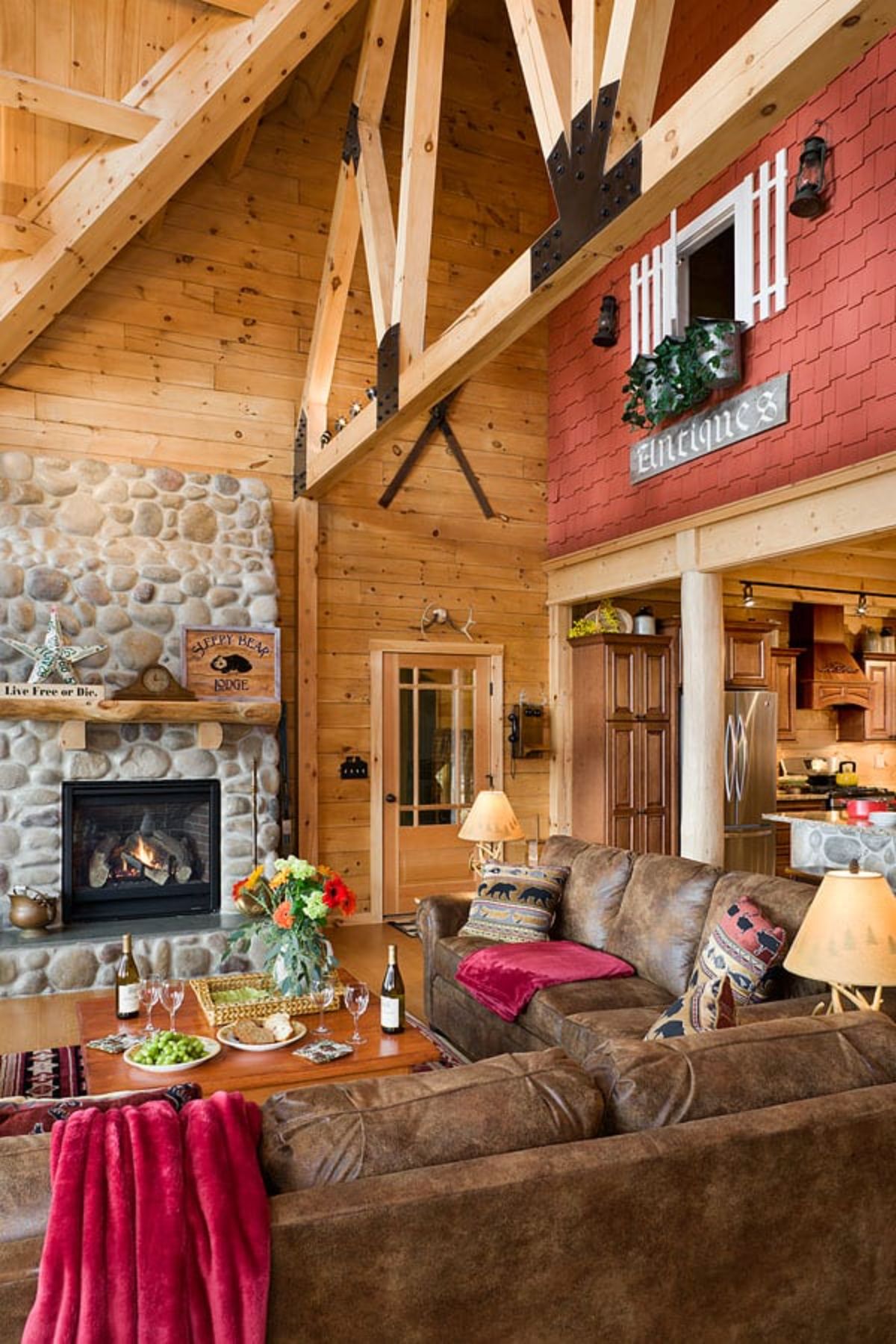 The kitchen is just off the side of the great room and has this gorgeous stone surround on the island that matches the fireplace. It has plenty of room for 5 to 6 bar stools making it a great little breakfast nook and is set up perfectly for entertaining. Turn it into a buffet or just have friends sit while you prepare a meal.
The kitchen itself has dark wood cabinets with the matching granite countertop and stainless steel appliances bringing the modern look to the kitchen.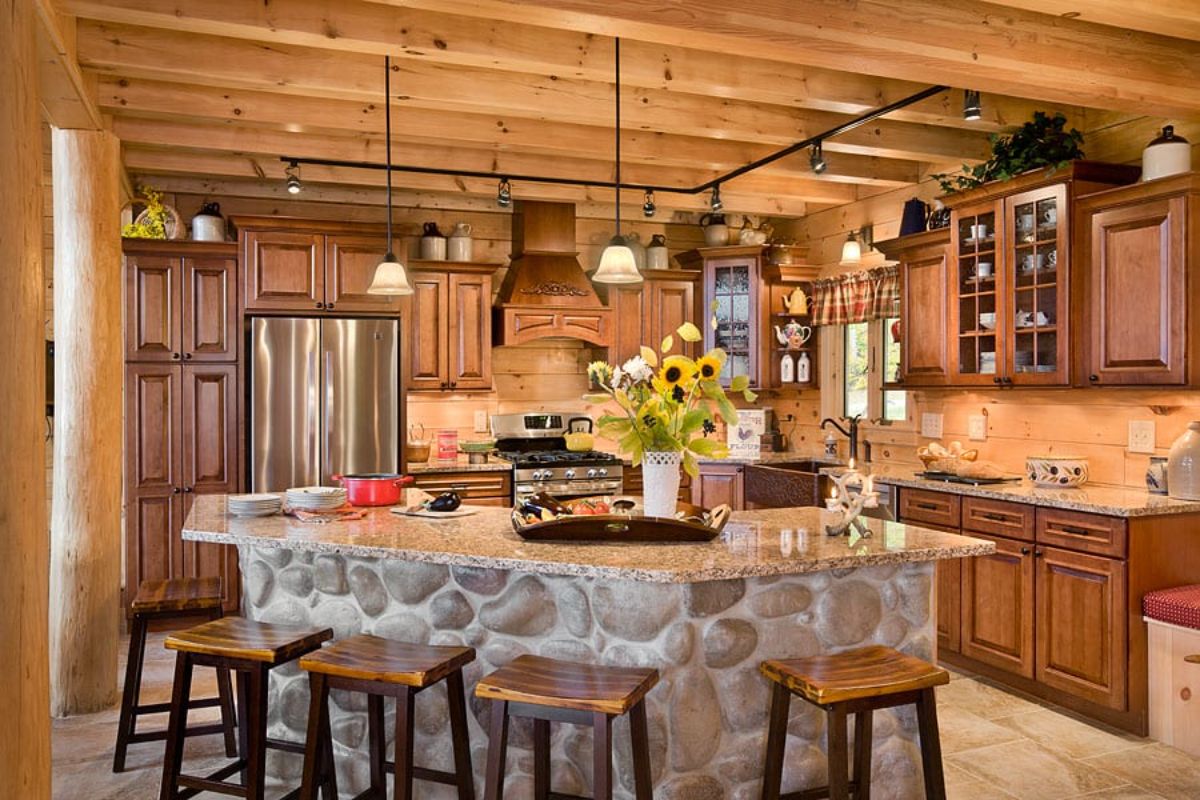 The formal dining table is just between the kitchen and living area with a fun rustic chandelier hanging over the table. It's a beautiful setup that is ideal for a meal with friends or a great place to enjoy a meal with your family.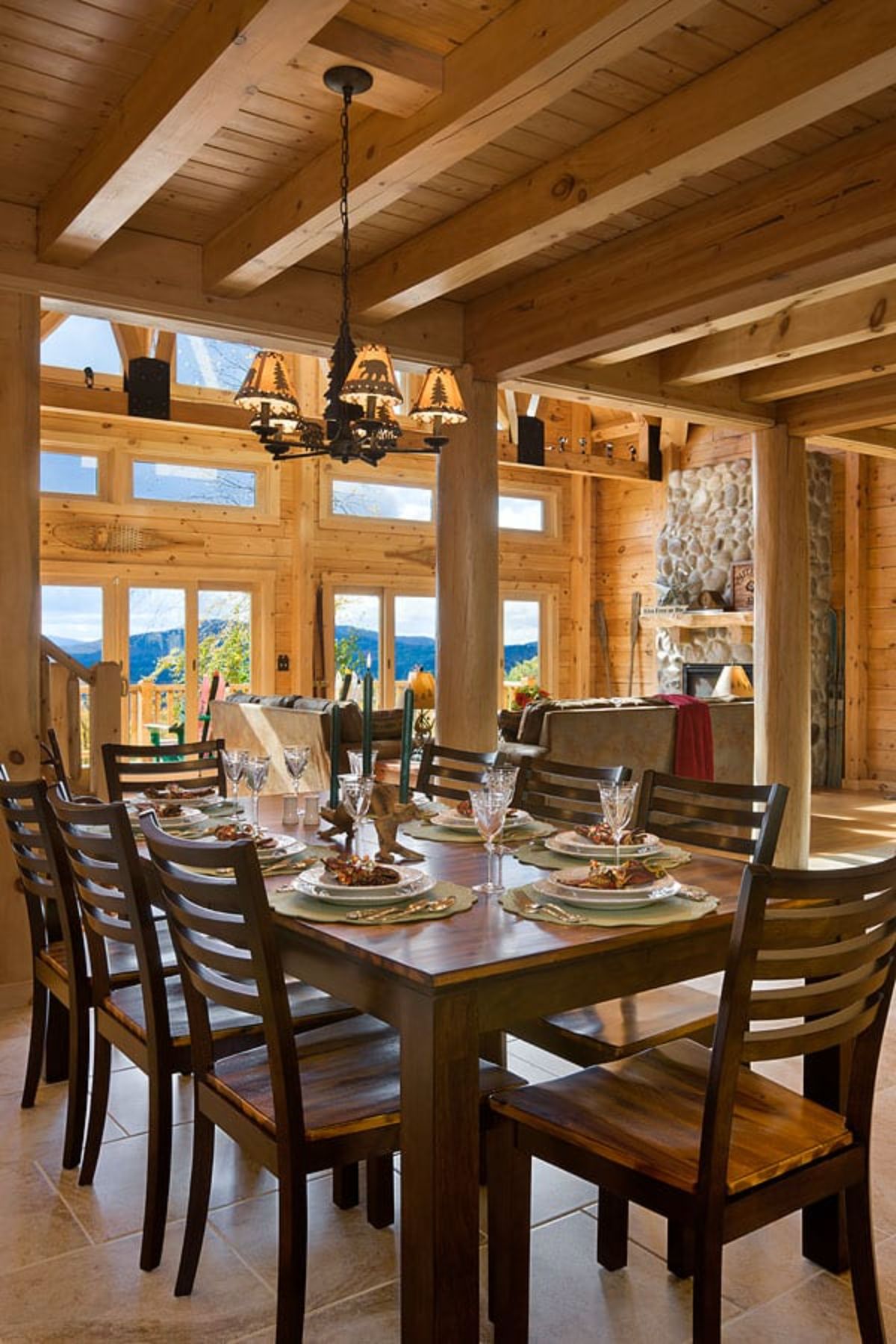 I also love this cute little corner bench set near the kitchen. It's a relaxed seating area that could have a table for dining or could just be used as a reading nook.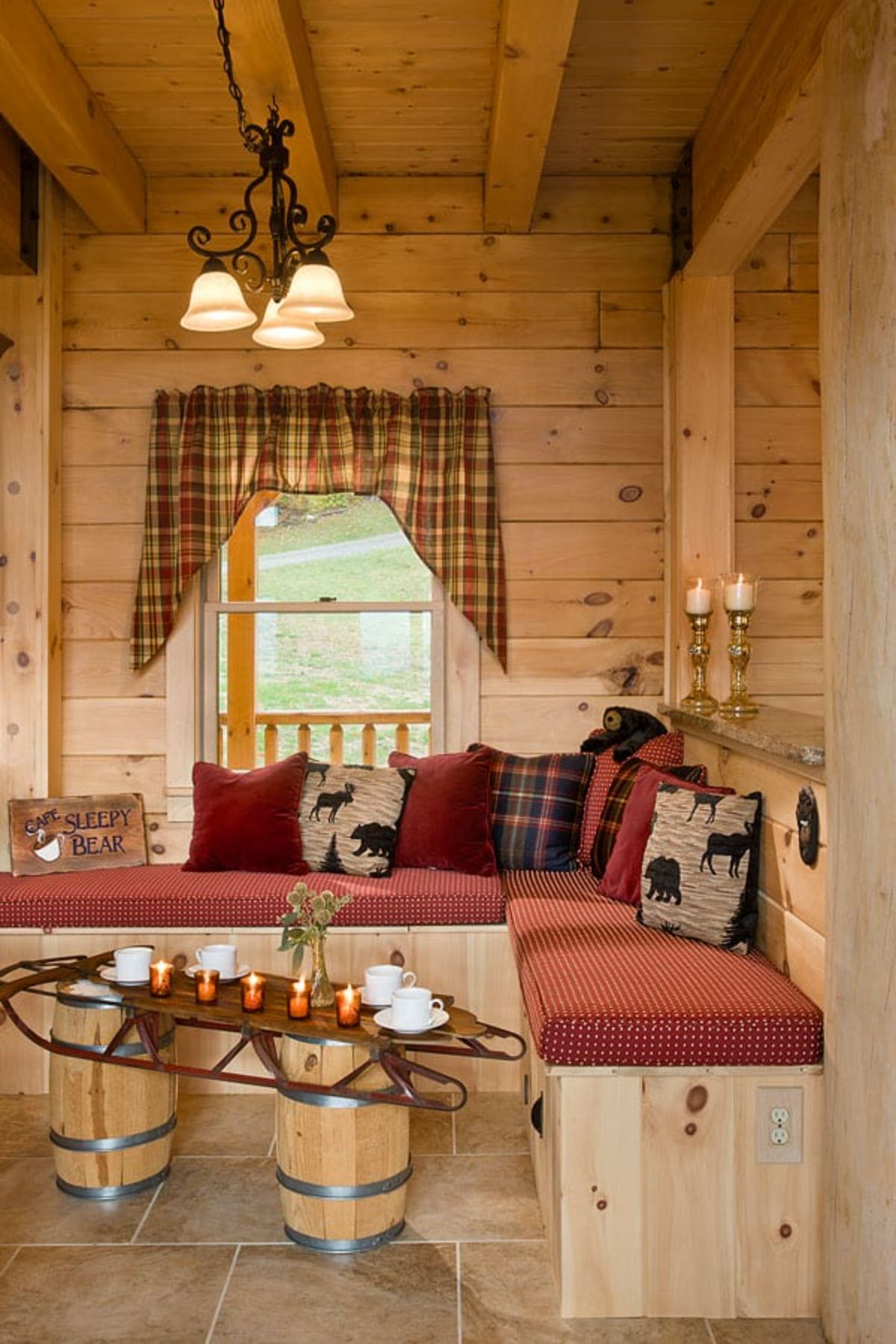 Upstairs in the loft is a nice open space for relaxing. Sofas and chairs here create a little family room or gaming space that is perfect for the kids. Plus, there are rooms upstairs as bedrooms or even a home office if you prefer.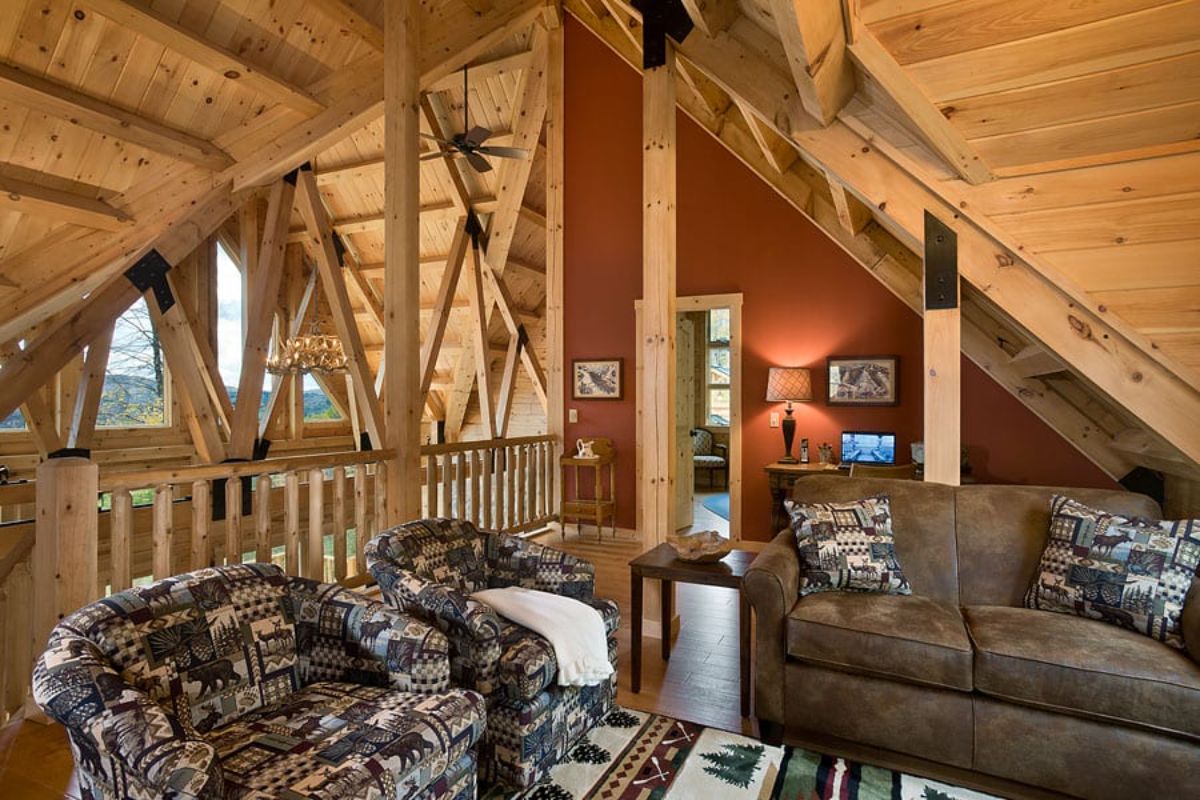 The bedrooms throughout this home are decorated in a nice country chic look that perfectly matches the general log cabin style. Comfortable, open, and ready to become the welcoming oasis from the world.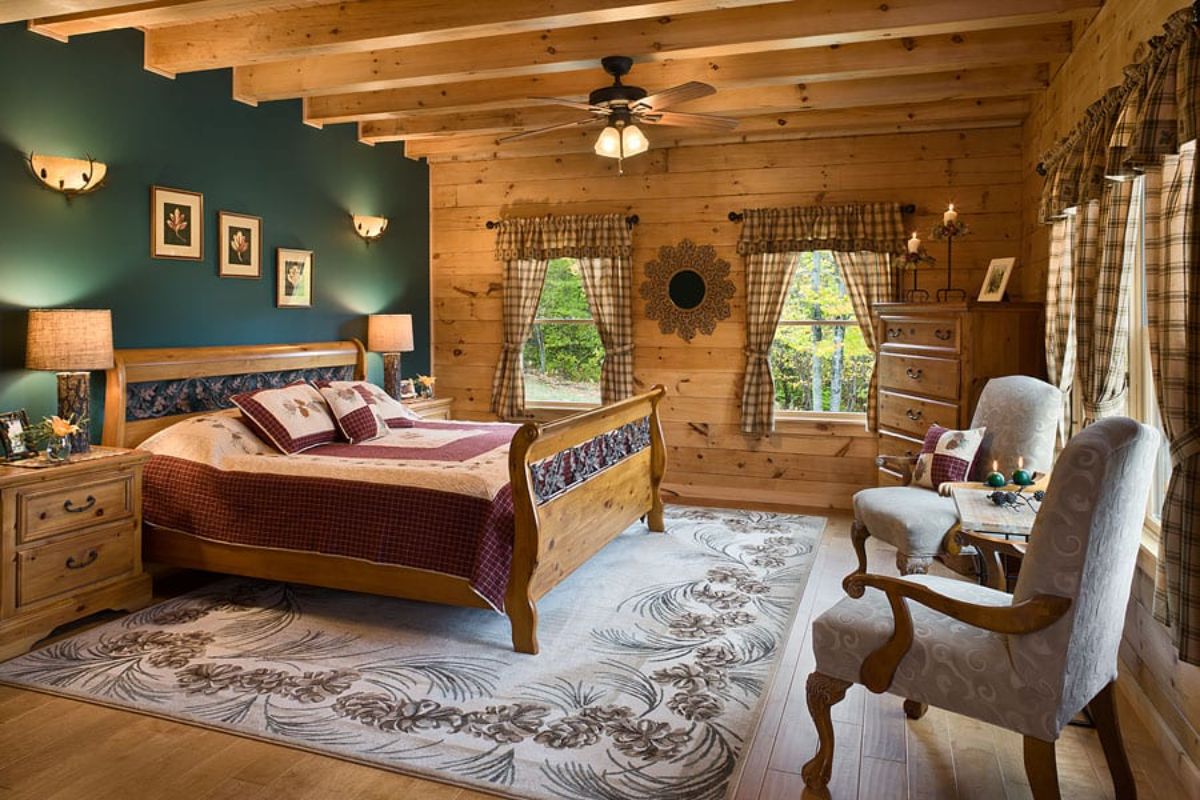 Beds tucked underneath eaves with room for chairs, a chest of drawers, and tons of beautiful views on all sides are definitely welcoming.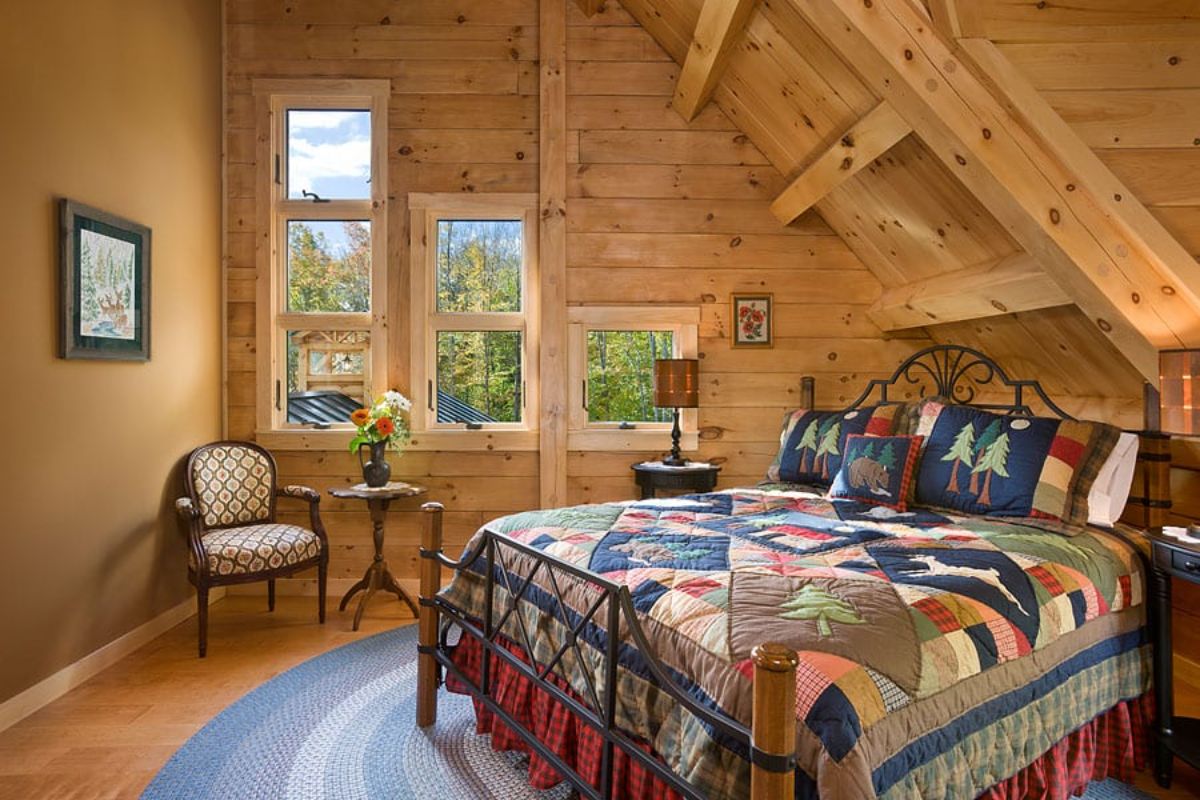 Of course, the bathroom has to be a showpiece as well. There is a gorgeous soaking tub in one corner with this rustic and reclaimed wood cabinet vanity that really brings charm to the space.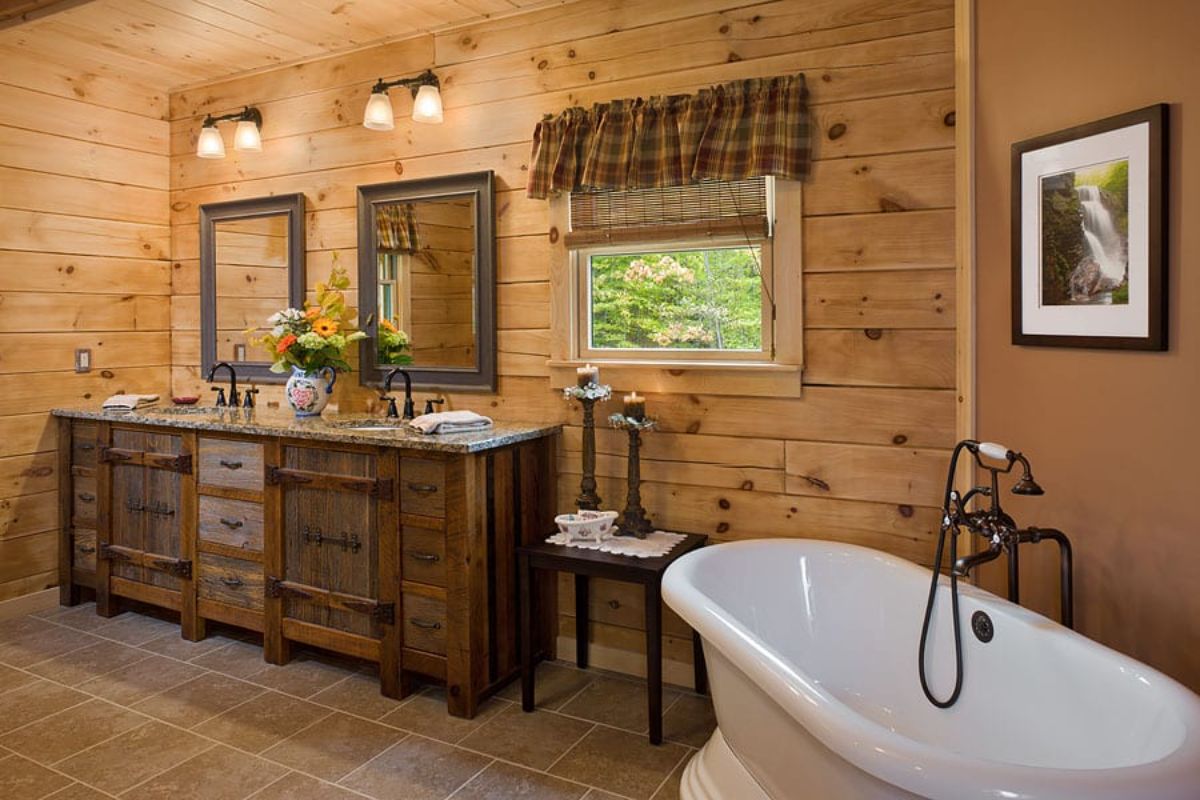 Or the alternative of the master bathroom with this unique log vanity with an open pace beneath and gorgeous brass bowl sinks. And that tiled shower with glass doors and walls is a great modern addition!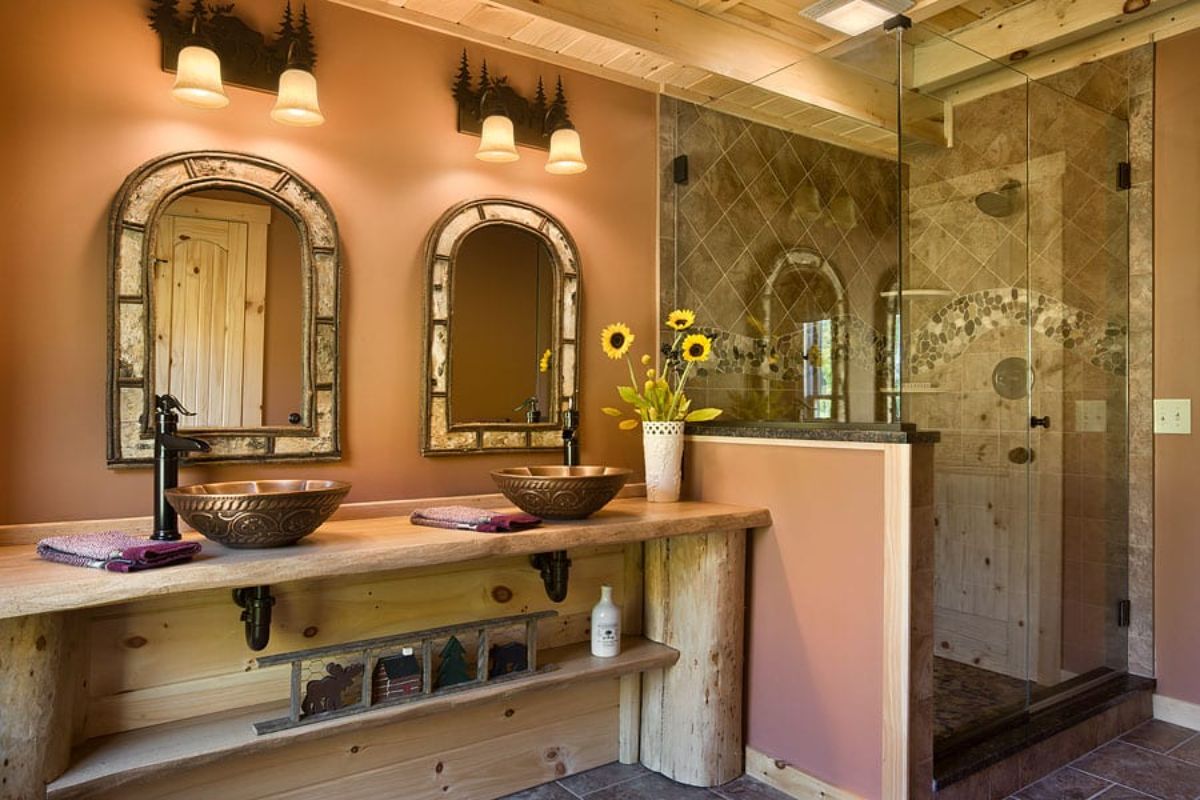 If you want more information about this home and others, check out the Coventry Log Homes website. You can also find out more information about them on Facebook and via their Instagram profile. Make sure that you let them know that Log Cabin Connection sent you their way.
More Log Cabin Kits and Tours