These log cabin building tips are a collection of ideas and advice that I've picked up over the years building log homes in western North Carolina.
The tips included are just a few of the extra things I like to include as a contractor when building a home to try and make the result as maintenance-free as possible. For other money-saving ideas, check out our page on log cabin design tips and our page on saving money with cabin kits.
Hopefully, these log home building tips will reduce the stress involved in the cabin build process. Building a log home can be overwhelming when you're trying to think of everything you need to include and plan for. Maybe these ideas can increase your enjoyment of the build and encourage you to think creatively.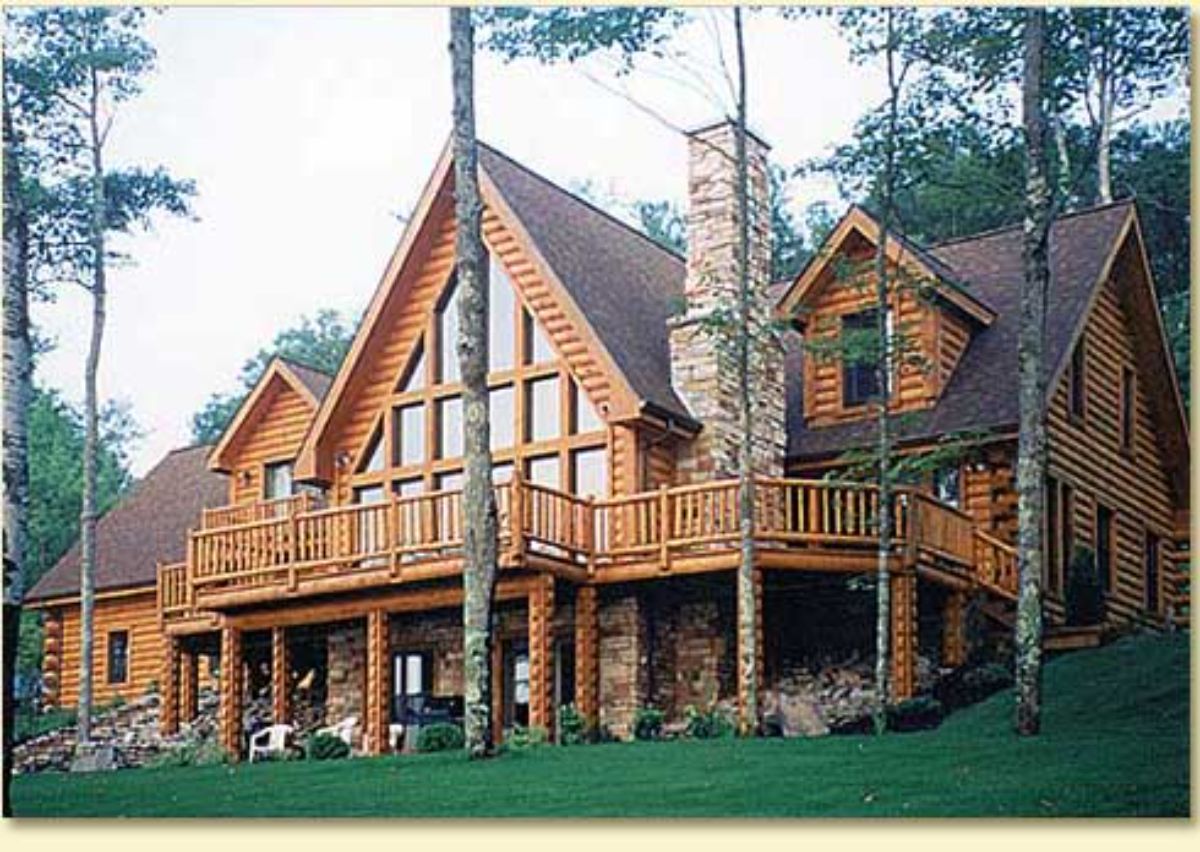 Jump to:
Collect Ideas
Put together an idea book with pictures of log homes you like, but especially of individual elements that catch your eye.
It may be a staircase made of half logs, or a stone fireplace design, or exterior siding shingles made of bark, or an interior door built of red cedar or wrought iron railings.
Take a photo or tear out the picture from the magazine. Keep it with your idea book and soon you'll have a range of ideas and log cabin building tips that will help you put together the ideal log cabin home design that's right for you.
Install Larger Energy - Efficient Windows
Log homes and timber frame homes are ideal for open plans and large Great Rooms. The structural strength of the heavy timbers and logs means that you can eliminate some walls and let the wood framing members span across large windows. You can even create entire window walls that offer unobstructed views across your property.
At the same time, you might consider raising your interior wall heights above 8'. The expansive nature of a log home calls for higher interior walls to balance the overall feeling of space with the massive log members. Simply calling for 9' or even 10' interior wall heights will give your log or timber frame home a grand and elegant look.
Extend Your Cabin Foundation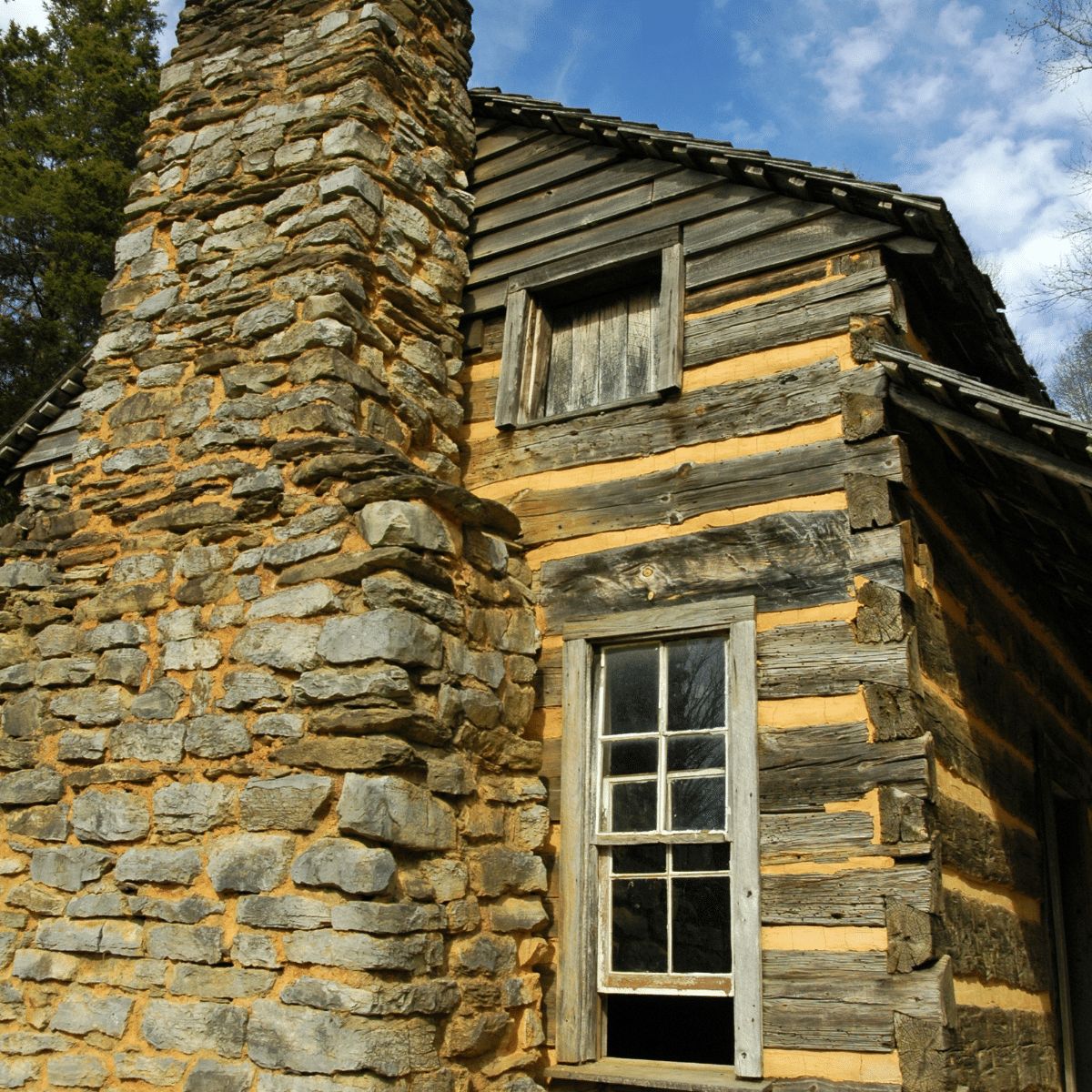 One of the greatest enemies of a log home is water. The most common reason for extensive log cabin maintenance or even cabin restoration is the result of water splashing back onto the lower section of logs.
By ensuring that your foundation extends out of the ground by at least 18", or even better 24", you will lift those lower logs out of the worst area of damage. Out of all these log cabin building tips, this one will save you the most money and headache in the long run.
It also helps to add gutters to direct water flow away from your cabin so the rain doesn't simply wash down over the walls. This will help preserve your log stain.
Keep plants and bushes several feet away so that they don't splash rain and so that adequate air flow can keep the log walls dry. Carefully plan your cabin landscaping.
Duct Hot Air Vents Through Toe Kicks
One little touch that we like to do when building our log homes is to route our hot air vents underneath a cabinet or vanity and direct the air out through the toe kick.
Not only does it eliminate an ugly floor vent that has to be cleaned, but it's also a nice feeling on a cold morning to have your feet warmed as you stand at the kitchen counter or bathroom vanity.
Install Electrical Outlets In Closets and Pantries
It's amazing how many plug-in appliances we have and continue to accrue. A closet or pantry area is a smart storage area to keep things plugged in and charging and hidden away. Some things to consider adding outlets for:
You can see how handy it would be to have dedicated outlets for these things and not have to run an extension cord or use a multi-plug adaptor.
Install Fixed Glass Windows
Check with your local glass shop and you may be surprised at how affordable it is to install fixed glass. They can fabricate nearly any shape or size and typically have insulated energy-efficient glass.
They can add tinting to glass and they can have glass tempered for safety if it's being installed where it could be broken.
Building codes typically call for glass to be tempered if it within about 3' of the floor, if it is nearby and on the same wall as a door, within 4' of the top or bottom of stairs, etc.
Check your local building codes if you are acting as your own general contractor, or just ask the glass shop as they will be familiar with the code requirements.
Save Money With A Fireplace Insert
Here's a log cabin building tip that will save you money, time and work: Instead of spending huge amounts of money on a massive full-foundation fireplace, consider a fireplace insert.
These are available for real wood-burning fireplaces as well as gas or propane fireplaces. Cover the framing with real stone or manufactured stone for even more weight savings.
The old days of man-made stone looking "fake" are long gone. You will be hard-pressed to tell the difference between real stone and manufactured stone these days and the fast installation will save you money.
Include A Brush - Off Zone In Your Hardwood Flooring
Most of the wear and tear that happens to a hardwood floor is near the doors. People walk in from outside and their shoes are carrying dirt, sand, grit and stones that can wreak havoc on your beautiful hardwood floors.
When deciding on your cabin flooring, plan in an area of tile or other durable flooring material near the doors for a brush-off zone. You will save damage to your cabin's hardwood flooring and the mix of flooring styles can add interest to your cabin interior design.
Use these log cabin building tips to stir your imagination and encourage you to think through the various plans and future uses you may have for your log home.
Careful advance planning can save you a bundle of money both now and in the future and you will wind up with a log home that is perfectly suited to your needs.
More Log Cabin Building Pages:
Cabin Roofing Choices Your log cabin roofing choices will affect your budget and long-term enjoyment of your cabin.
REScheck: Tricks of the Trade REScheck is software designed to compute an energy compliance analysis that is needed for building permit applications.
Log Home Building School Learn practical ways to craft your dream at a log home building school.
Log Cabin Design Tips Tips for your log cabin design that will save you money.
Aging In Place Ideas for Your Log Cabin As people become older, remaining in their own home becomes more important and aging in place design can facilitate that.