This gorgeous cabin in Vermont is one of my favorite unique looks we have toured. It feels like a little cottage in the woods combined with a cozy cabin. From the light wood exterior to the stunning wrought iron details of the interior, this home is a beautiful example of how to create the home of your dreams.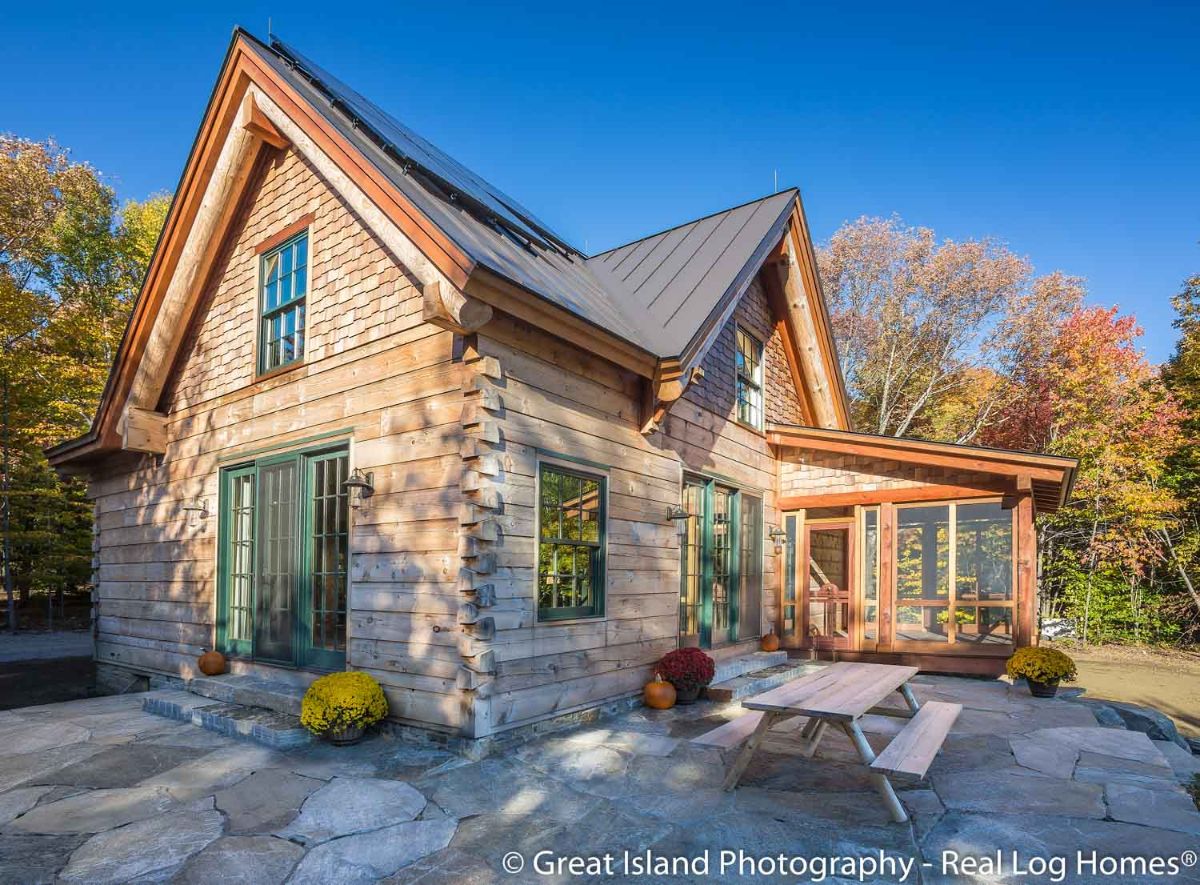 This home was once featured and even voted "Best Log Homes of the Year" in 2018 by Log Home Living magazine. A beautiful build with a combination of log exterior, interior, and even solar panels for a potential off-grid lifestyle, this is the home you have been dreaming of!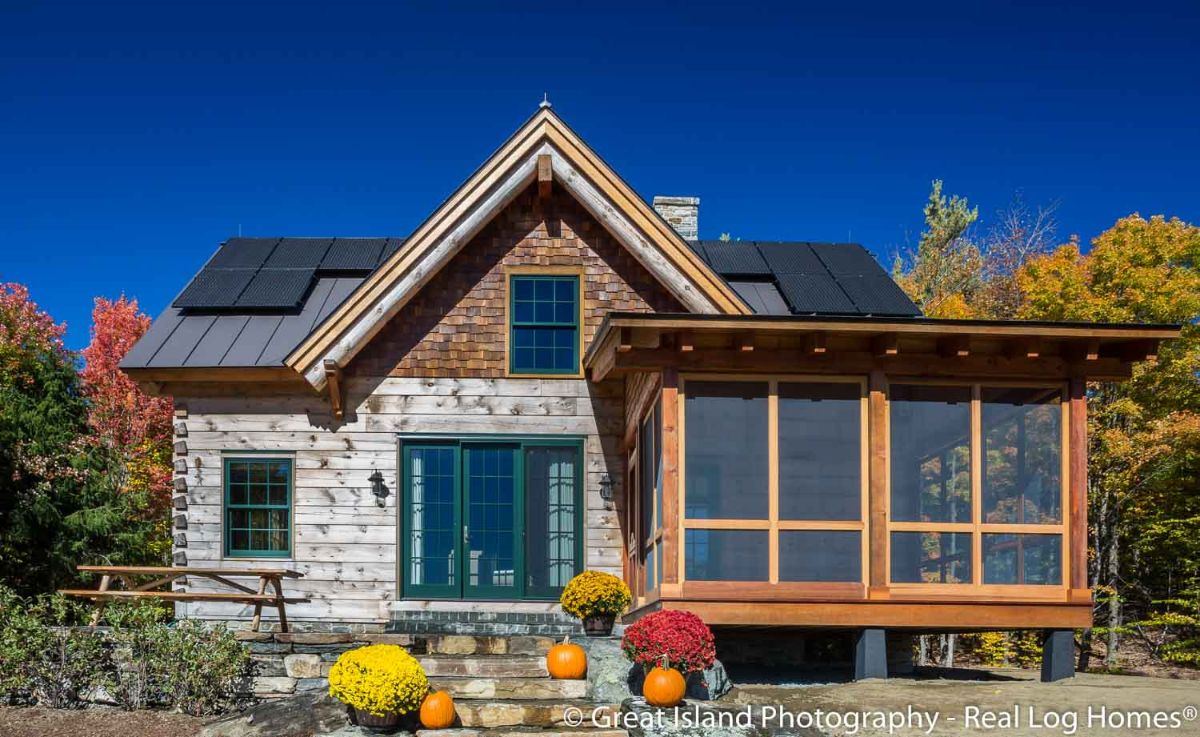 Another feature of this home that I personally love is the custom rock patio. This is such a lovely way to create something you need but also keep everything rustic and looking more natural.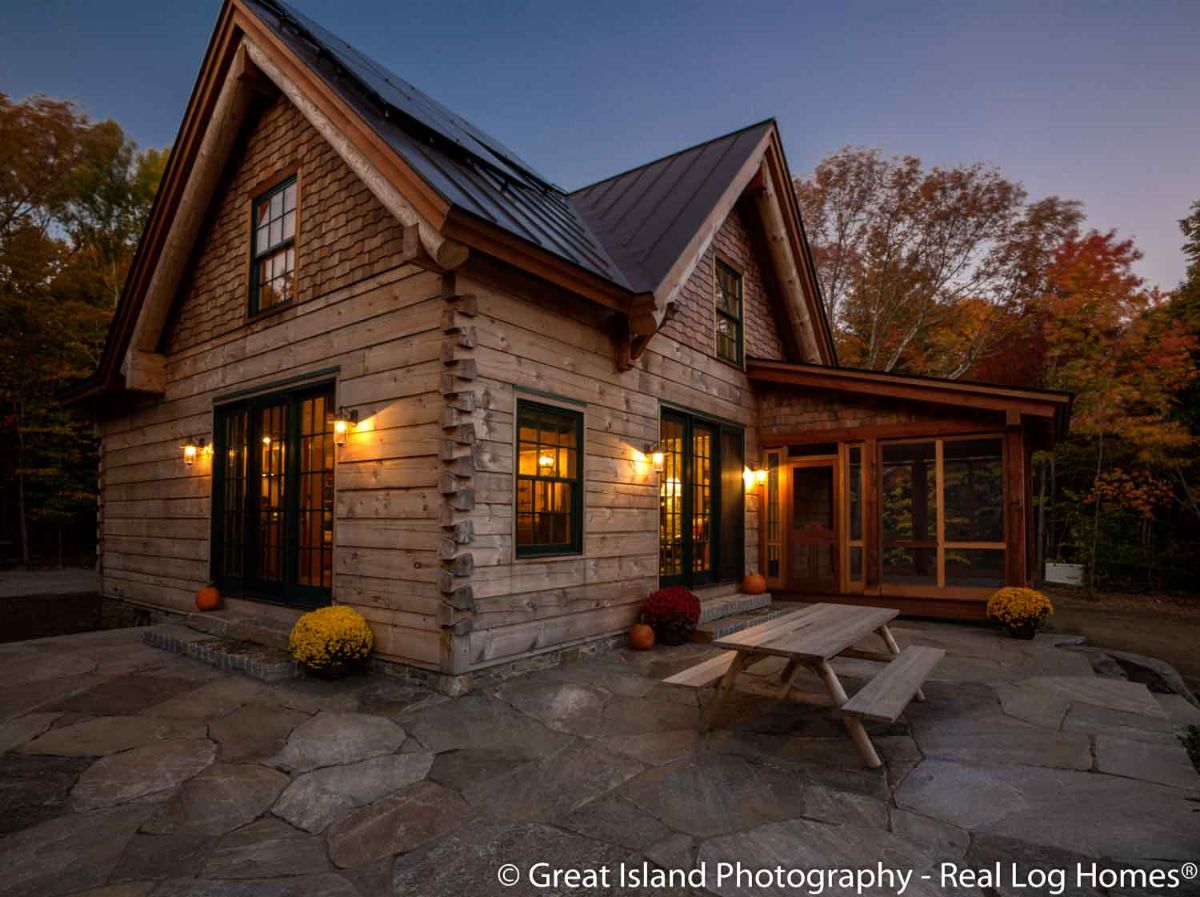 My favorite thing in this home is the wrought iron detail on the stairs and landing. Instead of metal or wood railings and spindles, this home has black wrought iron scenes depicted on them. Each scene has a classic woodsy or country theme that flows beautifully up and along the rails of the loft.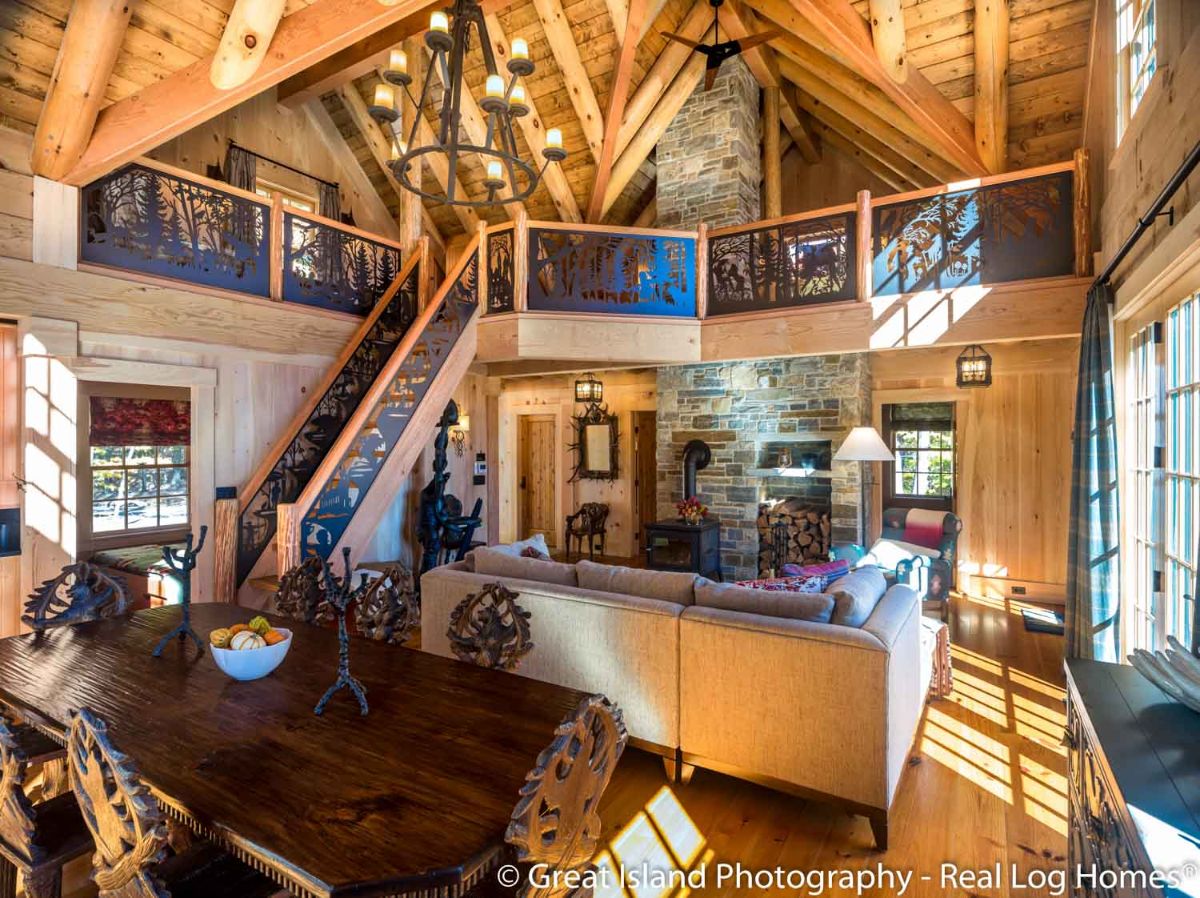 On the main floor, the living area is nice and open with room for the corner fireplace, sizable cozy sectional sofas, and more.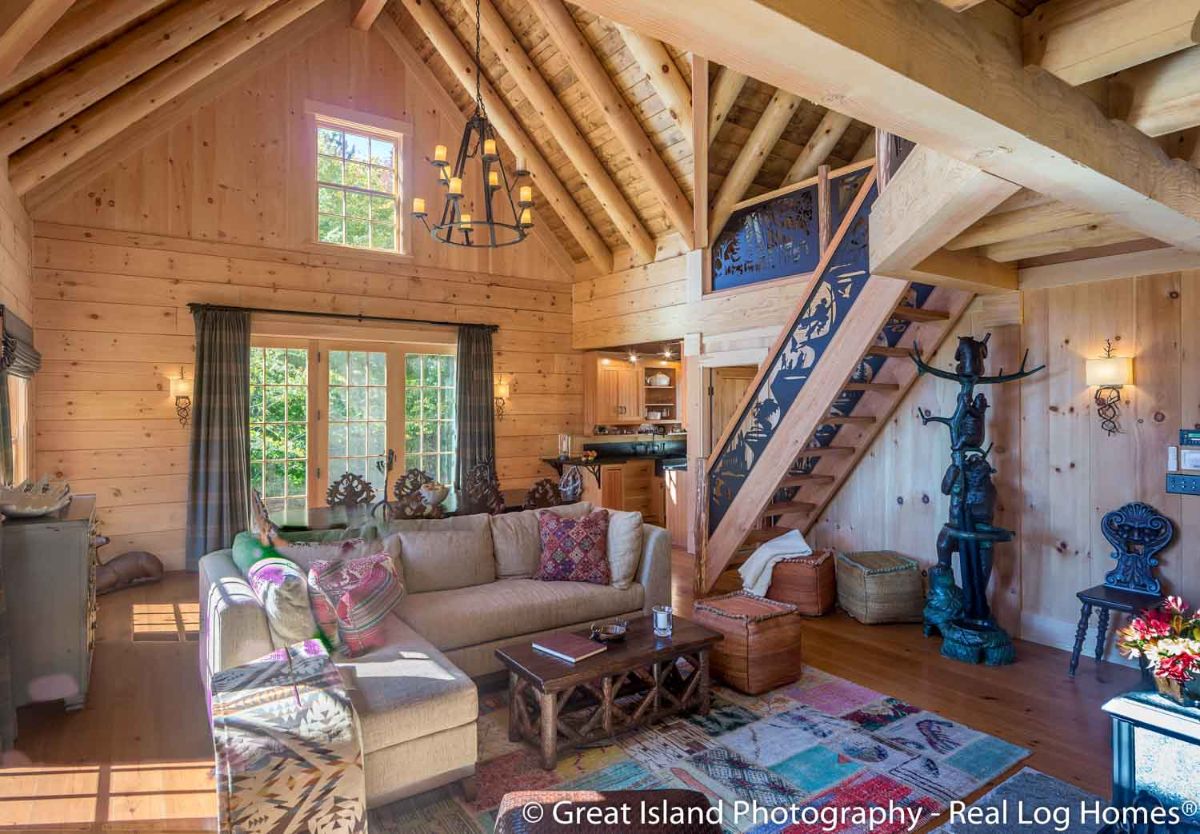 from this angle you can see the wood stove/fireplace setup on the left and the stunning wood table with ornate chairs directly in the foreground of this image.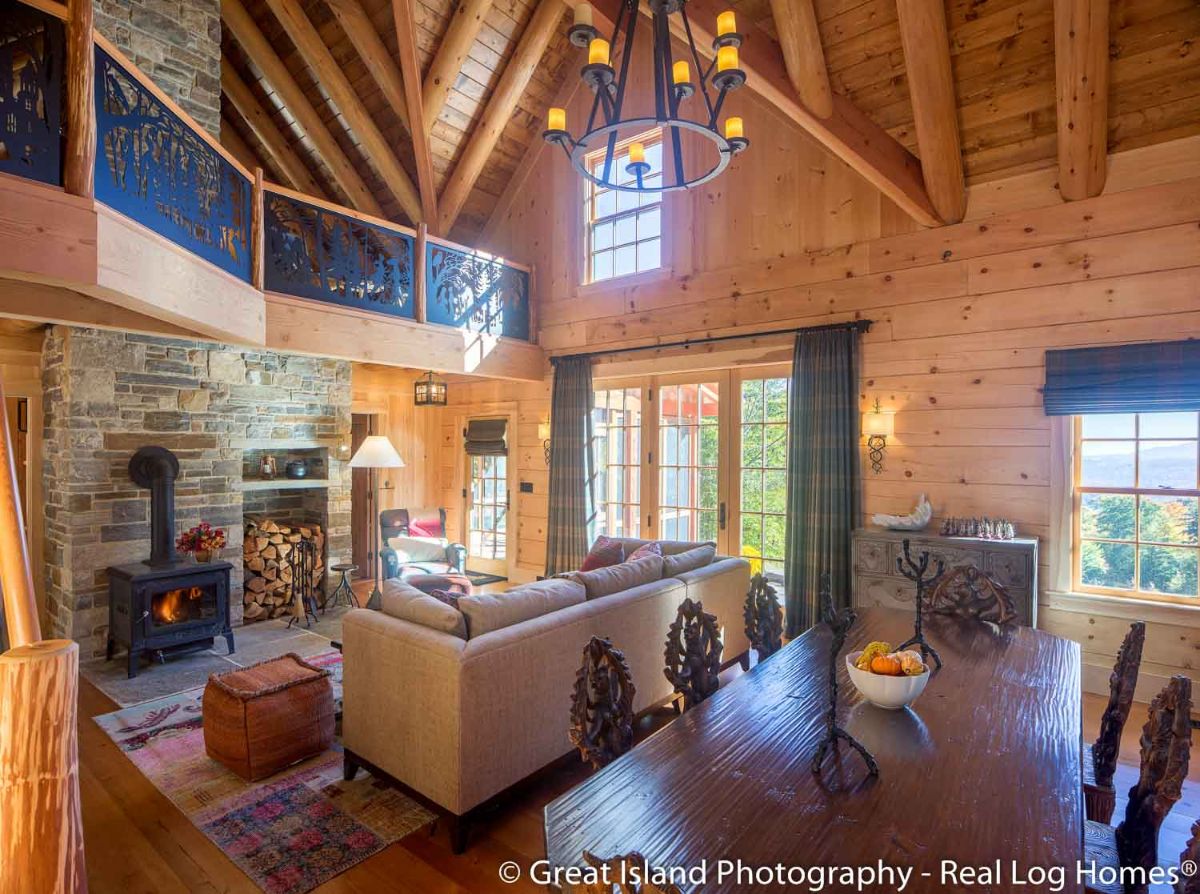 Just look at the woodwork in this home! I really love exposed beams and all of the details you can observe with this cathedral ceiling in the great room.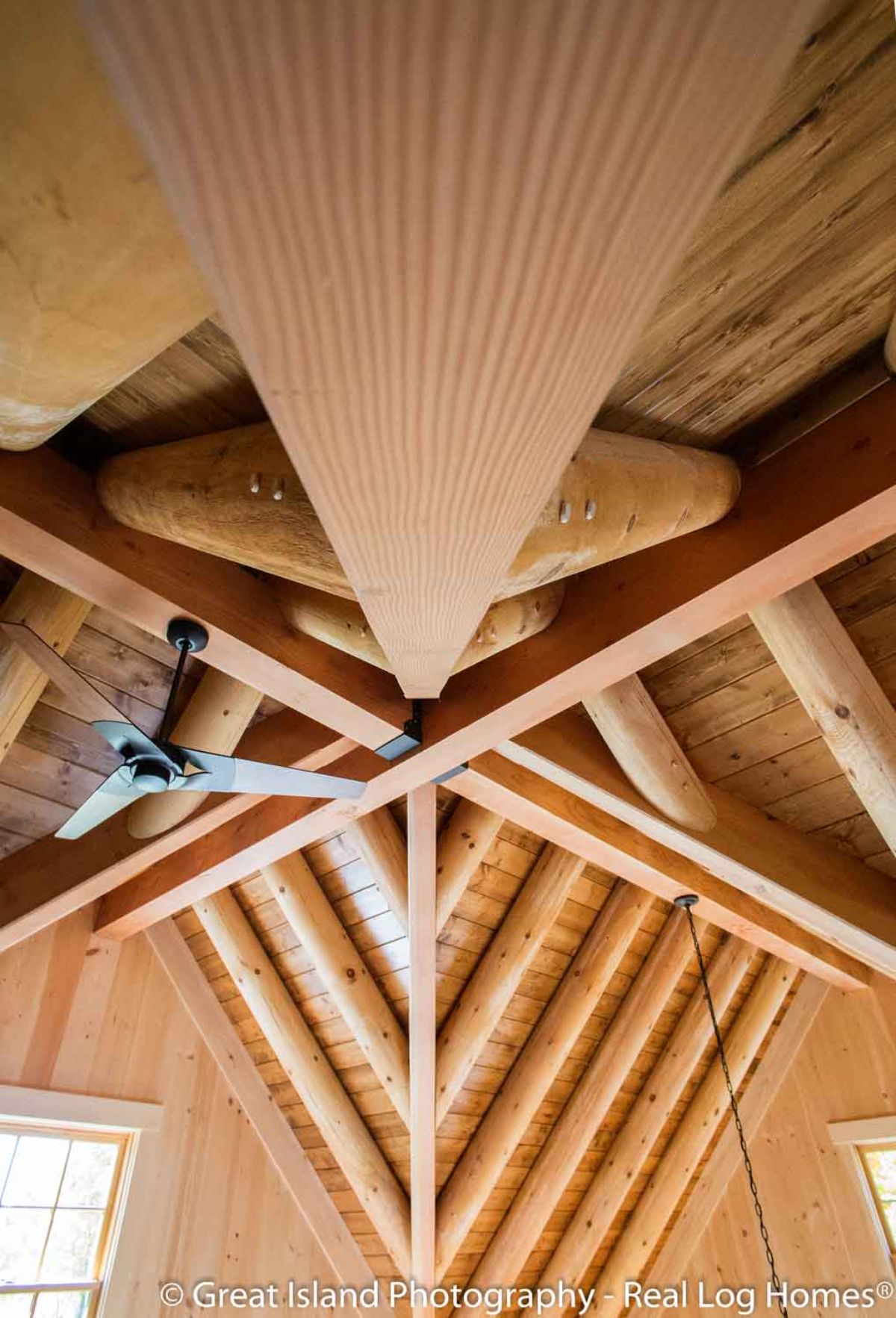 Off the main room is a corner kitchen. This space is smaller than some of the kitchens we have shared. A galley kitchen is ideal for those who just need to whip up a small meal on occasion, but it can be functional for formal dinner parties and daily use. This room has a full-sized stove with a smaller apartment-sized refrigerator, but still has plenty of countertops.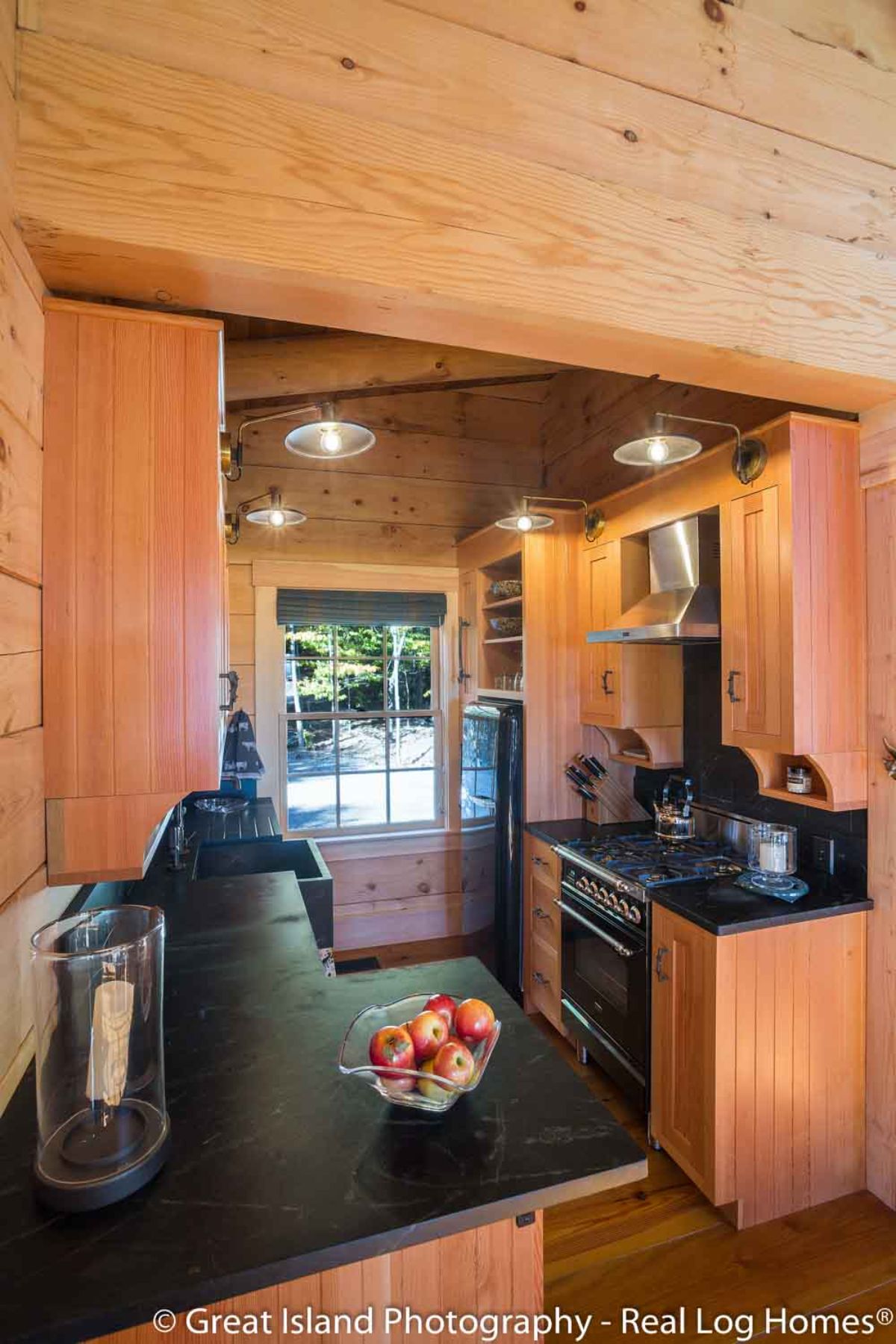 Upstairs, the loft has beautiful open looks down into the home. Here is a corner seating space, some rocking chairs, storage, and of course, tons of natural light from the windows on all sides.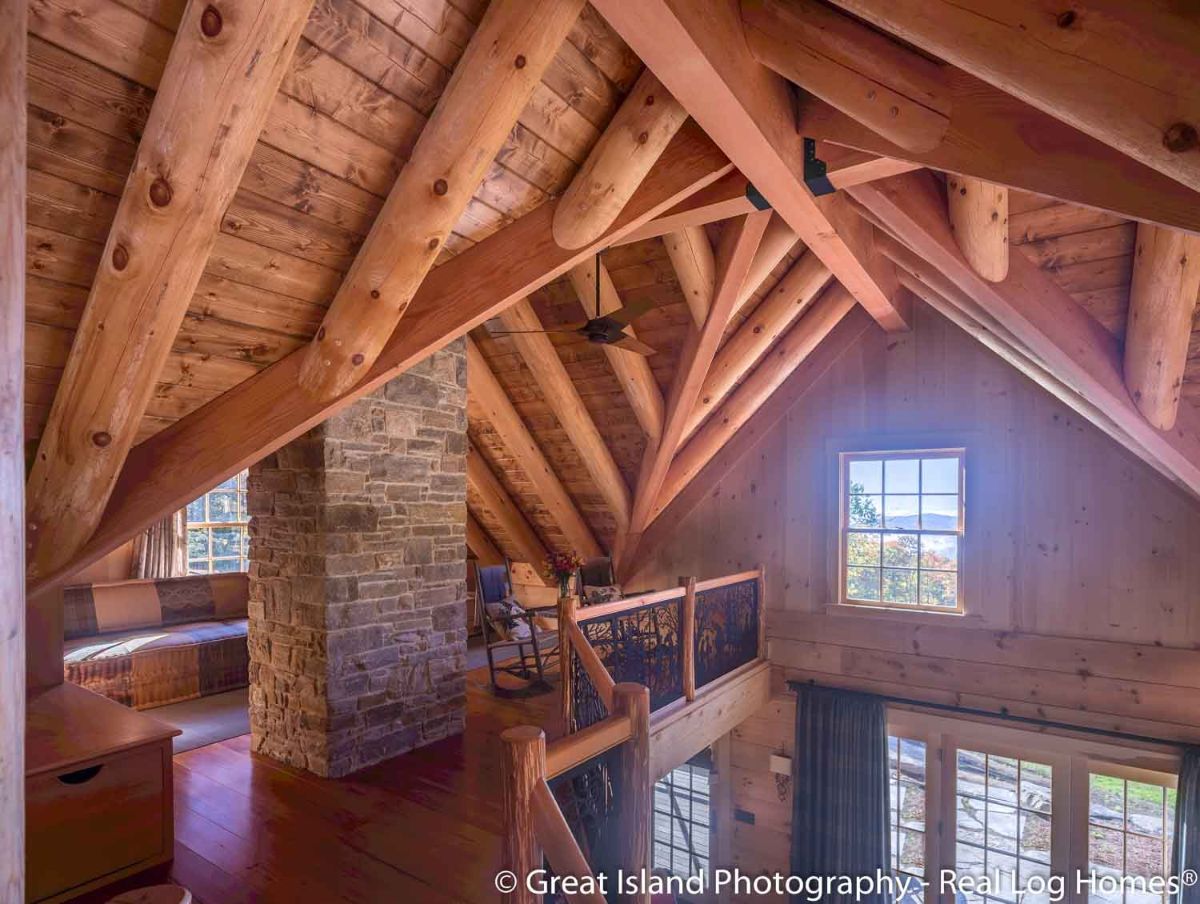 I love how they have added two seating areas, one on either side of the chimney. It's great for a reading nook or a kids play area.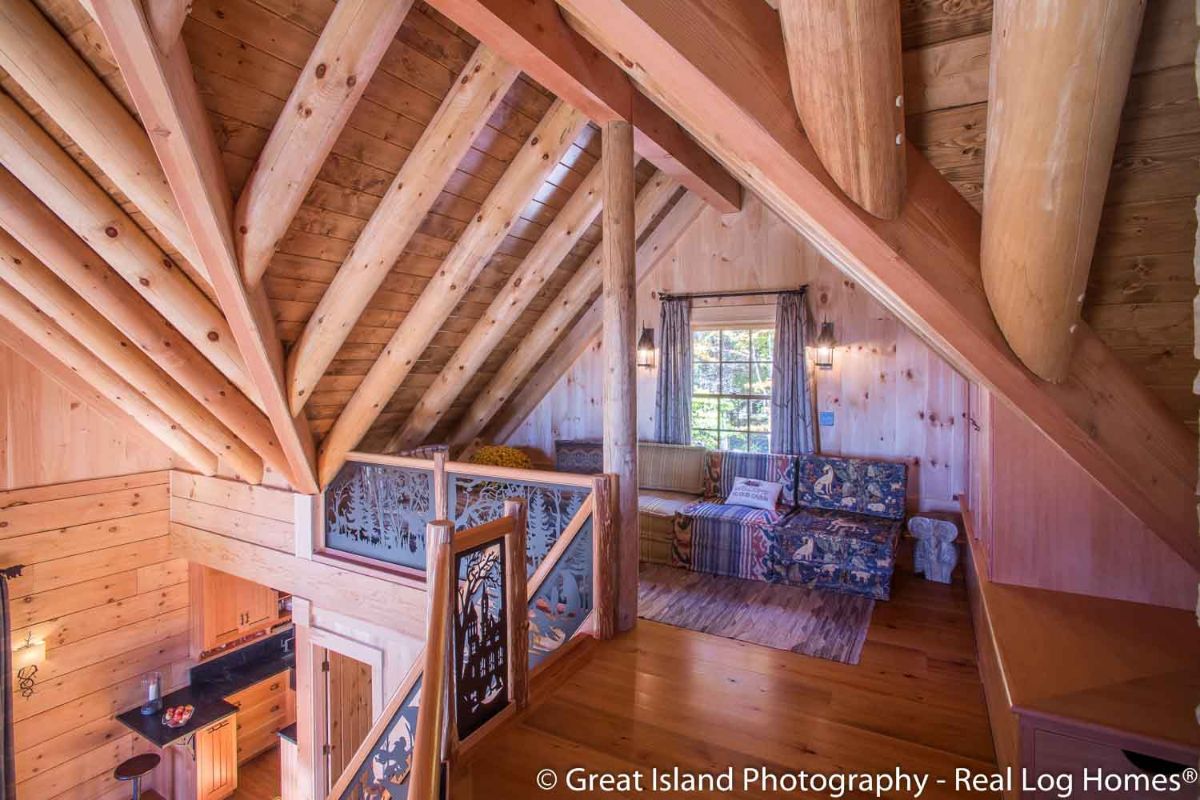 Here is a closer look at the wrought iron railing details. I love how the scenes depicted are so unique on each panel.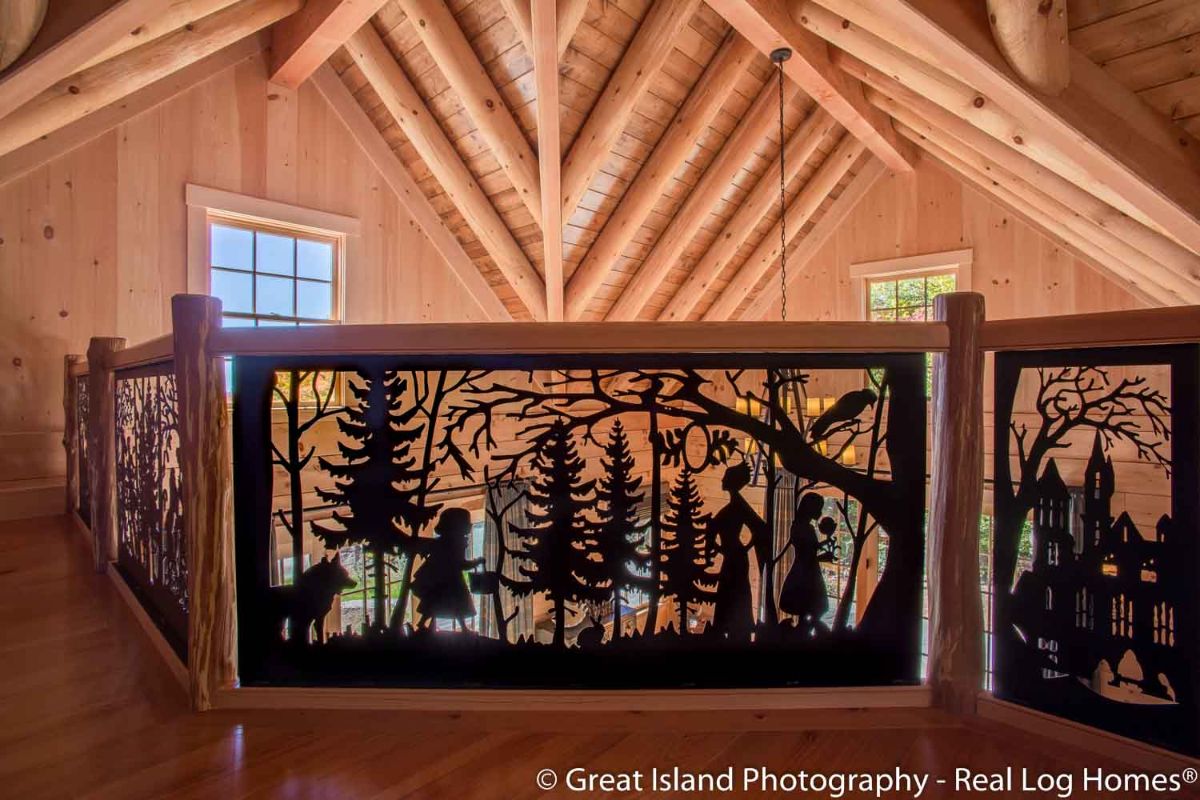 From the image below you can see a better overlook of the main floor layout with sofas and chairs on one side, a table on the other, and a door leading off to a master space as well as the open kitchen on the upper middle of the image.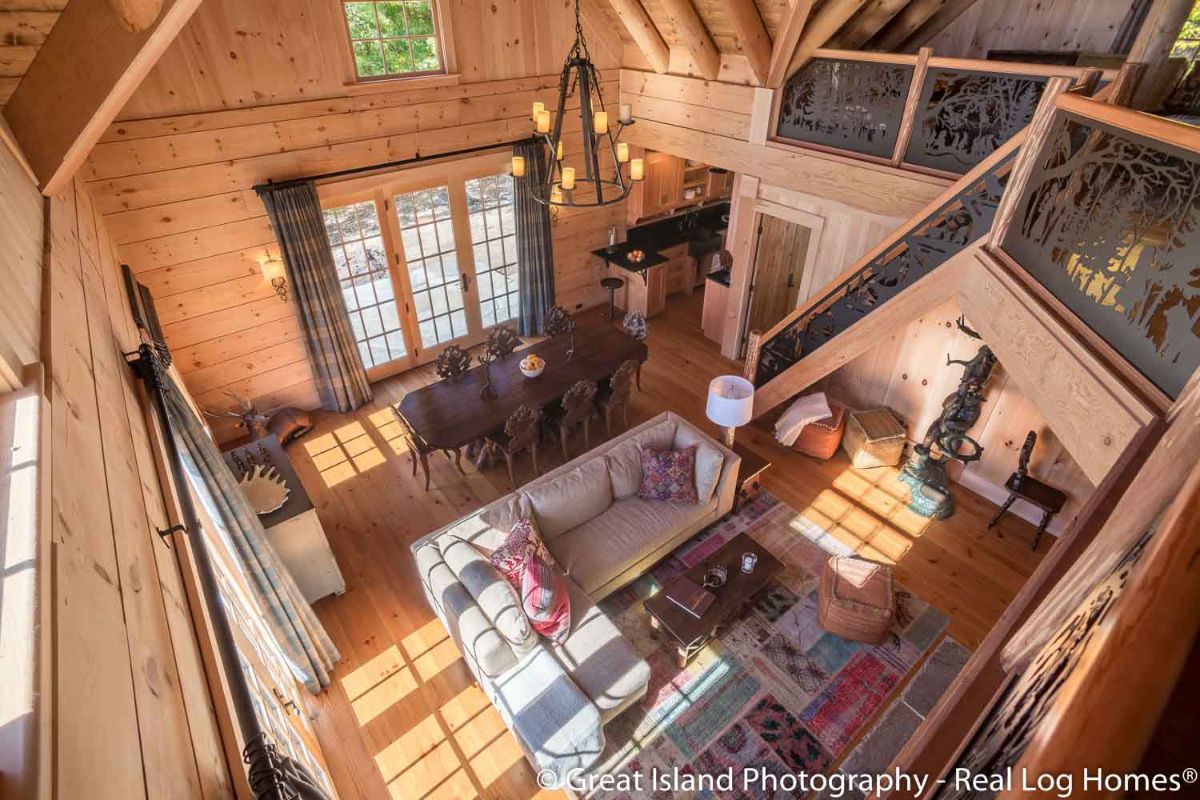 One of my favorite things in the main floor bedroom off the living area is that they have included these built-in shelves behind the bed, and a simple set of stairs up to the bunk on top. Despite a smaller space, they manage to give you lots of storage space and still feel like you aren't too cramped.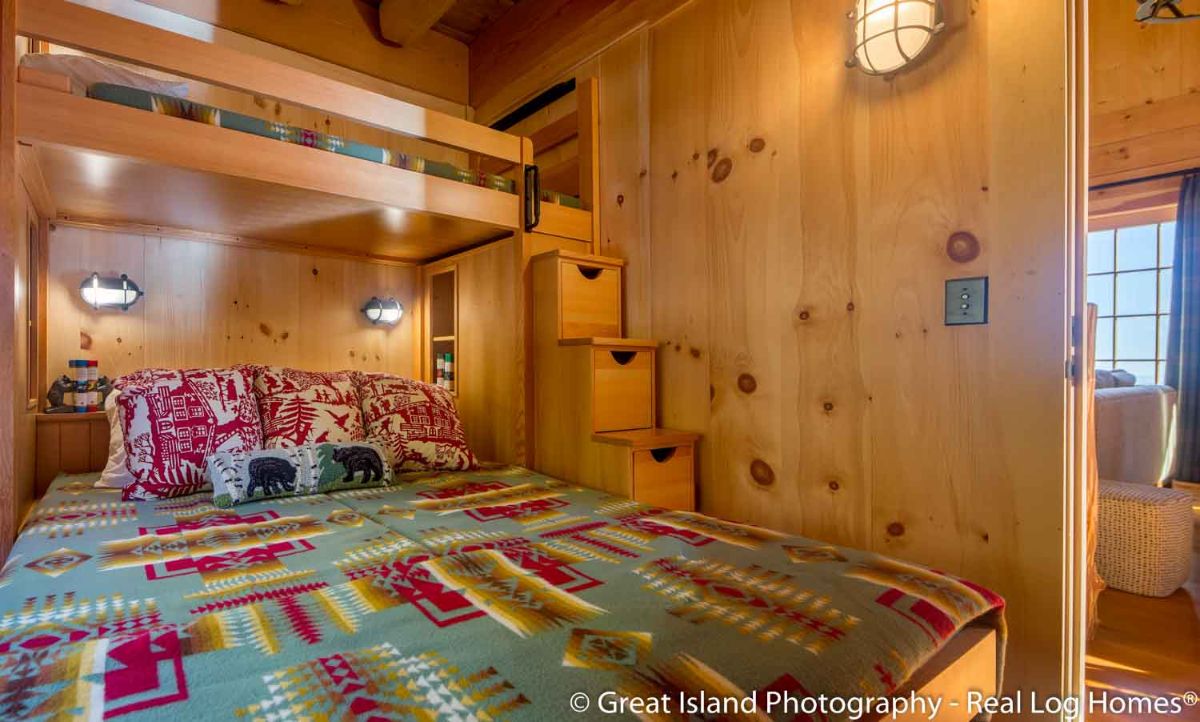 Another space has this set of smaller bunks. This is ideal for the kids or guests, and while smaller, still comfortable.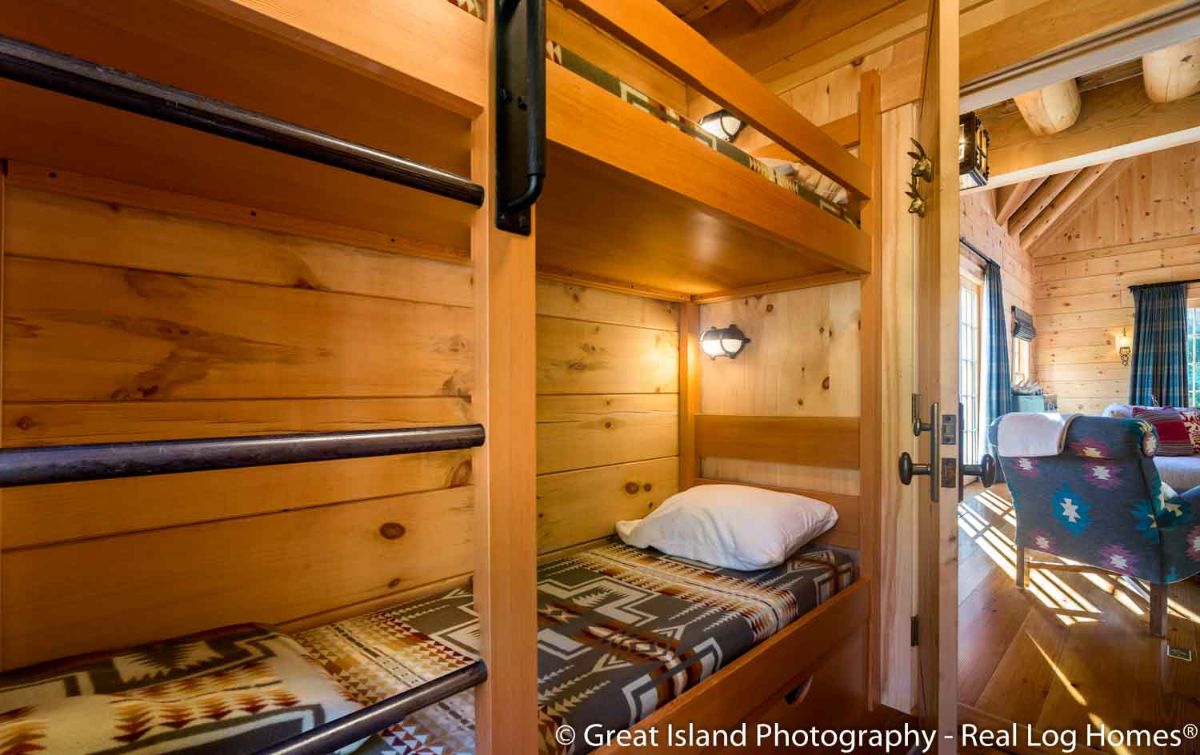 While the rest of the home is very rustic, the bathroom is a nice combination of rustic wood with modern tile and open piping that gives it a bit of a steampunk look.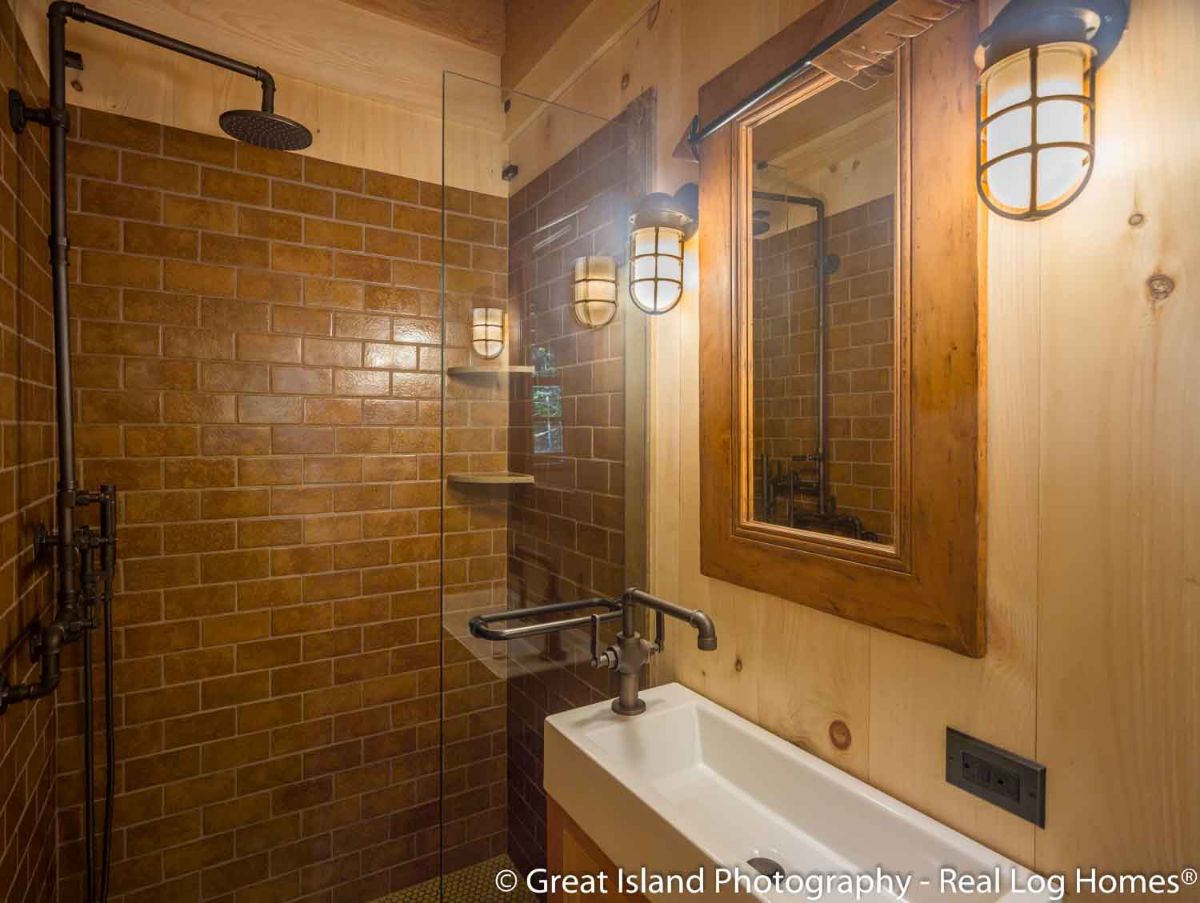 For more information about this gorgeous log home build, check out the Real Log Homes website. Make sure you let them know that Log Cabin Connection sent you their way.
More Log Cabin Kits and Tours