If you want to see what a normal, family-style log cabin really looks like, then look no further than this Powell, Montana build. A country-chic interior with a classic log cabin layout on the outside, it is a beautiful home to inspire your own build.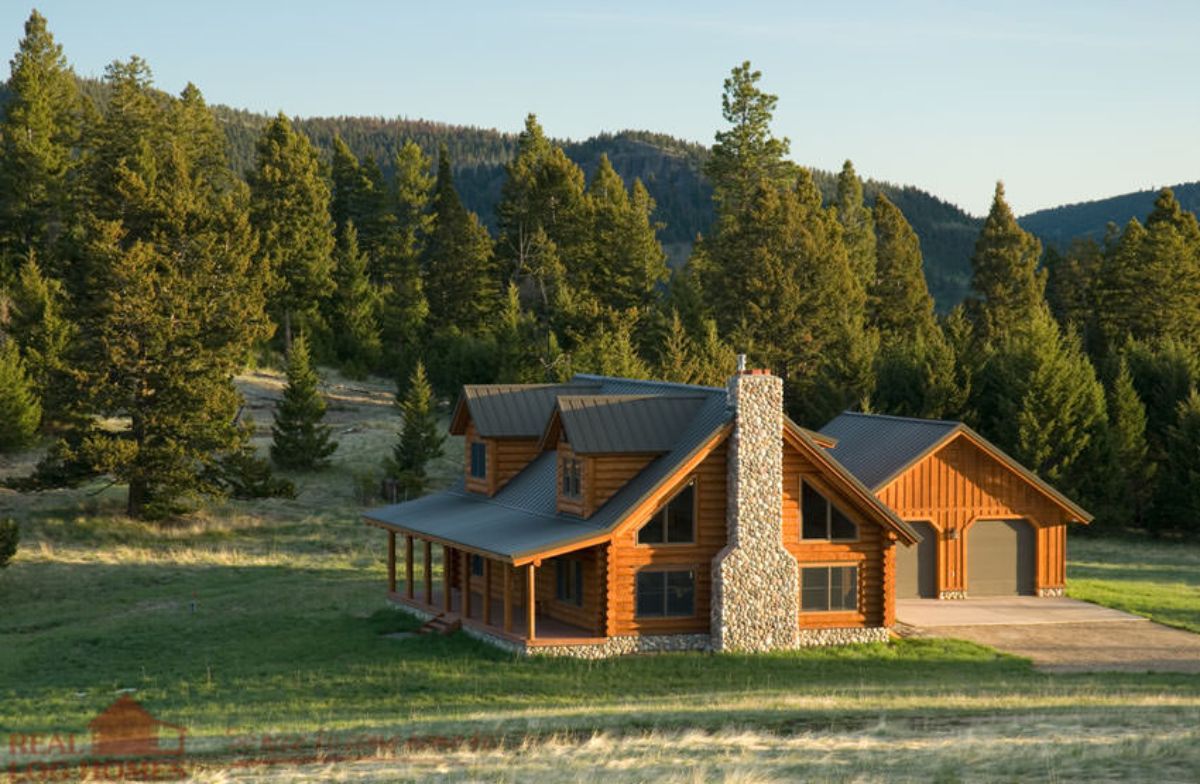 Log Cabin Size
2,300 square feet
3 bedrooms
3 bathrooms
Attached 2 car garage
This home is based on the modified Covington log home plan. You can verify more information about options for this home via the link here.
Located in Powell, Montana, the surrounding area is truly gorgeous and the ideal accent to the home plan itself. Rolling fields of green with mountains in the distance and beautiful log work on the exterior are just part of the beauty of this location.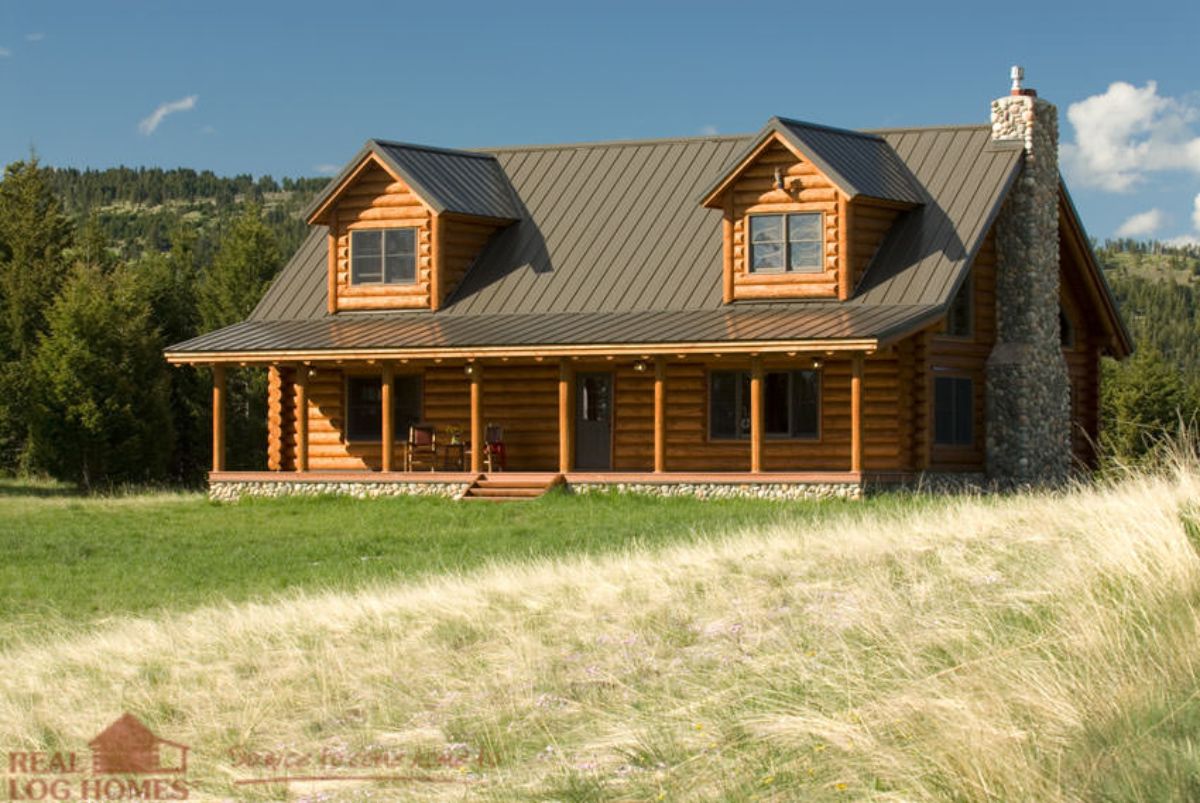 One key feature I really love about this home is the beautiful covered porch. There are plenty of open spaces here to hold your favorite rocking chairs or even a cozy porch swing!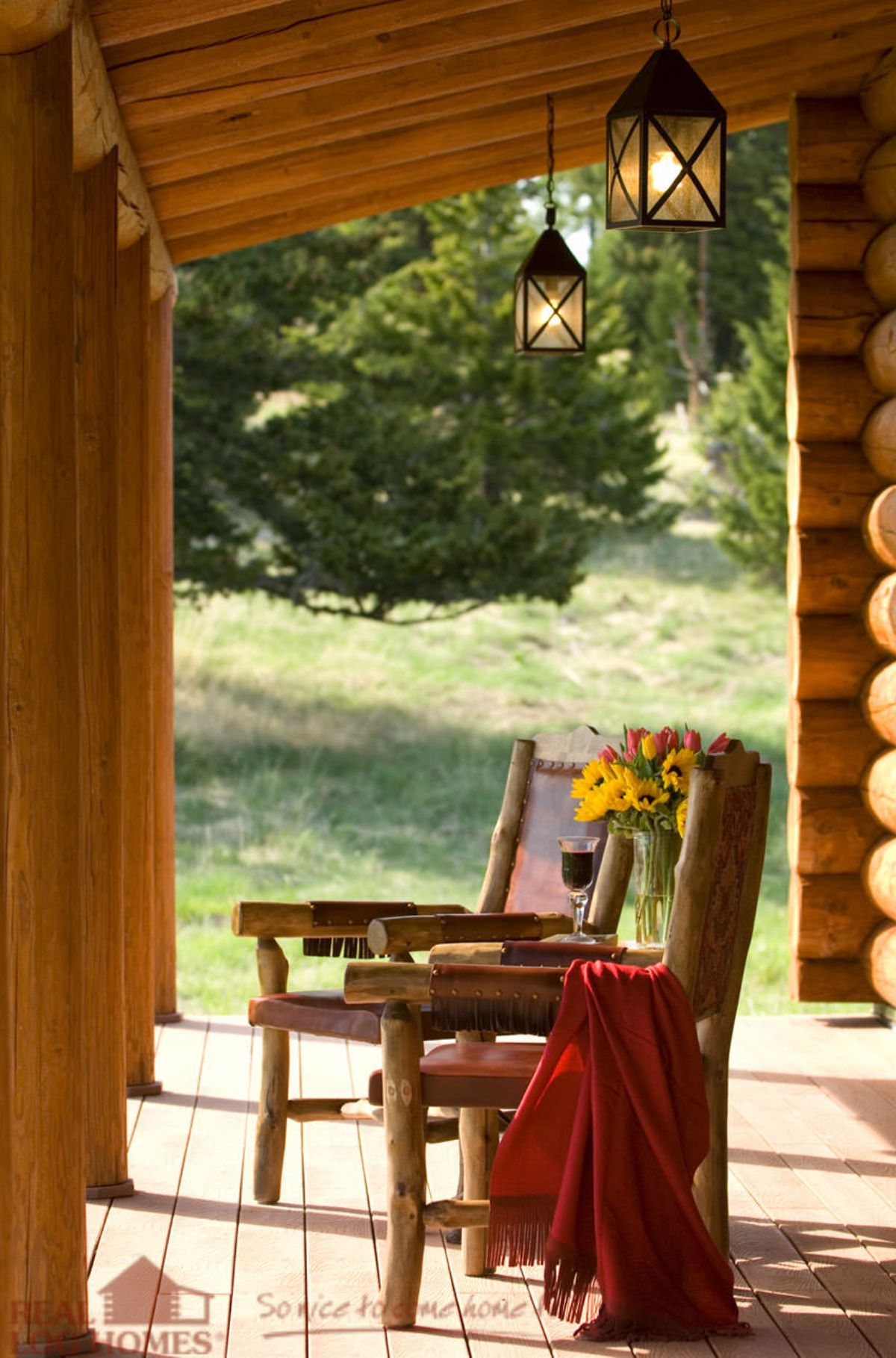 Inside the log cabin you find a large open floor plan on the main level with beautiful classic log walls and ceiling. The cathedral ceiling open sup on this side of the home to make everything seem larger, and allows for tons of natural light from the multiple windows around the room.
A stone fireplace with a log mantle is a perfect addition, and throughout this home and space, you will find lots of leather, styled prints, and rustic country chic accents to make it feel like a true ranch home.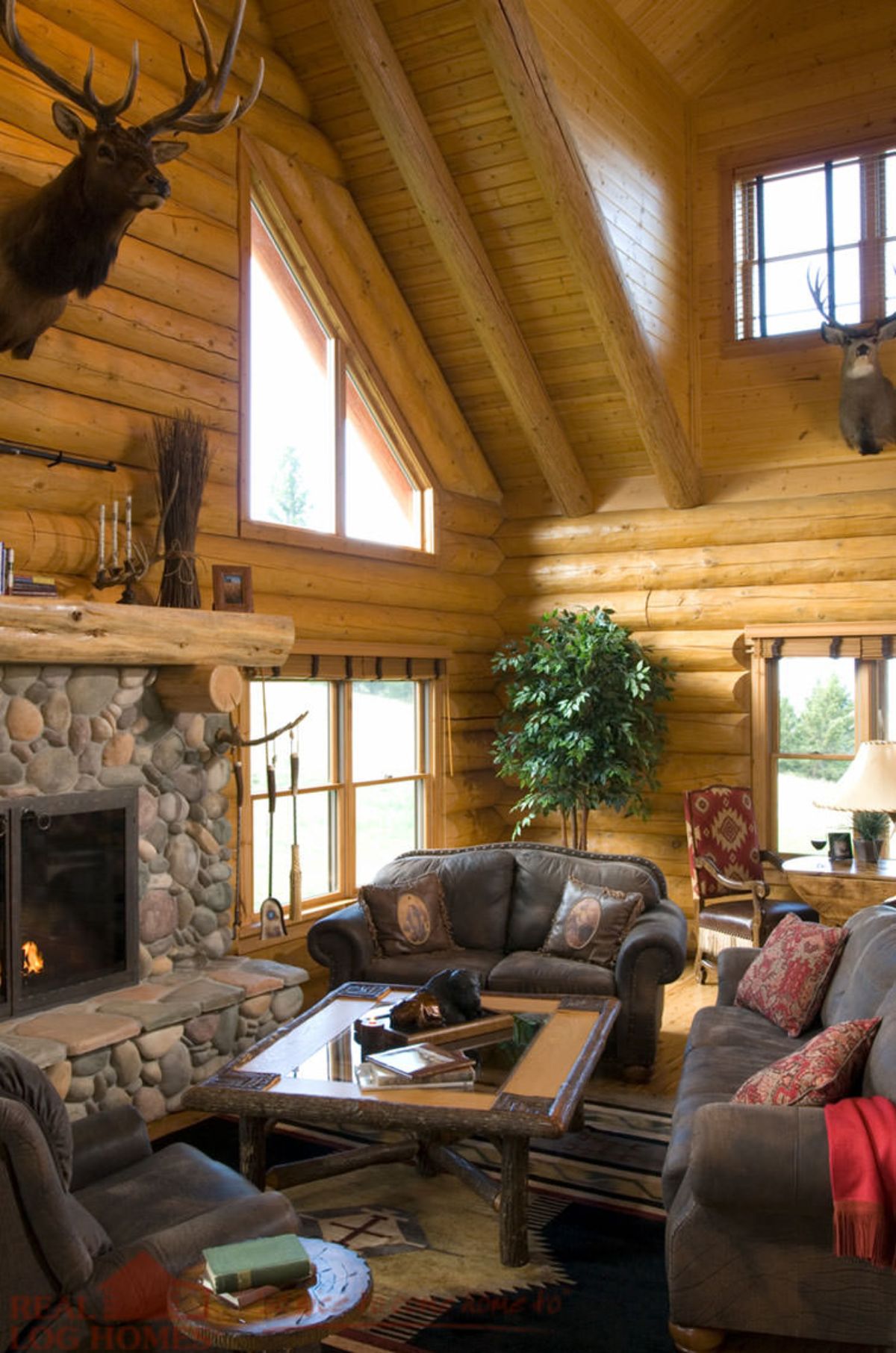 A corner kitchen is a family favorite with a large open bar on one side that doubles as extra counter space for the kitchen. Extra cabinets along the top and sides of the space bring you plenty of storage for cookware, dinnerware, and even pantry supplies.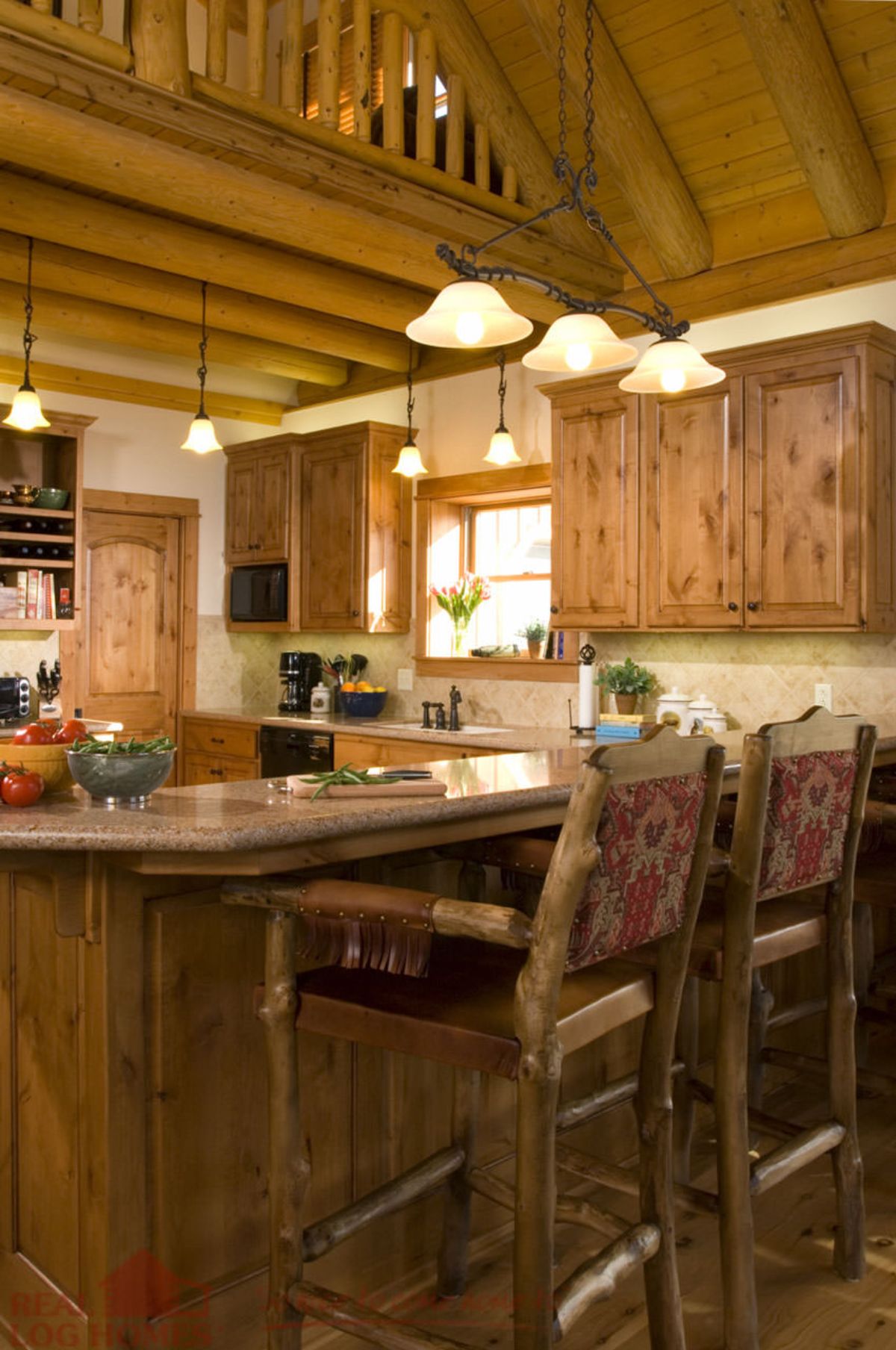 A more formal dining area is between the living room and stairs to the loft. This space is great for inviting guests over for a meal but also feels like it is a part of the overall home and space. Plus, you have to love that antler chandelier!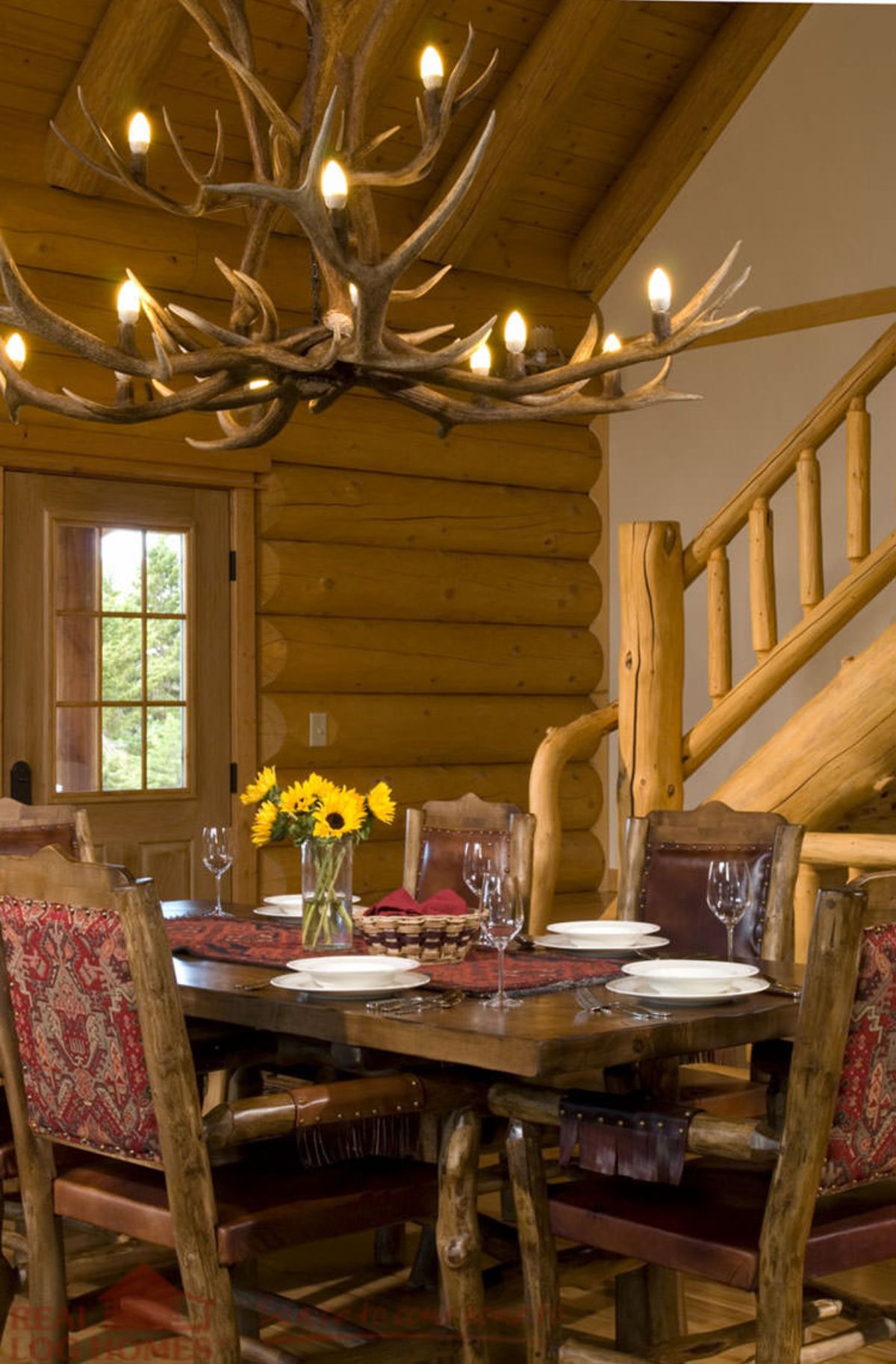 One of my favorite things about the real log homes is that many, if not most, of them, have this beautiful hewn log stairway and railing. It's a wonderful way to bring the outside indoors.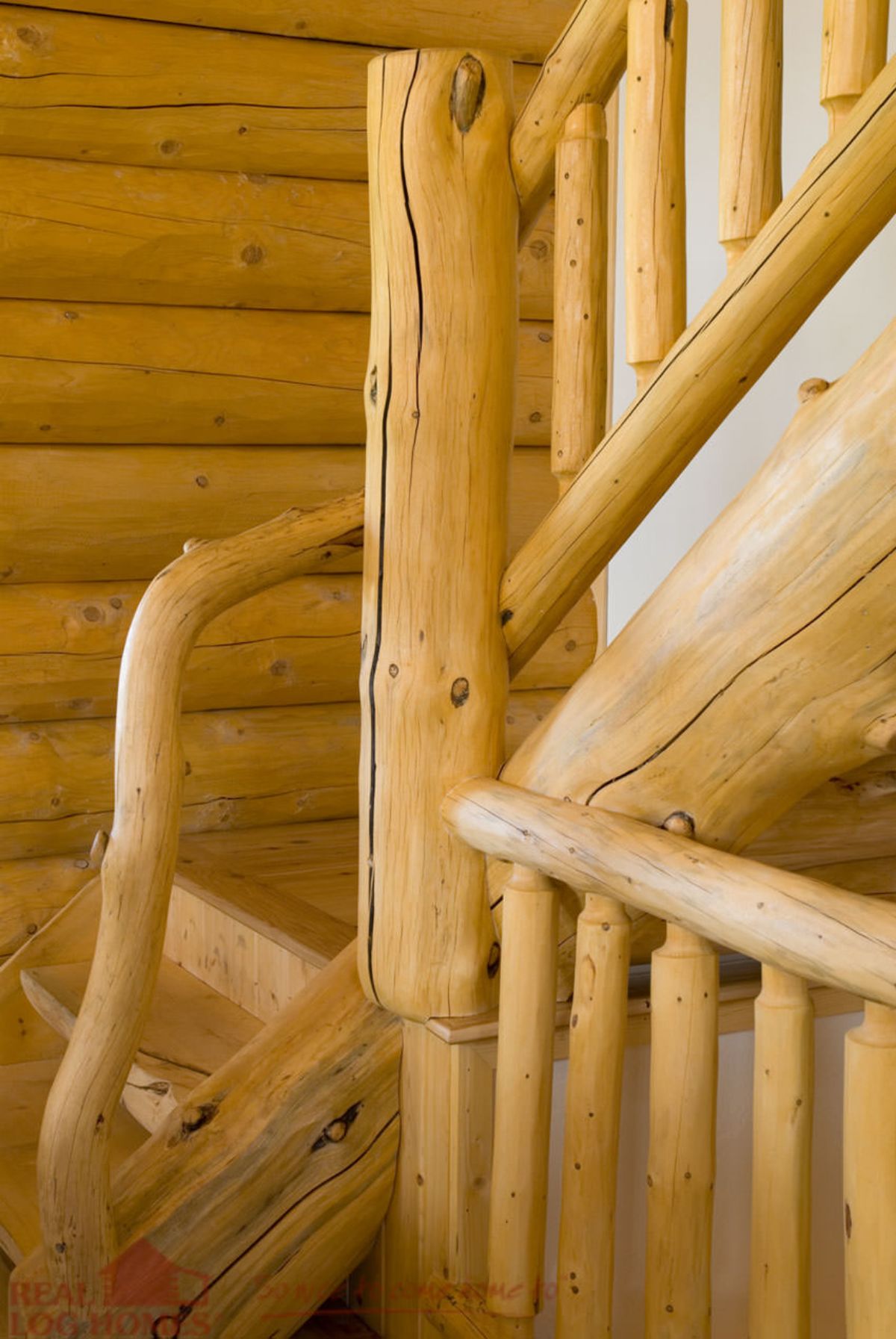 Upstairs, an open landing in the loft gives you a second living room area or reading nook. It's cozy, open to the rest of the home, and has that natural light from windows and skylights that you are going to love.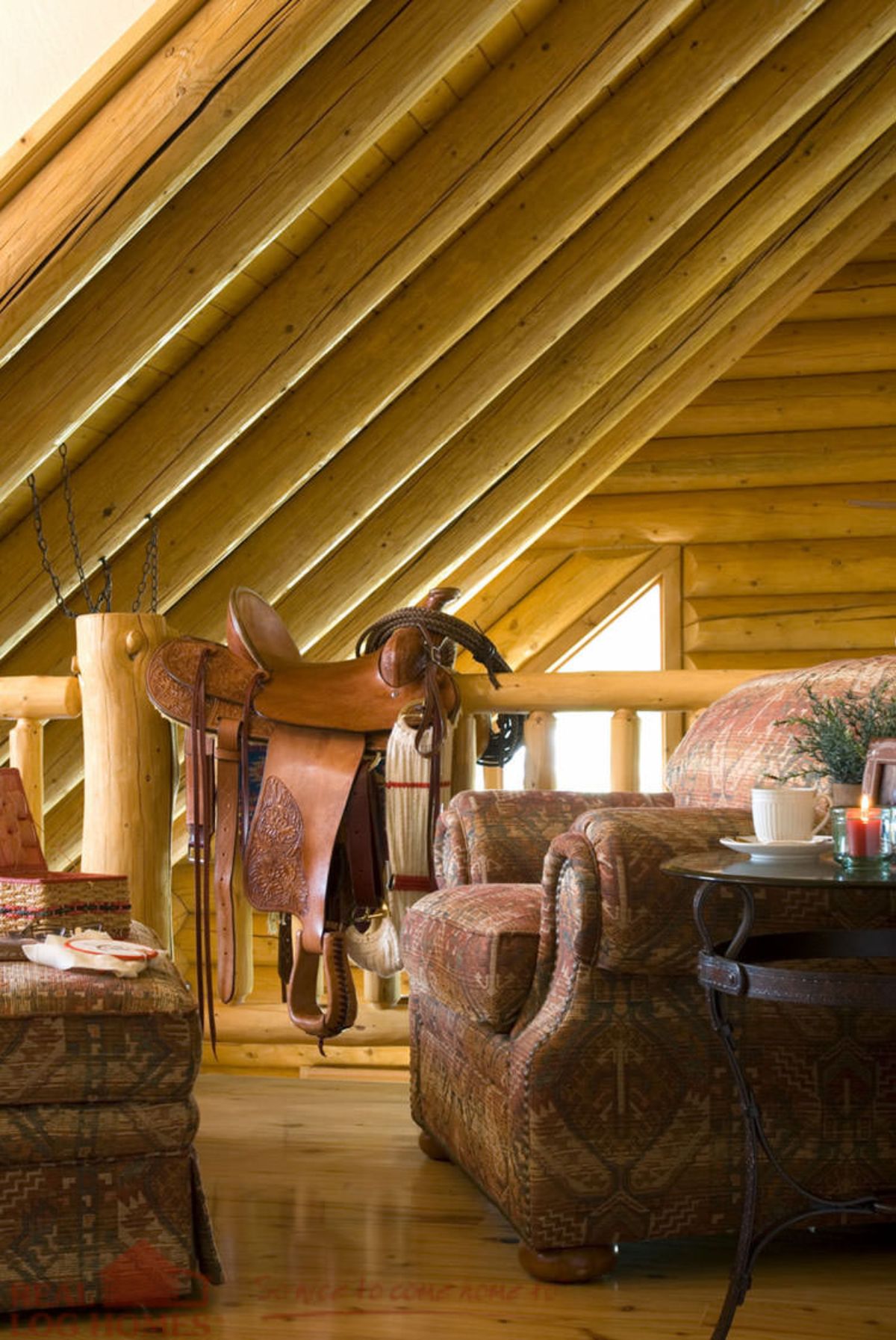 The upstairs bedroom is simple and comfortable. They have designed this space with the dormer windows being useful to hold a desk as shown, and the bed against another wall in front of a window. Plus, the ceiling fan in this space is a personal favorite of mine!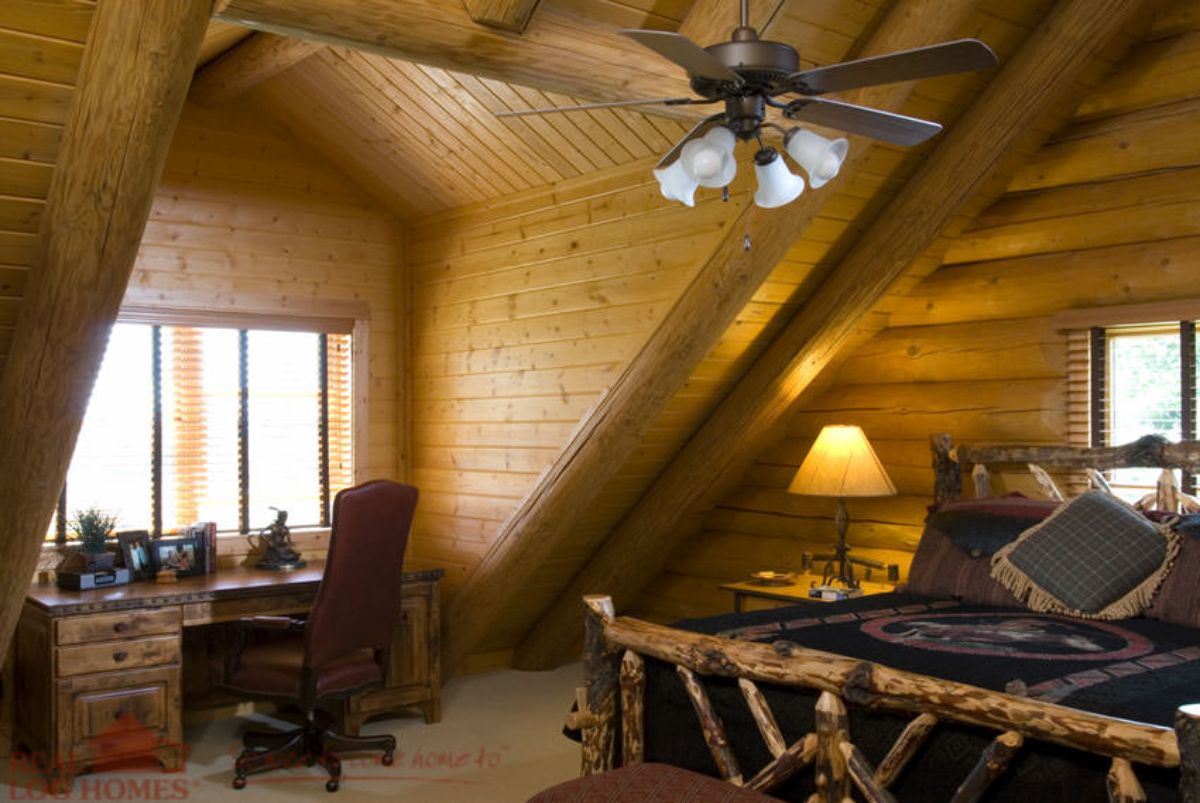 I adore the idea of having a little home office nook under a window like this! So cozy and ideal for focused work.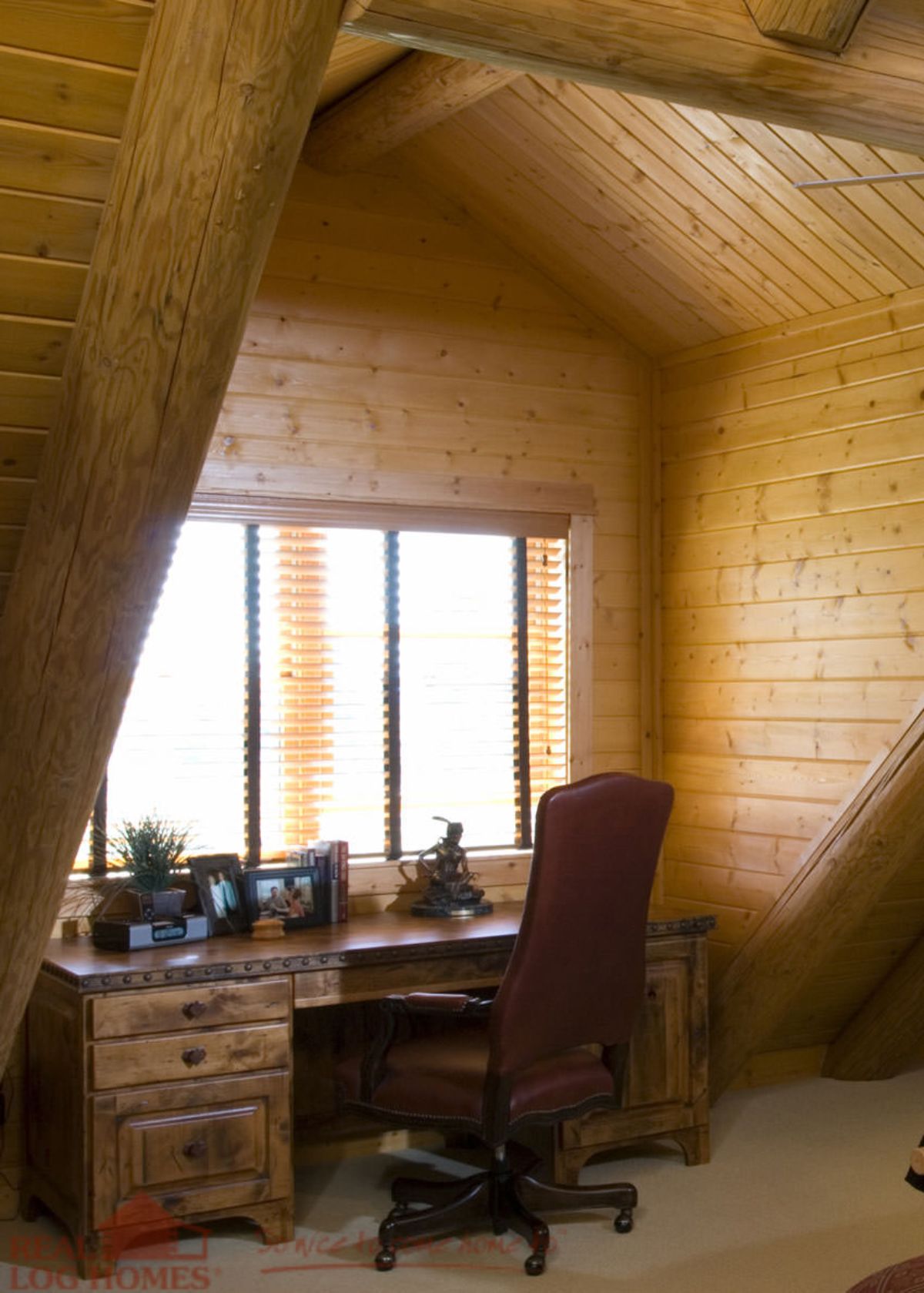 The bathrooms in the home are open and modern with everything you expect. I like the simplicity of the walls and cabinets which means you can customize the room to fit your own decor preferences.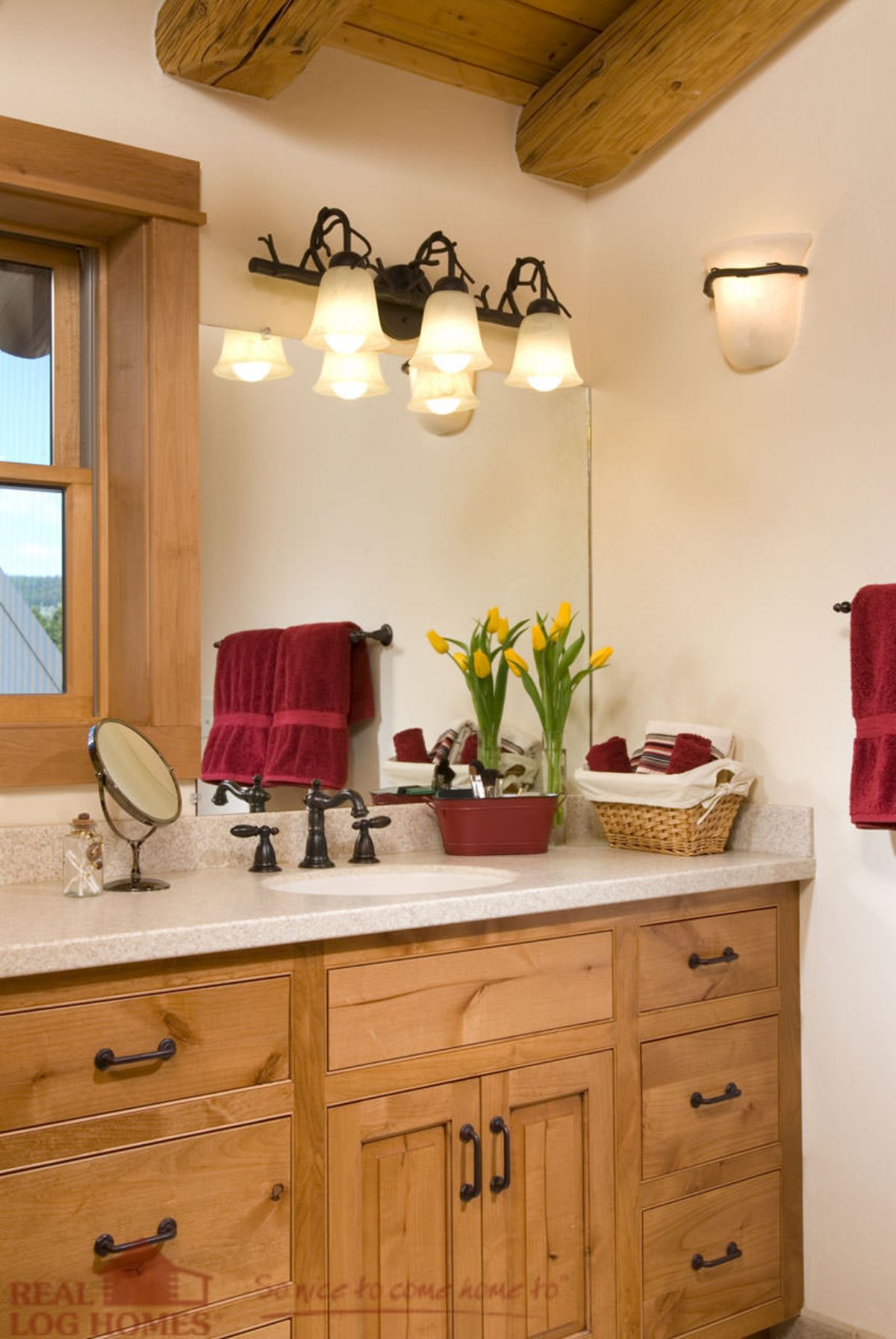 A last look at this cabin shows how beautiful it is when lit up after sunset. A truly beautiful and open home that is an ideal floor plan for your own dream home build.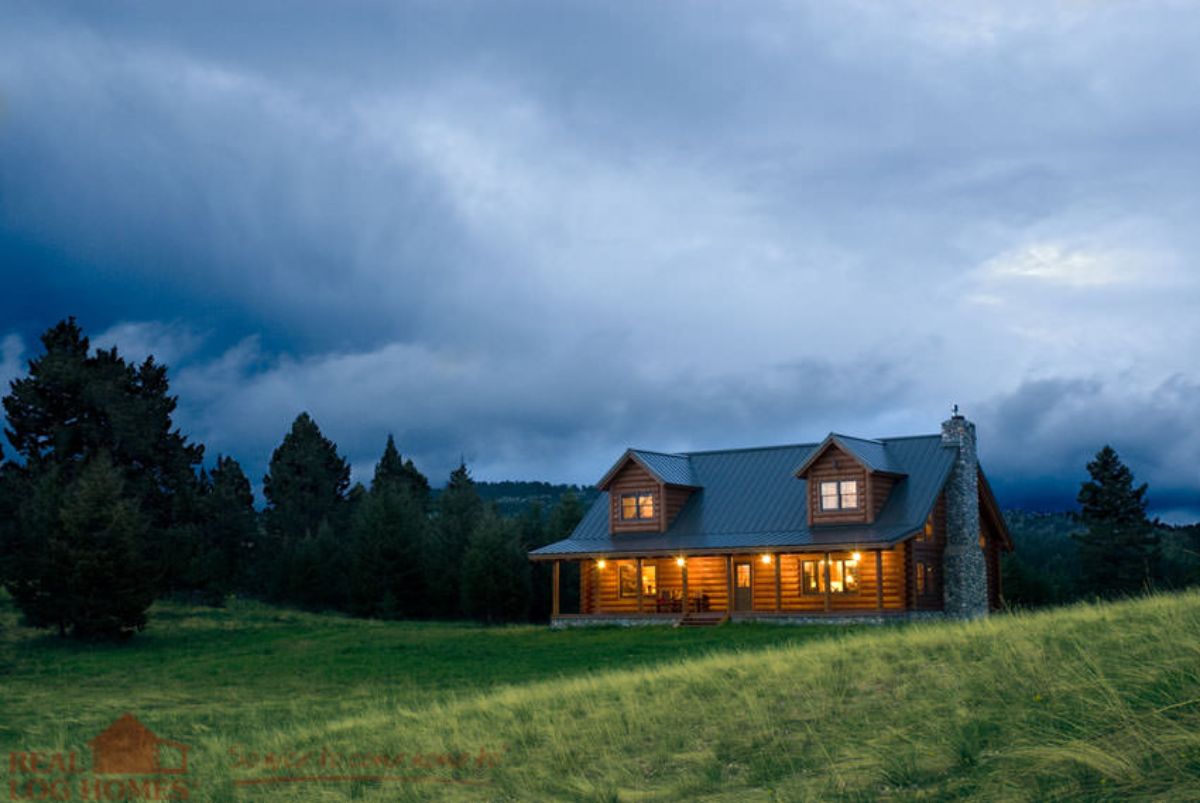 For more information about this particular build, check out the Real Log Homes website. Make sure that you let them know Log Cabin Connection sent you their way.
More Log Cabin Kits and Tours