If you are looking to experience a log cabin before you build, a retreat is a great choice. Located in the Upper Peninsula of Michigan, not far from Pictured Rocks National Lakeshore, this log cabin retreat is the ideal destination for you and your friends or family. A rustic cabin set into the mountains with tons of beauty on all sides, it's the perfect example of what a log cabin can be.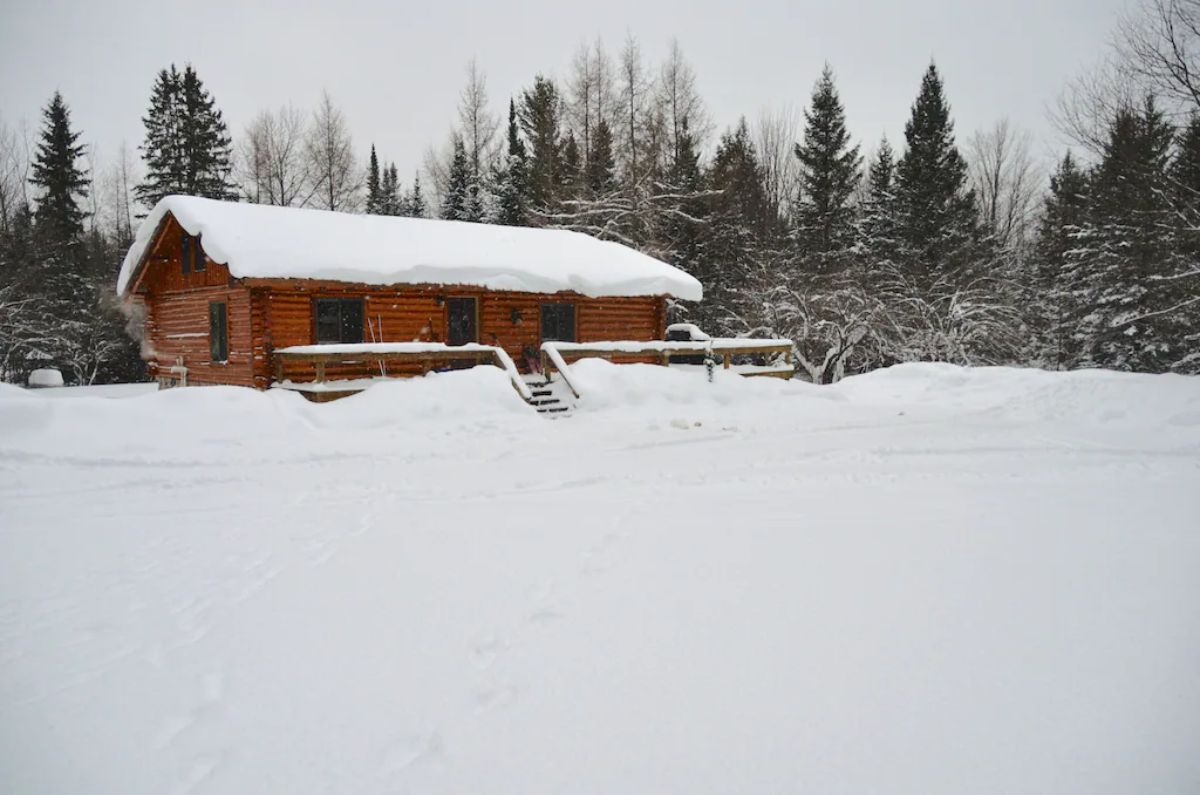 Log Cabin Size
2,200 square feet
5 bedrooms with 10 beds that can easily sleep 16
2 bathrooms, one with a shower and one with both shower and bathtub
Log Cabin Rental Cost
Starting at $356 per night with weekly and monthly rental discount options
Log Cabin Features
Located neaer Munising, MI in the Pictured Rocks National Lakeshore area with quick access to everything in the region including snowmobiling, cross-country skiing, snowshoeing, ice climbing, and ice fishing in the winter months. Summertime includes options for hiking, mountain biking, swimming, boating, and canoeing.
Surrounded by 20 acres of private wooded property.
The home includes one basement bedroom, one loft open bedroom space, and three bedrooms on the main floor along with two bathrooms for convenience.
A full kitchen including full-sized appliances and storage with a dining area that can seat up to 12. Additionally, a full bar just inside the door with stools for more seating.
All bedding, bath towels, and toiletries are included for guests convenience.
Just a 1/4 mile short walk to the local Inn and bar for excellent drinks and meals.
The open spaces outdoors allow you to park your trucks and tailers, as well as plenty of room for your snowmobiles or even boats during the summer months.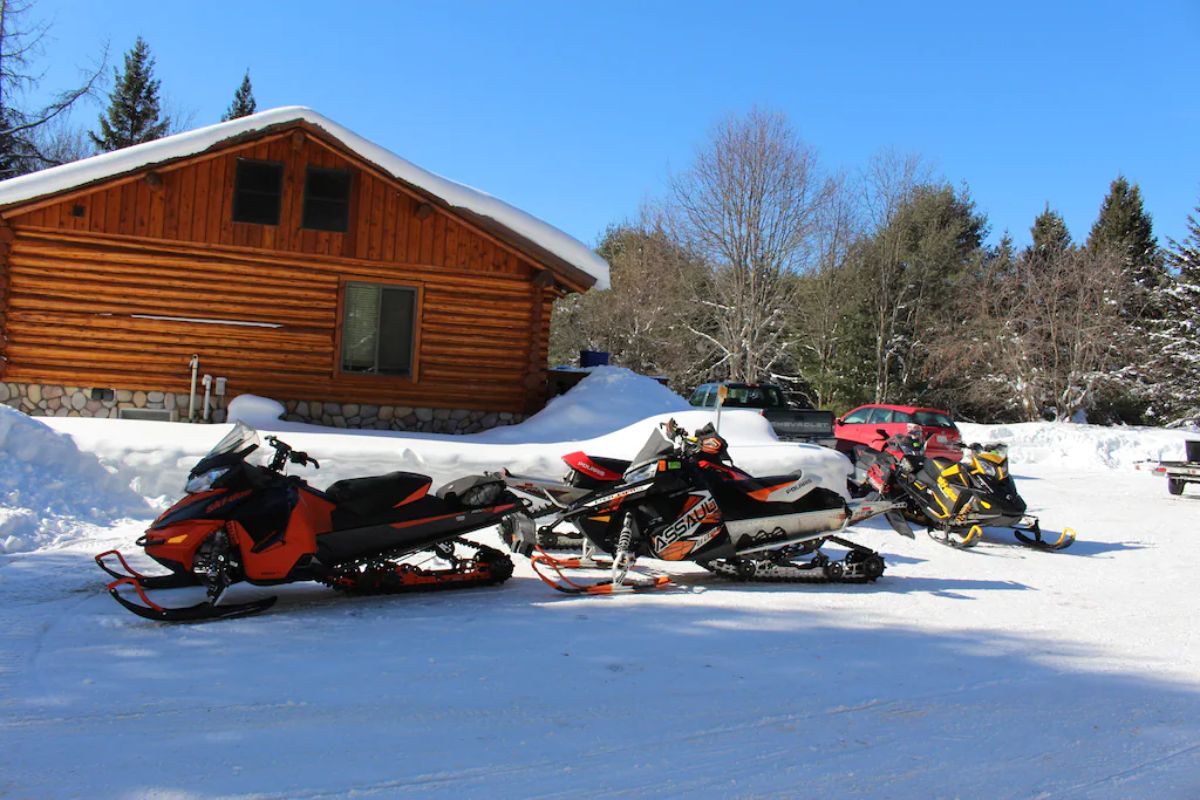 Inside this cabin, you are greeted by a modern spin on rustic style. The walls, ceiling, and floors are all the beautiful wood you expect from a log cabin. With an interior setup that is ideal for spending a relaxing weekend with your family, you instantly feel right at home.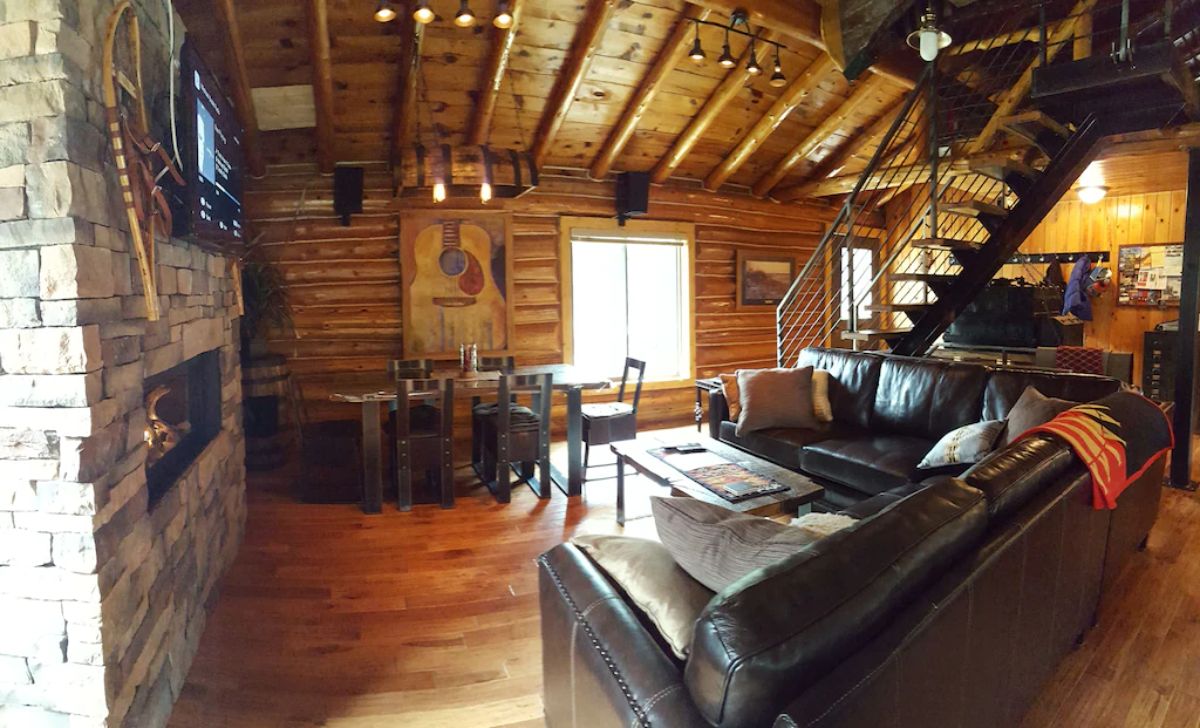 The main floor opens up into a living space with a living room and sofas on one side, a dining room near it, a separate bar space, and a kitchen. Behind this, you will walk down the hall to the main floor bedrooms and bathroom. A staircase goes right up to the loft with the extra sleeping area. The entire home is open and welcoming, perfect for a family getaway to enjoy the outdoors of Michigan's beautiful Upper Peninsula.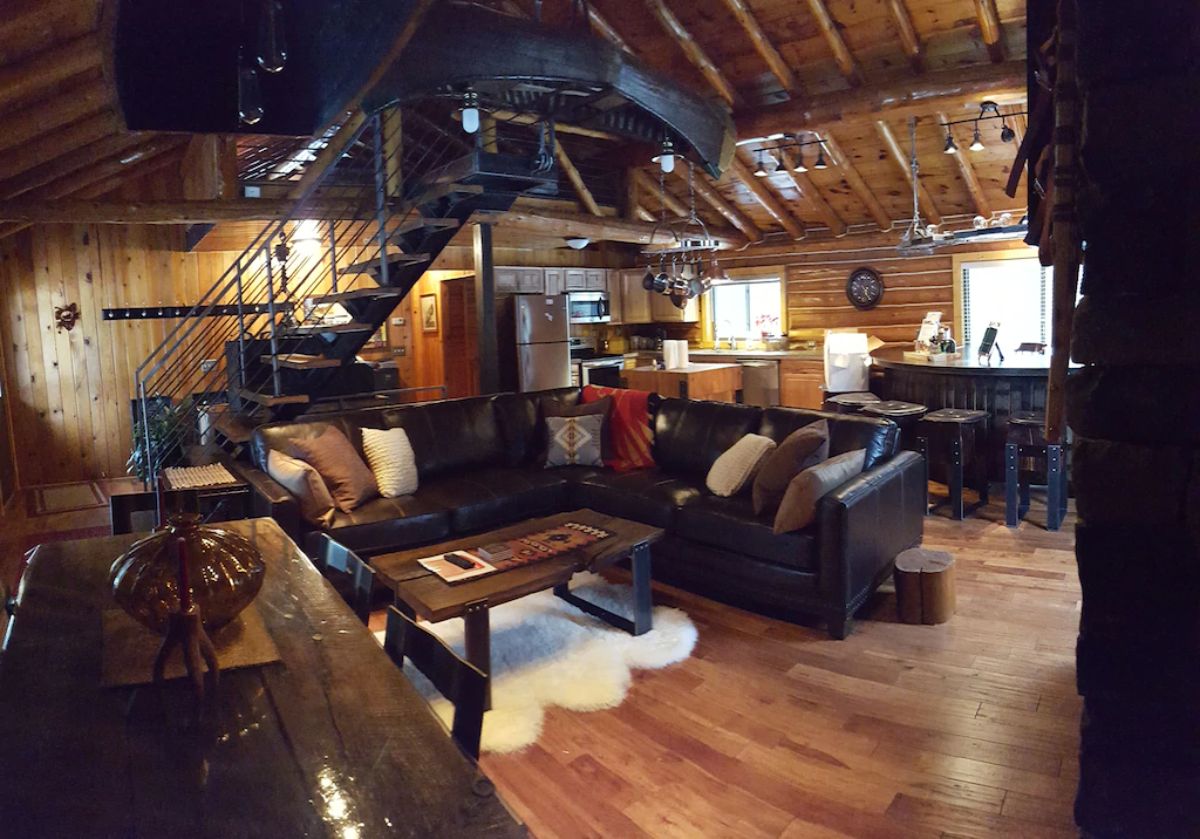 This sectional sofa is a perfect place to lounge. It's large enough for several to sit comfortably, and the barstools and dining table on both sides just add even more space for seating.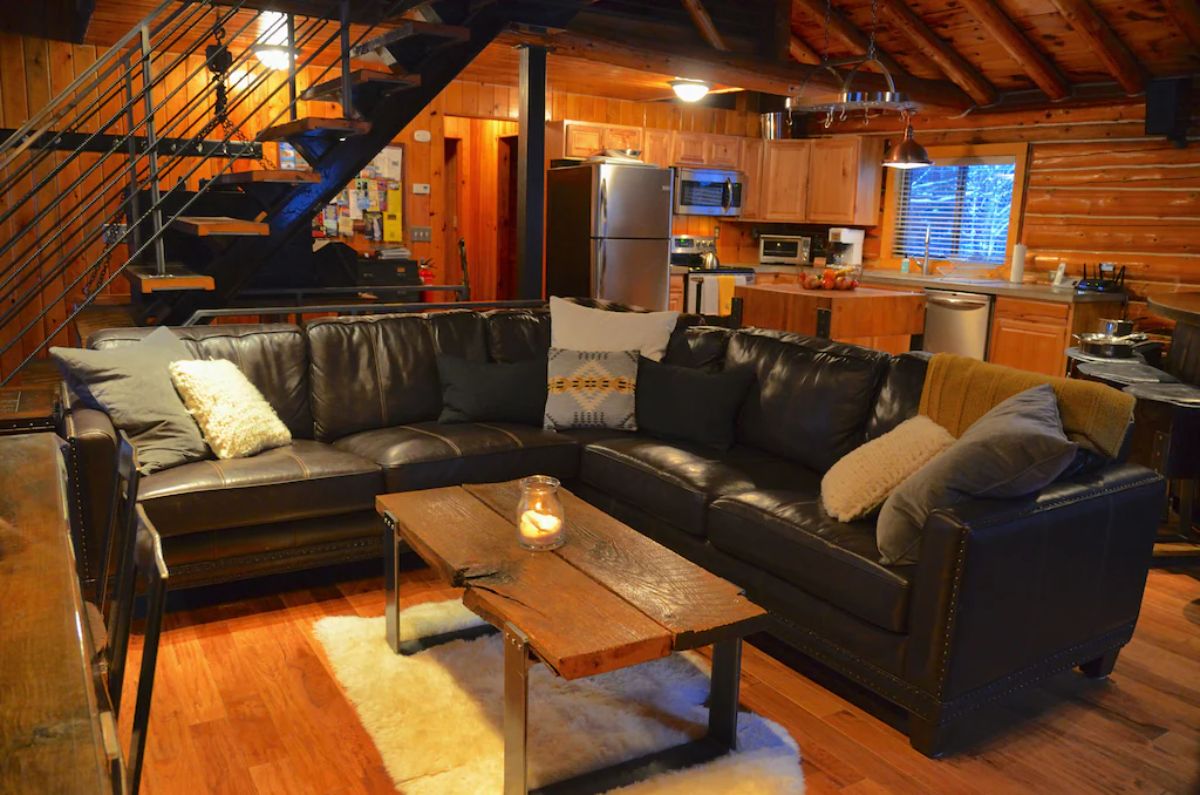 I love that there is a fireplace here, but that they have also mounted television in this space. The home is located perfectly for all of your outdoor activities, but you may also find that some days you need a bit of downtime. If that is the case, the home is perfect for relaxing indoors with a movie in front of the fireplace!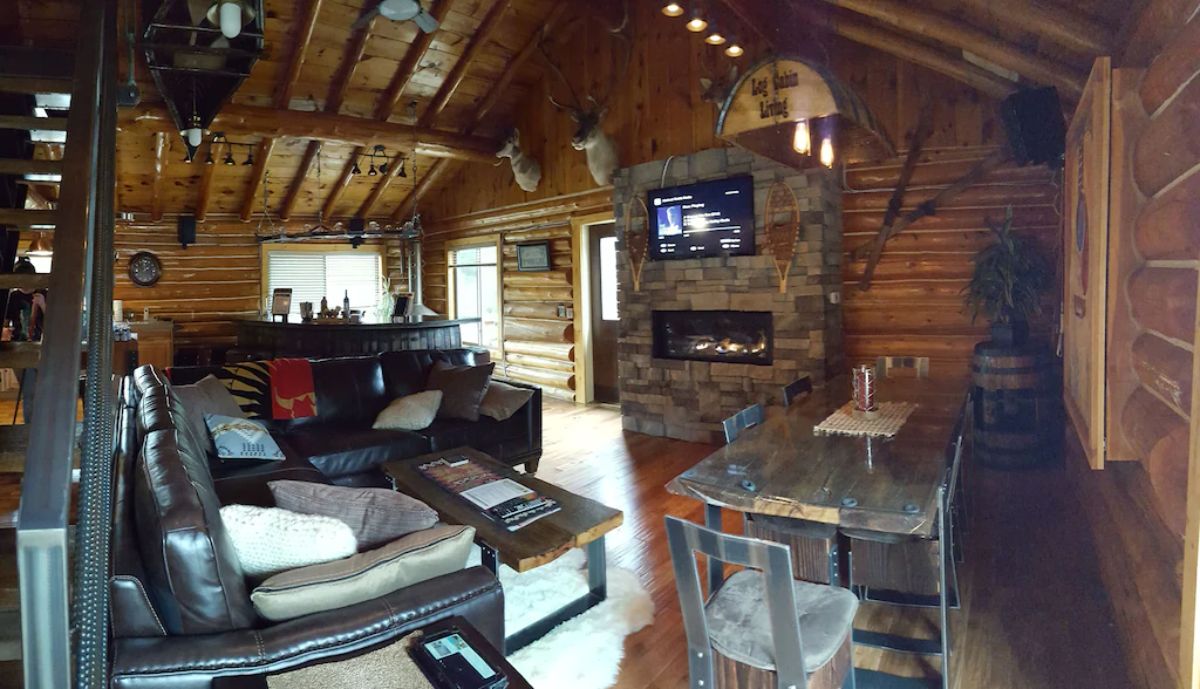 Plus, I love that this is a fireplace, but no chopping or hauling wood is ncessary!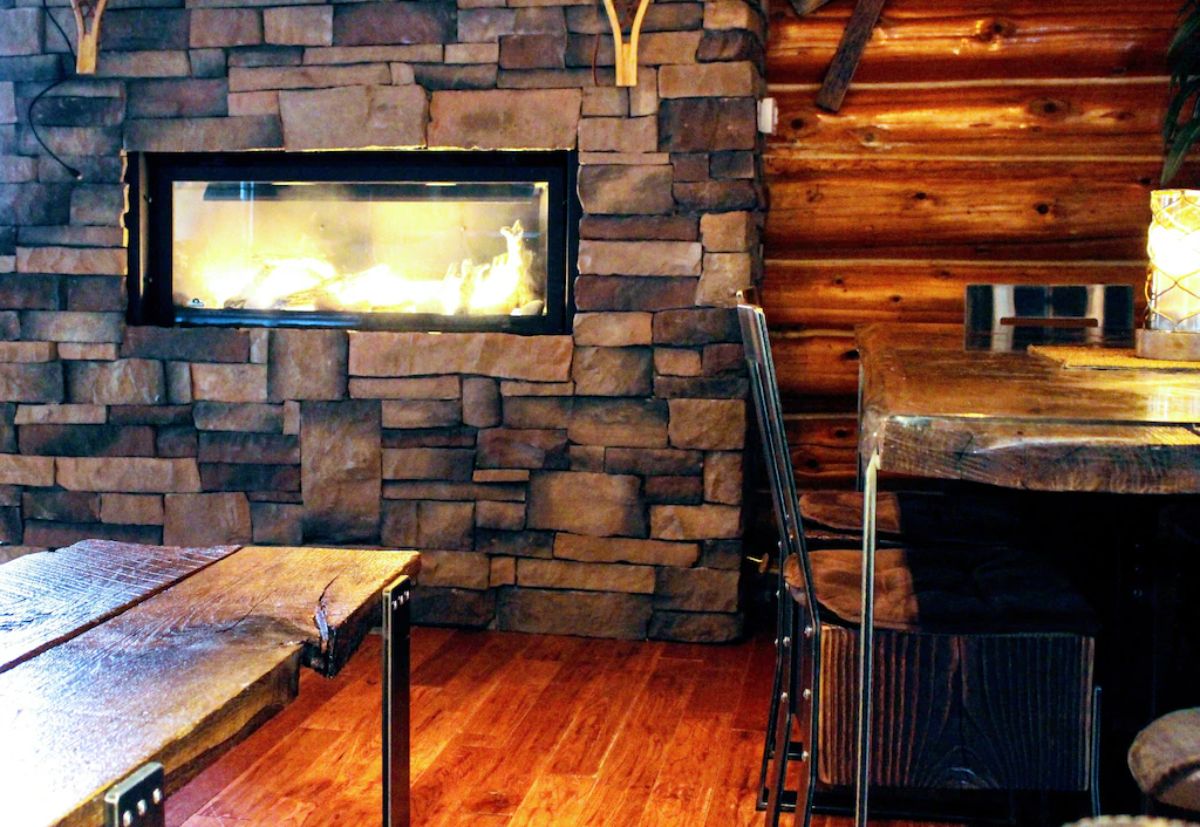 Here is another nice view from the loft into the living space. It's a bit smaller than some homes, but I love that instead of an open great room, this home has multiple bedrooms making it better for a large group than just a small family.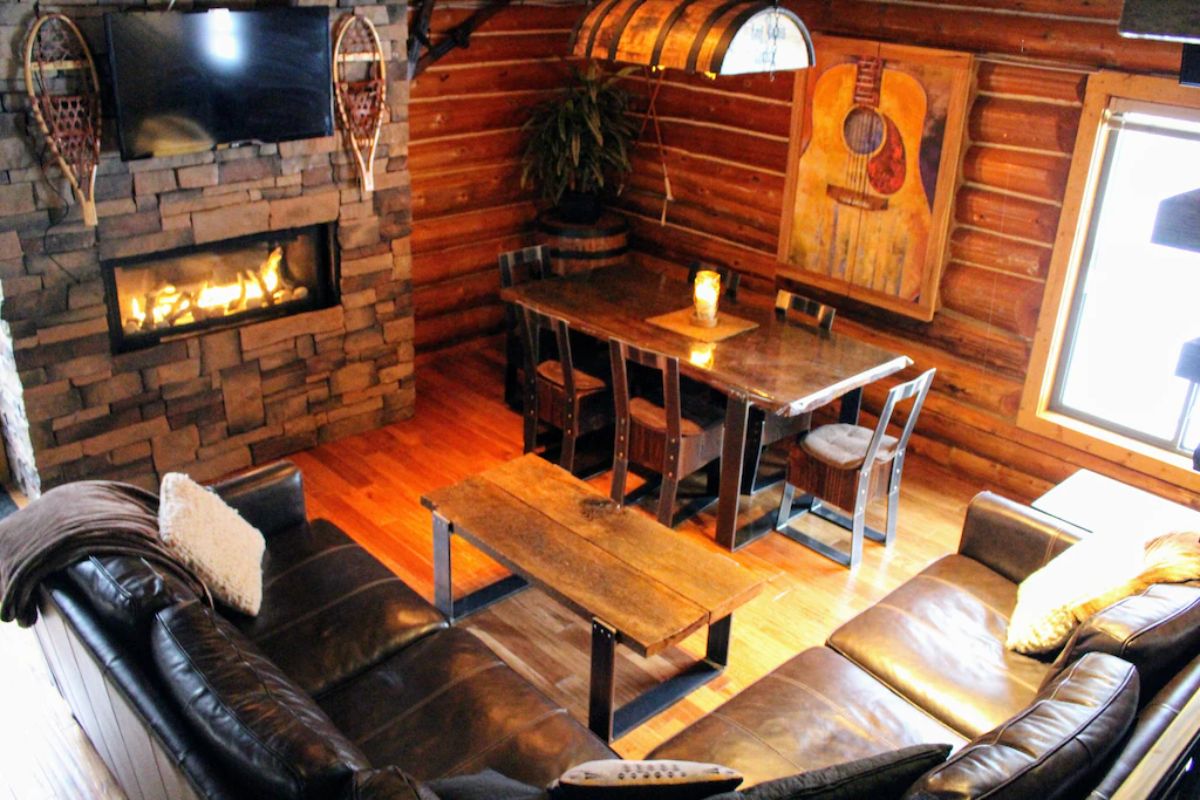 Below you get a nice picture of the overall space including the dining table on the right, living space in the middle, and bar on the left.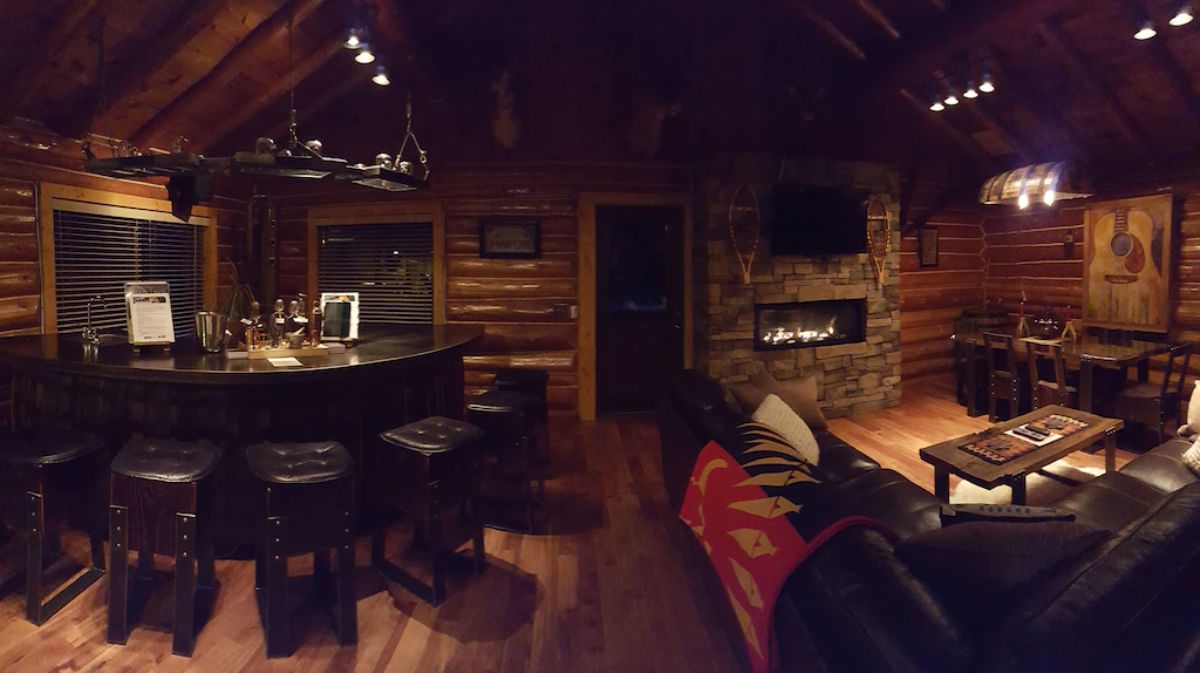 This bar is a unique addition to the cabin. It adds more seating and table space for dining if you need it. Plus, of course, the wet bar if you want to serve a few drinks for your friends and family.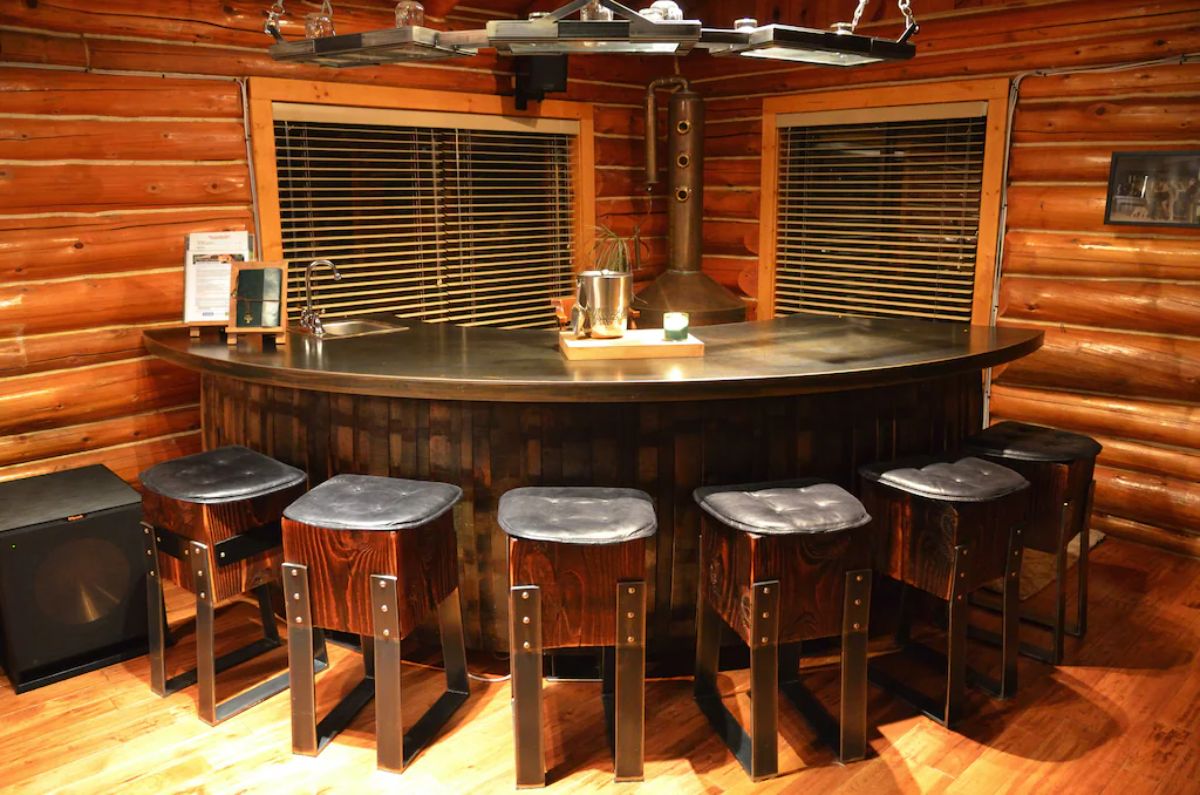 The kitchen is just a corner space in the home, but it has tons of room for preparing meals. It is set up with a stove, refrigerator, microwave, and small appliances like a coffee pot and toaster oven for your convenience. All kitchenware, dinnerware, and utensils are included.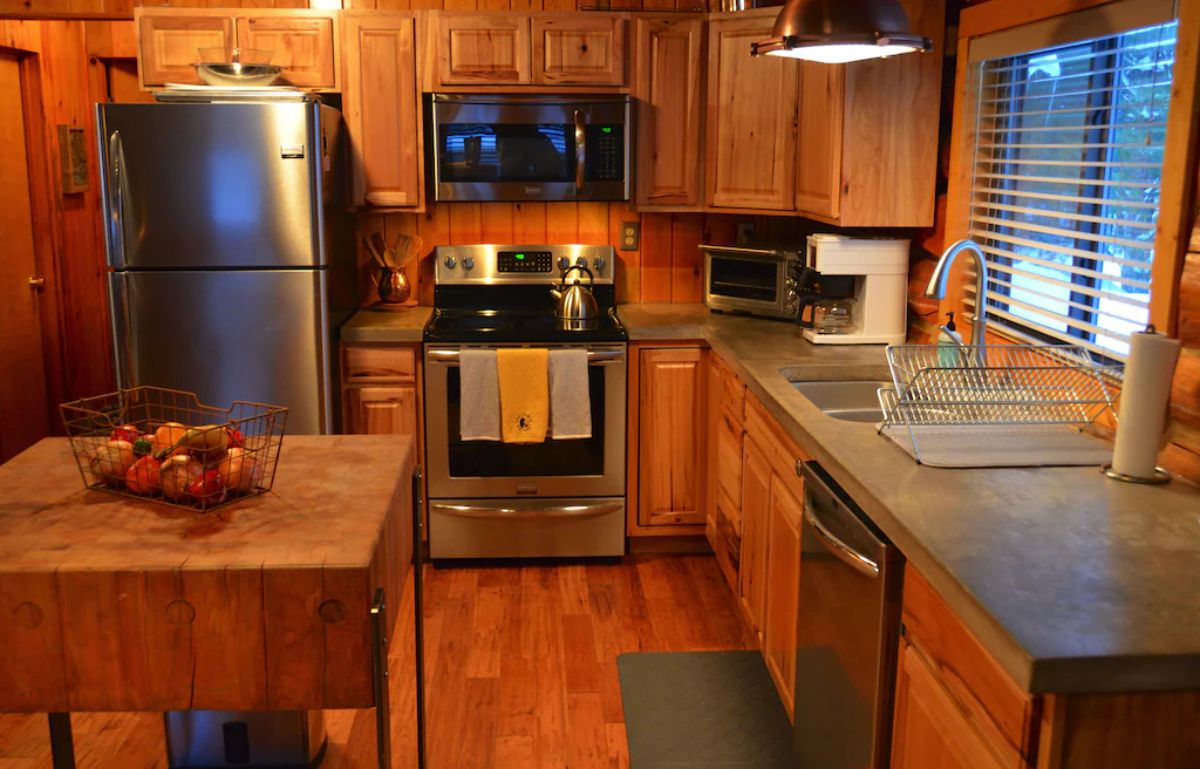 The main floor bathroom includes a combination bathtub and shower alongside a toilet and vanity with medicine cabinets for extra storage.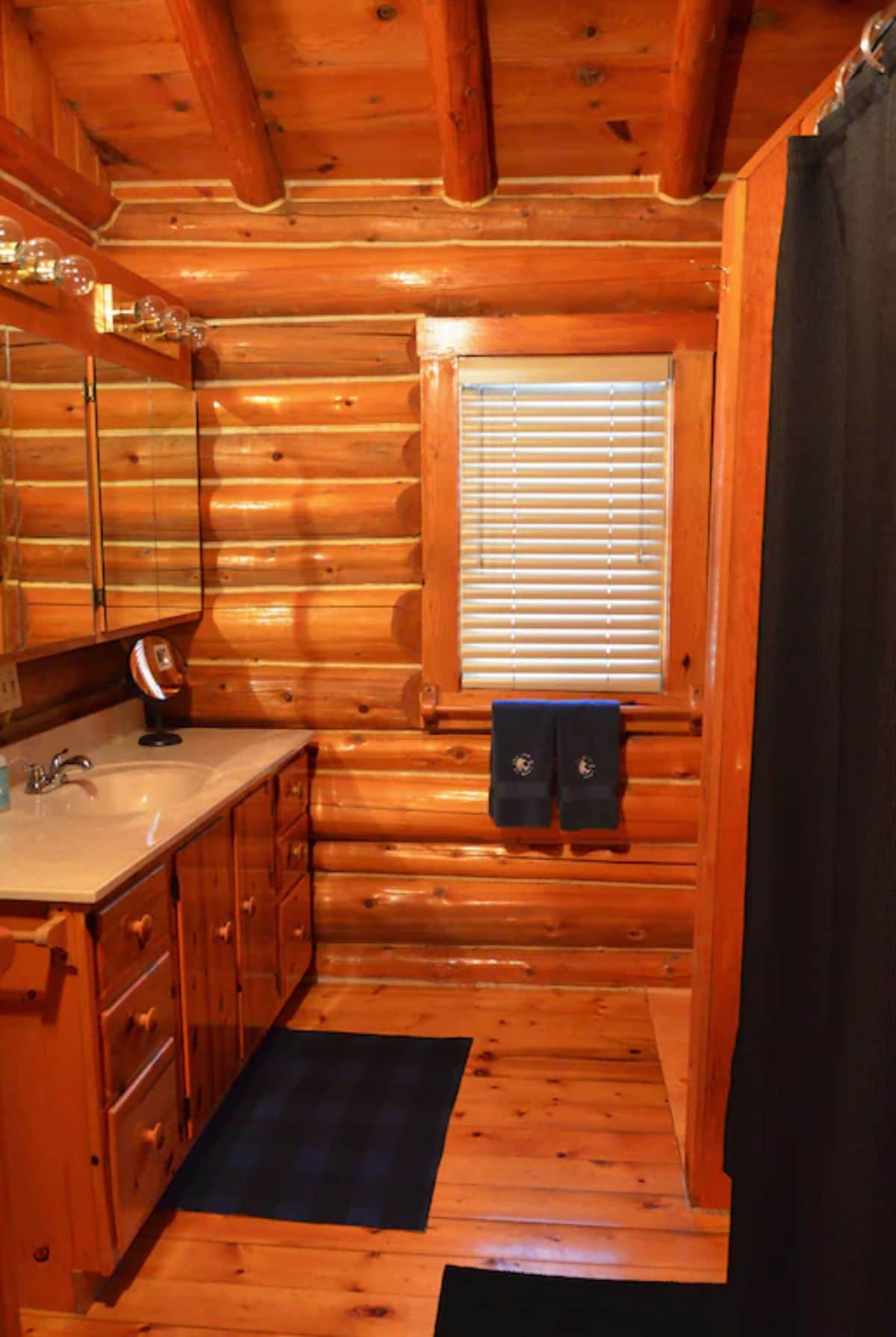 The home includes 3 bedrooms on the main floor, 1 loft space with twin beds, and the basement bedroom. There is a combination of queen-sized beds and twin beds in the home providing room for both adults and children.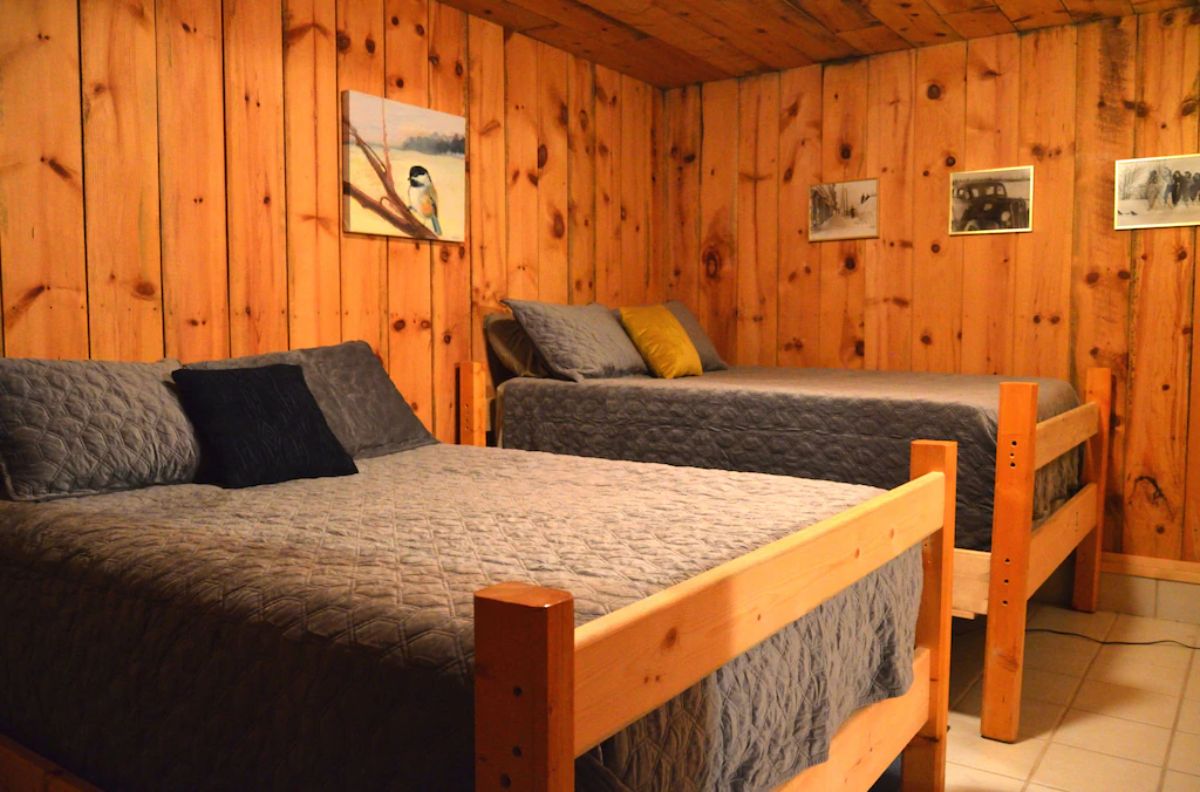 In this room, you'll find smaller beds, but I love how they added this cute little bear "rug" on the wall! So unique and fun!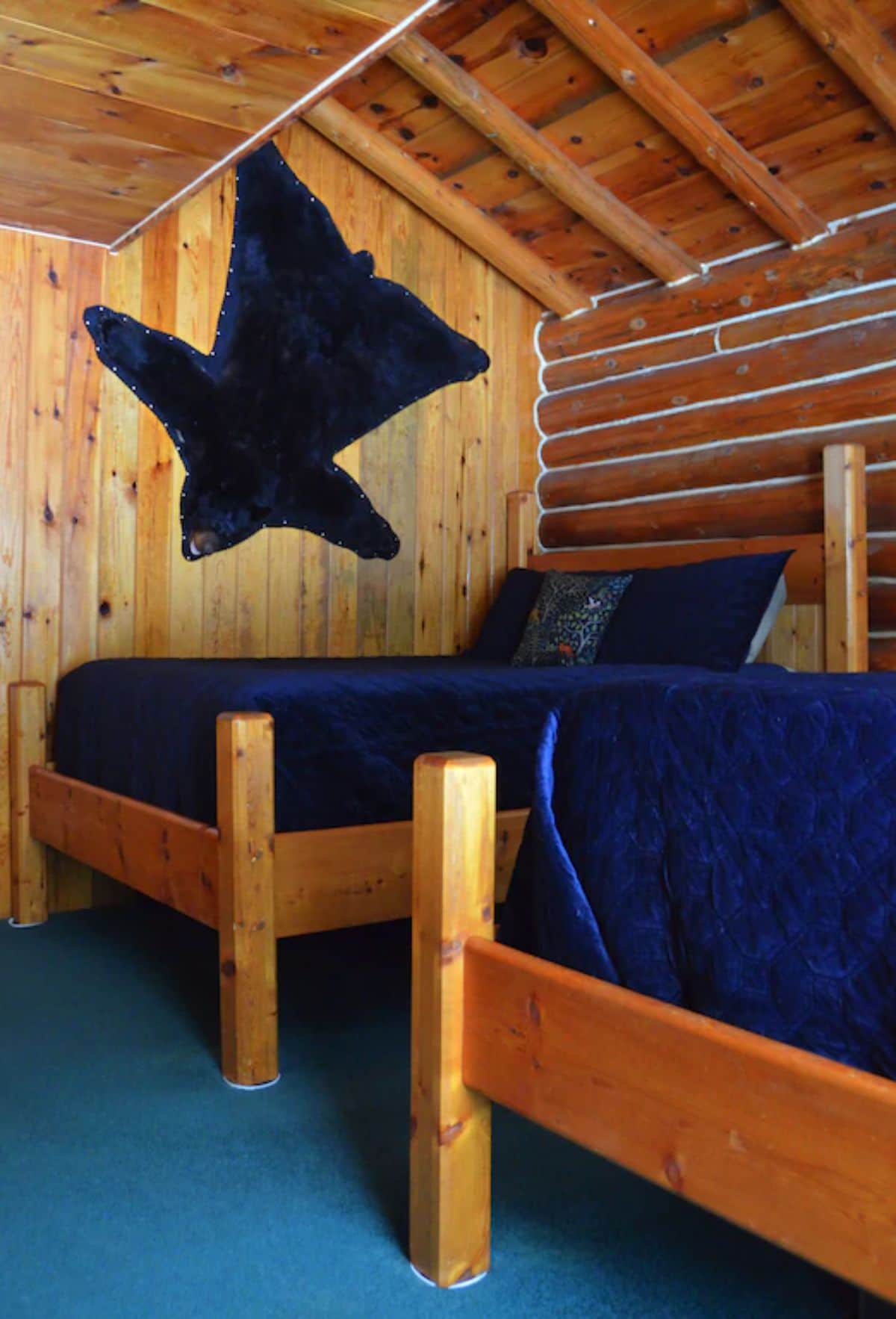 The loft isn't large, but it has enough room for four twin beds to fit under the eaves. This is a great space for the kids to sleep.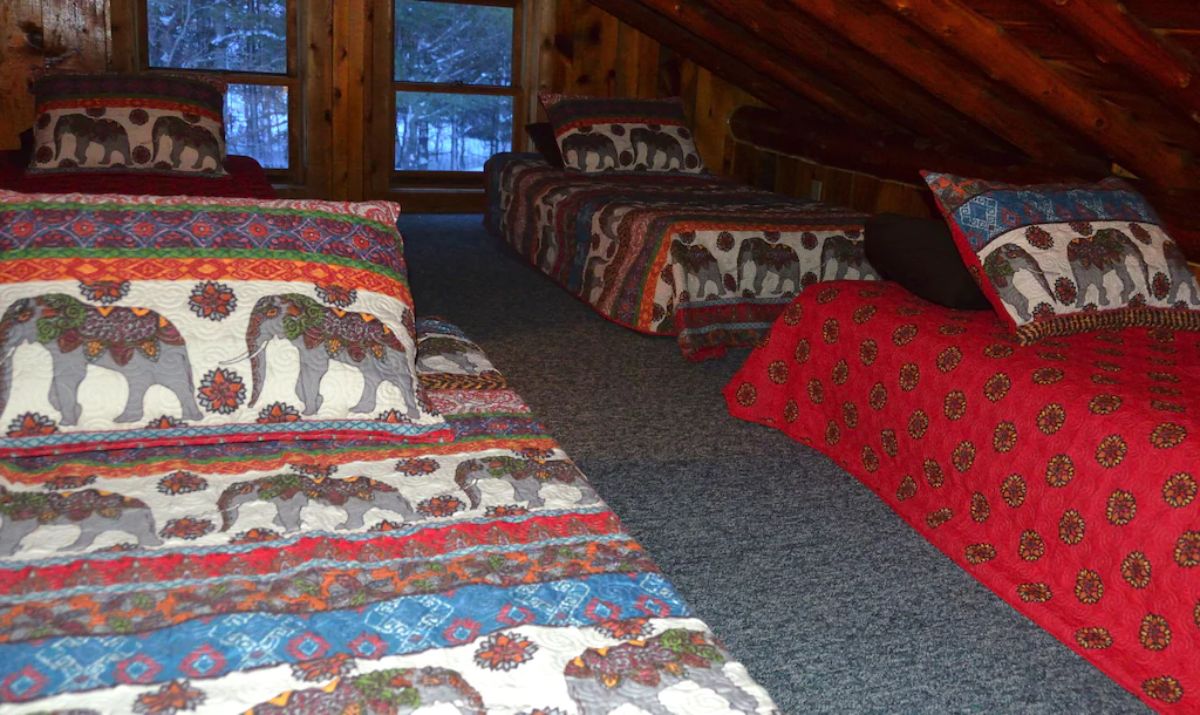 And the full basement has a bedroom but also a separate living space with sofas for a comfortable extra space. This could be good for kids to play games or watch a movie while the adults are upstairs.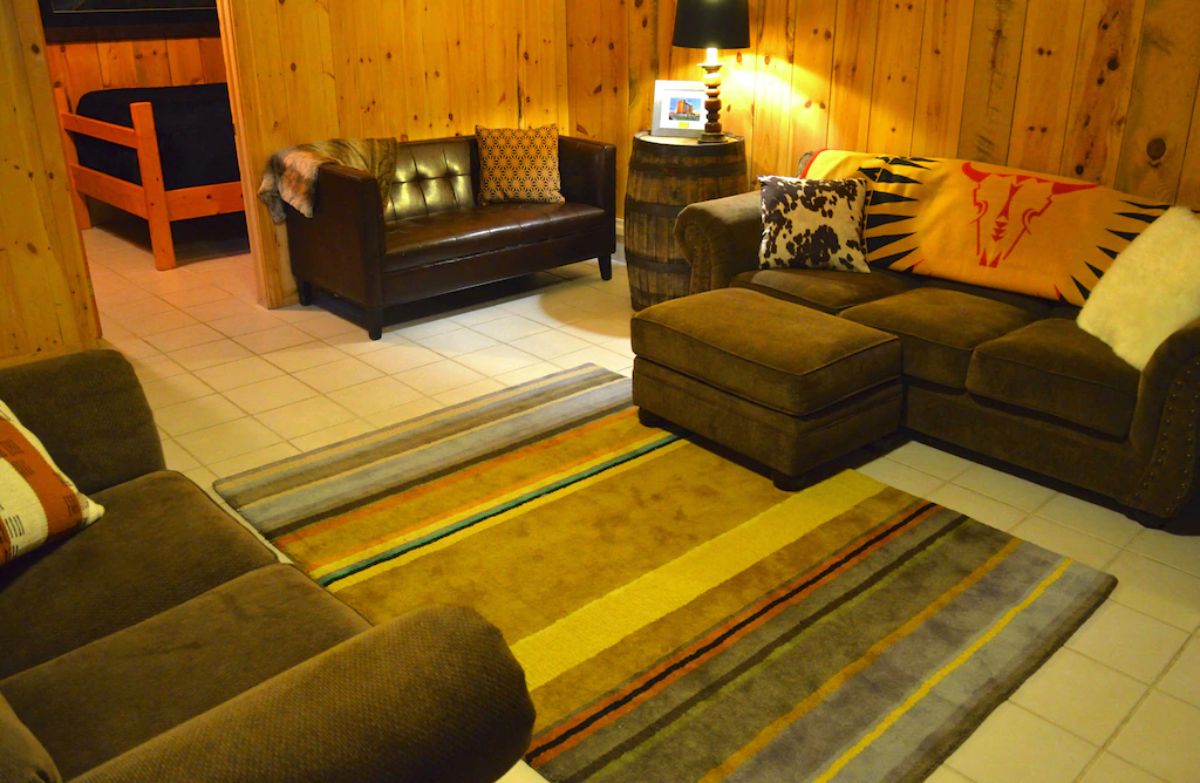 Every room in the home is simple, but nicely designed with comfortable bedding and a few additions like a rustic image or in this case, a fun picture showcasing the Northern Lights, which is something you might be able to see in the Upper Peninsula on occasion.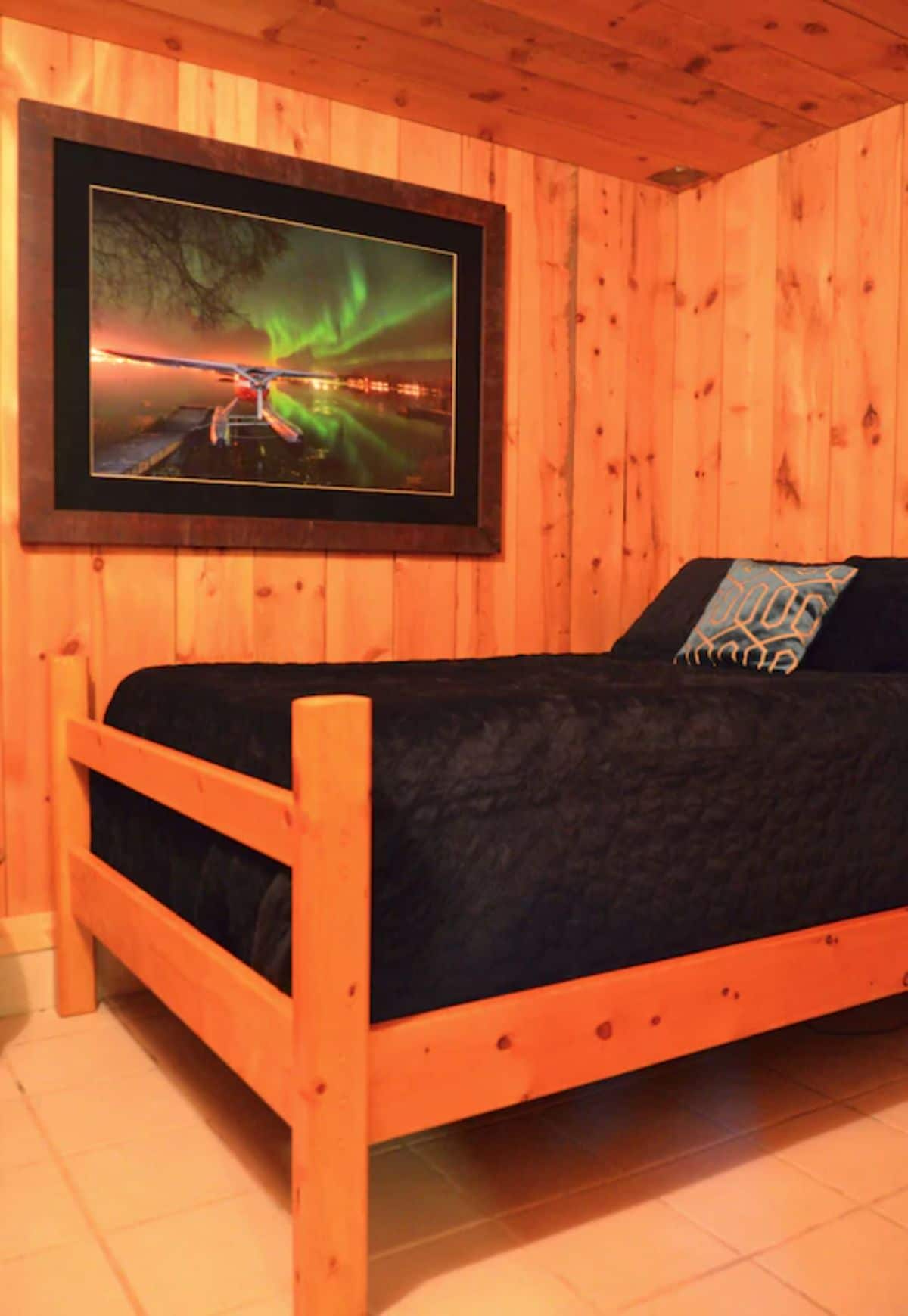 The downstairs basement is a nice addition but has just a simple shower.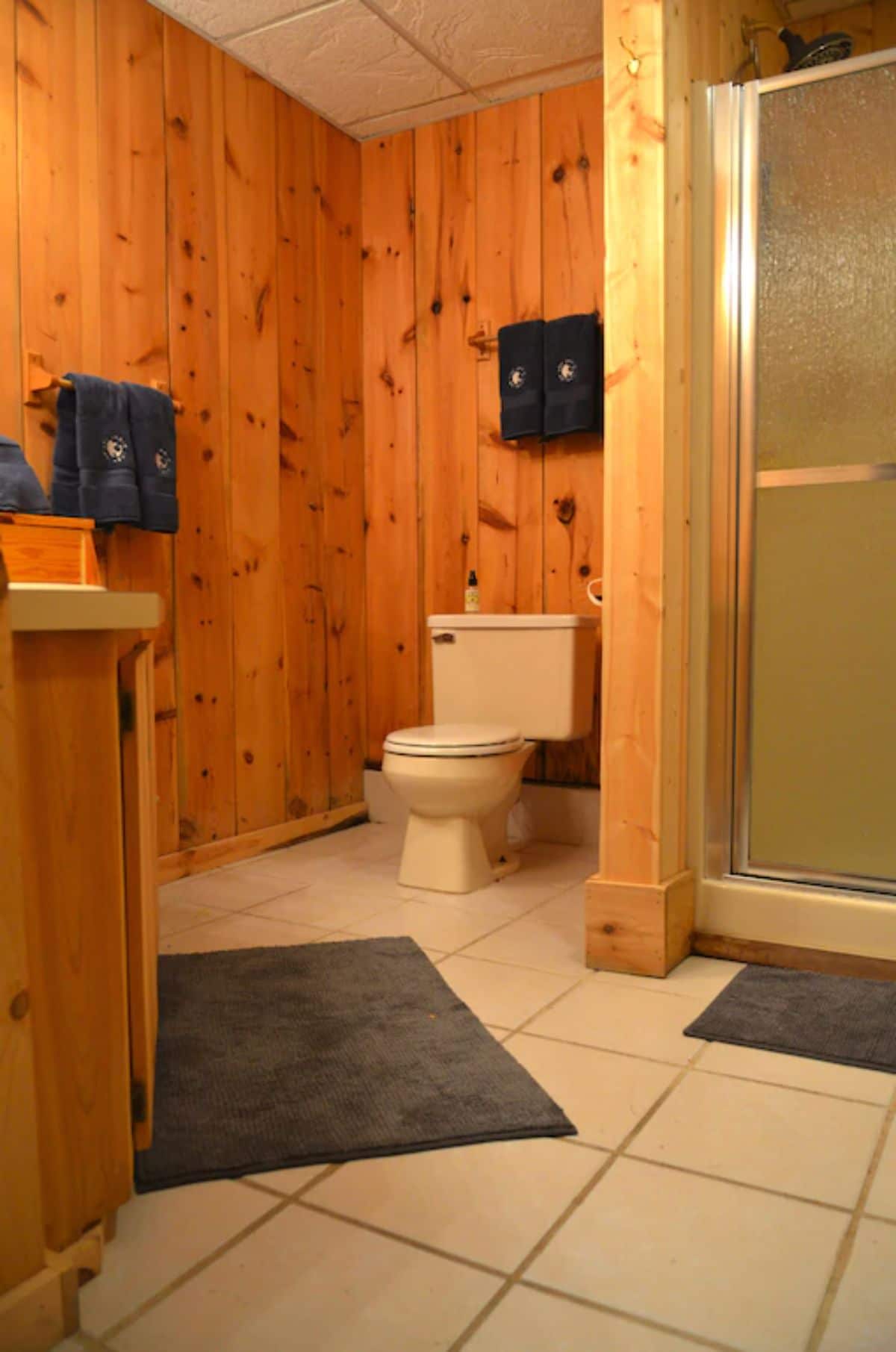 You can book your stay at this log cabin via their listing on VRBO. When booking, let them know that Log Cabin Connection sent you their way.
More Log Cabin Plans and Information