If you are looking for inspiration for your own log cabin home or retreat, look no further than this gorgeous model named the Summit. It is a beautiful rustic-styled home with a real log exterior, and tons of the classic log cabin style interior you know and love.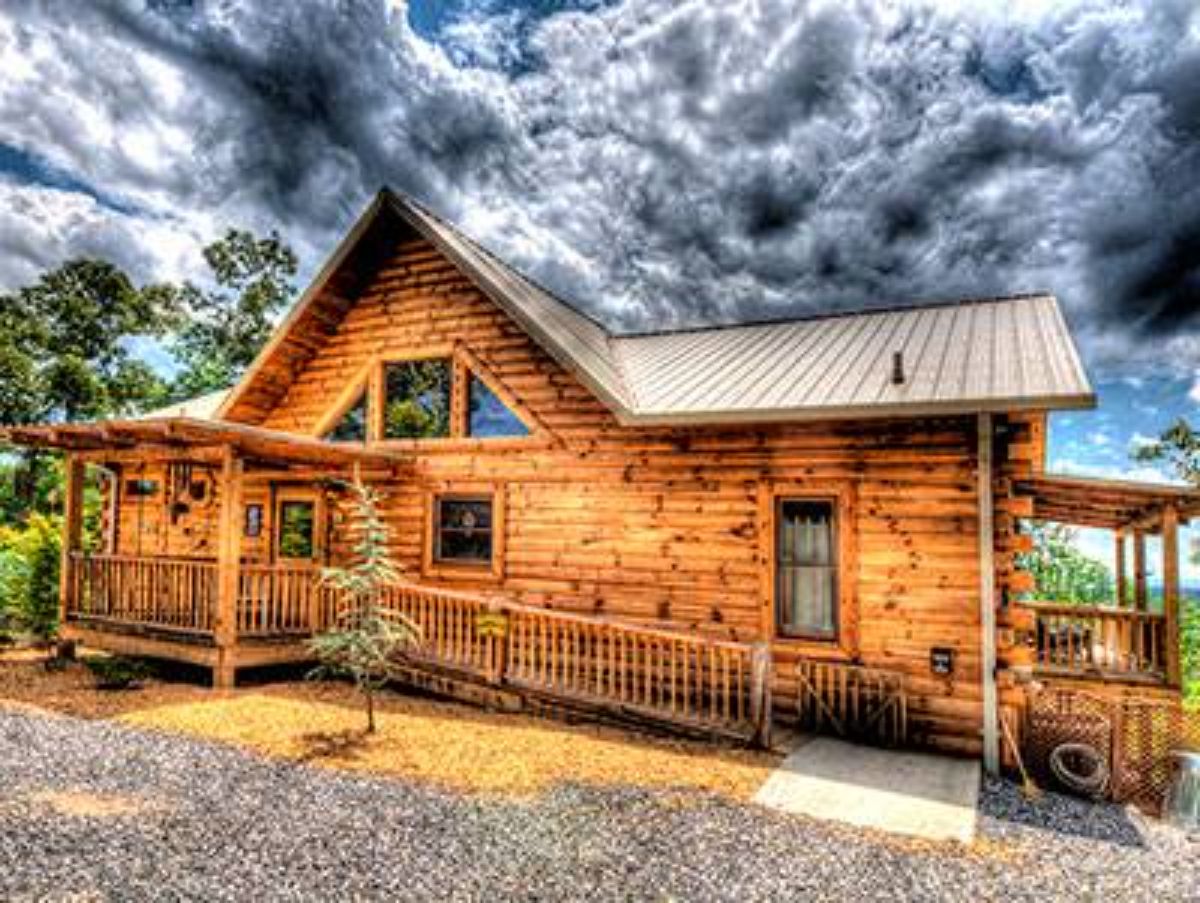 The rustic style opens on the main floor that follows the open concept with a small lofted space and a walkout basement below. Tons of room for cozy nooks to read, sleep or relax with friends and family and it easily sleeps up to 8 people in comfort with room for more.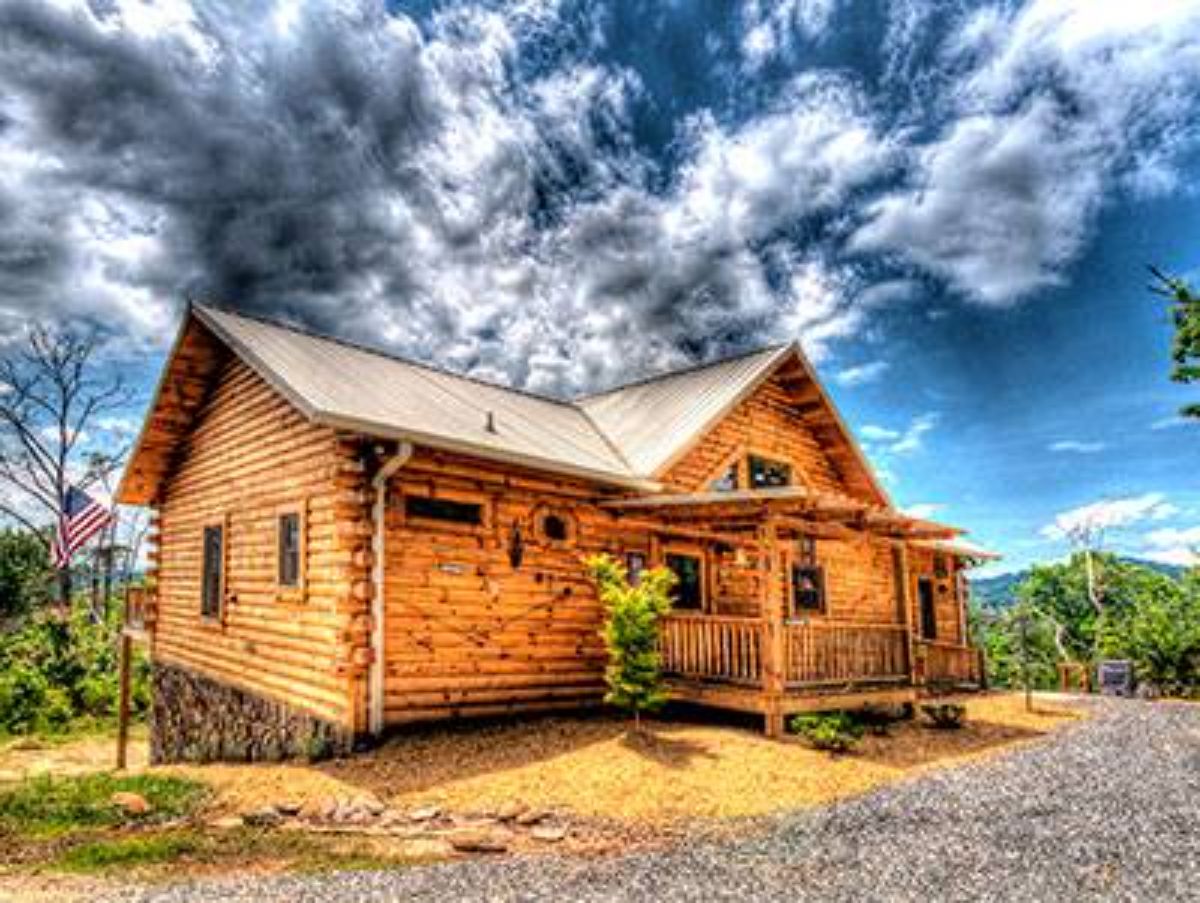 Around the home are gorgeous views, but the home itself offers even more with porches all along the back of the home and side with roofs on part of the space for privacy and safety from weather elements.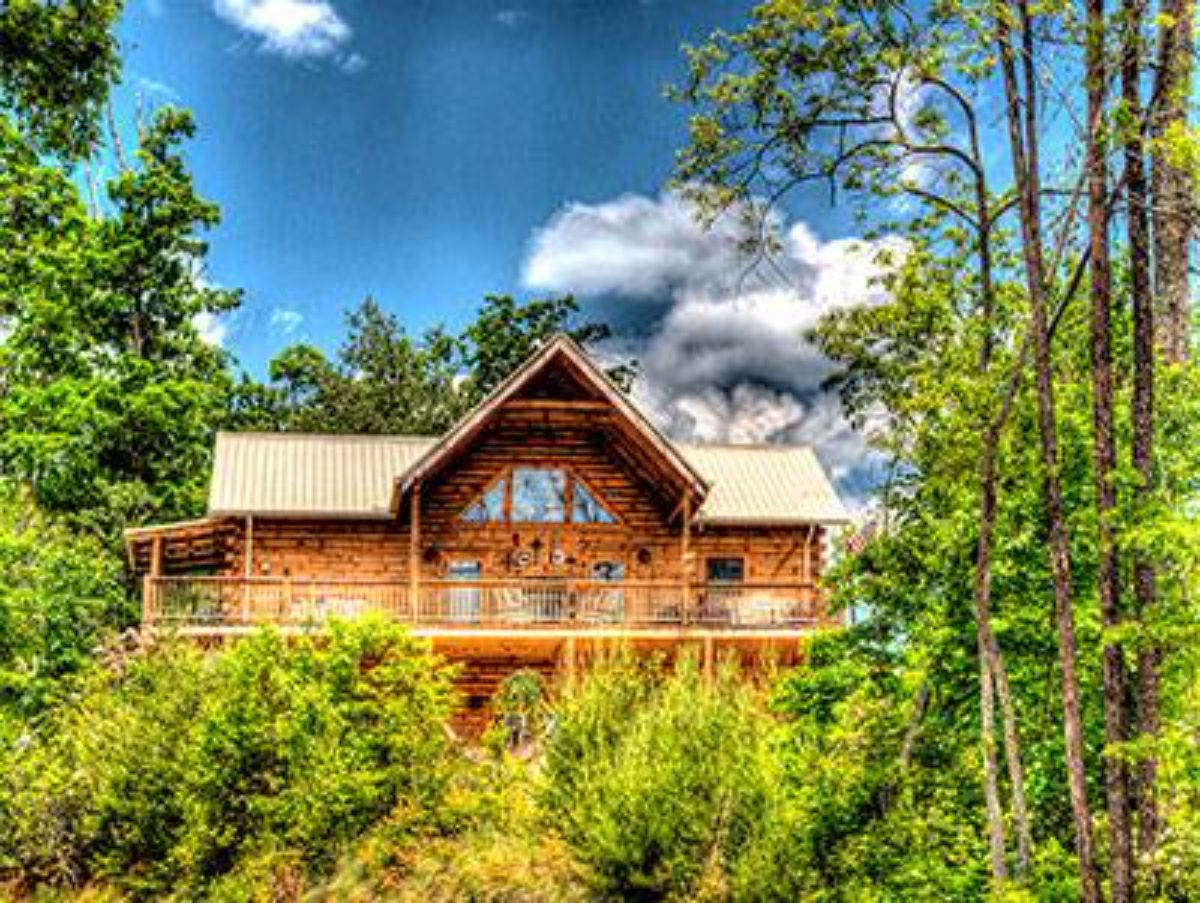 A circle drive on the back of the property makes it easy to find your way off the road to the front or back of the home easily and comfortably.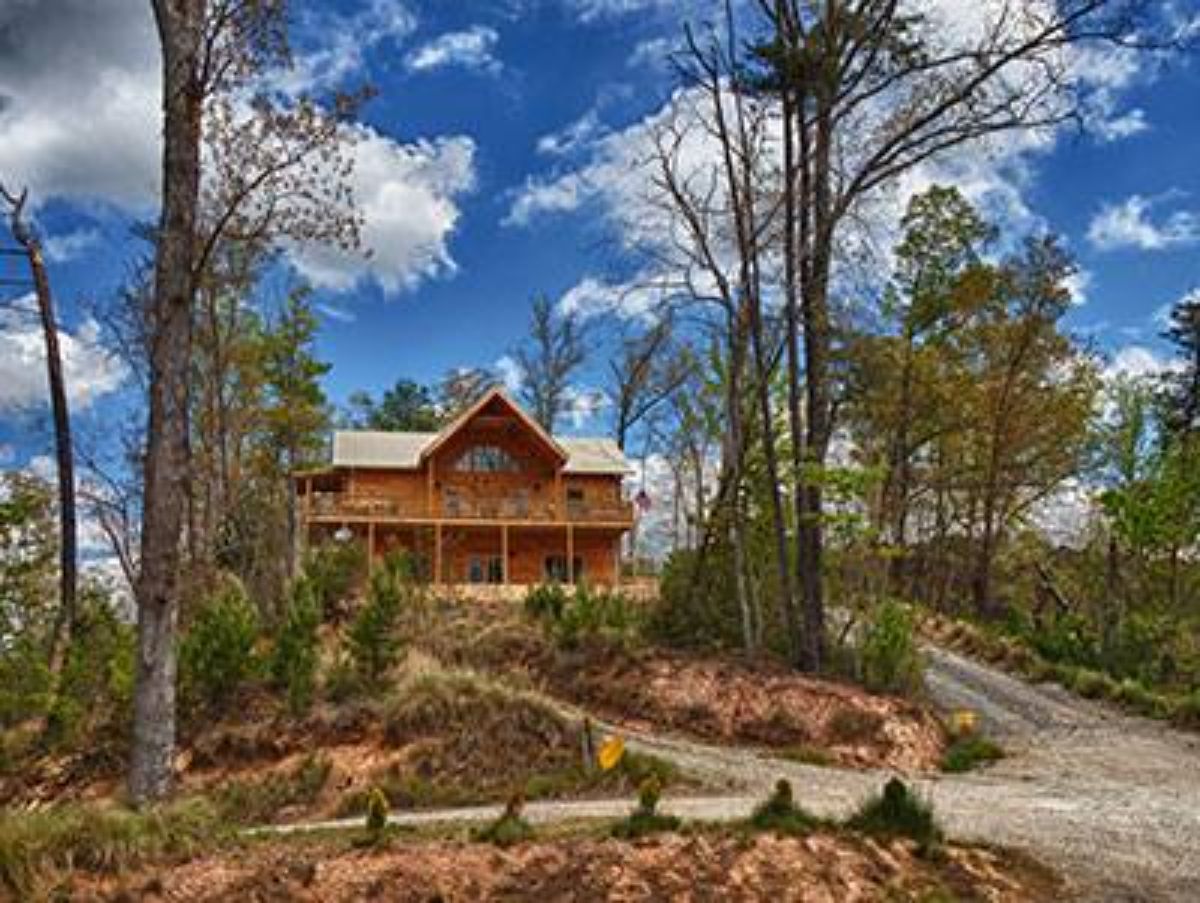 Some of the best parts of this particular home come in the outdoor spaces. For instance, this lovely open porch space is a personal favorite for holding a table with chairs to relax in the sun with a tall cool beverage.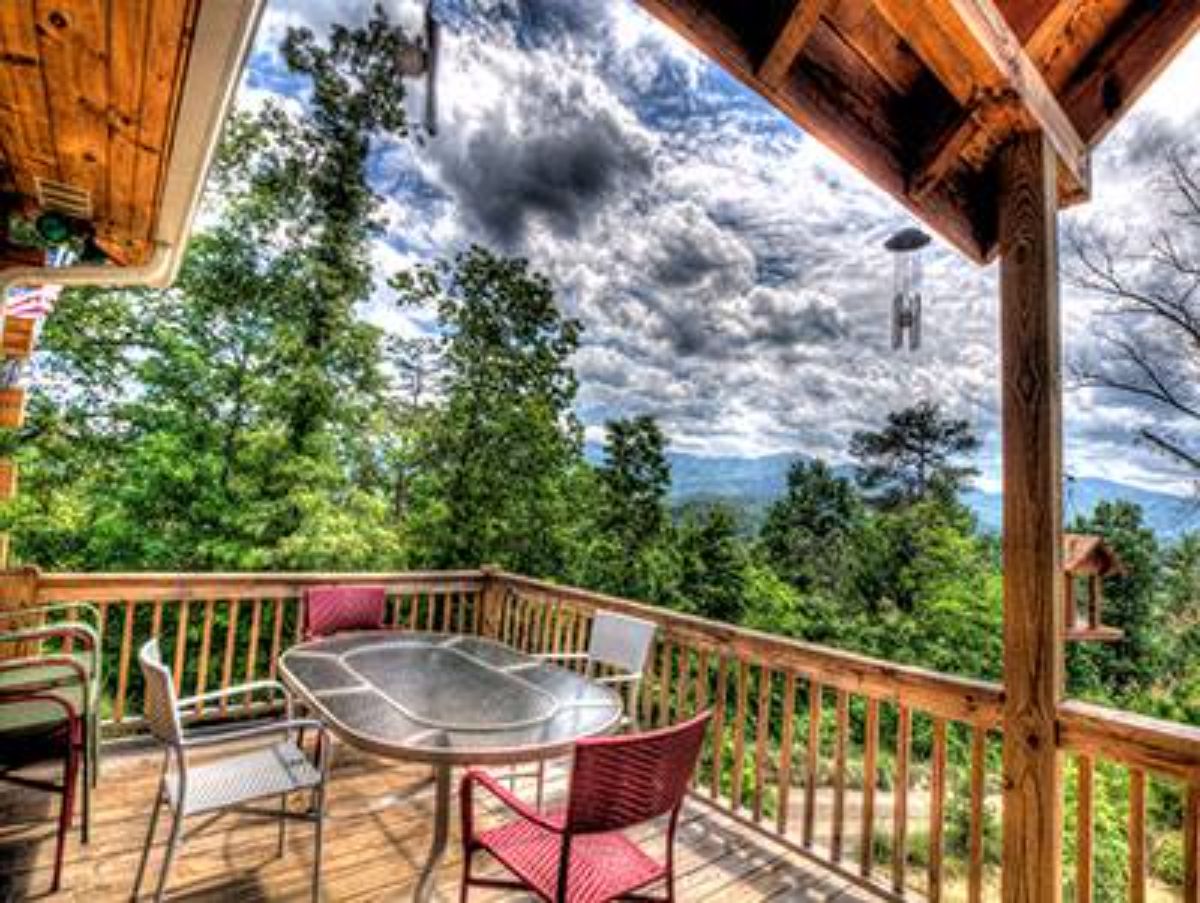 Other options include this side porch with a few bird feeders and cozy Adirondack chairs for a nice little reading nook.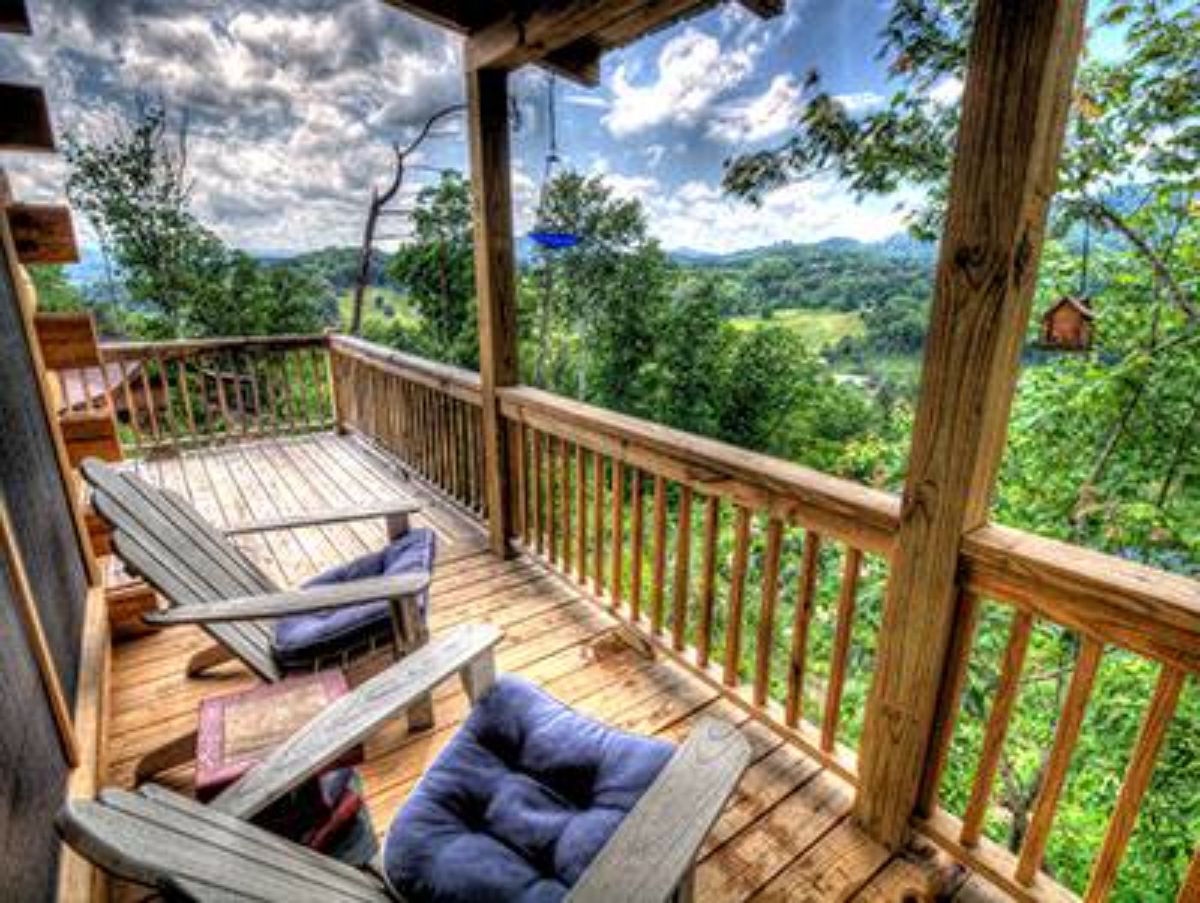 And the outside area includes a few other places like this fire pit for relaxing on cold days or just toasting marshmallows over the fire for your own homemade S'mores!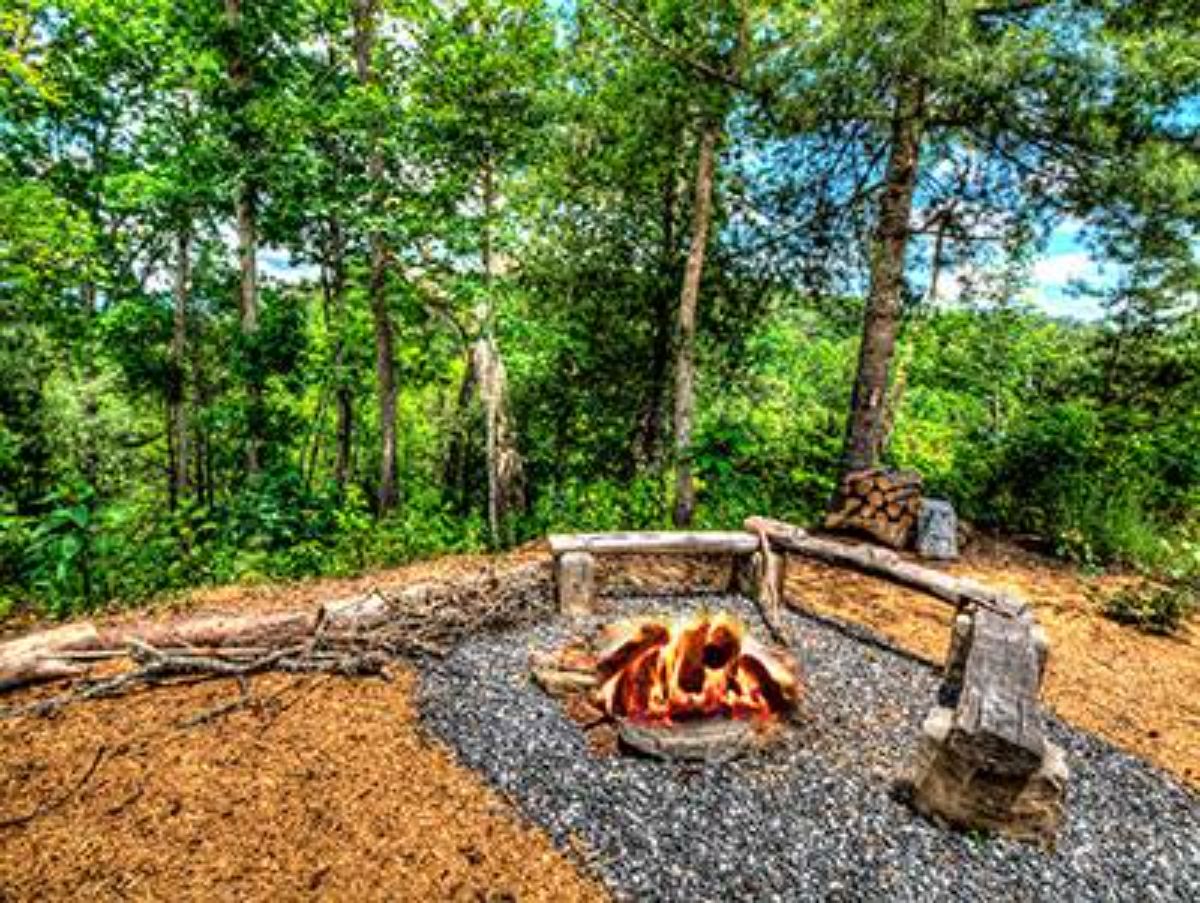 And, I adore the fact that they have added their own little picnic area here for those weekend barbecue events.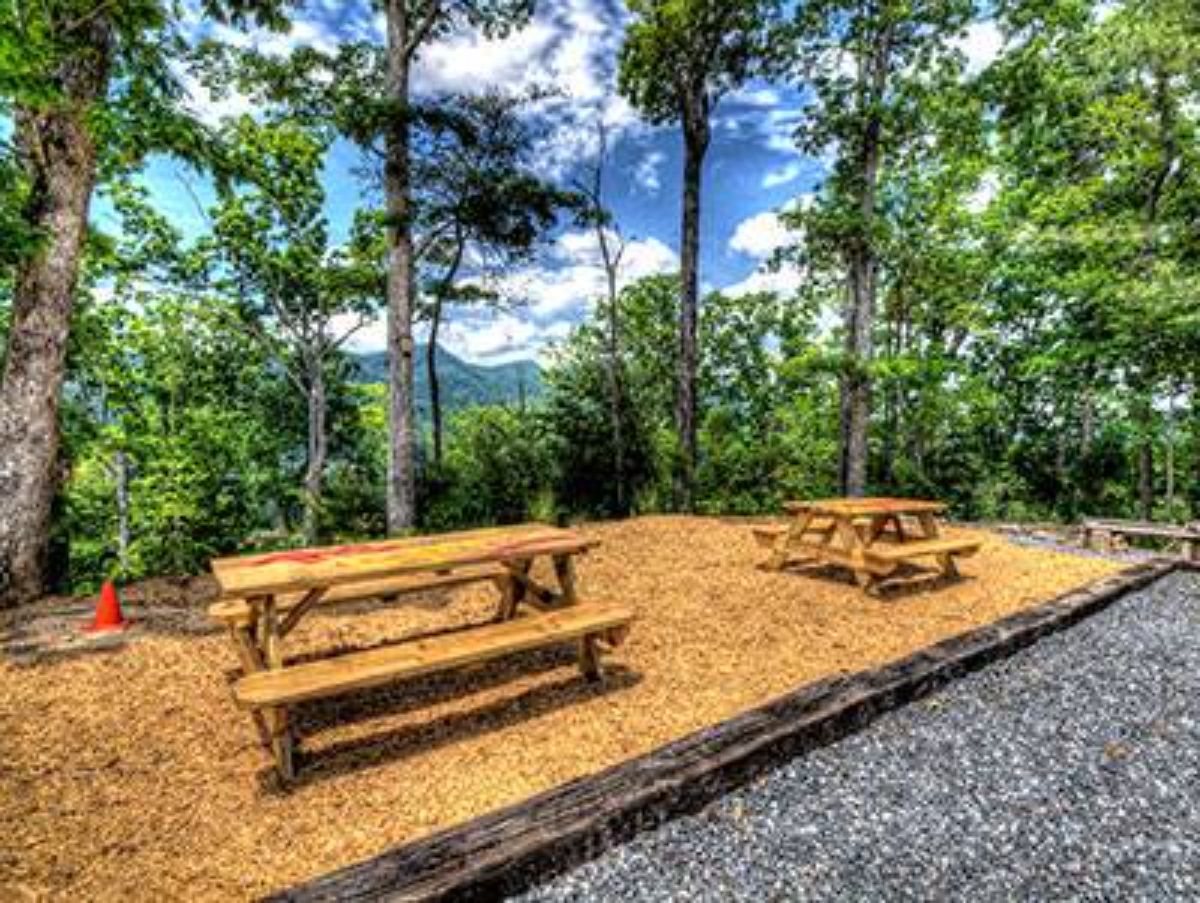 Of course, the walkout basement offers up a nice open space for another picnic table and this gorgeous hammock. A perfect choice for relaxing in the sunshine with a breeze.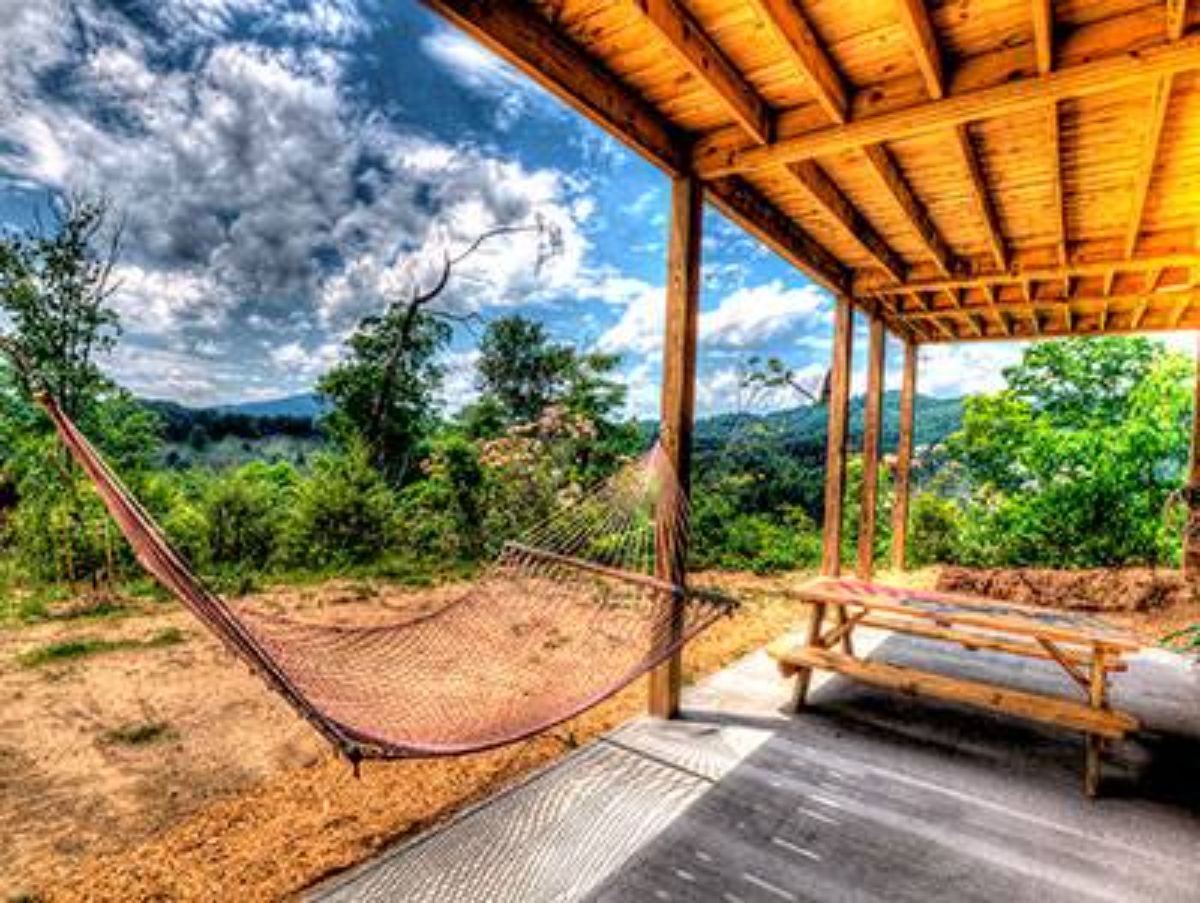 Or, the ultimate place to relax comes from this hot tub on the corner of the porch. A getaway that is ideal after a long day at work!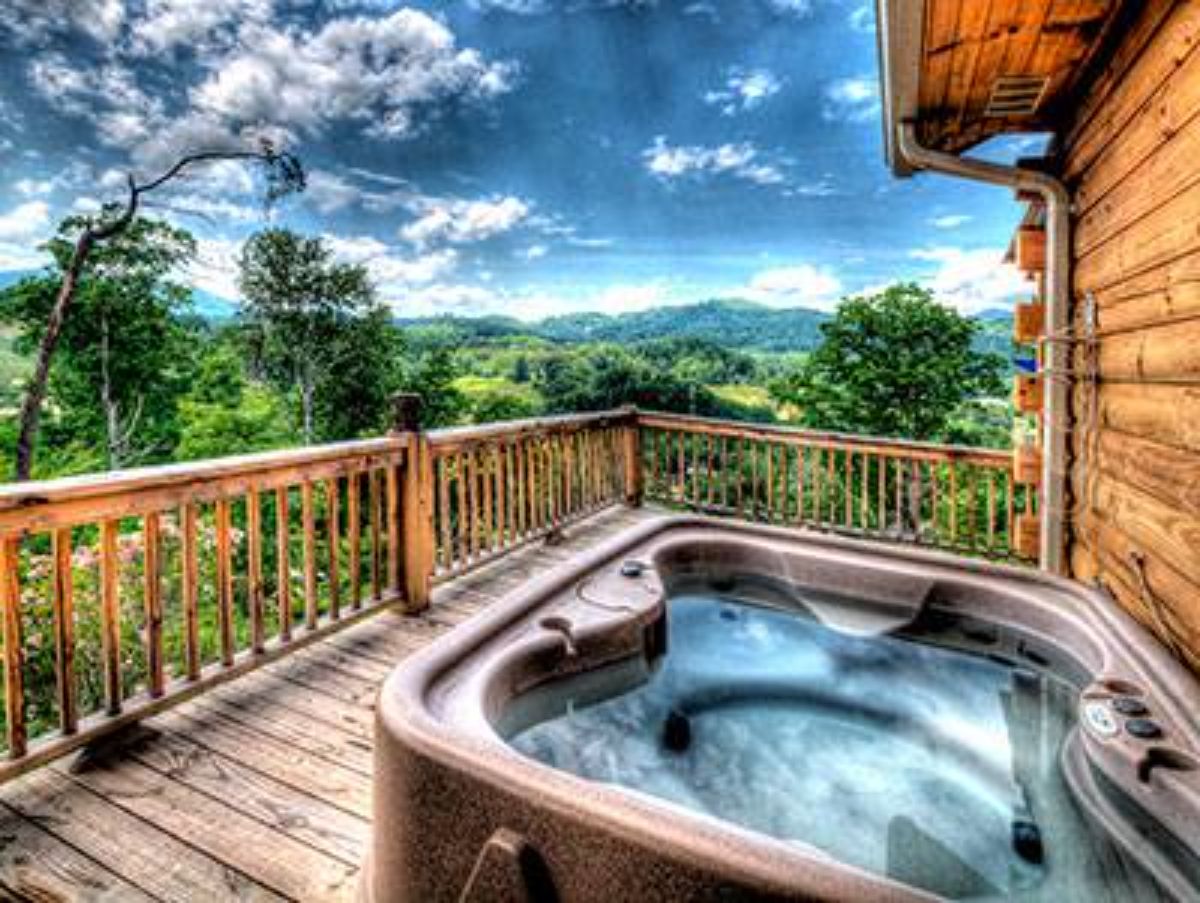 And if you feel like those aren't enough, then I know you will adore this part of the porch with an outdoor fireplace that is great for warming the space while you relax on a cold winter evening!
Inside the Summit log cabin are even more gorgeous spaces like this open living area with sofas on all sides and that fireplace against the wall beneath the always popular trapezoid windows bringing in natural light.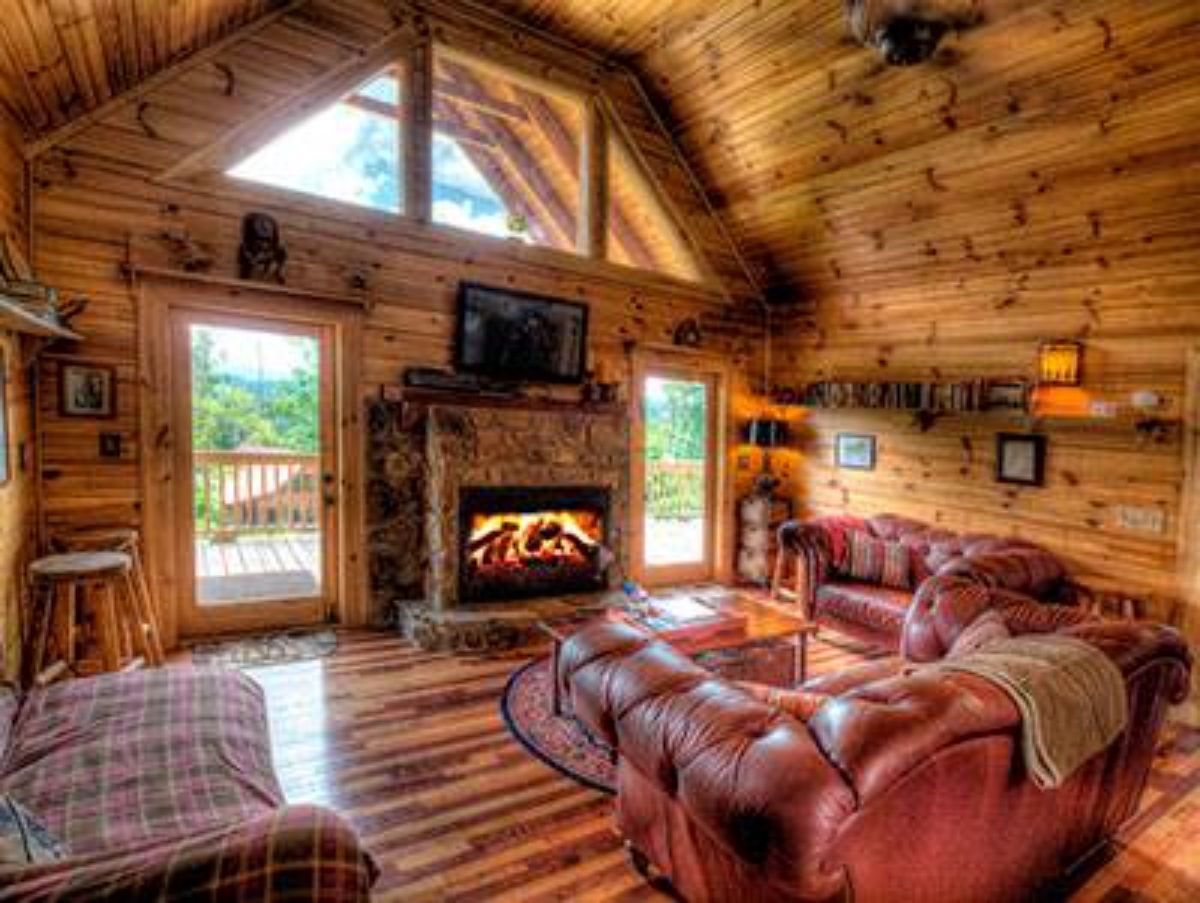 Below, you can see how the living area opens up to the little dining nook in the corner and a nice large kitchen. This creates a great main floor living space with bedrooms on both sides and a nice little nook for comfortable living.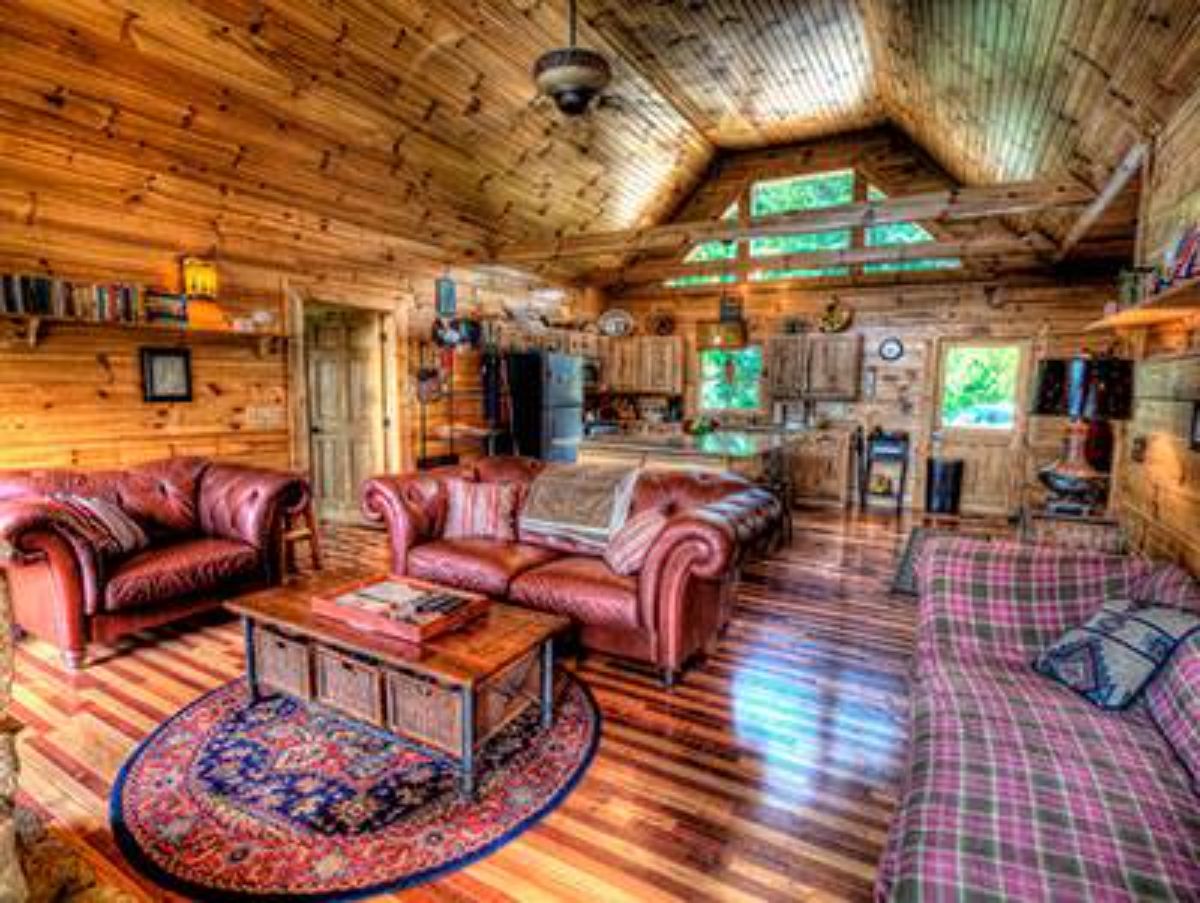 The kitchen in this home is simple and comfortable. The same matching gorgeous woodwork completes the cabinets with stainless steel appliances adding the update you need. Plus, you can see on the corner of the bar here that a built-in wine cooler makes it super easy to keep everything you need on hand!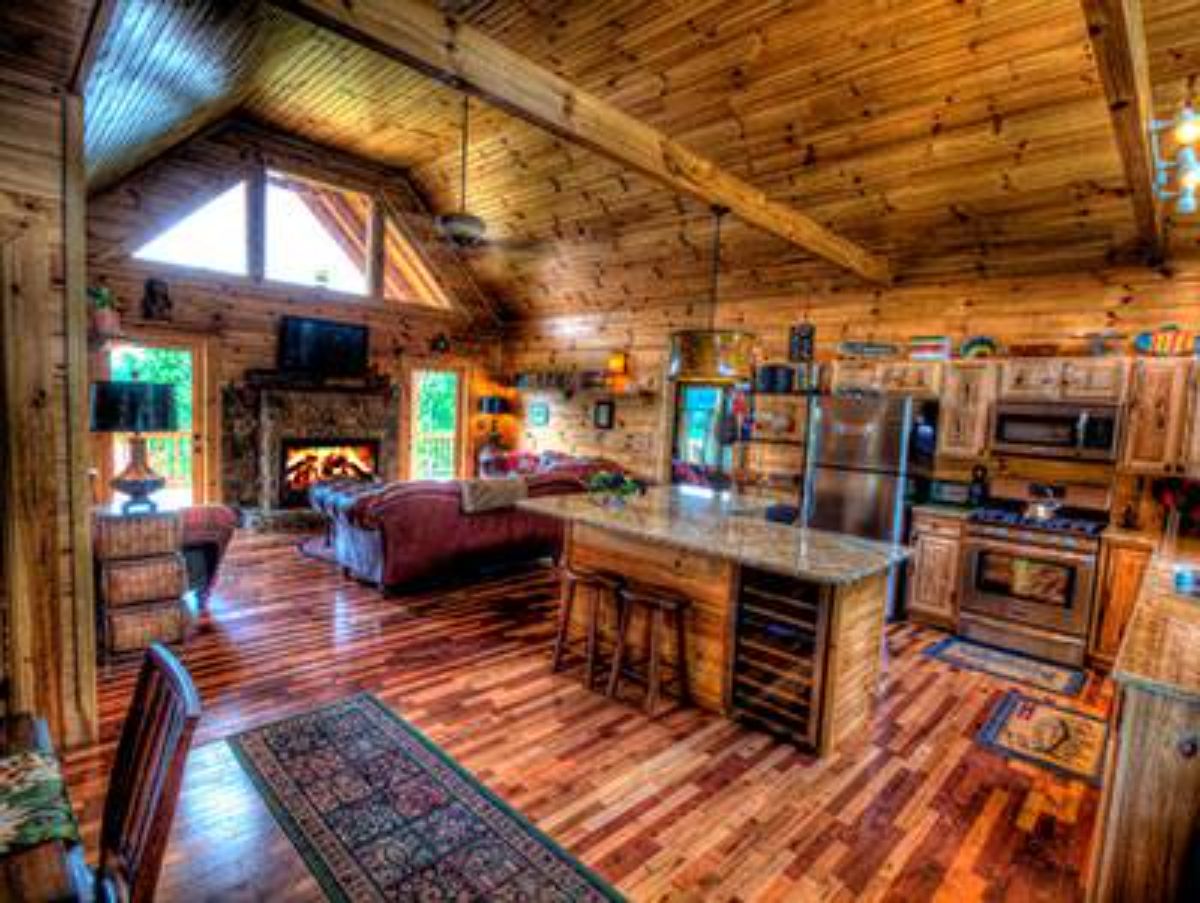 While there isn't a formal dining table in this home, you have a little 2 to 4 person table against the wall to easily pull out as needed.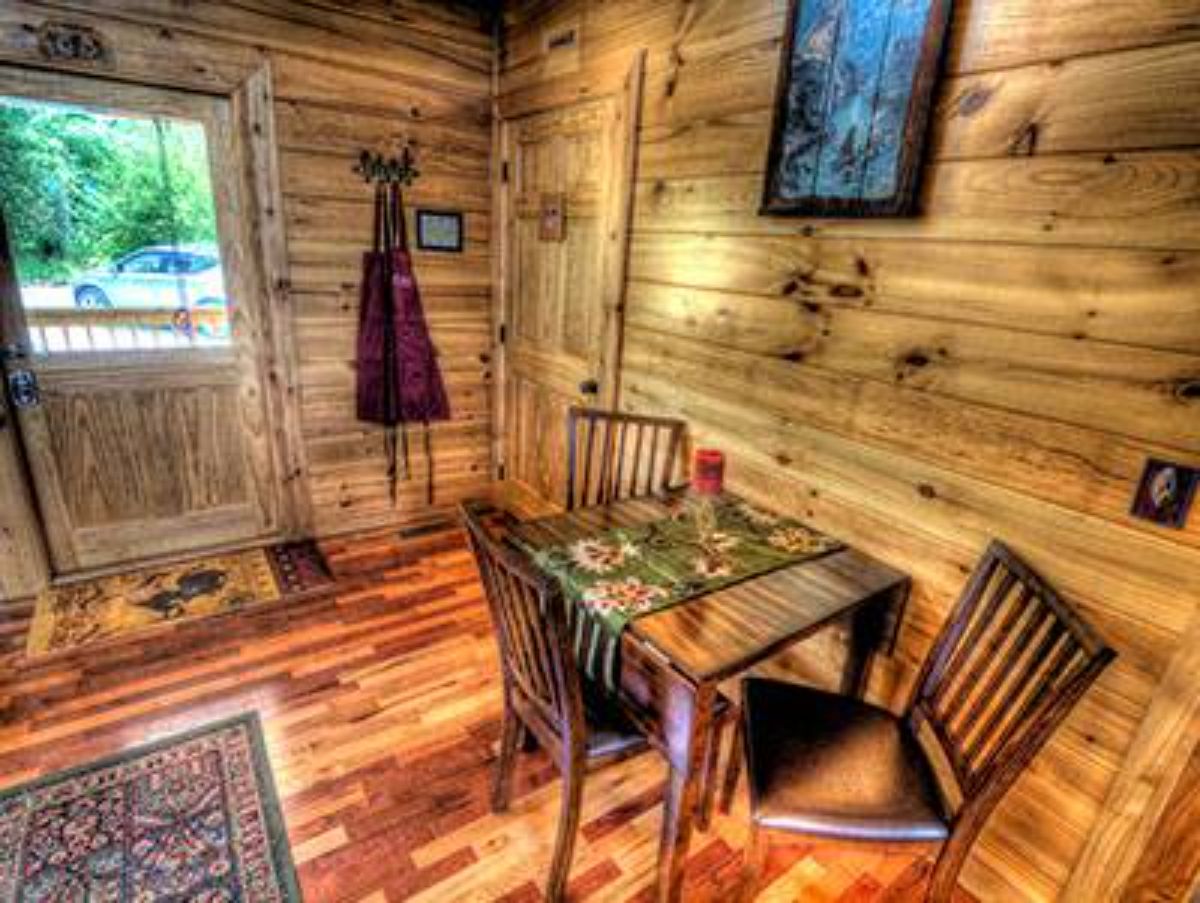 Downstairs you will find a stunning game room with tons of space for your favorites like foosball, pool, or ping pong.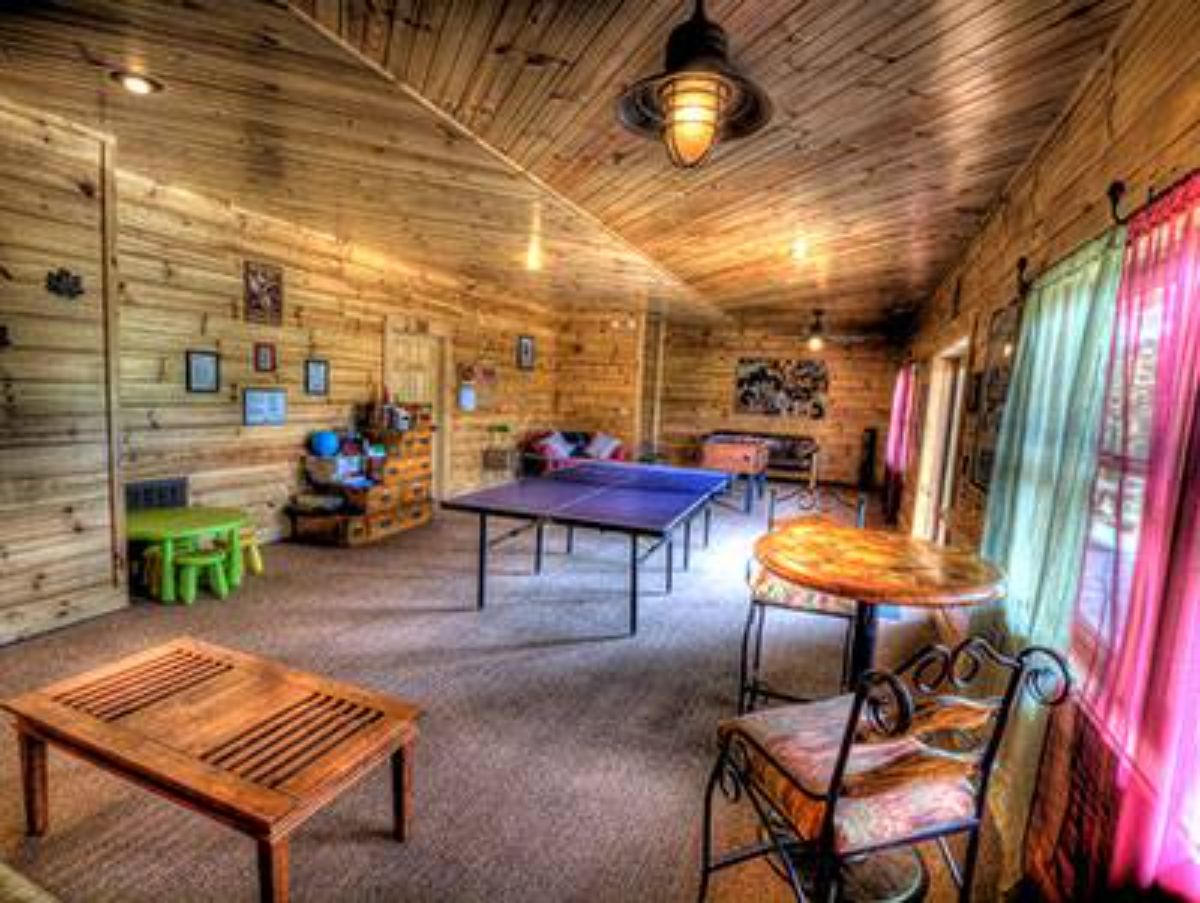 Of course, this entertainment space is on the same floor as the walkout basement but also includes additional storage and sleeping space if needed.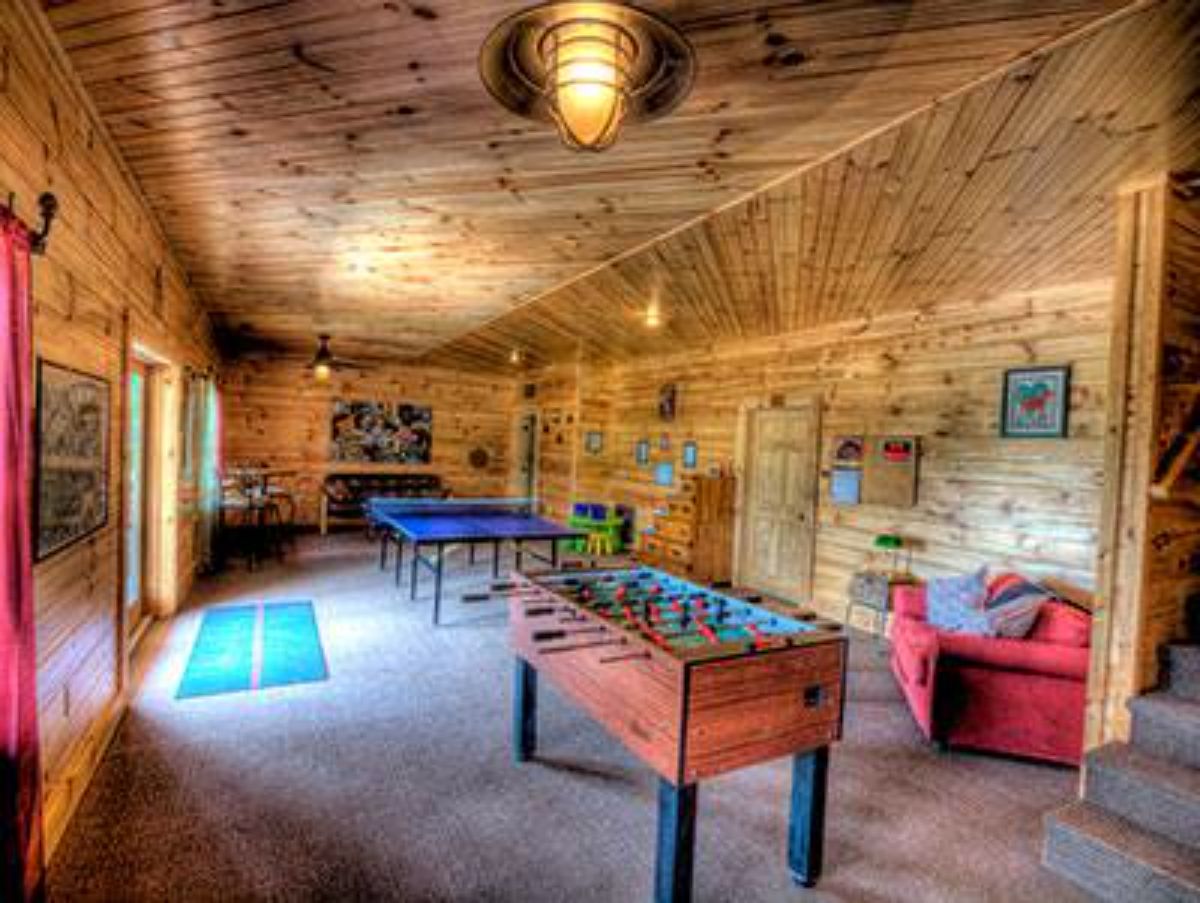 The bedrooms in this cabin are also beautiful and comfortable. Below you will see just one of the rooms that has a private door to the back deck of the home.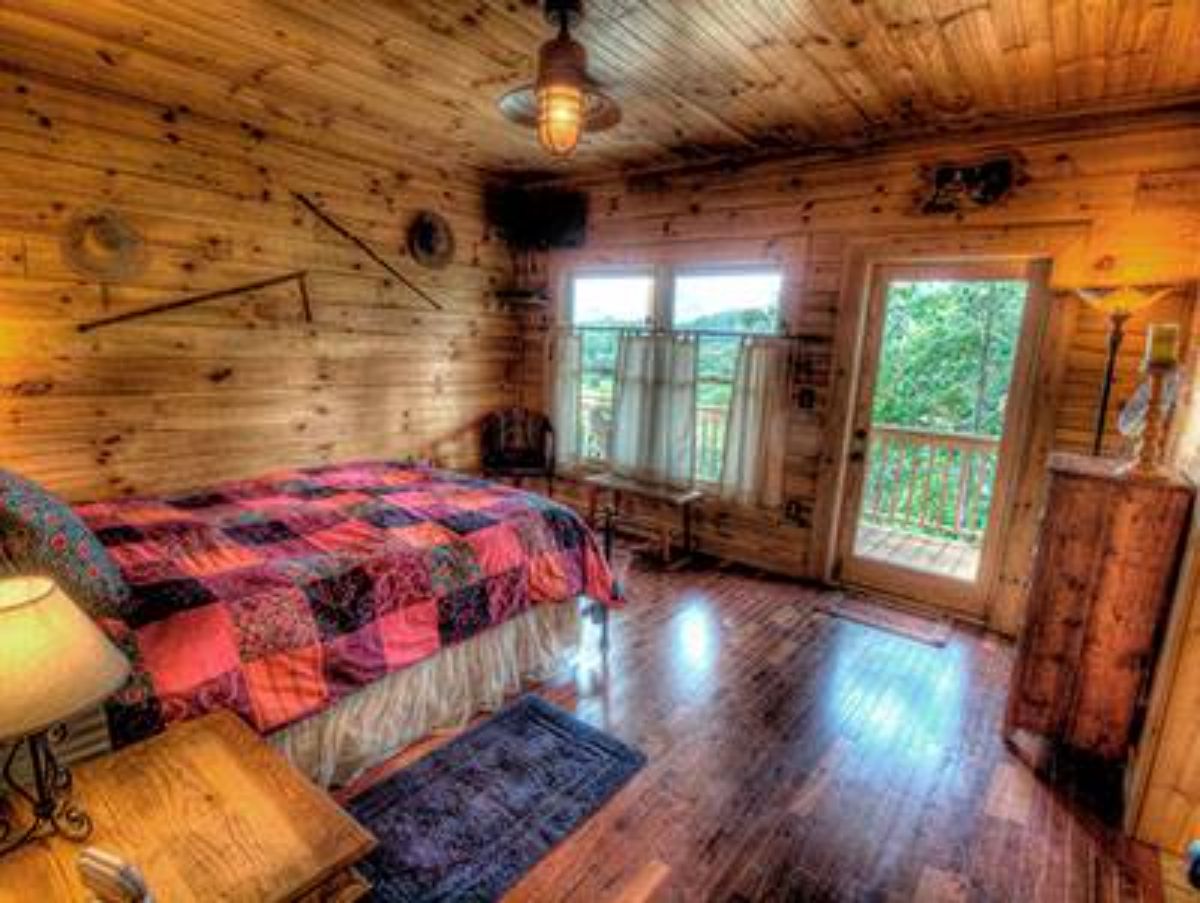 ALl of the bathrooms have the same combination of wood walls, tiled showers, and white toilet and sinks.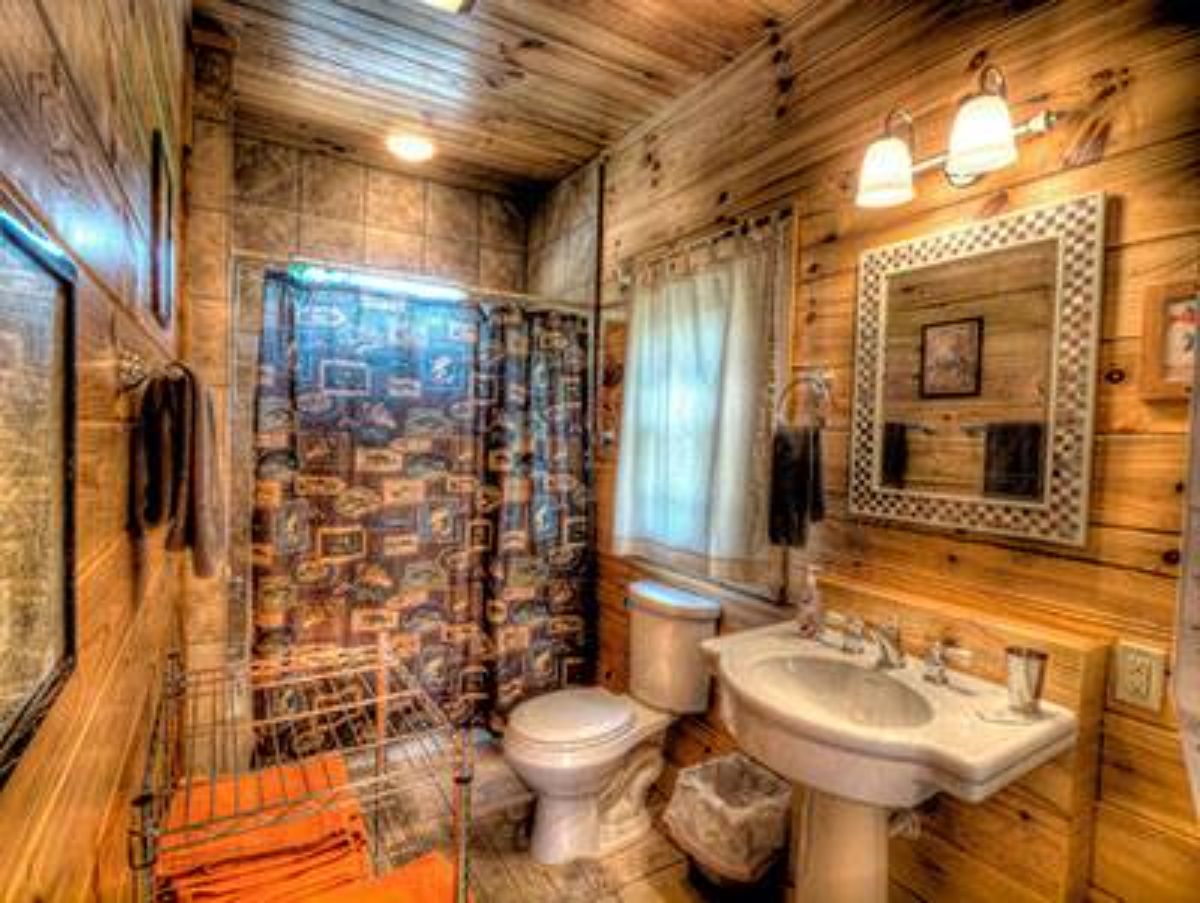 I love the master bedroom that is off the main floor of the home. This space has plenty of room for the large king-sized bed with the en suite bathroom just through a lovely arched door to the side.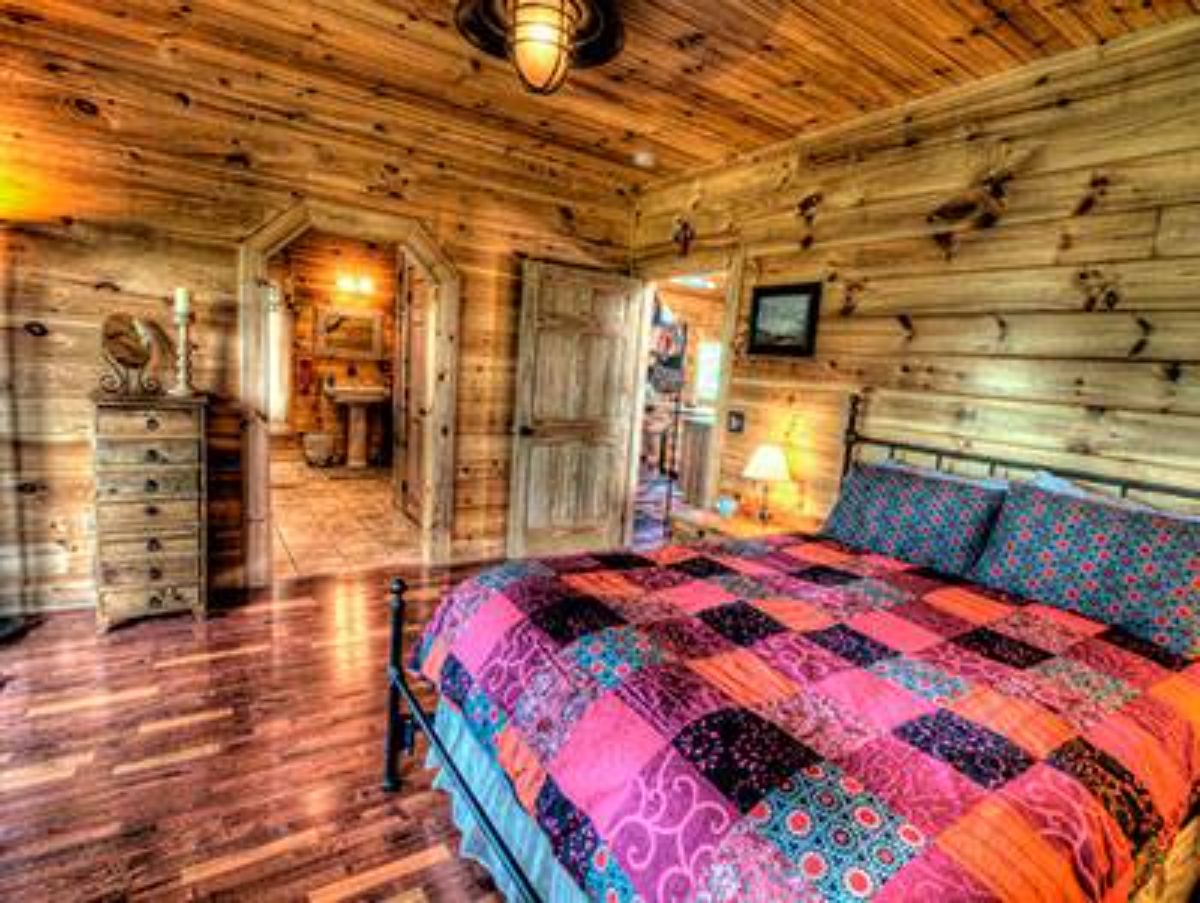 This bathroom is large and spacious but follows the same style as the others with a combination of wood,t ile, stone, and white.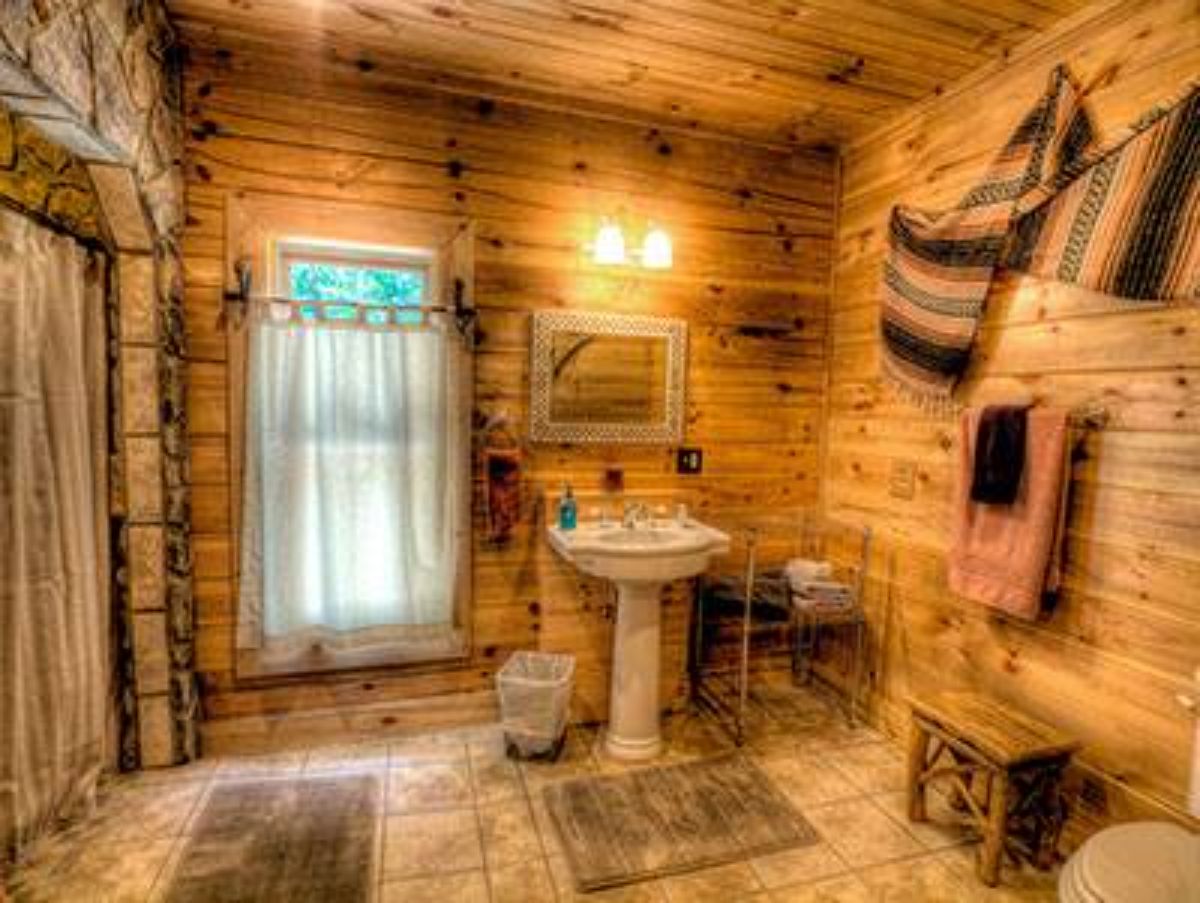 This unique custom stone-walled shower is my favorite in the home. It even has a slight ramp up so it is handicap accessible. Such a gorgeous space for comfortable living.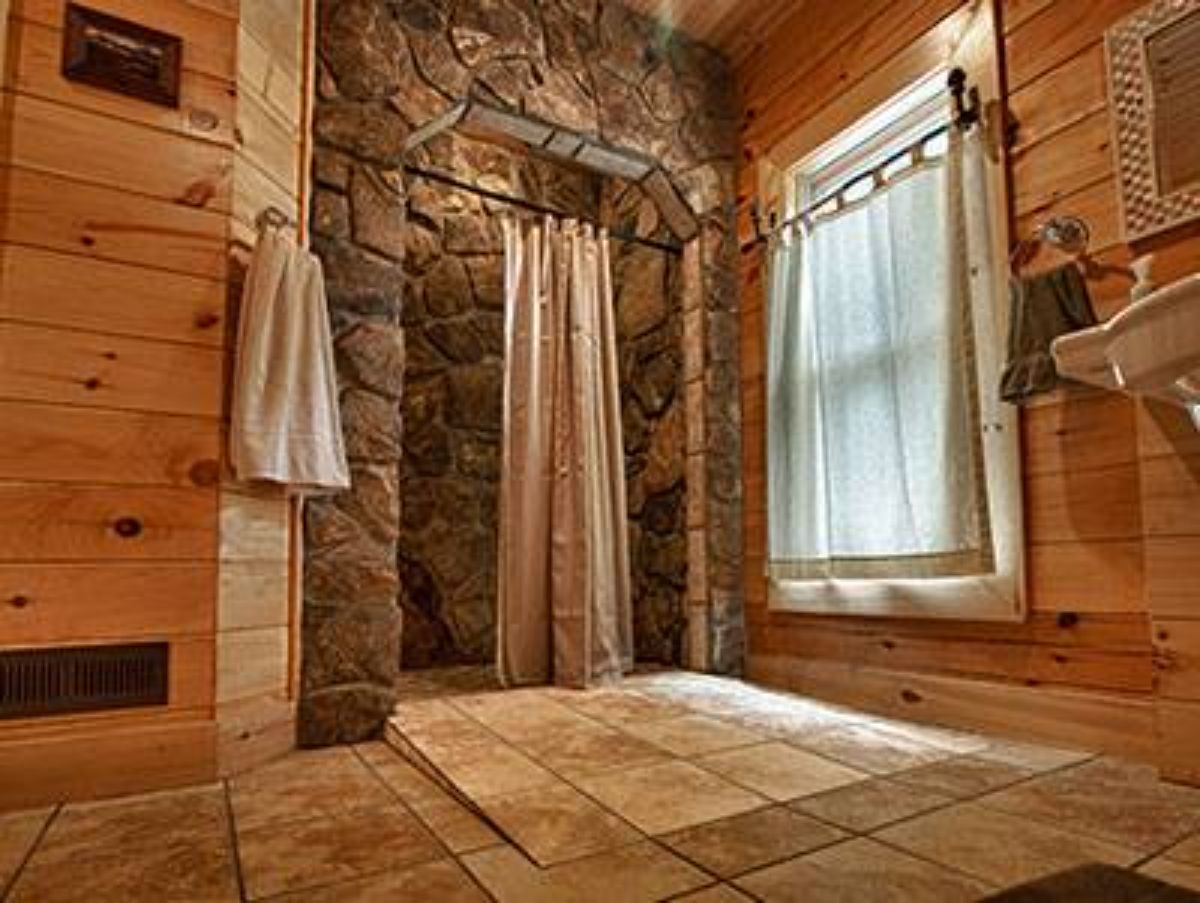 Of course, we can't neglect the kids or guests who may want to keep children nearby. This room features a bunk with built-in storage as well as a combination of a queen bed below and twine above.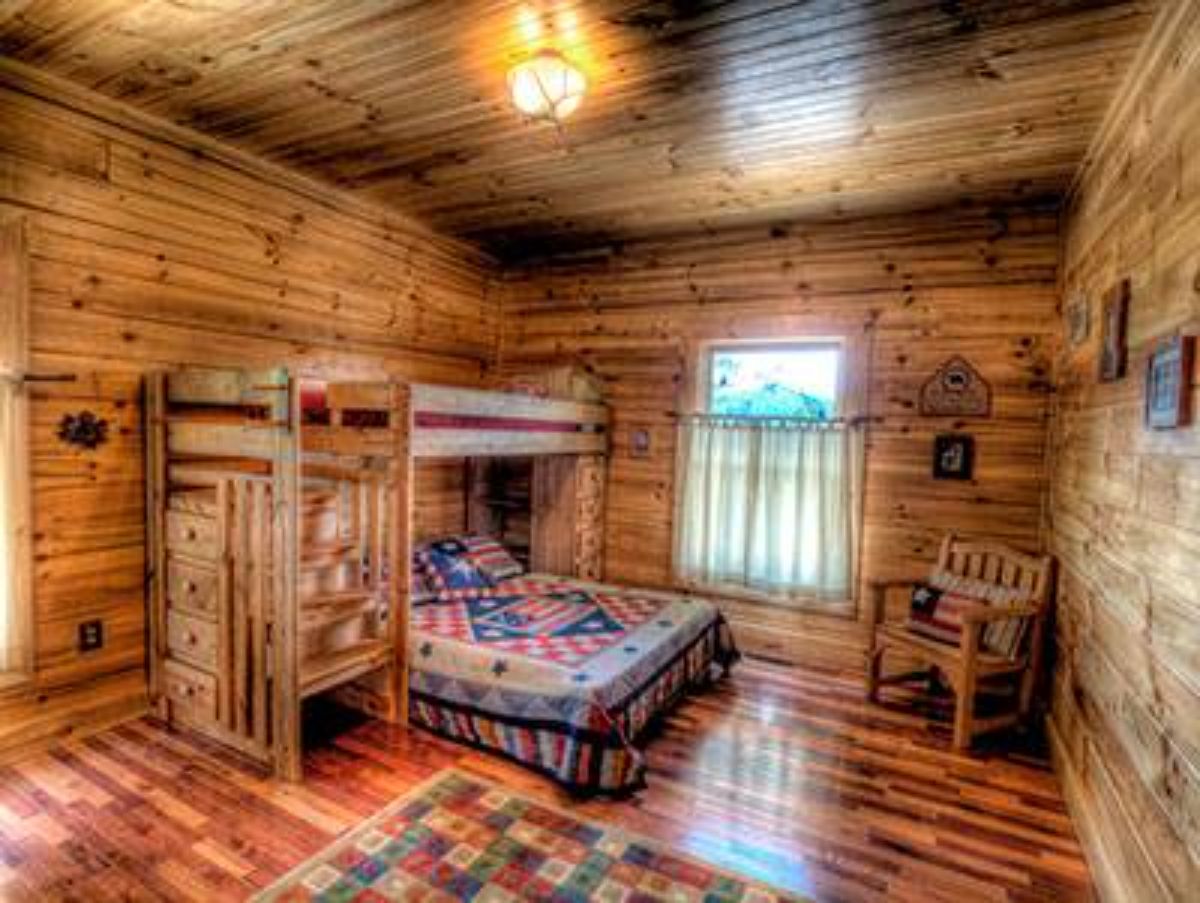 This room also has a nice closet space, a wall-mounted television, and tons of natural light from the windows on both sides.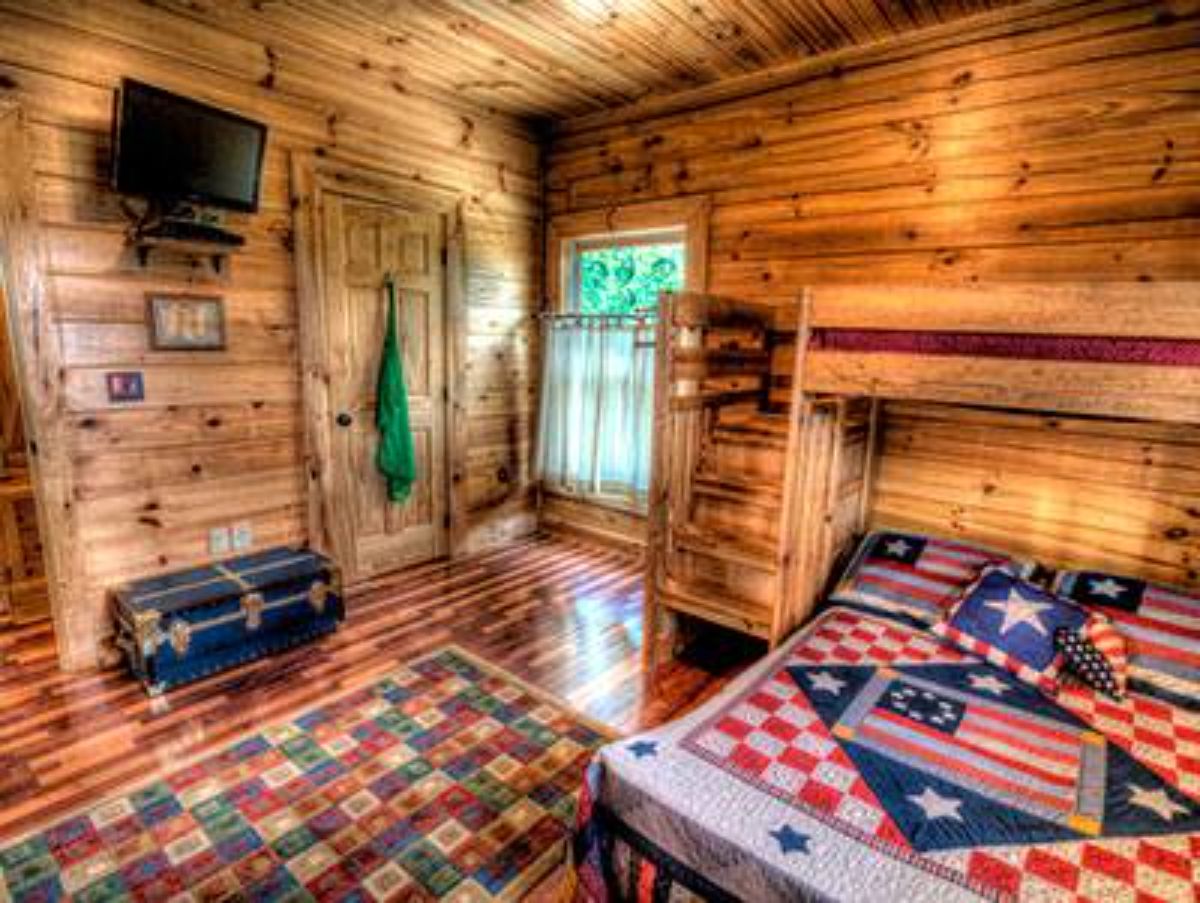 And the guest bathroom is similar to the others with beautiful woodwork, a combination shower, and bathtub, as well as the classic toilet, sink, mirror, and storage.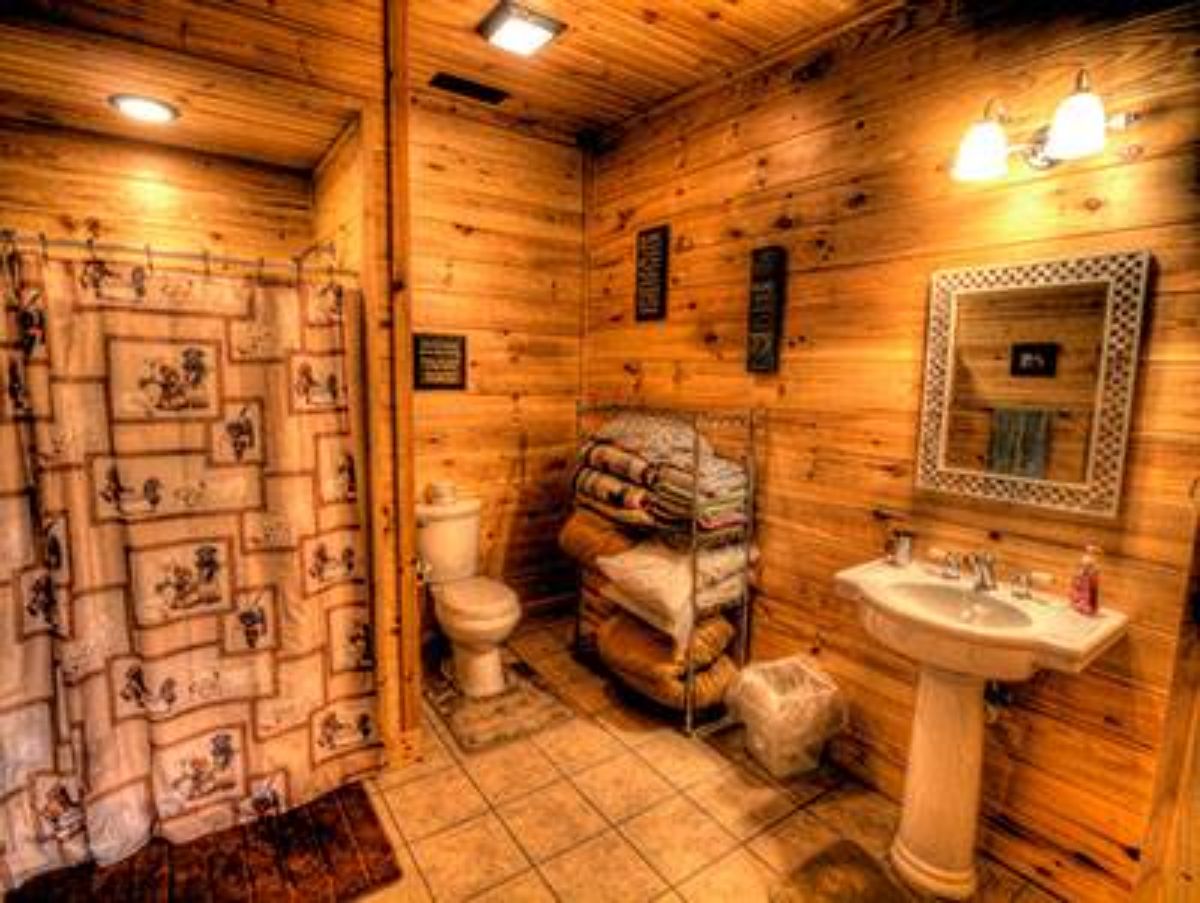 For more information about this cabin and other rentals, check out the Smoky Mountain Cabin Rentals website. You can also find them on Facebook with more updates on their latest cabin builds and rentals. Make sure you let them know that Log Cabin Connection sent you their way.
More Log Cabin Kits and Tours