The Senator log cabin is a gorgeous classic-styled home that is 1810 square feet, has 3 bedrooms, 2 bathrooms, and stunning wrap-around porches. You are sure to fall in love with the modern additions to this rustic log home.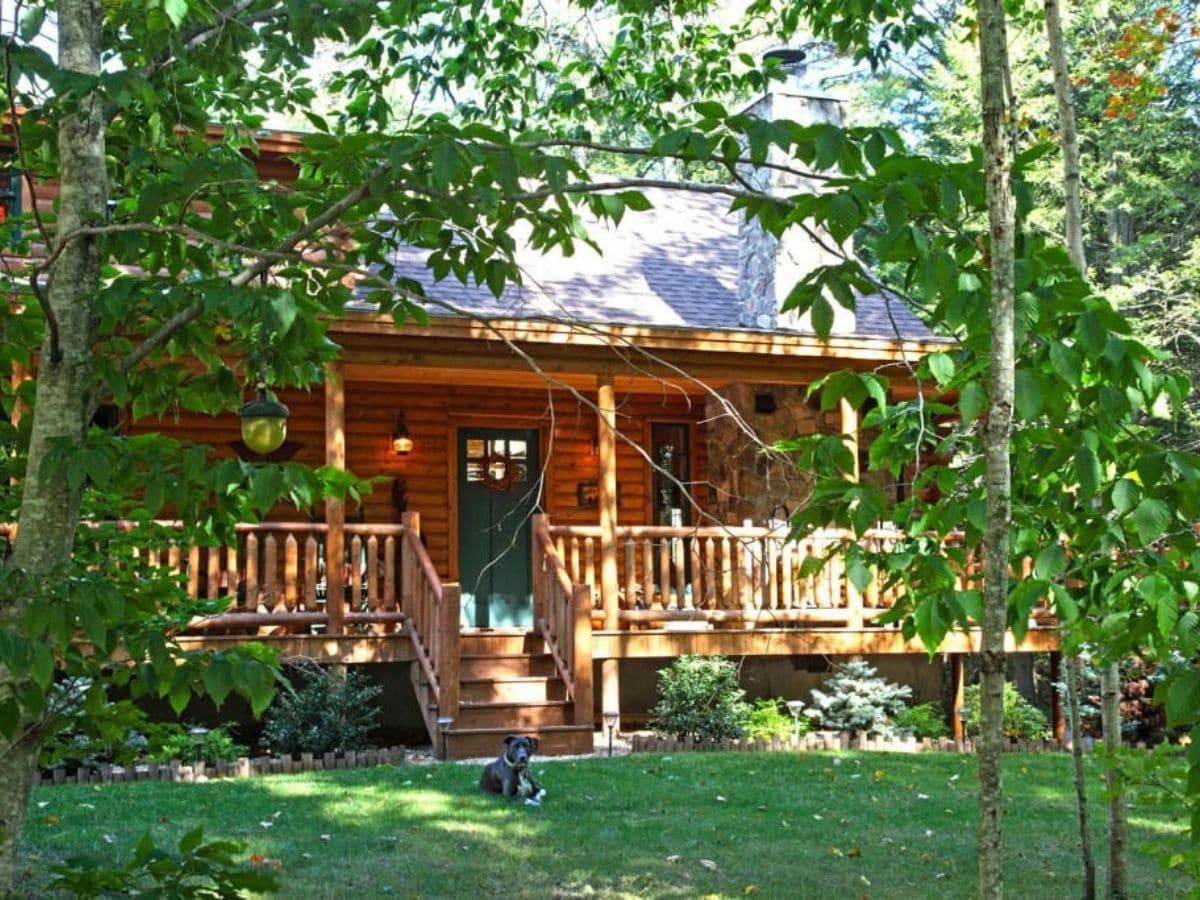 This model log home is a showcase home for Katahdin's Cedar Log Homes. The Senator model is a beautiful log cabin, and this particular version included the stunning extended front porch. I love that this has so much room both inside and outside for relaxation and to enjoy the beauty around you.
The porch on this leads around the side of the home giving room for both open entertaining space and small areas of privacy if you want to just get away for a bit and soak up nature.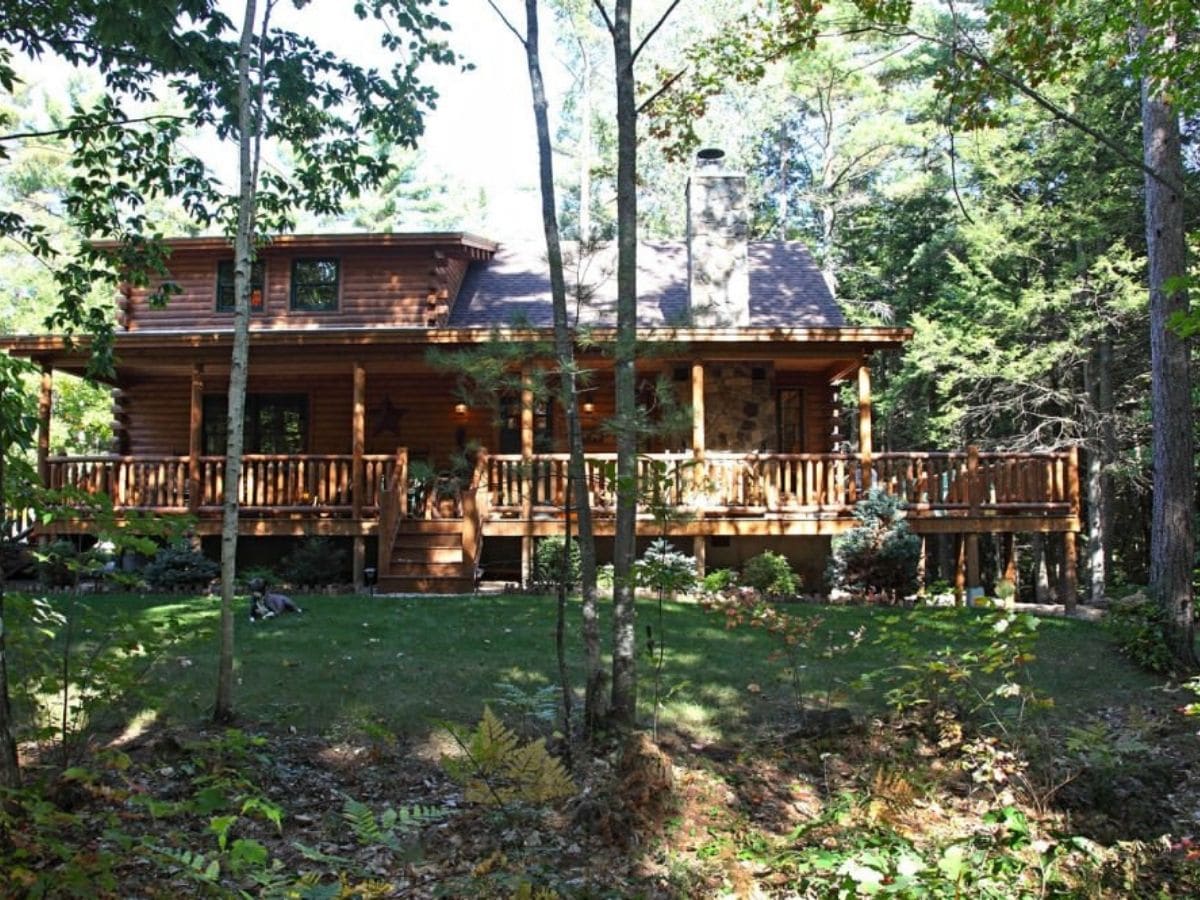 I love the rocking chairs placed throughout the porch. A perfect true rustic experience, but with a bit of a modern flare. You will also notice that the custom stone chimney is both inside the living space as well as a part of the porch structure.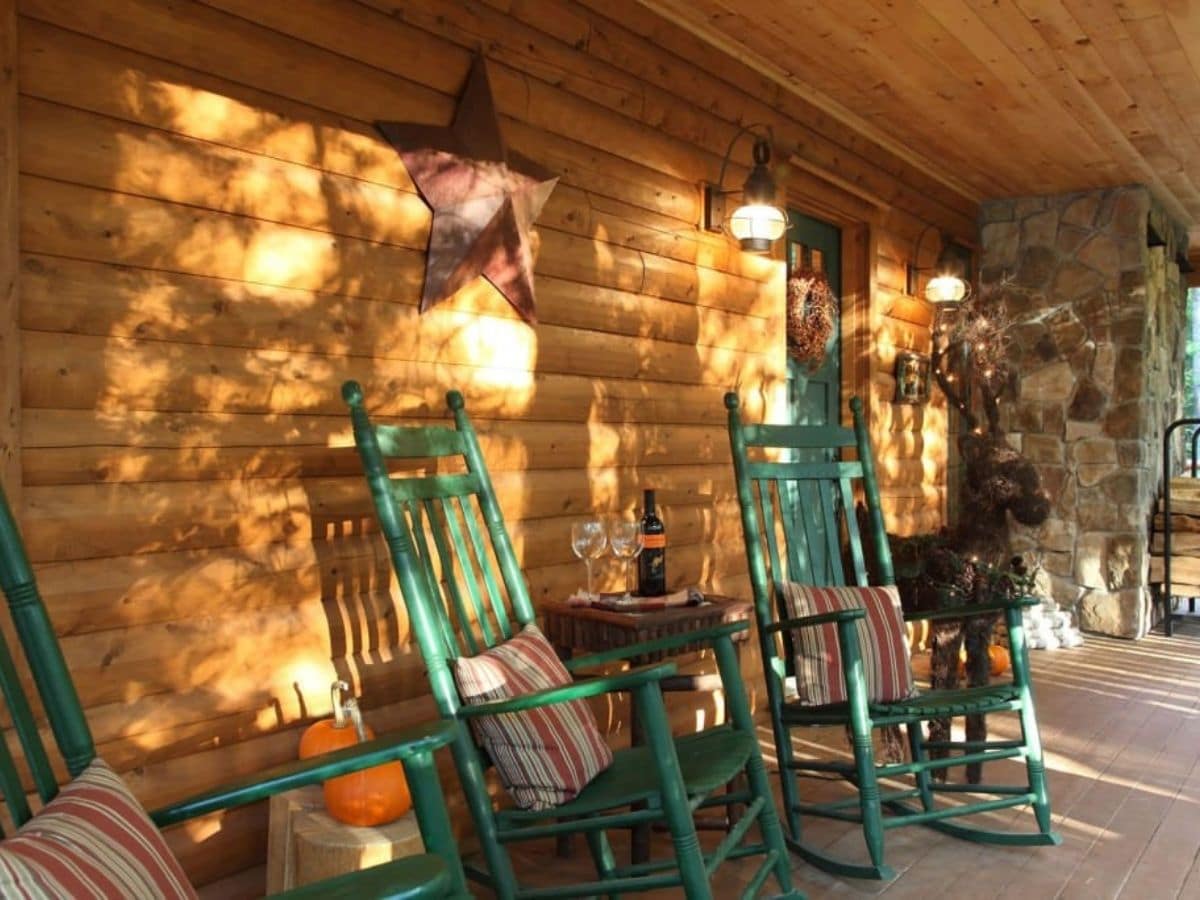 This expanded space on the side of the home doesn't have the same covered area but is a perfect balcony off the great room. I can imagine cooking out here and entertaining guests on beautiful summer days!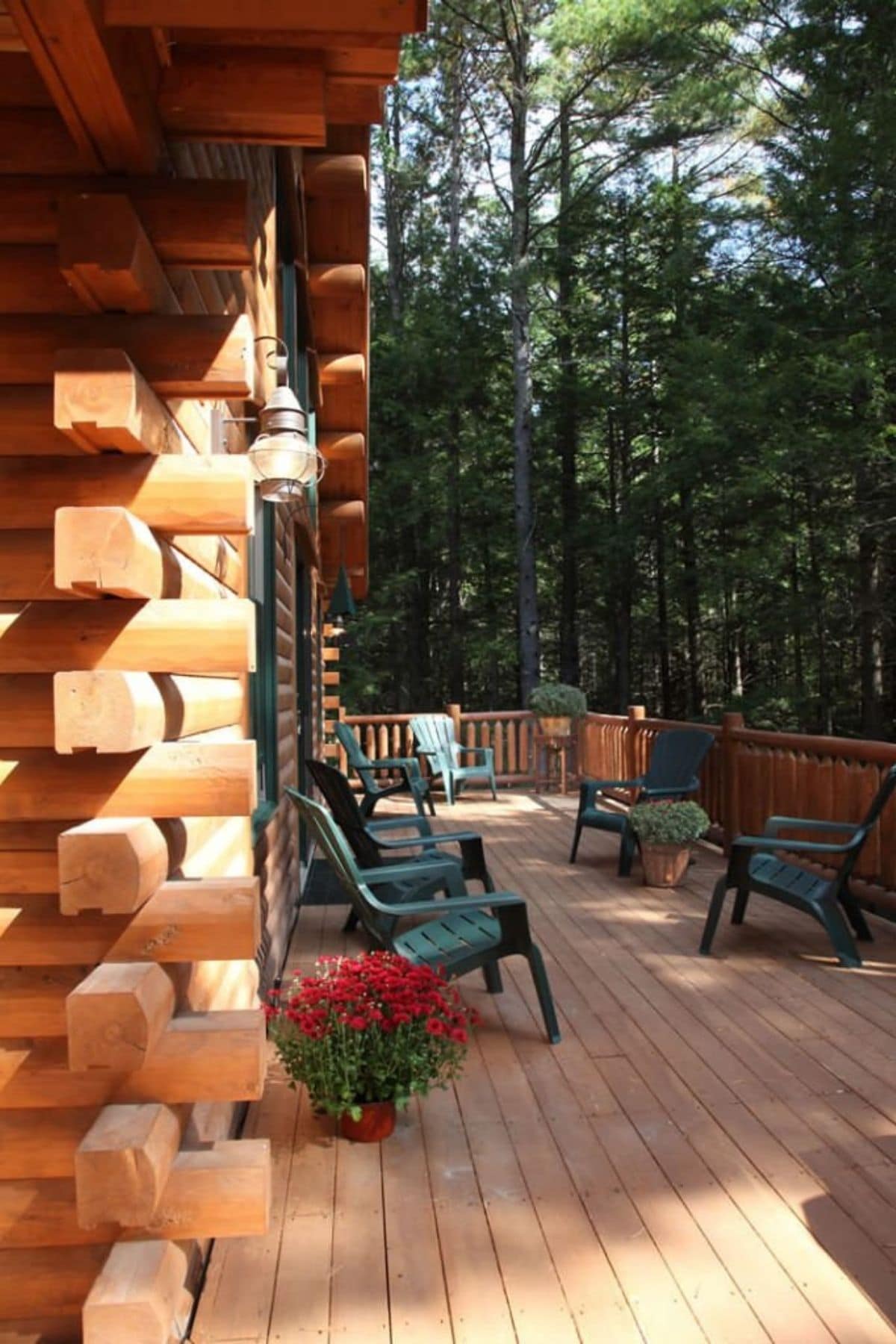 Inside the home, you are met with the same quality log home construction. This is not a facade on the outside only like some. This is truly a log cabin through and through. The entry leads right into the main living room with stairs to the second floor to the left of the door.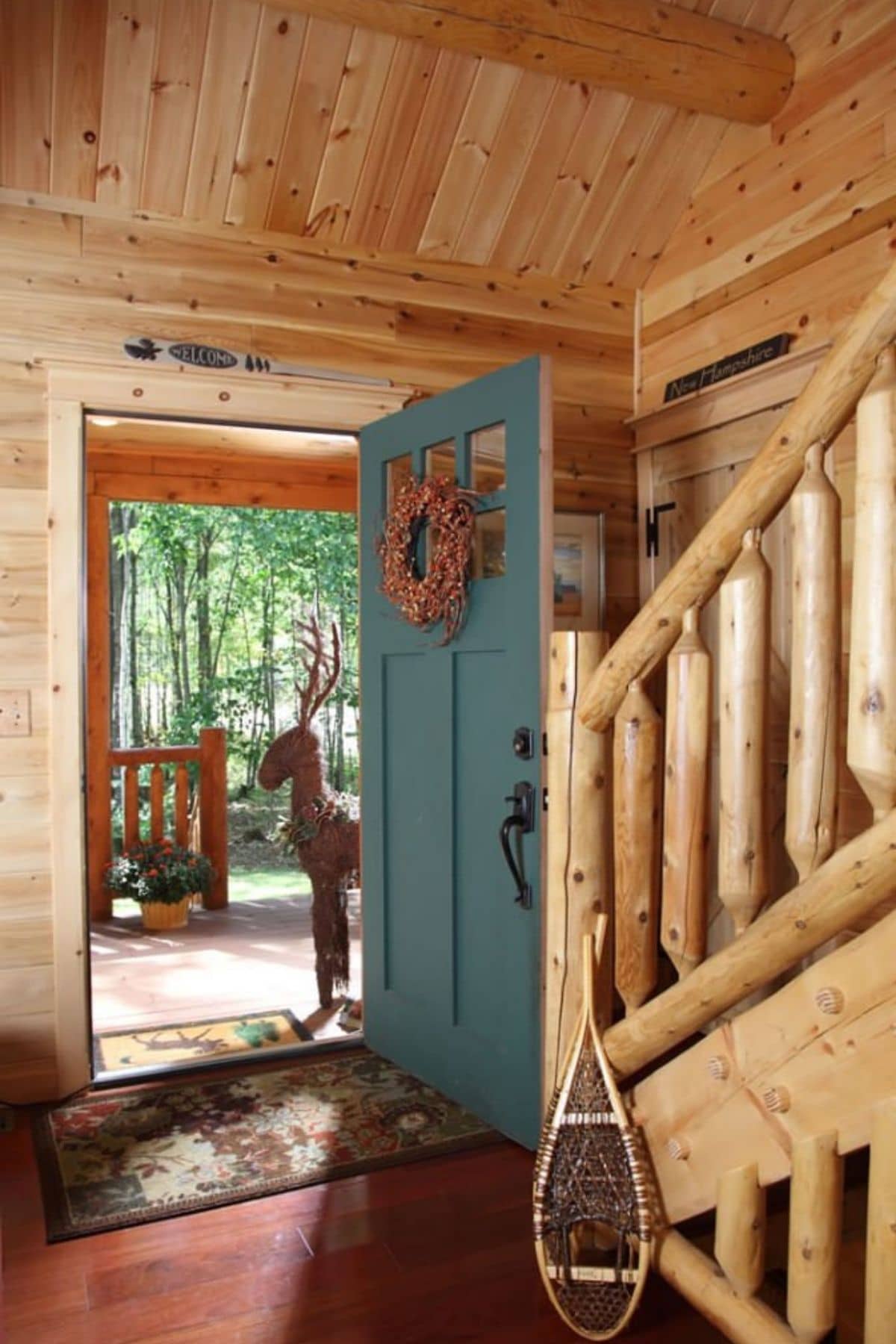 On the backside of the home is a secondary entrance that is more likely where a family would enter regularly. As you can see, this entrance has hooks and cabinets for scarves, boots, jackets, and more. A must if you are in a cooler climate!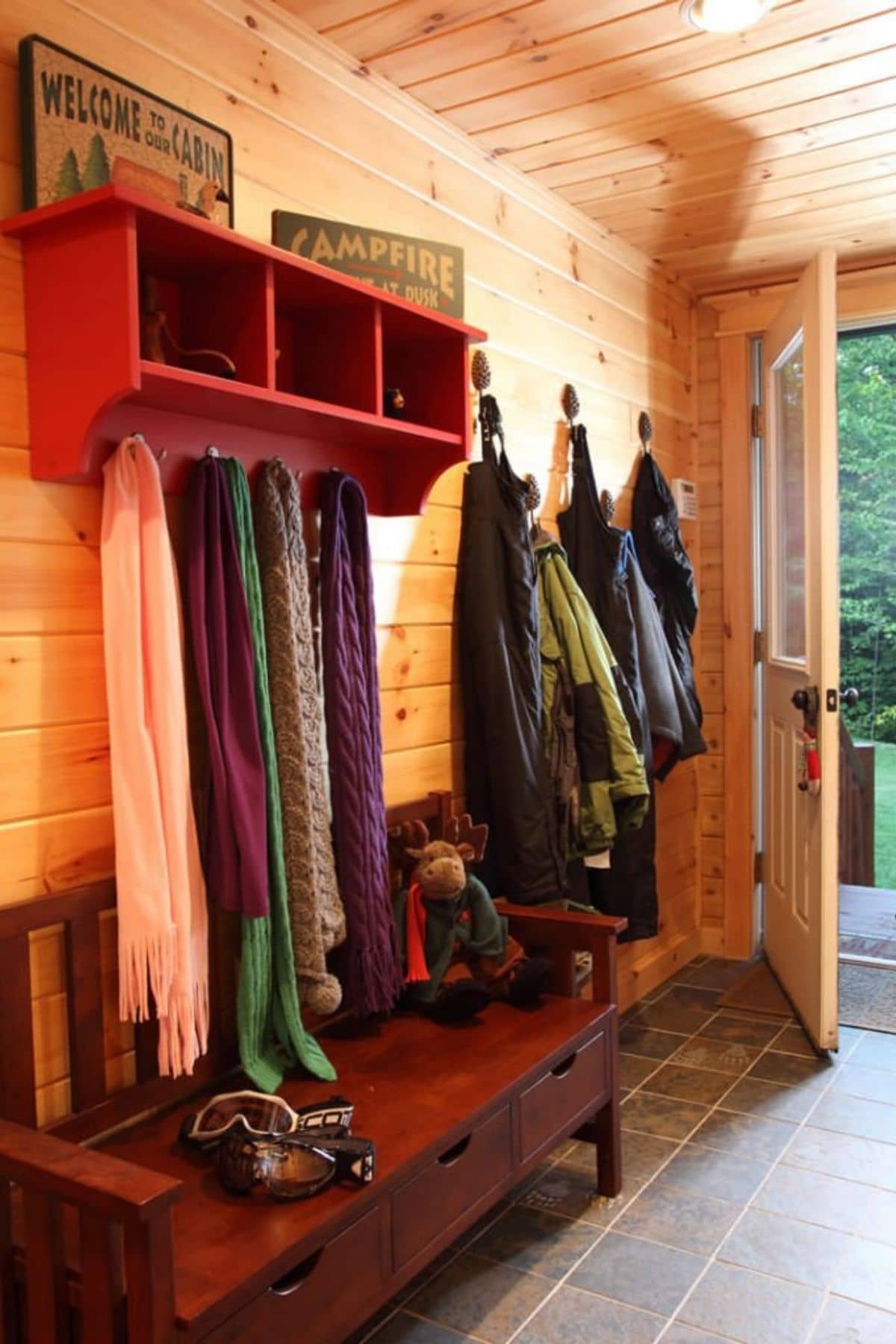 Just through the front door and in the main portion of the bottom floor of the Senator log cabin is this stunning "great room". It is an open floor plan with a living room leading right into the dining room and kitchen. You'll also see from here that side porch we mentioned above that leads out through those French doors.
A small living room area holds a few chairs and while not shown, is spaced nearby that stone fireplace for warmth and a cozy place to relax with friends and family.
Behind this, you see a basic dining table and hutch. The perfect location for family meals or playing a few board games with the kids.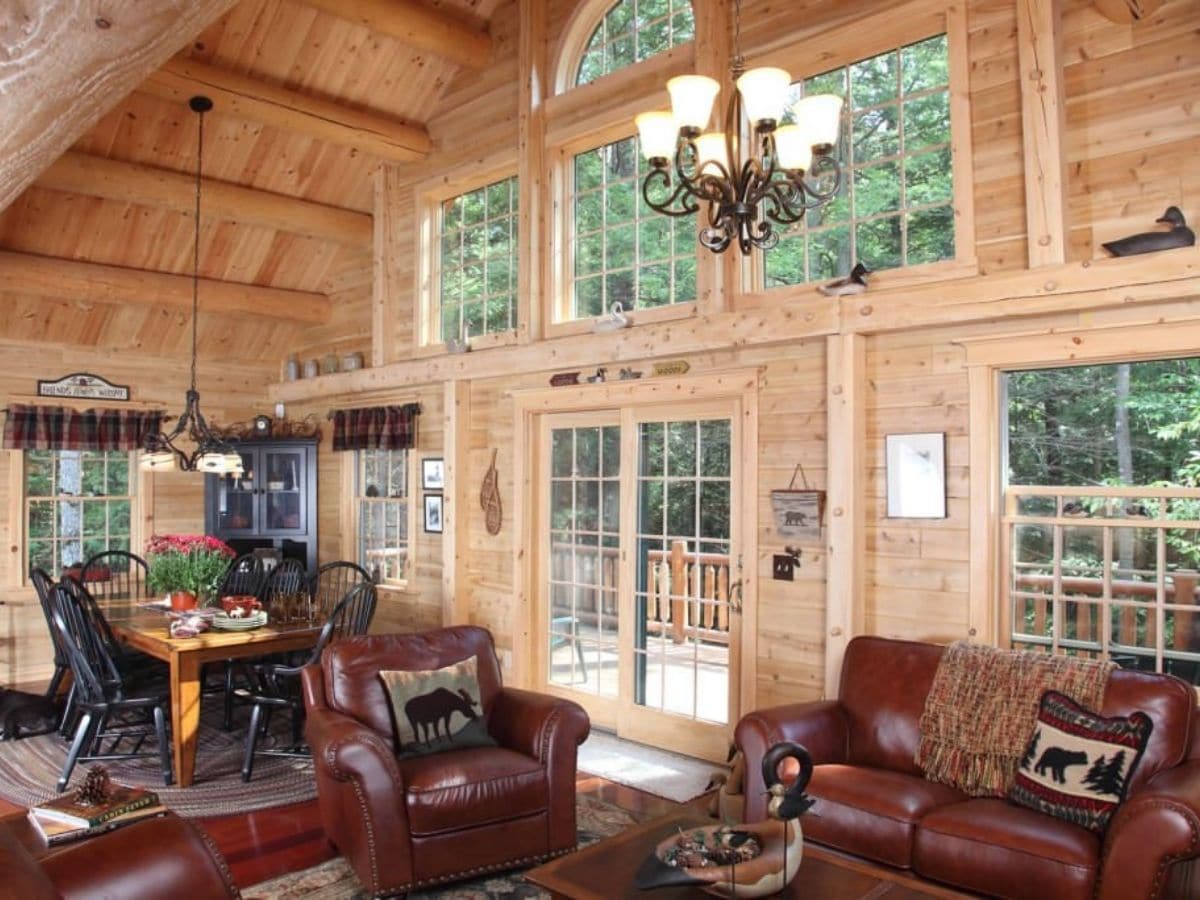 Behind that dining table above is the open kitchen. I love that they kept the rustic look here with all wood cabinets and those warm welcoming colors of red and cream.
The island adds space for a small breakfast bar as well as more countertops for food prep but also gives a bit of a divider between the kitchen and the rest of the home.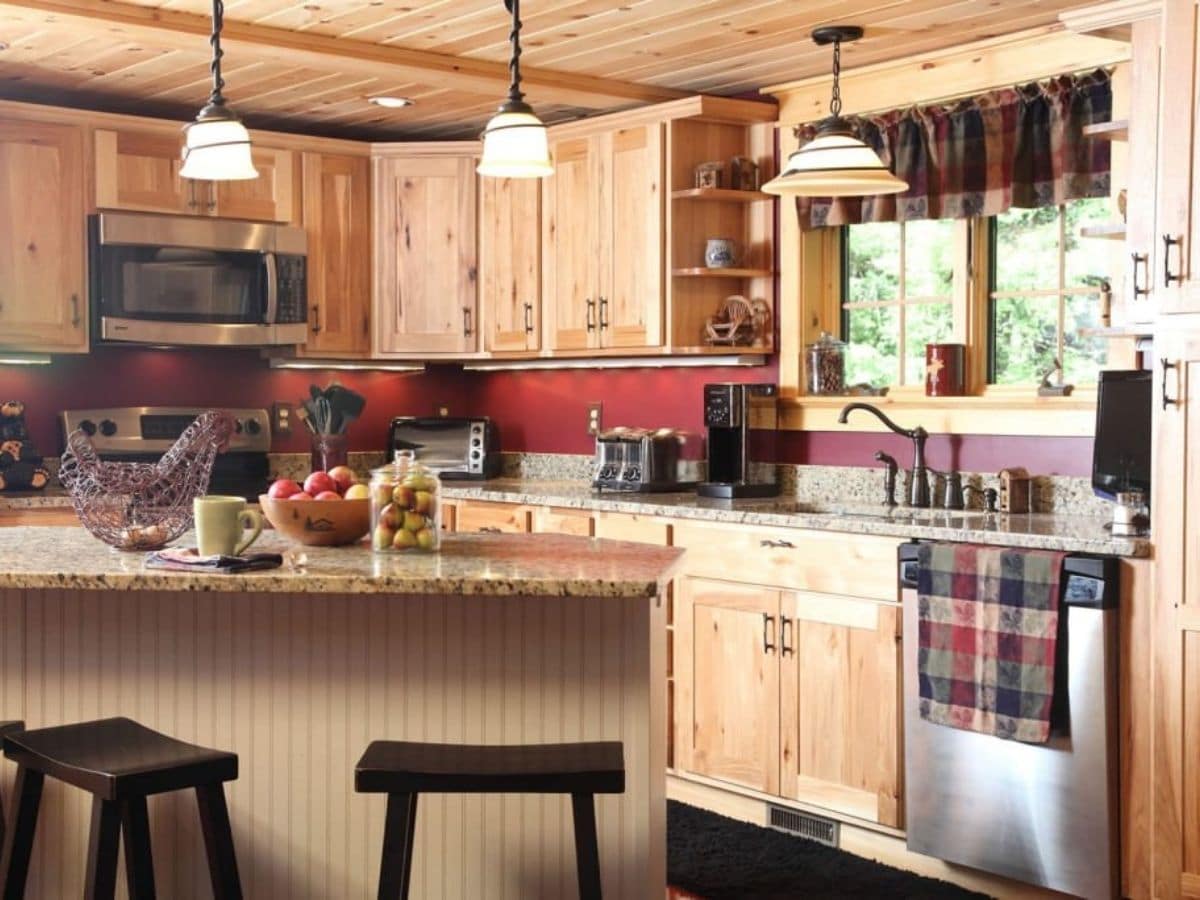 On the upper level of the home are bedrooms including a cozy kids' room with bunk beds. Since this model has 3 bedrooms, you can easily make this a family home or the ultimate weekend getaway with friends around the holidays.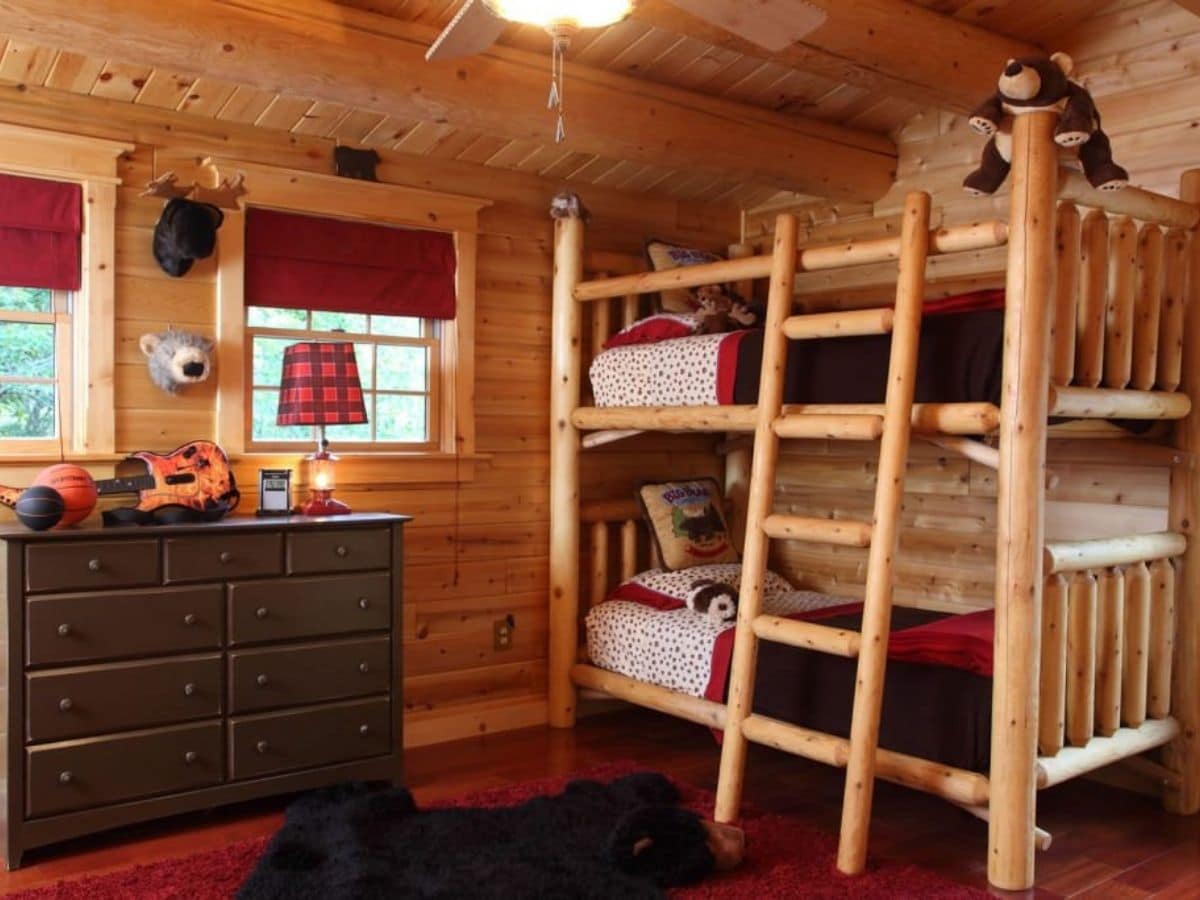 The log beds are beautiful and keep that rustic style going, and of course, I love the pine walls and the lightly stained hardwood flooring. Throw a few rugs down and you have a cozy master bedroom space that is ideal to retreat to after a long day out in nature.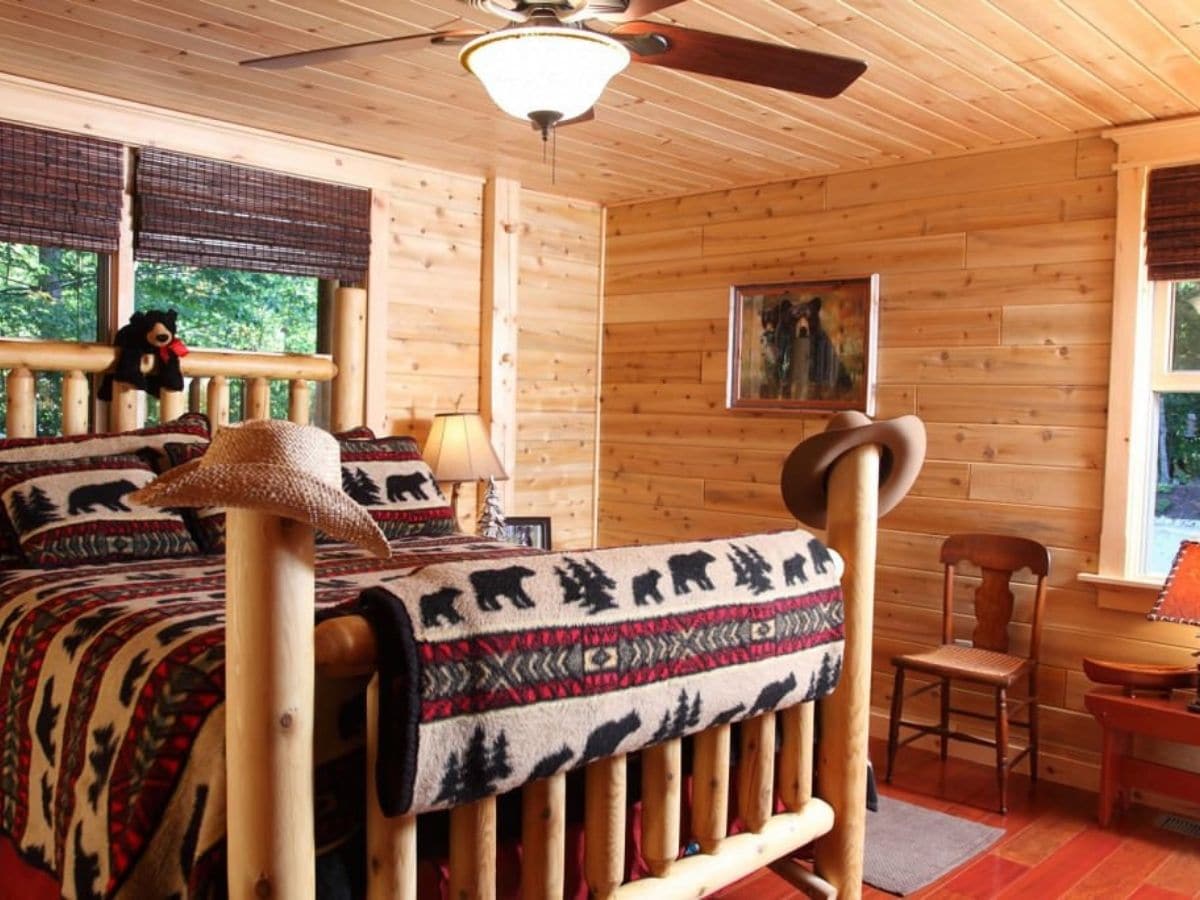 Upstairs, the open loft space is another great nook for relaxation. This might be ideal for kids to gather with their games or to sneak away for a quiet reading nook while others watch the game on television.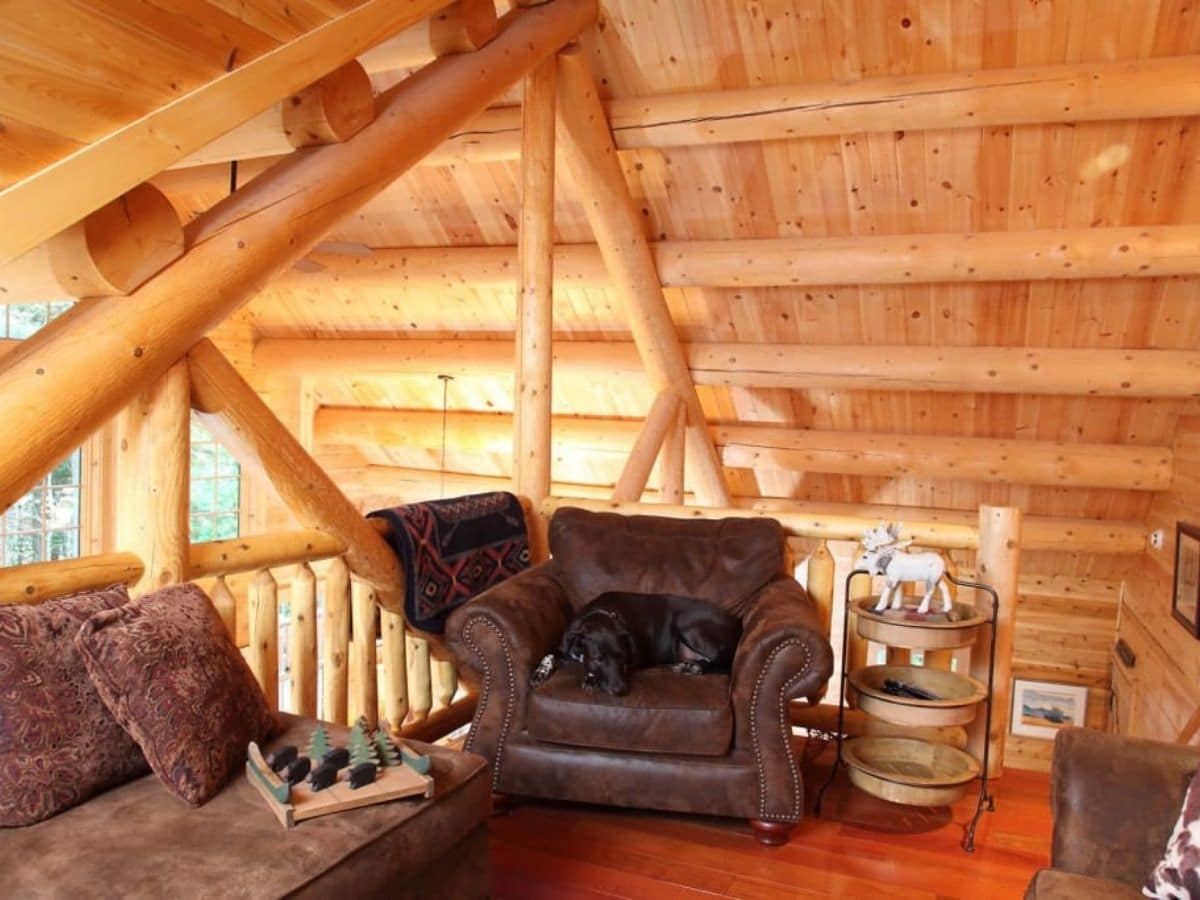 Below is a video tour of this cabin for more details!
If you find the Senator model to your liking, you can find it and more beautiful log cabin options on the Kathadin Cedar Log Homes website. You can also follow them on Facebook, Instagram, and YouTube for more behind-the-scenes looks at their work. Make sure you let them know that Log Cabin Connection sent you their way.
More Log Cabin Kits and Tours