The Murphy Log Cabin is one of those homes that is perfect for families or as a weekend retreat destination. The large open floor plan with bedrooms on both floors creates a cozy space for relaxing in comfort.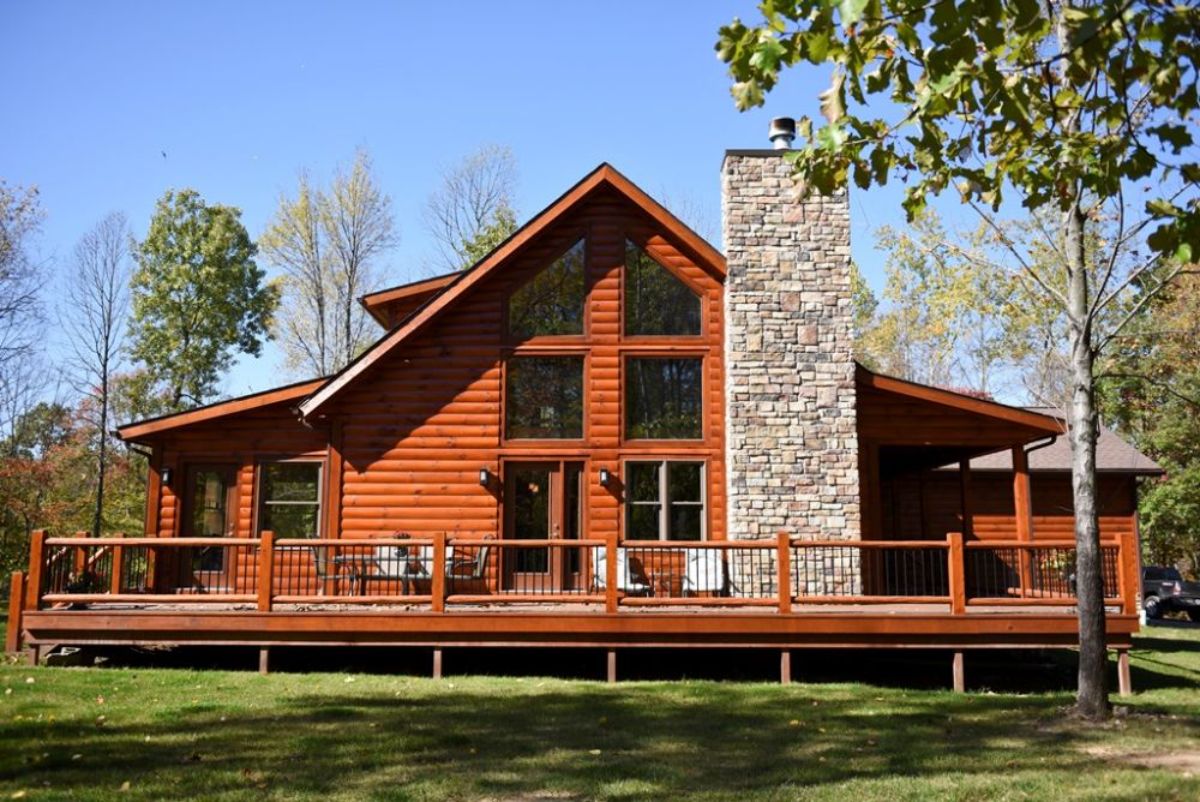 Log Cabin Size.
2,166 square feet
2 bedrooms
1 1/2 bathrooms
Log Cabin Features
8" Pine Log Siding.
Half-wrap around porch with log railing and steel spindles.
Great room with large corner fireplace covered in stone veneer with a log mantle.
Corner kitchen with island bar and tons of open space.
Master suite with large bedroom and bathroom including Jacuzzi bathtub and custom tile shower.
Open loft landing creates a second family room or sizable reading nook.
Combination of drywall and pine interior with cedar trim.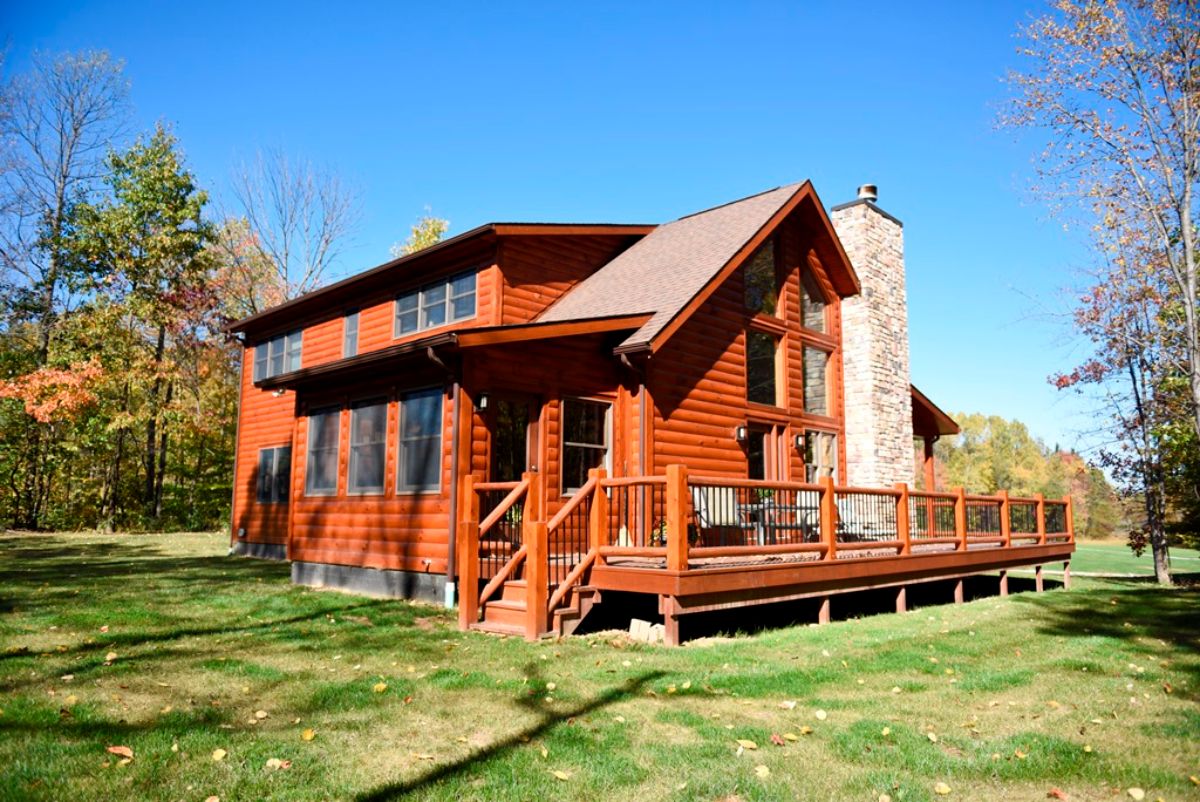 This wide-open deck on the back of the home is a gorgeous addition with log rails and iron spindles. It's the perfect place to have a picnic or even add a grill for a weekend barbecue.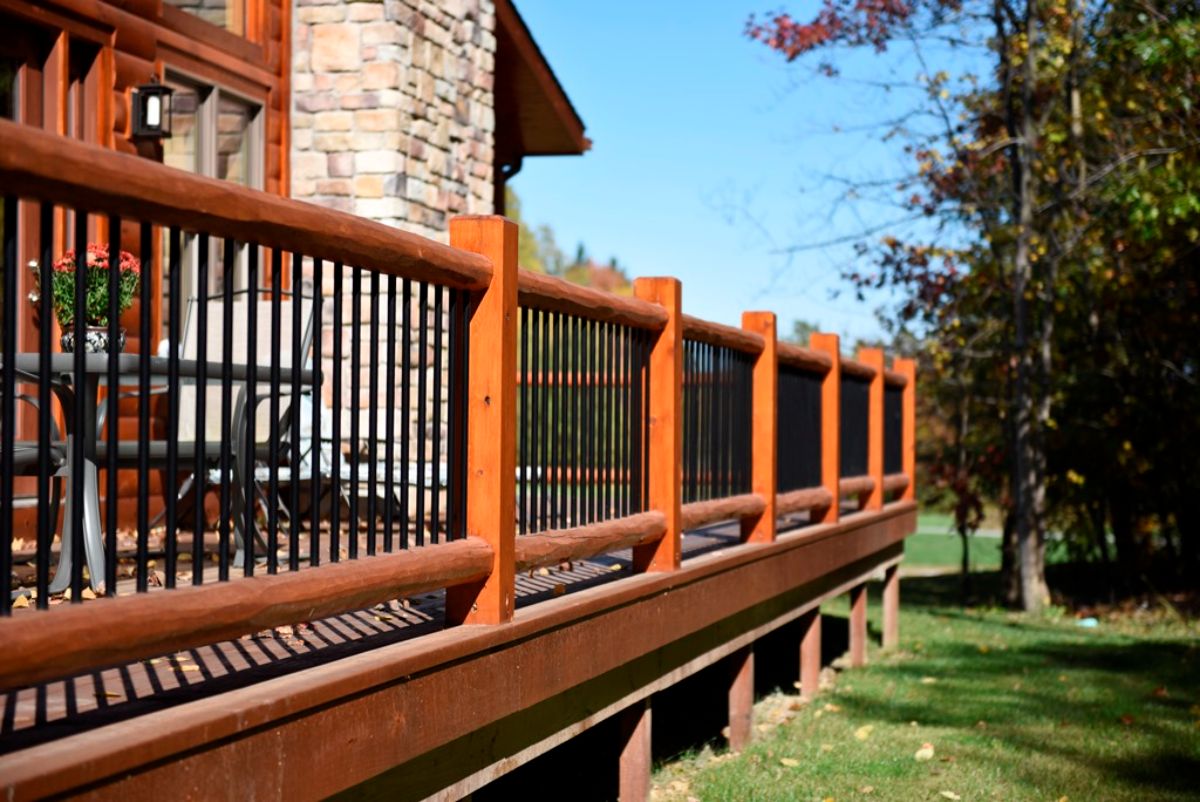 The details both inside and outside with the stone and woodwork really add to the beauty of the home.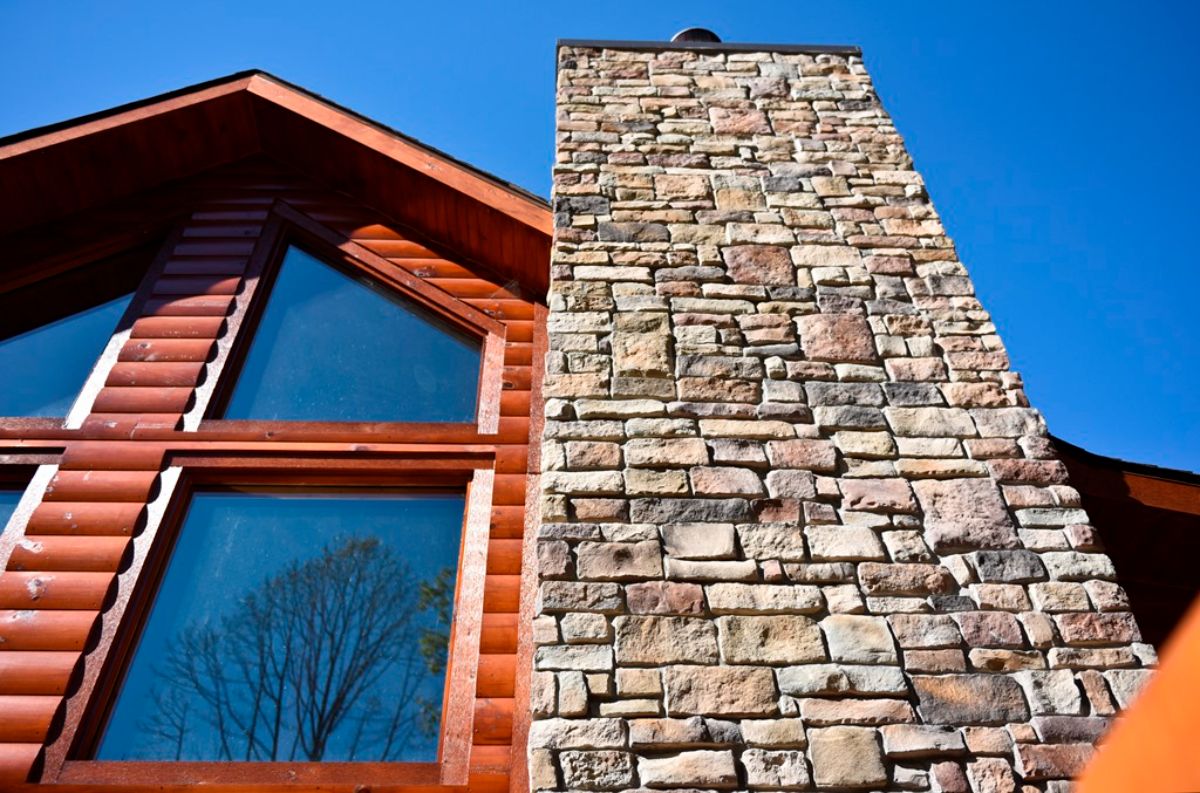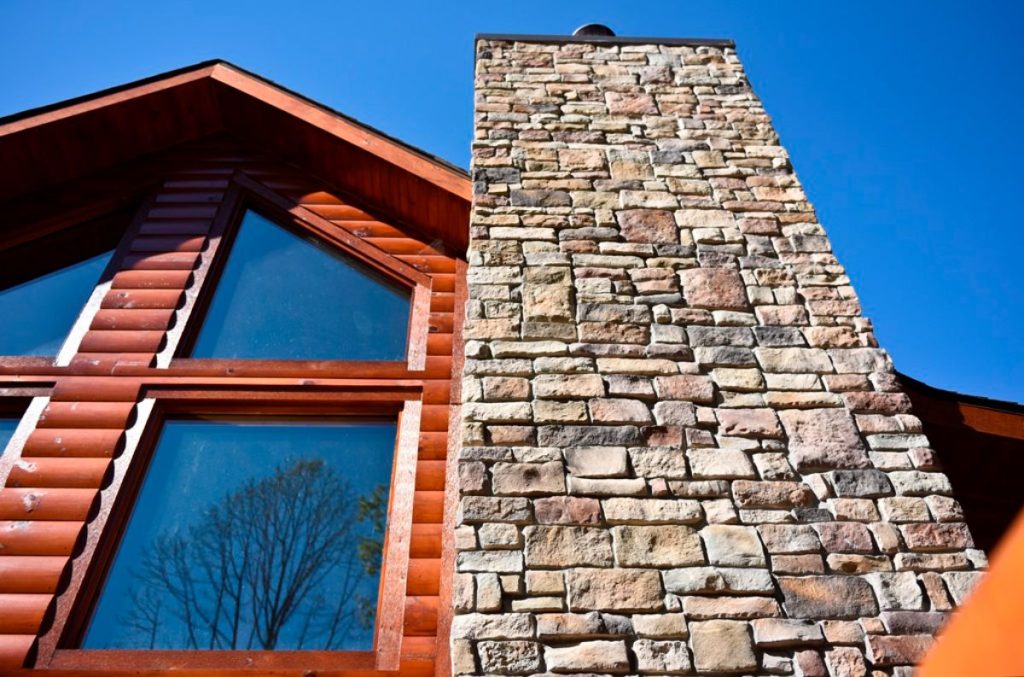 The great room in the home has a wall of windows looking out over that open deck on the back. With beautiful open spaces, tall ceilings, and a combination of woodwork and stonework, it's a welcoming space to use as a family room or living room.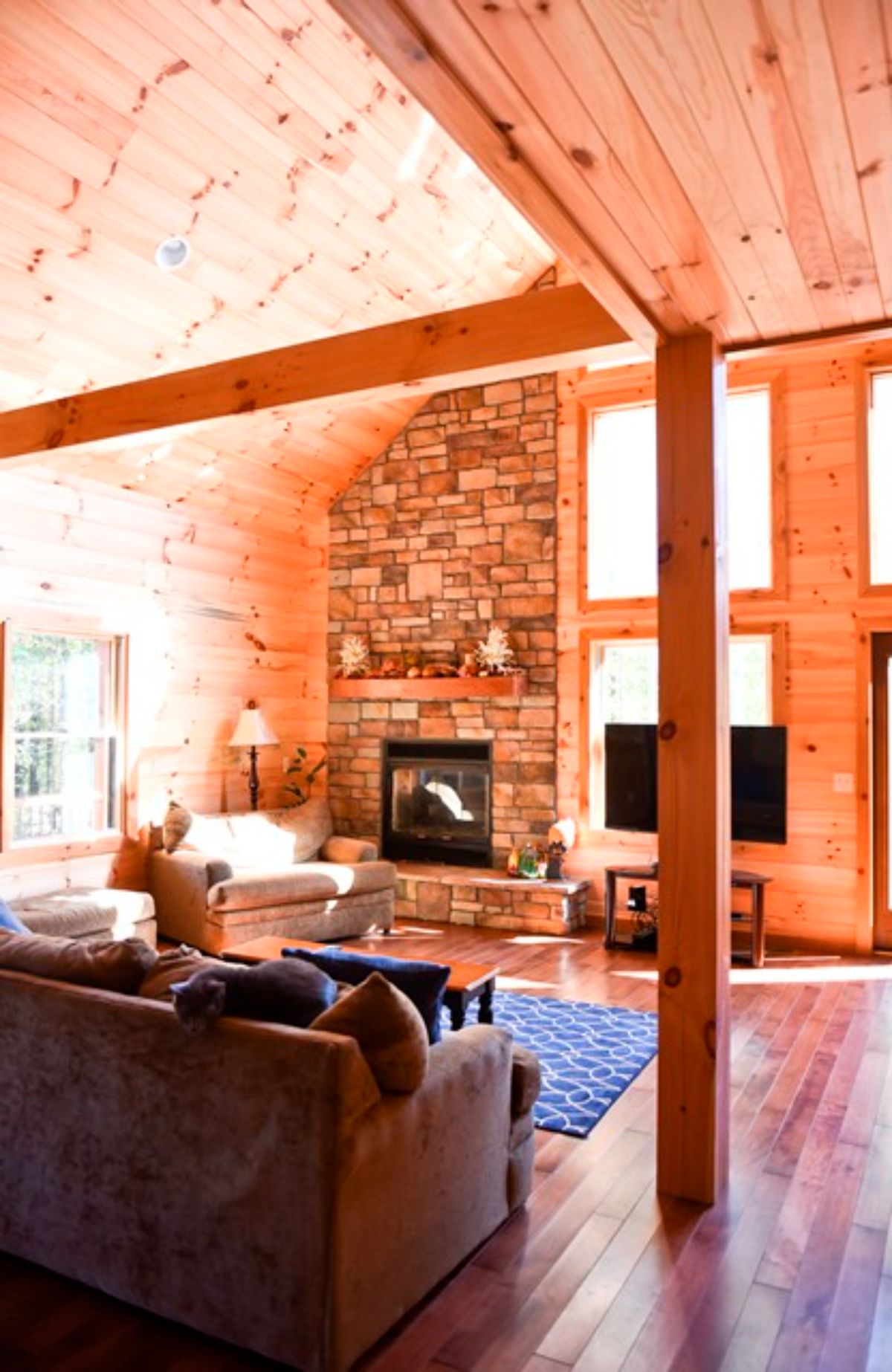 The dining room and kitchen flow right behind the living area with an easy flow that goes from one room to the other. The kitchen has a ton of cabinets with dark wood and a granite countertop that matches wonderfully.
I especially love how there is an island bar right by the kitchen for a breakfast nook or extended space for guests or kids to sit.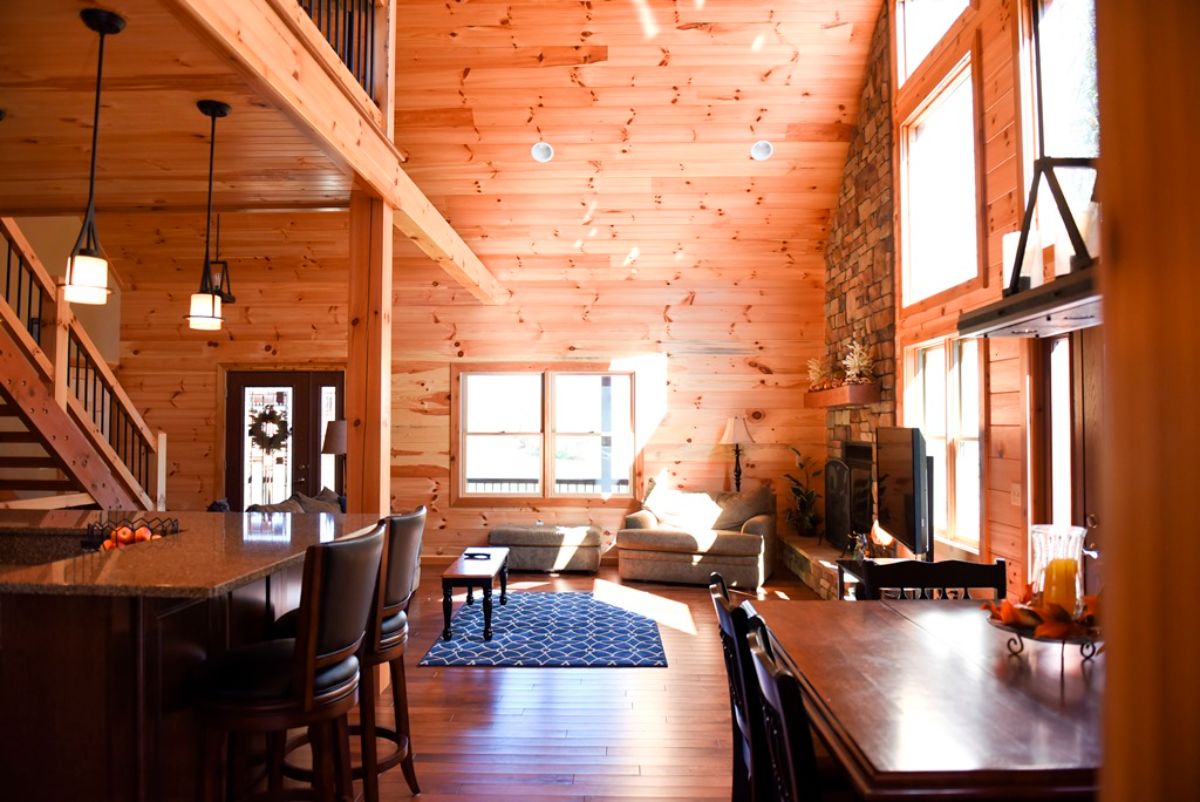 As you can see, the kitchen isn't overly large, but it does have everything you would ever want or need including the stainless steel appliances and open countertops. I love having the sink option on the bar as well as against the wall in the kitchen.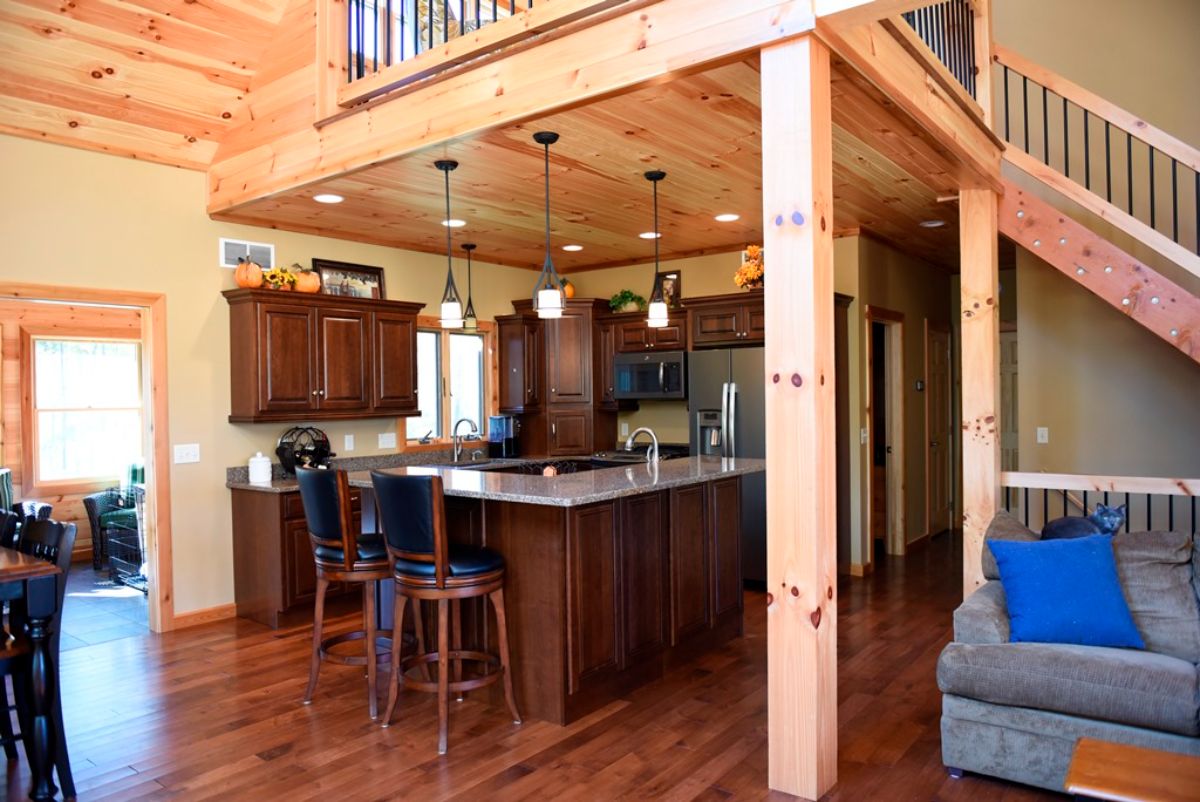 From here you can also get a little bit of a picture into the back side of the home with a hallway behind the kitchen leading to bedrooms and bathrooms as well as the stairs leading both up to the loft and down to the basement space.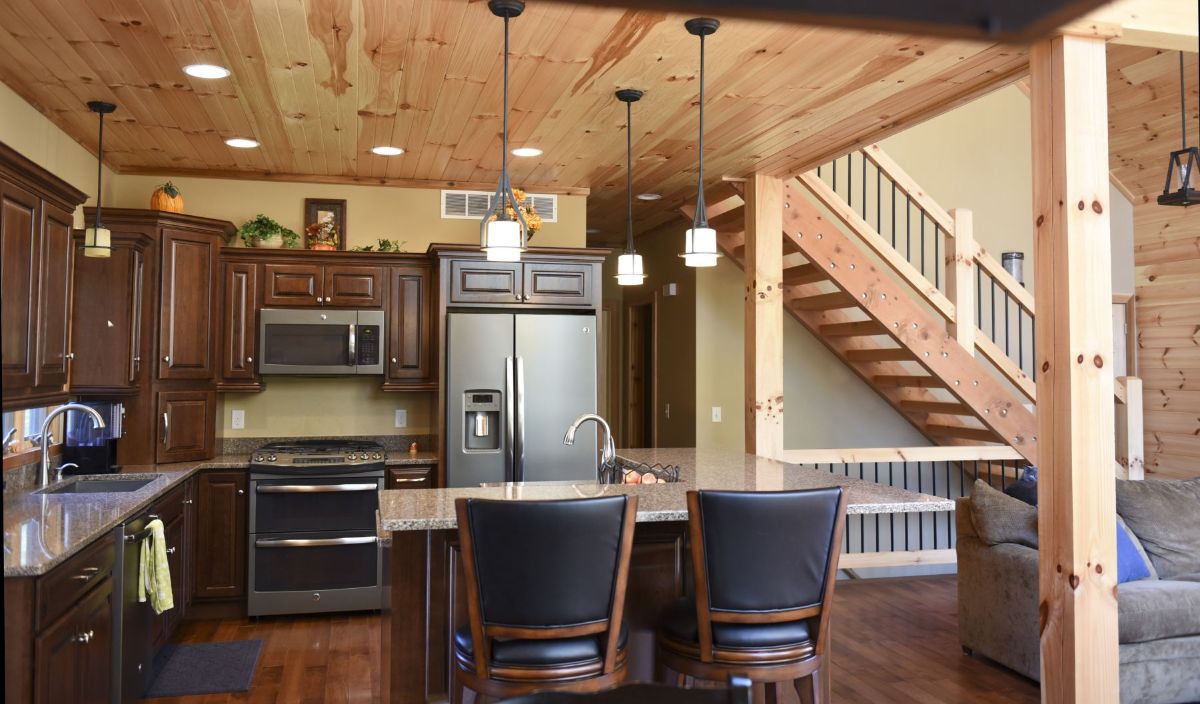 The master bedroom has a combination of painted drywall and pine paneling on the walls with plenty of space for a queen or king-sized bed. With a walk-in closet option and the master suite bathroom attached, it's a great little escape from the world.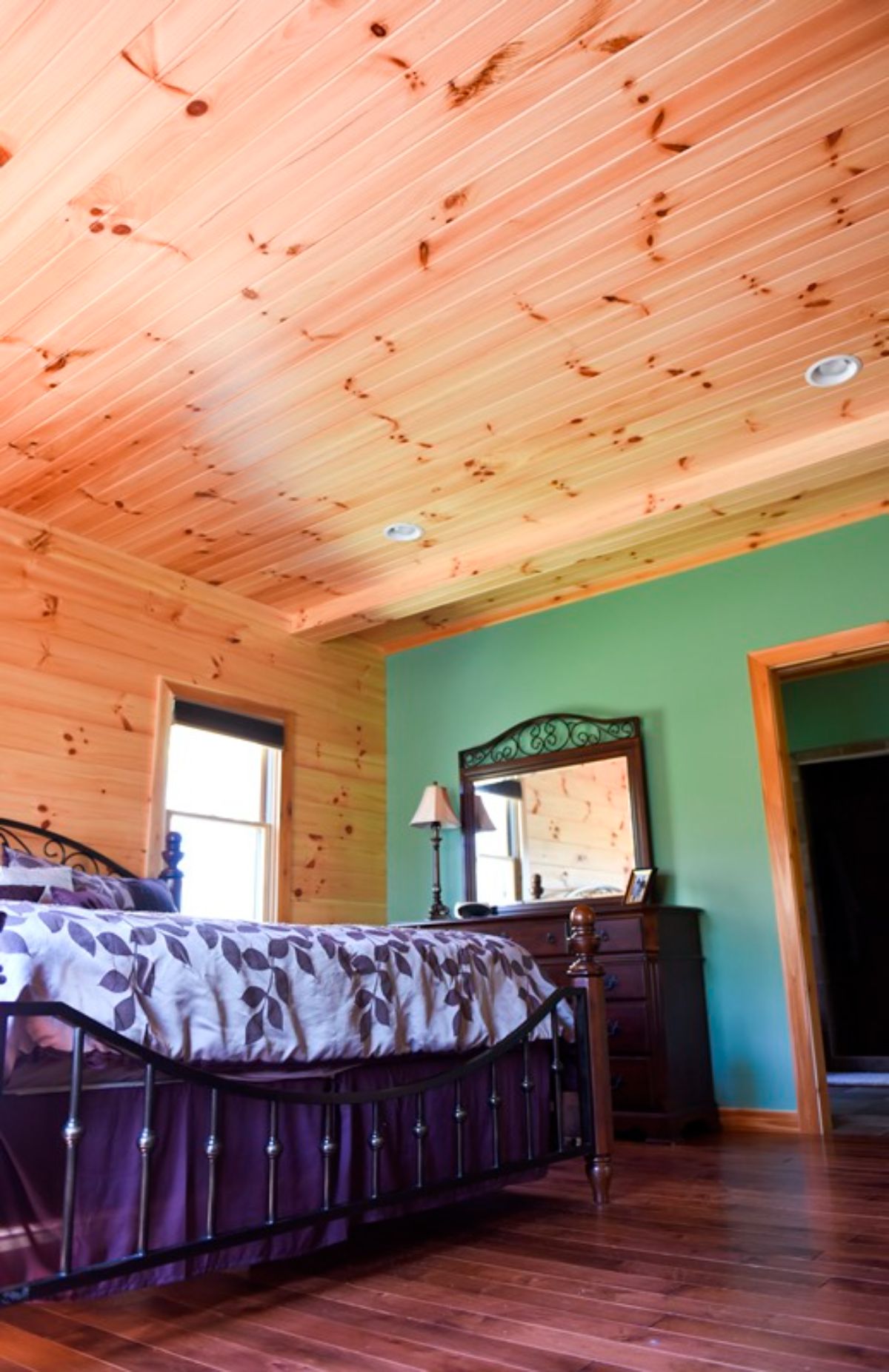 The bathroom has a nice large cabinet with two sinks and not only is there a closet but also an open shelving option for linens and towels. This space also includes the same green paint against the light pine and cedar.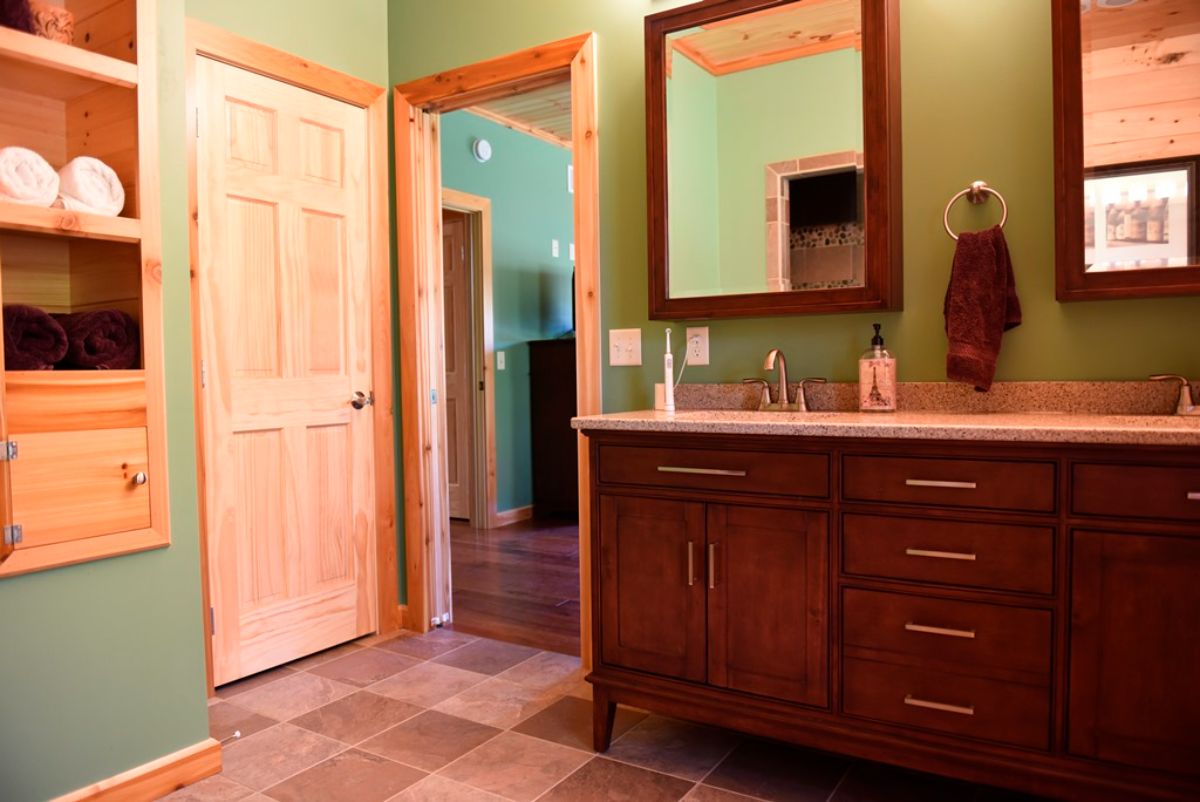 A luxury Jacuzzi bathtub is a perfect addition to make this room feel like that spa escape. Plus, a custom tiled shower beside it makes day to day bathing simple but also comfortable.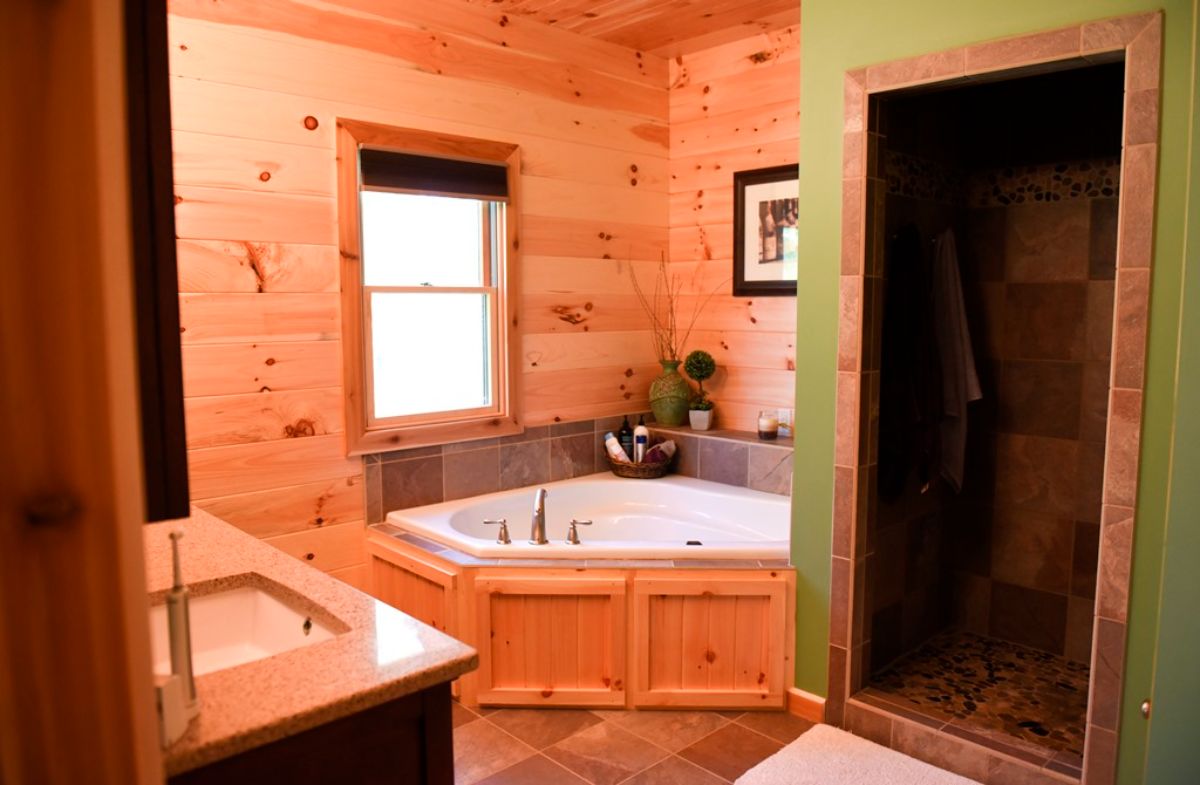 Leading up from the main floor are stairs to the loft and second floor of the home.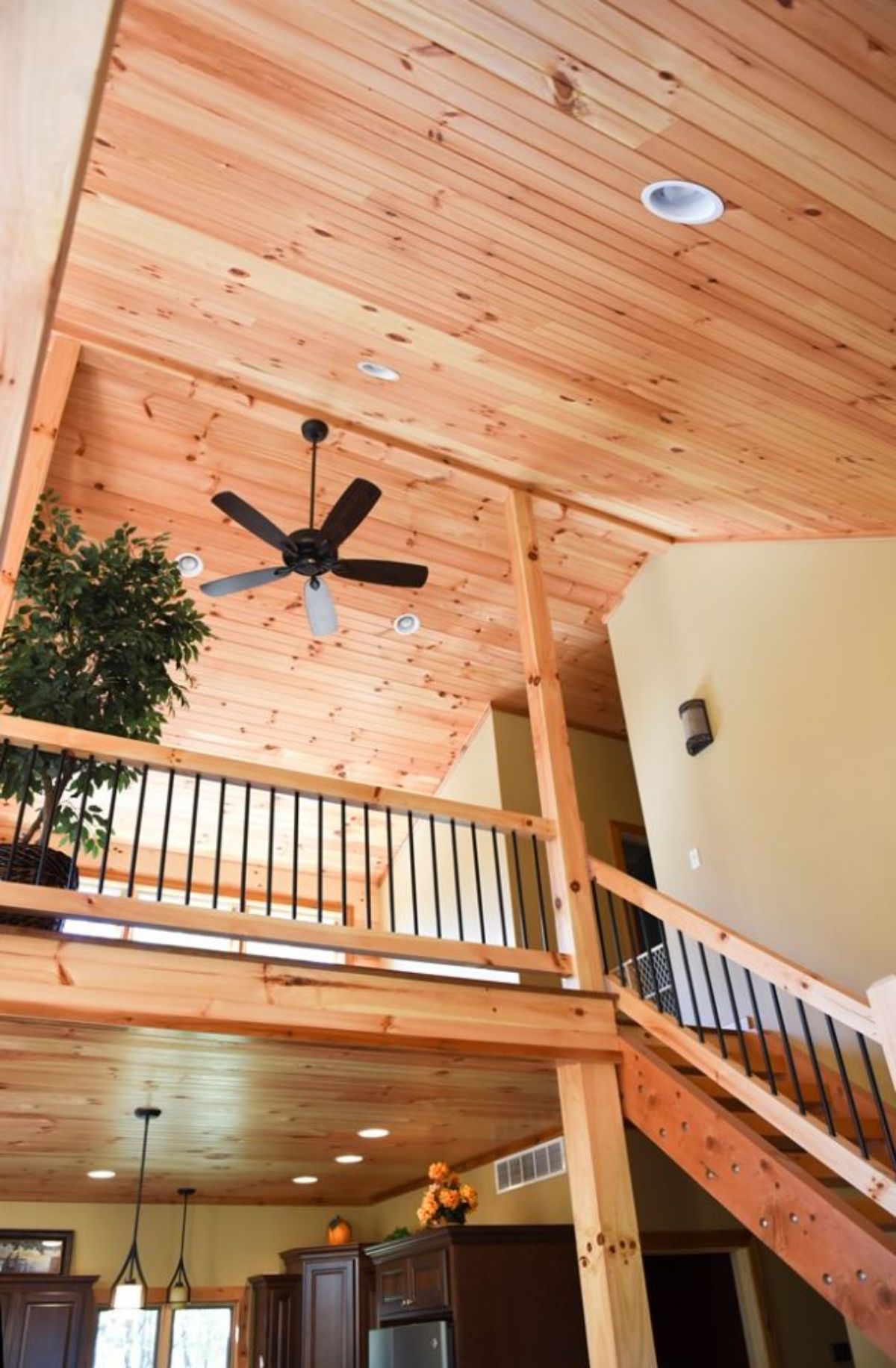 There is an open landing space as shown here, as well as a bedroom. It's a comfortable spot for you to relax with a book, or can just remain open as shown.
The upstairs bedroom is just as large and comfortable with its own sizable closet, and of course, the ceilings here are high as well giving you a bit of extra space to allow the room to feel larger.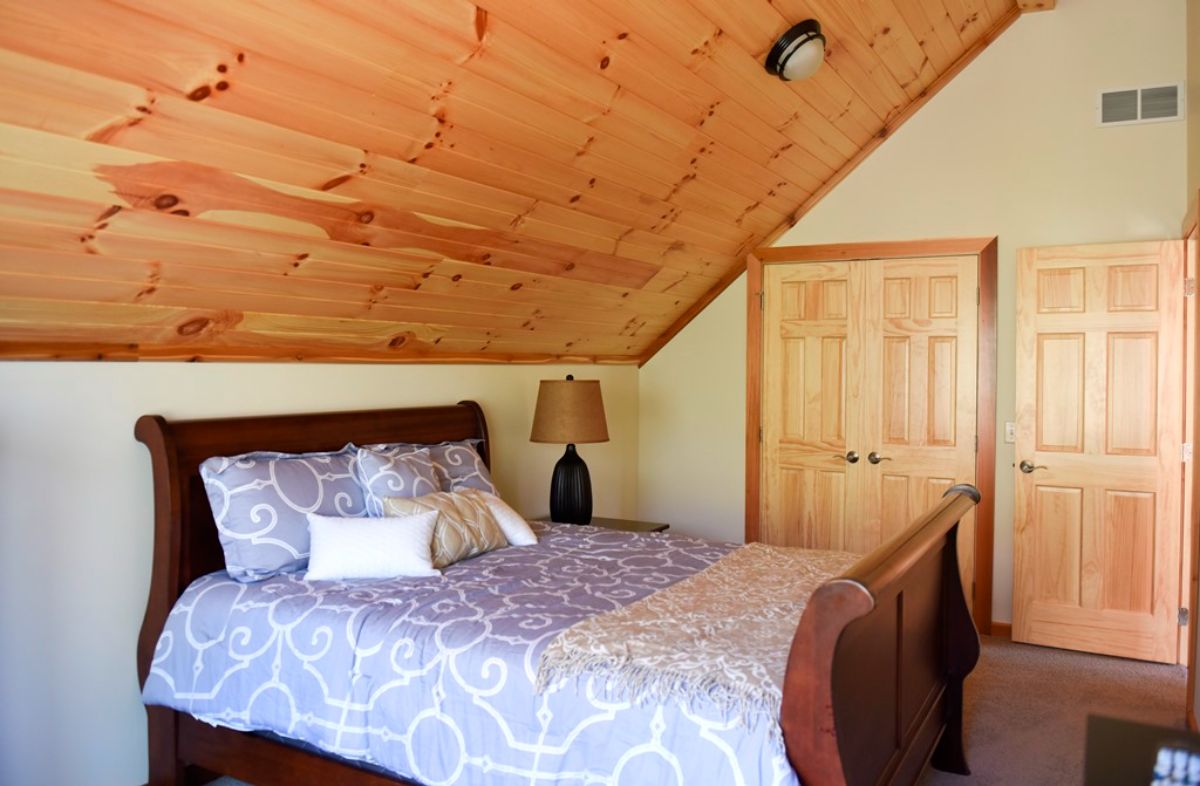 For more information on this log cabin build, check out the Fairview Log Homes website. You can also follow them on Facebook and Instagram for more regular updates. Make sure that you let them know that Log Cabin Connection sent you their way.
More Log Cabin Kits and Tours