With over 2,000 square feet of living space, the Brady Ridge cabin is a modern farmhouse with a rustic style that you are going to fall in love with. From the moment you drive up to when you settle on the back deck to watch the sunset, this home is filled with beauty, quality workmanship, and stunning style.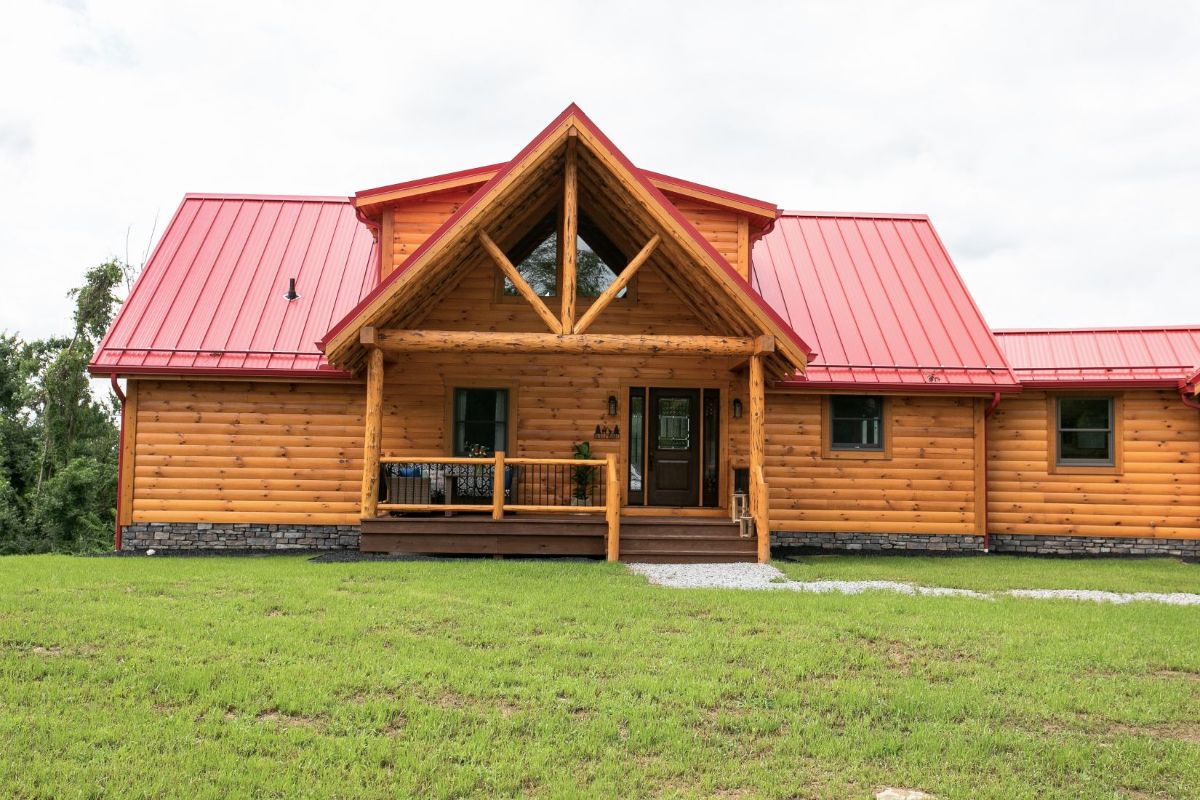 Log Cabin Size
2, 288 square feet
3 bedrooms
2 1/2 bathrooms
Log Cabin Features
Custom built with 8" x 6" Eastern White Pine "D" logs with vertical corners.
Red metal roof on both home and attached garage.
Attached 2-car garage with breezeway access to the main living space includes a laundry room, mudroom, and a half bathroom.
The garage includes a large unfinished space that could be turned into storage or a second living space.
Master suite with large walk-in closet on the main floor.
Main floor master bathroom with copper soaking tub and dark wood cabinets.
Two bedrooms and a full bathroom upstairs on the second floor of the home.
Large trapezoid windows in the main floor living space.
A large rear deck covers the length of the home.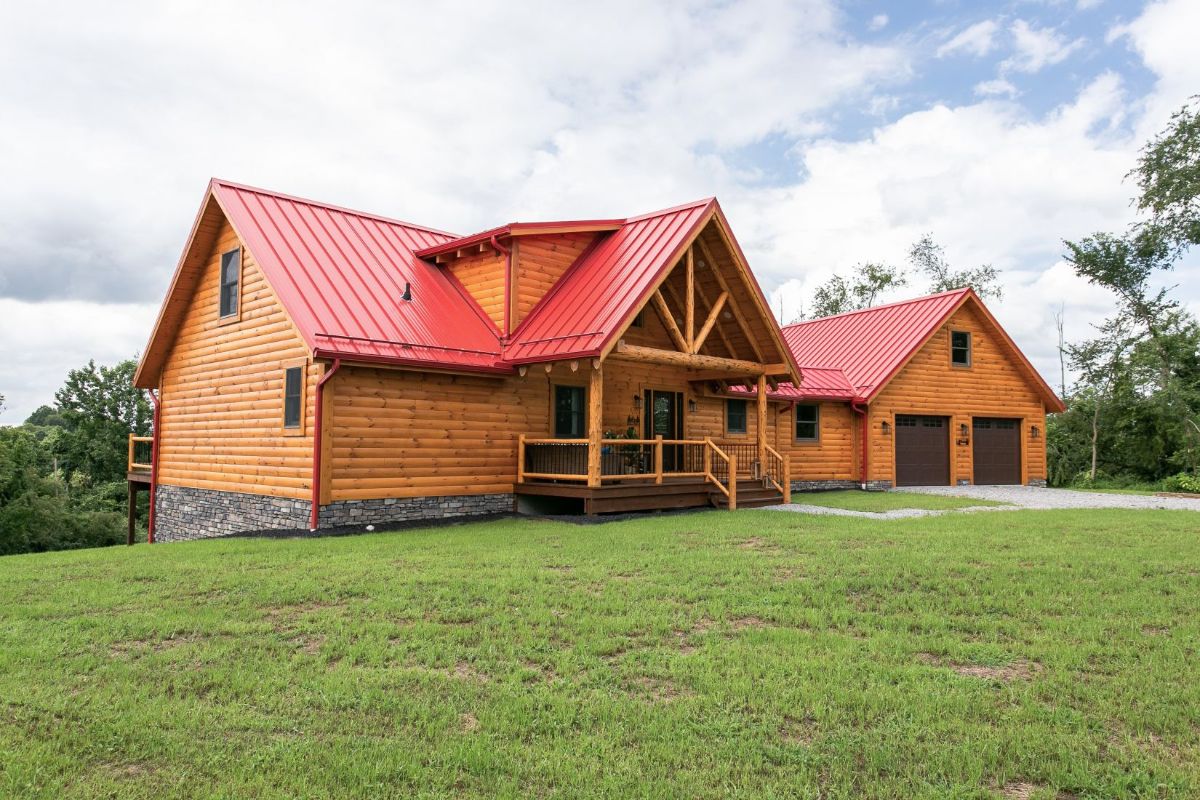 On the back of the home, you have a stone veneer on the basement level with an open deck and porch off the back of the home looking out over the property.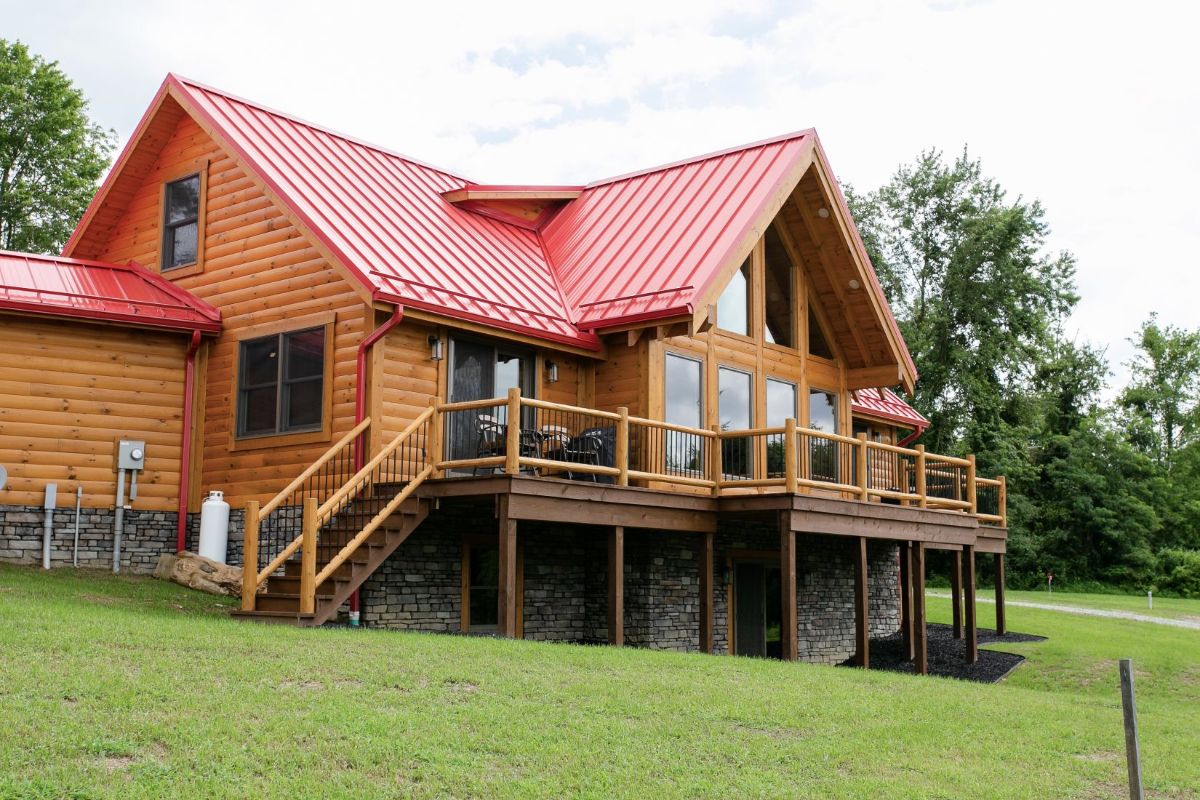 The back of the home and deck is ideal for turning into an ideal location for your favorite weekend retreat or inviting friends over for a barbecue event.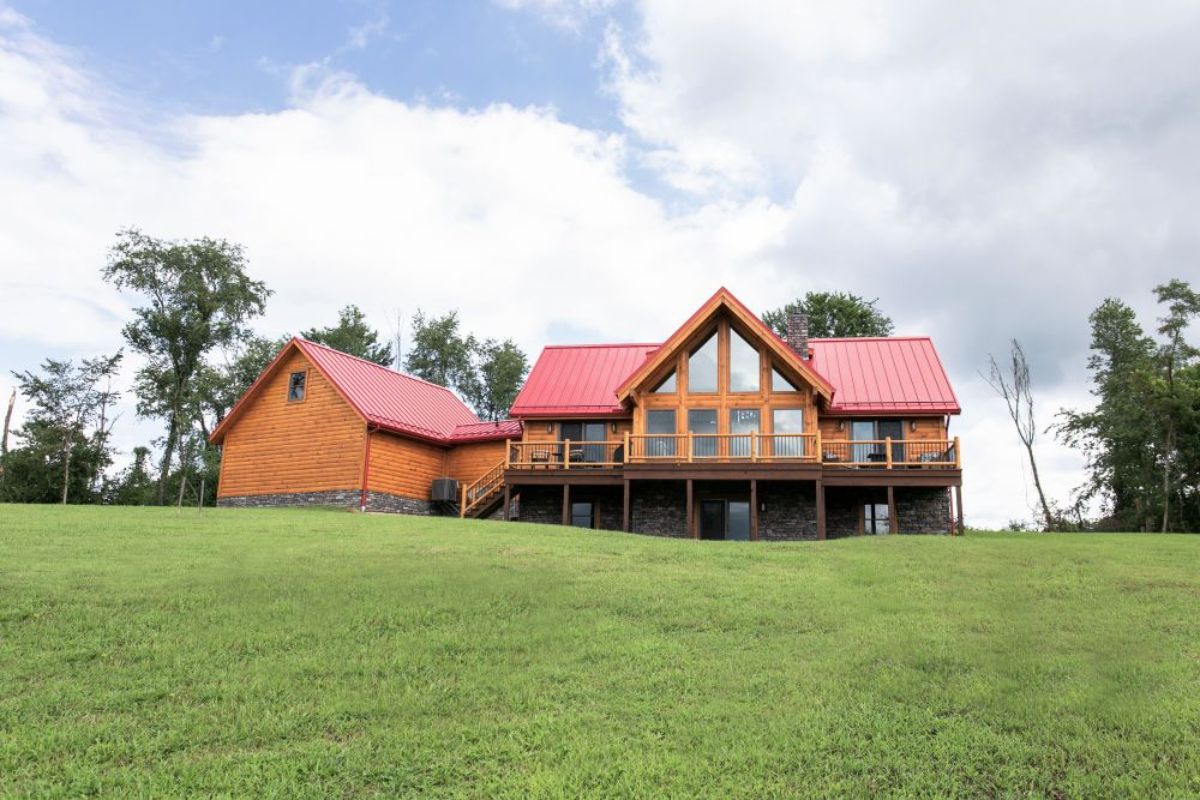 While the front of the home only has a small covered porch, it is still large enough to have a few chairs, a bench seat, or even a porch swing if you want.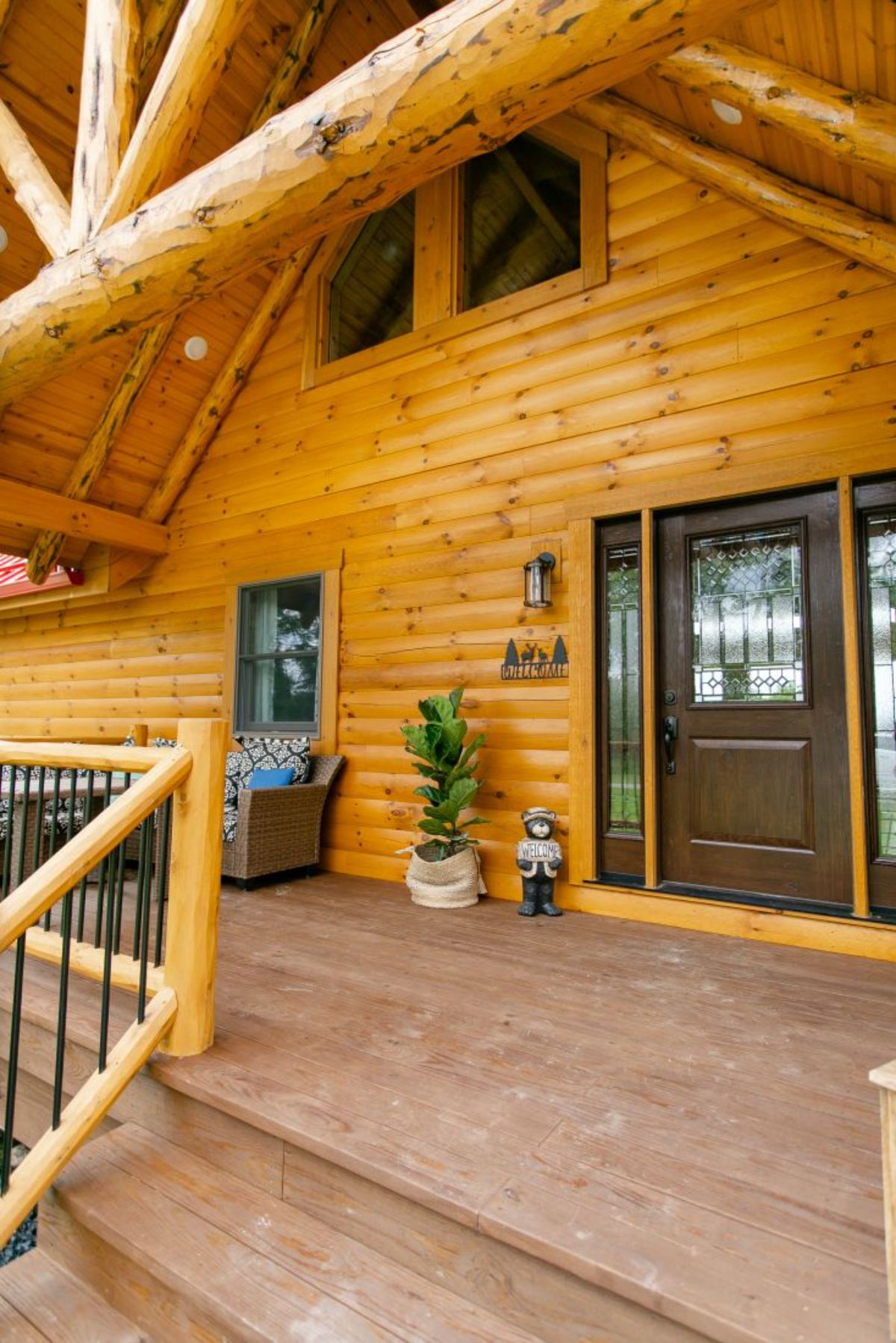 The garage is attached to a home with a simple breezeway. Off the breezeway is a half bathroom and a mud-room/laundry room that is ideal for keeping things orderly in the home.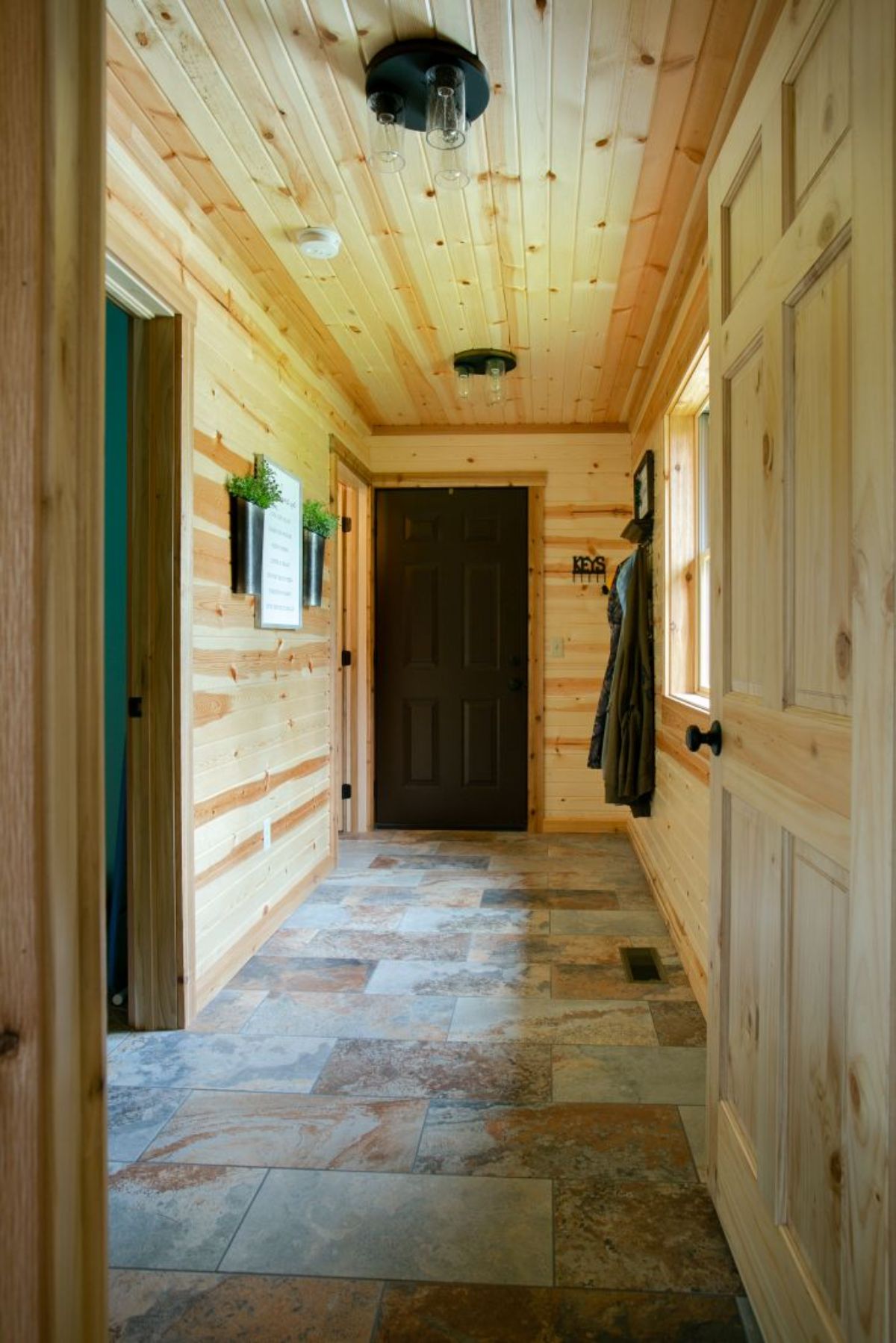 Stepping inside this home you have the main floor that includes a large open living room, the main floor bedroom, and bathroom, as well as a sizable kitchen. In the center of the space, you have stairs leading down to the basement level and up to the top level where you find two more bedrooms.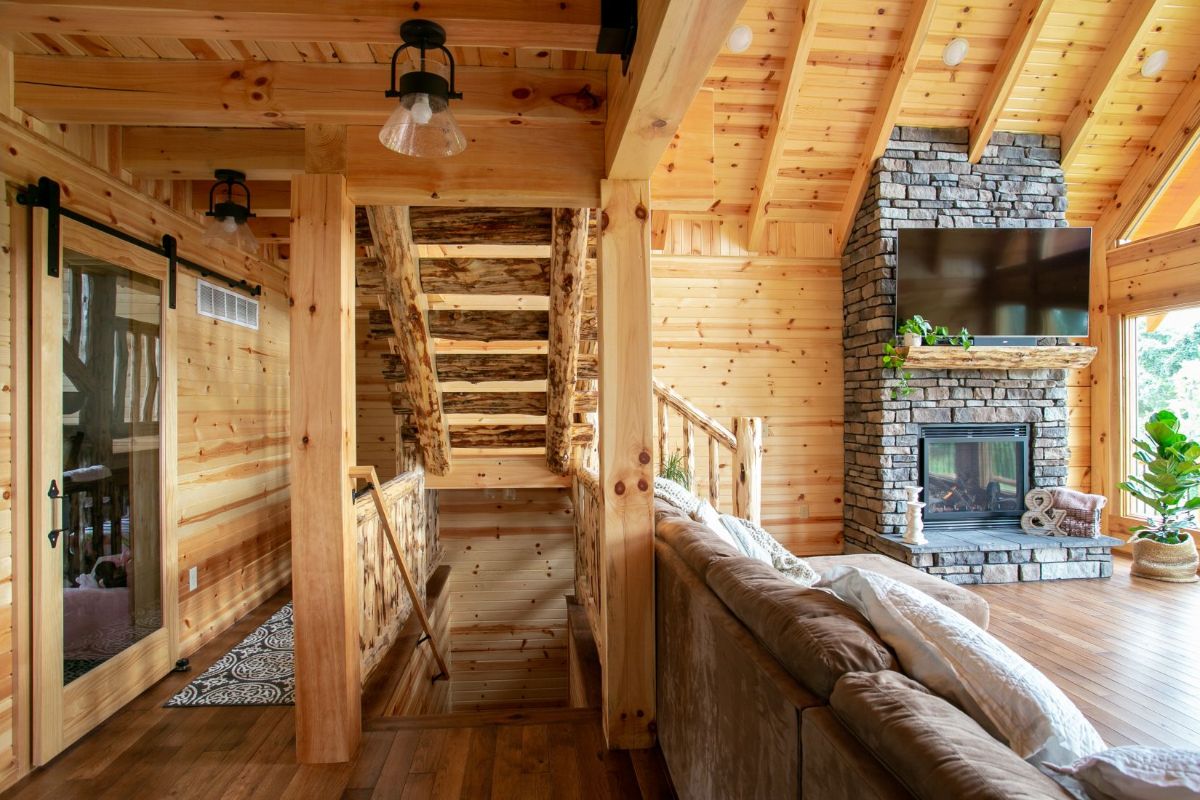 A classic great room presentation with a wall of windows and that classic trapezoid design on the upper half of the space creates a lovely room for relaxation. With a stone fireplace on the left wall including a log mantle and the television mounted above, you have a great family room space.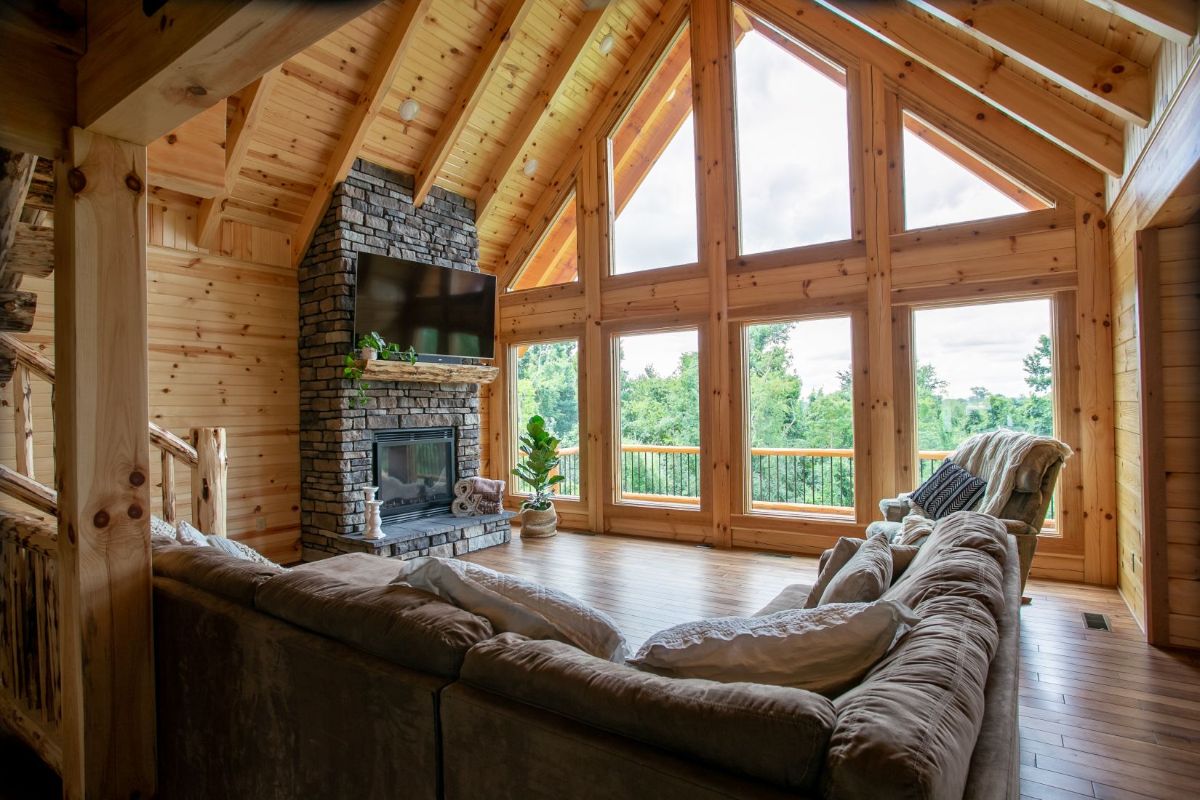 A view from that wall of windows is below showcasing the kitchen on the left and the stairs to the loft on the right side. An open landing above is another place for a simple second living room for the family.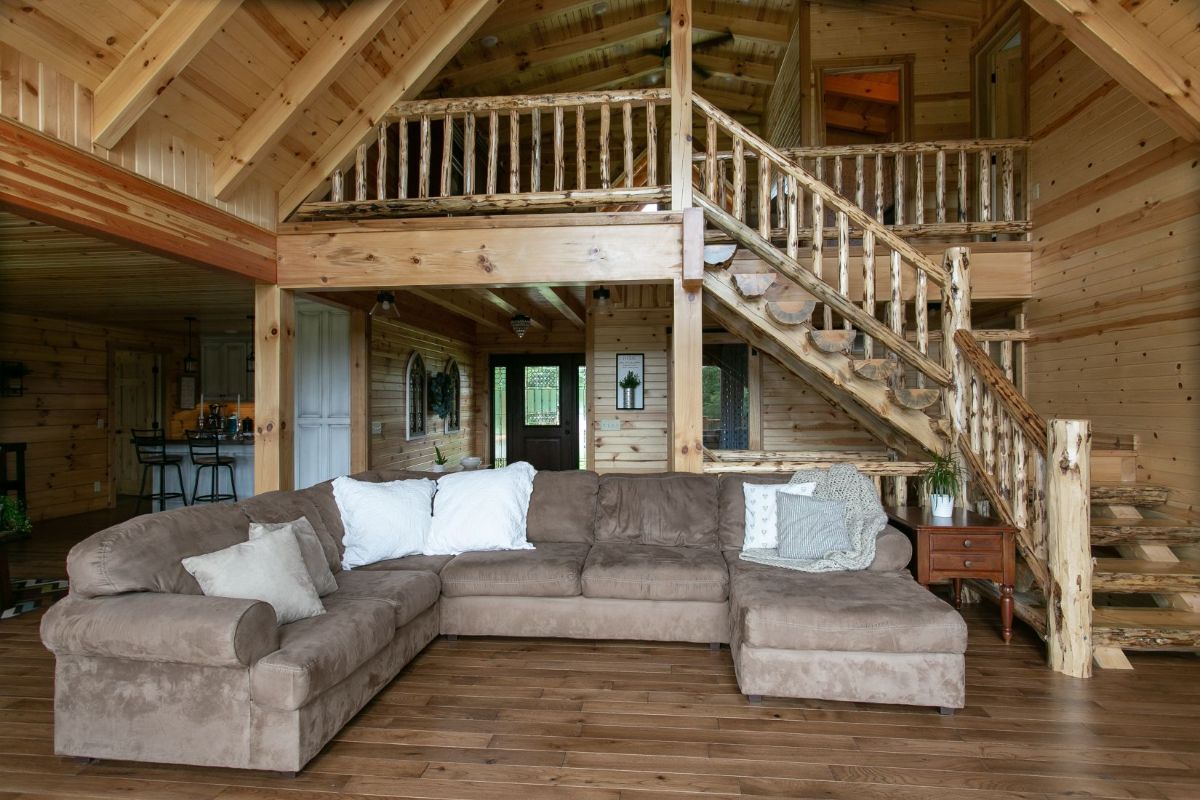 While the home has a casual feel to it, you also have this larger dining room space. It includes a simple wood table with benches that is relaxed and cozy, but could also be updated to create a formal dining space if you need.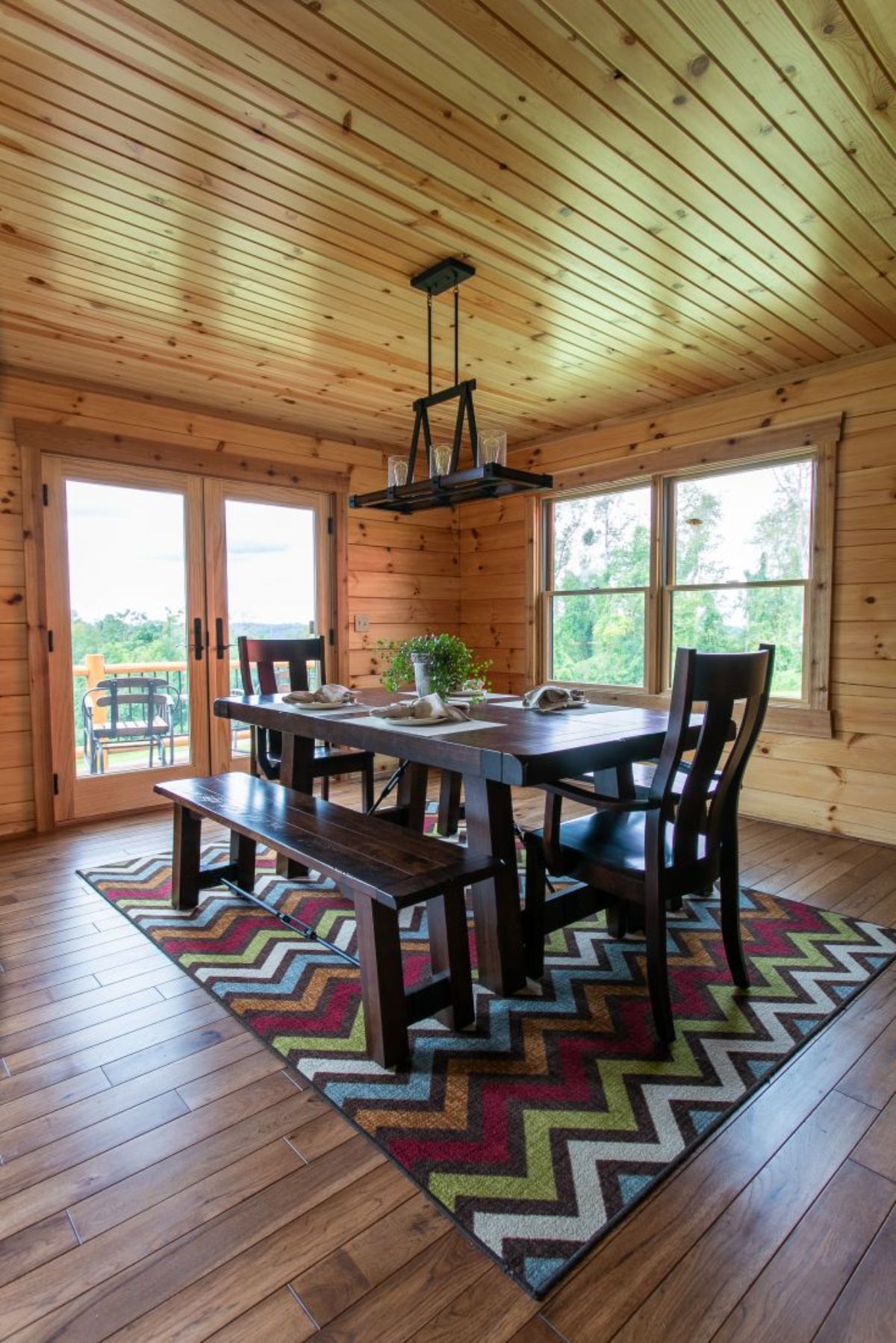 Unique additions like this chandelier above the table are just part of the look of this home. It has those little farmhouse additions that are popular while also giving you a sleek and functional design.
White cabinets, a simple island bar, and those dark stainless steel appliances are all a part of the modern look that pairs well with the log walls and floors.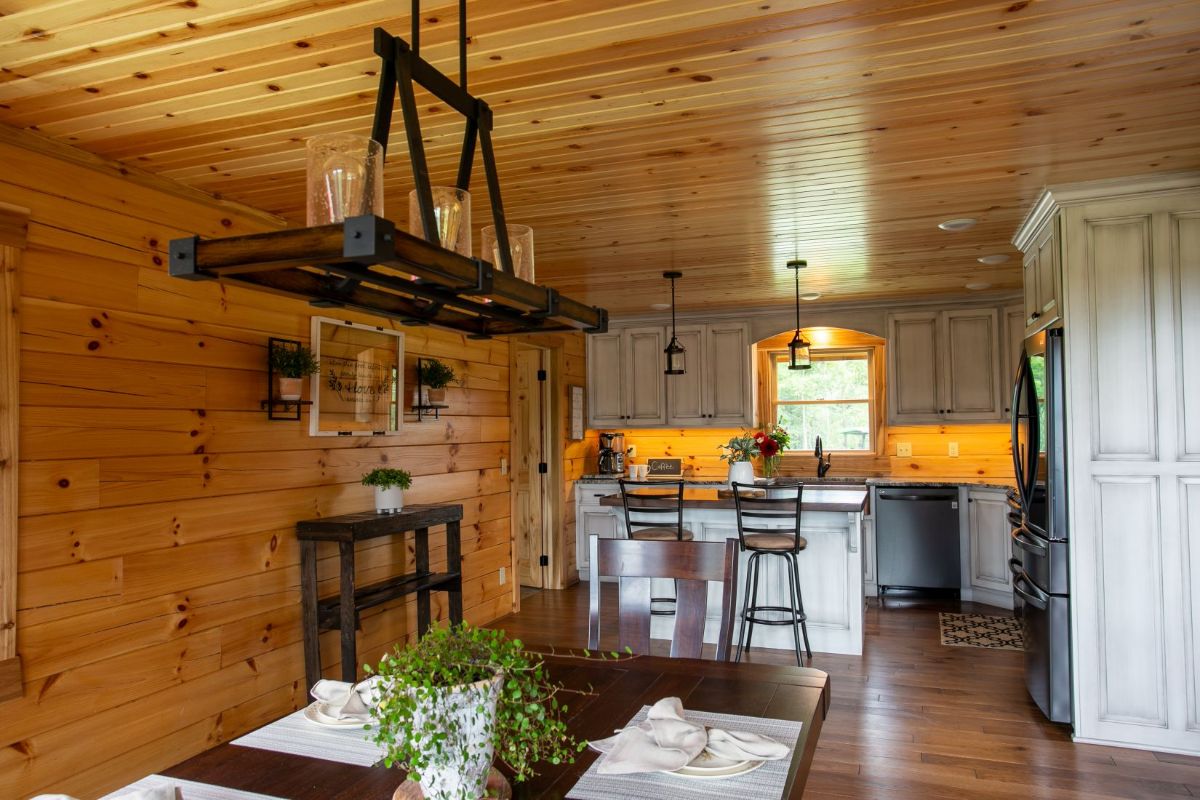 The copper farmhouse sink is a lovely addition that really fits well against those white cabinets and the granite countertops.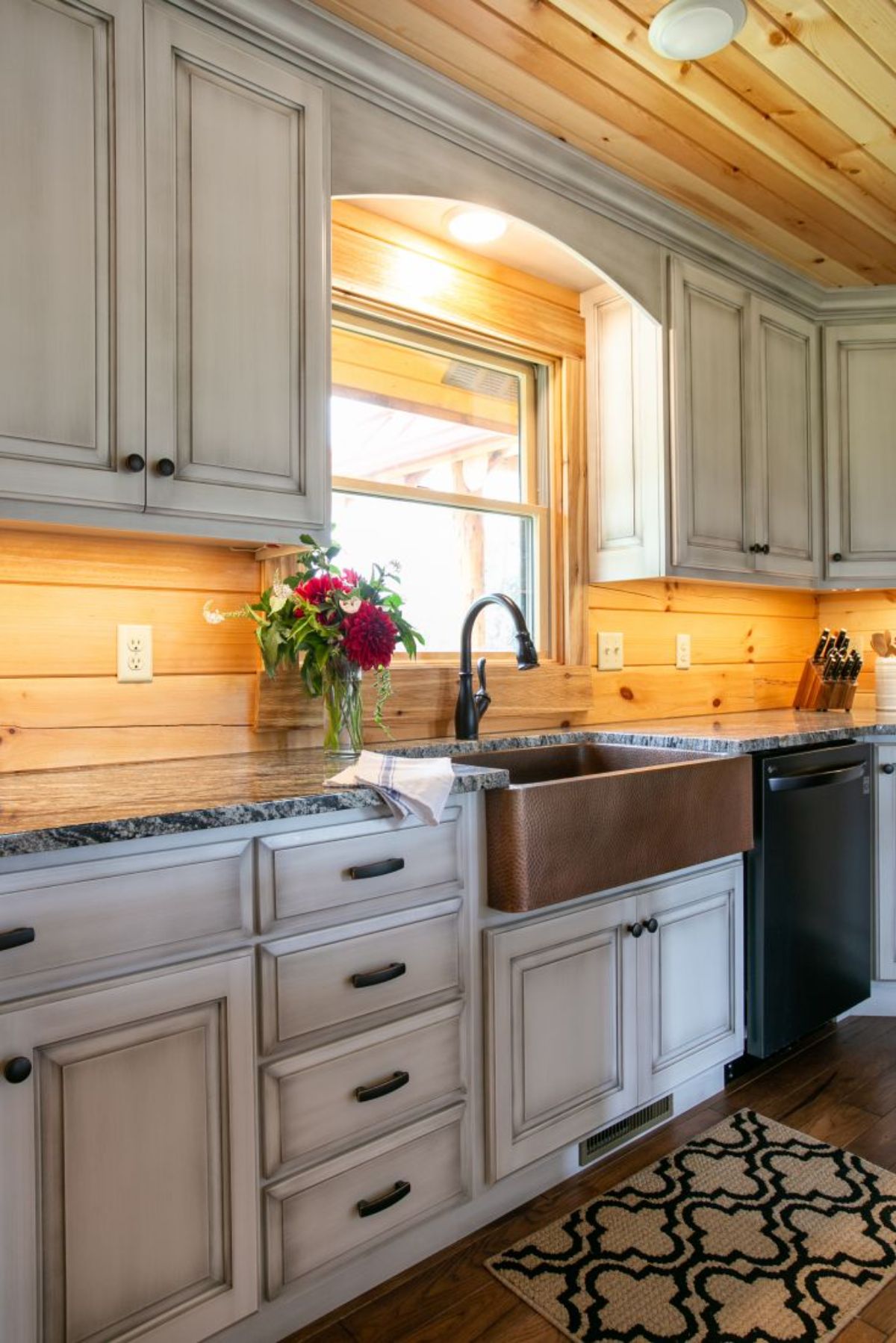 The master bedroom is on the main floor of the home and has a wonderful door leading out to the deck that is a private entrance. I love this addition!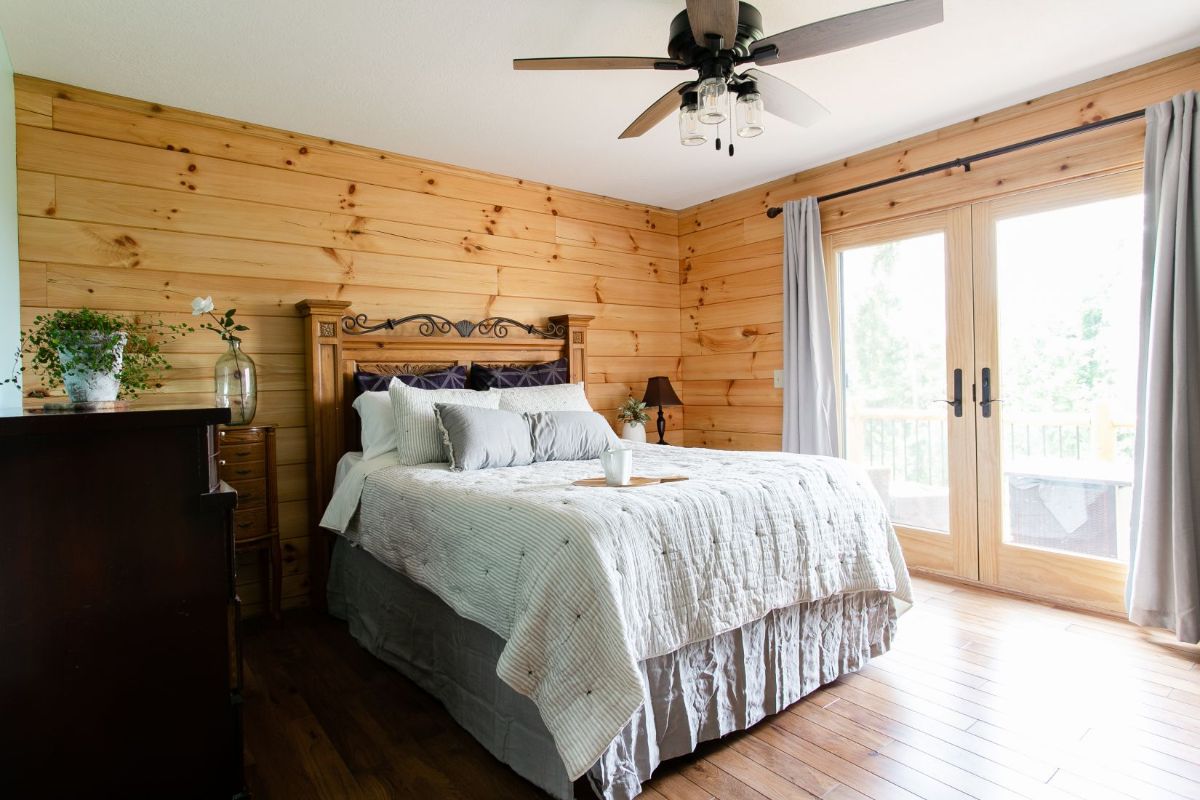 A short hall leads down to the walk-in closet and master bathroom. I love the colors of light green on the walls that really makes the wood doors pop.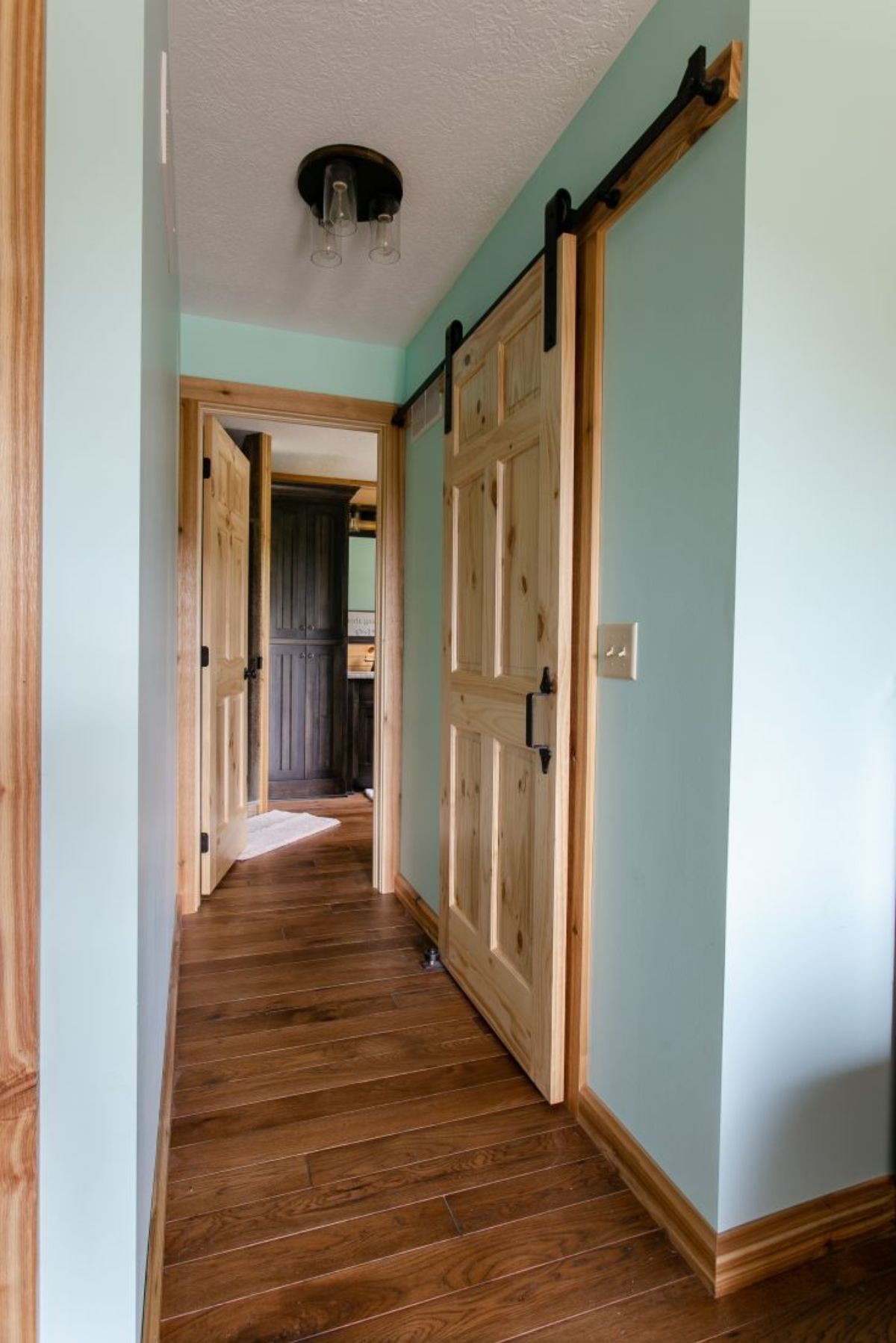 This bathroom is one of those spa oasis spaces that everyone dreams of having in their home. Just inside the door is a soaking bathtub, with a glass shower on the left. Against the wall is a large linen closet and storage unit with dark wood cabinets below the his and hers sinks.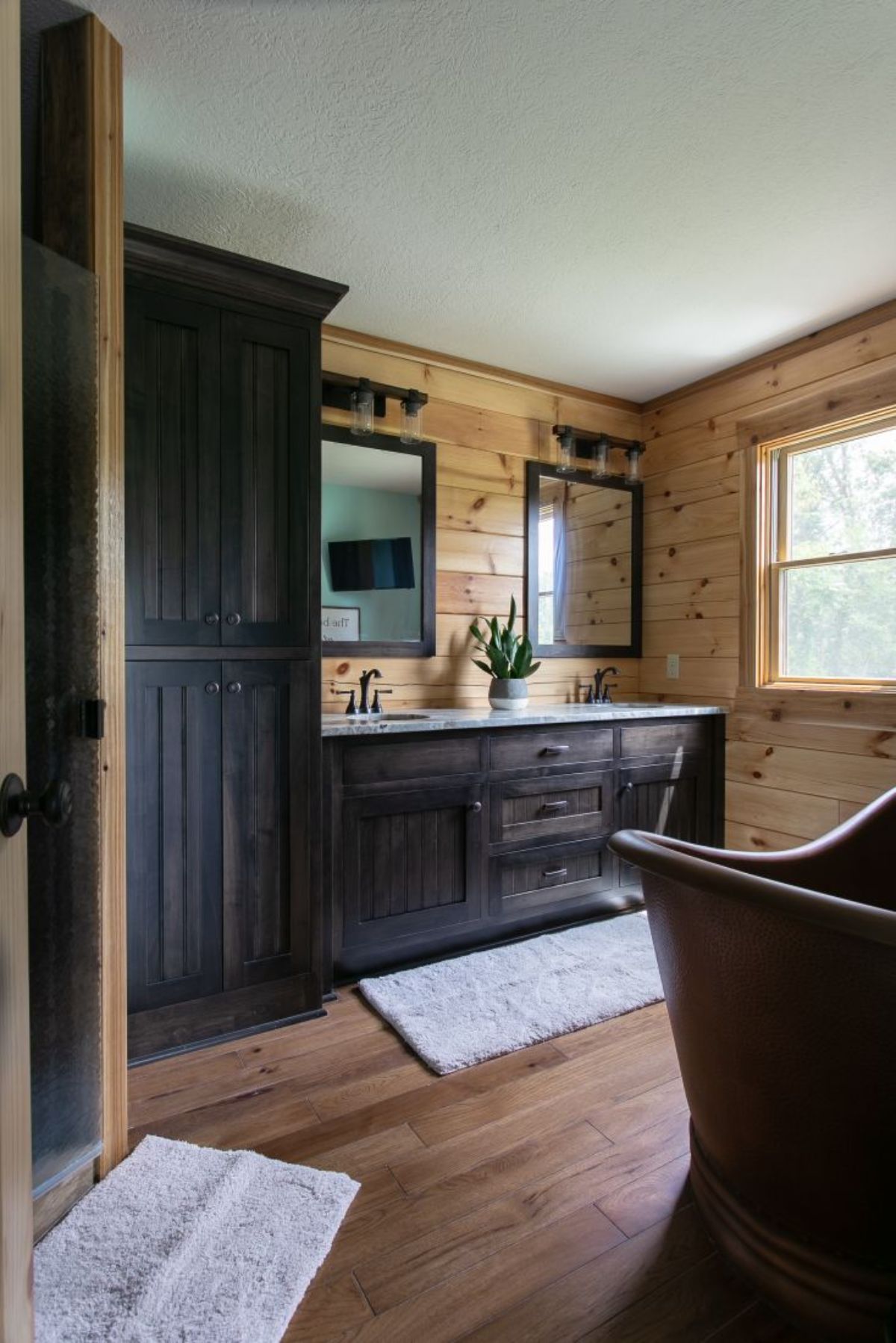 When you think of soaking tubs, this room should come to mind. Deep, unique, brass, and classy alongside the simple colors of the room and a wall-mounted television you have a place to escape in comfort.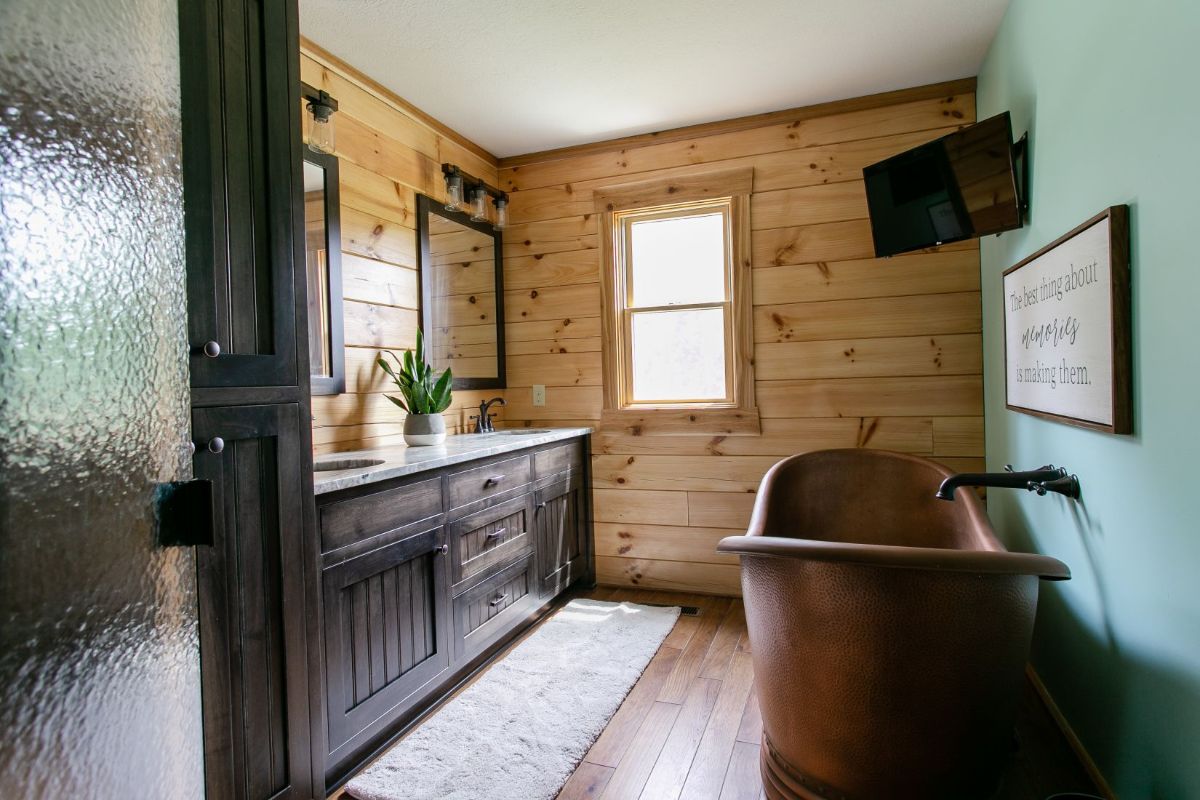 Upstairs, there are two bedrooms and a full bathroom with an open living space in between. It is a great additional family room or can easily be used as a cozy nook for a TV room or kid's gaming space.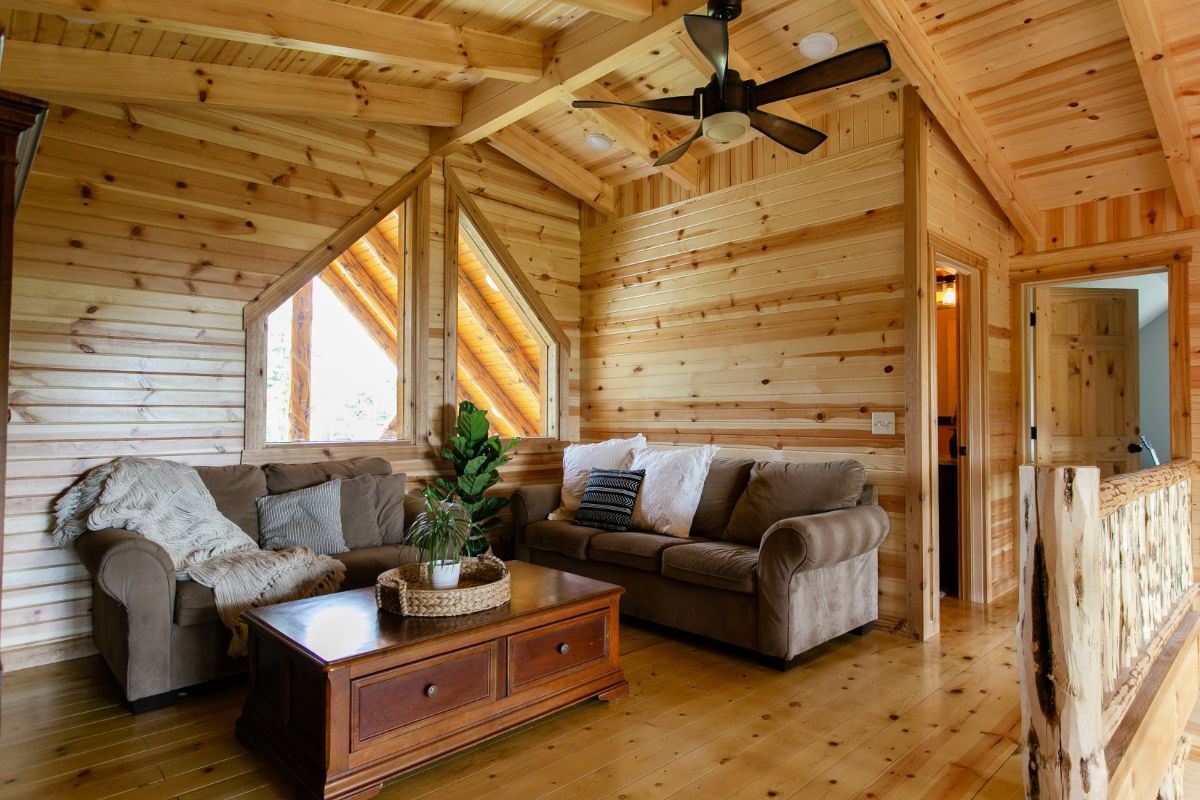 The upstairs bathroom is a simple but functional space with a glass shower featuring black trim and white toilet and sink.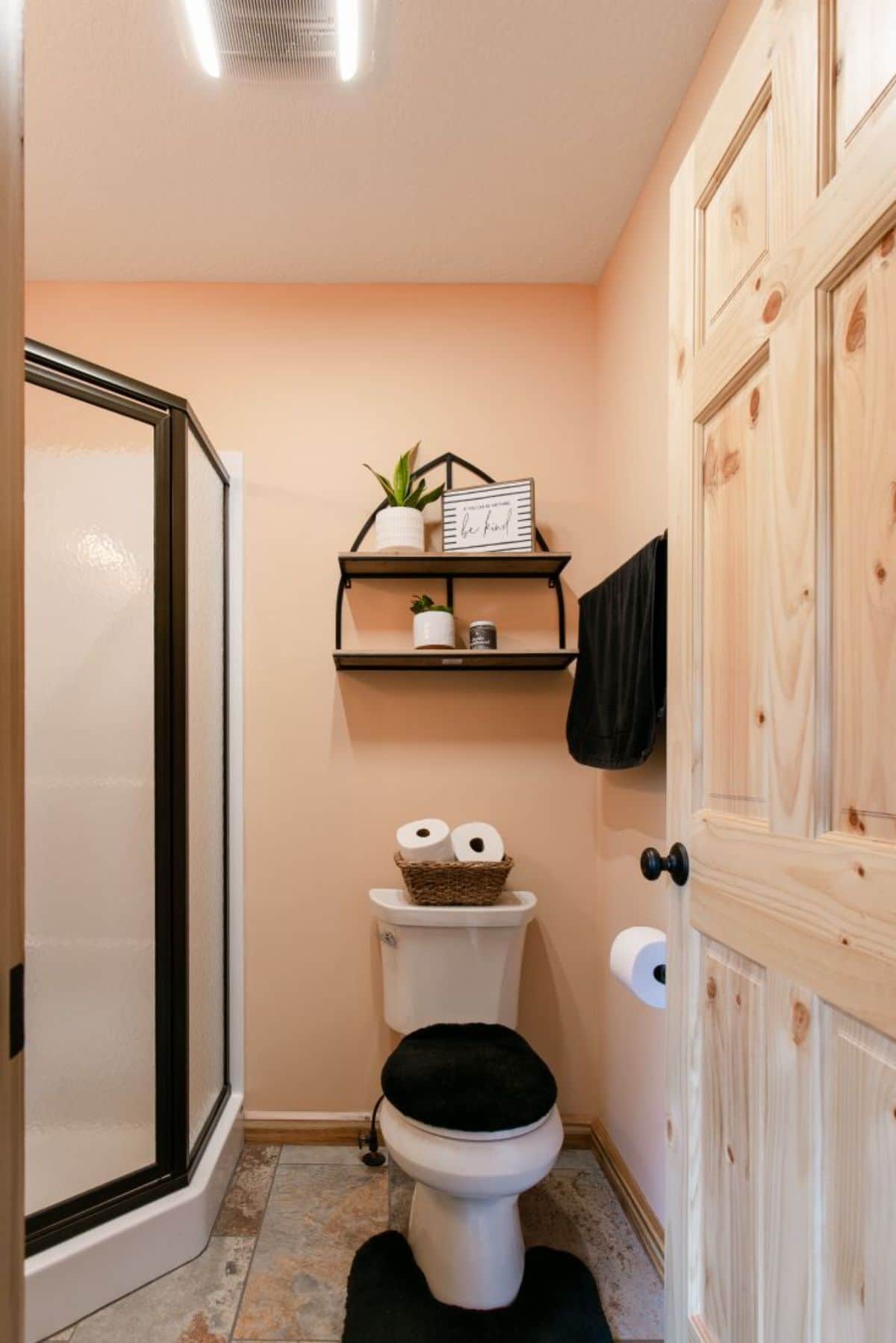 Throughout this home, you will find beautiful spaces that lend to luxury while maintaining the cozy rustic feel expected of a log cabin home.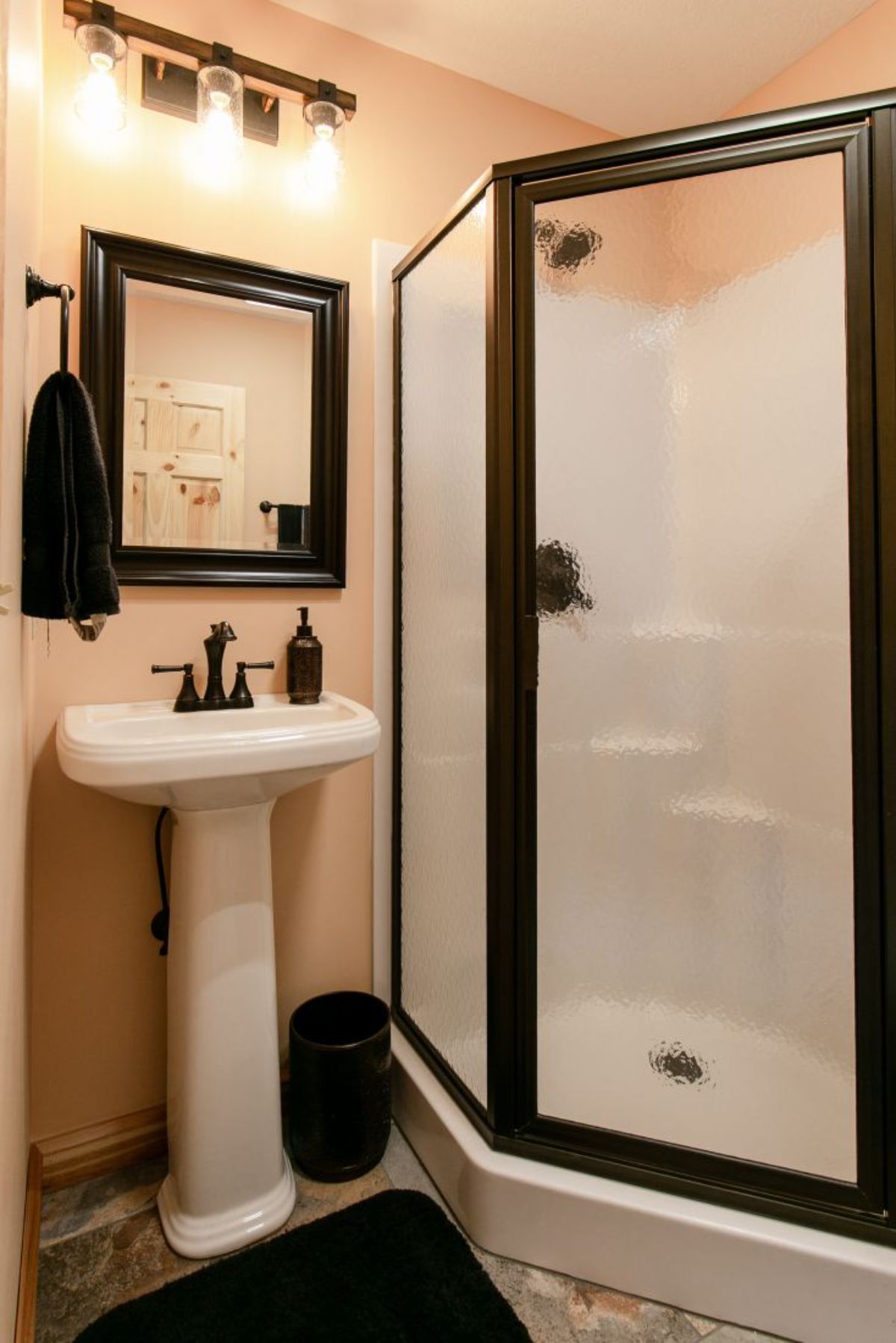 For more information about this build and others, check out the Fairview Log Homes website. You can also follow them on Facebook and Instagram for more regular updates on their latest builds. Make sure that you let them know that Log Cabin Connection sent you their way.
More Log Cabin Kits and Tours