Figuring out a small cabin water supply can be complicated. One of the great joys of building a small log home is being far away from everybody, in a remote and quiet area. But this usually implies you're off the grid with no way to connect to a municipal water supply and that means you have to figure out your own water source. Let's look at the options for water supply and for delivering the water to the cabin.
Sale
Jump to:
Drill a Well
If you have the access or resources to drill a well, this is the most reliable and easiest option for supplying your water supply needs, but it is also the most expensive. Costs can vary wildly, depending on the ease of access, geological conditions, and depth of the aquifer. Drilling, lining, and capping the well can range from $15-50/foot, then on top of that you have to add the costs of the good components, such as:
You would need to contact a local well-drilling company in order to determine prices for your area and decide if this is the right way to go.
It's also possible to drill your own well if you're very handy. Check out the website howtodrillawell.com.
Apart from drilling a well, let's break it down into two options for off-grid water usage:
Non-drinking water - this could be used for showering, flushing toilets, hoses, watering plants, washing dishes, or even construction, such as mixing concrete or cleaning paint
Potable water - used for drinking and cooking
Non-Drinking Water
If you're lucky enough to own land for your log home that has a creek or pond on the property, or if you're alongside a lake or maybe even have a freshwater spring on your land this is ideal. This water can be easily piped to your small cabin, filtered, and used for washing up, showering, and flushing toilets. Bury a 1" PVC line that runs well under the water and includes a suction strainer or filter on the inlet side.
If you live in a cold climate where the water will freeze you should be able to stay underneath the ice level. Bury beneath the frost line and then insulate it where it exits the ground, all the way into your cabin. Include another finer screen prior to the pump inlet and purify the water before use.
Depending on what you're using for your small cabin power source, you may want to use a 12-volt pump, like the kind used on boats, to supply water pressure for your cabin. These are easily sourced through marine suppliers and will maintain 40-psi water supply pressure. They'll provide water pressure to the taps, but won't draw water a long distance.
Another alternative is to install a water holding tank that is situated uphill from your property and use gravity to feed the water to your cabin. As long as the outlet of the water reservoir is higher than the shower tap or kitchen tap where you want to use it, the water will flow. You can use a large plastic barrel or drum hidden in the trees or behind a wall, with a filter to screen out the larger things like leaves.
A water-catchment system can collect rain to fill your reservoir. If your water reservoir is nearby your cabin you can pipe the gutters to it to collect all the rain from the roof. You could also use a small pump to pump rainwater caught from your roof uphill to a larger storage tank that delivers the water by gravity to your cabin.
When piping in a pressurized water system using a 12-volt pump, it's important to include a pressure tank or expansion tank to maintain system pressure. This ensures that your 12-volt pump isn't running constantly every time you open a spigot. Instead, the pump will pressure up the line and pressure tank once, then smoothly come on as needed to maintain pressure occasionally. You can tie in the wiring to your small cabin power source, such as a solar charging system linked to deep-cycle batteries.
Potable Water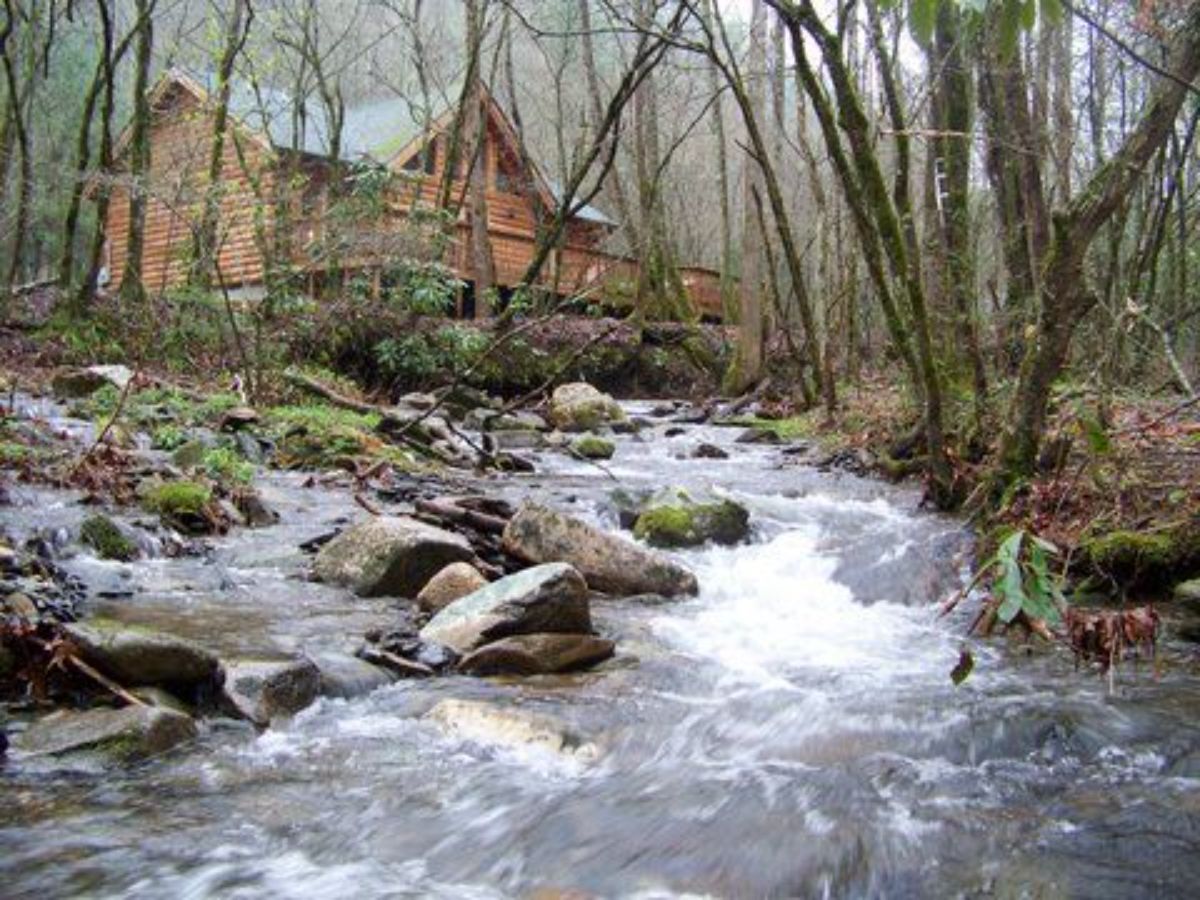 Having lived on board a boat for many years, I'm still surprised by how little actual water you can get by with. Although you could bring your own drinking water for a short visit to a cabin, that's impractical for full-time living. For a permanent small cabin water supply, you need to utilize a water purification system.
You still need to start with a water supply so you need access to a lake, a river, a spring, a well, or a sufficient rainfall catchment to provide the water that you will purify. At this stage, you need to decide if the volume of water you use makes it practical to simply use a faucet-mounted water purifier or a whole-house purifier.
There are many different whole-house water filter methods used to purify the water including carbon filters and UV filters but that is beyond the scope of this article. Drinking water from groundwater wells generally contains minerals and sediment that may change the flavor of the water, while surface water from a river or lake needs to be filtered to make it safe for consumption.
Developing your own small cabin water supply can be challenging, but you needn't simply rely on municipal water supplies when going off the grid. An independent pressure water system can be set up to handle your cabin needs using water from a lake, river, well, or rain catchment system.
---
This is part of our series on handling various aspects of building small cabins. You can check out all the articles here:
Small Cabin Water Supply - this page
More Small Cabin Pages:
Free small cabin Plans are available for download for the DIY log home builder.
Tiny Cabin A tiny cabin reduces the impact on resources, the environment, and your wallet.
Pallet Cabins Pallet cabins are one way to affordably build a tiny home using cheap, recycled materials.
Build a Small Log Cabin How To Build a Small Log Cabin: Reprinted from December 1983 Popular Mechanics by Michael Chotiner with illustrations done by Harry Schaare.
Small Cabin Energy Needs Calculating the small cabin energy needs can be tricky when you're trying to set up an off-grid energy supply. Let's look at how to determine your energy needs.