Radiant floor heating is a comfortable and efficient way to heat your log home. Radiant heating systems depend on radiant heat transfer or infrared radiation. Using radiant heat to heat your log home means that you don't have forced air blowing heat around from only one or two points.
Heat Transfer
There are three kinds of heat transfer: conduction, convection and radiation.
Conduction involves heat transfer from solid to solid, or one surface to another surface that is touching it – this is the heat you feel when you hold a poker in the fire.
Convection is heat transfer through a gas or liquid, such as the natural circulation of heat within a room, caused by heat rising.
Radiation is made up of electromagnetic waves; radiant heat is the heat transferred through space, such as from a hot stovetop felt across the room.
Advantages of Radiant Floor Heat
There are several advantages to the use of radiant heating:
Efficiency – no energy lost via the ductwork and very little air stratification.
Allergy-free – Since it doesn't use air to blow the heat around, radiant floor heat doesn't stir up dust and allergens.
No Humidification Needed – Since radiant heat doesn't alter air moisture content.
Low Energy Use – Hydronic, or liquid-based systems, only use a small amount of electricity to circulate the hot water.
Versatility – A variety of heat sources can be used to heat hydronic systems.
Lower Cost – Studies by the American Society of Heating, Refrigeration and Air Conditioning Engineers (ASHRAE) indicate that people can be comfortable at temperatures 6°F to 8°F lower with radiant heating systems than with convective systems.
Radiant Floor Heat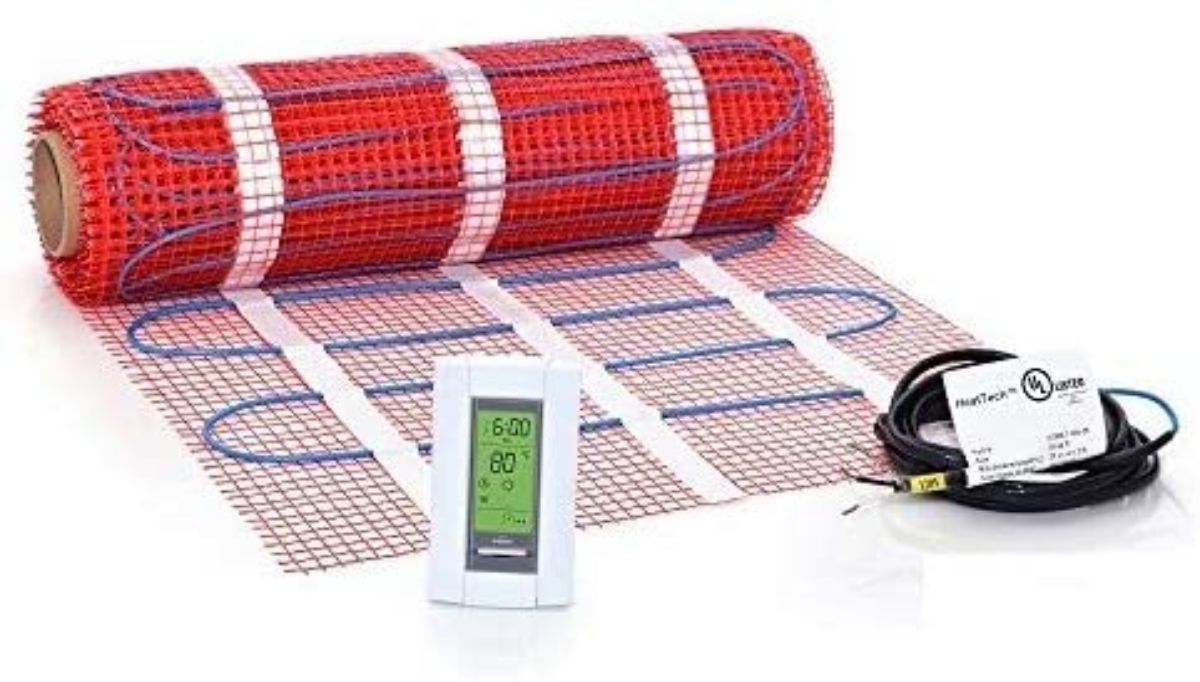 Although you can use electric radiant heat and air-based radiant heat, the most effective and efficient system is hot water, or hydronic, radiant heat. This is the most cost-effective and popular style of radiant heating systems.
Radiant floor heating is a simple system. You heat water and circulate the heated water through a grid of tubing laid in the floor. This heated water transfers its radiant heat to the entire room of your cabin, making it seem as if the heat is everywhere, not just blowing out of one or two ducts.
The temperature in each room can be controlled by regulating the flow of hot water through each loop of tubing using thermostats and a switching relay that controls the valves. The tubing used for radiant floor heating is called PEX tubing, or cross-linked polyethylene.
PEX is ideal for this because it is flexible enough to be easily installed, transfers its heat readily, and is not damaged by freezing – an important consideration if you leave your log home unattended for any length of time, or close it up in the winter.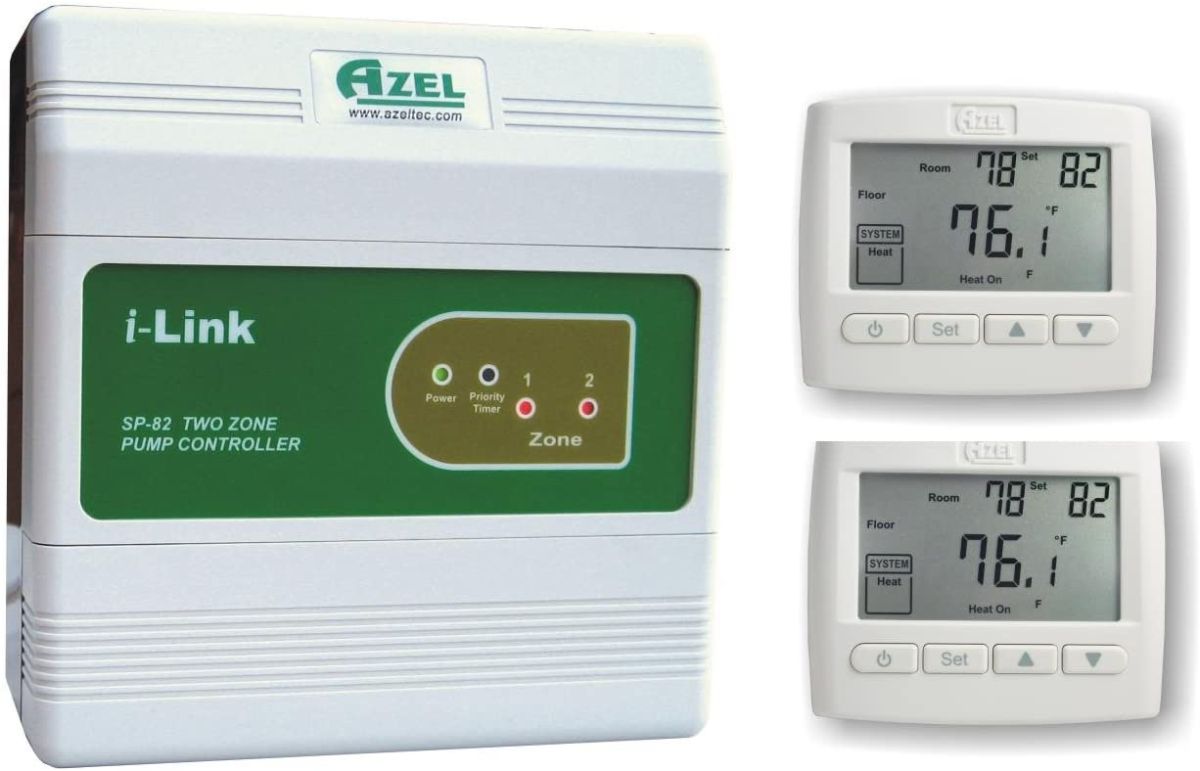 You can heat the water in many different ways: using an electric or gas-fired water heater, using a dedicated boiler, with solar energy from panels on the roof, using a wood-fired heater or whatever suits you.
Types of Floor Installations
The PEX tubing is embedded in the concrete slab foundation if the cabin is built on a slab. If you have a basement or crawl space you can also embed the tubing in a thin layer of concrete or gypsum installed on top of the subfloor.
A thick concrete slab has a high heat capacity, or the capability of storing heat by heating up the concrete. This is ideal for solar energy systems, which have a fluctuating heat output depending on the weather and time of day.
Unfortunately, the thicker the slab, the slower the thermal response time when the temperature changes. In this case, you'd be better off not using temperature setbacks throughout the day, but rather maintain the cabin at a constant temperature, otherwise you will be constantly chasing the correct temperature.
Floor Coverings for Radiant Heat
The type of cabin flooring you install will have a large impact on the efficiency and comfort of your heating system. It's important to use a floor covering that has a high heat conductivity to transfer the heat from the floor to the room. Here's a breakdown:
Ceramic Tile - In addition to good heat conductivity, ceramic tile also has a good heat capacity so it adds thermal storage.
Hardwood - Full-thickness hardwood flooring is an insulator and won't conduct heat well. Also, the high heat from the floor heating can dry out or shrink thick hardwood.
Engineered Hardwood - The thinner engineered hardwood transfers heat well and is stable enough for radiant floor heat.
Laminates - These are very stable and thin enough to transfer heat well.
Carpet - Carpet is an insulator so if you must have carpeting, be sure to keep it thin and use a dense padding.
Vinyl or Linoleum - Both vinyl and linoleum are insulators so they won't transfer heat efficiently, but they are thin enough that you can use them without trouble.
Radiant floor heating operates on a line-of-sight basis, so if you can see the floor where it is installed you will be able to feel the heat from it. It creates a feeling of overall warmth without a specific heat source and is a great addition for increasing the energy efficiency of your log home. There's nothing like the feel of a warm floor in your cabin on a cold morning.
More Log Cabin Building Pages:
Cabin Roofing Choices Your log cabin roofing choices will affect your budget and long-term enjoyment of your cabin.
Log Home Building School Learn practical ways to craft your dream at a log home building school.
Build a Log Cabin To build a log cabin means coordinating many aspects and prompt decision-making.
Cheap Hardwood Flooring Cheap hardwood flooring is available through my supplier, shipped anywhere in the country.
Build a Small Log Cabin How To Build a Small Log Cabin: Reprinted from December 1983 Popular Mechanics by Michael Chotiner with illustrations done by Harry Schaare.