Modern prefab log homes are quality, affordable cabins built in an efficient, controlled environment. If you're interested in a log home but can't imagine paying so much money, prefabricated or modular log homes may be just what you're looking for. They are not to be confused with cheap manufactured housing.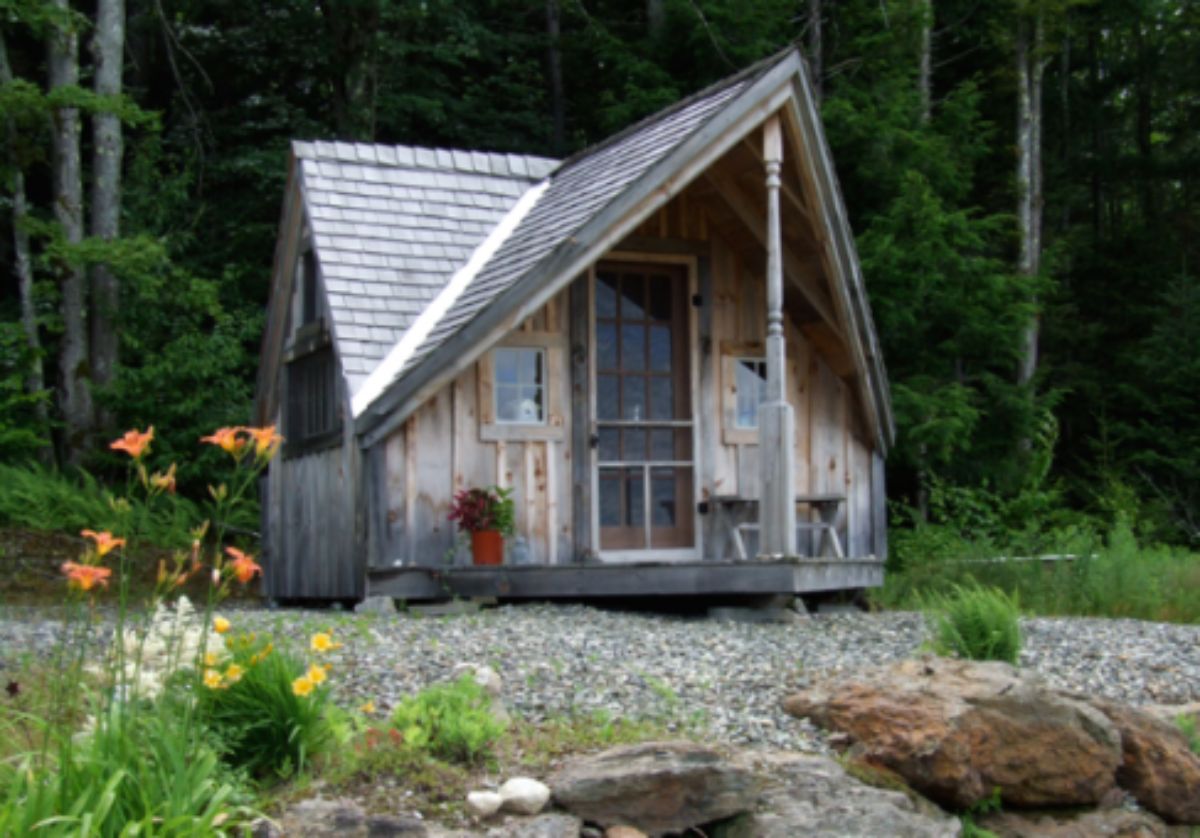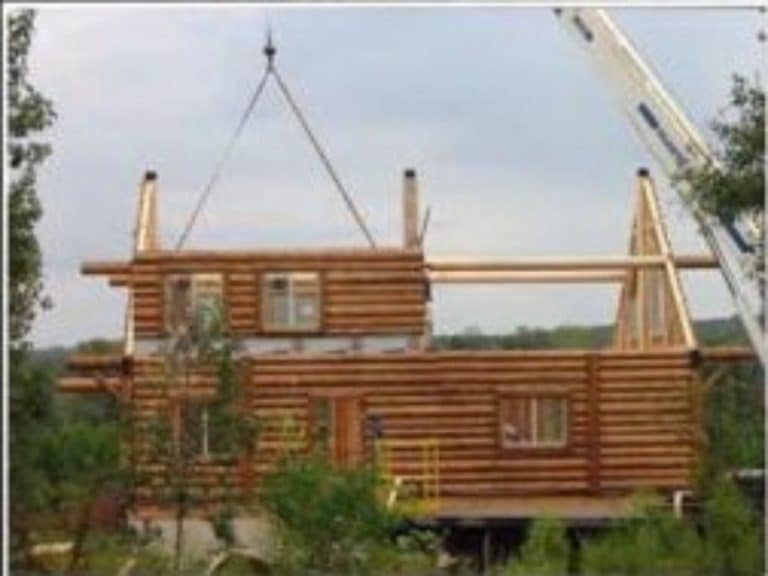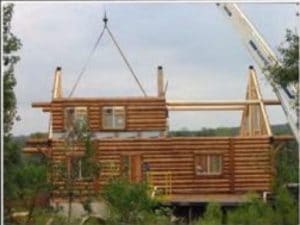 Prefabricated log homes are built to industry standard and according to national building codes. The only difference is that much of the work is done in an off-site facility where everything is controlled, such as the weather, build quality, work schedule and material timing, delivery dates and building product costs.
Instead of worrying about hiring a local crew who may or may not have experience with building log homes, modular log homes are constructed by experienced, dedicated craftsmen who do this day after day. You get the efficiencies of factory production, but the look and feel of a traditional log home.
Pre-fab vs Manufactured
Pre-fab or modular cabins are different than manufactured cabins. Log cabin mobile homes are classified as manufactured homes, or trailers, and are built to different standards on a fixed chassis.
Some companies who sell log home kits will also provide a crew who comes to your site to assemble the kit piece by piece. This can also work well but you are responsible for paying for the crew labor and you also get the entire log home at one time, in many pieces. You must deal with all the issues of preparing for your log home package, such as:
storage
pilfering
insurance
weather
Another way to get your log home is to build it on site from scratch, with only the logs and timbers provided. You are able to locally source the building supplies like doors and windows and you can save on shipping.
With prefab log homes you utilize the efficiencies of factory production to build an energy efficient modular log home with the look and feel of a site-built log home.
Prefab cabin manufacturers typically can handle nearly any log style, although the most popular are the "D" shaped tongue-and-groove pine logs. These milled logs are made with a round outside, a flat inside face and with tongues on top and grooves on the bottom. They fit together smoothly and seal out the weather.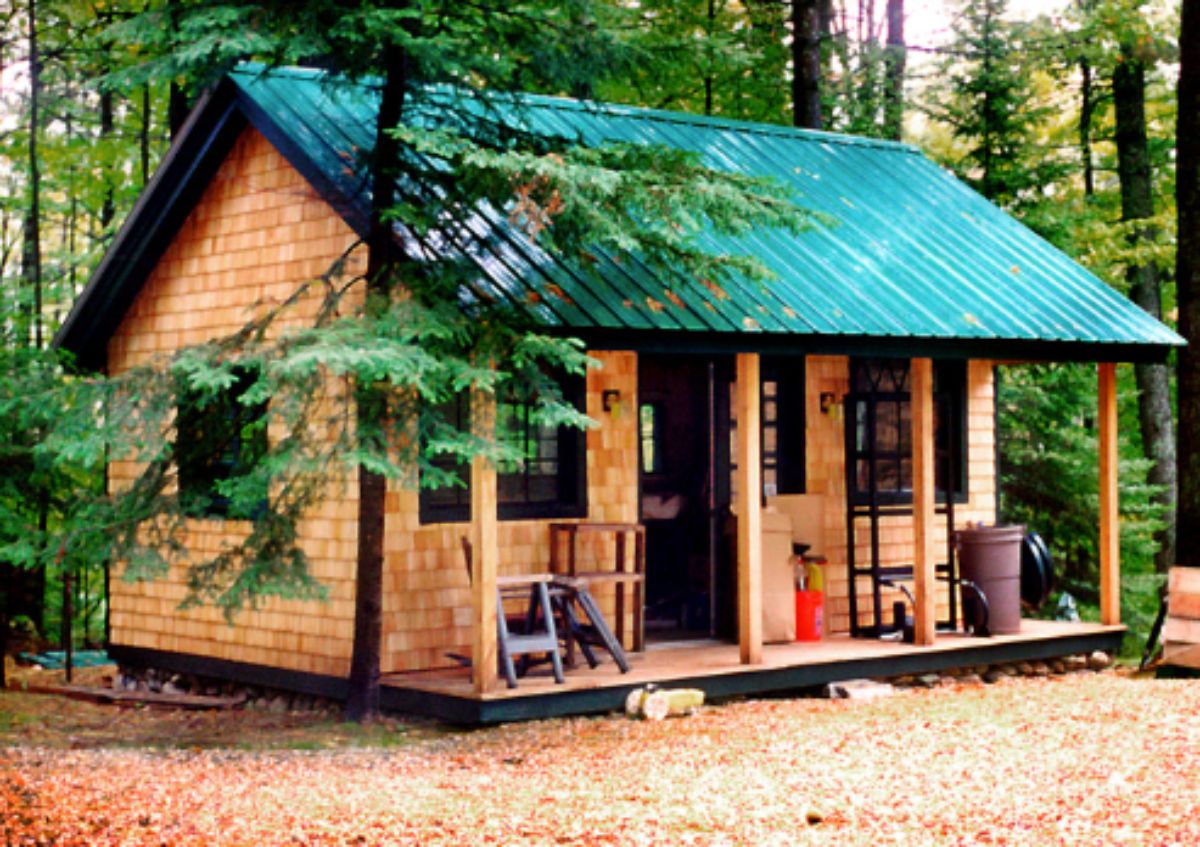 Benefits of Prefab Log Homes
There are a number of benefits to modular log homes, such as:
Reduced Maintenance
Because prefabricated log homes are mostly built in a climate-controlled environment, the risk of weather-related issues such as warping, twisting and settling is decreased dramatically. You will notice over time that your log home maintenance is less and that you don't have log repair problems.
Reduced Construction Time
We all know that time is money and this is never more true than when you are dealing with a cabin construction loan. The quicker you can complete your cabin build, the less money you'll pay for financing and the sooner you can roll your cabin construction loan into permanent financing.
Typically custom modular log homes need only about 15% of the job done on site and can be "dried in" in as little as 7 days.
Check out our Modular Construction Timeline page for more details.
Reduced Material Waste
With cabin designs refined over time and efficient work lines in the factory, the amount of waste building material that you have to pay for is reduced to almost nothing.
This makes for a more eco-friendly or greener log cabin, as well as saving you money.
Reduced Labor Costs
Prefab log home manufacturers maintain stable, year-round crews with predictable labor costs and highly efficient processes that help keep costs down.
The bulk purchasing power the manufacturer employs also reduces the cost of building products. You don't need to rely on hiring trained log contractors with specialized log home building tools.
Design Flexibility
Nearly all of the prefab log home designs can be customized for your building lot characteristics and log home lifestyle. Manufacturers use log home design software that allows for easy alterations and clear visualization of the finished cabin.
No Settling or Shrinking
Prefab log homes are built using kiln-dried lumber in a solid-wall construction that makes the cabin impervious to twisting and sinking. After applying wall sheathing and breathable house wrap, the exterior log finish is added, eliminating settling and crushing of logs.
Prefab Log Home Construction
Typically, these modular cabins are built similar to conventional, or stick-framed houses, using 2'x 6" studs. These walls are then covered with a breathable vapor barrier and sheathed with ½" plywood or OSB. On top of this may be an optional layer of rigid insulation and then the log siding is applied.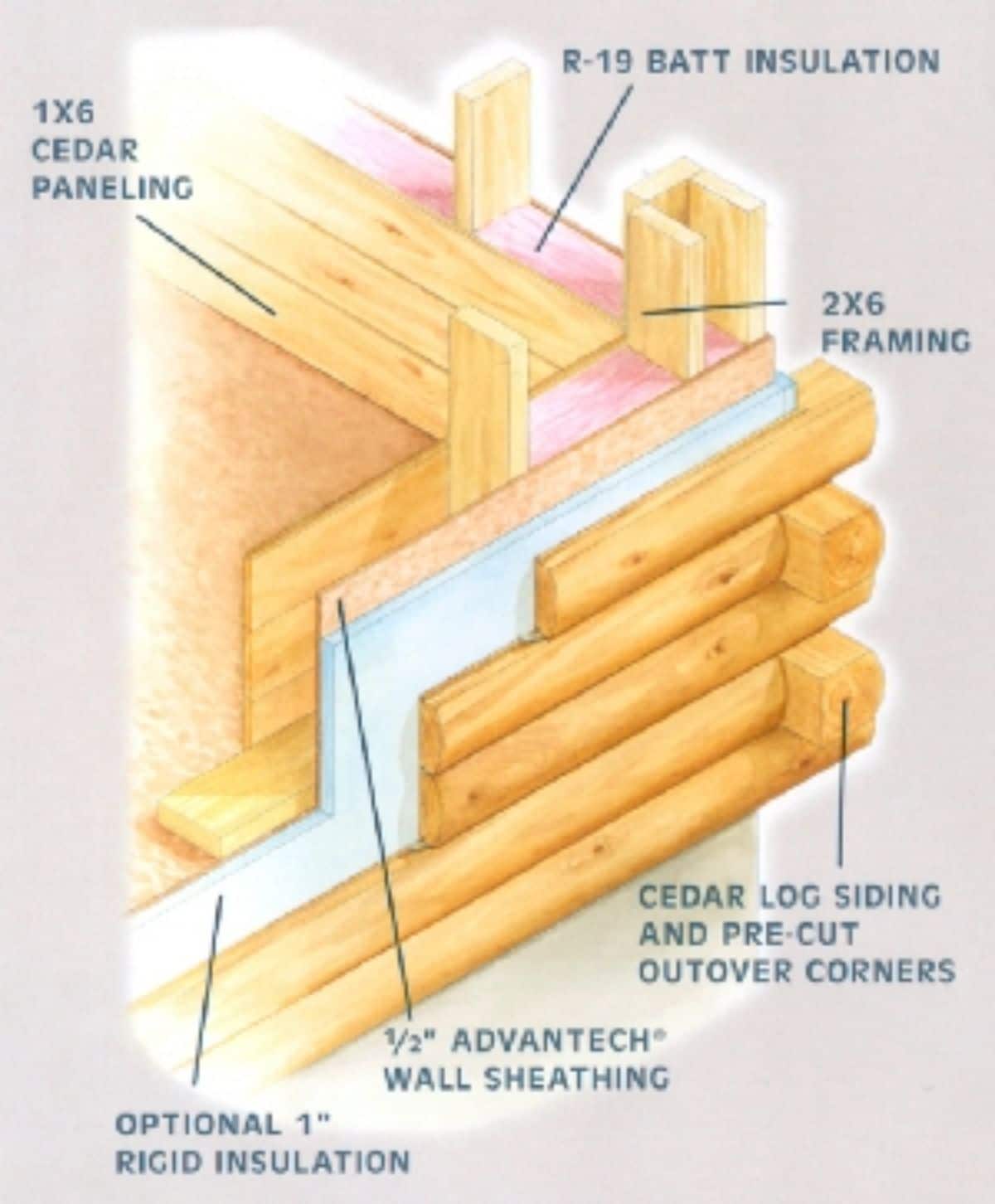 The log siding is cut from real logs and is usually 2"-3" thick. It can be rounded or flat, and the corners are added later to simulate butt-and-pass, saddle-notch or dovetail corner construction.
The materials for modular log homes are pre-cut in a factory and some of the primary walls are panelized off-site, but the cabin itself is assembled on-site. These prefabricated homes are often superior in quality in construction or material to site-built log homes.
This type of construction allows for careful attention to detail and superior sealing against air infiltration. This keeps out the bugs as well as preventing energy losses through the cracks.
Consider prefab log homes or prefabricated cabins for efficiency, timeliness and beauty. They are quality-built in controlled conditions. They are manufactured off-site, delivered and assembled at your location; quickly and affordably.
More Modular Cabin Pages:
The Small Cabin Lifestyle A small cabin is an affordable way to live green, treading lightly with a small footprint, and oftentimes the only possibility for off-grid living.
Log Cabin Mobile Homes Log cabin mobile homes can be used as a weekend getaway, writers retreat or hunting camp.
Modular Log Homes Modular log homes and prefab cabins are economical choices for highly efficient, sustainable log home living.
Modular Construction Timeline for Log Homes This modular construction timeline for building a prefab log home lays out the necessary steps and typical length of time for each step in the cabin construction process.
Modular Cabin Construction Timeline This handy modular cabin construction timeline demystifies the prefab building process.