The Napa rustic cabin is a unique build unlike any we have shared before. While it is not a traditional cabin build, it has many of the same features you expect in a cabin. Exposed beams, beautiful woodwork, stone work, and rustic styles are found throughout this stunning modern build in the Napa Valley.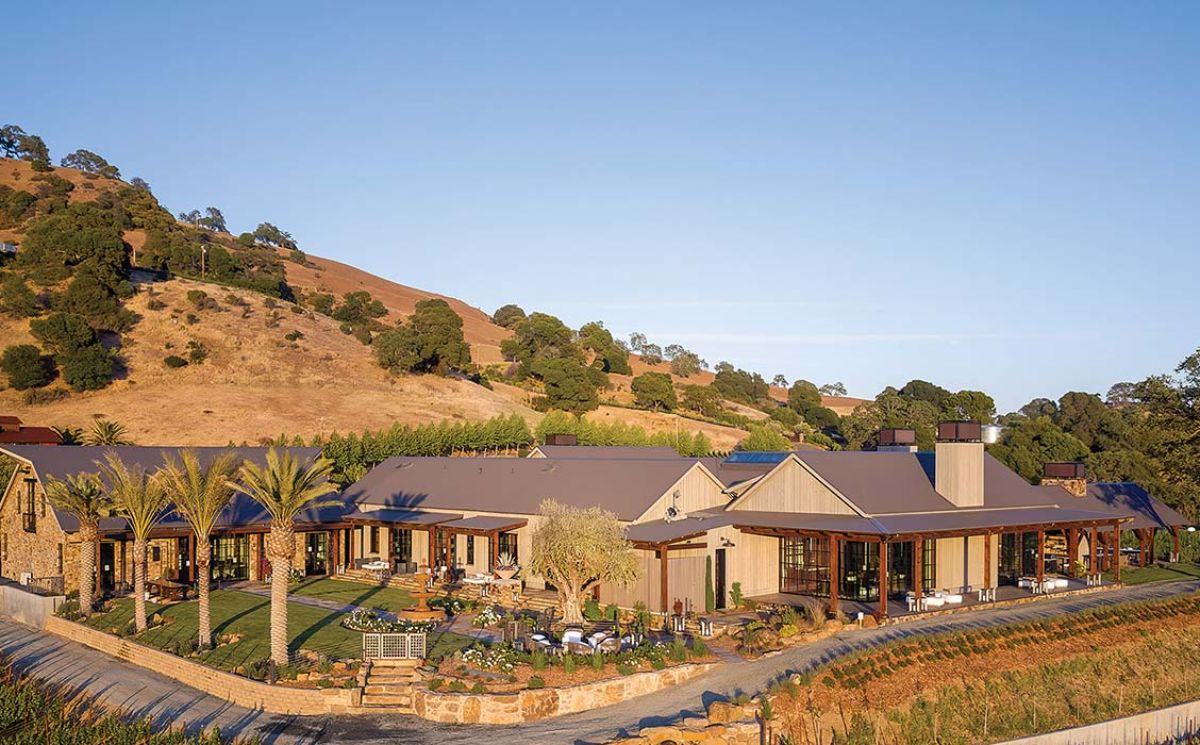 Log Cabin Size
This spectacular Napa Valley home is surrounded by a vineyard and is truly the ultimate retreat for a group or large family. Built with organic timber framing and a contemporary "California-style" layout, it is a true masterpiece of innovation and style.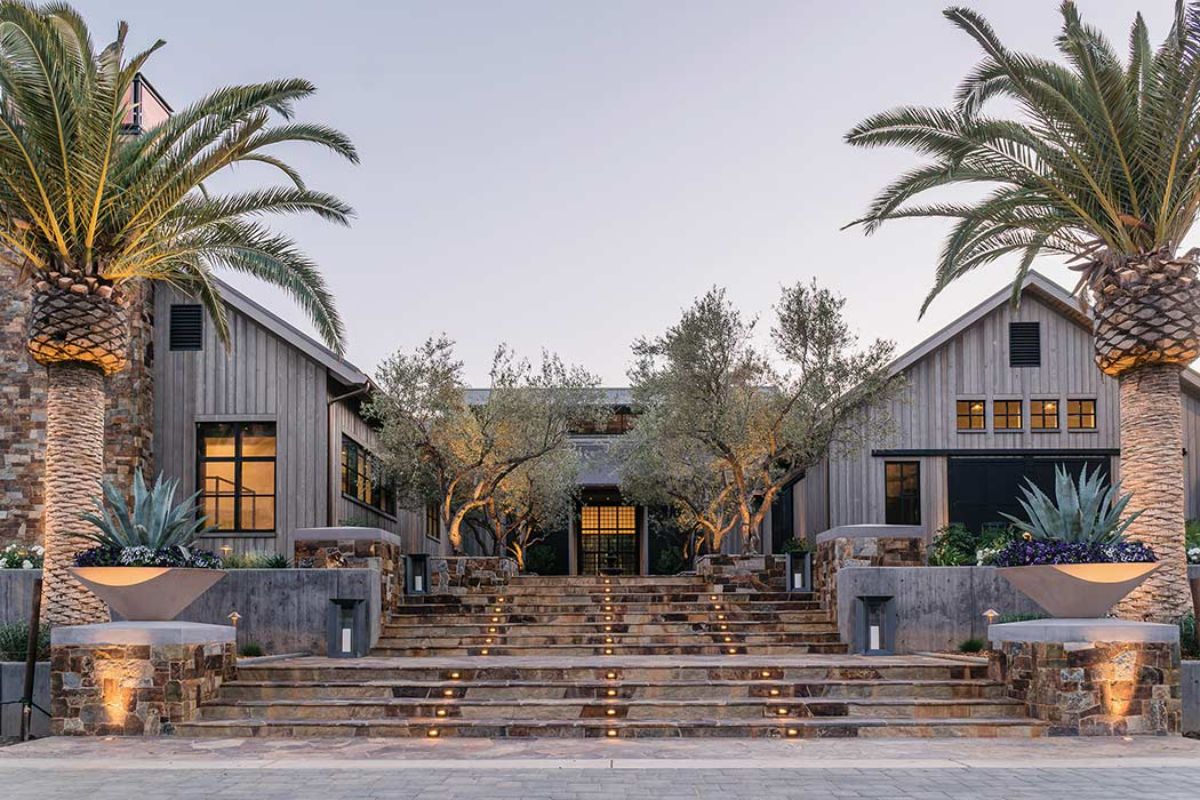 One of the most notable parts of this home build is how it is sprawling over a large piece of land. At over 10,000 square feet of living space, it is truly twice the size of most builds we share. The beauty is in both the interior, as well as the large open exterior spaces around the home.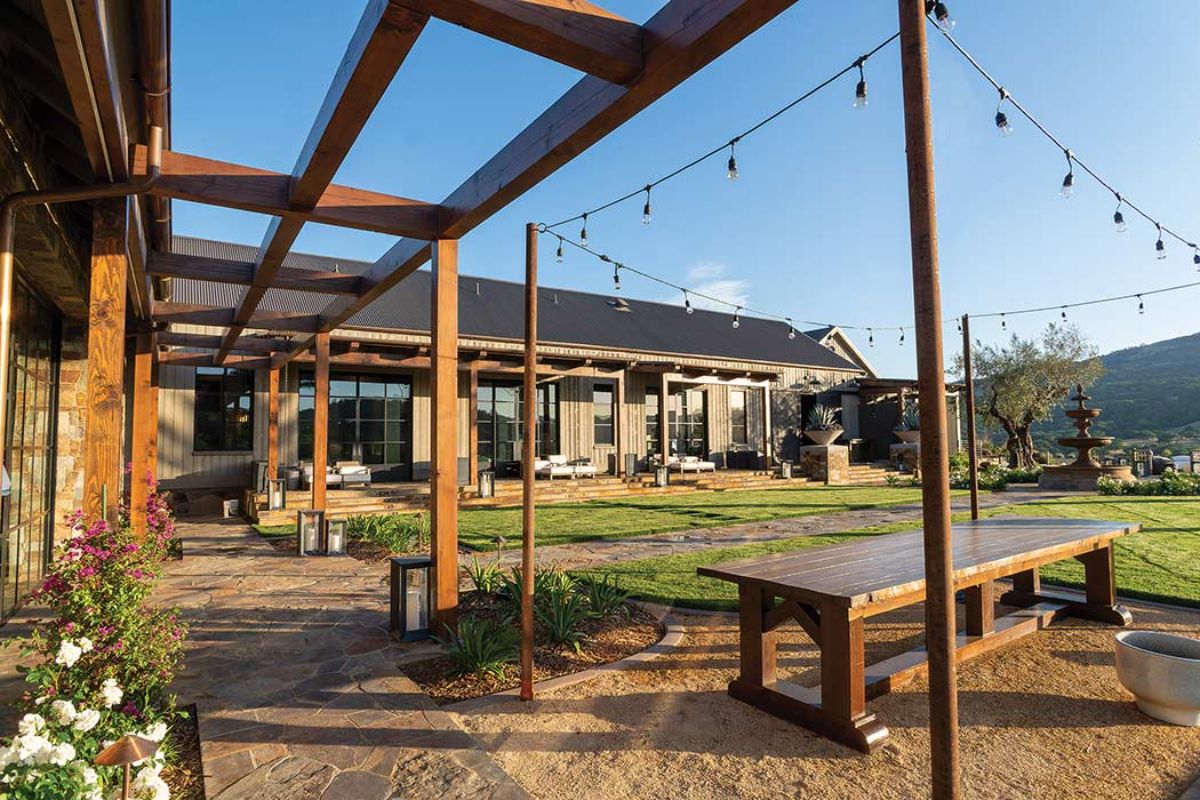 Every side of the home has a combination of both open patio and covered porch areas with a courtyard between the sides of the home filled with more rustic space.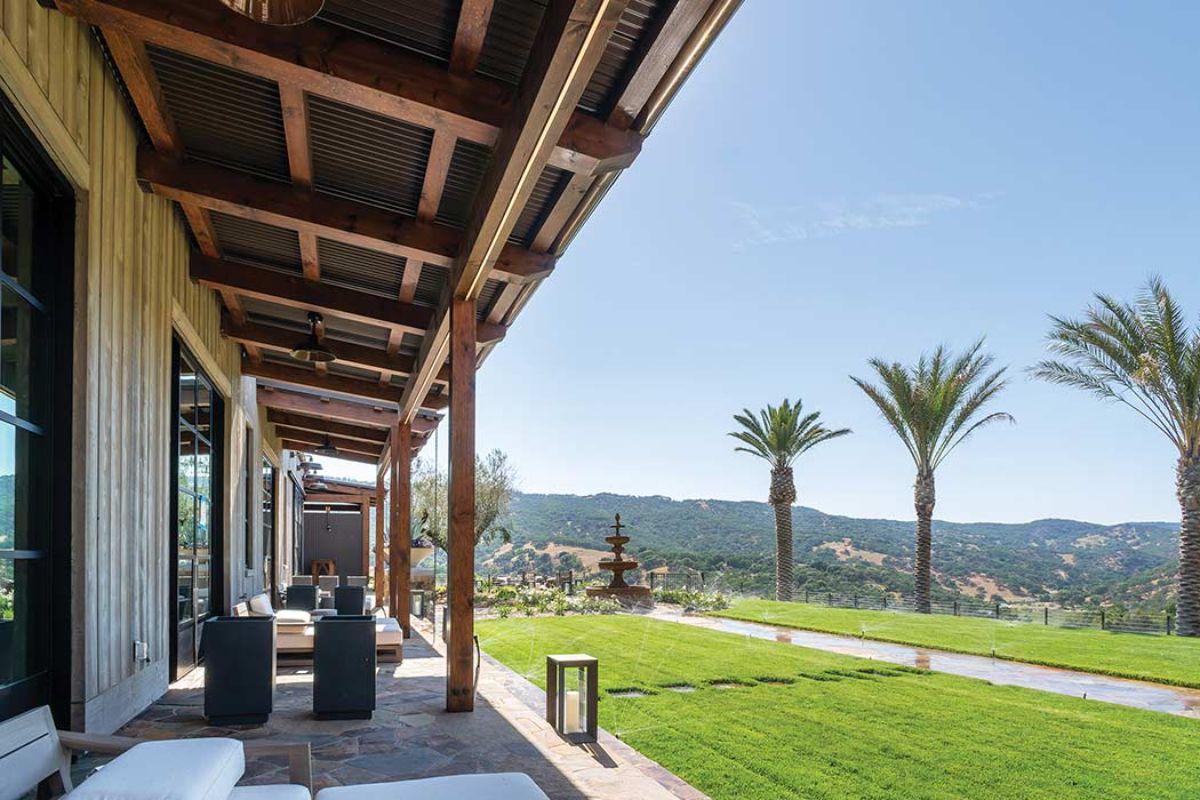 Around the home are a number of pergolas with some open and others covered including a large dining space as shown below, and cozy nooks with chairs and tables for relaxation. The home is built on a hill so there are two levels with the lower level a walkout space on one side and the main level a step above on the front side of the property.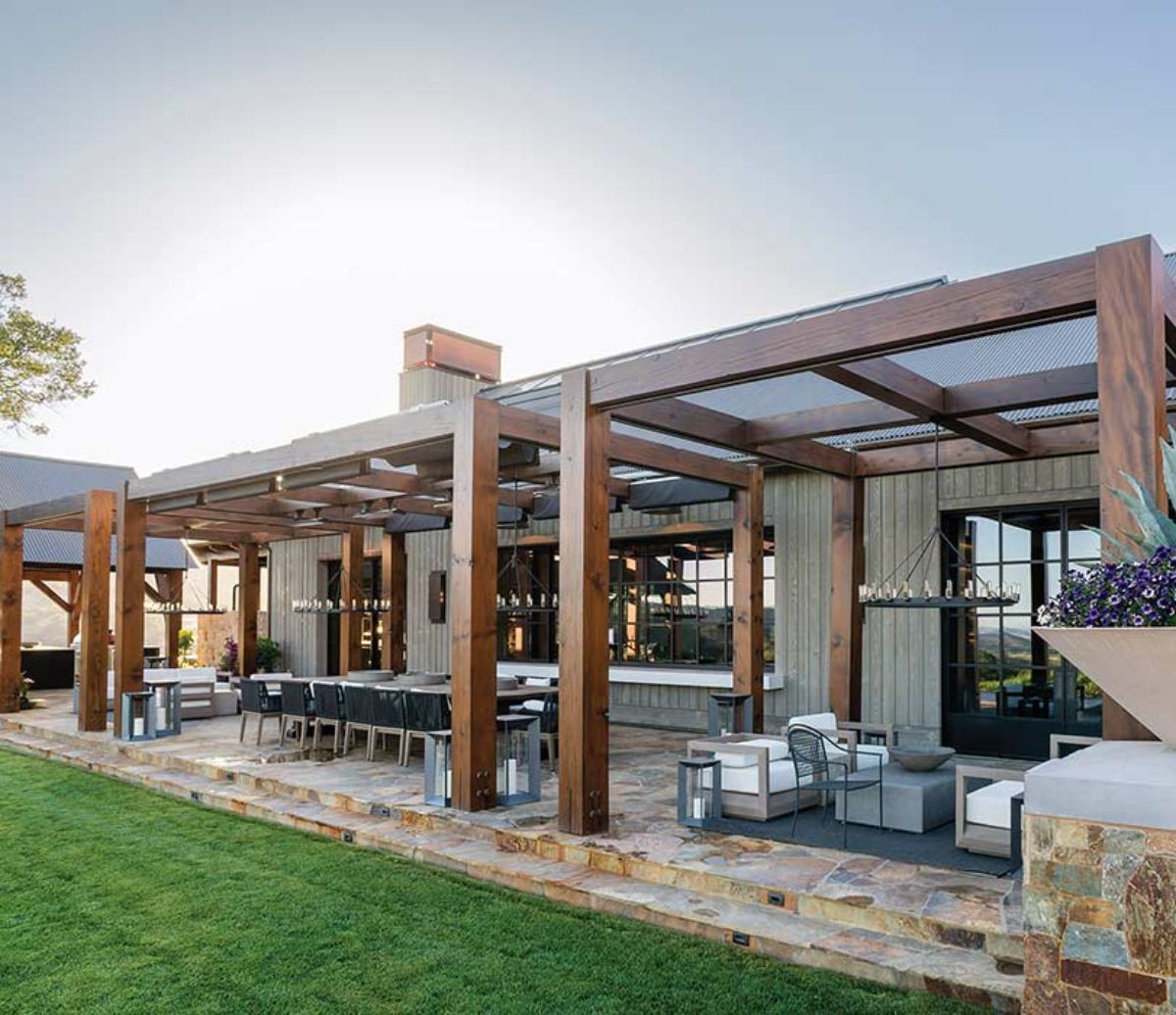 One of my personal favorite things about this home includes the areas that have these large garage door closures on both sides, but open up to create a breezeway between the edge of the property and the courtyard between buildings. This is ideal for those summer parties or events hosted at your home.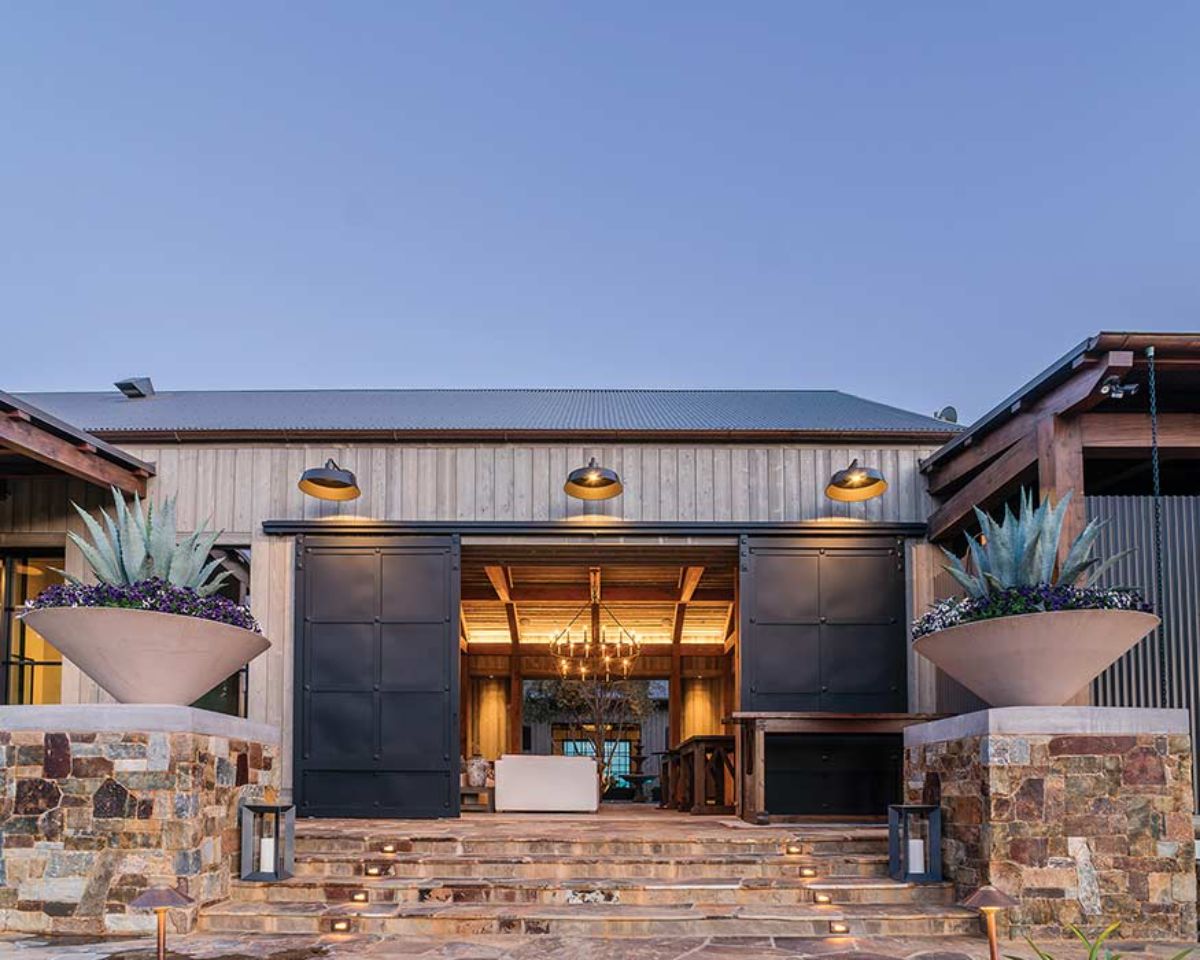 And here, you get another look at that same space, but from inside the courtyard. A fountain with a wading pool and beautiful landscaping around benches makes this the ultimate space for a summer party or just a relaxing place to vacation.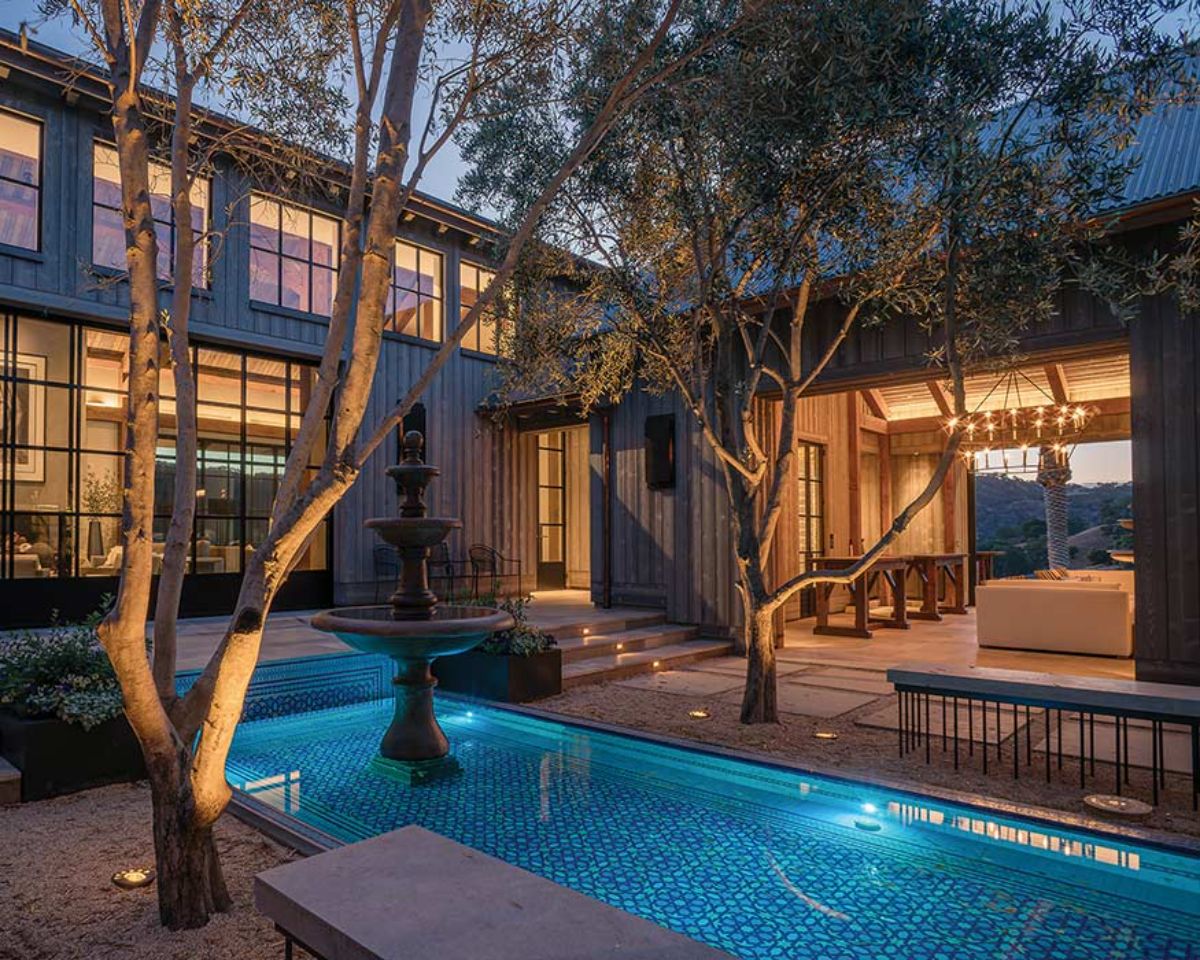 Another addition that really makes this home stand out is the multiple walls of windows around the property. The location allows for privacy, but these windows really turn the space into a wonderful airy location of class and sophistication.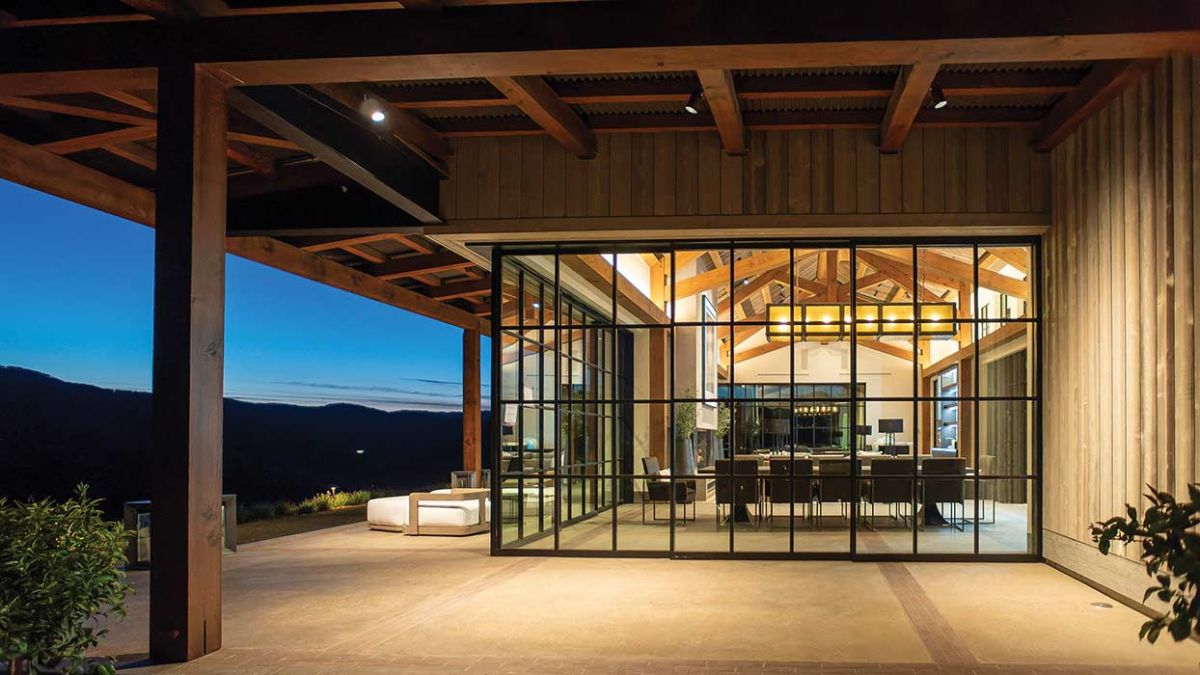 The main living space n the home is shown just behind these glass walls and shows just how open and spacious the room and style of this home actually is.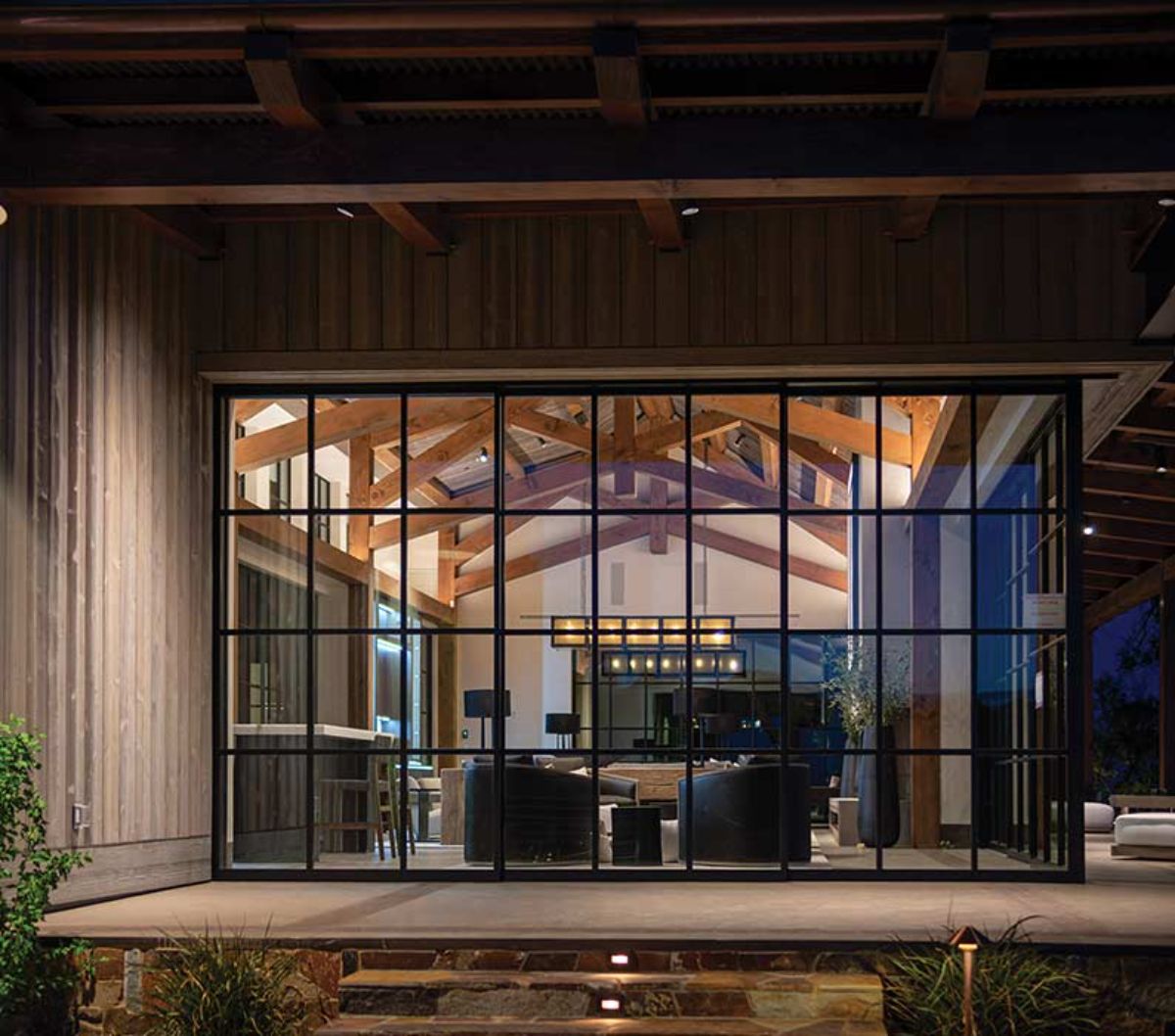 Inside the home, many different spaces open up with beautiful distressed wood ceilings, open beams, and rustic additions like this wagon wheel candle chandelier. This combines with the sleek modern straight lines and metal influences around the home for a truly unique style of home.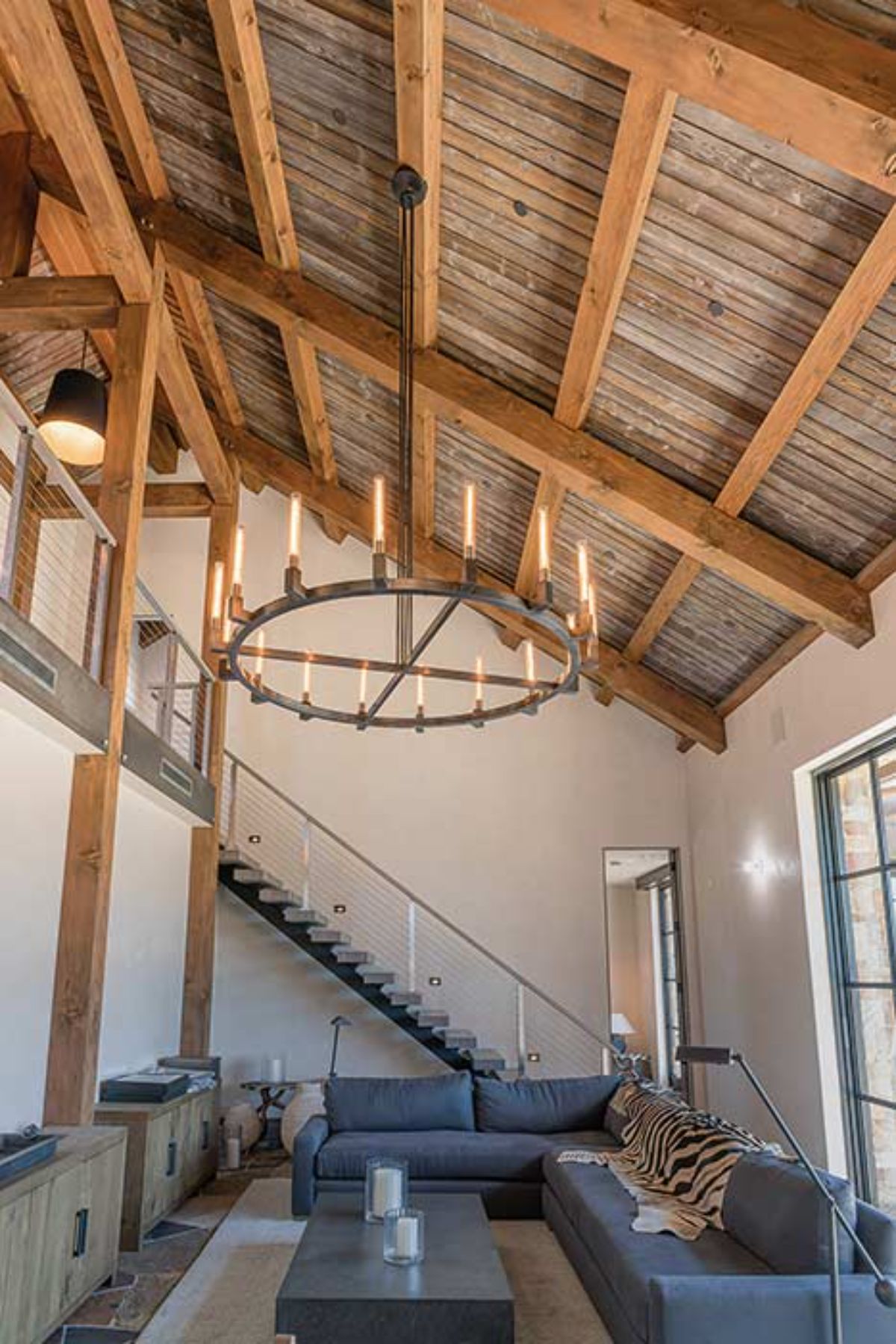 With a multitude of living spaces to choose from, you can easily have one area setup just for kids to watch movies or play games, and another for adults to have that evening nightcap and chat in front of a fireplace.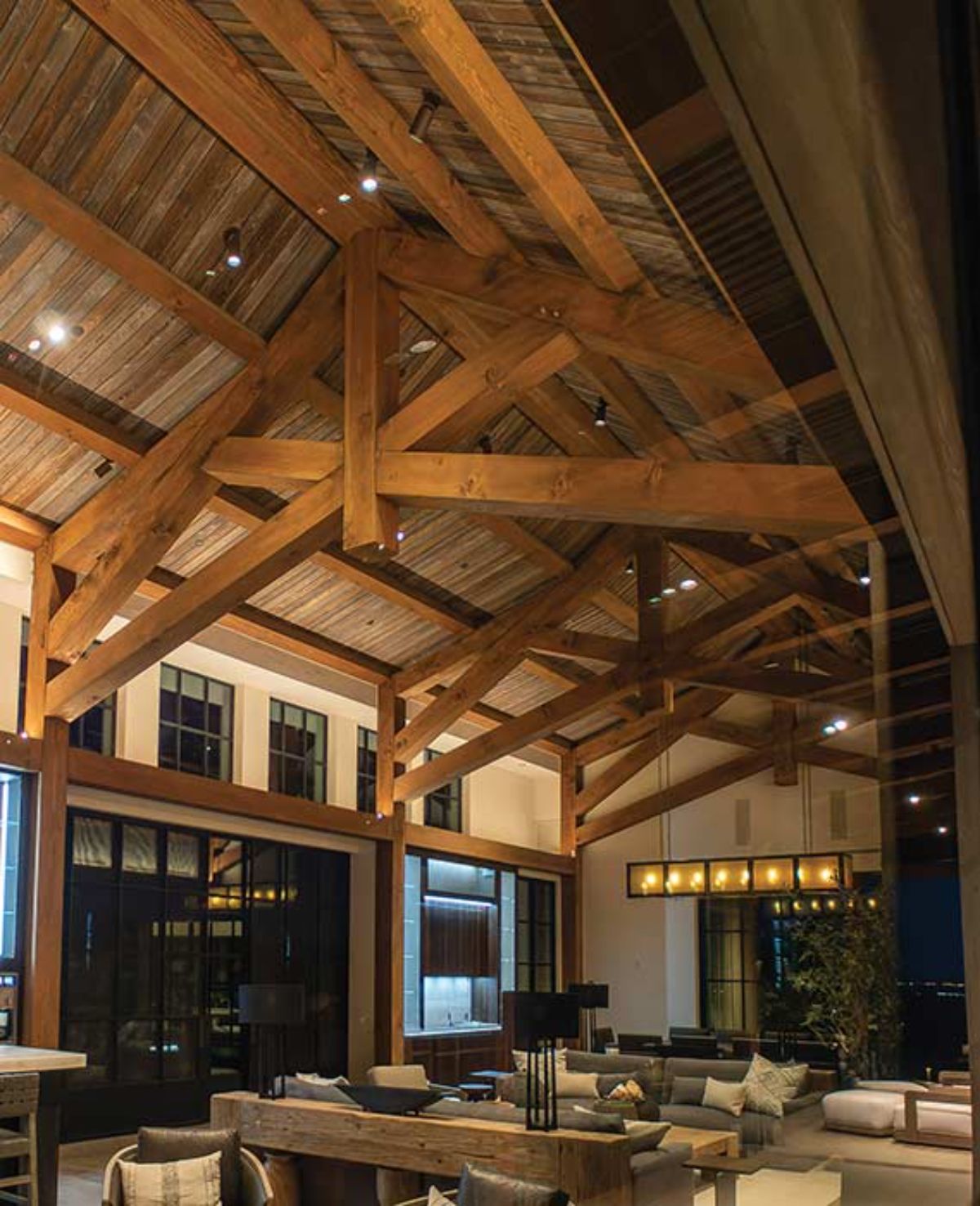 A combination of slate and concrete adds to the space with a bit of a modern industrial theme alongside those distressed wood ceilings. But this space, is one of a kind, with the entirety of the center arch of the room being skylights.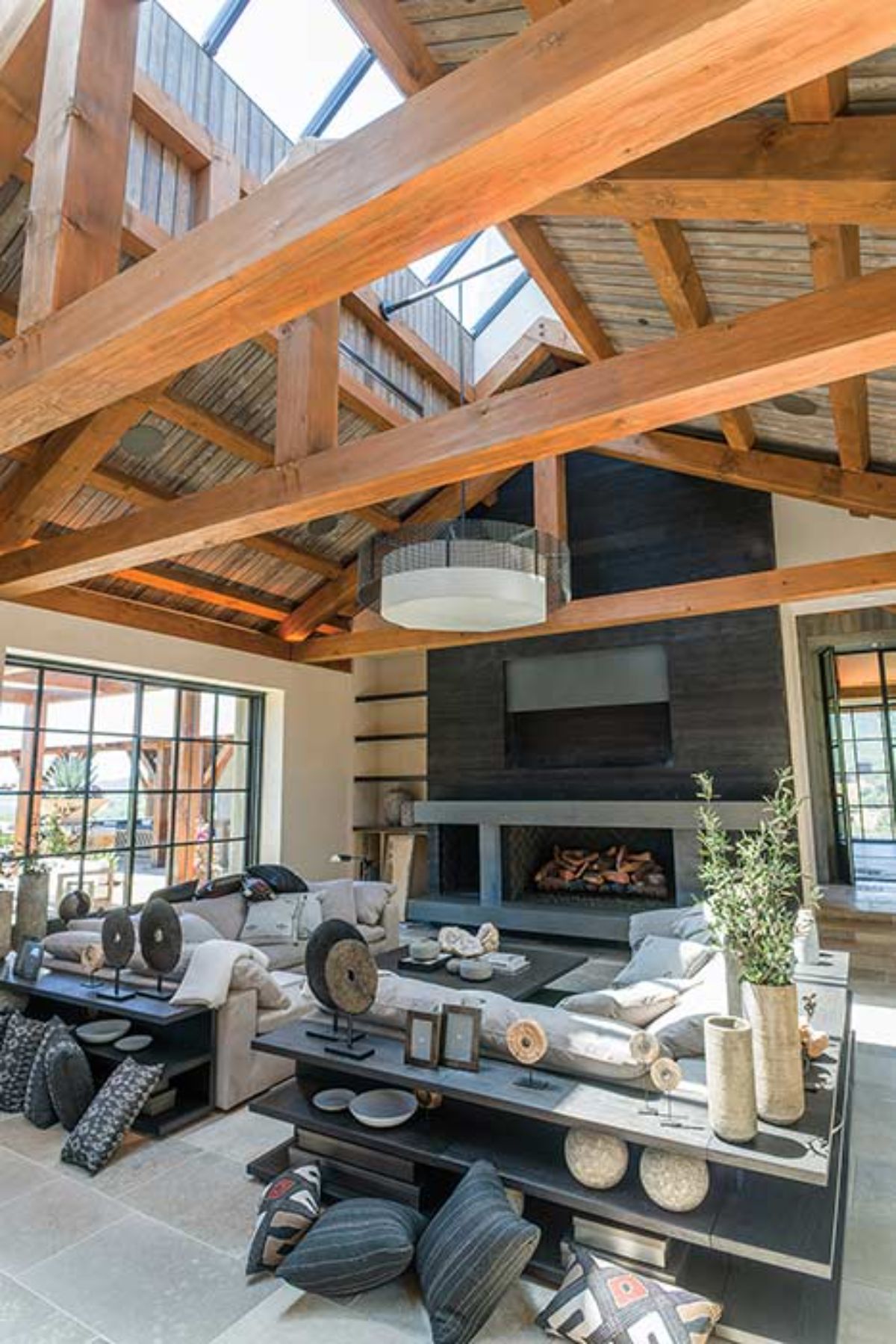 Another angle looks up at the ceiling and the open glass archway. So beautiful and ideal for bringing in tons of natural light.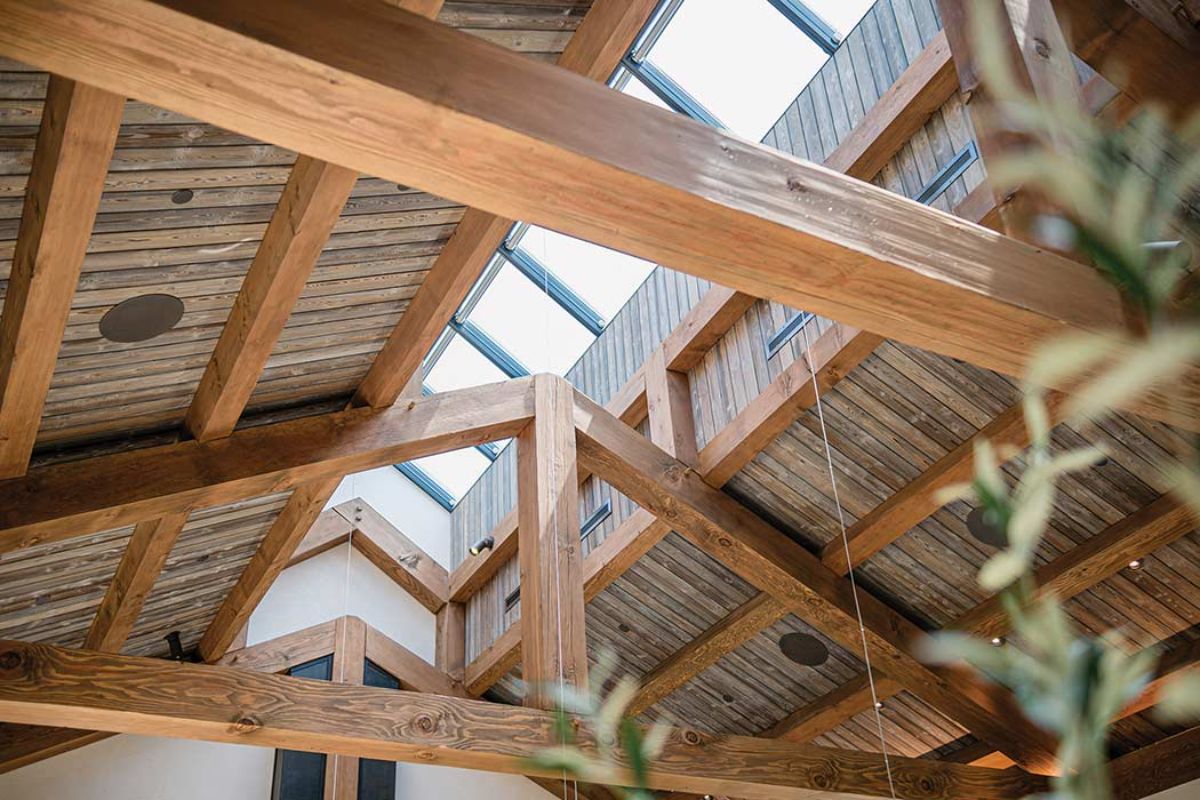 And below is another quick look at the interior of that breezeway shown above that connects the edge of the property to the courtyard in between the sides of the home.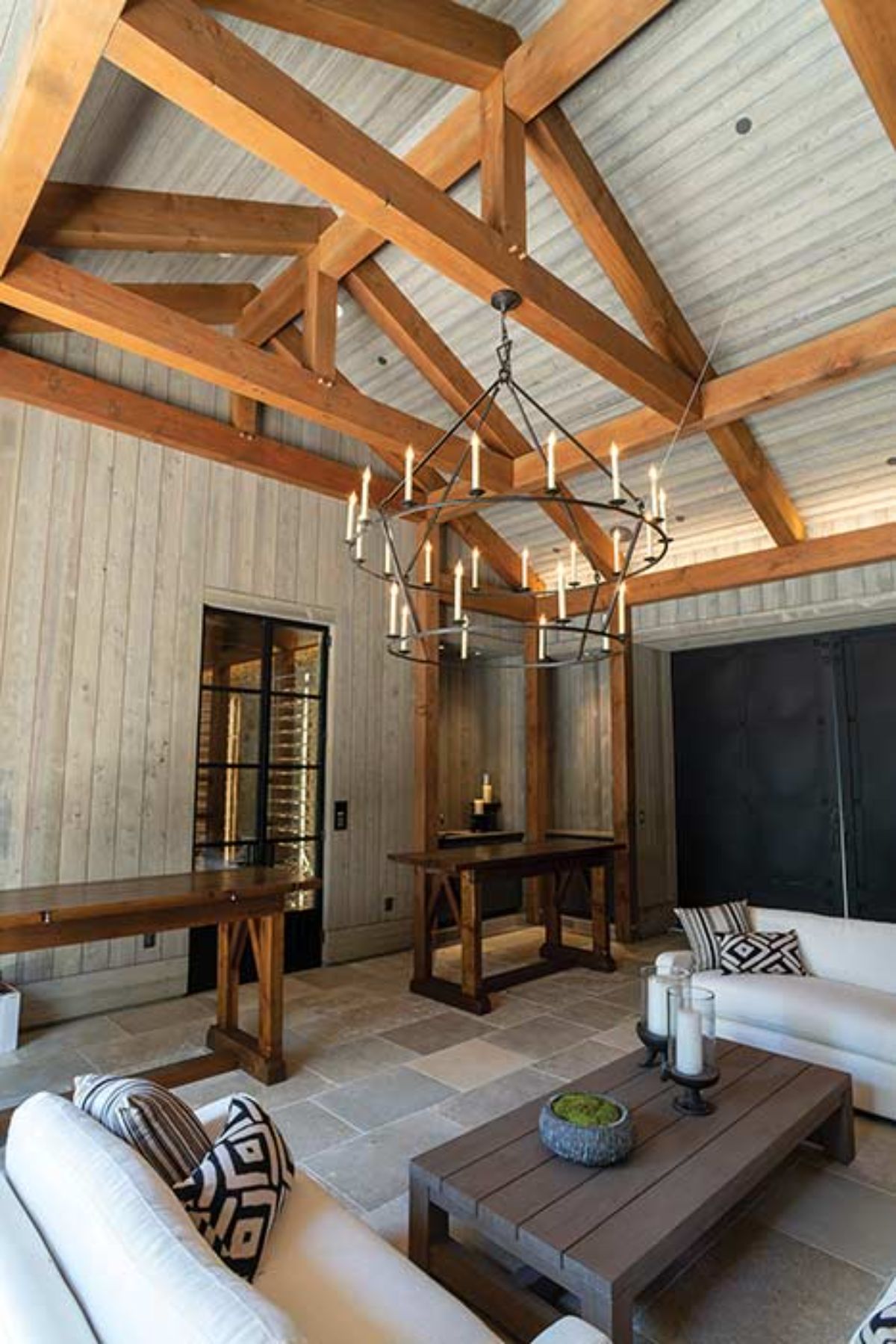 Last, but not least, a quick look into the master bathroom shows the modern soaking tub in front of a wall of windows as yet another beautiful oasis from the world outside these walls.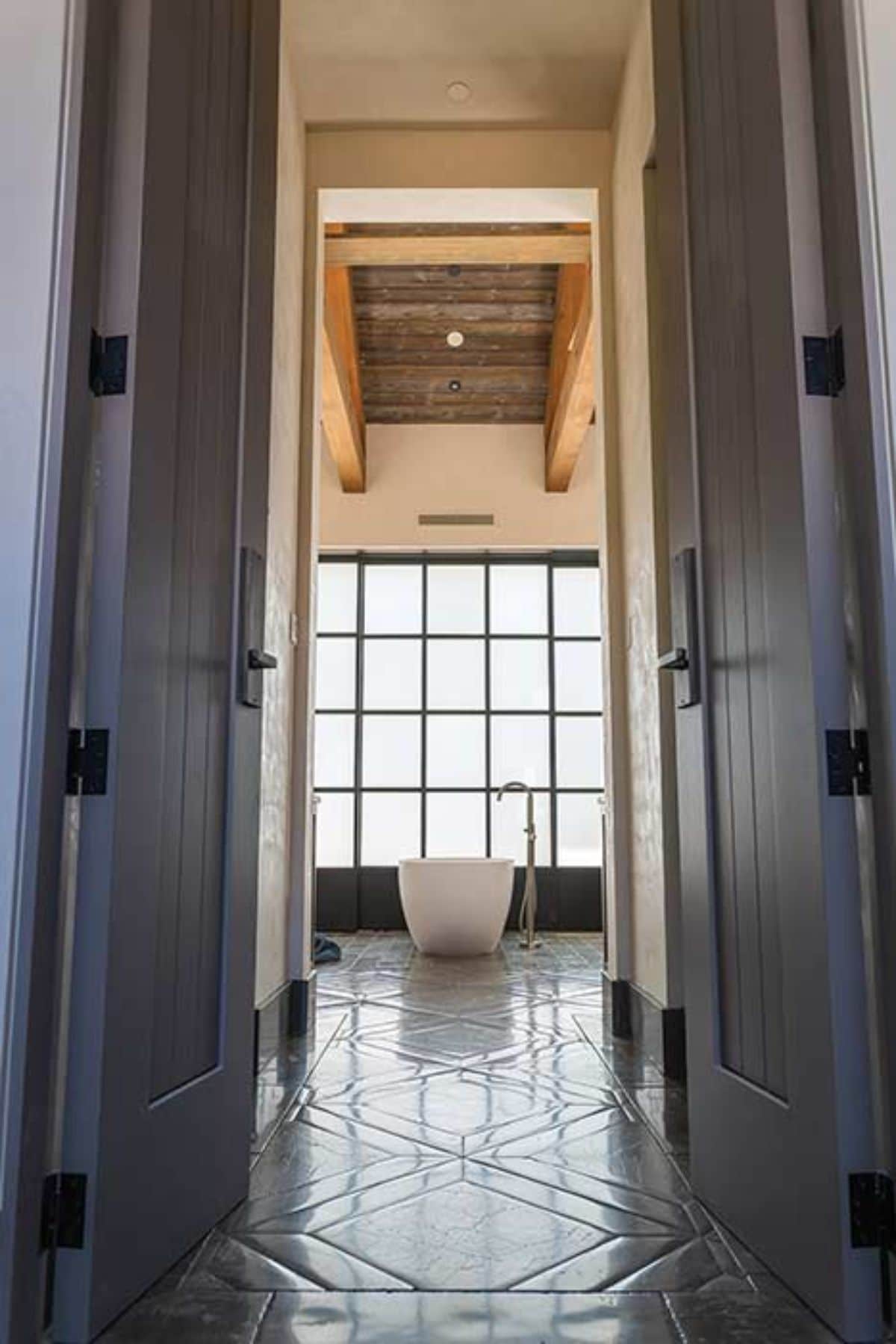 For more information about this beautiful log cabin build, check out the Precision Craft Log & Timber Homes website. You can also find them on Facebook and Instagram for regular updates of their latest builds. Make sure that you let them know that Log Cabin Connection sent you their way.
More Log Cabin Kits and Tours